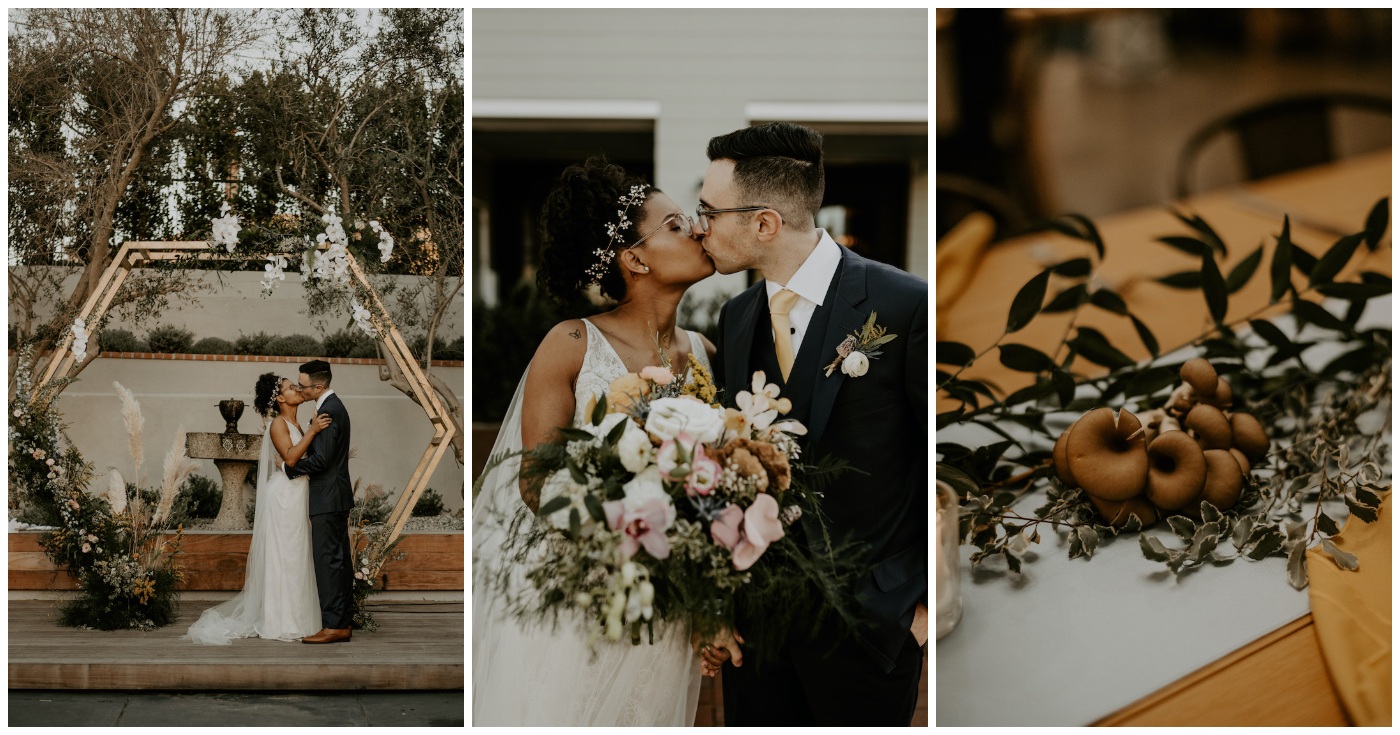 Moné, a legal advocate, and Mike, a Process Development Engineer, were married in a sustainable, all-vegan wedding at The Harper OC filled with Californian West Coast natural style. The couple loves road-tripping and the outdoors, exploring the forest and beach, looking for mushrooms, identifying plants, and camping. We are so feeling you two right now!
They worked with Amethyst Event Productions to create a vegan wedding celebration that juxtaposed the open, clear air on the beach and the quiet, dense, magical feel of the forest with florals including mushrooms by Fresh By Brandon. "We wanted our guests to feel like they've been on these trips with us. Our color palette was a forest green, yellow, blues, white, and a bit of pink!" We're so glad that Alyssa Marie Evans Photo was there to capture all this eco-friendly awesomeness!
Love Story: We met online in 2013. I was a junior at university and Mike had just started his PhD in physics. We met up at Amante Coffee shop for our first date and talked for hours. We ended up shutting the place down! We spent the next 5 years supporting and loving each other as I graduated from my undergrad program and went on to grad school, doing long distance as he did a fellowship in Berkeley. We ended up finishing grad school at the same time in 2018!
On our 6th anniversary on February 14, 2019, we did some wine tasting and ate pizza at our favorite restaurant, Pizzeria Locale, in Boulder. Mike took me on a walk around the block after we finished dinner where we passed Amante, deciding to stop in for a coffee. When chatted for a while, and we were done, we walked outside to the entrance where Mike stopped me. He got on one knee and asked me to marry him – I said yes! We stood there for so long hugging each other just soaking up the moment; we didn't want it to end.
Sustainable Vegan Bohemian Wedding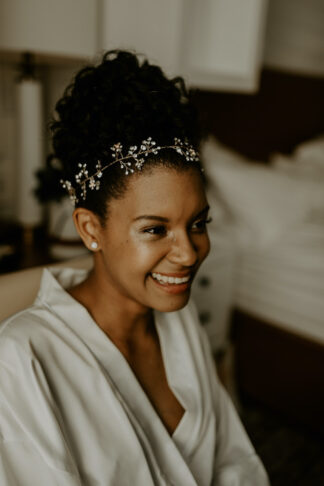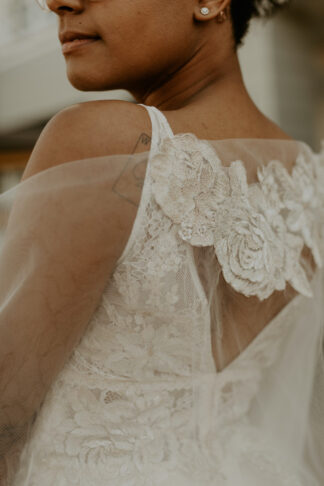 My wedding dress is from Claire Pettibone. I was lucky enough to have my appointment with Claire herself who is such a lovely person. It has a sheer lace bodice with plunging neckline and fitted waist embellished with iridescent embroidery. It has a fitted Chantilly lace underskirt is layered with a flowing tulle overlay. It felt romantic, sexy, and ethereal.  I also had a cape with embroidered flowers on the top. I had my hair up in a bun with curls because I wanted my hair to be out of my face. I bought a beautiful headband from Claire's store that made me feel like a princess.
My makeup was done by my best friend, Josephine. She's one of the few people that I trust with my makeup and she did a perfect job of making me look beautiful without being overdone. I don't typically wear makeup.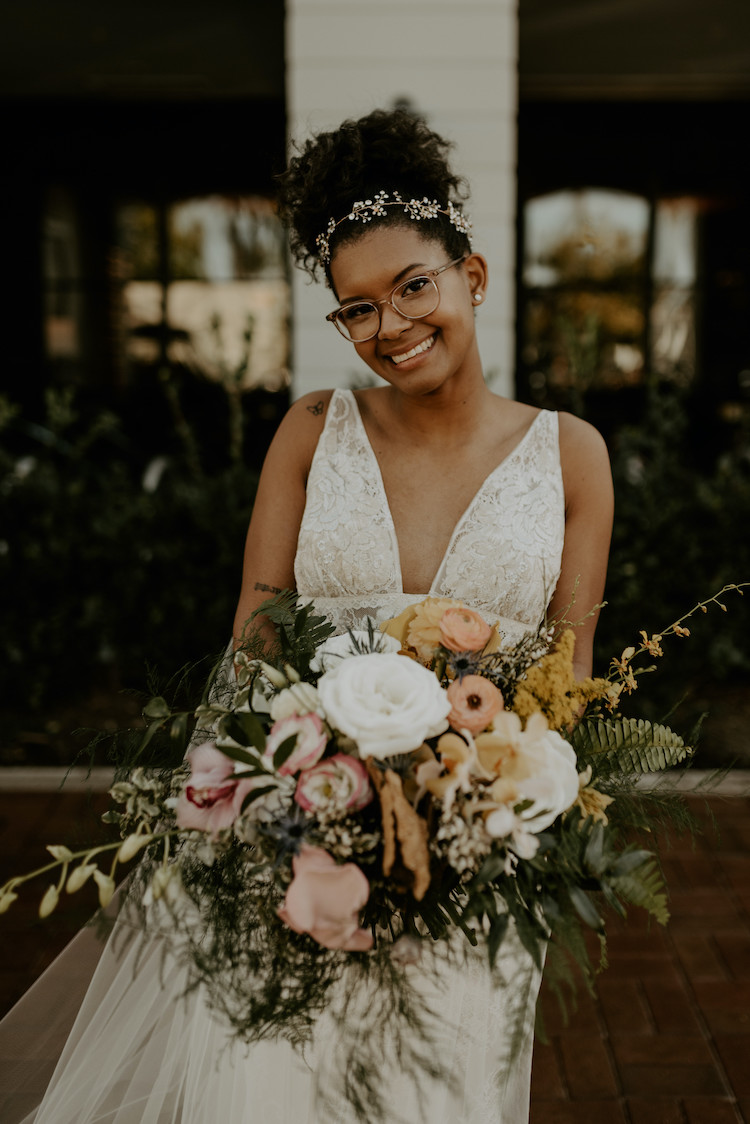 Our flowers throughout included roses, local ranunculus, orchids, pampas, oyster mushrooms, dried mushrooms and clay mushrooms that Brandon made. Mike loves mushroom hunting and I love eating them 🙂  He ended up getting the oysters the night before from a local grower. He went above and beyond and we were so surprised. It definitely went with our theme of west coast natural. I also really like orchids and I had to have some – Brandon made both happen!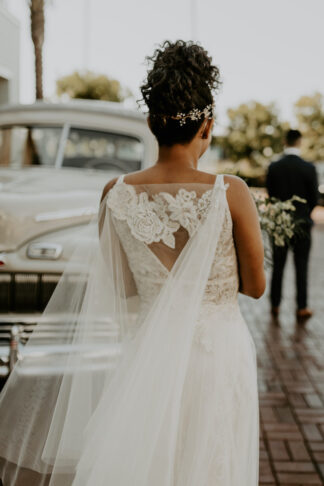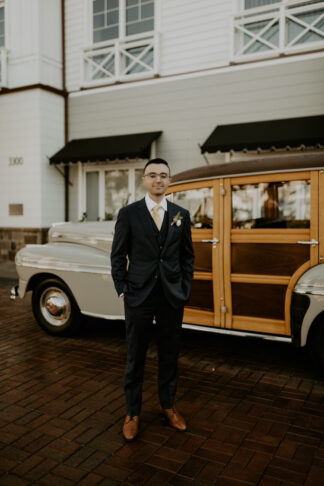 Mike's suit was from the Groomsmen Suit. He wanted a vegan suit and most of the stores in Boise had suits that were made from animal materials. He got it in "new blue" and it went really well with our theme. We did not have a bridal party.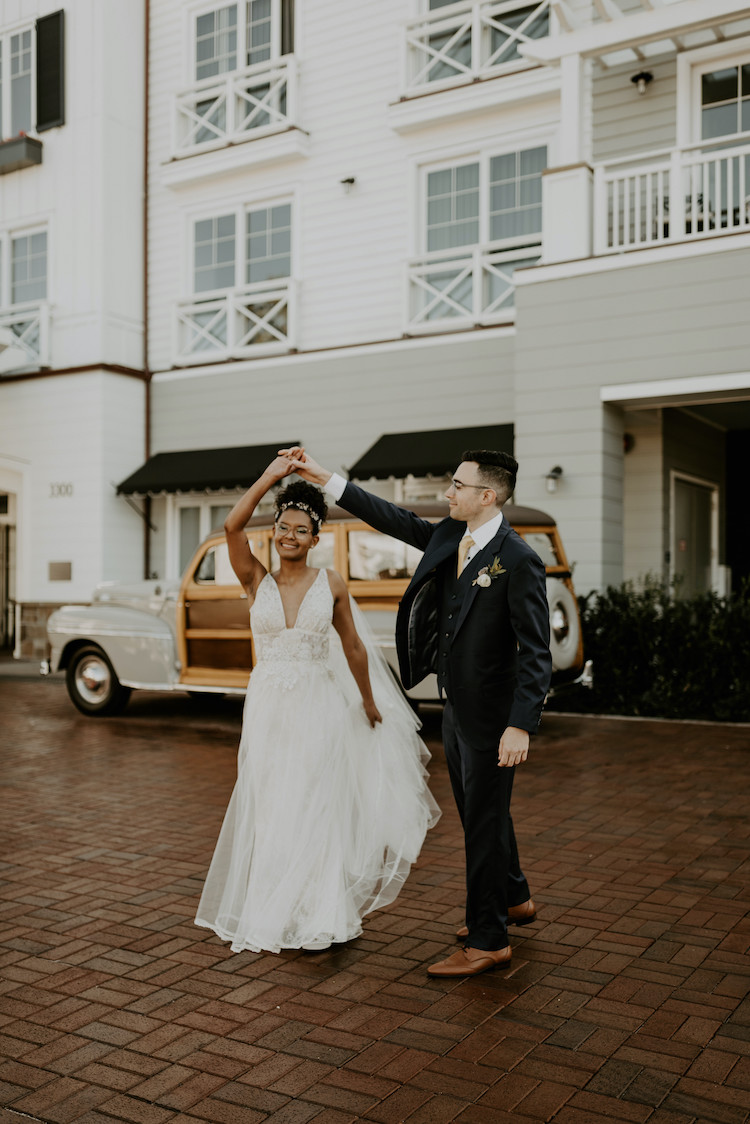 For our ceremony we had a big golden hexagonal arch created by Brandon, which he decorated with loads of florals. The Harper has a beautiful outdoor area with a wooden platform featuring olive trees and a fountain. It all flowed beautifully and the weather was perfect. At the ends of the aisles, we had two freestanding arrangements. As people entered in, we had a memorial table for Mike's grandfather and my cousin who had both recently passed away with some florals as well.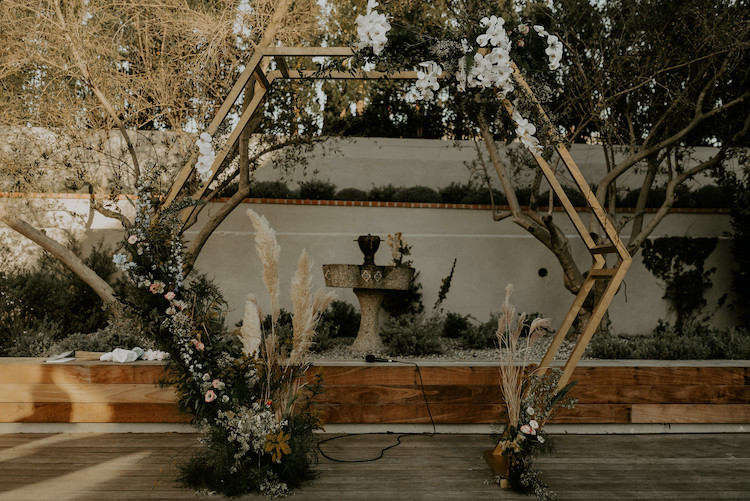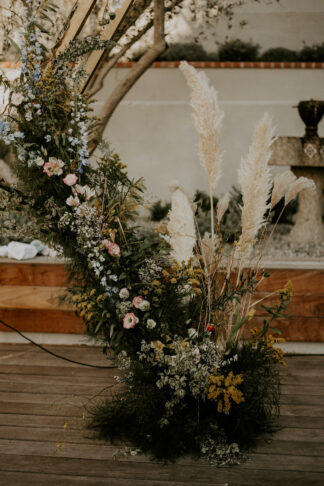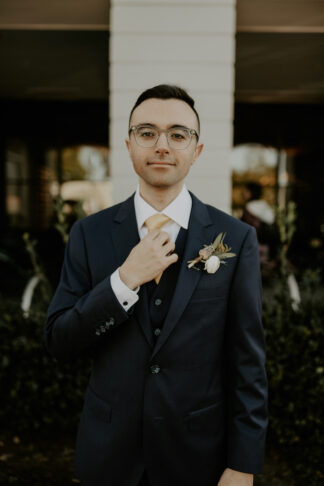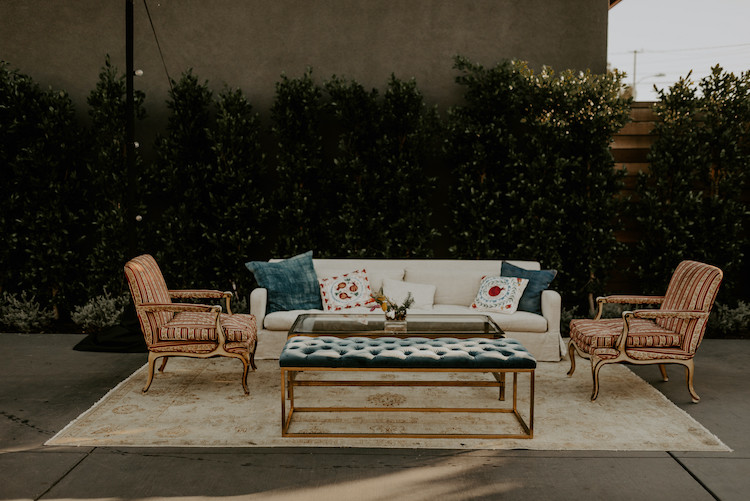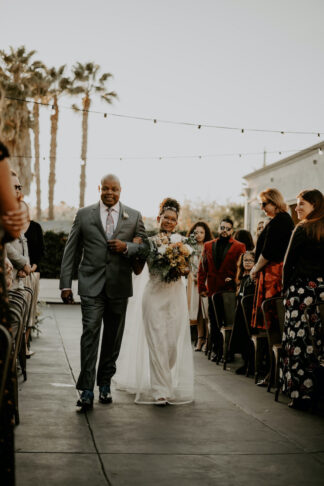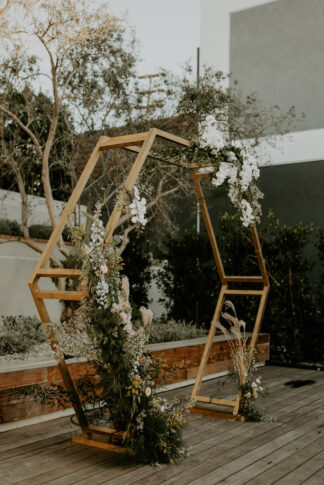 Chris officiated our ceremony – he was hilarious, nice, upbeat, and positive! We got so many compliments about our ceremony afterwards because of him. We had family and friends from all over attend the wedding, so he started out by shouting out different regions of the country and the world. In the weeks leading up to the wedding, Chris asked us various questions about how we met, what's our favorite thing about each other, what we initially found attractive in the other, and our hopes for our marriage. We individually answered and kept the answers secret from one other. Chris revealed the answers during the ceremony and they made us laugh, cry, and smile from ear to ear, and our loved ones enjoyed it.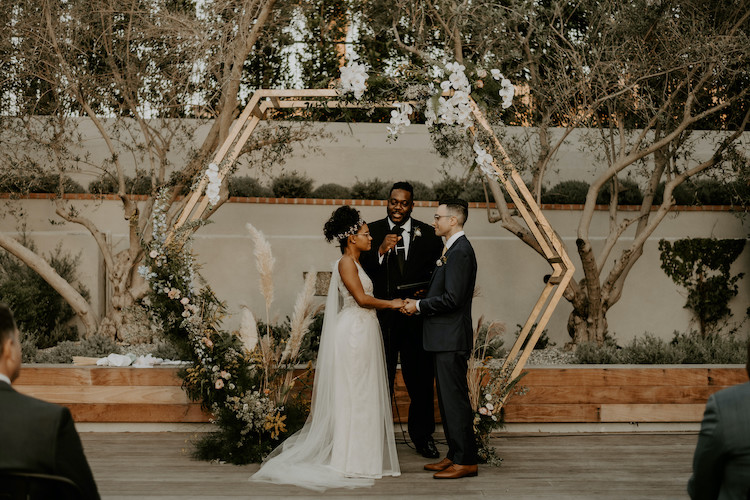 We read our vows and the most surprising part was that Mike cried, which made everyone cry.
Before our final rituals Chris asked the audience: "Do you who are present here today, promise to surround this couple in love, and to support them in their marriage? At times of conflict will you offer them the strength of your wisest counsel and the comfort of your thoughtful concern? At times of joy, will you celebrate with them, nourishing their love for one another? Most of all, do you promise to love them, unconditionally, for as long as you all shall live? "
Our guests responded: "We do!"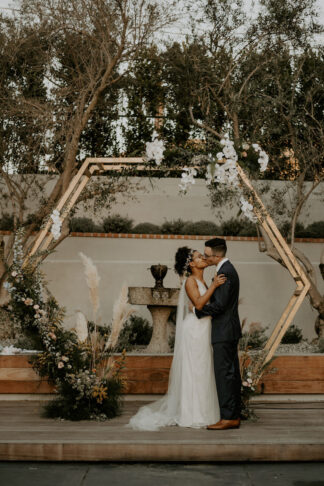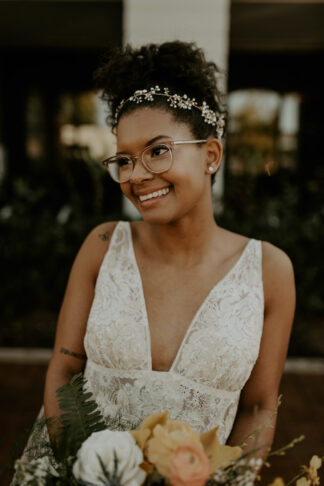 After, Mike smashed a glass wrapped in a handmade cloth from Mike's mom. Lastly, we jumped the broom, also handmade by us!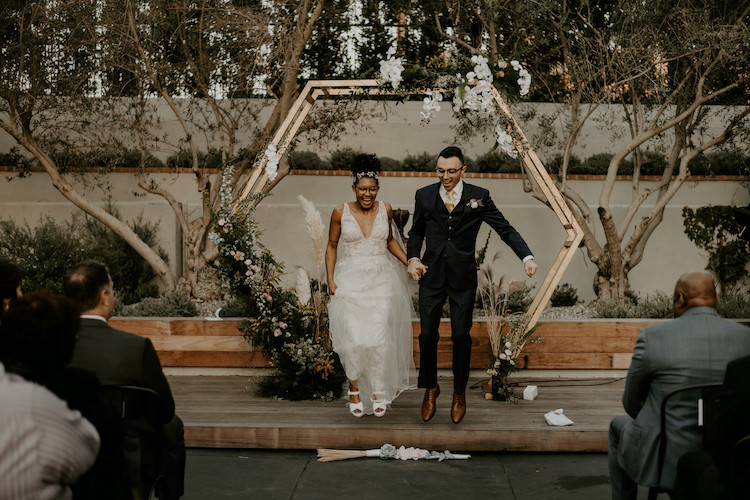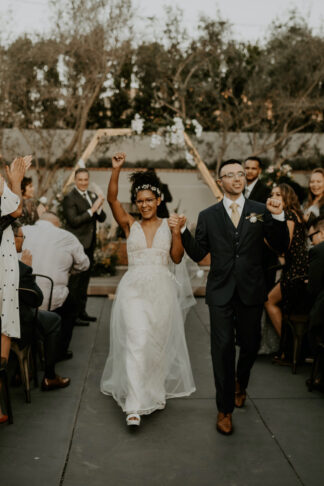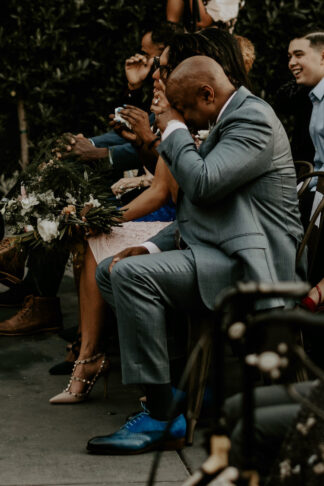 Sustainability:
We rented linens and used the Harpers tables, chairs, glass, plates, silverware
There were no party favors or one-use items
We had an all plant-based menu
Guests took flowers home and any further remaining florals were composted
We used local flowers and mushrooms
We kept some of the table markers labeled by mushroom for ourselves and gave the rest as gifts
We opted for online invitations through Paperless Post
The groom suit and tie was vegan from Groomsmen Suit, as well as his shoes which were from Will's Vegan store
All of the oyster mushrooms were fresh and edible, so our parents took some back to their Airbnbs and people who lived in the area took some. Mike's parents BBQ'd the mushrooms the next day at the after party! Yum 🙂
READ NEXT:
50+ Beautiful Eco-Friendly, Zero Waste + Sustainable Wedding Ideas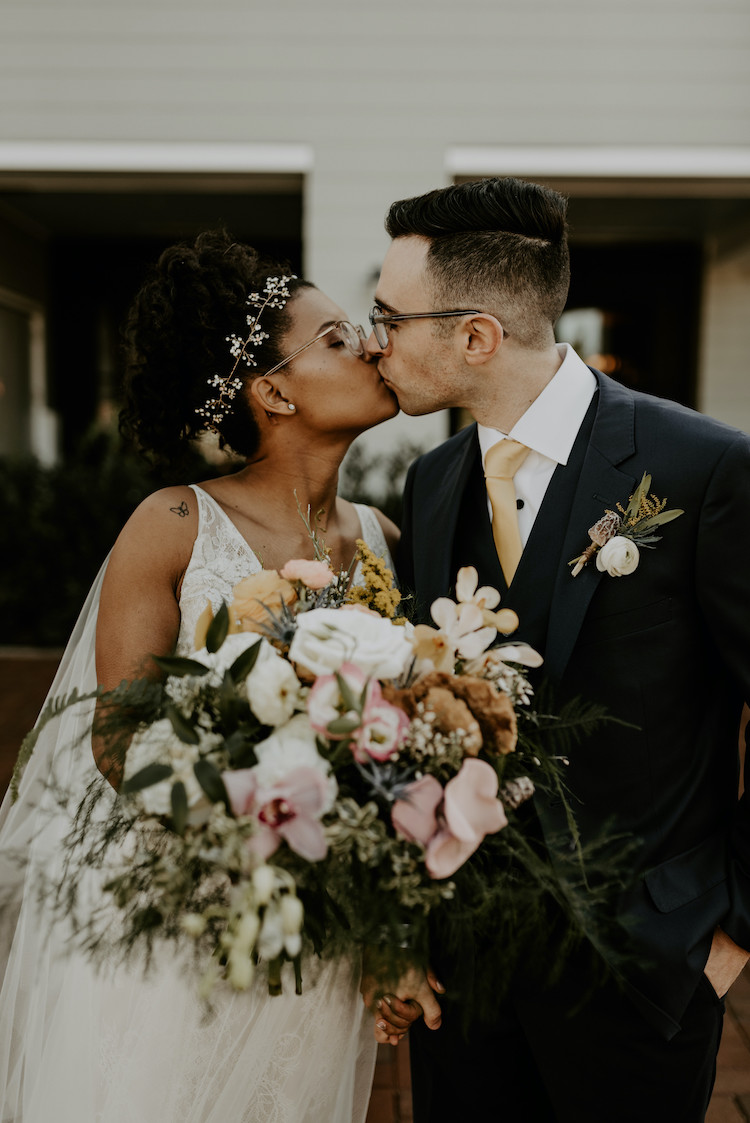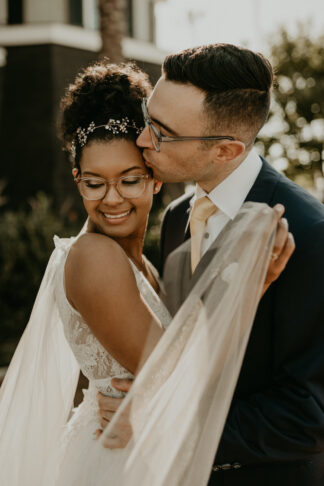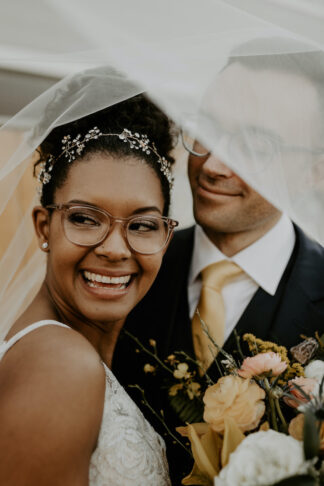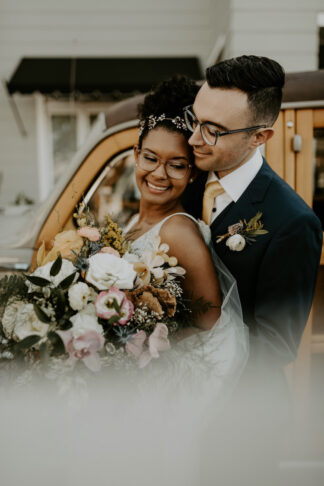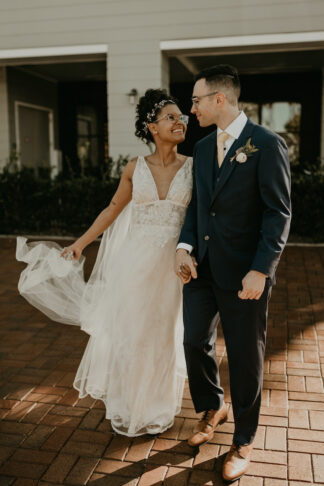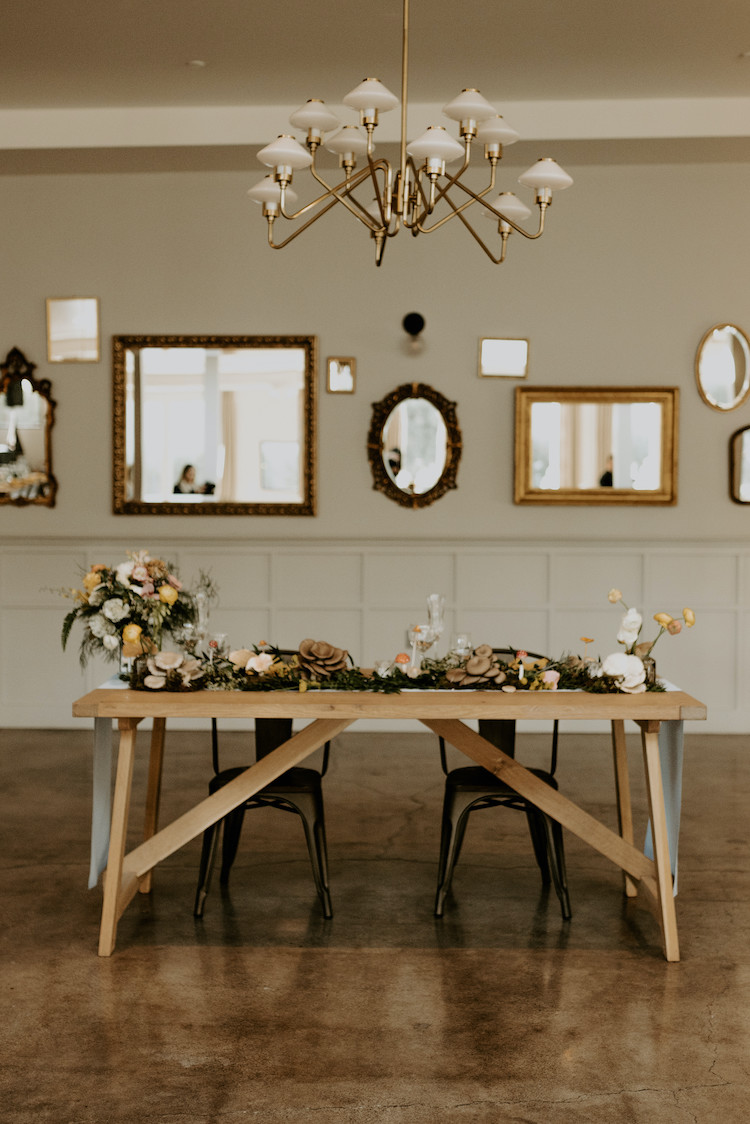 Our floral decor included more greenery and mushrooms, with our table being the most extravagant. Everyone enjoyed the decor and how whimsical it was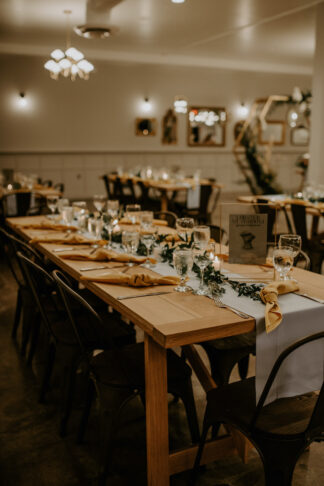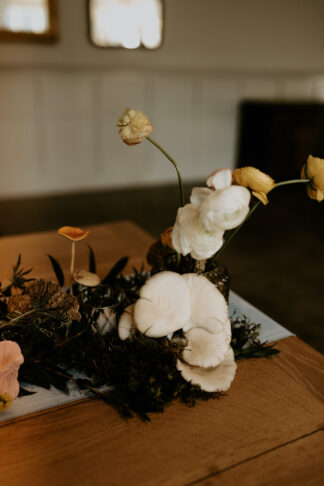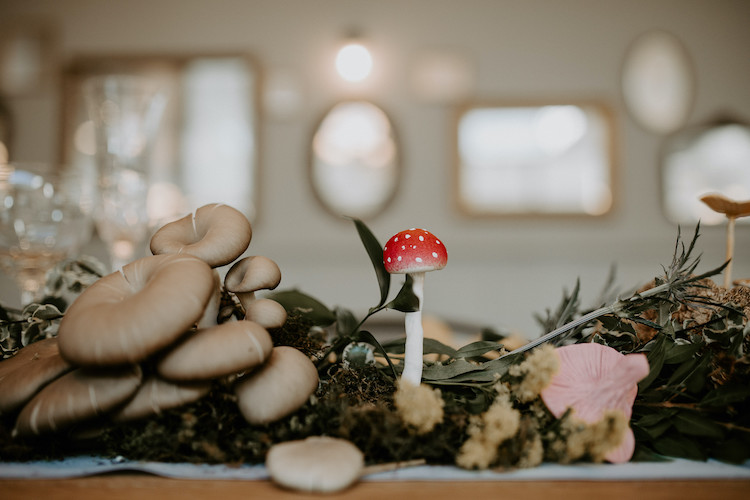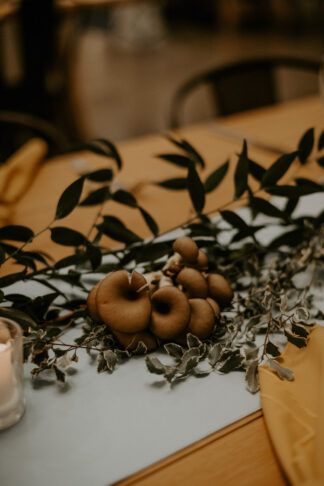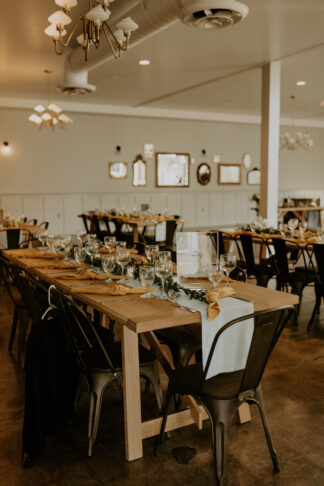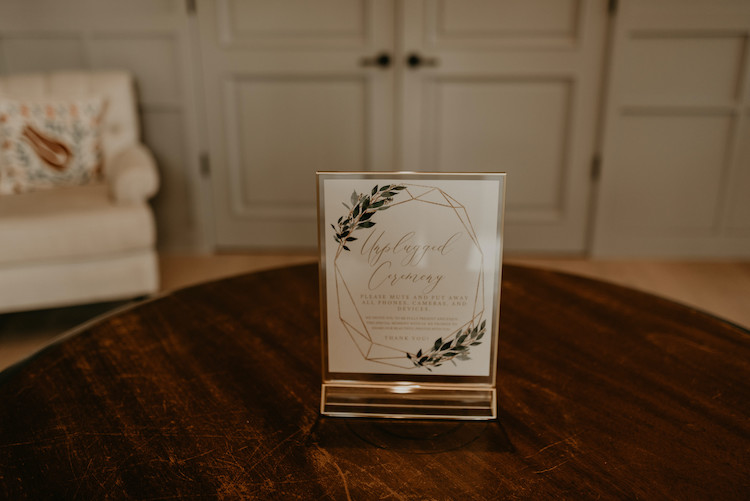 We named each table after our favourite mushrooms. Our friends Josephine and Michael did the drawings and calligraphy by hand and it was so fantastic!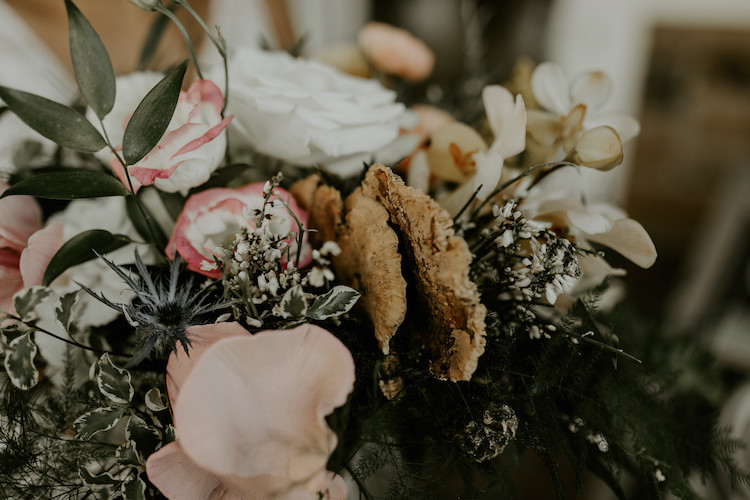 Having a plant-based meal was so important to us because we are vegan and wanted to eat everything at our wedding AND wanted to limit our footprint. We had a Mexican style plant-based meal featuring :
TRAY PASSED VEGAN WEDDING HORS D'OEUVRES
calabaza empanadas
adobo chilli sauce
tomatillo pico de Gallo
micro cilantro
tofu taco coronets
jalapeño chimichurri.
avocado mousse
yuca fries
assorted housemade dipping sauces.
VEGAN WEDDING BUFFET DINNER MAINS
 tofu in adobo
roasted red peppers
caramelized scallion vinaigrette
tostada bar: soyrizo. heirloom tomato pico. savoy cabbage slaw. avocado mash.
VEGAN WEDDING BUFFET DINNER SIDES
roomforty caesar
cashew caesar dressing
brioche crouton
parsley pesto
roasted corn and red onion
cashew crema
vegan mexican pinto beans.
We received lots of compliments on the food–including from people that are heavy meat eaters!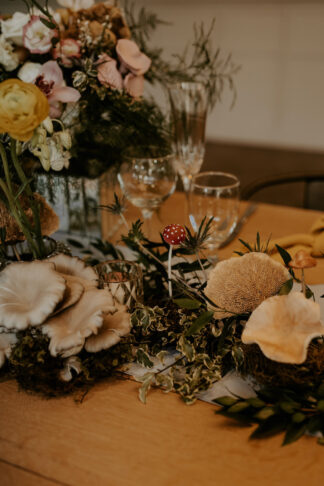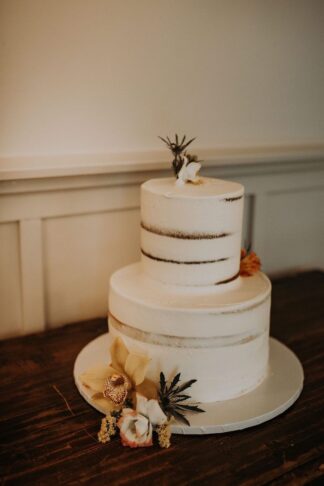 Our cake was from Top Tier Treats and I still think about that cake pretty much everyday. We did chocolate on chocolate, red velvet, and vanilla raspberry with fresh whipped cream All vegan. Another thing that our family really enjoyed. We took most of the cake home and it was gone at the BBQ Mike's family had the next day!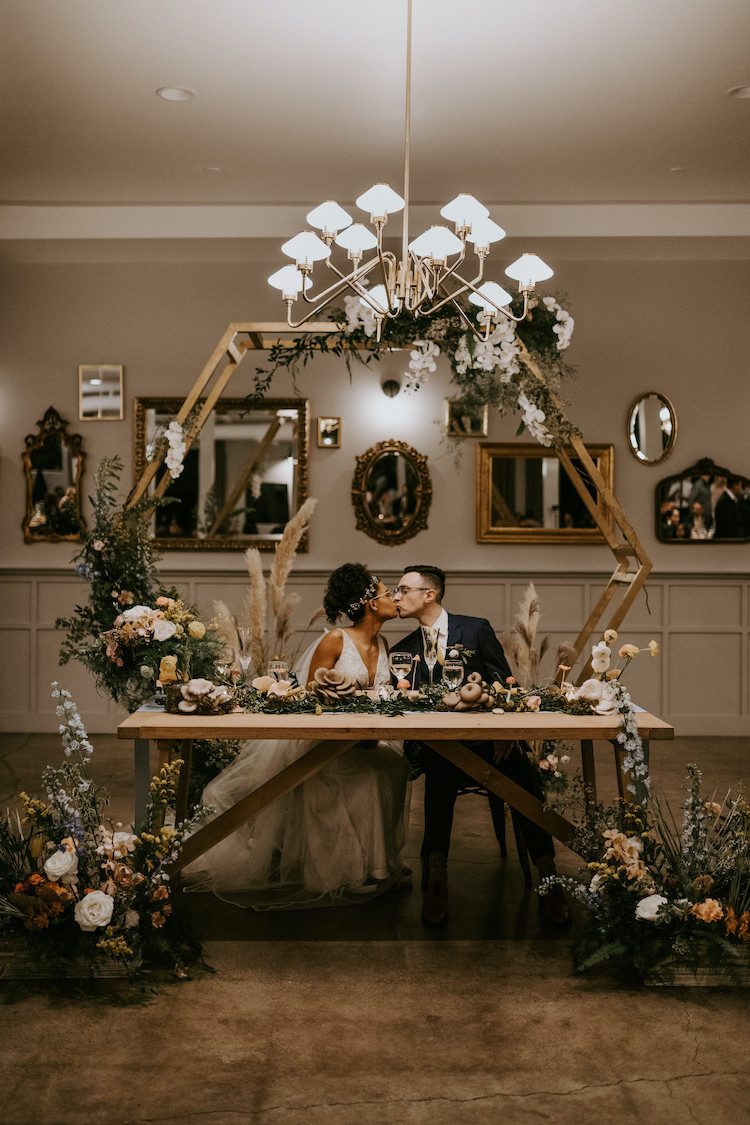 Wedding Planning Advice:
Expect to pay more than you think. Prioritize the three 3 things that you care about most. For us it was quality of plant-based food/drinks, documentation of photographer and videographer, and inviting all friends and family.
Make sure that it's the wedding that YOU want, not what everyone else wants. This was hard, but in the end we got comments that the wedding felt like us and that was the biggest compliment. If you're going to spend the money, make sure that it's a reflection of you and your partner.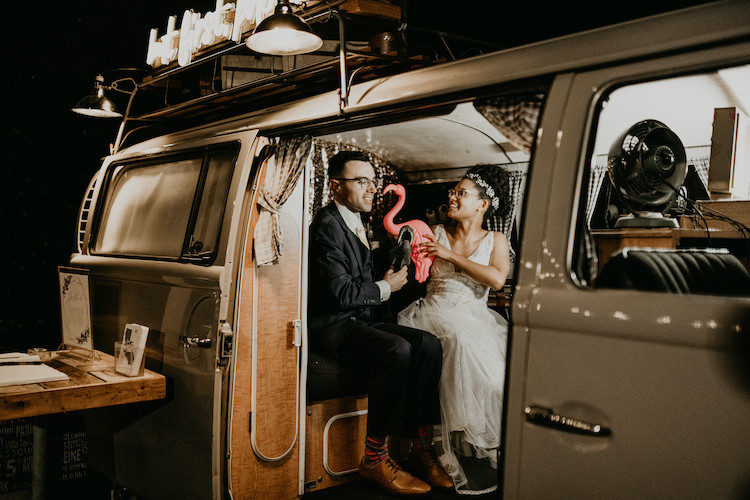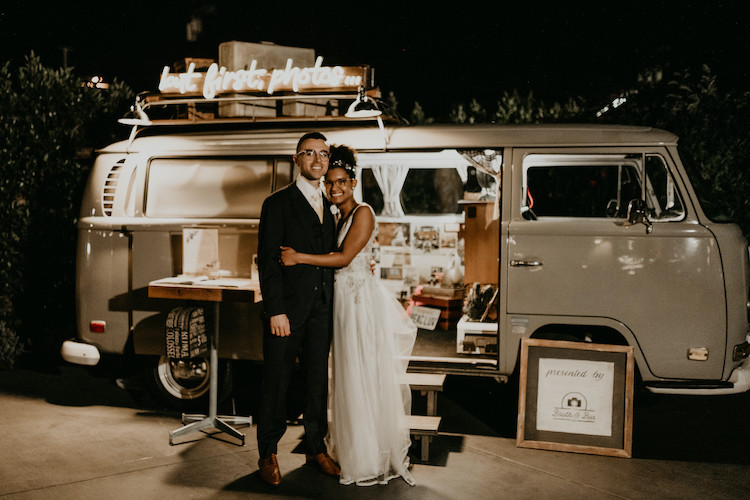 Wedding Vendors:  Event Venue: The Harper OC// Photographer:Alyssa Marie Evans Photo // Event Planner: Amethyst Event Productions//  Equipment Rentals: Baker Party Rentals// Shoes:Prada//Apparel: Wills Vegan Shoes// Tuxedo and Mens Attire: The Groomsman Suit//Dress Designer: Claire Pettibone// Beauty:Hair By Sarah Castillo// Pre Ceremony Location:Lido House// Other:VB Cigars// Photo Booth Equipment: The Booth and Bus Co// Musicians: El Mariachi Zacatecas//Cake Designer: Top Tier Treats// DJ:VOX DJs// Officiant:Your Custom Ceremony// Cinema and Video: Lace & Lapel Photo and Film//Floral Designer: Fresh By Brandon// Caterer: Pharmacie// Caterer: RoomForty//
READ NEXT:
Vibrant Mexican-Style, Zero-Waste, Vegan Taqueria Wedding in LA!
Earthy Farmhouse Wedding: Cruelty-Free, Eco-Friendly + Vegan Wedding Ideas