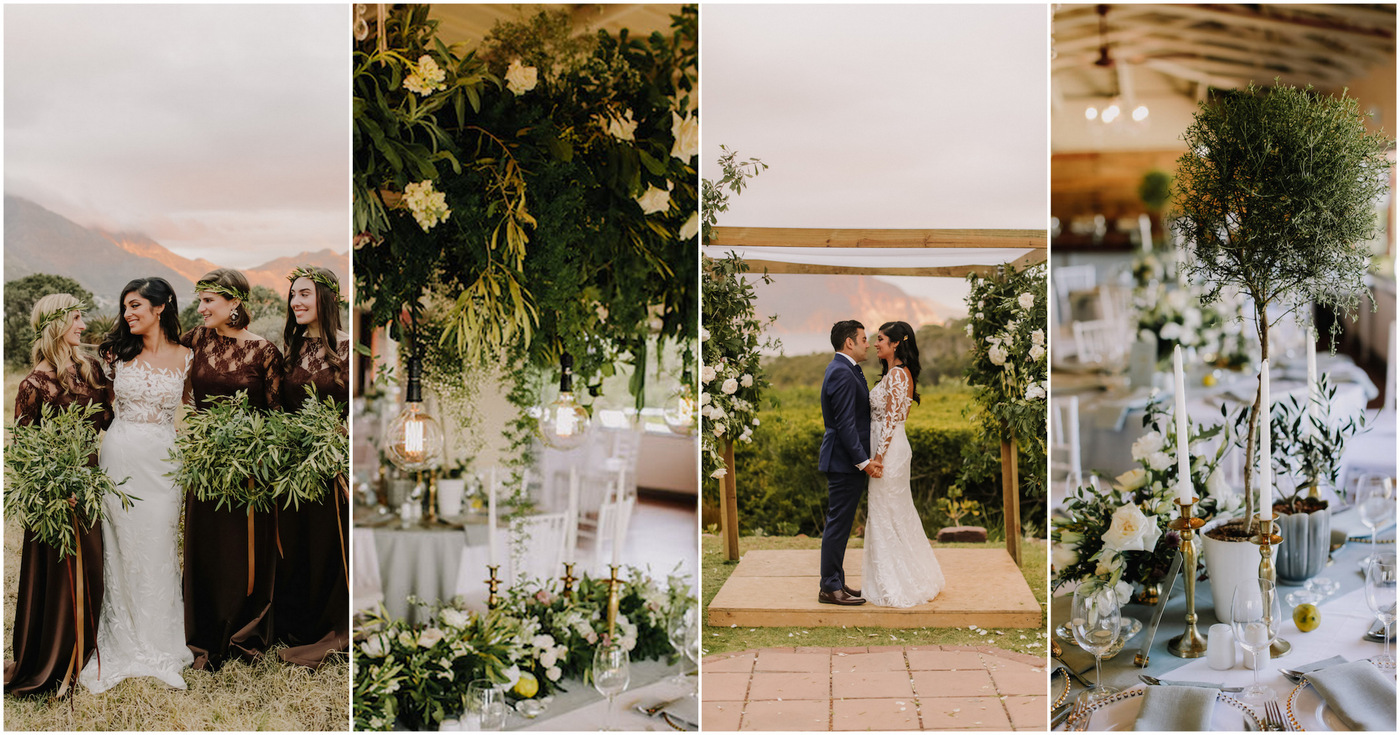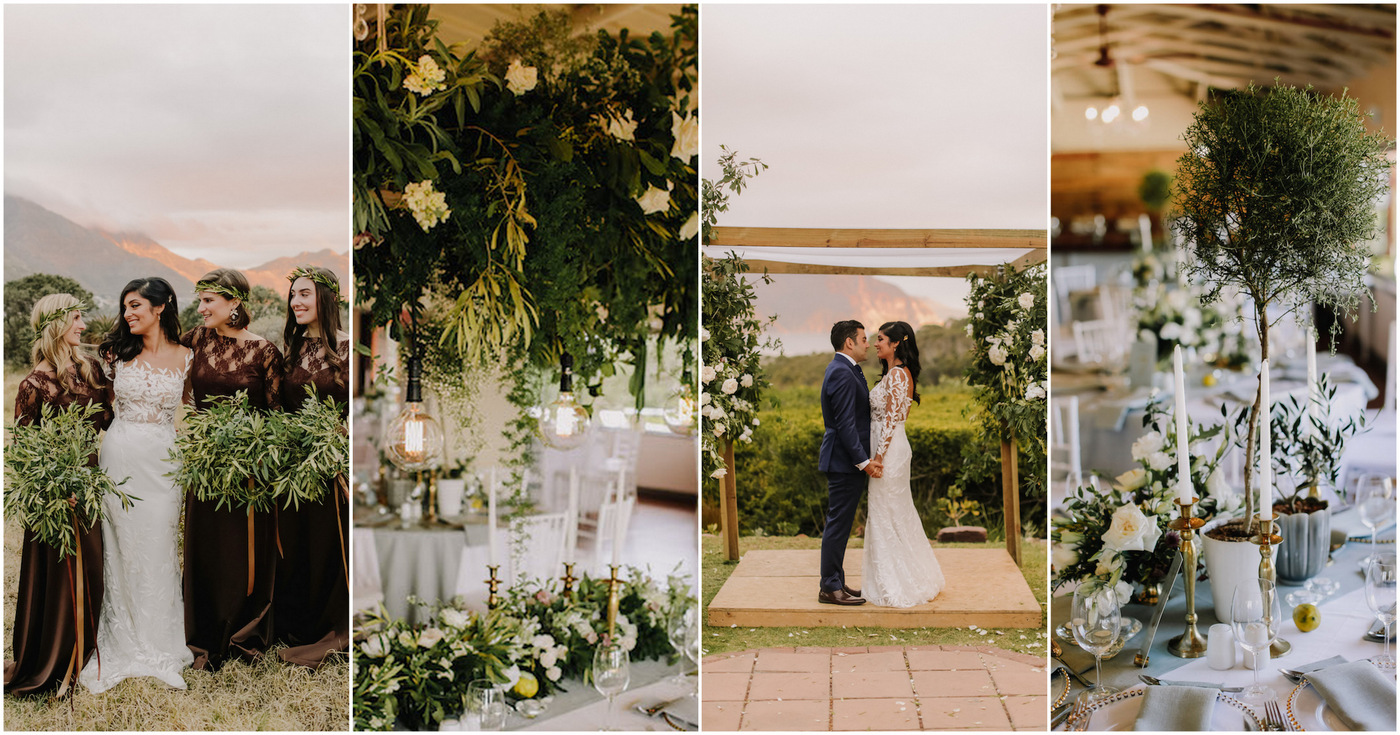 Today's earthy vegan wedding, featuring a mix of mediterranean and botanical wedding details, hails from Cape Town-based couple Jessica and Hilton. Jessica, known as The Green Dietician, is a vegan registered dietitian who runs her own private practice helping others to thrive on a plant-based diet. (Check her journey out on insta here.) Hilton is a chiropractor who runs a successful practice in the City Bowl. The couple selected photographers Justin and Simone, who captured these beautiful images.
The couple's Cape Town wedding at Suikerbossie featured details influenced by the mediterranean – ancient Greece, in particular. Initially, Jessica was captivated by the lace motif of her silk-free, vegan wedding dress, which reminded her of an olive leaf. "I thought this was quite significant since the olive branch is the symbol for peace and as a vegan, I believe in bringing peace to all living beings," explained Jessica, who then decided to incorporate the olive leaf into their wedding decor.
Their wedding colour palette was awash with the tones of Mediterranean greenery inspired by olives and rosemary, with touches of white and duck-egg blue, bronze and pops of yellow from lemons.
The couple surprised their guests with an entirely plant-based wedding menu, which their guests loved: "Our vegan wedding menu was incredible and it was so satisfying to get so many compliments from our non-vegan family and friends about how much they enjoyed the food," shares Jessica. "Everyone was surprised to learn that vegan food could be so tasty and a few people were even inspired to try move towards a more plant-based diet."
(Check out more of Jessica and Hilton's wedding in the current issue of The Vegan Life Magazine.)
Earthy Vegan Wedding in Cape Town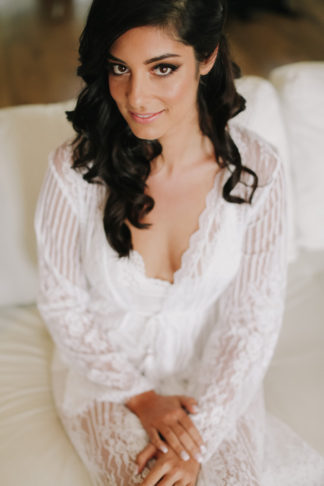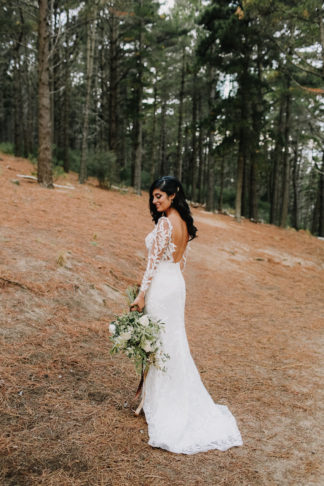 Our love story: I was a newly qualified dietitian working in Joburg when I matched with Hilton on Tinder. At first, we were just good friends. I loved his philosophical mind and loved that we could have DMC's (deep, meaningful, conversations) from the get-go.
We fell in love and have been inseparable ever since. I moved back to Cape Town for work and we did long distance for almost a year, after which Hilton moved to Cape Town to be with me. After almost 4 years of dating, Hilton finally popped the question with a beautiful "will you marry me?" display on the side of table mountain.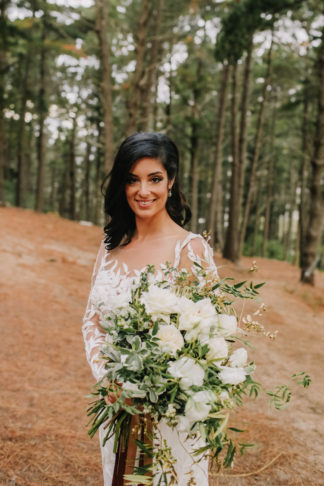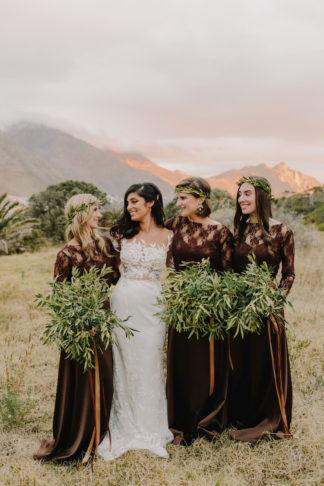 I wore the Laurel dress by Elbeth Gillis, a classic fitted gown with a nude look bodice. I made sure to choose a dress that was silk-free. The distinctive embroidered leaf motif and plunging v at the back lends a modern touch. My motif-lined sleeves were detach-able so that my arms would be fully covered for the traditional ceremony. My hair was given soft curls and gently pinned to the side with a small bronze broach. My makeup look featured a bold eye with winged liner and dramatic lash extensions, a soft pink lip and a bronzed cheek.
The bridesmaids wore rustic garlands made of olives in their hair and floor length bronze-coloured dresses with removable lace boleras so that the bridesmaids arms could be covered during the ceremony.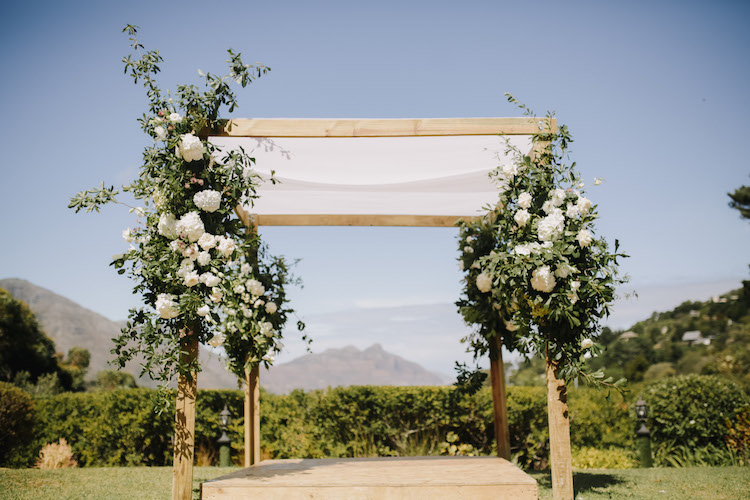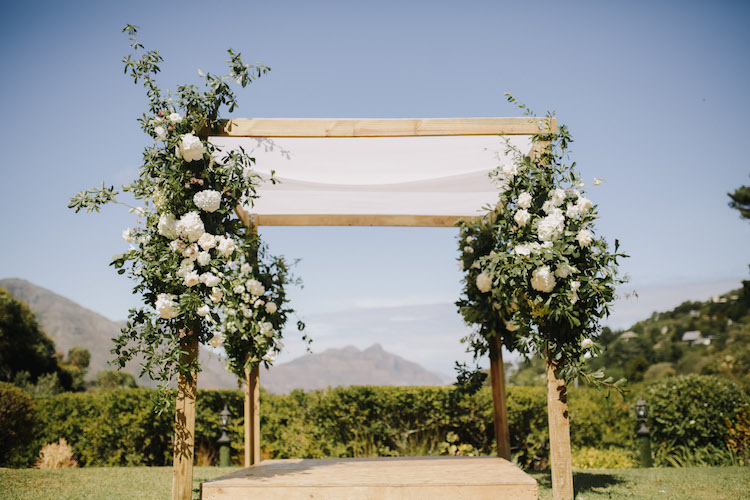 Hilton wore a tailor made royal blue suit with a white dress shirt, a navy polka dot tie and swarovski crystal cuff links along with tan leather-free shoes. The groomsmen wore navy blue suit pants with tan shoes, white shirts and handmade navy polker dot bow ties.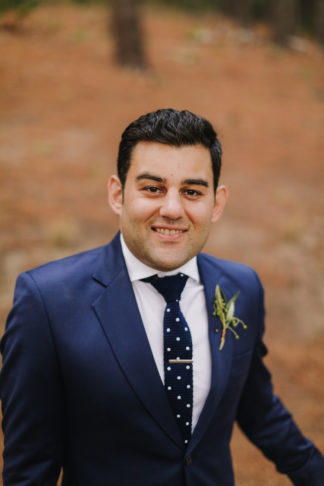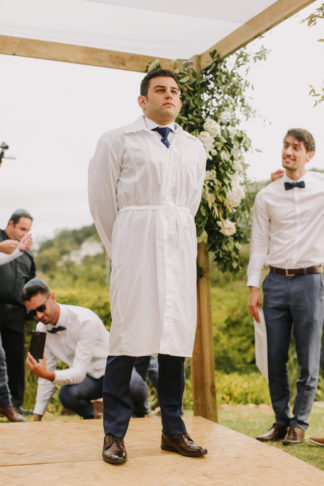 The Bedekken (Jewish veiling ceremony) was definitely one of our highlights. We hadn't seen or spoken to each other for a week before the wedding (as per Jewish tradition) and our first glimpse of each other was at the Bedekken in front of all of our closest family and friends.
It was super emotional to finally get to see each other and to know that we would be standing under the wedding canopy, getting married to each other in just a few minutes. Traditionally, men and women dance separately and the bride and groom only touch through holding onto a shared handkerchief. However, we really couldn't wait to dance with each other and hold each other so we broke the rules and Hilton jumped into the women's section to dance with me. All the women cheered and this only heightened the festivities of the day!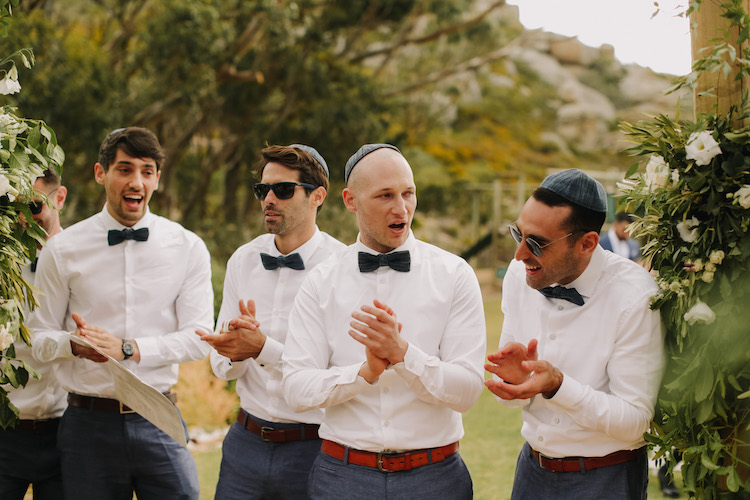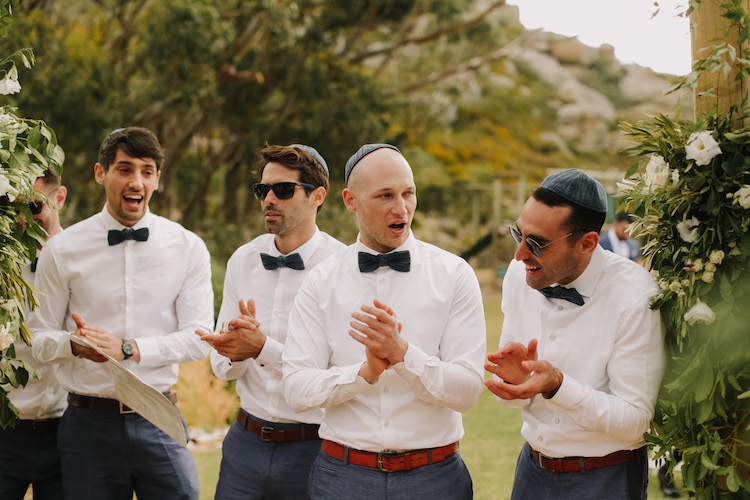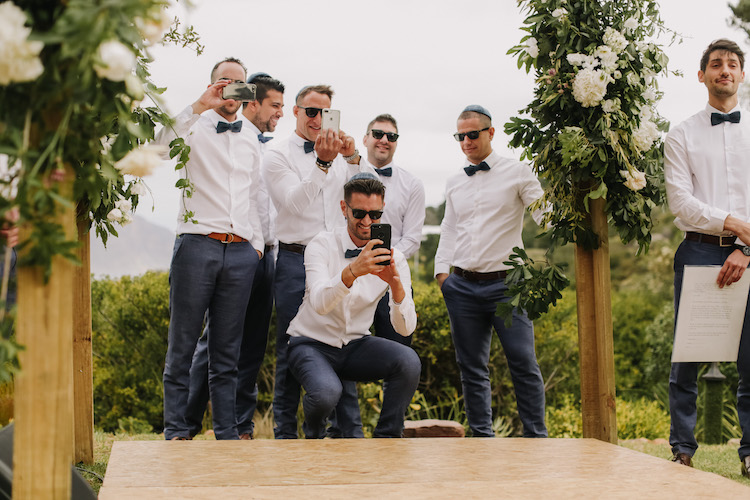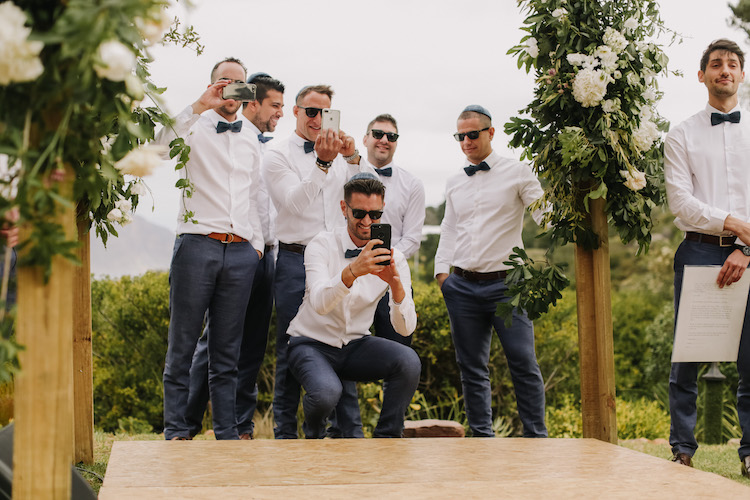 Our wedding Chuppah reflected the rustic and earthy theme. The structure was natural wood and was placed on the grass outside of the venue overlooking Hout Bay. Each of the four poles had the same floral greenery interspersed with white flowers. The top of the canopy was simple white muslin cloth.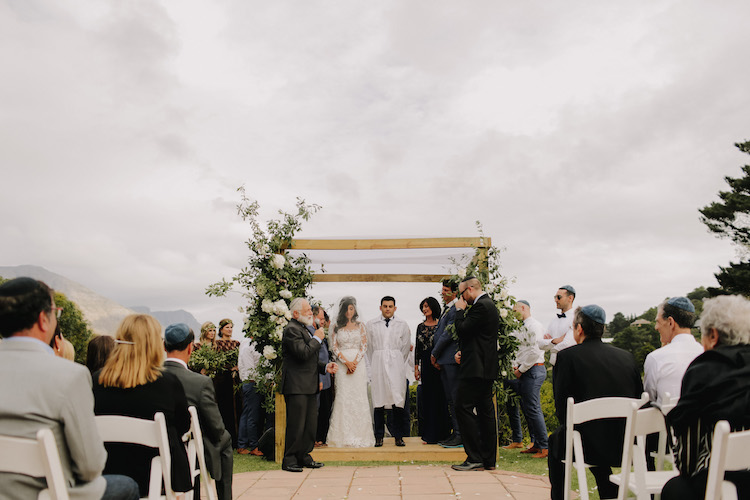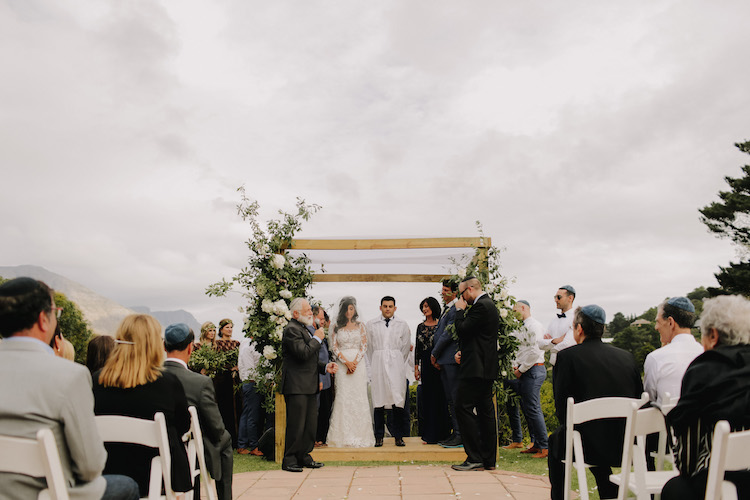 We stood under the wedding canopy with our parents, siblings, Rabbi and best friends. The rest of the guests were arranged in a semi-circle in front of us in order to have a view of the ceremony. I circled Hilton 7 times to create a mystical protective aura over our new lives and home together and at the end of the ceremony Hilton broke the glass and everyone broke out in song and dance.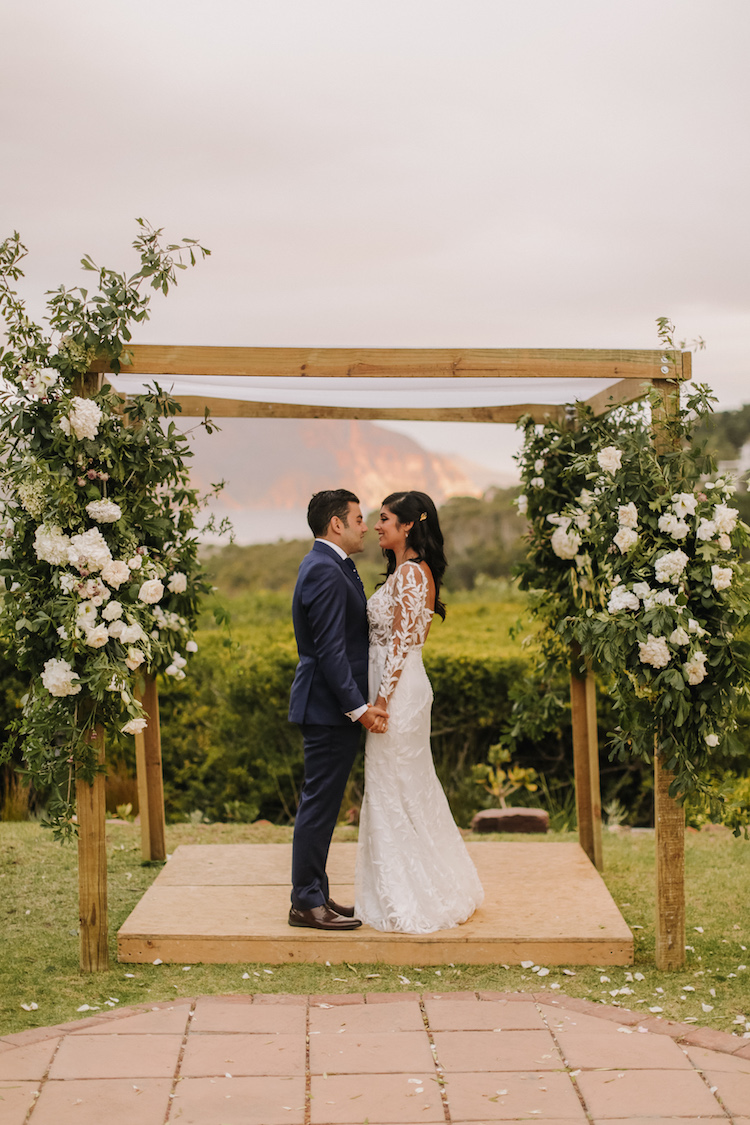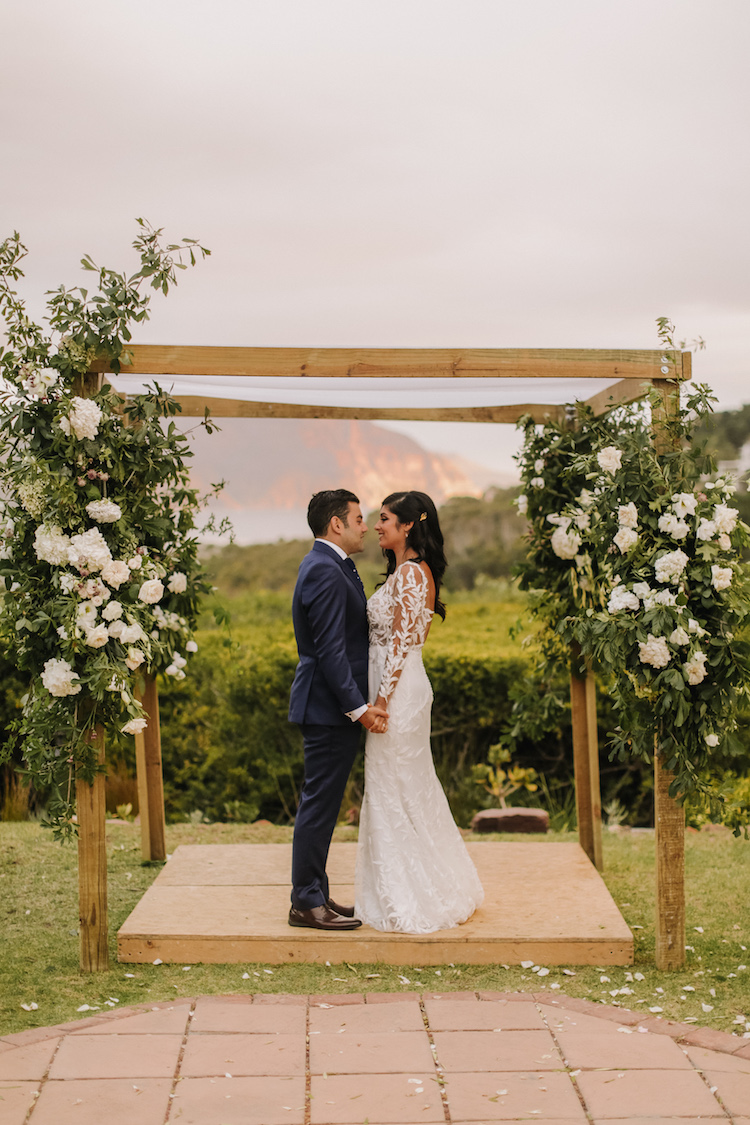 We all embraced each other and went off to sign our civil contract  while our guests enjoyed cocktails and snacks/ starters on the lawn outside.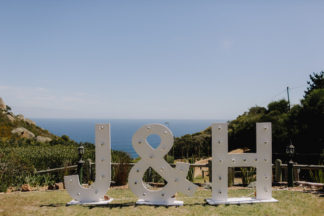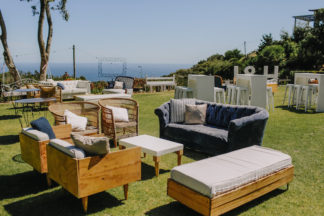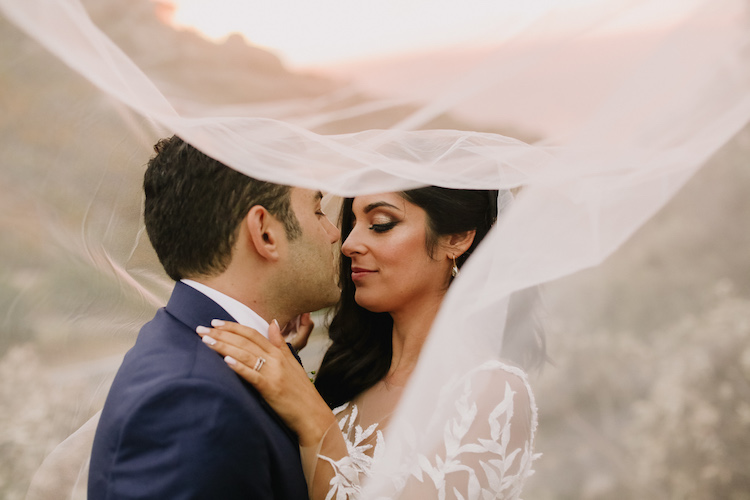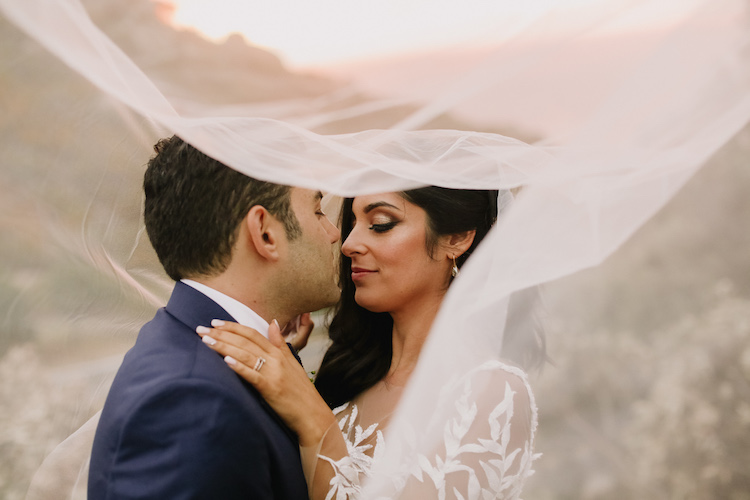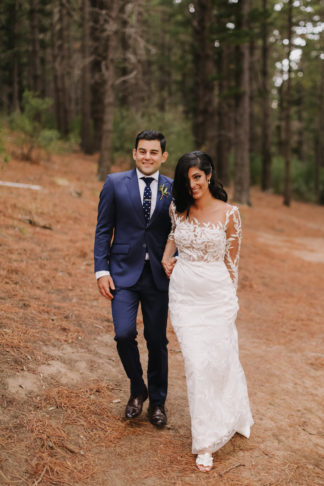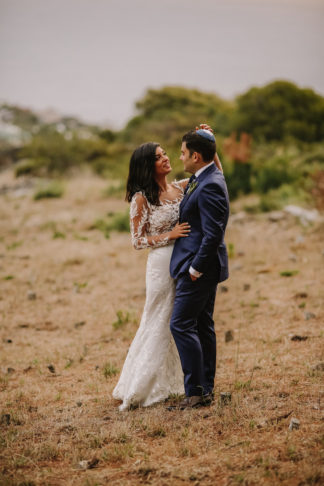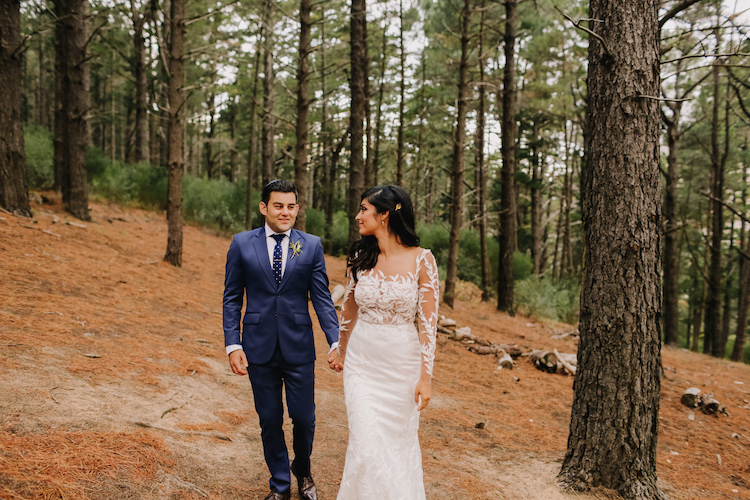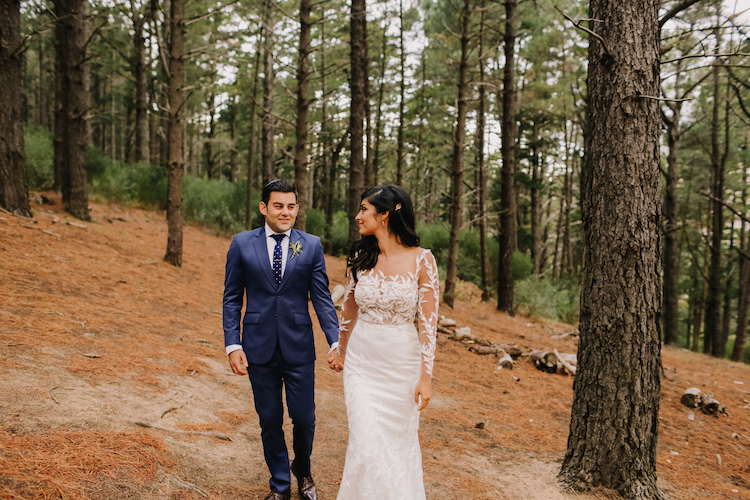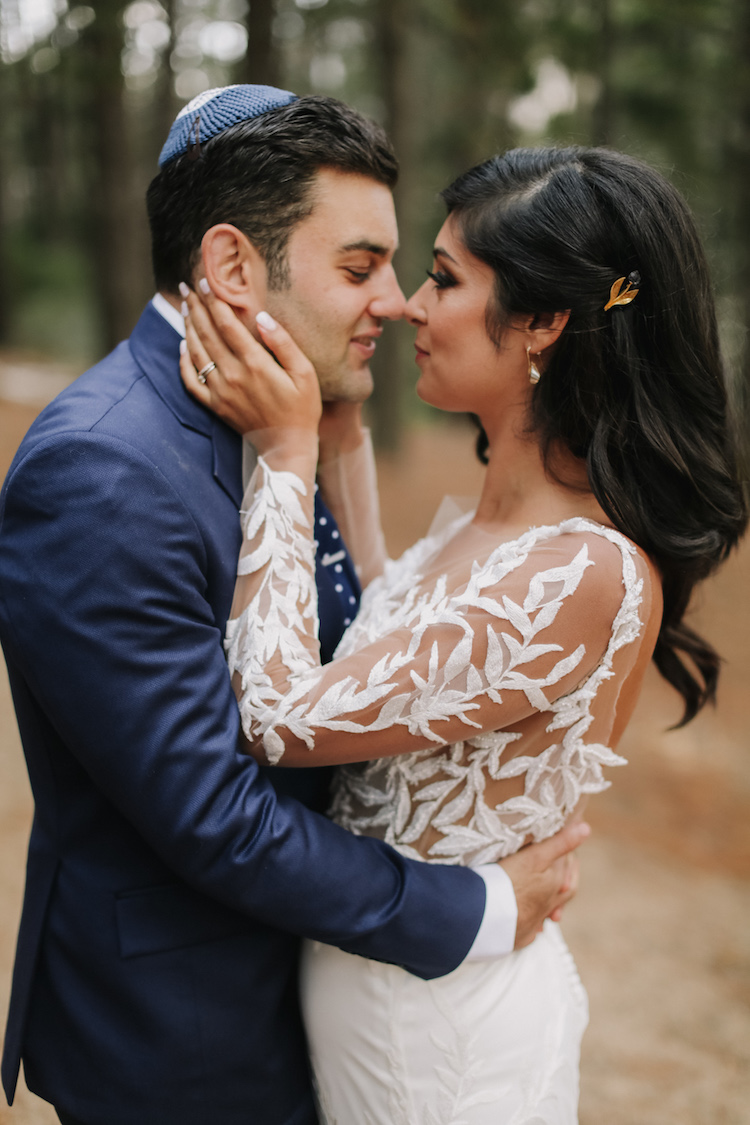 For our earthy vegan wedding reception we chose lots of fresh greenery such as olive and rosemary. We included touches of white and duck egg blue, gold and pops of yellow from lemons. 100% cotton table cloths to the floor and duck egg blue linen table runners and matching linen napkins.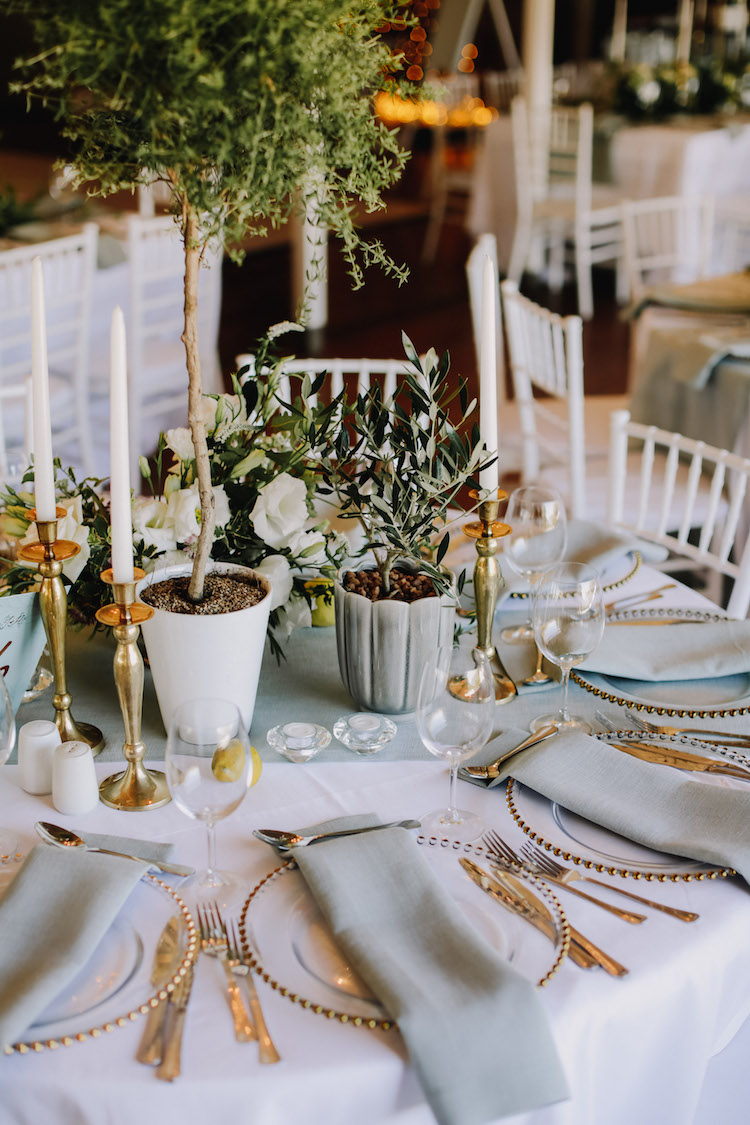 The rectangular tables had green garland runners pocketed with white flowers, and the round tables had Topiary trees to give height and two smaller floral displays were clustered together with fresh greens with pops of white flowers such as roses, Lisimachia, Lisianthus and seasonal flowers. The tables were placed alongside each side of the white rectangular dance floor, to geometrically frame and be close to the dance floor.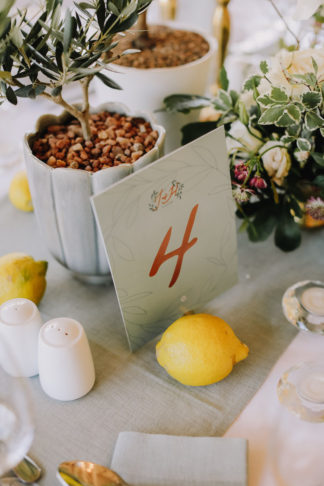 Table numbers were printed, with numbers hand painted in bronze against a duck egg blue card. White candles in tall bronze candelabra and glass crystal votive candles added a glow and beautiful lighting affect on every table. We mixed round and rectangular table shapes which also created a more interesting and variation in the floral arrangements.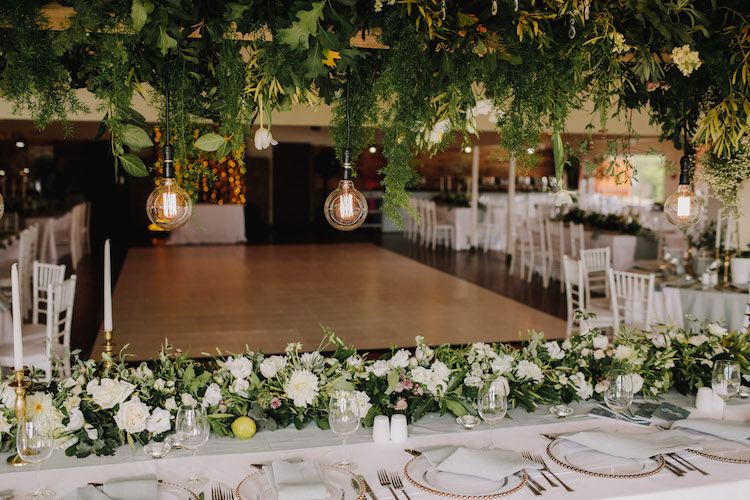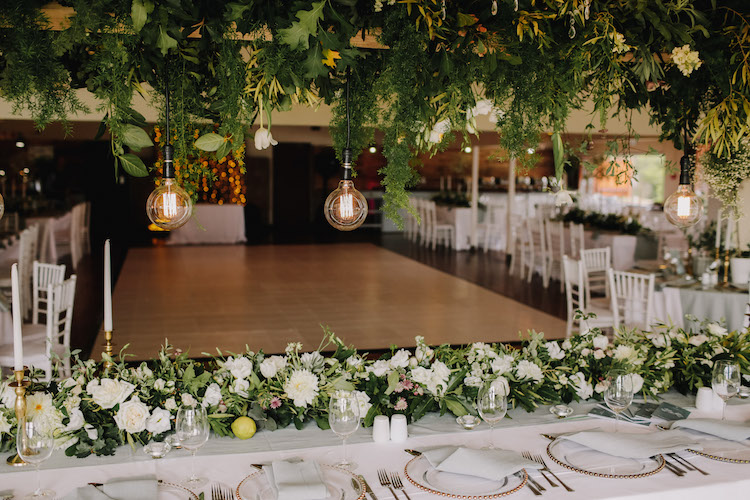 The main table was a focal point – it had a hanging and densely decorated floral arrangement down the entire length of the table, with lots of wedding greenery and interspersed with white flowers. Two topiary trees with green garlands runner, pocketed with white flowers such as garden roses, Lisianthus, Lisimachia as well as seasonal flowers.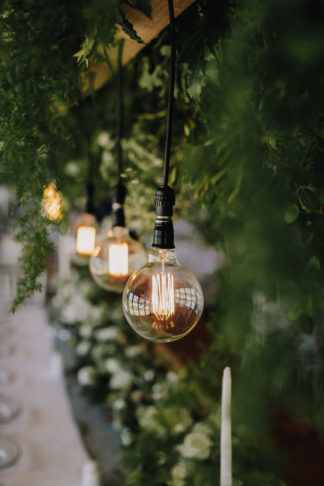 Naked Edison light bulbs hang at various points from this floral hanging structure and created a most striking effect.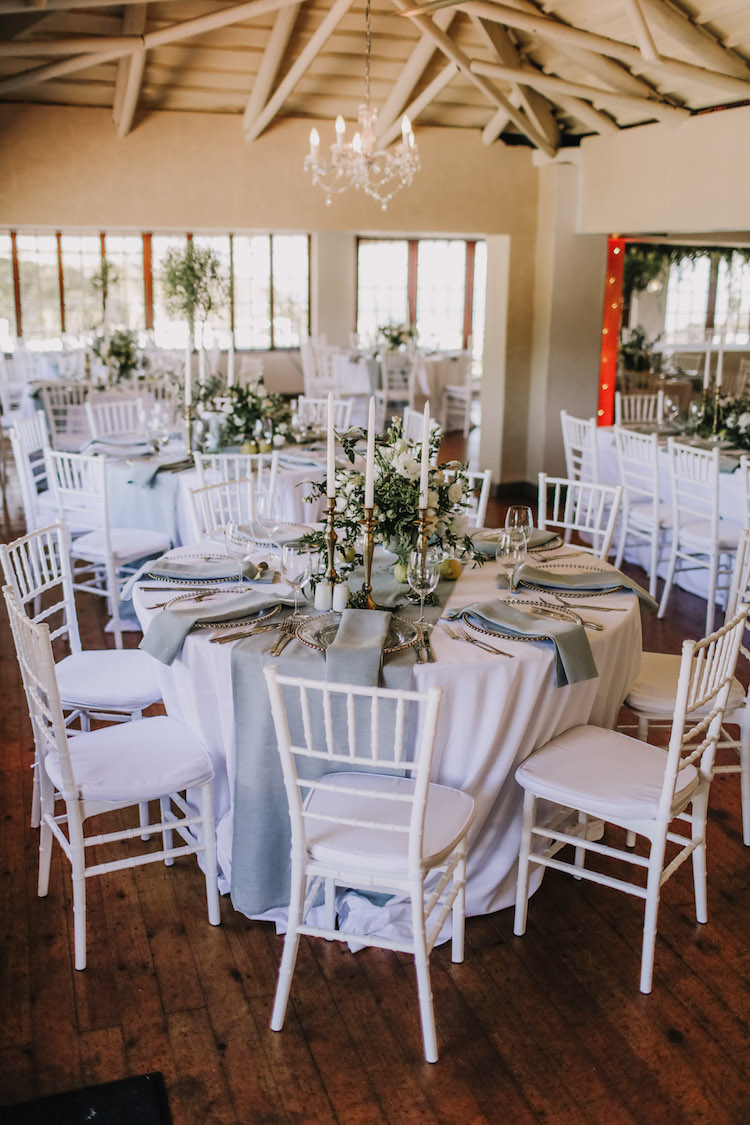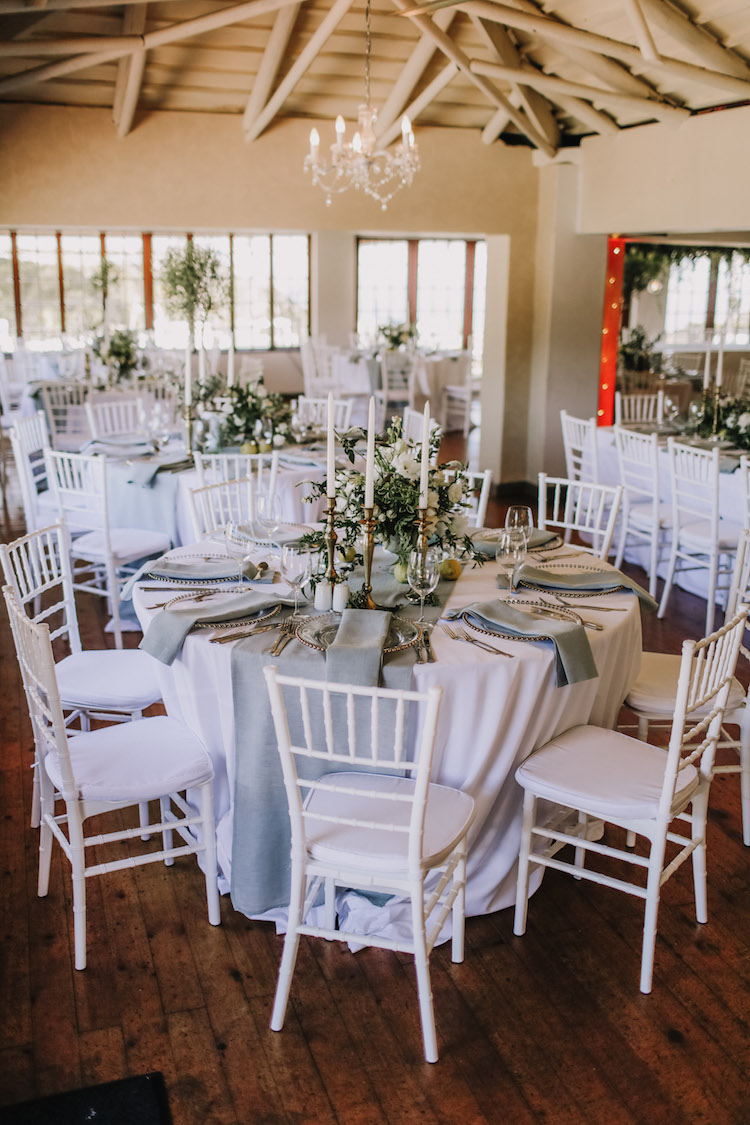 The wedding table décor included crystal and bronze touches. Glass under plates with beaded bronze rims were paired with bronze candles sticks. Tall cut glass crystal wine glasses were placed at each table setting to give sparkle and add sophistication to the décor .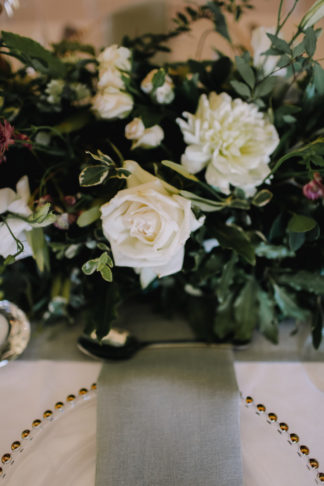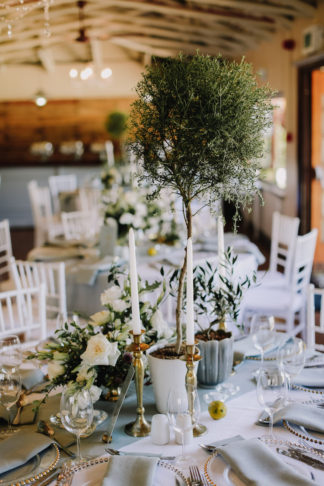 Vegan Wedding Menu Inspiration
We met with Chef Miki of Suikerbossie a couple of months before the wedding and discussed our ideal menu. We wanted the food to be familiar and comforting so that our guests felt like vegan food was relatable and enjoyable. He invited us back for a tasting and we were just blown away by what he had created!
On the day, all our vegan wedding food was served buffet style. The vegan chicken burgers were a huge hit and everyone thought they tasted just like the real deal. So many people complimented us on the food and said that it was the best food they've had at a wedding. Many people also commented that it inspired them to eat more vegan food or to transition to a more plant-based diet.
Vegan Wedding Starters Menu:
Vegetable sushi
Assortment of breads
Hummus and aubergine dip with vegetable crudites
Mediterranean platter with falafels, olives, sundried tomatoes and pepperdews
Spinach tiropita's with pecan nuts
Chickpea soup in mini cups
Caprese salad with nut-based mozzarella
Vegetable spring rolls
Bruschetta with tomato and herbs
Crumbed mushrooms
Chicken-style nuggets and hot chips for the kids
Main Vegan Wedding Menu: 
Tofu and sundried tomato quiche
Spinach cannelloni
Chicken-style burgers
Roasted potatoes with rosemary salt
Lightly sweetened baby carrots and butternut
Meat-free bobotie with tofu egg topping
Baby spinach, pea and mint salad
Papaya and avo salad
Cous cous and lentil salad
Vegan Wedding Dessert Menu:
Assorted fresh fruit skewers
Layered jelly in mini cups
Chocolate cupcakes
Apple crumble
Chocolate brownies
Assortment of biscuits and chocolates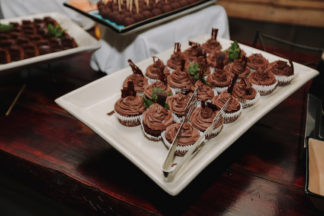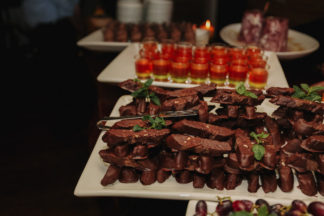 (Check out this Vibrant Mexican-Style, Zero-Waste, Vegan Taqueria Wedding in LA for even more vegan menu ideas.)
Wedding Planning Advice:
Bear in mind that most of your guests won't be vegan and will probably not be familiar with foods like seitan, tofu, kale, etc. or may have preconceived notions about vegan food being bland or unsatisfying. Work with your caterer to plan a menu that will appeal to non-vegan guests and will not put them too far out of their comfort zones. We found that serving more traditional familiar dishes worked best and meant that nobody felt that the food was very different from the usual wedding fare. The most popular dishes were things that people already know and love: canneloni, burgers, quiche, sushi, falafel, cupcakes, etc.
We kept the decor as simple as possible and worked with the natural elements provided by the venue and the surrounds. Focusing on natural materials such as woods, fauna and flora is a great way to cut down on plastic waste.
We avoided gimmicks and favours that we felt weren't necessary and focused on decor aspects that would make the most visual impact whilst keeping other aspects as minimalist as possible.
I made sure to source eyelashes that were mink-free and didn't colour my hair or use any self-tans. I went with my own natural tan (that I worked on through the summer before the wedding) and my natural hair colour and texture.
Look for leather-free shoes made of vegan materials. Leather is usually denoted by a bear-shaped symbol on the base of the shoe and vegan materials are usually a square-shaped symbol. This makes it easy to shop at mainstream shoe stores and find leather-free wedding shoes.
We didn't do any guest favours, photobooths, cakes, etc. because we are minimalists are heart. We focused on what would make us the happiest on our day and what the true essence of a wedding union meant which for us was all about family, good food, good music and beautiful photo's to remember the day by. These were the things we chose to spend the most money on and we didn't bother with all of the others.
Planning a wedding that is 100% vegan from every raw material used to every ingredient in the food can add a huge amount of stress. Focus on the things that are going to make the most impact. If you are vegan for ethical reasons, making sure that no animals were hurt in the making of the food will be the most important thing to focus on as that would make the biggest impact.
Wedding Service Provider Contacts: Photographer Justin and Simone // Venue + Catering Suikerbossie // Bridesmaid Dresses Rosie Benatar // Vegan Wedding Dress Elbeth Gillis // Brides Hair Cecilia Fourie // Brides Make-up Vanessa Kroeger  // Flowers + Decor Holloway Design //  Music Jewish wedding singer: Choni G. // DJ: Ricci H // Lighting + Decor: Baie Goeters  // Stationery Full of Hart // Groom's Shoes: Gino Paoli from Zando.com // Bride's shoes: Charles & Keith // Groom's suit: Sajid Kahn // Videographers: FJS productions