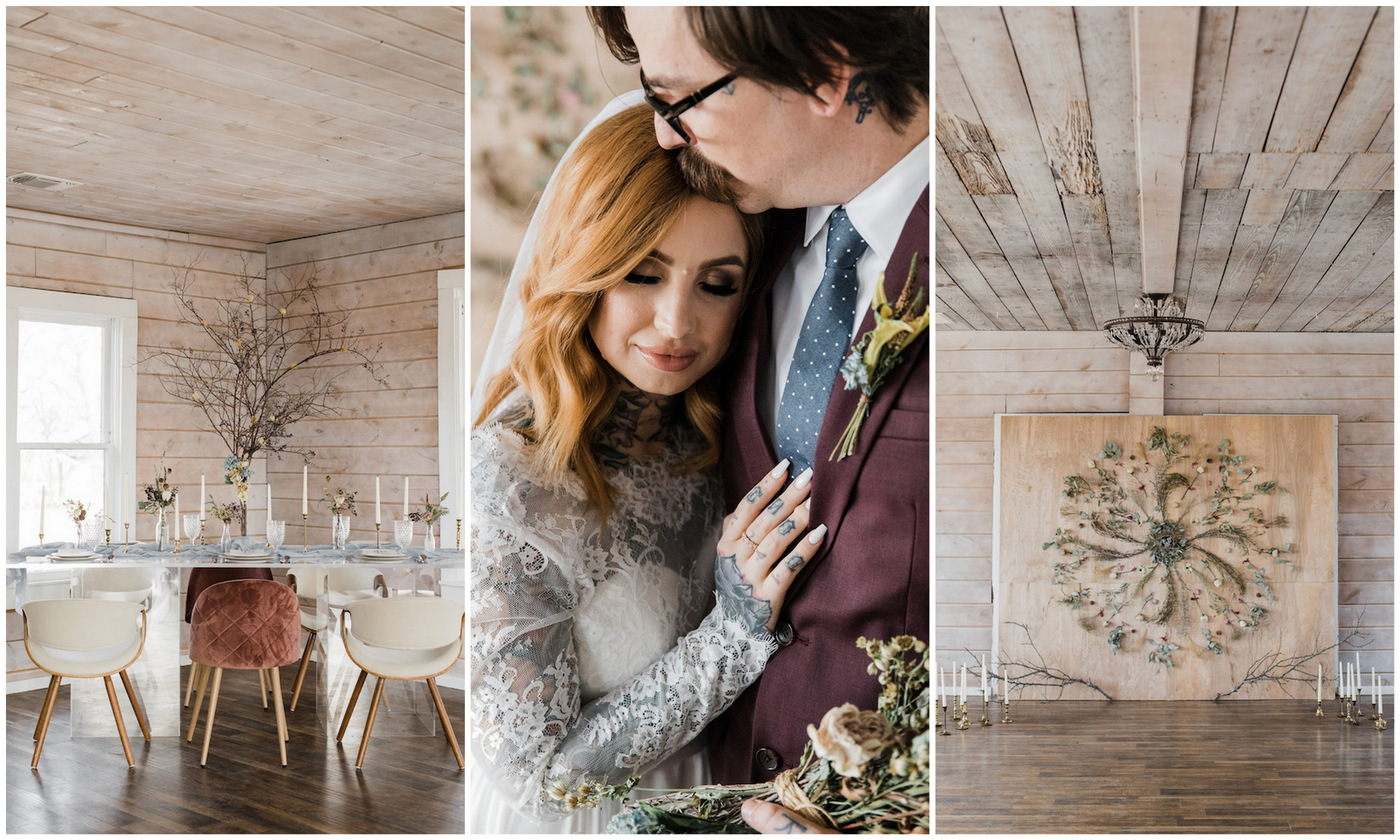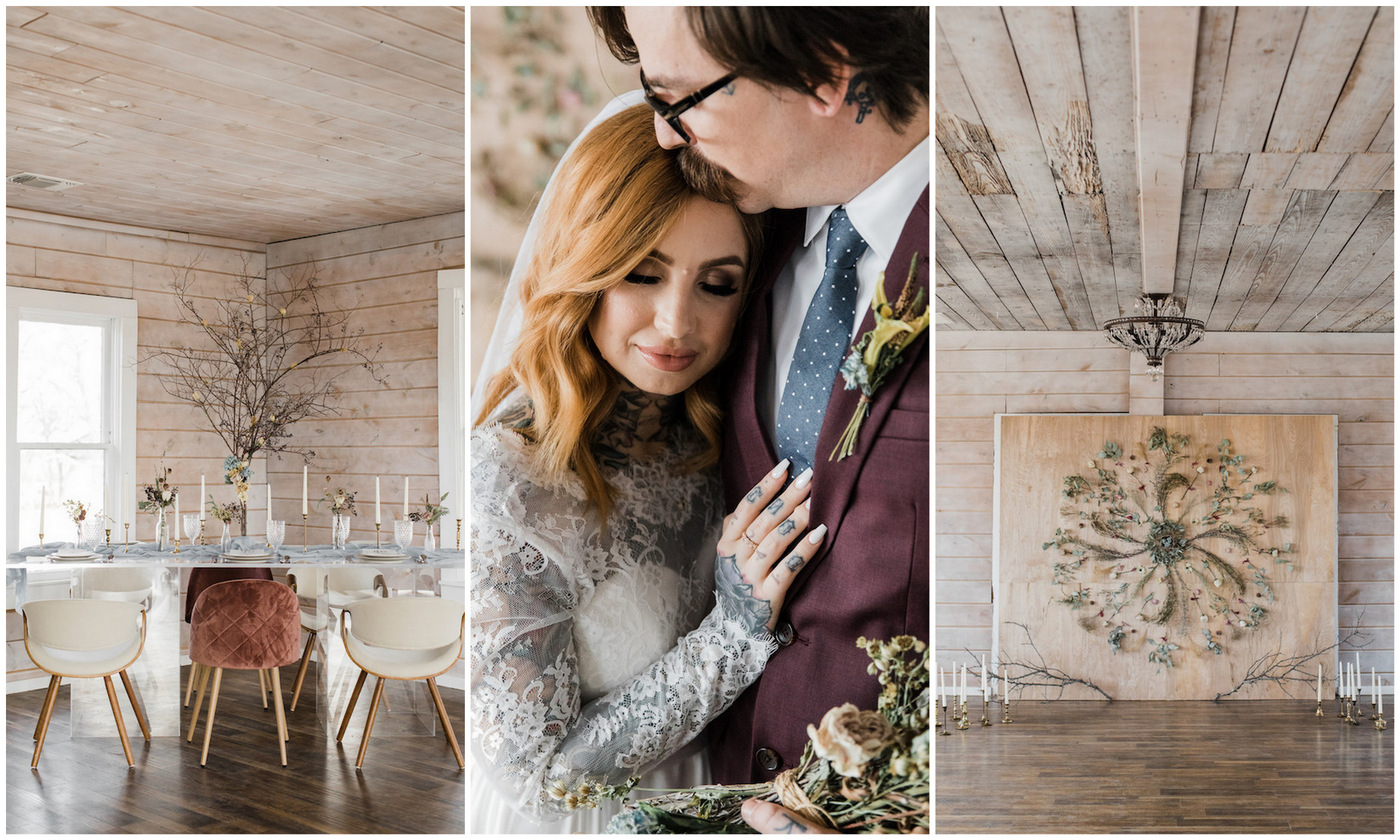 This earthy farmhouse wedding shows how easy it is to create a cruelty-free, eco-friendly, vegan wedding filled with awesomeness. Bailey Blair of Opal & Onyx Photography wanted to create a vegan and cruelty-free wedding that was different from what might typically be envisioned when thinking of a plant-based, eco-friendly celebration.
Everything – from the cake to decor and flowers, and even the models – are vegan and follow principles of low waste. "This is something that is dear to my heart and I believe is so important to consider in today's world," shares Bailey, and I wholeheartedly agree. (Check out the rest of our vegan wedding inspo here.)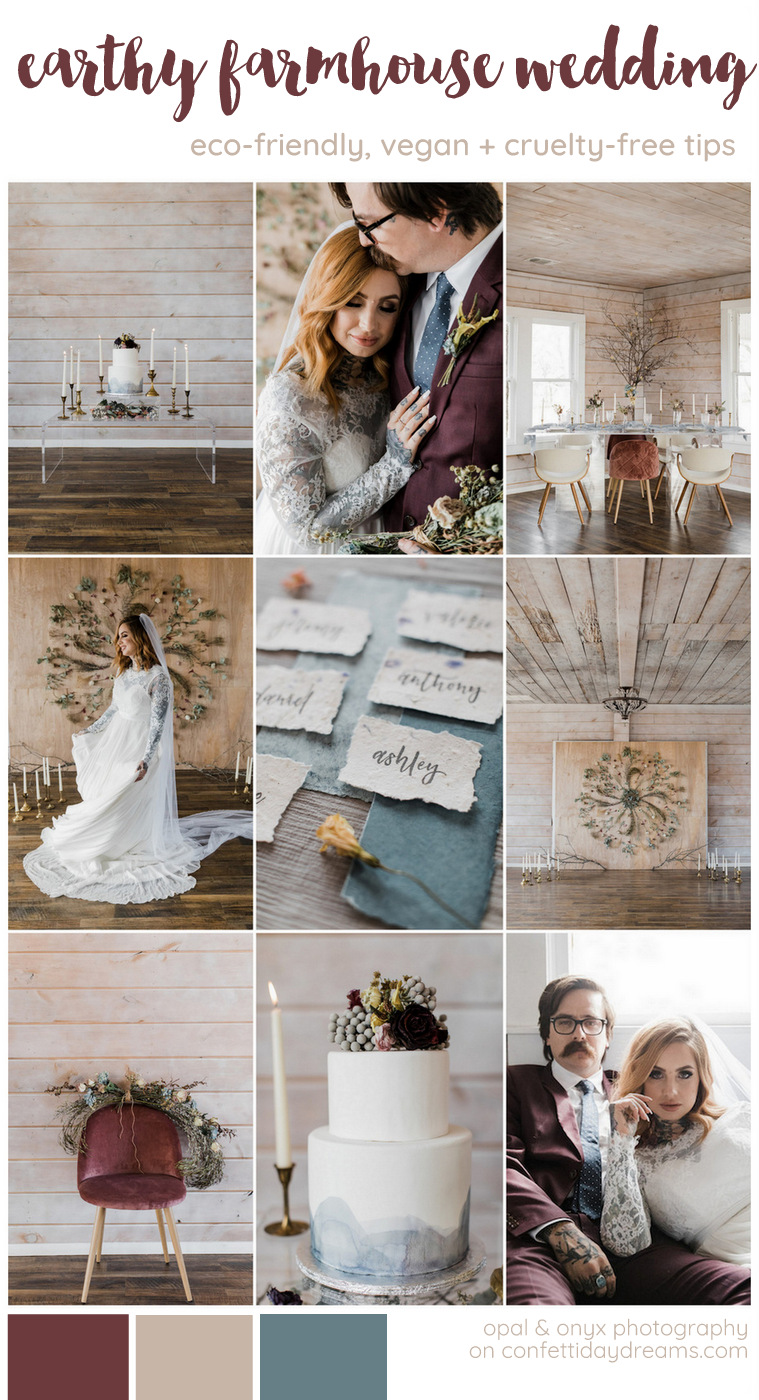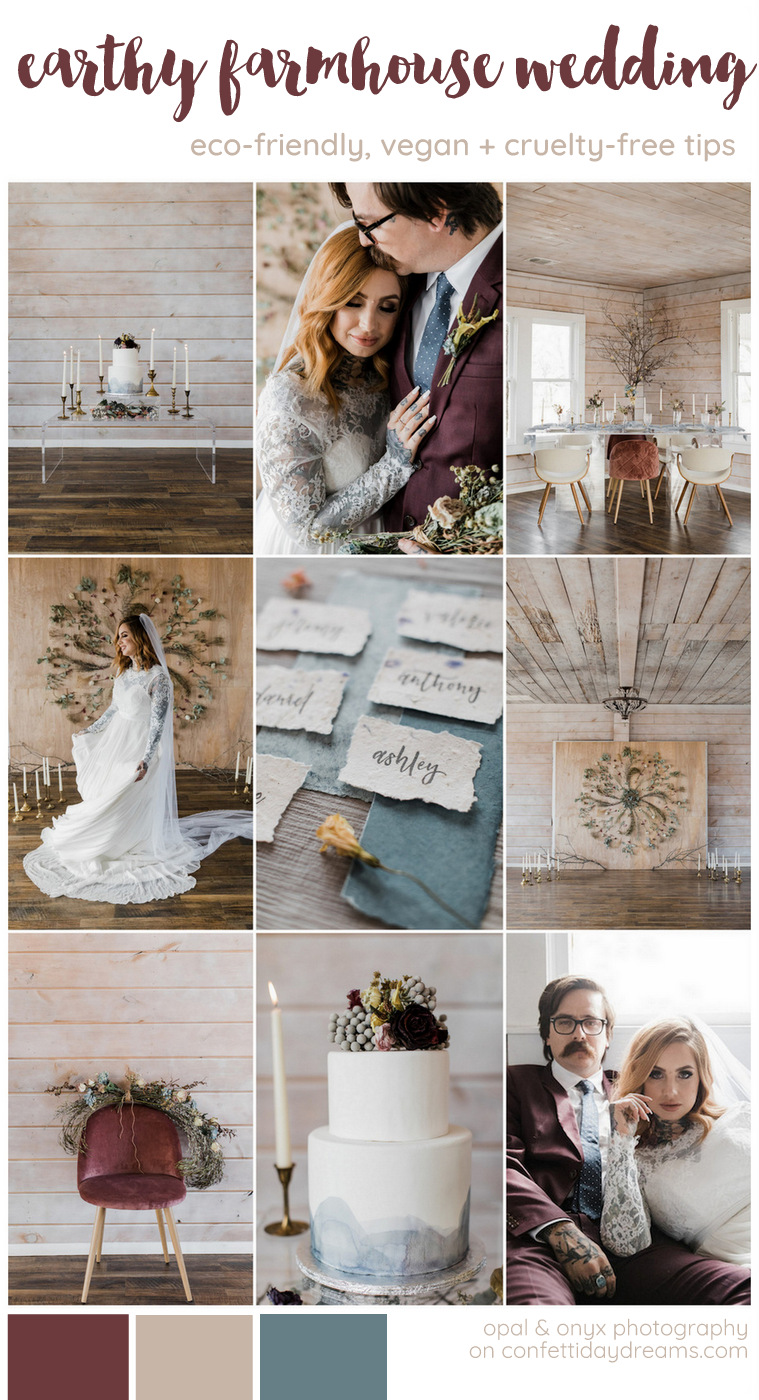 The team chose Chapel Creek Ranch in Denton, TX as the venue for their inspiration because of the amazing whitewashed salvaged shiplap chapel and farmhouse rustic vibe.
Planner, Katie Frost Weddings, helped coordinate vendor timelines and style some of the details. She and her fiancé recently started a beverage company that donates a large portion of proceeds to animal rescue!
Lilley Custom Florals created a dried floral mandala ceremony backdrop that could easily be DIY-ed. All elements were eco-friendly and vegan.
The models, Linda and Derek, are married and are both vegan and animal welfare advocates. Linda (also known as Little Linda) owns Koneko, a high-end cosmetic and modern vegan tattoo studio located near downtown Dallas.
Cruelty-Free, Eco-Friendly Vegan Wedding Ideas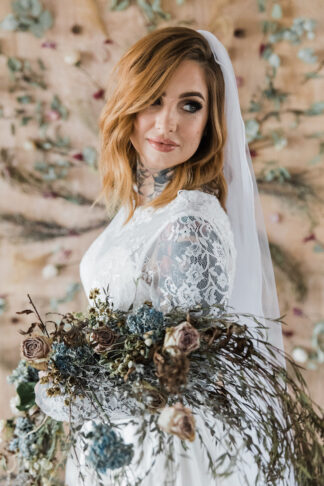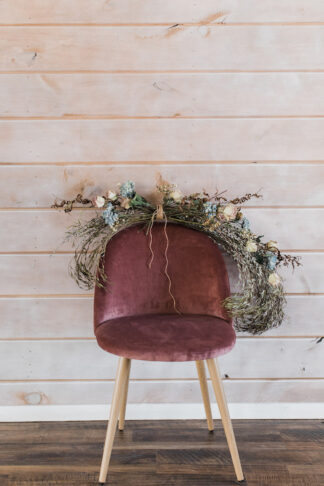 Our hair and makeup team, Kelly Haws and Before the Veil Beauty, used only vegan and cruelty-free makeup and hair products and offer their services to couples in the Dallas area.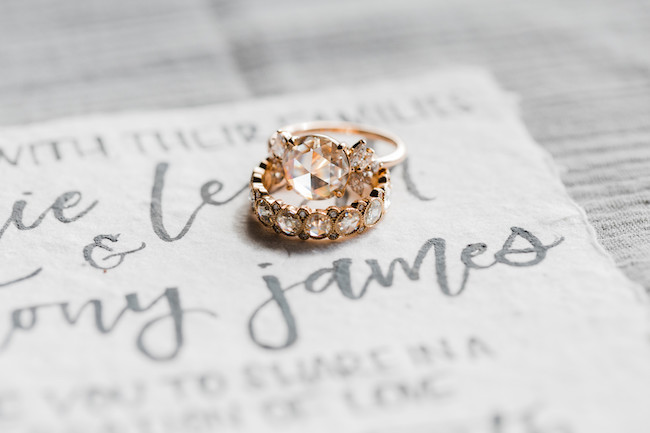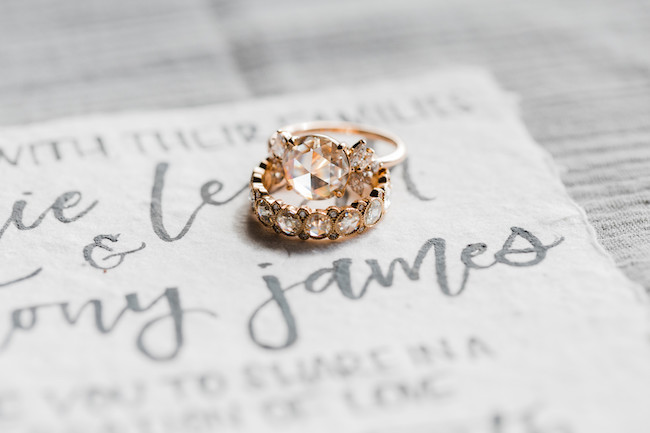 The paper goods were created by Kelsey Happy Clark and feature seeded paper, an amazing sustainable alternative to normal paper goods. These eco-friendly wedding invitations and place cards can be planted to grow wildflowers and mint, creating a better world rather than creating more waste.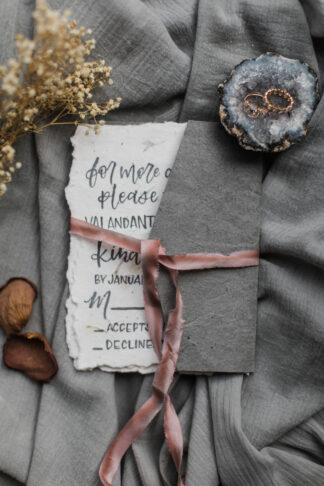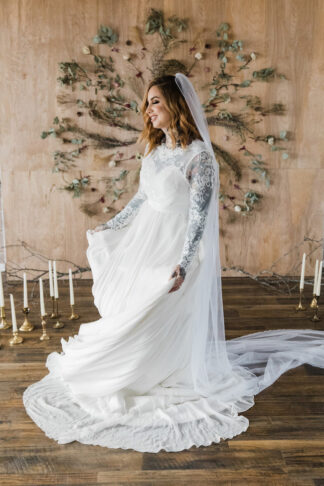 The cruelty-free wedding dress was provided by dress designer Priscila of De France Couture and was made with vegan wedding materials. The suit was also cruelty free and made with vegan materials.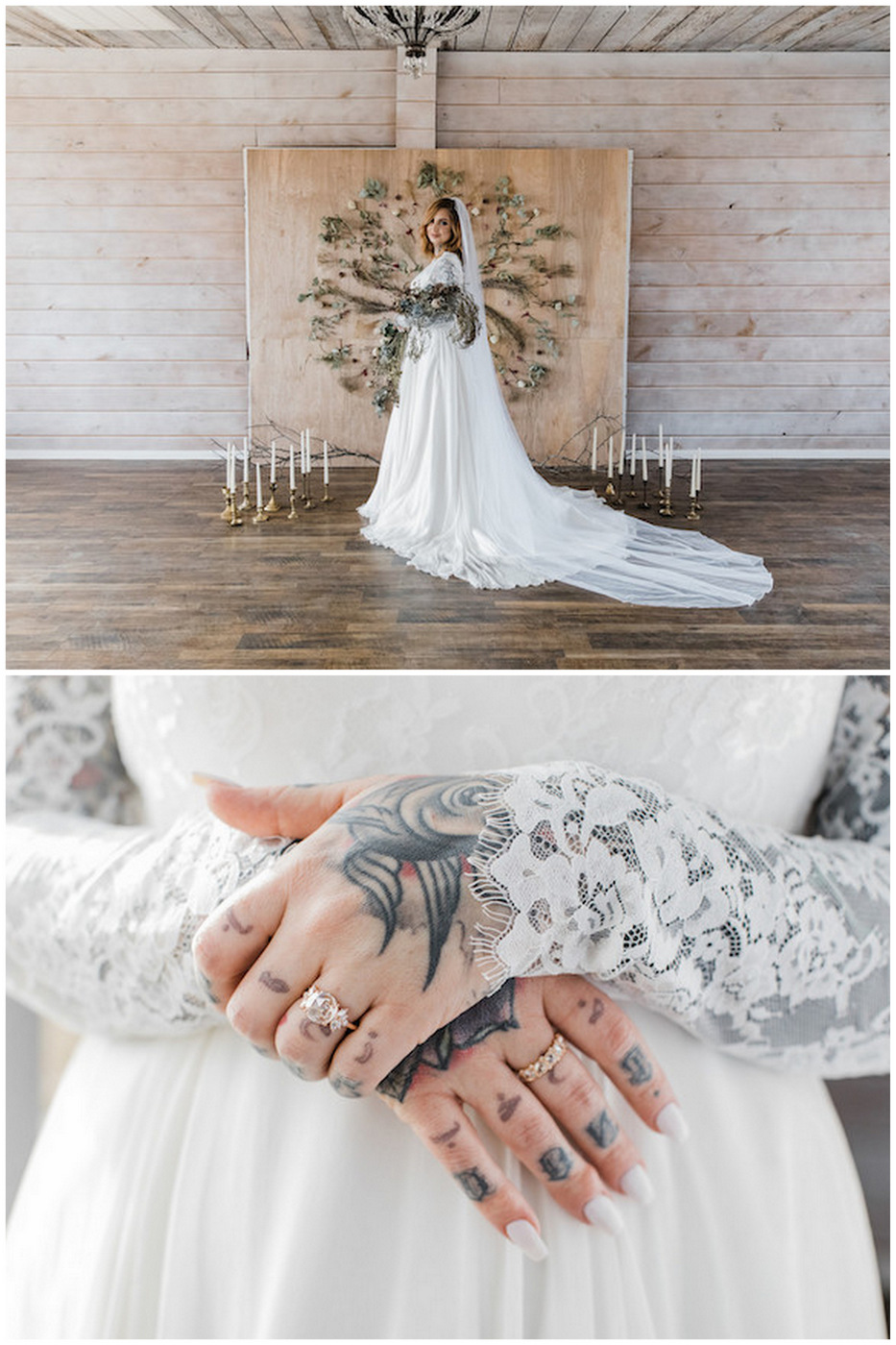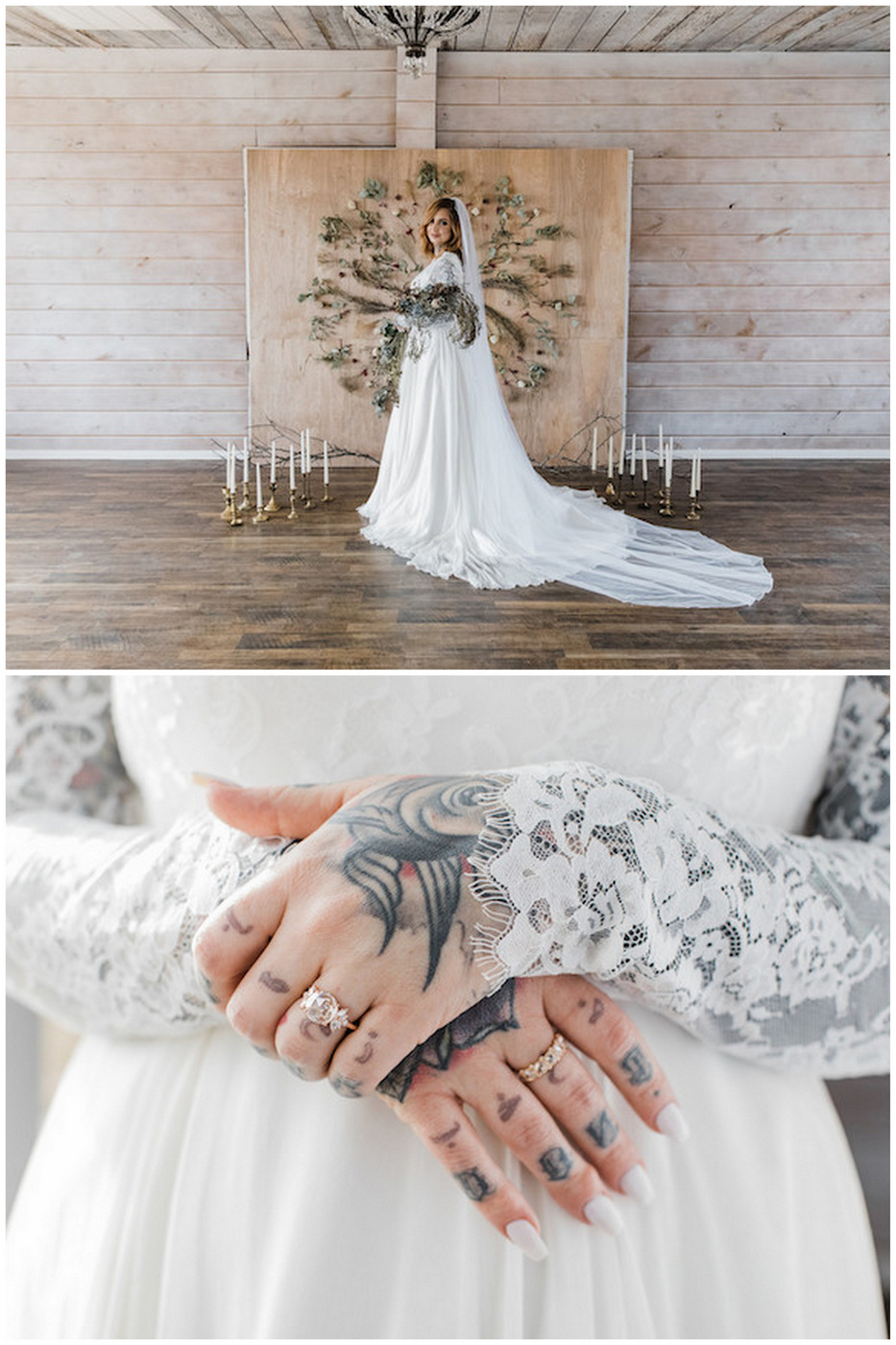 The sustainable weddings rings were provided by The True Gem Company, a socially responsible and eco-friendly local business. The stunning rings are made of lab grown Moissanite and recycled metals, making them a conflict-free and environmentally friendly choice.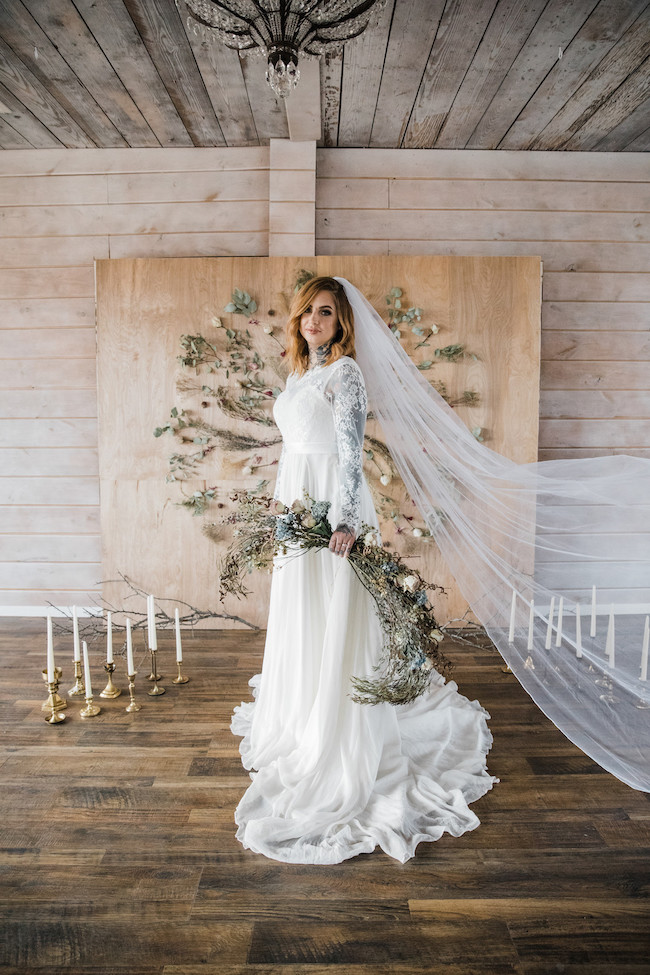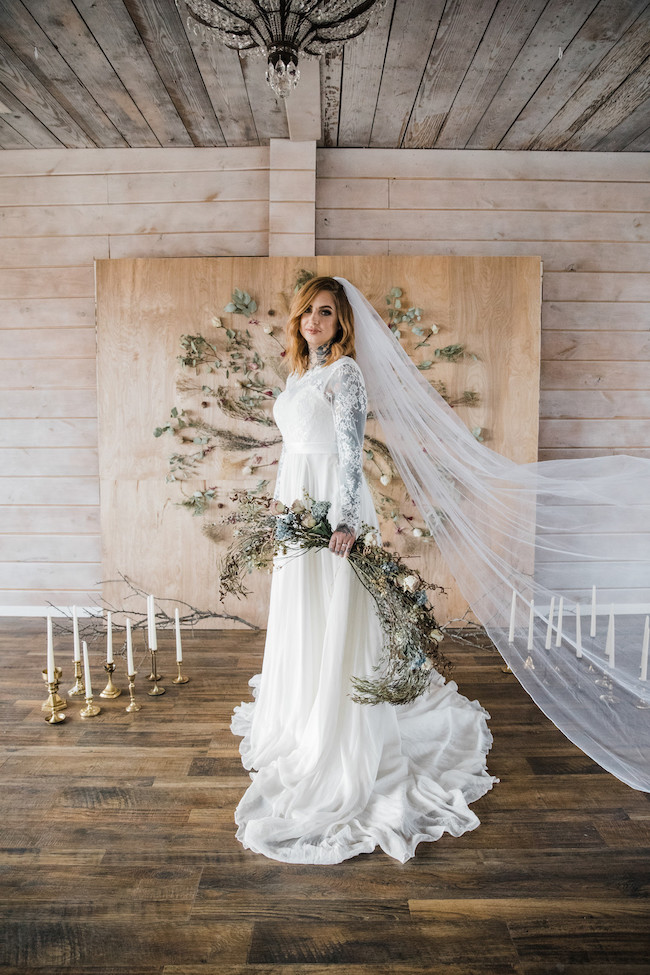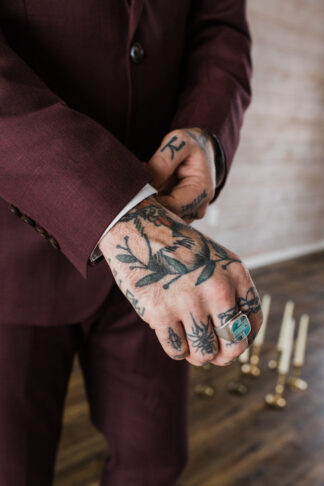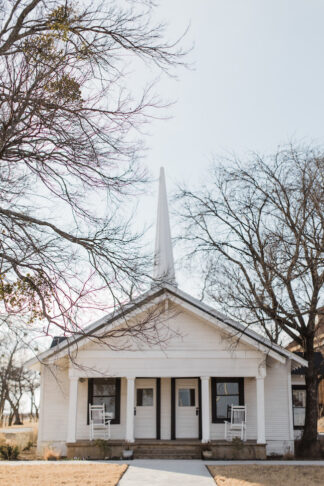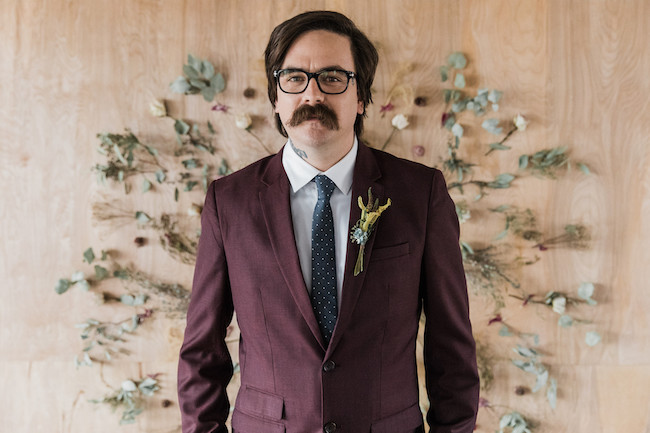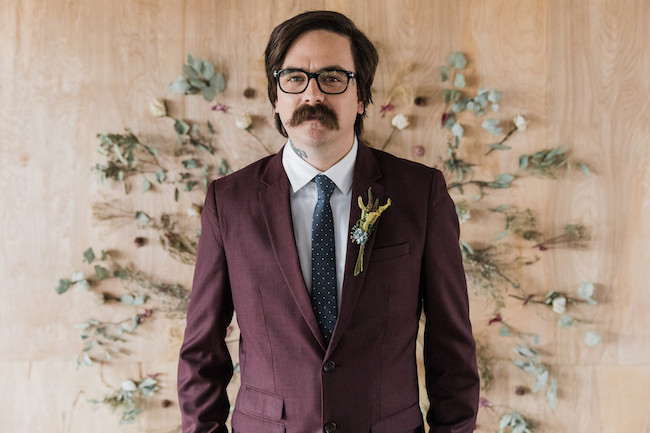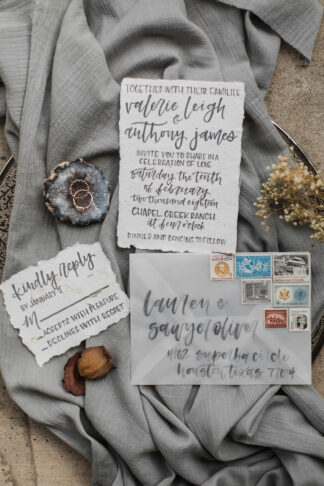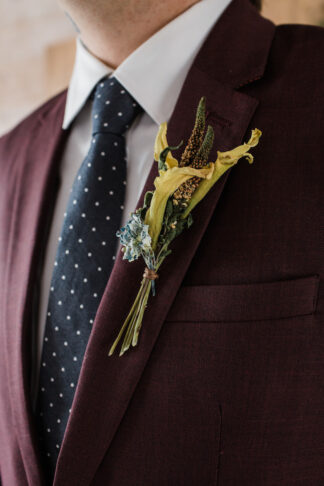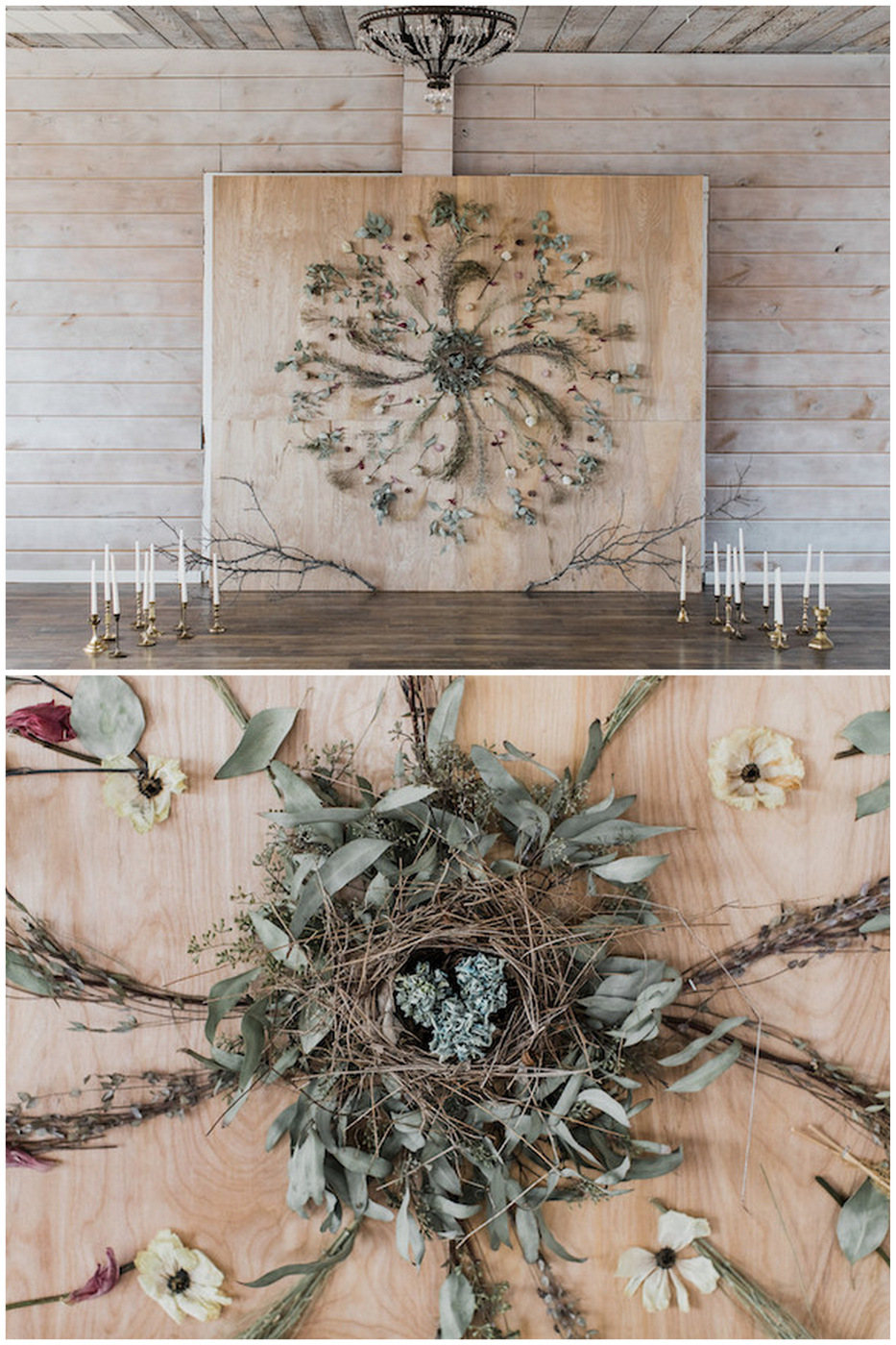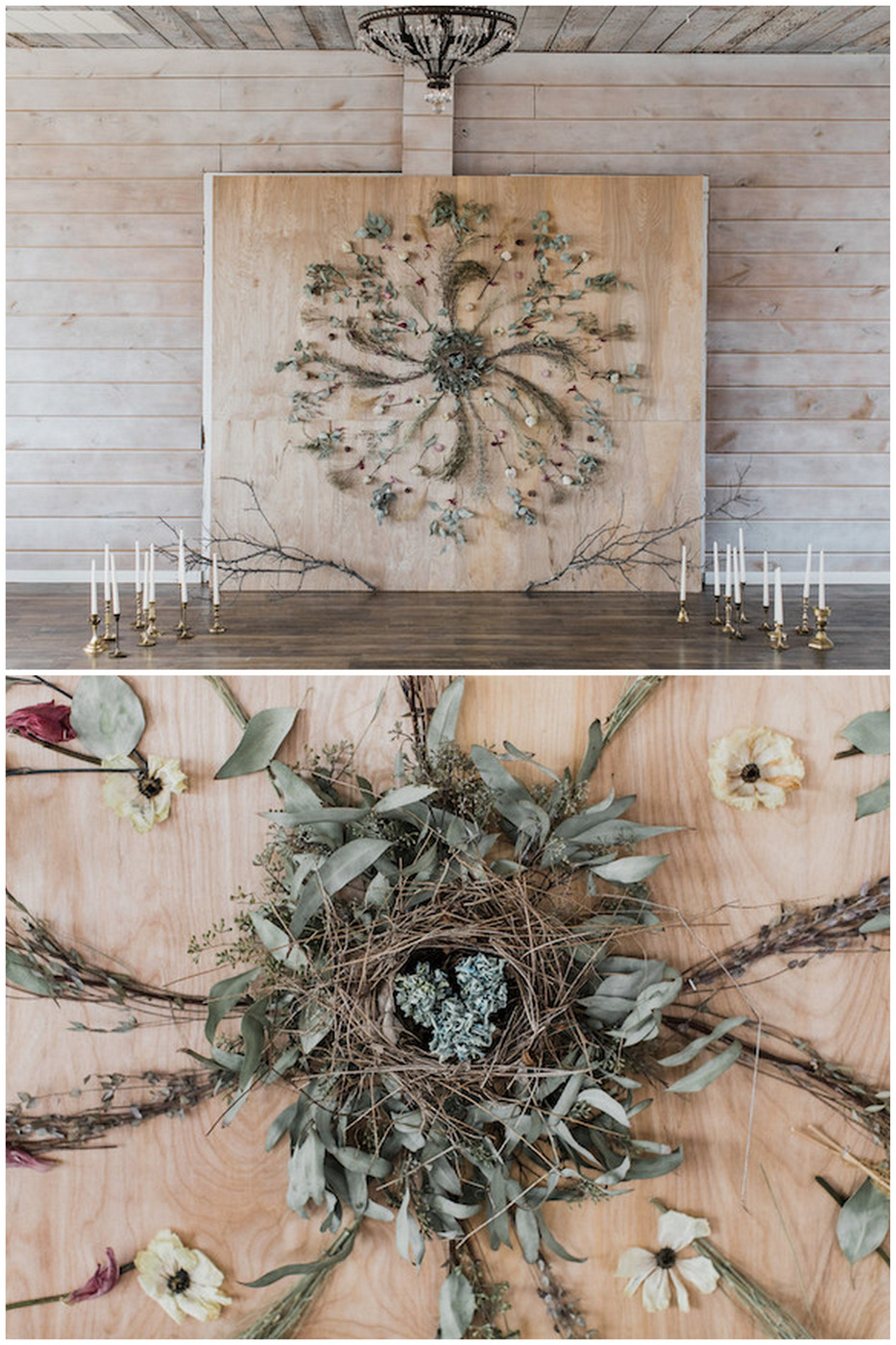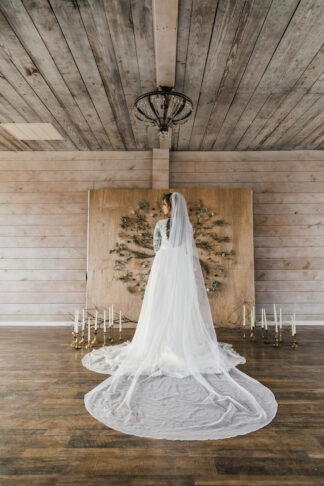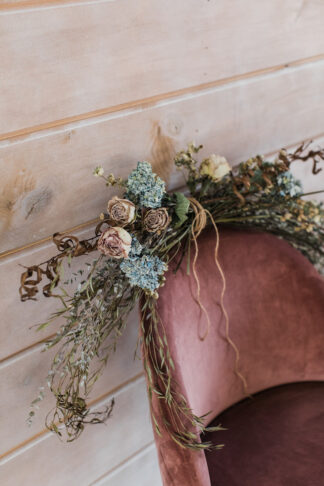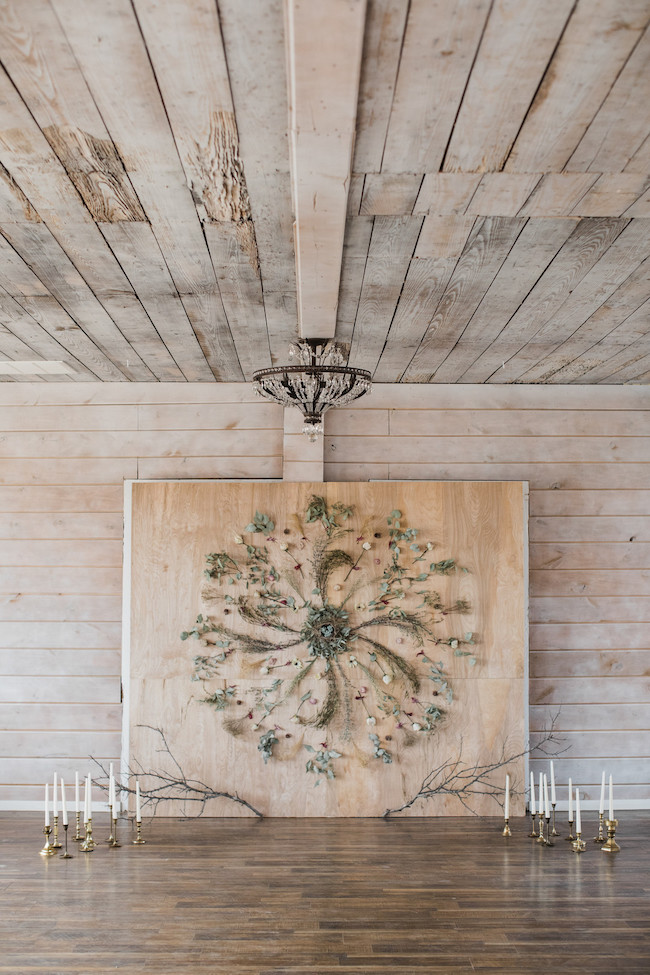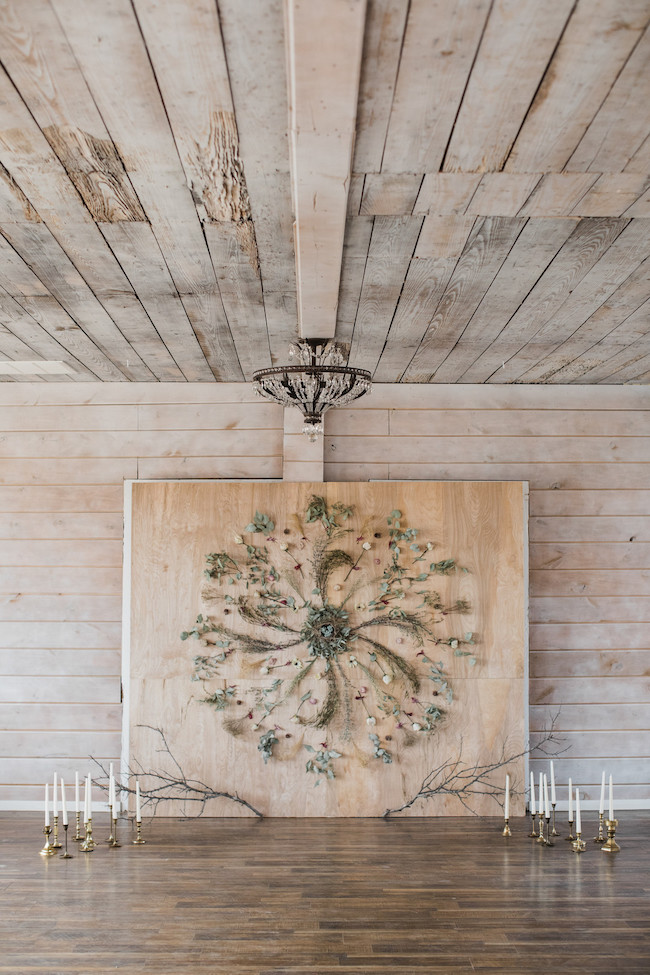 Our florist, Alisha Lilley of Lilley Custom Florals, created a gorgeous dried floral mandala as the ceremony backdrop.  She used foraged materials and dried flowers from other projects she was working on, which made for eco-friendly and reusable florals.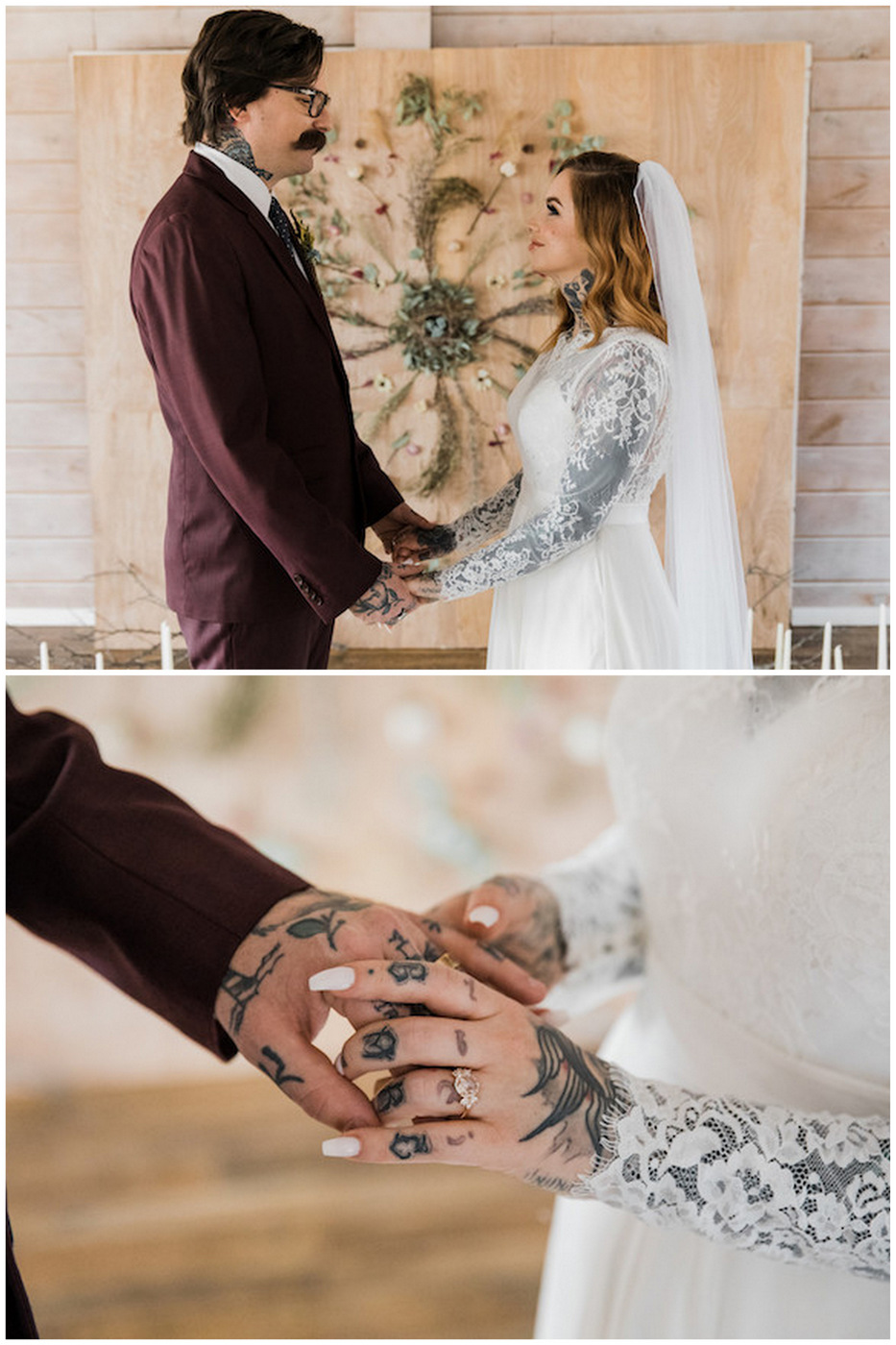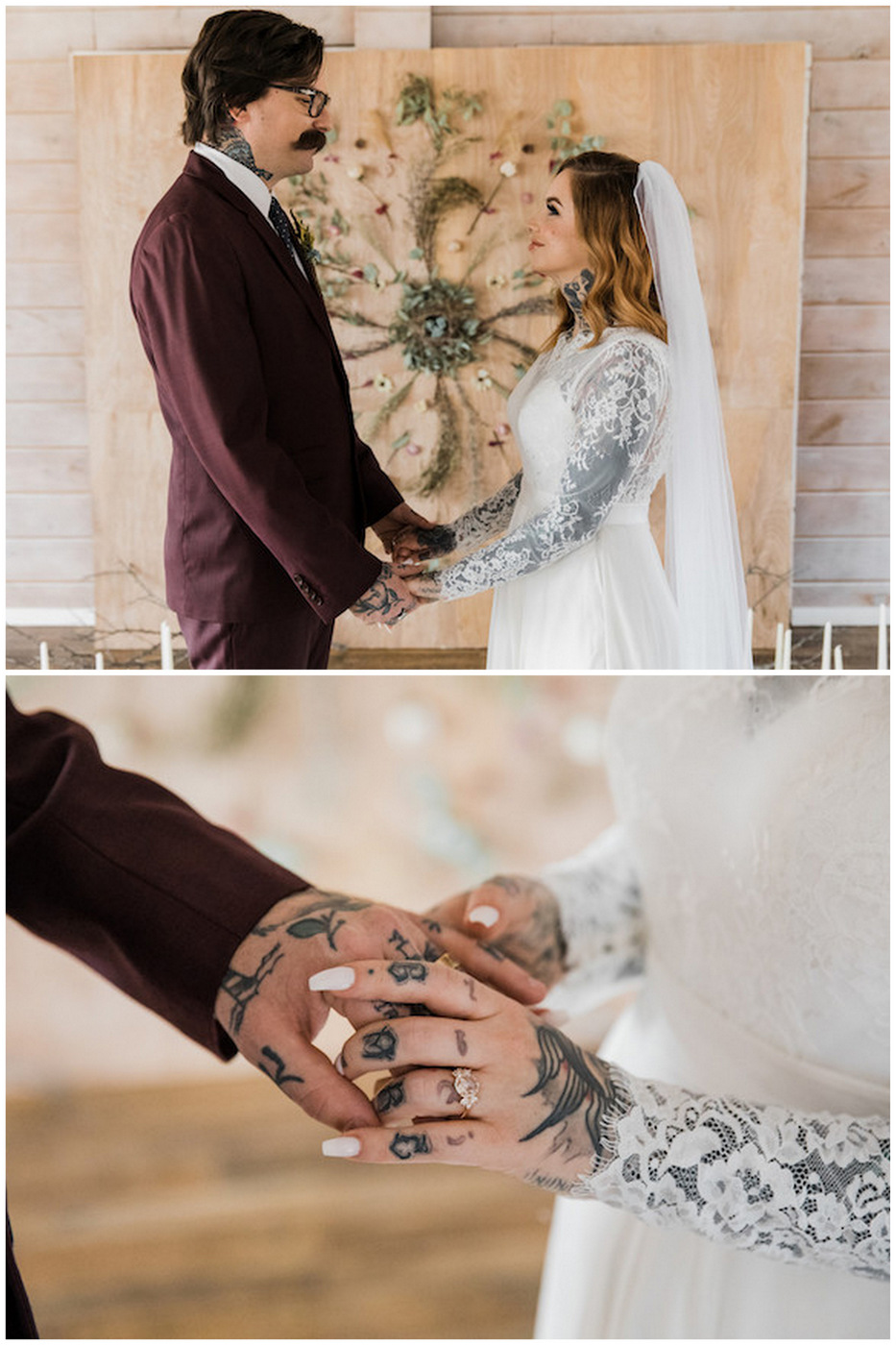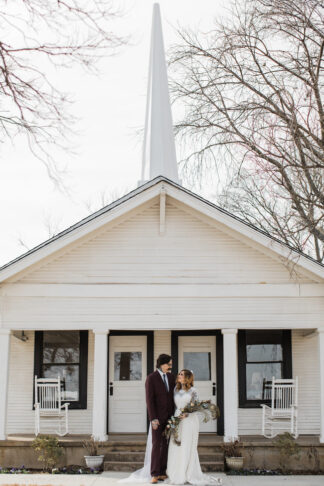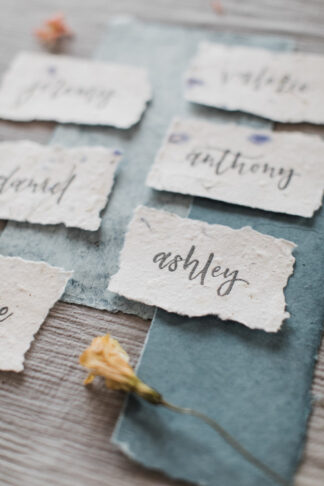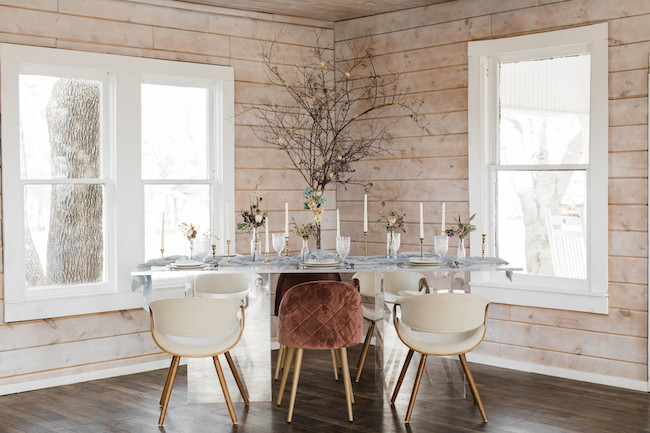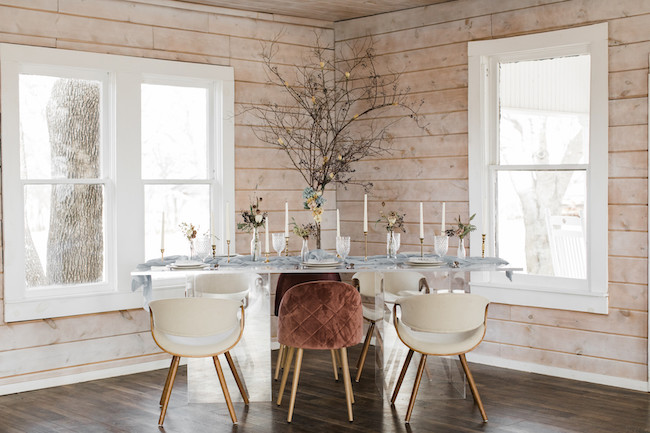 Alisha also created a stunning forgaed, eco-friendly dried flower table centerpiece that paired beautifully with rentals from Beautiful Event Rentals.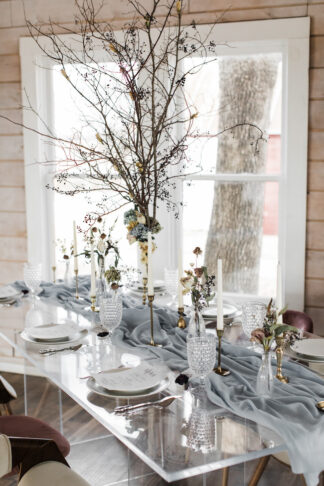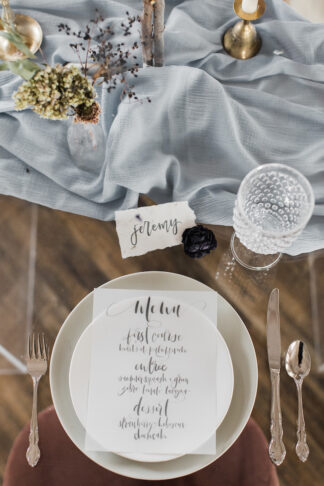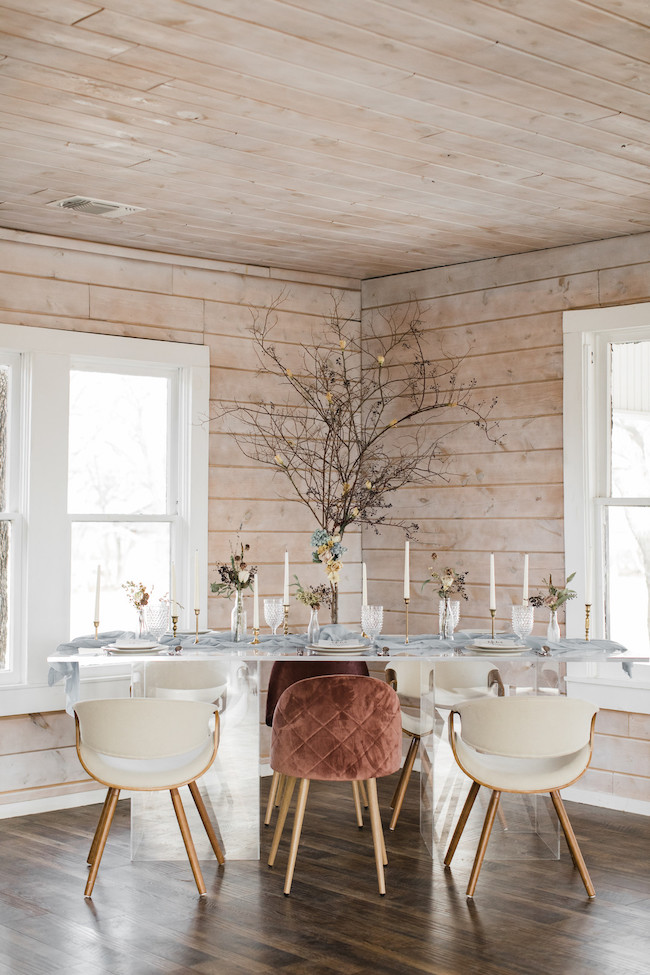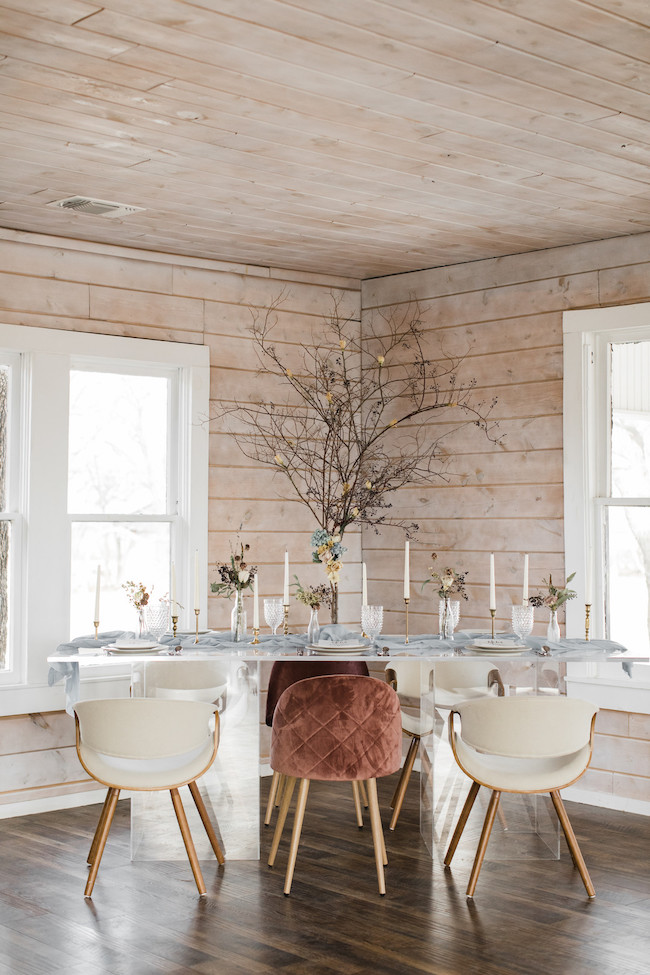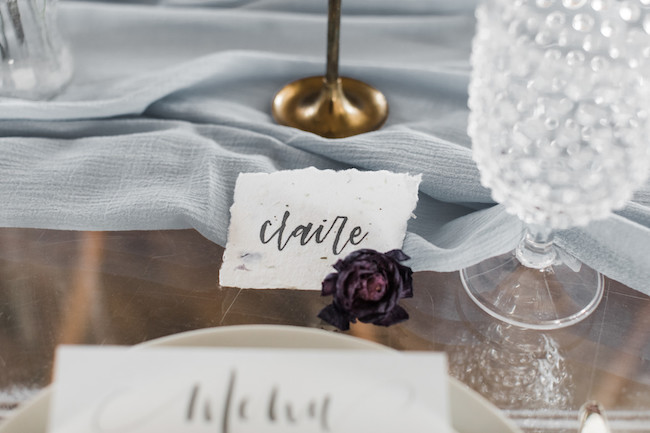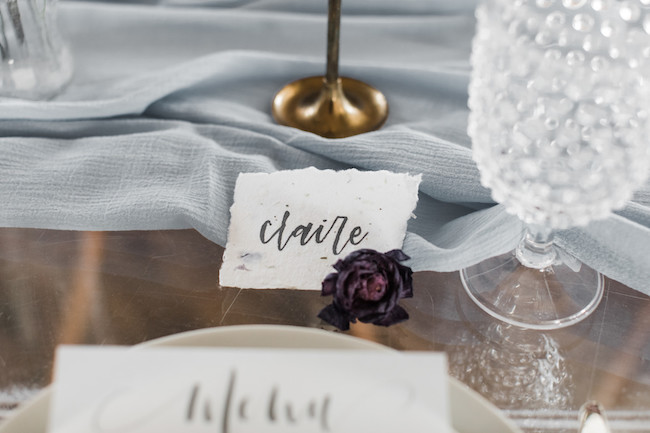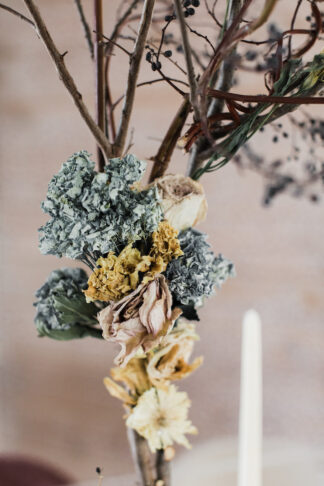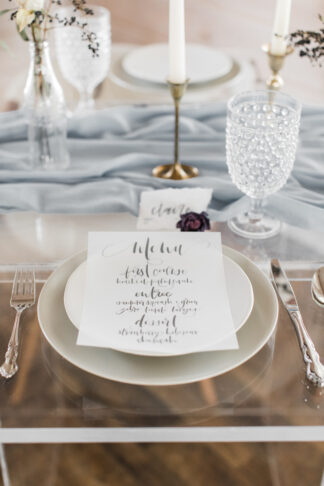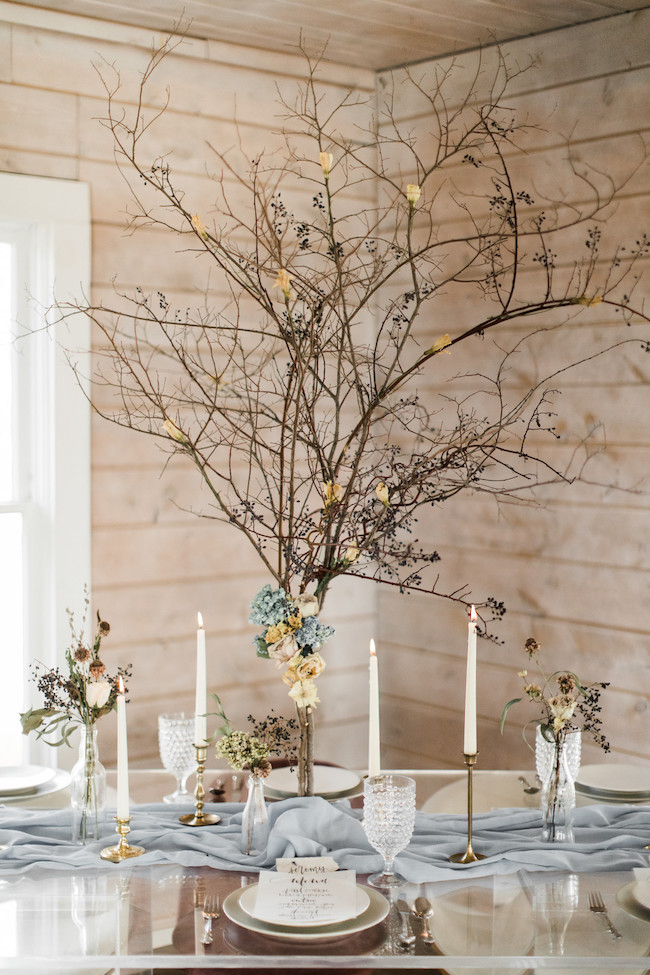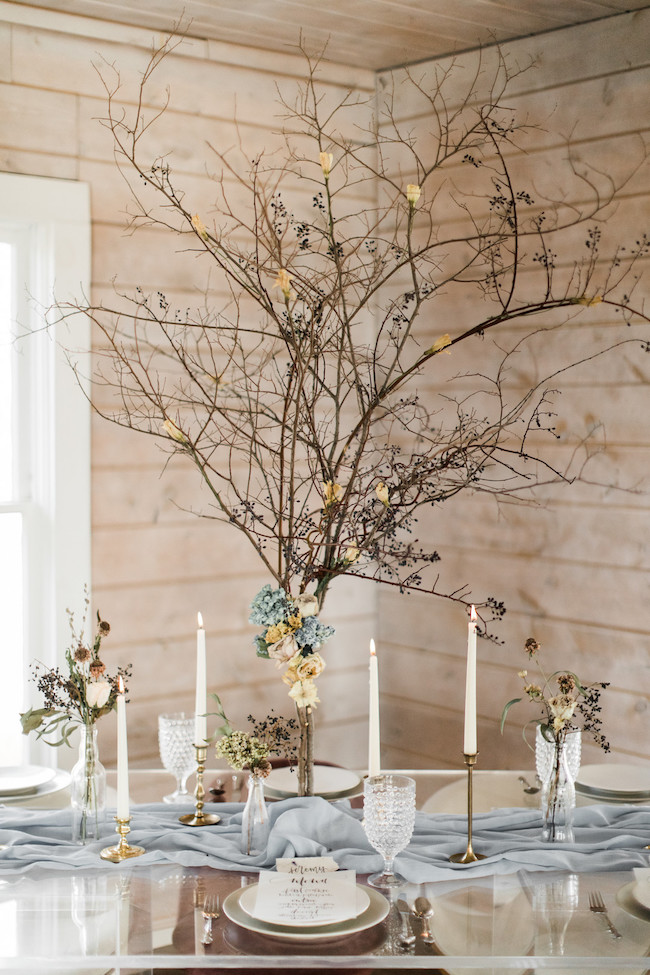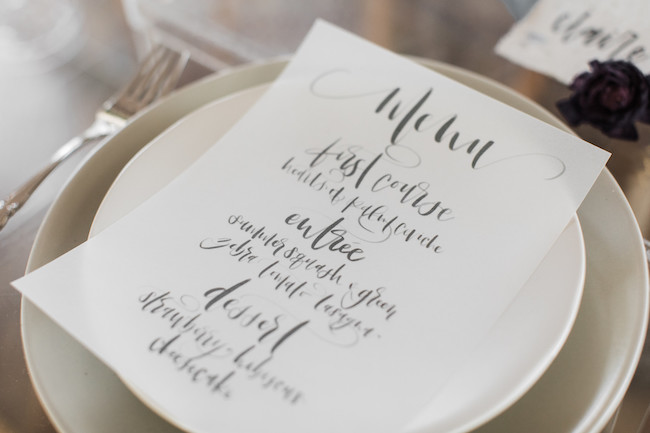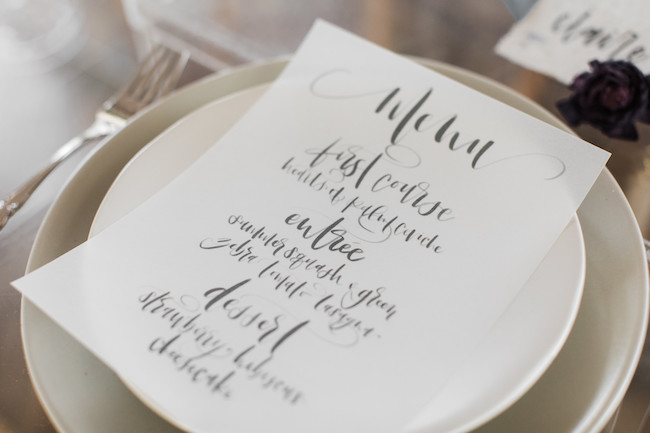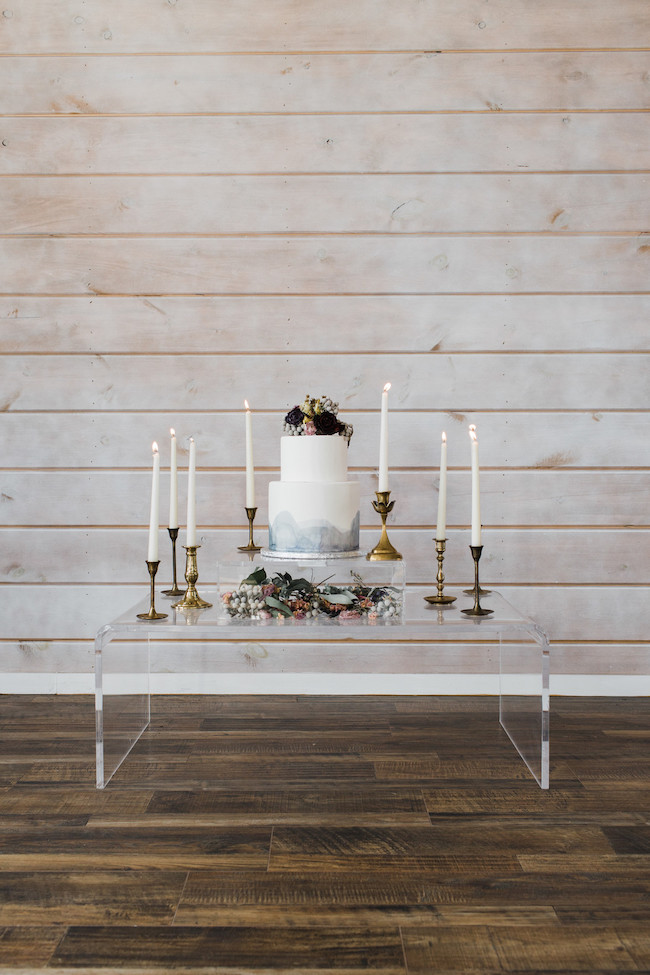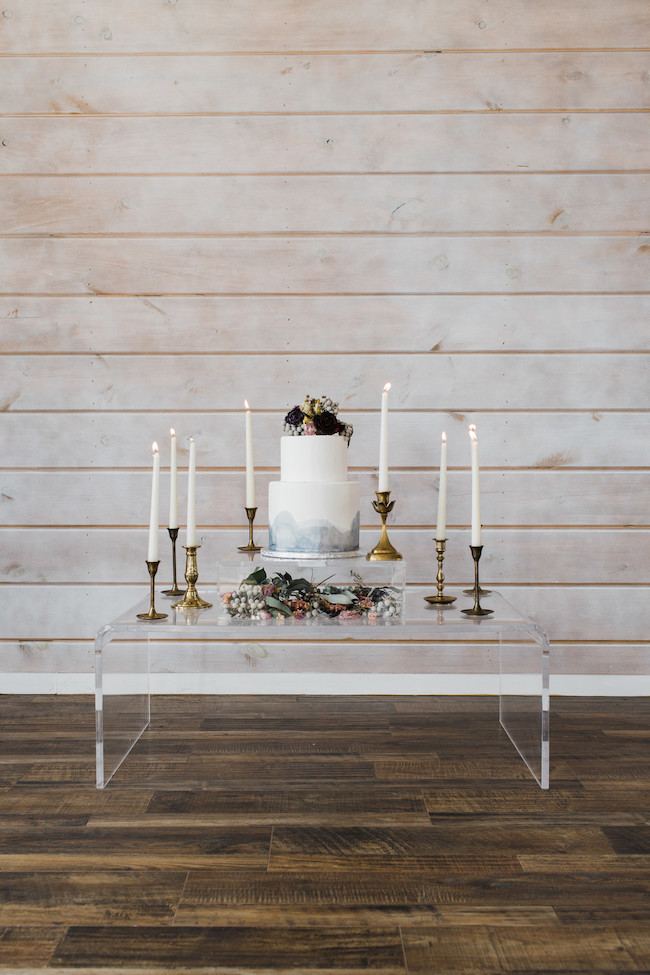 The vegan wedding cake was created by Reverie Bakeshop , a local vegan bakery that offers gluten and allergen-free options. They are a large part of the vegan community here in Dallas and I was thrilled to have them on board. The delicate watercolor details paired elegantly with the dried florals.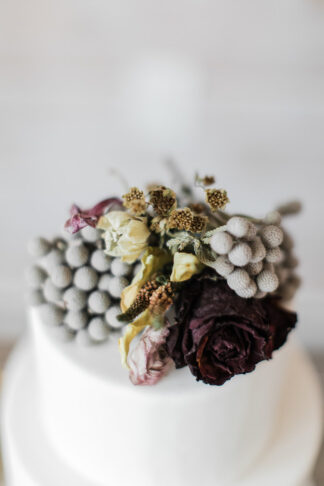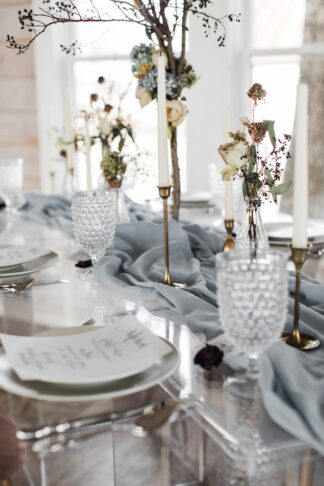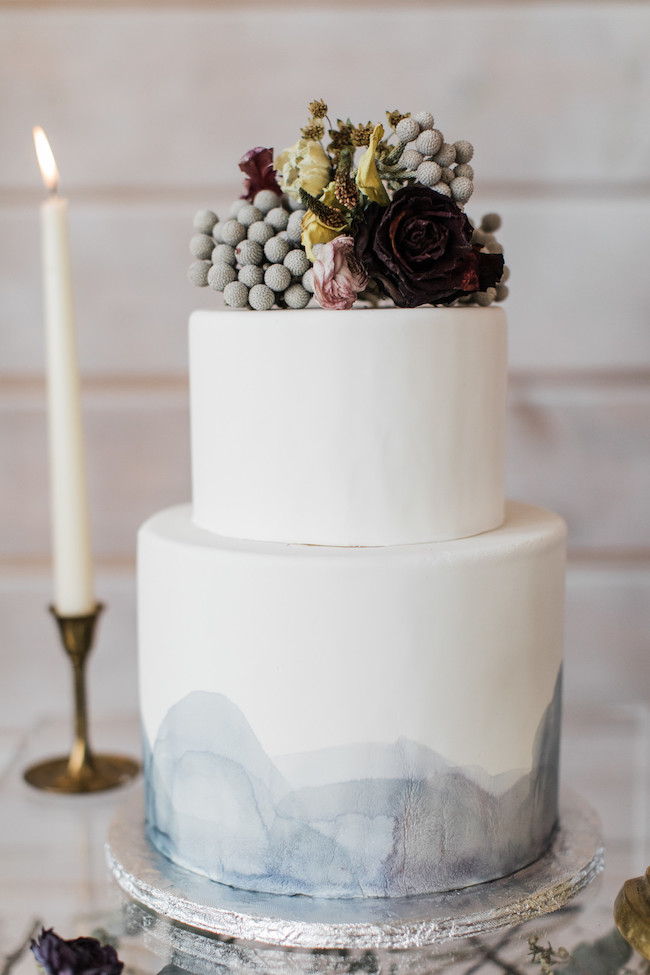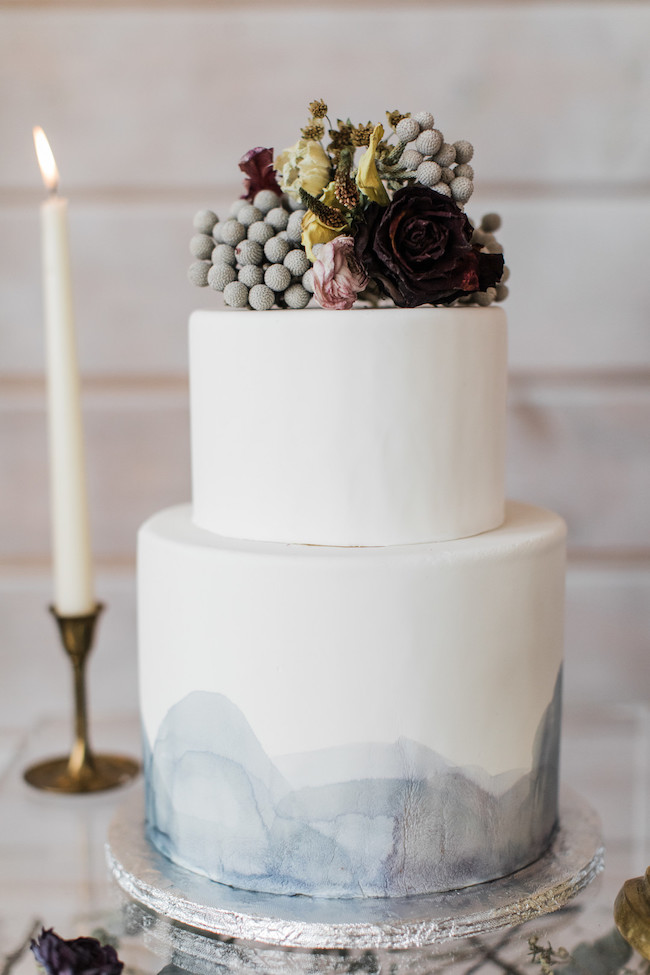 Tips for planning a cruelty-free, vegan wedding:
Stand firm in your decision to have a cruelty free wedding, says Bailey of Opal and Onyx photography: "You may be met with some resistance, but just remember this is you and your partner's wedding day, not anyone else's!" There are so many amazing options for food, decor and vendors out there who share your passions and want to help you create the vegan wedding of your dreams!
Bailey shares her advice for planning a cruelty-free, environmentally friendly, vegan wedding:
Find a vegan-friendly caterer. Whether it's a vegan restaurant you both love or even a catering service that has vegan options, your guests will hardly even notice that there are no animal products on their plate. Vegan food has become especially creative lately, so have fun with it! Show your guests that vegan food doesn't just have to be veggies and hummus – create a vibrant menu that will leave your guests raving for years to come!
Skip the paper goods or opt for eco-friendly alternatives. With options like online RSVPs and seeded paper that you can plant, there's no need for multiple paper invitations and place settings that will just get thrown in the trash. Find a calligrapher who specializes in alternative options for paper goods and get creative!
Make sure your hair and makeup team are using vegan, cruelty-free products for your wedding day look. This is an easy conversation and most HMUA's will be able to tell you what products they use and whether or not they offer cruelty-free beauty options.
Choose your clothing wisely! Avoid dresses and suits that contain silk or wool and opt for vegan leather instead of regular leather. You will look fabulous and the planet (and the animals) will thank you!
Find a florist that uses locally grown organic blooms and ask if they have the option of foraging. Decorate with flowers that are in season and avoid blooms grown with insect-harming pesticides. Not only are you supporting local businesses but you are also reducing your impact on the environment.
Skip the wedding gift registry and opt for donations to your favorite rescue or charity instead. You will be cutting down on your material consumption while helping a cause you're passionate about so it's a win-win!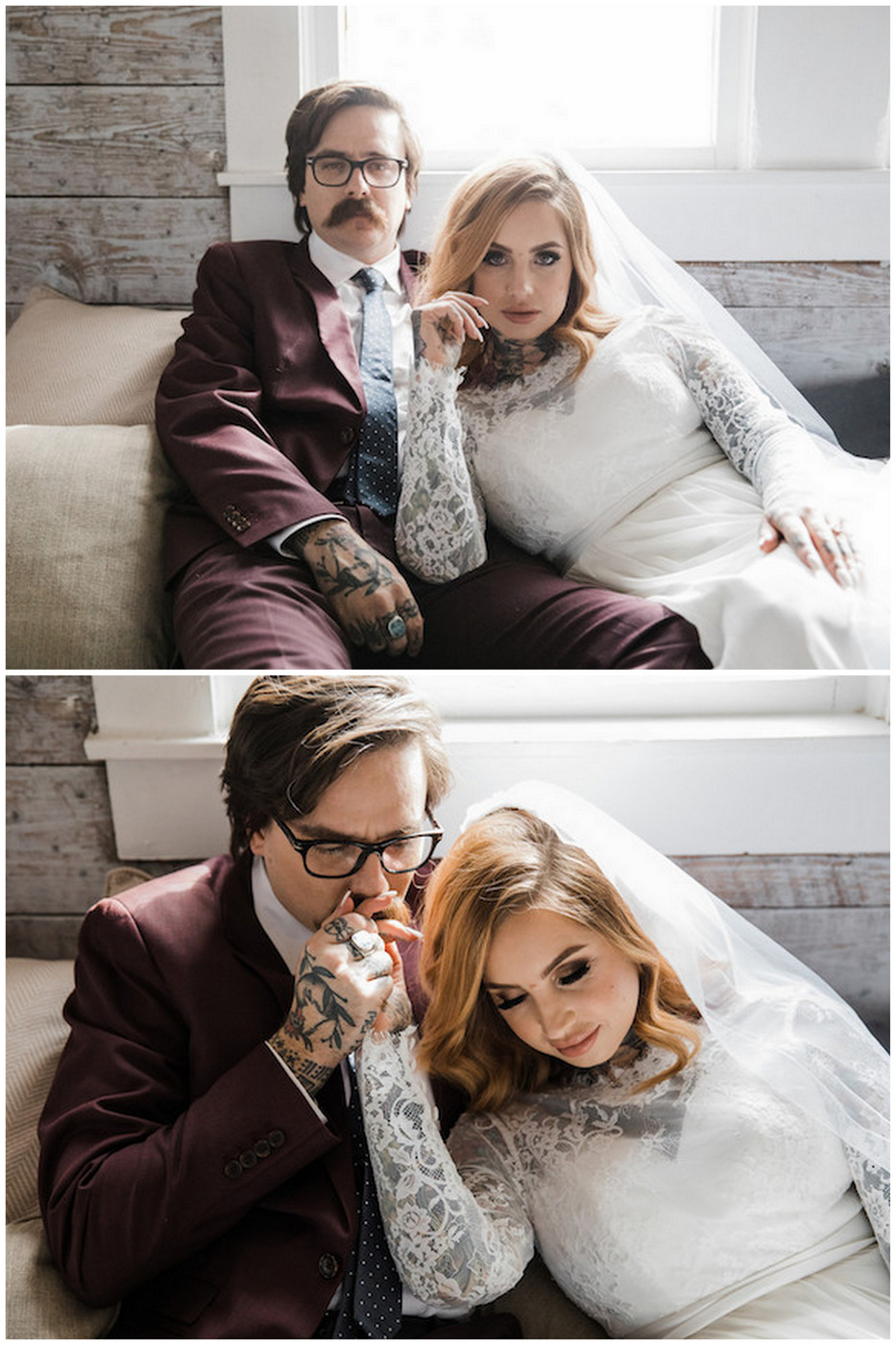 Vegan-Friendly Wedding Vendors, Texas: Lead Photographer: Opal & Onyx Photography // Second Photographer: Haley Katherine Photography // Planner/Stylist: Katie Frost Weddings // Venue: Chapel Creek Ranch // Florist: Lilley Custom Florals // Bakery: Reverie Bakeshop // Makeup: Before the Veil Beauty // Hair: Kelly Haws // Videography: ZProFilms // Rings: The True Gem Company  // Rentals: Beautiful Event Rentals // Paper Goods: Kelsey Happy Clark // Dress: De France Couture // Models: Derek Bishop, Little Linda
READ NEXT:
Vibrant Mexican-Style, Zero-Waste, Vegan Taqueria Wedding in LA!