Planning an eco-friendly wedding that will be kind to nature and the environment? Then you're going to love these 50+ sustainable, eco-friendly and low/ zero waste wedding hacks.
Learn how to embrace zero-waste wedding principles of re-use by choosing wedding rentals instead of buying new, find out where to sell or donate your goods after your wedding, how to incorporate upcycling, and get elegant multi-use ideas for decor.
We'll also help spark ideas to help you reduce your carbon footprint with cute ways to go paperless, and suggestions for ditching wasteful wedding practices, as well as a whole lot of other unique and helpful sustainable wedding tips.
50+ Sustainable, Eco-Friendly + Zero Waste Wedding Hacks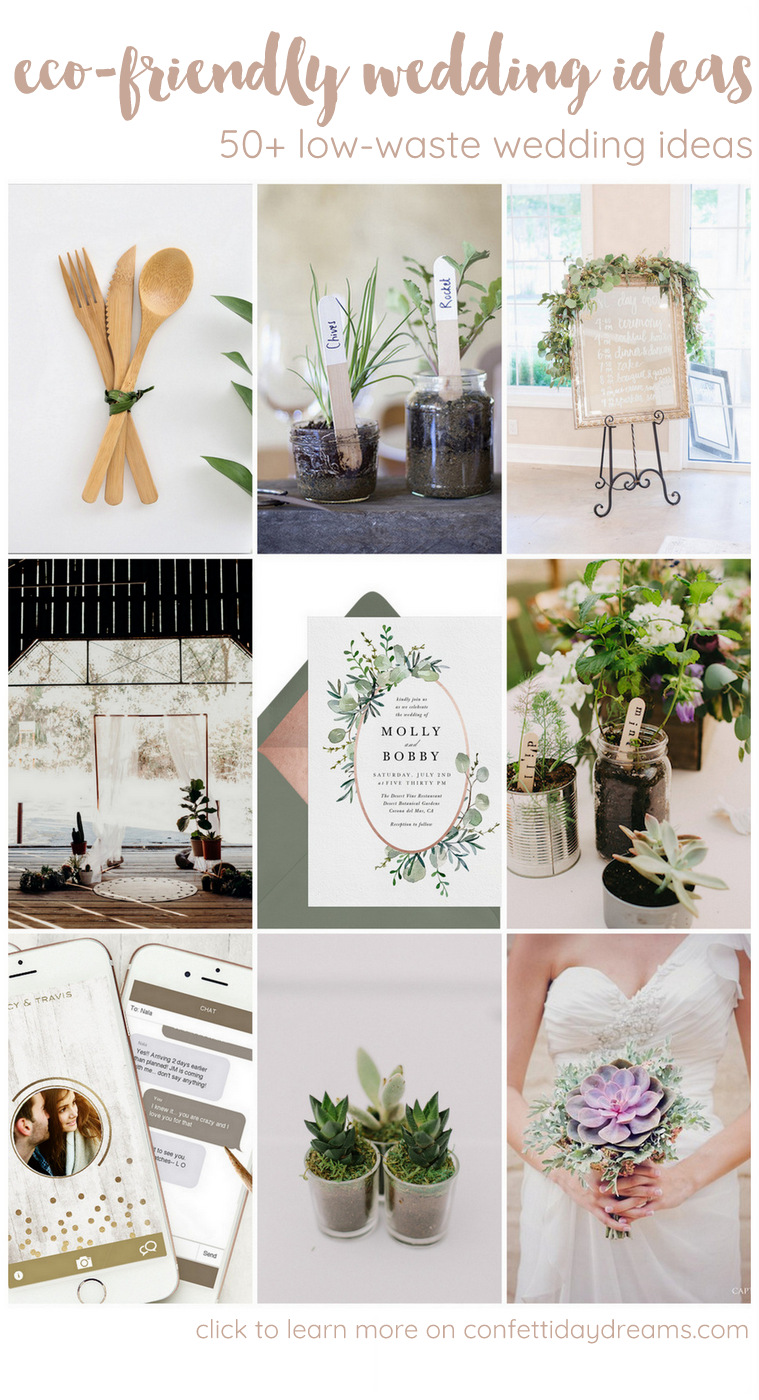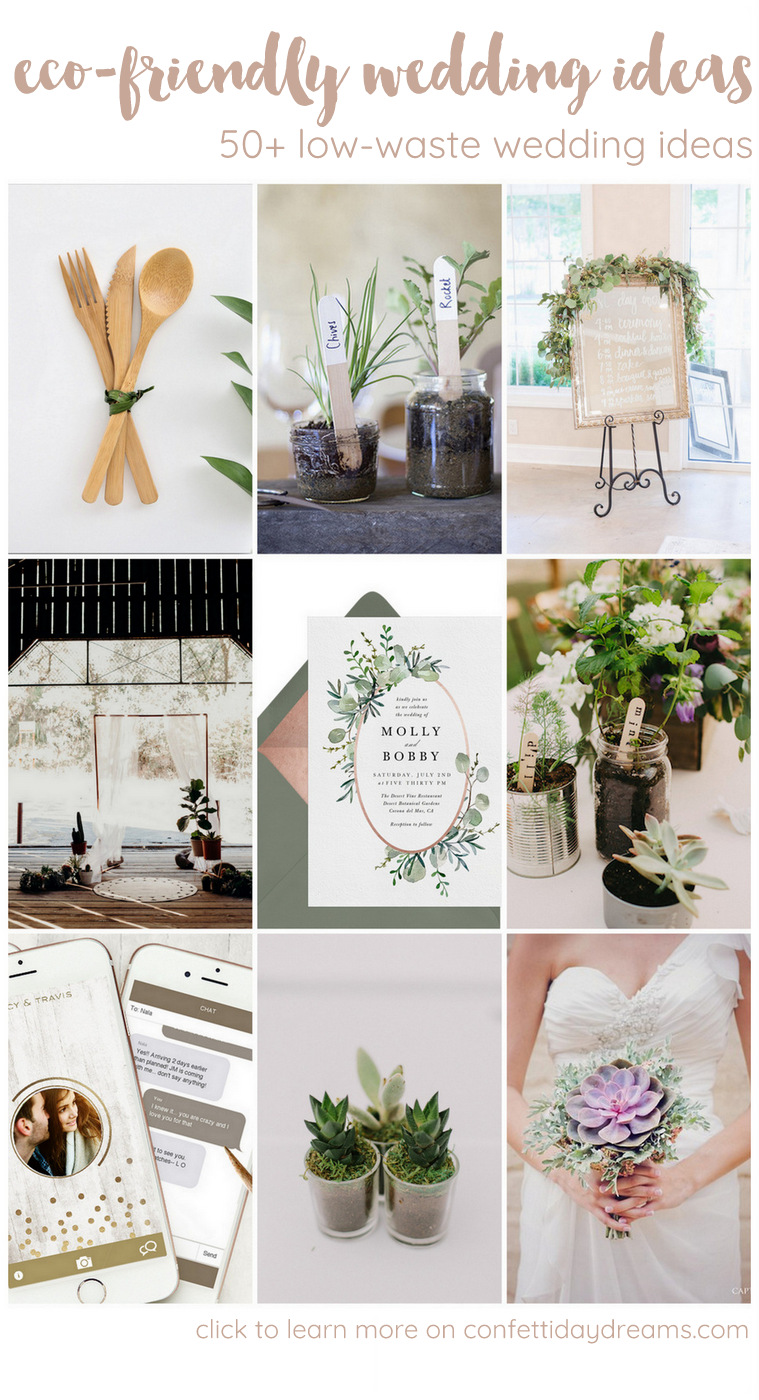 Build Sustainability Into Your Wedding from the Start
Consider an elopement and cut out the majority of your wedding waste before it even begins.
Have a smaller, intimate wedding, if you can.
Fewer guests mean less decor, rentals, place settings and flowers. Plus, it means quality over quantity and is the foundation of an eco-friendly wedding.
Choose vendors that are environmentally aware and are willing to work with you toward a low-waste, eco-friendly wedding.
Have a minimalist wedding theme.
Choose vendors that donate a percentage of their profits to charity.
By working with environmentally aware vendors that also give a percentage of their profits back you're able to have a doubly positive impact with your wedding budget, says Cape Town based event planner Nu Davidson.
Plan a locally-grown menu.
Going farm to table for your sustainable wedding reduces transport emissions, and is usually a whole bunch fresher and tastier.
Serve a delicious vegan spread.
Plant-based meals can reduce your carbon footprint dramatically, are 50% less water-intensive, healthy, and kind to sentient beings – not to mention super tasty! Yes, there is life beyond the lettuce leaf – just check these yummy vegan weddings as proof!
Choose eco-friendly, lab-grown diamonds for your rings.
They are sustainably grown, and when set in responsibly sourced precious metals, are a far better choice for the environment, explains Lindsay Reinsmith, Co-Founder of

Ada Diamonds

. They are chemically and visually identical to their mined counterparts, with none of the negative impacts on the earth. Lab diamonds are human-friendly, too: they're guaranteed to be of known origin and conflict-free.
Make Sustainable, Low-Impact Wedding Purchases

(Above) Gifting guests Zero-waste reusable bamboo utensils sets are great ways to encourage plastic reduction habits in guests. Get them here and here.
Heads up, fam! If this editorial inspires you to purchase some of these eco-friendly wedding items, in some cases we might get a small percentage of the sale for sharing it with you. Thank you for supporting our content.
Serve your meal with gifted reusable cutlery.
Bundle it all together with a cute matching cutlery fabric bag bearing their name as their eco-friendly wedding place card, so that your guests can take home sustainable habits. Begin a virtuous cycle!
Consider the sustainability of the wedding fabrics you wear.
From your gown or suit right through to your tableware – especially if you are choosing to buy instead of rent. Designers that focus on sustainable wedding dresses include Reformation, Celia Grace, Pure Magnolia, and Laudae.
Ask your stationer if they can print your invites using soy-based inks, which put less pollution into the waterways, suggests Jenna Miller, Creative Director at

Here Comes the Guide

: "Also, by using reply postcards and nixing the inner envelope and tissue, you'll use less paper altogether while saving on cost." And of course, you can always go the digital route, suggests Jenna. We agree – keep reading for paperless, eco-friendly wedding solutions further down.
Choose Waterwise Flowers and Greenery: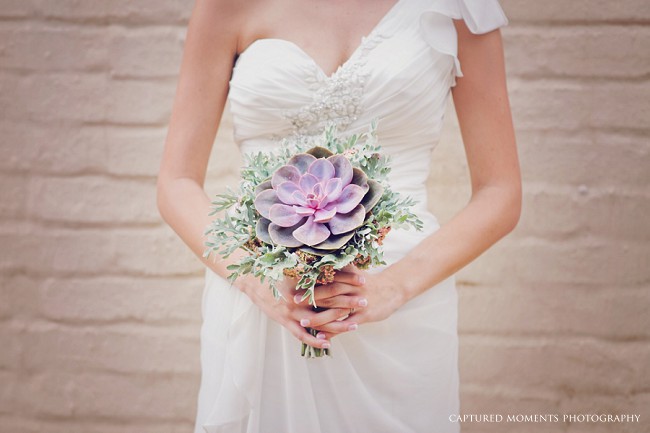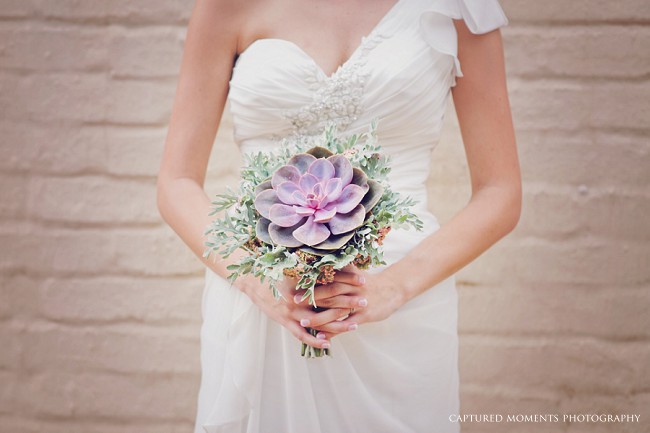 (Above) Low-water, eco-friendly succulent wedding bouquet of purple echeveria and dusty miller. (Image: Captured Moments Photography)
Fall in love with low-water wedding greenery, flowers and plants.
Embrace hardy foliage like eucalyptus, sturdy succulents, drought-tolerant bougainvillea or proteas, or low-water herbs like rosemary, lavender, and artichokes for sustainable wedding flowers! Check out this list of the 15 most durable wedding flowers and these 45+ creative wedding greenery ideas that will rock your world!
Choose locally grown flowers and indigenous greenery to support local biodiversity.
Consider dried wedding flower alternatives which last way longer.
"We especially love dried flowers," says – Euri Wong, Lead Designer at

Bloominous

. "These are super trendy right now – Win-win!"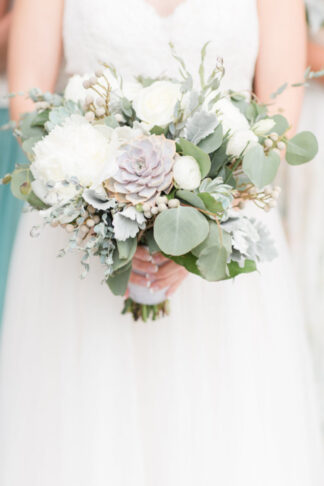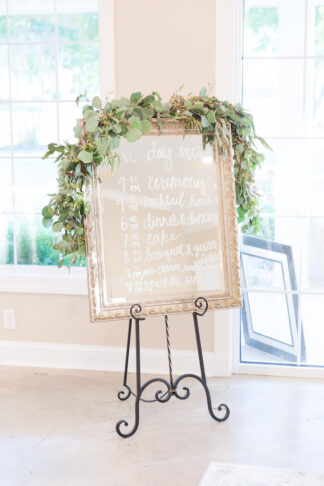 (Above) Eco-friendly succulents and low-water greenery like eucalyptus make beautiful bouquets and decor wreaths. This couple re-used their greenery wreaths, and instead of printing paper programs, used erasable marker on a beautifully framed mirror to detail the day's events. See more ideas from their greenery and succulent wedding captured by Lindsay Fauver photography here.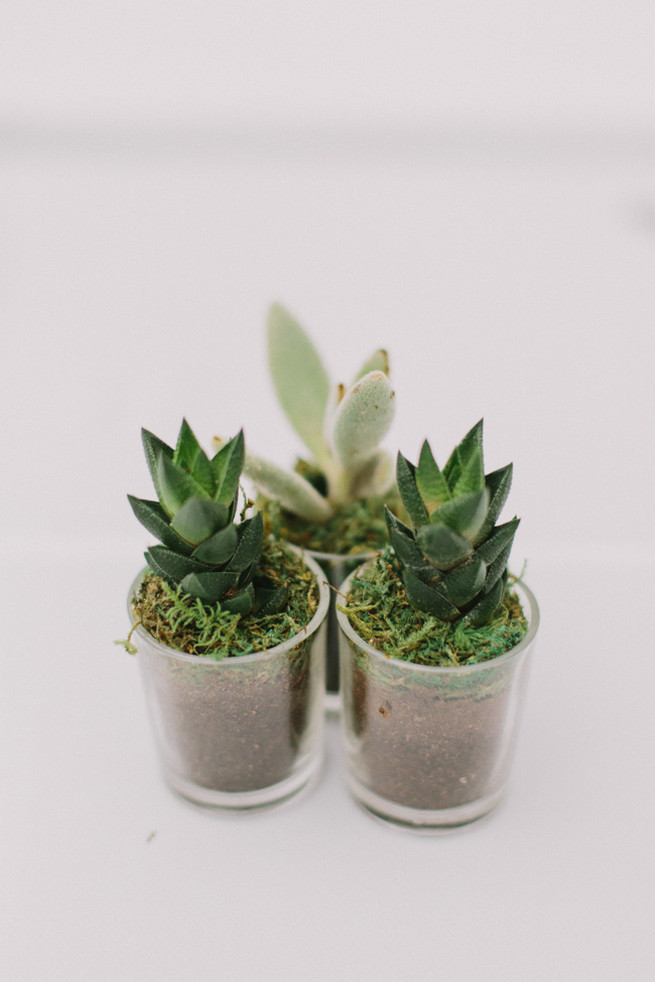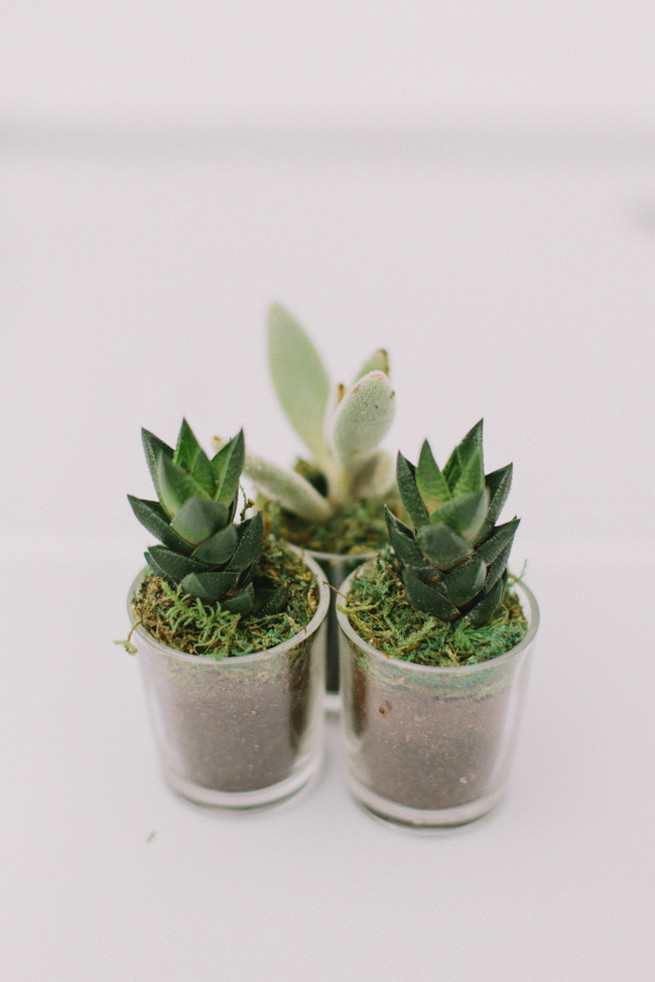 (Above) Eco-friendly wedding succulents as decor and favors. See more ideas from this eco-friendly Autumn wedding captured by Chloe Luka photography here.
Recycle and Get Composting:
Set up a food and waste recycling station at your venue the day before.
Make sure that your venue and planner are onboard and have your recycling/ composting requirements set in your contract.
Clearly label each recycling station. We love the way this newly-wed blogger did it for her almost-zero waste wedding:

FOOD WASTE (extra food, vegetable food prep waste, peels, etc)
DRY COMPOSTABLES (paper plates, toothpicks, napkins)
RECYCLING (cans, bottles, cardboard, glass, tin)

Donate compostables to local garden groups.
If you must use paper, try to make sure it's post-consumer recycled paper.
Donate excess materials, papers, signage, etc to an organization like SCRAP. 
Give Favors Which Support Natural Eco-Systems

(Above) Homegrown herbs acted as table decor and favors which guests could use during their meal at this organic, farm-style Karoo wedding  captured by Christine Le Roux Photography}
Give eco-friendly wedding favors that contribute to a reduction in single-use plastics.
Consider gifting re-usable straws, eco-friendly bamboo cutlery, multi-use grocery bags or washable fabric sandwich bags.
Give tree sapling favors which will help clean the air of pollutants.
Tree saplings are a much better eco-friendly wedding favor alternative than seed favors – which inevitably never get planted, or require a level of gardening skill to nurse from seed to sapling!
Help the bees by gifting bee-friendly potted herbs and flowers.
Lavender, basil, thyme and rosemary are great options. These pot plants can be kept outside to feed the bees, and also provide a source of fresh culinary delight! Lavender, Thai basil and rosemary can be propagated by adding cuttings to water, then planting when roots have sprouted. This means that you can even grow them yourselves!
Sponsor trees in the names of your guests.
If they don't have space for trees or plants at home, or aren't garden-inclined, sponsor a tree on their behalf via greenpop!
Choose eco-friendly wedding favors.
Check out these 18 cute and eco friendly wedding favor ideas to get you started.
Donate to a charitable organization of your choosing in your guests' honor, and ditch the favors altogether!
Go Paperless:
(Above) Paperless wedding planning and invites from Appy Couple.
Use an all-in-one mobile wedding planning app, which includes a matching wedding website and invitation management. Check out Appy Couple.
Go mobile with digital save the dates. 
Let guests sit where they like, instead of printing place cards.
Go totally digital with your invites and automatically manage your RSVP tracking using online invitation service Greenvelope. It's affordable, saves energy and paper, plus it's SUPER convenient because all responses are so easily tracked. Check it out here.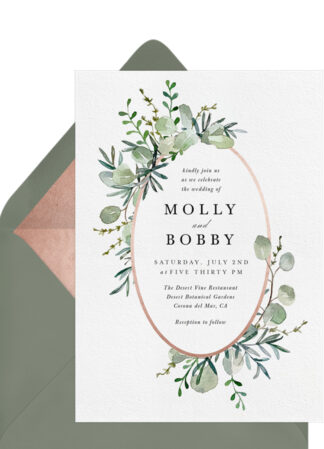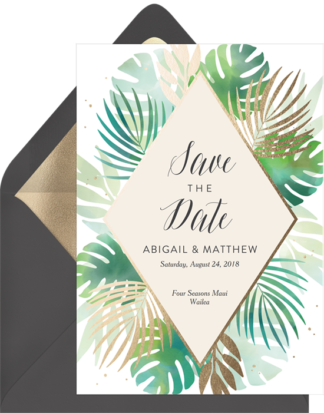 (Above) Gorgeous DIGITAL wedding invitations from Greenvelope, with built-in RSVP tracking. Check them out here.
Keep Sustainability in Mind Choosing a Venue:
Choose a venue with natural beauty that requires little decor.
Having your ceremony in the midst of rolling meadows, botanical gardens, or forested hillsides means minimal décor and less waste, says Jenna Miller. If you're city based, consider your local botanical garden or even a garden nursery!
Reduce travel by hosting reception and ceremony at the same venue.
Consider a nonprofit venue.
Look for one where your rental fee will support a sustainability cause or charity that is close to your heart, suggests Jenna Miller.
Find a "green certified" venue dedicated to operating in a sustainable manner, adds Jenna Miller.
Get married under a tree and skip the arch.
Or, rent a sustainably made arch that can be reused by other couples.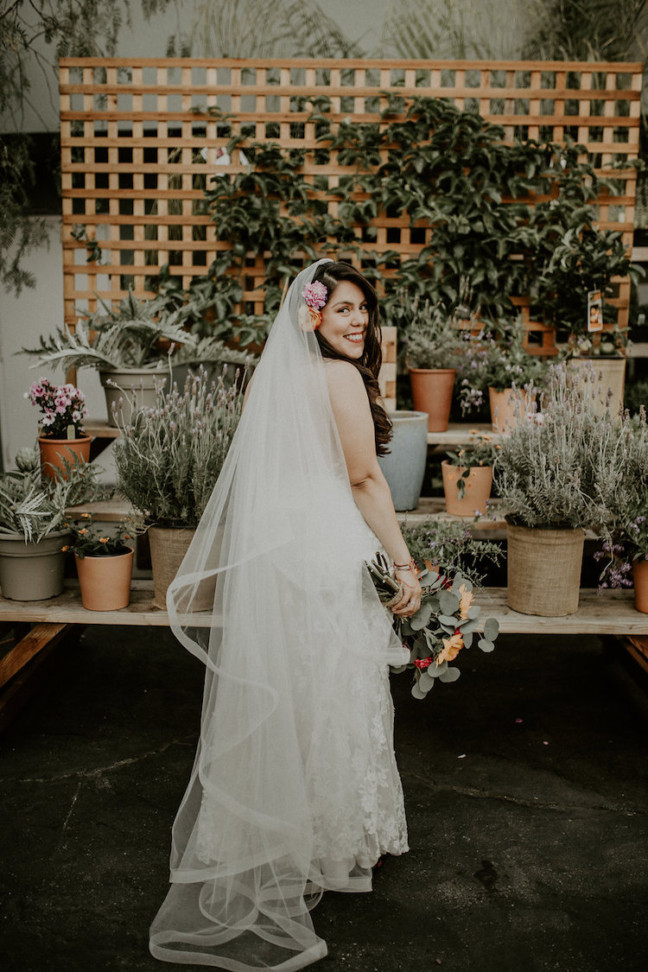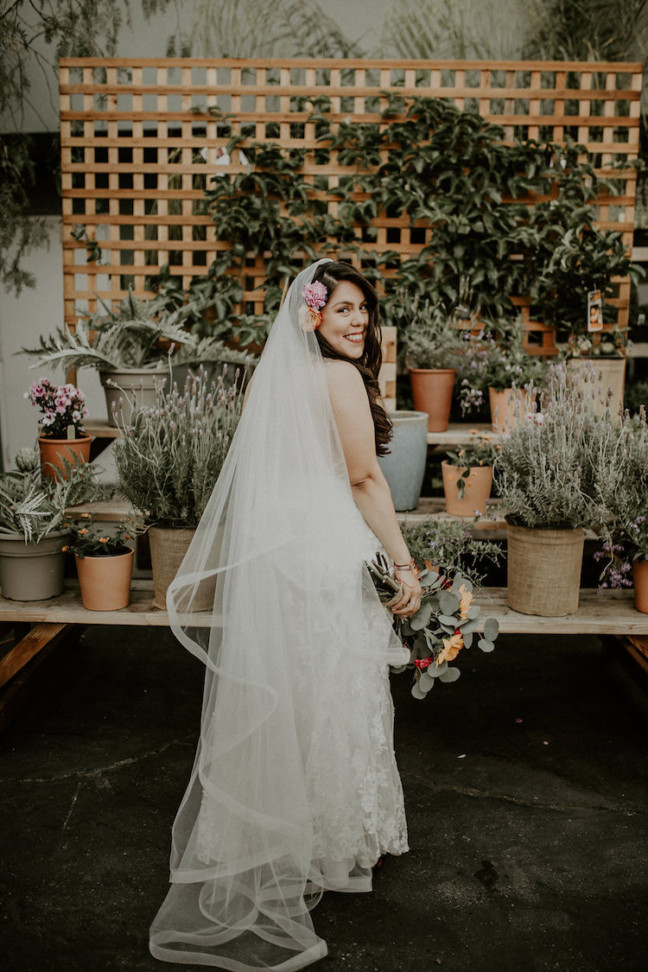 (Above) This zero-waste, vegan couple hosted their wedding at a nursery in LA, reducing the need for additional decor. The bride purchased her preloved gown from a sample sale. Get more ideas from their sustainable wedding here. (Image Luna Collective )
Rent, Don't Buy:
Give Goods Second Life by Donating + Reselling
Donate your gown or suit to a charitable organization.
Consider Brides Across America, Brides Against Breast Cancer, or Brides for a Cause, suggests Jenna Miller, Creative Director at Here Comes the Guide. (Check out other worthy causes you can support with your wedding, here.)
Donate your wedding flowers afterward.
"There are a lot of nationwide programs that allow you to donate your wedding flowers, and they'll repurpose into arrangements for hospice care facilities, cancer treatment centers, women's shelters, and more," says Euri Wong.
Go vintage.
A simple and heartwarming way to "re-use" a dress is to tailor a hand-me-down to your modern sensibilities, says Jenna Miller. Check out these 13 tips for buying a vintage wedding dress.
Check out local second-hand markets, craigslist and goodwill stores for pre-loved decor items instead of purchasing them new. With a little bit of time and luck, you're likely to find amazing rugs, vases and interesting decor pieces that you can later add to your home decor collection, or resell after your eco-friendly wedding.
Think Double-Duty: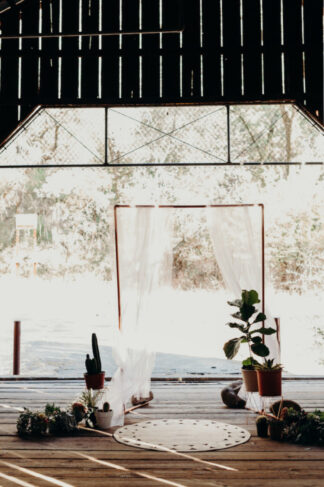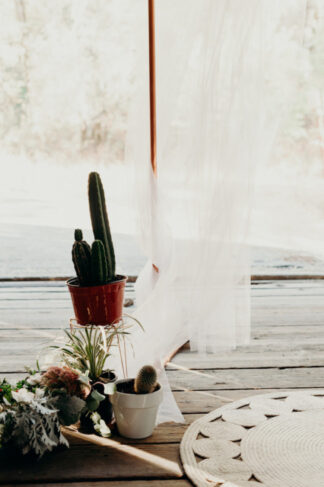 (Above) Use potted plants from your home to decorate your ceremony, then move them to over to be reused at your eco-friendly wedding reception. See more here. Image: Briana Morrison.
Decorate your eco-friendly wedding with potted plants.
Use plants from your own home, or use plants that can double as guest gifts. Succulents are great for this and easy to grow at home yourself!
Think double-duty for all furniture, flowers and decor.
Use versatile, easily portable arrangements and furniture that can easily be moved from ceremony to reception. Think ceremony chairs, floral arrangements and decor. Use whatever yourself or loved ones already own, too.
Reuse bridesmaid bouquets as floral decor at your reception.
Ditch the guestbook and get guests' autographs on a photo canvas instead.
Have guests sign a photo from your engagement shoot, or a custom illustration designed to match your home decor. Then, display it in your bedroom or living room afterward as an awesome reminder of the day. Here are some artists who will cute custom illustrations for you.
Seat guests at larger tables.
This reduces the number of per-table decor required, including linen, printing of table number signs and floral centerpieces required.
Use a cafe-style framed menu instead of printing one for each table. Write on a chalkboard, a mirror then frame it and can re-use it at home afterwards.
Use upcycled jars instead of drinking glasses.
Write your guests name on each, and after they've used their glass for the night, let them take them home.
Create a double duty wedding program display.
Write your order of service or seating plan on a framed mirror with erasable marker. You save paper, and can reuse the mirror at home afterwards.
Wedding program confetti bags.
Skip the wedding programs (your guests will follow along, I promise!), or print them on cute paper bags, which are also filled with confetti/ to be used for the dessert bar, later. Check out these craft paper bags from Red Letter Vows, or these from Paper Shoppe CA in white.
Purchase a cool, customized jumbo menu or order of service decal like this to add to a large framed mirror, board or chalkboard backing.
Use fresh herbs as eco-friendly wedding centerpieces, allowing guests to use them during the meal.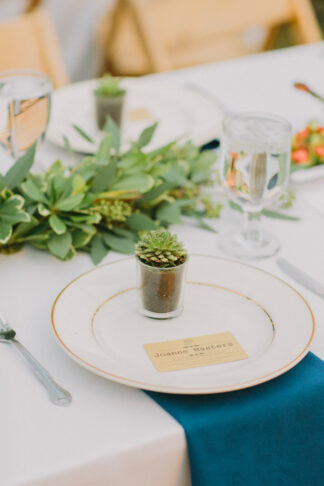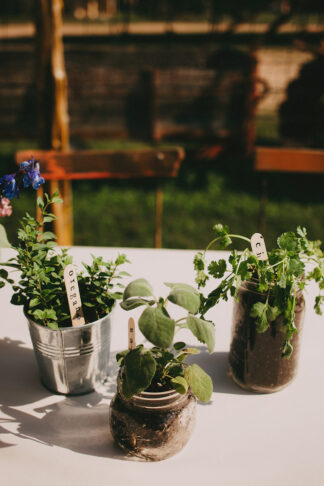 (Above Left) Home Grown Eco-friendly wedding succulents do triple duty – decor, favors and seating cards! (Chloe Luka photography) // (Above Right) Fresh organic herbs in upcycled jars and containers are edible decor! Check out this intimate, Organic Texas Hill Country Wedding by Two Pair Photography here.)
More of our fave wedding tips and advice to check out: