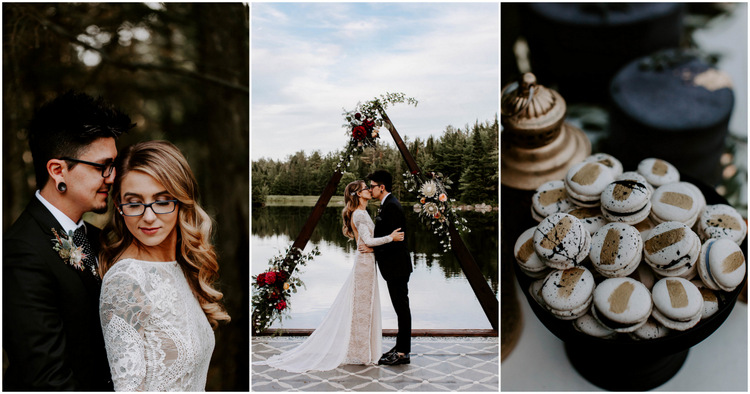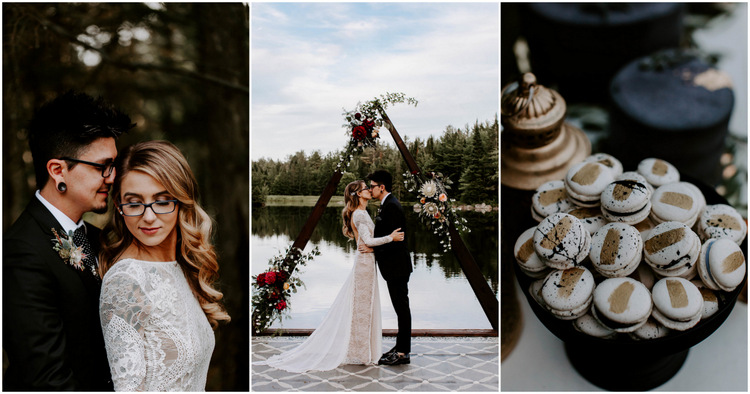 It's about to get hot up in here, and I don't just mean summer-solstice HOT. This smoking hot pair of love-birds are not just beautiful on the outside, they're prime examples of why compassion is so very sexy. 
For their sustainable, boho, vegan wedding, which was filled with black, and gold, and jewel tones, Deana and Christopher wanted to make sure their celebration reflected not only their love for each other, but their love for the planet and all it's creatures. The vegan couple incorporated lots of eco-friendly and zero-waste wedding elements, for a cruelty-free vegan wedding filled with compassion and sustainable vibes captured by Elizabeth Grant Photography.
Sustainable Boho Vegan Wedding
The pair are from from Wallingford, Connecticut, where they own an all natural, eco friendly, certified sustainable hair salon in downtown Wallingford. For their sustainable, vegan wedding they rented Faraway Pond, Dalton, New Hampshire – a cottage on private pond in New Hampshire, which sat on a property totaling 70 acres surrounded by the White Mountains.
Their guests were welcomed at their hotel with with reusable cotton tote bags, personalized with their last names and filled with the pair's favorite vegan snacks and sustainable essentials for the weekend.
"Our biggest priority when planning was making sure we picked a team that lined up with our values and ethics," shares Deana. "We wanted to have all the food vegan, local and cooked fresh on site all while keeping all the waste from the day to an absolute minimum." Keep reading to learn they ways in which they did just that!
The couple shares that their original plan was to spend the night before the wedding away from each other, but that after the rehearsal dinner, the thought of leaving each other just wasn't going to happen. "I cancelled my hotel room and we spent most of the morning hanging out and getting ready together," says Deana. "It allowed us to have a few precious pre-wedding moments together which we'll always treasure."
This couple and their awesome vegan vibes are our first real wedding for 2019 – what a way to start the year!
Summer Solstice Vegan Wedding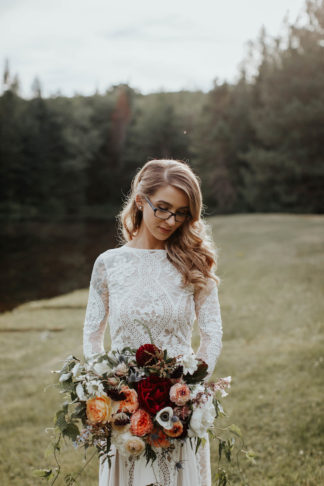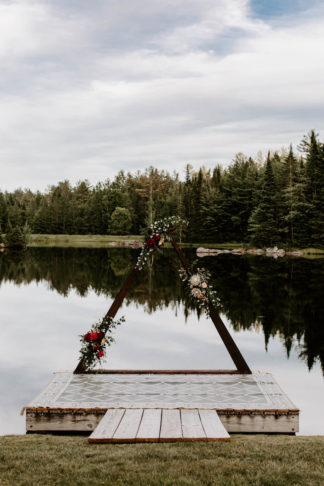 Love Story: Christopher and I met in the summer of 2008 and began dating two years later. We have moved across the country, traveled some of the world, and fallen more in love with each during moment we spent together. Six and a half years into our relationship, we became engaged on a trip out to San Diego for the holidays. We were married this past summer solstice, on our 8th year anniversary.
Vegan Wedding Dress:  I wore the Inca gown from Dress Grace Loves Lace . It has long sleeves and the open back caught my eye. The unique paneling, made up of layers of handpicked French lace, Japanese cotton lace, hand cut motifs and sheer, detailed cutouts, gives the Inca a romantic, yet contemporary feel. Hair and Make Up: Sara, is a hair dresser that works with me part time at Christopher Michael the Salon , and I was lucky enough to have her by my side and there to style me. My hair was waved in an old Hollywood style and gently pinned to the side with honeybee pins that she gifted to me. My makeup was very natural and light with a soft mauve lip, styled by Tower Spa.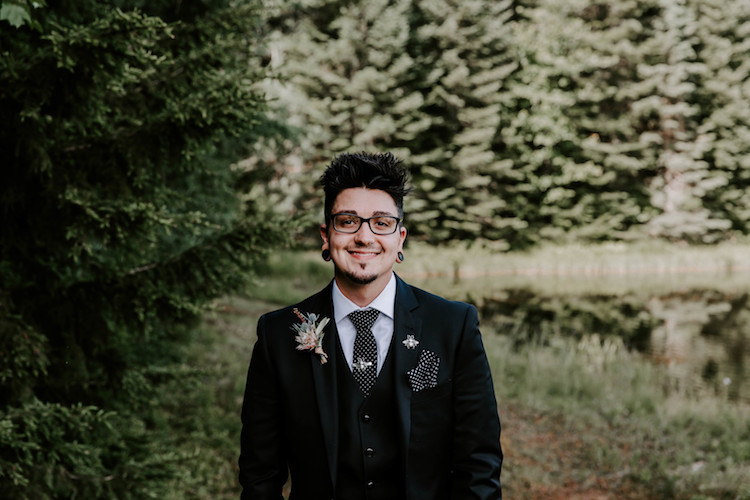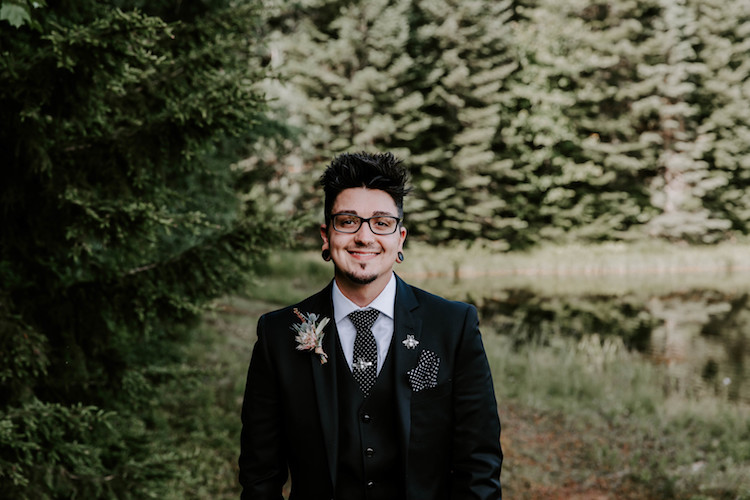 Groom Style: Chris wore a custom made black suit with a white dress shirt, a black and white polka dot tie and pocket square along with a honeybee tie clip and lapel pin as accents.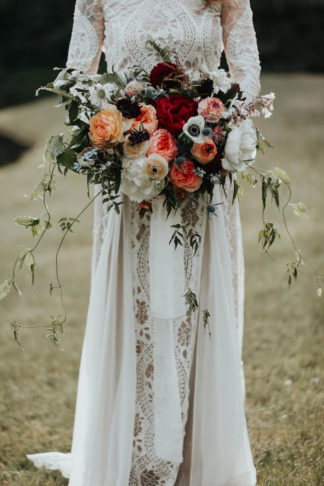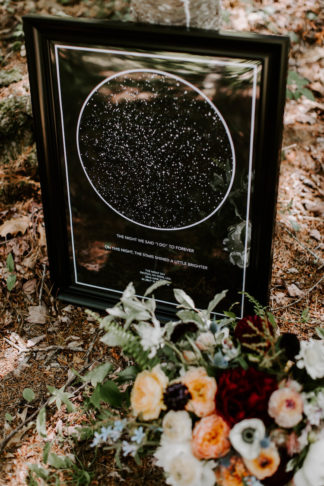 Wedding Bouquet: We wanted the florals very colorful, wild and free looking. My bridal bouquet by Emily Herzig Floral Studio was hand gathered and garden inspired with lots of textures and traveling foliage. There was a mix of bright pink, coral, and peach peonies, bleeding hearts, billy buttons, milk thistle and berries on the vines.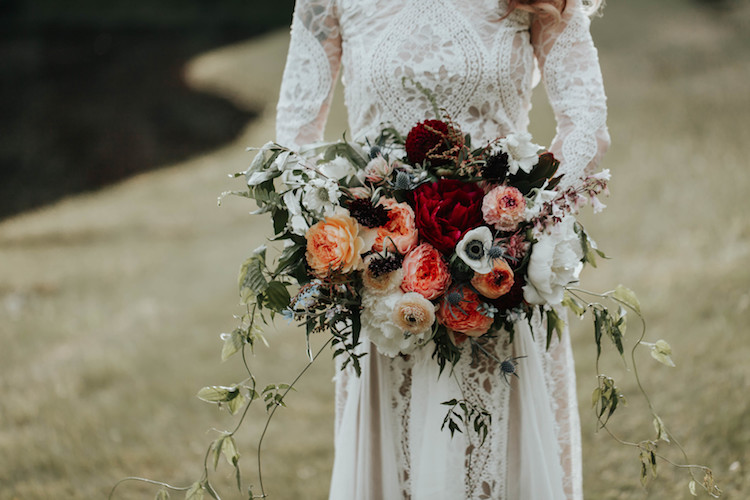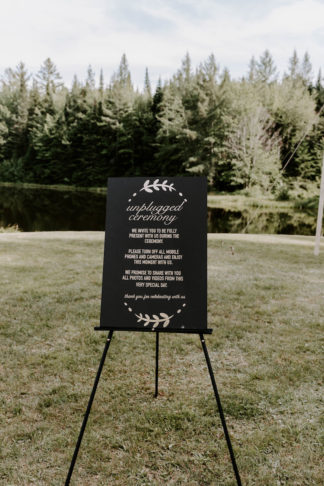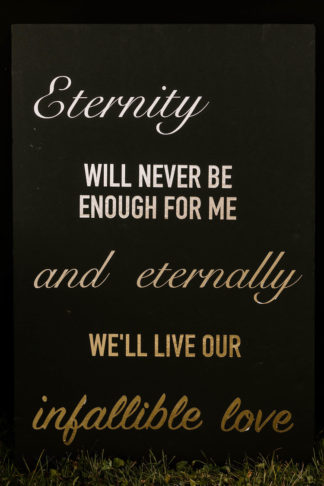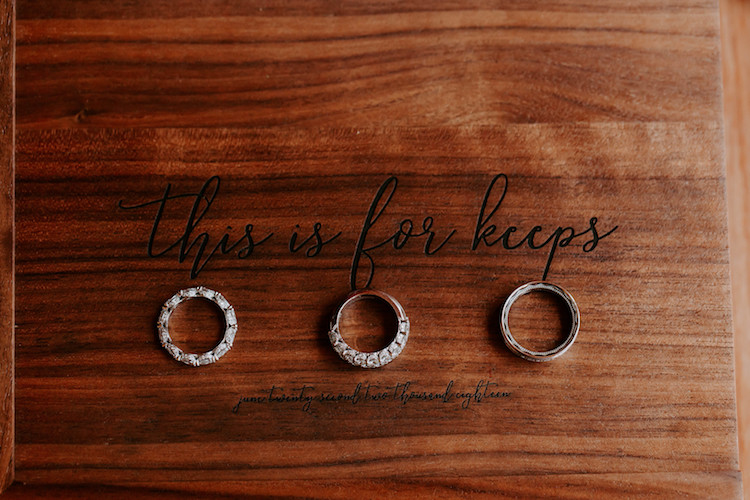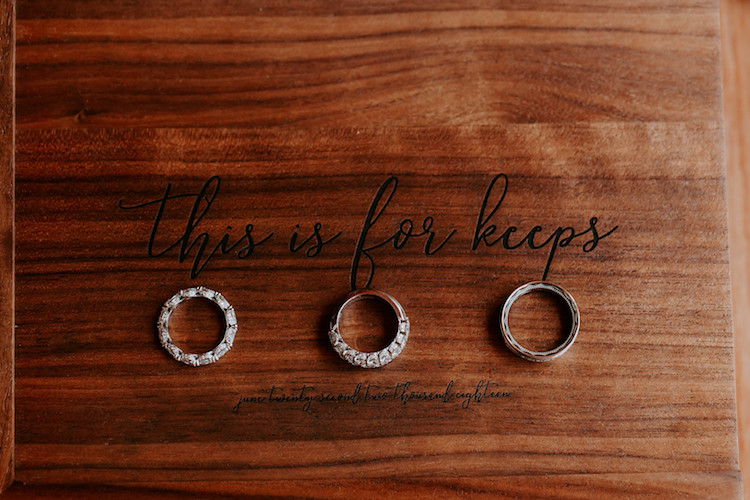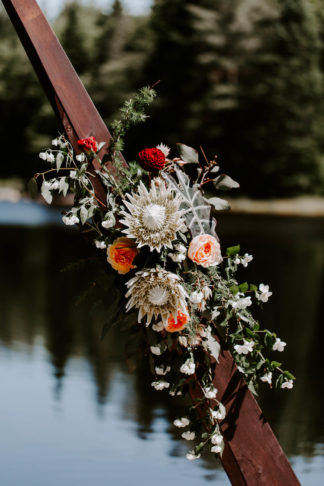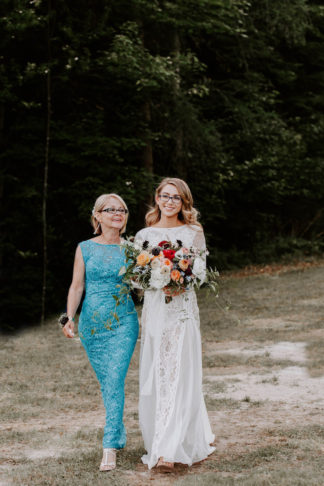 Both our ceremony and reception were all in one location, an open grassy area along side a private pond. One section was designated as our cocktail and lounge area, filled with the shabby chic furniture we collected second hand. We wanted to create cozy areas where guests could relax and enjoy. The ceremony site was a floating dock with a custom wooden triangle arch for the backdrop (built by Chris and his dad). There were big arrangements on the ceremony arch which were the perfect touch to our picturesque setting. Our guests sat on wooden benches that lined the isle.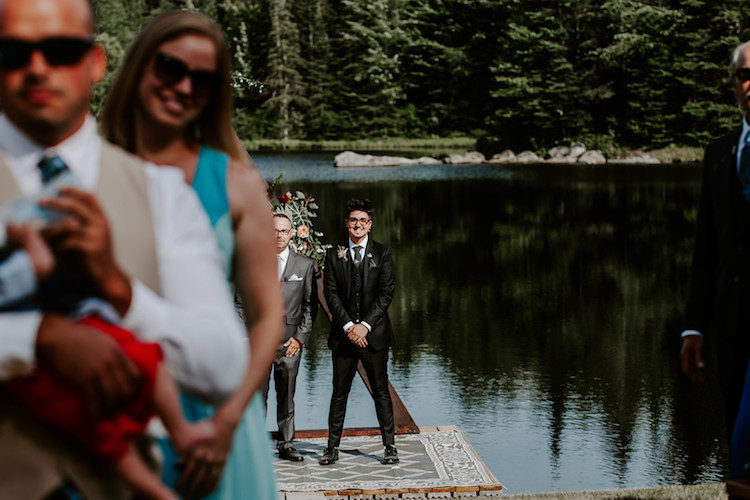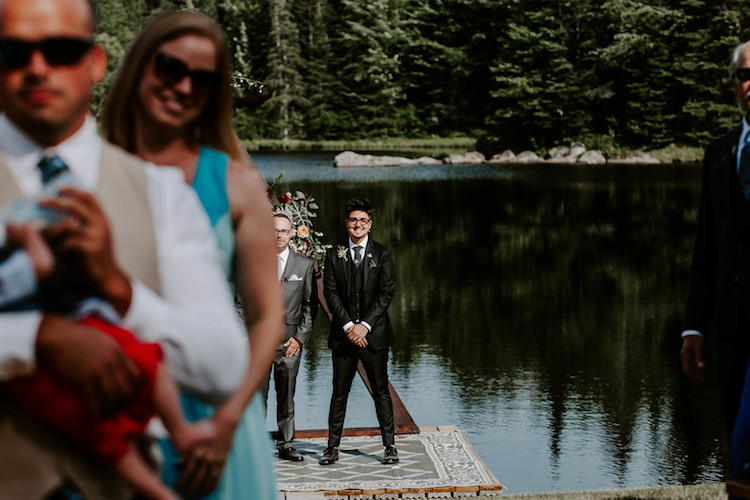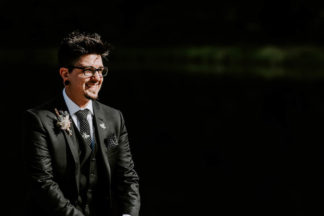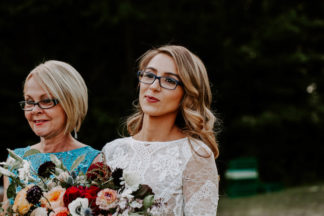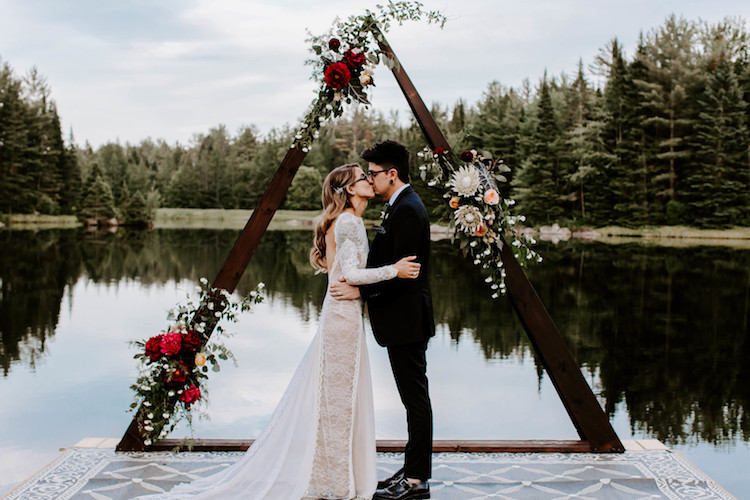 Our wedding ceremony was very small and intimate, we had a guest list of 36 which consisted of our closest family and friends. We couldn't think of anyone better to officiate the ceremony than my brother Nick, the person who ultimately brought us together 10 years ago.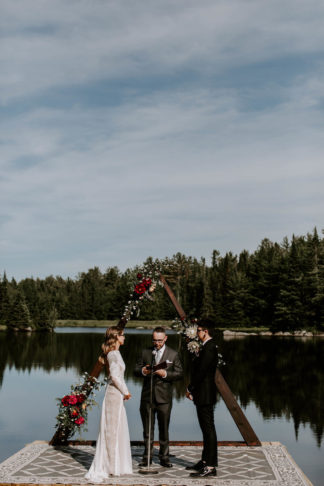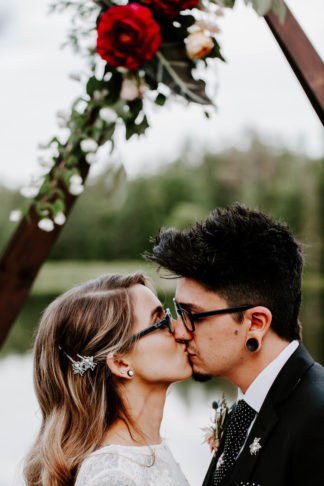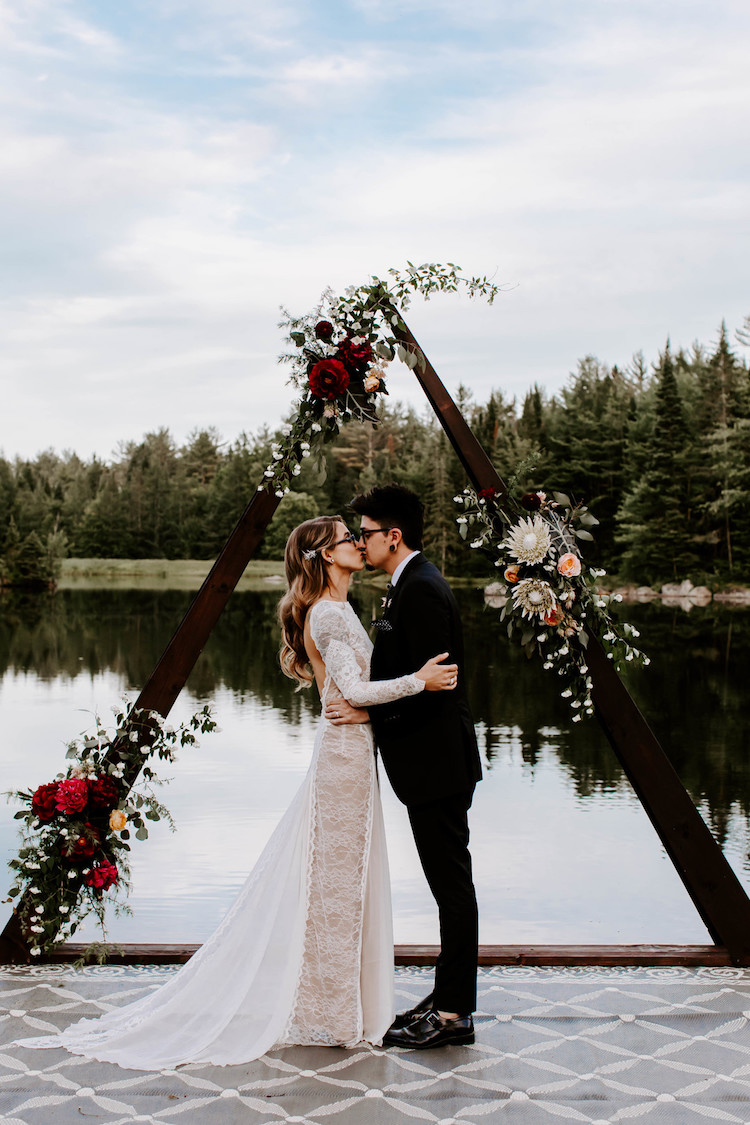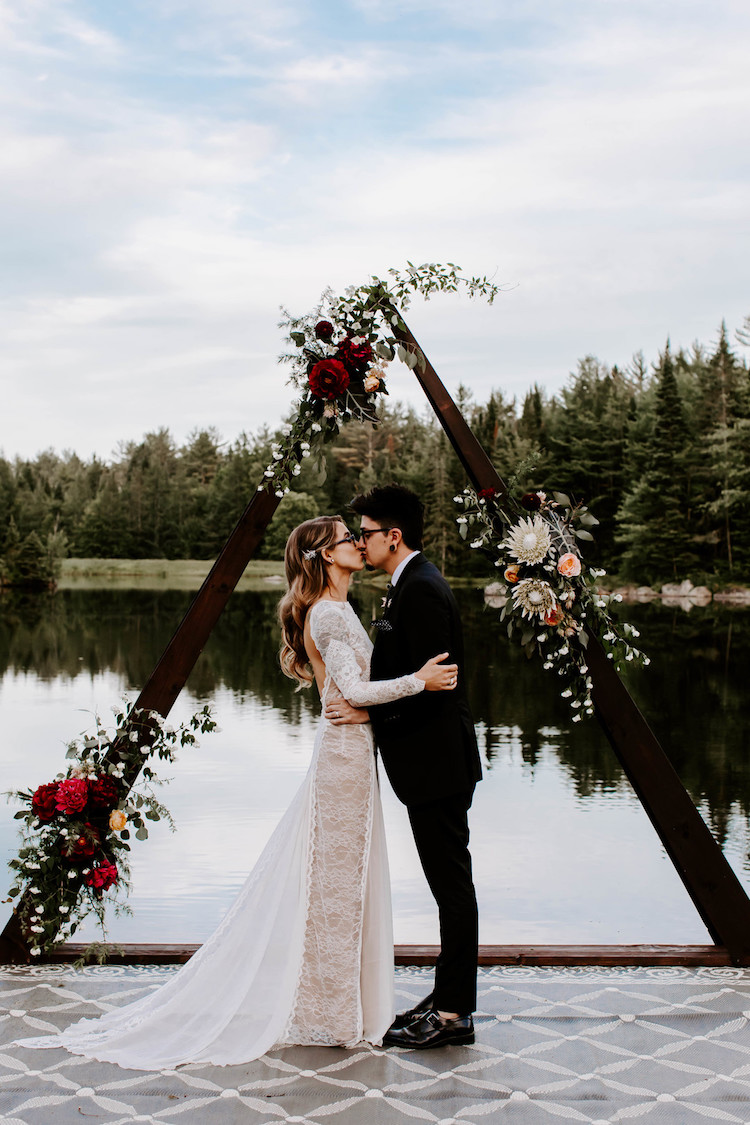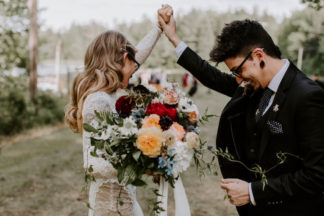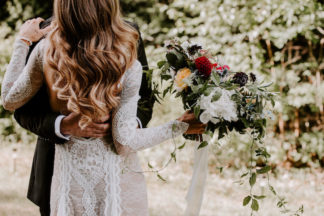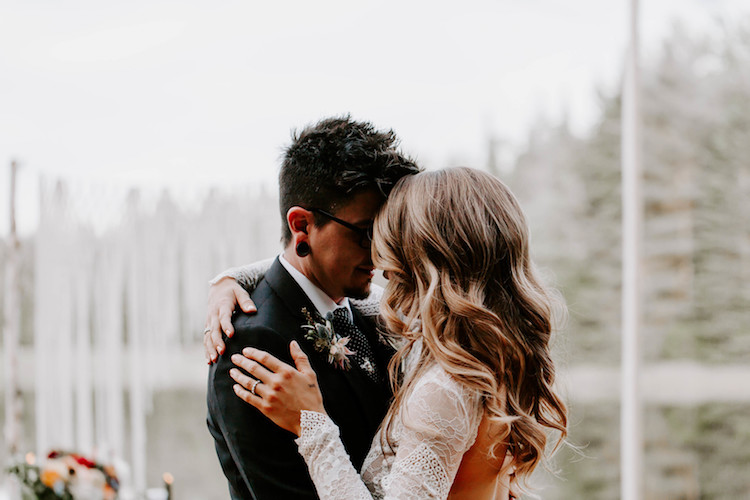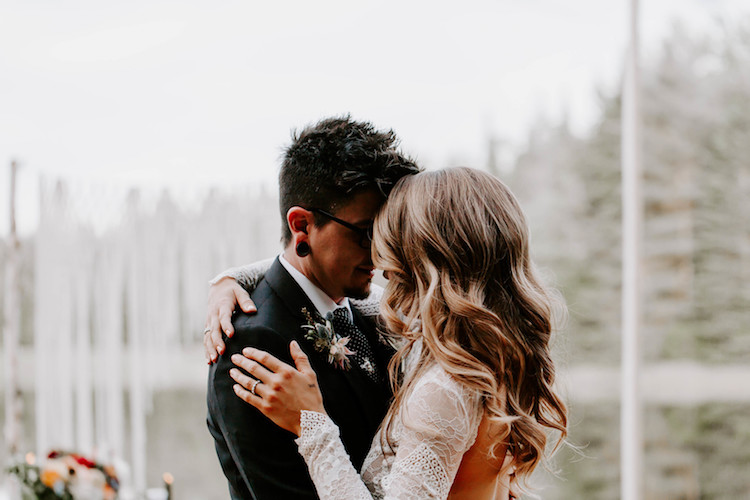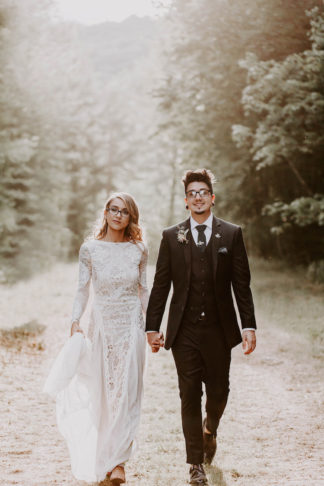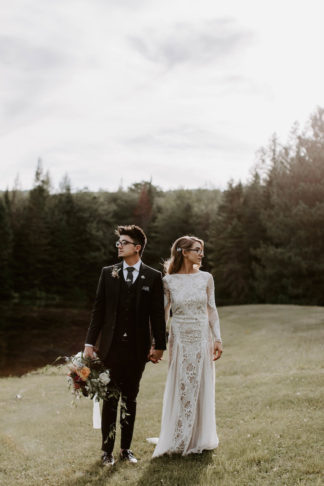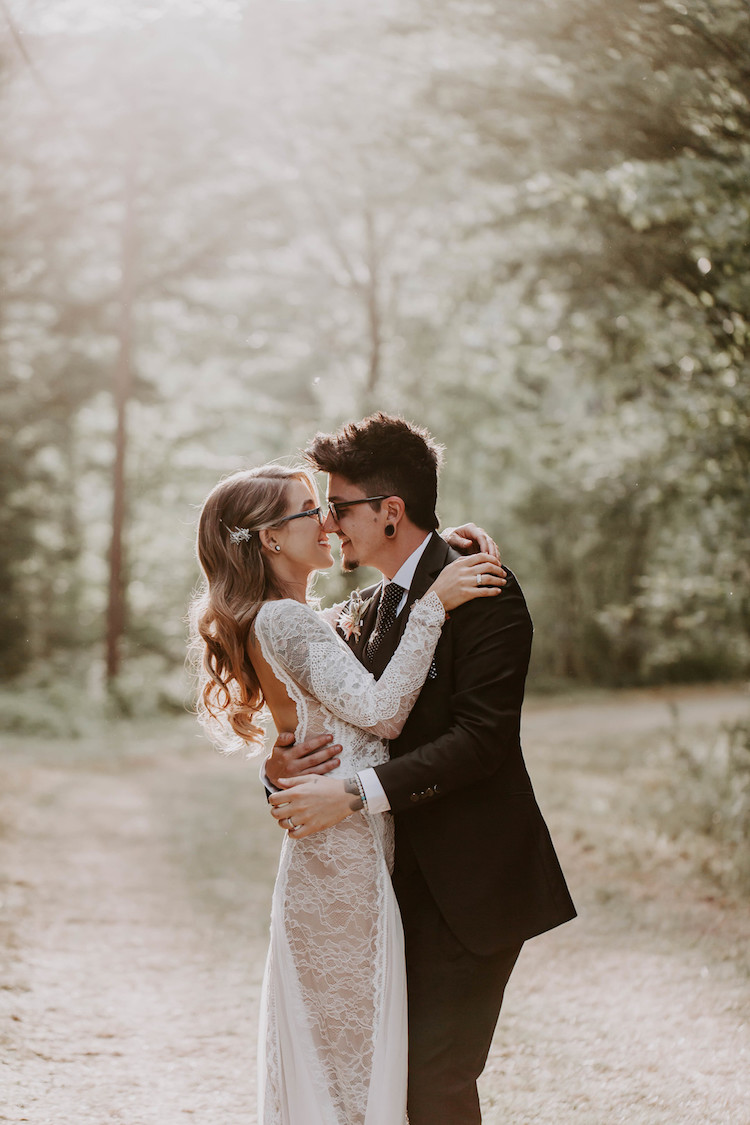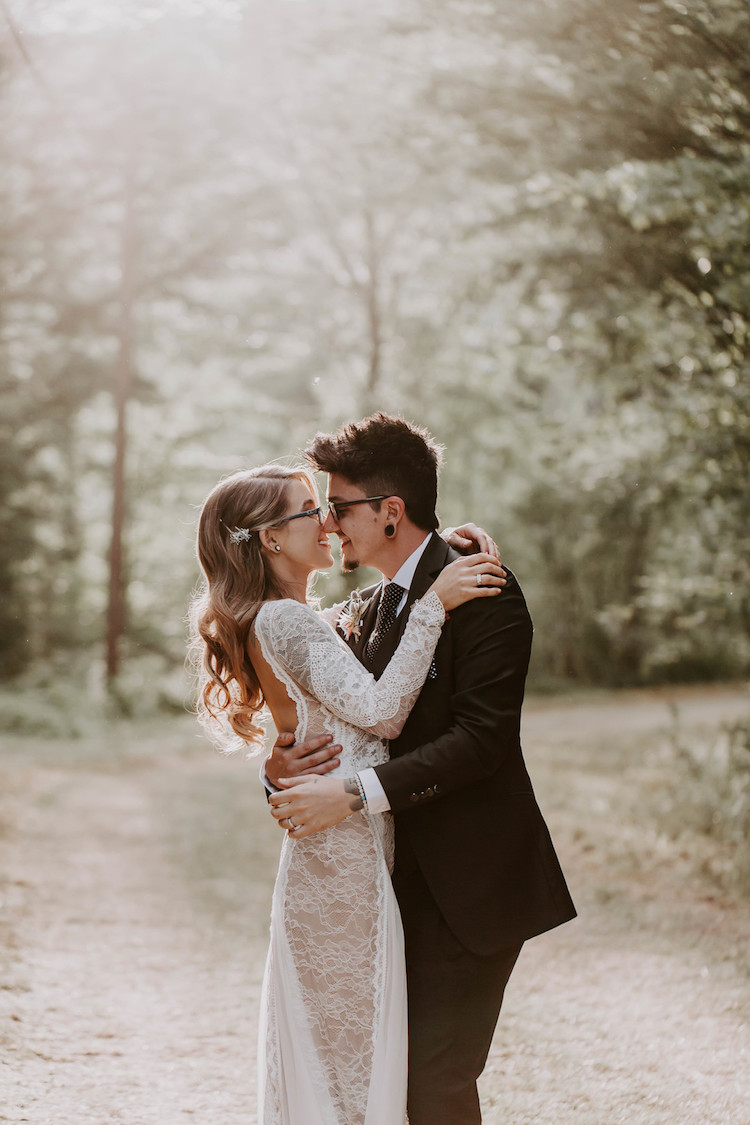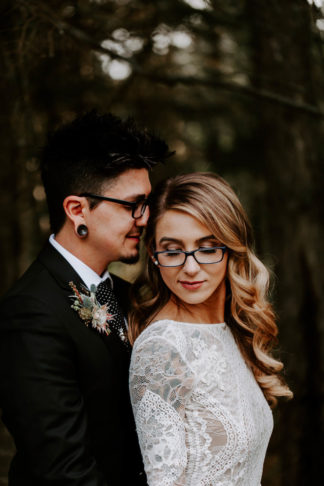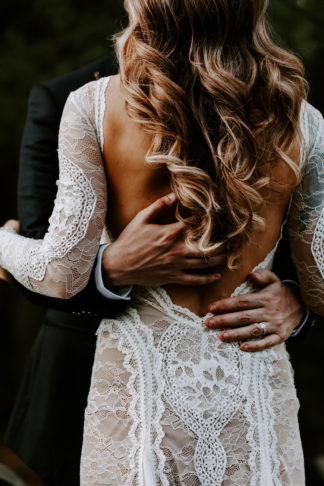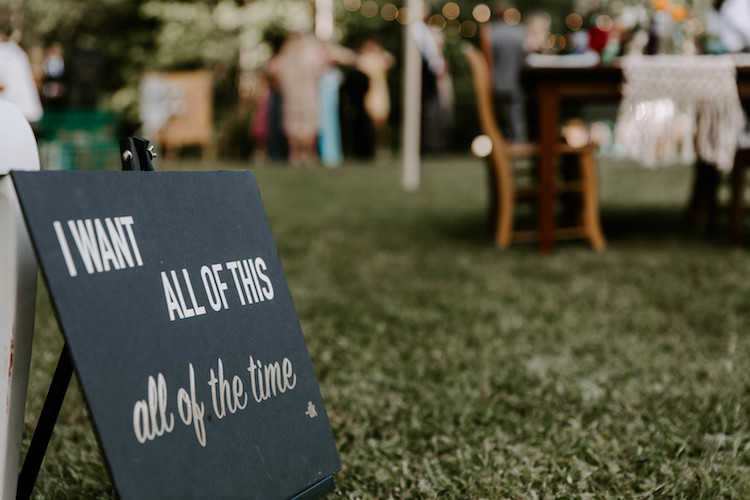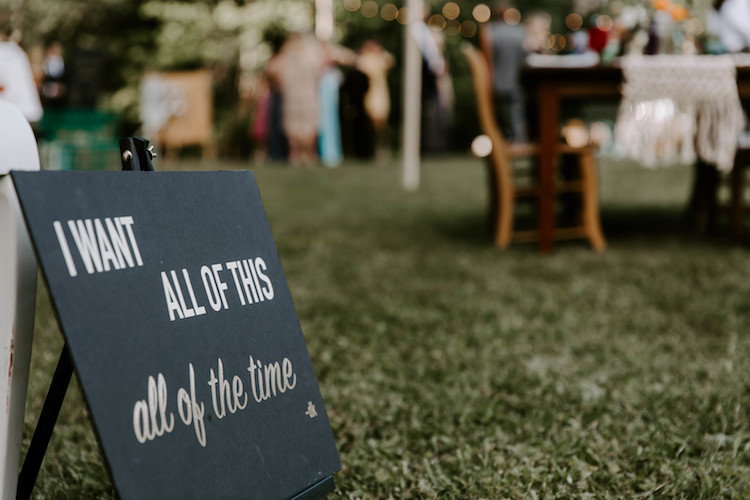 For our wedding reception we had wooden farm tables with mismatched chairs which bordered a dance floor. The tables had macrame table runners, gold tea lights, black taper candles, mixed floral arrangements.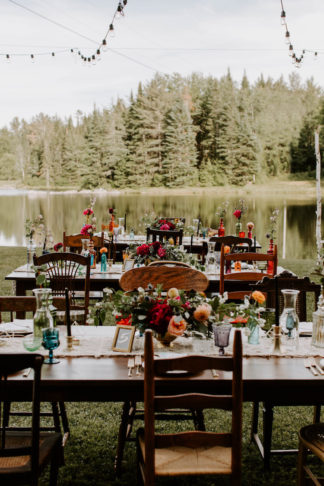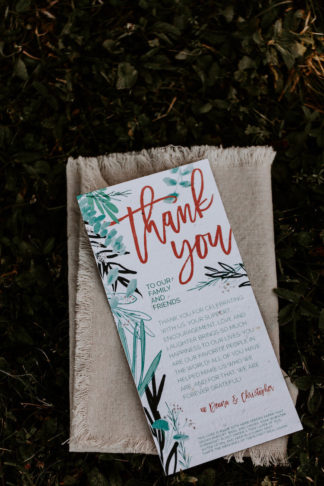 Each dinner setting had a thank you note and on the back side had lyrics to our first dance song; on herb seeded plantable paper by Whole Weddings.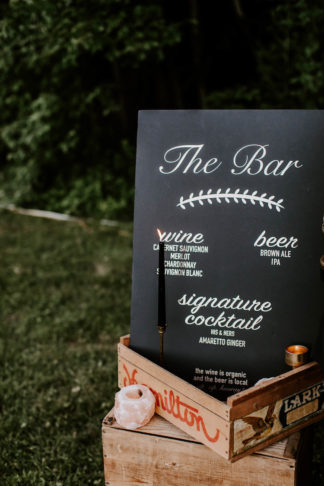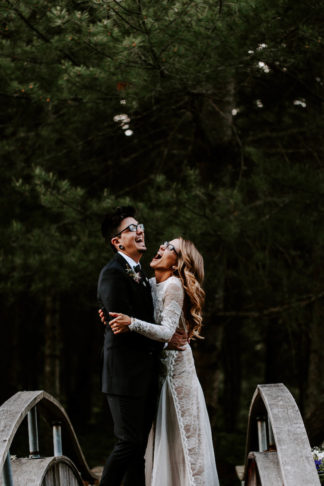 We had a full vegan menu and a bar of local beer on tap, organic wines and a a signature His & Hers cocktail. Being zero waste is very important in our daily lives so bringing that into our wedding day was equally as important. Our cocktail napkins and drink stirrers were all compostable and biodegradable. Any left over food from the entire weekend was all composted.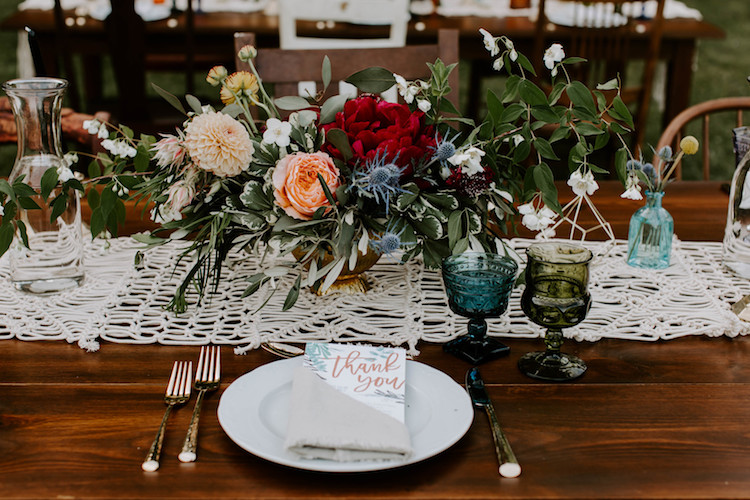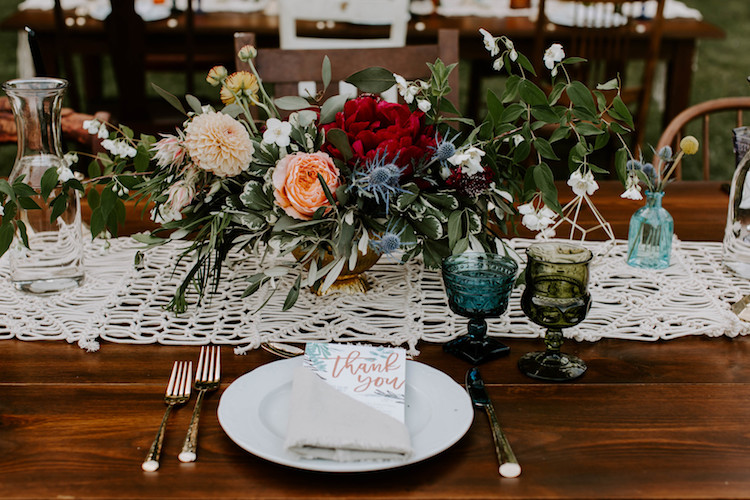 Tables were adorned with small mixed floral designs of in-season and native flowers were scattered among the tables and throughout the cocktail and lounge areas and hand-selected the  colorful glass goblets. They each had macrame table runners, gold tea lights, black taper candles, mixed floral arrangements and each setting had a custom plantable thank you note.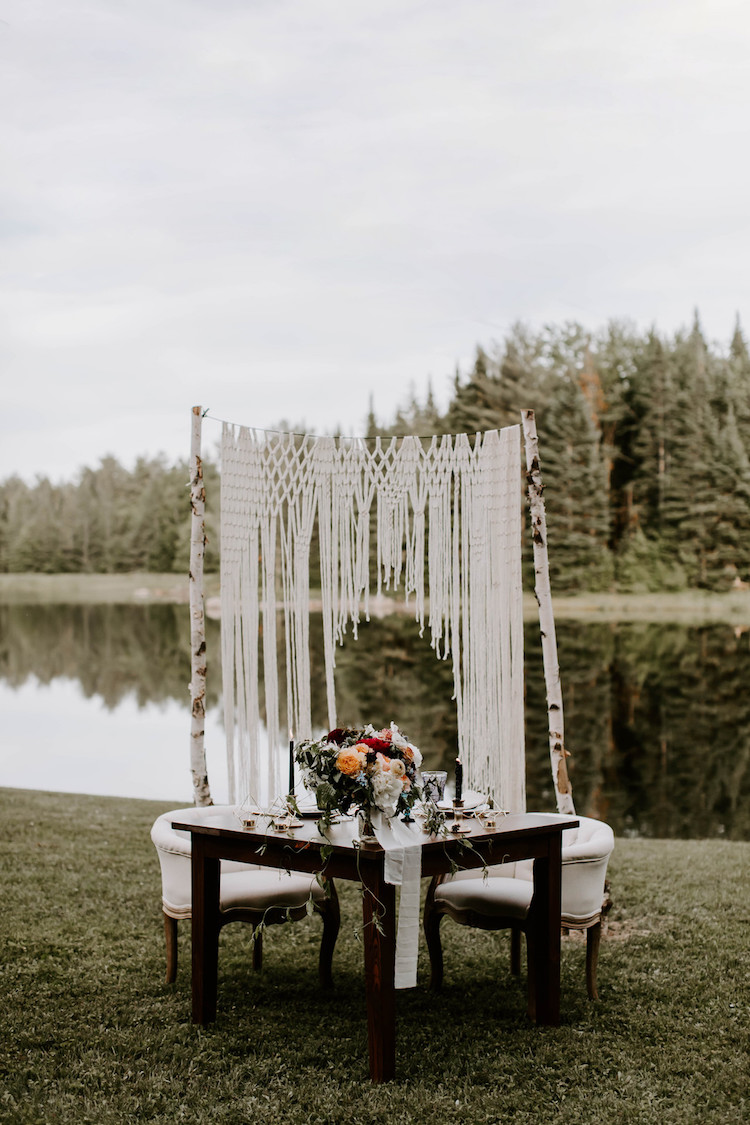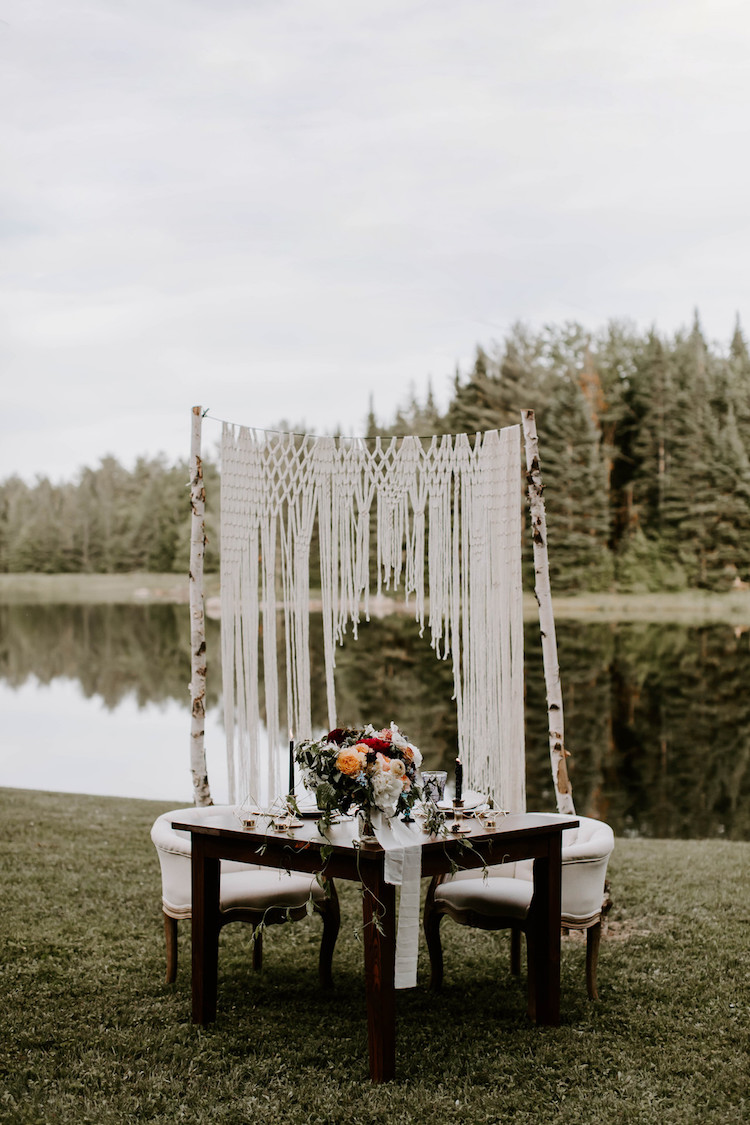 We sat at a sweet heart table in front of a birch arch that displayed our macrame back drop.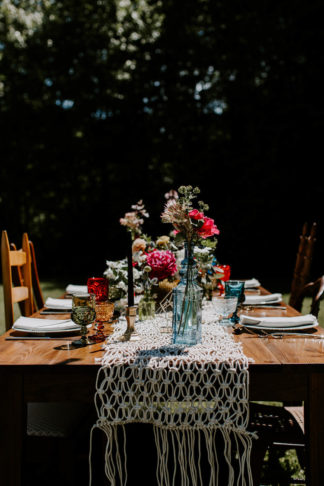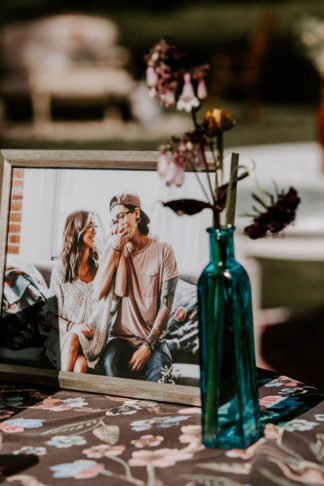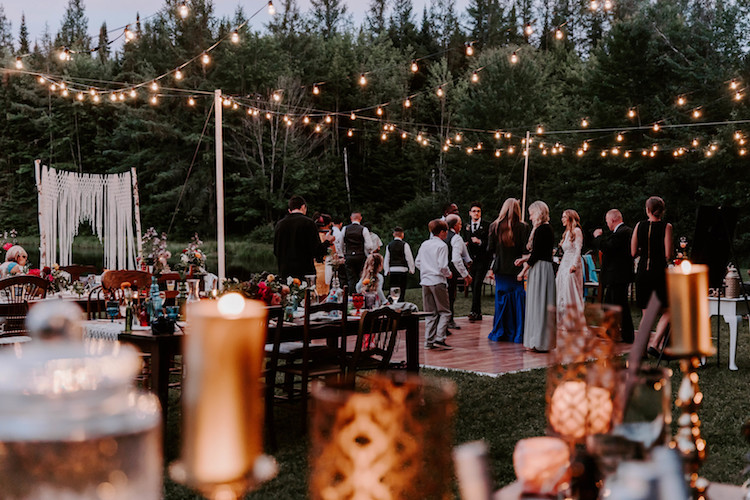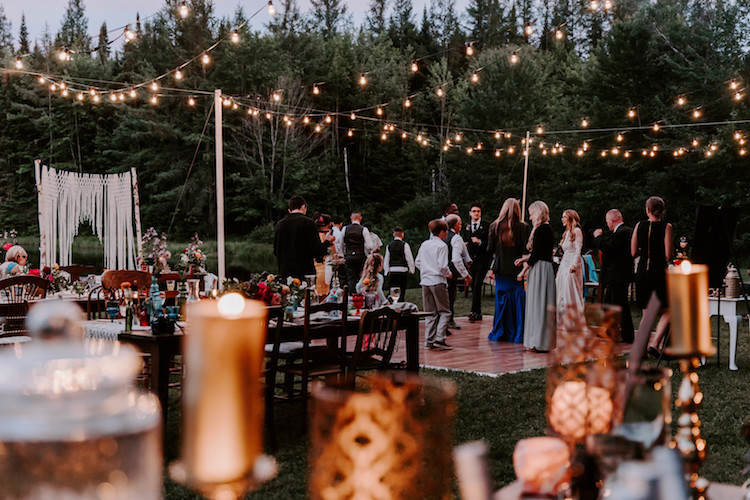 The dinner area was beneath bistro lighting.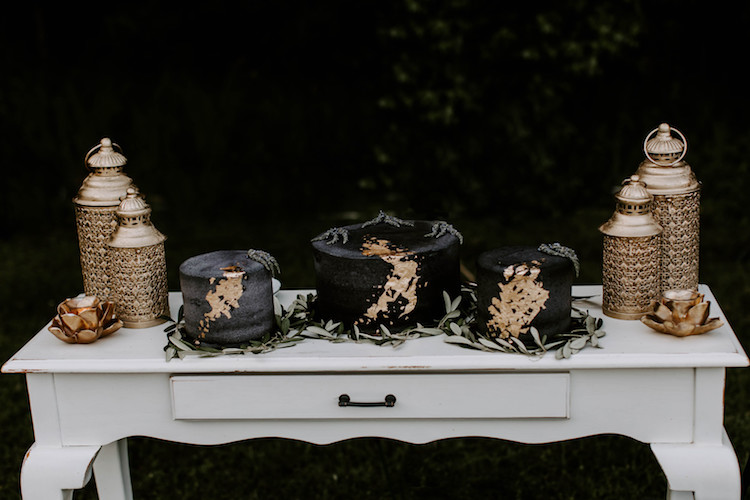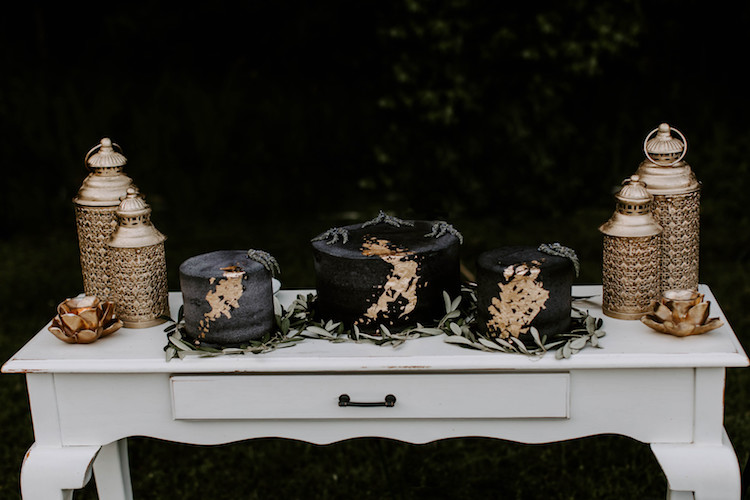 Vegan cake and dessert: We had vegan macaroons and three vegan cakes prepared by Sam Mears, a friend of mine in CT. We had three cakes, two smaller vanilla cakes with fresh berry filling and 1 larger chocolate cake with a salted caramel filling. All three cakes were covered in a black fondant and customized by the baker with gold leaf accents.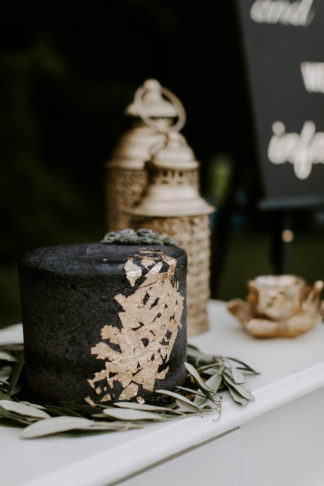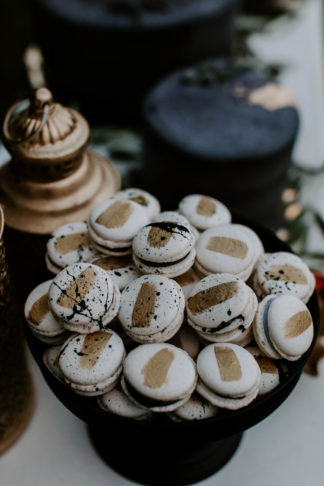 We had four flavors of vegan macaroons, which are our favorite cookies; very berry, lavender lemon, peanut butter chocolate, and pistachio. They were all white and designed with black brush strokes and gold splatter to accent the cakes. Guests loved the desserts! We also served a full vegan dinner menu.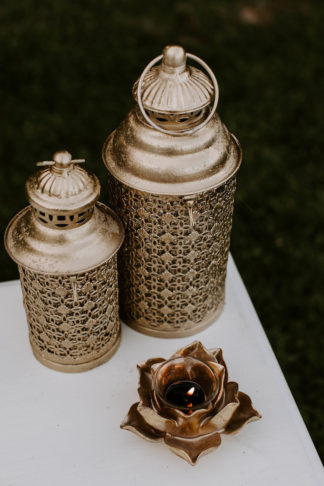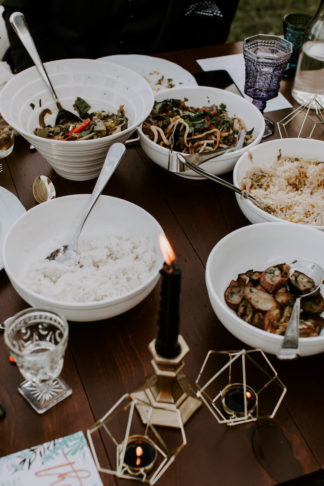 We both danced with our mothers while Chris's dad gave the speech and toast. We had a sparkler send off and then we ended the night with a bonfire on the beach side of the property, and roasted vegan s'mores while offering whiskey and cigars. We gifted homemade "matchbooks" in glass jars; each with a cute little quote and M on them.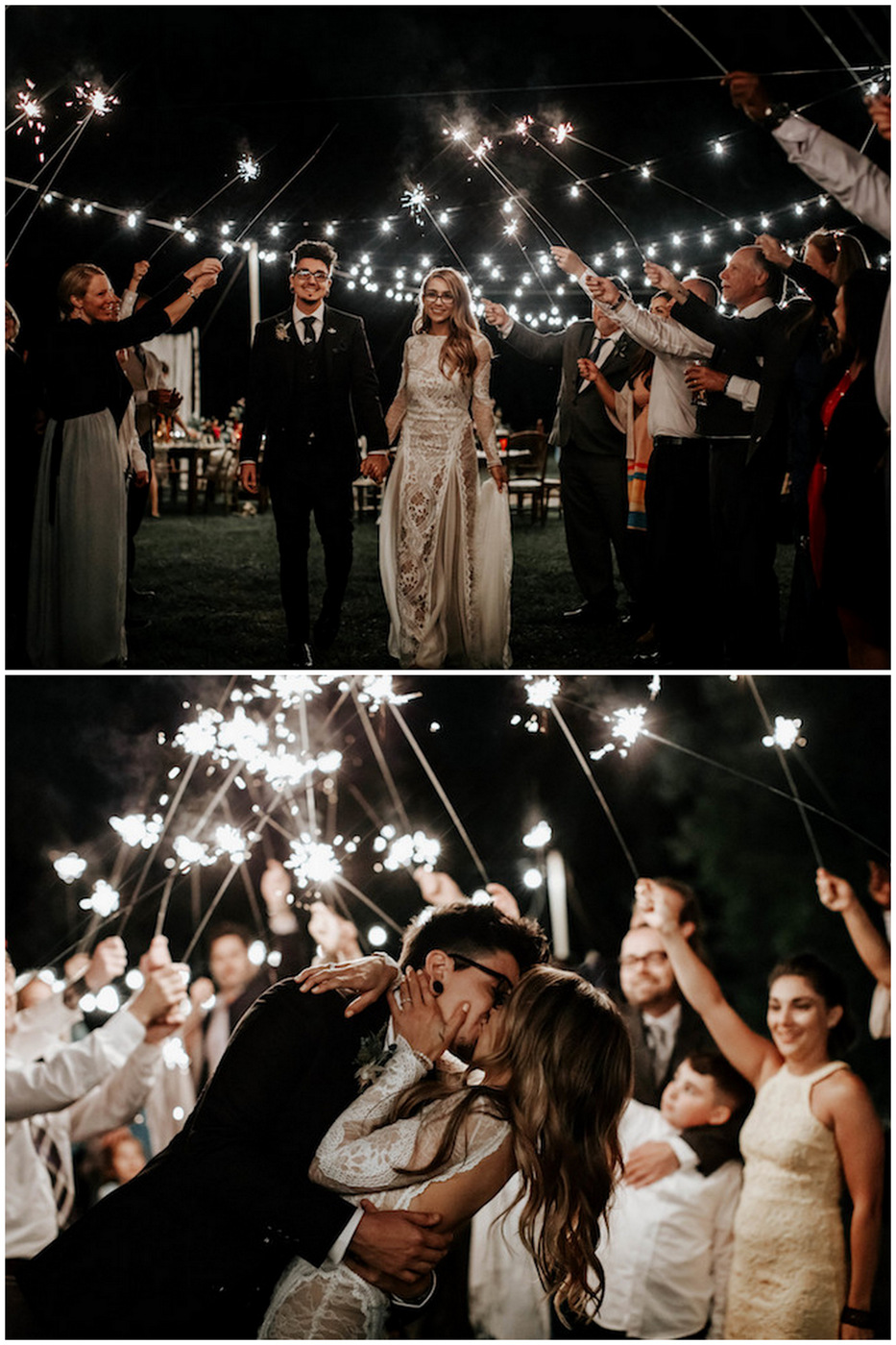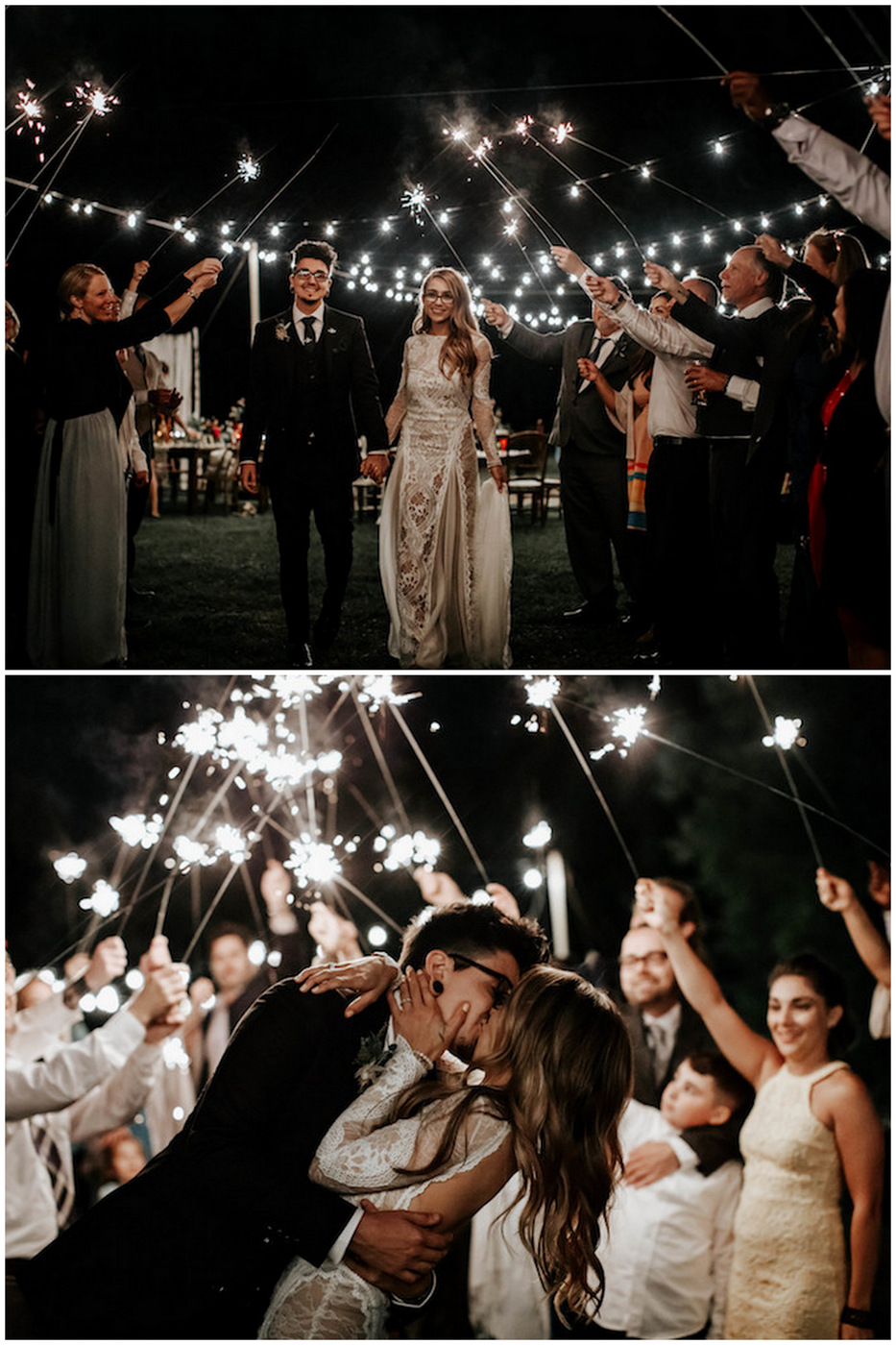 Wedding Planning Advice + Sustainability Tips:
Opt against plastic when possible.
We did not do things traditionally, instead made things for our guests they could use and keep forever.
Keep the decor minimal and work with the natural elements around you.
If you need something disposable, choose compostable a biodegradable. Our cocktail napkins and drink stirrers were all compostable and biodegradable. Any left over food from the entire weekend was all composted.
Find decor and any furniture second hand.
Definitely hire a day of coordinator!!
Start the planning early. Save money where you can and do what you can yourself.
Stay organized and keep lists.
Photos were important to us, so pick a photographer who's style you love and personality you jive with.
This day is about the two of you, no one else should matter.
At the end of the day, not everything will go as planned, and thats OKAY – just go with the flow. We had each other and thats all we needed.
Looking for more ethical wedding ideas?
Boho Vegan Wedding Service Providers: Photographer Elizabeth Grant Photography // Venue Faraway Pond, Dalton, New Hampshire // Dress Dress Grace Loves Lace // Brides Hair Sara, Christopher Michael the Salon // Brides Make-up Tower Spa // Flowers Emily Herzig Floral Studio // Cake Sam Mears // DJ Allen Chip // Dinner rental furniture and bistro lighting: Showcase Events Party Rental // Stationery Whole Weddings // Wedding Planner Alyssa Jean Signature Events // Suits  My.Suit // Bartender: Eventfully Yours // Jewelry shop: Rumanoffs Fine Jewelry
Vibrant Mexican-Style, Zero-Waste, Vegan Taqueria Wedding in LA!