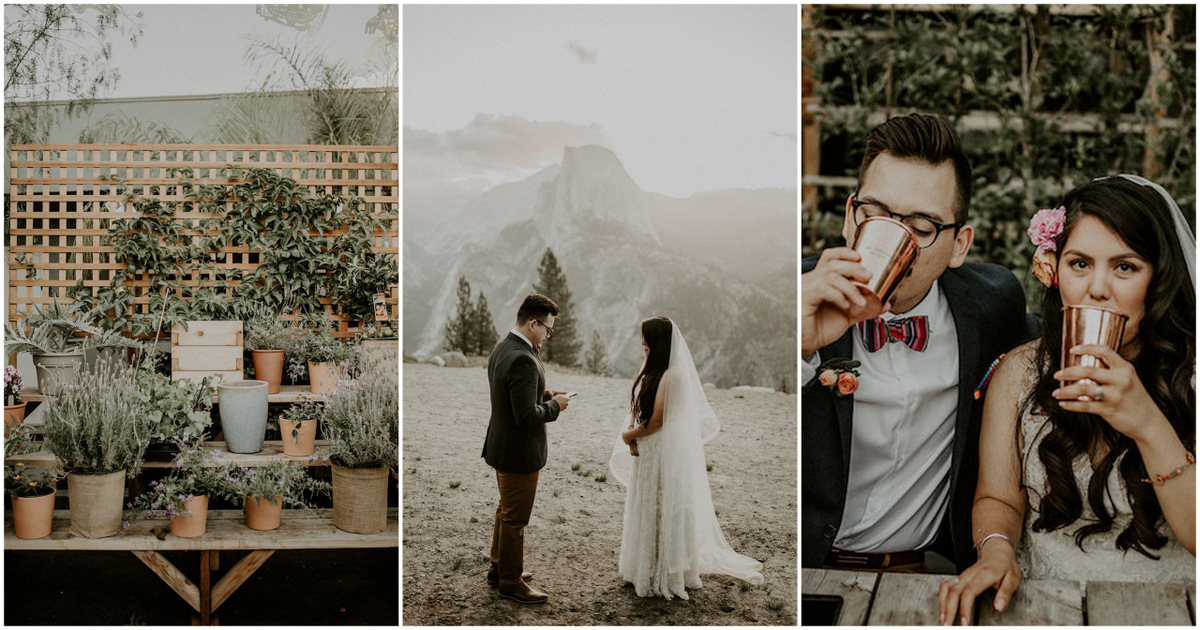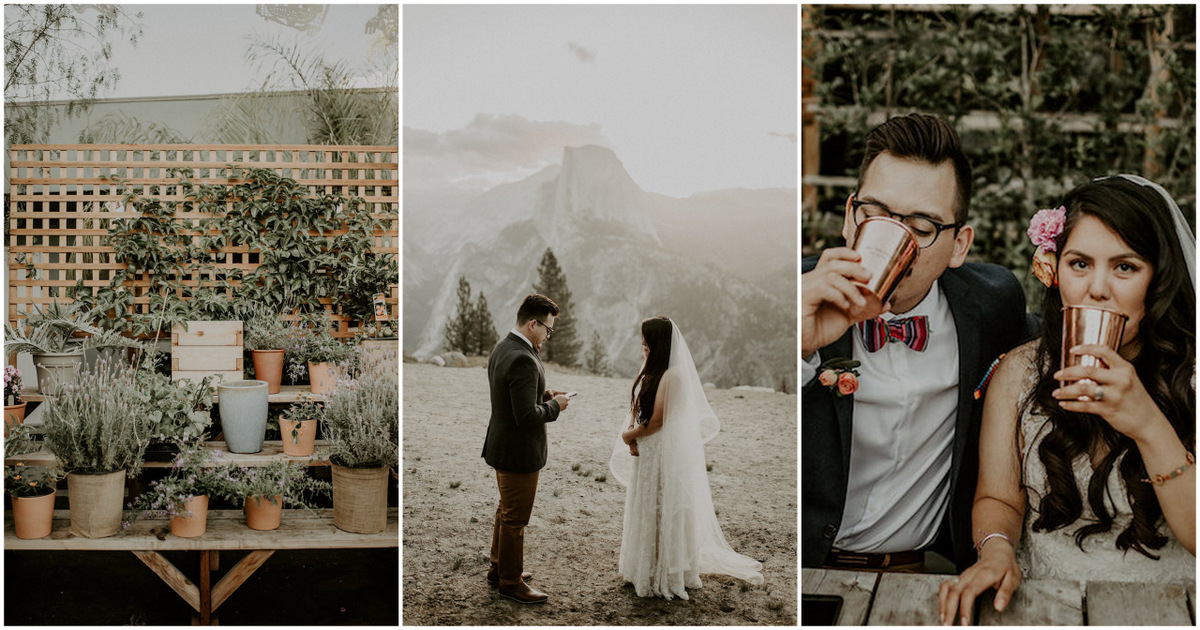 Seriously you guys, I am so friggin excited to share today's wedding celebration with you! Not only did this awesome couple sneak off to Yosemite for a secret sunrise elopement, followed by two days of camping, but they then proceeded to throw a totally kick-ass, Mexican-style, vegan taqueria wedding AT A NURSERY in LA – filled with loads of zero-waste vibes! That's a LOT of adjectives, and these two are a whole lot of cool. If they do not epitomize authenticity and awesome ethics, then I don't know what does.
Check out these pics by Lunacollective Photo and make sure you read all the super-helpful tips the couple share for aiming toward a zero-waste wedding, along with loads of yummy vegan wedding food ideas. Cindy, Edgar, you rock!
Love Story: My husband and I started dating when we were in high school! We were together in middle school as well but we didn't actually talk to each other until we had that class together. Eventually we started dating in 11th grade. During our senior year we won Homecoming king and queen and now we have been together for almost 11 years!
We knew we were going to get married, we were just waiting to graduate from college, and settle into life a little bit better. Last year we went on a backpacking trip to Havasuapai. Ten miles in, at the first waterfall, he got on one knee and proposed to me!
Intimate Yosemite Sunrise Camping Elopement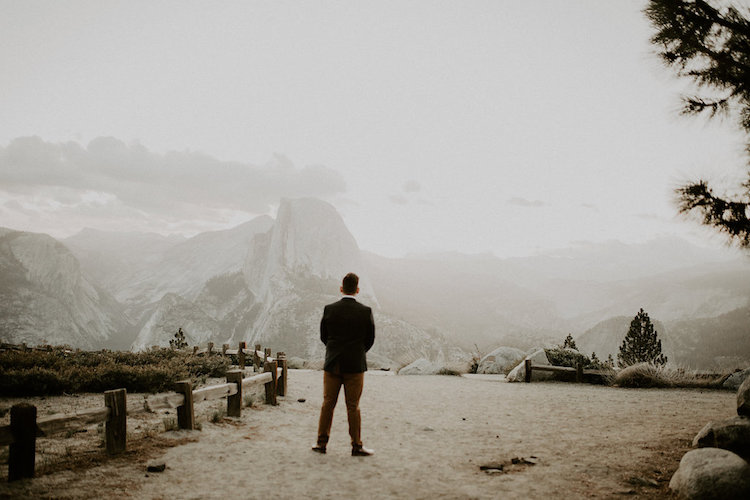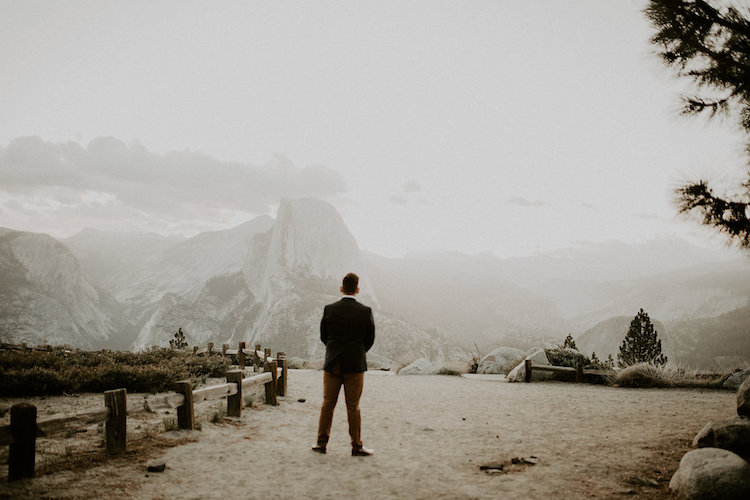 We decided that we would exchange our vows in Yosemite at sunrise over looking Half Dome. We did that two days before the wedding and camped. It was truly magical doing it during sunrise!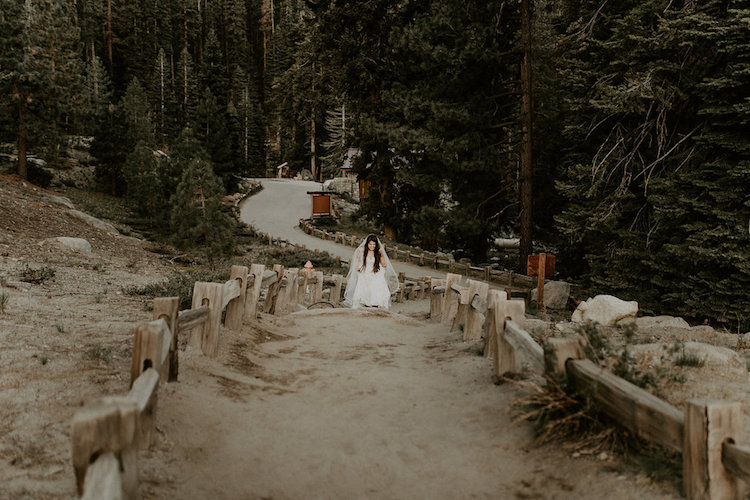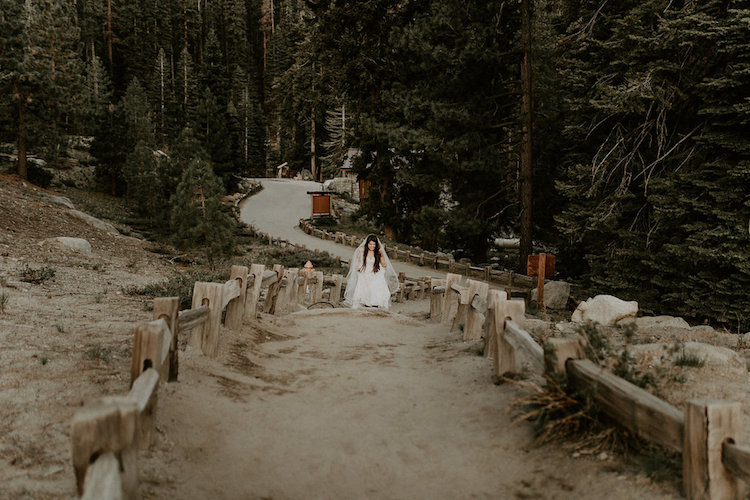 I woke up at 3:30am to get ready in the campground bathrooms. We arrived at Yosemite late the night before, getting only 3 hours of sleep. By 4:30am we were in the car heading up to Glacier Point for Sunrise. Once up there  Grace Luna, our photographer, helped me put on my dress and veil. There was no mirror, so I didn't even know what I looked like! 🙂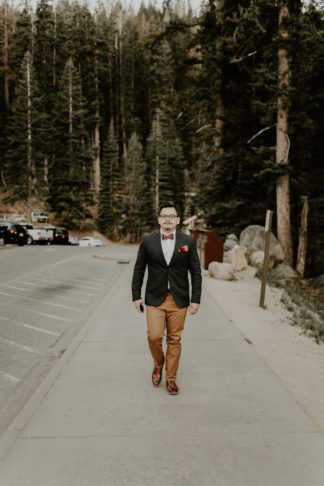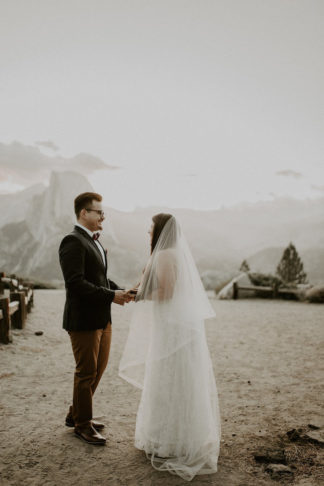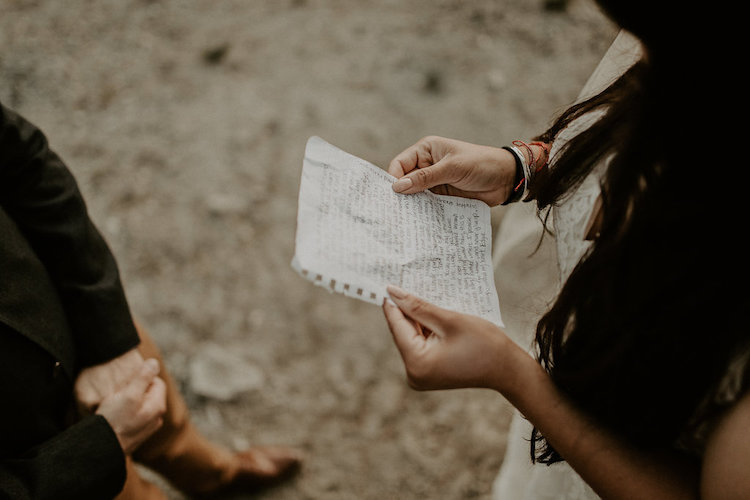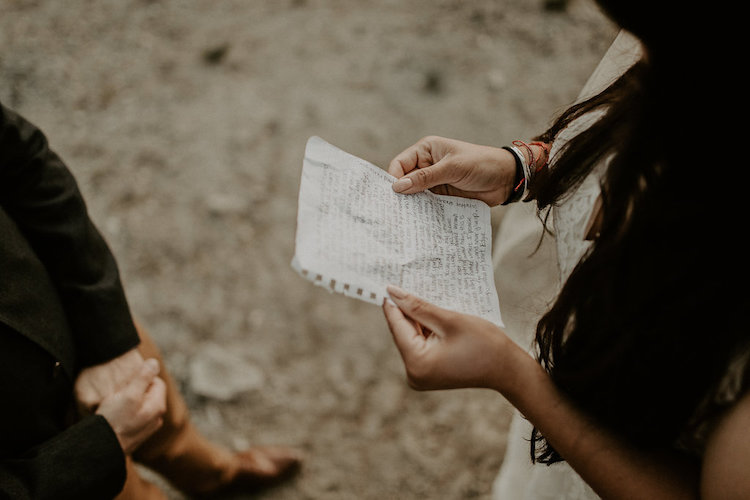 The sun began slowly peaking through the clouds and Half Dome as we both read our vows to each other.  It was so magical.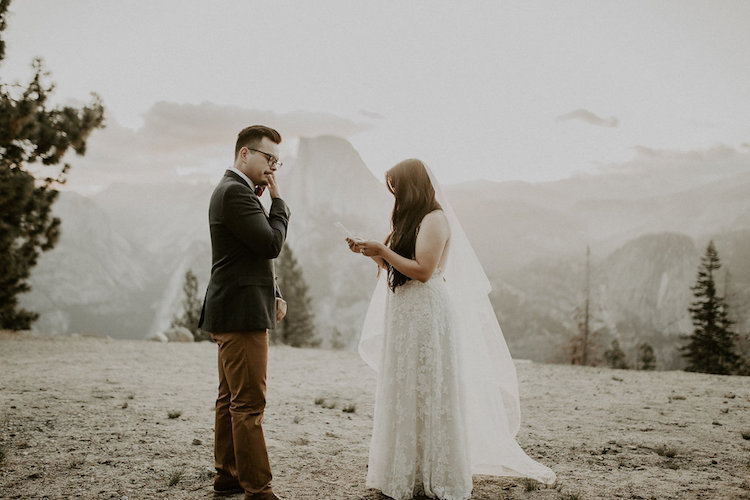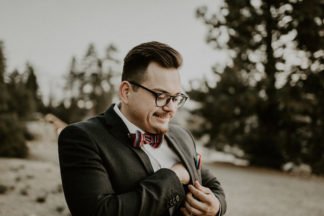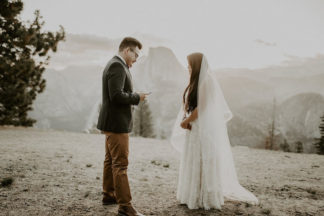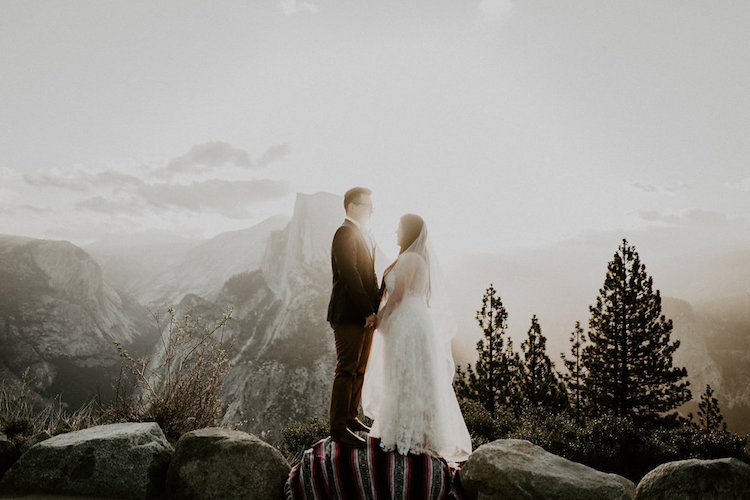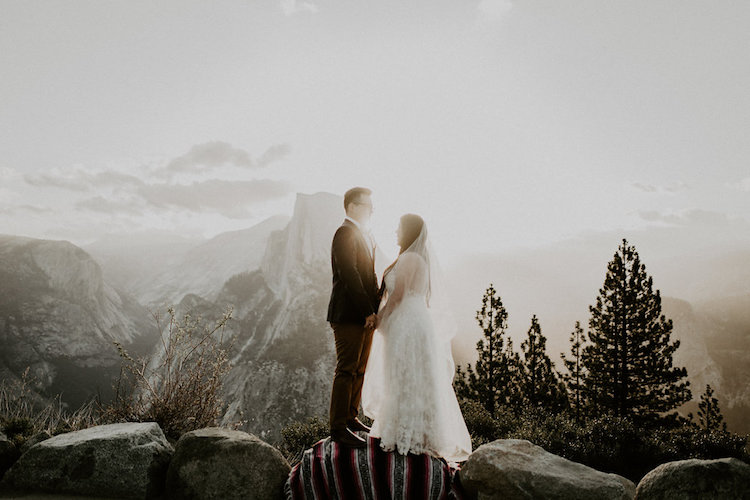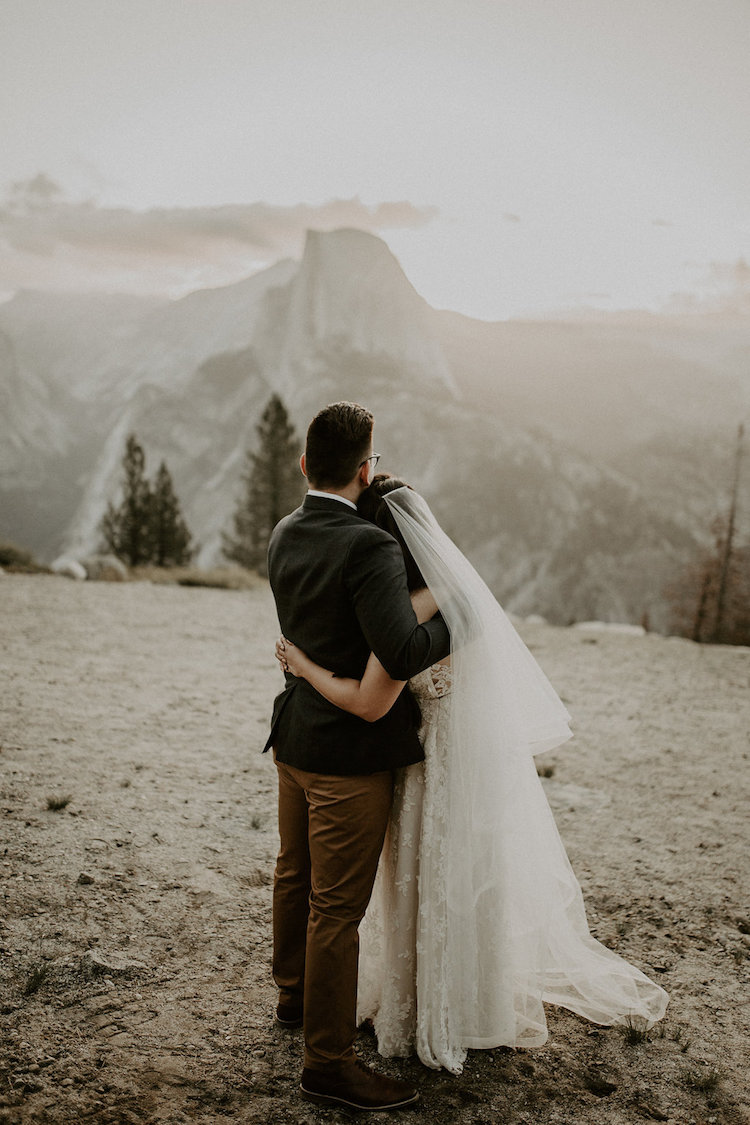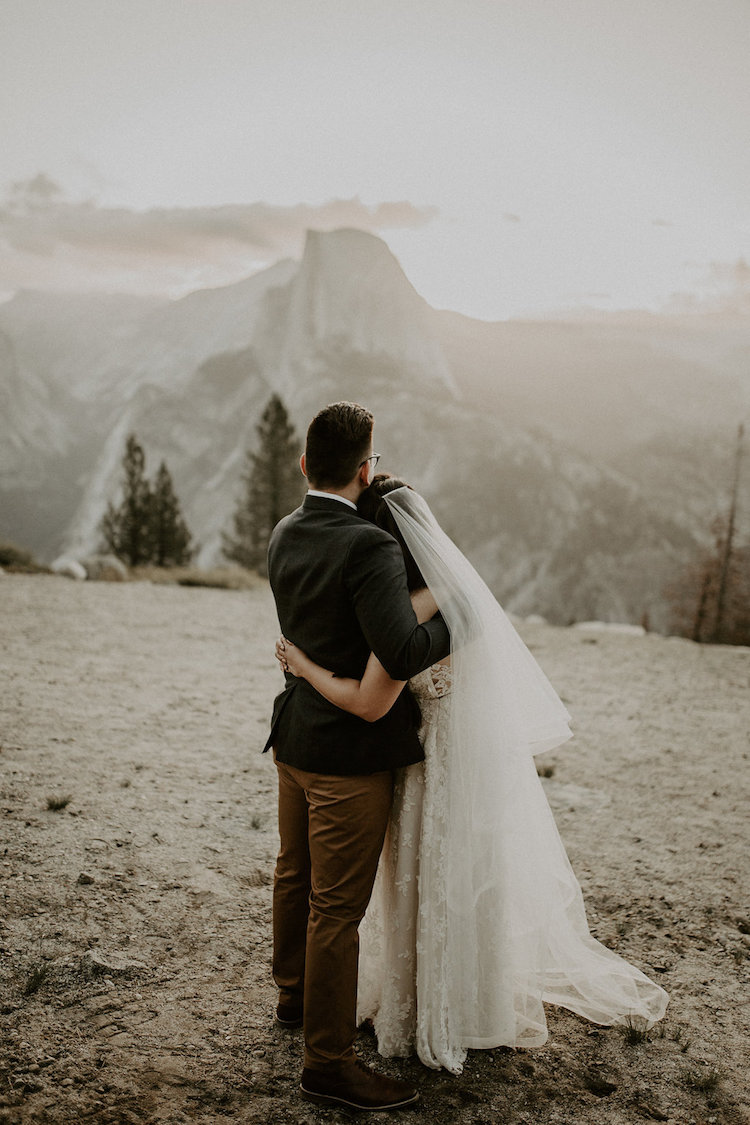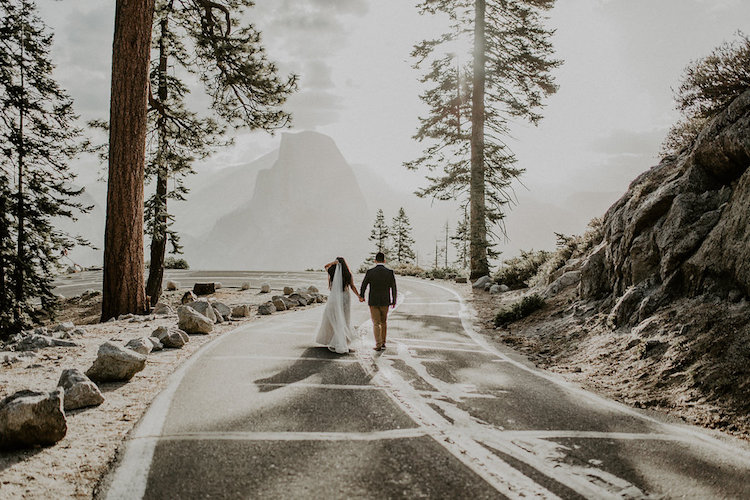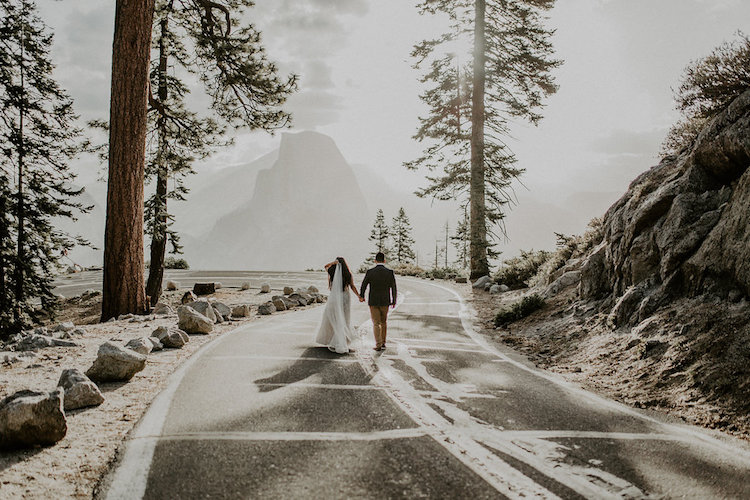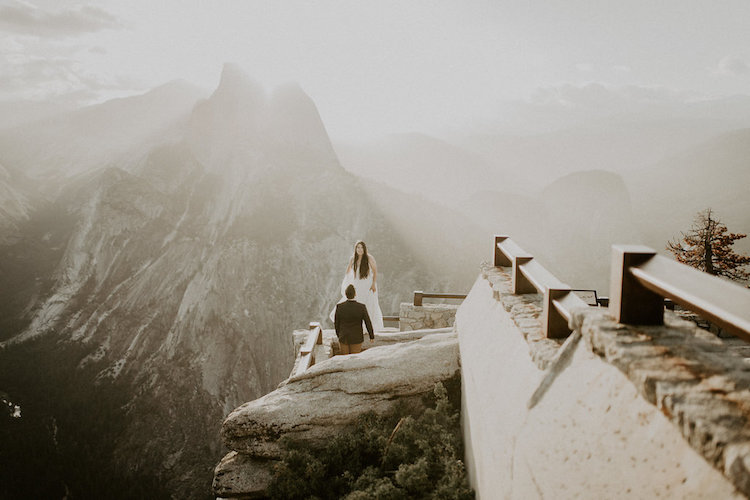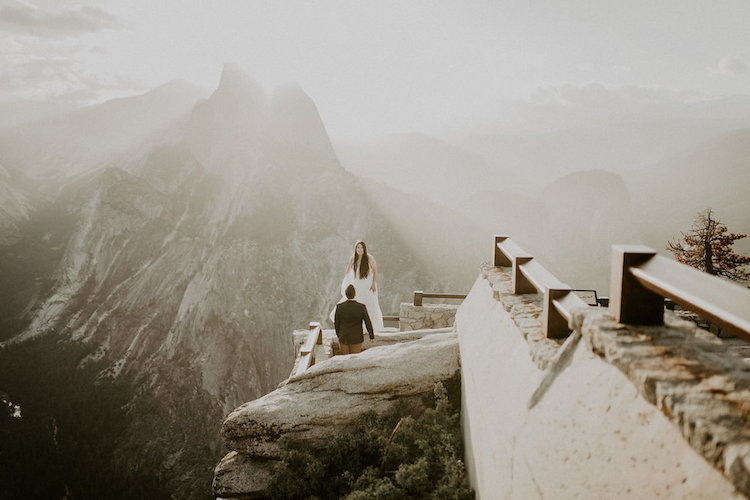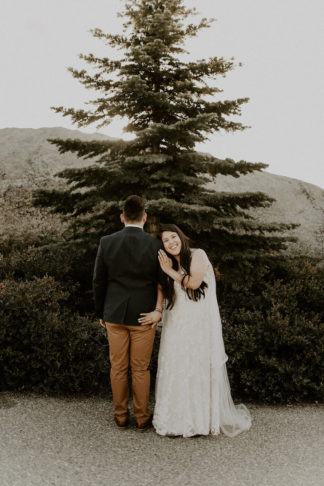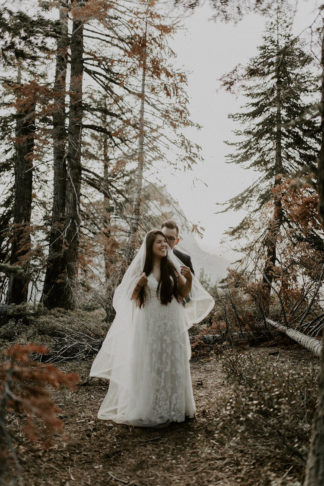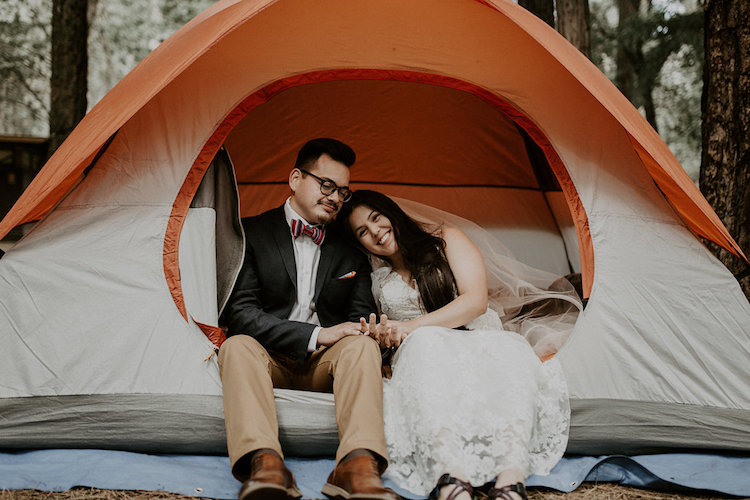 Vegan Taqueria Zero Waste Wedding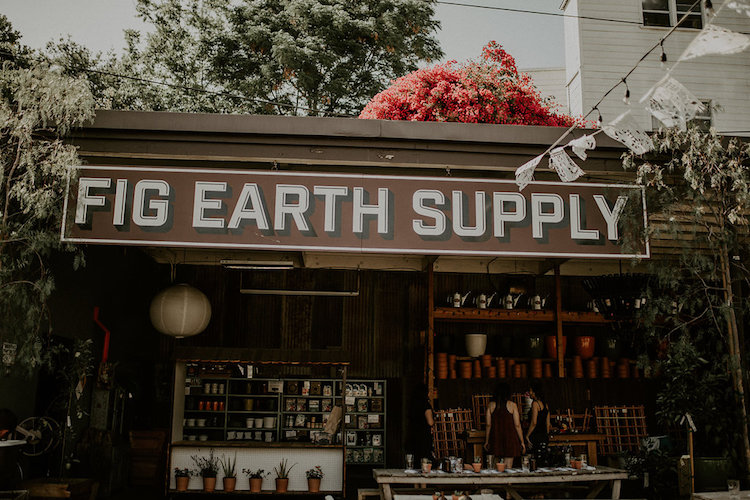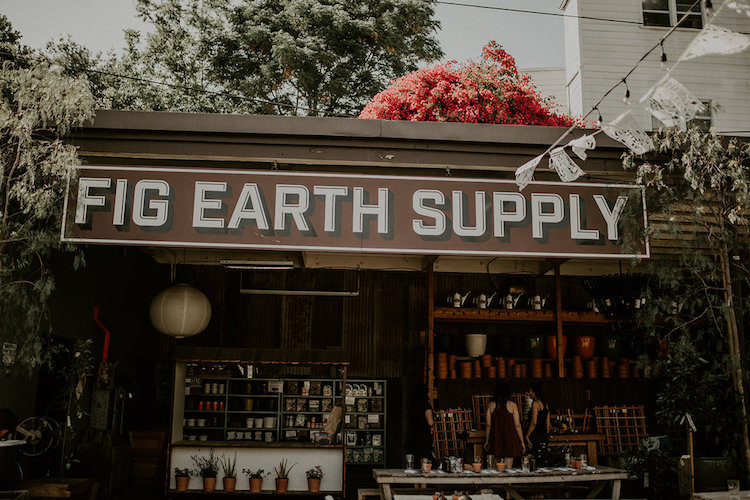 Our wedding reception was at a nursery in Los Angeles! All the decor was personally chosen by me, Cindy. The table runners were cut out from Mexican blankets in Downtown LA. We are both Mexican, so the first thing that came to mind was having a Mexican themed wedding, with jewel tone colors.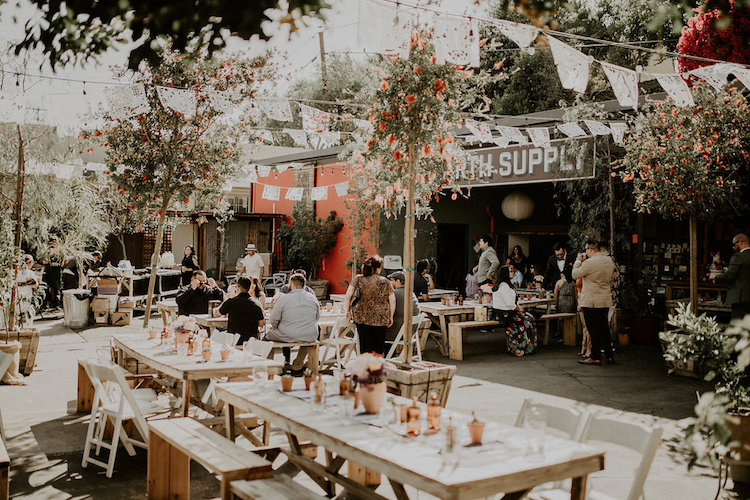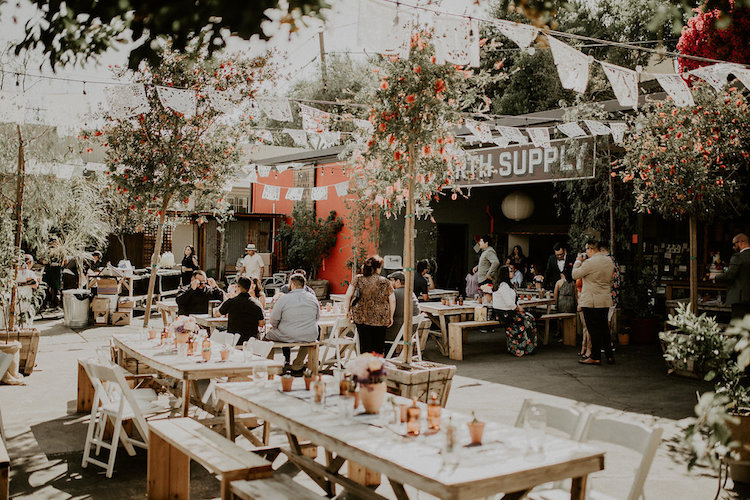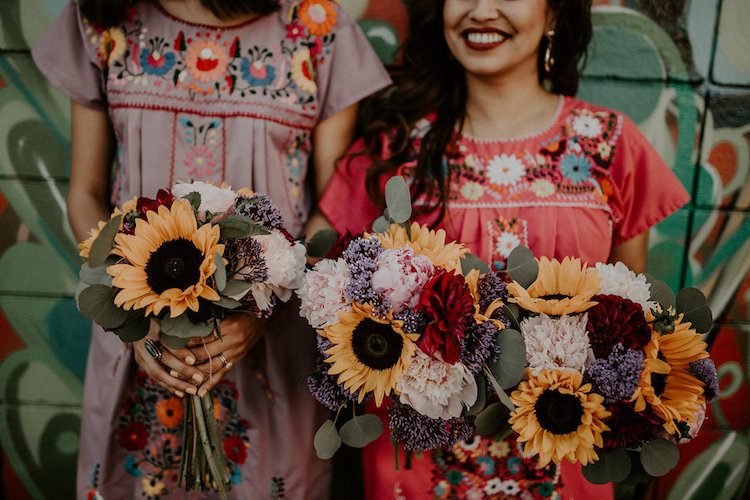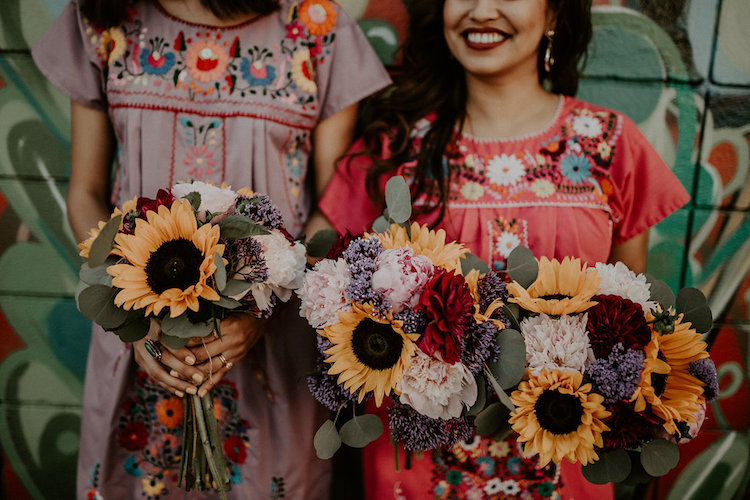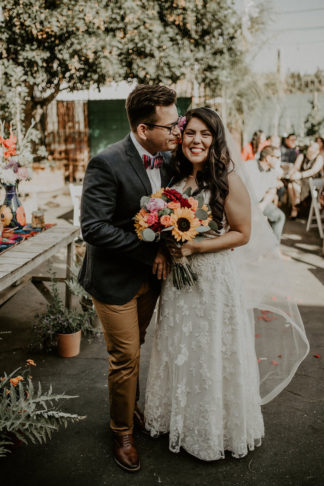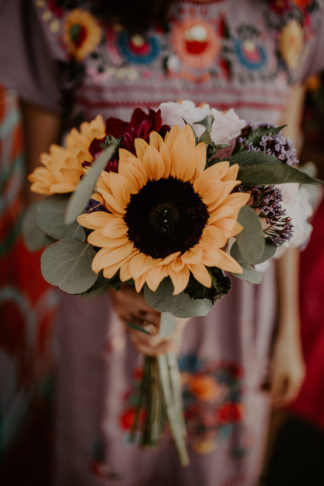 Our second wedding ceremony was held at the nursery under a lovely tree, with a simple rug as decor. We arranged the ceremony at our reception venue in such a way that nothing would have to be moved after the ceremony. Plus, we had many potted plants surrounding us!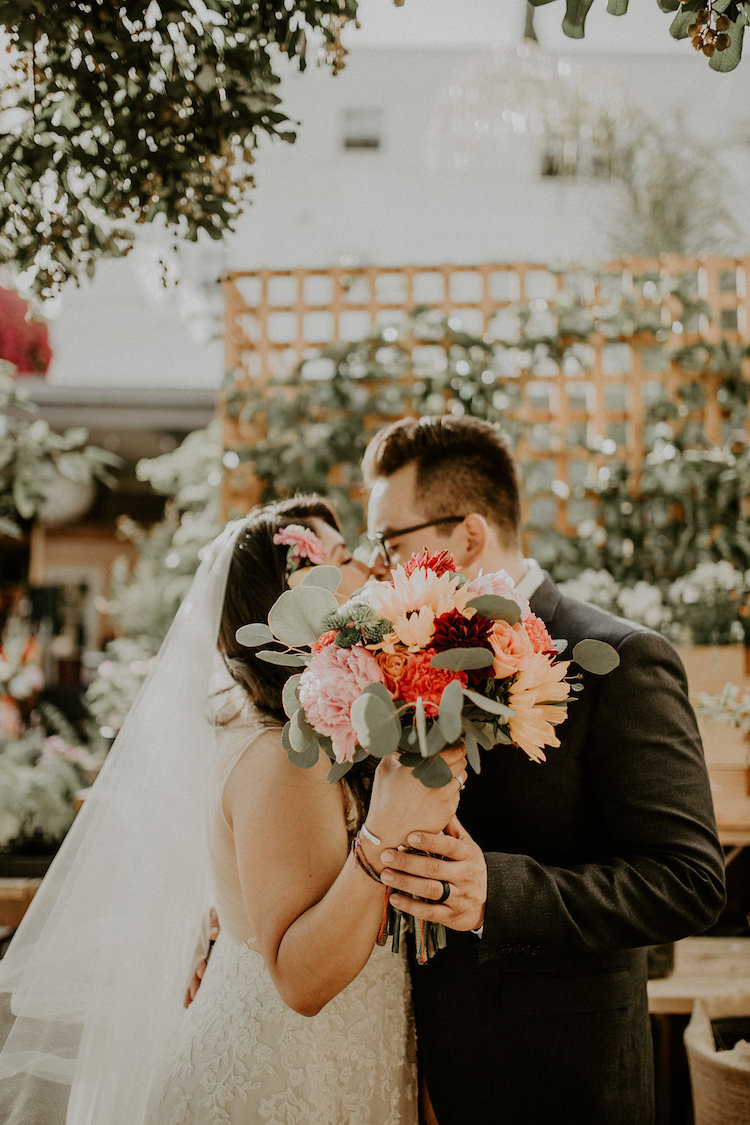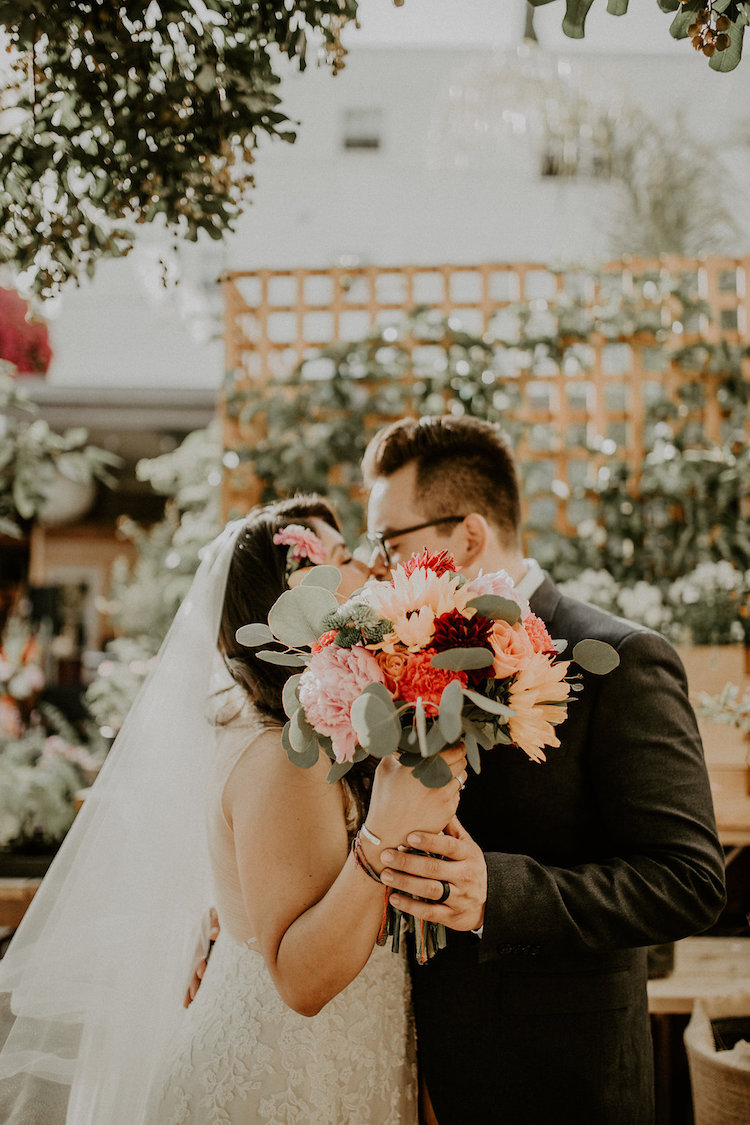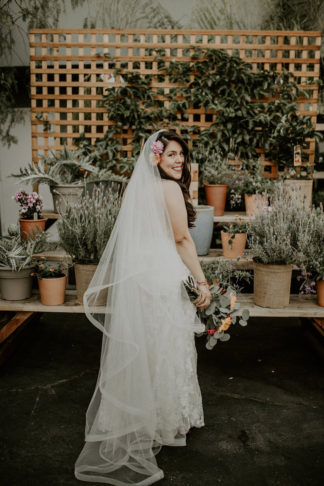 For my wedding gown I purposely sought out second hand pieces, which ended up being samples. I wanted to go with the best eco-friendly or zero-waste options. I went to a sample dress sale at BHLDN. This dress was the last one I tried on out of four. Although initially it wasn't exactly what I pictured in my head, when I put it on it felt like it was meant for me! I chose to avoid buying new, because I knew I would only be wearing the dress once (twice in my case) and because I know that a lot of waste/pollution happens when producing new items, like clothes.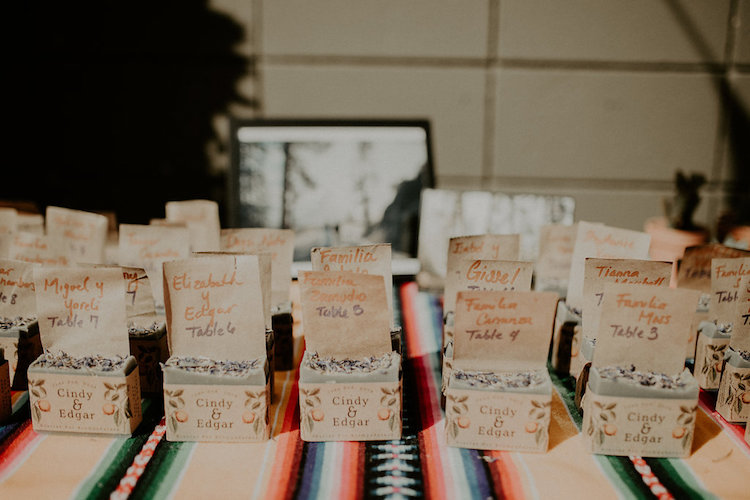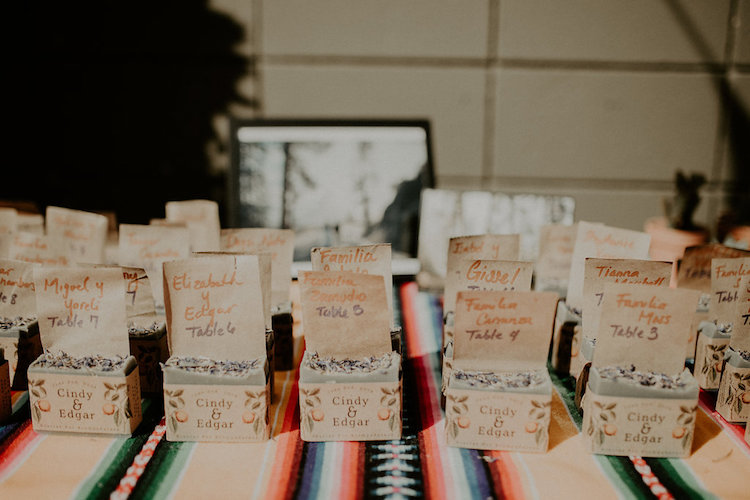 Our table numbers and escort cards were made from cut outs of used Trader Joe's paper bags. The escort cards were combined with our wedding favor, which were earl grey soaps from a local Mom + Daughter vegan body care store, No Tox Life. We wanted to give our guest something useful! We set them on a vintage blanket used as a table cloth, thrifted from The Left Bank LA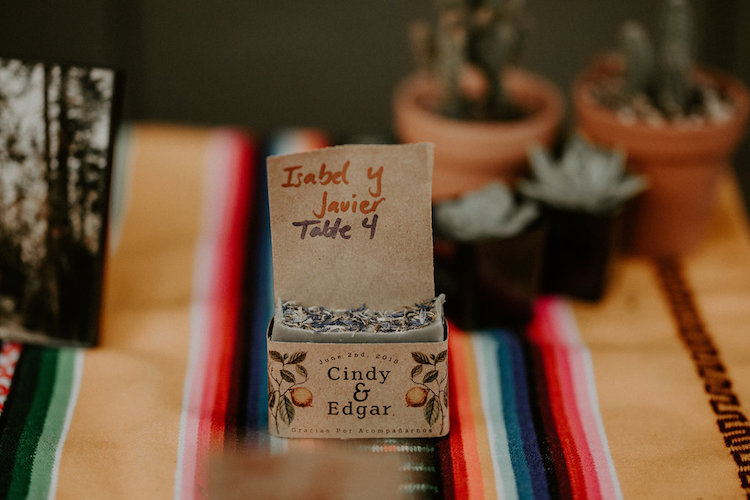 Most of the venue decor was provided by the venue itself. They used all the potted plants and trees that they had on site to make the venue look so beautiful! Including some potted artichokes to have along with our sweetheart table.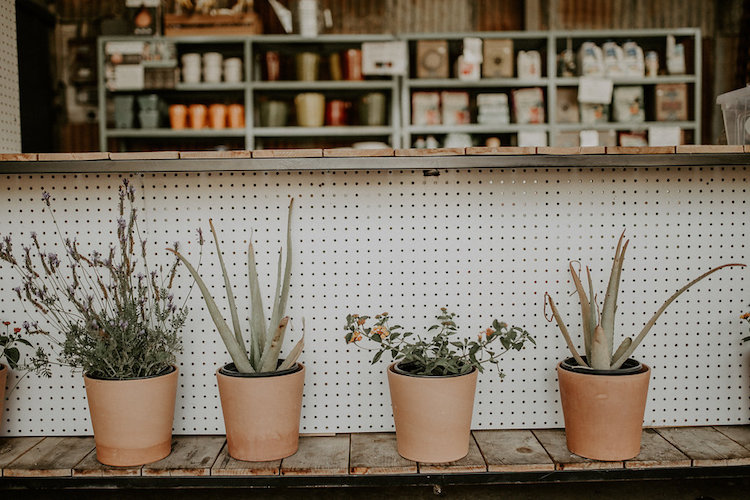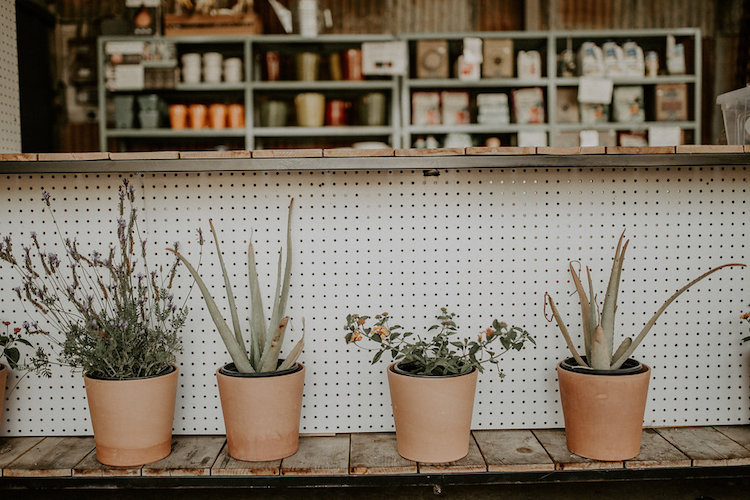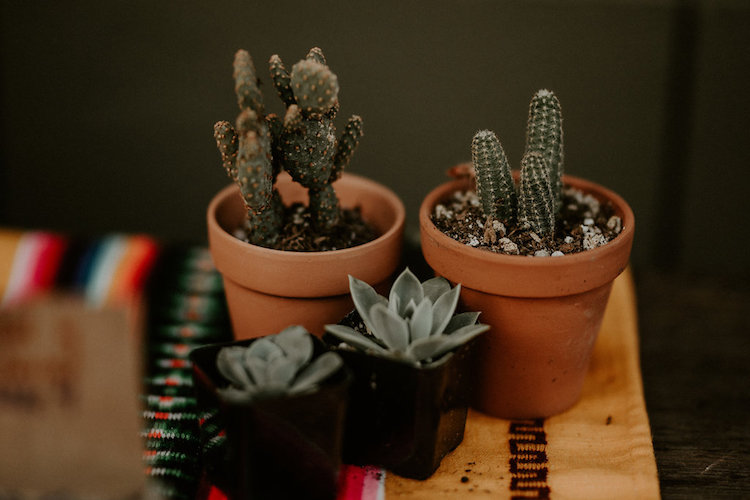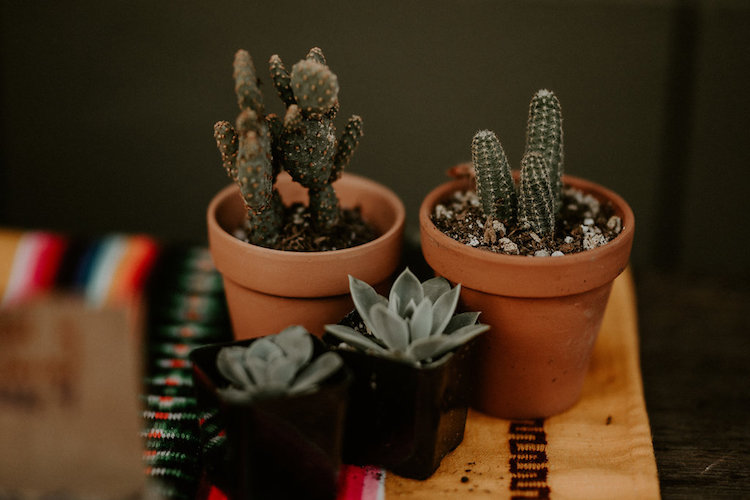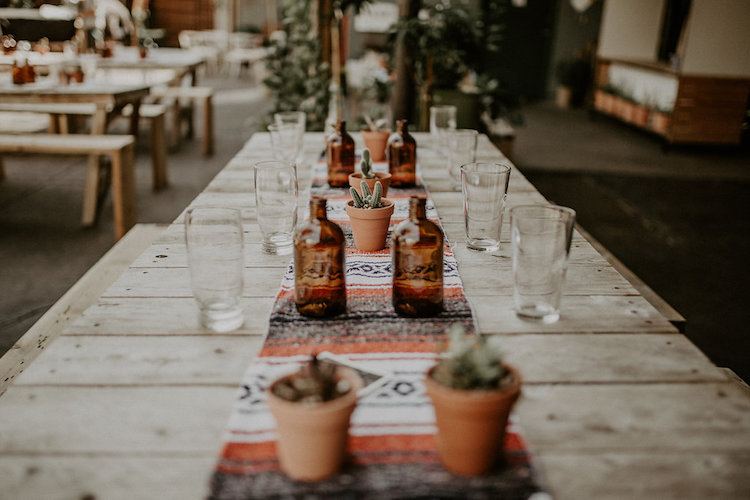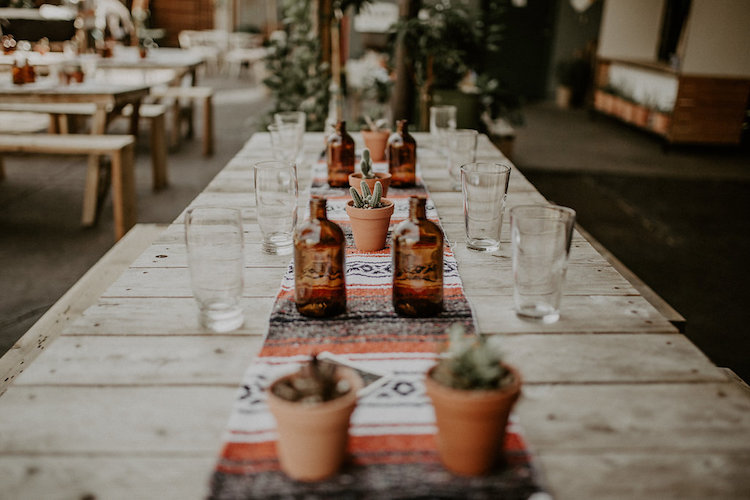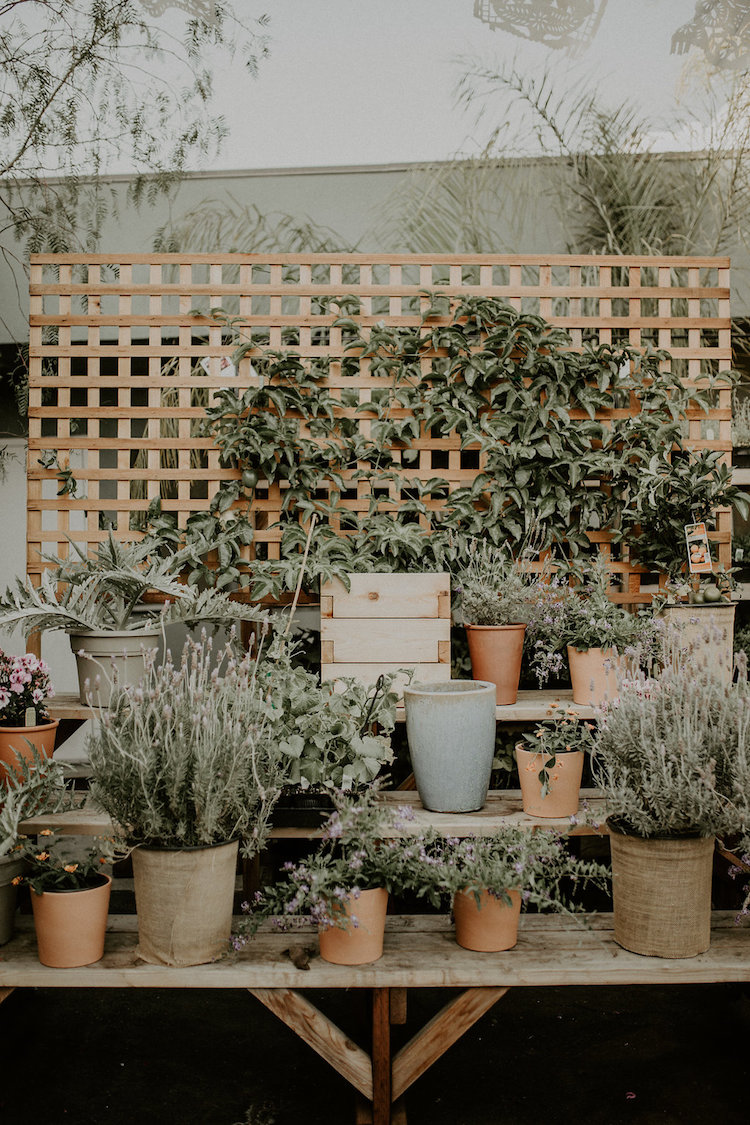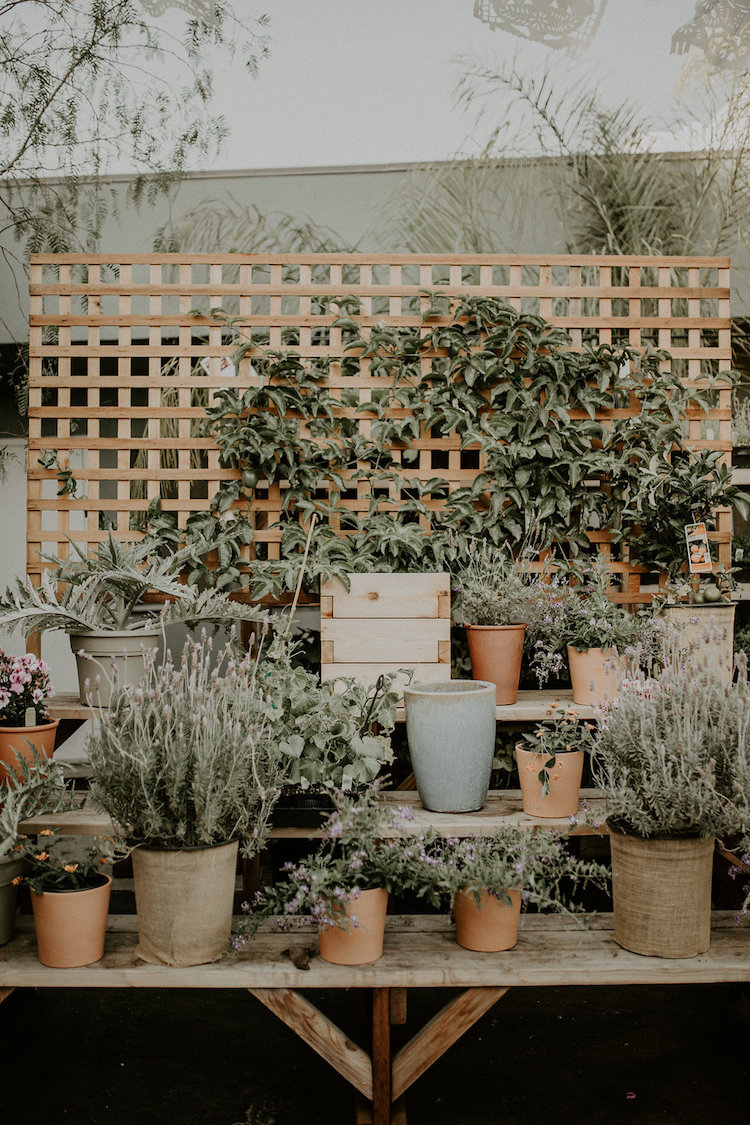 A plant wall of passion fruit, artichokes, lavender, citrus and melon or cucumber seedlings and many others created a beautiful backdrop.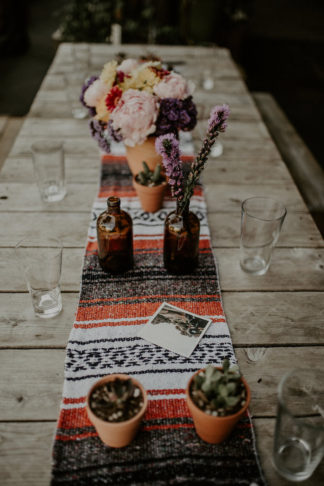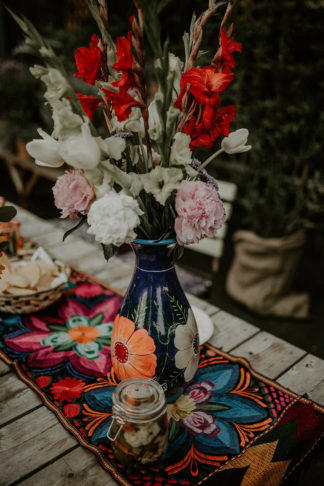 We used potted succulents for some of the table decor. We reused Kombucha bottles to hold single or double stemmed flowers. We had washed terra cotta vases holding arrangements of flowers.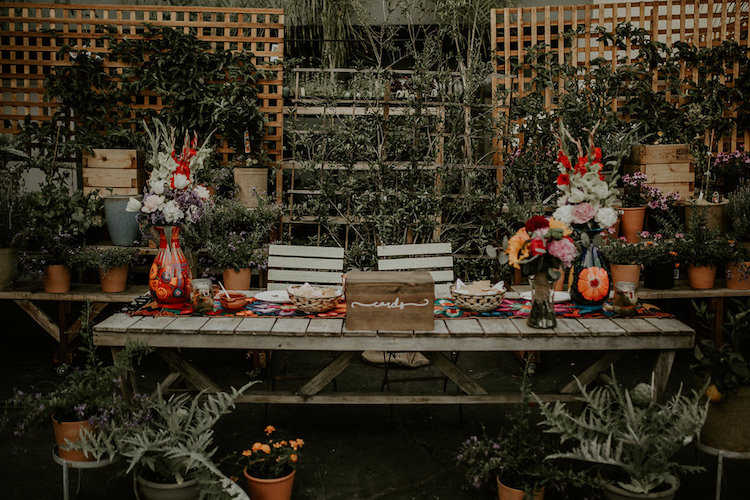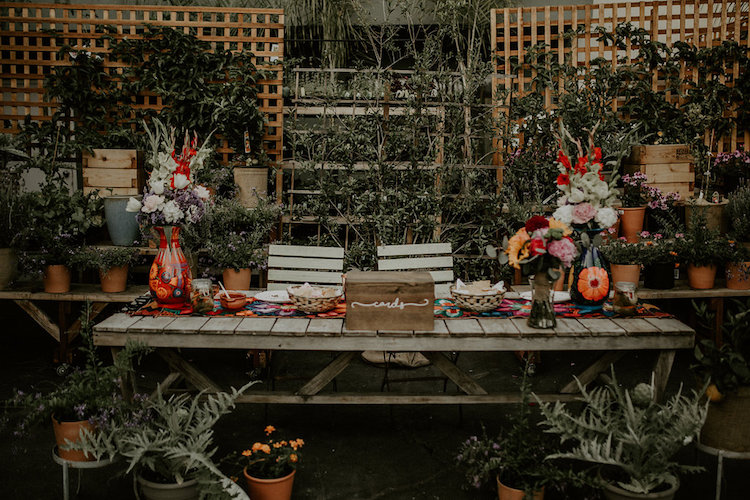 Vegan Wedding Taqueria: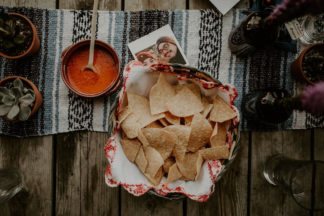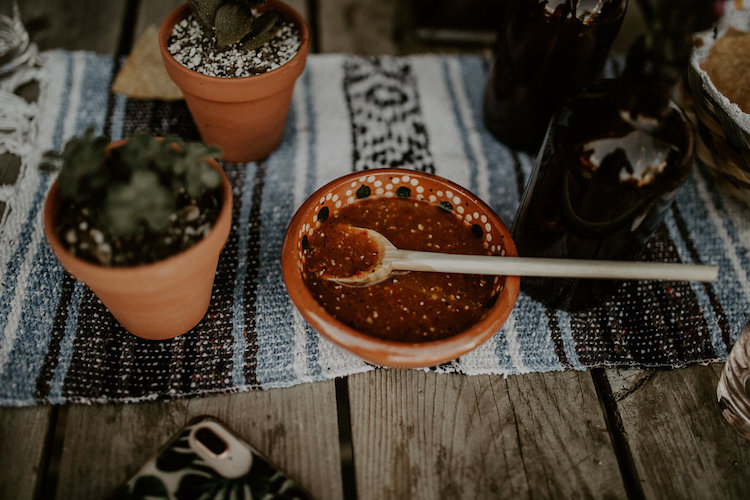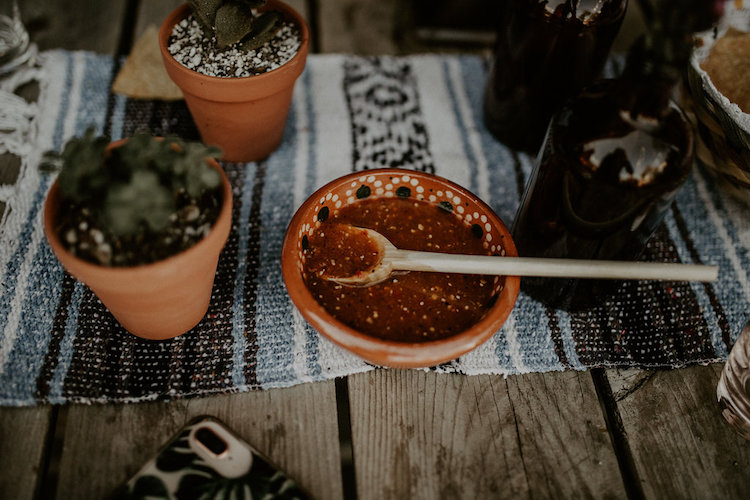 We served our guests a vegan taqueria!
Vegan tacos of 'Carne Asada", "Carnitas", and "Al Pastor", along with Agua frescas by Just Vegana 
Vegan sides including cactus salad, lentil salad and vegan potato salad, made by Cindy's mother.
Vegan conchas, a favorite Mexican sweet bread for guests to get at any time during the party by Delicias Bakery and some
Vegan cake for dessert in three different flavors by Yvonnes Vegan Kitchen
The vegan tacos seemed to be a hit – many went for seconds!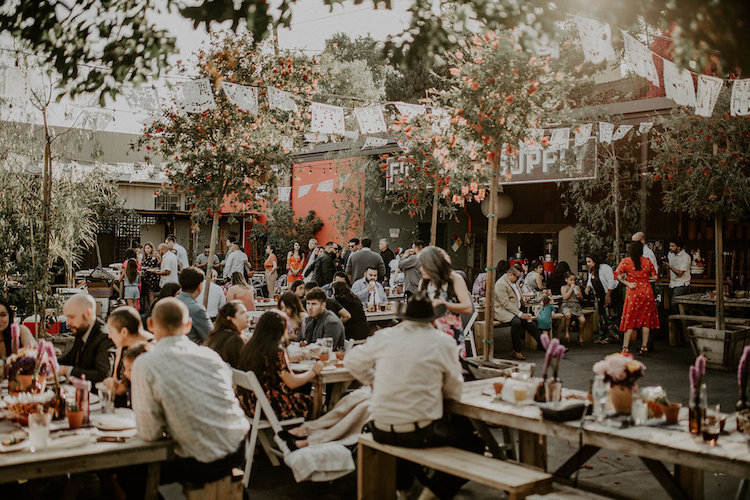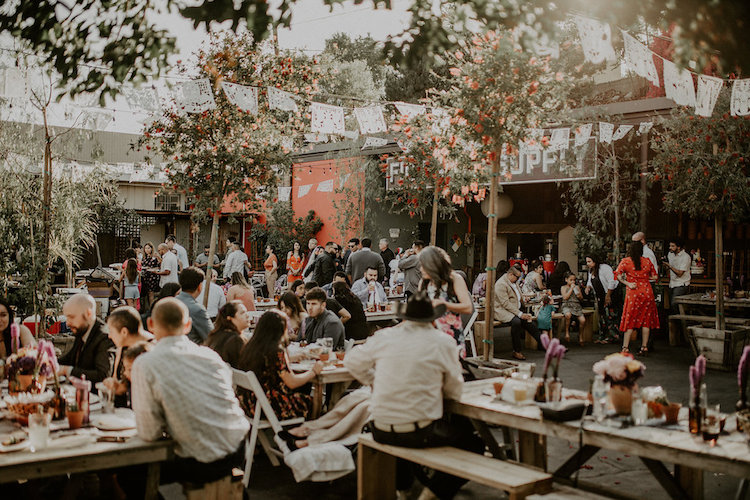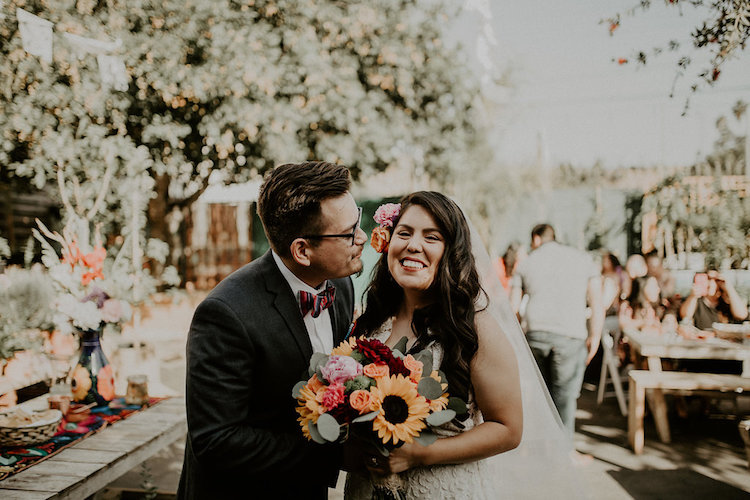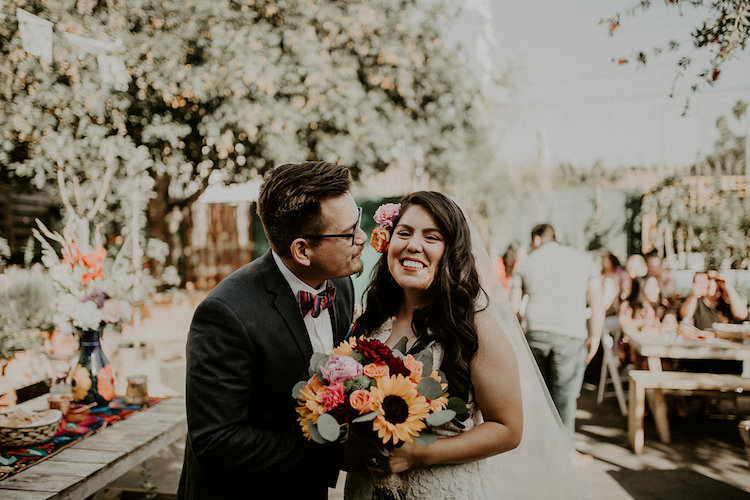 (Check out this Sustainable, Vegan Bachelorette at a Greenhouse with additional Zero-Waste Tips)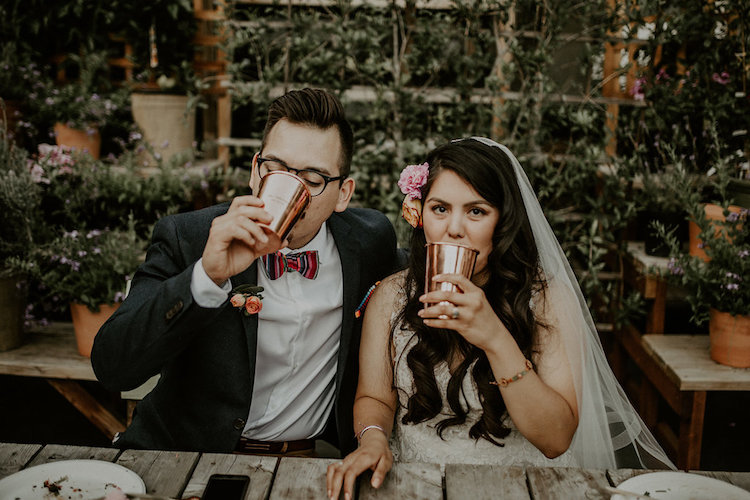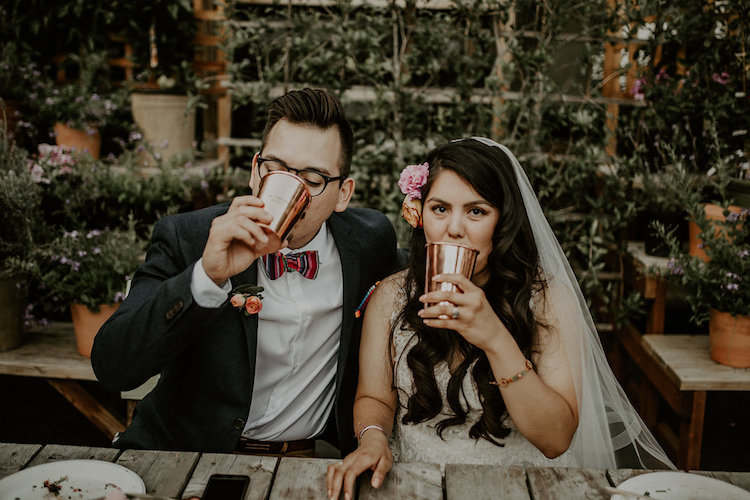 Our first dance was, "Highs & Lows" (acoustic version) by Emeli Sande. We had an awesome DJ!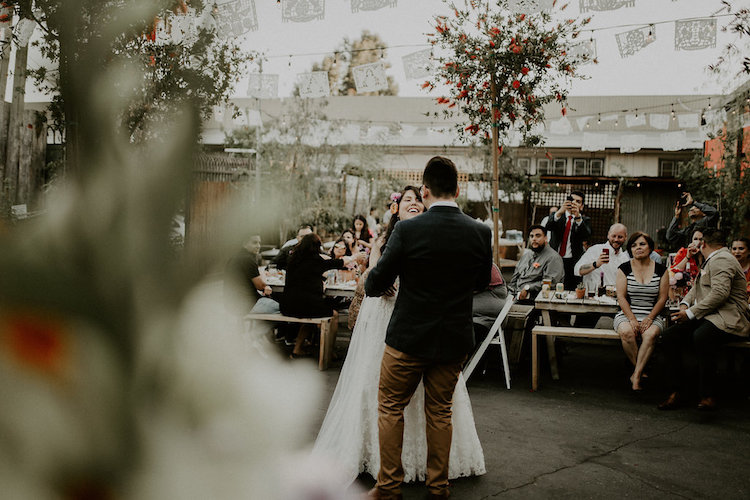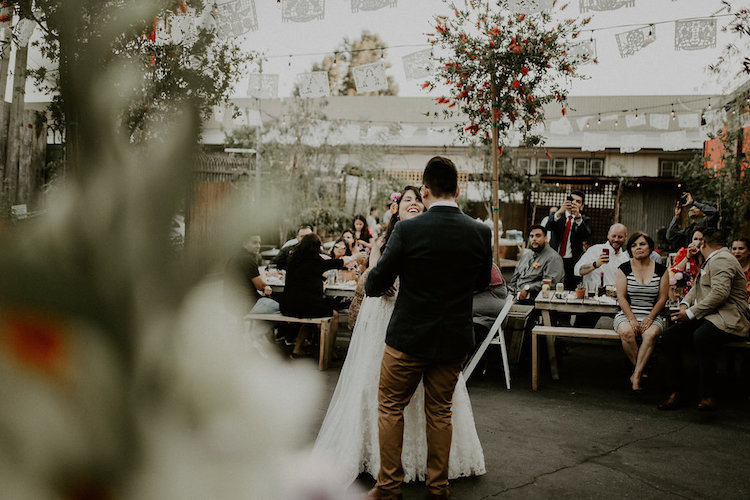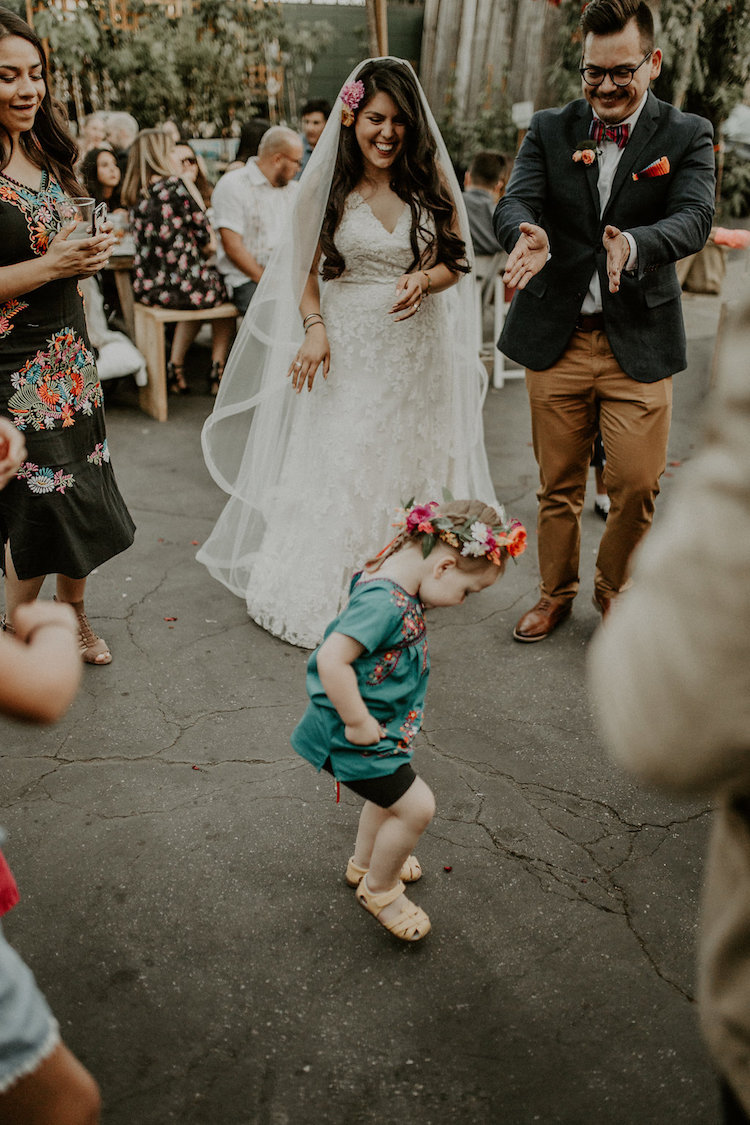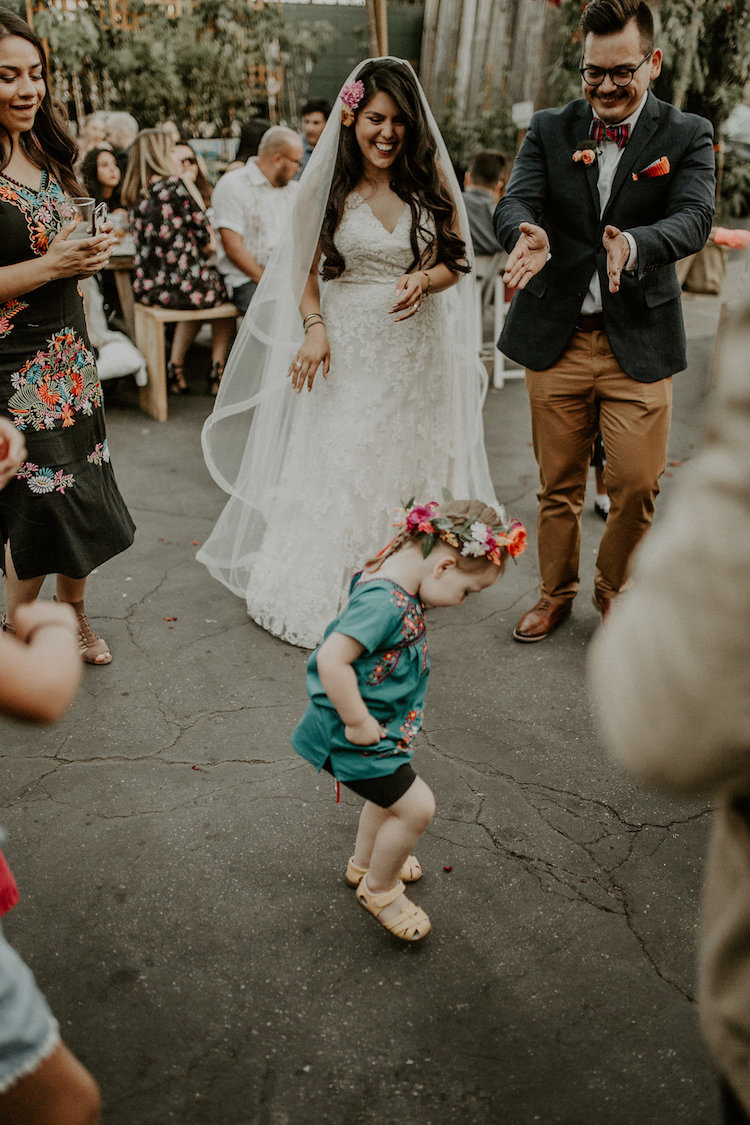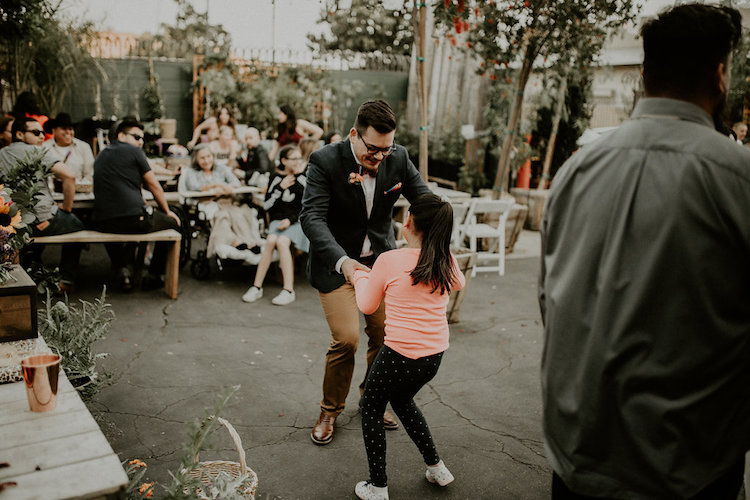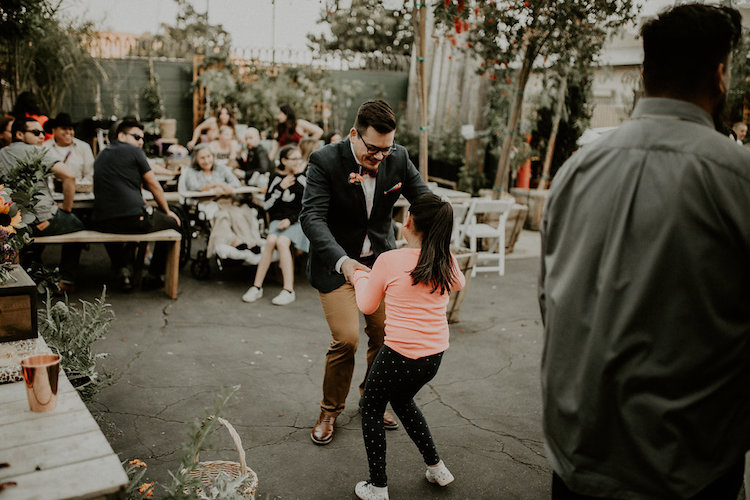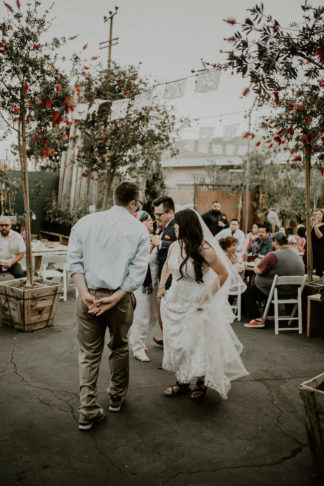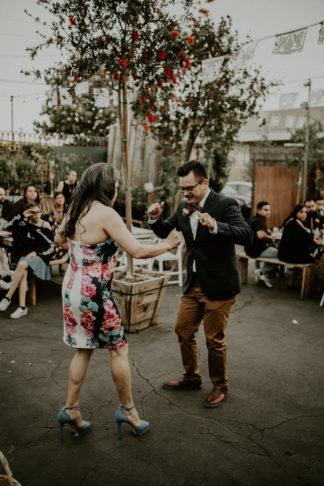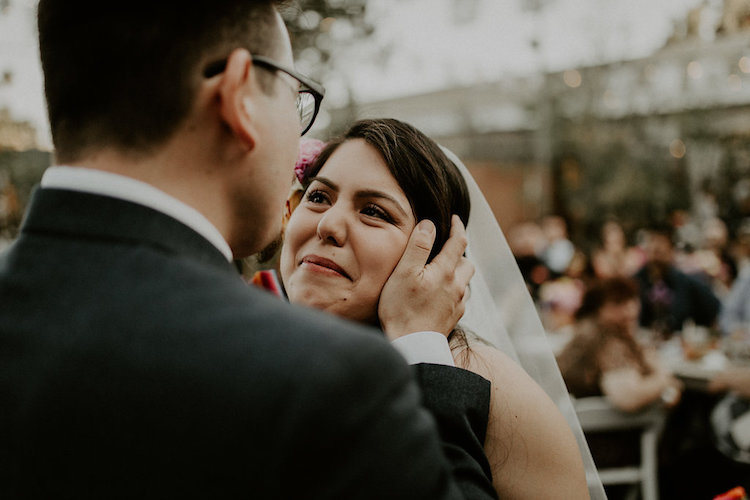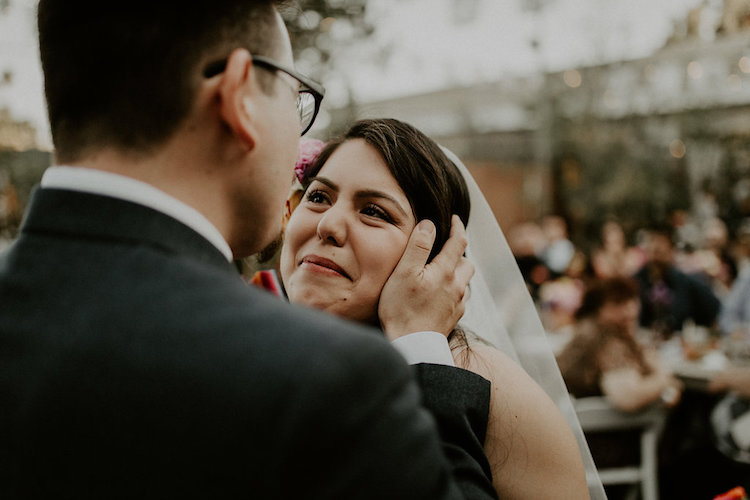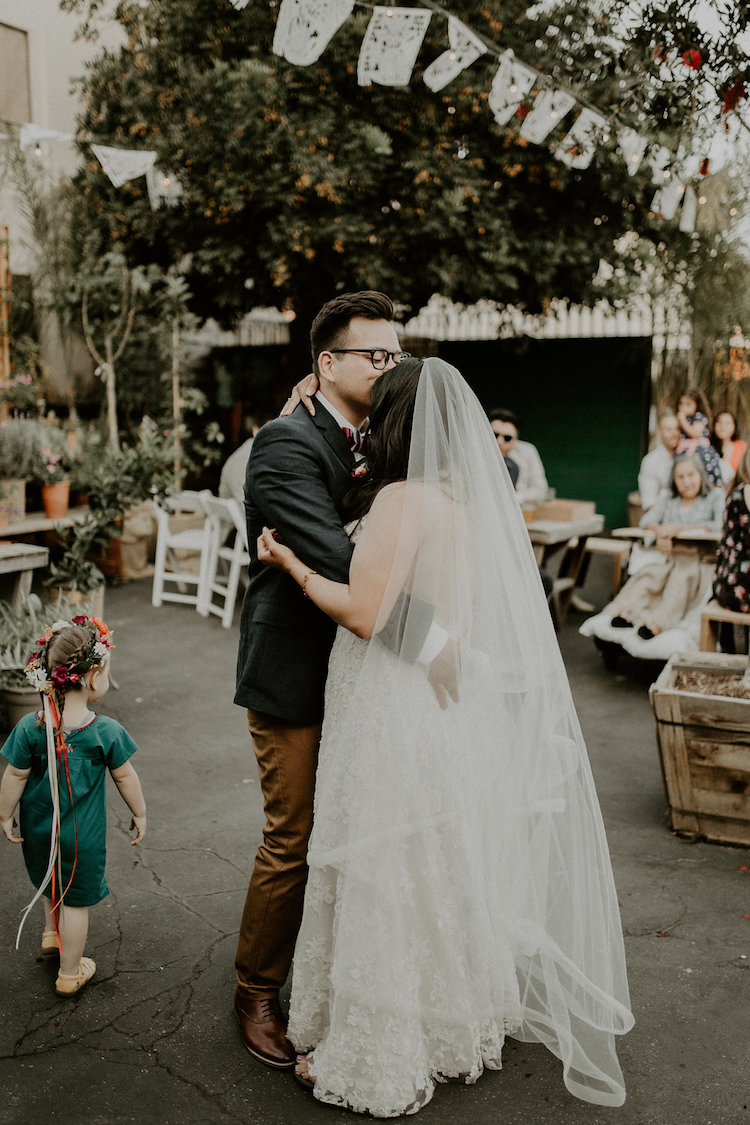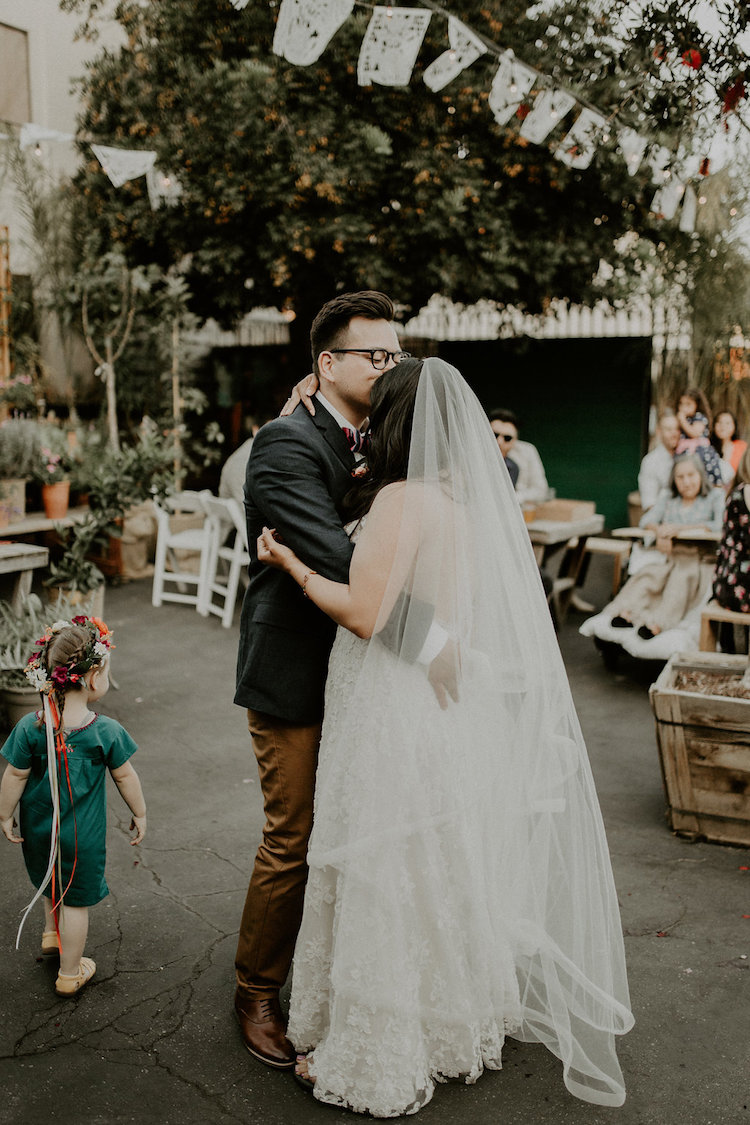 Cindy's Sustainable Wedding Advice + Zero Waste Tips:
Think second-hand, or rent as much as possible. As I was trying to go with the best eco-friendly or zero-waste option for the wedding, my dress and veil were both samples – meaning they had been tried on by other brides before I got the dress. I knew I would only be wearing my dress once (well, twice in my case) so I didn't want to get something new because I am aware that a lot of waste/pollution happens when producing new items, like clothes.
If renting dinnerware is out of budget for you, getting home compostable plates and dinnerware is a good option.
Instead of getting individual bottles/cans of beer, you could do kegs from a local beer cellar like we did!
We thrifted glass cups which also acted as favors and place cards. We wrote the names of our guests on them to use for the night, and take home. Look at ways can repurpose/reuse items at your wedding.
Keep things as simple as possible, and skip items that aren't that necessary.
I didn't have a wedding planner, or a wedding coordinator for the day of. That was a struggle. If I were to go back, I would have had a wedding coordinator for the day of, as few things didn't go as planned or we forgot to do them.
Vegan + Zero Waste Wedding Service Providers: Photographers:  Lunacollective Photo // Venue Fig Earth Supply // Dress BHLDN // Brides Hair + Make Up: Christina Jimenez // Flowers Allens Flower Market in Sunland Ca. // DJ DJ Beatdrop  // Favors No Tox Life  // Cake Yvonnes Vegan Kitchen // Catering: Just Vegana  // Vegan Confectionary: Delicias Bakery and some // Groom's bowtie: TheBirdandPear  // Shoes: Chaos
Check out more ethical wedding ideas: