Pink and Gold Barn Beauty ♥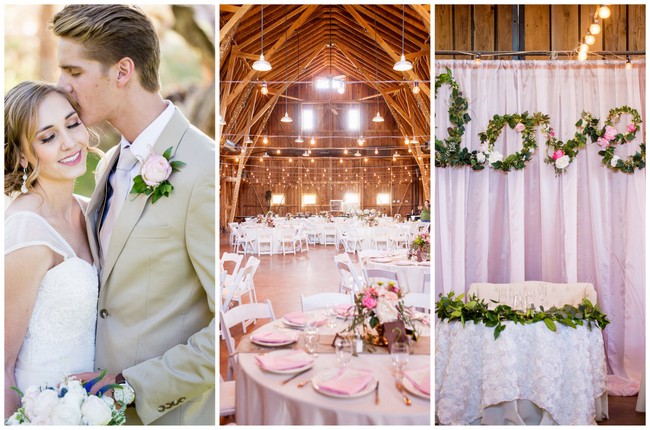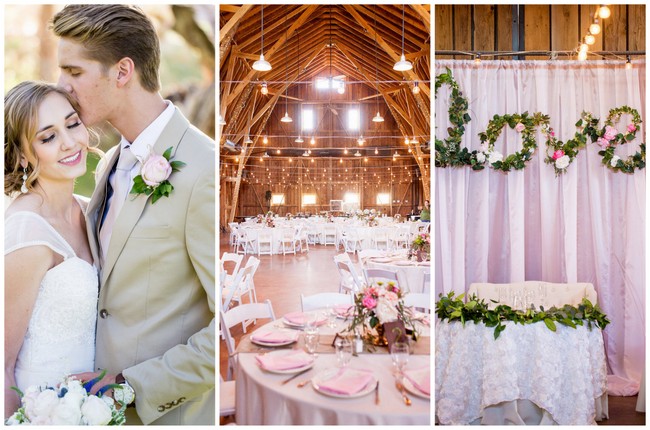 We adore romantic barn weddings! And luckily for us, so do high school sweethearts Justin and Maggie. The pair are a relaxed and outdoorsy couple who knew from the start that they wanted to get married outside of the typical ballroom type venue. They discovered the beautiful The Windmill Winery  in Florence Arizona, and fell in love with the barn: "It gave us the outdoorsy relaxed feel we were after," shares lovely bride, Maggie. They added lots of lush greenery, flowers and decor in shades of blush pinks, ivory, tan and gold to create a very romantic feeling. The lovebirds selected Bethaney Photography to document their special day: "Bethany was amazing! In addition to producing amazing photographs, she was very hands on and even helped fix how my dress was bustled, saving me from tripping all night."  They also worked with Something Old Something Older , who provided big statement pieces to complete the couple's vision for the day, and also helped them set up some of their  own pieces, too.
"We wanted to put a personal touch on everything we could," says Maggie. "My mom made the bridesmaid dresses, we made little fans for during the ceremony for the guests, we made the fabric and lace pieces we draped over the chairs for the aisle. We built a big wooden piece that that had frames that had the table assignments. We made our cake topper, which was wire bent into our initials and painted gold. We made our table numbers which were a piece of wood, with the number made of moss. We wrote out thank you notes for the guests, that were in the napkins. We did a cookie bar, all the cookies were homemade, which our guests loved! We also made the bags the favors were in using the same monogram W stamp we used on our invitations…which we also made. Finally for our toast we did mini cider bottles with a personalized sticker!"
Romantic Spring Barn Wedding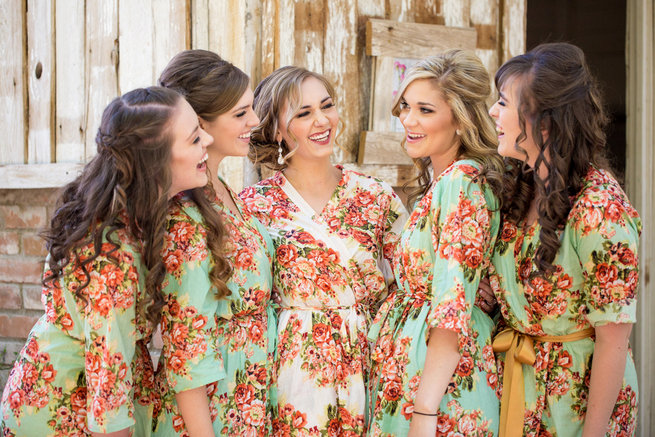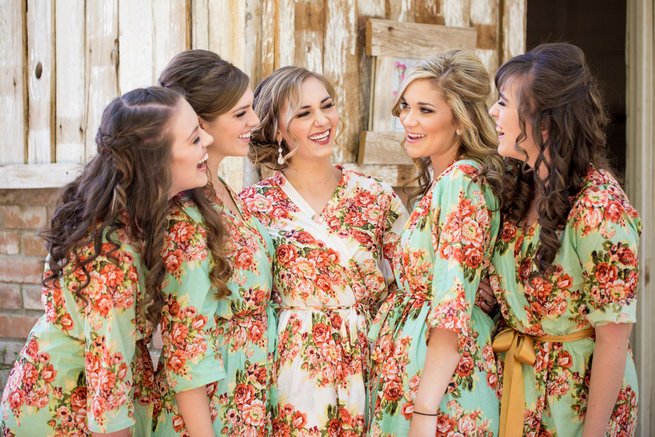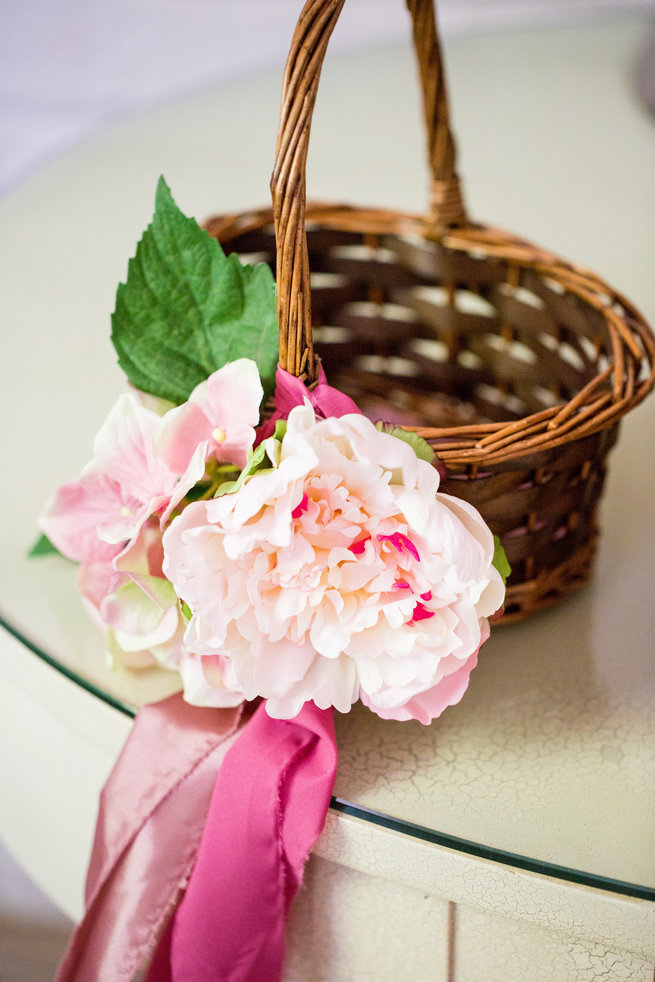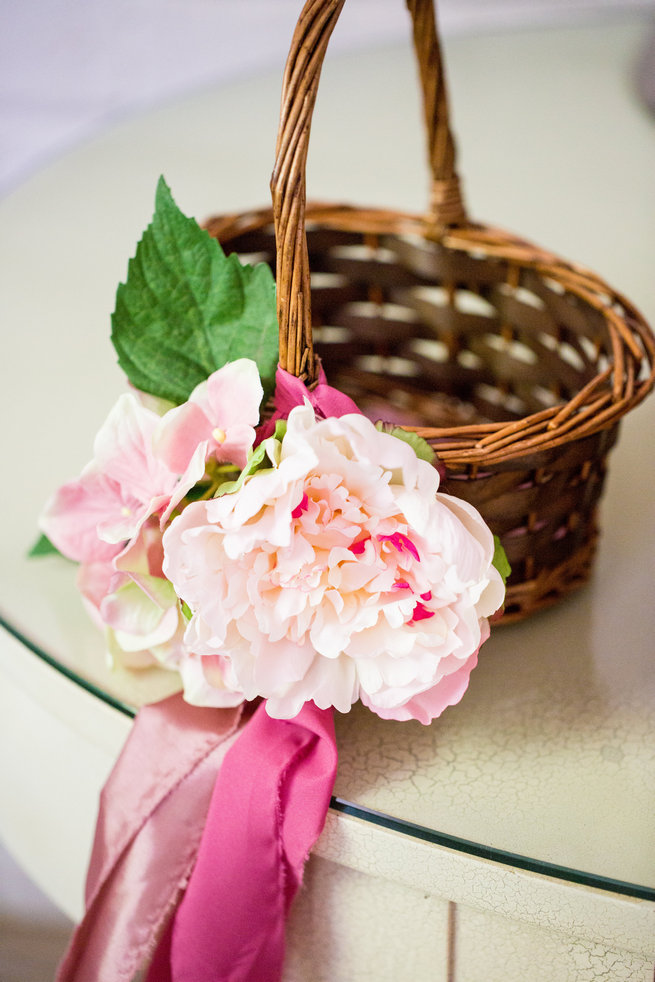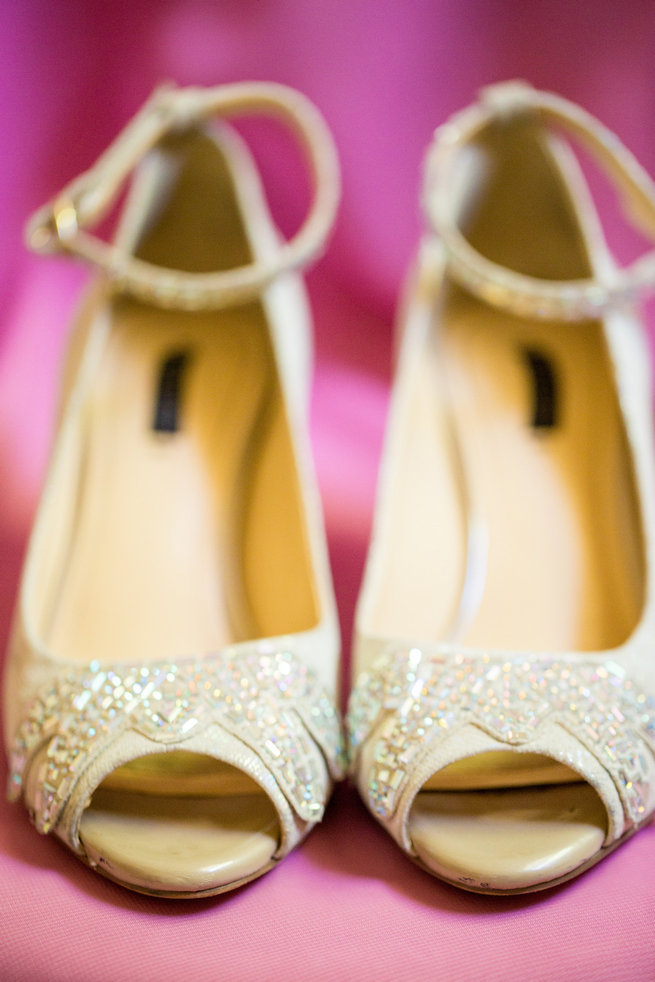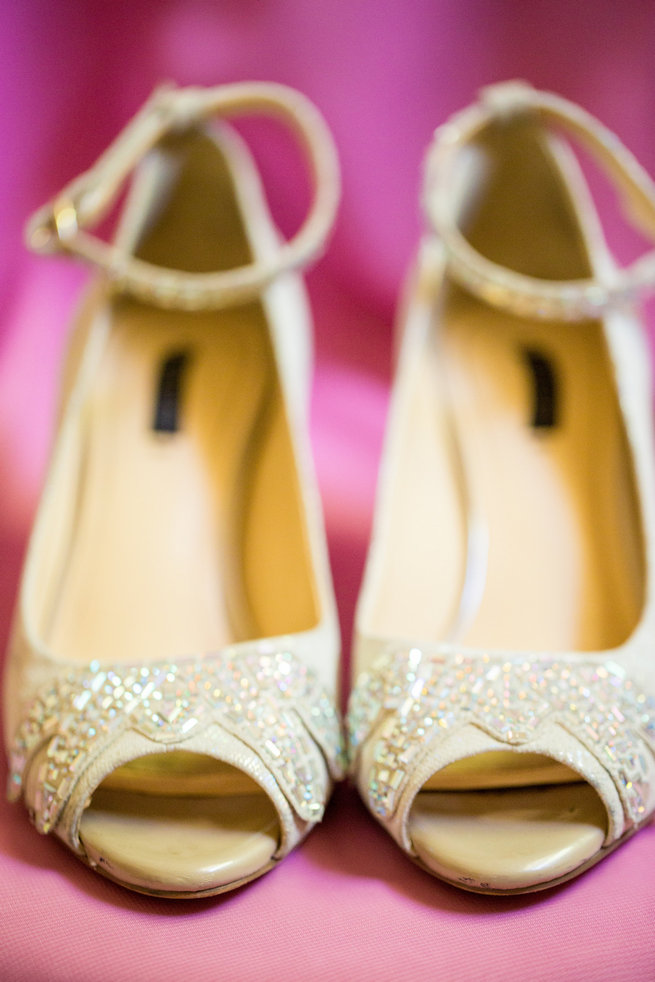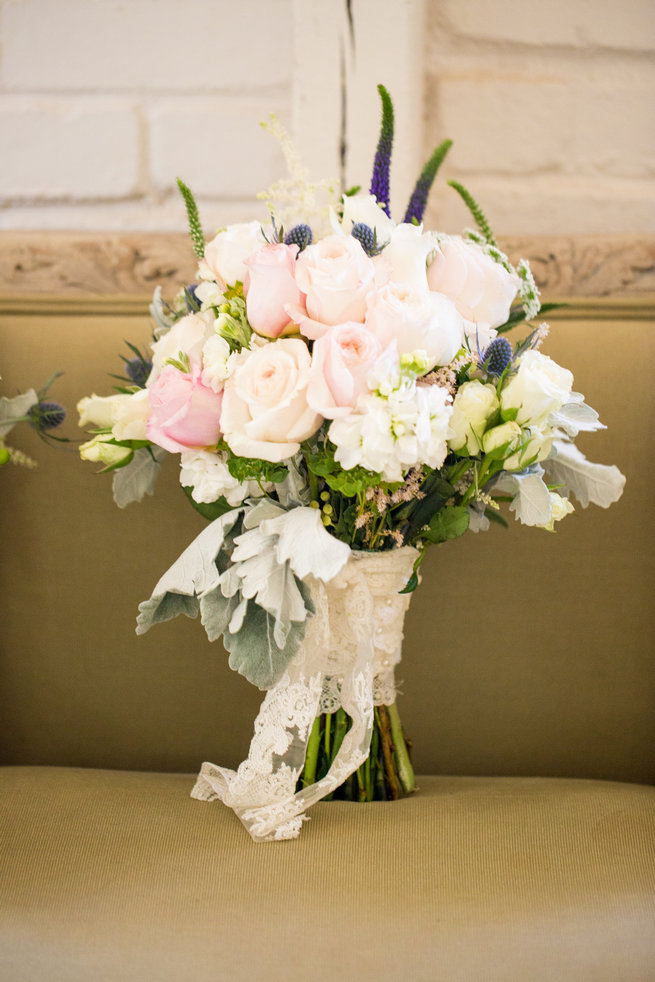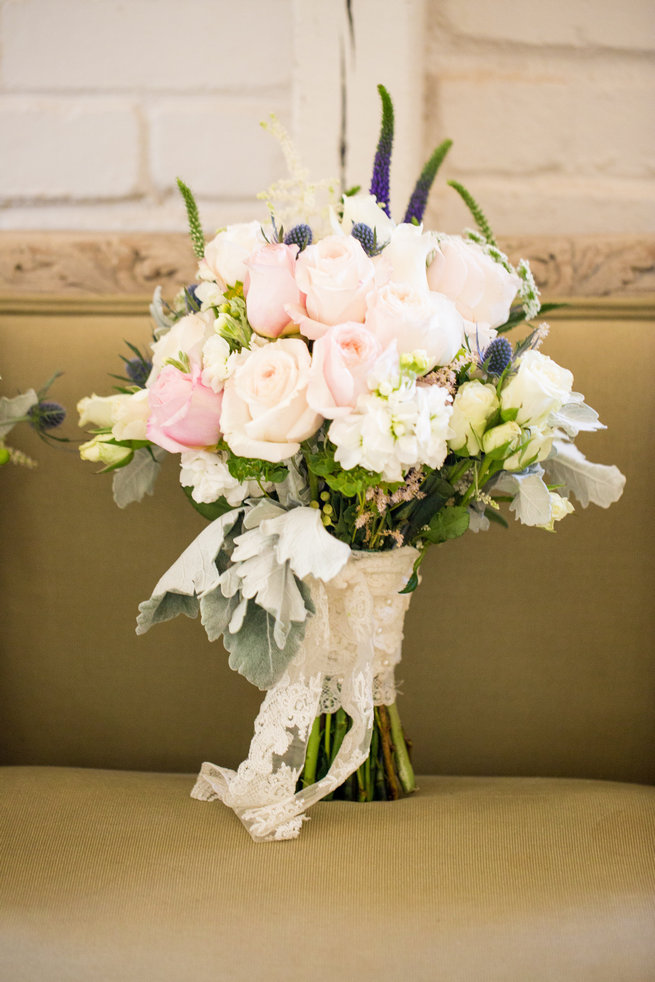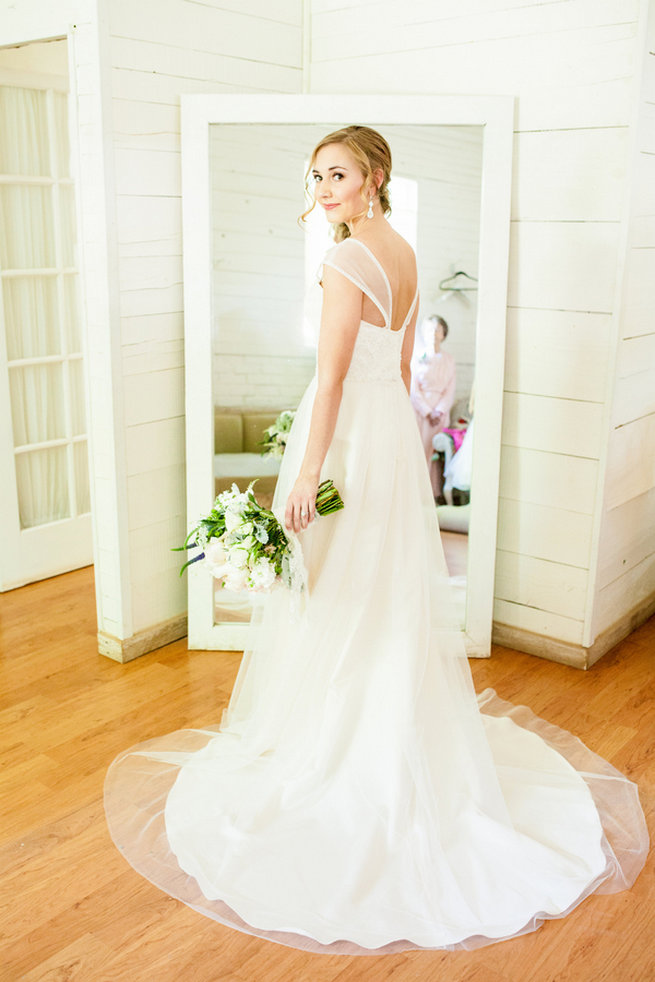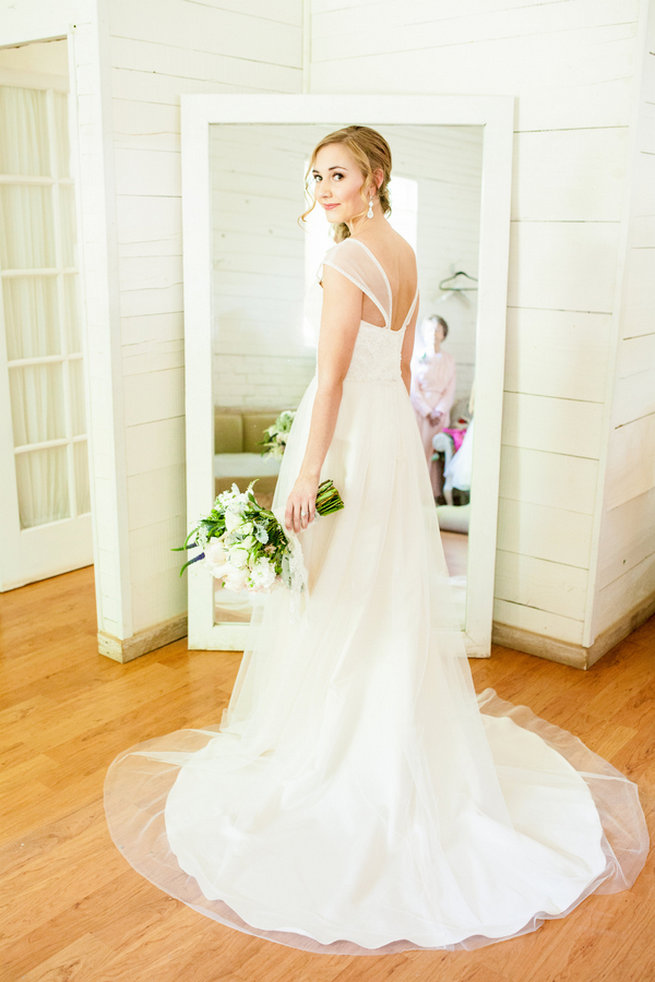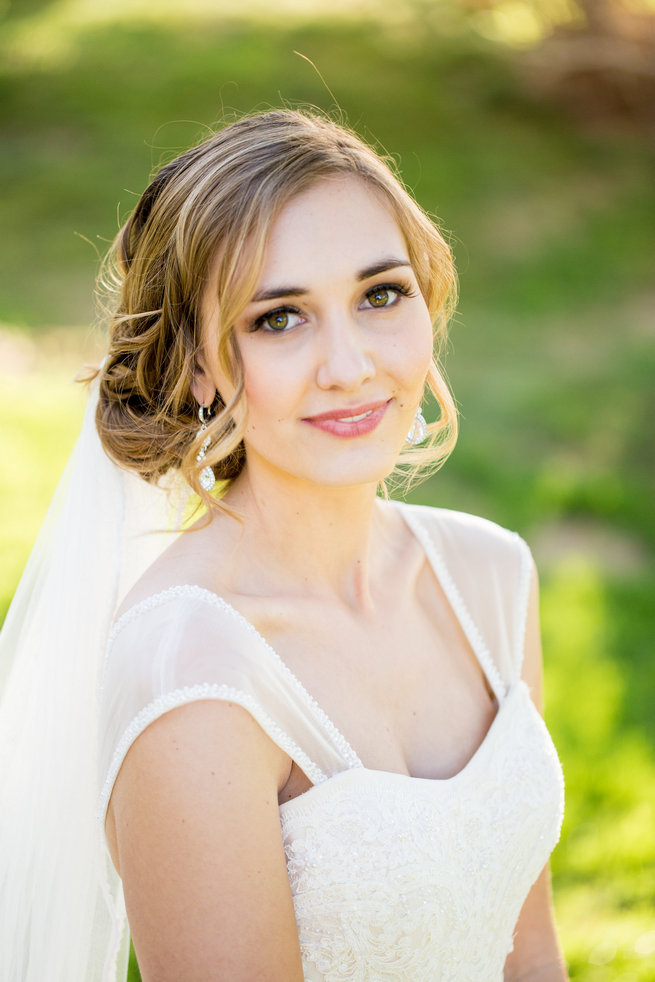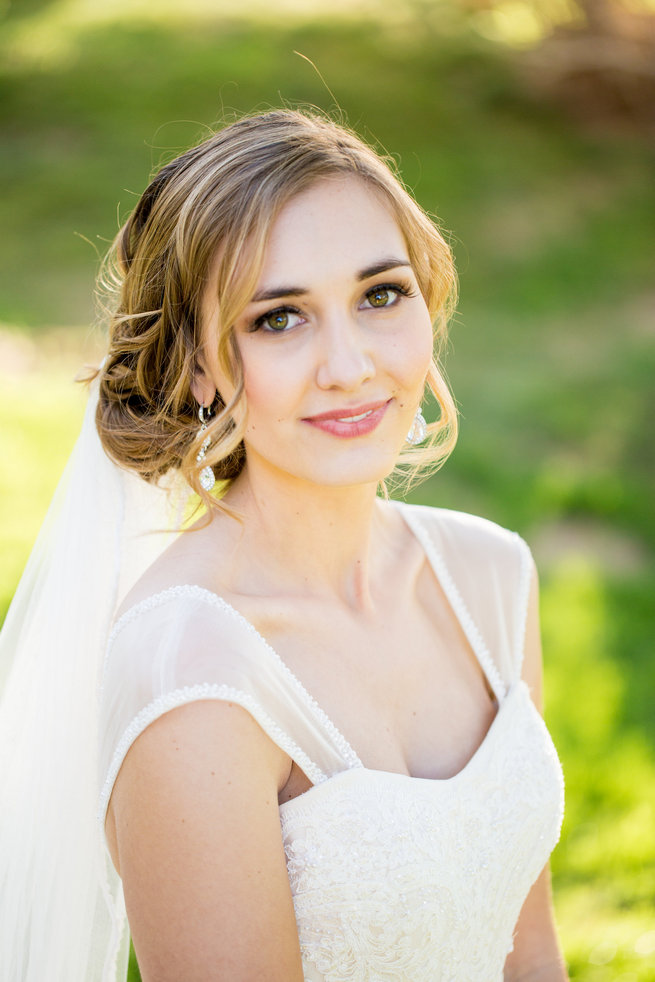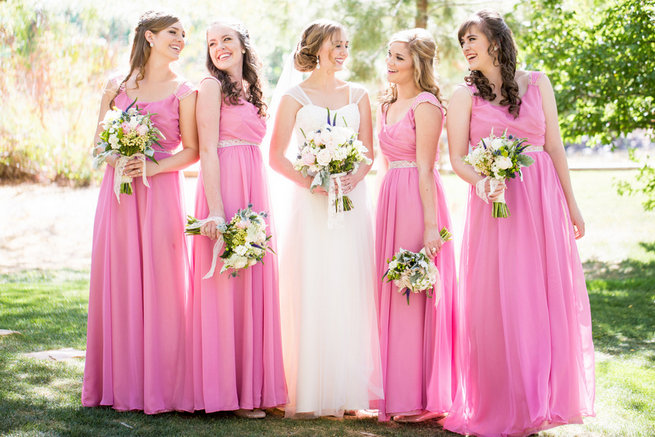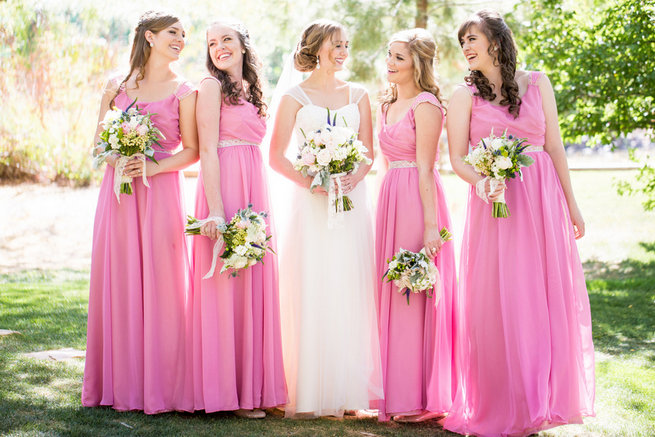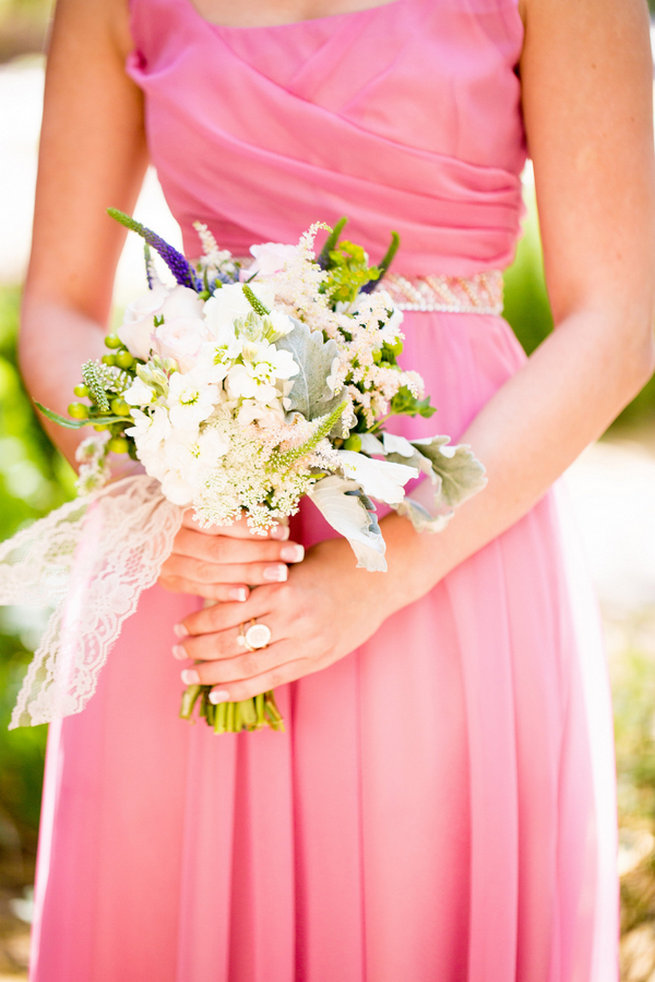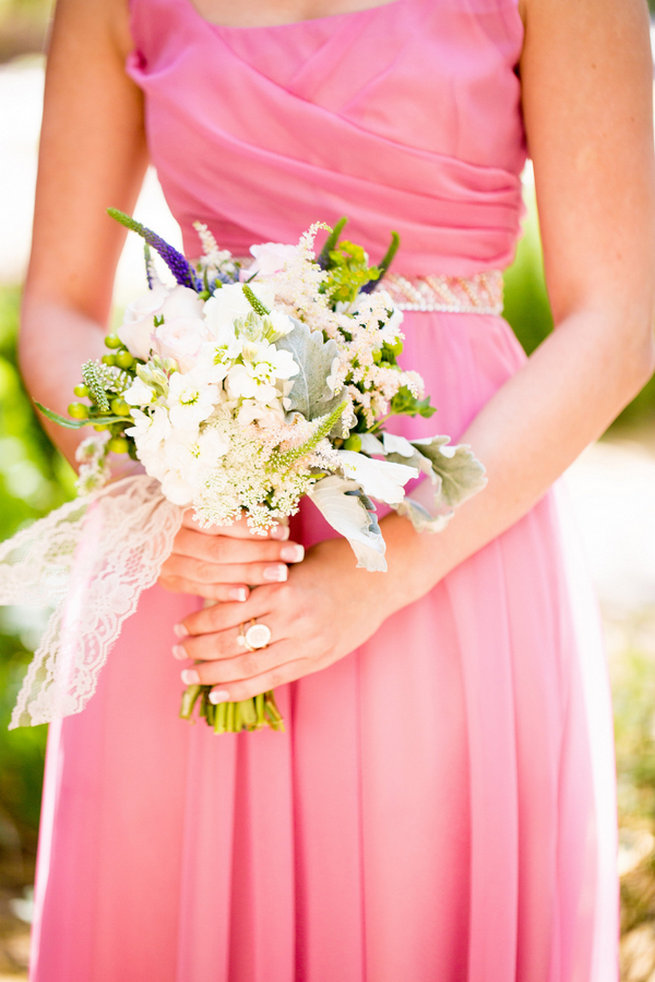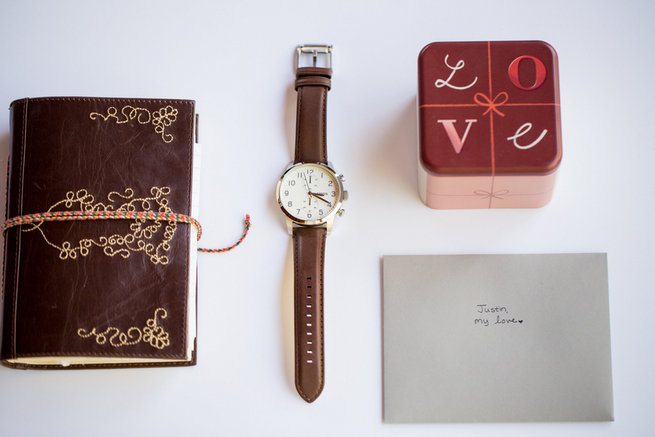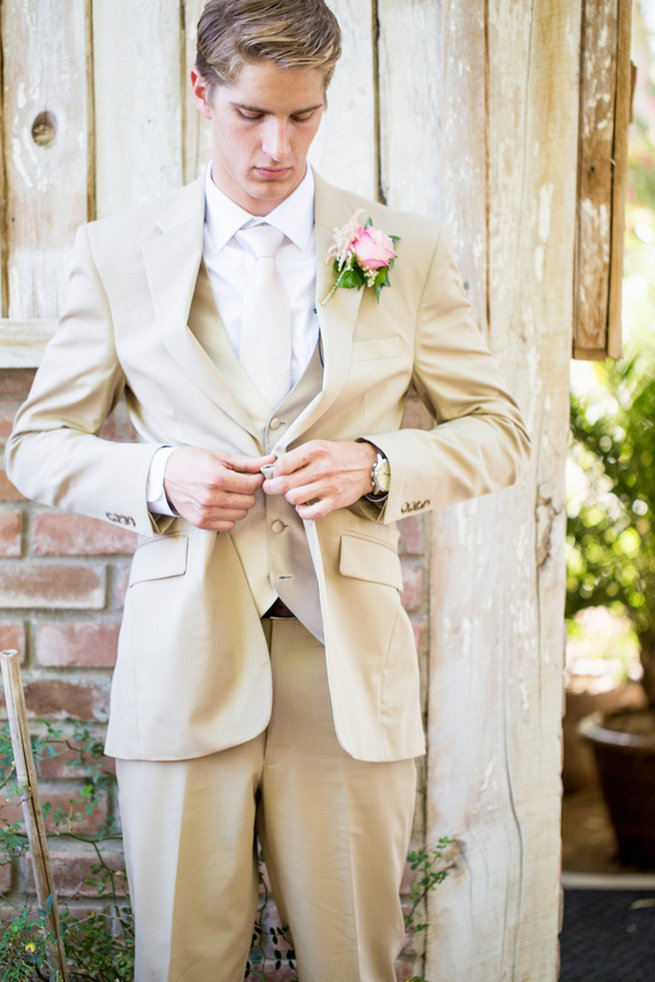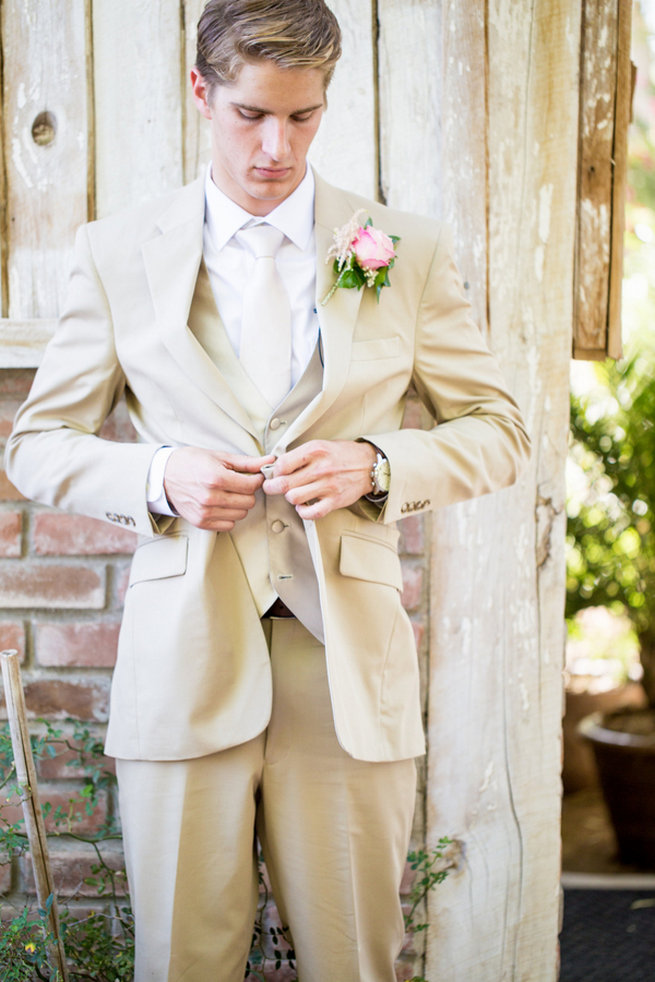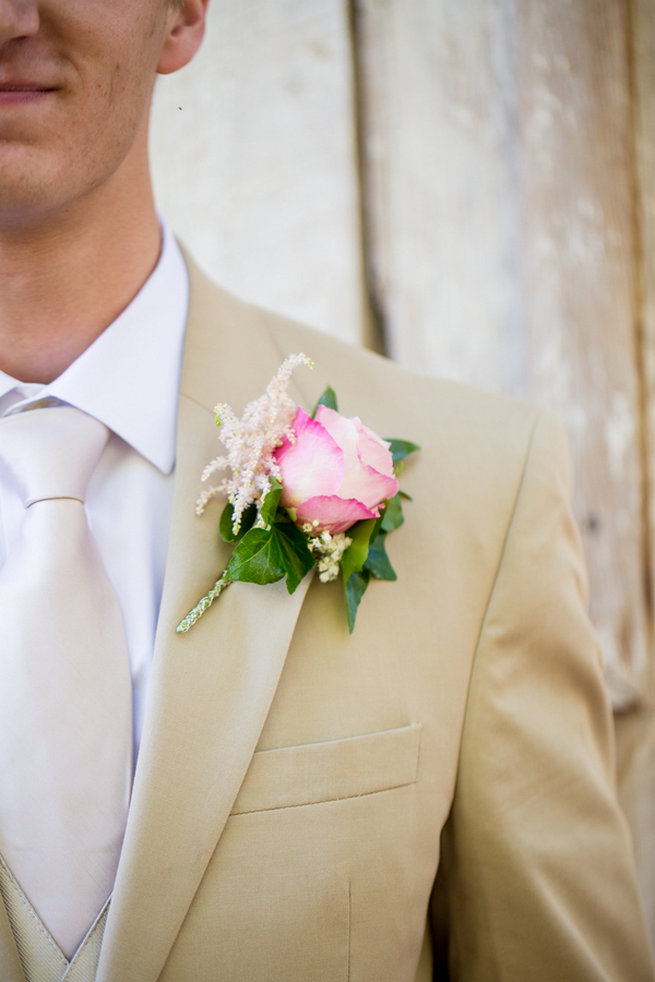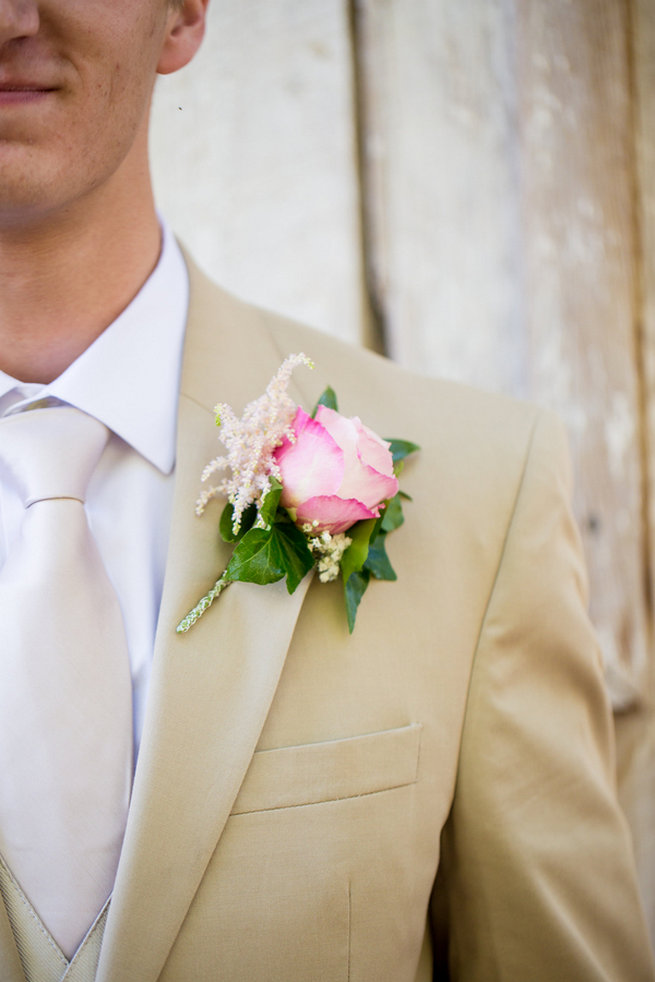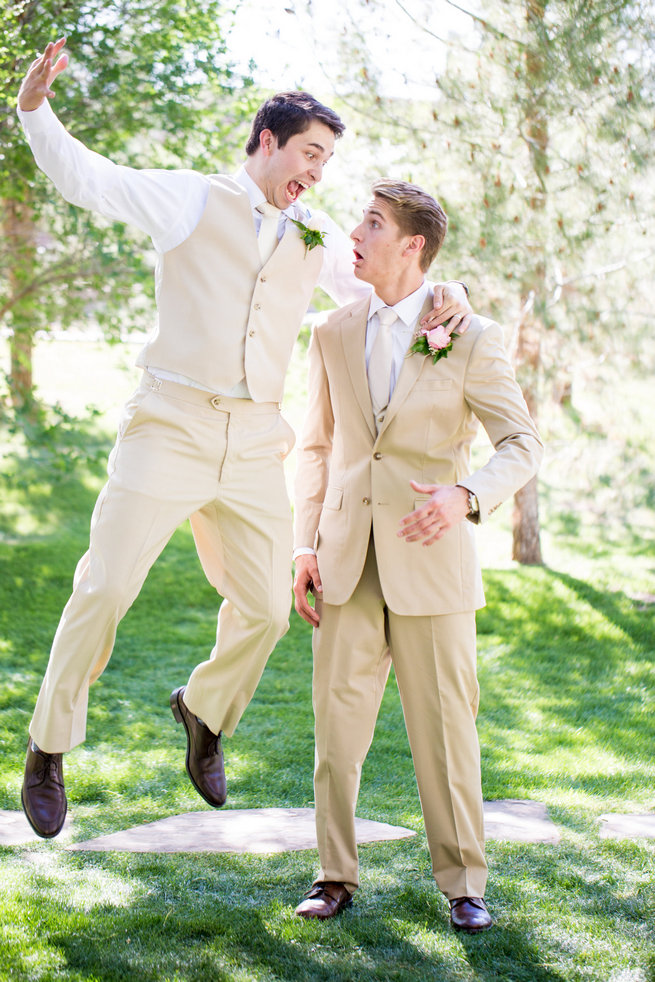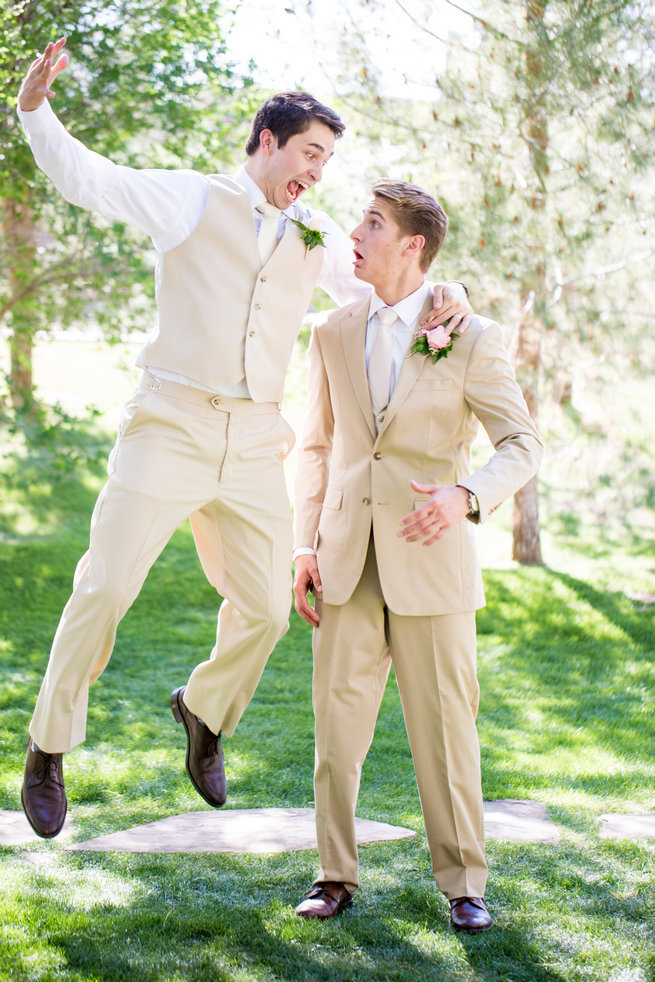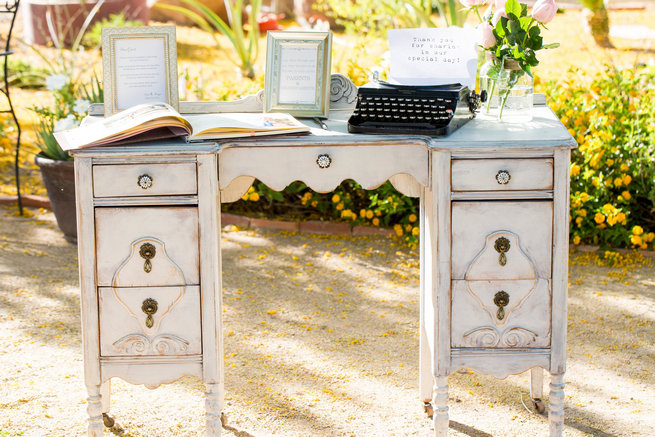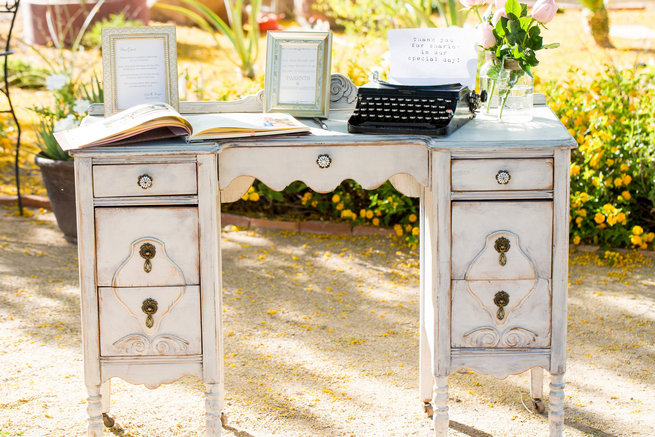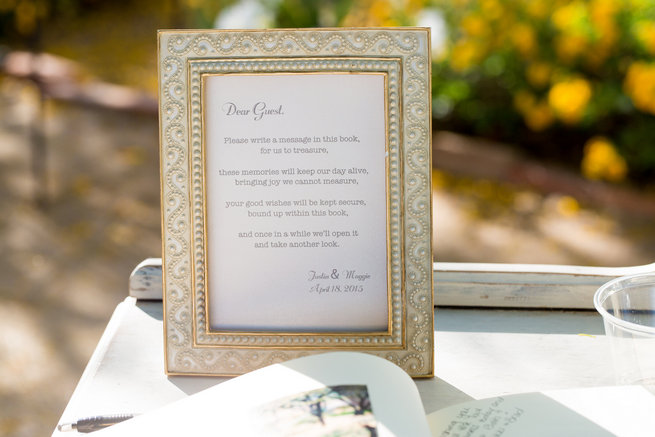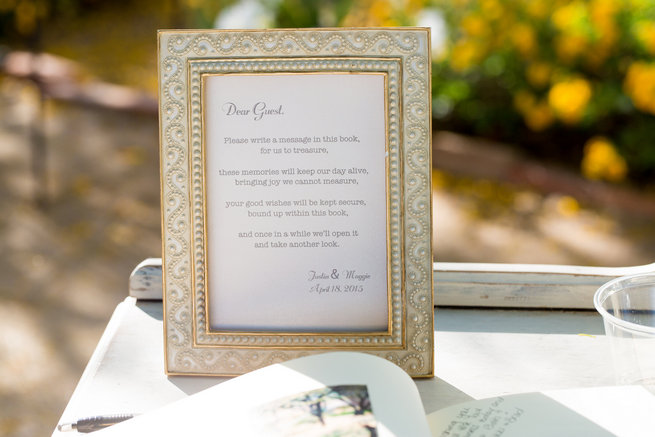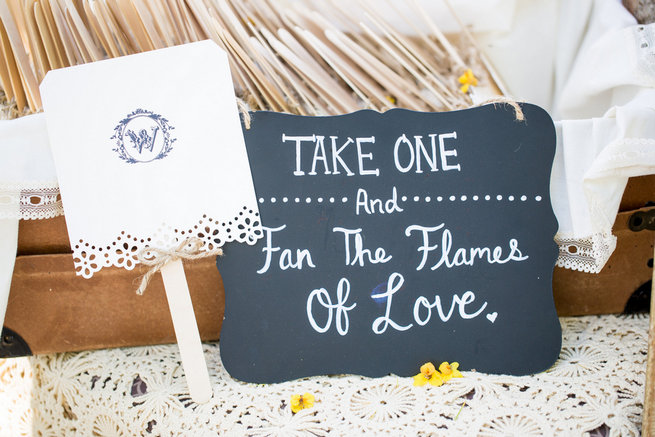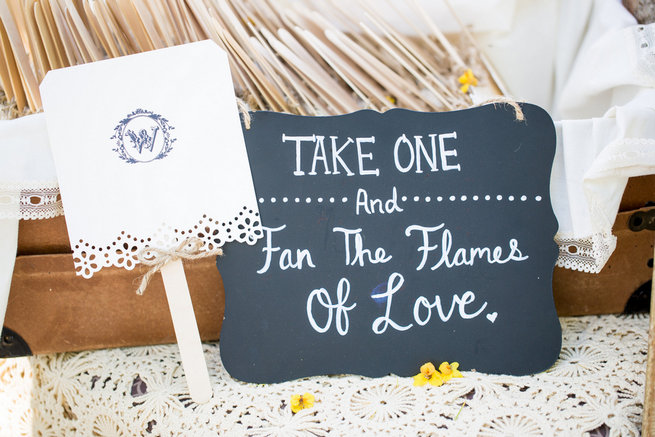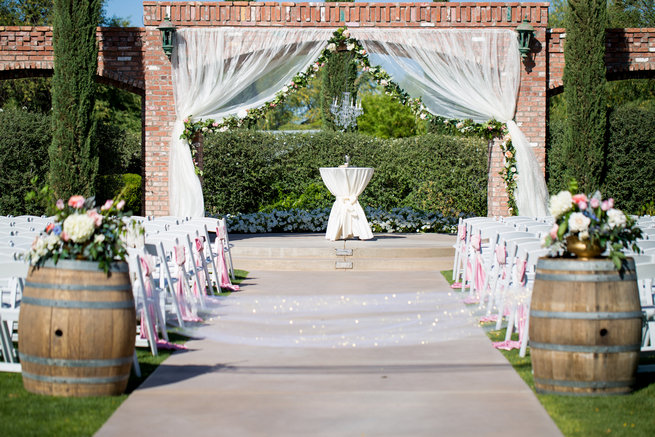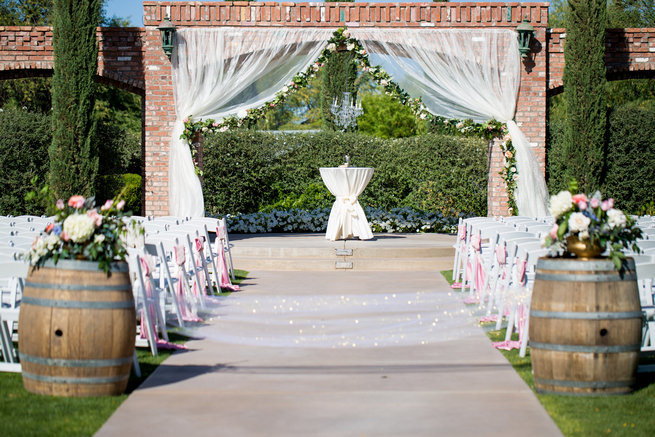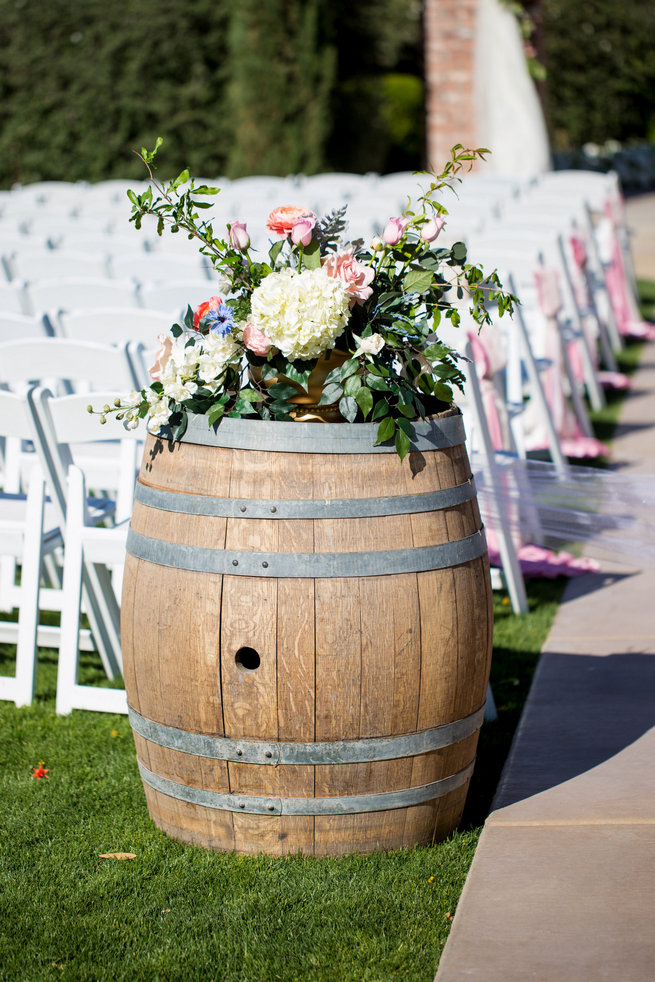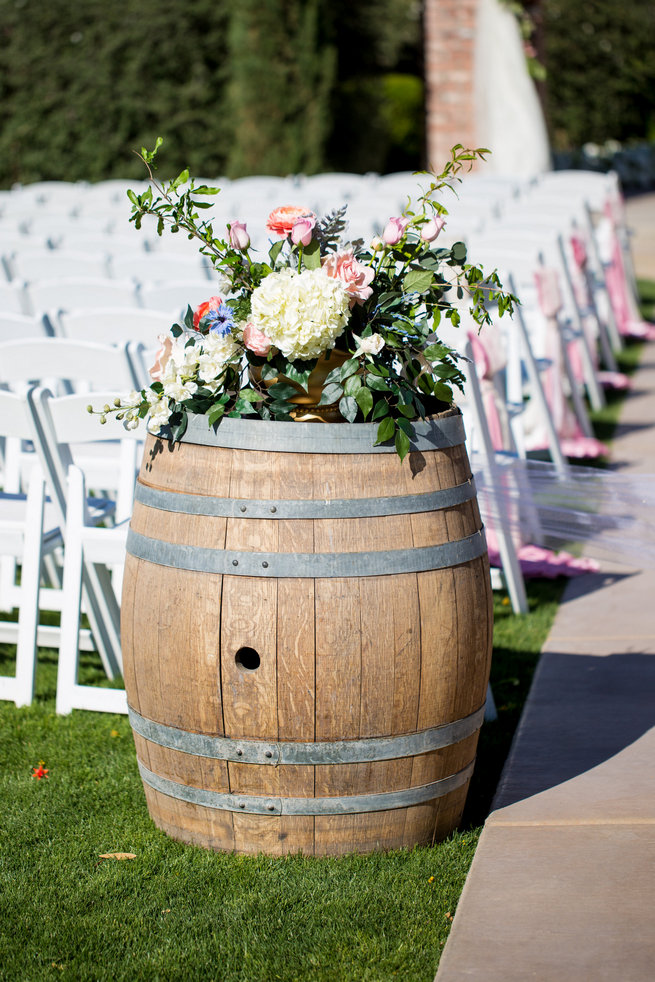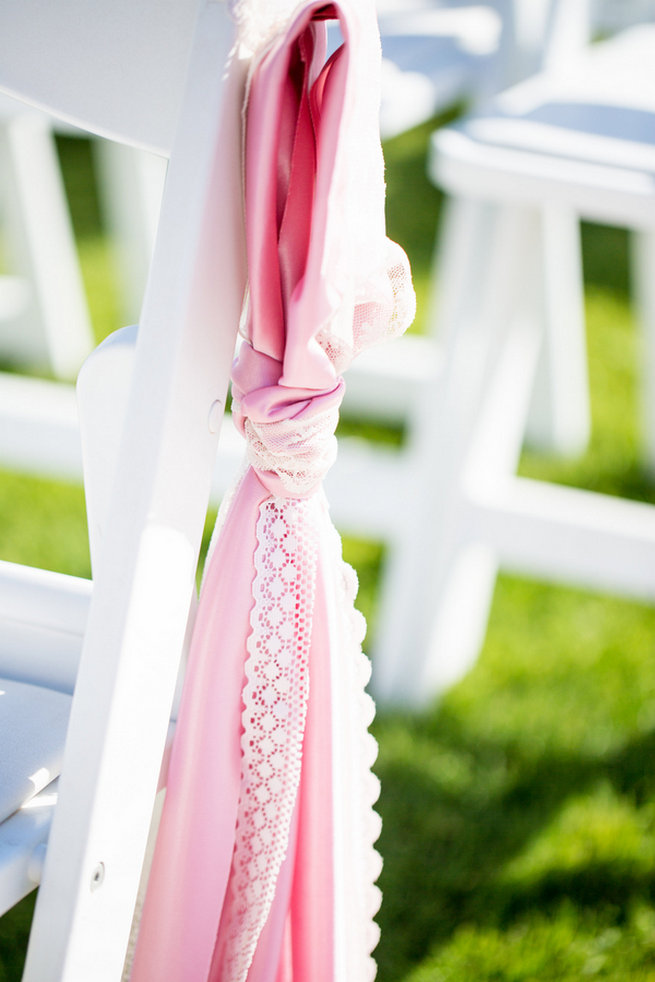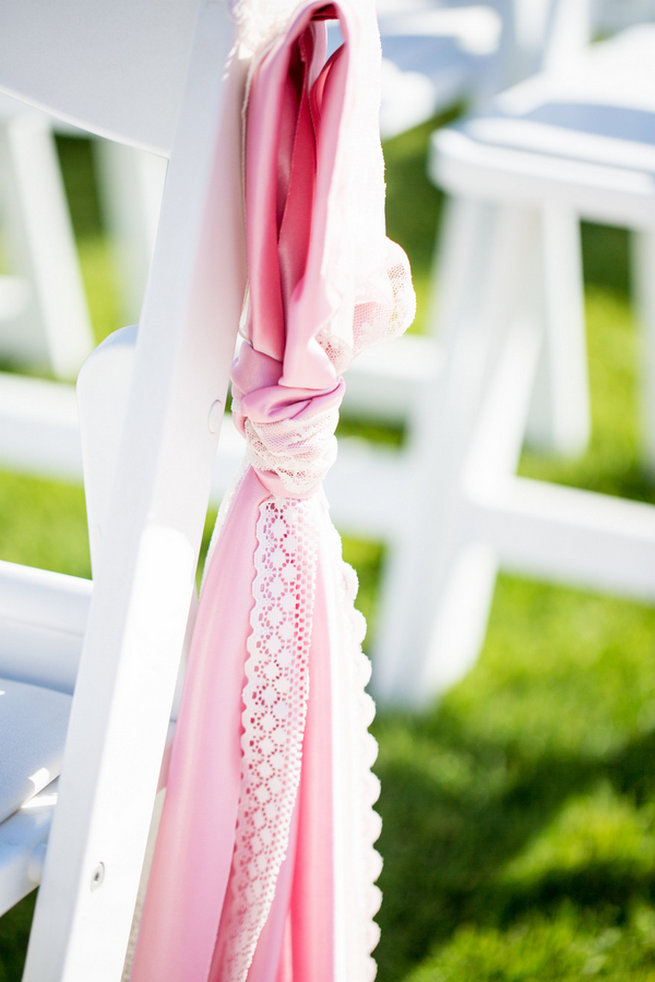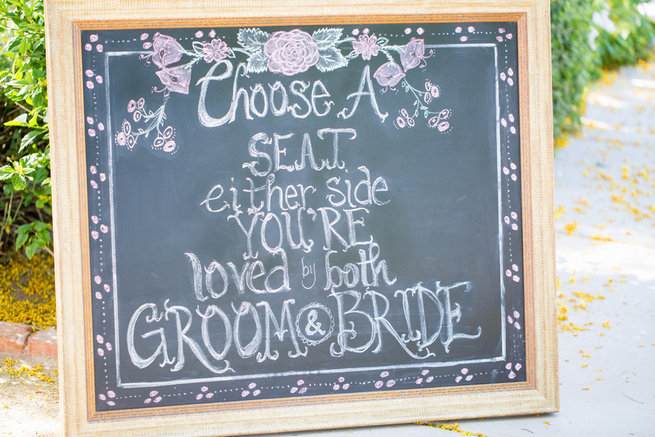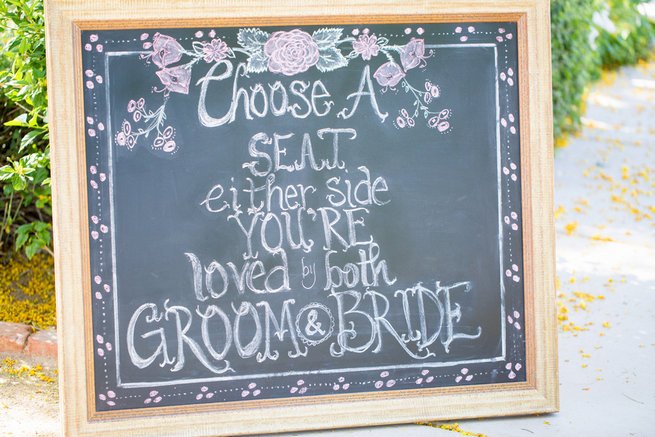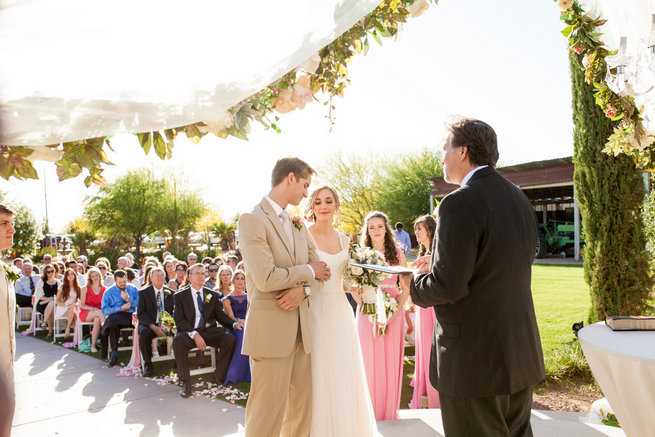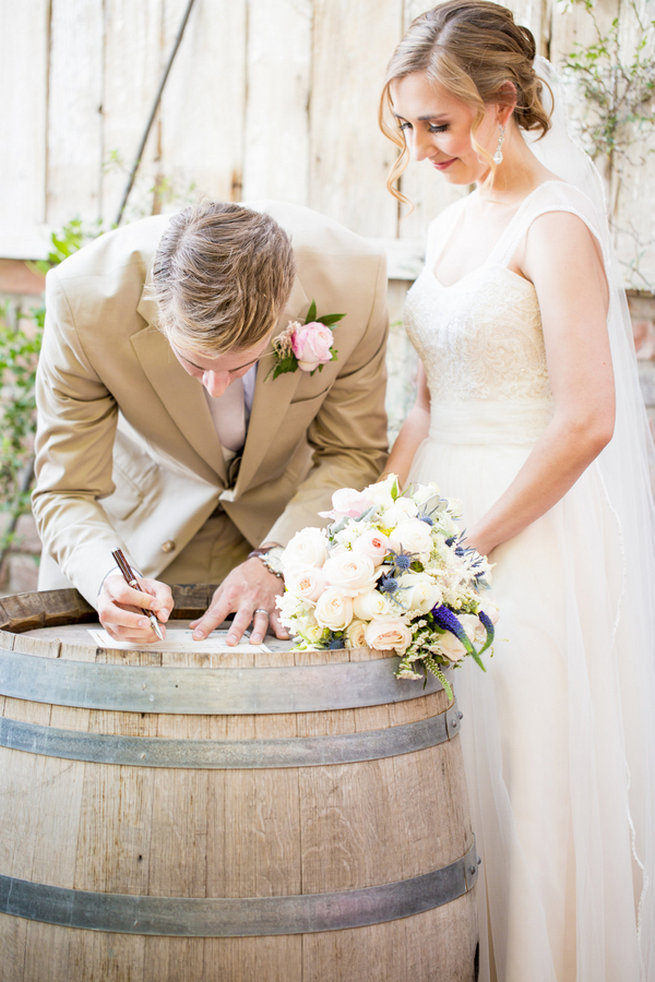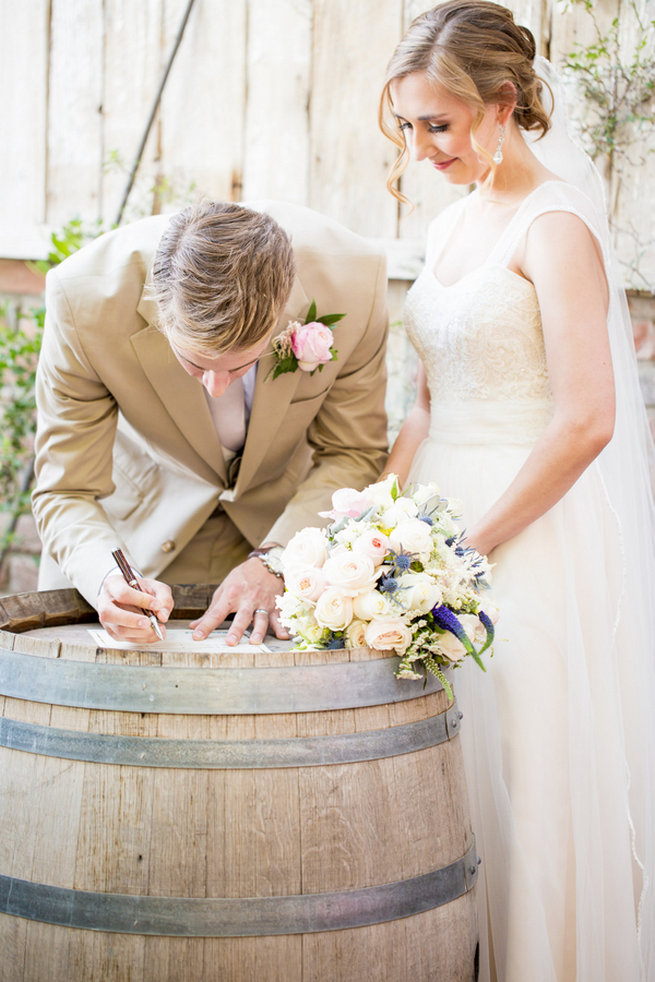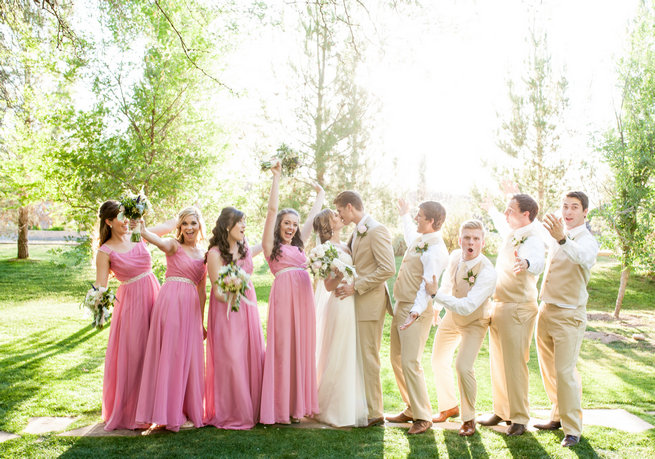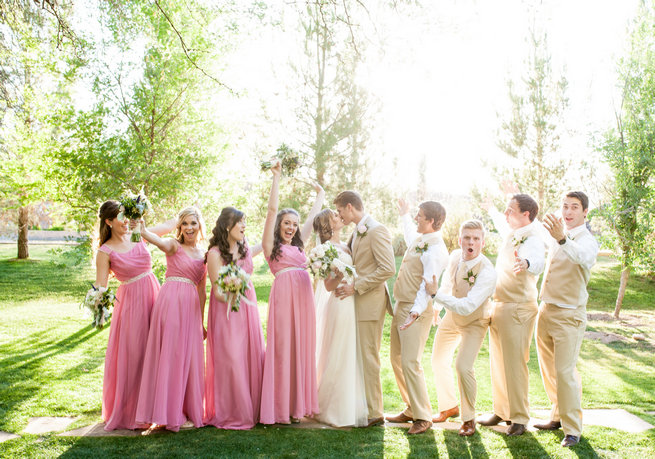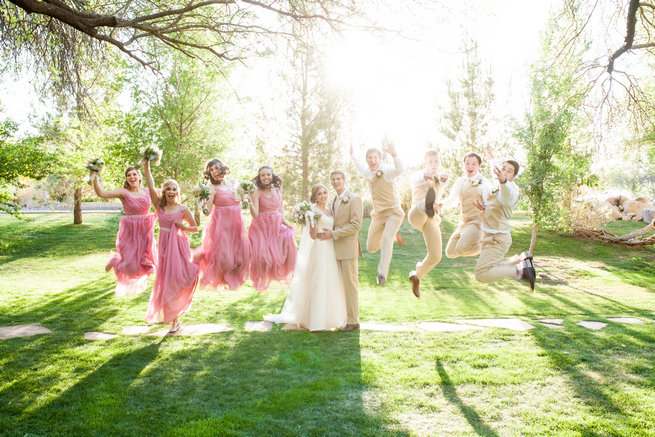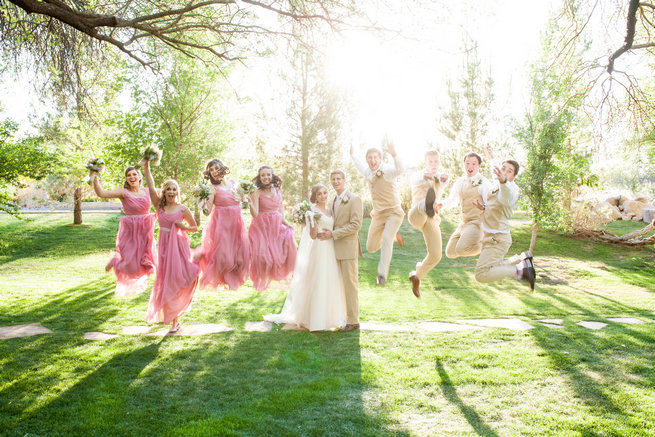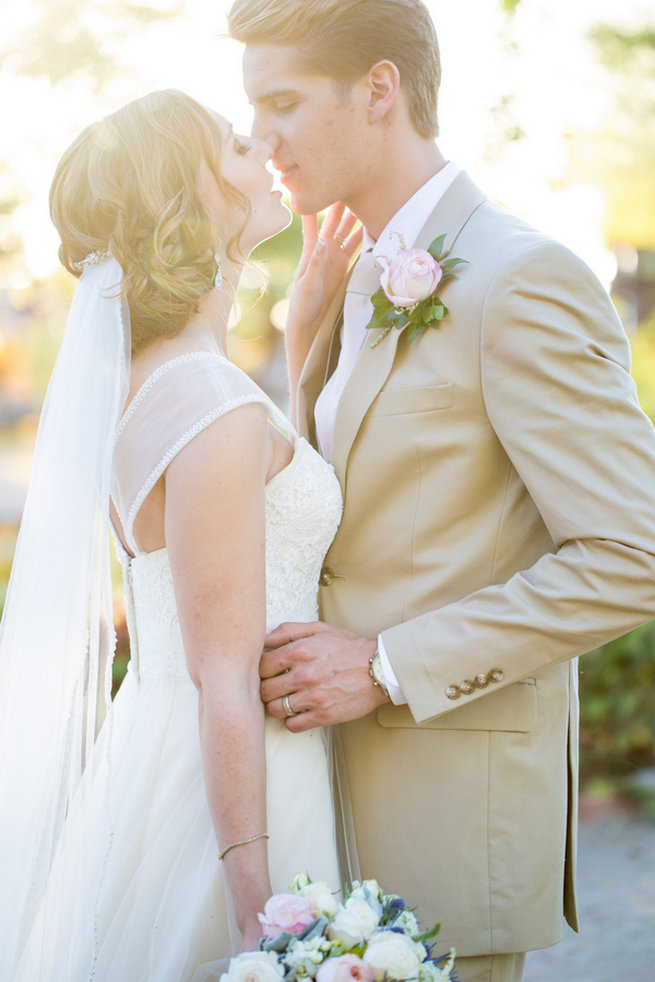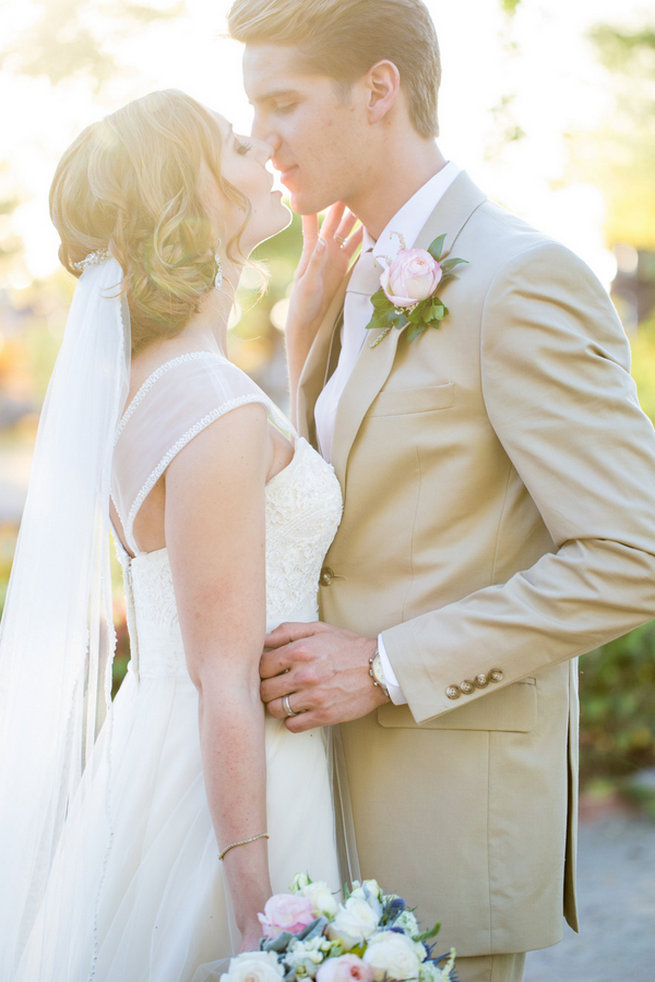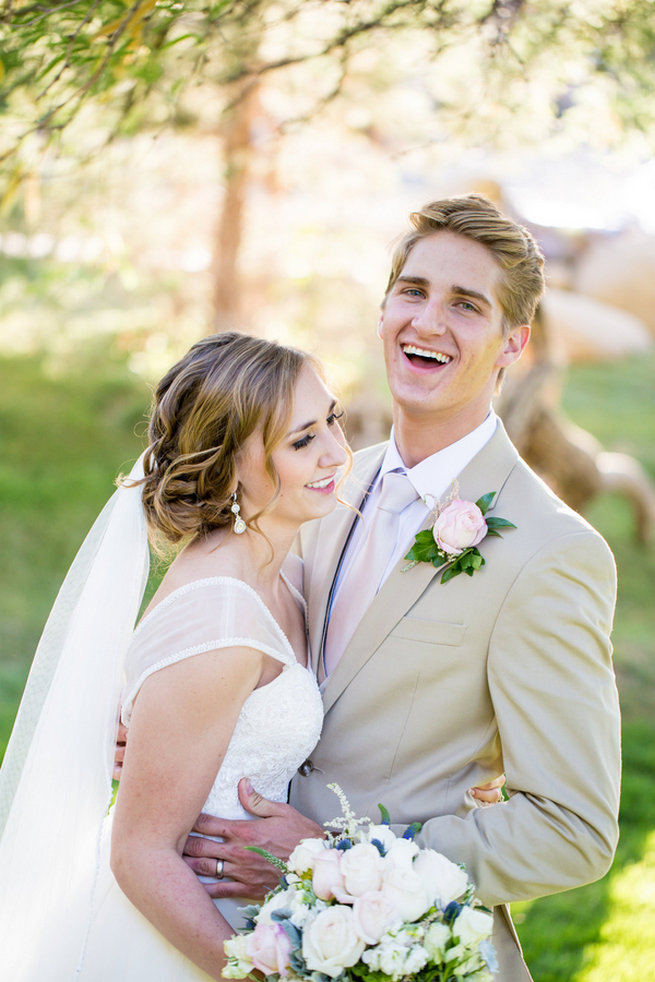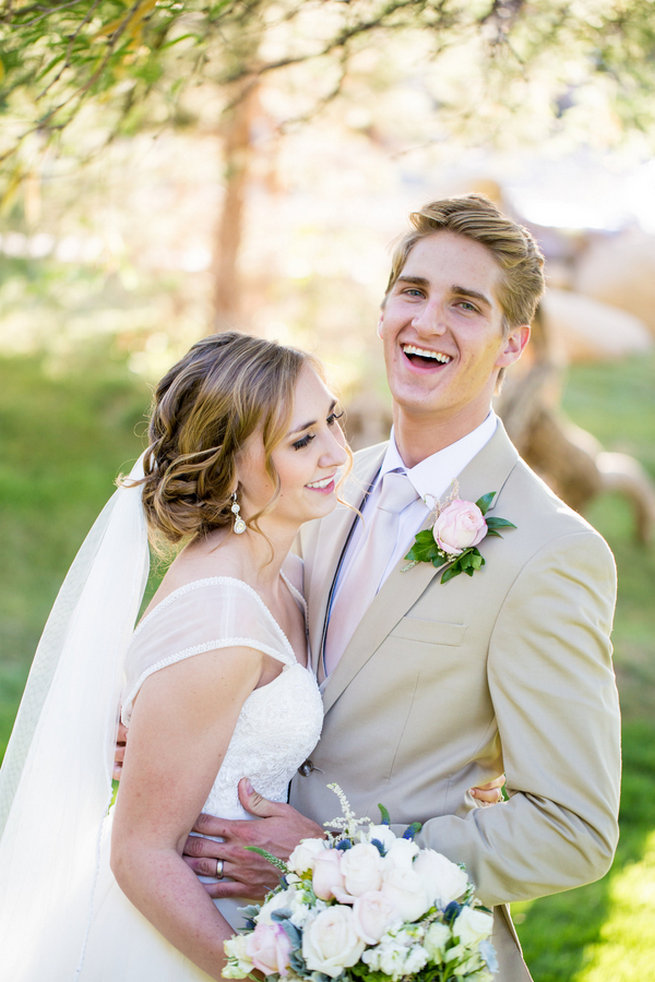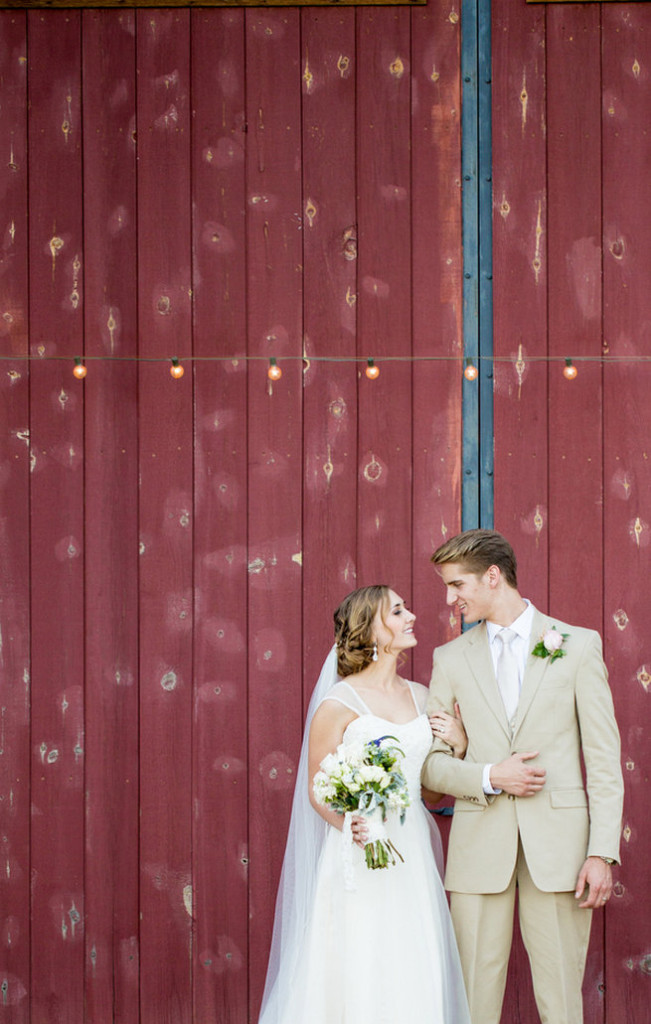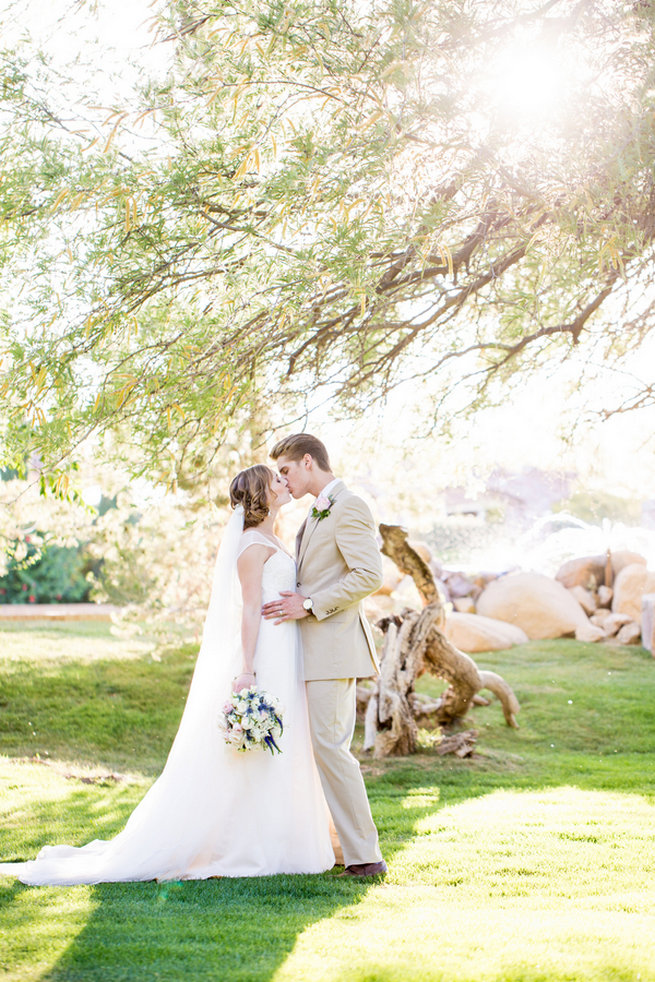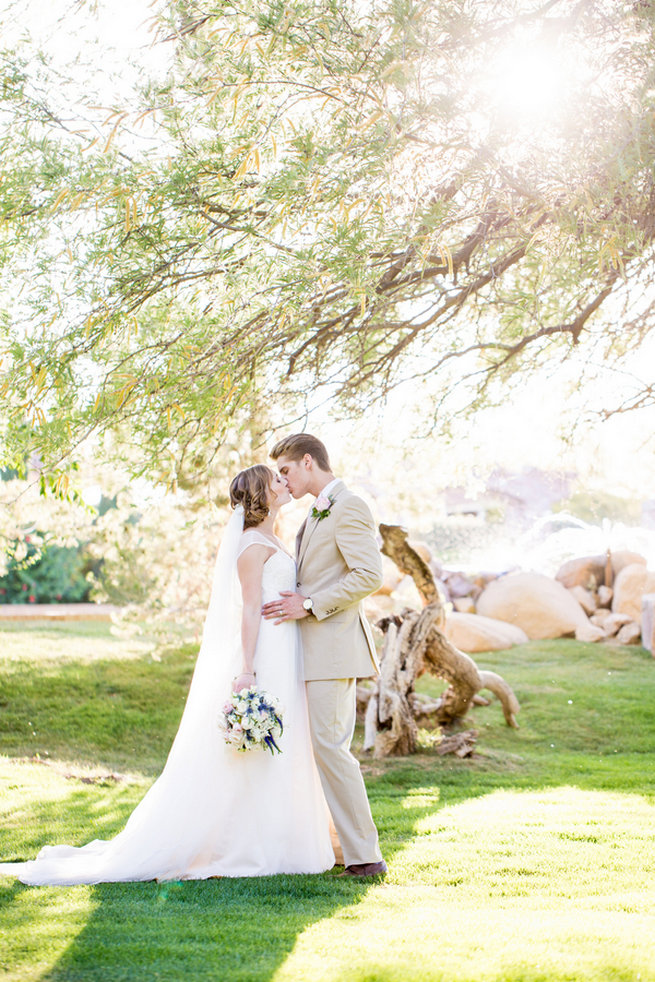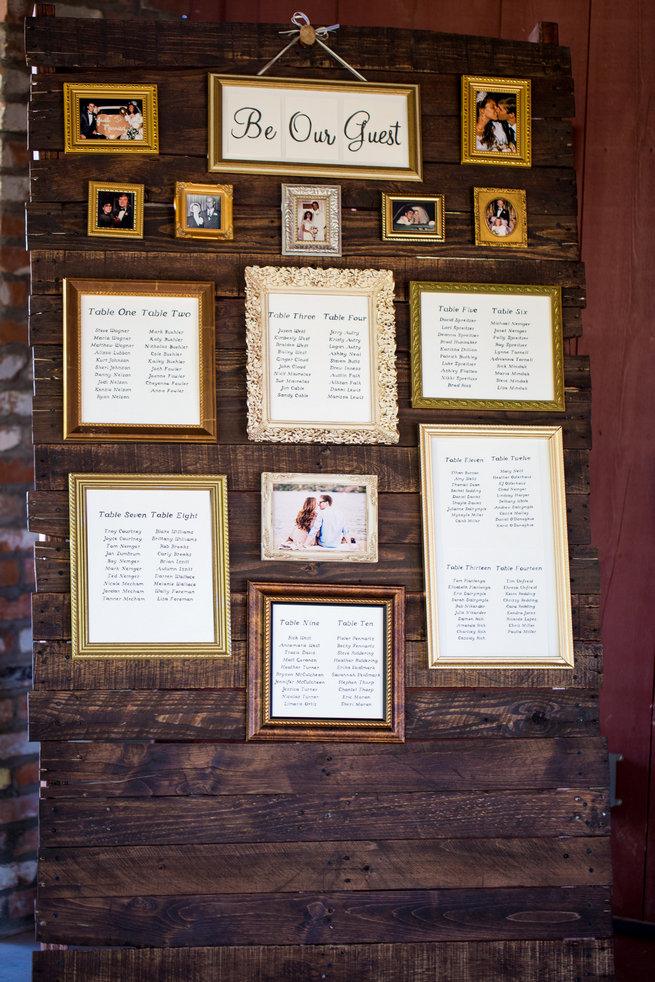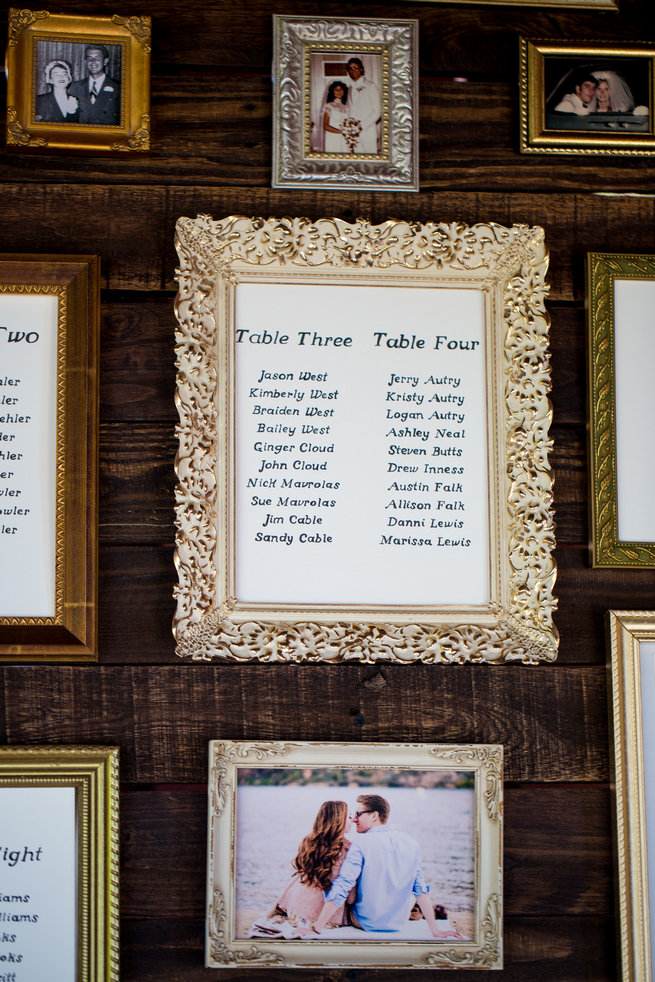 Seating Chart:  Our seating chart was about the size of a door and built from pallets, and stained. The table number and names were in frames, as well we had wedding photos of our parents and grandparents hanging on the board as well, with a sign at the top reading "Be Our Guest".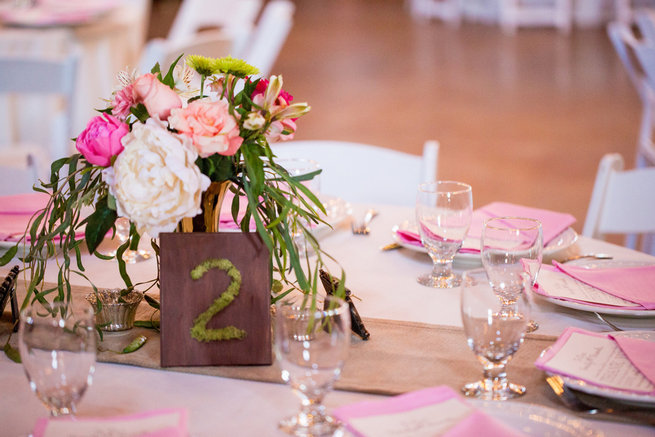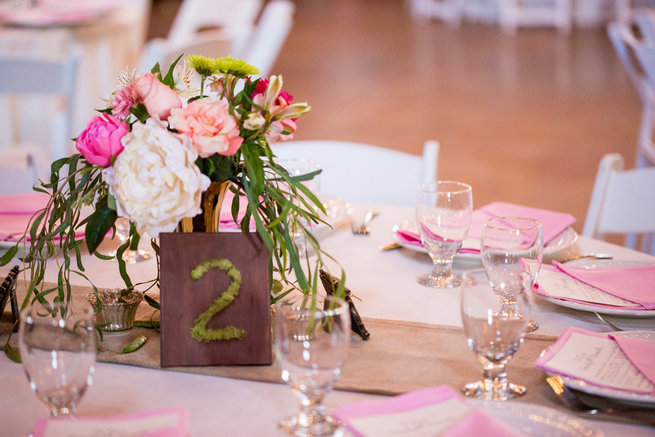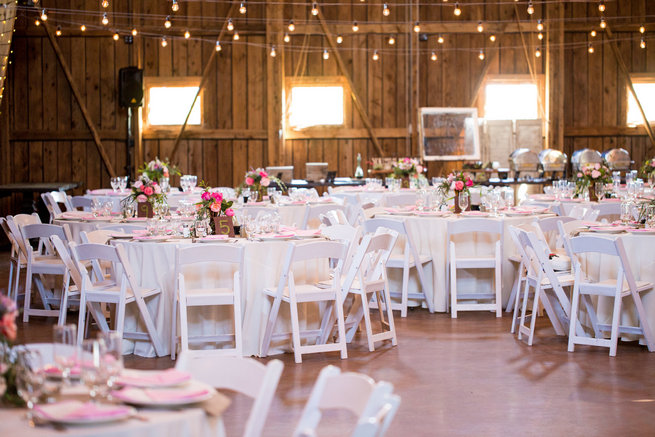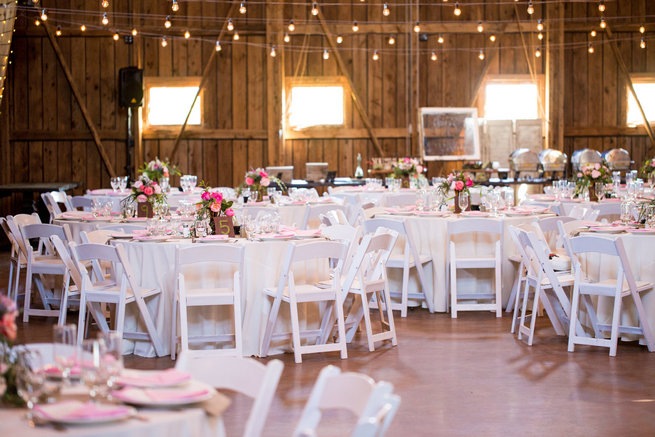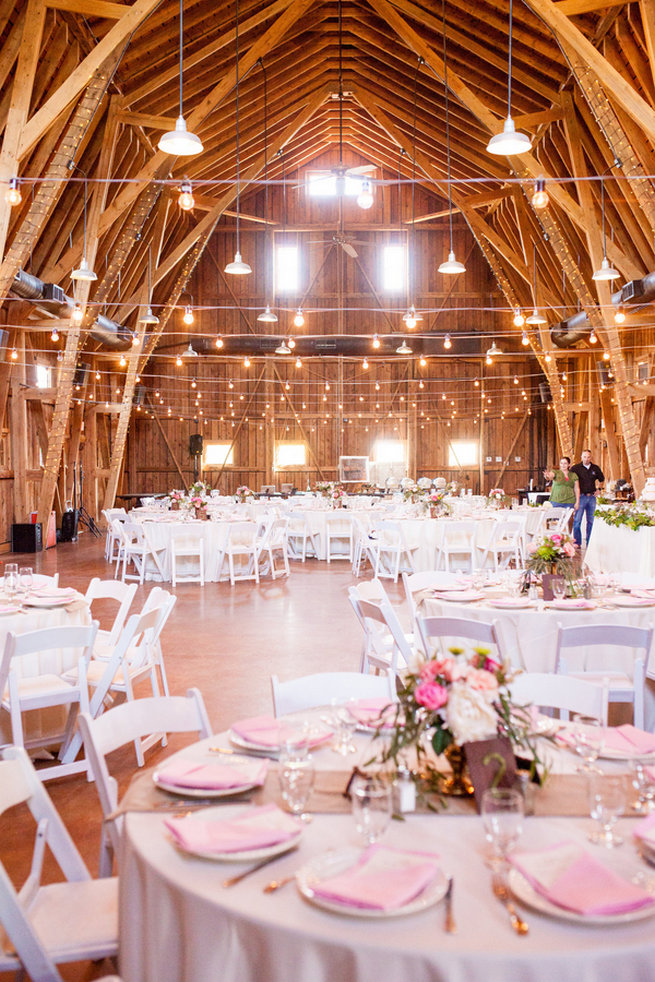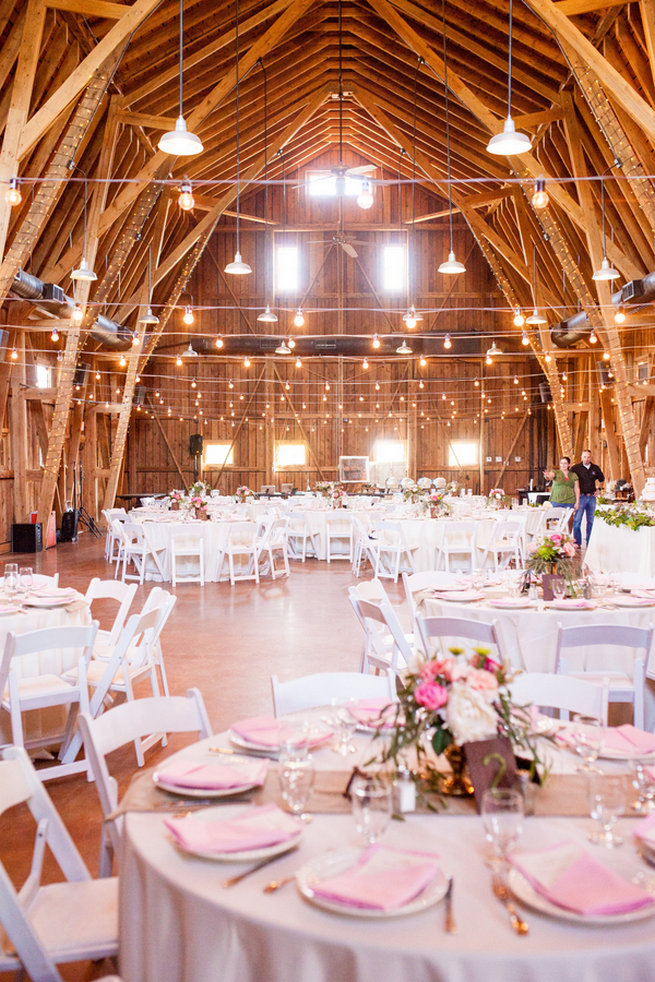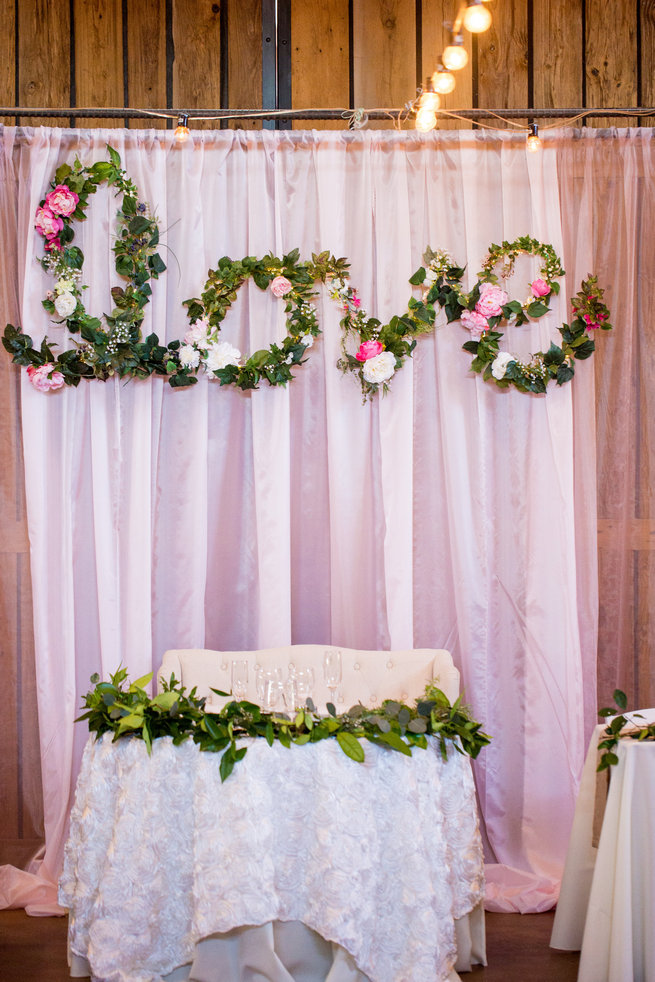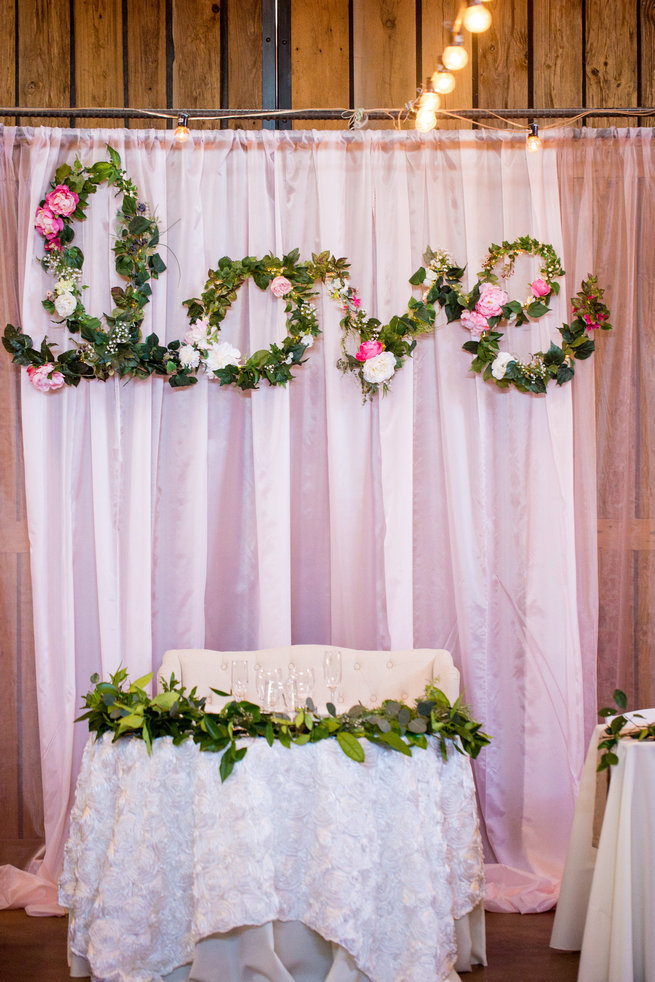 Behind our sweetheart table was draped fabric, and a six foot Love sign, which I along with a family friend made. It was wire bent to spell the word LOVE.  We wrapped lights around it and put all these silk flowers and leaves. It was beautiful, and I had never seen something like it before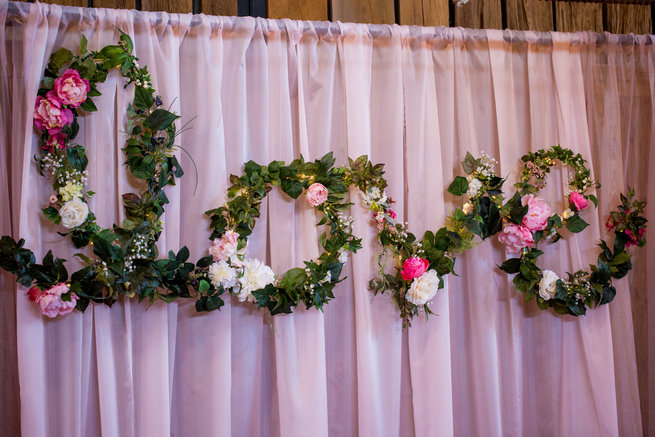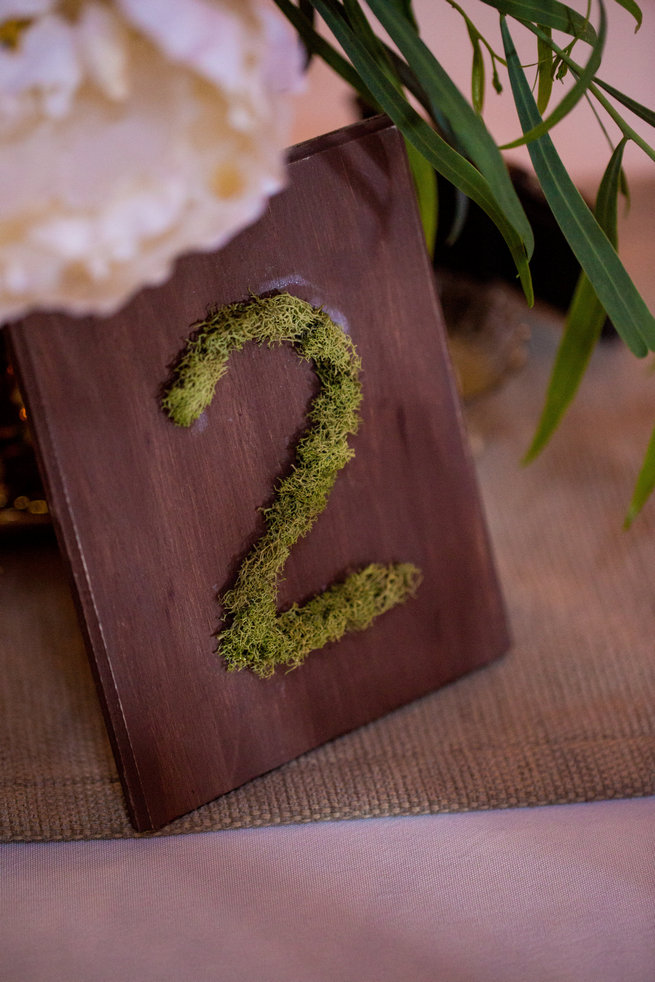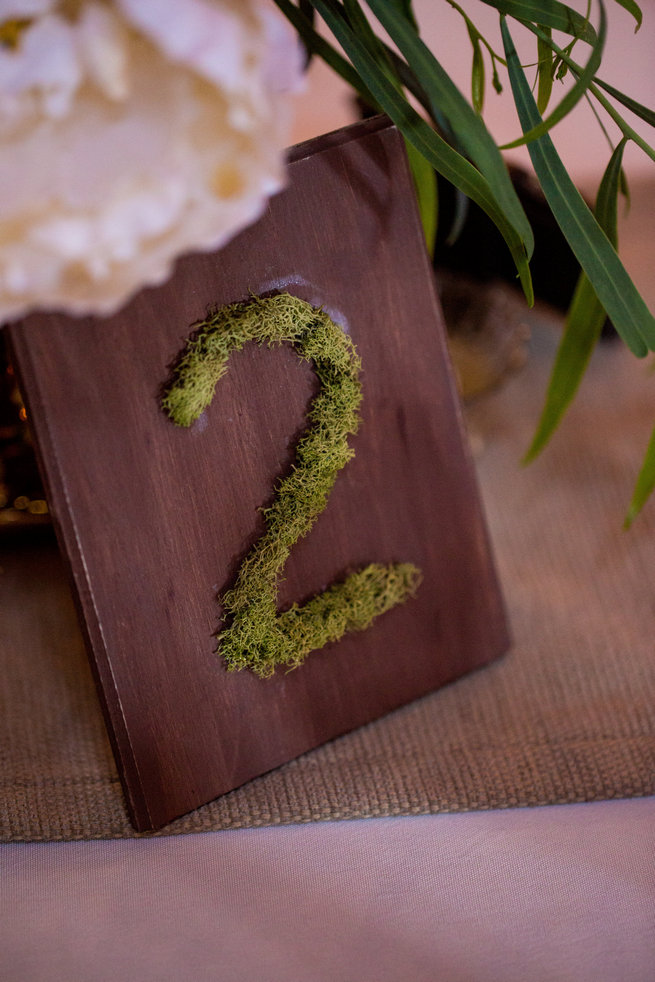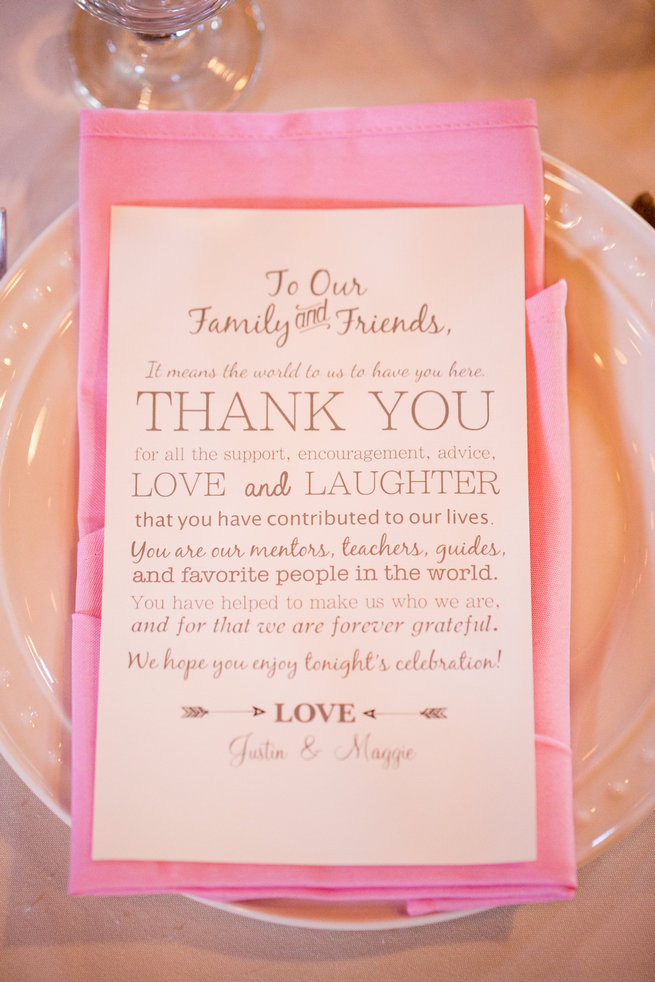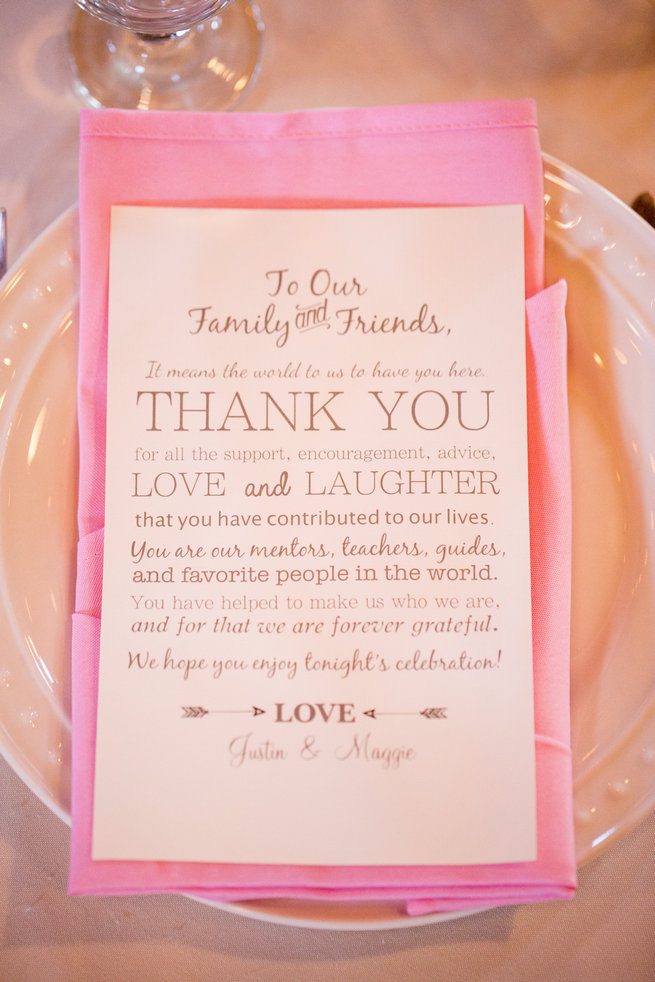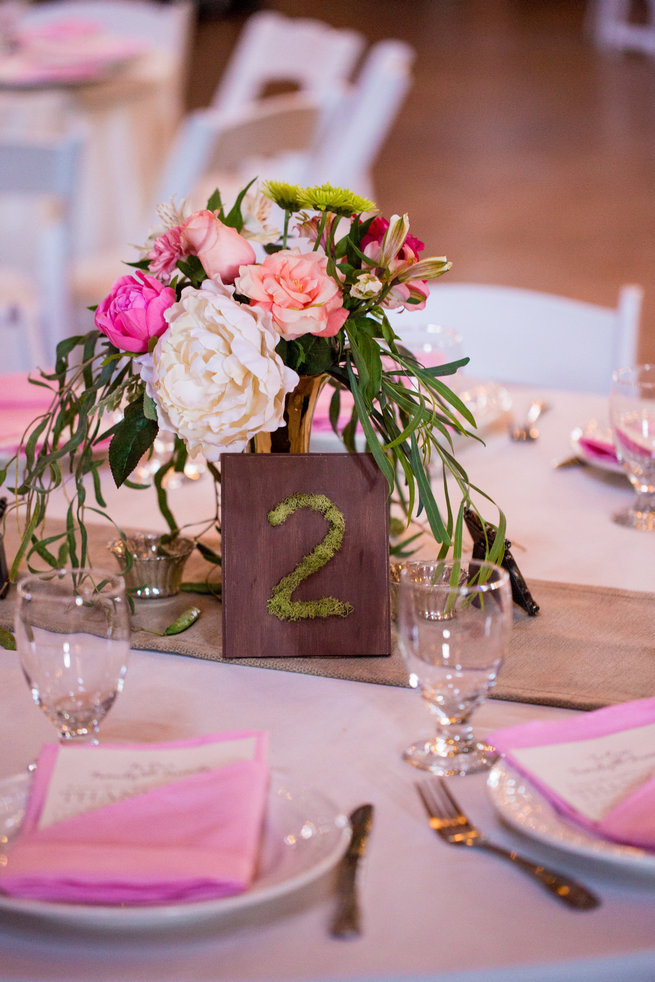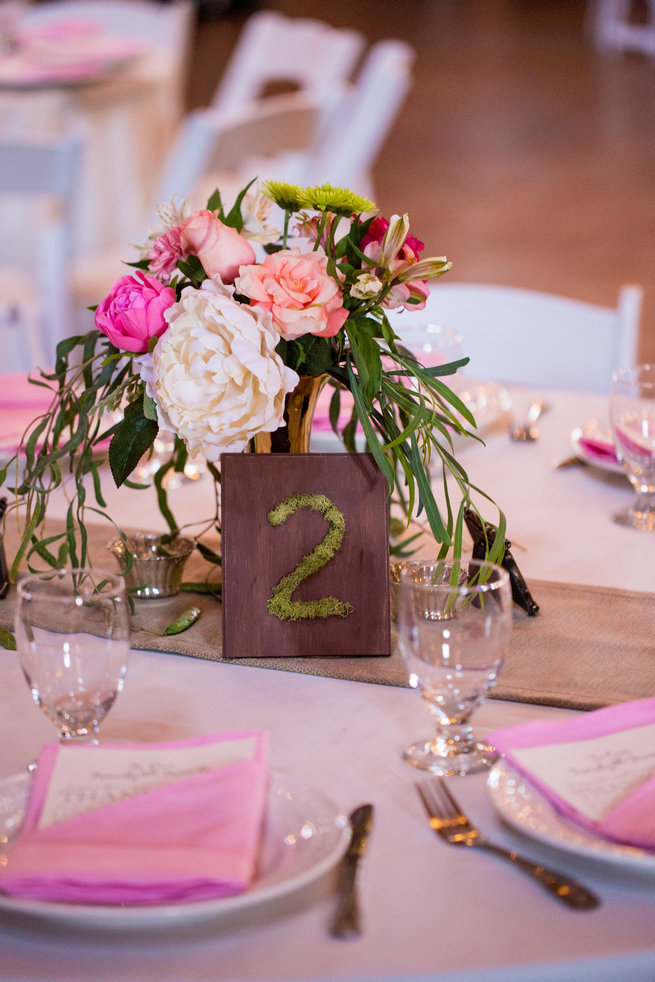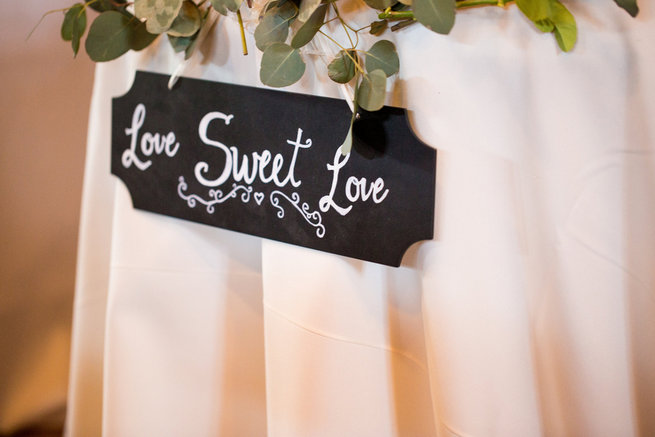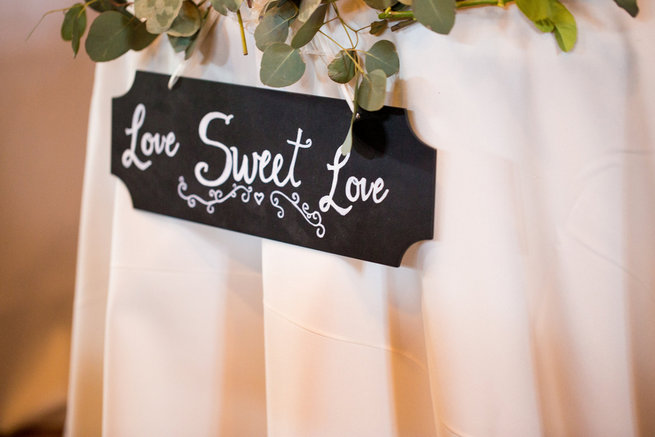 Click for barn and country wedding inspiration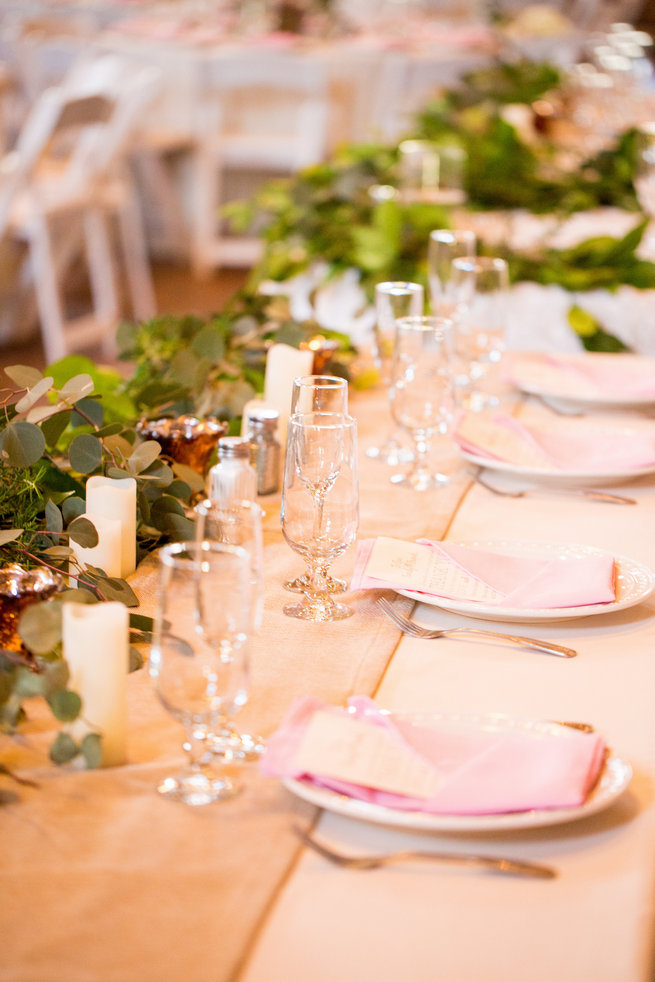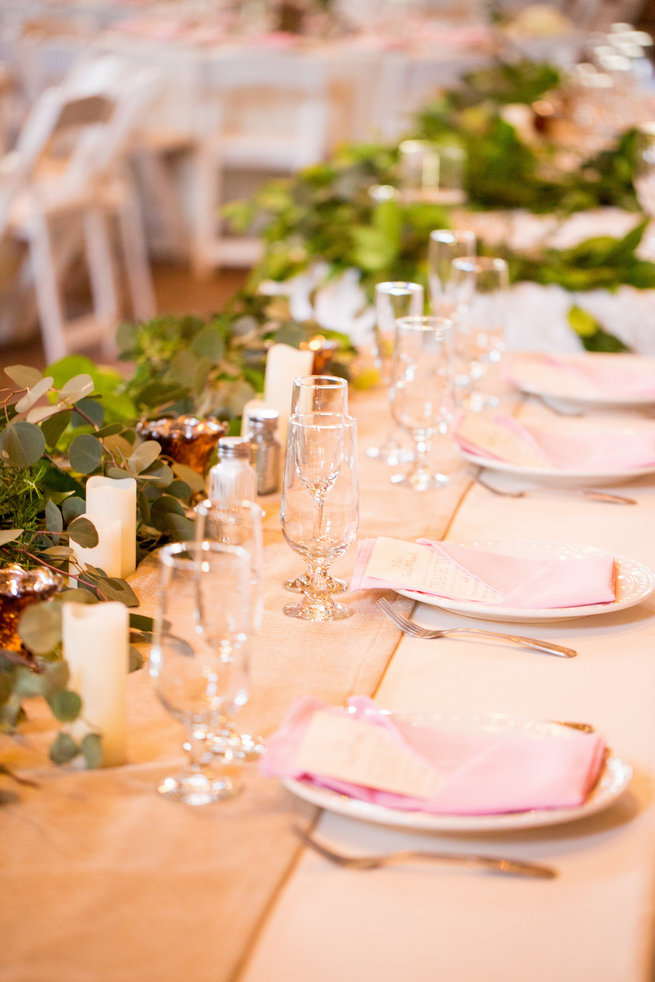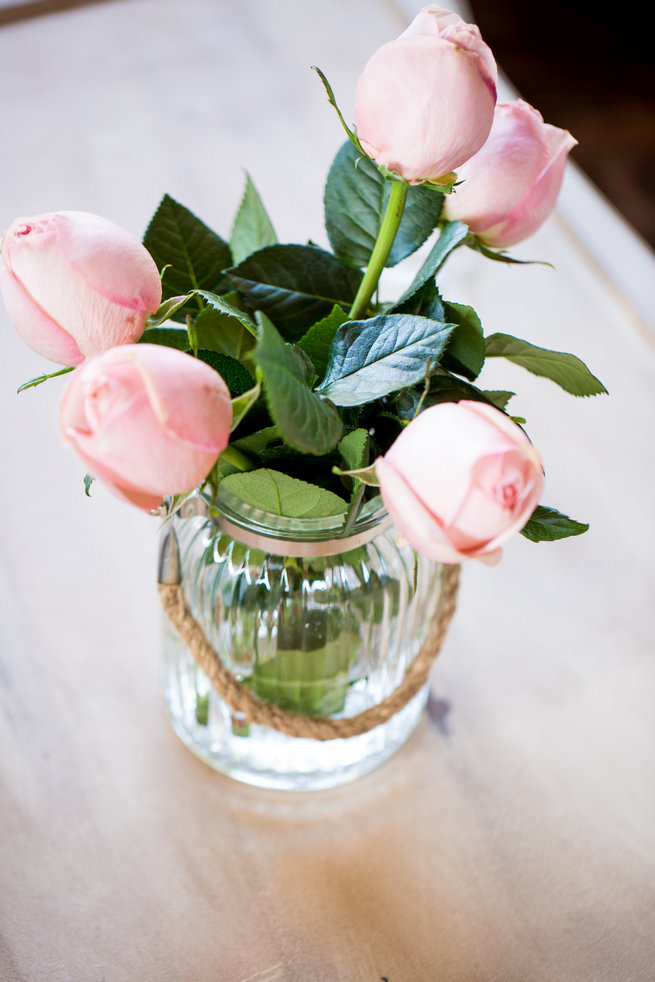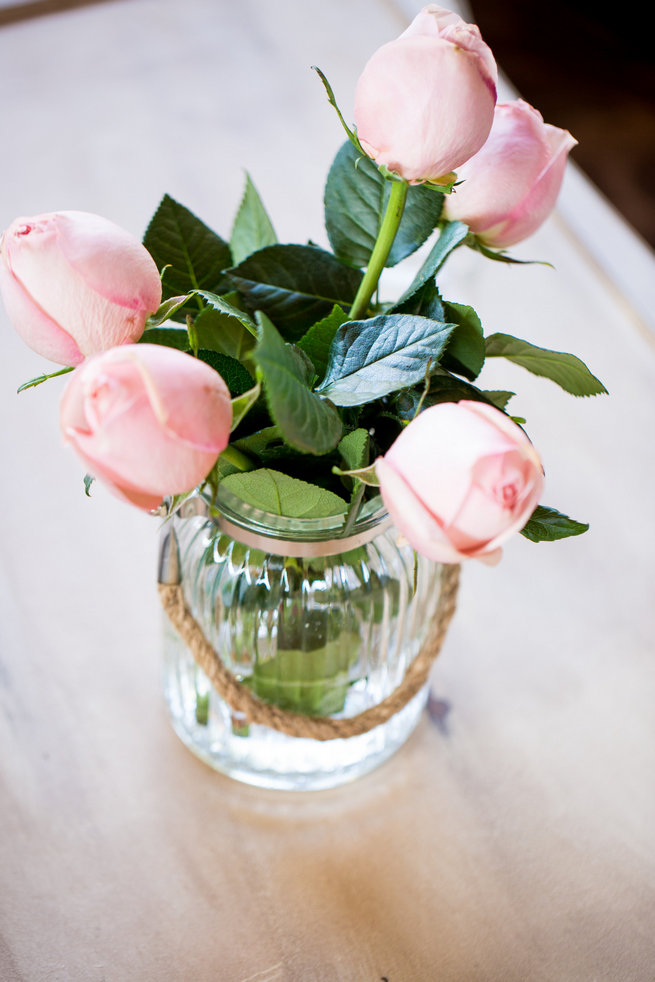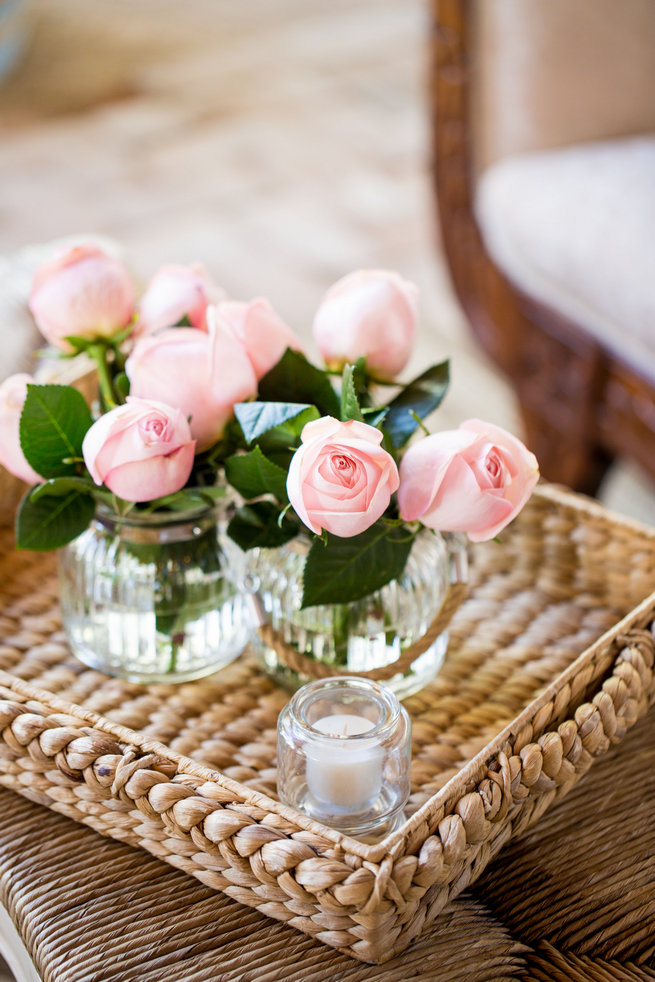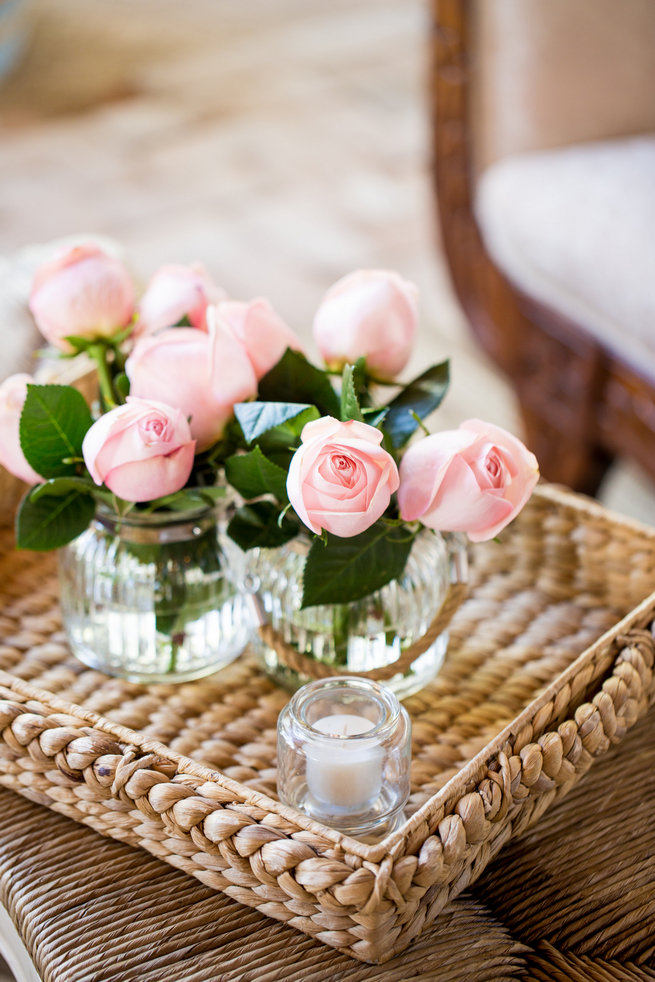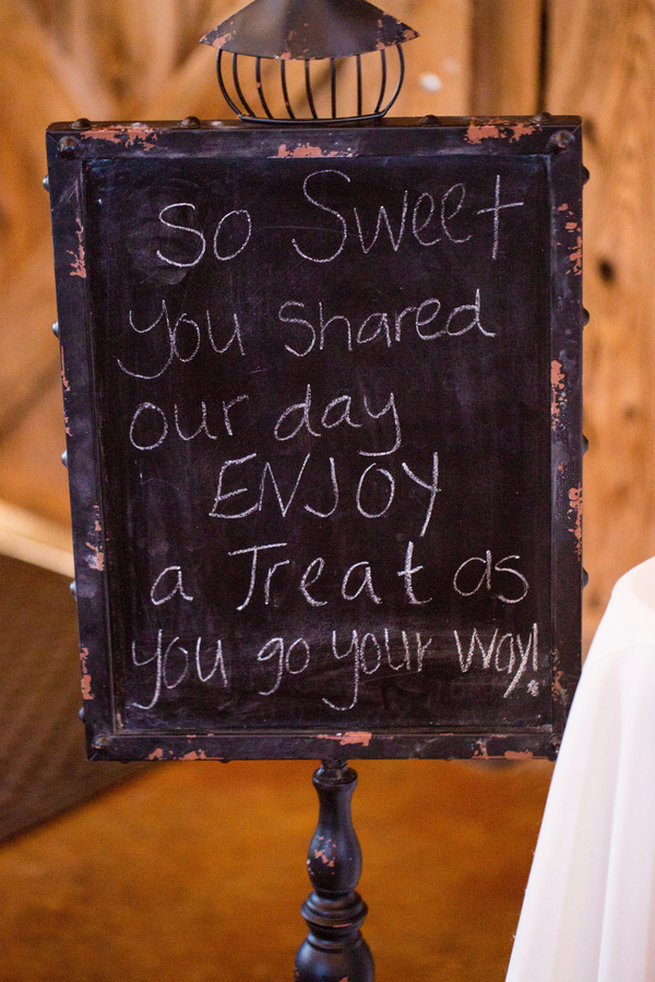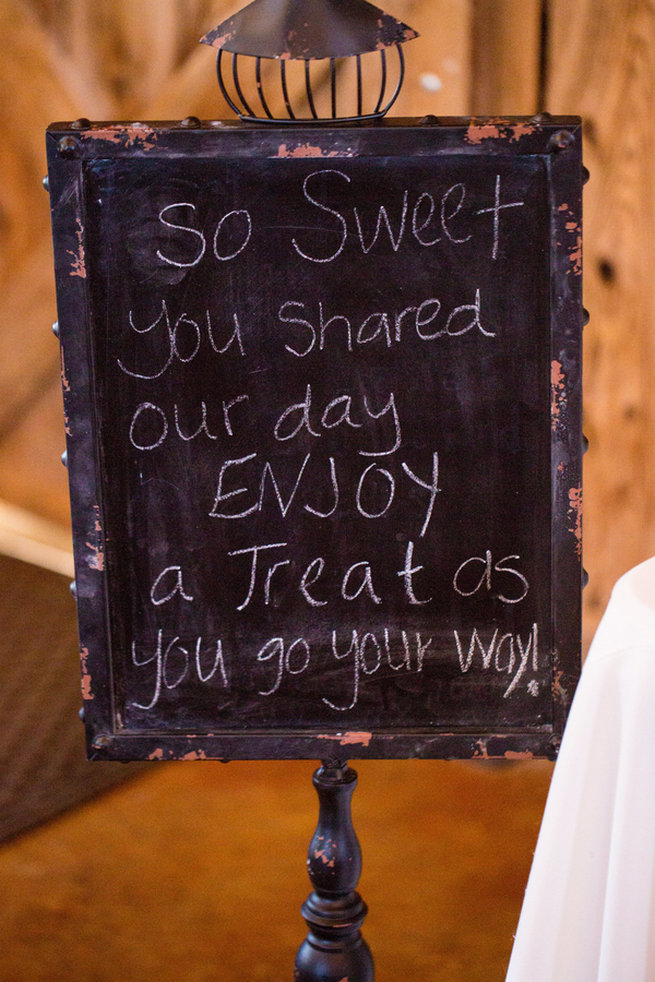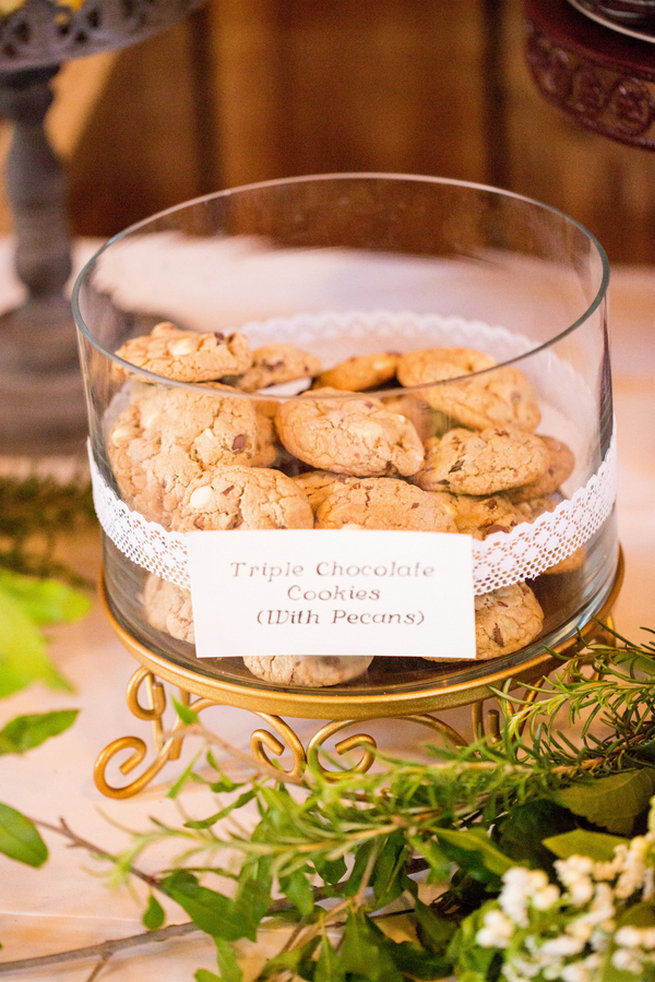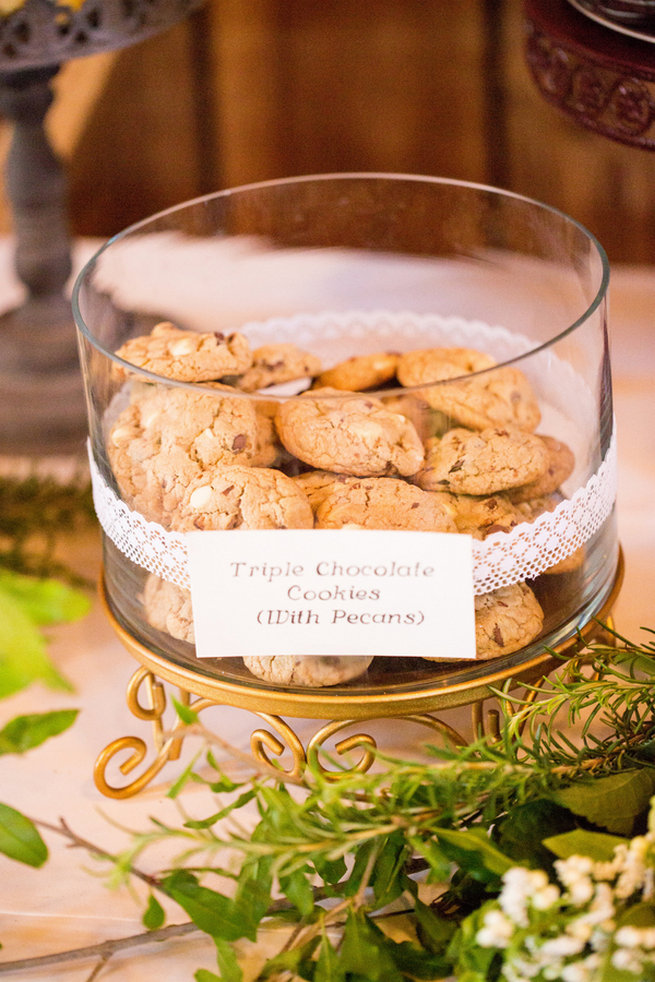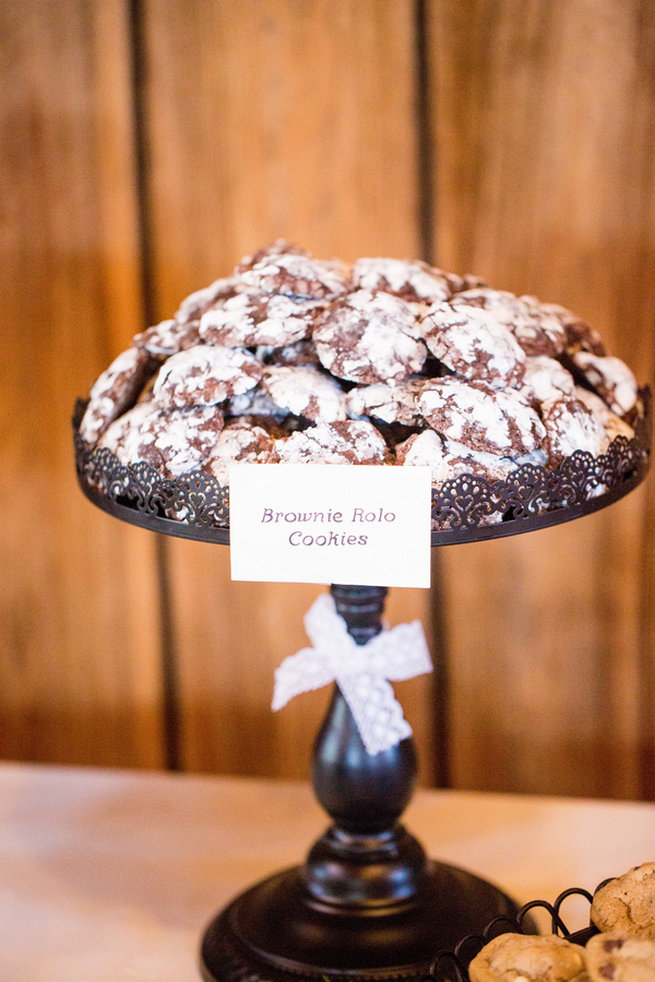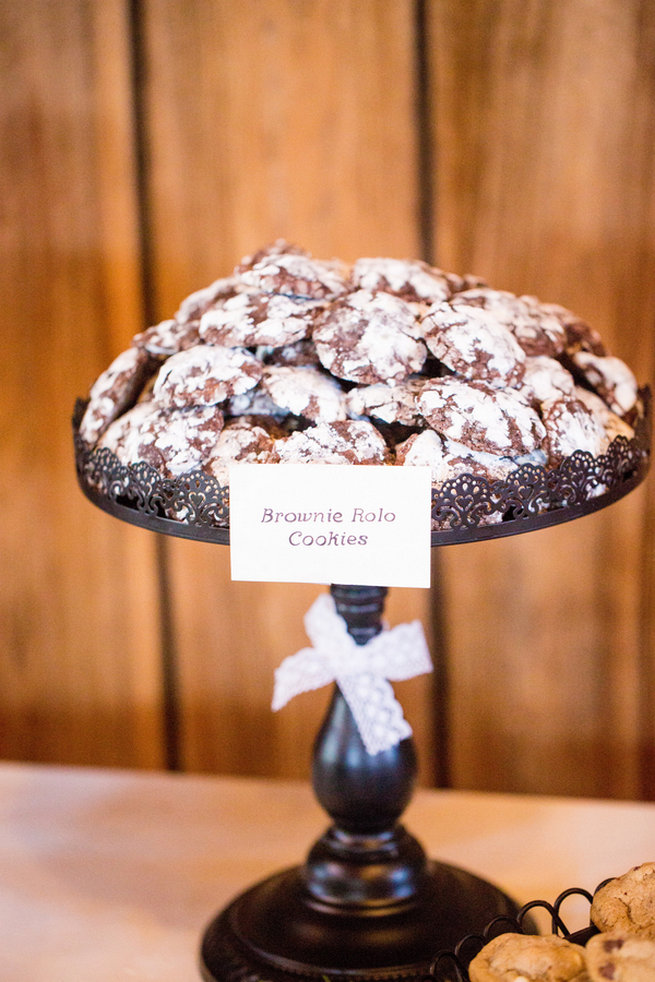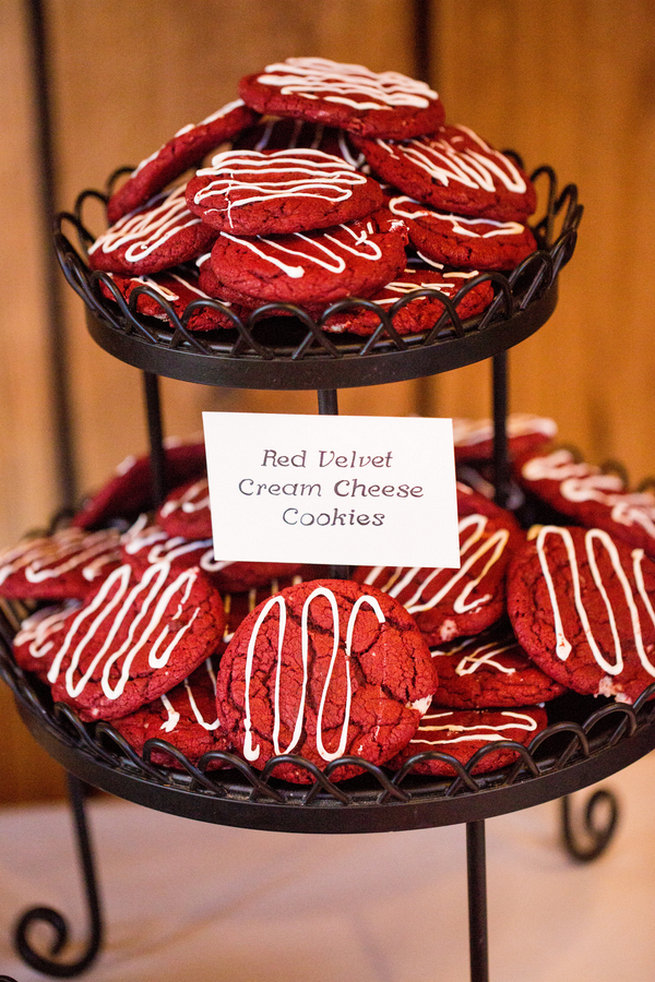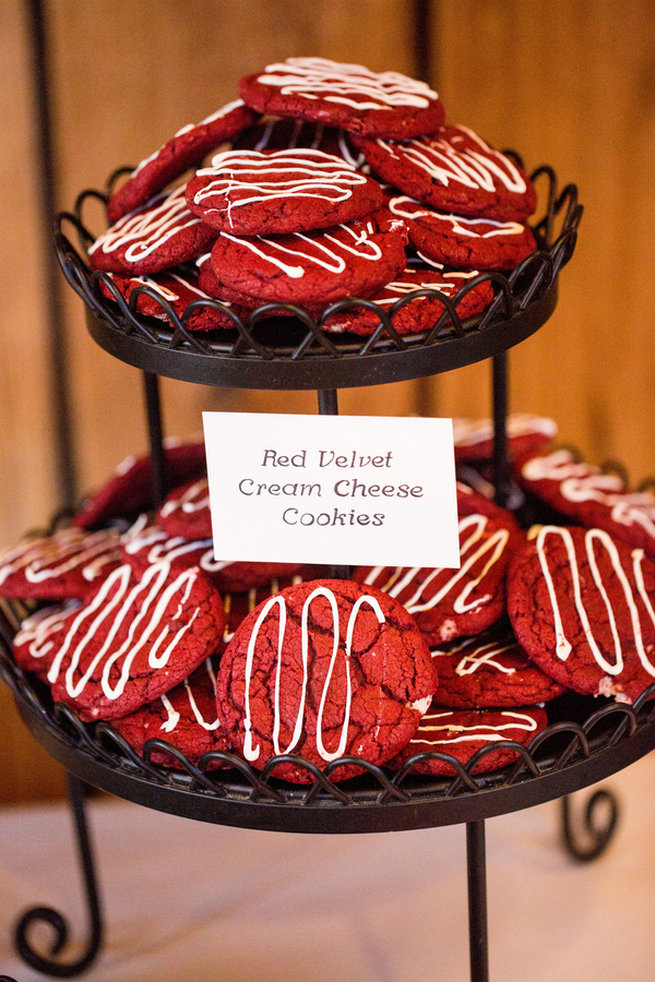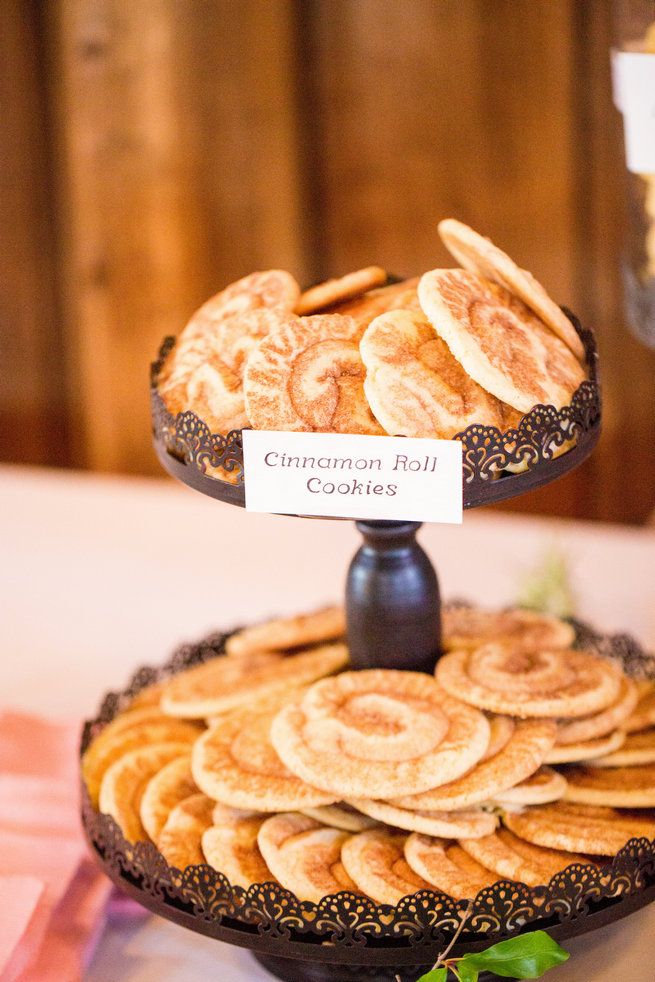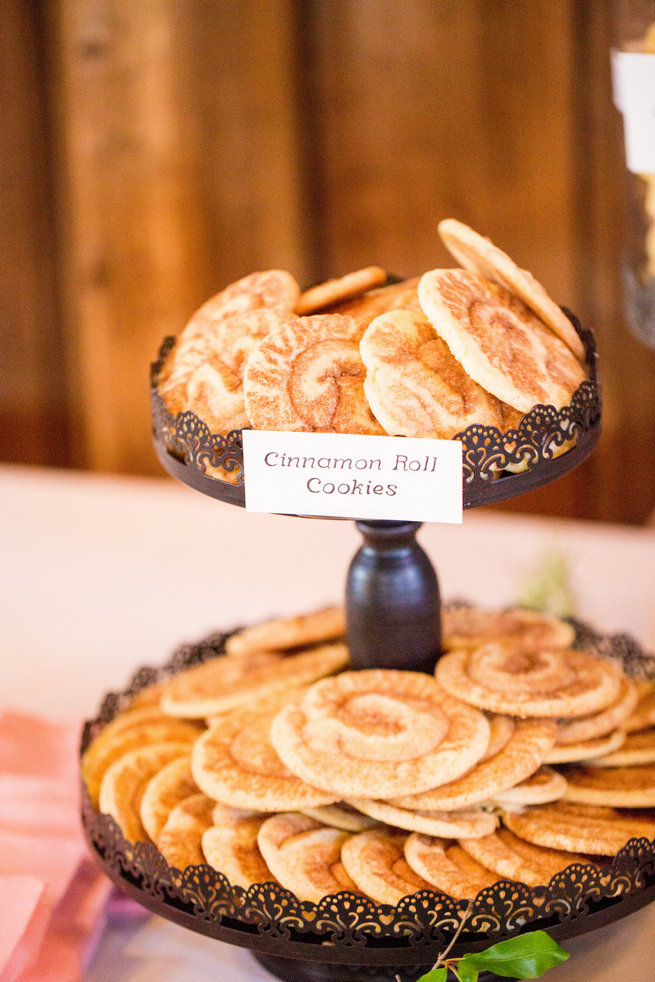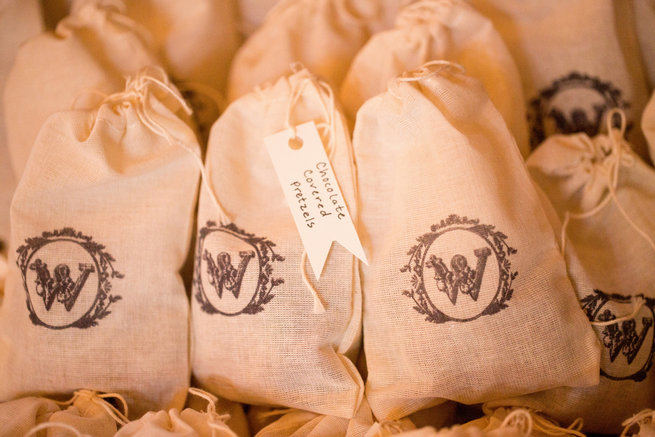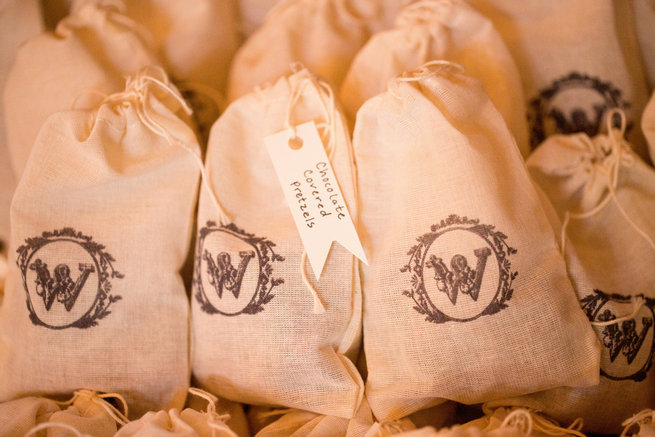 See more burlap wedding ideas here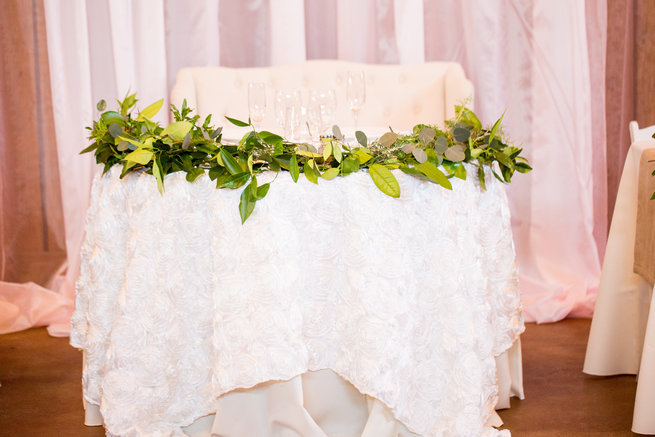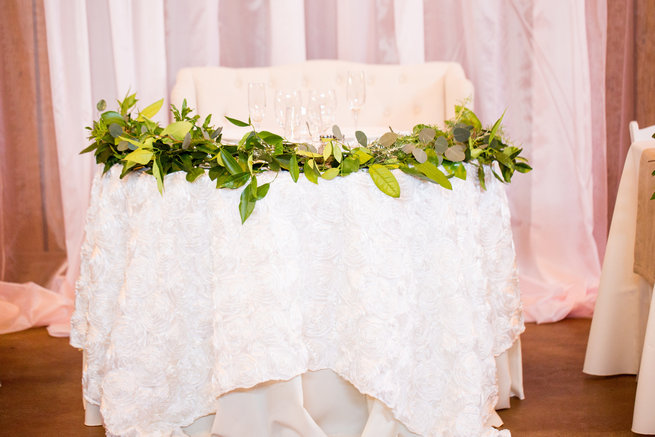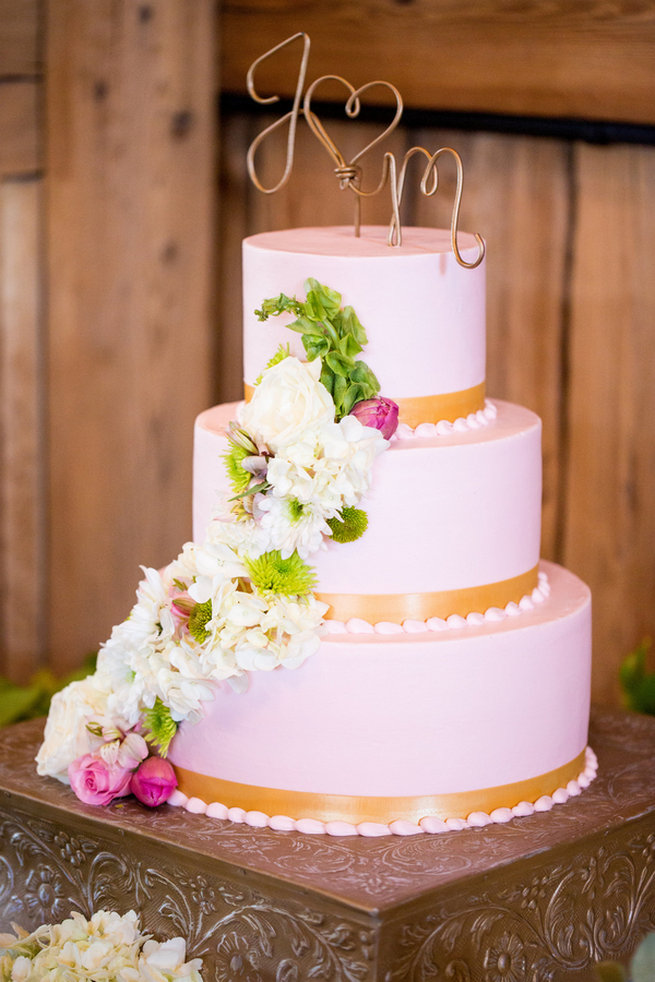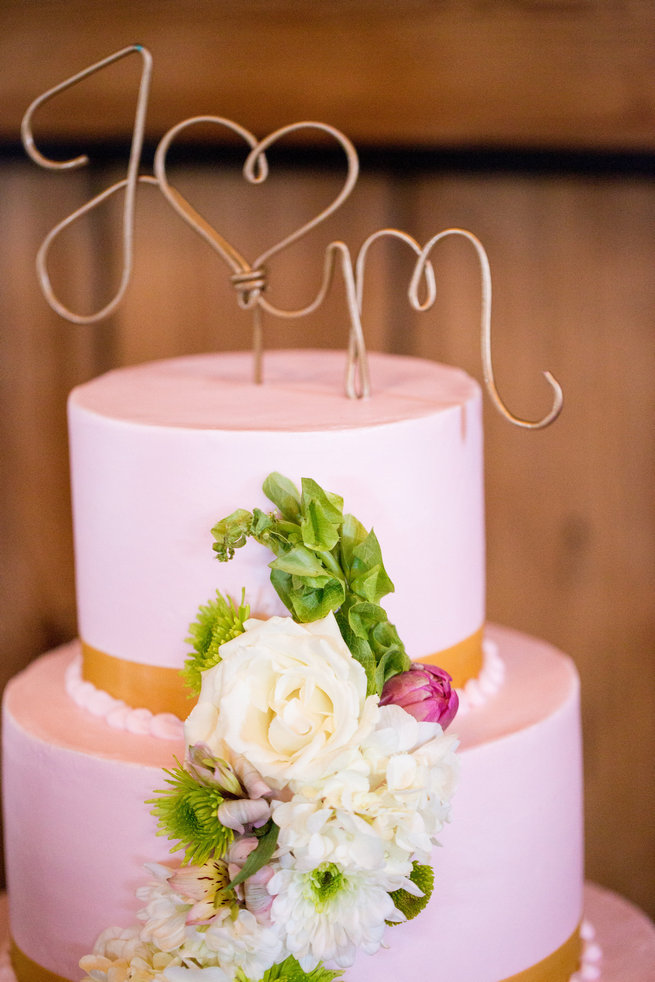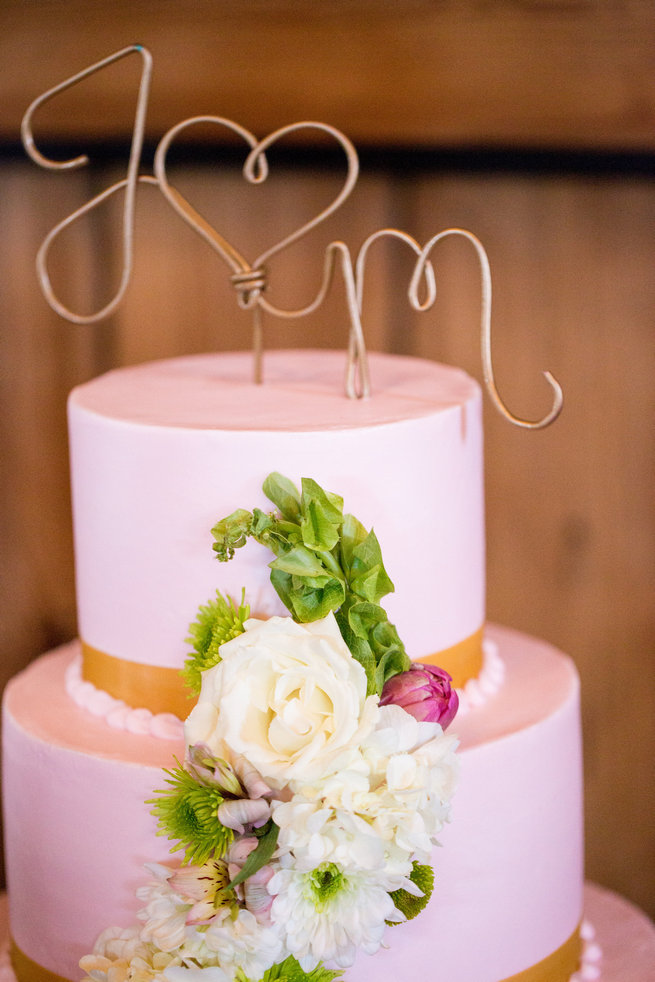 See more stunning white wedding cakes here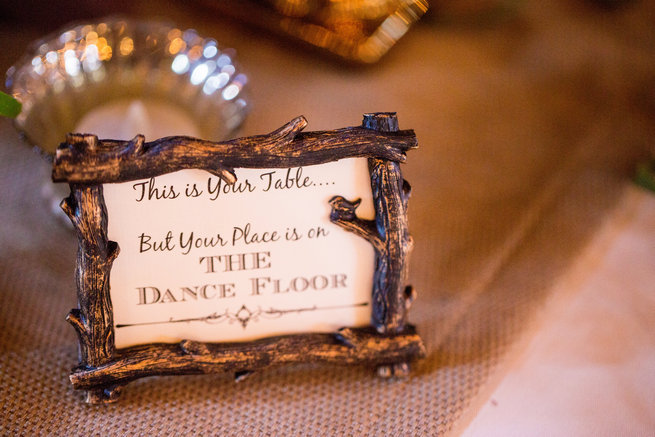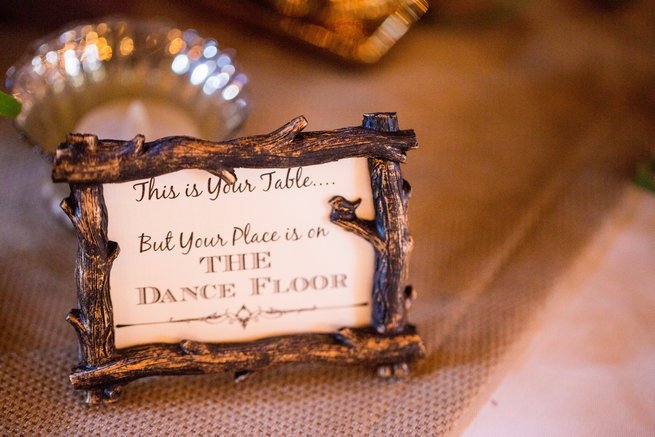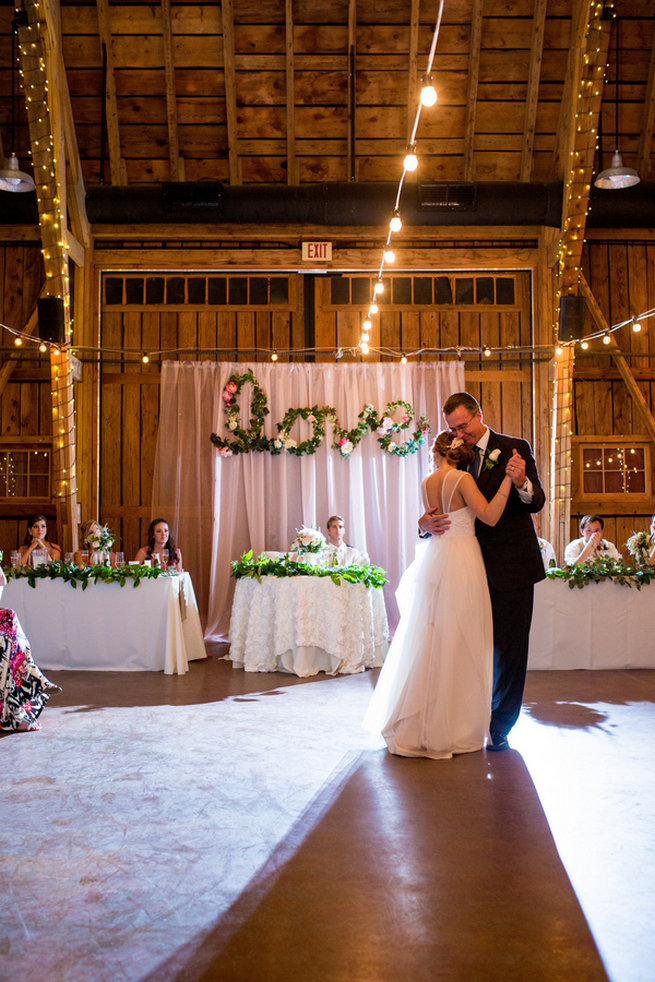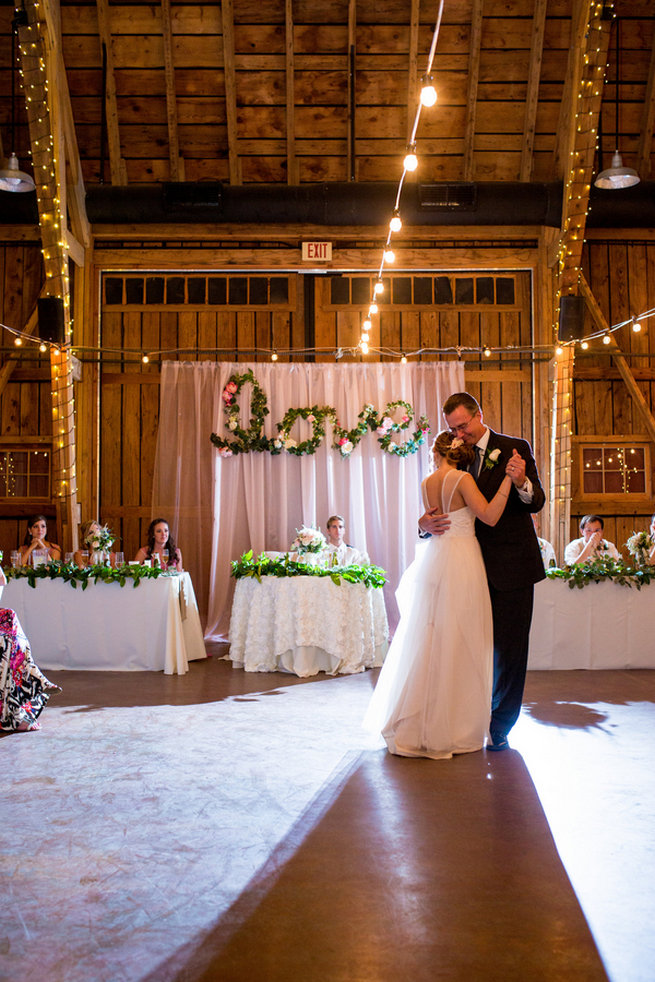 Romantic Spring Barn Wedding
Love Story: We grew up in the church together, and met in fifth grade. We were friends for awhile, then ended up going to the same high school. Young love started to bloom our junior year of high school, as we quickly became best friends and were inseparable. A year after we graduated, August of 2014 is when Justin purposed. He took me to a fancy dinner, then took me on a long drive, where we ended up at the lake. He drove up the hill to a beautiful look out where we watched the sunset, then driving back down he pulled up to a dock. We began walking down the dock, which was lined with candles, rose petals, and pictures of us. At the end of the dock were a table and stools, more candles and roses, sparkling cider, and music playing it was so romantic and perfect. 🙂
Wedding Dress: It was a simple A-line gown, with a slightly embellished bodice. It had a layer of satin under a layer of tulle. The dress color was ivory and champagne. Also I added the straps to the dress for a more feminine and traditional feel. It felt perfect on my wedding day, I didn't want to take it off!
Wedding Bouquet: I wanted my bouquet to feel like I walked through a garden and picked different flowers for my bouquet. I had a lot of roses, and lambs ear too!
Bridal Party: I designed the bridesmaid dresses, and my mom made them. She also hand beaded the belts on their dresses as well. Their bouquets were just smaller versions of mine. We had the groomsmen in tan suits without jackets, for a little bit more casual look. And Justin picked out their socks which were pink and grey argyle.
Groom's Attire: He wore a tan suit a little different from the groomsmen, a champagne colored vest, and an ivory tie.
Wedding Ceremony: I walked down to an instrumental piece called 'This' by Gavin Mikhail, as well we walked back down the aisle to "Everlasting Love" by Carl Carlton. Justin's Dad performed the ceremony. We had communion during the ceremony. The ceremony was in front of brick arches, with draped fabric, and garland draped at the edge of the fabric. There was a chandelier hanging from the arches as well. There was fabric draped on every other chair down the aisle, along with some rose petals down the aisle. As well there were two barrels on either side of the aisle, behind the last row of chairs that had a floral arrangement on them.
Wedding Reception: The centerpieces were gold vases, with similar flowers as my bouquet, the handmade table numbers, some candles, and napkins with the thank you notes in them. The head table had the bouquets as the flowers, and lots of live greenery from citrus leaves, to eucalyptus all along the edge of the tables. The cake table also had the live greenery, and I painted the cake base and made it look more vintage.
♥♥♥ Supplier & Vendor List ♥♥♥
Venue The Windmill Winery – Florence Arizona  // Photographer Bethaney Photography  // Videographer The Story Is Told  // Dress Daivd's Bridal /// Brides Hair and Make-Up BabyDoll Weddings // Flowers AJ's Fine Foods //  Bouquets/Buttoners Centerpieces – Family Friend // Cake Lesley's Creative Cakes  // Bridesmaid Dresses Handmade by mother of the bride  // Music Ellagant Entertainment  // Decor Ourselves, Family friend Lynne Tornell // Decor & hiring Kathy Montgomery Something Old Something Older // Suits Jos' A Banks //  Caterer – Gold Star Catering