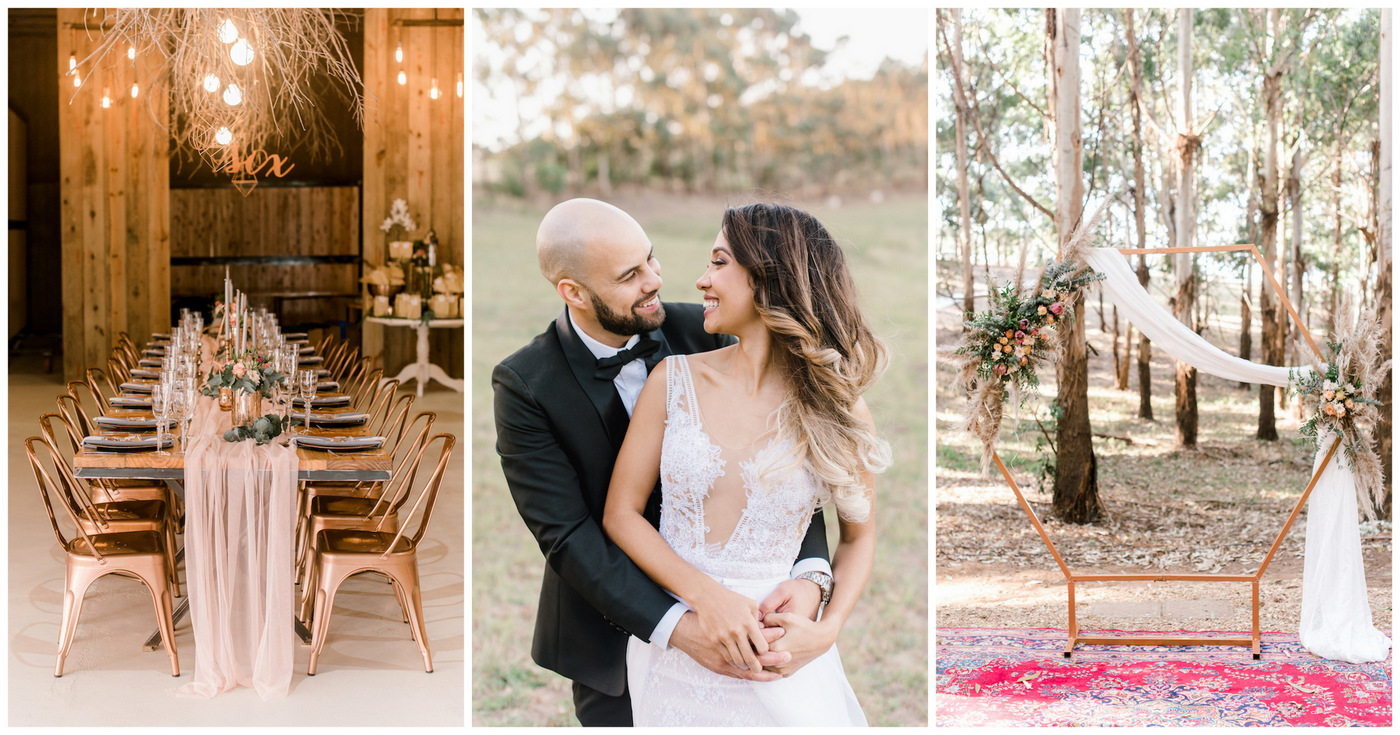 Gold + Blush Geometric Bohemian Forest Wedding.
Durban-based couple Jade and Kurt's gold and blush forest wedding at The Venue Fontana was filled with modern metallics, geometric wedding details and romance.  The gorgeous couple focused on elegance and simplicity, with geometric touches featured throughout. From their digital wedding stationery via their wedding app, through to their epic hexagon boho arch, and their wedding reception with geometric shapes on tables and suspended from ceilings.
We love that the couple's wedding was almost entirely paperless. In fact, they used a digital wedding app to invite guests, manage their guest list and tell their love story. 
"We envisioned romance, love, happiness, joy and raw emotions." says the couple, who chose Roxanne Davison to capture all their magical moments. "We wanted the day to be a celebration of everyone's love, whether love for each other, love for family, love for friends, love for weddings, or just love for us! We wanted other relationships to be strengthened by reminding them of why they chose each other. We let these feelings translate into the design of the wedding. From the décor to the music. From the speeches to the message from our Pastor. From the ceremony in the forest to the soft lighting in the reception, all of which oozed love and romance."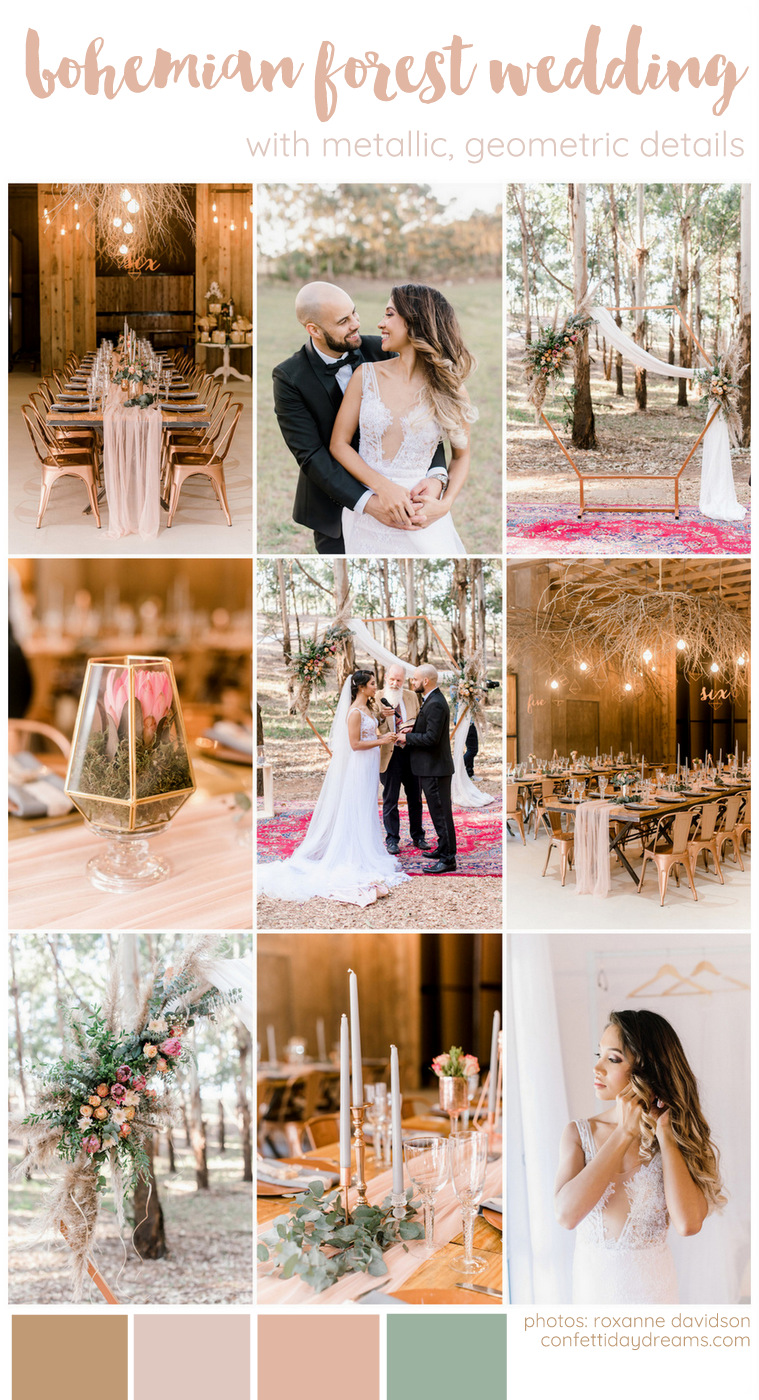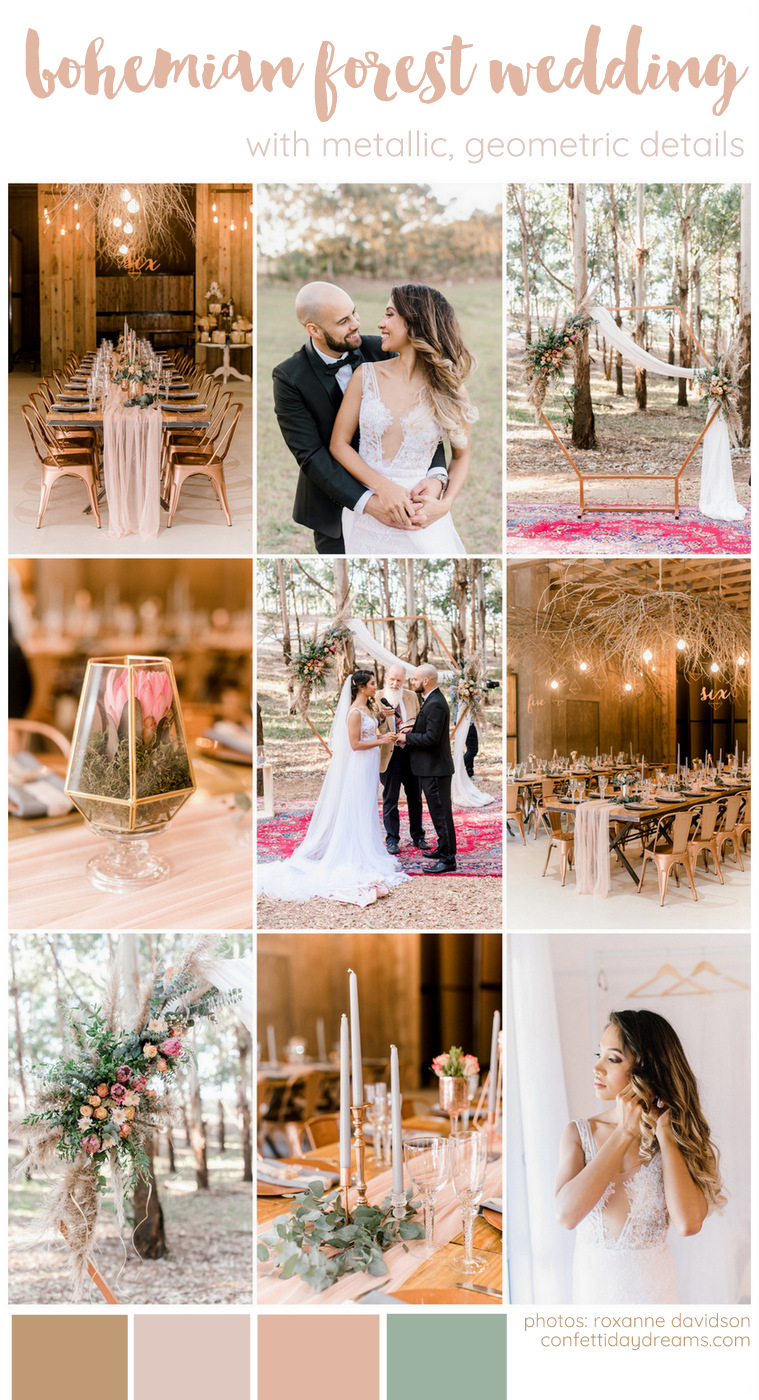 Our Love Story: Although we had known each other since we were teenagers, we only began dating when we were 19. Eight years after the start of our relationship, we were engaged. Achievement has always been a big priority for us, so together we worked hard to focus on our careers, getting our lives properly set up before marriage. Being friends first really made our relationship special – 10 years later we still feel like besties! 🙂
Romantic Geometric Bohemian Forest Wedding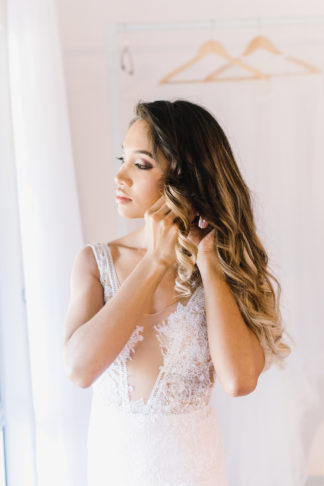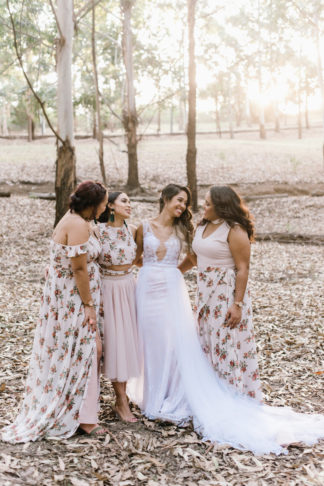 I wore a delicate, mermaid-style white lace wedding gown with layers of soft pink beneath. My hair and makeup was styled naturally, with just a touch of drama.  I love floral print and incorporated this in my bridesmaids' dresses. They had dresses designed to made them feel beautiful. This showed in the pictures!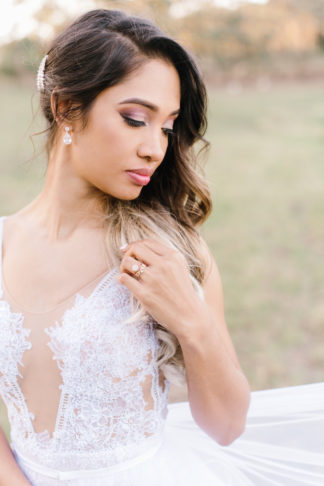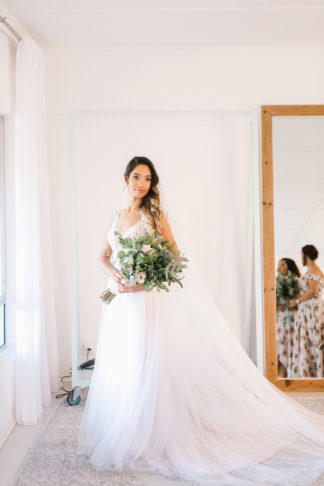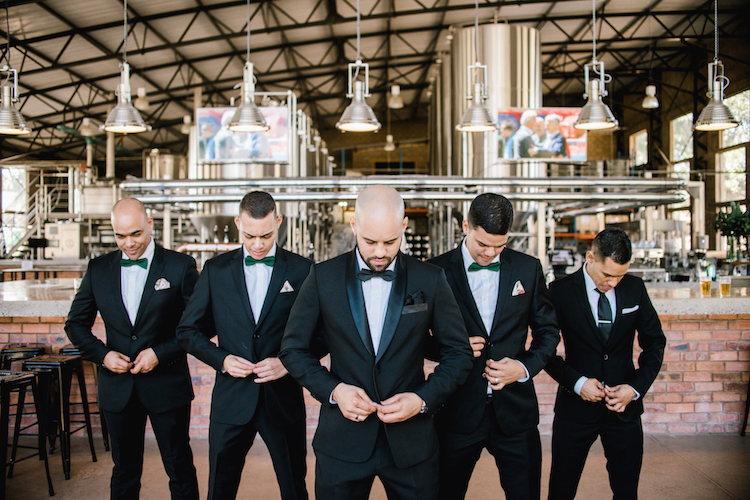 My groom had his suit made while we were on holiday in Thailand the previous year. He wanted something tailored and personal and he definitely got it! He wore a classic tuxedo with satin shawl lapels, a classic tailored white shirt and a satin diamond shaped bow tie.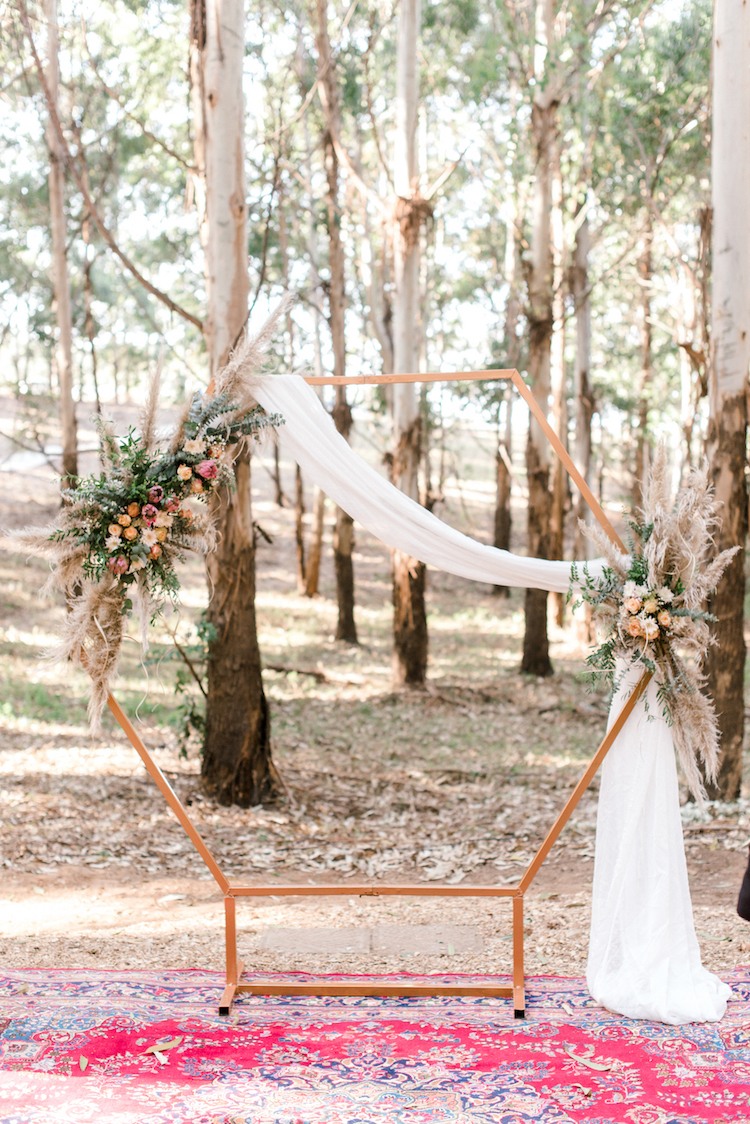 Our bohemian forest wedding ceremony setting was picturesque! The forest that overlooked the sea didn't need much. We hired a Persian rug, placed at the bottom of a wood chip-covered aisle. The most beautiful hexagonal wedding arch was our backdrop, draped in soft chiffon that would match our reception tables. It was adorned with flowers and Pampas grass.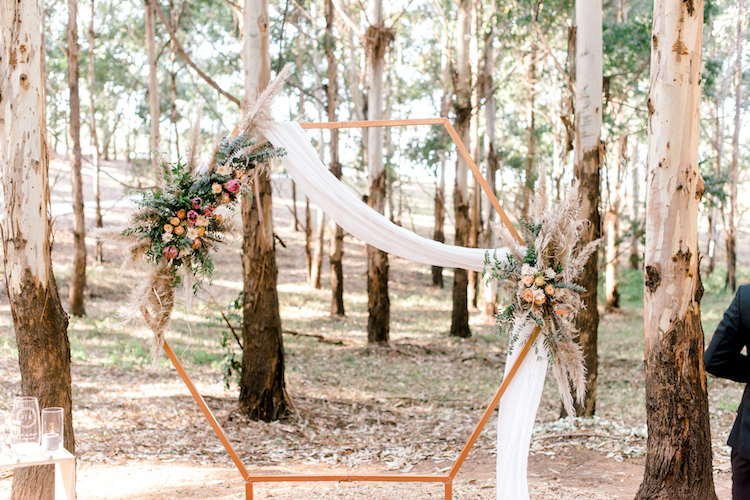 Confession time! I'm not really a flower person but I did fall in love with Pampas Grass! It's also inexpensive and can be foraged. It featured on our rose gold hexagonal ceremony structure and then again in the reception venue.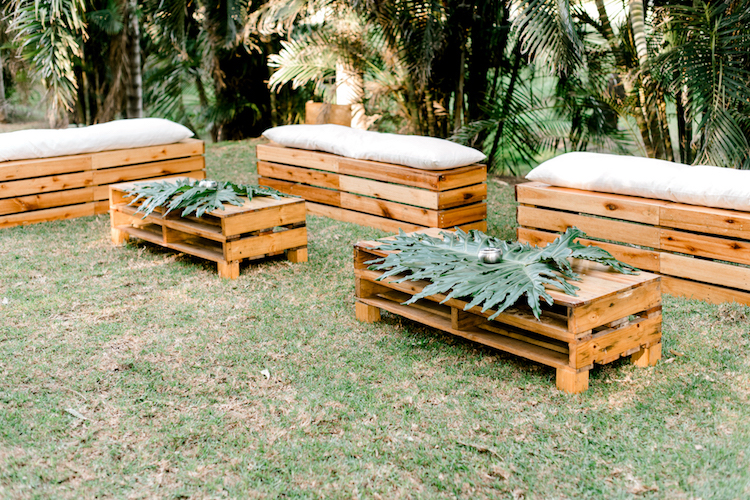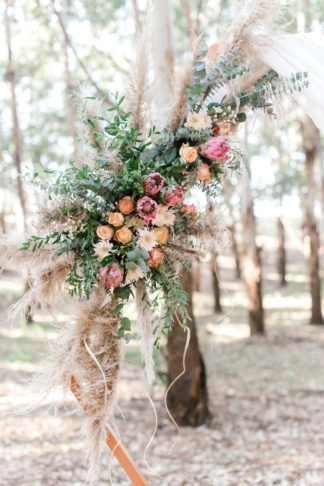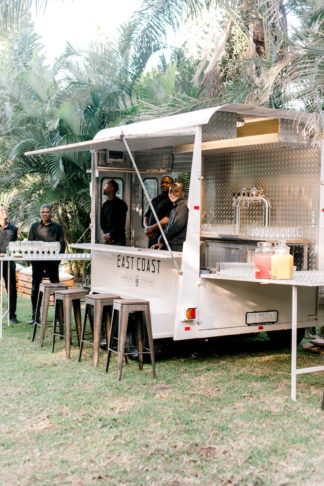 I walked down the aisle to the Aladdin classic, "A Whole New World." It's Kurt's favorite animation – when I heard it a few months before our day I just wept! I kept it as a surprise for Kurt on the day. Fun was a big element to our wedding and we wanted people to know they were in for legendary celebration.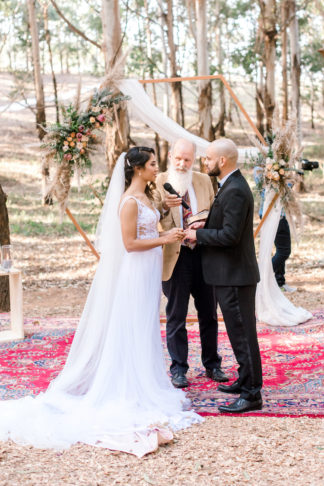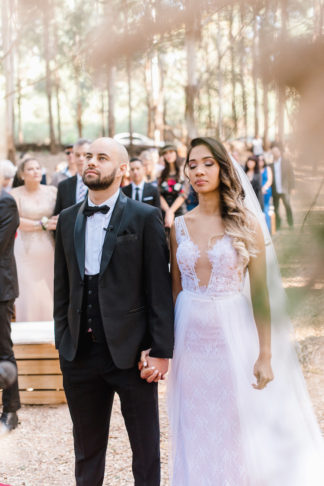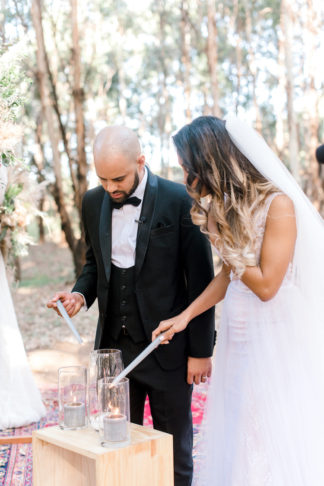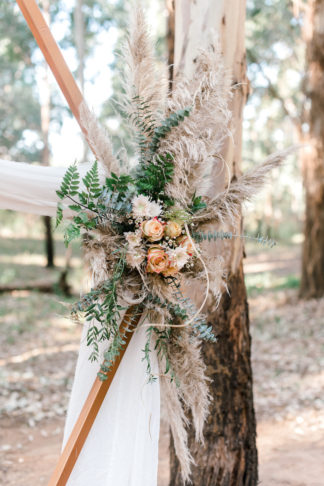 (Check out this Moody Burnt Orange + Greenery Farm Wedding with Pampas Grass)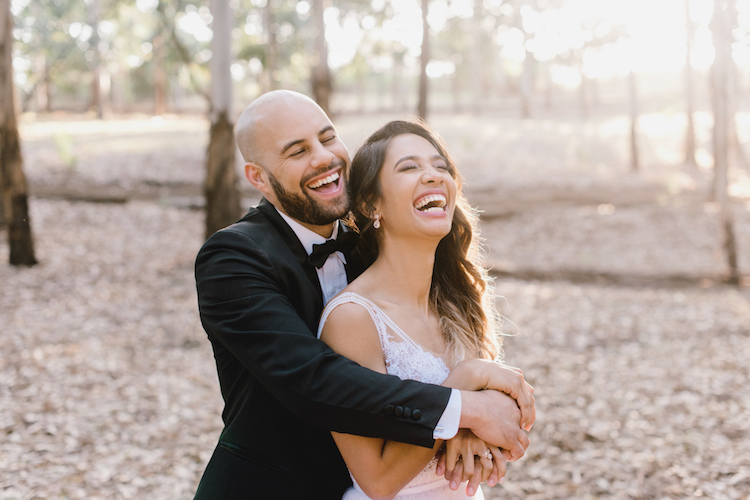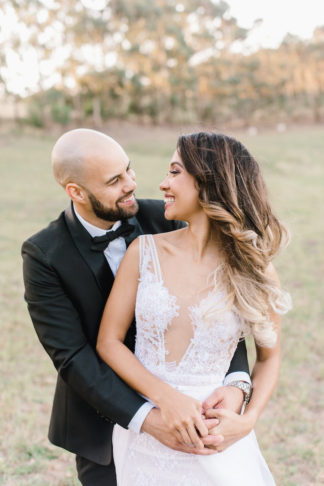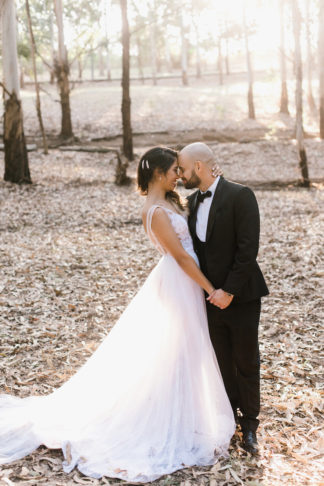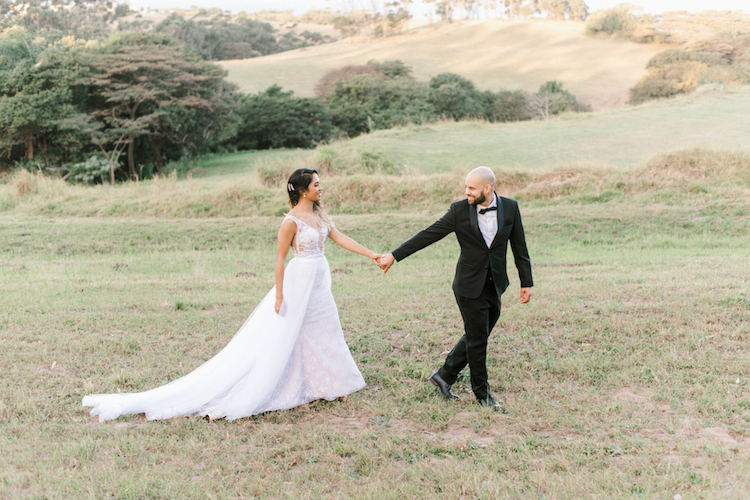 At our wedding reception geometric shapes hung amongst branches suspended over each table, and featured on the tables, too. Finding the correct wedding venue to act as a blank canvas for our vision was key.
Delicate blush chiffon fabric was draped over naked, wooden guest tables, featuring arrangements of Pennygum eucalyptus, tapered grey candles and geometric table decor.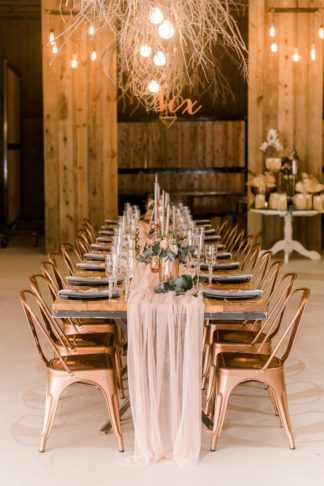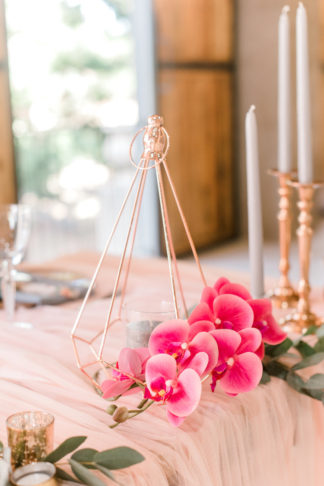 Naked bulbs, an abundance of tapered candles and warm wedding lighting featured overhead created the romantic, intimate ambiance which we were after.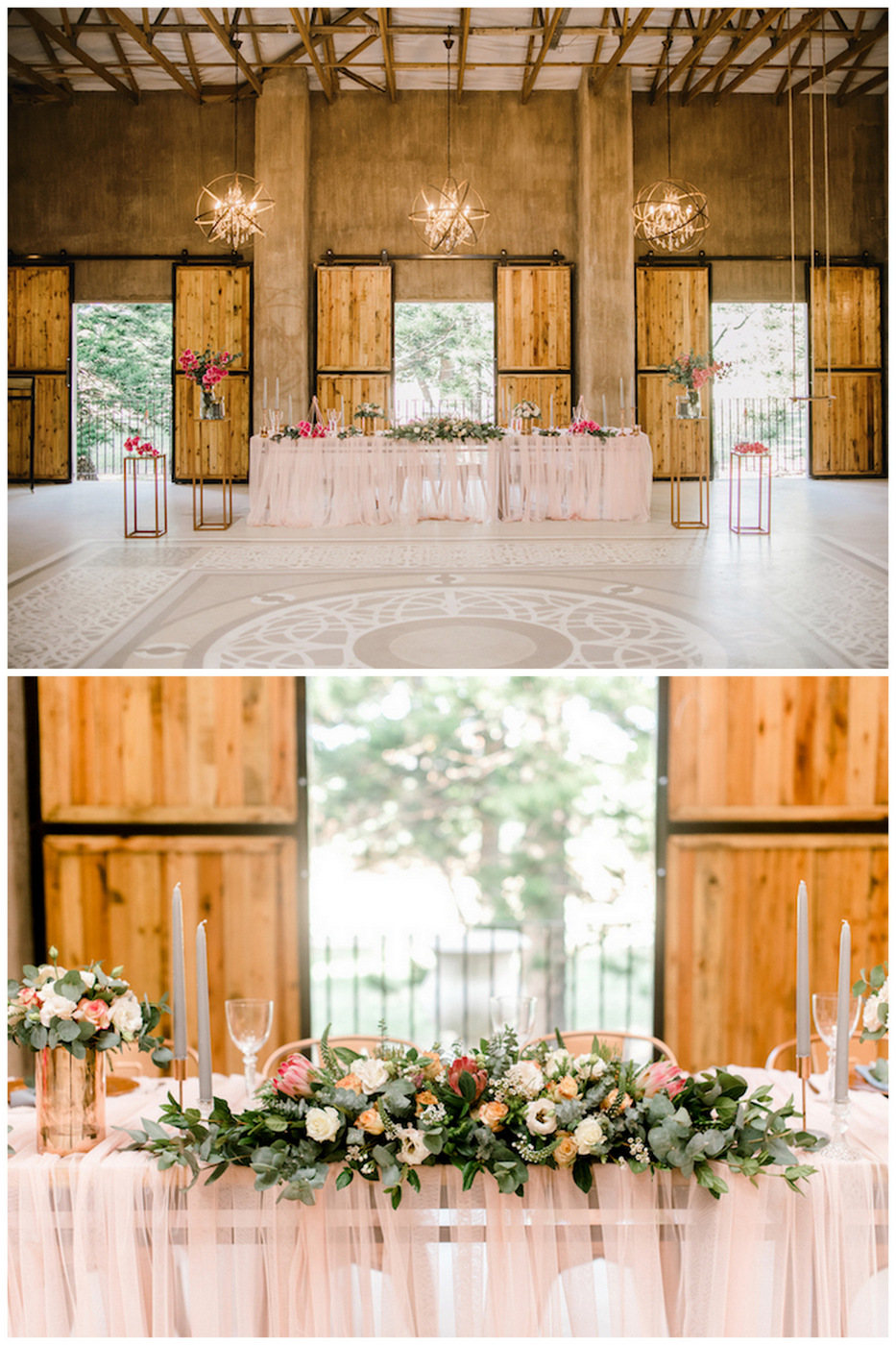 We had pink orchids and roses on the tables. We placed the balance fabric from the bridesmaid dresses over beautiful napkins.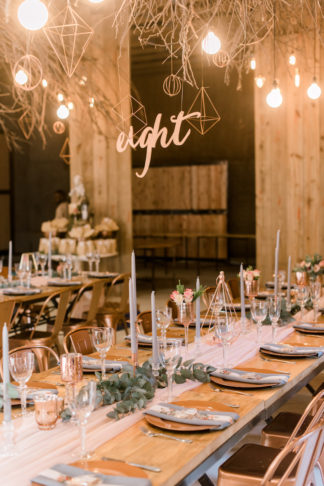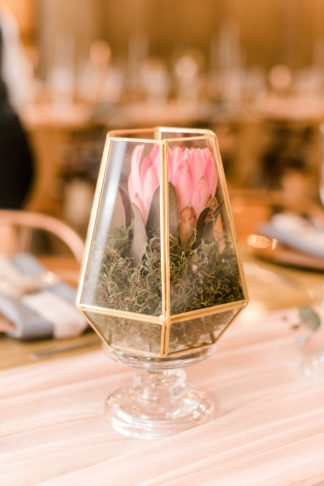 Sustainability was a big focus for us. Our wedding was almost completely paperless.
We used an app called Appy Couple to drive all our communication – from invitations to the programme to the seating arrangements.
The menu was written on giant chalk boards.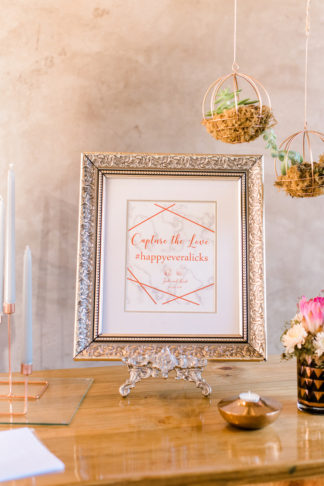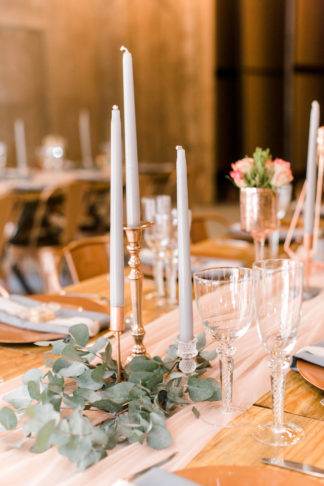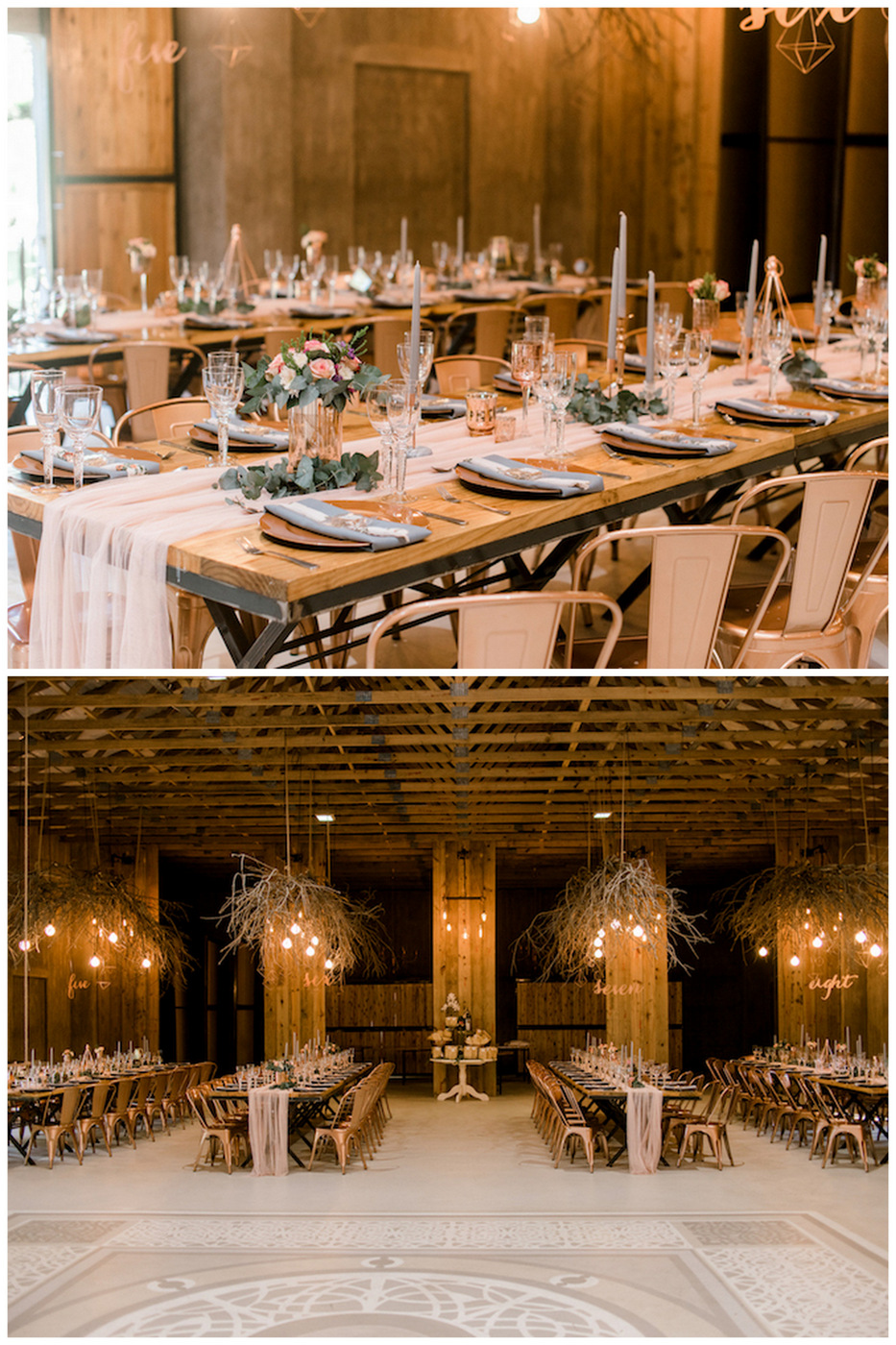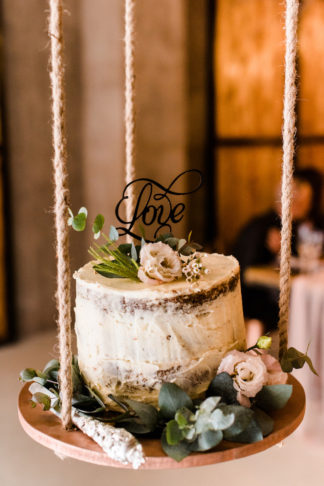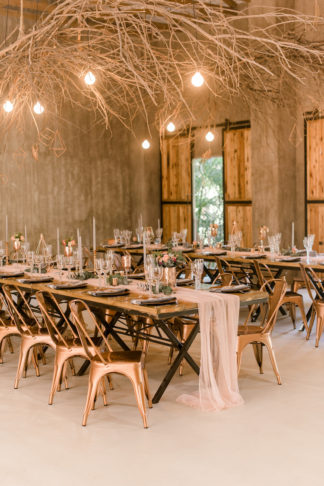 Our favorite cake is carrot cake and although not a traditional wedding cake, it was a done deal for us. We tried to keep things true to who we are by including aspects that highlighted us as a couple.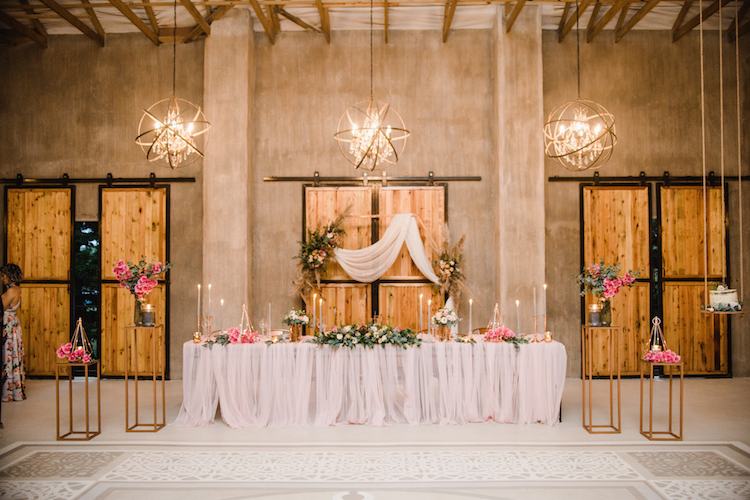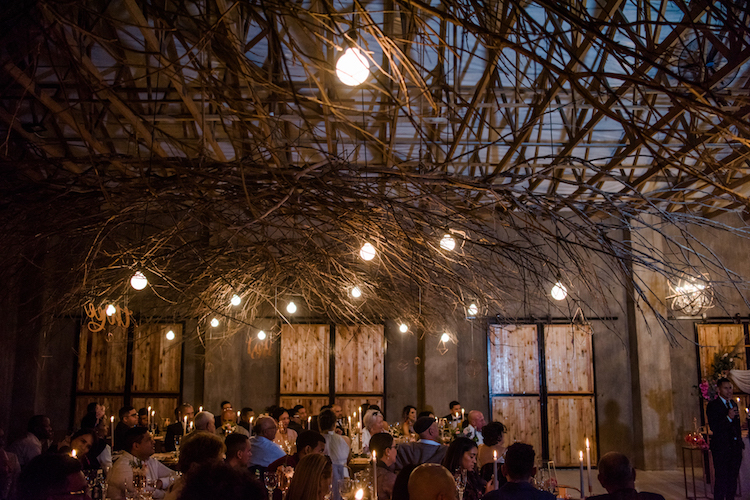 Wedding planning advice:
Planning a wedding is hard and taxing on your relationship. The best thing we did while planning was investing time in a marriage prep course. It kept us grounded in the things that were really important and when stress was high we had an outlet. Remember the day should capture the light of both of you. Find ways for you both to shine. Create your day based on WHY you are getting married and WHY you chose each other.
Check the batteries at your polaroid guest book station! It didn't work out well for us. 🙁 We had a polaroid camera which we wanted guests to use to take pictures of themselves, pasting them with a special message in our guestbook. Unfortunately, the batteries in the camera were flat! My heart is still a tiny bit sore about it but we have decided that we will have another celebration for one of our wedding anniversaries and will fill that guestbook with different memories. 🙂
A good DJ is probably one of the most important aspects to a great wedding. Our DJ was EPIC! He really managed to create the hype for the celebration and carried that vibe from the speeches through to the music selection.
Great food is also essential. We wanted someone who would meet our taste and cultural expectations. Memorable Occasions did this for us. People are still talking about the food!
Keeping costs low can be a challenge. Knowing our WHY really helped us to prioritise the most important things. The other stuff doesn't need as much time, energy or money. No one will notice them anyway!
Wedding Vendors: Photographer Roxanne Davison // Venue The Venue Fontana // Bridesmaid Dresses Designer and Seamstress, Dakota Baptist// Videographer Rory Crawford Productions// Dress Hanrie Lues Hair Teri Cole Beauty // Brides Make-up Kaylie Marilito // Flowers + Decor: Stacy of Sparkle Planners // Cake Cacao Chocolate Bar // DJ: DJ Wiz // Favors: Homemade fudge Wedding Planner// Food by Memorable Occasions