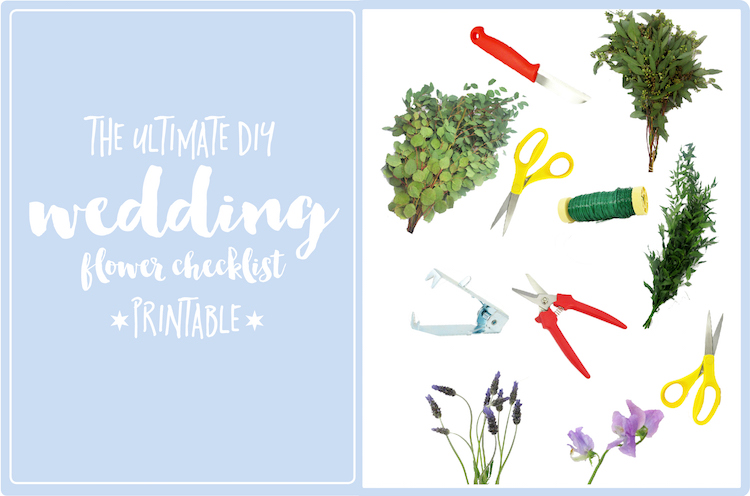 Planning on going the DIY route for your wedding flowers? Then you'll need to grab this handy DIY wedding flower checklist printable to guide you through the wedding flower making process. With the help of online wedding flower sellers, and sponsor, Blooms by the Box, we'll take you through the steps needed to set you up for DIY wedding flower success!
Your Complete DIY Wedding Flower Checklist:
6 Month DIY wedding flower checklist
3 Month DIY wedding flower checklist:
Learn how to plan and time your wedding flower projects here
Decide exactly how many arrangements, bouquets , boutonnieres and other flowers you'll have
Figure out the exact types and numbers of flowers needed for each of the above. Tip: Check out the 15 most durable (and pretty much foolproof) DIY wedding flowers here and have a look at this Burgundy, Blush + Peach Wedding Flower Recipe with Flower Dictionary. Check out wedding flower recipes here.
Research the time needed to create each arrangement. For example, learn how to create a DIY hand-tied garden bouquet
Finalize your flower wish list and figure out exactly how much you want to order (plus a little extra)
Decide who will be responsible for which arrangements
Decide where you will store the supplies
Decide where the arranging will be done
Decide who will transport the supplies
Determine by when each individual should have their respective arrangements ready
Decide where the completed arrangements will be stored
Decide how they will be transported to the venue
Decide who will set the arrangements up at the venue
Watch flower design tutorials
Consider a DIY wedding flower practice run
2 Weeks DIY wedding flower checklist:
Place your order and select a delivery date of 2 days before your event
Give your helpers detailed, step-by-step design instructions with pictures
Check that you have the correct tool and supplies
Floral Tools Checklist
2 Day DIY wedding flower checklist:
Get buckets and tools ready
Take delivery of

 

flowers
Unbox and cut stems at a sharp 45-degree angle
Pull off any low hanging leaves
Keep original packaging on for first 2 hours of hydration
Place in bucket of fresh water overnight to rehydrate
Keep cool away from direct sunlight / heating vents
Do not store in regular fridge with food (avoid exposure to food bacteria)
1 Day DIY wedding flower checklist:
Change water daily with lukewarm water
Gather helpers and begin making arrangements
Spray with Crown and Glory to help maintain freshness
Keep in cool, in fresh, shallow water overnight.
On the day DIY wedding flower checklist:
Transport finished arrangements to your venue
Hand over / place arrangements to co-ordinator / planner
Give bouquets/ boutonnieres to your partner + I Do Crew

Get married!
All of these wedding flowers,  tools, and supplies are available to purchase online, from bulk online floral supplier and sponsor, Blooms By The Box here.
Check out our other wedding flower guides for the names of wedding flowers in your color palette and more cute tutorials below.
Wedding flowers by color + season with pics:
Wedding Flower DIY tutorials:
Check out beautiful real weddings for ideas