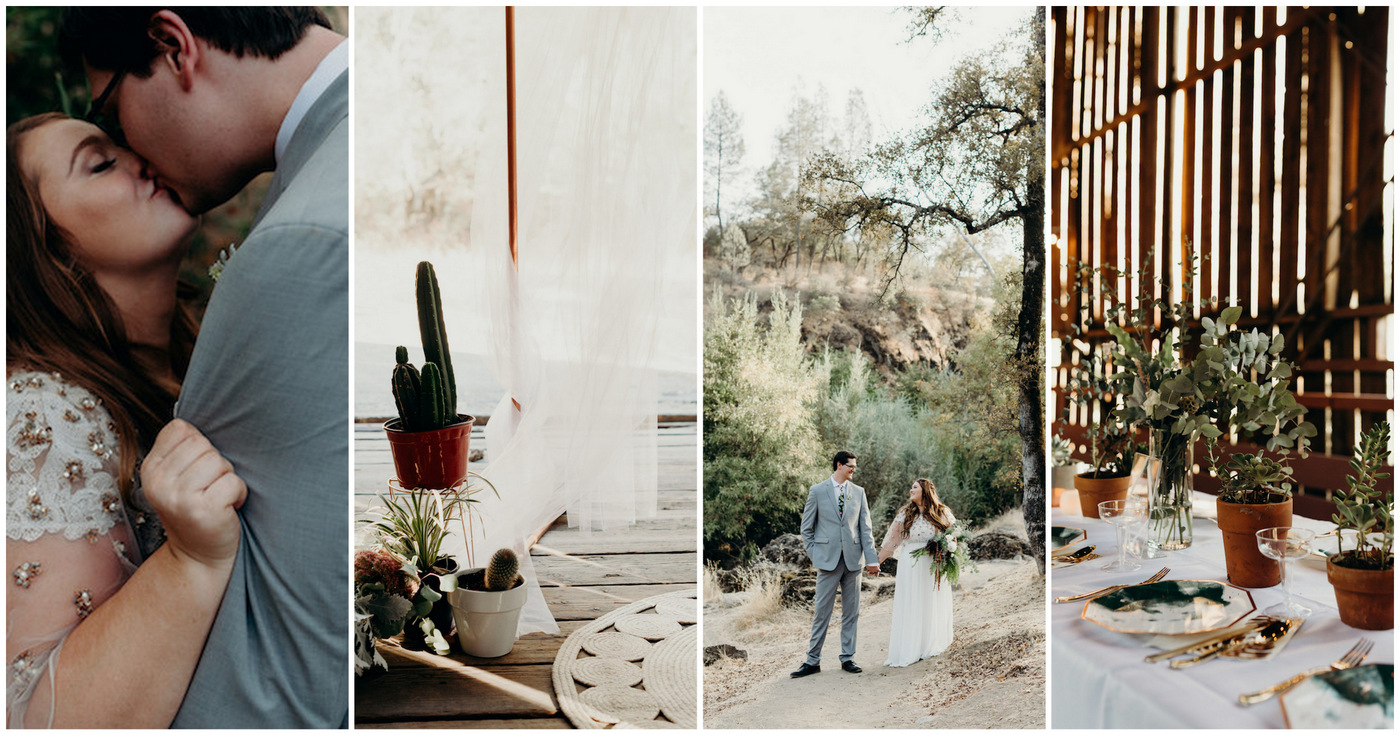 Mariah and Jeff's handmade copper, greenery + succulent wedding was planned, prepped, and designed by the bride. They arranged their own spotify playlists for music and had paper plates with Italian themed food from Olive Garden, round table and Safe Way for dinner. Their wedding day was filled with a mix of modern metallics, plants and greenery, held in the beautiful rustic setting of the Honey Run Covered Bridge.
Copper, Greenery + Succulent Wedding with Boho Vibes
"I am obsessed with plants and copper especially together! Our color scheme included natural tones like white, green, wood, and greens, and also mixed metallics, blush and grey," says lovely Mariah.  Her aunt hand painted and created their wedding invitations, Mariah painted their table numbers to look like etched glass, and her grandmother and aunt hand picked and planted over 100 succulents.
The couple stayed at the cutest AirBNB which made their hometown wedding feel like a destination getaway. Check out these images by photographer Briana Morrison which capture all their meaningful moments.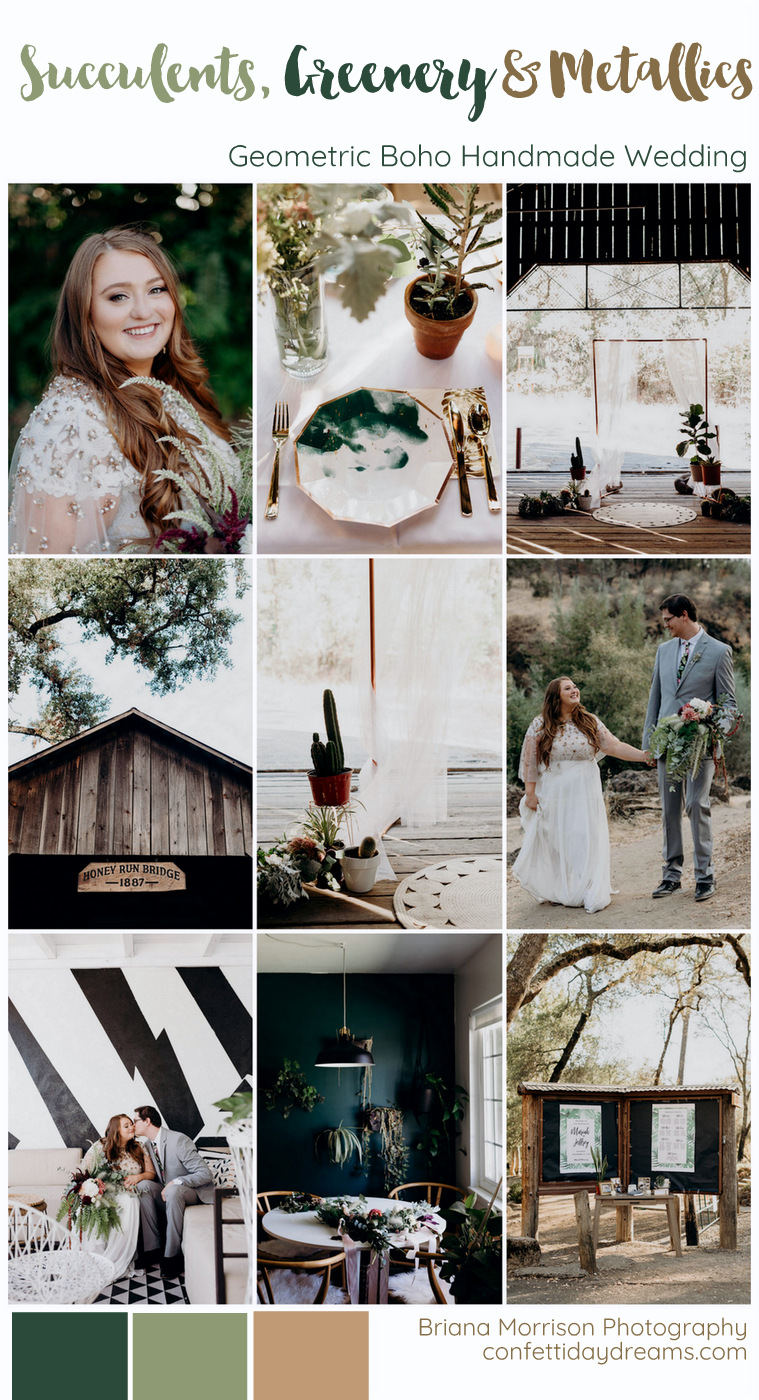 Love Story: Jeff and I met in high school and were friends until college. I had moved away for college and we kept in touch. When I came home from winter break we went on a date and were absolutely smitten. During a hike at the end of a summer camping trip we stopped in the middle of a waterfall. We sat together on a rock and in that special moment we knew that we were soul mates. To this day we still look back and say it was one of the most magical days in our lives. I eventually moved back home, and we have been together ever since.
Fast forward about five years to us living in LA, about to head out the door for a little vacation we had planned to Disneyland. Jeff had gotten my engagement ring months in advance and was waiting for the most "gotcha" time. While gathered our bags to head out on vacation he pulled out a box and said "I have something to ask you". To my shock, it was "Will you marry me" – right in our apartment! It was the perfect time because we then left to celebrate during a truly magical weekend !
Copper, Greenery + Succulent Wedding with Boho Vibes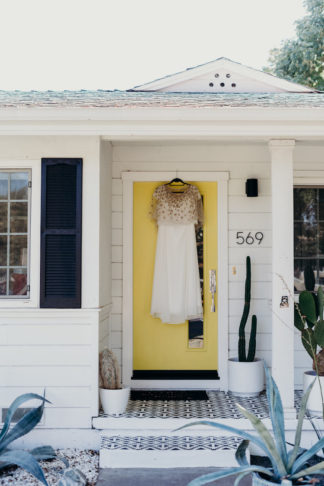 My wedding dress was made up of three pieces from BHLDN. I always wanted a two piece wedding dress. Right after we got engaged I bought the most beautiful off-white floral lace topper from BHLDN. I then needed a skirt, which was honestly an agonizing journey, but BHLDN had a great sale and I got a beautiful organza ivory skirt.
While skirt shopping I had set my eyes on a beautiful gold sequined cape. For months I wondered if I needed it and a great friend told me to buy it. I am so glad I did because I loved it and it was everyone's favorite part of the dress! My shoes were from target – super comfy grey suede mules.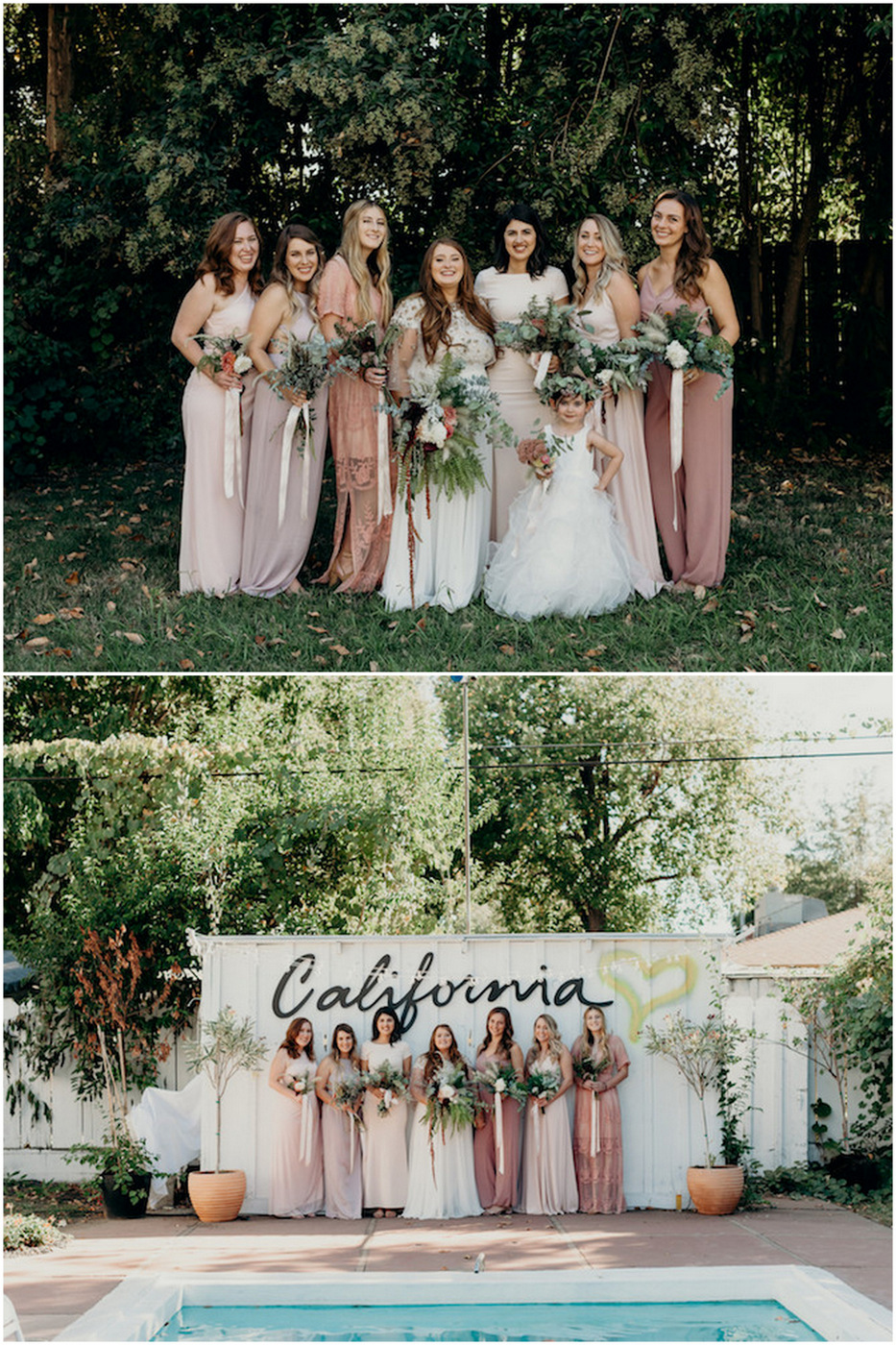 Our groomsmen and groom wore grey suits with black floral ties. The bridesmaids wore shades of blush and nudes.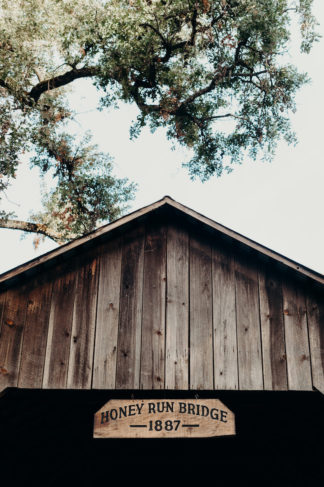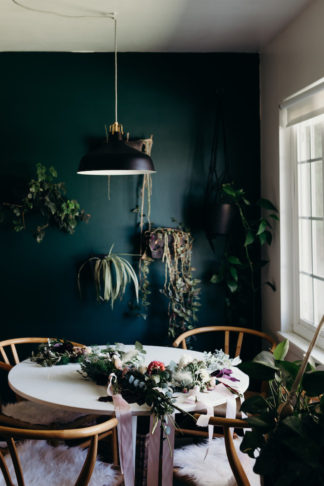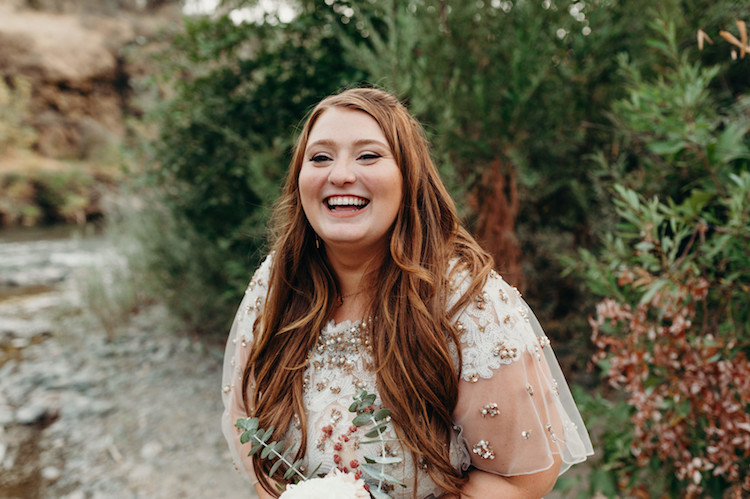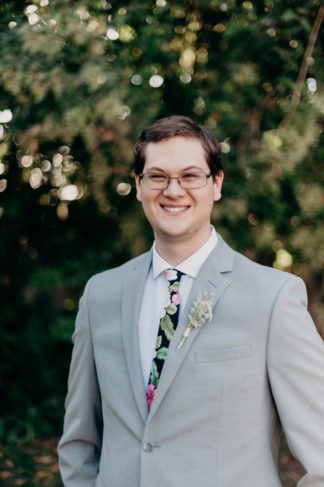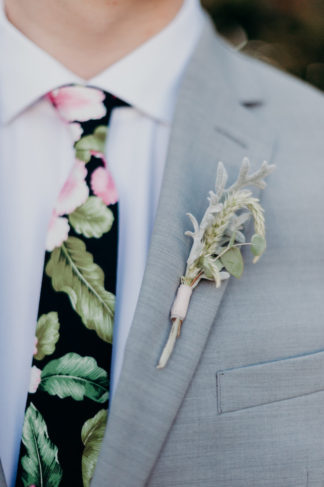 Our wedding ceremony was held at the end of the historic and now sadly camp-fire perished Honey run bridge. One of our best friends was our officiant, who had also gotten married earlier that year.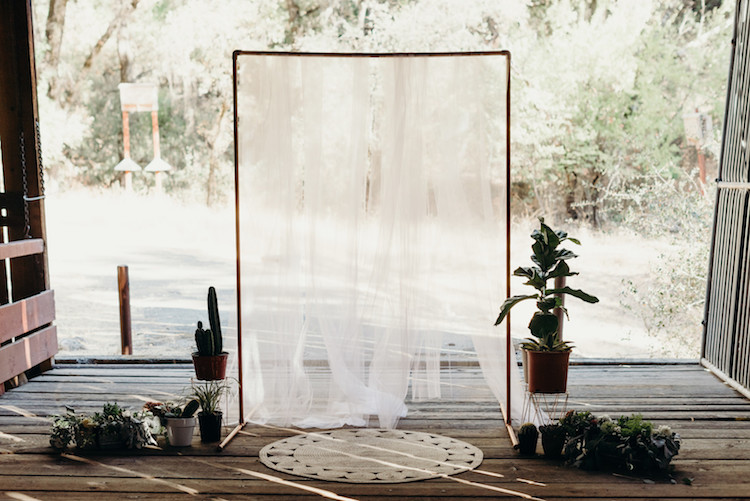 Our wedding ceremony featured a hand-made, copper PVC arch draped with floor-length, white tulle. This was held in place with large plants,succulents, cacti and fiddle fig. We stood on a used a tan jute rug from target. White chairs and ferns lined the beams above the seats. I walked down the aisle to Adele's 'Make you feel my love'.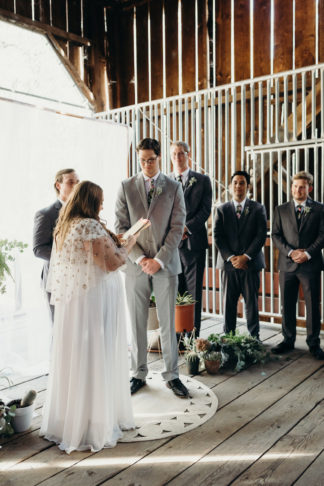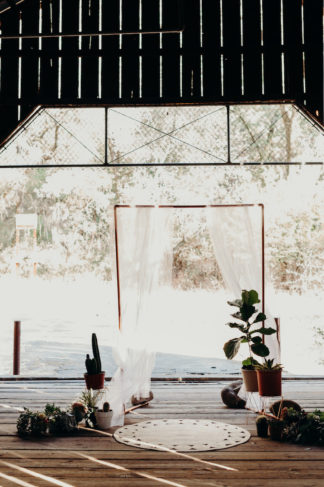 We each wrote our own wedding vows. I wrote mine on the last pages of a journal I had been keeping and writing to Jeff since our 1 year anniversary. Needless to say there was hardly a dry eye in the house! We exited the ceremony together to Stevie Wonder's 'At last'.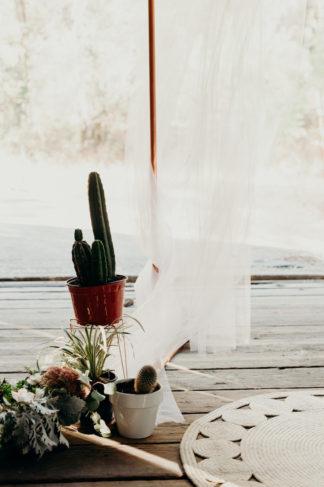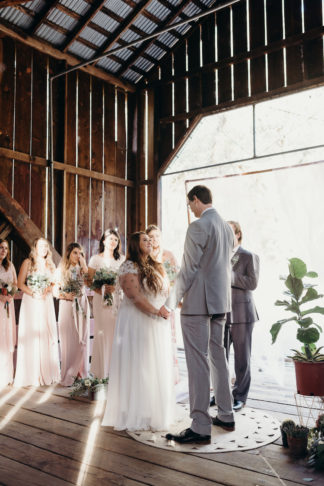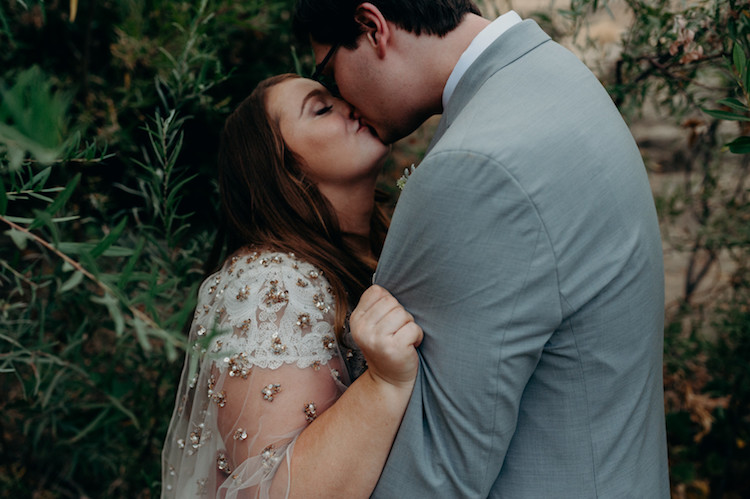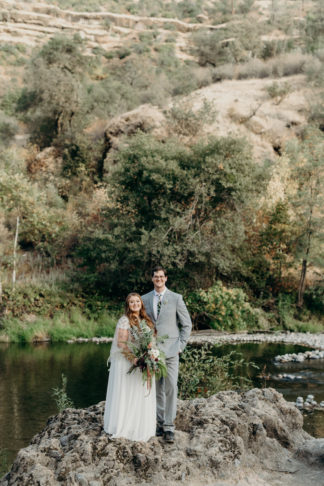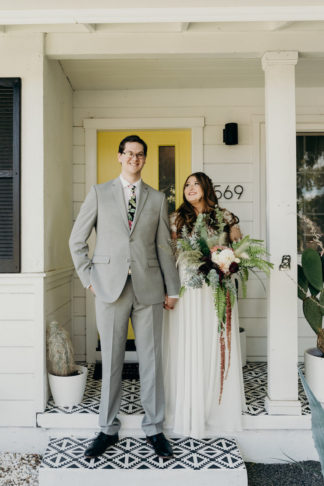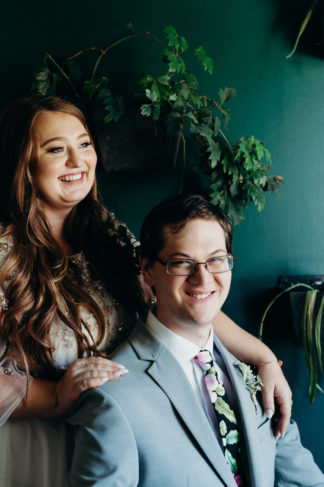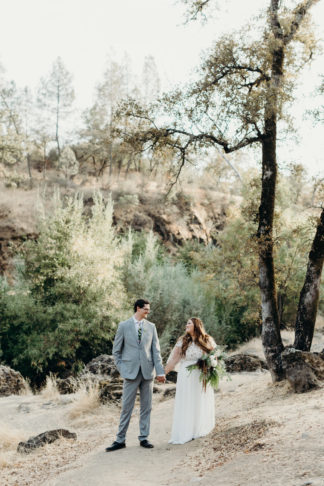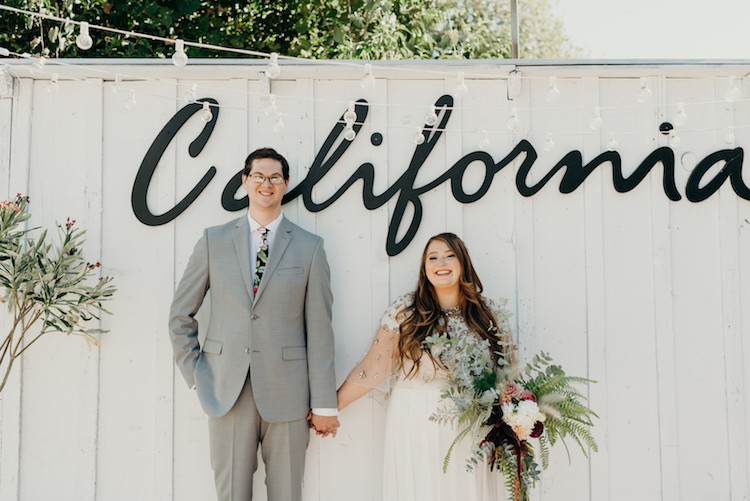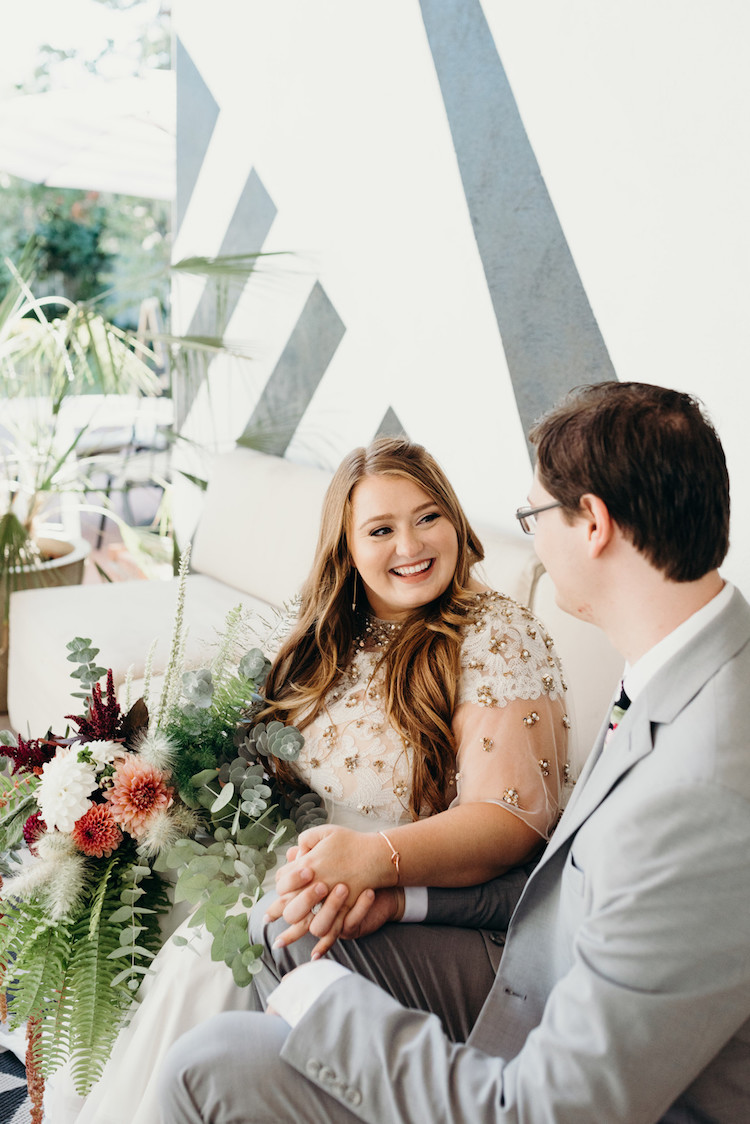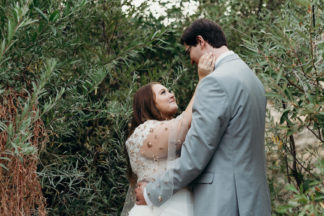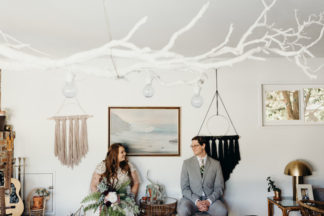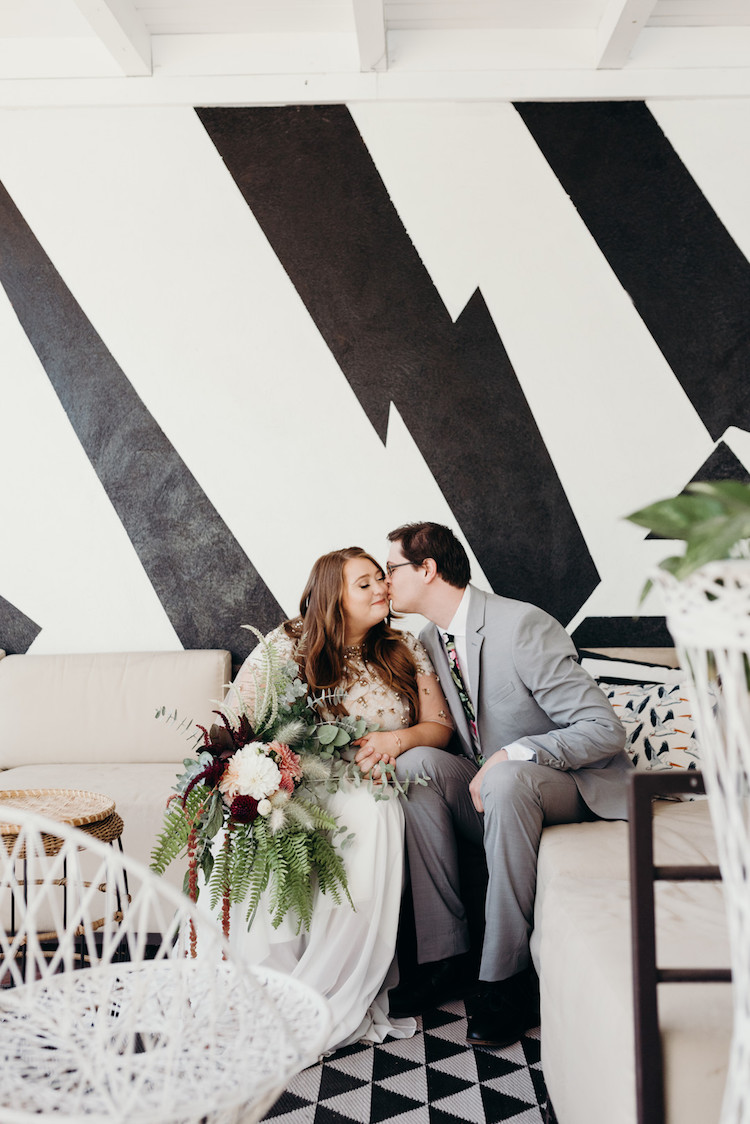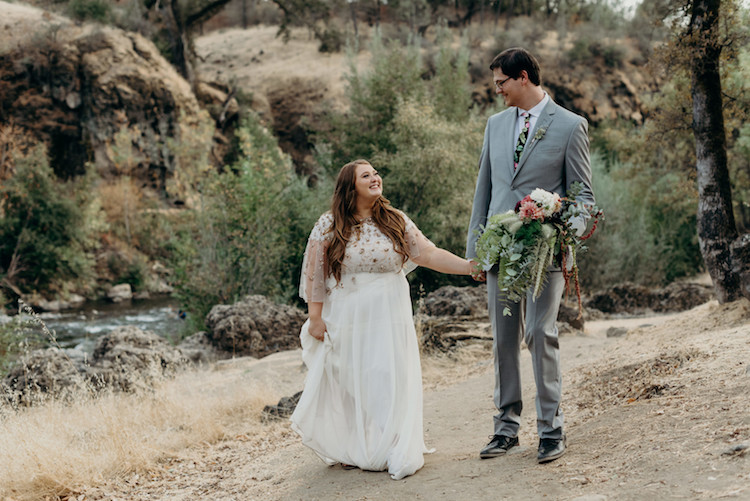 For our wedding reception we had banquet tables run down the bridge, with hanging ferns and succulents along the beams. White linen, potted succulents and cacti in terra-cotta pots of varying sizes ran down the center, with floral centerpieces we handmade.
Our table numbers I hand painted to resemble etched glass.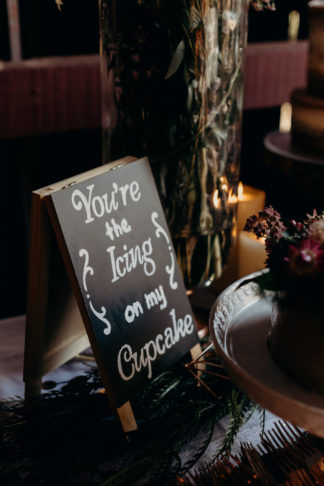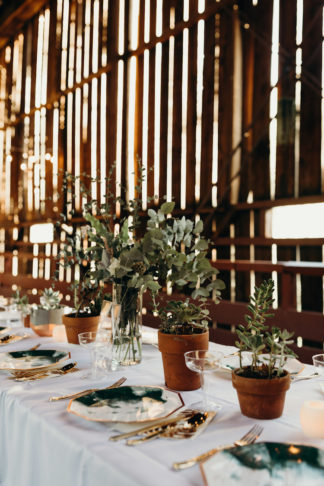 We had over 100 potted succulents and cacti in terra-cotta pots for our tables. I incorporated larger succulents, and cacti for our ceremony decor.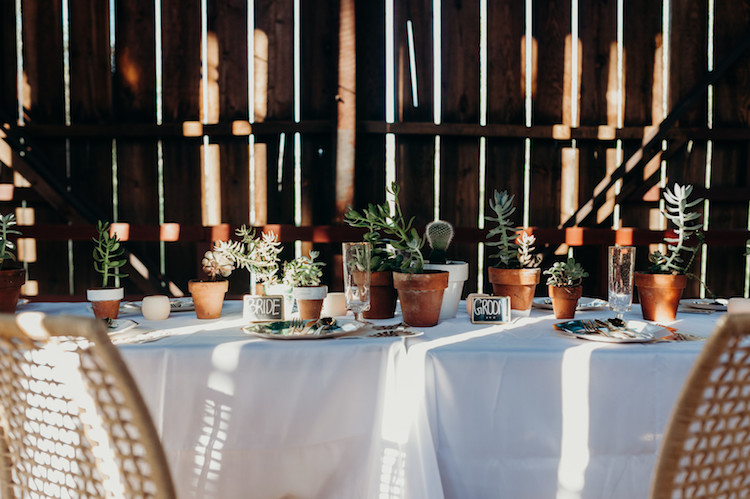 Our florals were set in whites, blushes and greenery, cascading greens, and ferns. We ordered our flowers in bulk from the plant barn, and diy'd all of the bouquets, center pieces, and boutonnieres. Our focal flowers were Dahlias.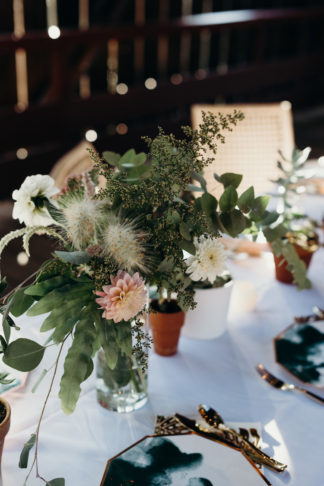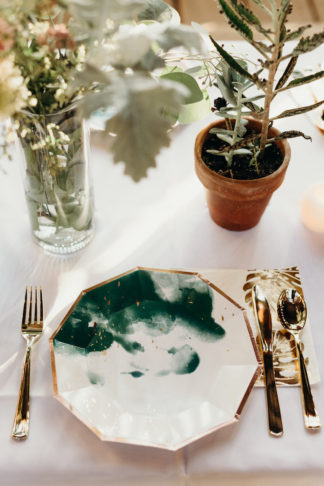 Our plates were actually paper, but they were beautiful pink green and copper metallic from Harlow and grey. I also found napkins from amazon that had a gold metallic palm leaf that we used for our linens. We used gold silver wear.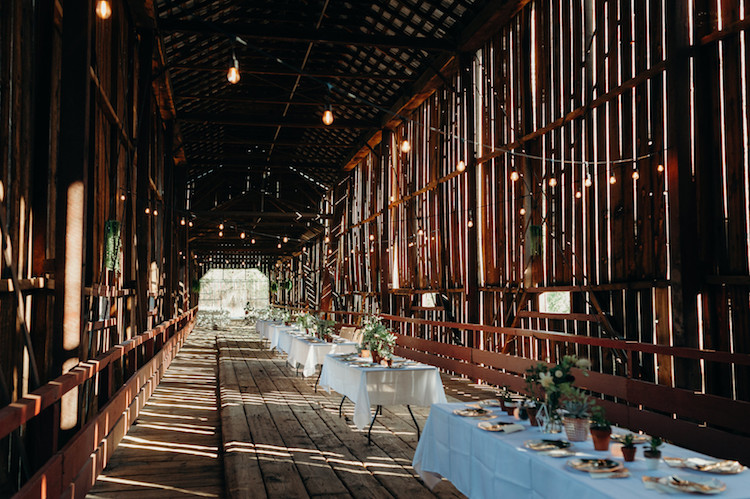 The food at our reception was amazing, we had an Italian food theme. We had cheese boards, deli sandwiches, and artichoke bread bowls for our appetizers, and pizza from round table, and pastas from Olive Garden! Everyone loved our food.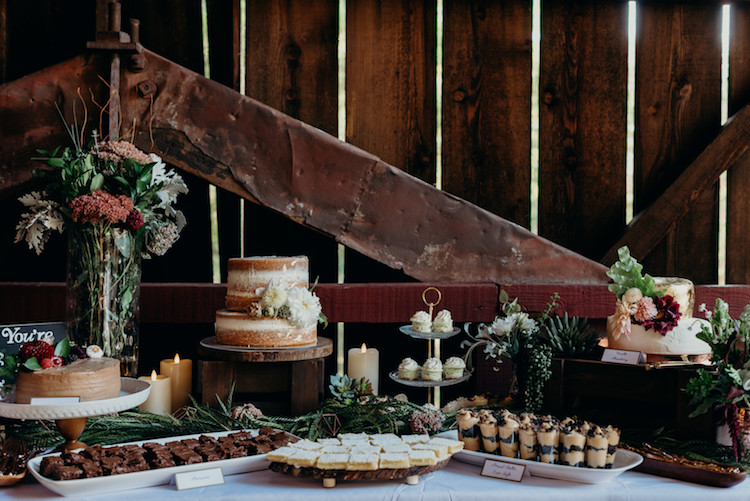 My step-Mom also made an entire dessert bar for our guests, and three wedding cakes ! Our main cake top was covered in edible gold! We also had Italian soda bar for those that didn't drink!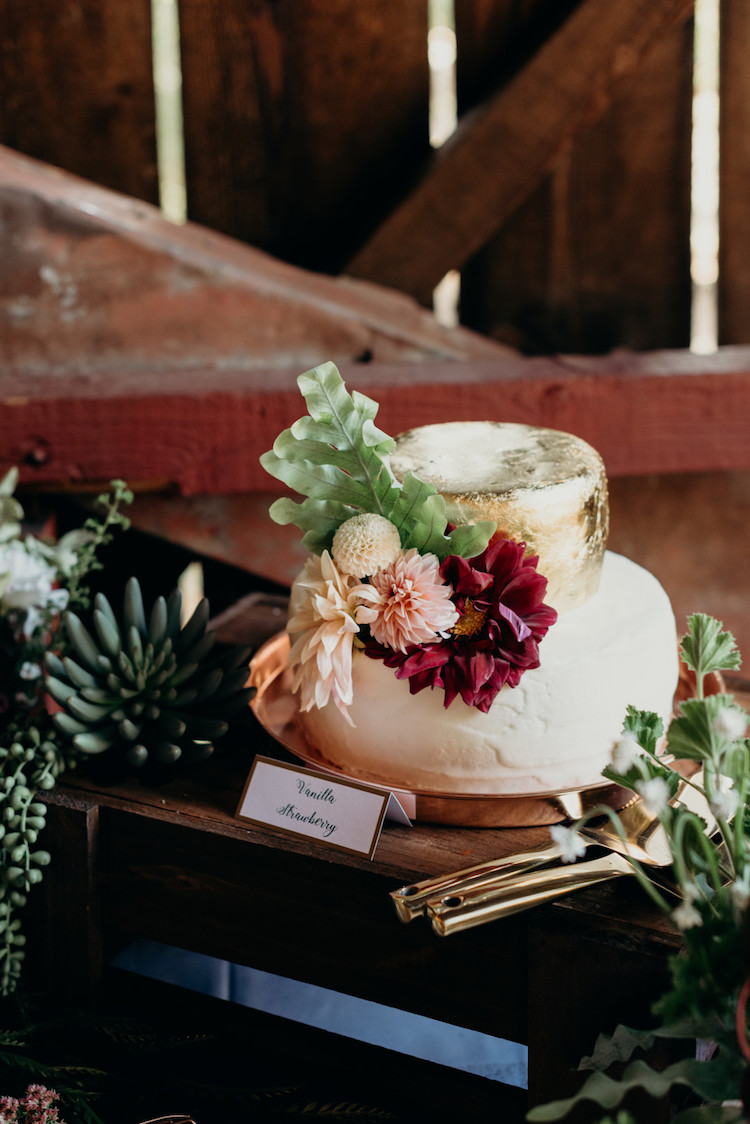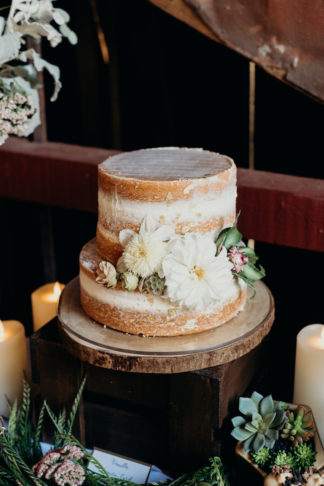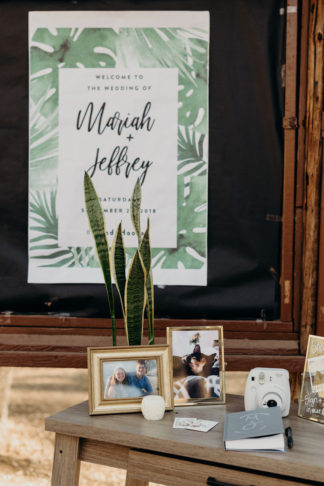 "We had vegan-friendly food and set our registry up in such a way that a percentage of online gift purchases were donated to St Jude's."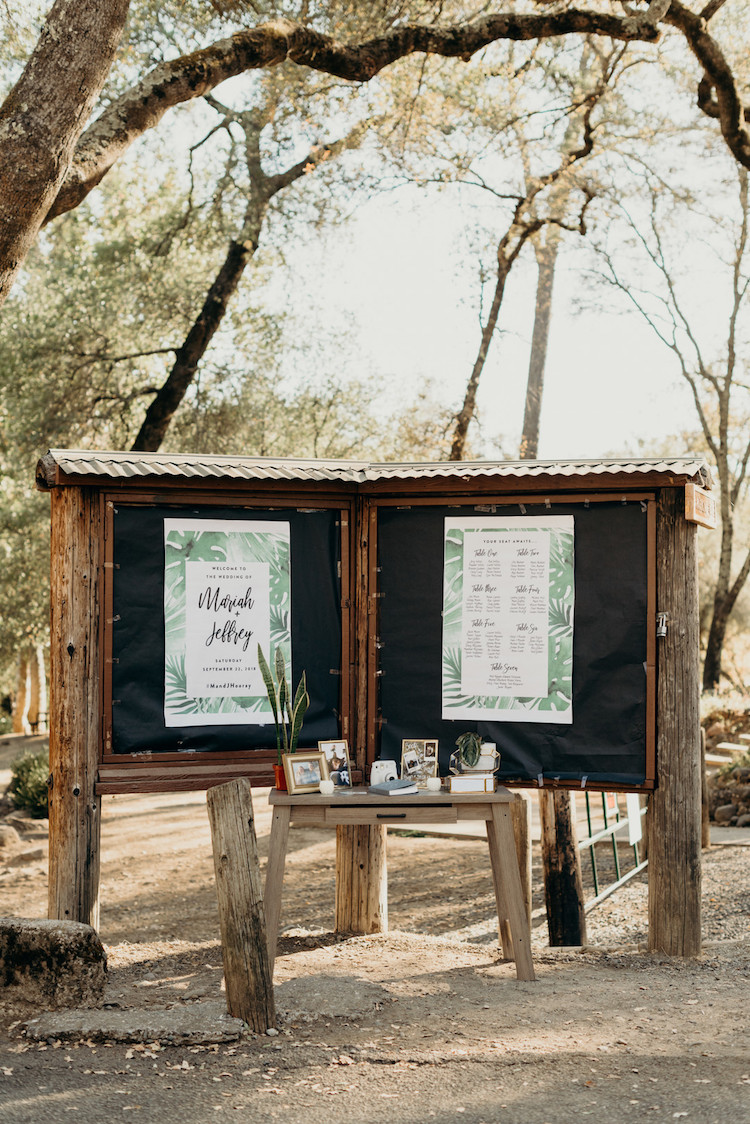 I designed our welcome sign and seating chart from a bridal sign template my maid of honor bought for my bridal shower. Our welcome table was my home desk with some of our house plants and home pictures (we included a picture of our late cat Pennie who we had recently lost). We also had a Polaroid guest book.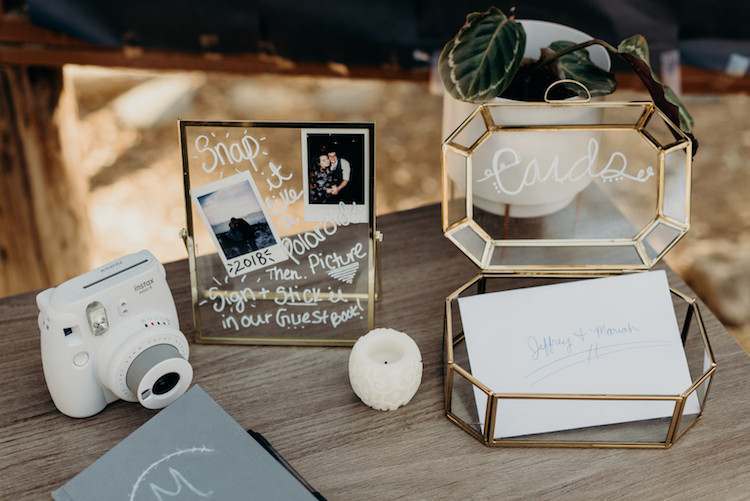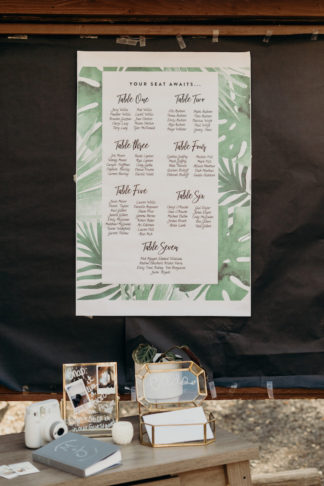 Wedding Vendors: Photographer Briana Morrison // Venue Honey Run Covered Bridge // Bridesmaid Dresses mainly LuLu's (Sponsored Link) // Dress BHLDN (Sponsored Link) // Brides Hair Barefoot blonde extensions // Brides Make-up Esthetics by Megan Cook // Flowers: Plant Barn // Cake: H Willis // Music: Spotify Playlist // Wedding Planner: Bride // Shoes Target // Suits Men's warehouse // Caterers: Olive garden, Round Table, Safeway