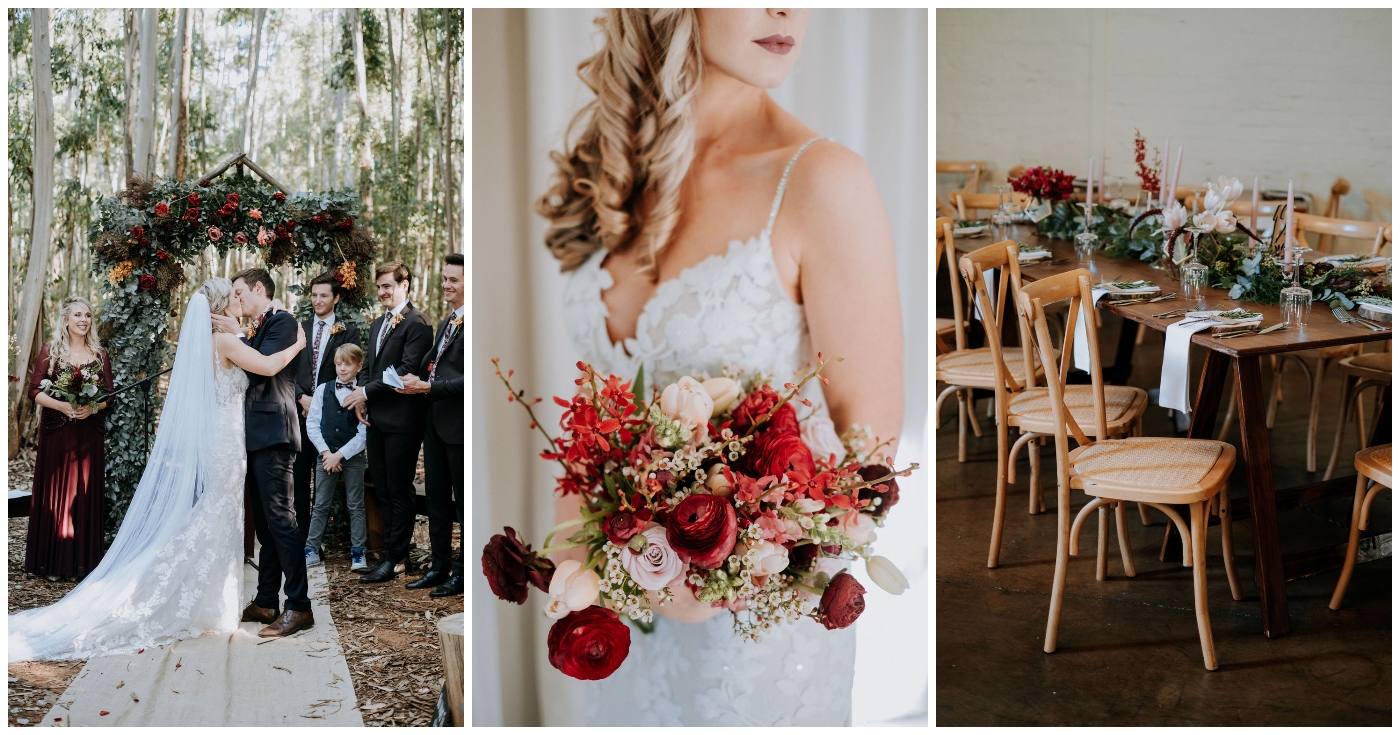 Joburg-native Carina, and husband Alexander, from Pietermaritzburg, are both qualified attorneys who have recently moved to London. The pair were married in a fall-inspired forest wedding at Silver Sixpence, Dullstroom. Their wedding theme was inspired by a visit to Central Park in New York on a chilly autumn day – where they were both awed by the beautiful colours,  different shapes and textures.
Carina lovea deep, rich colours and their palette included burgundy, blush and the soft grey-green of penny gum leaves. They wanted their wedding to be rustic-elegant and a little bit unusual. That was why they chose The Silver Sixpence, a beautiful venue that lent itself incredibly well to their chosen style.
"Our friends and family helped us to add some very personal touches including handmade decopaged blackboard signs throughout the venue, personalised labels for the red wine that we served and specially chosen crystals placed in the penny gum forest where we held our ceremony."
These heartfelt images by Carolien and Ben photography make me feel like we were right there with them!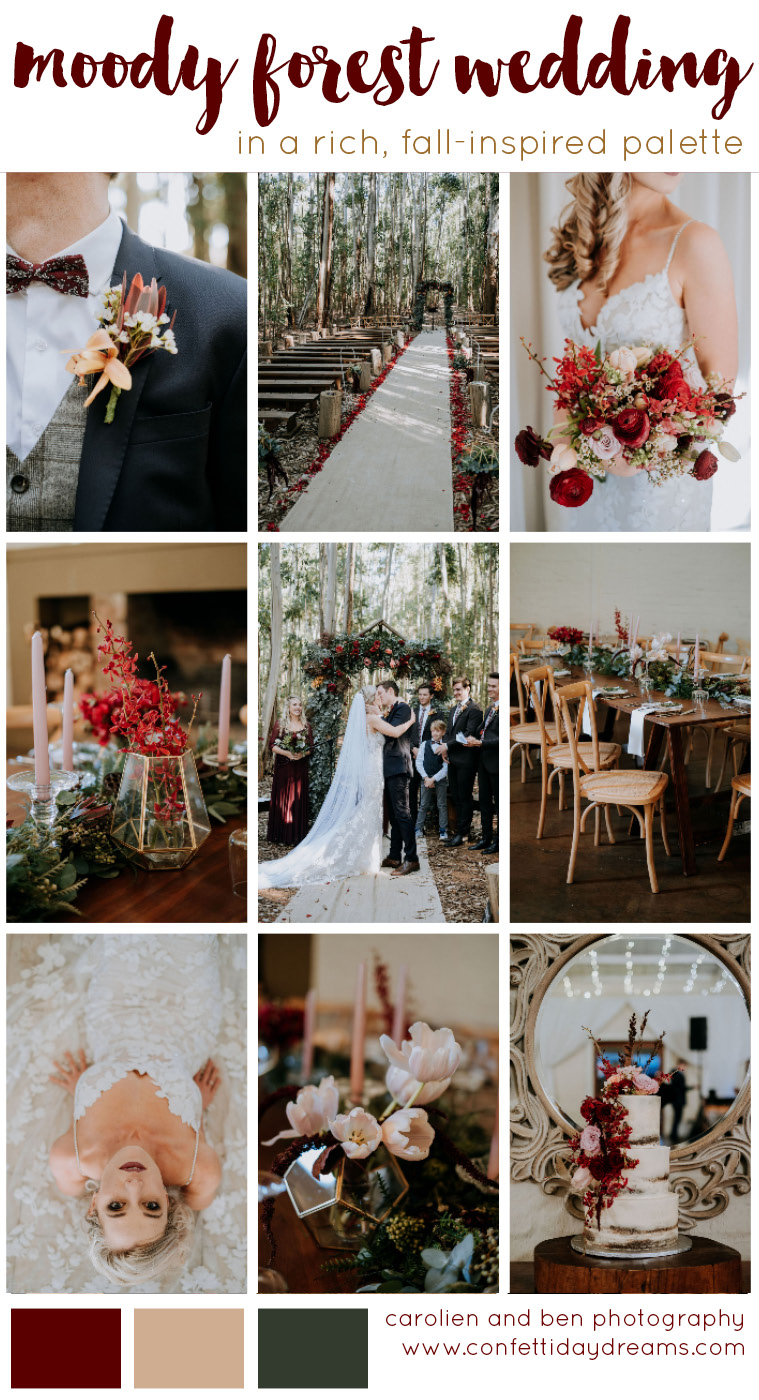 Love Story (from the groom):
August 2006, Roxy's nightclub, Melville, Johannesburg – a young boy met a young girl. They became friends. Two years later, they started studying together: Bcom PPE. It's relevant because I (Tomo) was actually enrolled to study Business Science, but when the line for Business Science was 500 meters longer than the PPE line, and I saw Carina standing in the PPE line, I switched lines… and degrees. It seems impulsive; perhaps irresponsible. But it was one of the best decisions I ever made.
6 years of studying later, Carina and I had taken every subject together, missed most lectures together, crammed for every exam together and had started our lives together. We've since started working, together… travelled the world together, grown into our careers, together, moved in together… and decided to spend the rest of our lives together! We couldn't be happier.
Fall-inspired Forest Wedding at Silver Sixpence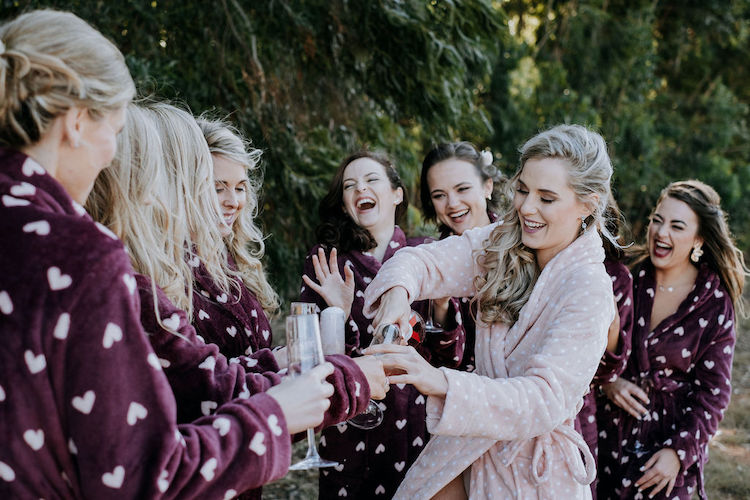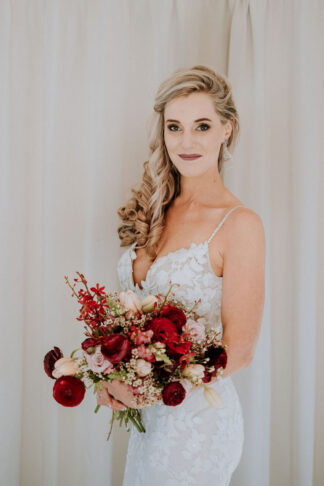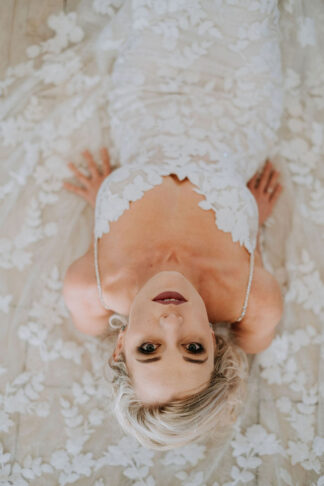 I fell in love with an unusual wedding gown at Bridal Wardrobe, Melrose Arch. I loved the heavily embroidered lace with a leafy, floral motif that I felt would be well suited to our forest ceremony. The gown was fitted, with spaghetti straps and a gorgeous low back. It also had an elegant train with a bustle to enable me to pin it up for dancing.
For my wedding day, my hair was wavy and loosely pinned to one side; I generally wear my hair down and avoid styles that feel too fussy or rigid. I loved my makeup, which included a neutral eye palette of browns and soft gold and a deep pink lip.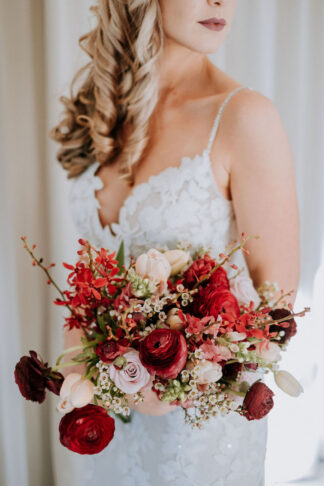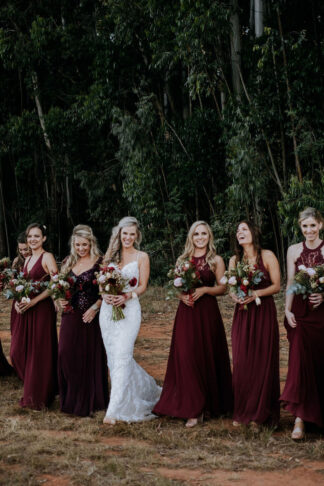 My bridesmaids wore a mix of long wine red and burgundy dresses. I like the slightly eclectic look and I chose two different styles so that each of the 8 girls could select the style that she felt most comfortable in. My sister, Amy, my matron of honour, wore a slightly darker burgundy dress that distinguished her from the other bridesmaids.
My gorgeous flower girls, my nieces, Taylor and Lilly, wore specially made soft gold tutus with oatmeal coloured tops and sparkly gold pumps. Taylor still calls them her "wedding shoes".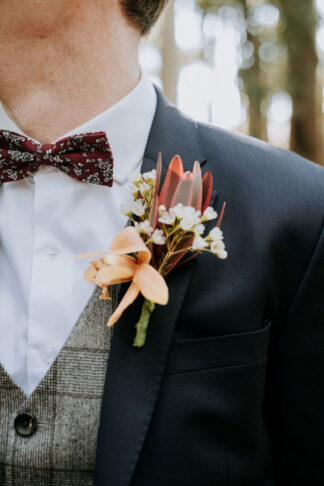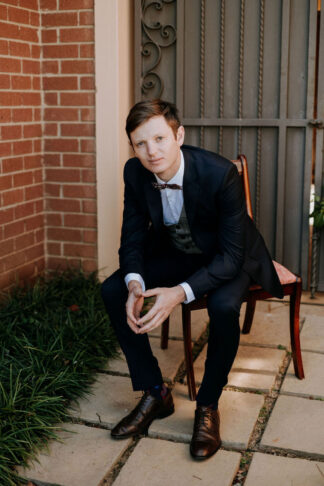 As a lawyer, Alex is at home in a sharp suit. He wore a dashing three-piece tailor-made especially for him in navy with a charcoal waistcoat. When he took his jacket off for our first dance, I was most taken with the bold wine red pattern on the back of his waistcoat.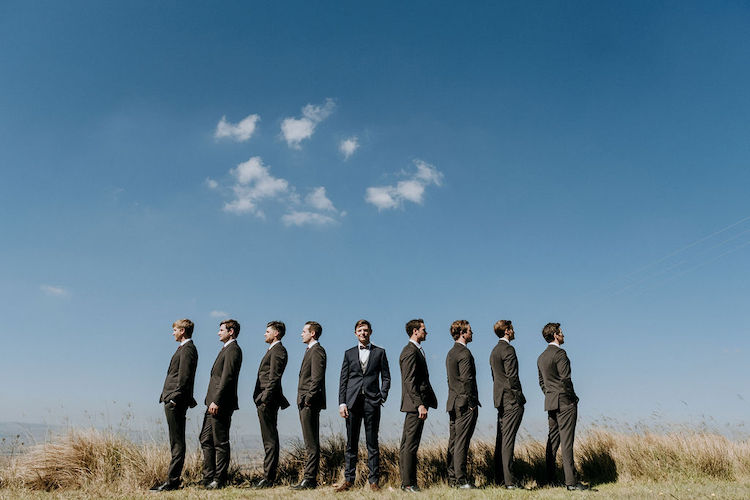 Alex's groomsmen wore charcoal suits with patterned deep red ties. Alex wore a bow tie in the same fabric. Our ring bearer and Alex's godson wore the same bow tie, which looked lovely. I also convinced my father-in-law to wear his kilt, so we were treated to a look at the family tartan.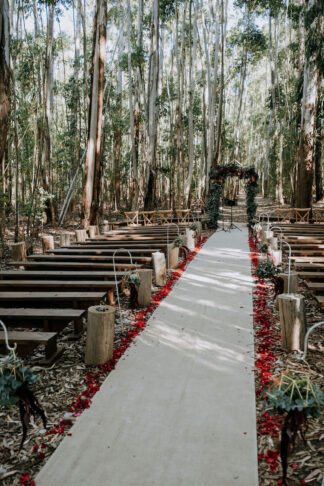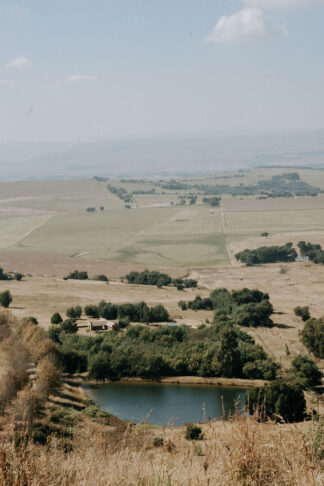 We chose predominantly seasonal local flowers to keep the cost (both budgetary and environmental) down.We used plenty of penny gum leaves, which tied the flowers in with our ceremony in the penny gum forest. I enjoy the visual interest of different-shaped flowers, berries, sticks and other plants and Susan, our florist, did a great job of incorporating this quirkiness into our decor.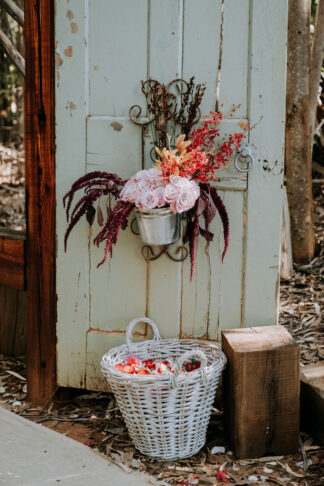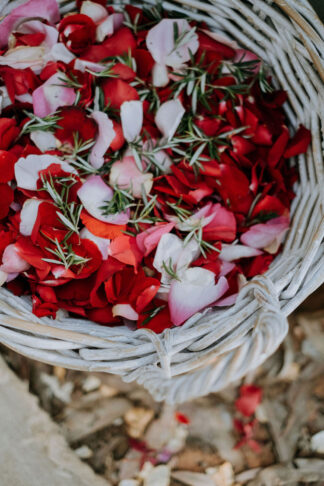 Our ceremony took place in the dappled light of the penny gum forest at our venue. We felt a sense of peace beneath the tall trees with a gentle breeze carrying the faint eucalyptus scent of the leaves underfoot.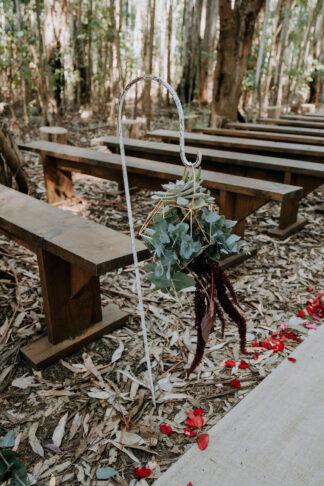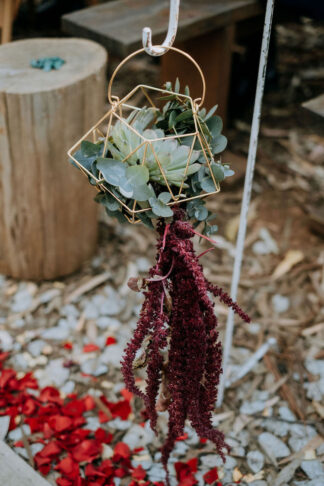 Such a beautiful setting doesn't need to be dressed up much, so we kept the decor for our ceremony quite understated. Susan, our florist, built us a beautiful arch of flowers and foliage.
The guests were seated on wooden benches and we had a hessian carpet running the length of the aisle. At intervals along the aisle, gold geometric hanging baskets containing succulents were hung on shepherd's hooks at varying heights. Next to the benches, collections of crystals that I had chosen especially were placed on small tree stumps.
We also had silver buckets of flowers at the entrance to the forest, along with rose petals and herbs in baskets to be used in place of confetti.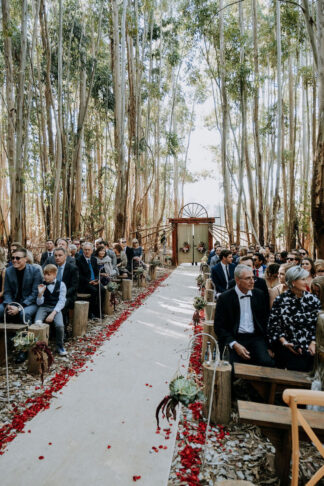 Alex's sister, Emma, officiated, which added a very personal touch to our ceremony. Alex and I exchanged vows that we had written, which was very special. A dear friend sang Elvis Presley's "Can't Help Falling in Love With You" during the ceremony and Alex's uncle closed with an Irish blessing – a nod to our Irish heritage.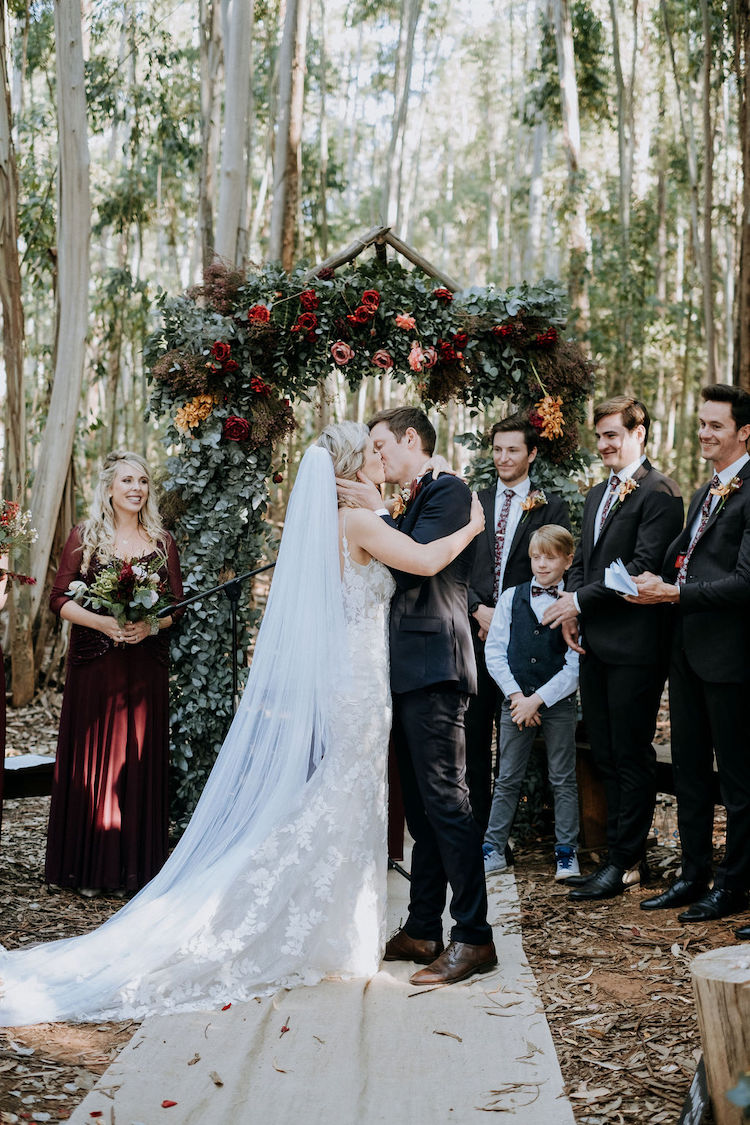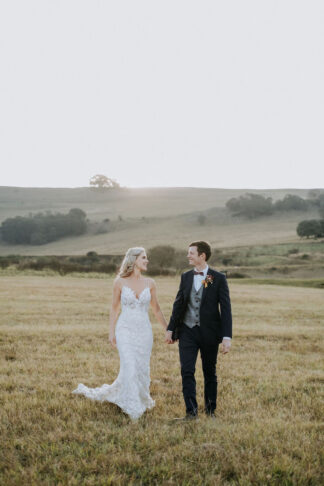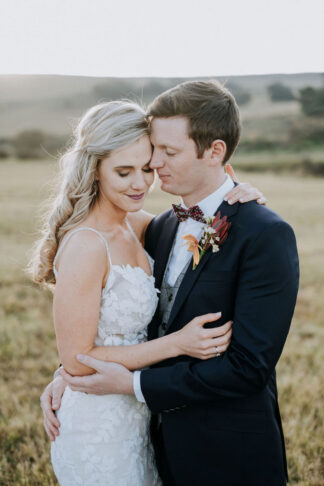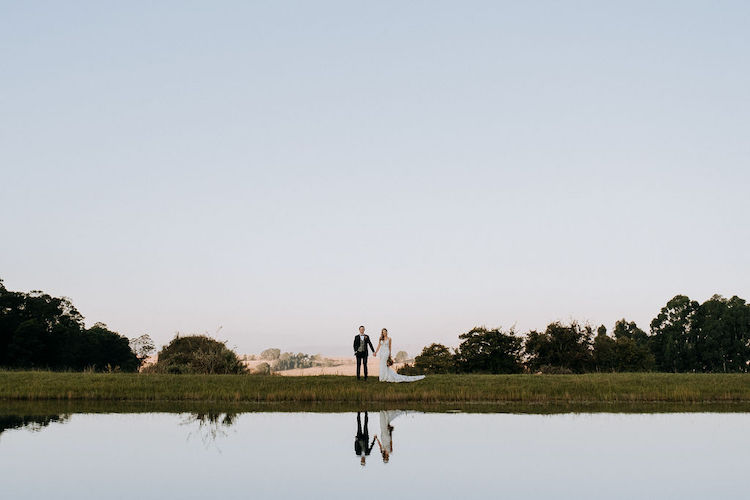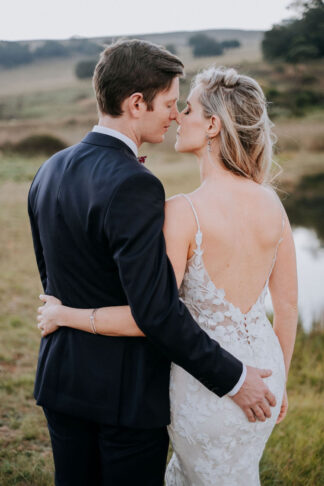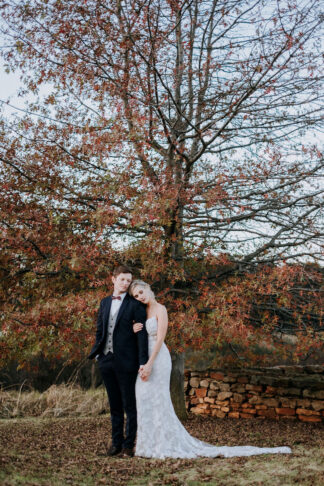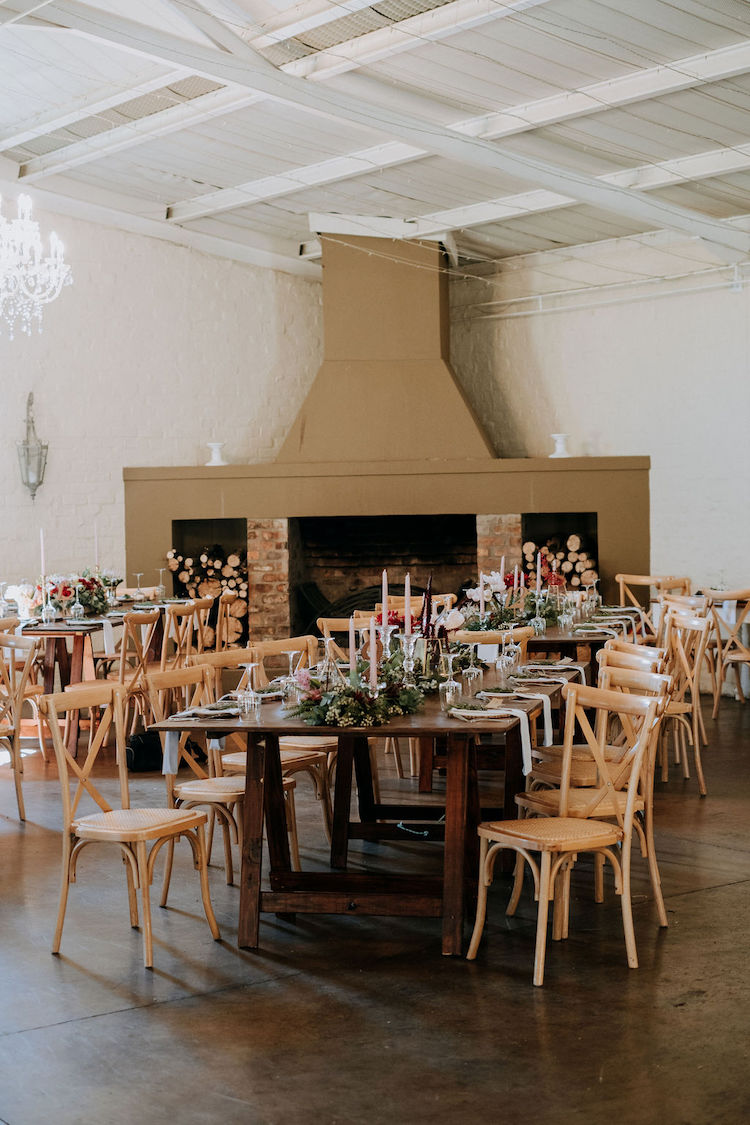 Our reception was held in a large hall with fairy-lights on the ceiling and a fireplace at either end. Dullstroom is chilly in the evenings in autumn and the crackling fires provided much-appreciated warmth and a cozy ambiance. Our 130 guests were seated at rectangular tables of 10.
Alex and I like the rustic look and we chose to leave the wooden tables uncovered and set with wooden slice underplates, white napkins and brown place cards tied with hessian twine and sprigs of rosemary.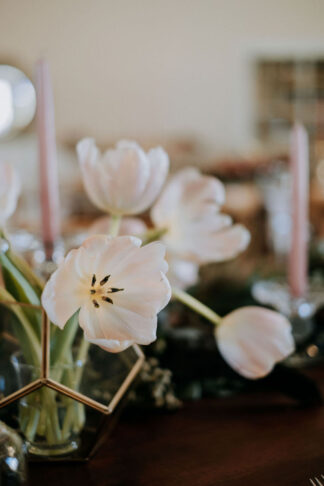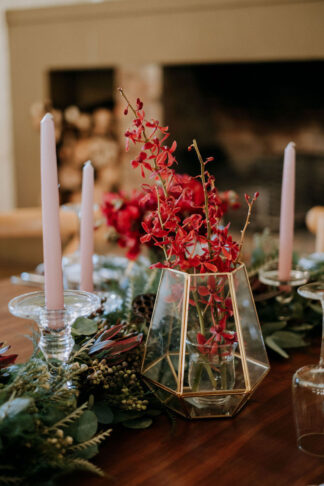 I am rather frugal and was delighted when Susan mentioned that she could re-use some of the flowers from our ceremony in the forest at our reception! I also asked Susan to place some extra vases in the reception hall and bathrooms so that, after our photos, the bridesmaids' bouquets could be used as additional decor.
Our flowers were then put to good use the day after the wedding as Mothers' Day gifts.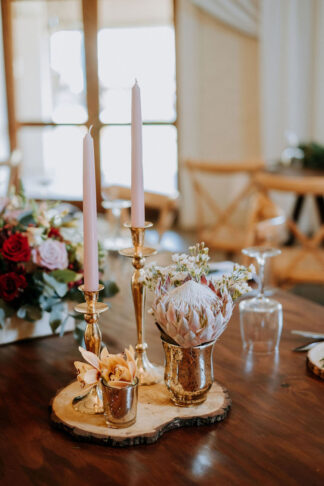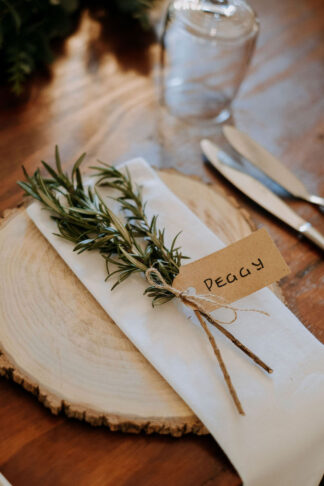 Alex and I had quite different ideas regarding the centrepieces for the tables; he favours a simpler look while I prefer a bit more colour and sparkle. Our solution: different centrepieces on alternate tables. Half of the tables were decorated with "Alex's centrepieces" – penny gum foliage runners, with bright flowers dotted around strategically in gold-framed geometric boxes and blush candles.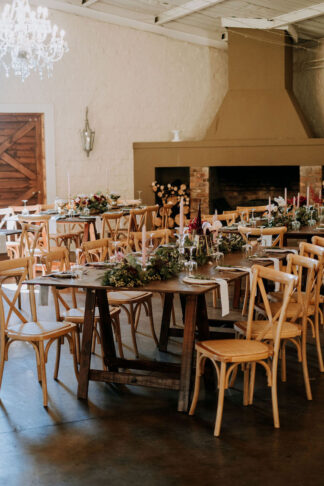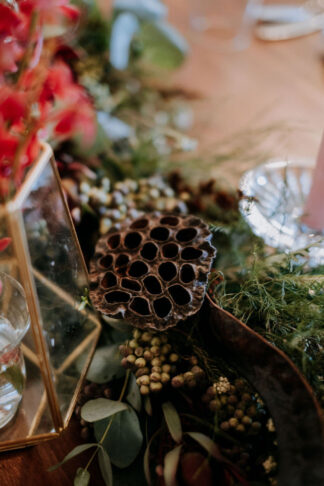 The other tables were decorated with "Carina's centrepieces" made up of lots of blush candles, gold hurricane lamps and low wooden rectangular boxes brimming with colourful flowers and interesting berries, seeds and plants.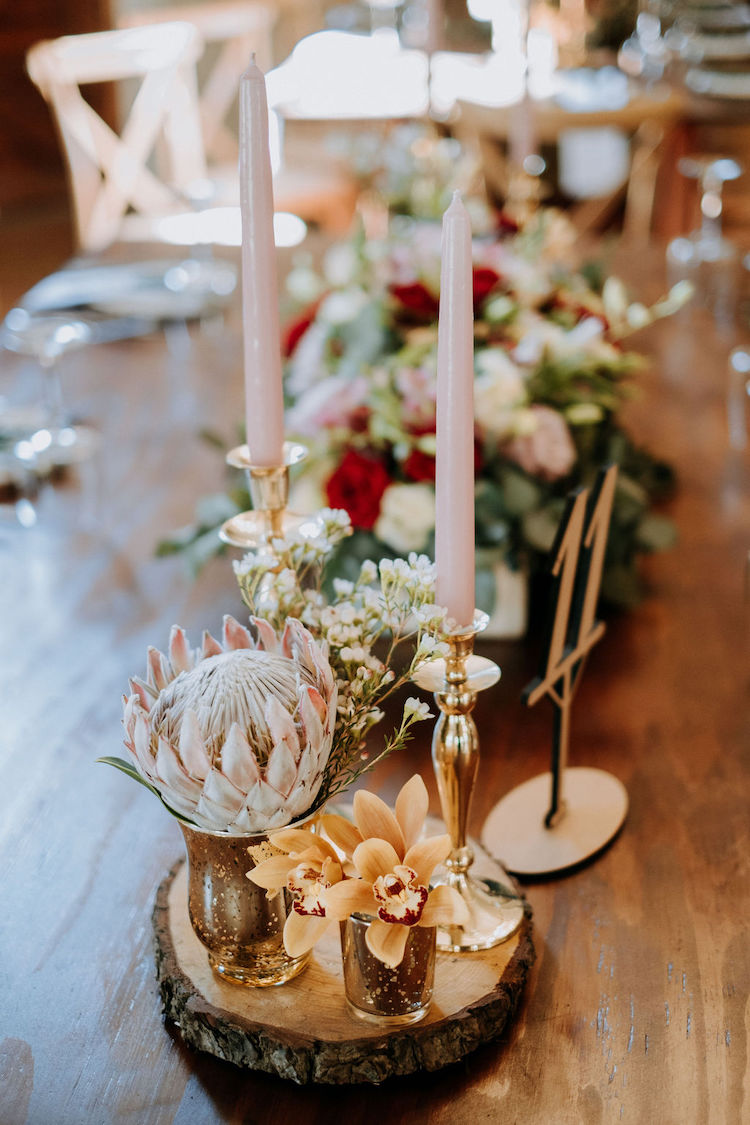 The centrepiece for the main table was an amalgam of tour two different centrepieces. Susan created the main table's centrepiece by dismantling and re-using the foliage and flowers from the arch in the forest.
We were delighted with the effect and I appreciated the symbolism of the main table being decorated with a blend of Alex and my favourite centrepieces.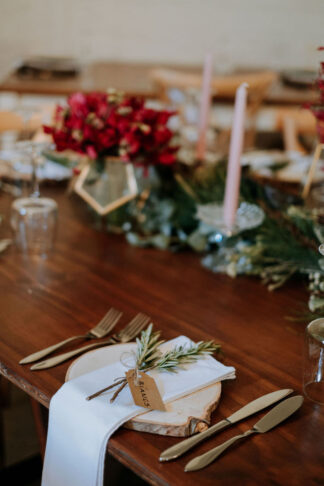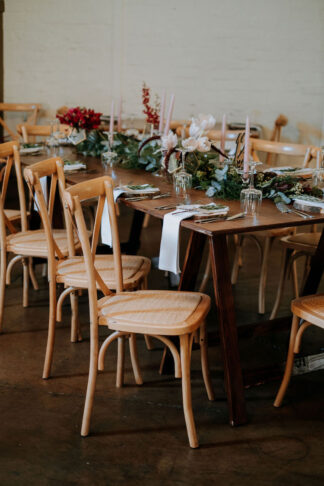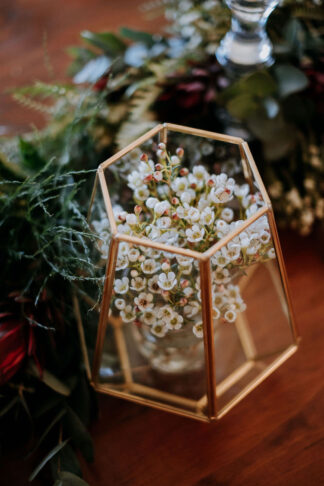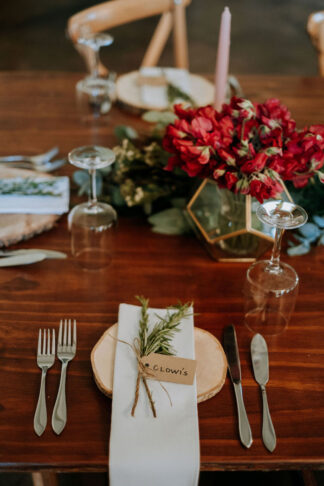 Since we had our wedding just before winter, we decided to provide blankets as gifts to our guests. We put up signs requesting that guests consider donating their blankets to someone in need on their way home. Many of our guests did just that, but there were also quite a number of blankets leftover the next day.
These were put to good use by our fantastic photographers, Carolien and Ben, who asked if they could take some of the blankets home for their children to hand out to people in their community. Lesley, the owner of The Silver Sixpence, took the remainder of the blankets to an orphanage in the area. It makes me happy to think that our wedding gifts could bring some warmth to people in need.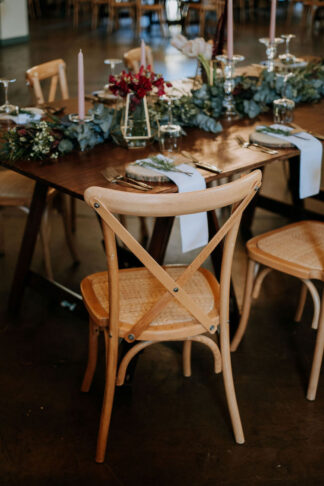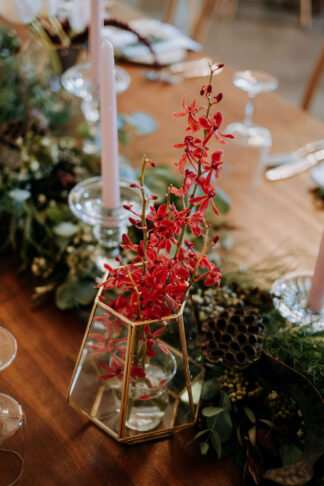 Alex and I are both foodies and it was important to us that the food be delicious and generous, whilst fitting within our budget. Our caterer rose to the occasion with an incredible harvest table from which our guests could help themselves whilst we had our photo session.
The harvest table created a lovely focal point and added to the decor. We also had craft beer (brewed in the mircobrewery onsite) on tap and a gin bar set up in the garden in front of the reception hall.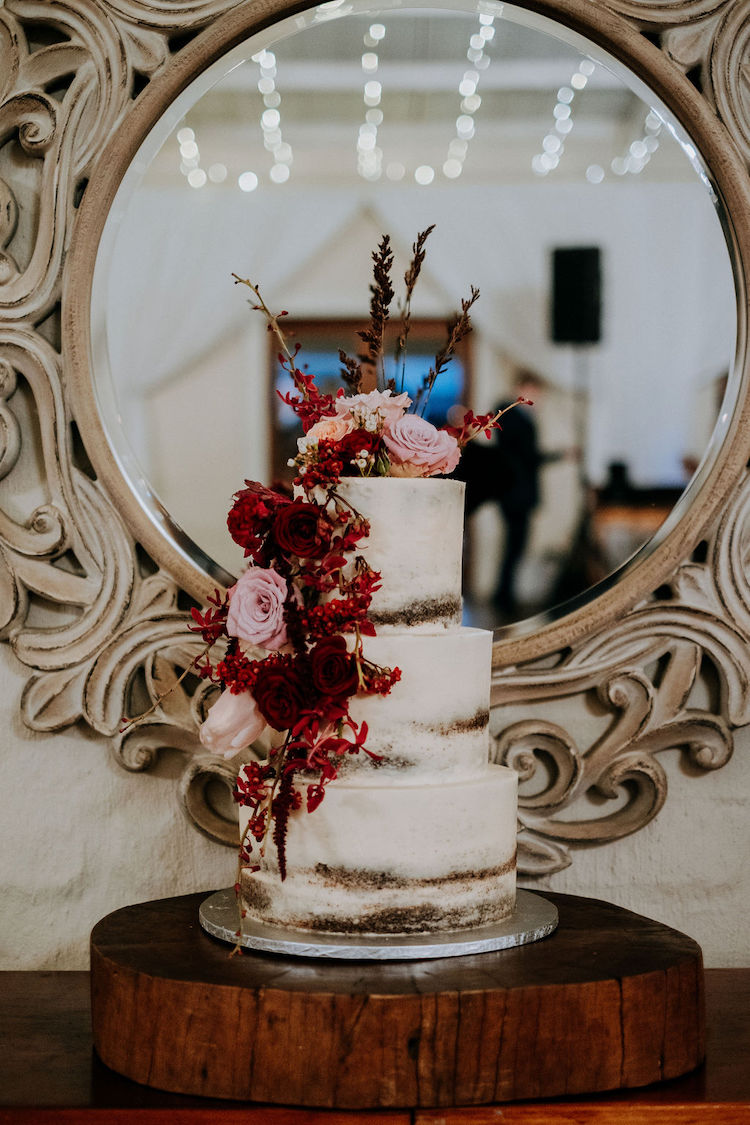 Wedding Planning Advice:
To avoid stress and disappointment it is a good idea to book your venue and vendors early as their diaries tend to fill up very quickly.
Be realistic about your budget and, if possible, prepare a spreadsheet so that you can input individual expenses to see how they fit into your overall budget. Don't feel shy to ask for discounts as vendors are often willing to accommodate your budget.
Collect pictures to create a mood board for your wedding – this is particularly helpful for your flower and decor vendors to understand what you have in mind. They are also often able to help you achieve a similar look and feel within your budget.
Be open to using seasonal local produce, using artificial flowers (the good ones are pretty much indistinguishable from the real thing, particularly when placed among real flowers and foliage) and re-using decor from the ceremony at the reception.
Still White is a great platform for sourcing your wedding gown (or indeed, selling it after your wedding for another bride to enjoy) and paying much less than you would for a brand new gown, but you need to begin looking early.
Black Friday sales in November are also a good way to pick up a bargain and save money on your wedding gown.
Dullstroom Wedding Service Providers:
Photography Carolien and Ben
Venue The Silver Sixpence
Gown: Blue by Enzoani at Bridal Wardrobe 
Suit: Da Tailor Shop, Rosebank
Flowers and Decor: Susan at Flower Box SA
Jacomien Jacobs at Carlomien Bridal
Catering: Bevvie Marais at Thistle Catering, through The Silver Sixpence.
Cake: Baker Boys
DJ: Hardus Vosloo from Shockwave Music
Rings: Salix Jewellers
Bridesmaids dresses: Lulus
Groomsmen suits: Khaliques
READ NEXT: