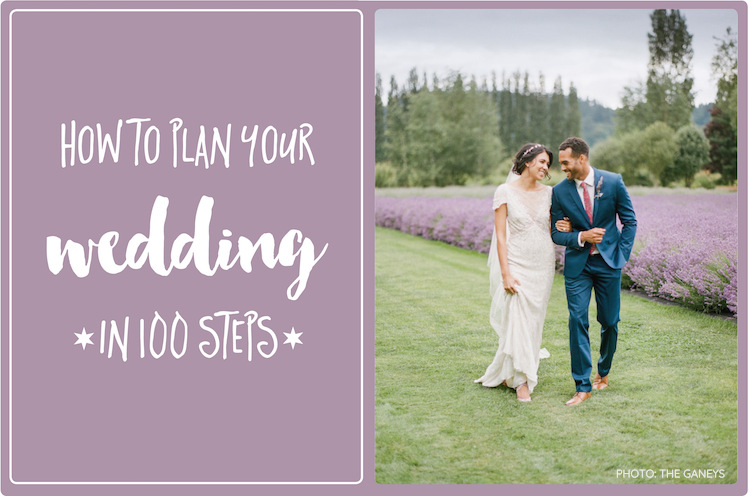 Plan a Wedding: Detailed Step by Step List.
Engaged? YASSS! It's time to plan a wedding! So what now? If you're anything like I was a few weeks after I first said yes, you're beginning to wonder how to plan a wedding. Or, where to even START wedding planning.
Pro tip – start right here. 🙂 This super helpful wedding plan takes you through 100 essential steps to plan your wedding, with loads of resources, examples, and advice at each step. Just consider this the starting point for your detailed, step-by-step wedding game plan!
TIP: Go ahead and save or pin this page right now so that you can refer back to it during your wedding planning process. Kinda like a wedding plan bestie.
Okay friend, let's rock this wedding planning thing!
Plan a Wedding: Detailed Step by Step List
100 steps from I SAID YES to WE DO!

(Above) Images from this modern proposal inspiration shoot captured by Cottonwood Road Photography
Just engaged checklist
Share your news with loved ones personally.Check out these 22 Ultra Cute & Super FUN Engagement Announcement Photos + Ideas for inspo.
Create wedding planning folders to save and organize your ideas.

Use pinterest boards for visual wedding planning ideas (which you can make private, if you like). Follow Confetti Daydreams for daily wedding inspiration, here.
Keep a wedding planning folder on your computer to save quotes and documents, as well as possibly a physical folder / printable planner for checklists. It's the start of how to plan a wedding!
Start your folder off with a wedding quote file to track and compare multiple vendor quotes per item, a vendor contact file with the names and contact details of your chosen vendors, and a super detailed wedding checklist.)Heads Up: If this resource inspires you to purchase some of these helpful wedding planning items through our links, in some cases we get a referral fee for sharing them. Thank you! 

Insure your engagement ring.Check out these tips for how to keep it super sparkly. If you haven't yet chosen a ring, check out why we suggest eco-friendly, conflict-free lab-grown diamonds like these.
Decide what kind of wedding you both want by setting your wedding vision.
Decide on your wedding budget together.Learn how to start your wedding budget breakdown here. Consider creating a wedding savings account which you can all contribute toward during the lead up to your wedding.
Choose your wedding date together.Consider the time of year, season, and the amount of time you'll need to plan and save for your wedding.
Create your guest list.Check out this ready-to-use guest list tracking template with space for addresses, table numbers, meal notes and more. Keep in mind your parents' possible guest-list wants, especially if they're contributing financially. Read more about how to plan your wedding guest list, and how to deal with tricky situations, here.
Throw an engagement party to celebrate, if you'd like.Make sure that you've set your wedding guest list first. Guests who are invited to your engagement party will be expecting a wedding invite later. Here's how to plan an engagement party and a selection of 22 Engagement Party invitations to say yes to!
12+ months before your wedding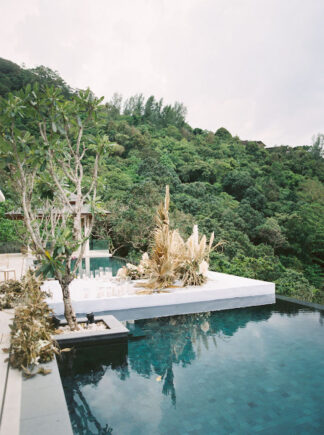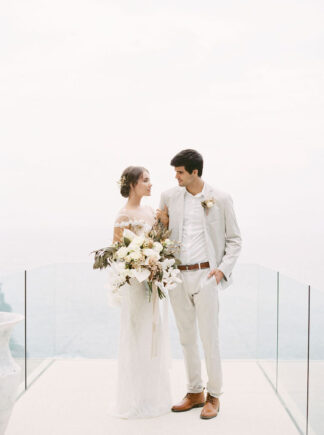 (Above) Tropical Elegance: Dried Flowers + Pampas Grass Wedding photographed by Sheri McMahon Photography. See more here.
10 -11 months before your wedding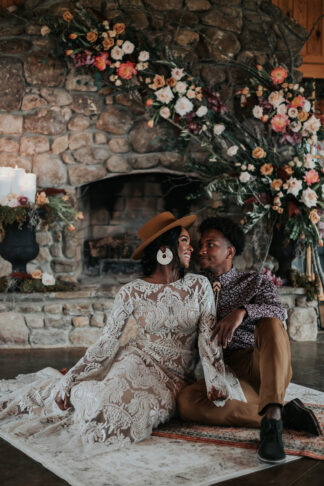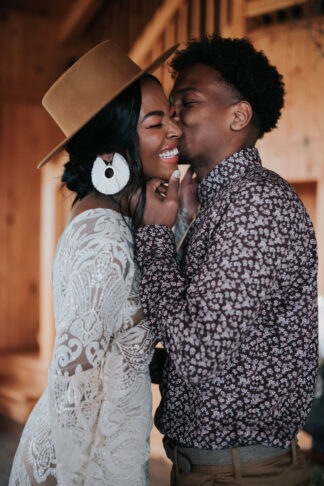 (Photographer: The Shutter Owl Photography// Jewelry: TheAntiquarian// Gown: Meagan Kelly // Floral Designer: Vintage Soul Floral Design// Beauty: Kristie Lavae Beauty//Beauty: The Posh Palette//Second Shooter: Posh Moments Photography//Ceremony Location: Carolina Country Weddings & Events// Equipment Rentals: A Bushel and A Peck Vintage Rentals)
Have an engagement shoot.Not only is this an awesome way to get acquainted with your photographer, and comfortable behind the camera, you'll have some awesome pics that you can use for your Save the Dates! We've gathered 18 tips for amazing engagement photos, here. Make sure you check out these 13 things NOT to do at your engagement shoot, too. Looking for location, theme and outfit inspiration? Check out our fave engagement and love shoots, here. If you're planning a boudoir shoot, these 5 boudoir confidence boosting tips will have you feeling your best.
Start researching and booking the next batch of wedding vendors.For example, catering + bar services if your venue does not offer them. Also start researching decor + lighting specialists, florists, cake designers and videographers.
Create your wedding website.Include your wedding date, your love story, your engagement pics and any other info you might have ready at this stage such as info for out of town guests. Check out cute, free wedding websites from Minted here (which can later co-ordinate with your save the dates and stationery). Or, have a look at Appy Couple, which is an all-in-one wedding planning mobile app and website tool that couples like Jade and Kurt loved using when going paperless for their wedding!
Reserve a group hotel block for your out of town guests + book your wedding night accommodation.Ask hotels about possible group booking rates and see if you qualify for any special deals.
Send out your Save the Dates.You might choose some of these cute designs from Minted which come with free envelopes that are custom addressed for you, or check out what unique ideas artisans on Etsy have to offer. You can get digital Save the Dates for under $20, for example. Send this pretty digital  Save The Date template to your loved ones via email or, text this digital save the date template via mobile! These digital Save the Dates from Greenenvelope help you track who's seen your invites, and later even help you manage your guest list. We love that they're eco-friendly, too.
Choose and ask loved ones to join your I Do Crew to be part of your wedding.Here's some advice on how to choose your crew, and some of the general bridesmaids' duties and groomsman duties here.You can ask them over dinner with a heartfelt letter, or you might choose to do something creative like this.TIP: Even if you're opting out of an I Do Crew, you'll still need to choose an organized, reliable, assertive 2IC aka person of honor to help you organize how to plan your wedding by being the vendor point of contact on your wedding day. Could be your planner, on the day coordinator, I Do Crew chief, best friend or family member.
9 months before your wedding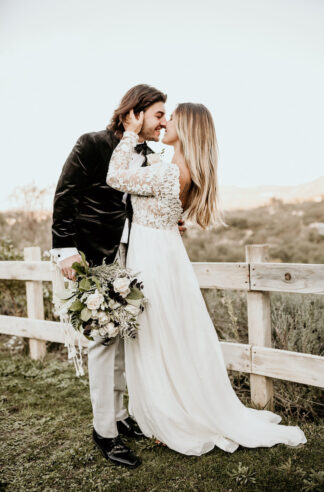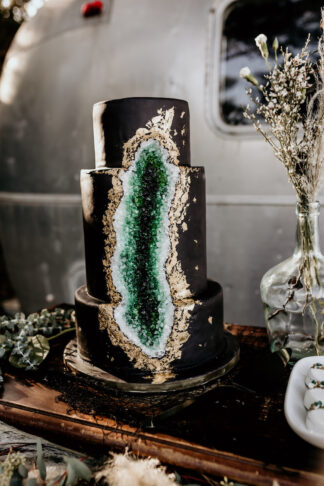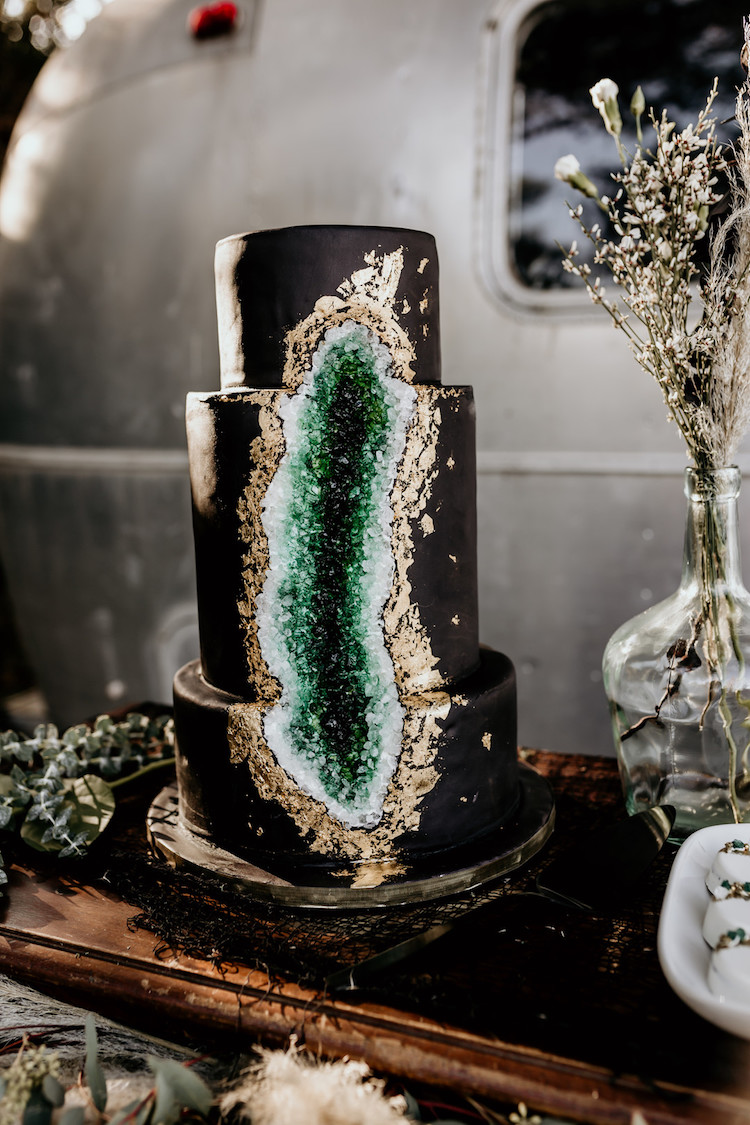 (Above) Intimate Airstream Wedding with Geode + Macrame Details photographed by Melissa Fe Chapman. See more here.
Select both your gowns / suits, and book first round of alterations.
Decide on I Do Crew outfits for both sides and book fittings, if needed.Here are some tips on how to achieve that awesome mix and match bridesmaid look using gowns your girls can wear again, and some ideas for cute outfits for the ladies.
Meet with a legal professional to get a prenup.
Start menu, dessert + beverage planning with your caterer and cake designs/ tastings with a baker. Get ideas for all-white wedding cakes here, and cute wedding cake topper inspo here.
Book your florist and start working on designs.
Book your decor + lighting specialists and start working on designs.(And make sure you avoid these 10 wedding lighting mistakes!)
Book furniture + party rentals, if needed.
Book transport to and between ceremony + reception venues for yourselves, I Do Crew + guests, if needed.
Sort your honeymoon! Choose a destination, research and book flights, accommodation and on the ground transport. Check out these 18 Top Tips for Planning the Best Honeymoon Ever and these 19 Ethical + Responsible Honeymoon Travel Tips for Conscious Vibes. Make sure all passport and visa documents are in order.
4 months before your wedding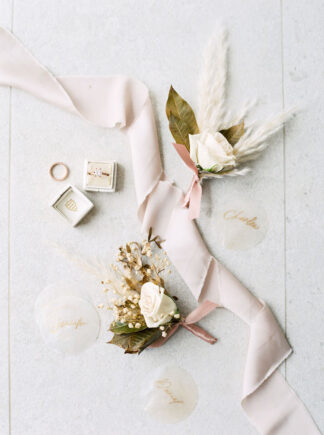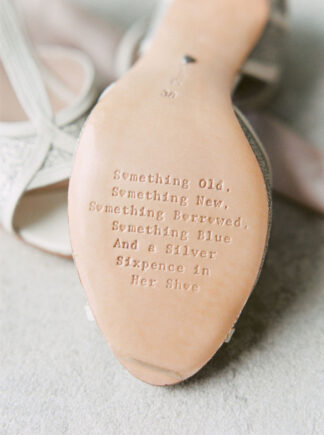 (Above) Photographed by Sheri McMahon Photography. See more here.
Shop for wedding shoes, undergarments and accessories.Make sure that your dress or suit are hemmed appropriately for your chosen shoes, and that your accessories such as your veil, jewelry, cufflinks and bowties co-ordinate both with your own, your partner and your I Do crew's looks. Here are some tips for choosing a wedding veil.
Finalize your order of service with your wedding officiant / religious leader.
Create your detailed wedding reception timeline.Confirm timings with your planner, caterer, venue, etc. They'll likely have feedback on how to plan your wedding reception timeline. Ensure that you have included time for meals to be served, toasts, speeches, first dance, and any other traditions you might wish include, as well as your exit as newlyweds.
Decide how you or your venue will reduce waste, recycle and handle any excess food.Make the required arrangements.
Finalize who'll be on your guest list.
Give sign-off on your wedding cake. 
Give sign-off on your floral designs.
Book your rehearsal dinner, if you're having one.
3 months before your wedding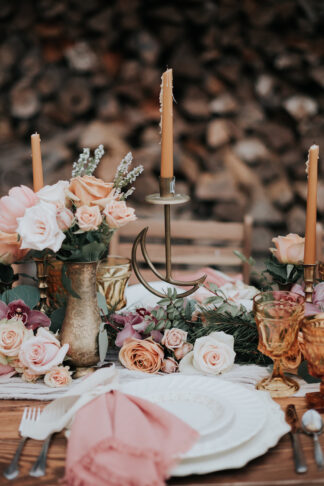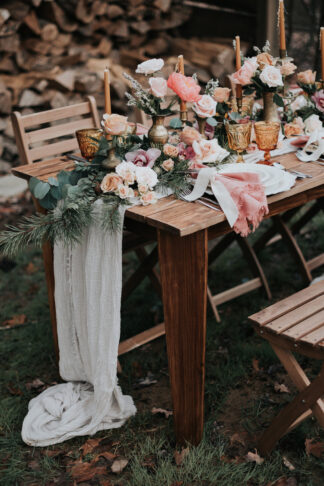 (Photographer: The Shutter Owl Photography//  Floral Designer: Vintage Soul Floral Design//Second Shooter: Posh Moments Photography//Ceremony Location: Carolina Country Weddings & Events// Equipment Rentals: A Bushel and A Peck Vintage Rentals)
Give sign-off on decor, lighting designs
Give sign-off drinks, menu + dessert,
Send your guest list to the chiefs of both your I Do Crews if they'll be planning parties for you. Here are some fun bridal shower invite ideas for you, and a free, totally cute bridal shower game printable.
Complete your wedding music workbook + send to DJ.
Meet with your photographer to chat about specific shots, locations + event timings.
Create your wedding day timeline from start to finish.Include time for yourselves and your I Do Crew to get ready, for transport between venues and build these around your already created Order of Service and Reception  Timelines.
Don't make these 5 wedding day timeline mistakes.
Start working on any DIY projects you might be planning on creating.Do not underestimate the time, skill and practice required to execute DIY projects successfully. Build practice runs, time and material cost into your budget to see if they are worthwhile. It's easy to underestimate these as you figure out how to plan your wedding.
Have your hair and makeup trial – bring along any hair accessories / veil. Learn how to choose a wedding veil that suits your gown and style here, and check out how to rock a romantic wedding hair accessory here. Get loads of hairstyle inspiration here. Ooh, and if you've got that flower crown kinda vibe, check out these stunners for inspo then browse through these flower-crowned weddings.
Have both your second dress / suit fittings.
Prebook treatments, pamper and bonding sessions.Set up appointments for yourself and your partner's prewedding beauty / grooming sessions.
Prebook group pampering or bonding sessions.If you'd like to enjoy any pamper or bonding sessions with either of your I Do Crew's during your wedding week, book these now, too.
Decide if you'll be having wedding favors and arrange these.Favors are totally optional at this point – nowadays many couples plan a donation to charity on behalf of their guests instead, or opt for cute eco-friendly, low-waste favors like these 18 ethical options.
Send out wedding invitations.They should be sent at least 6 – 10 weeks before your wedding date, with a one month RSVP deadline. If you both have an A-list and B-list, work backward from your wedding date to make sure that you factor in enough time for your second round of invites to be sent and responded to.
Purchase wedding rings.
Insure wedding rings.
Run through this list of 21 common wedding planning mistakes.
2 months before your wedding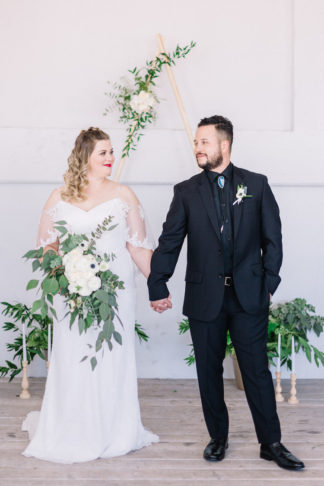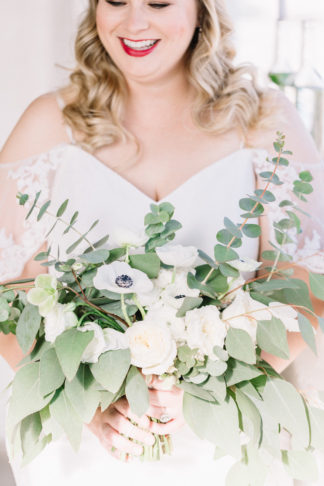 (Above) Minimalist, Scandinavian-Inspired Greenery Wedding Inspiration by Caitlin Alohilani Photography. See more here.
Take dance lessons with your partner, if you'd like to learn a few formal steps or a set routine for your first dance.
Start researching and writing your vows and readings.Be as creative as you like, especially if you're planning a civil ceremony. Don't be afraid to draw from children's books, novels, poetry, lyrics or even lines from movies you've loved together. If you're having a religious ceremony which needs to follow a certain format, double check with your religious leader first to understand how much freedom you have.
Arrange someone to help to return rentals while you're on honeymoon.This could include wedding furniture and decor rentals, as well as returning or arranging dry cleaning for both your wedding outfits while you're away. You might ask your wedding planner, I Do Crew or a trusted family member to help here.
Decide if you'll be giving thank-you gifts to your I Do Crew and family, eg both your parents.They needn't be costly, but a thoughtful token of appreciation for the love and support shown during your wedding planning journey would generally be well-received. Set time aside to make or buy these, and decide when you'll present them. The (optional) rehearsal dinner or wedding party brunch is a good time to give your thanks. If not, the day before or morning of your wedding is another option.
Make an effort to schedule and spend time with loved ones that isn't wedding focused & ask about their lives, too. :-).
Confirm that your I Do Crew's outfits are sorted.
Send out your rehearsal dinner invites and include ceremony rehearsal timings and location.
1 month before your wedding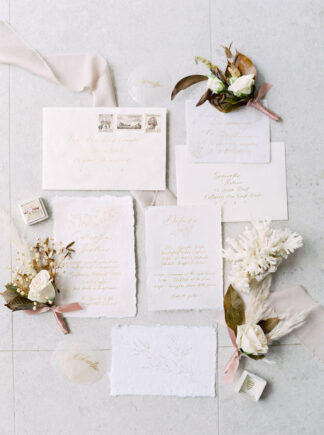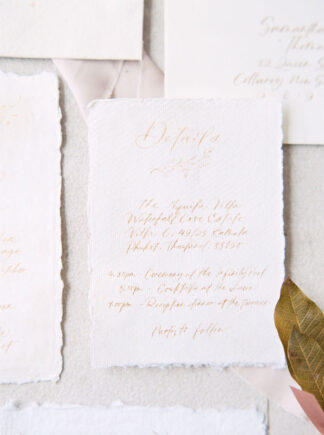 (Above) Photographed by Sheri McMahon Photography.
Confirm that all invites have been received.
Create your draft reception seating plan.(You'll finalize exact placements and print your seating chart once final RSVPs have been received.)
Have your last gown/ suit fittings.
Sort your honeymoon packing list.
Confirm your photography plan of action.Working with your photographer, create a photography timeline and list of required family photographs. Your photographer should be able to direct you on how to plan your wedding photography timings. Assign a loved one to help your photographer identify who the important loved that they'll need to photograph on the day of your wedding are.
Confirm your reception + ceremony timings with your planner, officiant, venue, and caterer.
Confirm who your on-the-day vendor emergency contact will be.This should definitely NOT be you or your partner! (You'll be enjoying your wedding day.) This would usually be your planner, the head of your I Do Crew, or your chosen 2IC – a super organized and reliable loved one.
Meet with your 'I Do Crew' and loved ones who are willing to help.Provide a high-level timeline of events, as well as clarity on any responsibilities.
Confirm that drivers have the correct addresses + times for wedding day transport requirements.
Touch base with all vendors to make sure all has been signed off and will be ready.This includes flowers, entertainment, decor, favors, rentals, catering lighting, hair /makeup, cake, rentals + all others.
Complete any outstanding DIY projects.
Order your day-of wedding stationery.This includes your wedding programs, place cards, menus, table numbers, guest book, tags, labels and any other day of stationery. (Don't print your final seating chart yet, there might still be last-minute RSVPs.)
If you've had a wedding shower, send thank-you's.These could be handwritten notes, emails or, in certain cases, personal text messages. The degree of formality will be determined by the formality of your celebration. Thank your guests for coming and mention your appreciation for any gifts you may have received. Make sure that you thank your hosts, too.
Decide where to donate flowers and leftover food after the wedding.Decide who will manage this process, and how they will be delivered. For ideas of places to donate to, check this list.

2 weeks before your wedding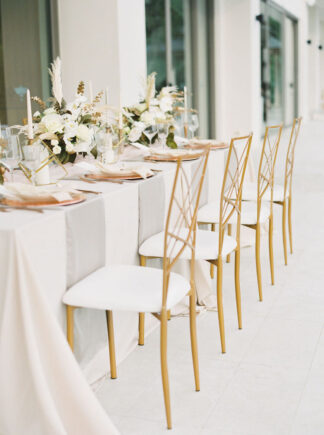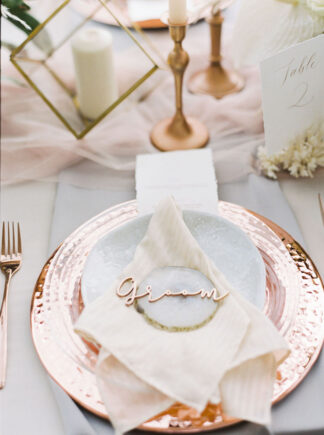 (Above) Photographed by Sheri McMahon Photography. See more here.
Send your final guest headcount to your caterer and venue.
Arrange access and seating for guests in wheelchairs and take into account any others who might have special needs.
Collect your wedding day stationery including reception seating charts, table numbers, place cards, programs, etc.
Create your wedding day emergency kit.Ask an I Do Crew chief or loved one to help. Grab our free printable list here to help you get on top of how to plan your wedding.

1 week before your wedding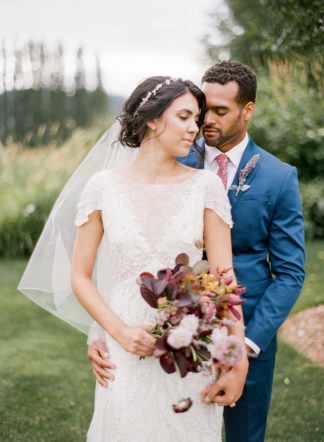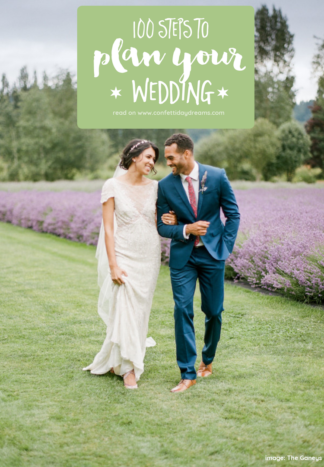 (Above) Elegant Lavender Wedding Theme with Organic Fall Accents by The Ganeys. See more here.
Pick up both your wedding outfits.Also make sure you each collect your accessories like your veil, cufflinks, bowtie, etc.  Each try on your entire look to make sure everyone is looking good.
Both get your hair cut + colored, if you want.Also, go for any beauty or grooming treatments that you have booked.
Enjoy the spa treatments / bonding activities you have booked with your I Do Crews.
Give your final wedding day timeline to your I Do Crew Chief and/ or wedding emergency contact.
Order + collect your final, printed seating chart.
Reach out to all vendors one last time.Double check all vendor arrival times and give them your on-the-day emergency contact's number.
Find or make an epic pre-wedding playlist to get ready to, now that you've sorted how to plan your wedding!
1 day before your wedding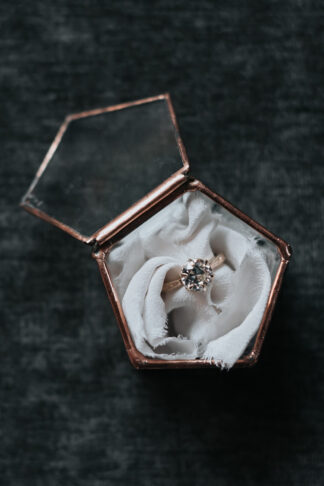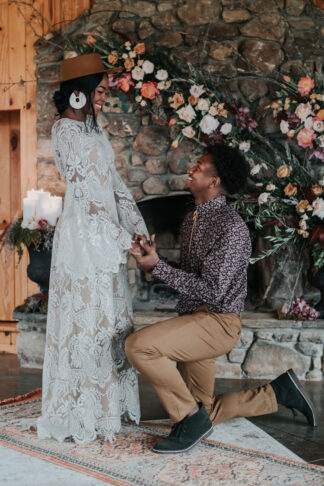 Double check honeymoon travel documents + place with packed honeymoon luggage
Check that all your personal wedding day items are ready
Make sure cake, decor, florals and favors printed goods like place cards, seating charts, menus, order of service, ceremony + reception signage are / on track to your venue
Go for your final grooming and beauty treatments – eg manicure, pedicure, shave, etc
Rehearse ceremony proceedings with I Do Crew + loved ones
Have your rehearsal dinner
Give thanks to everyone for their support. Don't stay out late.
Have an early night. Sweet dreams!
The day
100. Hooray, it's your wedding day! Now that you know how to plan a wedding – go and get married! <3