Totally Chic Pink and Silver Wedding ♥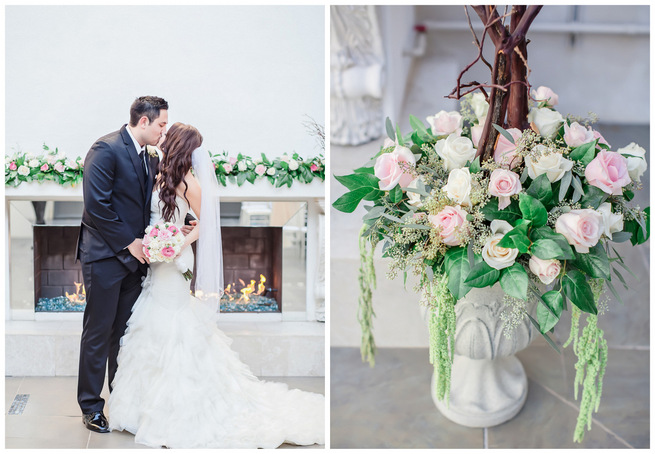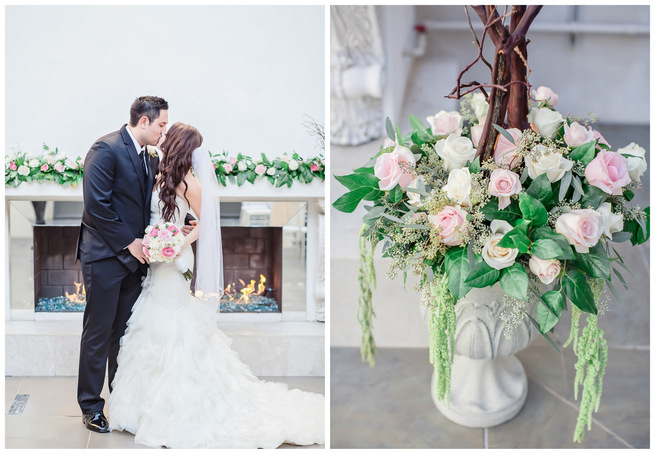 We're just so in love with Jennifer and Seth's pink and silver wedding – it's a total urban romance! The couple,  from Phoenix, Arizona were married in the fall at Soho 63  in a chic ceremony under rows and rows of suspended blooms. Jennifer chose the venue because of it's urban feel and fresh, clean lines coupled with beautiful vintage elements. Adoring all things romantic and feminine, Jennifer's design developed out of her vision to have a light, pretty, dream-like atmosphere for their ceremony and reception. She opted for a palette of blush, creme, silver and gray, working with Everybody Loves Flowers  who created bouquets and displays using pink garden roses and hydrangea. It's all too pretty for words – luckily we have these perfect images captured by Jessica Q Photography  to drool over. Yay!
Jennifer's bridesmaids wore floor-length blush gowns with statement necklaces, while their groomsmen wore gray tuxes with touches of blush in their ties, pocket silks, and socks. Seth looked the part of the dashing groom in his black tux and Jennifer's Maggie Sottero was a total show stopper!
"The ceremony site was truly my dream come true," shares Jennifer. "I was looking to create a secret garden of sorts. I have always loved flowers, and knew I had to create the floral drapery for the terrace. I planned the wedding myself, and every detail came from my personal vision. Other personal touches included the vintage photographs of our parents and grandparents' wedding, photos of us throughout the venue, the vintage vases and teacups that I hand selected, and the ceremony vows and braiding of God's knot was unique to us as a couple."
Urban Romance: Pink and Silver Wedding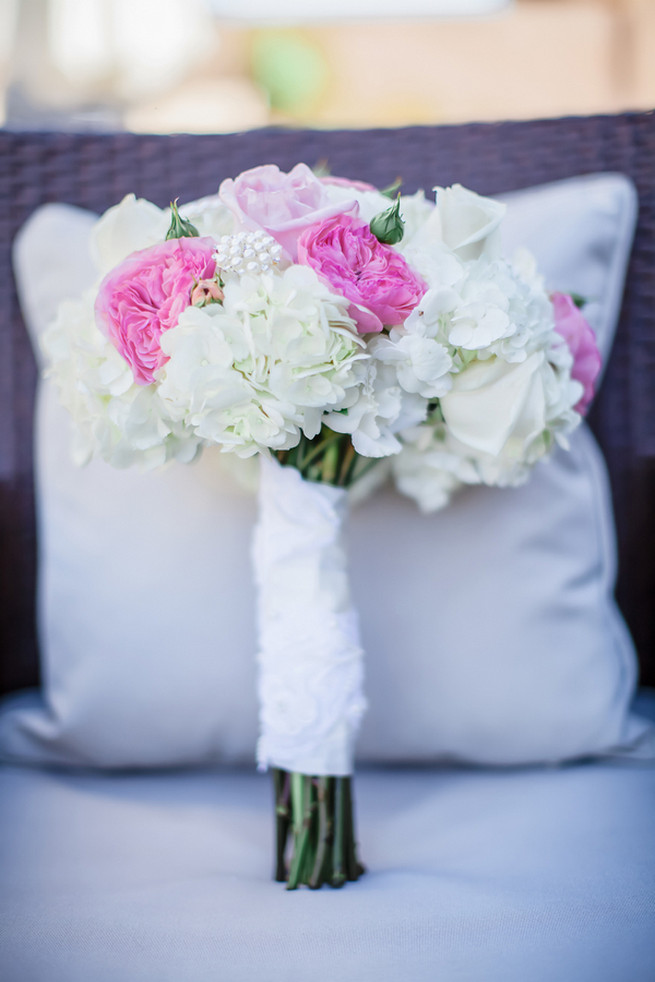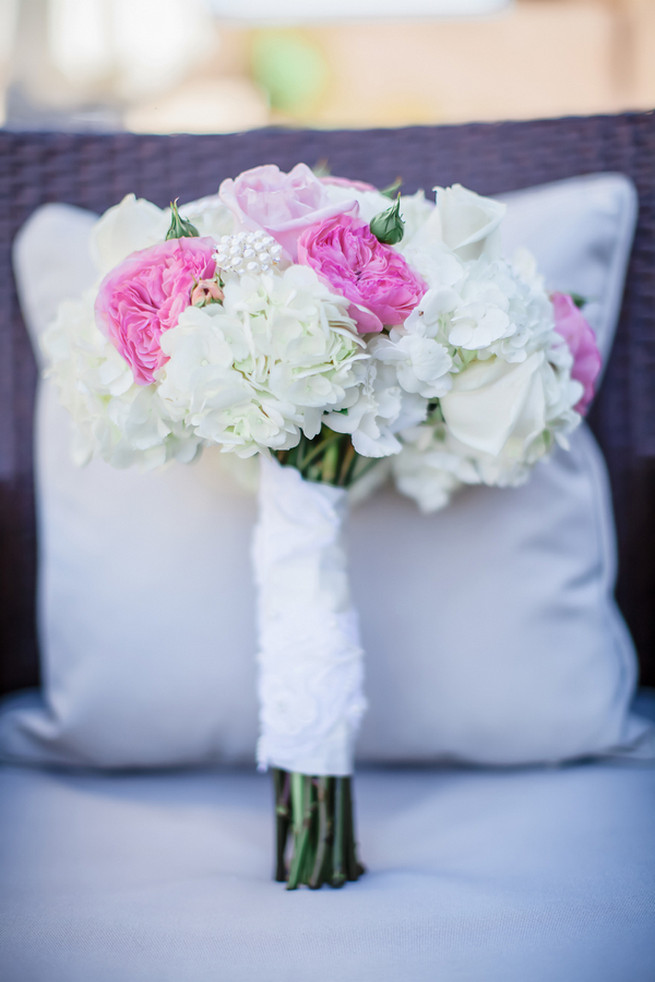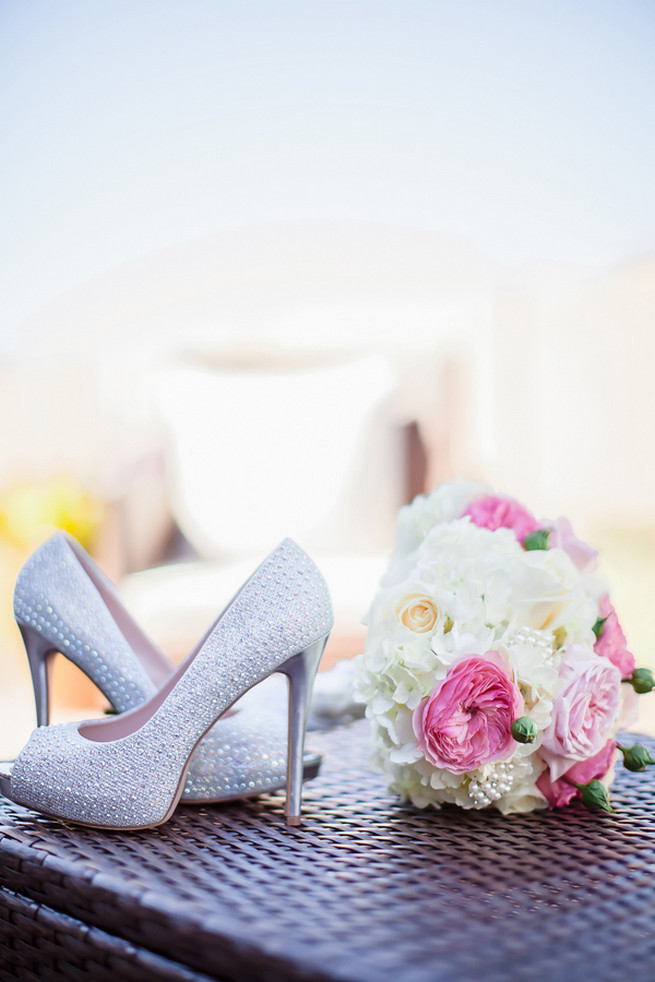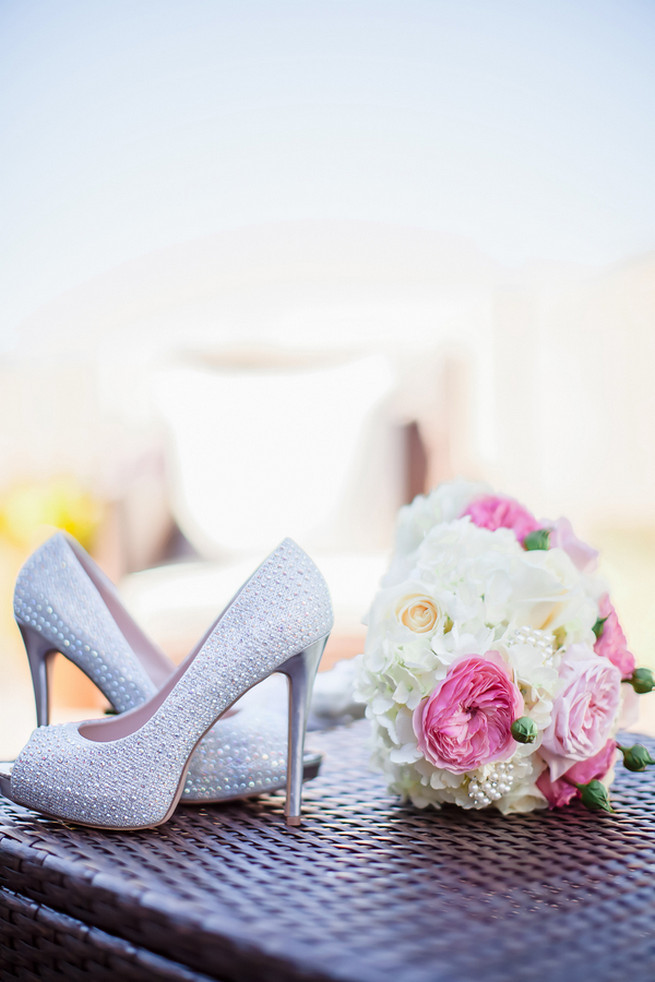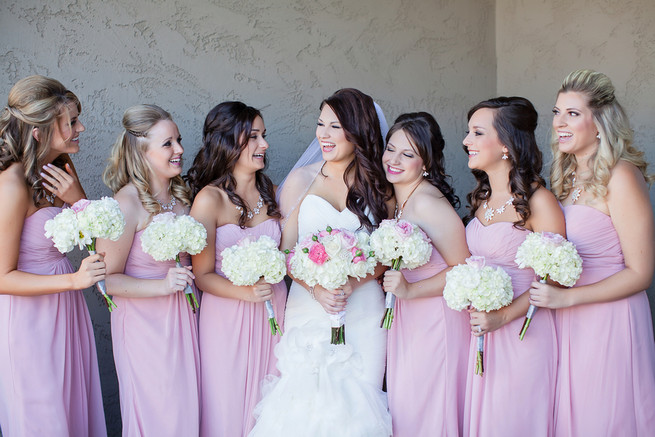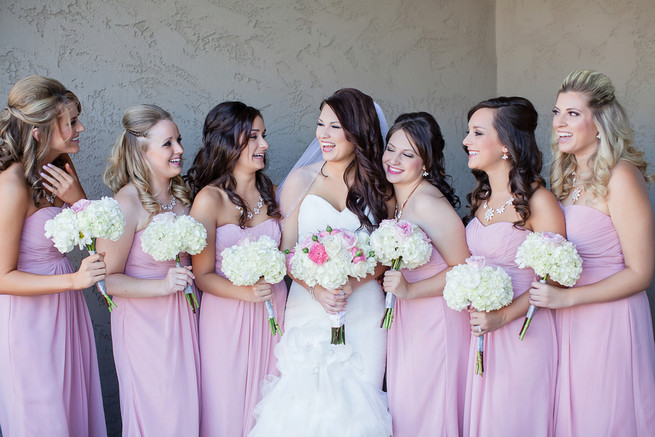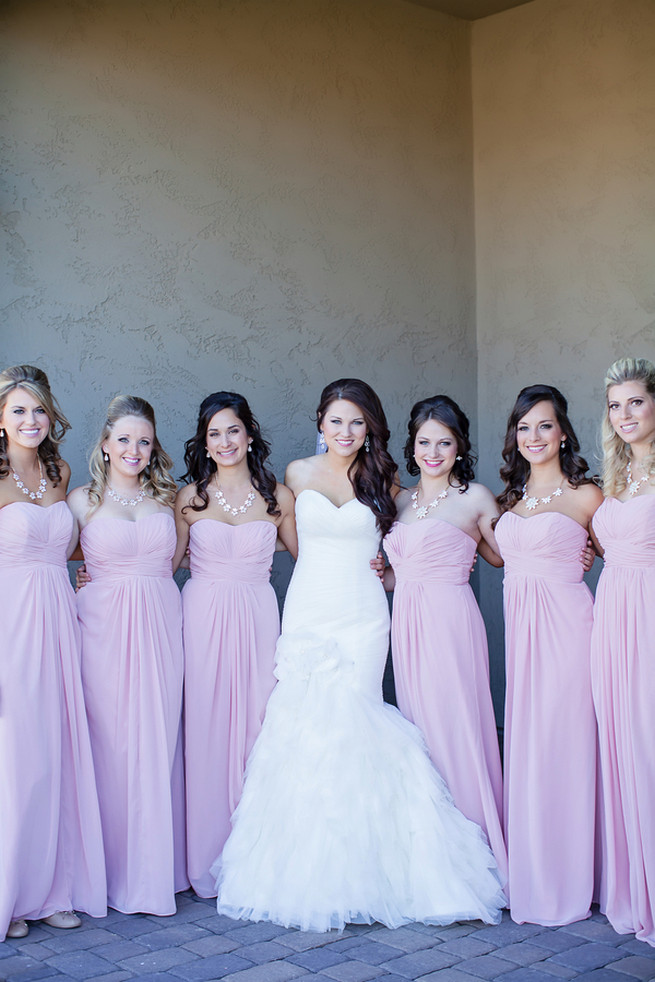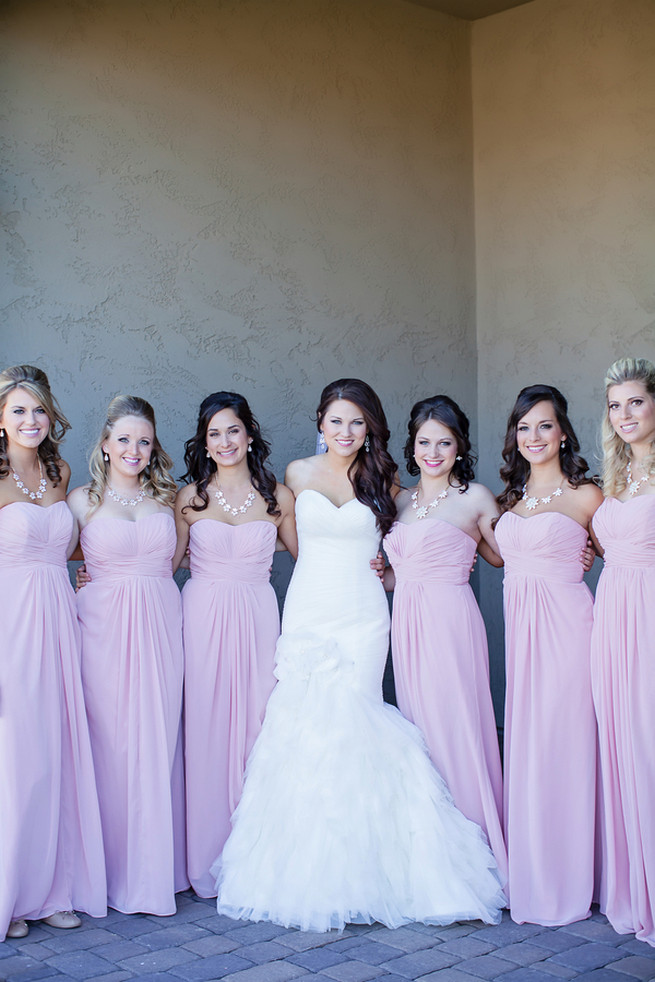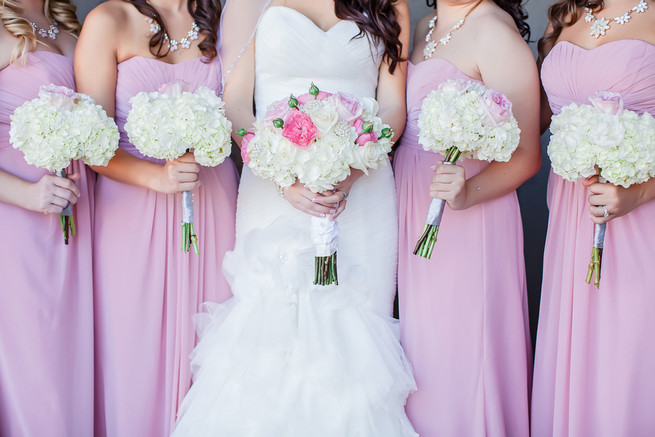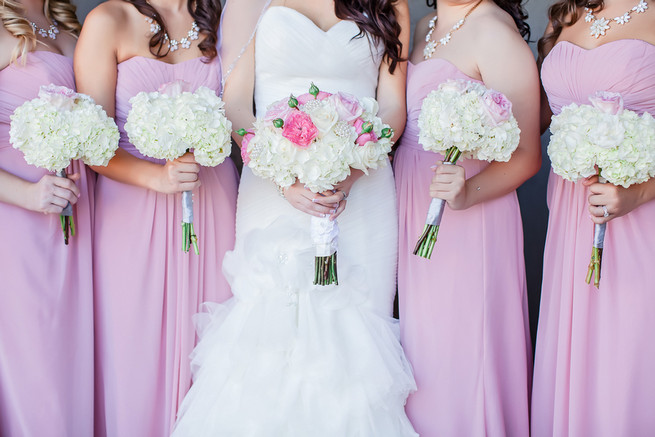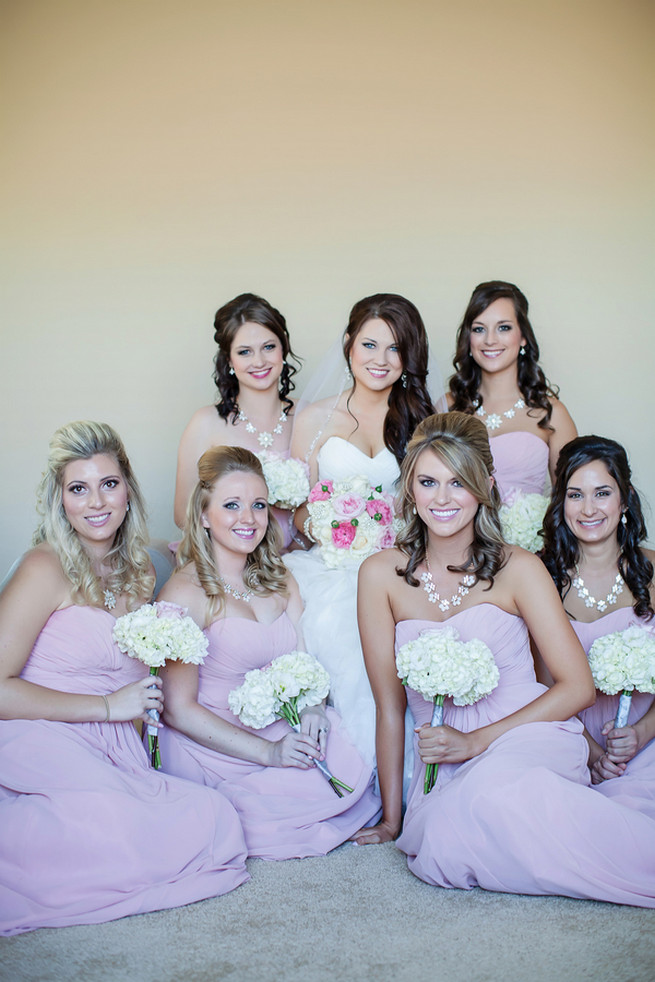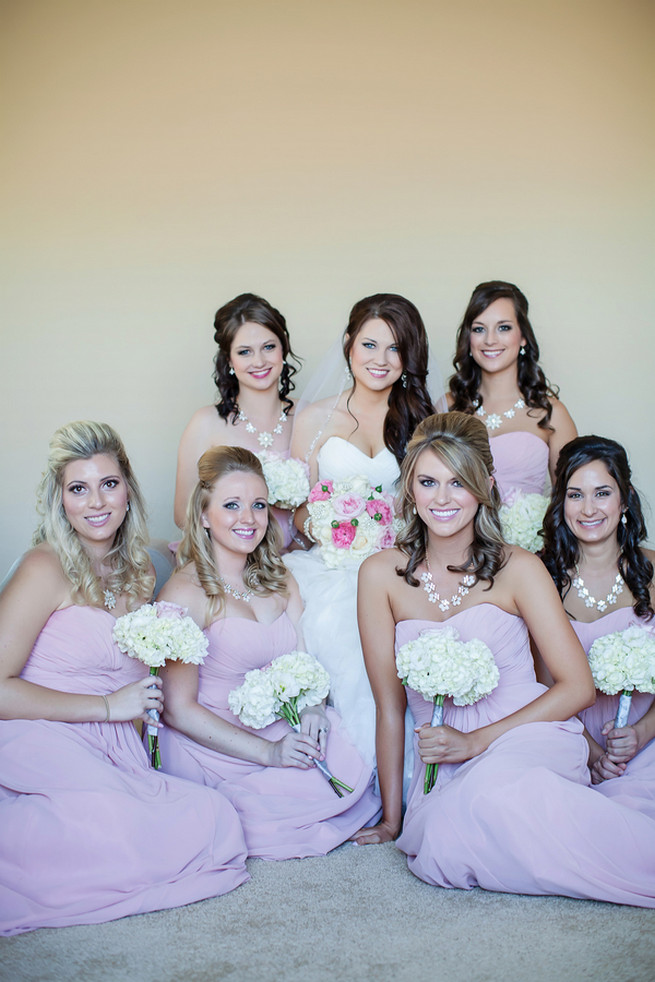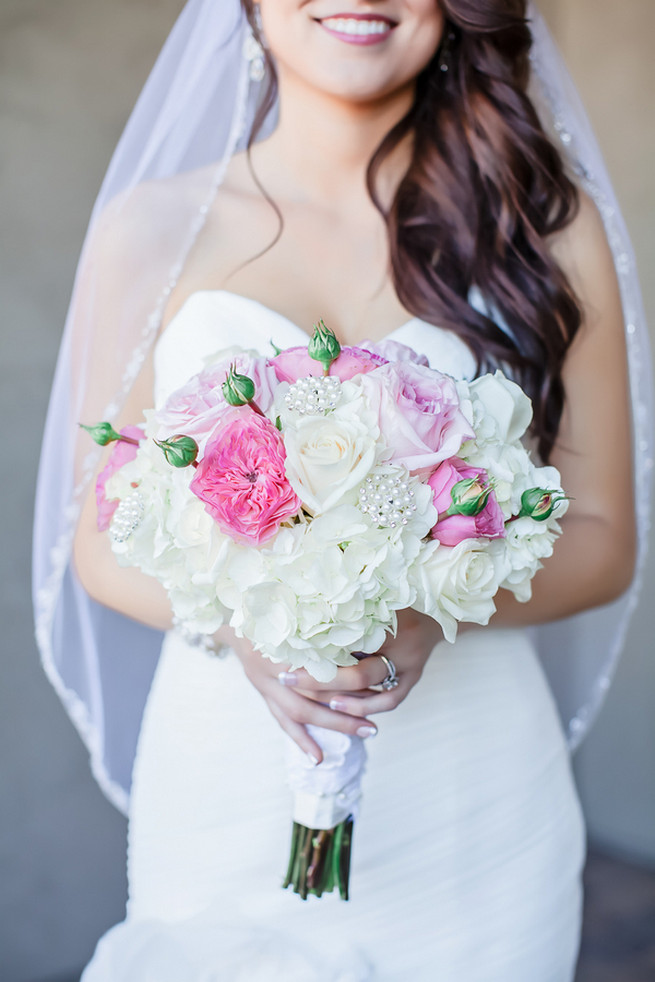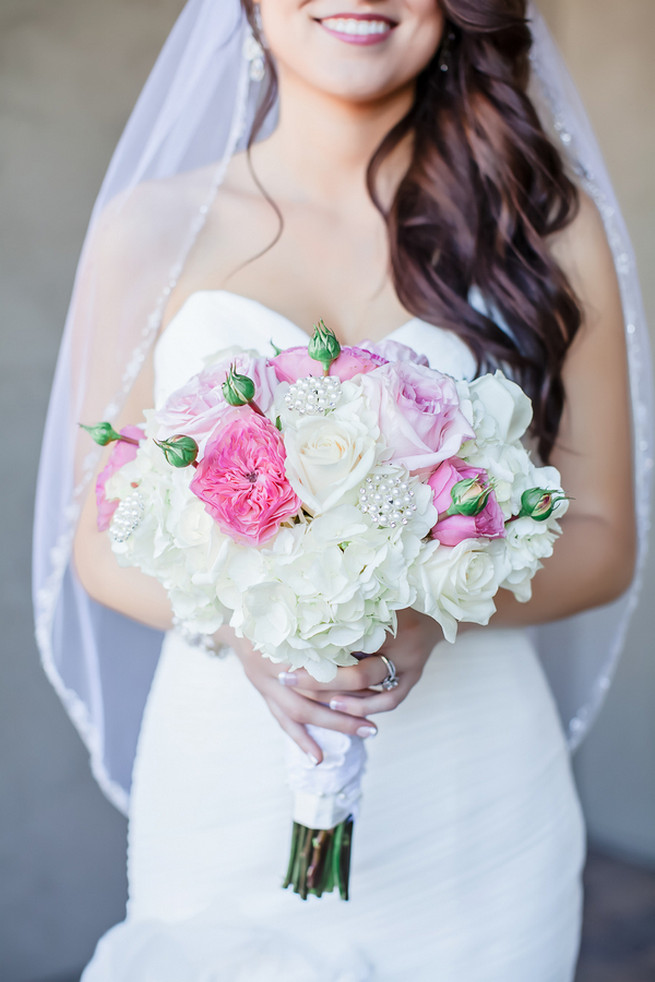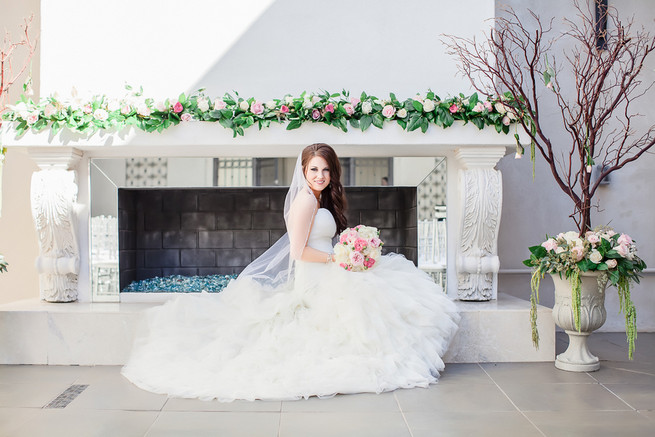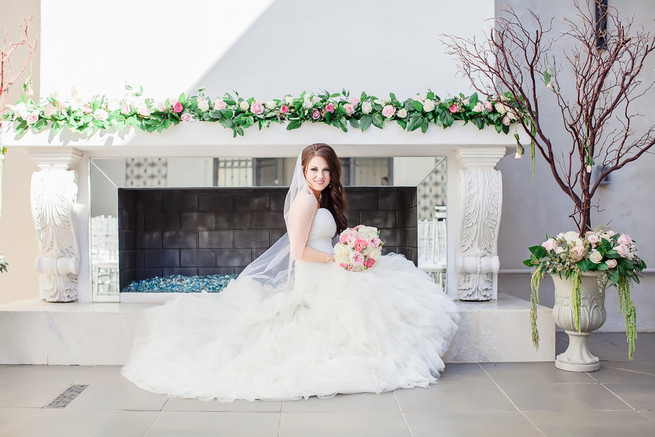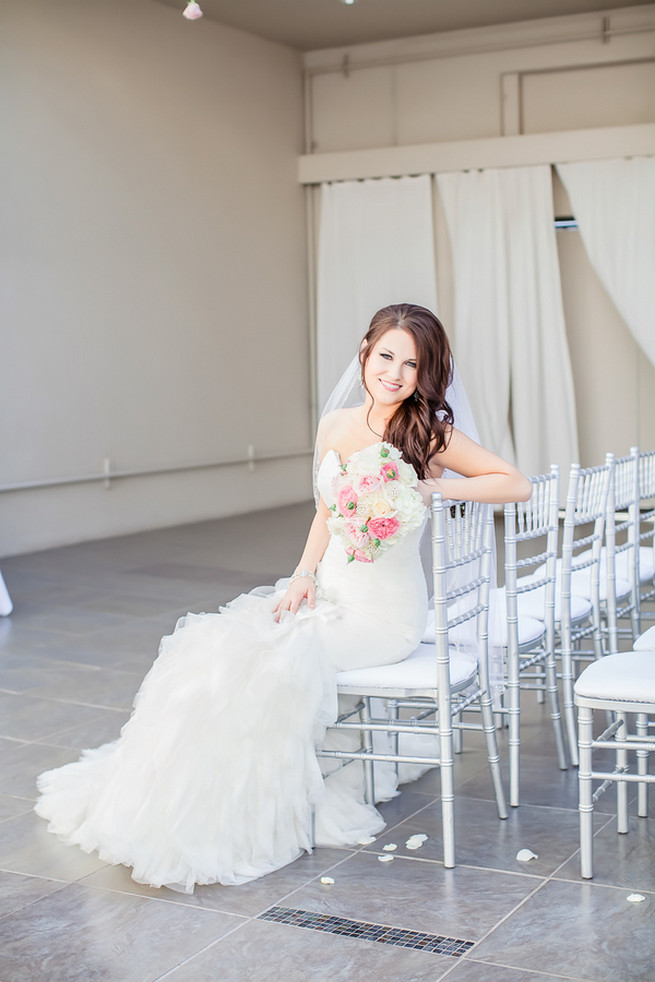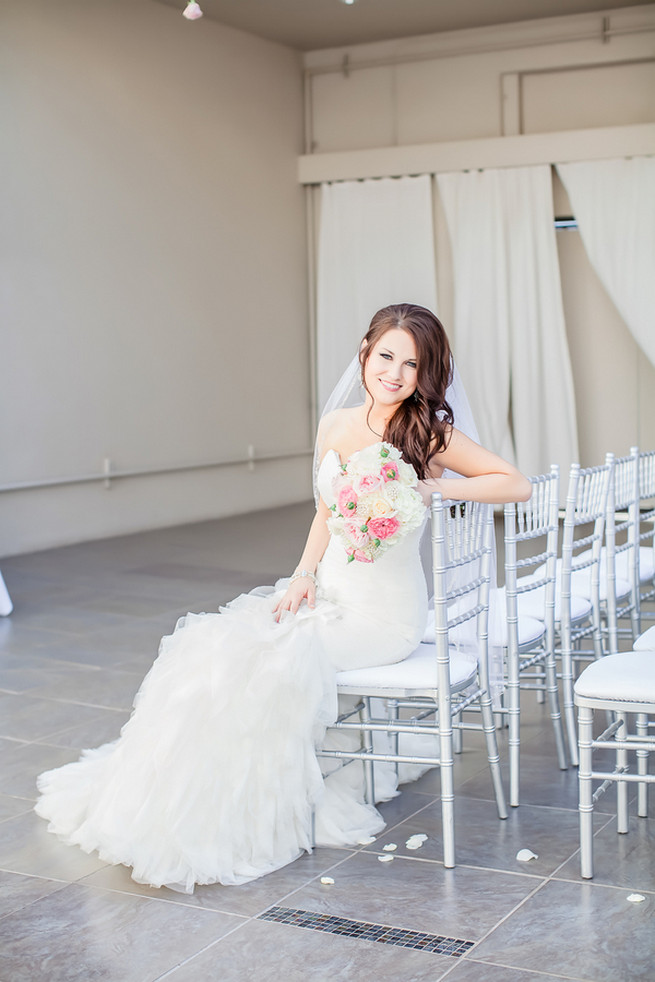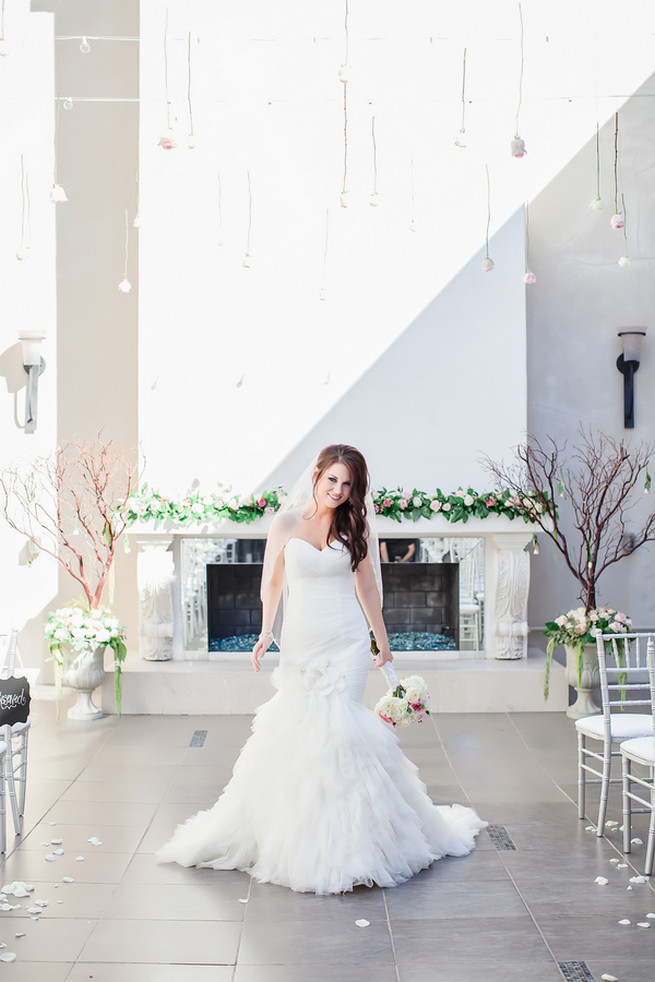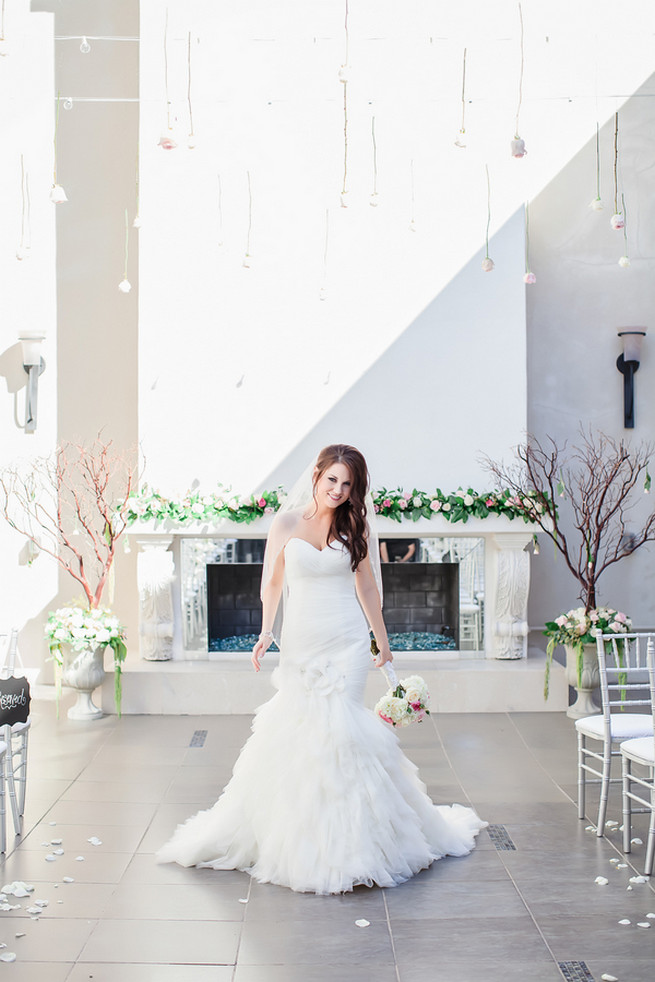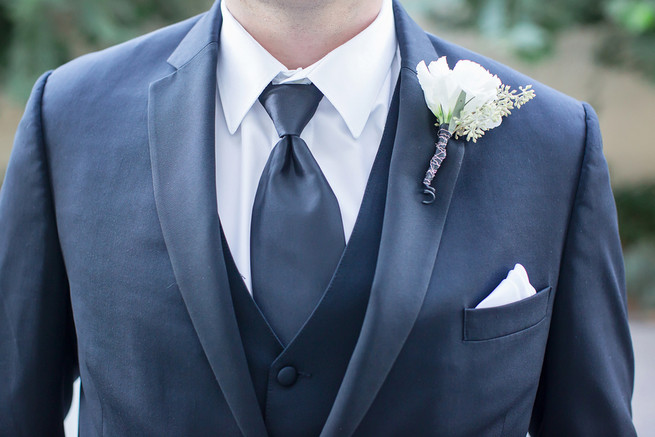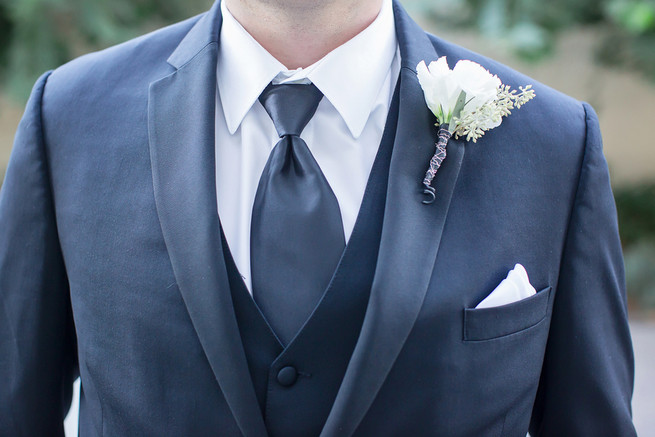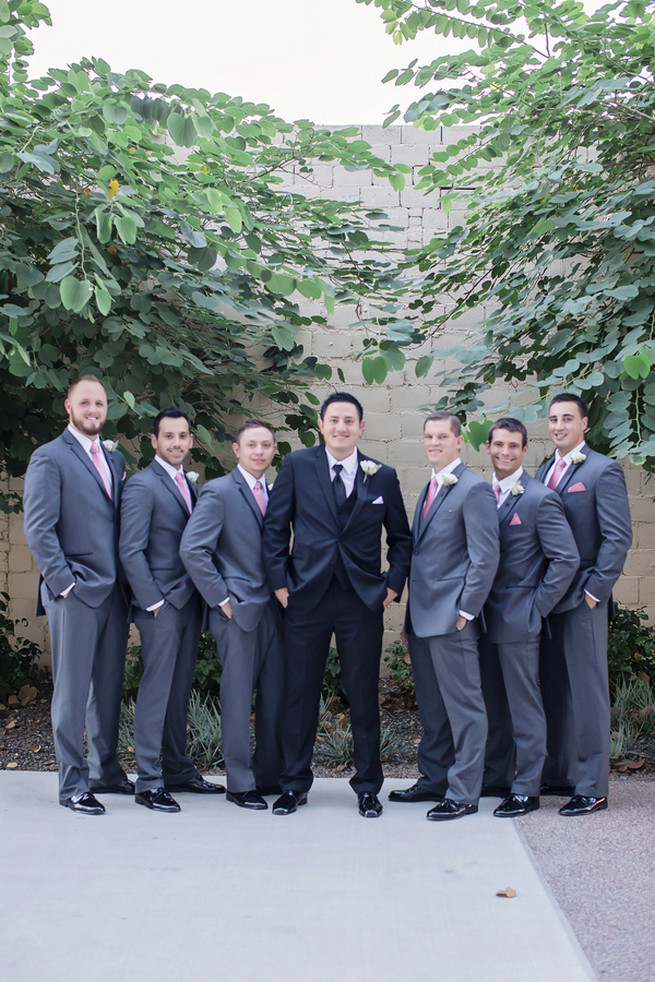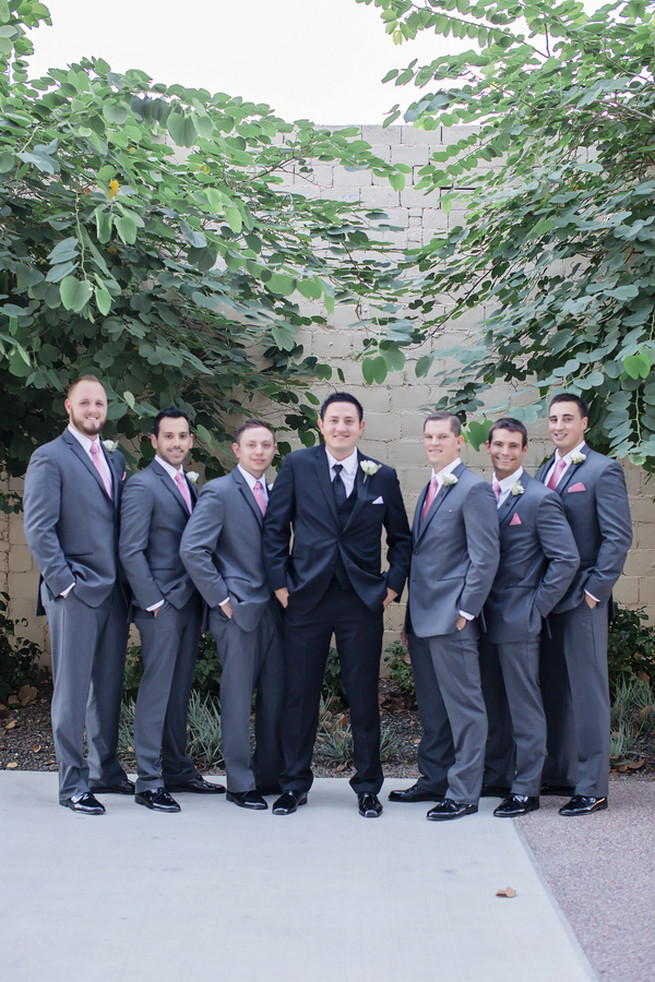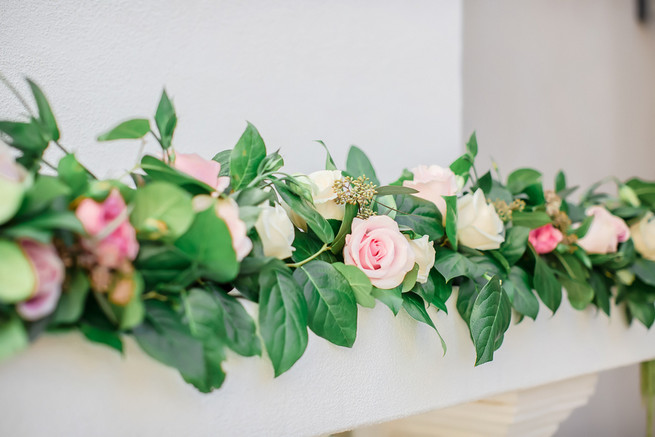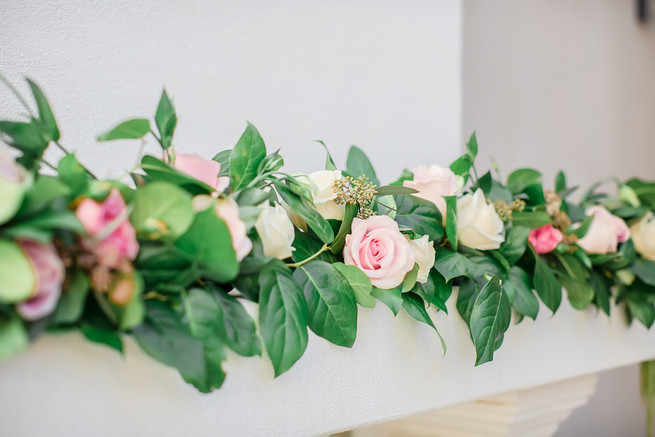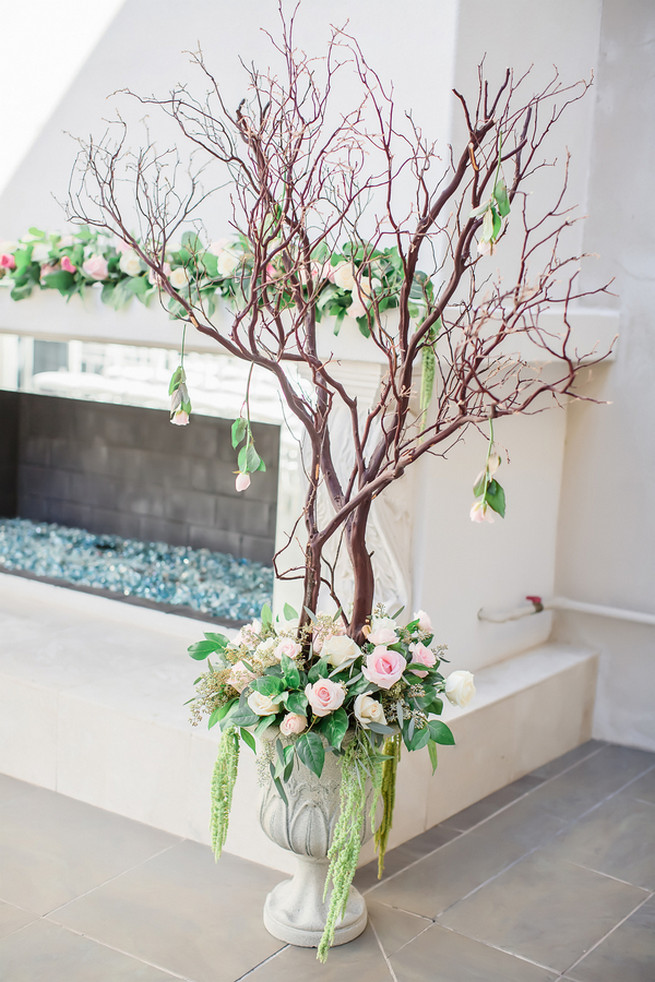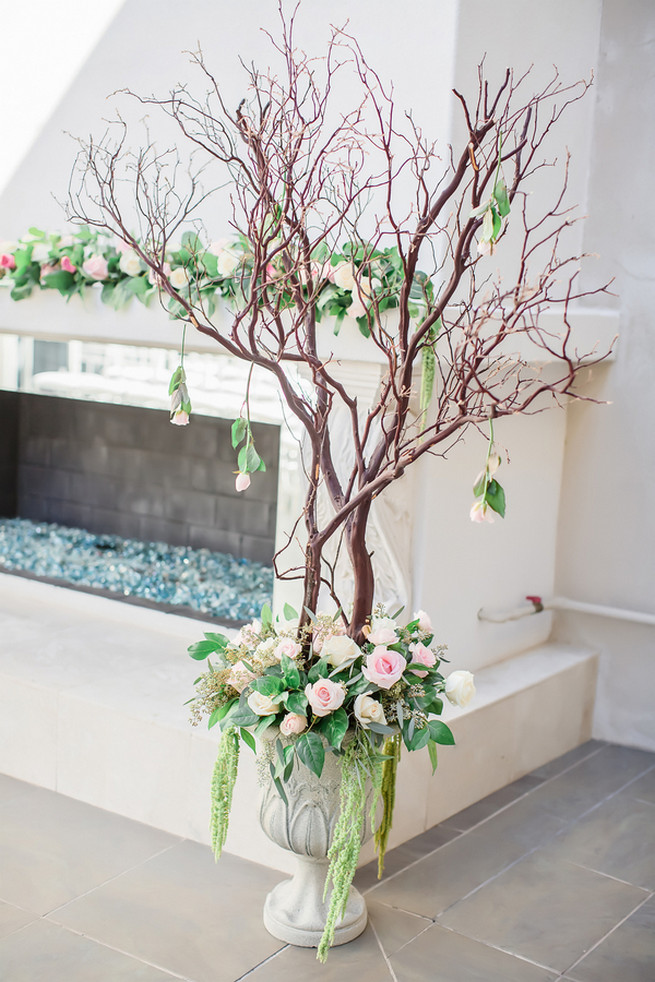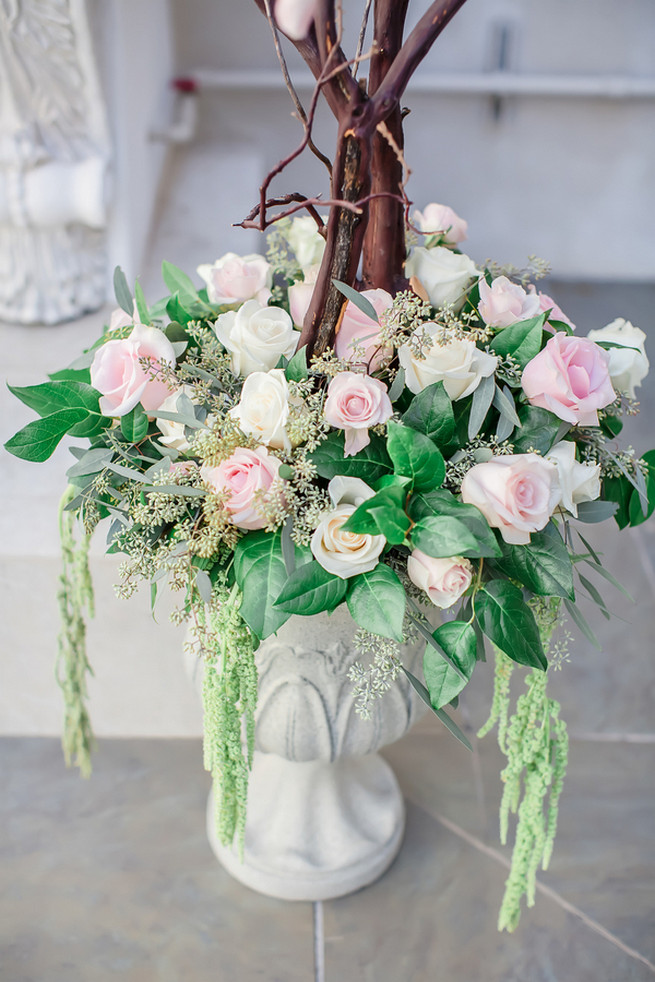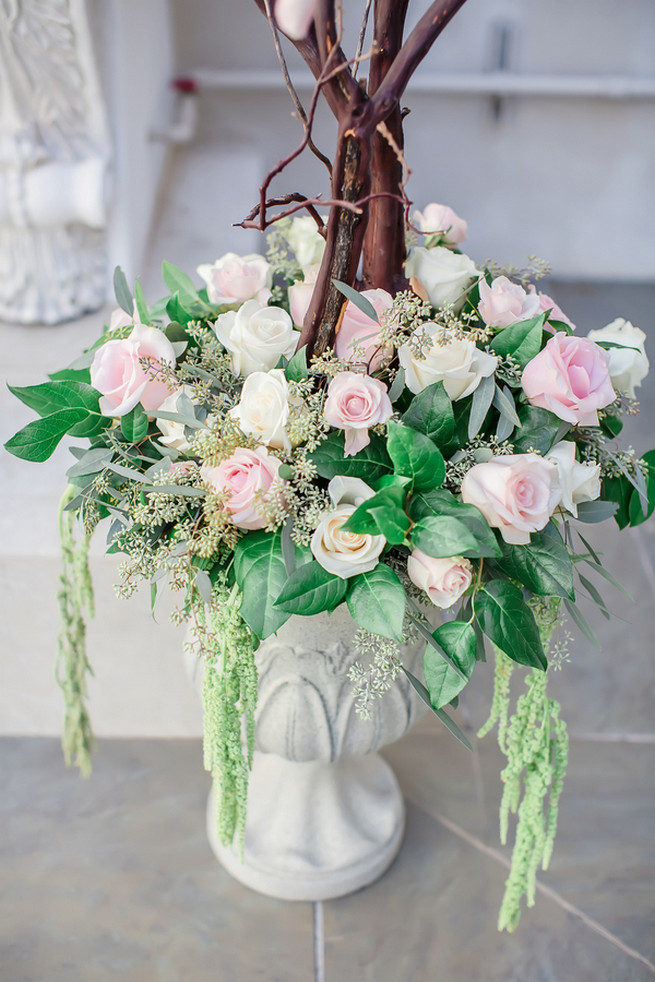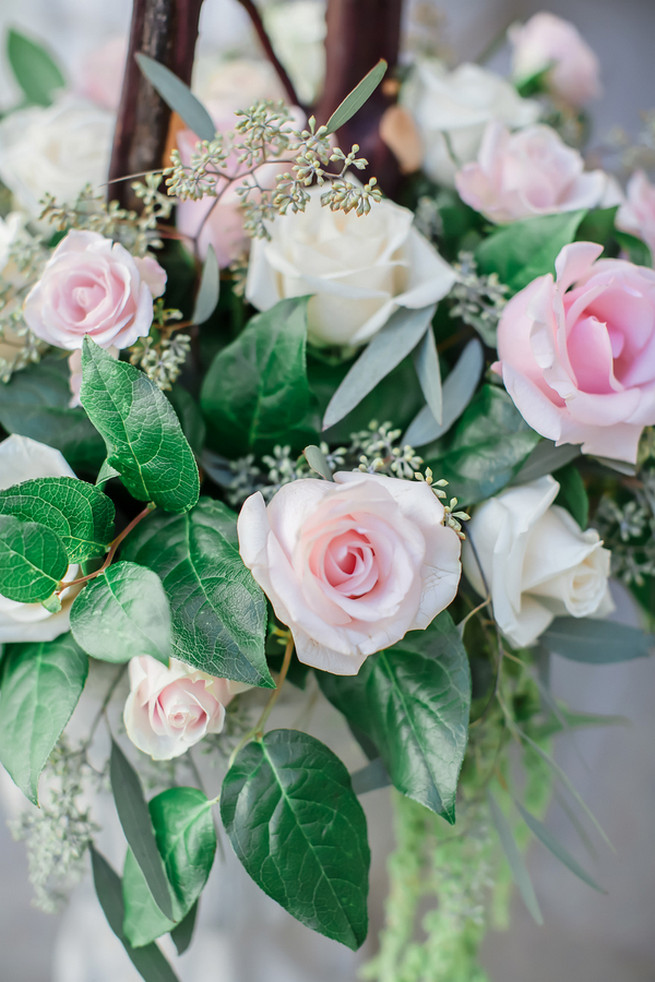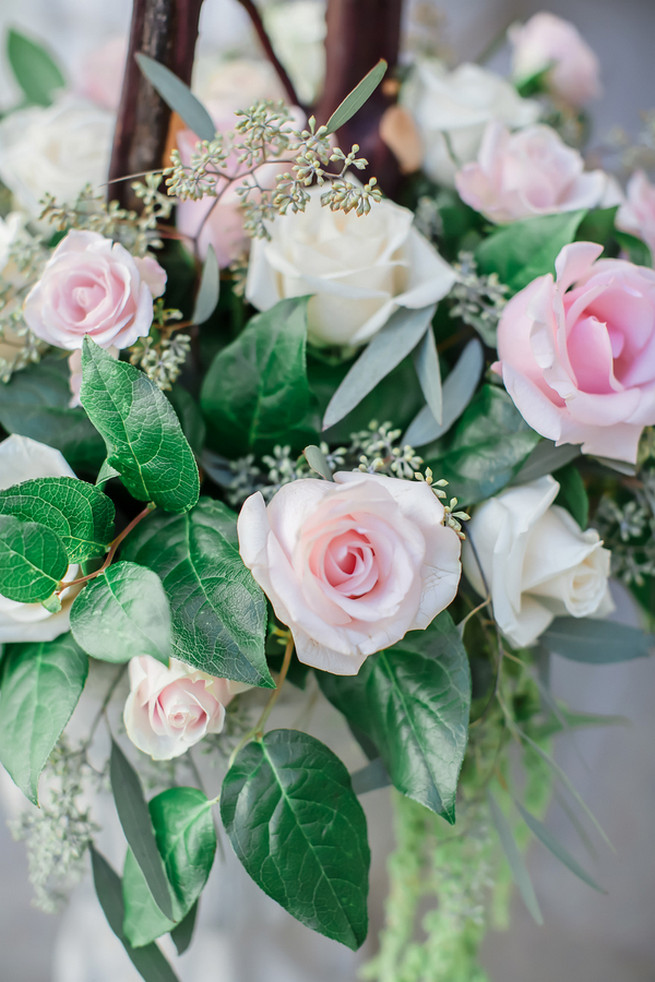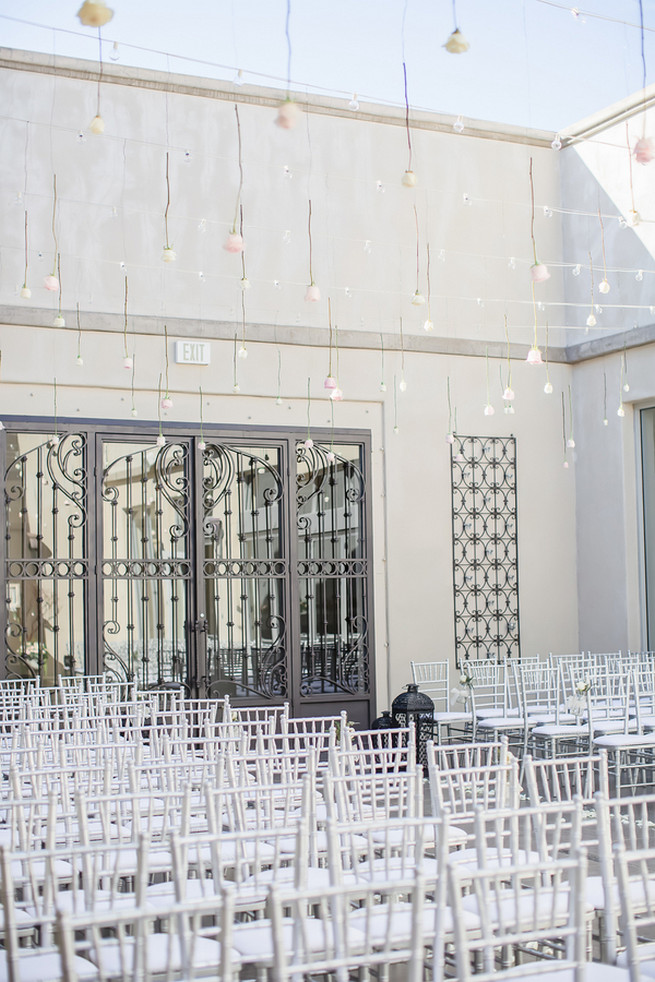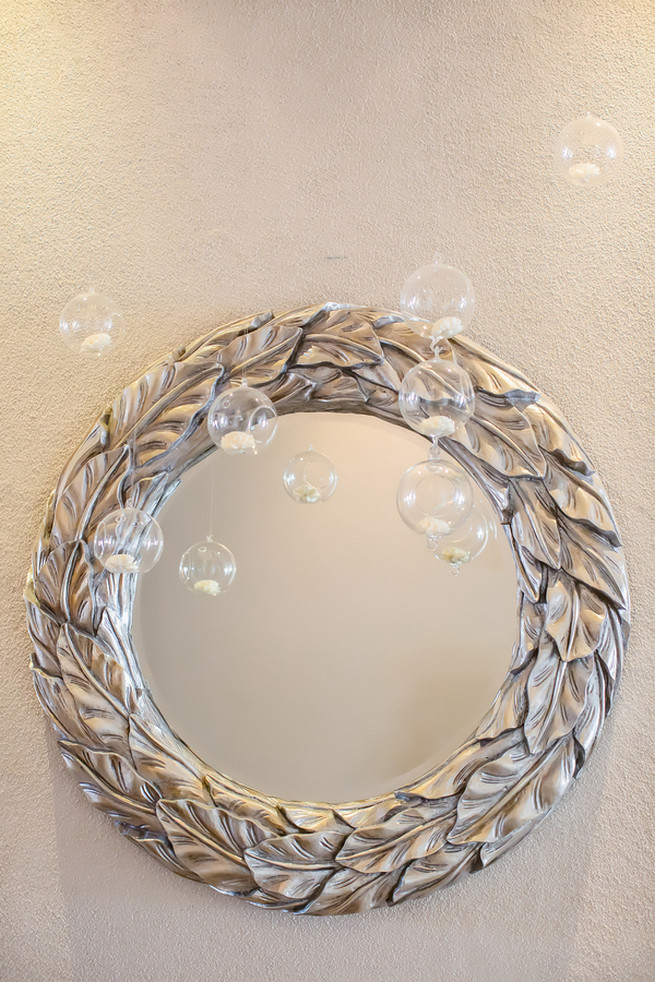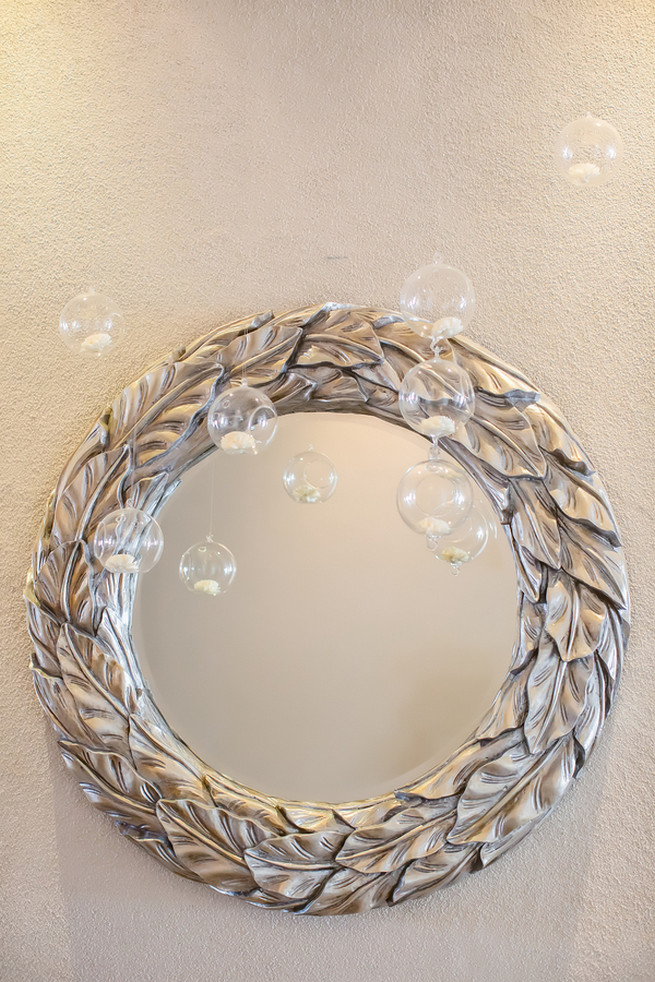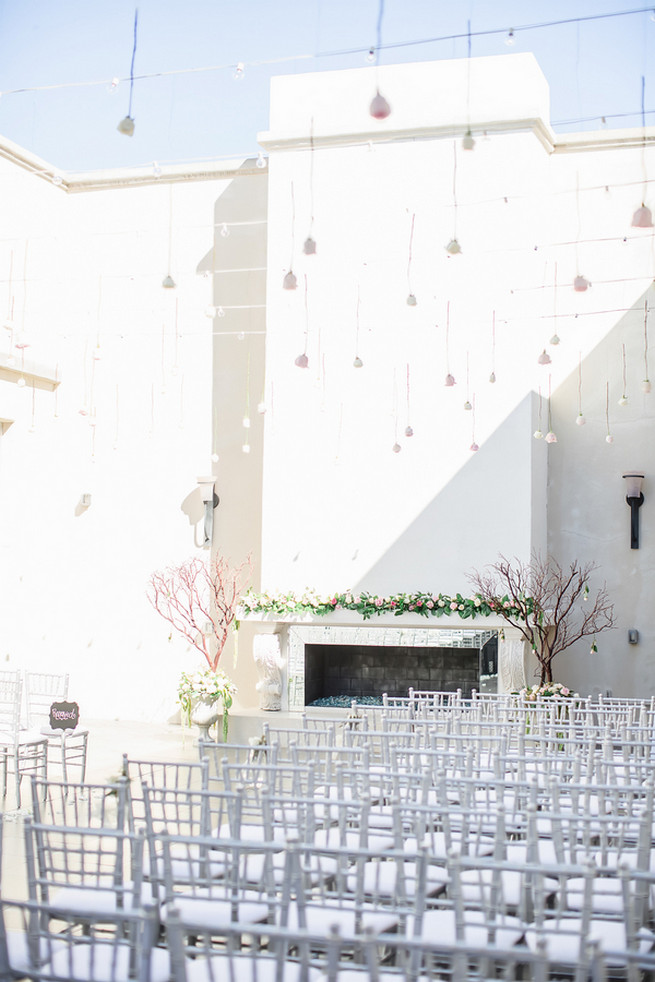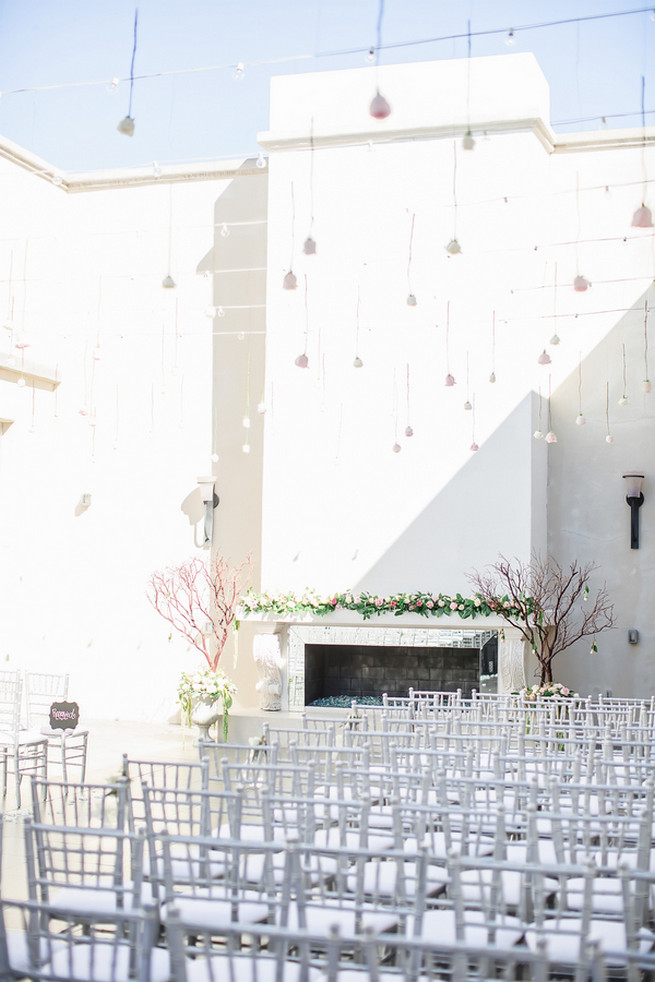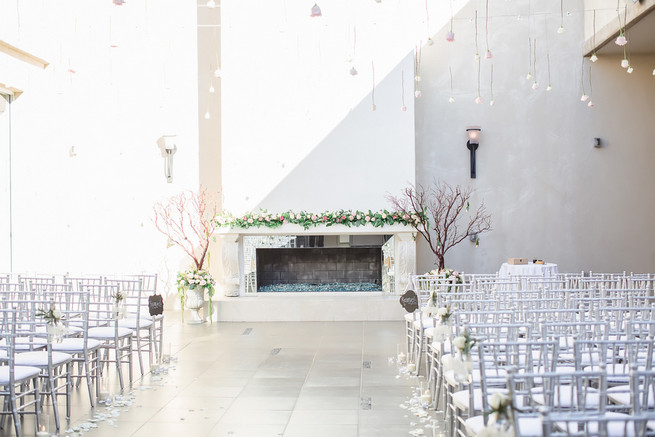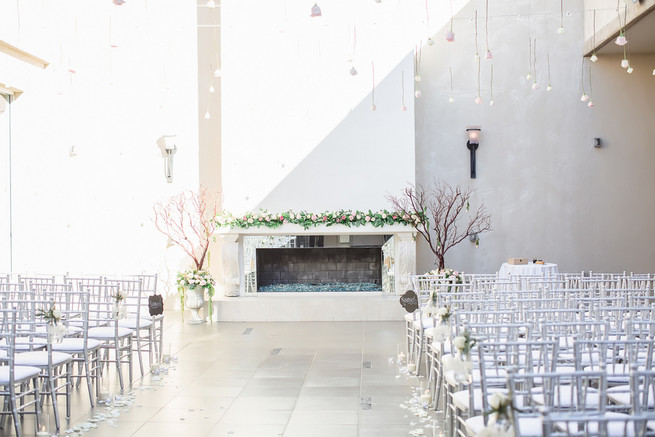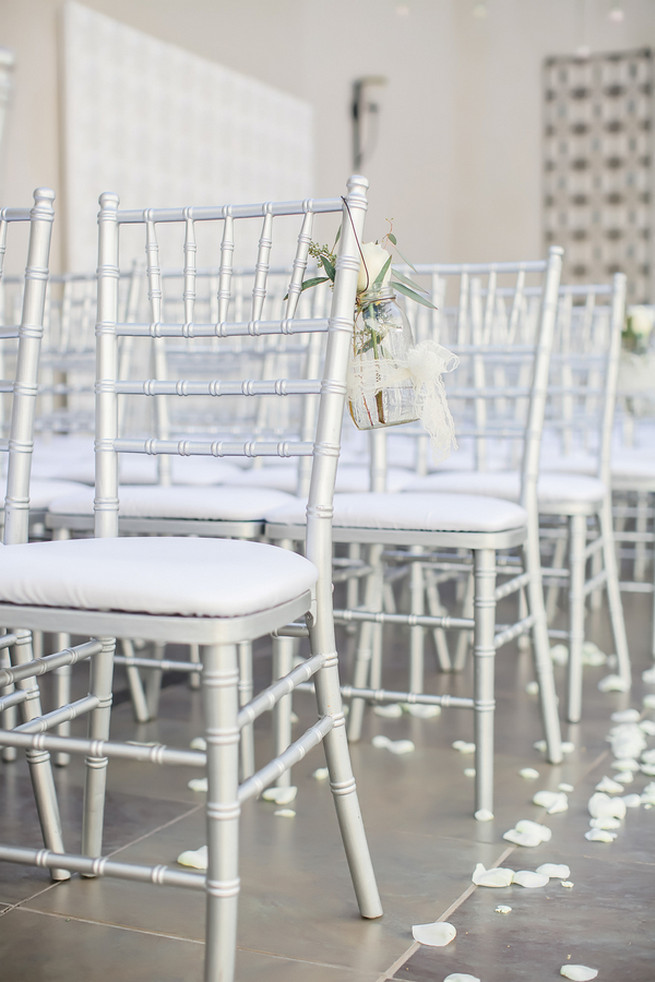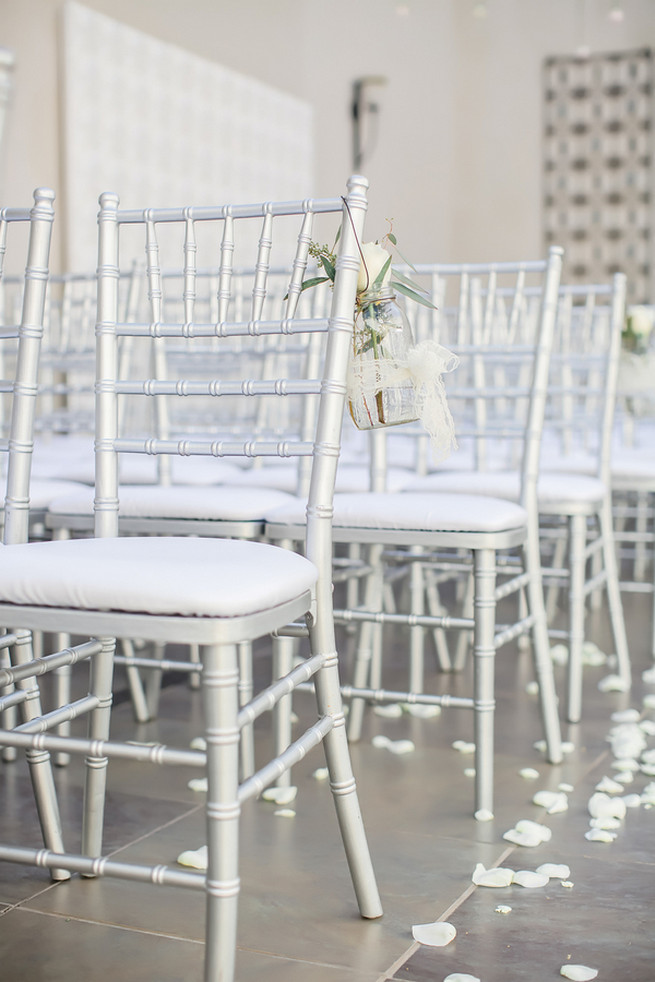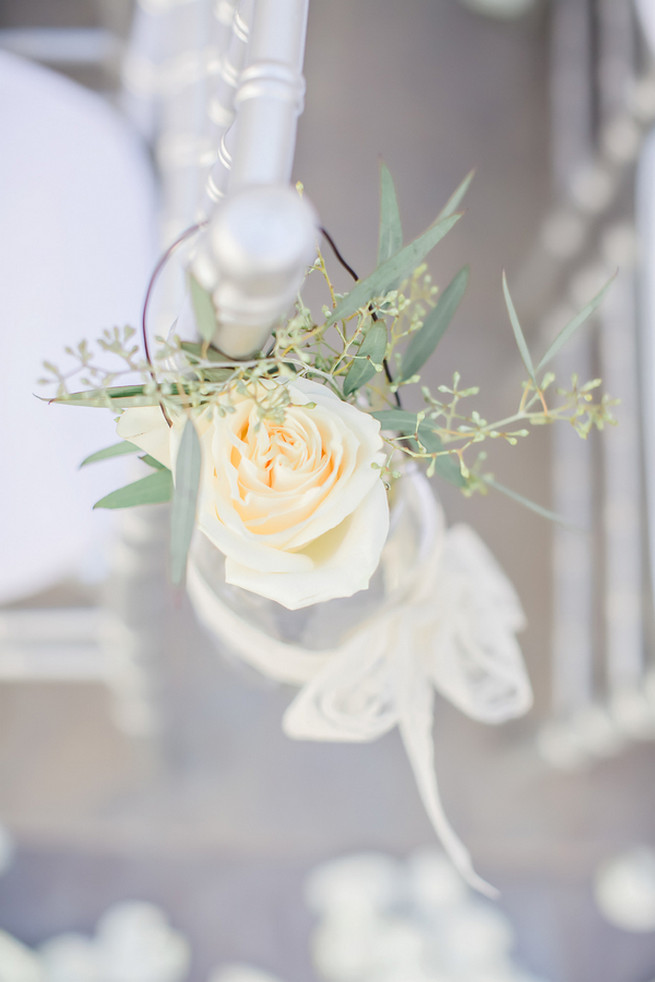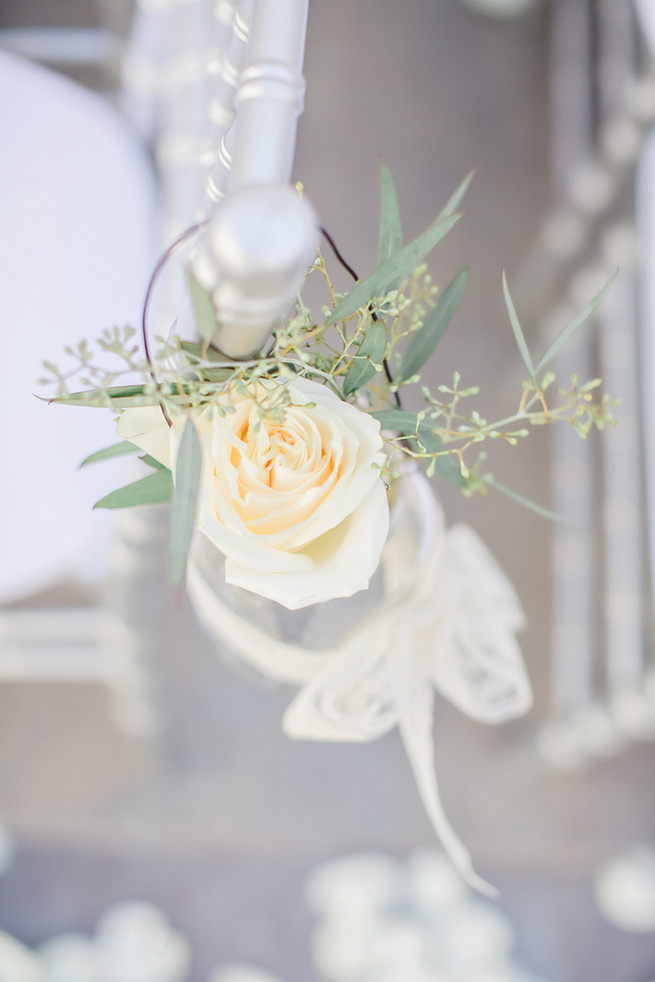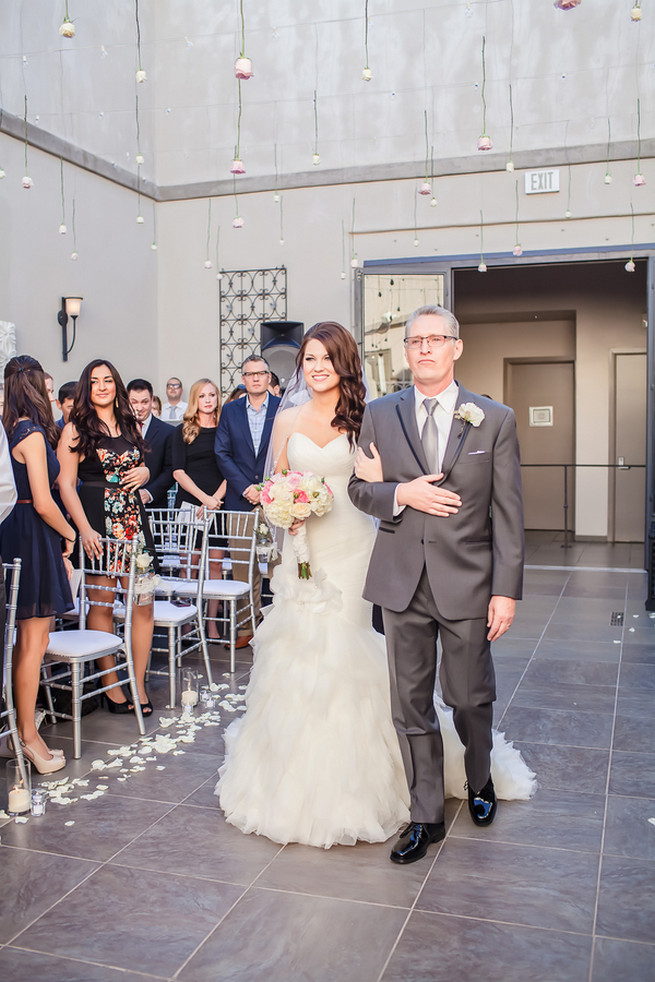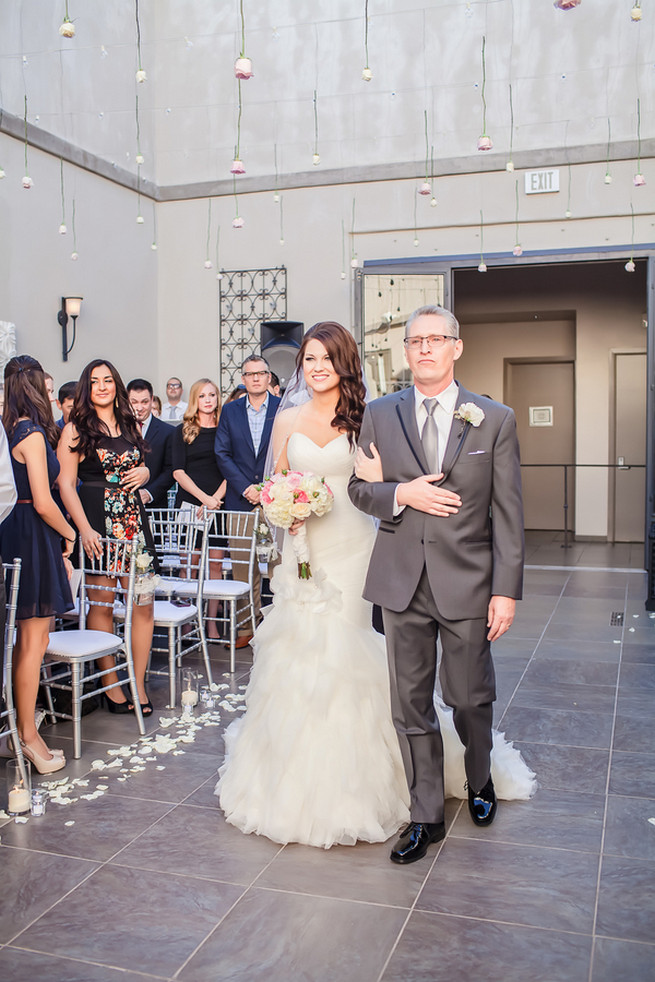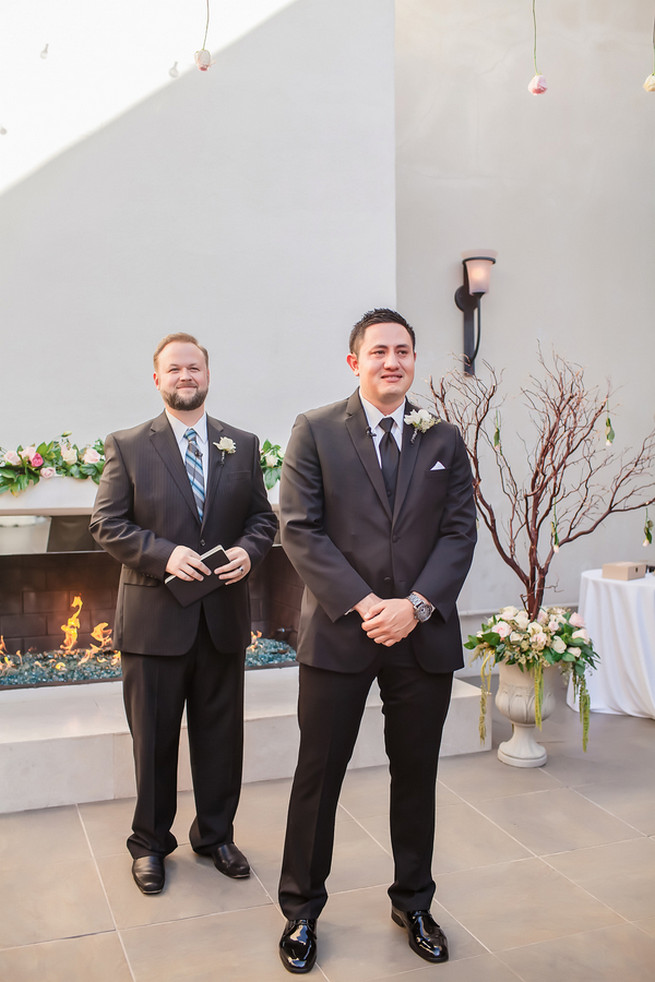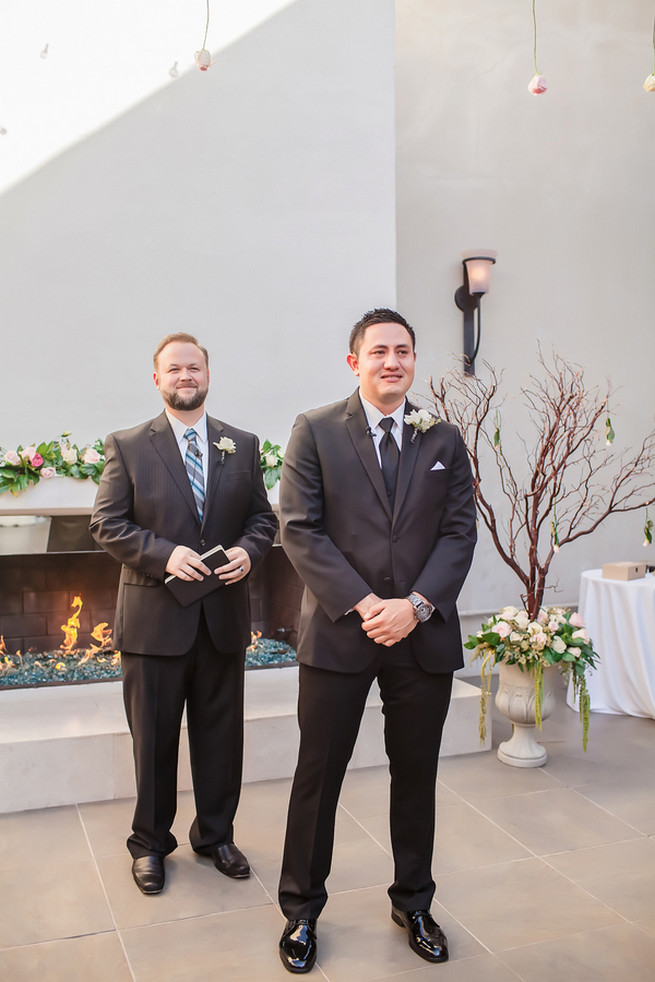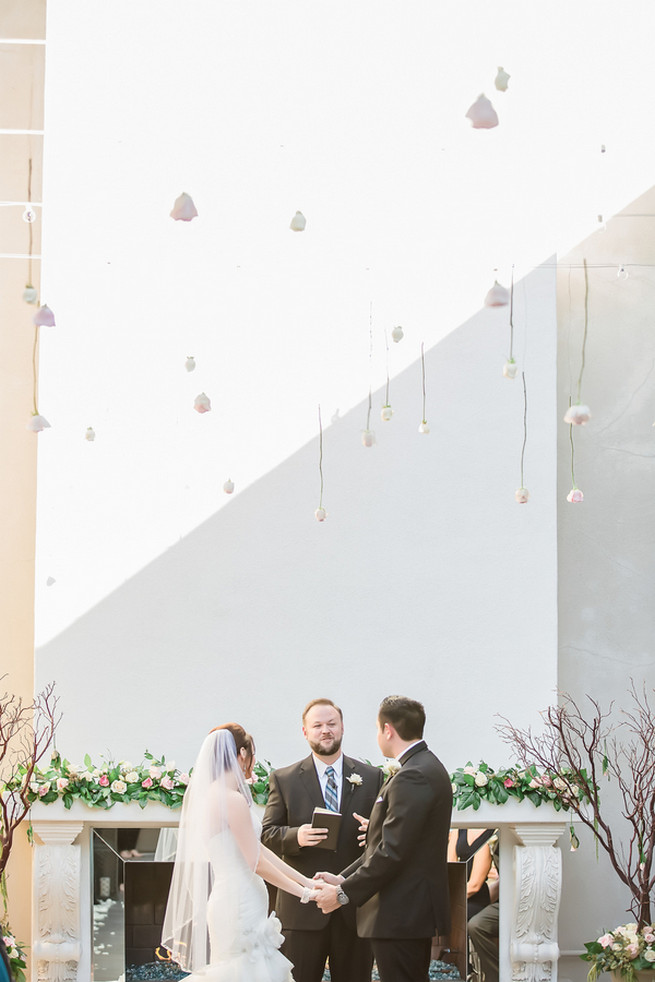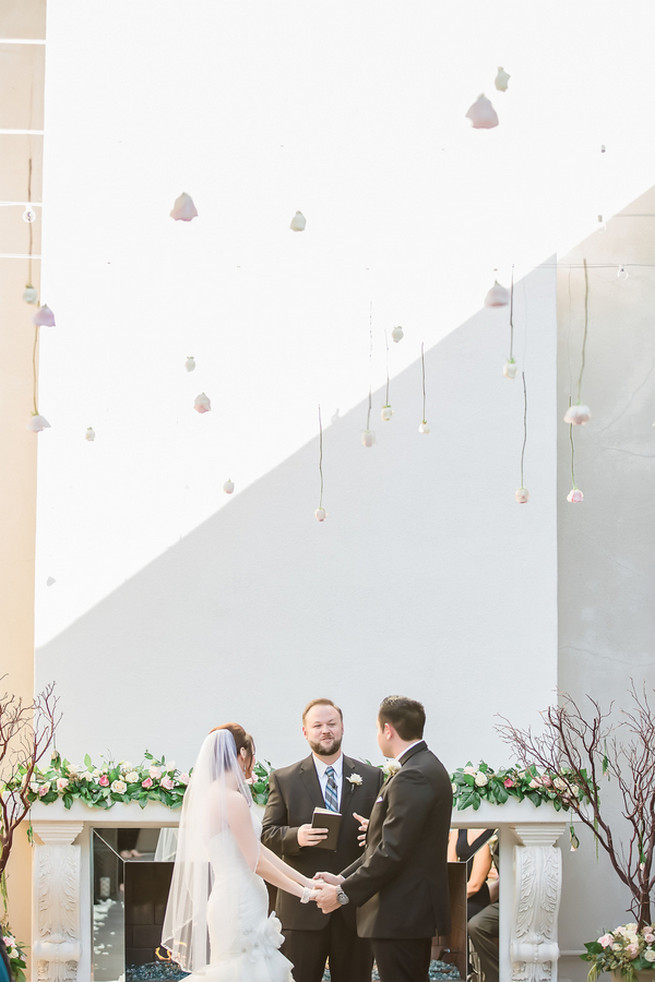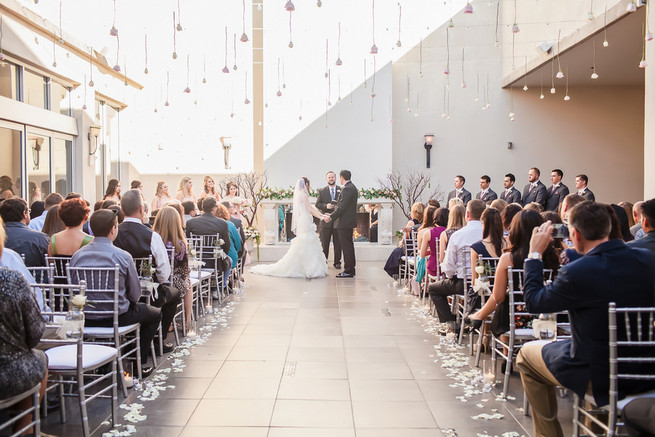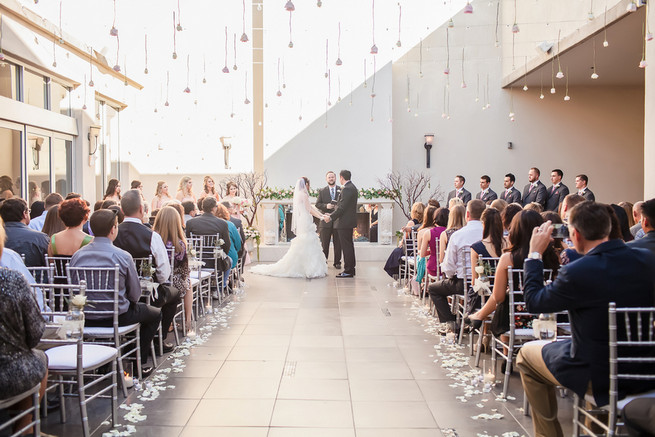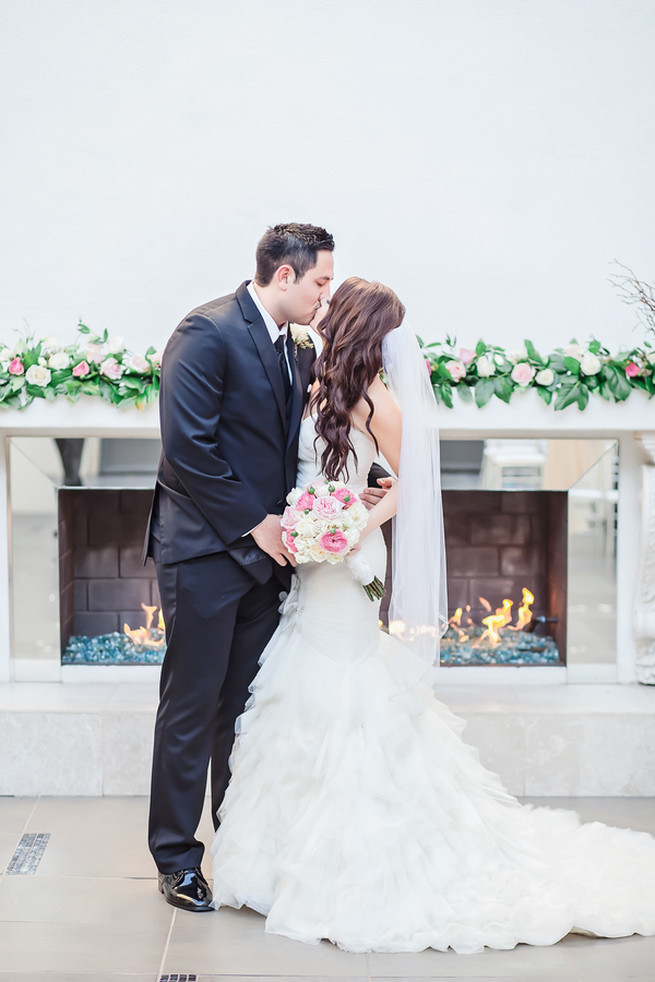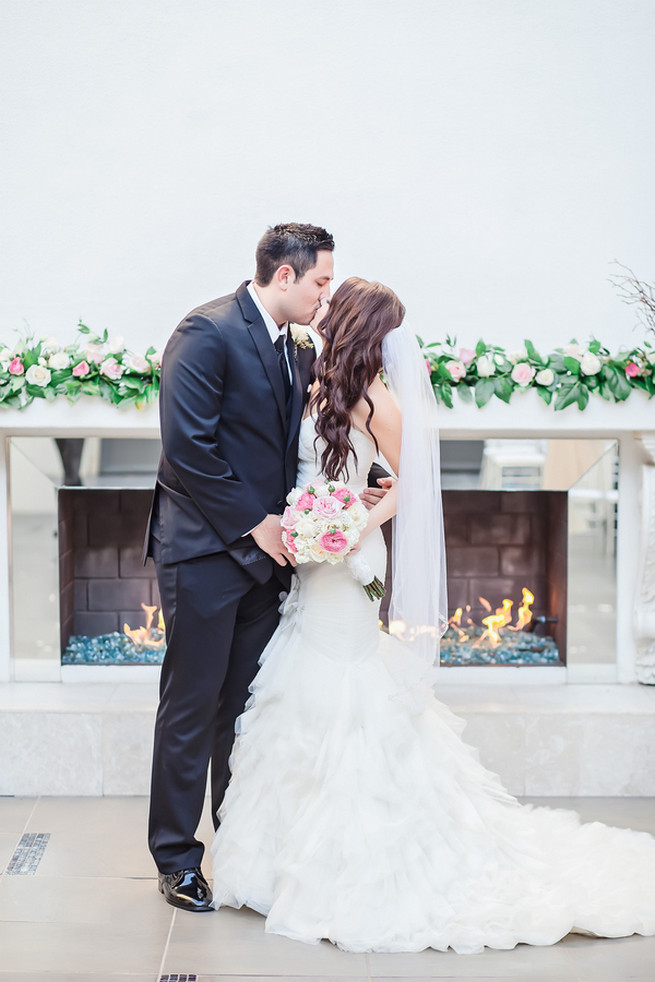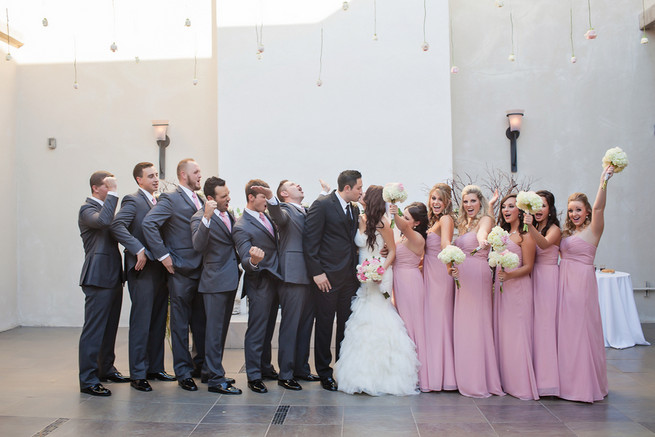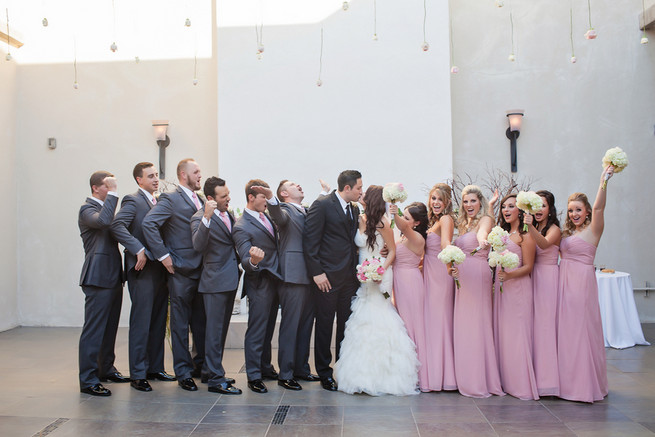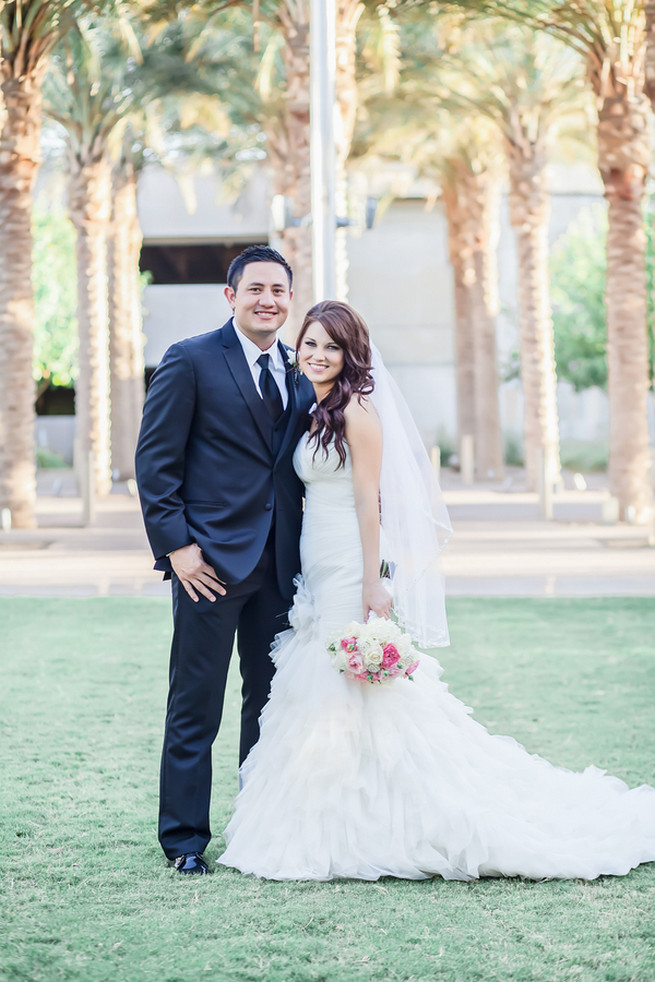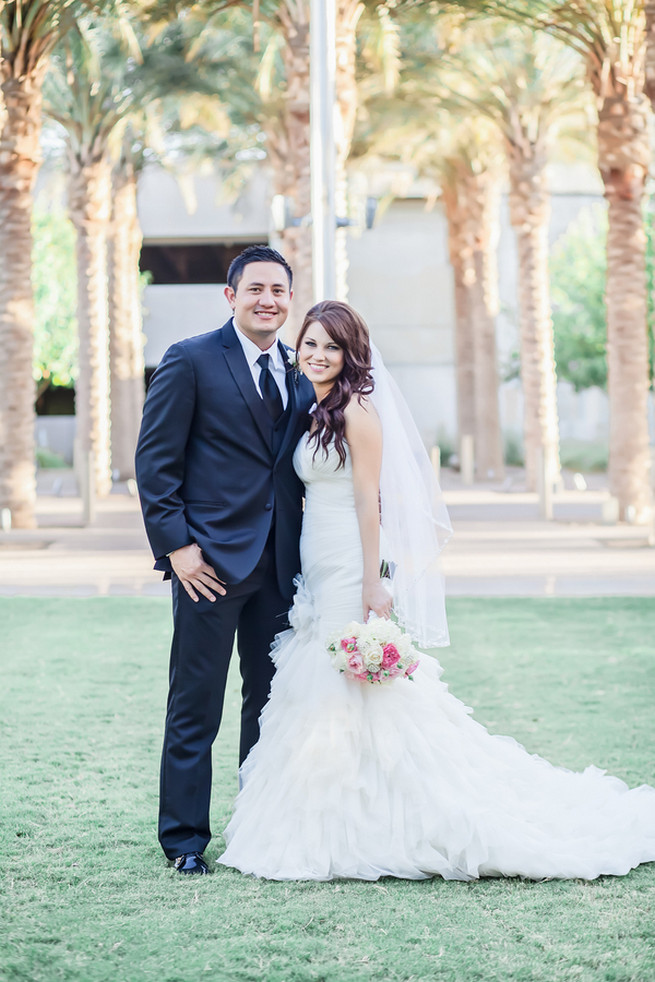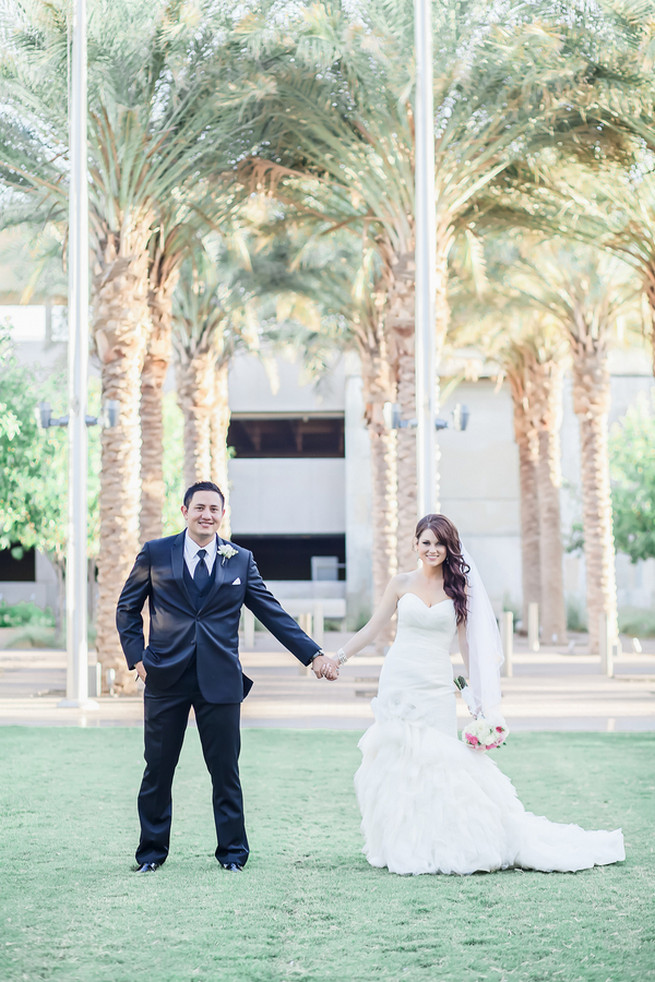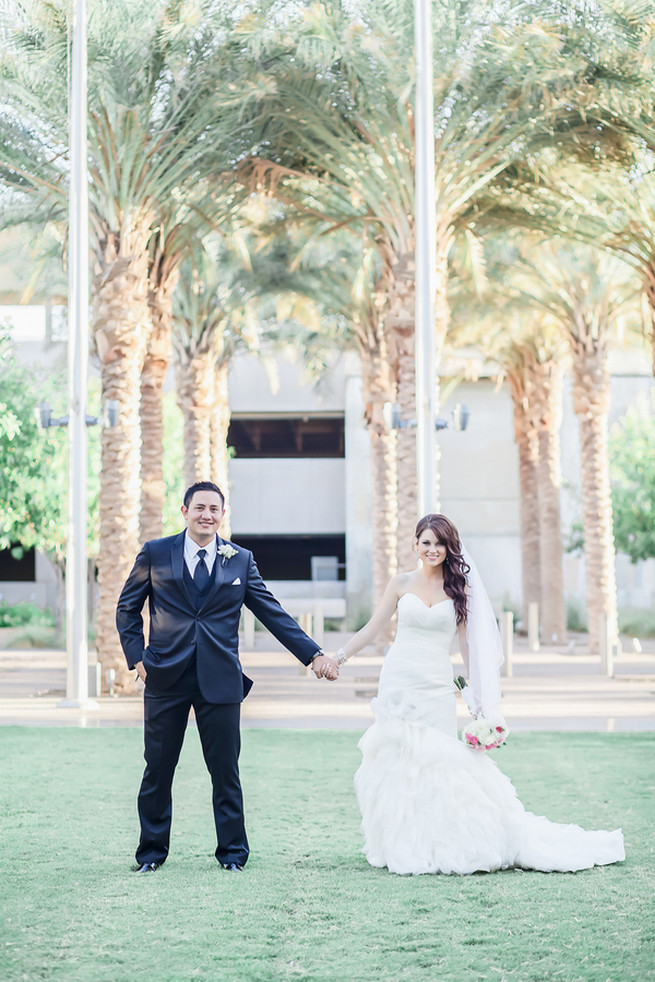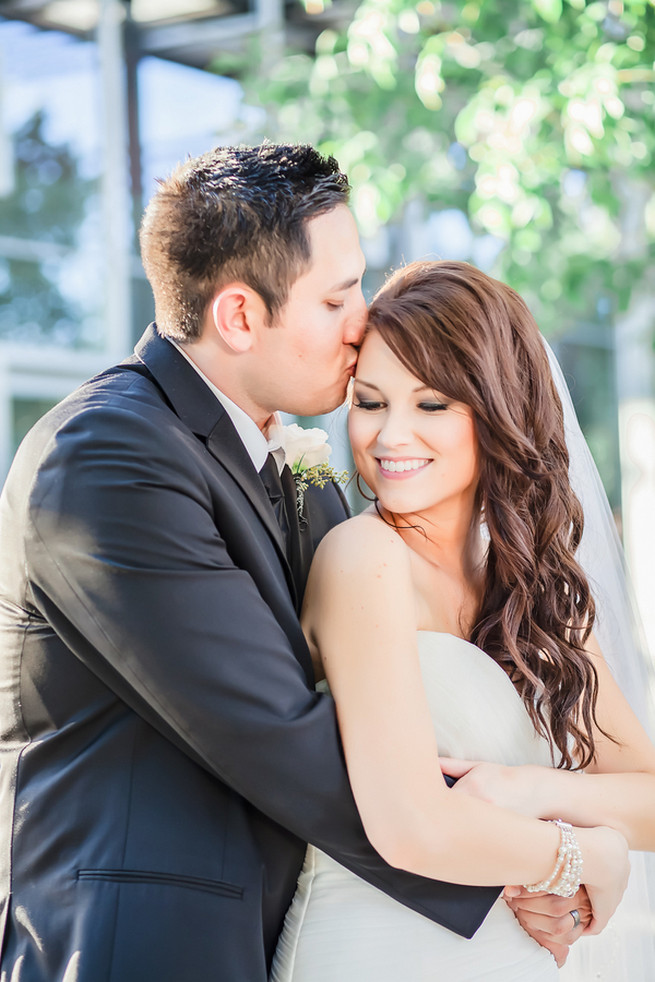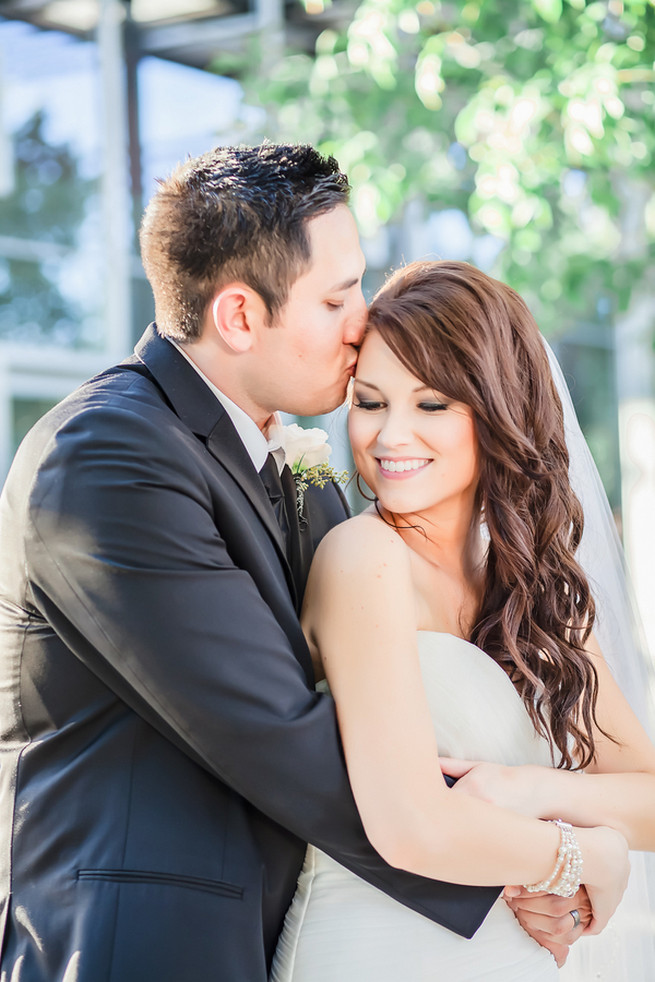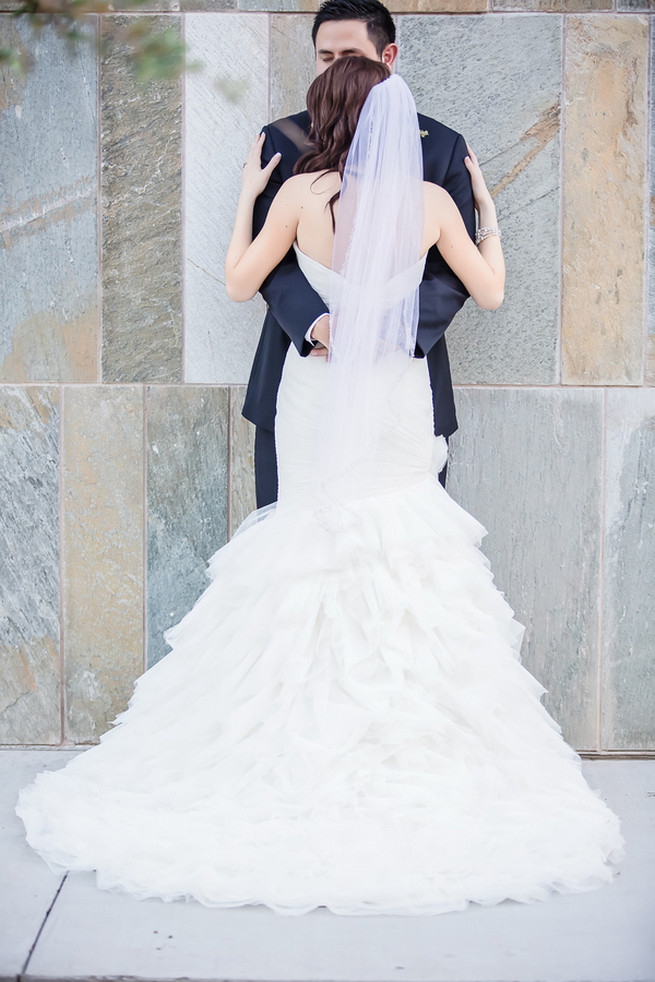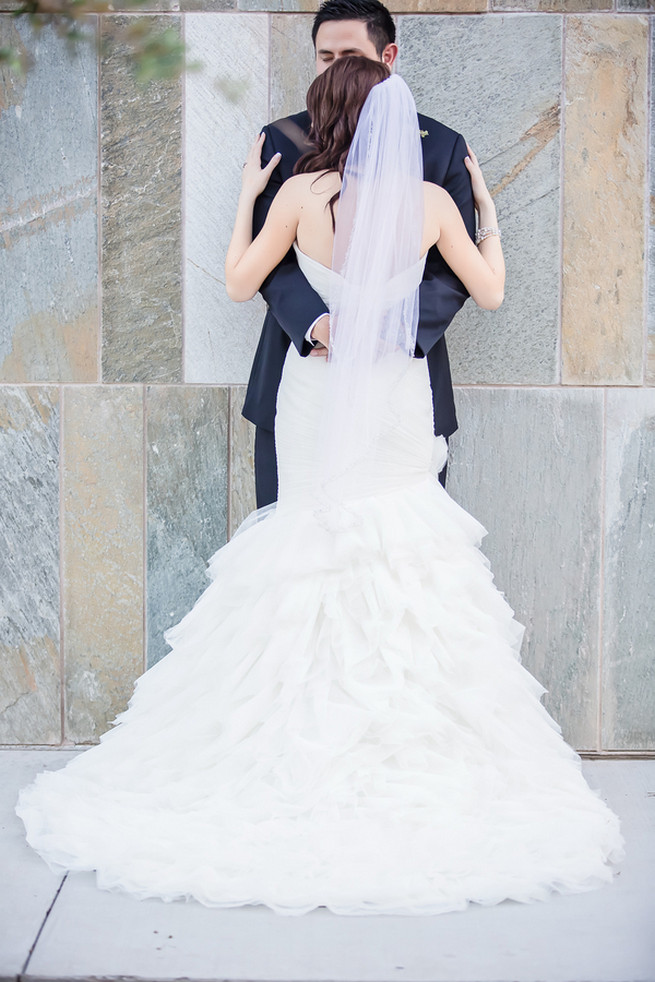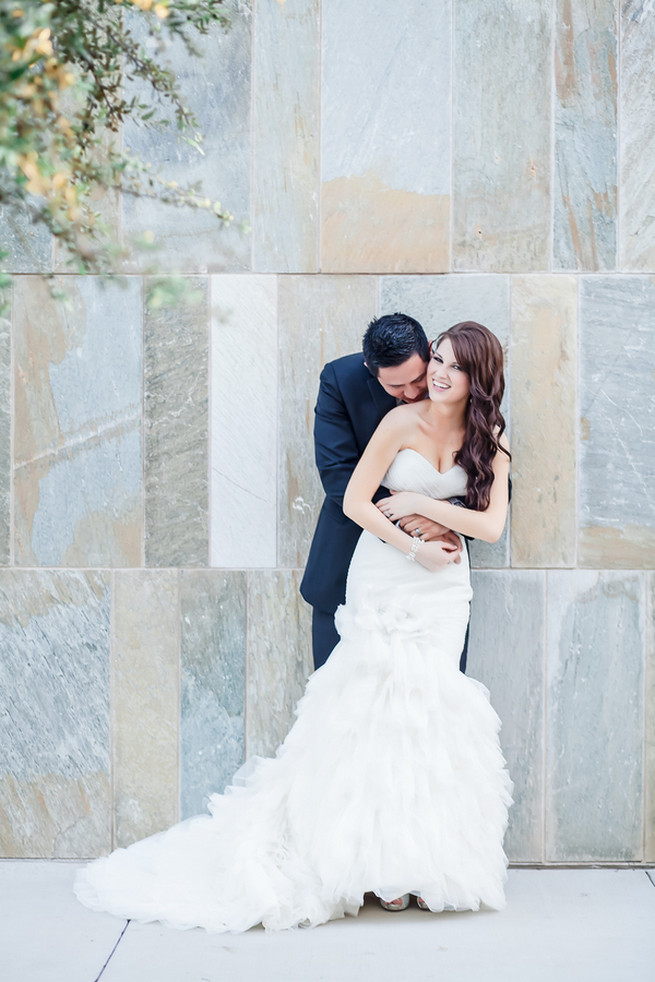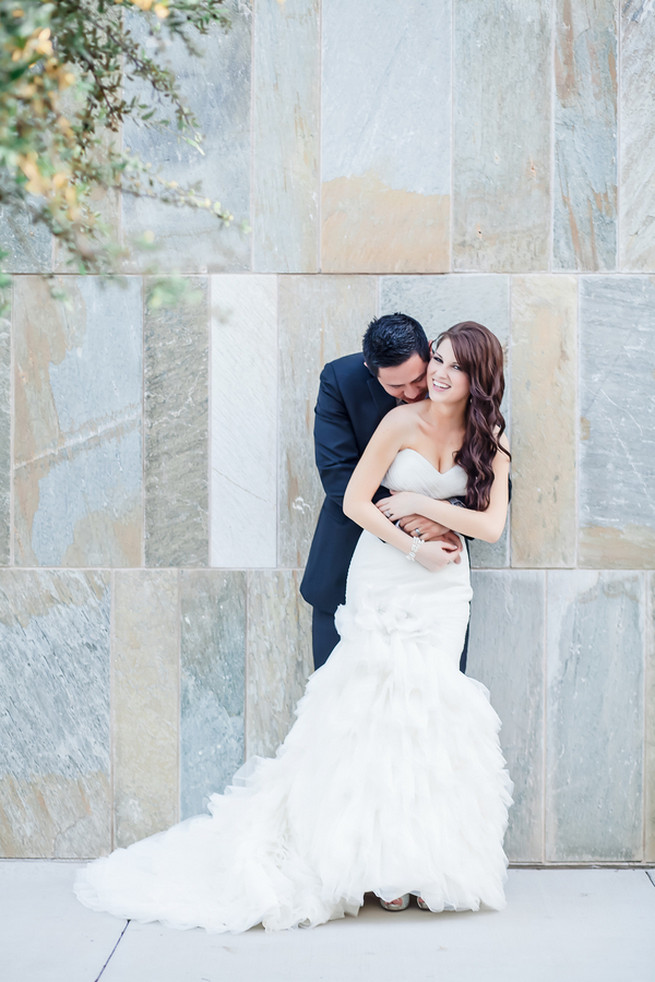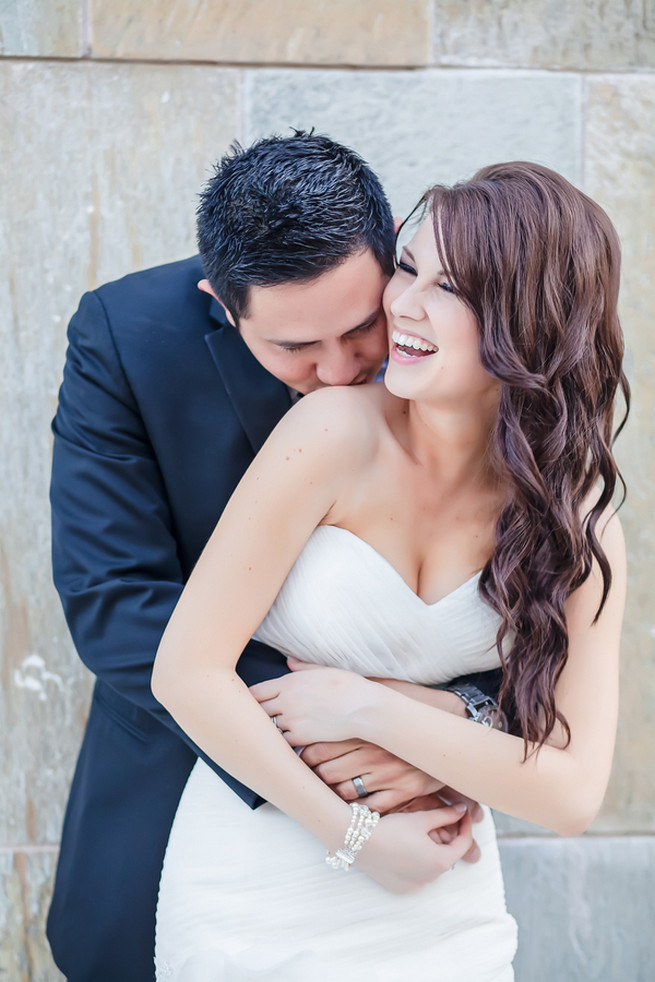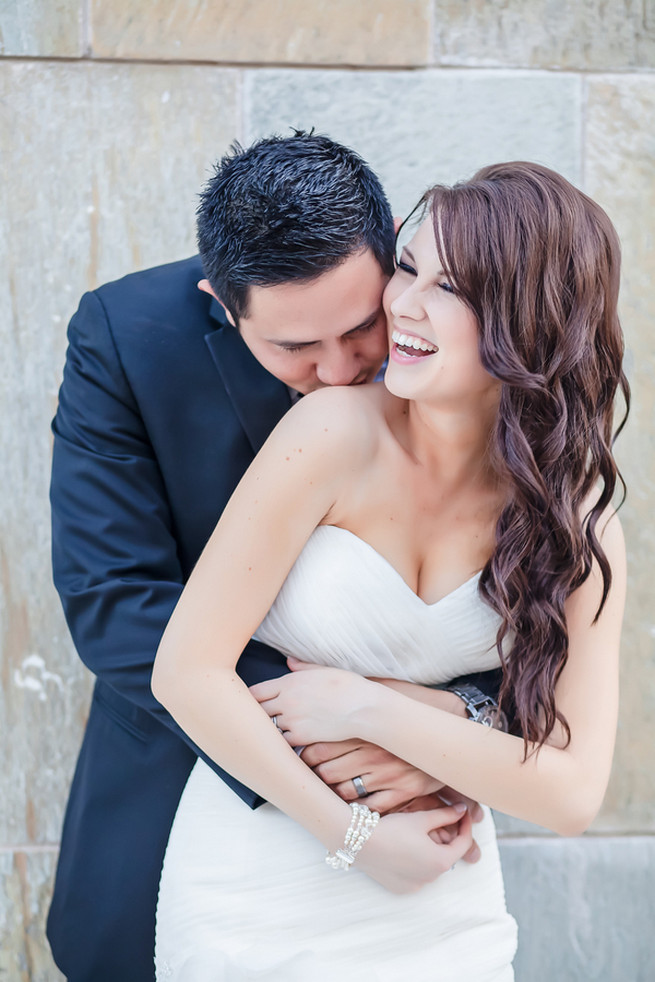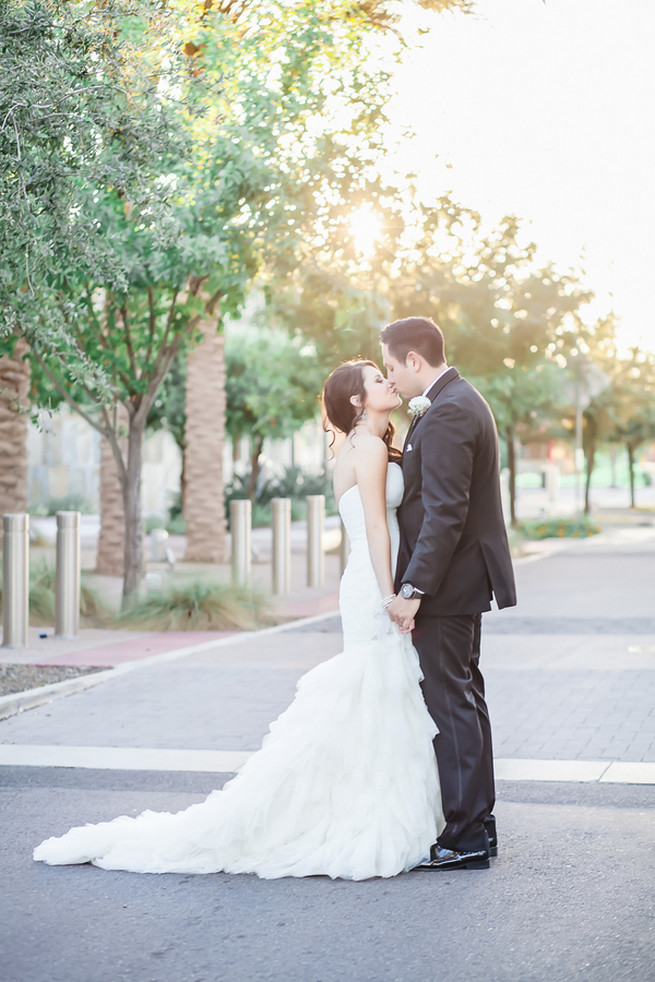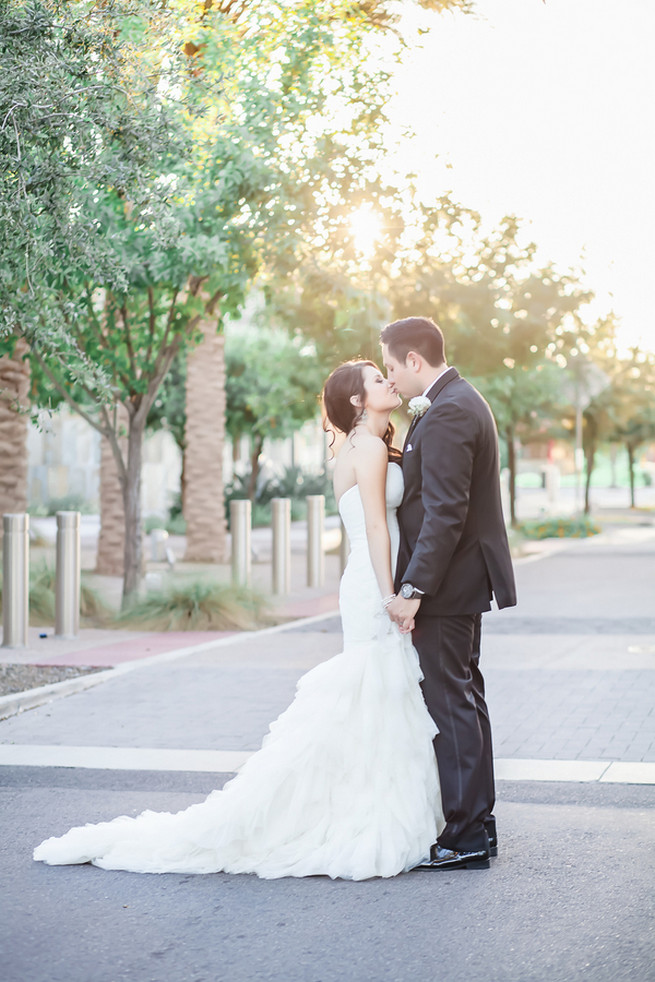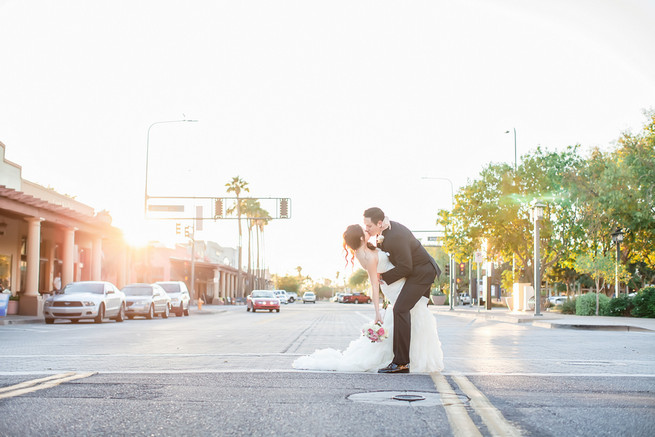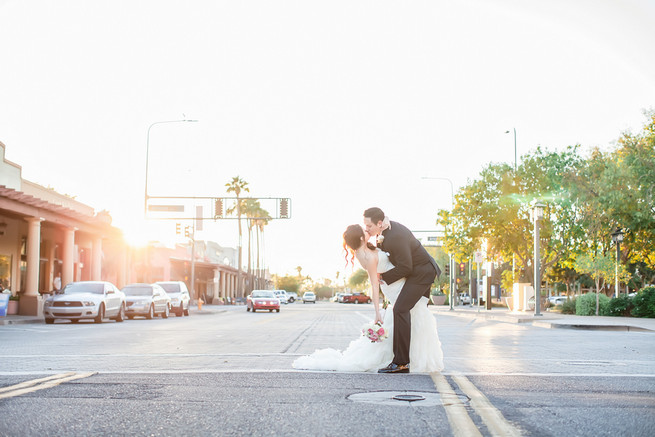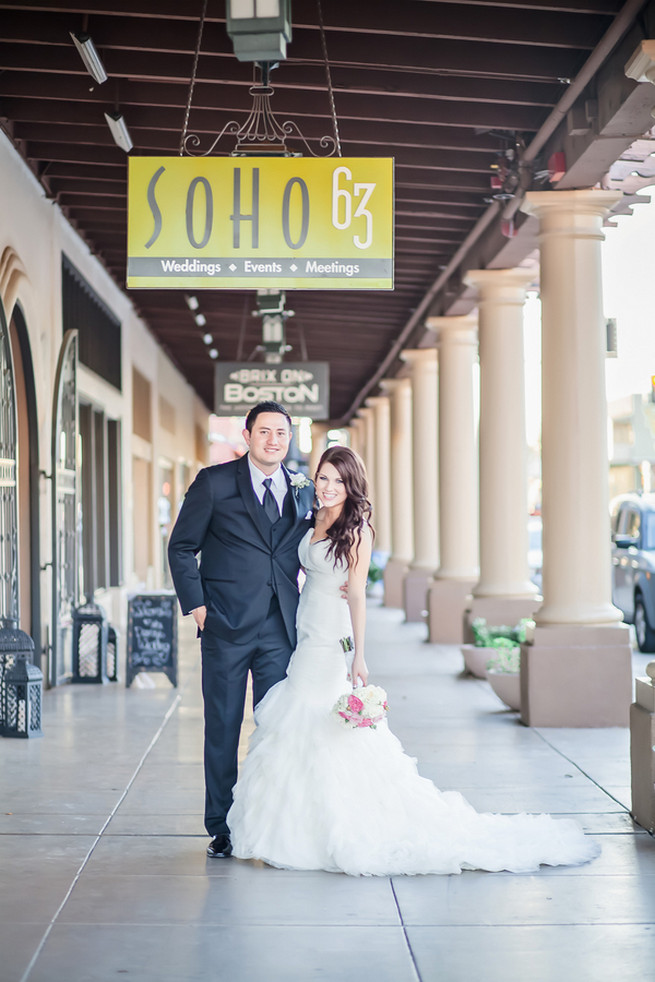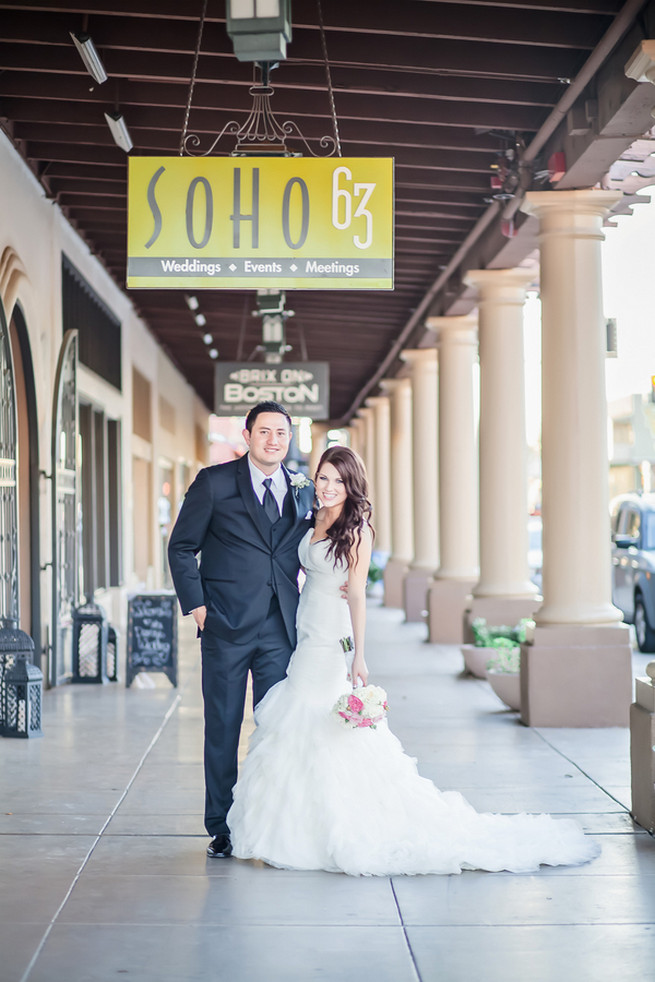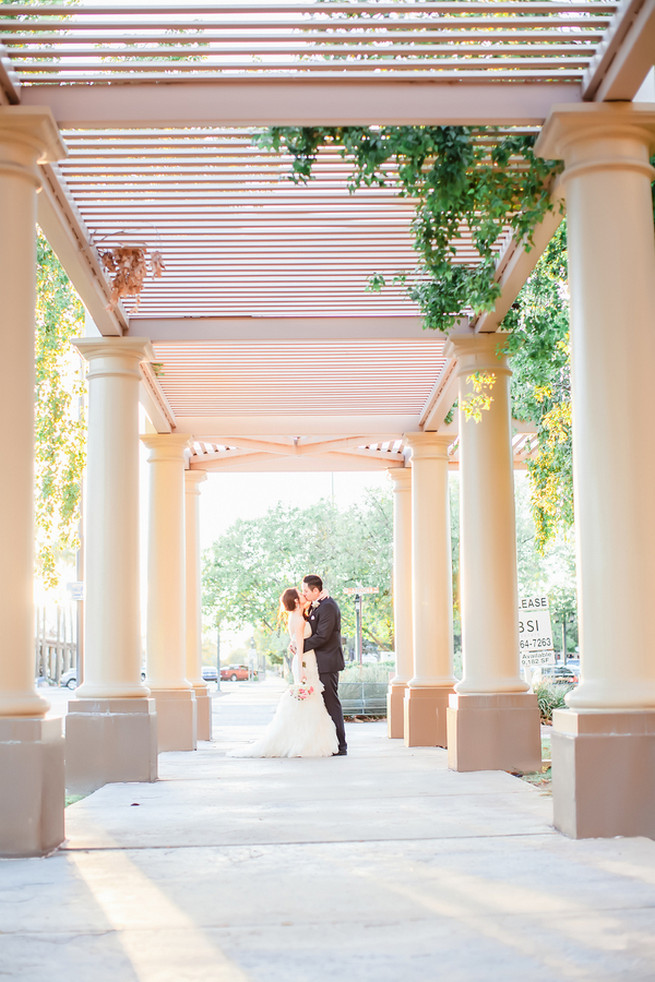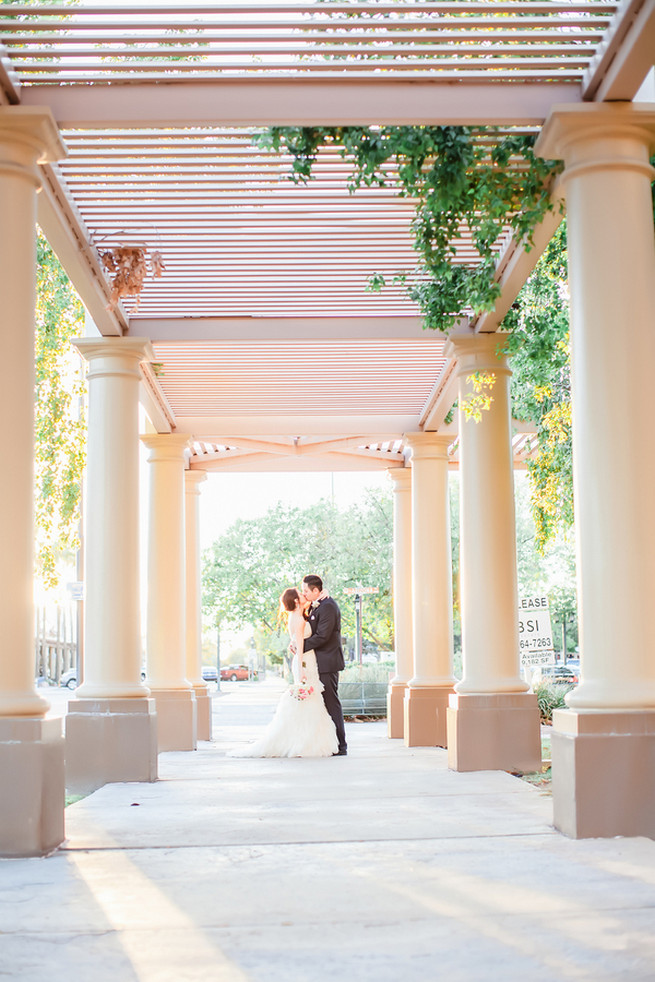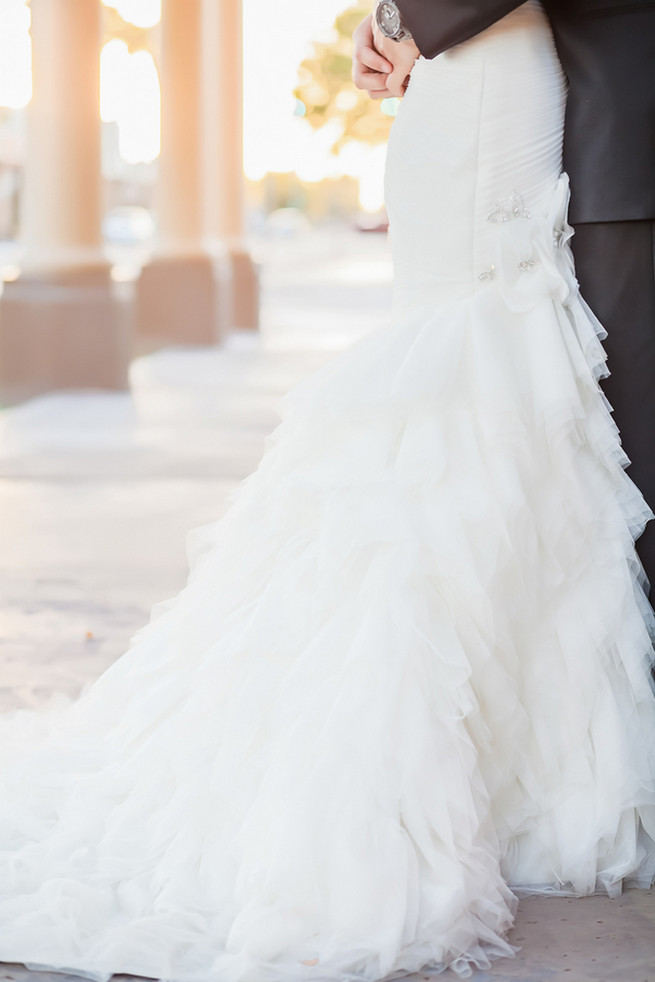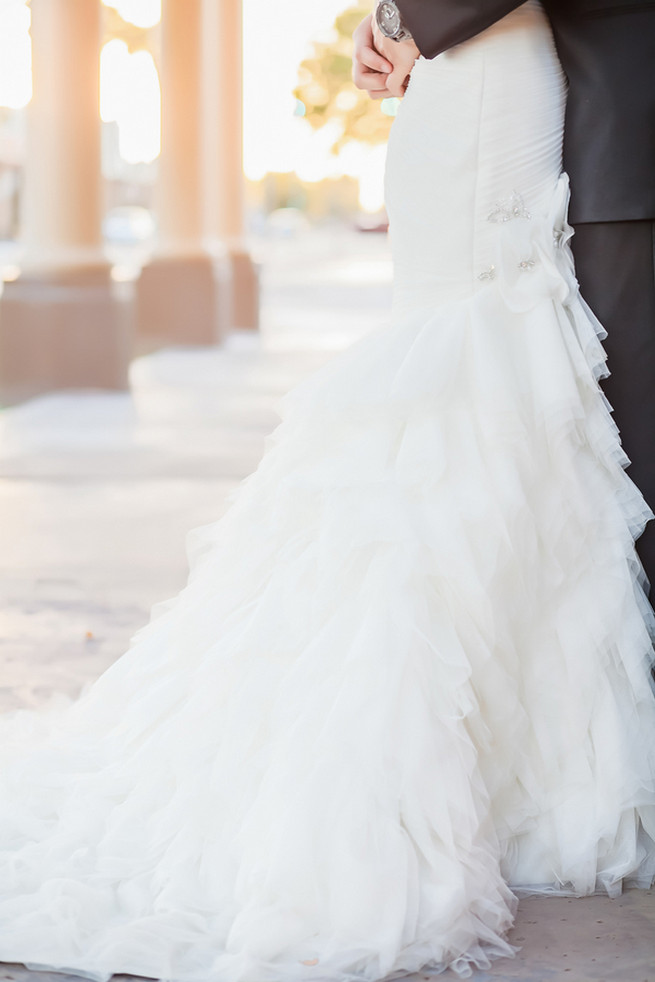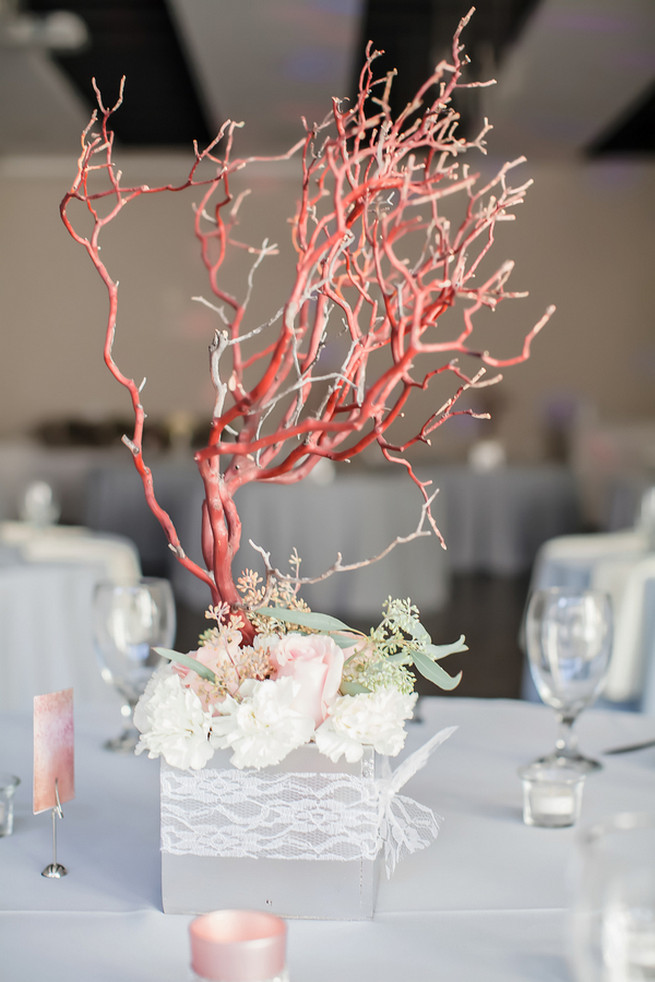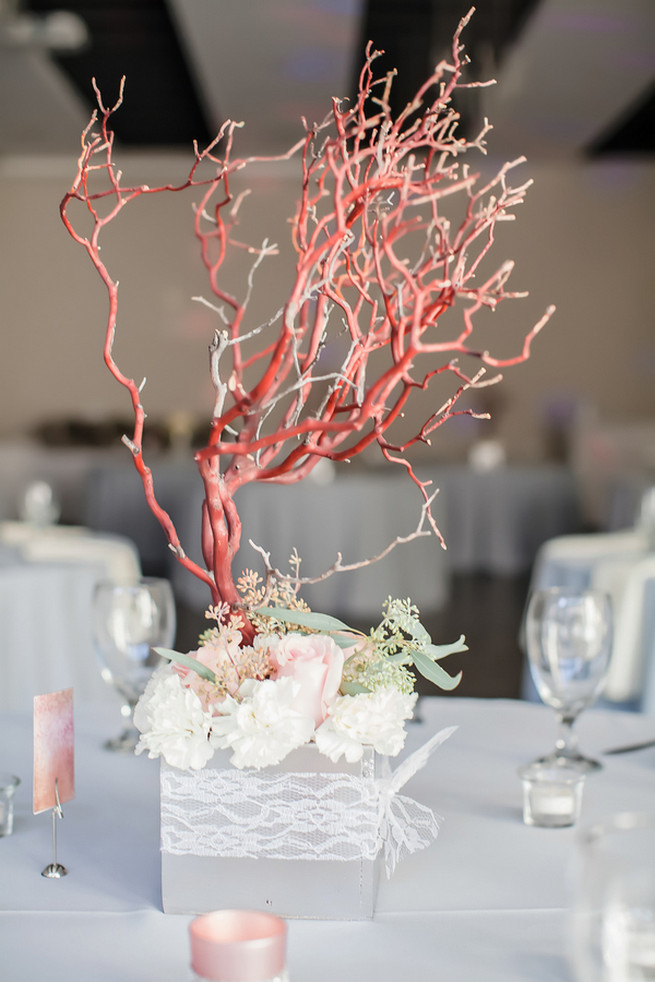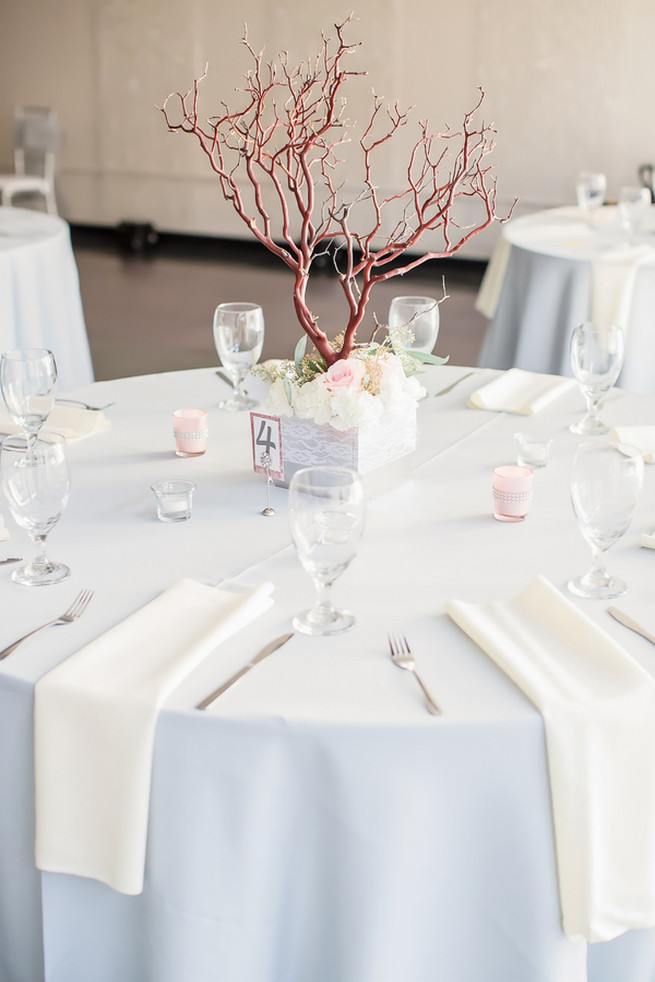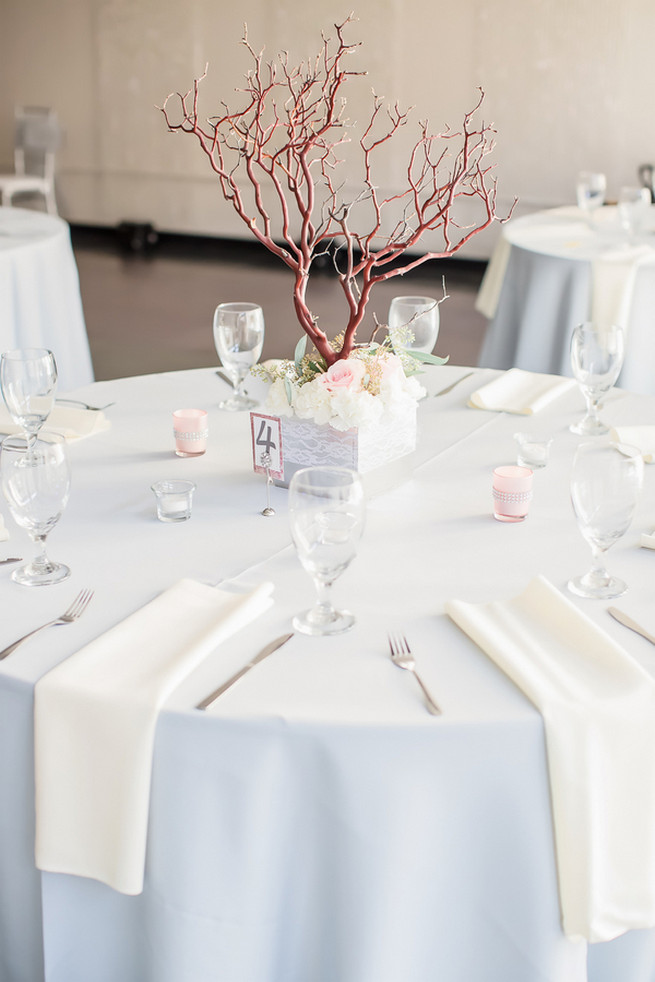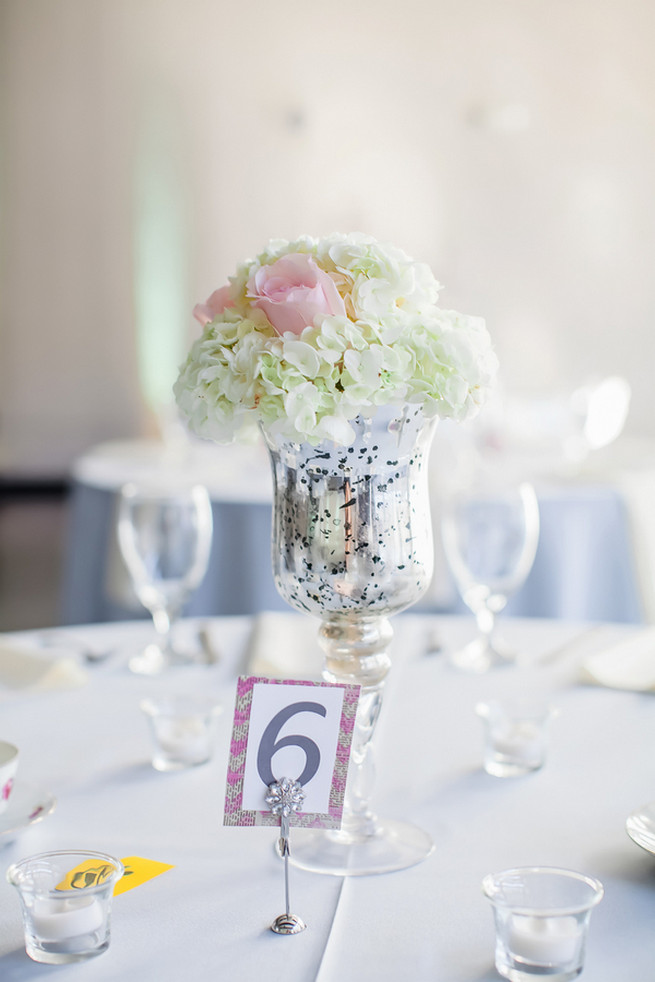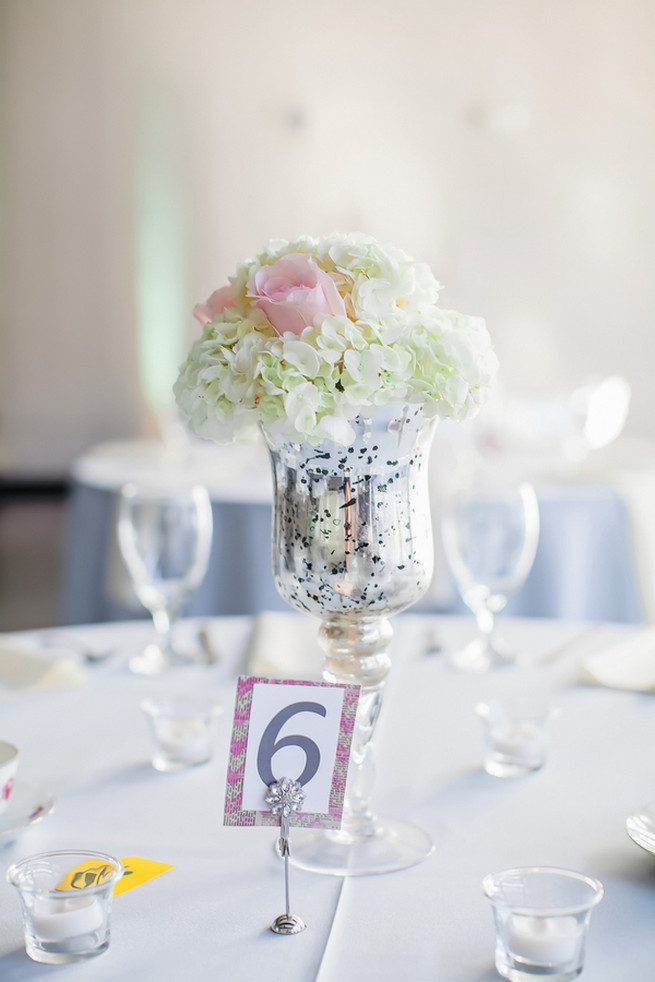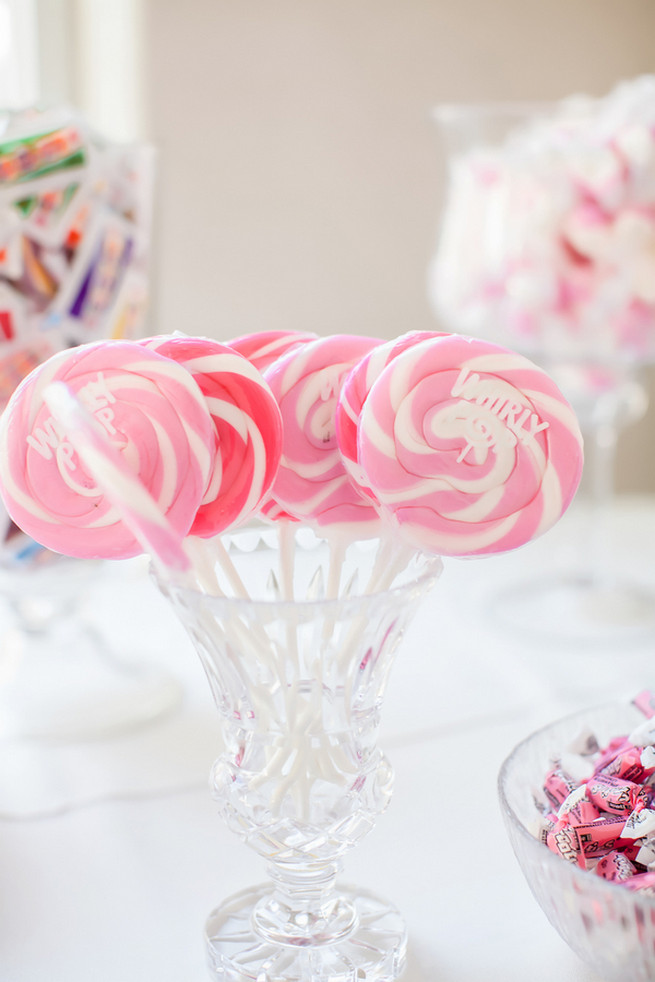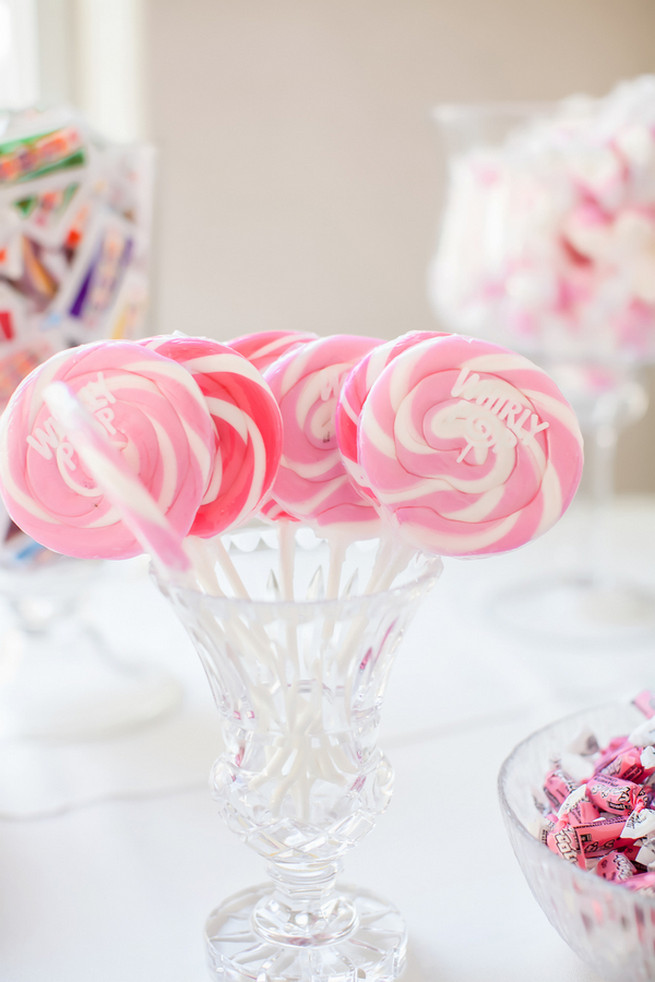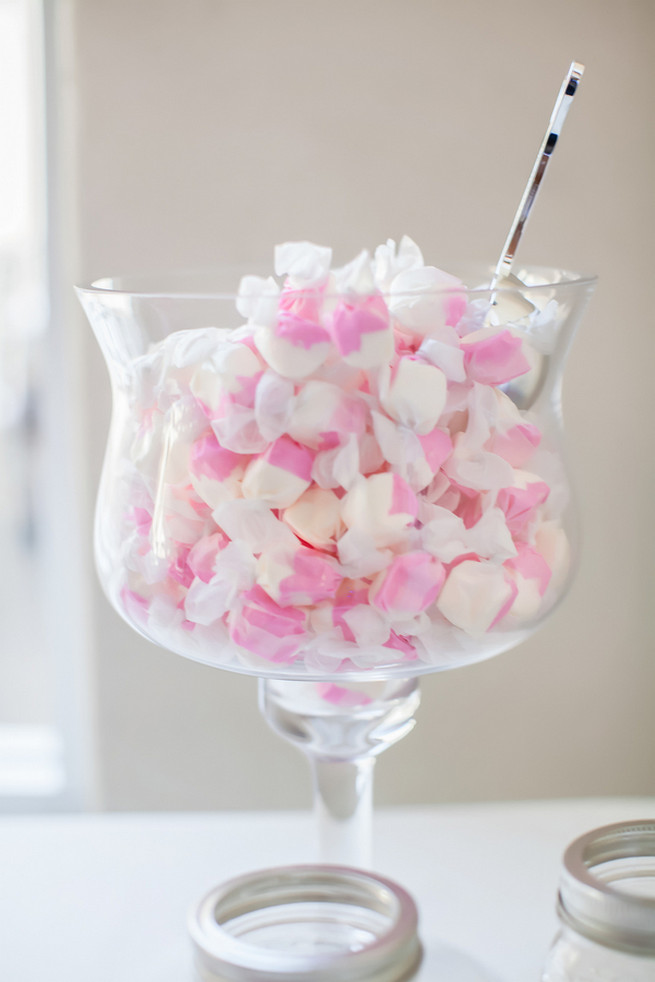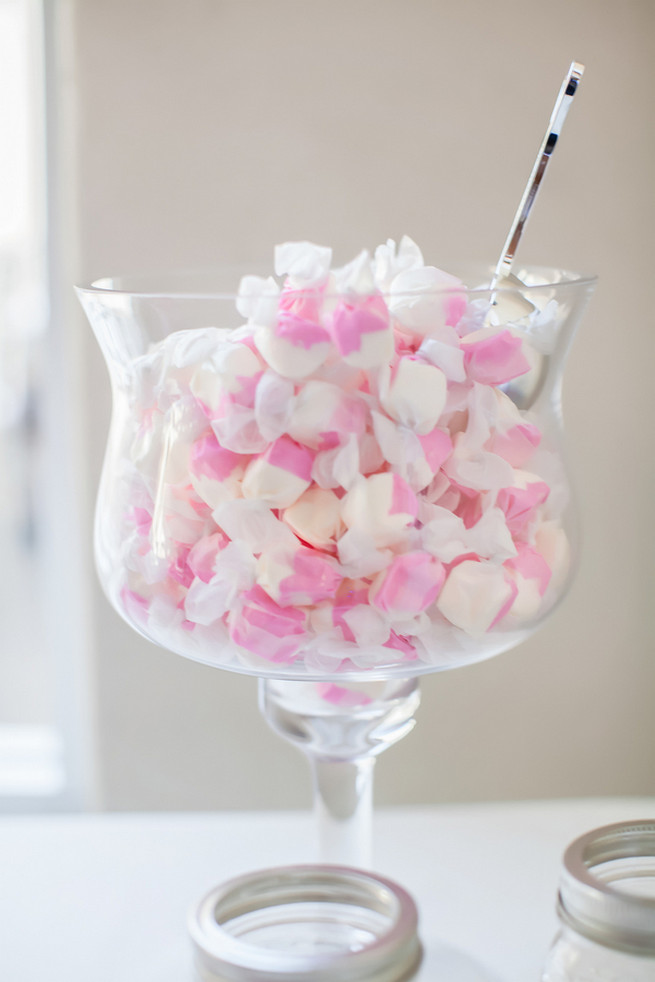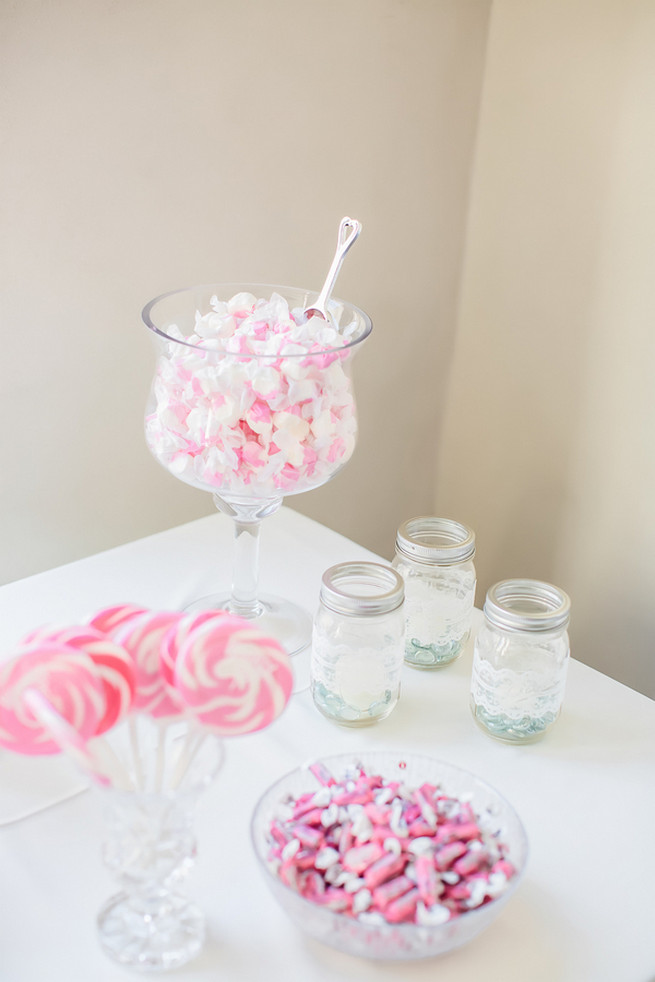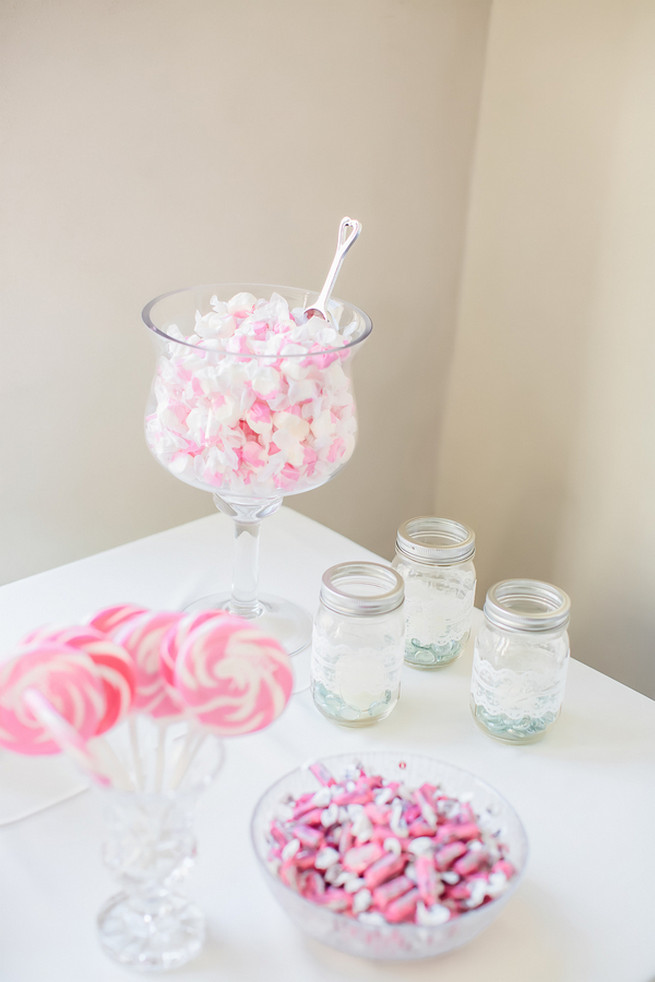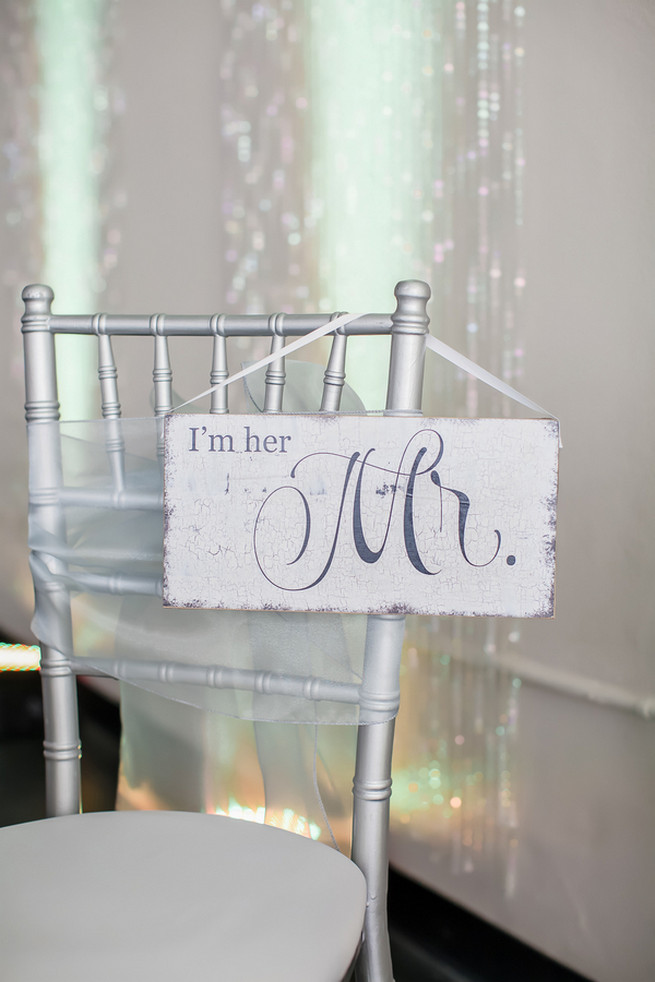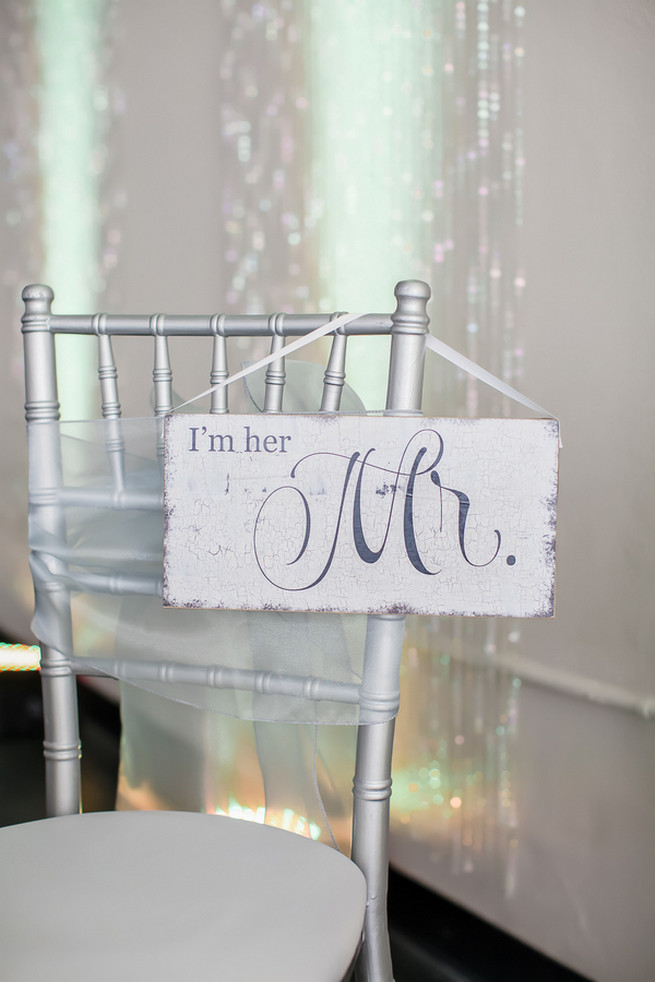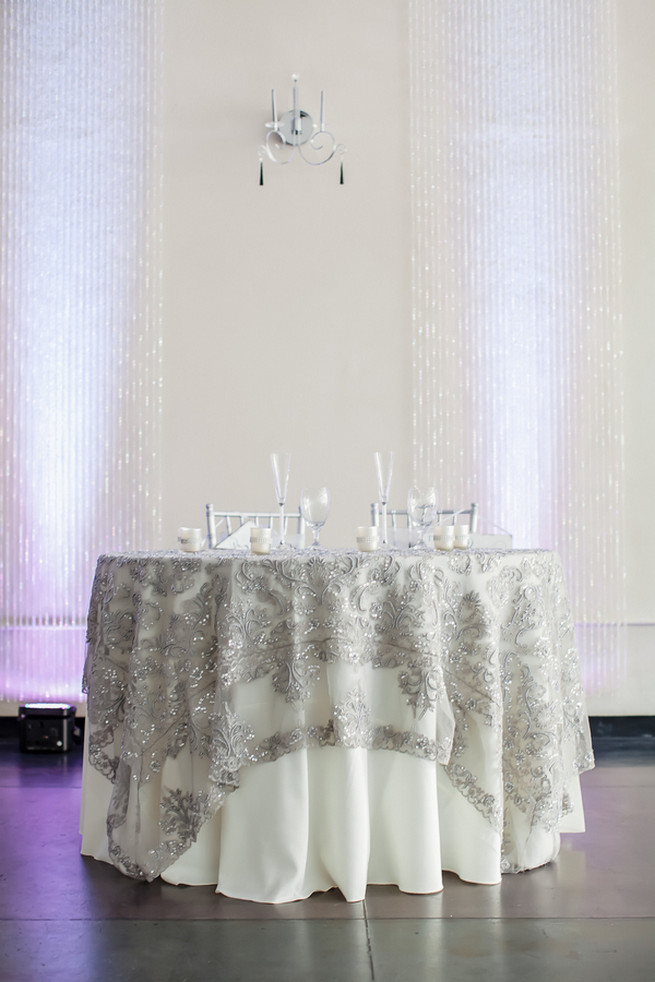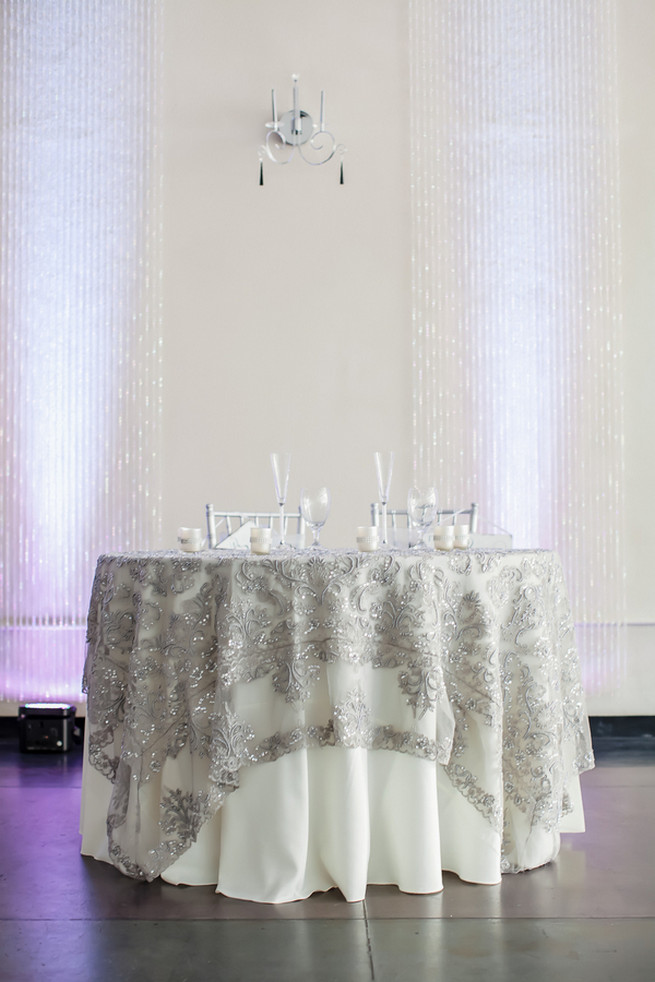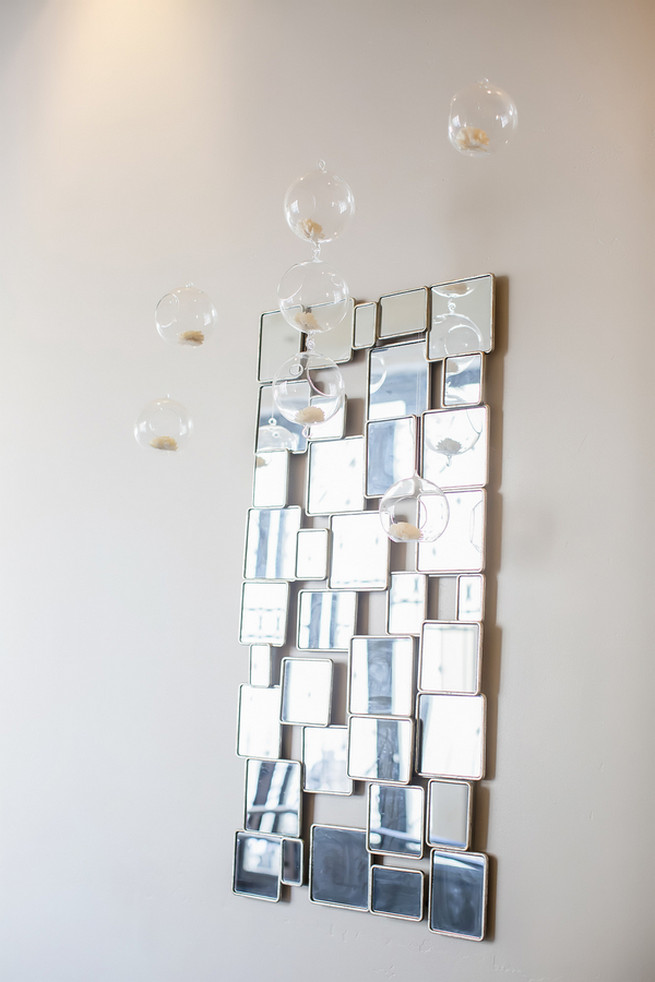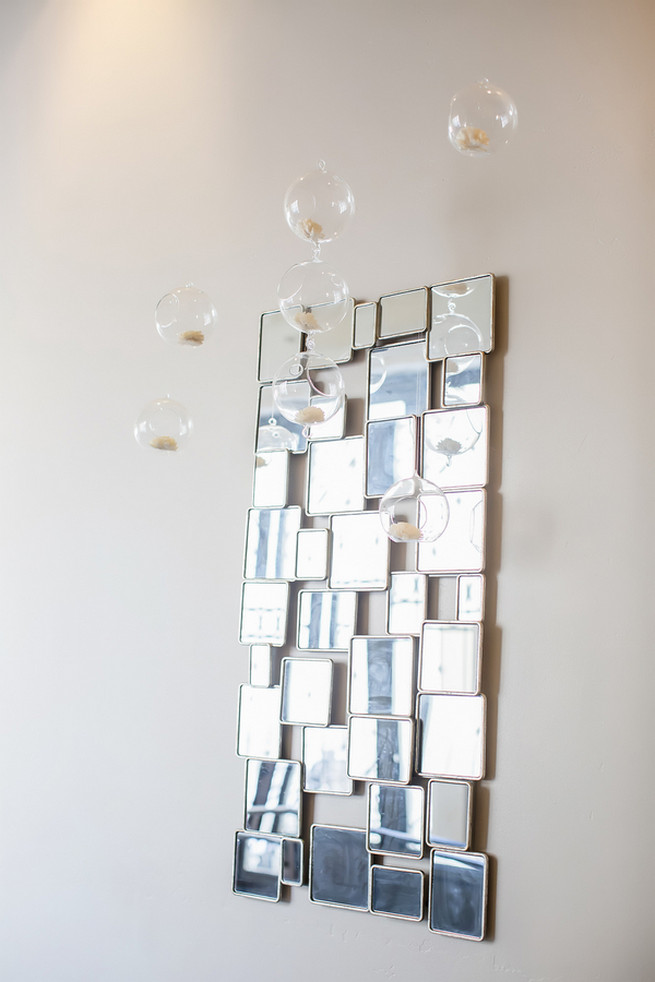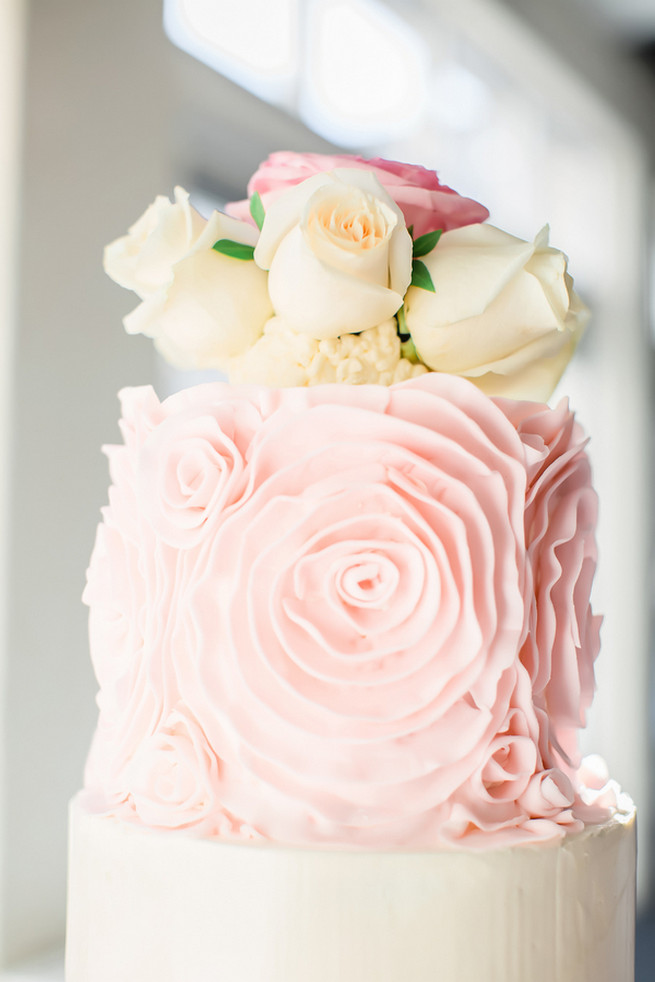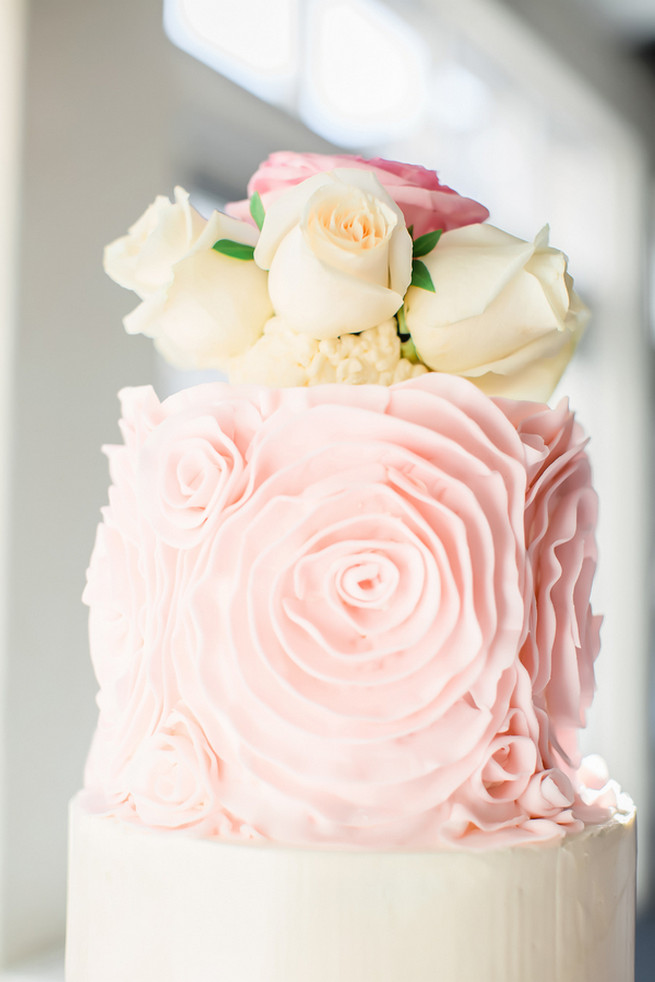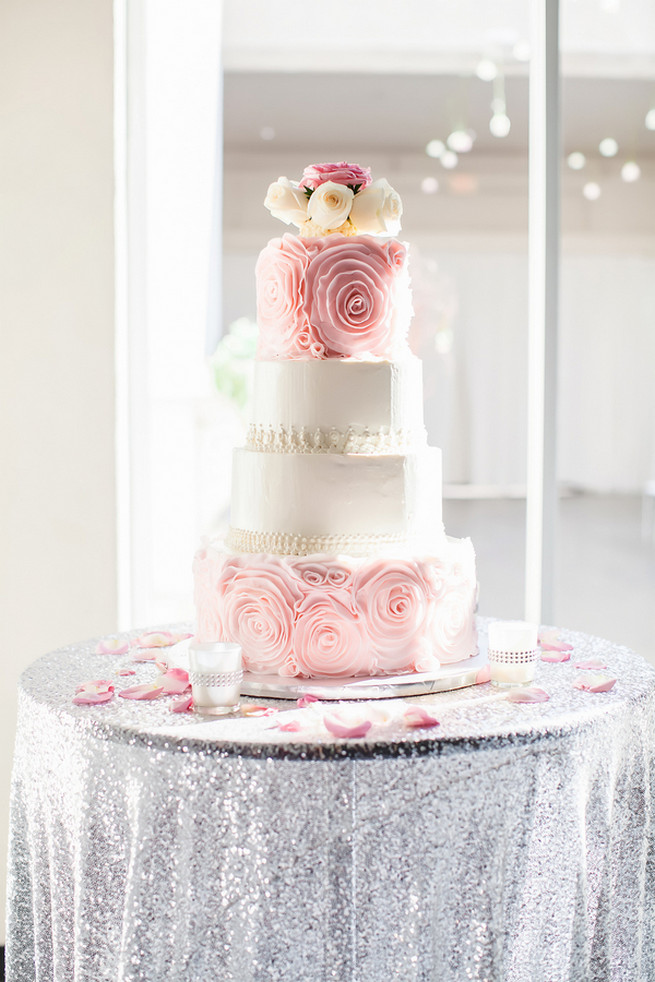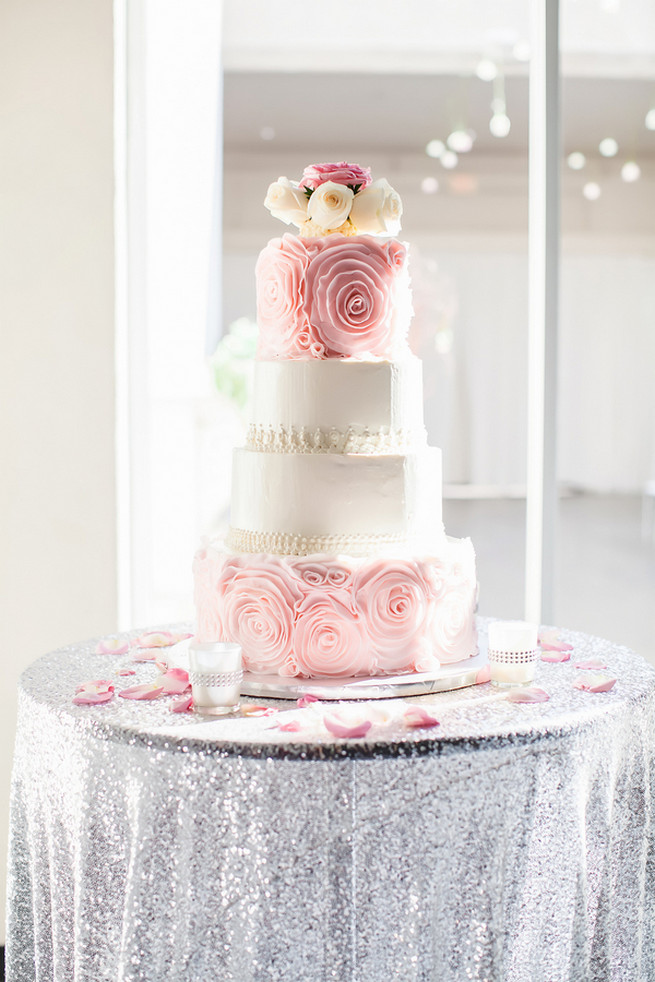 Urban Romance: Pink and Silver Wedding
Love Story:  Jen and Seth first met while attending the University of Arizona in April of 2011. The two remained "just friends" for a few months, but spent four hours talking over lunch, the first time they were alone together. They clicked instantly, and by July 4th, sparks were flying as they made their relationship official!! The couple fell in love that summer and knew that they would someday tie the knot. 2012 was an eventful year for Jen and Seth. Jen was in the heart of nursing school and Seth was taking the core of his nutrition courses. Even with the heavy workload for Seth and long clinical hours for Jen, the two came together, cheered each other on, and became even more inseparable. They shared many dates atop the Catalina Mountains, enjoyed the fine Mexican cuisine Tucson had to offer, and went on their first trips together, adopting the name "Rocketeers". On December 6th, 2013, Seth planned a hiking trip up Mt. Lemmon with Jen and their friends Ray and Amanda. Ray, Amanda and Seth were all aware of the true reason for this trip, but Jen was completely surprised when Seth popped the question on a cliff overlooking the city they first met.
Planning time: About a year
Wedding Dress: Created with tulle and organza, the Maggie Sottero dress has a sweetheart neckline, fitted ruched bodice that flares into a voluminous skirt, finished with an embellishment of flowers.
Wedding Ceremony: I (Jen) walked down the asile to Cinema by Jason Evigan. We are Christians, and wanted decided to take our first communion as husband and wife followed by the tying of God's knot. This involved me braiding three strands, representing God being the center of our marriage (white), blue presenting Seth, and pink representing myself. It is based on the Bible verse: "Though one may be overpowered, two can defend themselves. A cord of three strands is not quickly broken." Ecclesiastes 4:12 This was placed in a box created by Seth.
Guest Book: During cocktail hour we had a vintage Polaroid camera set up with props and a back drop for guests to take photos, then place them in the guest book and leave a message around the photo for us!
Wedding Reception: The reception was held in a ballroom adjacent the ceremony terrace. It was decorated with pink uplighting along the walls, swarovski crystal panneling, floral centerpieces in mercury vintage vases, surrounded by candlelight in teacups and votives. Other centerpieces featured tree branches sprouting from a floral arrangement (tying in the trees featured in the ceremony), which were also surrounded by dim candlight.
Advice for brides:
I had a running to do list, was constantly reprioritizing tasks to get everything done before the big day. I also had a binder with info for each vendor, etc. Book all big vendors first, then work from there.
Delegate to people you trust whenever possible.
Kept in constant communication with Soho63. Although it was extremely busy and stressful, I honestly wouldn't change anything about my wedding day. All the hard work was worth it!!
Make a tentative budget before any planning begins. Unknown costs always pop up…leave wiggle room for these!!
♥ ♥ ♥ Credits ♥ ♥ ♥
Venue Soho 63 // Photographer Jessica Q Photography   // Videographer Superstition Productions // Dress Purchased at Lillian Lottie Couture, by Maggie Sottero  // Brides Hair & Make-Up Kensington  // Flowers Everybody Loves Flowers   // Cake Stephanie Cochrum // Music The Beat Booth  // Decor, Stationery & Favors: Bride
and