Navy and Coral Seaside Wedding  ♥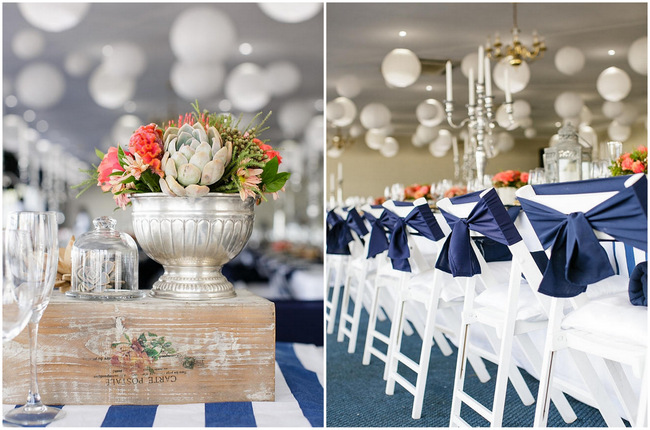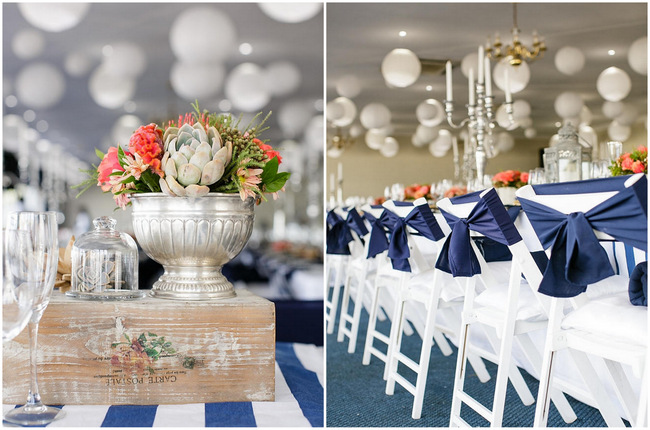 Where to start with today's seaside celebration? There are so many fun touches in Louis and Sarina's coral and navy nautical beach wedding: from an obviously in love, stylish couple, to loads of fun signage, to a decked out reception hall filled with nautical details. My favourite, though, is the beach ball toss in place of confetti – probably the most awesomely fitting way to signal the start of the festivities at a beach wedding, ever! 
Jack and Jane Photography (previously knows as Laura Jane Photography) did a fantastic job of documenting the day's events, capturing each lovingly thought out detail, as beautifully as they always do.  Flowers For the Table  dressed the tables in chic navy and white pinstriped linens beneath silver urns filled with coral blooms and you're going to love what  Food Matters did with their oh-so-trendy naked cake.
"Our day was full of special elements that we both as well as our families contributes to. Louis and I even baked a cheese cake for the dessert table at midnight the day before the wedding!" says Sarina. "We decided to bring in earthy elements with succulents and make the navy and white pop with coral flowers softened in different shades. Our table placements were full of memories with photo's of us both as babies as well as grandparents that have passed away. Our tables were named after the different wind directions to play with the nautical theme a bit more"
"The highlight of the evening was most certainly the dessert table full of goodies that people brought with from all over the country. From Milktart from Heidelberg to Nougatina from the Free state. It was a festival to the eyes and taste buds! In the end family and atmosphere were the most important elements for us both. Our favourite thing was the jazz band that really just brought the smooth! And off course the funky photo booth made sure there were lots of laughs and fun!"
Nautical Beach Wedding in Coral and Navy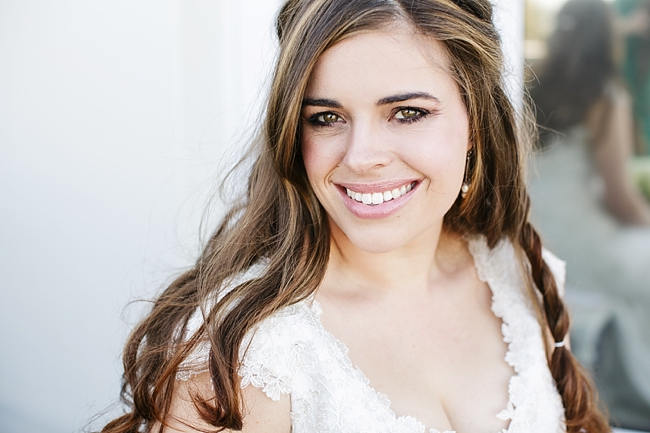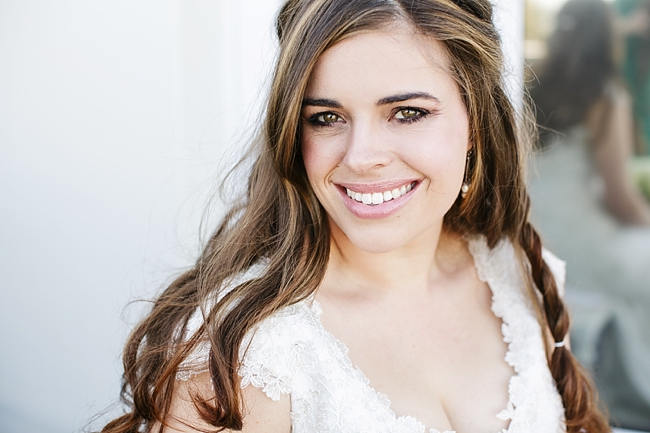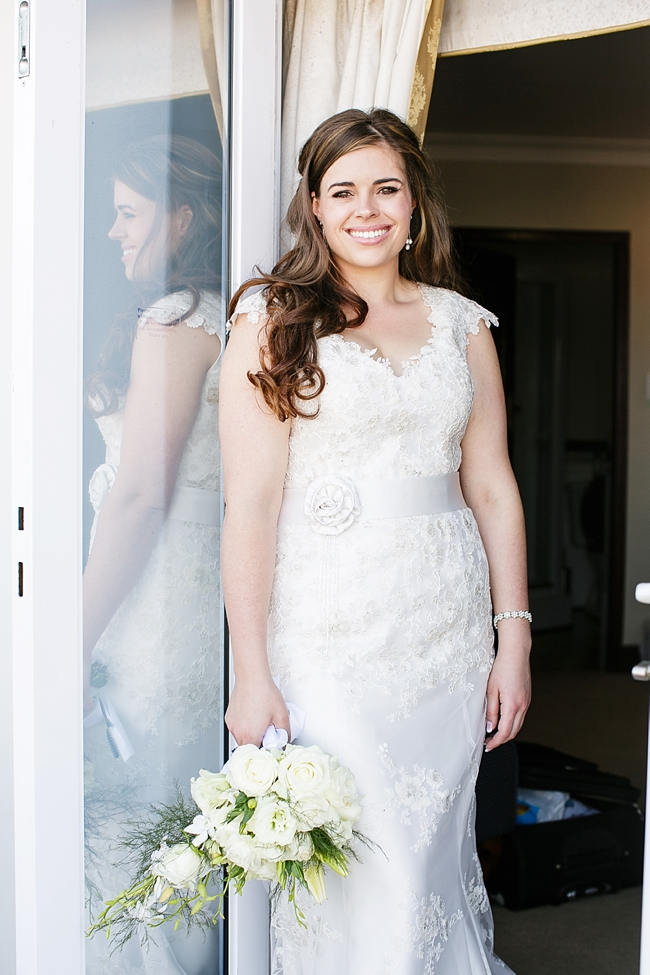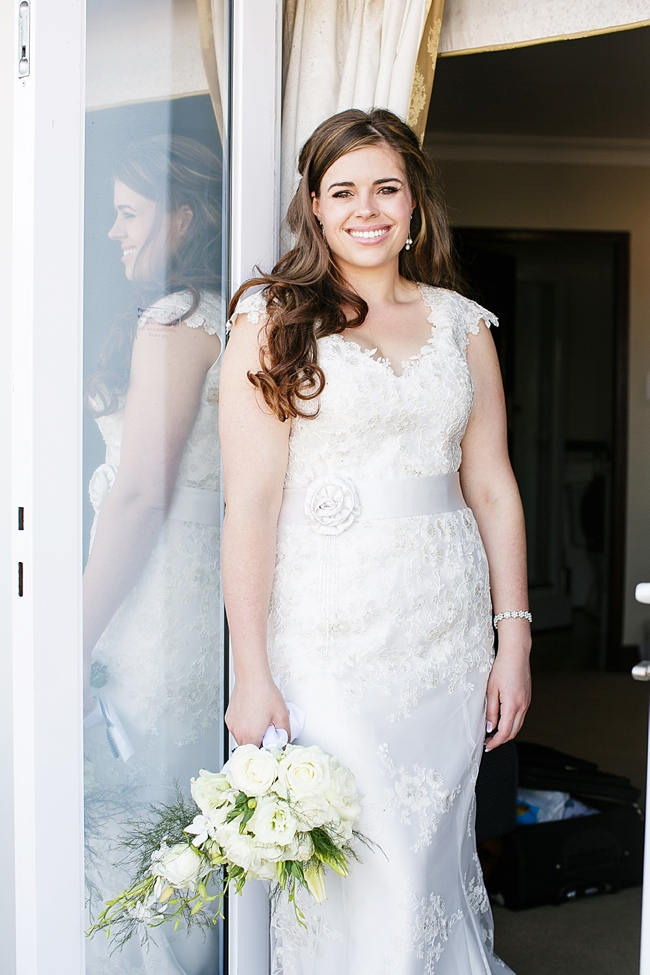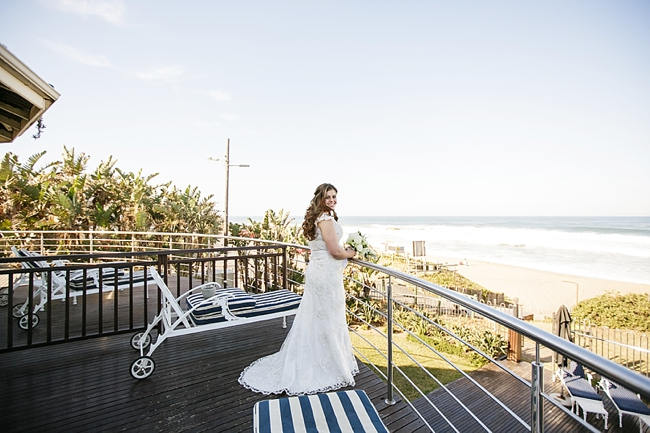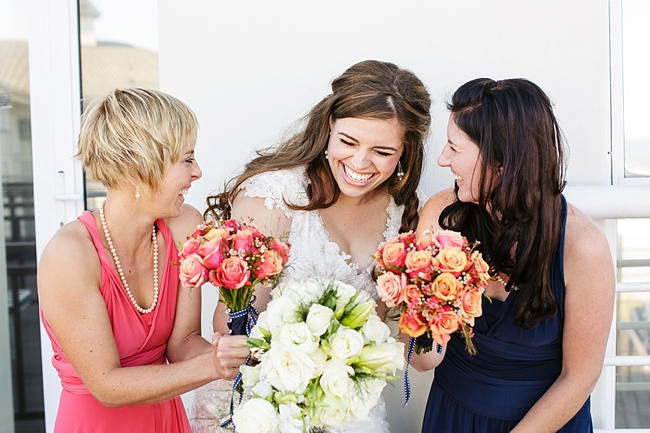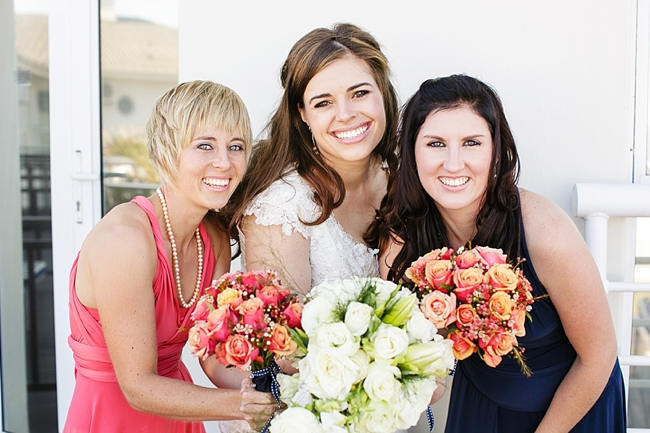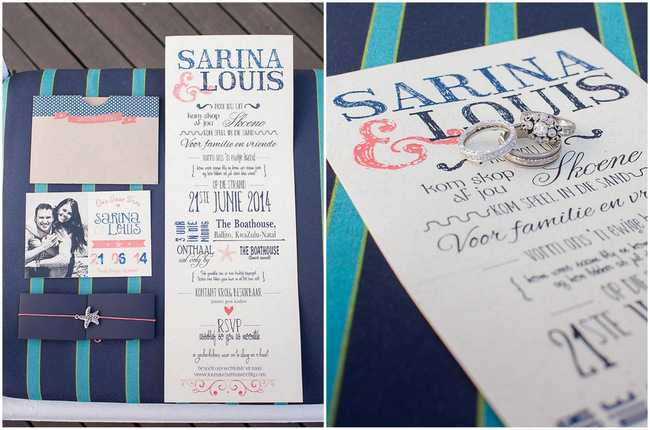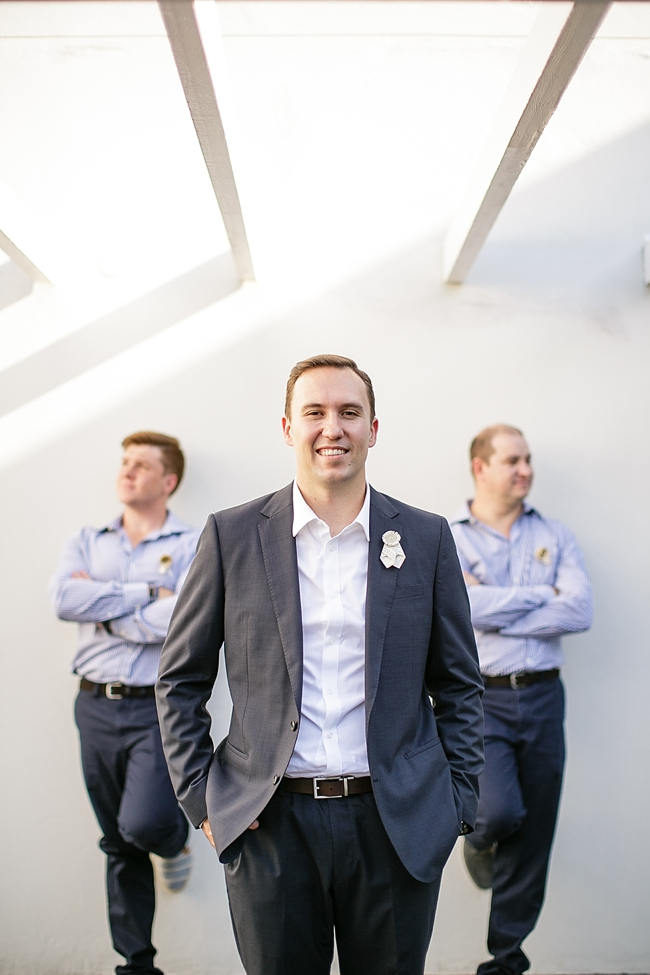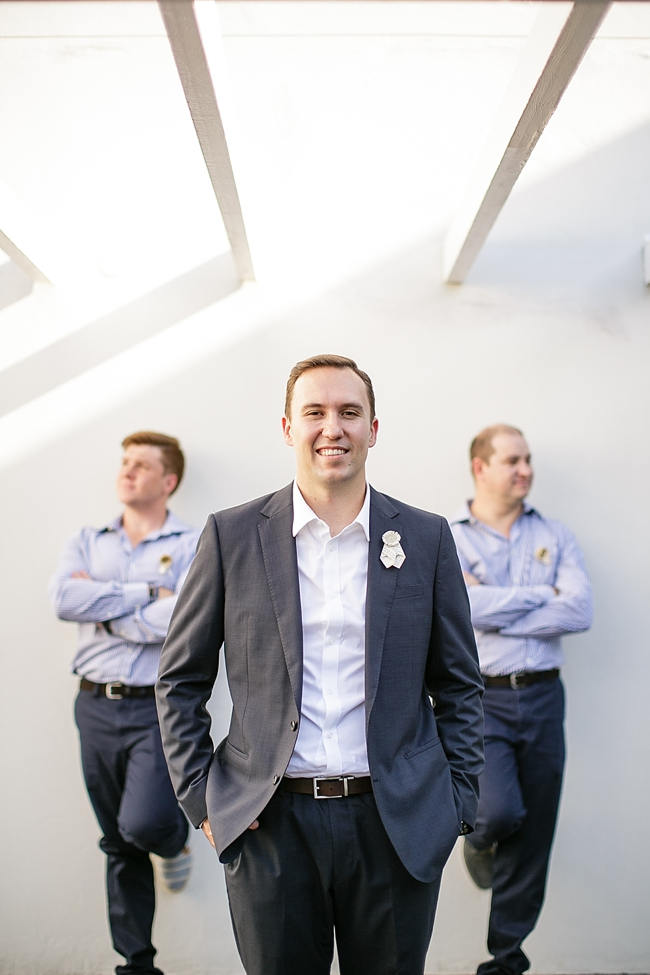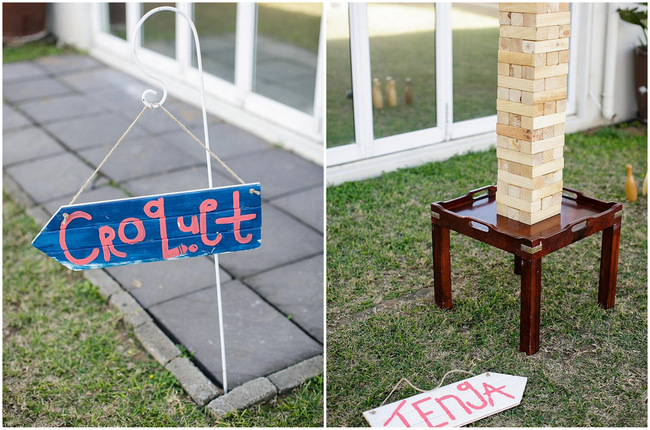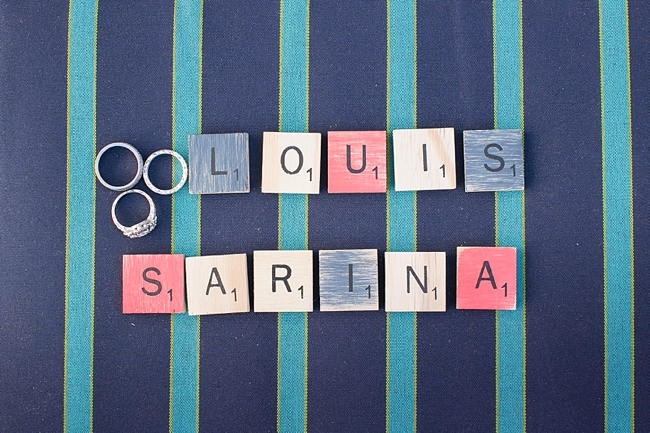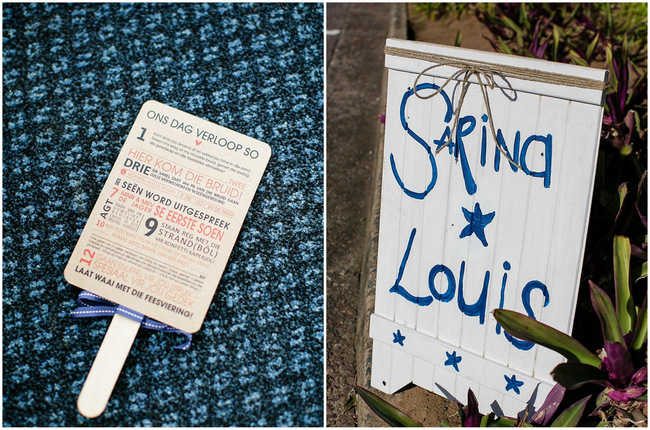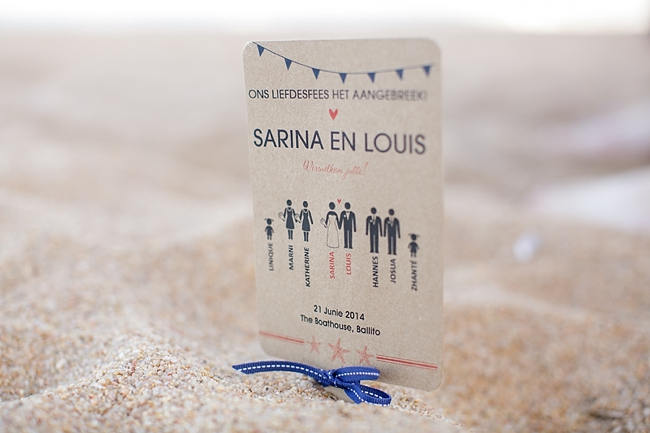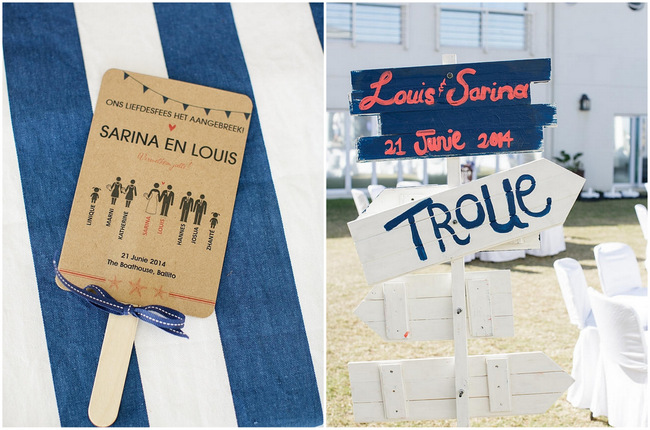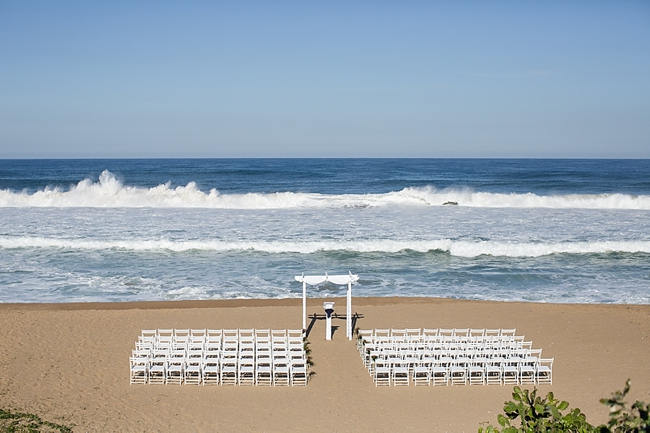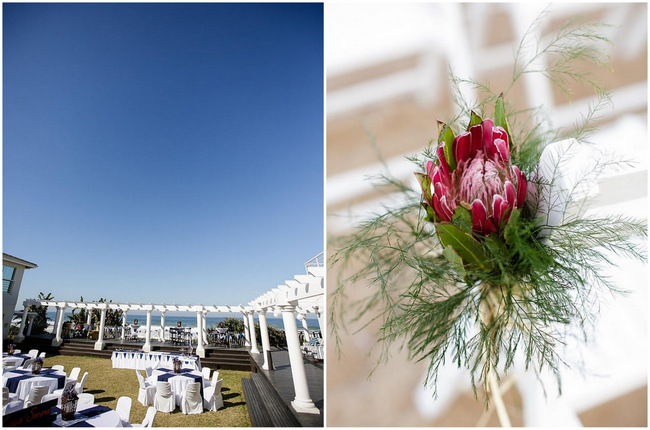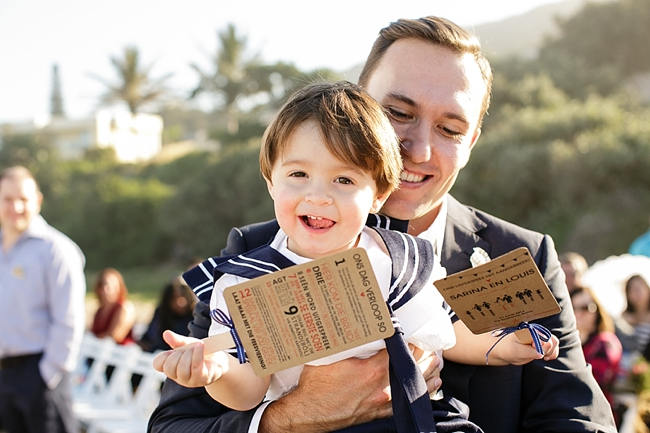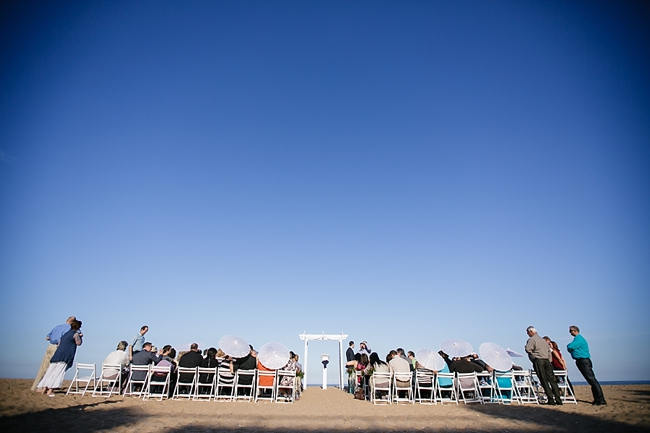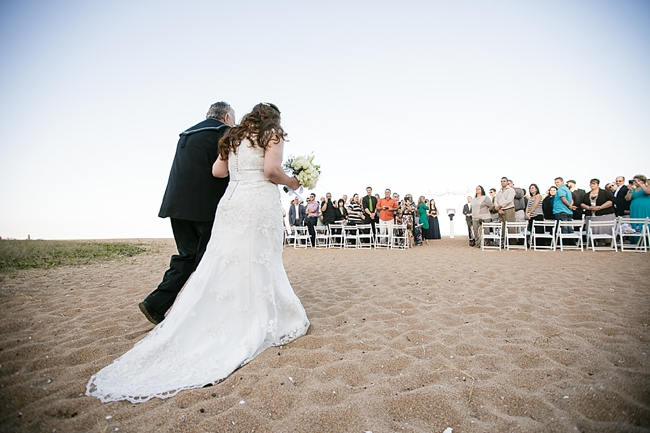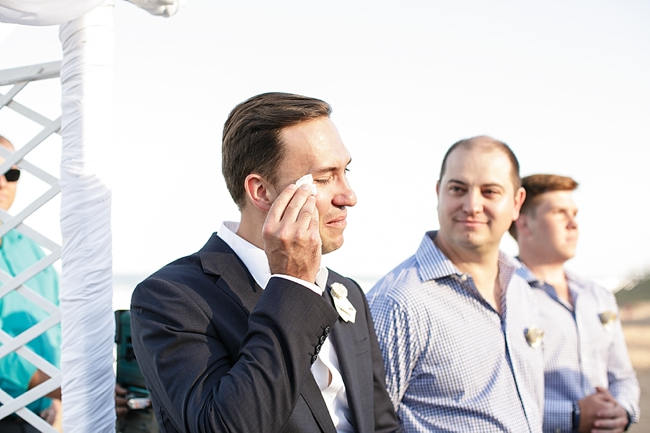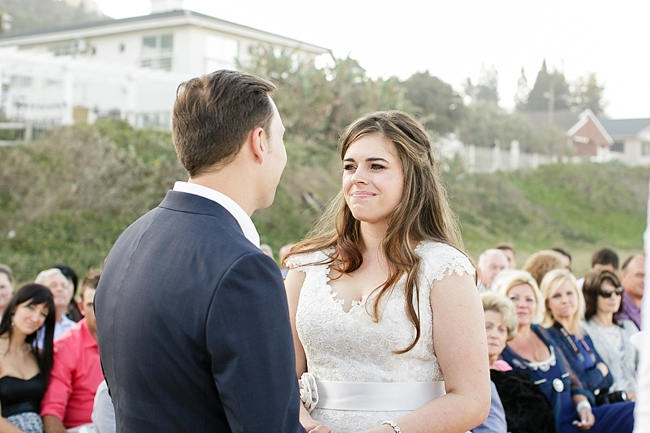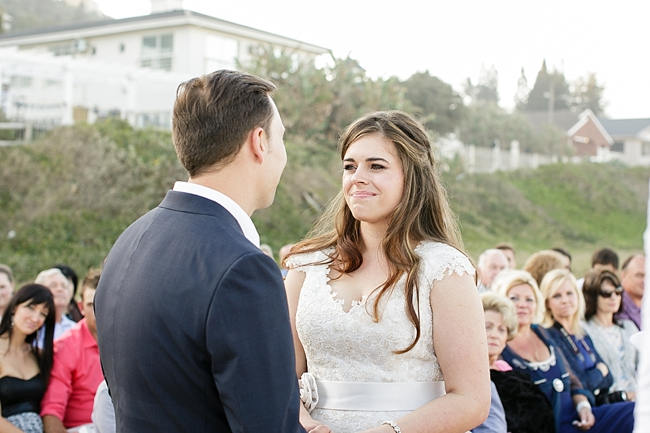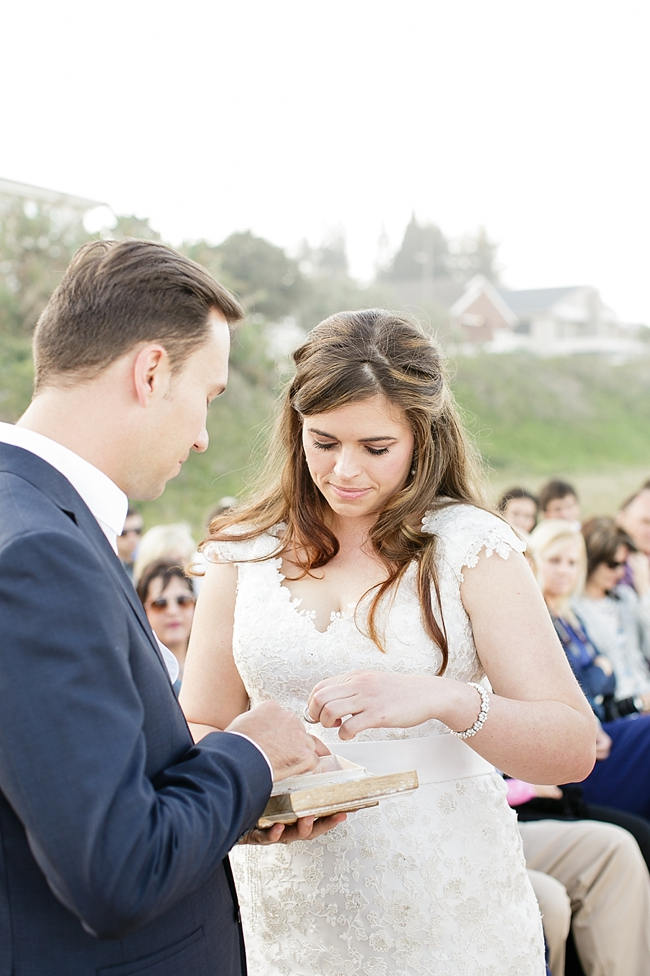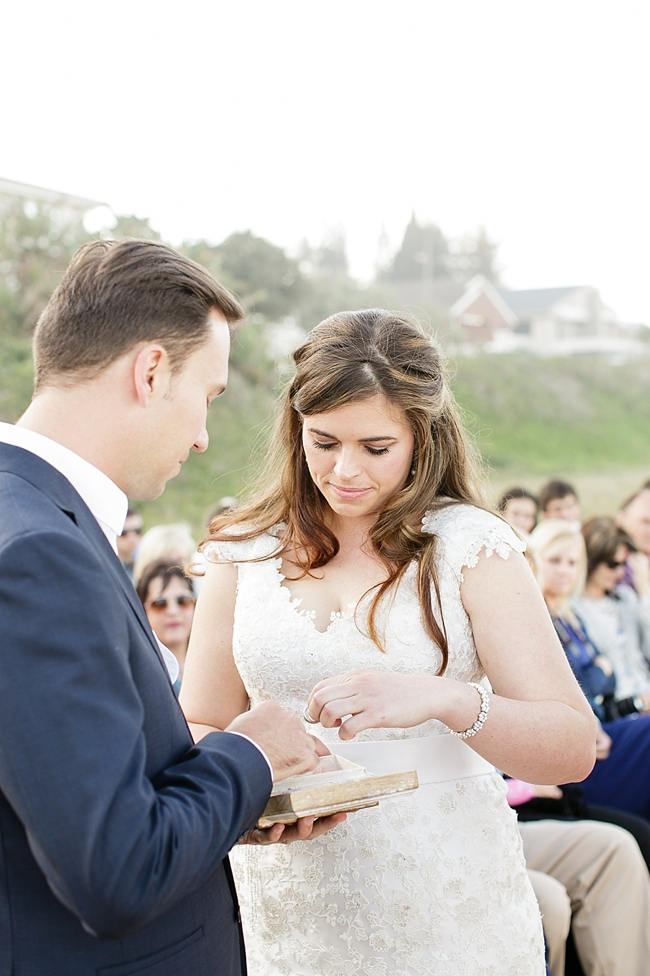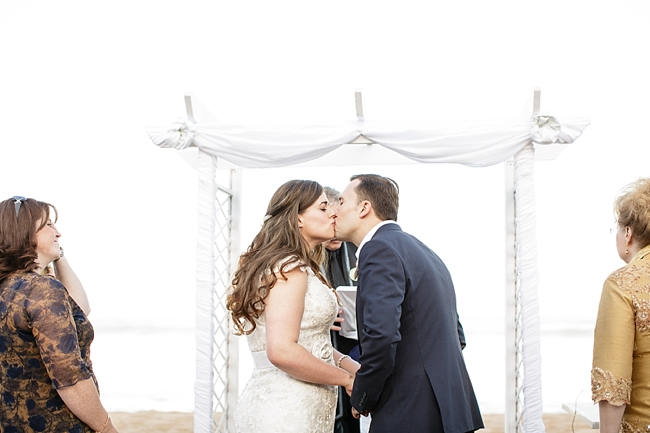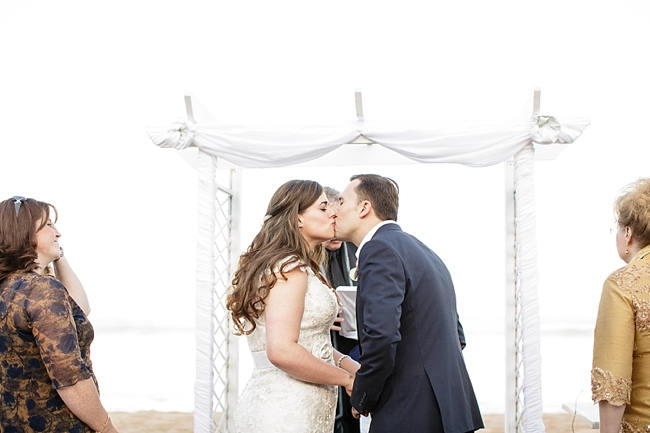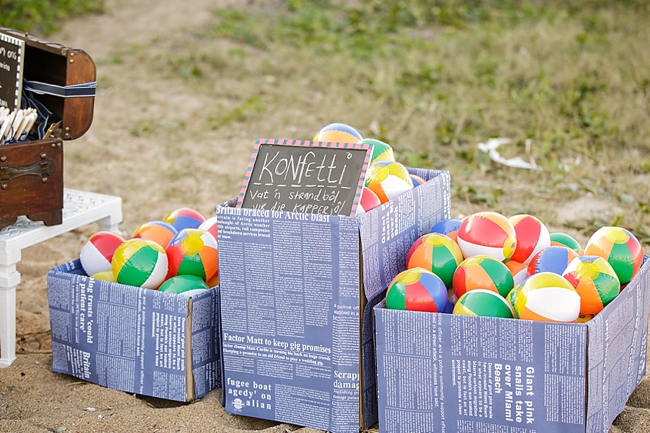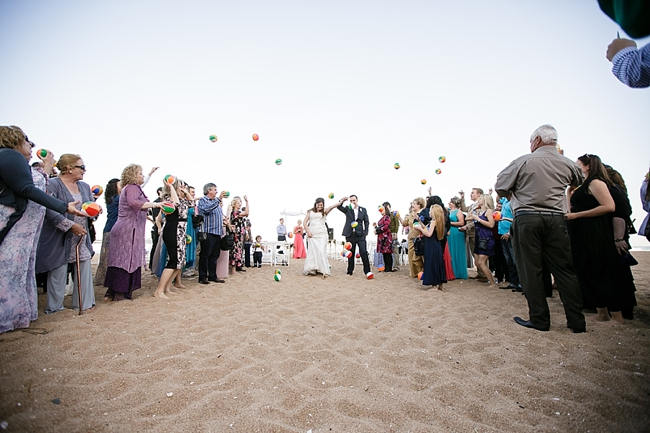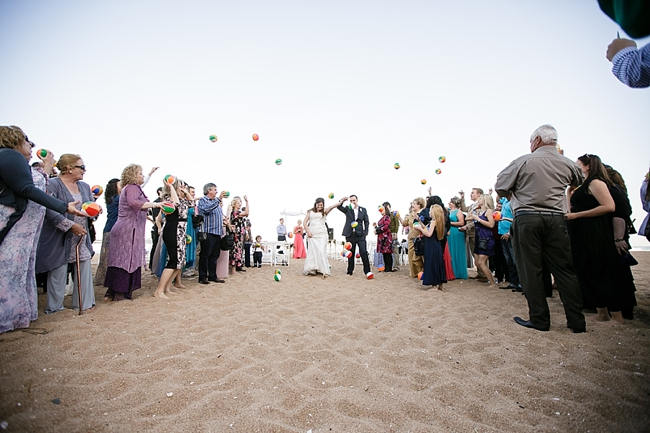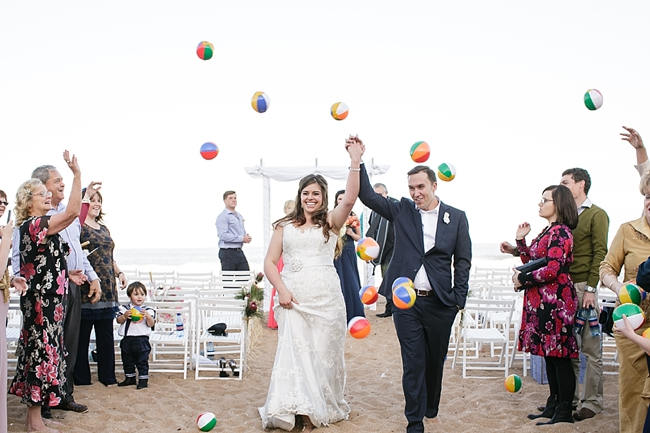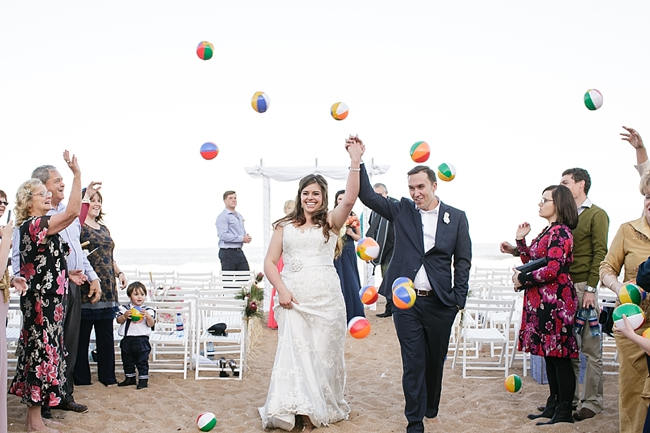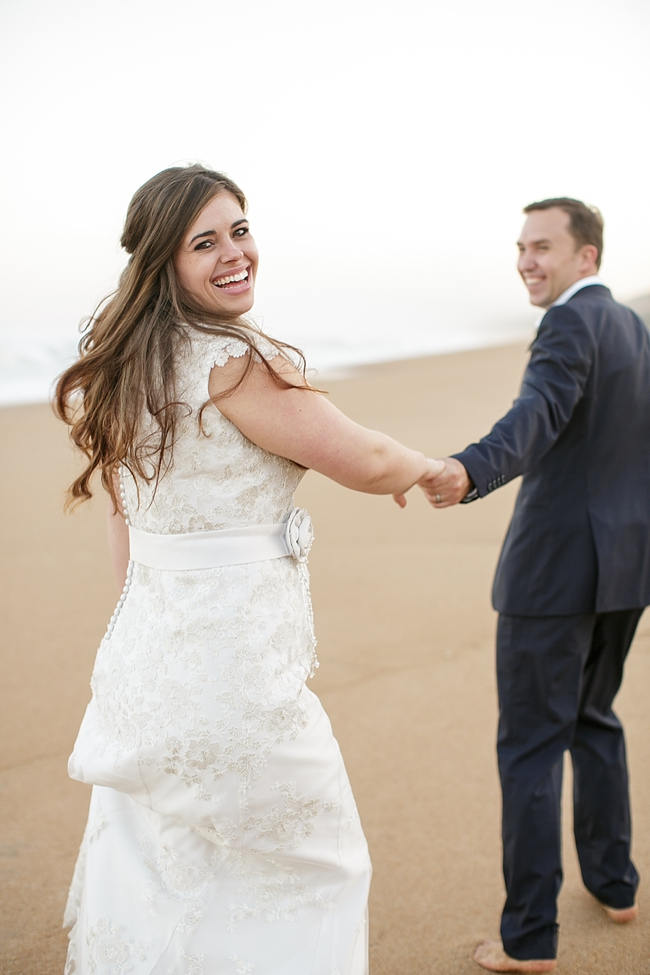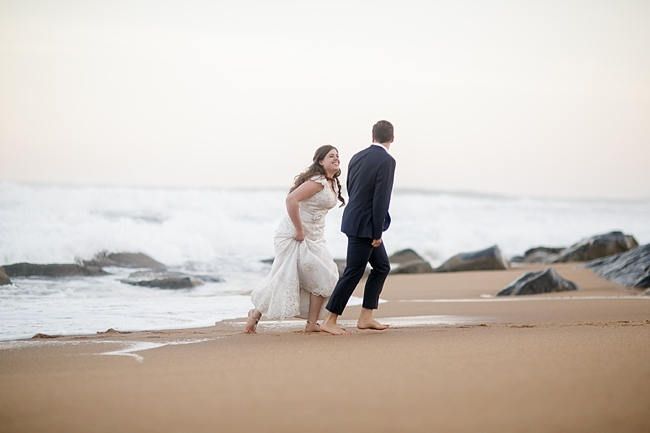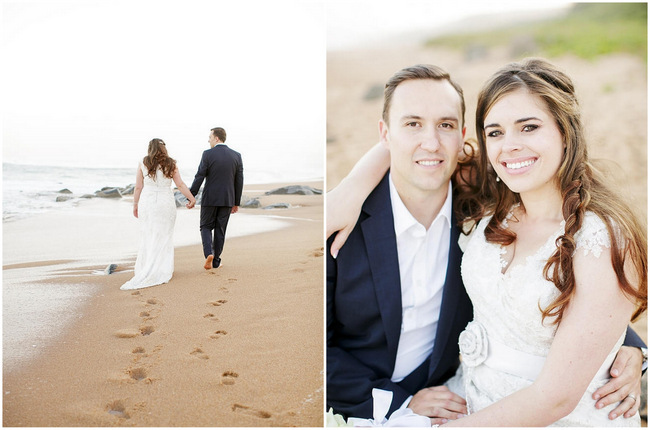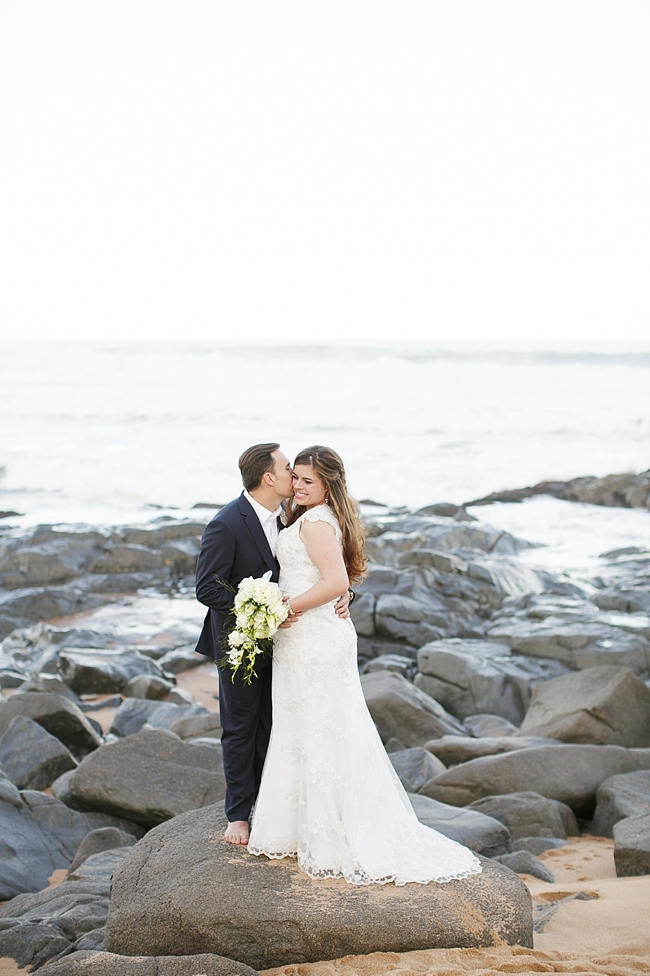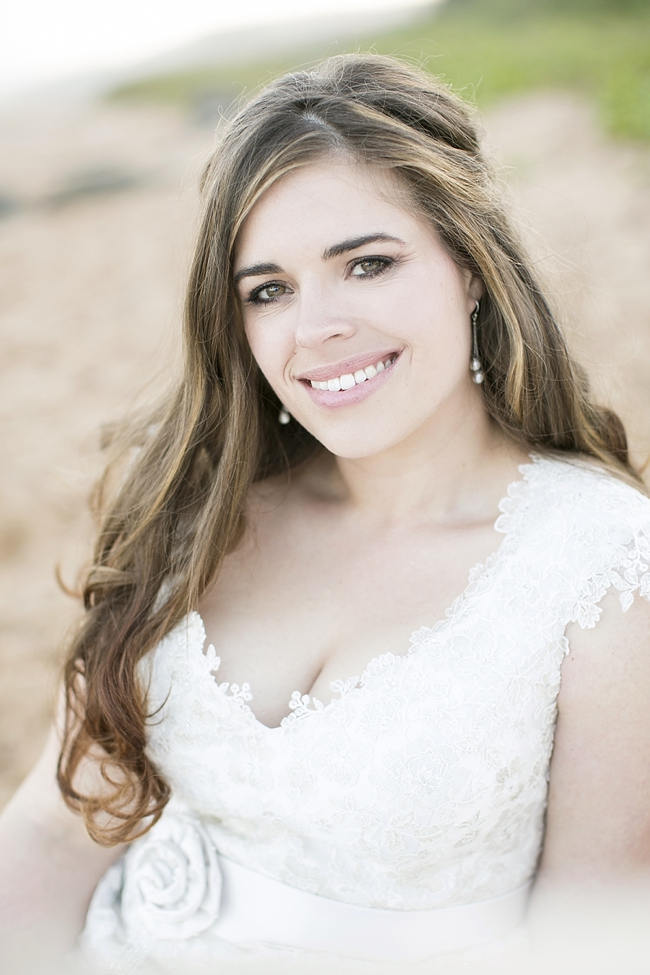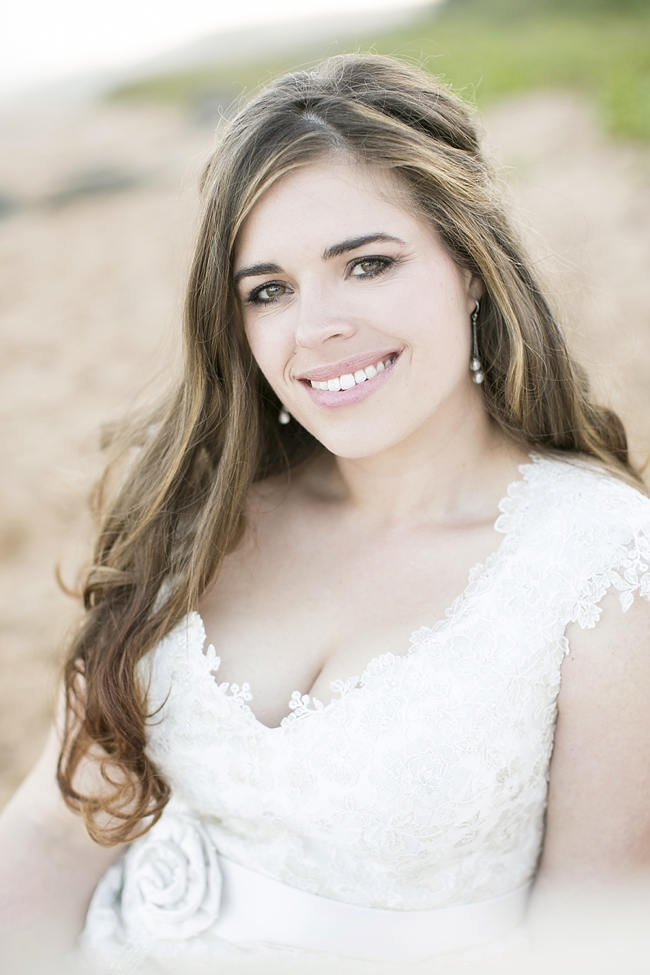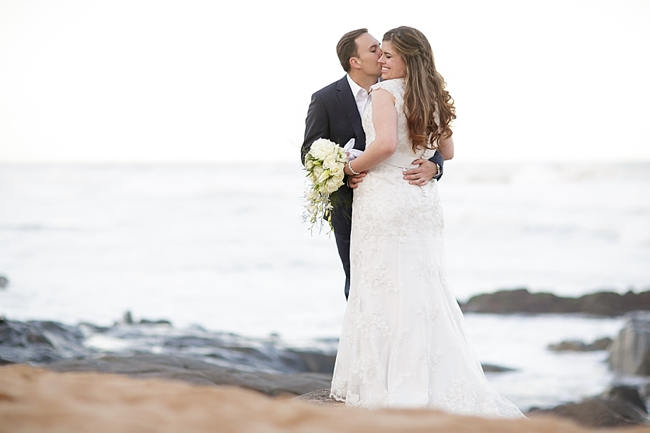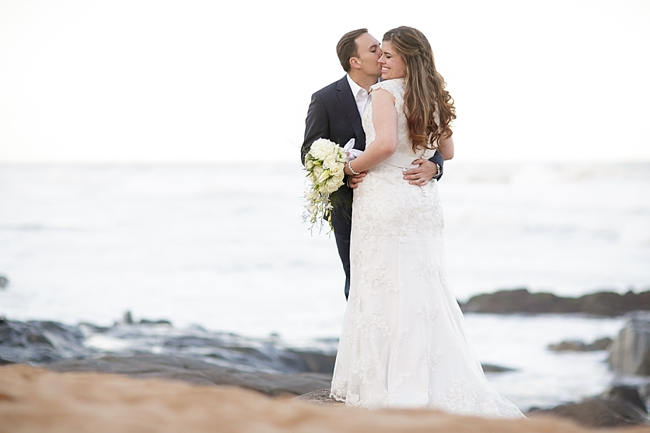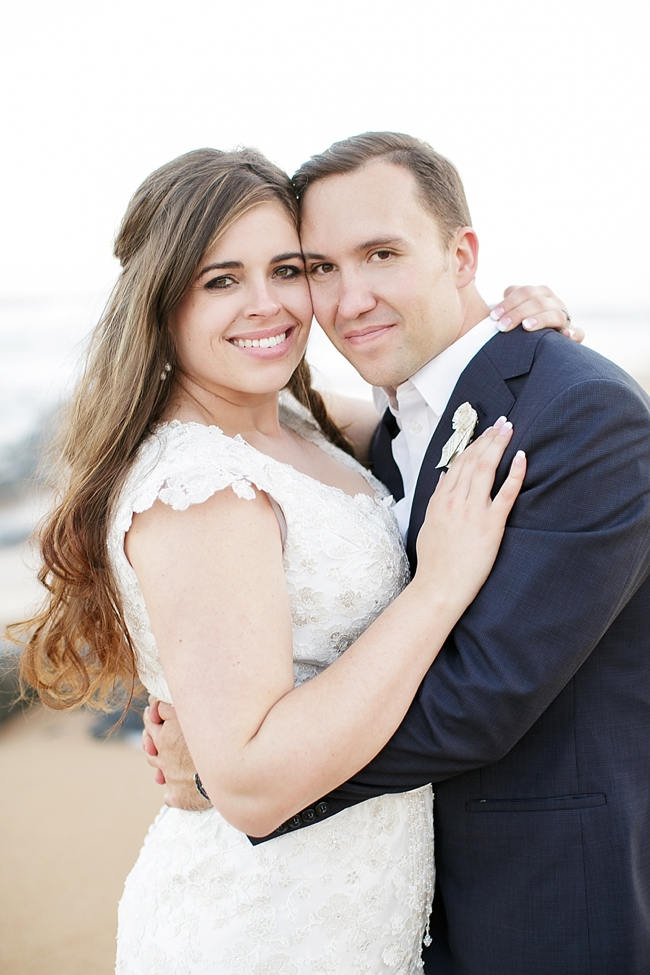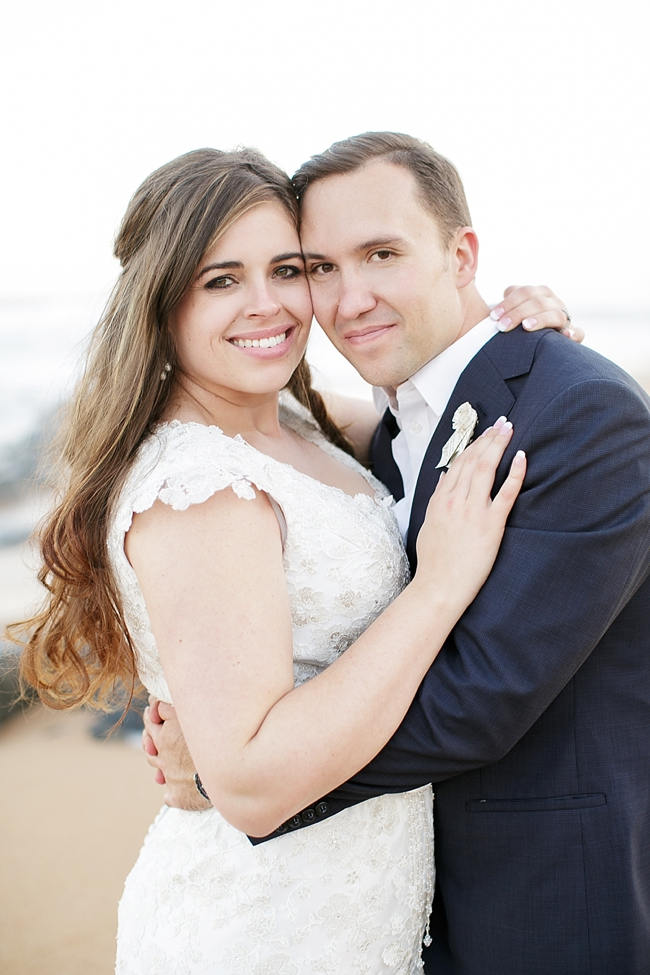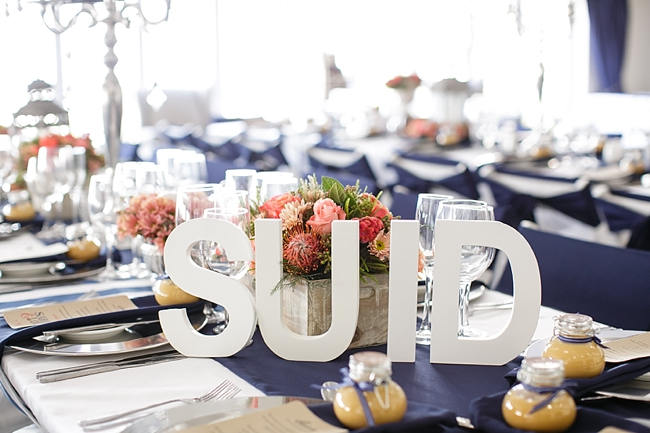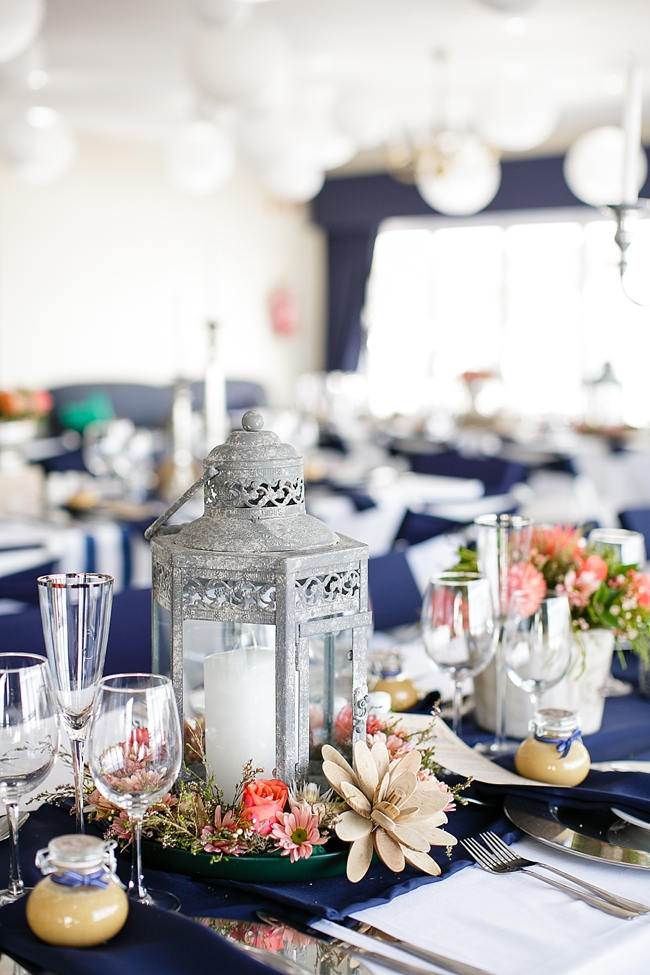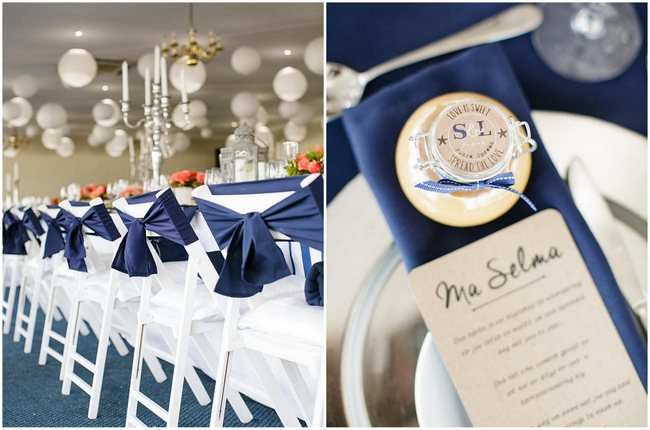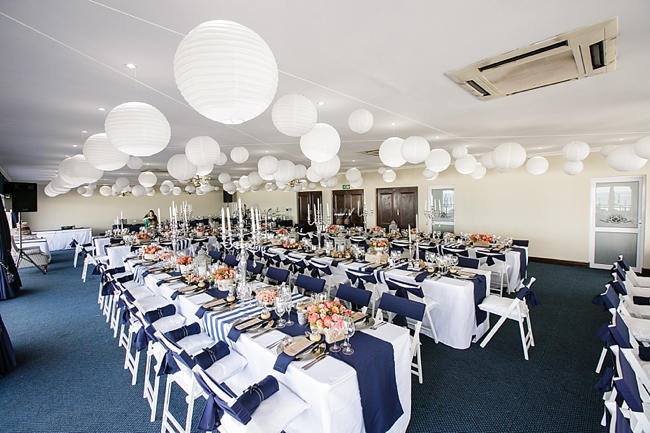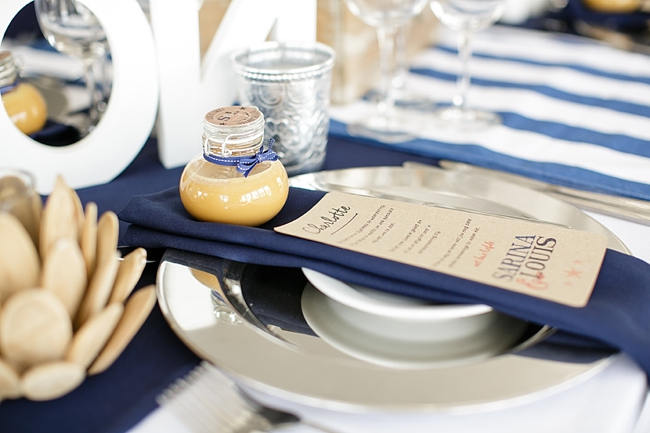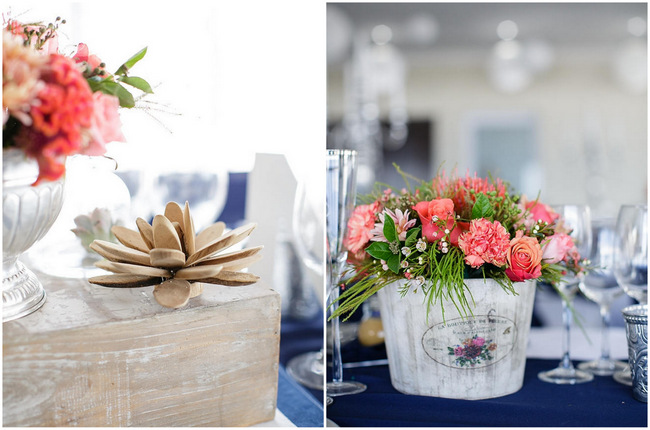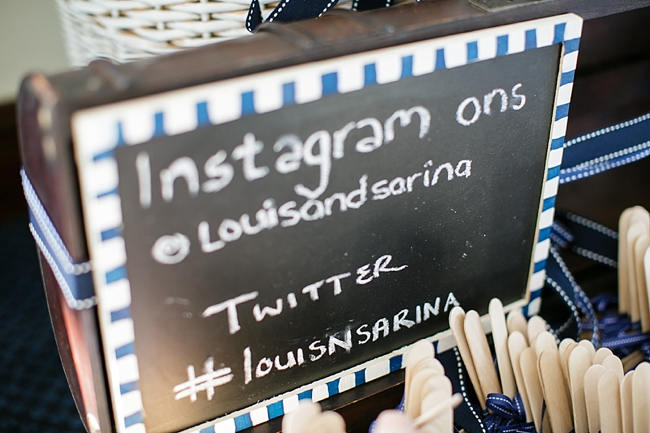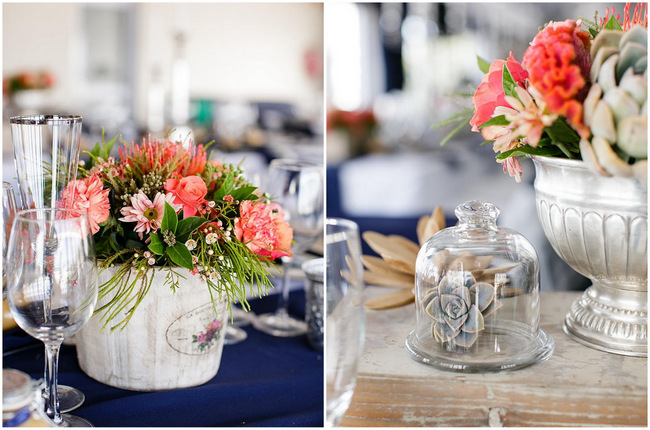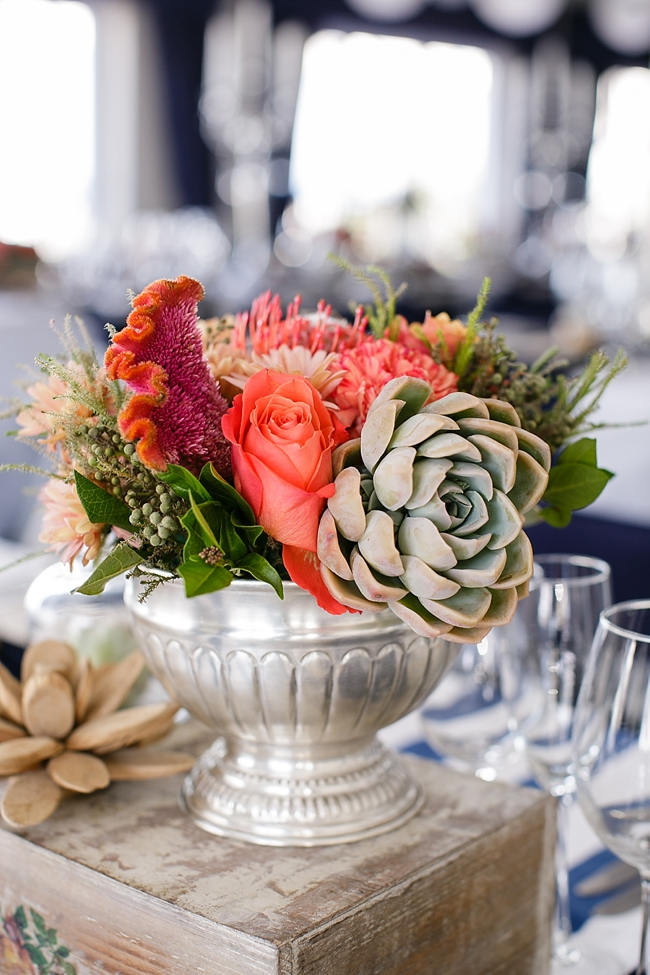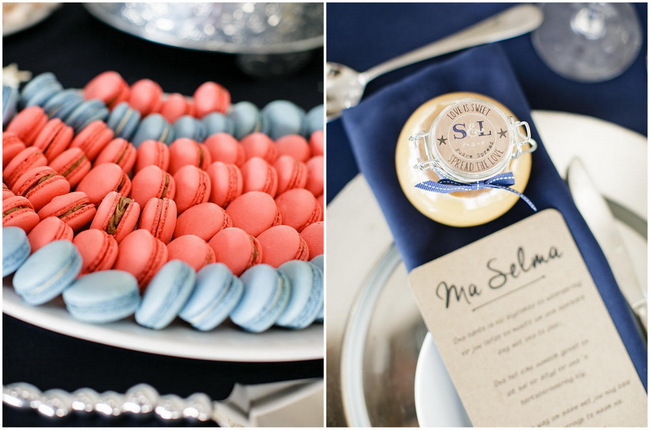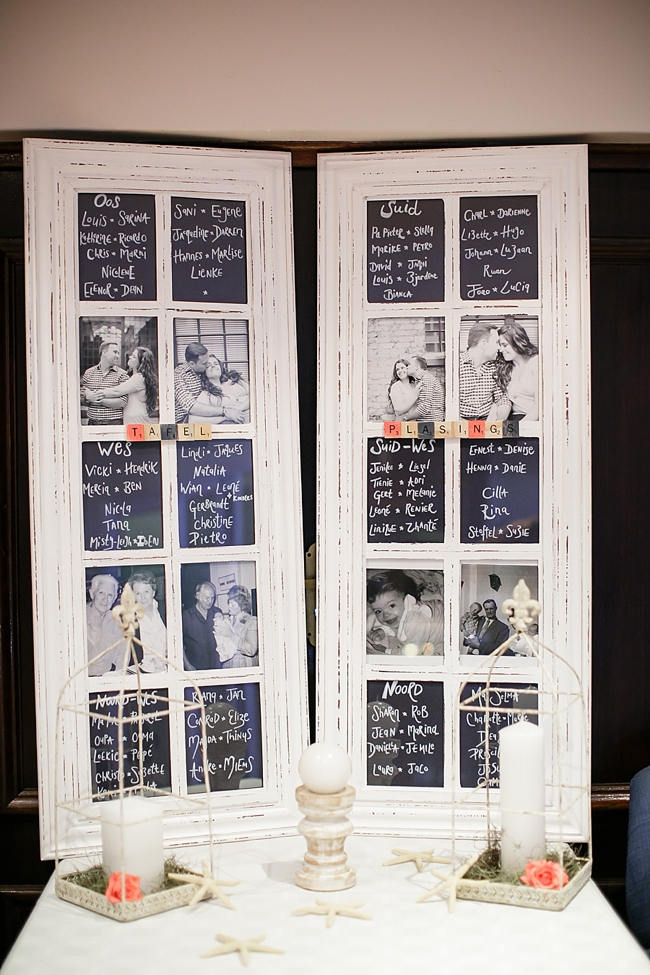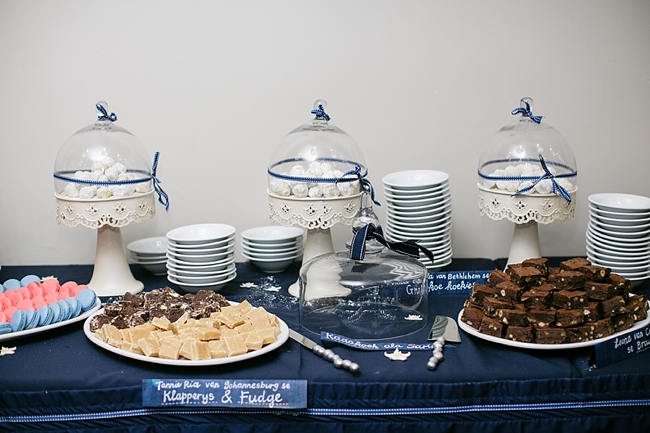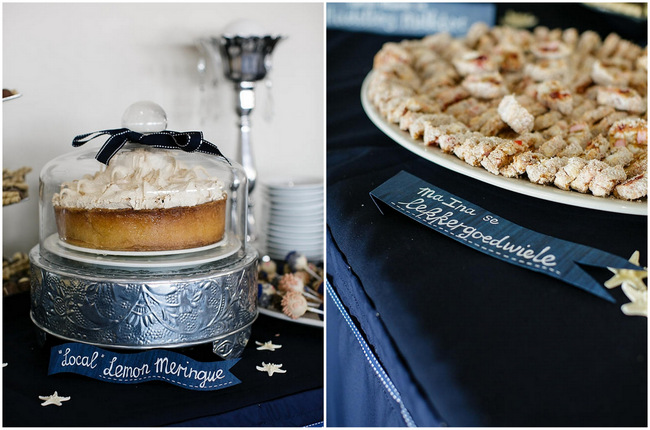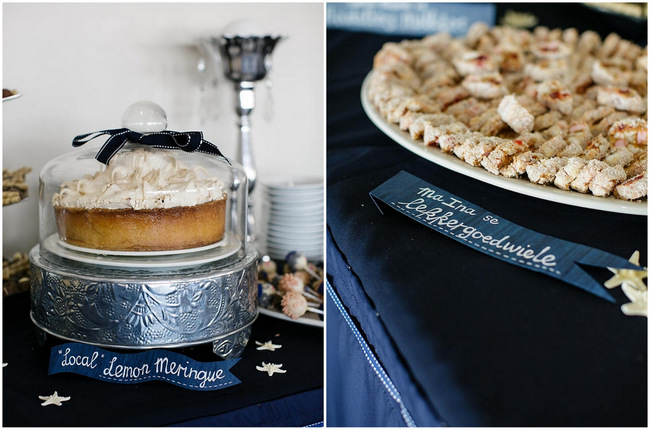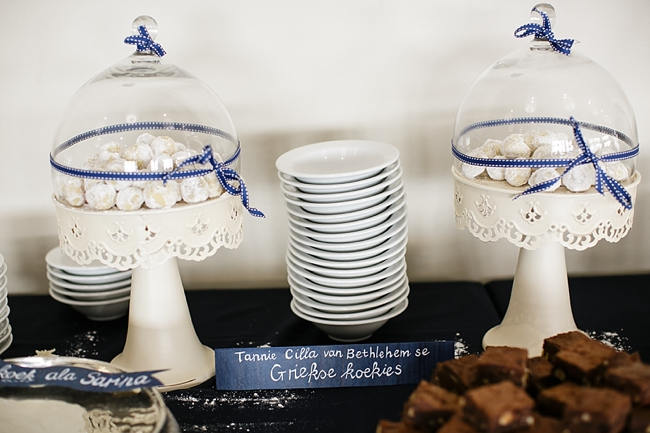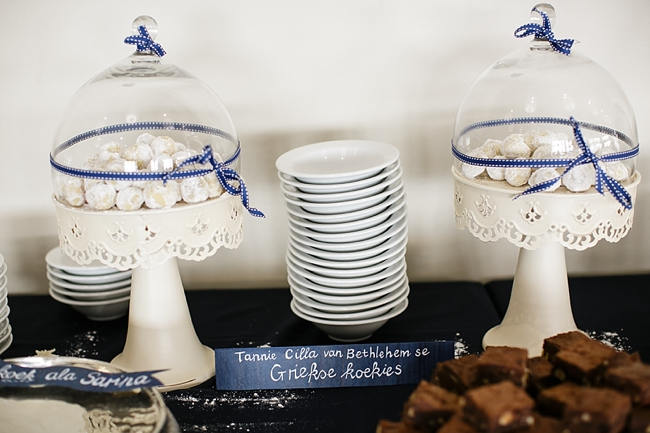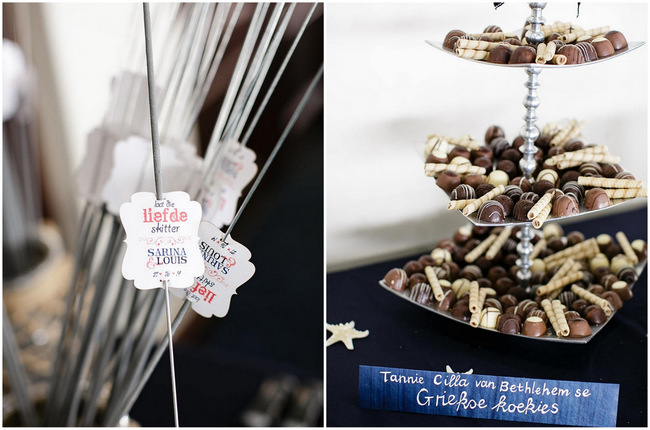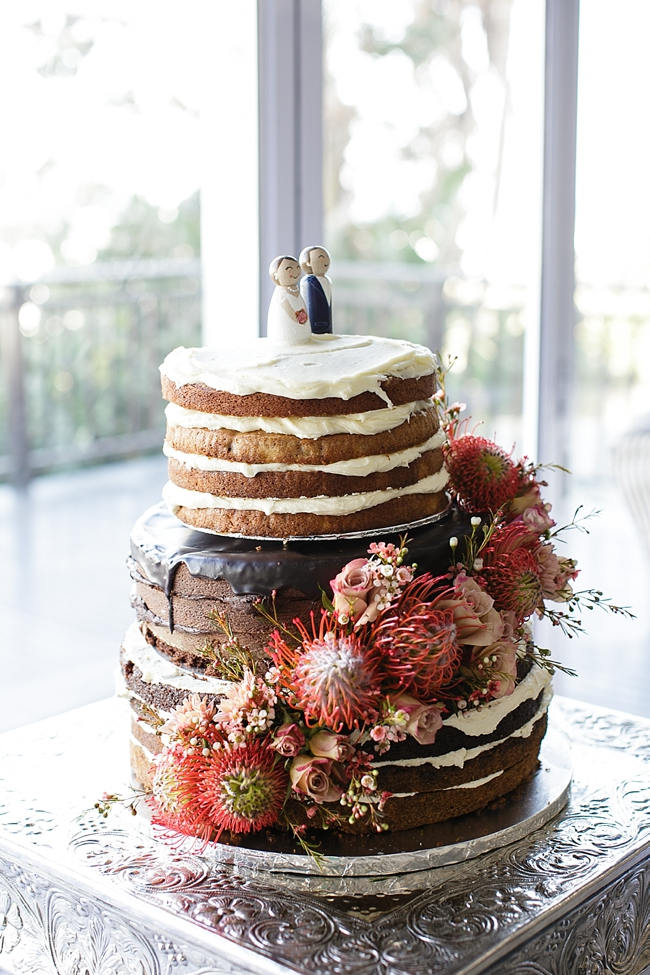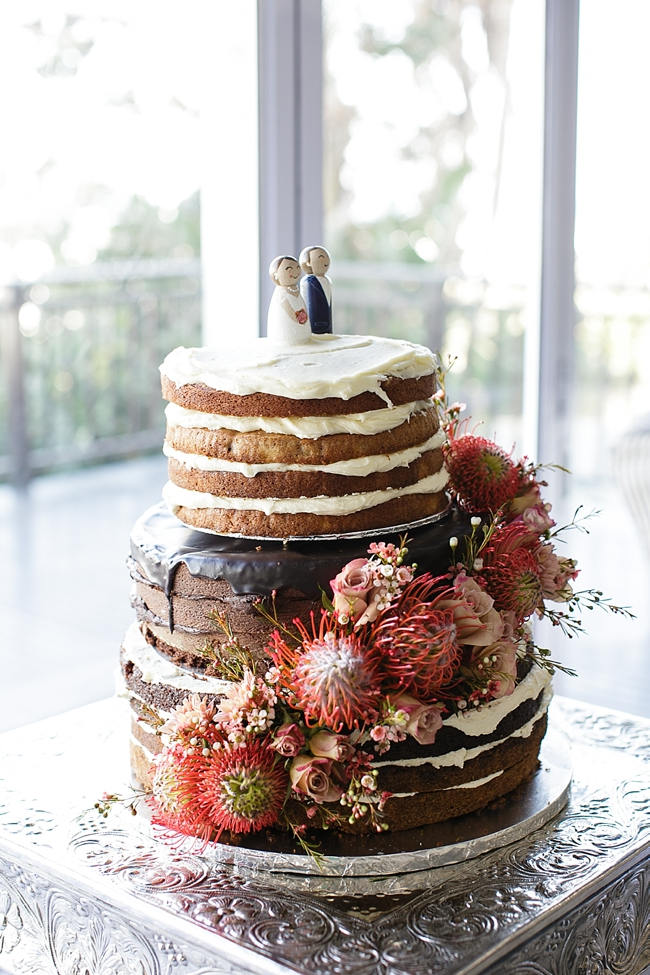 Nautical Beach Wedding in Coral and Navy
Love Story: We met on a blind date in December 2011. A friend set us up and we met on a Saturday at a local coffee shop. We started talking that morning at the coffee shop and we havent stopped since. We dated for two years after which Louis asked me to marry him on a romantic picnic on a river bank. We got married six months later. He is a left brain, tidy bean counter and I am a philosophical, untidy wild child….it was meant to be 🙂
Bridal Style: I wanted to look natural and radiant on my wedding day. For my hair I went with soft curls that werent afraid of some wind on the beach and I did my own make-up. I went with soft purple to compliment my green eyes and a brown eye pencil that gave a bit of a smoky look.
I loved my dress! My main priority here was being comfortable and feeling good in my dress. My dress was fit to show off some curves and I loved the lace that gave it a vintage look. The best decision I made was having my dress made for me. I felt like it fit me perfectly and it gave me lots of confidence. The lining was oyster white, a cold white that matched my skintone and the lace had fine traced of silver wire weaved in. The best part of the day was running on the beach and splashing in the water with my dress. I felt beautiful and that gave me the freedom to just enjoy the day and be a bit silly..
For my bouquet I wanted something that would match the vintage feeling of my dress. I love orchids and florist recommended keeping the bridal bouquet white. It was modern with a side-way flair and I think it really complimented the dress.
Bridal Party Styling: I wanted my girls to be comfy and enjoy the day. We went for infinity dresses. I felt that it gave space for each girl to style their look individually and decide what they want to do with their own hair. I wanted everyone in the party to feel beautiful and relaxed. Our groomsmen were barefeet and dashing with their navy and white shirts and khaki pants. Their belts were dark brown leather and they had matching leaher shoes for the reception.
Groom's Attire:  He wore a navy suit and a crisp white shirt buttoned down. He was bare footed and really handsome. 🙂
Wedding Ceremony Details: Our ceremony was on the beach – my dad married us and my mom officiated the wedding (it was really special). The most memorable part was seeing Louis' face when I walked down the stairs – it was priceless and unforgetable. My bridesmaids and flower girls walked in to  "Dont worry baby" by the Beach Boys and I walked in to  "A river flows in you" by Yiruma.
Seating Chart: Our seating chart was in two picture frames with hand made cards with guests names on them. I wrote the cards and Louis and I decided to include baby photos of us both as well as photos of grandparents that passed away. They were white frames with navy cards and scrabble letters in navy and coral spelling the word seating arrangements.
Wedding Reception Details: Our decor was mainly navy and white pinstripes with coral flowers. We had elements of glass, wood and crystal on our tables and we just played with whatever we loved and thought looked nice. We used succulents and coral pin cussions combined with various different flowers that made a beautiful coral effect in different shades. I loved our flowers!!!
Wedding Playlist: Our first dance was a Michael Buble song. We went to see a live show of him while we were dating and Louis surprised me with the song "Some kind of wonderful" and while we opened the dance floor outside on the deck of the venue with the sea breeze in our hair all our guests lit sparklers and made a circle around us. That was one of the many wow moments of our special day.
Advice for Brides:
I think my biggest lesson was not to get caught up in pictures and ideals of how you think you want everything to look. Be flexible and open minded and keep in mind that a picture is just that – a picture. Real life is something very different and you have to work with that and make it magical.
Dont be afraid to take a risk and do something different. We decided to use beach balls as confetti, just something quirky that everybody ended up loving!
Dont pick fights before the wedding. Take deep breaths and be cool – thats really sexy.
Don't buy everything new. Borrow, shop and look for bargains (PS Dont ask for wedding decor – if you mention wedding and the price doubles or even triples).
Get all your friends and family together, make them food and make them work! Let them help you with the details and making things. It really helps keeping costs down and makes for great get togethers! Thanks Mom for all the help!!
♥ ♥ ♥ Vendor Credits ♥ ♥ ♥
Photographer Jack and Jane (previously called Laura Jane Photography)  //   Dress: Thea Designs  //   Brides Hair: Hair by Priscilla // Flowers & Decor Flowers For the table  //  Cake Food Matters – Ballito // Favors Gourmet Fudge //  Stationery El Shadai Printers // Suits Country Road
Stand Out Vendors:  Jack and Jane made us feel so at ease and were superb! Penny from Flowers For the table  saved the day! Nothing was too much of an ask. And then my mom of course!!!
Love seaside celebrations as much as we do? Check out all of these lovely beach weddings and if you're looking for more blue wedding details then these navy weddings ought to do the trick.