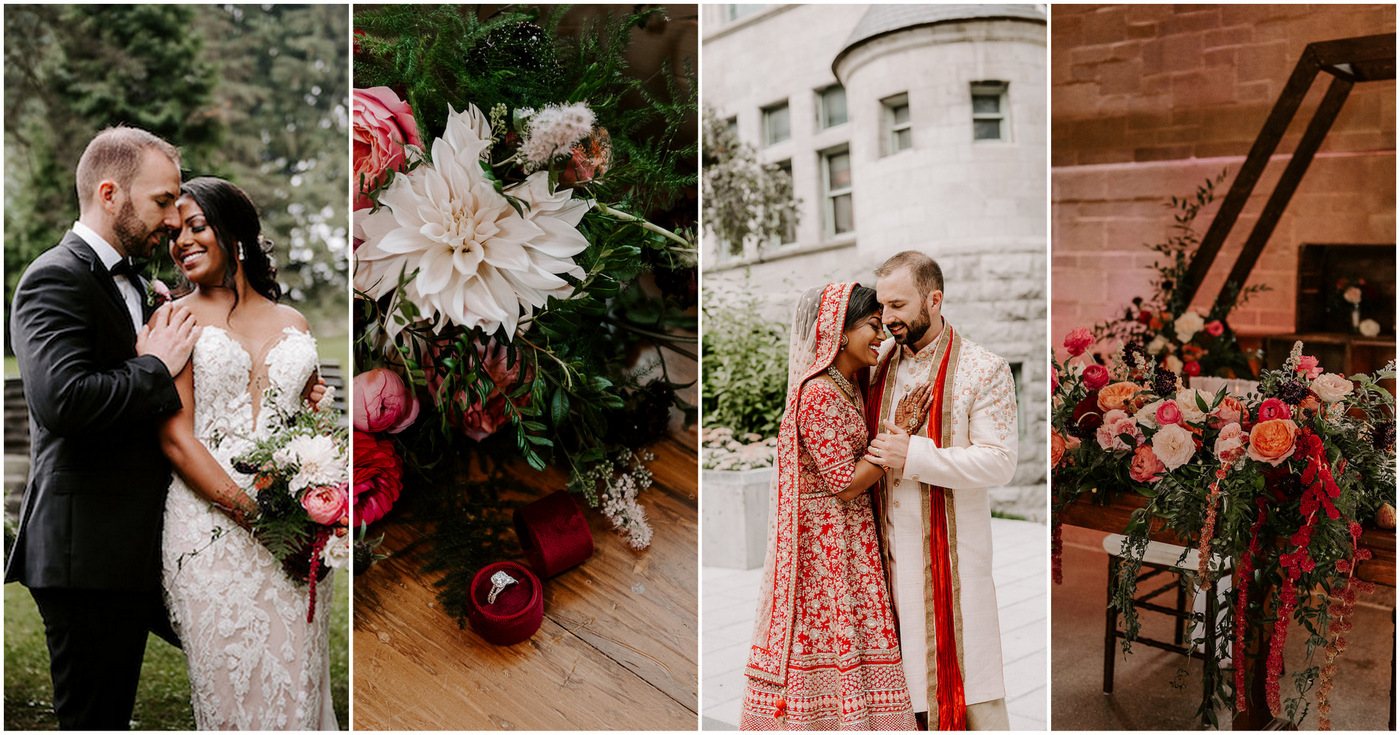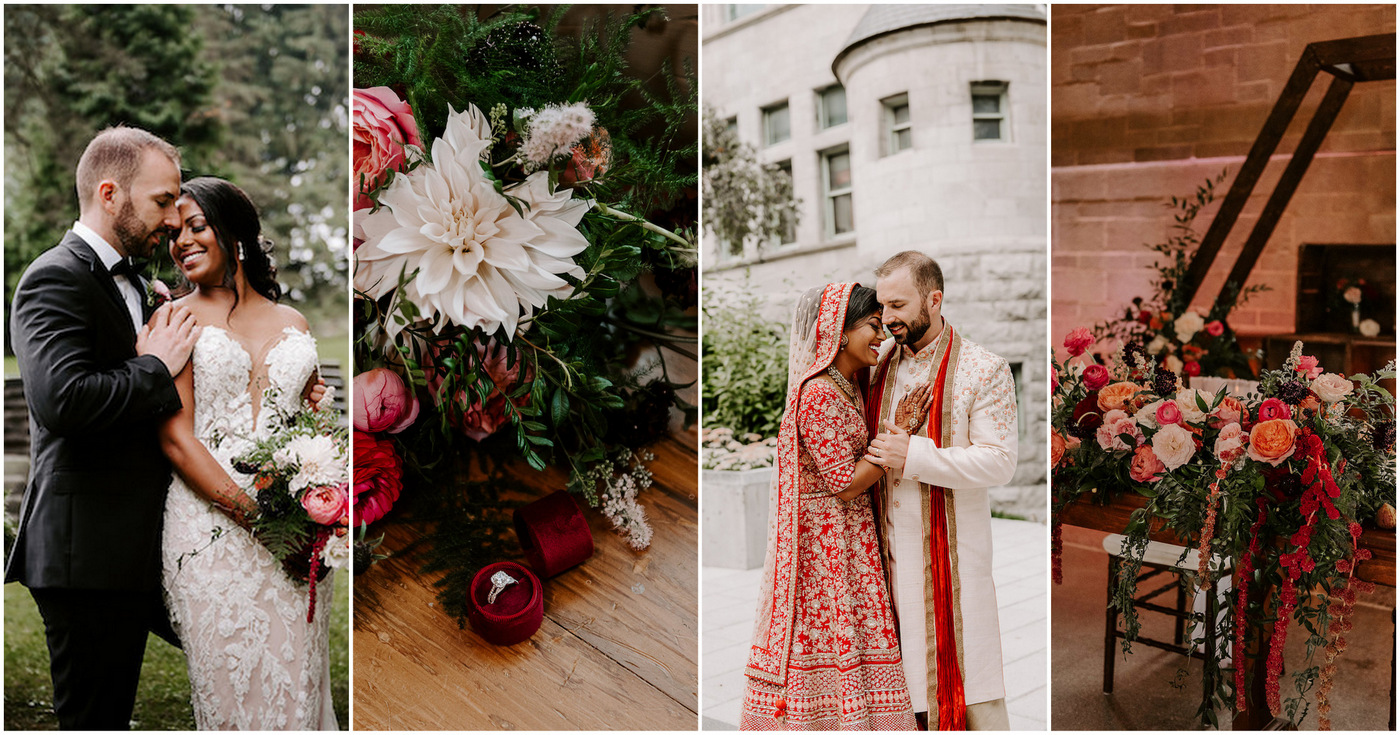 Tejal and Levis hosted a gorgeous 2-day multi-cultural wedding in red, gold and pink. The first day was their vibrant, traditional Indian Hindu wedding ceremony, held at the Omni Hotel in downtown Montreal. On day two the couple celebrated their traditional western wedding, hosted at the historical Abbaye D'Oka, an old Abbey, filled with old-world charm and elegance.
The couple worked with wedding planner Katrina Schaller and hired decor from Le Coeur Mariee Boheme to create their gold, red and pink celebration. Photographer Sadie at l'orangerie photographie captured the 48-hour affair in all its magnificent detail.
Love Story: Levis and I met at work. We had known in each other for a few years before we began dating. We were dating for almost 6 years when he proposed to me in San Francisco overlooking the Golden Gate bridge.
DAY 1:  Red +Gold Indian Wedding
The first day was dedicated to the traditional Indian wedding ceremony and the next day for the reception and partying.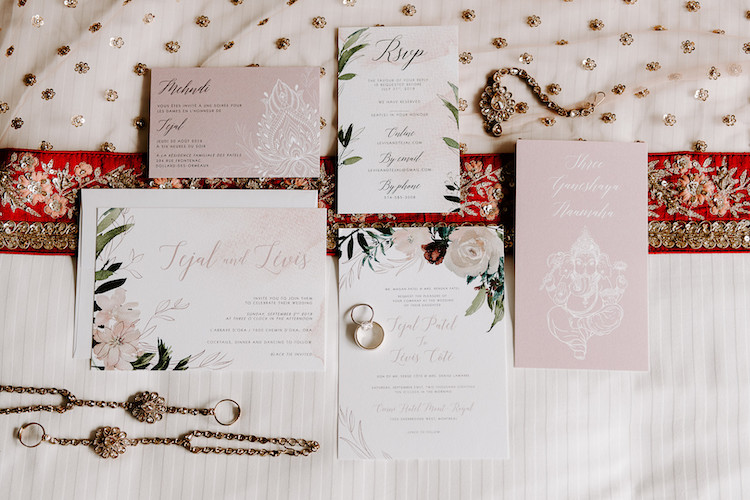 For the Indian Hindu wedding ceremony, I went to India to find the perfect outfits. I had our outfits custom-made so that the embroidery and colours would perfectly match. I wore a traditional red lehenga and the groom wore a sherwani.  As for the hair and makeup for the Indian wedding, I left it in the hands of Amber Ahmed from Amber Esthetics. I've been using her services for many years so I fully trusted her to glam me up for my big day.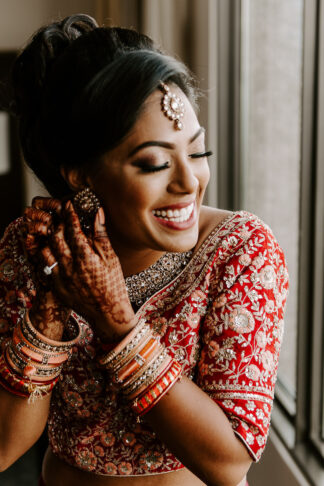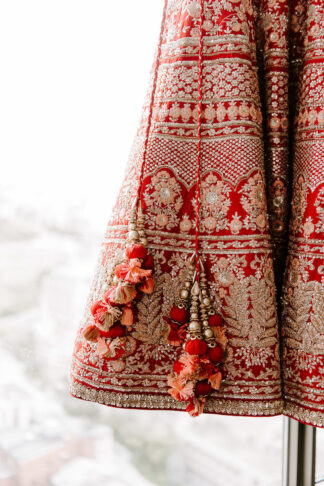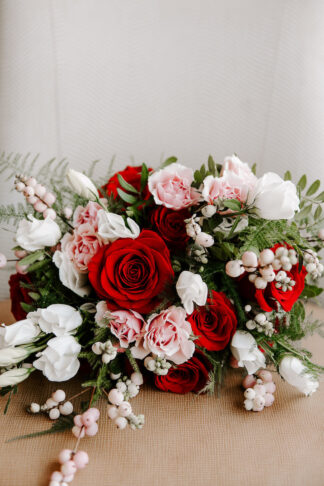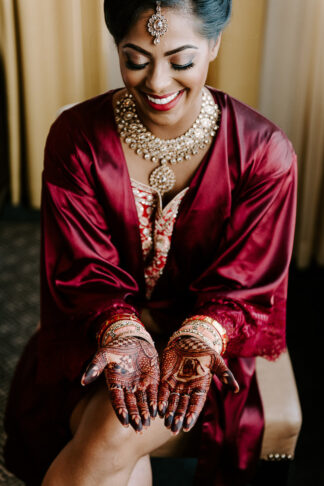 The bridal mehndi (henna) was very special to me. It contained elements of my relationship with my husband and also a little symbol in memory of my beloved grandmother. Hidden in the intricate details, there was a volcano for our love of Hawaii, the golden gate bridge (proposal location), the leaning tower of Pisa and Eiffel tower (my favorite trip to Europe), latte cups for our first date at a coffee shop, sushi for our weekly sushi dates, cherry blossoms for our last trip to Japan and a butterfly for my grandmother. My feet were also adorned with a mandala world map to represent our wanderlusting souls.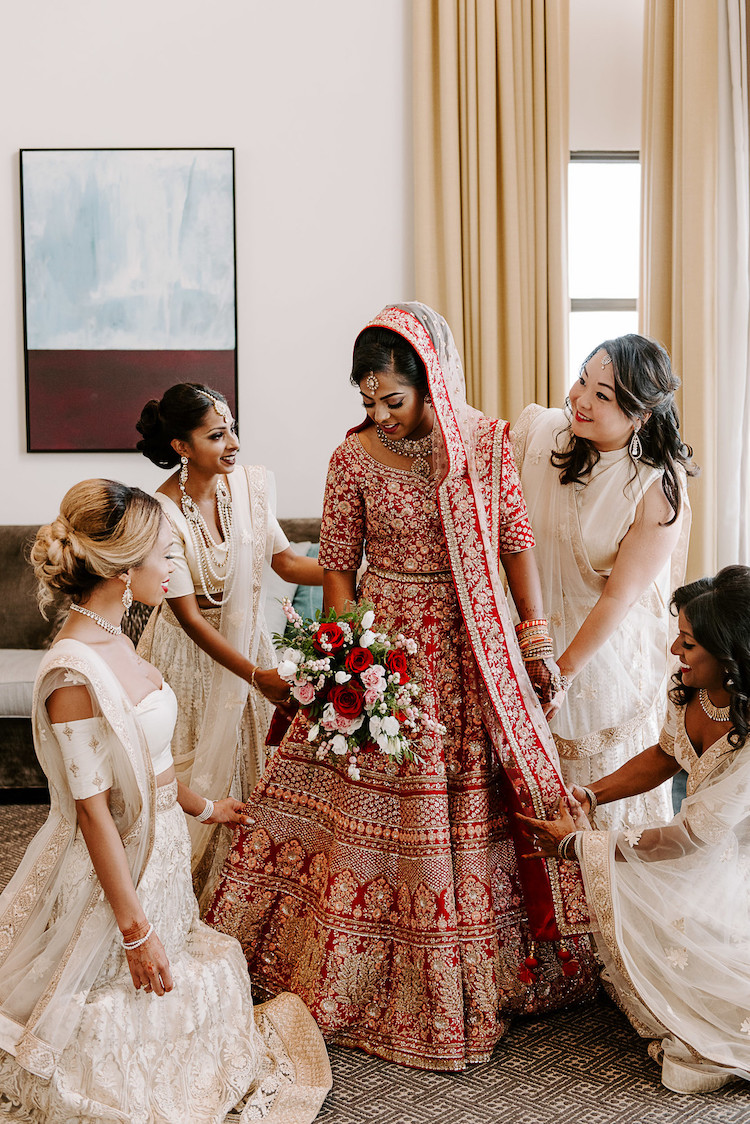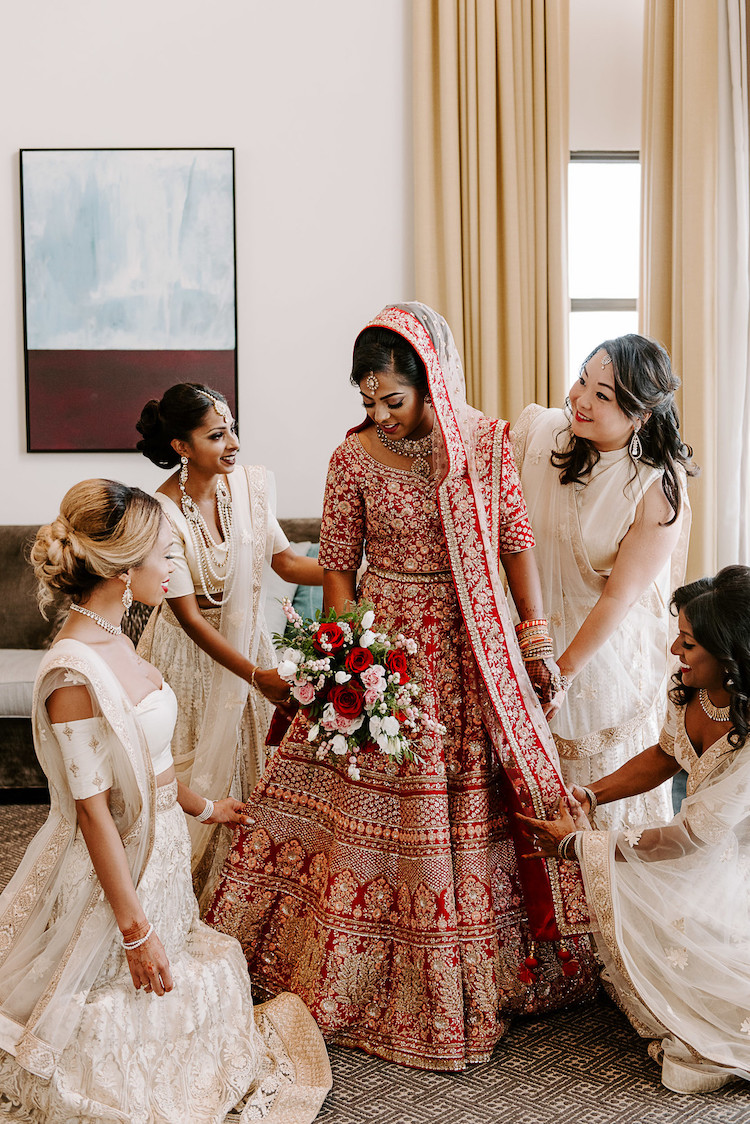 I didn't want to impose a specific style for our bridesmaids so I was very happy when I came across Kf bridal. All I had to do was pick a color and fabric and each bridesmaid was able to pick her own dress. Aishwarya Dhar from Reve Studio and her team glammed our mothers and styled the bridesmaid's hair.
I chose vibrant red and light pink (almost blush) flowers to bring out the colors in our outfits. There was also some white and lots of gold accents.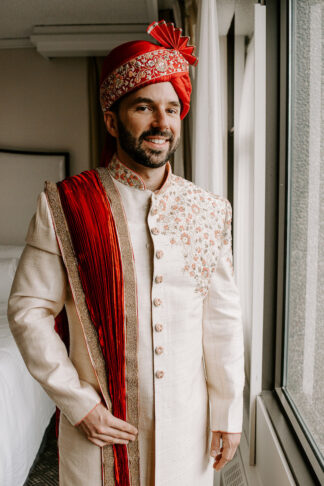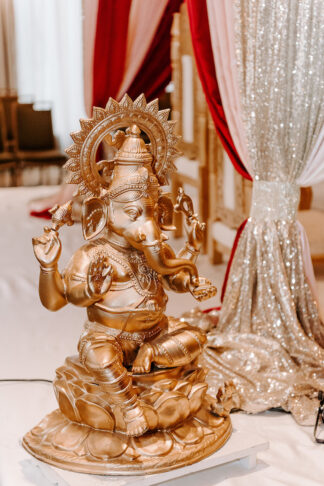 For the Indian ceremony, the mandap was decorated with lush flowers and draping. To bring out the colors in our outfits, I wanted: vibrant red roses, some pink and white flowers and lots of greens. My bouquet had the same flowers. We also had custom garlands that we exchange during the Hindu ceremony.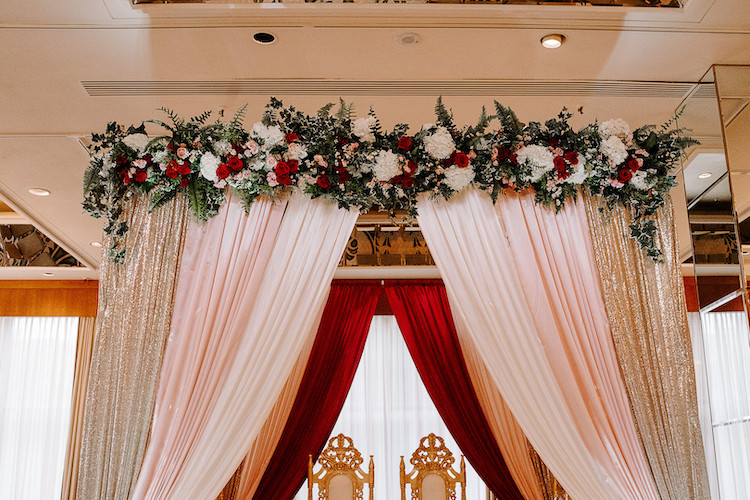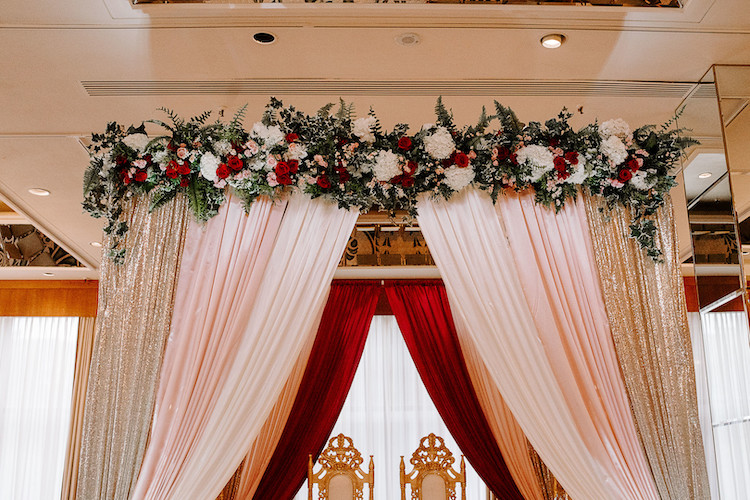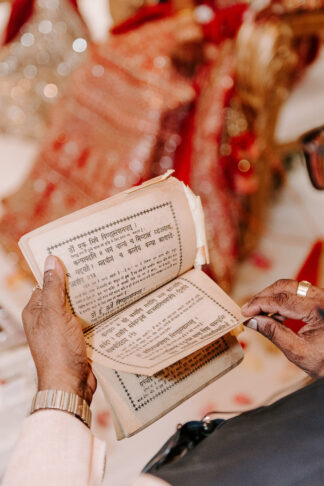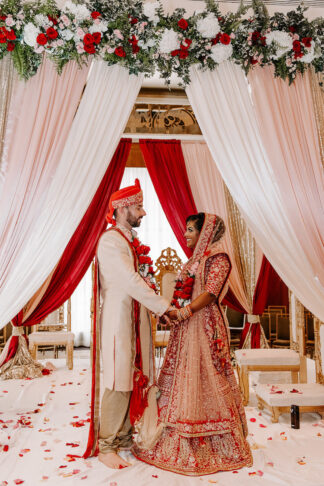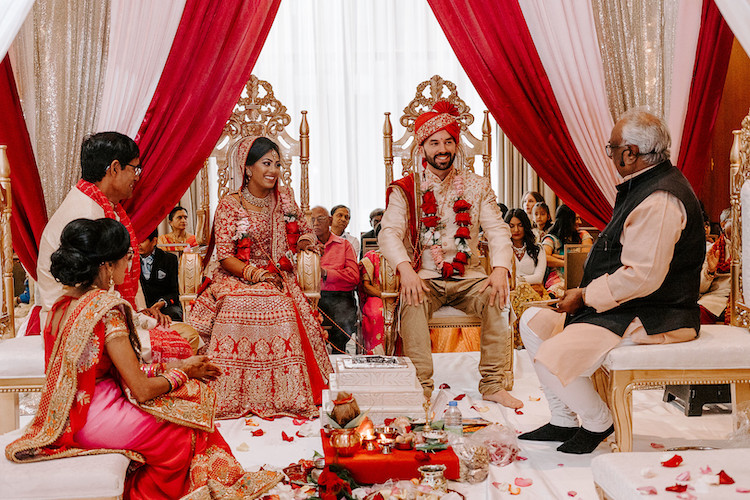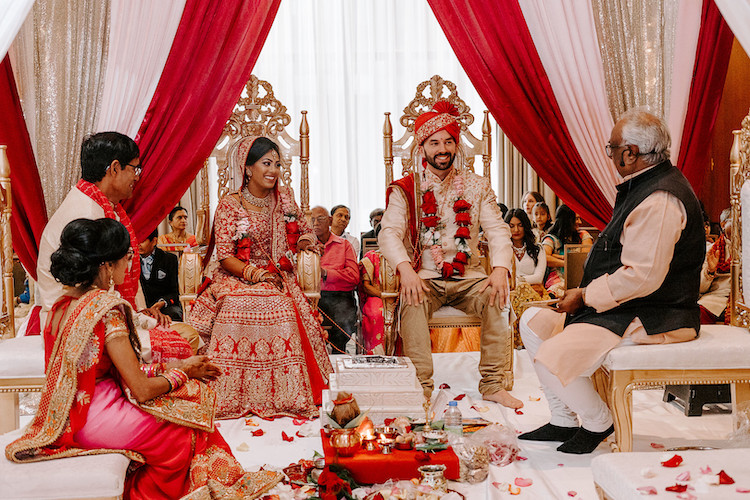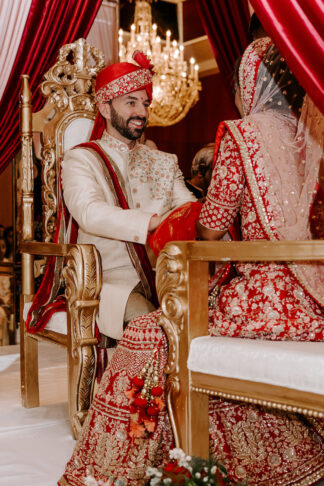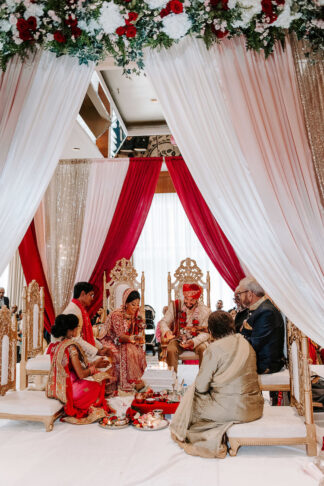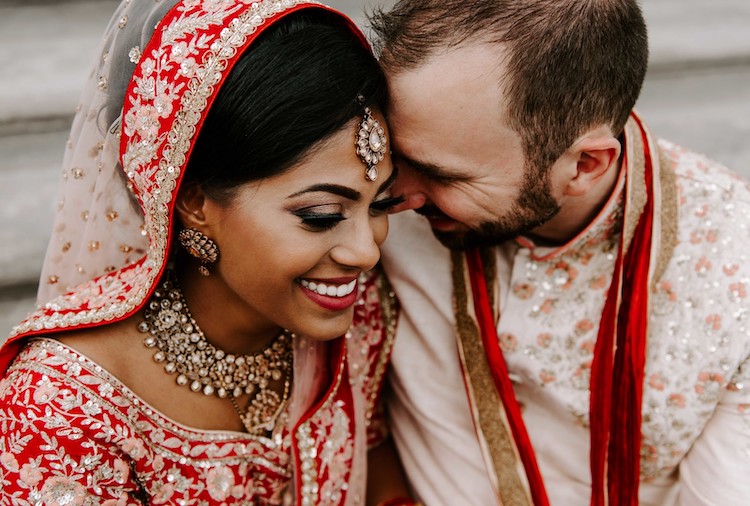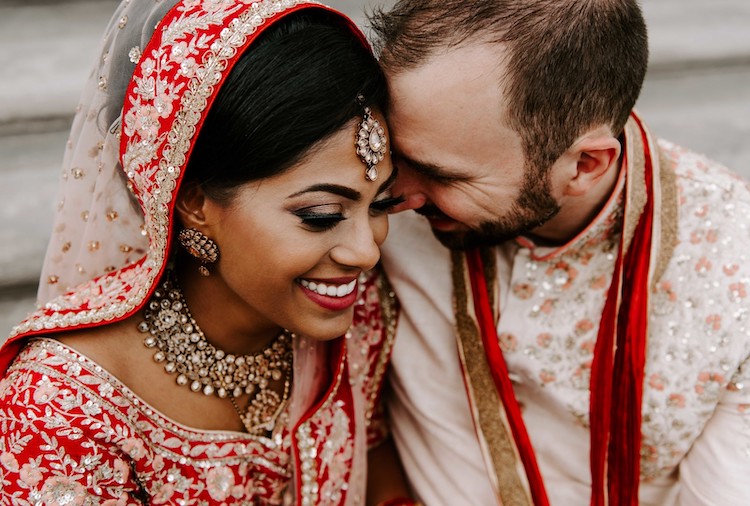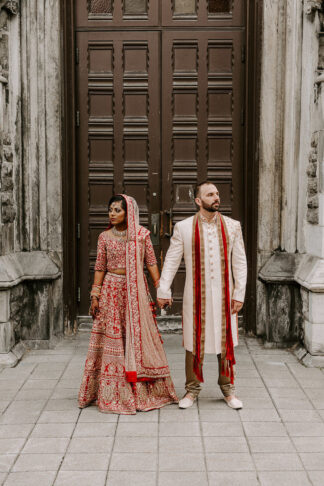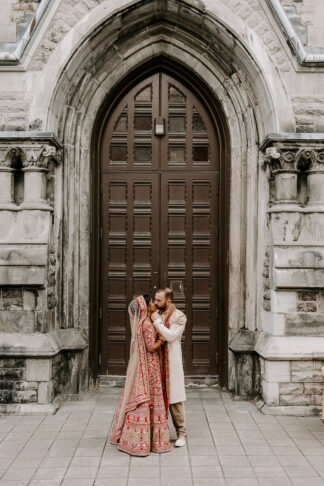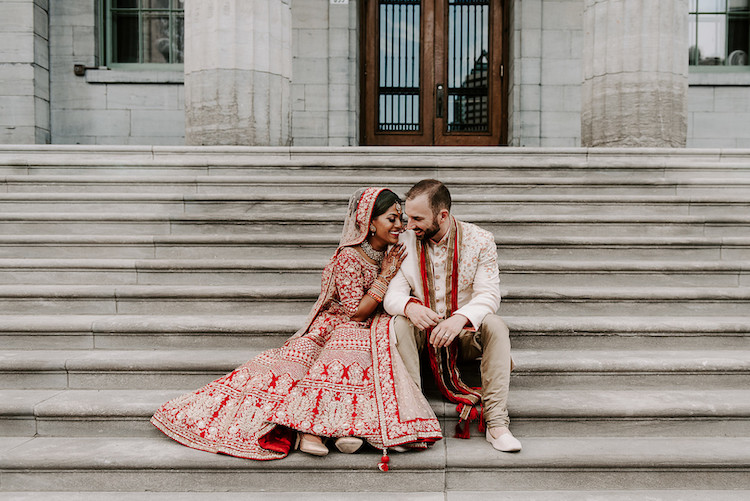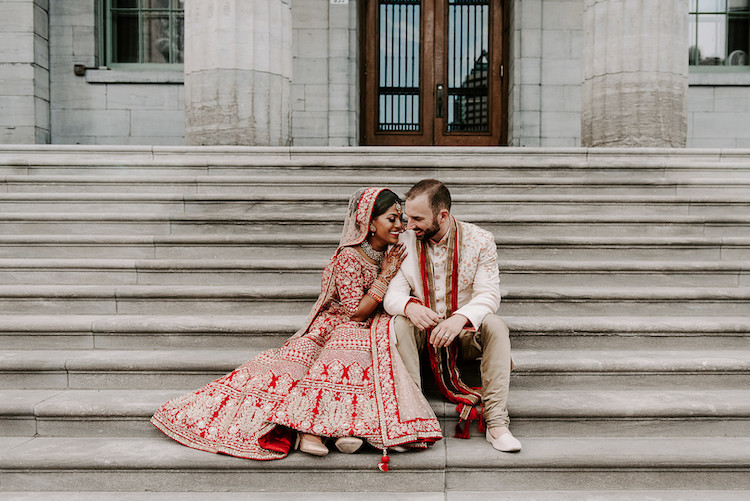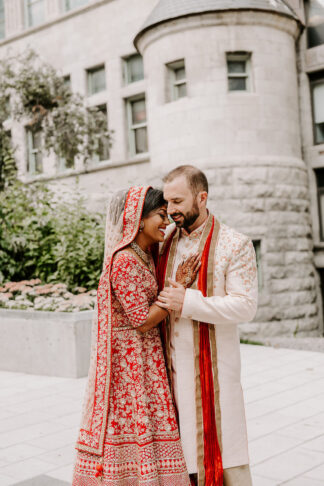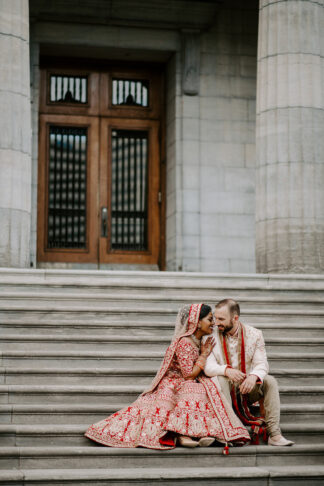 DAY 2: Western Style Wedding Reception
For the reception tried on dozens of gowns before I finally found the perfect one at Galleria Della Sposa. For hair and make up I wanted more of a natural glam look with a loose messy bun. Aishwarya Dhar from Reve Studio was able to create the perfect look based on some inspiration pictures.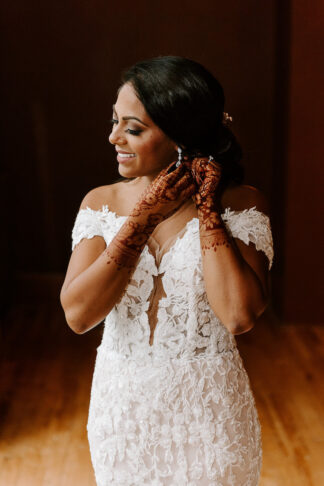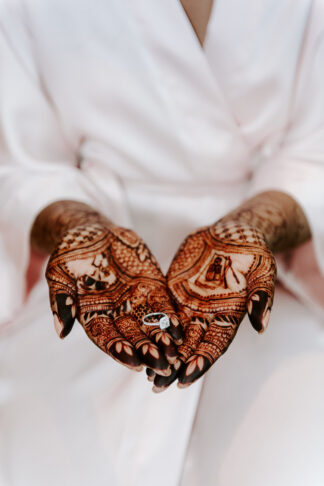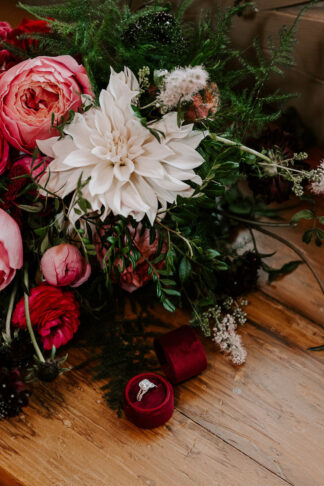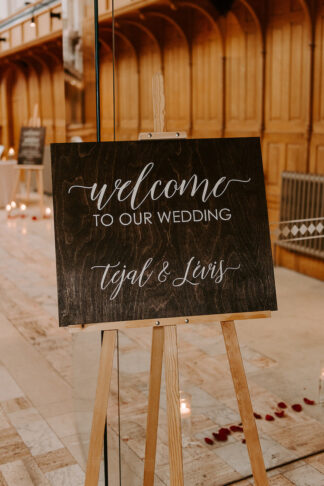 Wedding Guest Book Alternative: My husband and I love traveling so it was only fitting to have our guests sign a globe rather than a guest book.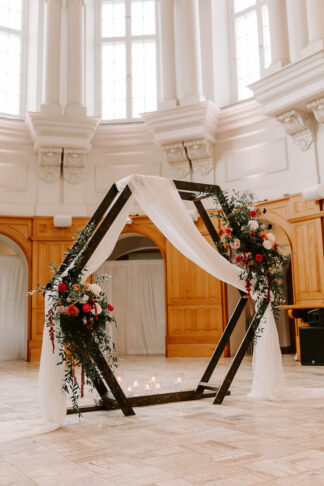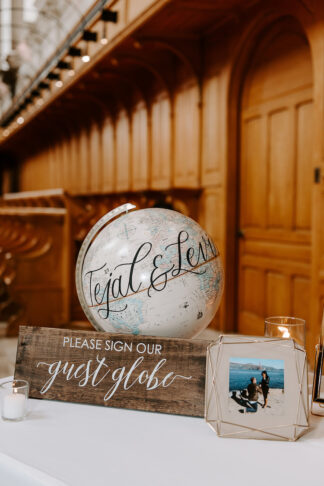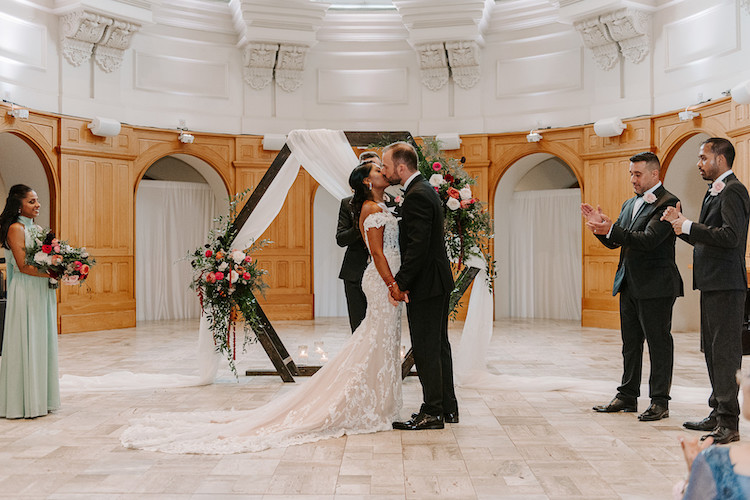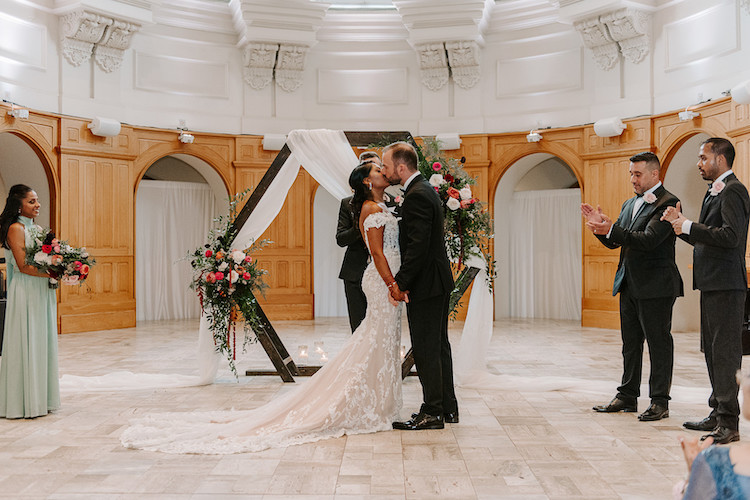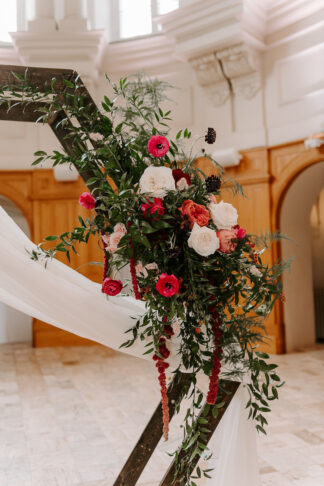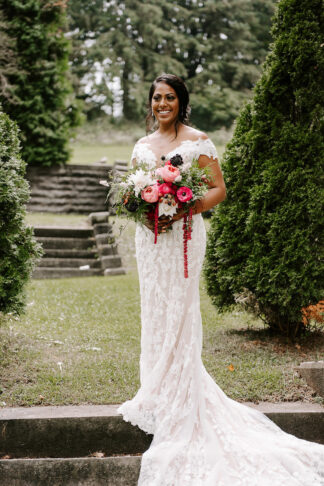 For the reception, I wanted to have a natural and loose bouquet. I didn't want something very structured and symmetrical. The colour combination was seasonal greens, light pinks, muted pinks and fuchsia with touches of burgundy and splashes of white. Our florist even added blackberries to the bouquet to complement the centerpieces!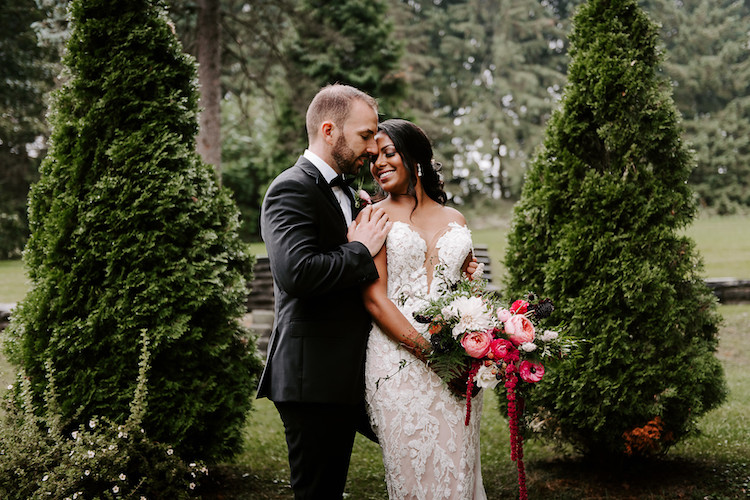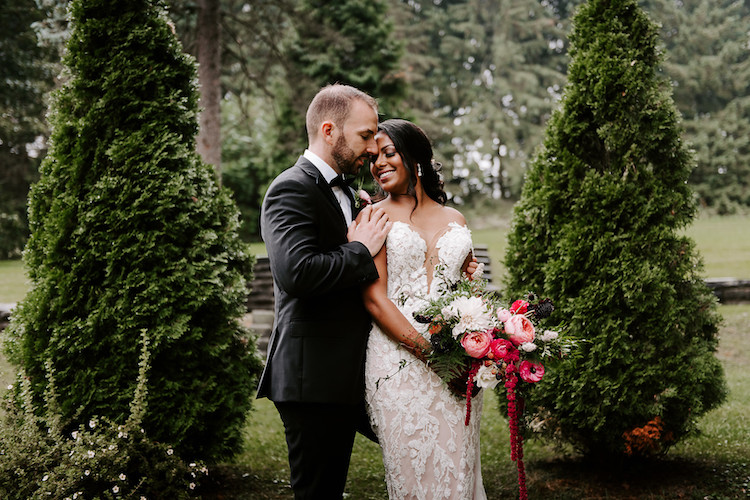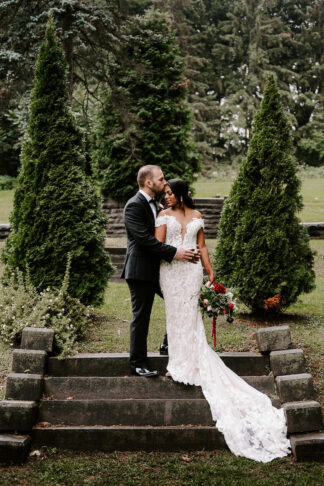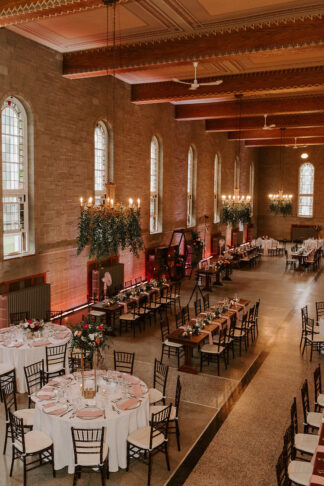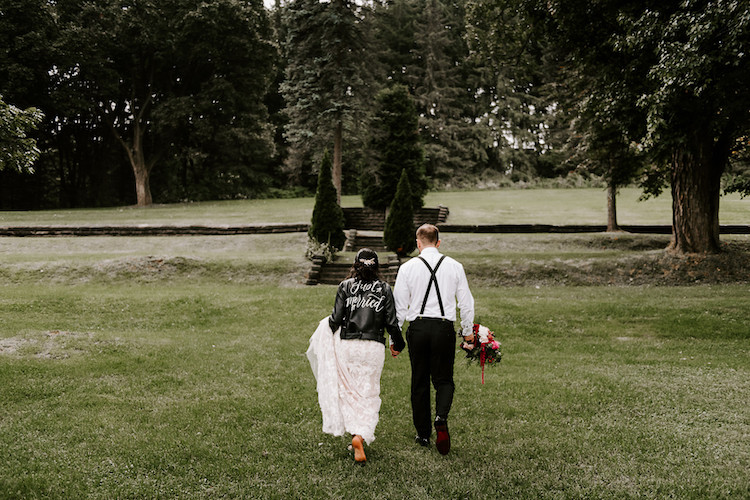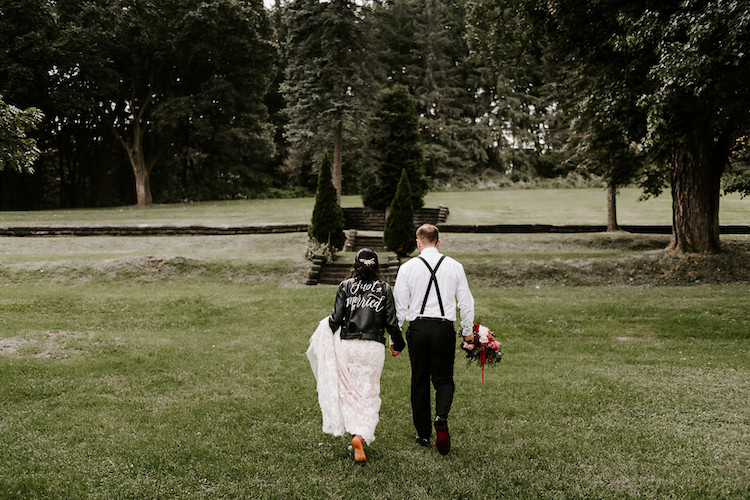 I fell in love with the reception venue, L'Abbaye d'Oka. It's such a unique location. It's an old monastery that can be used for events.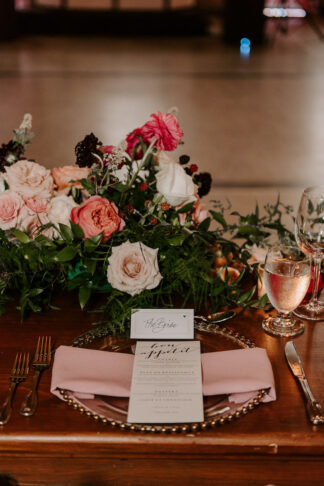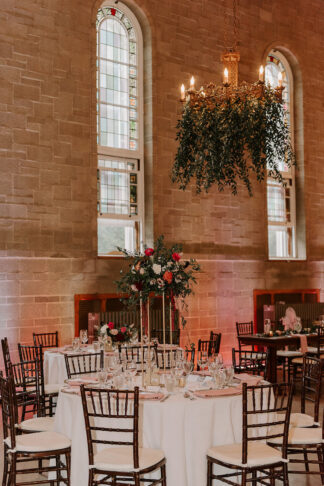 Their Grand Réfectoire room is features very high ceilings with exposed wood beams, vintage chandeliers and beautiful stained glass. Since the room was already so beautiful, we lightly decorated with candles and flowers.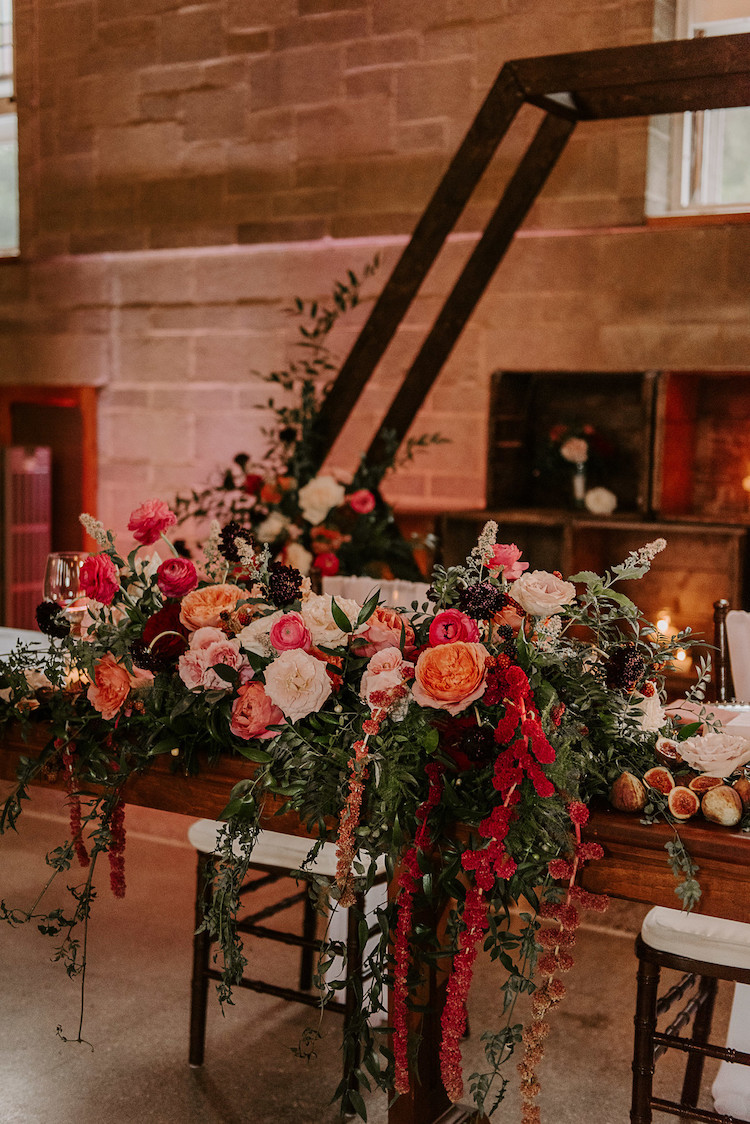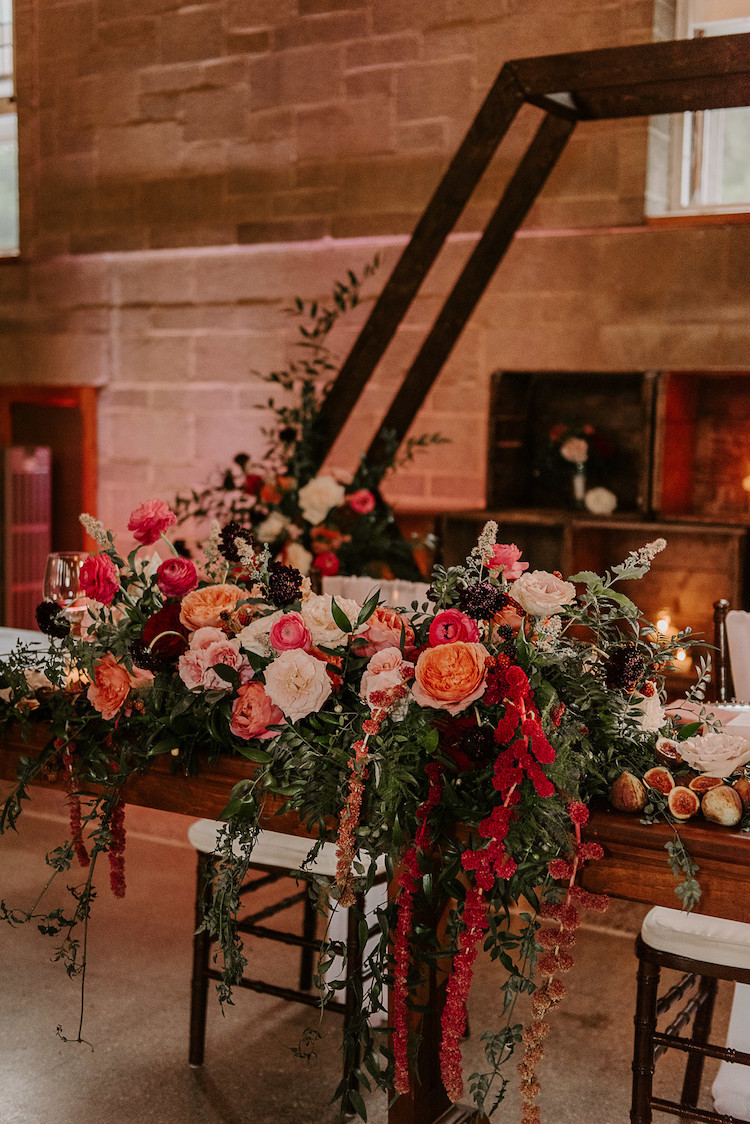 The wedding reception centerpieces were a mix of tall arrangements and garlands on the long tables. The long tables had figs and blackberries to complement the flowers. That special touch elevated the décor. The chandeliers were filled with greenery. I absolutely loved the cascading effect.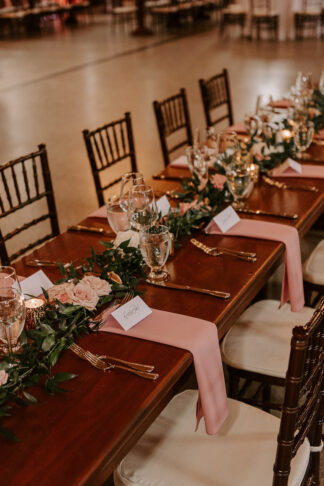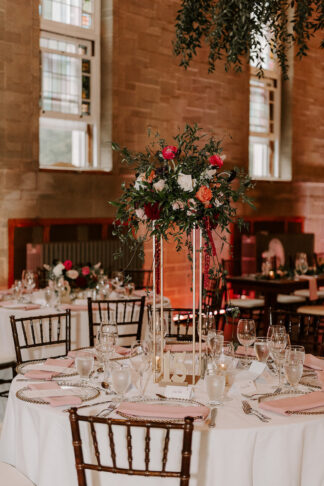 We gave our guests one wedding favor and also made a donation to the SPCA. We love animals.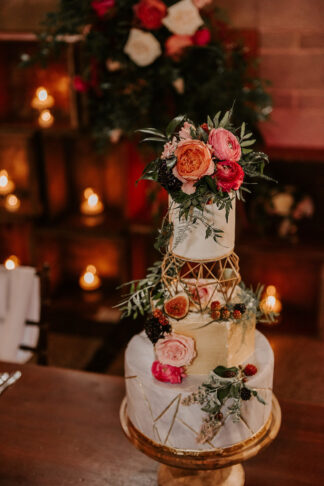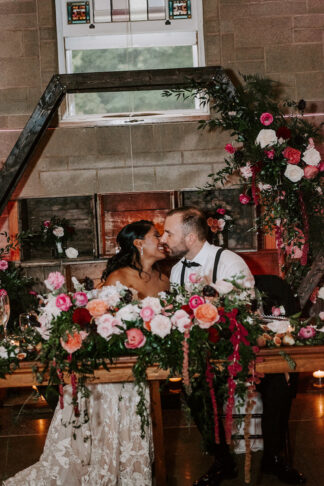 Get a wedding planner! I can't emphasize enough on the importance of having a wedding planner or at least a wedding coordinator. We would not have been able to do this without Katrina Schaller from Deka Events. She was AMAZING! Many couples want to enlist their friends and family the help but my husband and I wanted them to enjoy our wedding festivities without having to worry about anything.
Wedding Vendors: Photographer Sadie at l'orangerie photographie  // Western Reception Abbaye d'oka // Indian Wedding Venue Omni Hotel // Bridesmaid Dresses KF Bridal // Videographer Olivier, Beau Video  // Dress Galleria Della Sposa // Brides Hair + Make Up Reve Studio Amber Esthethics //  Flowers oh fleurs // Cake sweet treats by sapna  // Decor le coeur mariee boheme  // Wedding Planner Katrina Schaller // Shoes Hansen D'Orsay Evening Shoe by Badgley Mischka