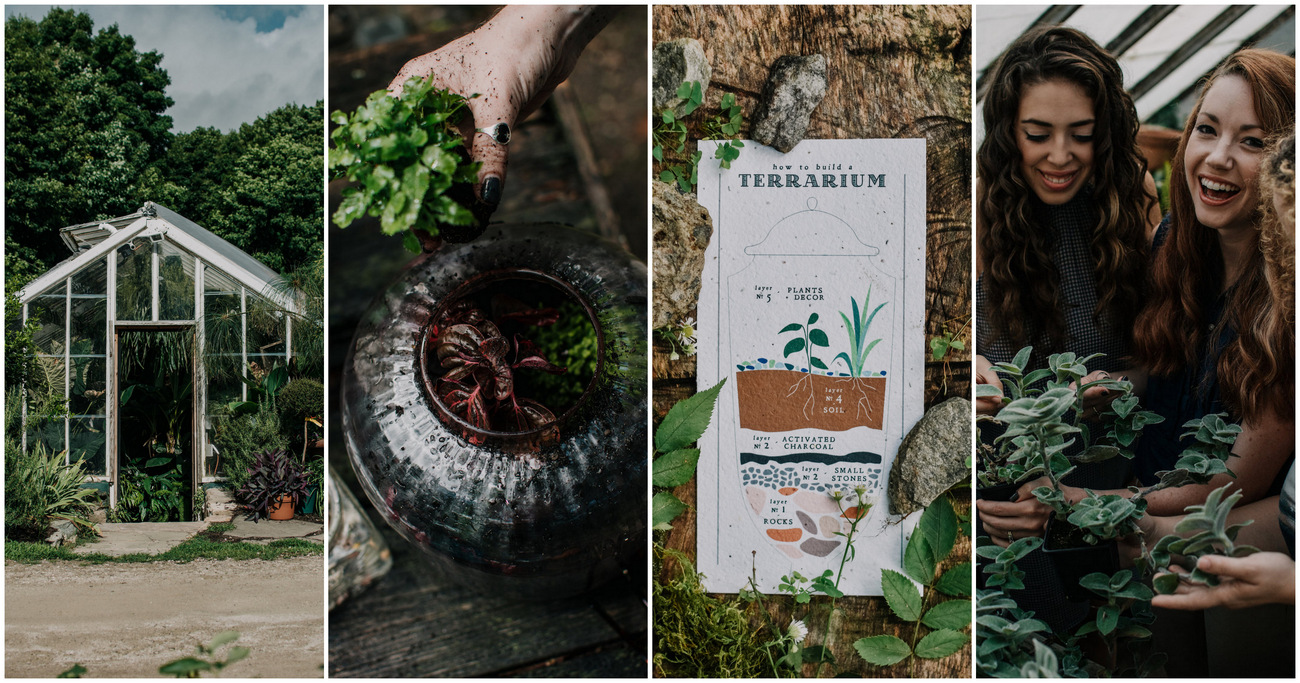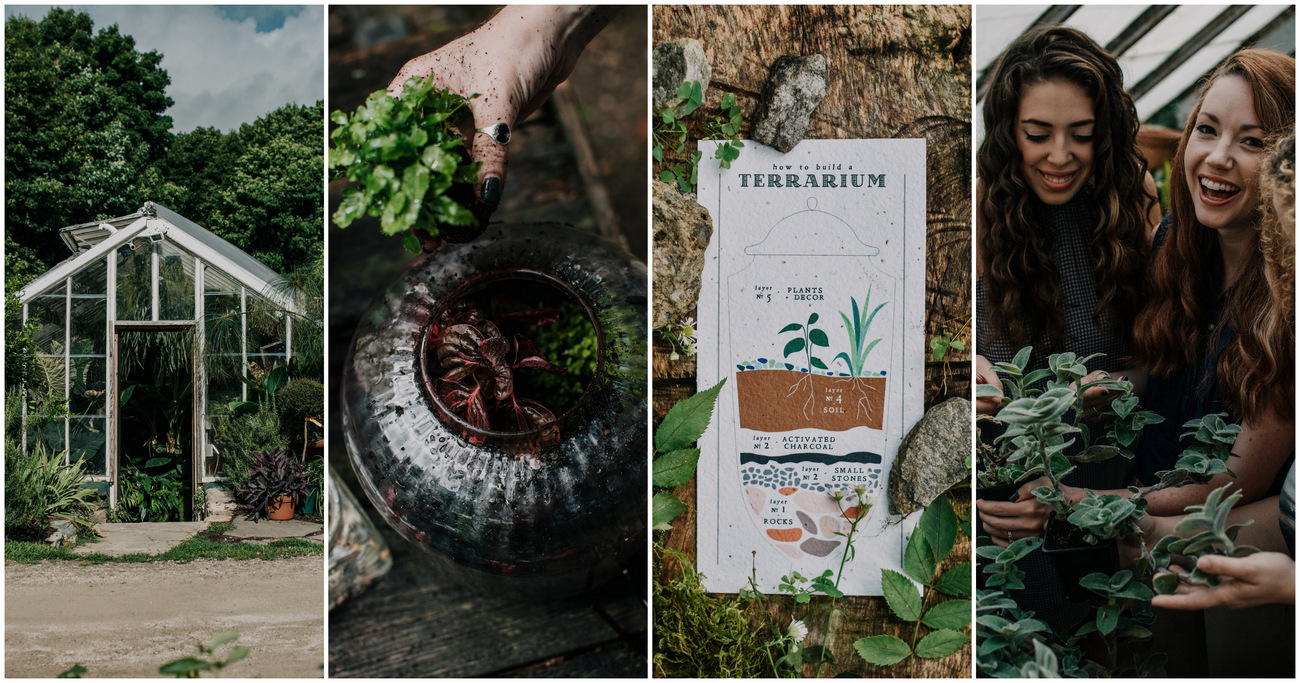 Today we're sharing 10 ethical wedding tips on how to throw an eco-friendly, plant-based bachelorette party for your bestie, while reducing waste! Spending the day at a greenhouse, planting terrariums is not only a plant lovers dream, but also the perfect way to celebrate a bridal couple and their tribe in a relaxed, fun way that nourishes these close friendships in the run up to an awesome vegan wedding.
We're in love with this awesome, sustainable bachelorette party idea, especially for conscious brides that want to work toward a zero-waste, vegan or green celebration.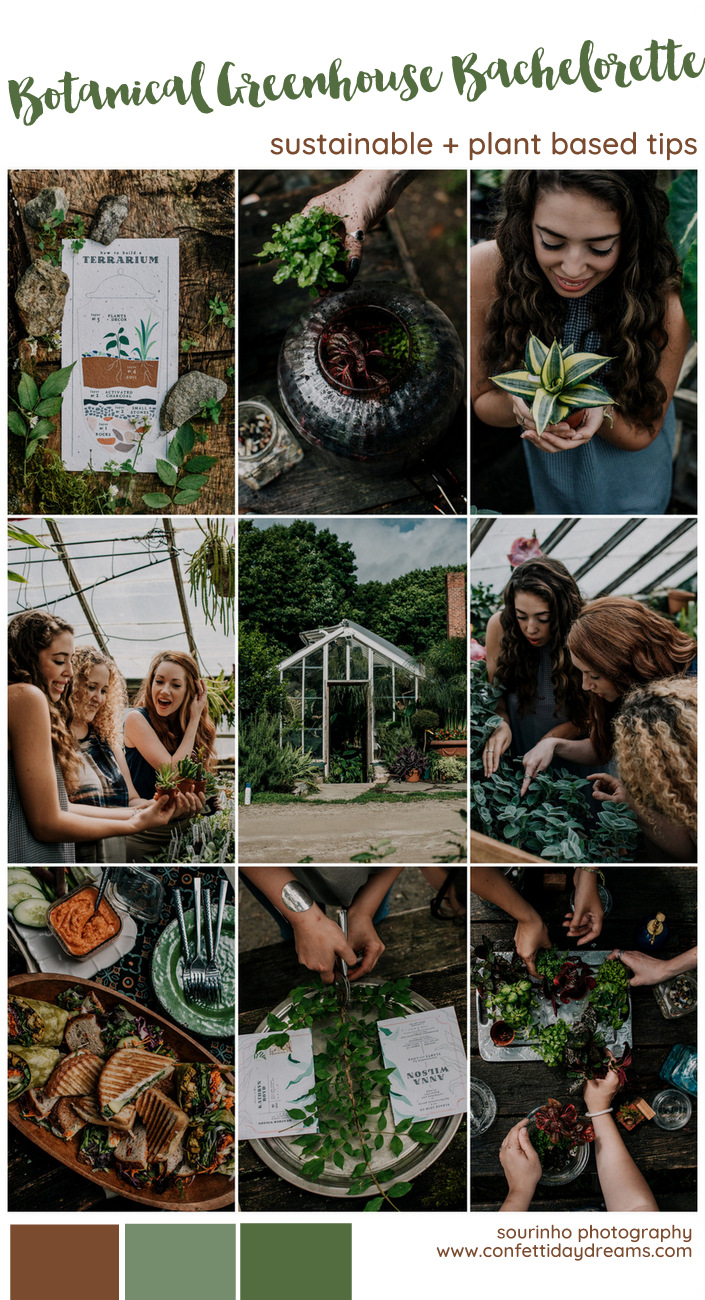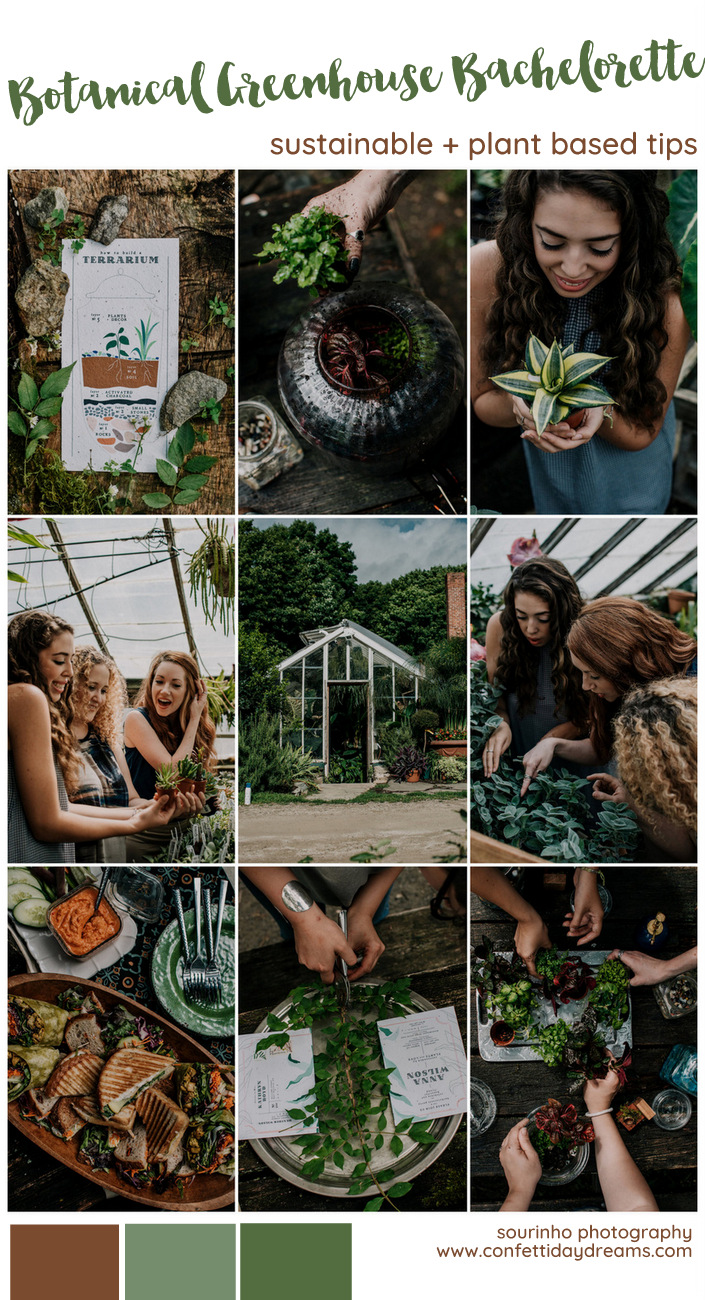 Kendra Meany of Whole Weddings in Woodbury, Connecticut put together this shoot with the mission of growing and supporting a locally sourced, environmentally conscious wedding community. She runs a Facebook group 'Eco-Ethical and Zero Waste Weddings for Couples and Vendors' in support of bringing the community together – we totally love this idea! (Kendra will also be sharing 10 super insightful tips for planning a sustainable, zero waste bachelorette – so keep reading.)
Kendra teamed up with photographer Monique Sourinho from Sourinho Photography, who brought the vision to life with her storytelling editorial style.
The inspiration for this shoot came last year while reading Elizabeth Gilbert's novel 'The Signature of All Things', says Kendra. "I was captivated by her tale of female botanist, Alma Whittaker and how much of her inquisitive personality and love for plants I could see in myself and women around me."  She envisioned who Alma would be living in the twenty-first century rather than the eighteenth, and drew inspiration for this greenhouse bachelorette alternative from that.
An afternoon at the greenhouse, eating amazing plant-based food, while selecting succulents and baby plants to create your own terrariums really sounds like a dream friend-date to me. (Confession, I'm obsessed with plants!) The decor for the shoot was all purchased second hand, and besides a few bags of soil, the charcoal and pots, was a zero waste affair. The models wore clothing they already owned not only so they'd be comfortable, but because re-wearability is a cornerstone of ethical fashion.
Sustainable, Greenhouse Plant-Based Bachelorette Ideas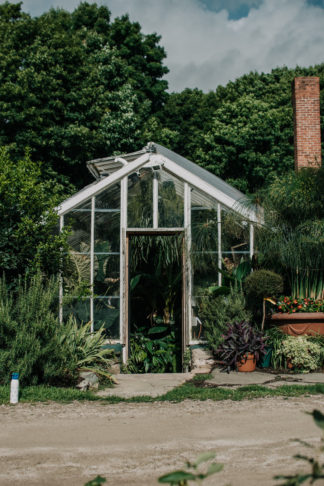 The lush plantlife of Logee's Greenhouse in Danielson provided a stunning backdrop and the beauty of Mashmoquet Brook Park in Prospect was a perfect communal space for everyone to make terrariums and have lunch together.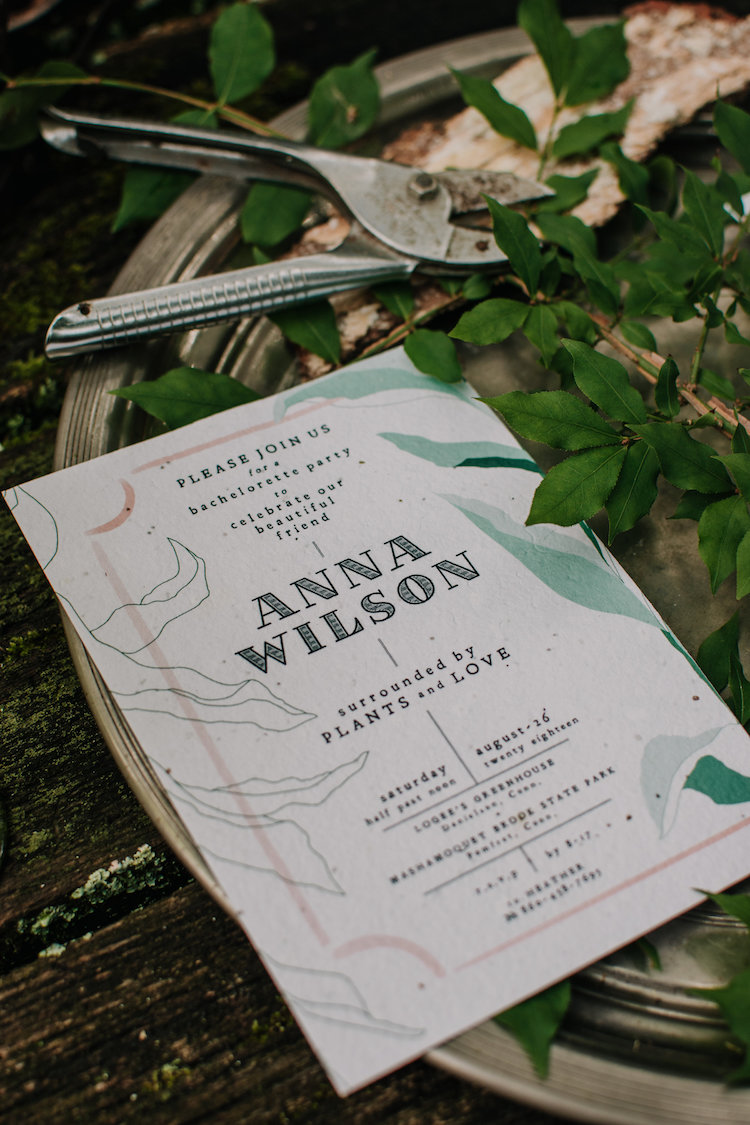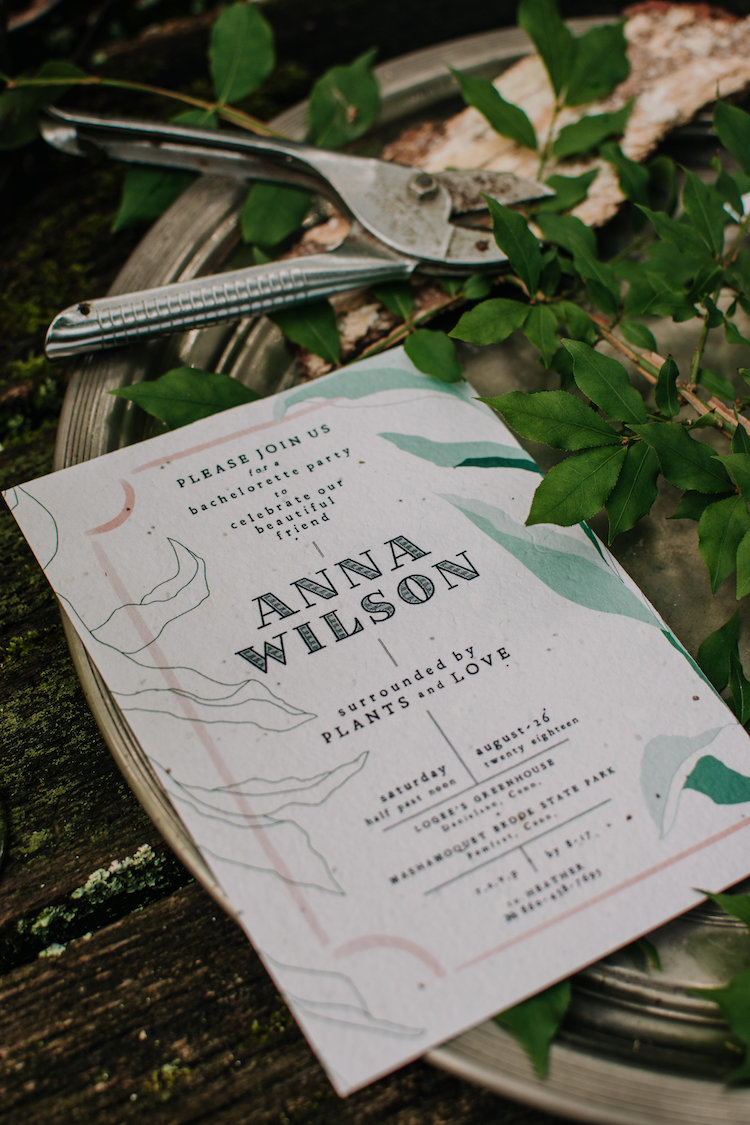 Whole Weddings created custom designed and printed wedding stationery on seed paper. When planted all of the stationery pieces will grow into a beautiful mix of annual and perennial wildflowers, making beautiful memories of the day with no waste left behind.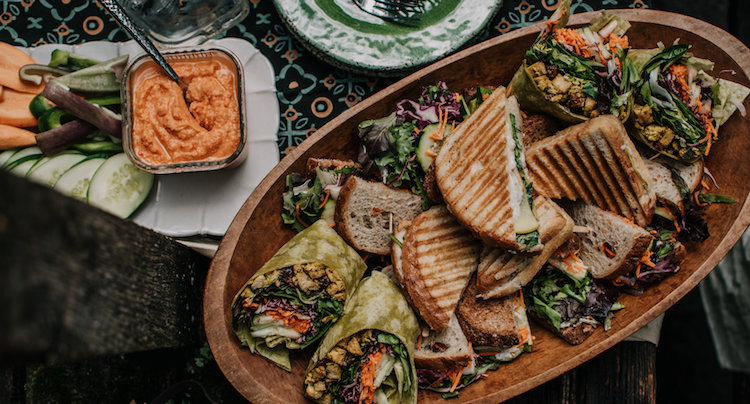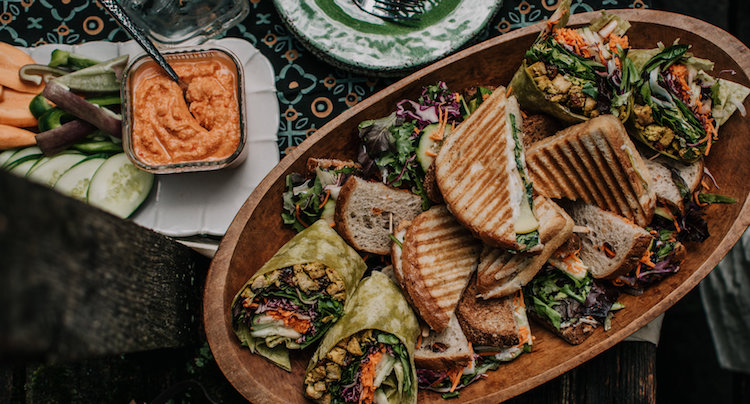 A colorful array of vegan sandwiches from Heirloom Food Company in Danielson made for a gorgeous plant based spread. Their ingredients are sourced directly from local farms. A homemade hummus and farm stand vegetable platter rounded out the healthy and delicious lunch.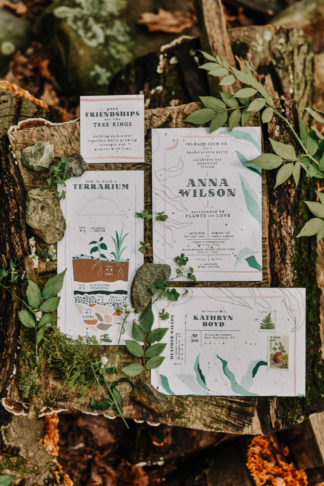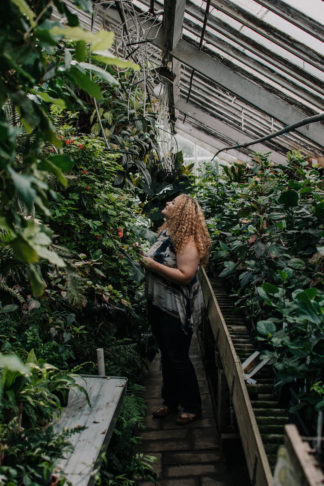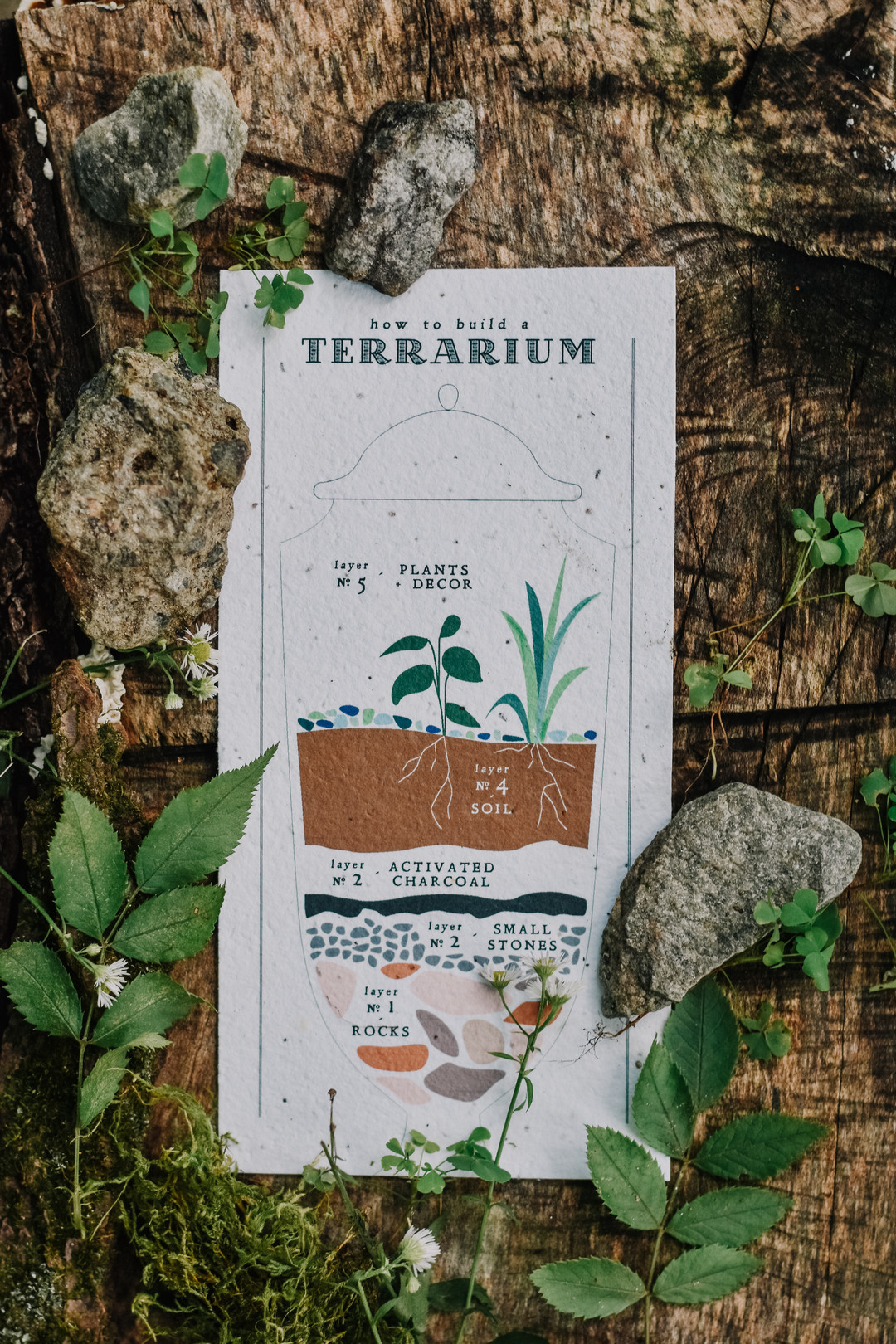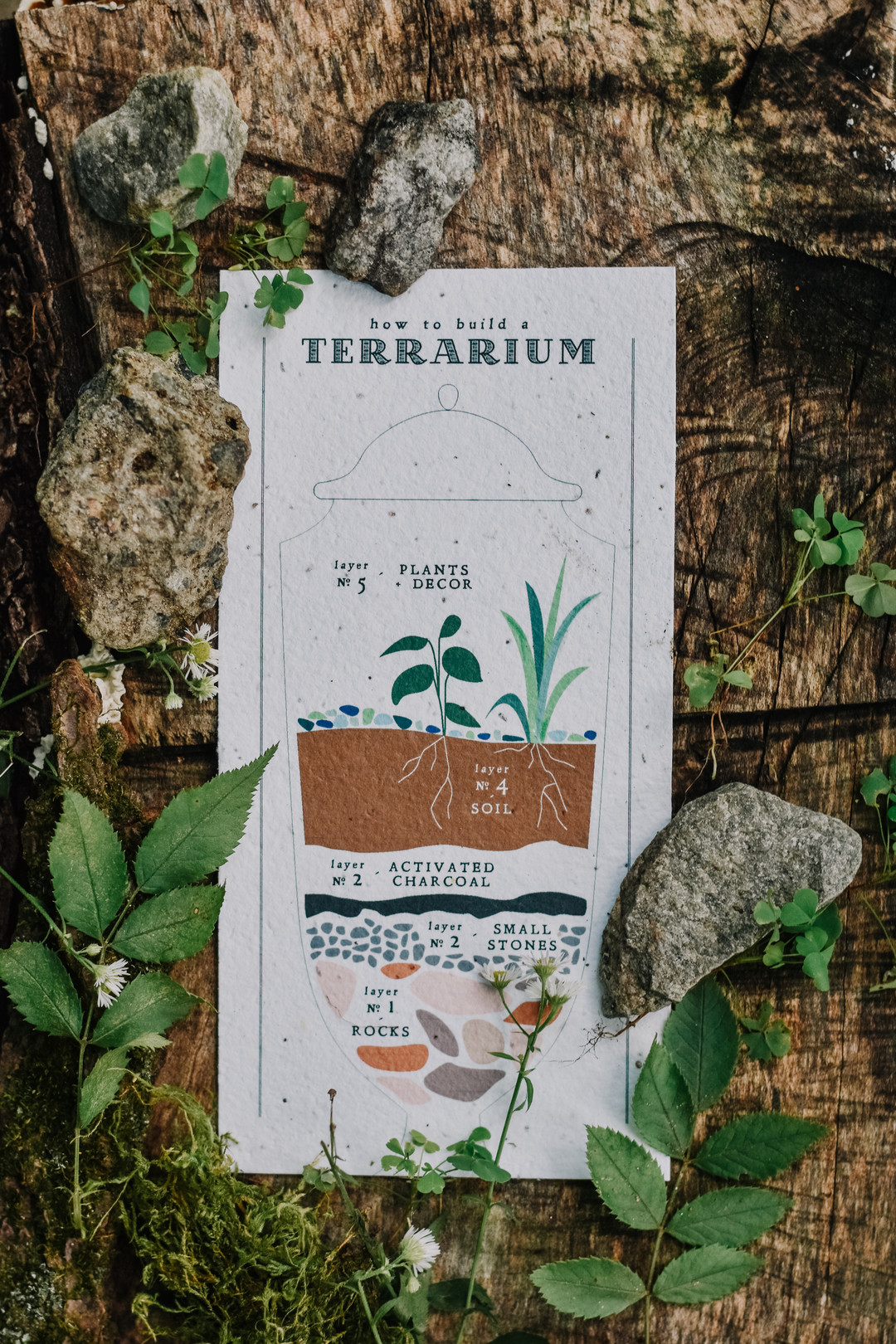 Sustainable DIY terrariums. To make these terrariums, the gals used up-cycled and found vases which they filled first with large rocks, then a layer of stones, a layer of activated charcoal, and some soil. They then added the cutest little seedlings and cactuses, and spritzed with water. These beautiful, sustainable terrariums are kind to the earth and can be made simply in an afternoon. We're obsessed!
CHECK OUT MORE DIY WEDDING PROJECTS HERE.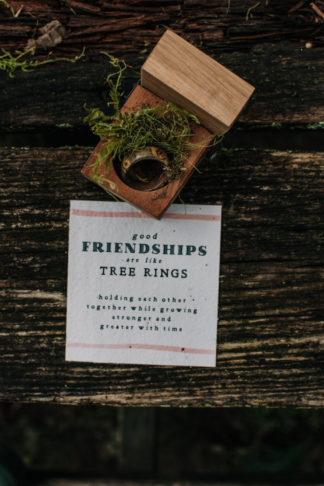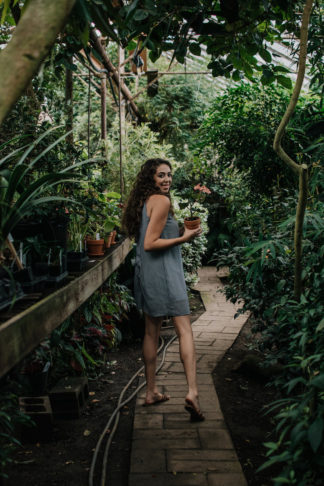 Handmade wood boxes from reclaimed wood, that mechanically open with a clever nail and rubber band system she devised, were created by artist Sue Berg of Barronvonberg Sustainables in Torrington. Her tiny house style studio is run on solar power and all of her work is made from repurposed materials.
Lovely wood friendship rings were handcrafted from reclaimed wood with beautiful burl wood edging by Dawn and Luke Bittner of Yellow Table Design in Groton. Each is one of a kind.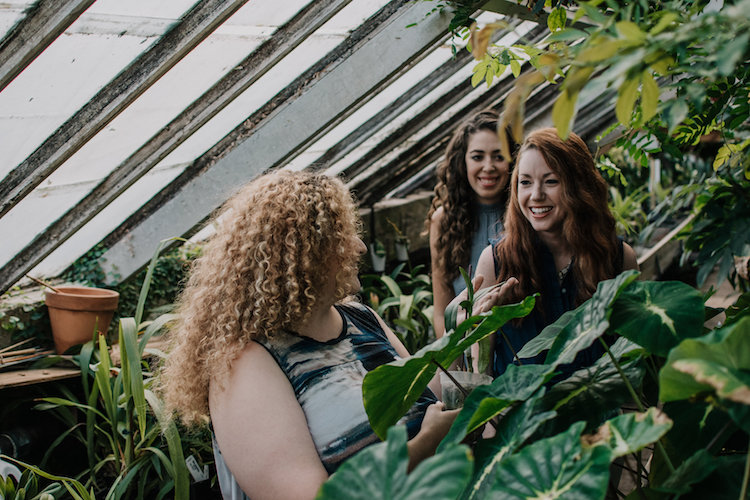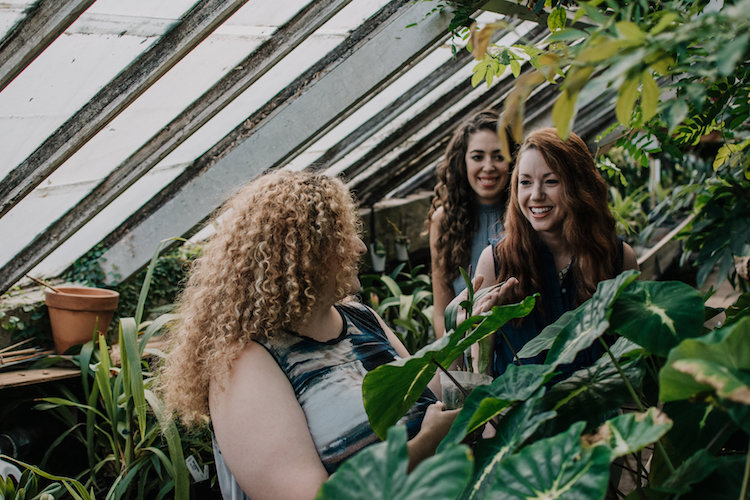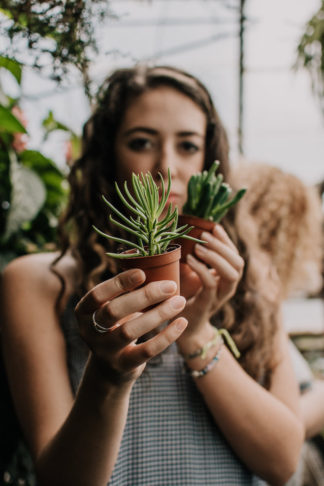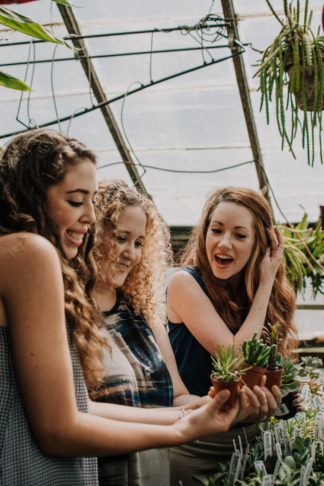 Sustainable Hair and Make Up team, Deana Merola (hairdresser and owner) and Vanessa Milano (make-up artist) are from Christopher Michael the Salon in Wallingford, an eco-friendly, sustainably driven salon. They use exclusively Eufora products, derived from natural and responsibly sourced materials, cruelty-free and fair trade. The salon strives to operate as close to zero waste as possible recycling and reusing as much as it can.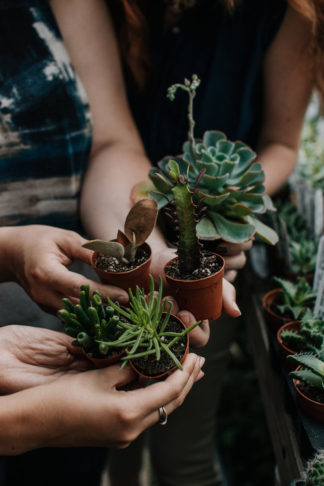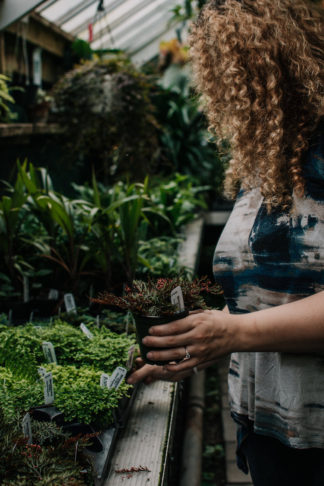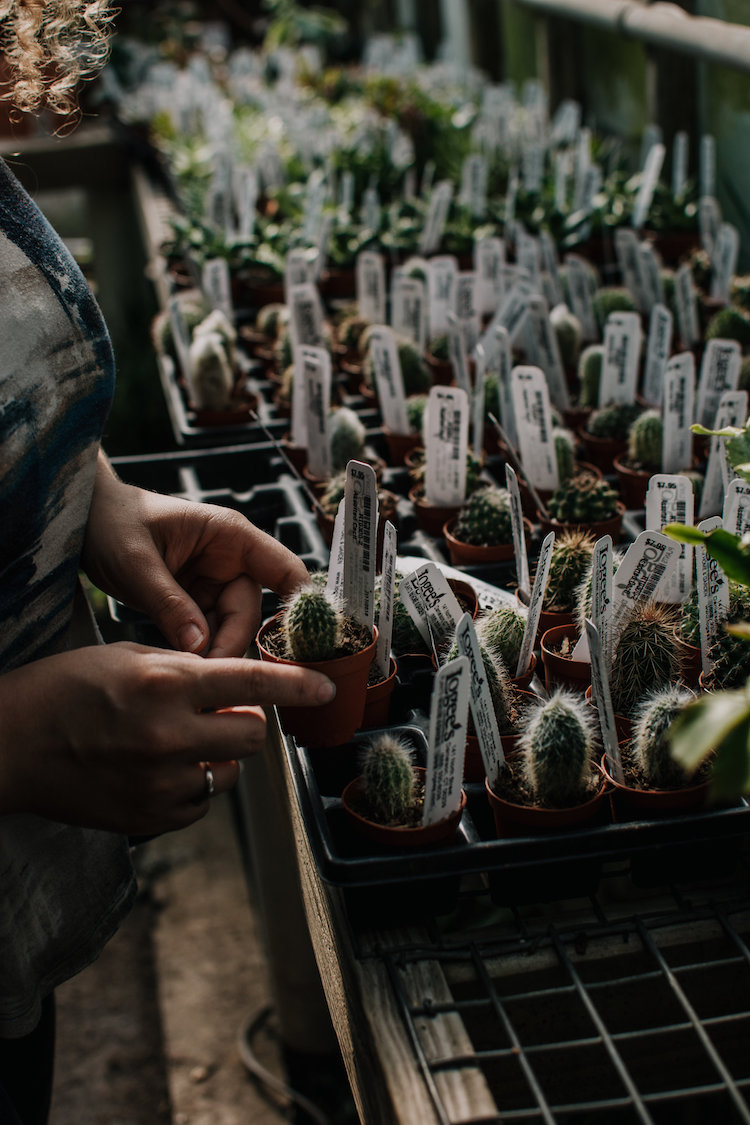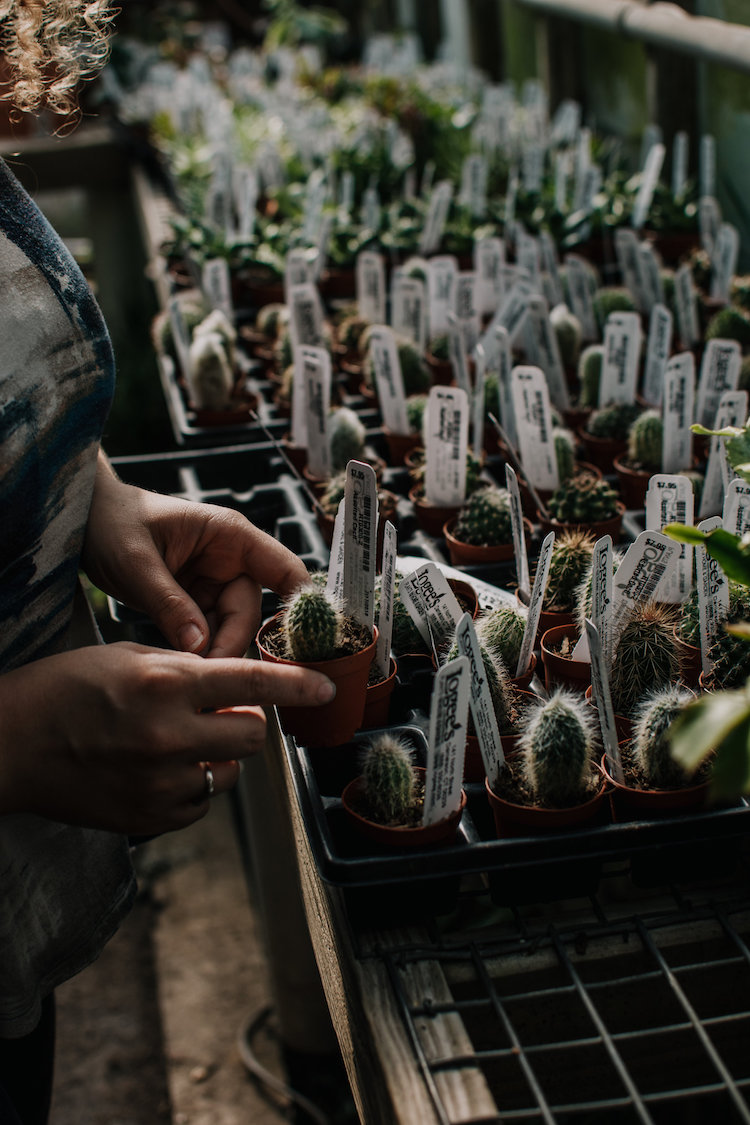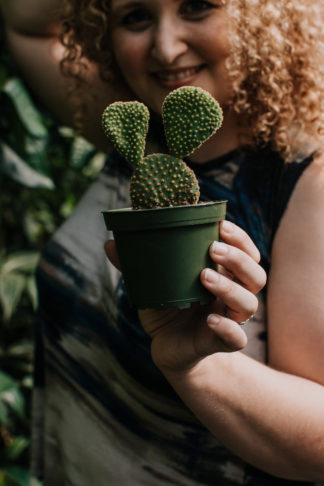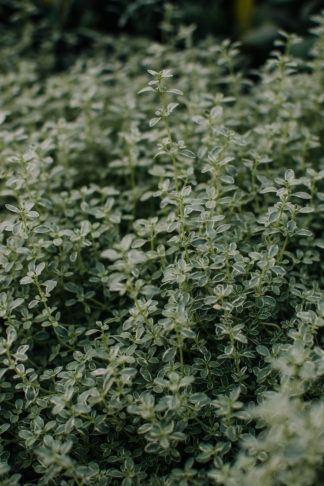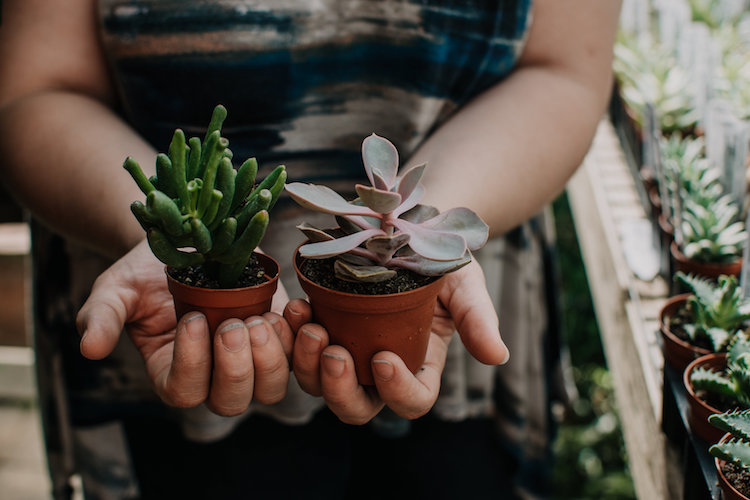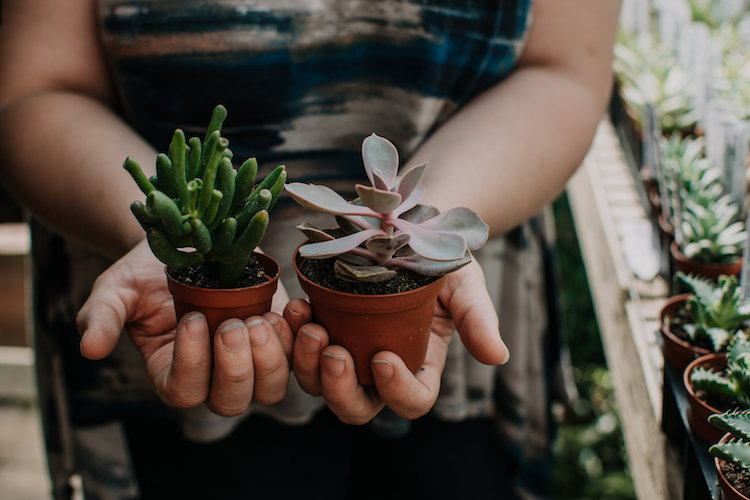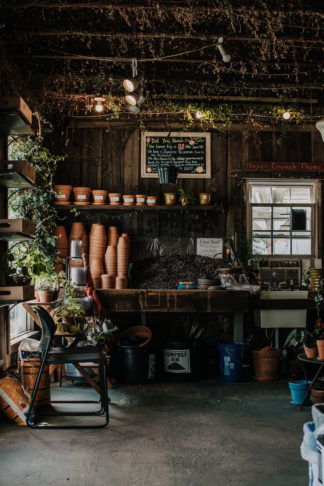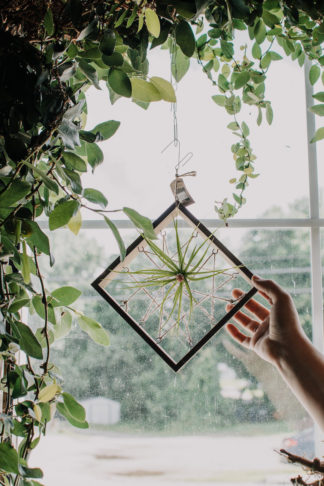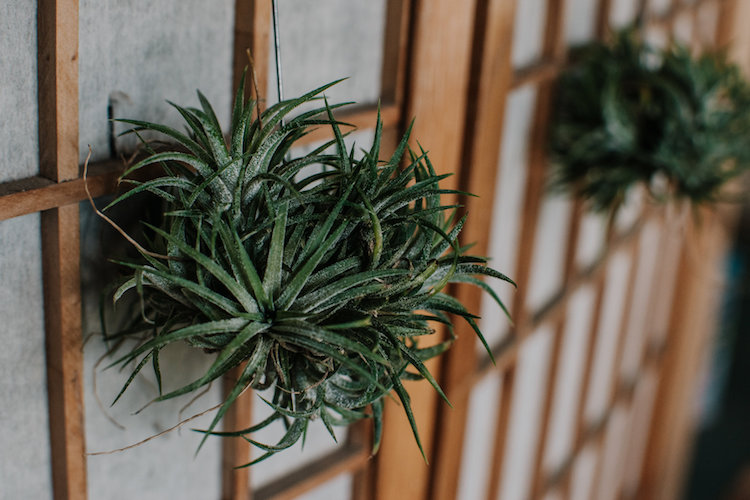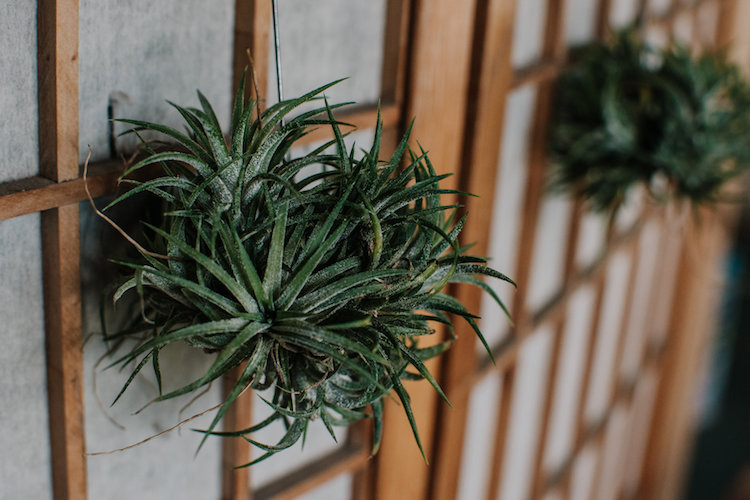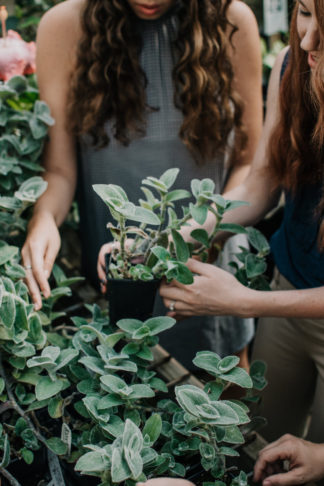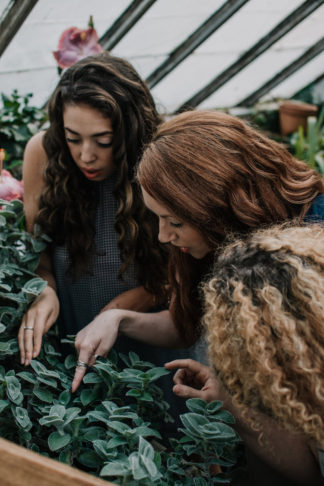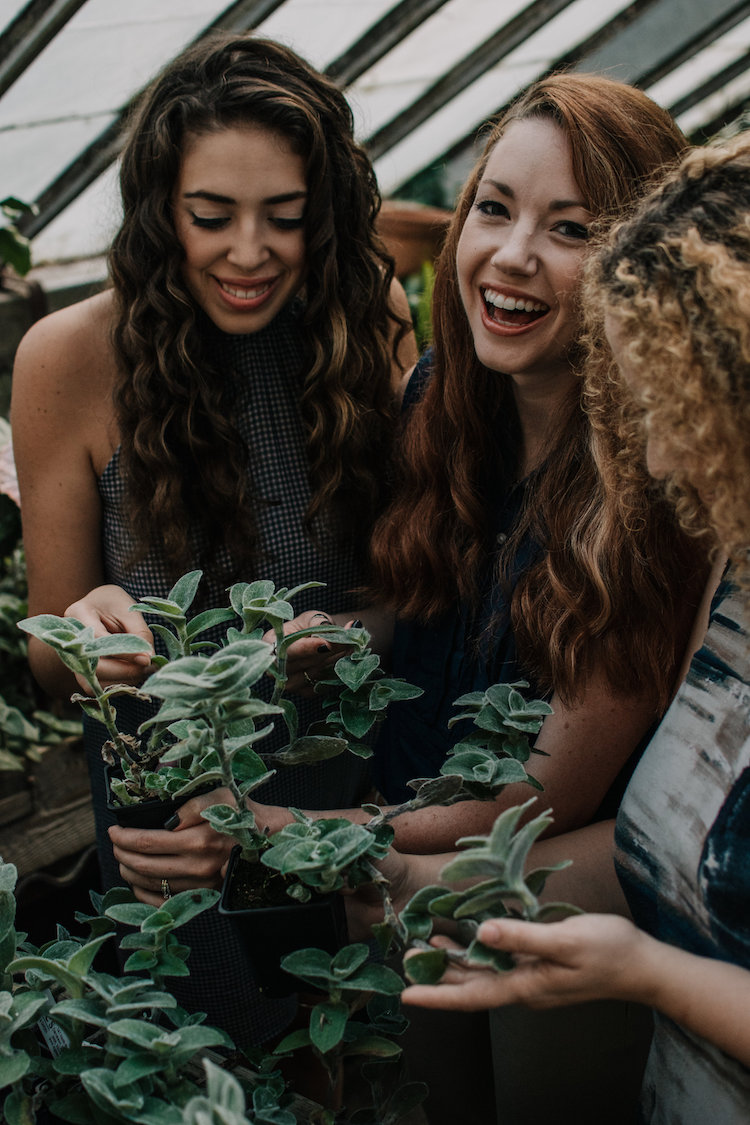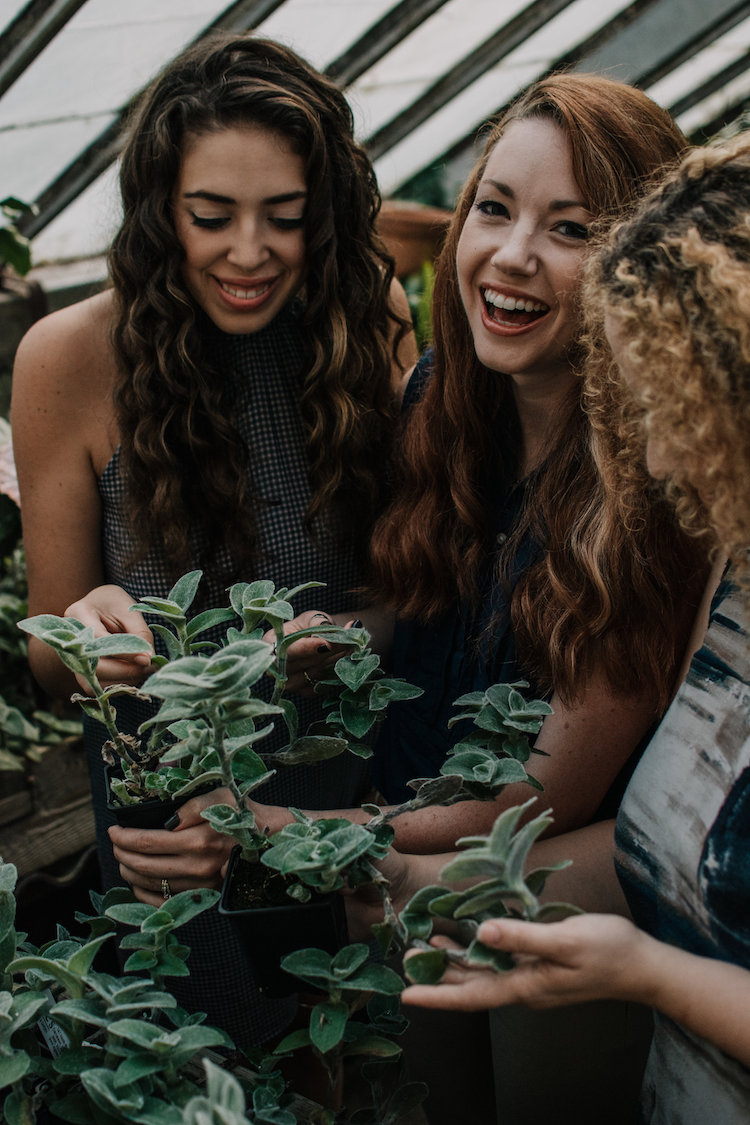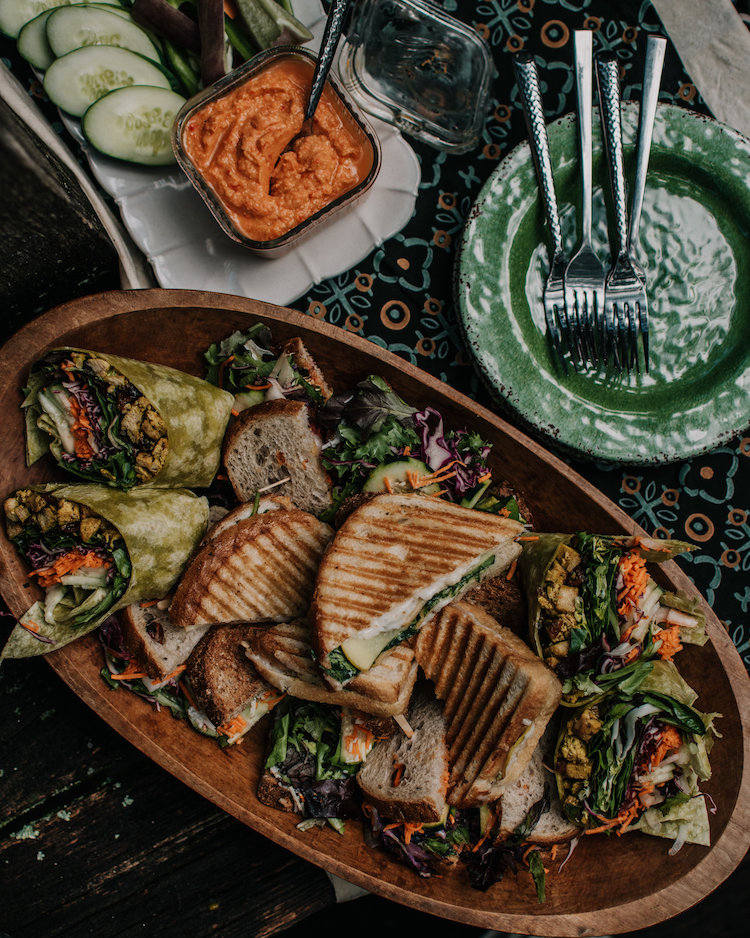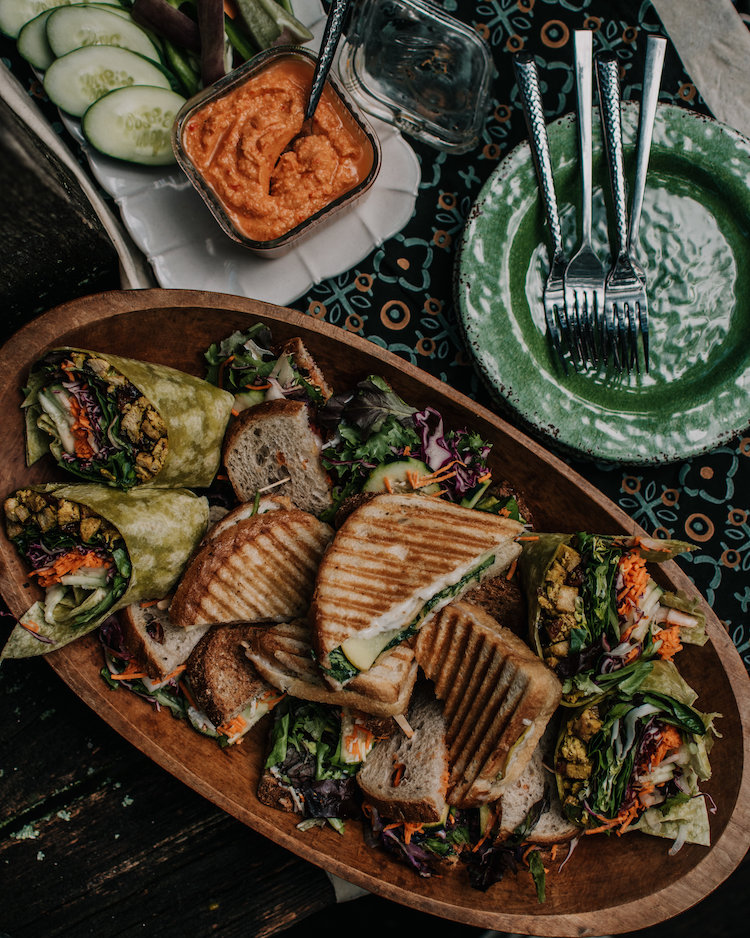 How to plan a sustainable bachelorette party
It's super easy to make your bachelorette a sustainable, zero waste celebration in honor of the vegan, eco-conscious couple in your life. Kendra shares these 10 must read tips for planning a green celebration that is kind to the earth, and each other.
Choose a natural location that allows you to be in nature. Whether that be a greenhouse or park (like we did), beach, hiking trail, garden, campground, ski slope,  nature preserve any place that allows you to be with the people you're celebrating with in the surrounding of nature helps encourage a stronger connection to all of it.
Set the tone for the day with eco-friendly stationery. We love and use exclusively plantable paper because it's unique, memorable, and best of all waste-free. Made of post consumer waste material (from offices and schools) diverting un-recyclable paper before landfill. It encourages guests from the time they get your invitation to the party day, that it's going to be an event in support of mindfulness towards the environment. Planting the paper afterward is a beautiful reminder of the time you had together and encourages them in little ways to join in your sustainable actions.
Have a plant based meal. Eating less animal based meals is not only better for your health but more environmentally sustainable. According to Earthday.org (advocates for Meatless Monday), "Skip meat and cheese one day a week with your family, it would be the equivalent of taking your car off the road for five weeks." If it works for your event, have guests bring a vegetarian or vegan dish to share. It may open them up to trying new recipes and can be a great topic of conversation as you dine.
Choose reusable's over disposables.Provide ways to eat and drink without making trash by using plates, cups, utensils, and straws that are not disposable and not plastic. Real dishware is not only stylish but inexpensive as you can use what you already own. Thrift stores are great places to find dishware at reasonable prices to fill in with what you have. Cloth napkins, either DIY'd or purchased limits disposable paper waste. If you're not in an area where things can be easily cleaned, pack an extra cooler or bag to store the items until you can bring them home to wash.
Limit vehicle emissions by having the party at a single location. This also makes it easier for guests. If guests live close to each other, suggest they carpool. If traveling between locations, see if it's available to walk or shuttle guests to keep them safe if drinking but also less have gas being used.
Limit favors and gifts or choose eco-friendly options. Friends are invited to celebrate the bride and spend time with her. That is a gift in and of itself, especially when busy schedules or maybe geographical distance make seeing our closest, few and far between. If physical gifts are a must find something appropriate and heartfelt to the theme or activity for the day (like our friendship rings) or practical, thoughtful items to use during the day, like a reusable water bottle and canvas tote bag.
Keep decor simple and sustainable. Let the location and activity be the decor. Our terrarium supplies were stylishly arranged to be a centerpiece for the table. The soil container used here is actually a trifle bowl from my kitchen! Use what you have before you head out to buy anything. And if you do, borrow things from friends or shop secondhand before purchasing anything new. Also by choosing to host our event at a greenhouse the plants were the decoration and entertainment during the day as well. Get inspired by your surroundings.
Make it convenient for guests so they don't even feel like they are attending an eco-friendly function.
Politely inform your venue that you would like to minimize waste where ever possible. Ask to see what your venue can offer in terms of reducing, reusing and recycling to see if they can make accommodations for your party.
Give yourself enough time to plan. This is key to getting the details worked out so that you can focus solely on your guests and having a great time.
HOW TO BUILD A DIY TERRARIUM: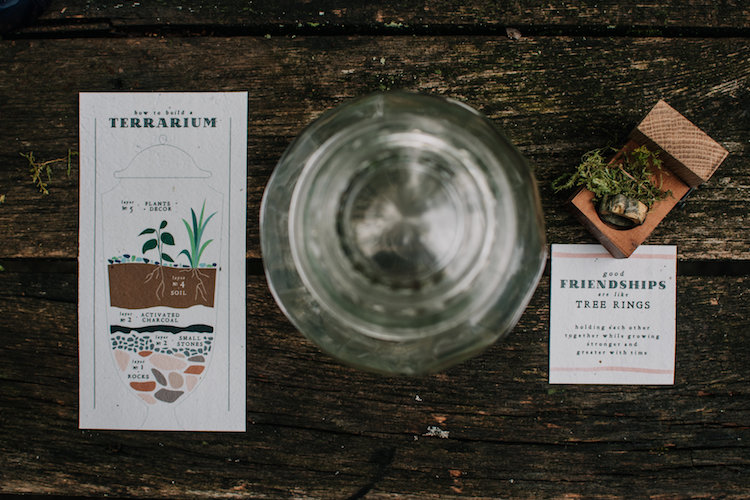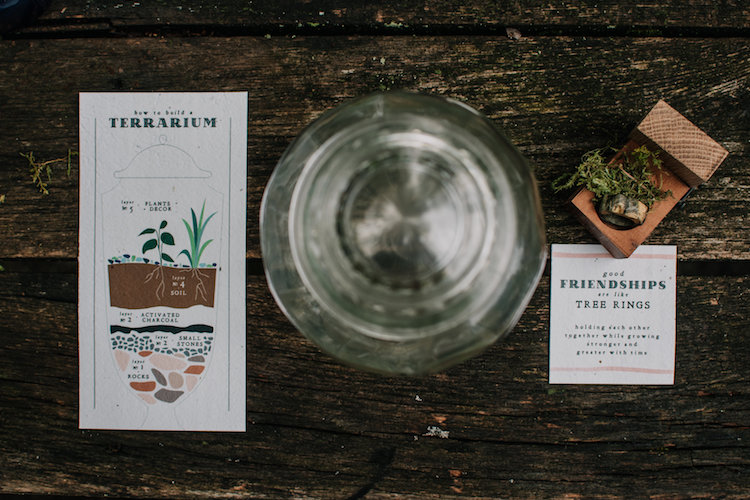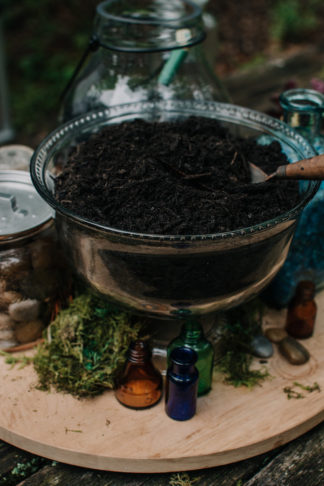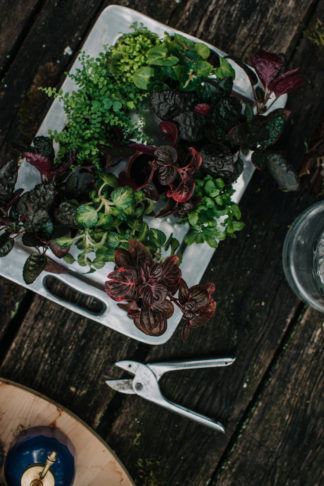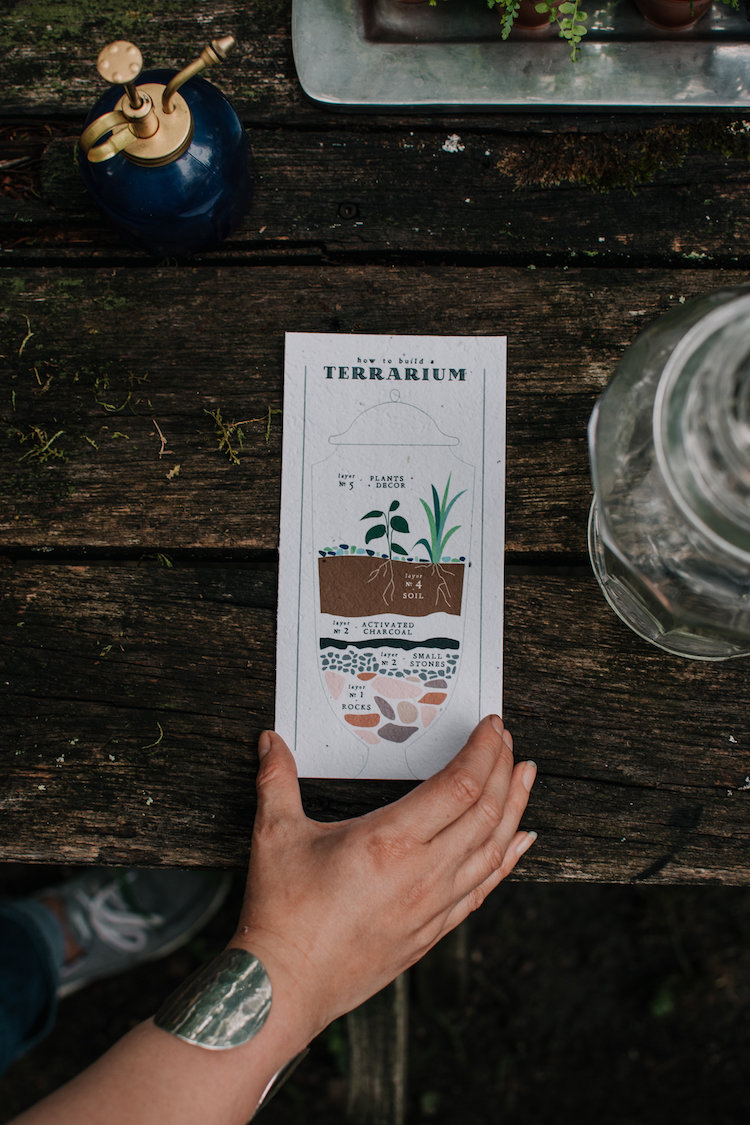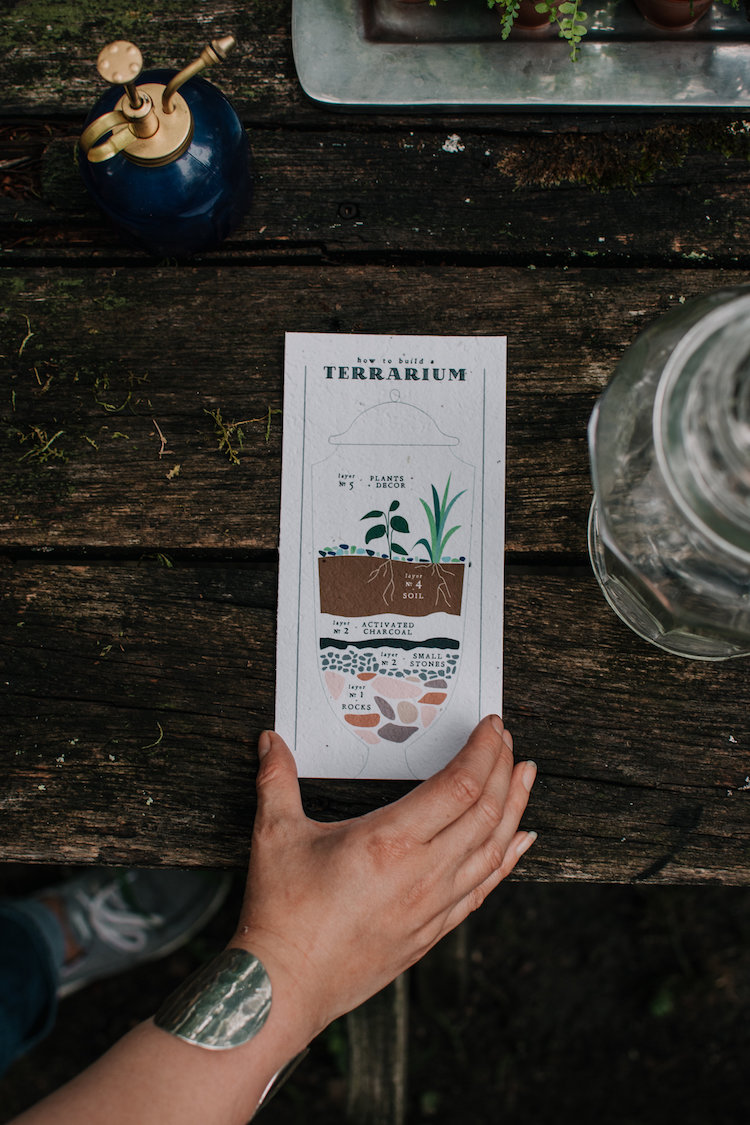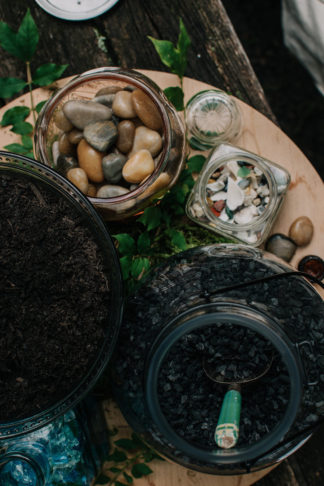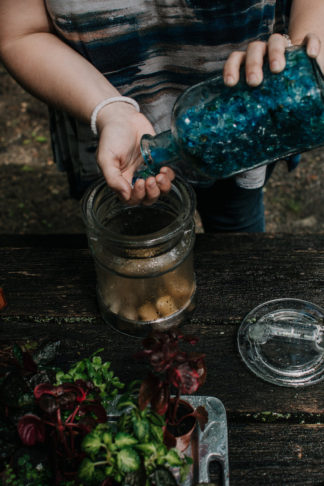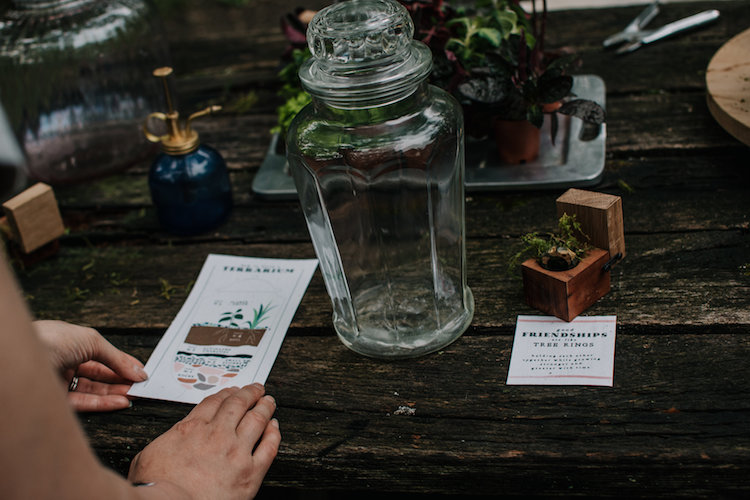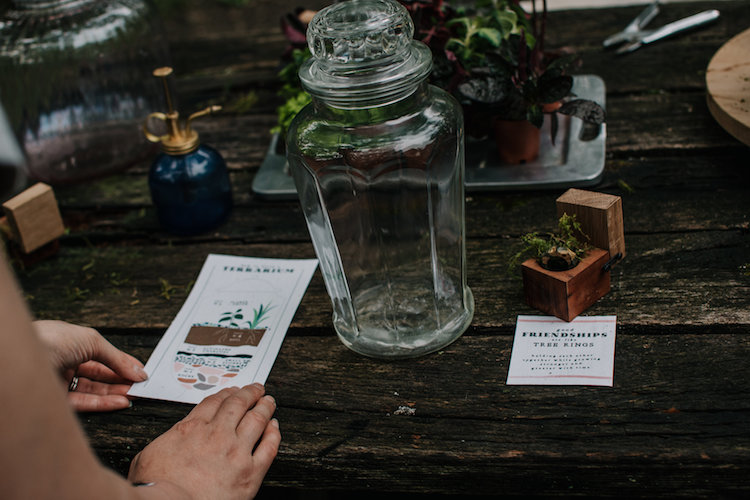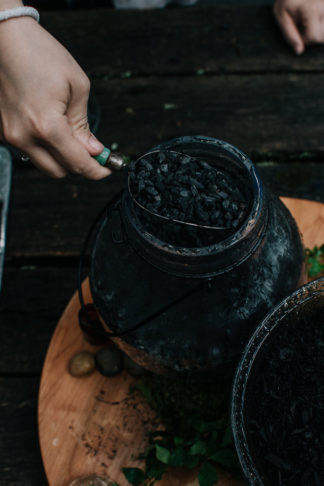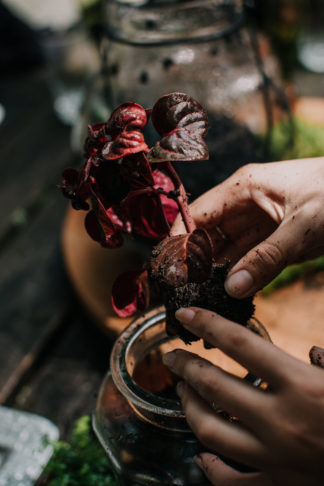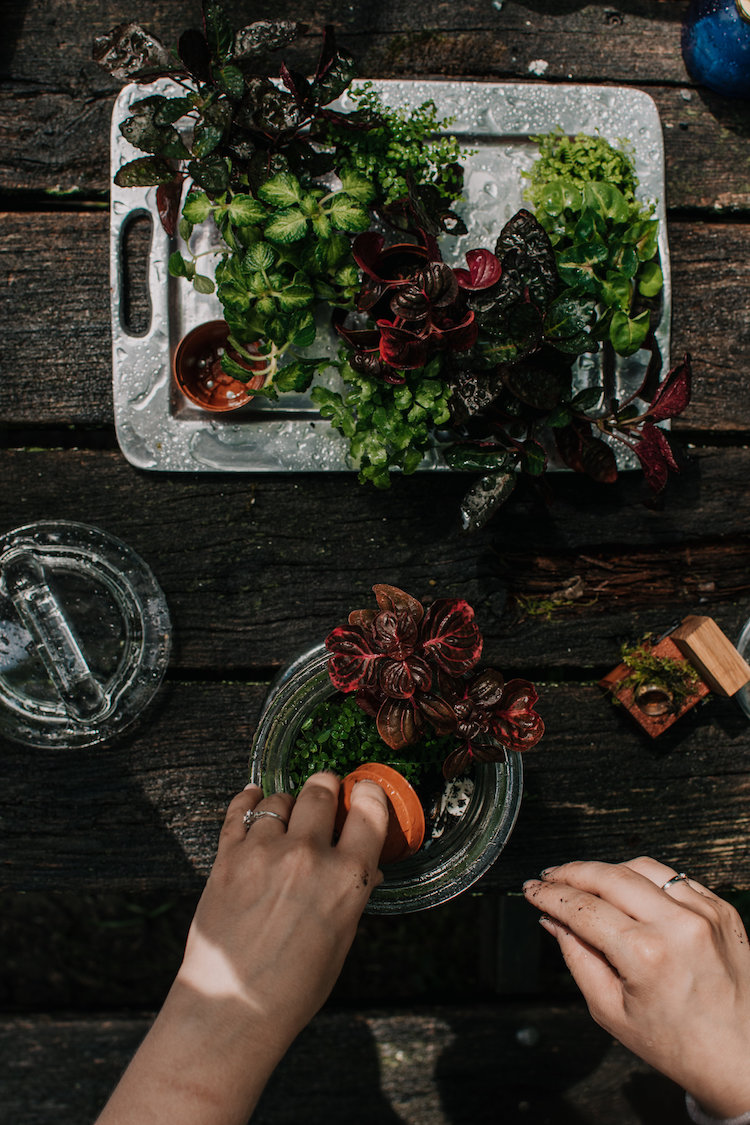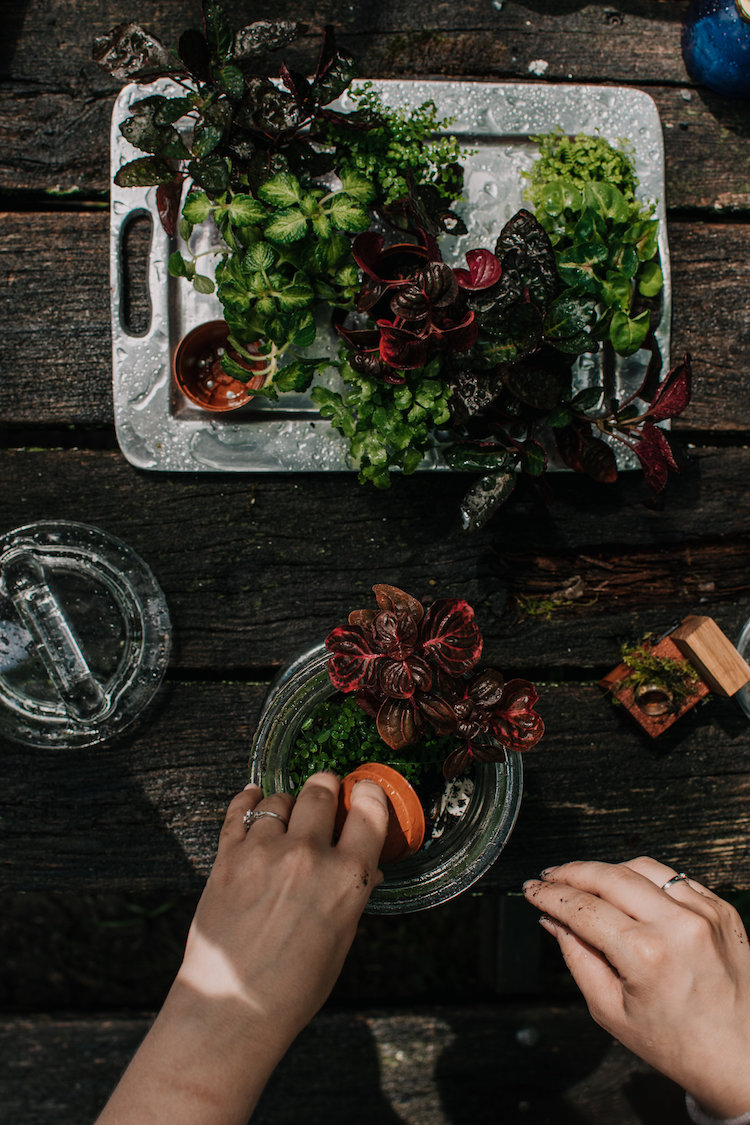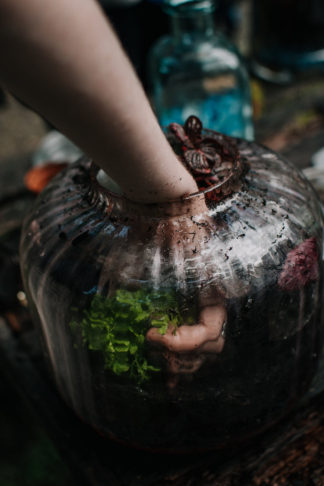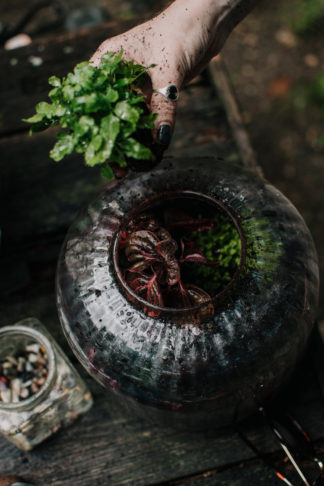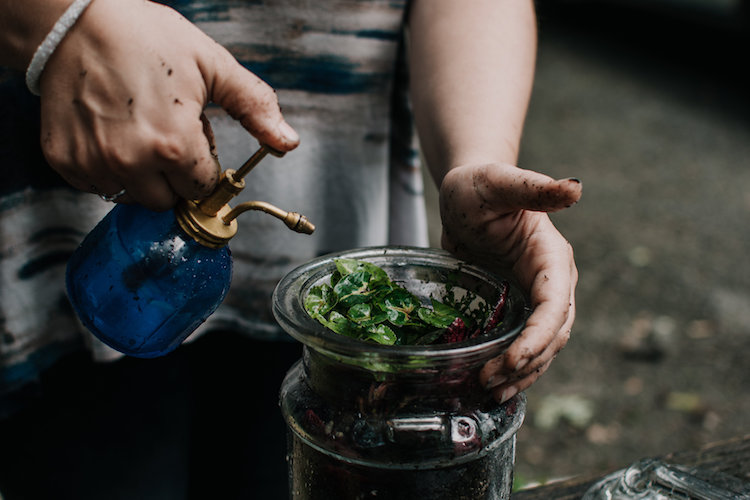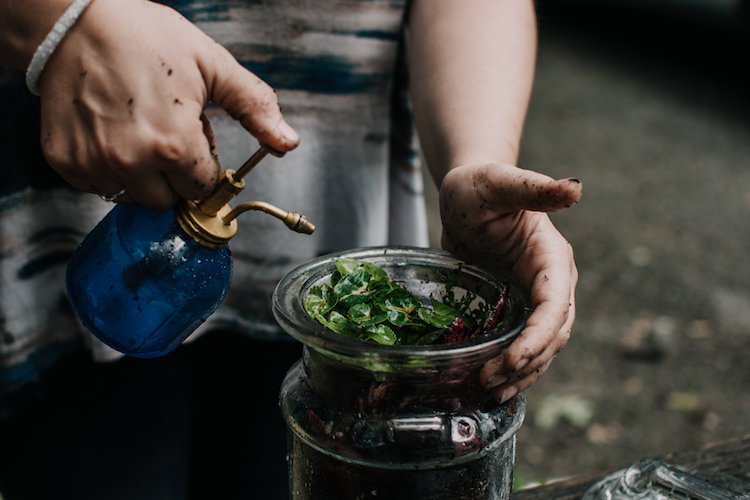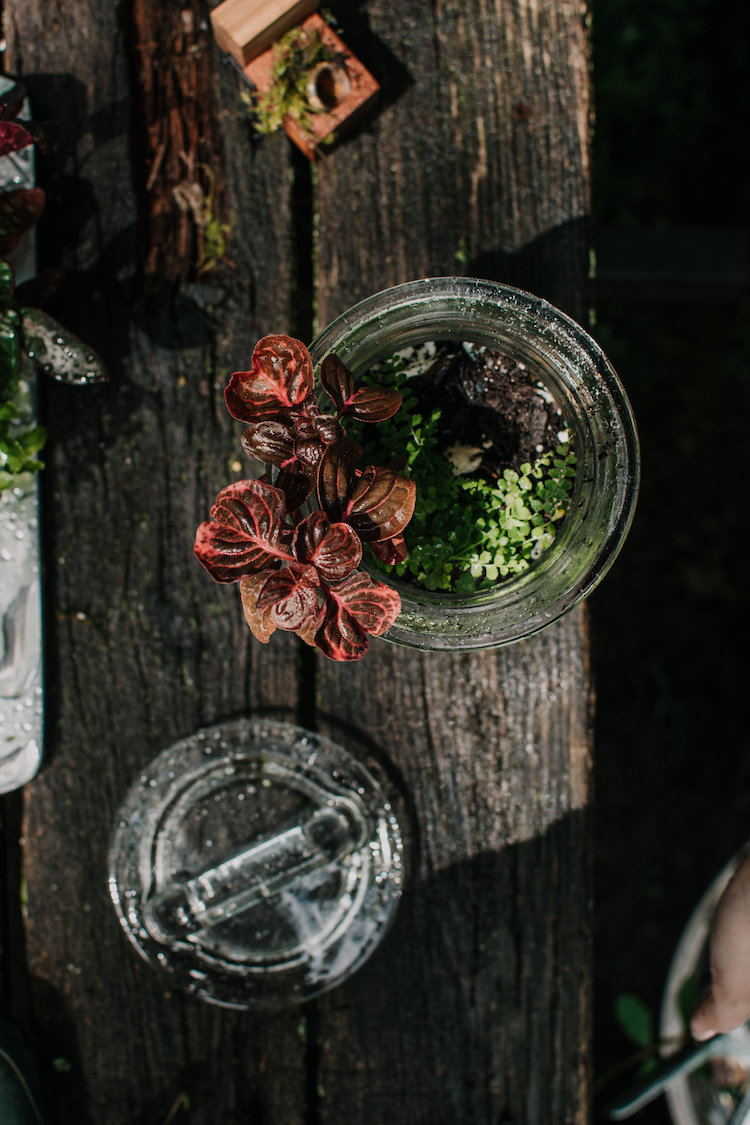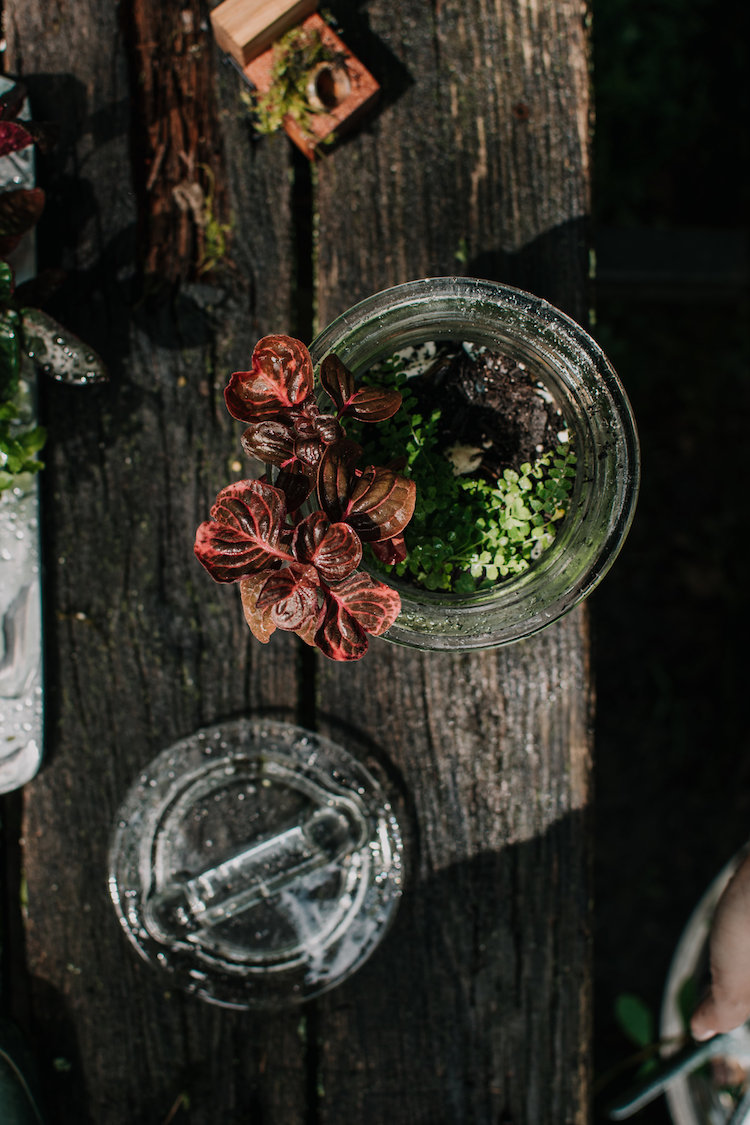 Sustainable Wedding Vendor List: Photographer: Sourinho Photography // Planner, Stylist and Stationery: Whole Weddings // Hair + Makeup: Christopher Michael the Salon // Food: Heirloom Food Company // Wood Rings: Yellow Table Design // Ring Box Artist: Barronvonberg Sustainables // Venue: Logee's Greenhouse // Venue: Mashmoquet Brook Park // Models: Cat Hammel, Kate Reopell, Madison Rivera
Check out more ethical wedding ideas:
15 Thoughtful + Charitable Ways to Give Back With Your Wedding