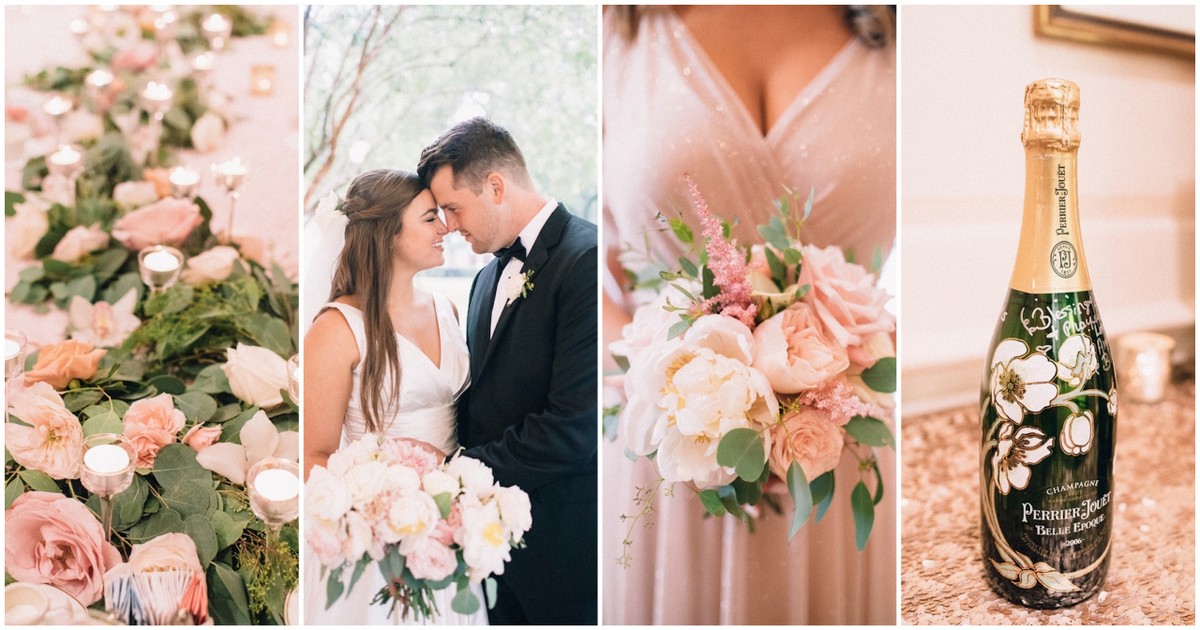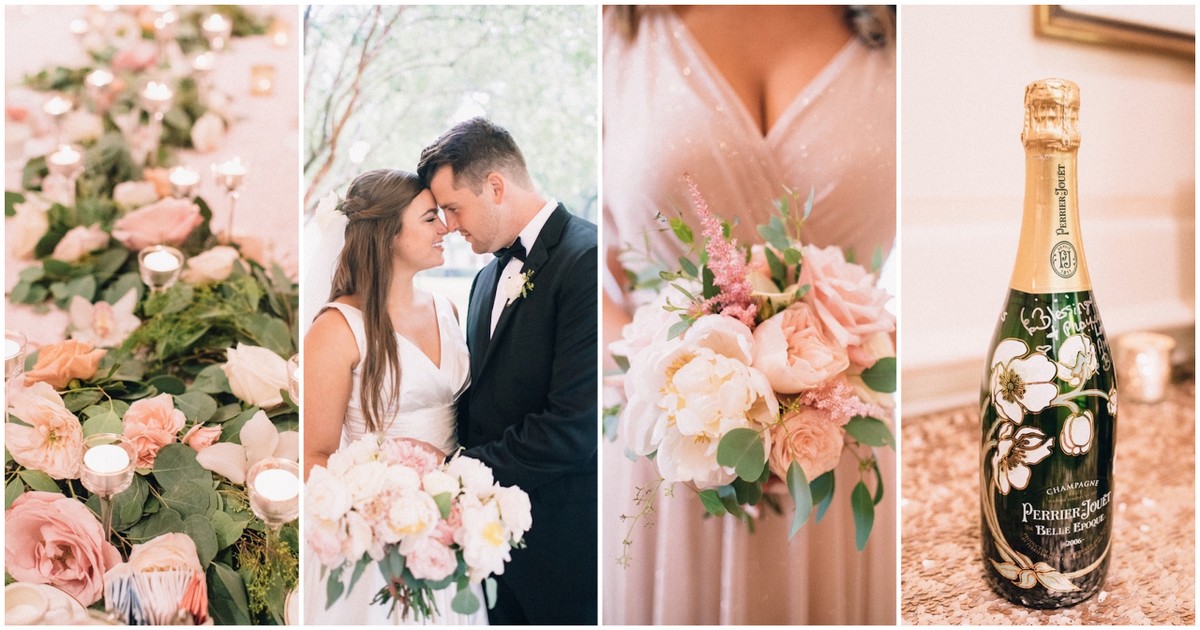 Taylor and Chris said their I do's on a rainy-day in the Galleria area of Houston, Texas at the St, Anne Catholic church, which we're told is one of the most beautiful catholic churches in Texas. They later had their gorgeous reception at The Junior League of Houston, an organization of women who promote the potential of women and improving the community. 
"It was raining at the Catholic church during the ceremony," shares Casey of Endless Exposures Photography, who captured these romantic images on film. "The rain made the stain-glass windows darker and more photogenic – the church felt more romantic and moody all-around. If you can imagine the booms and crashes and lighting as the couple has their first kiss! It was incredibly romantic!"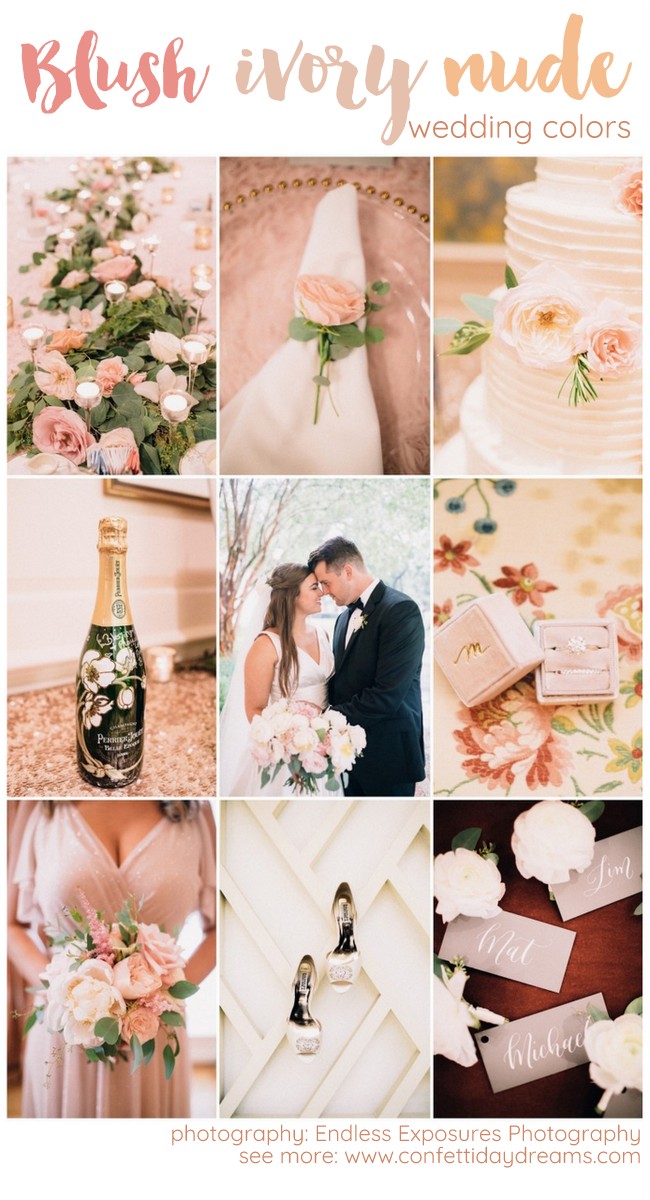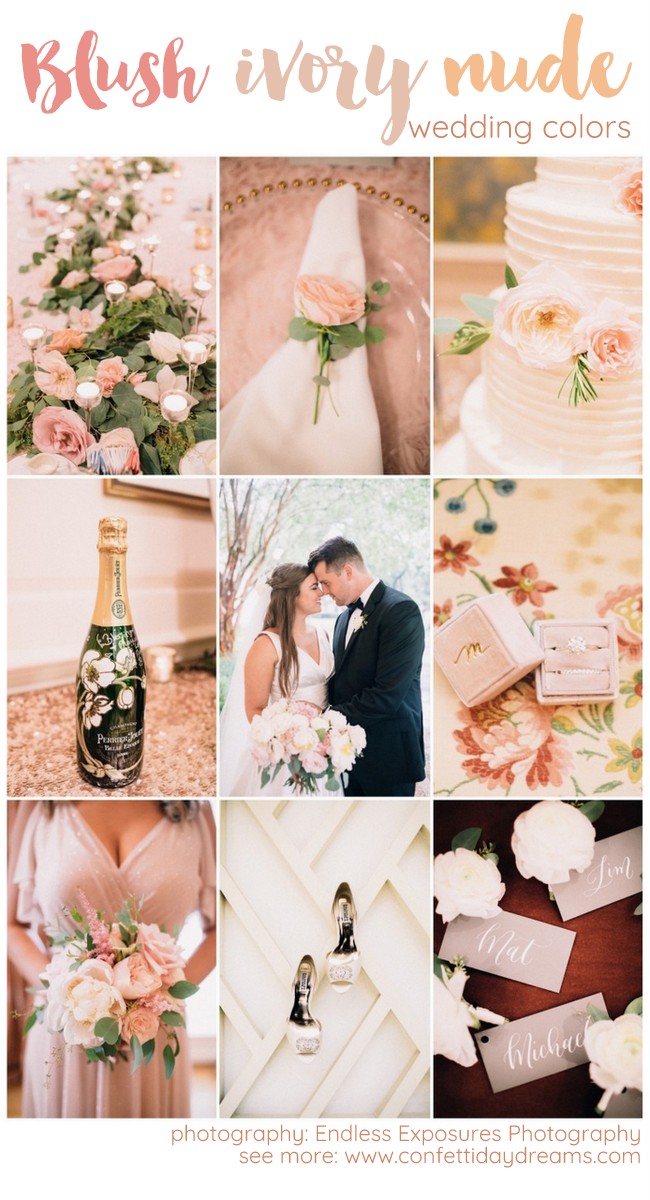 The couple worked with Sarah Lydia Events to create their elegant blush pink, ivory and champagne wedding in Houston. "Sarah was calm, organized, and creative. Literally every single vendor that I used was because of her recommendation. She had put together a very detailed wedding timeline for the vendors and wedding party," says Taylor.
"When it came to the day of, we didn't have to do a thing. She took care of everything imaginable. During the reception she would check on me and see if I need anything to eat or drink. She offered to hold my dress while I went to the bathroom. At this point I feel like Sarah and her team are my friends, and if they hadn't been there to plan/execute the wedding, I would have invited her anyway!"
One of the best things about working with a trusted events organizer and their referrals is that the team of familiar vendors can work seamlessly together to lift much stress from the couple during the wedding planning process. Having a planner/ coordinator to keep the day running smoothly and on time helps your photographer more than you know, a long with everyone else.
Elegant Blush, Ivory + Champagne Wedding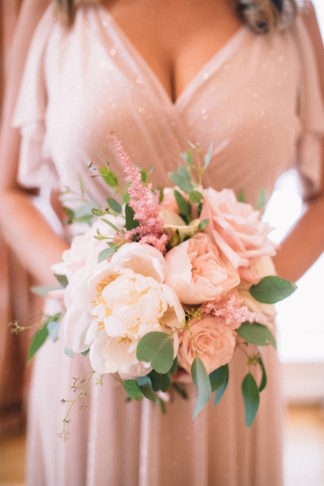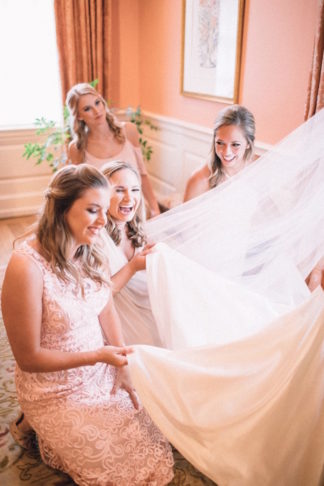 Love Story: Chris and I were working for the same company on a project together when we first met. During the first few months we worked together, we were living in different states and were both dating other people. But when we finally had the opportunity to meet face to face at a company conference, sparks immediately started to fly. Over the next few months after the project ended, we still talked almost every day. Our other romantic relationships came to an end so we decided to give long distance dating a shot. After being long distance for two years, Chris decided to move to Houston and popped the question.
Proposal: He wanted to take me on a trip to a "surprise" location. He told me to pack a bag and make sure to dress nice on the plane as we had a reservation for dinner once we landed. Since the first two years of our relationship consisted of flights back and forth from Texas to Florida, he wanted to propose where our romance had first started: the airport. But naturally, I was running late and it was rush hour in Houston, so we didn't have time to actually make it to the airport before the rest of the evenings plans. Instead, he got down on one knee right there at his apartment (probably a good thing he didn't end up proposing at the airport because I am an ugly crier). It turns out we weren't going on a trip at all. Instead, out families had made the trip to Houston to surprise me for the celebration of our engagement. The next day, my friends came to Houston to help celebrate as well. It didn't turn out the way he had planned, but it was the perfect engagement for us.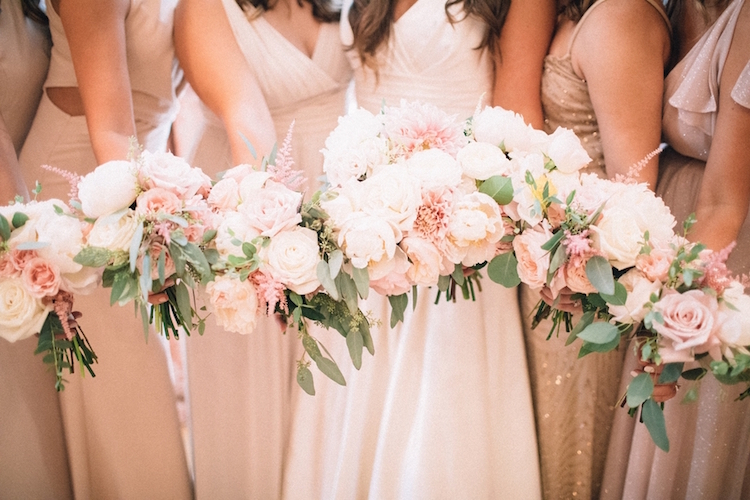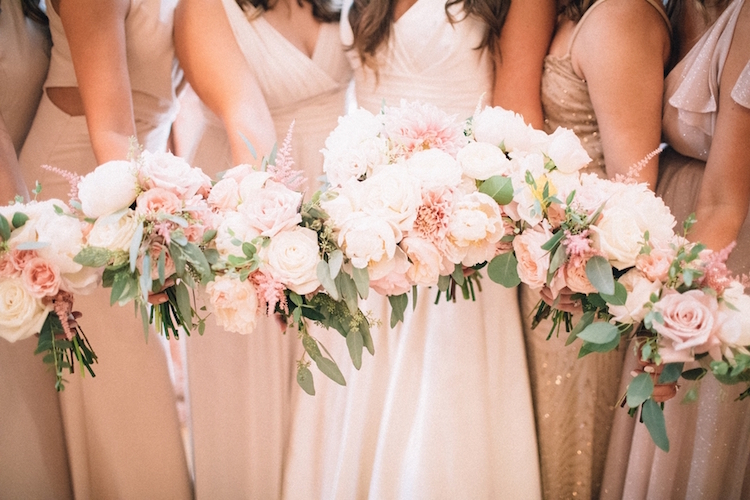 Bridesmaids Attire + Styling: I told my bridesmaids they would pick any dress they wanted as long as it was within my color palette. I wanted them to be comfortable and confident in what they were wearing. The resulting mix and match of different dresses was exactly what I wanted and every girl was happy.  Some were in pale pink, some were in champagne, some were in lace, some were in sequins, some had cut outs on the side. They all wore their hair half up, half down with Baby's Breath pinned into it. The bridesmaids bouquets used the same type of flowers as the bridal bouquet: a mix of blush, pink, peach and white flowers. .We then used the bridesmaids bouquets to help decorate around the reception room.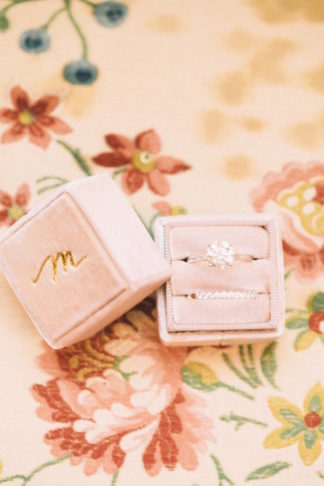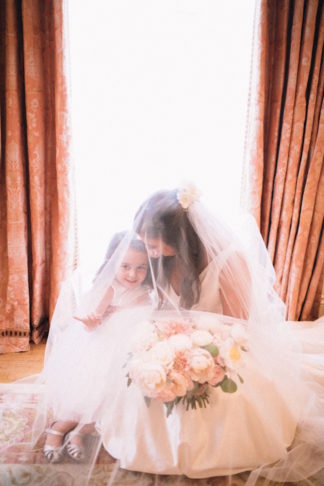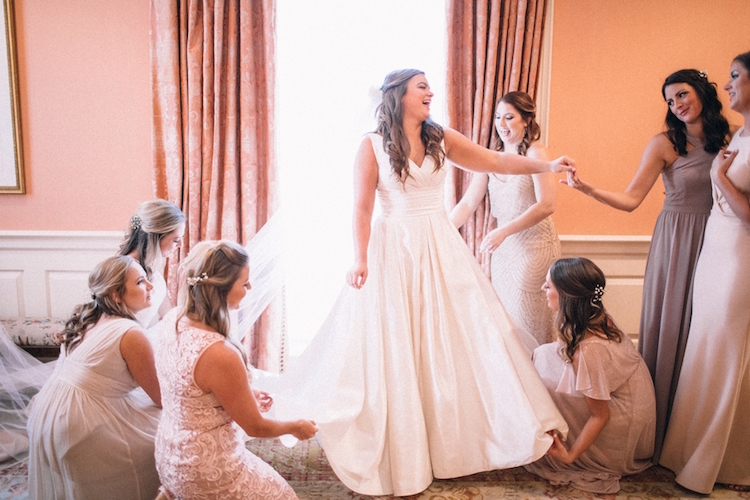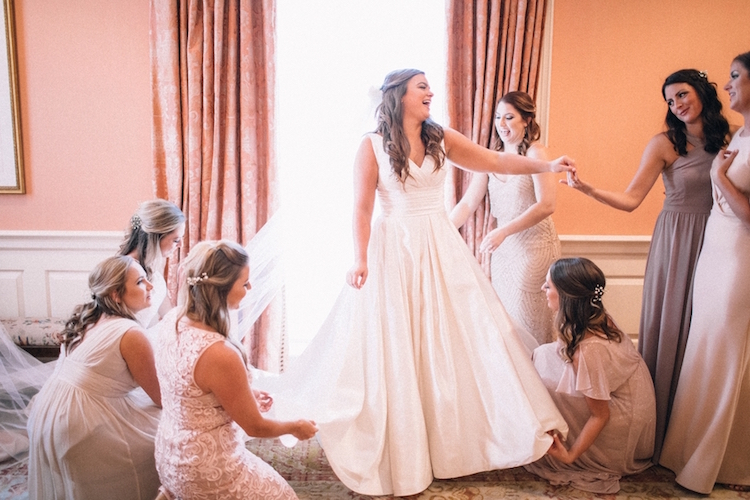 Wedding Dress: I picked an A-Line Pronovias dress of Mikado fabric. It had a deep V in the front and in the back and had a beautiful cumberbund around the waist that accentuated all of my best features.  Bonus feature – it had pockets. And when I was crying during the whole ceremony, keeping Kleenex's in the pockets was a life saver.
Hair and Make Up: I normally wear my hair pinned low in a half-up, half-down style, so I added some curls and did exactly that. My florist made me the most beautiful hair comb covered with white flowers and eucalyptus leaves that was pinned over my veil. The hair comb was very unique as I had never seen anyone wear one before. It was probably my favorite part about my look.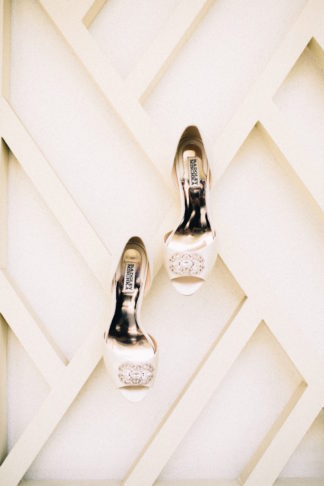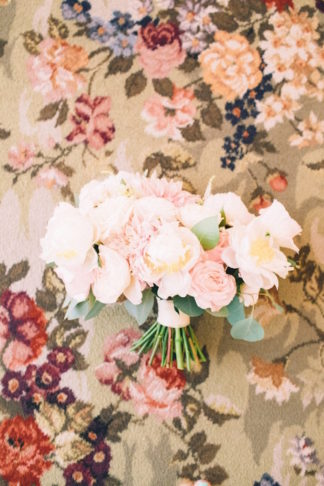 Bridal Bouquet: The bridal bouquet was a mixture of all white flowers with small amount of soft greenery. We used garden roses, ranunculuses, hydrangeas, peonies, eucalyptus leaves and many other flowers.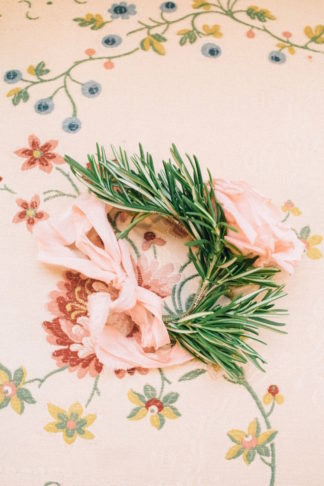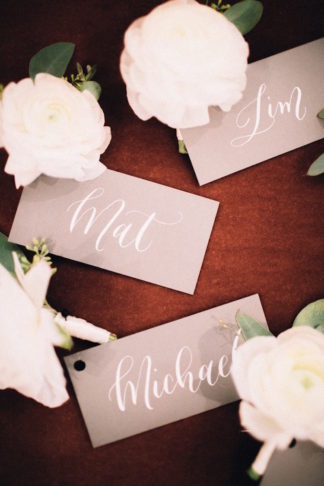 The groomsman: They all wore classic black tuxedos with a black bow tie and black socks. They all wore simple boutonierre that had a white ranunculus flower with a little greenery as well.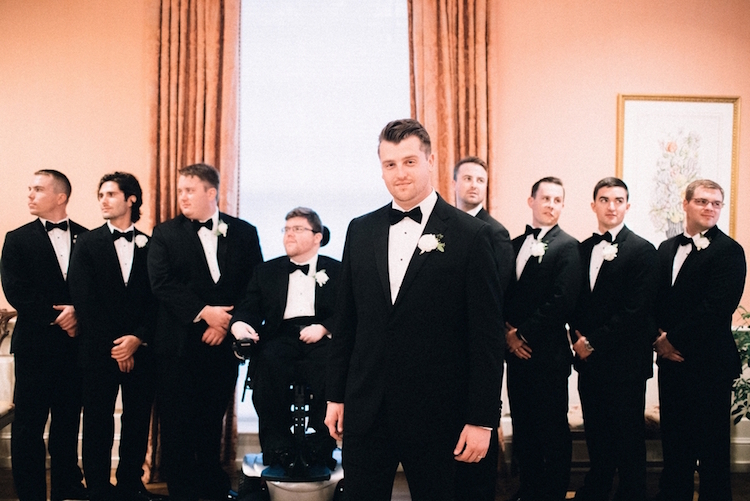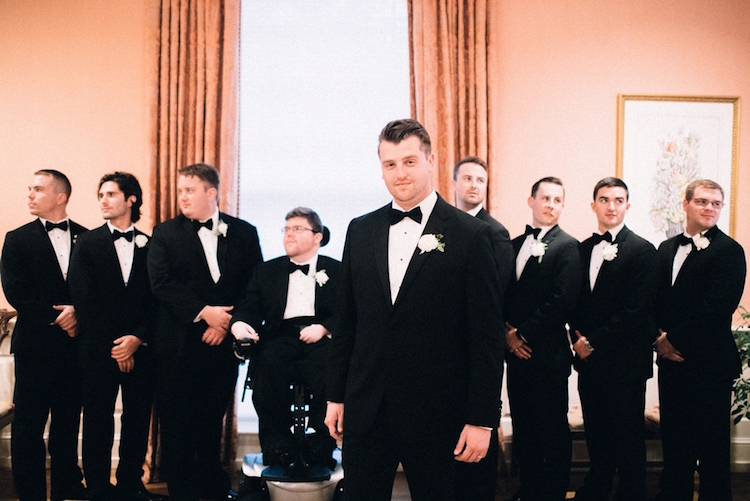 Groom's Attire: My handsome husband looked so wonderful on our wedding day! He wore a custom fit black tuxedo with a black bow tie and black socks. He wore the same boutonniere as his groomsman.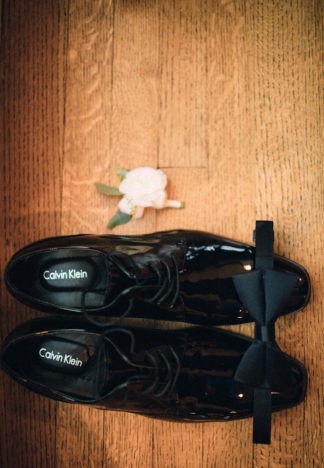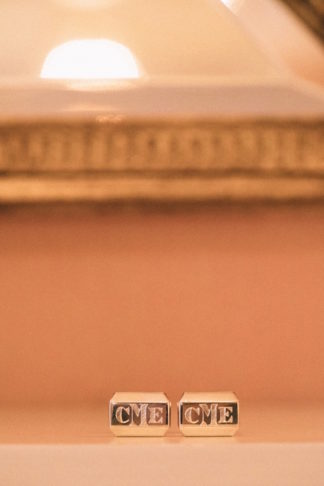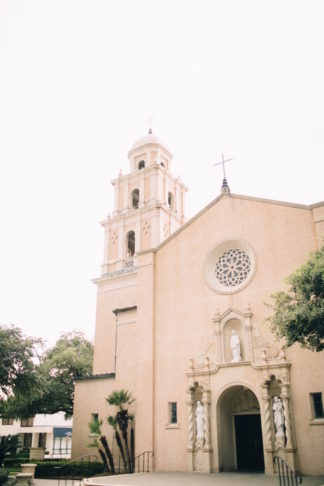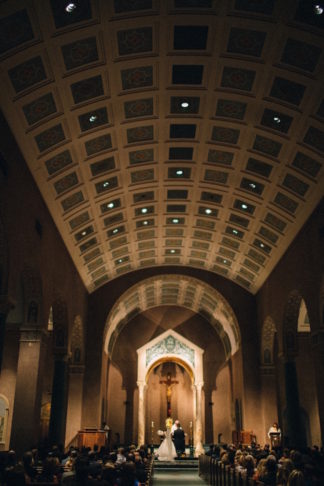 Wedding Ceremony: We had our wedding ceremony at St. Anne's Catholic Church in Houston, TX. The beautiful church was enough without anything else.  It was very special for me to get married in the Catholic Church. Prior to meeting Chris, I had been Christian but not Catholic. Getting married in the Catholic Church had always been something Chris had wanted so I took it upon myself to get confirmed in the Church. After a year of going to "Catholic Classes", retreats and many other events, I was confirmed in the Catholic Church. I had worked hard to be confirmed, so it was special for me to be married at St. Anne's.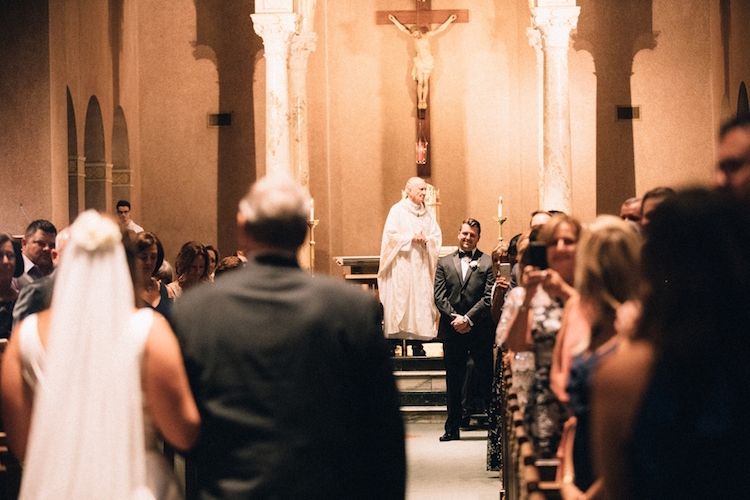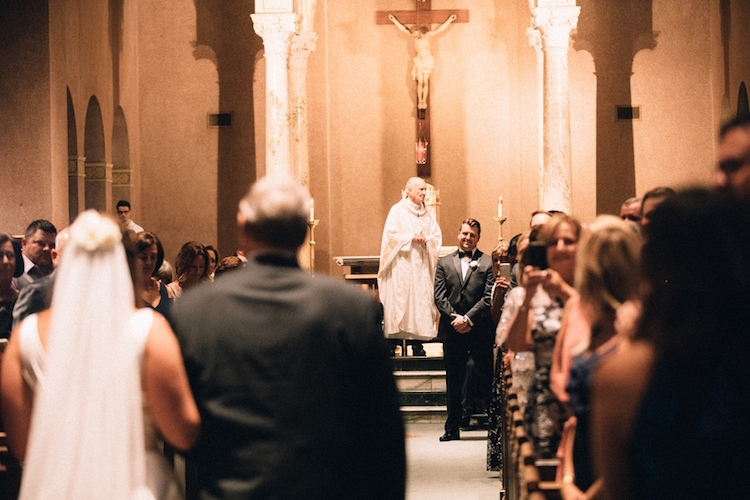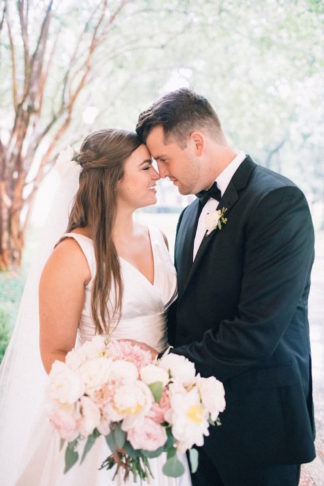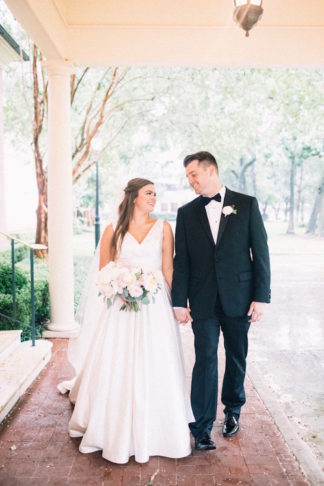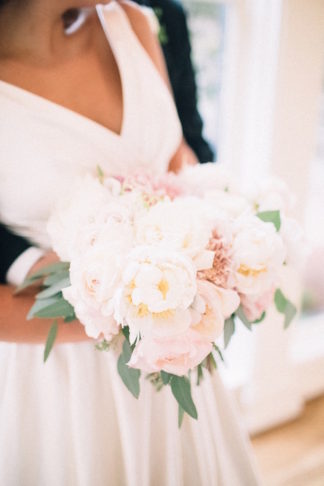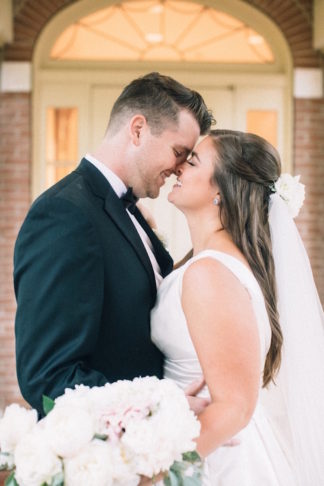 SEE MORE BLUSH WEDDING INSPIRATION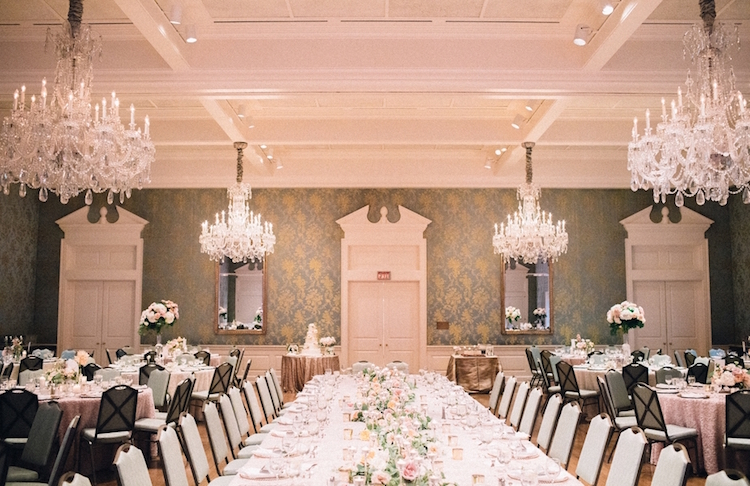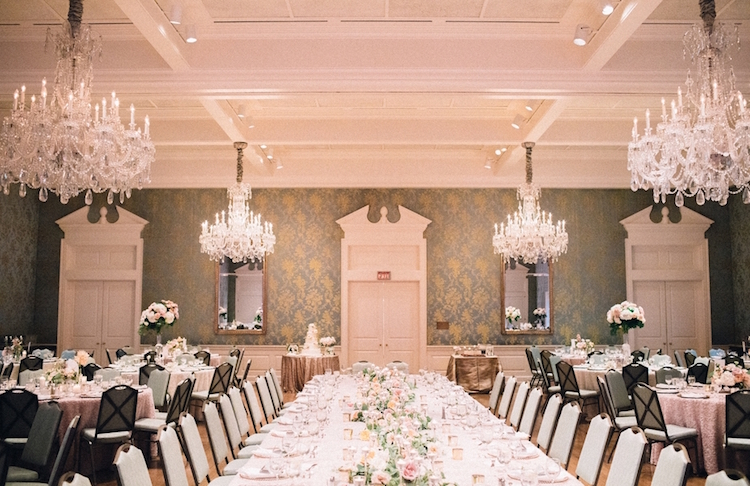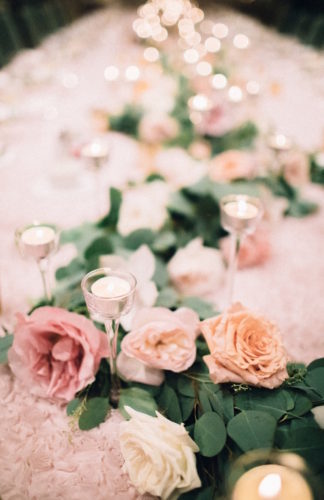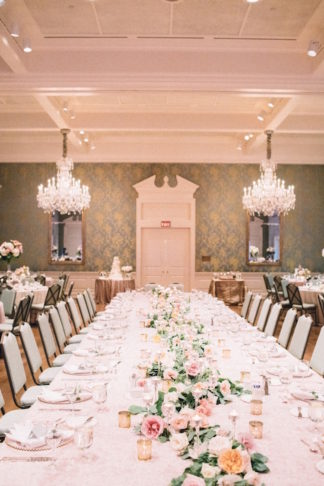 The wedding reception linens were a mix and match of our colors and textures. The Junior League has 10 massive and beautiful chandeliers so the whole room looked elegant, romantic and classic.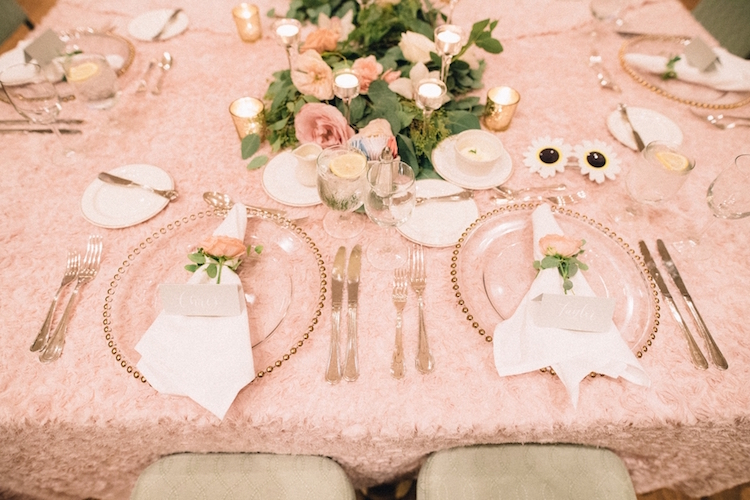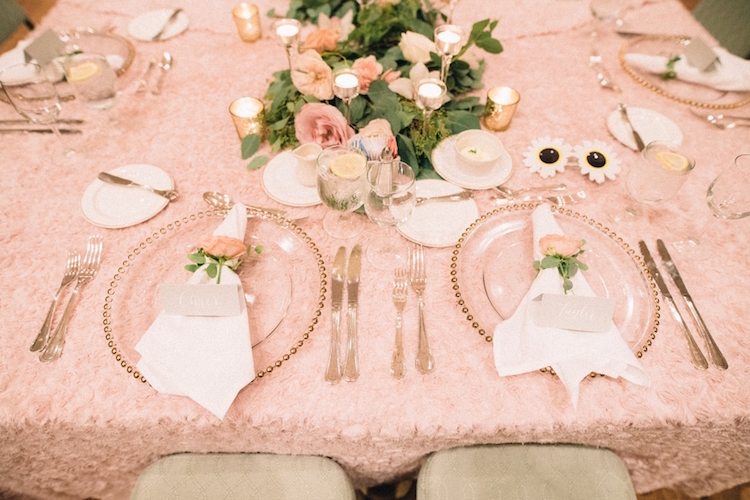 We had a dainty gold charger at each seat with white plates and a gold napkin ring. We had a mixture of tall and small floral centerpieces that matches the bridesmaids bouquets. Every table had a mixture of 10 tall and short tea candles so that when the lights went down the whole room looked warm and romantic.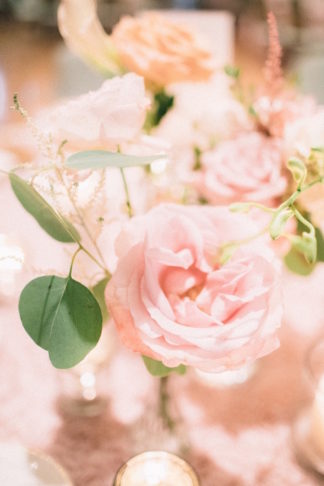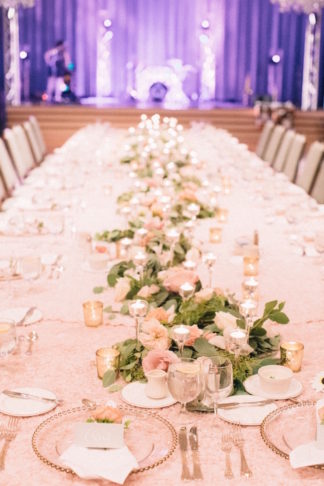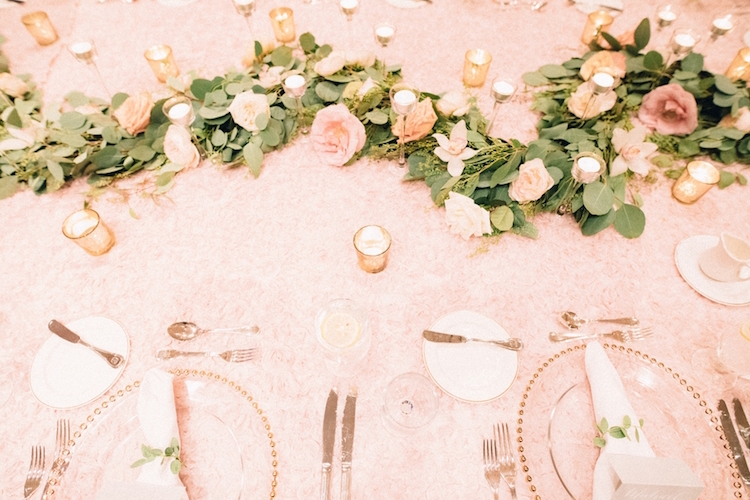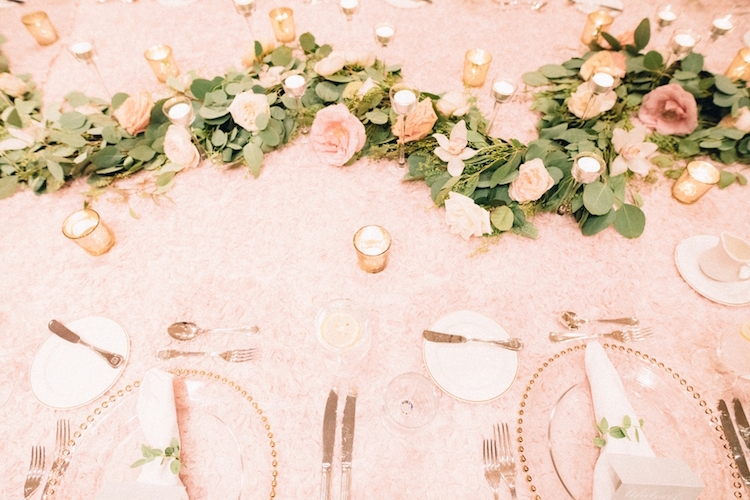 We decided to have a 30 foot long table down the middle of the room. The table sat about 30 people (the wedding party and their guests) with people sitting on either side. We used a light pink linen that had a lot of texture, an all gold charger with white plates and sprigs of eucalyptus for head table napkins.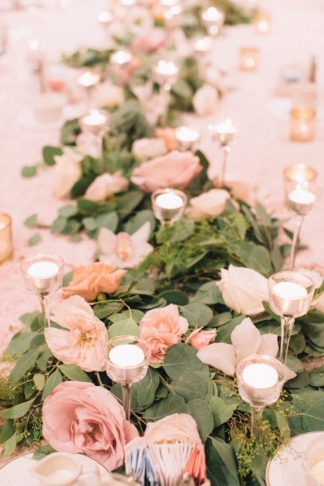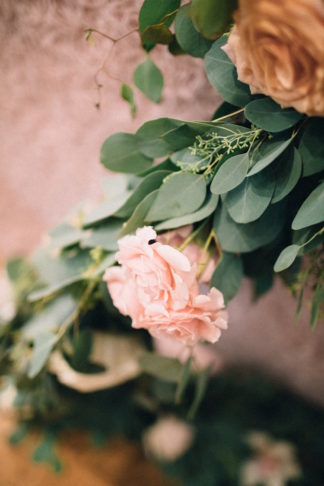 But what made the table look so amazing was the 36 foot eucalyptus garland with light pink and peach garden roses tucked in. It went all along the center of the table and draped over at the ends. It was GORGEOUS.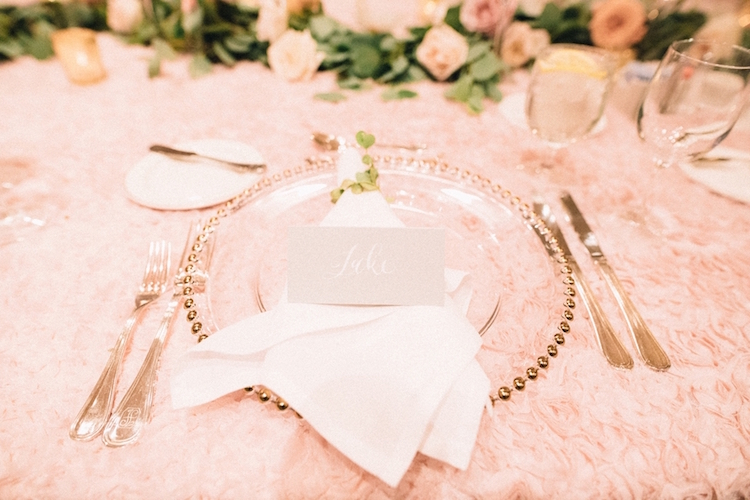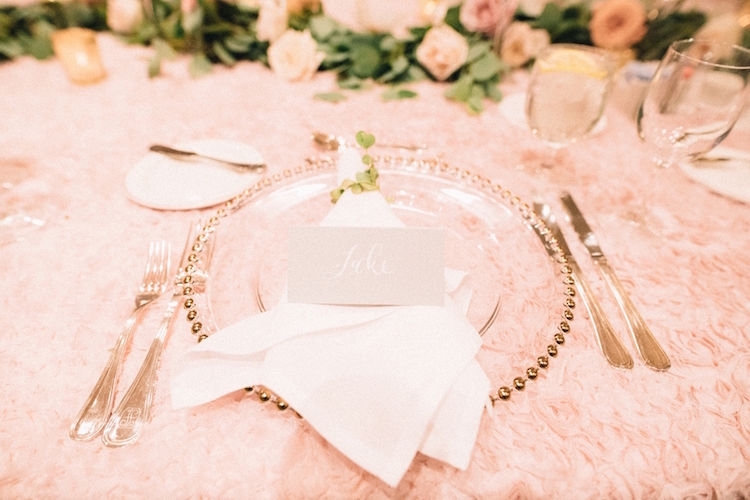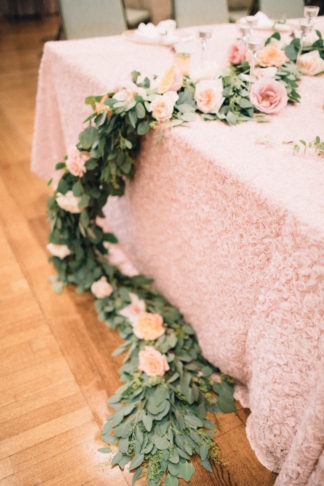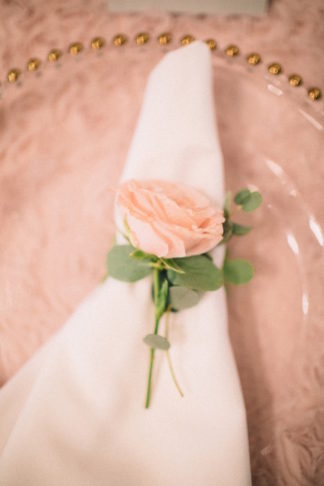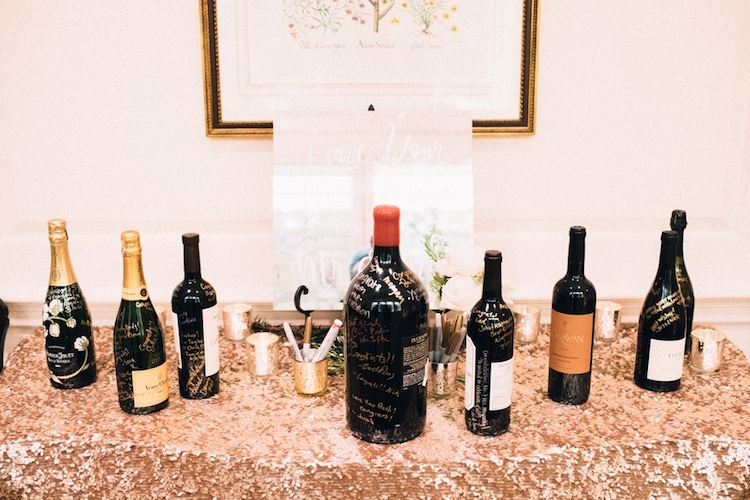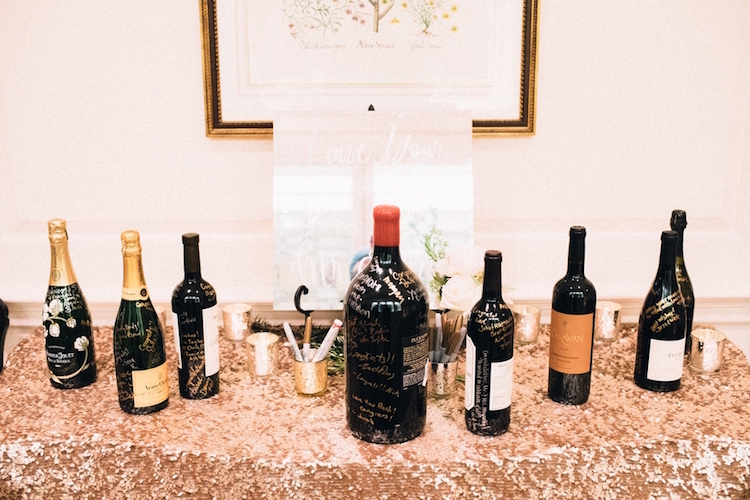 For our wedding guest book alternative we decided to set out wine bottles and have guests sign those instead. Not only would Chris and I have a bottle of wine to open on our big anniversaries, we could use the wine bottles as decorations around our home as a reminder of the love and support we have. The wine bottles turned out beautiful and I couldn't be happier with the outcome. A number of guests commented on how special each anniversary would be.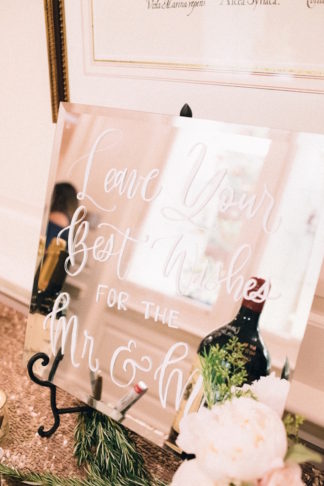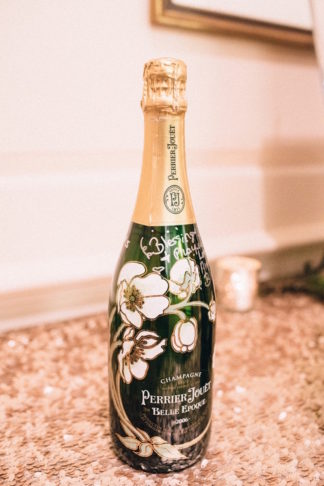 Wedding Planning Advice:
Biggest lesson: you can't please everyone. While it's important to make others feel included, don't forget that your wedding day is about what you and your future spouse want it to be.
Live in every moment with your significant other.
Don't forget what the day is really about. It's not about your dress, your bridesmaids dresses, the food, your mother-in-law, or anything else. It's about the coming together of you and the person you love for life. The day is about he marriage of you and your significant other, whatever that means to yall. Don't lose sight of the big picture. As long as you are both their together, everything else is just an added bonus.
When you look back at your wedding day 50 years later and you're telling your grandkids about that day, what do you want to remember?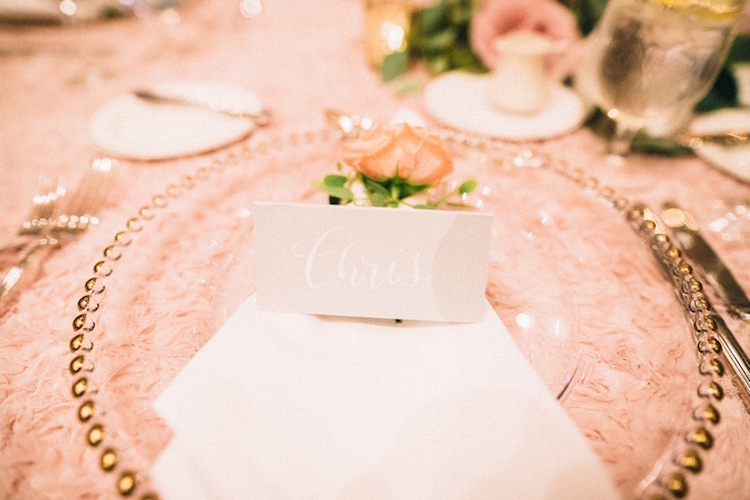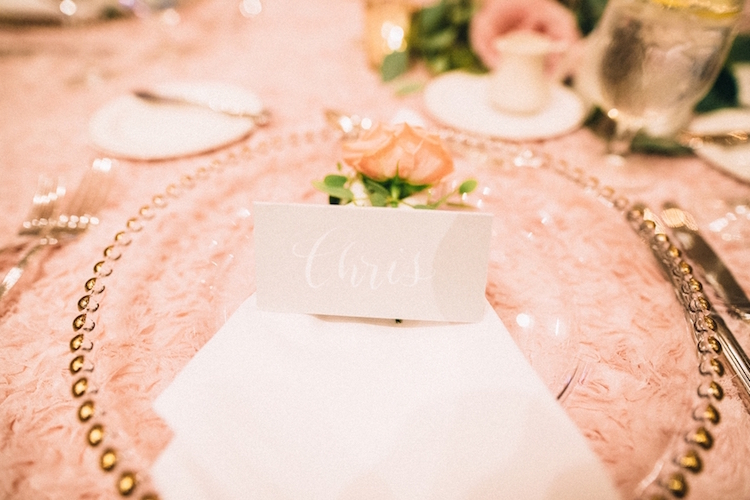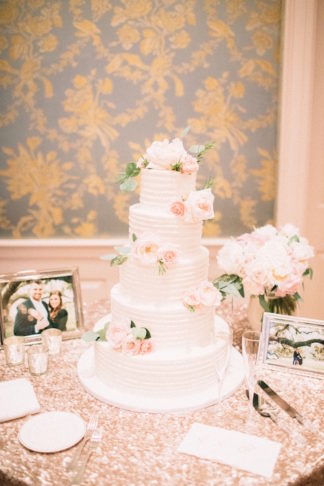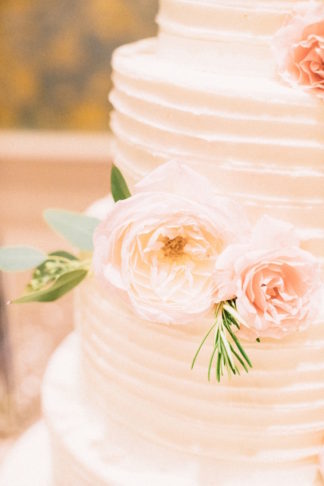 Wedding Playlist:
Since our wedding hashtag was was a play on thunder and storms which we use in our instagram handles, we thought it would be a good idea to walk into the reception with the song "Thunderstruck" by AC/DC playing. It was an awesome way to get everyone ready for a night of dancing and fun.
Our first dance was to "Peace" by O.A.R. Chris' favorite band is O.A.R. and we didn't want to share a first dance song with anyone else we knew. It was a first dance that was very special to us.
For the Father/Daughter Dance, my Dad and I danced to "My Girl" by the Temptations. My Dad picked out the song.
For the Mother/Son Dance, Chris and his Mom danced to "Simple Man" by Lynard Skynard.
To finish the night off, the band played the best song for last. "Shout!" by the Isley Brothers is a wedding classic and everyone that was there immediately got on the dance floor for one last song. It was the perfect end to the night.
Chris and I also did a last dance by ourselves. It was just us and the band (and the photographer, of course). They played "Wonderful Tonight" by Eric Clapton. The last song by ourselves gave us a change to reflect on our amazing, fun, beautiful, joyful and loving wedding. We couldn't have asked for a more perfect day.
Wedding Vendors: Photographer:  Endless Exposures Photography //Cake Designer: Cakes by Gina// Band: Empire 6//Makeup Artist: Glam Studio by Misty Rockwell// Invitation Designer: Joyful Ink Calligraphy // Linens and Coverings: Lavish Linens //Cinema and Video: Leap Productions//Groomsman Attire:Men's Wearhouse //Jewelry: The Mrs. Box// Floral Designer: Flower vibes// Event Designer: Sarah Lydia Events// Reception Venue: The Junior League of Houston//
MORE TO INSPIRE YOU:
Bright and Modern Kate Spade Inspired Wedding in Oklahoma {Sarah Libby Photography}
Secret Garden Ivory Blush Pink and Gray Wedding {Jennifer Stuart Photography}
Gorgeous Outdoor Wedding in Alabama {Eric and Jamie Photography}
Luxurious Gold, Blush + Mint Wedding {Arte De Vie Photography}
See all weddings // Learn how to plan your wedding