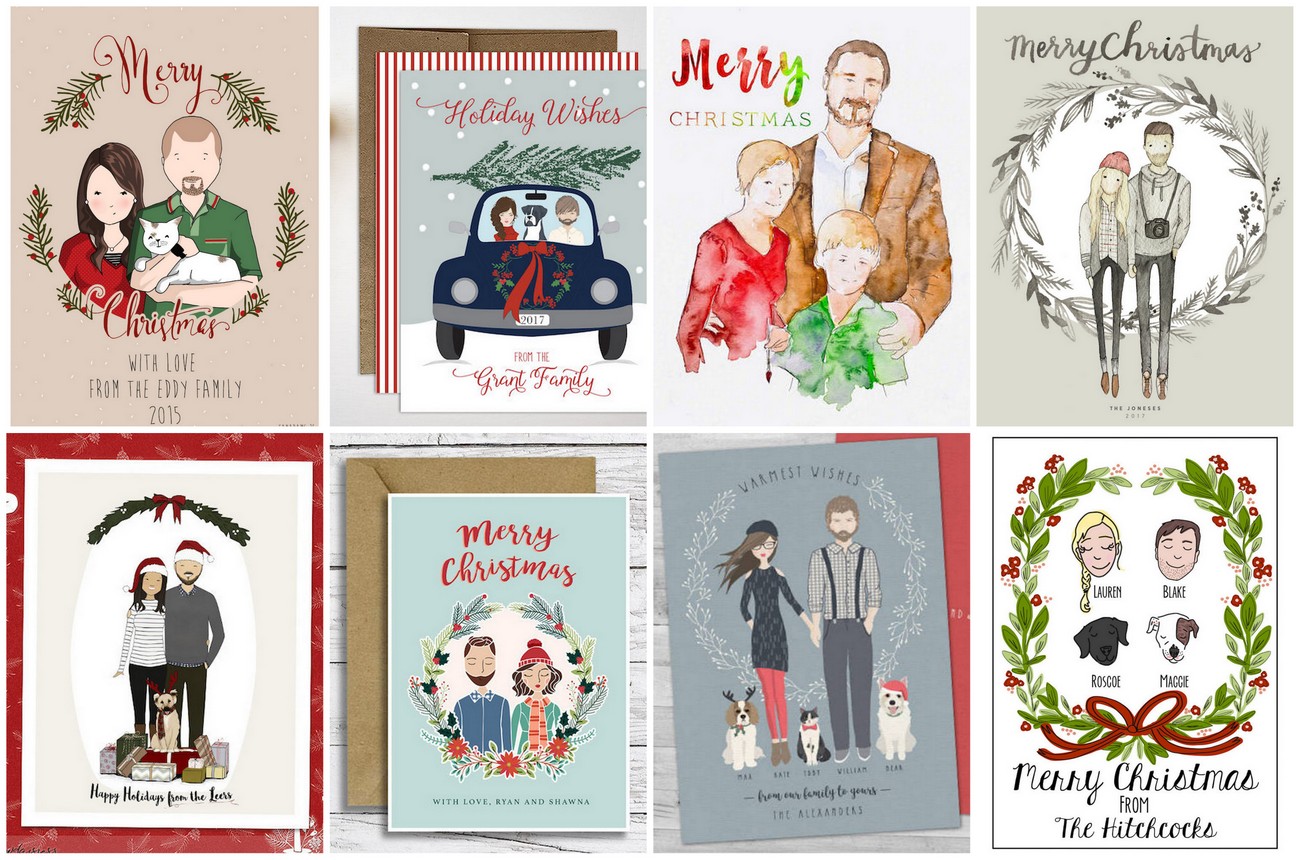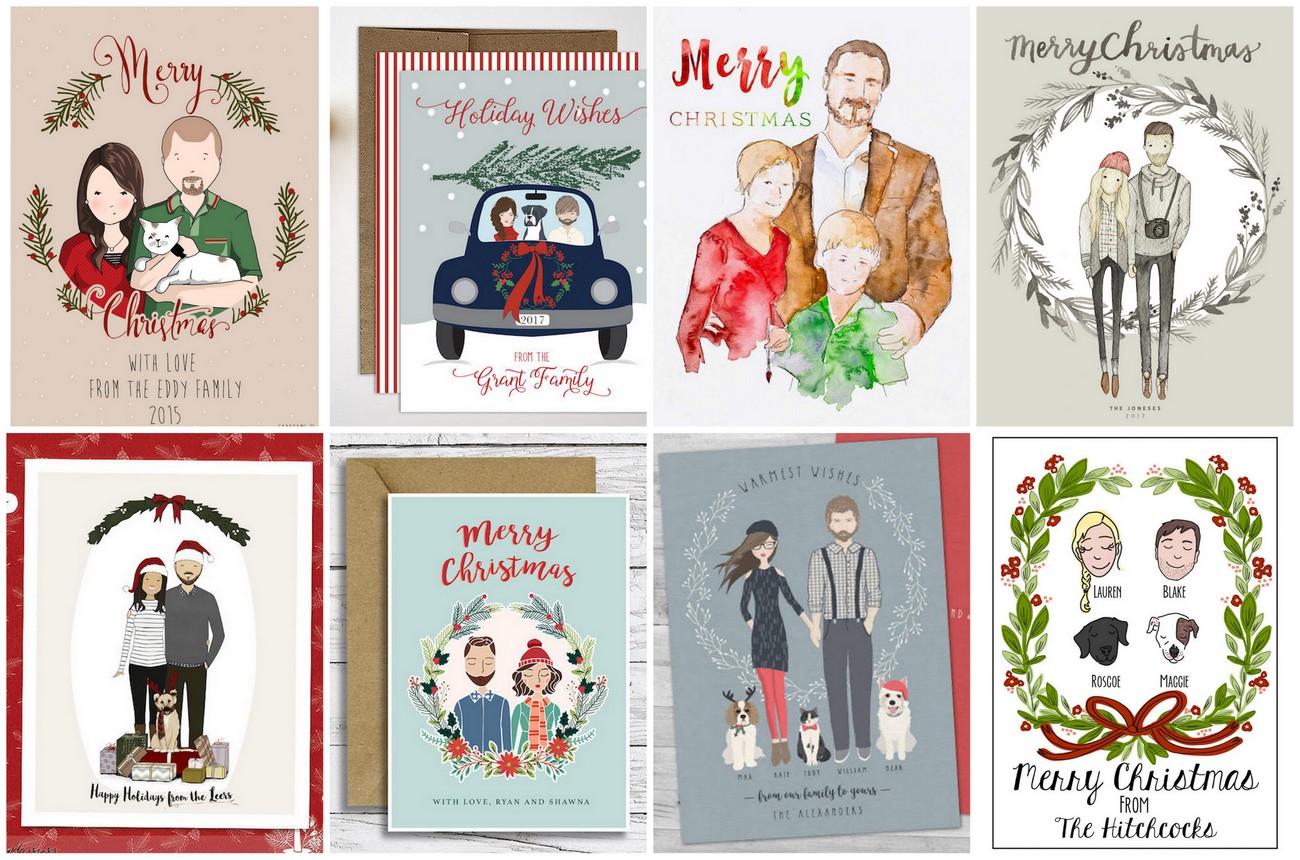 Looking for a unique, and personal way to send your festive wishes to your loved ones this holiday season? We love the idea of a one-of-a-kind or personalized custom holiday card with illustrations of yourself and your partner, family or pets. Your family will cherish this unique portrait illustration as a Christmas gift, plus it's about a billion times easier to get a cute portrait done that to snap that perfect selfie with yourself, your bae and your fur-babies all looking good at the same darn time. (No blinking, please!)
Custom illustrated christmas cards: In this curated collection of custom illustrated portrait Christmas cards, we've put together a selection of options which can be delivered to you fully printed on cardstock of your choosing – if you order early! We've also include a selection of digital illustrations that are sent to you as printable PDF or JPG designs so that you can print them at home, at your local or via an online printing service like Staples, Walgreens or Vista Print, or simply send as eco-friendly paperless greetings!
ORDERING TIP: Before placing your order, check the delivery timelines to make sure that your illustrated cards will arrive in good time. If you're reading this and you're running short on time, look out for the artists below which send digital designs that you can print in a hurry at home.
Cute + Unique Family Christmas Cards
We love that you can get totally customized holiday cards with your faces on them, so go ahead and check out these awesome custom illustrated christmas cards and order your fun family Christmas cards today!
♥ If you love this curated selection of designs as much as we do and make a purchase through one of these links, we'll receive a commission for sharing some of them with you. Thank you so, so much for supporting our content! ♥
(Above) Custom Illustrated Christmas Cards:  This beautiful card includes your family members and purrfect pets! Simply send your photographs to the Remember November Inc when placing your order, along with your chosen colors and wording, and you'll be good to go! These customized Christmas cards are sure to be adored by your loved ones – grab them here.
(Above Left) Custom Illustrated Portrait Christmas Cards (digital version.) Have this fun, quirky bespoke couple Christmas card created for your loved ones. It's a pen drawn illustration which is completed and colored digitally, then sent to you for DIY printing.  Available from Tanya Adams Shop // (Above Right) Unique Christmas Cards (digital file.) This adorable festive greeting card is created to look like the both of you. It's a head to toe interpretation and oh-so-darn-cute! Order this greeting card from Lux and Trip here.
(Above Left) Cute Family Christmas Cards: This custom Family Portrait Illustration is a digital file which can be printed either at home or at your local print store. The illustration creates the likeness of yourself and your family by recreating the hair style, skin tone and clothing of each person, along with customizable wording. Cute! Get it from WLAZ design shop here. //  (Above Right) Custom Illustrated Portrait Christmas Cards. Send across your reference photos for each person/pet along with their names, or your family name, and have this adorbs illustration created for your festive greeting cards. You'll receive a digital file so you can print them right away at home! Order online here.
(Above) Custom Illustrated Portrait Christmas Cards. This whimsical 5×7 illustration is provided as a digital file for printing at your convenience. Choose from wording options such "merry christmas" or "happy holidays" when you order. Check it out at Nella Designs here. 
(Above Right) Custom Portrait Illustrated Christmas Card: These hand drawn Christmas cards include a half body illustration of four people or pets. The illustrated festive season portrait will include a cute eucalyptus frame, message or name banner, and greeting along the top. Get yours from Artwork by AK//  Custom Water Color Painted Christmas Cards.  This totally customized card is painted to work with a layout of your choosing. The mini family portrait is drawn by  in pen based on your family photos then painted in watercolor for your card. Check out on at Flourish Family Crests here.
(Above left) Custom Illustrated Portrait Digital Christmas Card Design. How cute is this whimsical custom portrait of your family for the holidays?  These watercolor portraits are hand-painted and then placed onto the card design you choose, for digital printing at home or at your fave print shop. Get it from Common Folk Paper Co here. // (Above Right) Unique Christmas Cards. This sweet digital illustration made to look like yourself and your family or pets is fun and festive! Order your red and green custom family portrait greeting card from Blush and Honey Paper here.
(Above) Cute Family Christmas Cards. This personalized Christmas holiday postcard printable is created in your likeness using your family photos. You'll receive a digital proof of the custom couple or family illustration, and when you're happy, the final digital file to create your holiday greeting cards! Order yours online here.
(Above) Custom Illustrated Portraits for Holiday Cards. These whimsical illustrated portraits are make beautiful holiday greeting cards. Each one is hand painted and designed to make a truly custom, one-of-a-kind piece. In addition to a 8×10 Archival Print and a PDF version of your artwork. Get it from BP Calligraphy here.
Check out these thoughtful gift ideas for celebrating the holidays together: