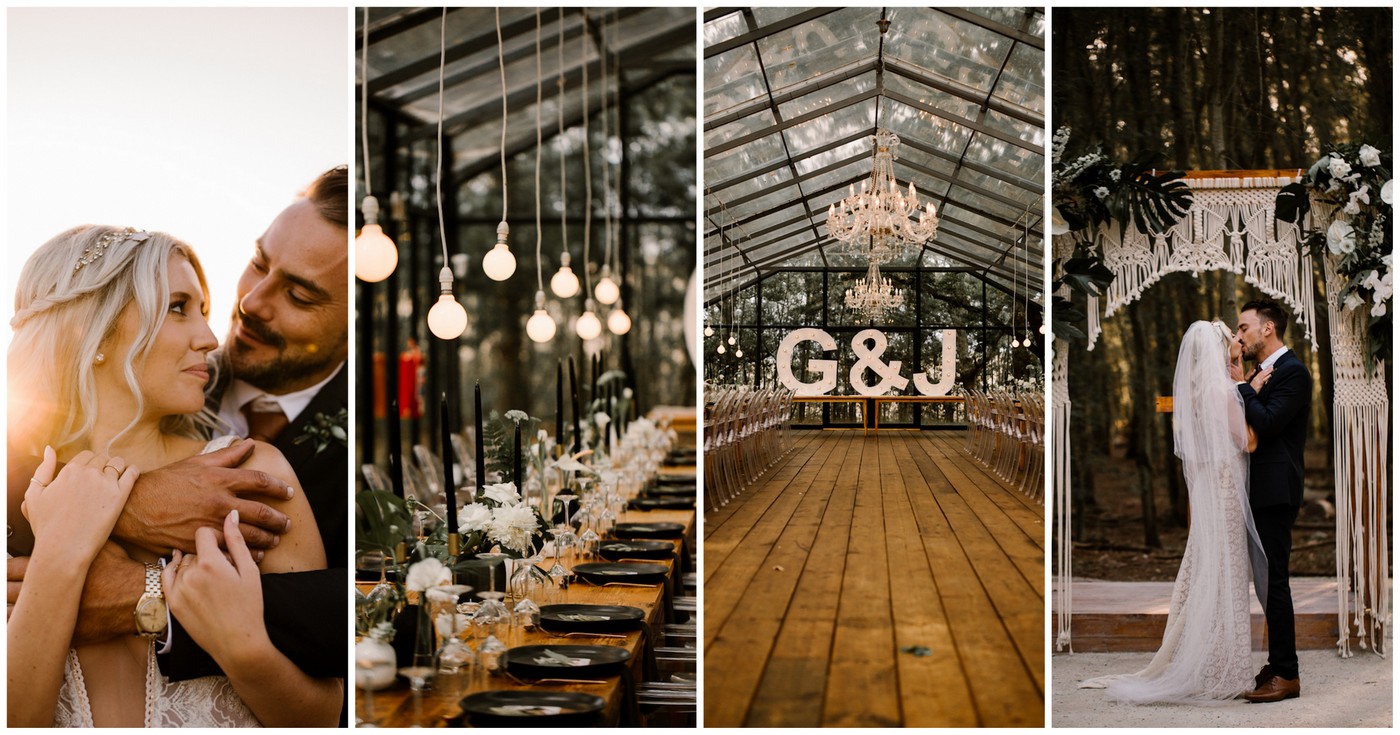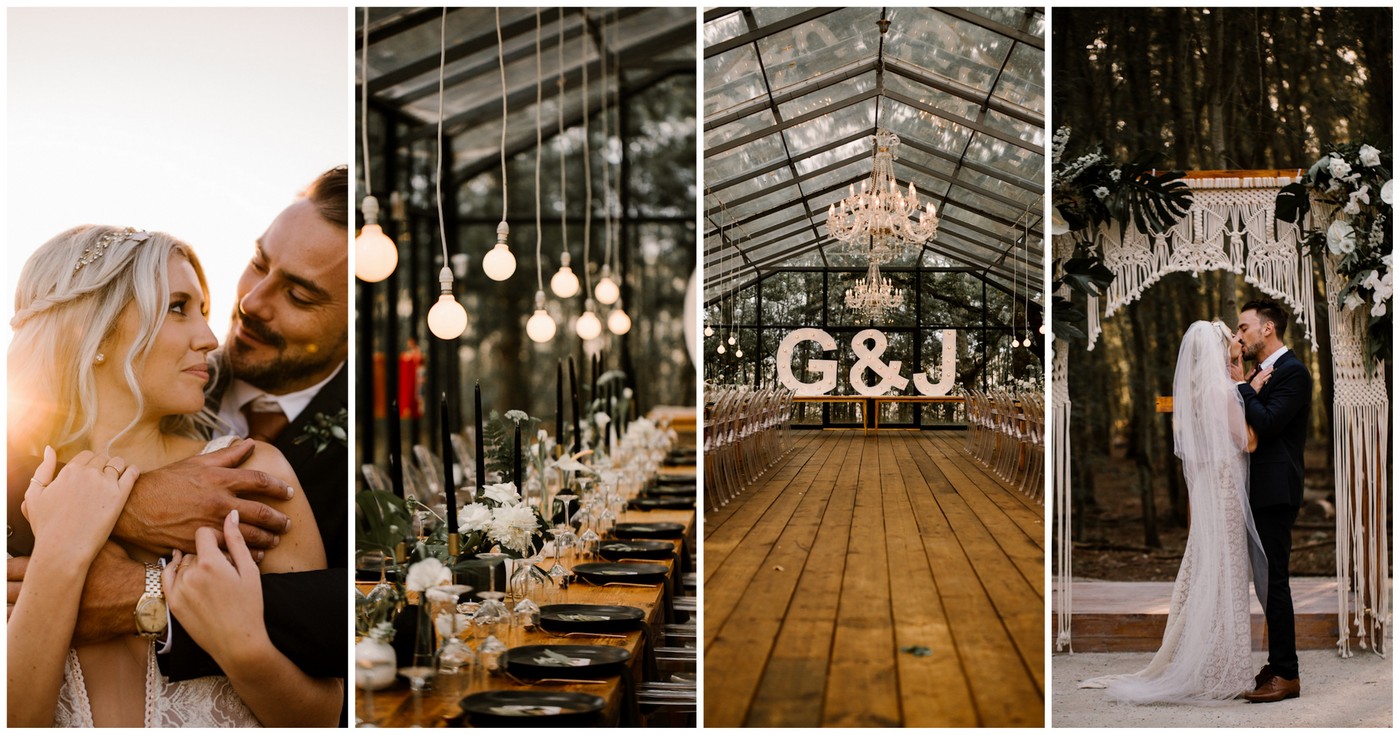 Gizelle and Johan had an intimate boho style wedding with minimalist touches, at Die Woud, Caledon in the Western Cape. Gizelle wore an amazing boho wedding dress, the couple were married outdoors in the woods beneath a macrame arch, and the reception was held in a glass 'tent', dripping with lighting and ambiance. Most of the couple's loved ones lived out of town near Gauteng, which meant the celebration with a select few had a very personal feel. 
Thunder and Love photography was there to all of the couple's love and emotion, we're pretty much obsessed!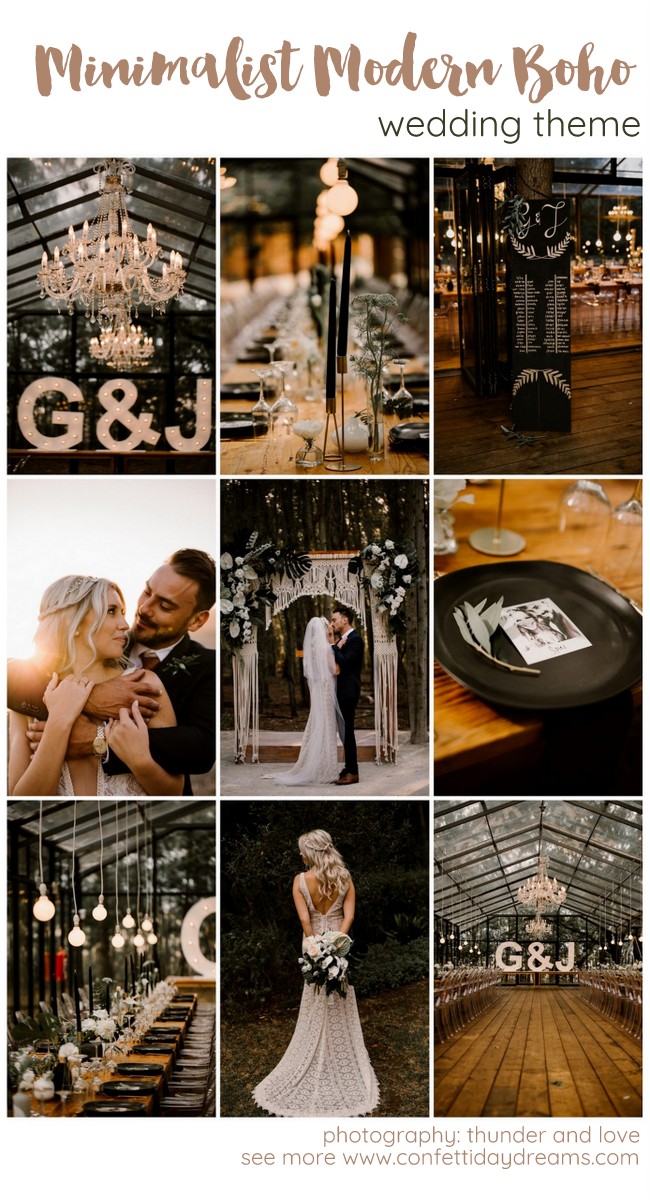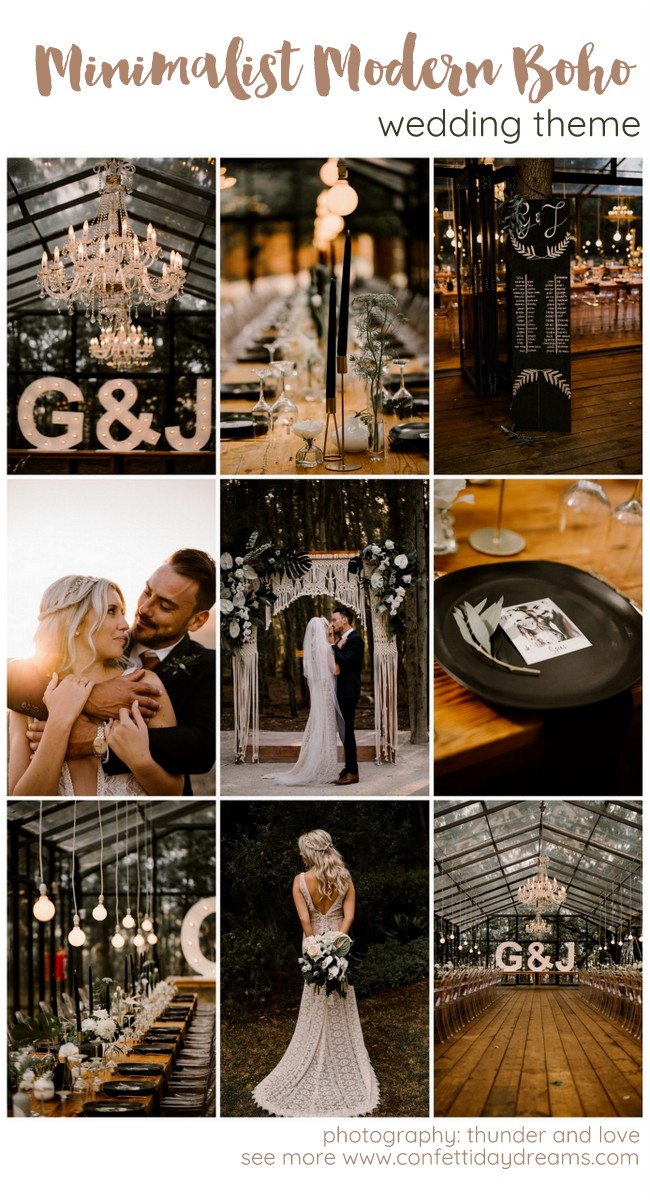 Love Story: I met Johan at university, through a mutual friend, and spent a lot of time together going away, adventuring. I immediately fell in love with him – he is the most bright and happy person. He ALWAYS makes me laugh and we have so much fun together, which is important to us both.
We lived together for a few years while I completed my qualification and got engaged in the forest near Stormsriver. It's a very special place where we have completed the Otter Trail a several times. We went hiking that day, packed a picnic and some wine, and then for lunch got a nice spot in the pine forest. Johan told me to close my eyes while he secretly set up my phone to video record. When I opened my eyes he was in front of me on one knee! We cried so much and I just stood there in his arms for what seemed like an hour. Then we danced to Mumford and Sons in the rain – which was also our first dance song at our wedding…. It was perfect!
Boho Style Wedding at Die Woud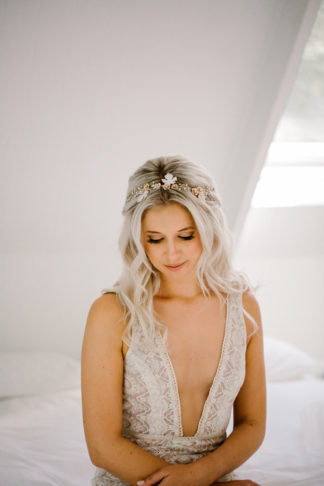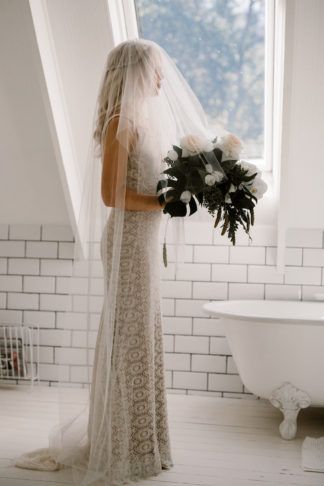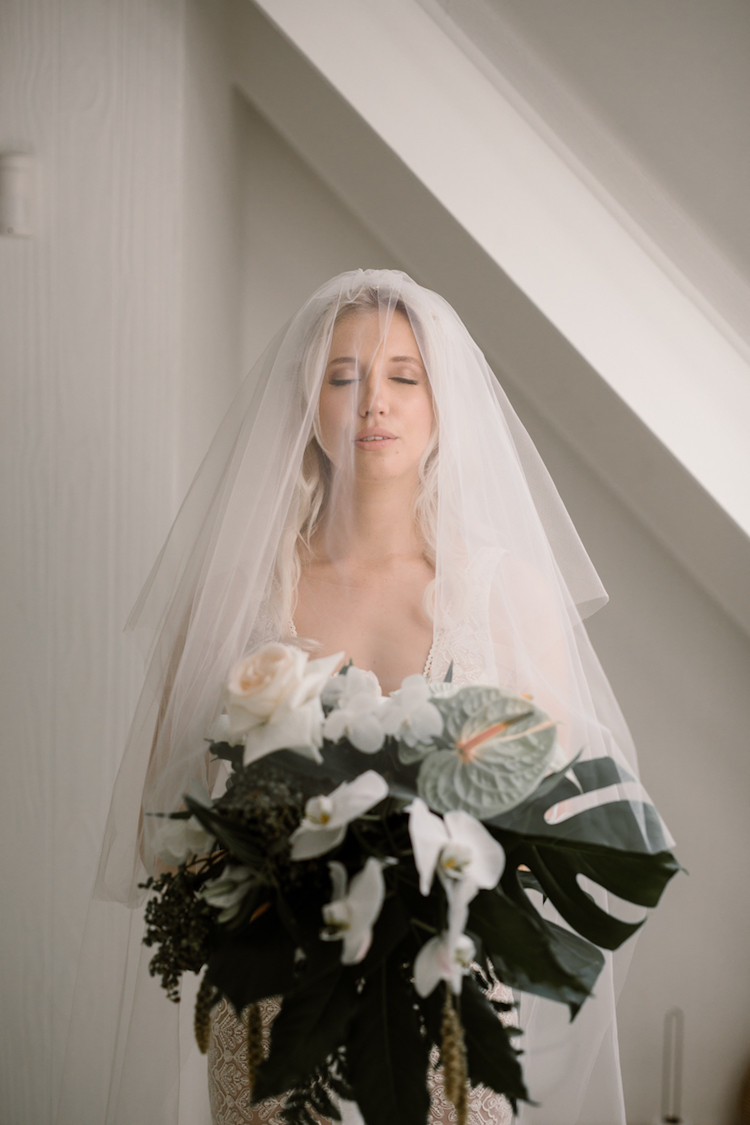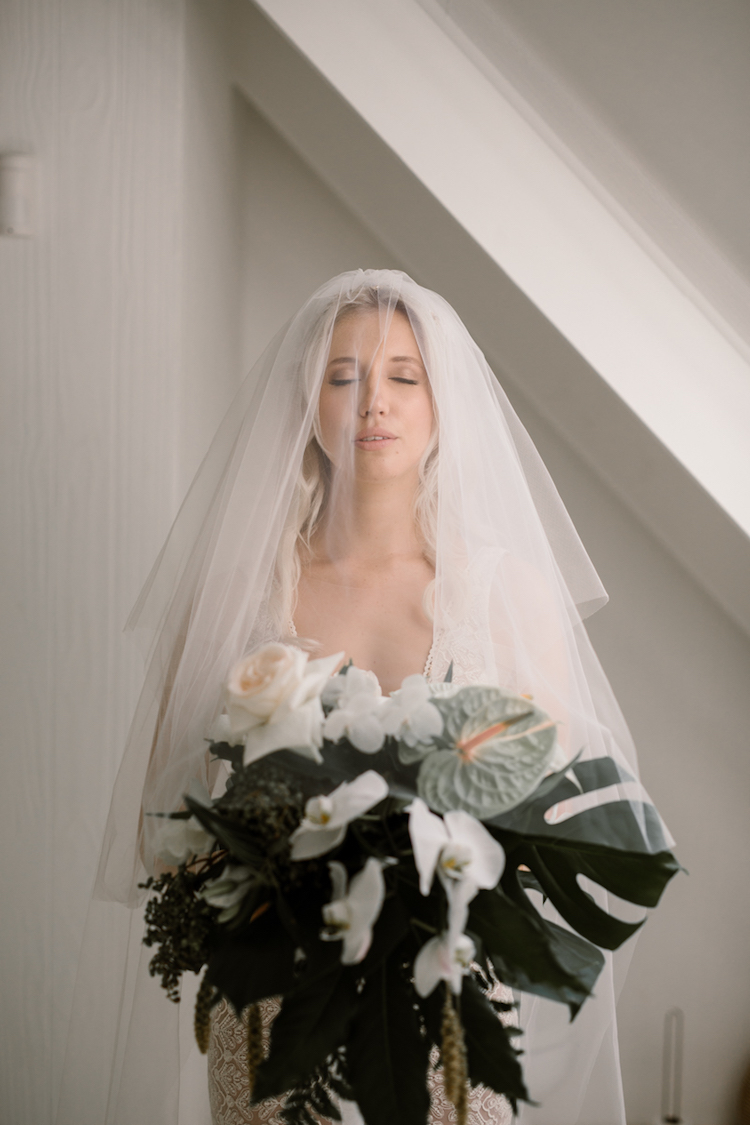 My boho style wedding gown had a minimalistic feel. The fabric was almost like crochet, with a deep plunge in the front and the back. I went toWhite Lilly Bridal Atelier to try a few dresses. Once I found my gown and put a veil my mother started balling her eyes out. It was the one! I picked it up 3 weeks later, from measurements to final fittings. It was the best feeling getting into that dress on the day, and it was so comfortable. I felt like a bad ass queen!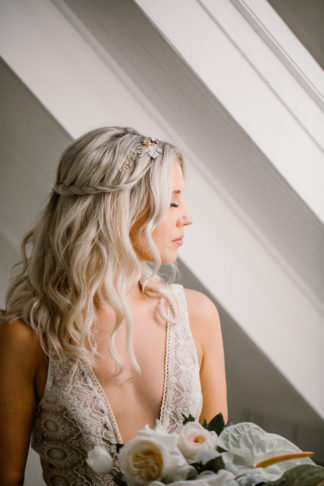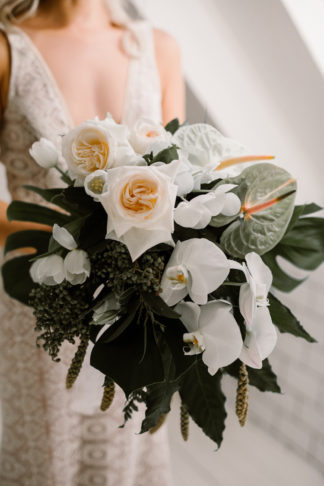 Pippa from Wildeflower did all the flowers and the bouquets. I wanted a lot of greenery and only white flowers. We had some beautiful delicious monster leaves, tulips, roses and a lot of others. I sent Pippa the look book for the wedding so she had an idea of the style and she produced the most amazing boho style wedding bouquets!!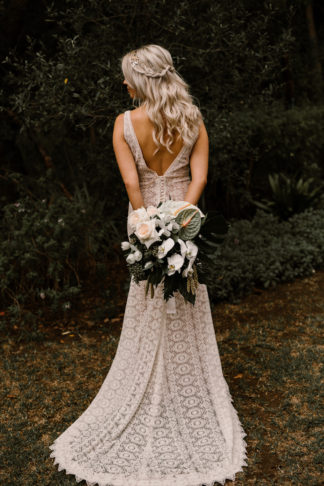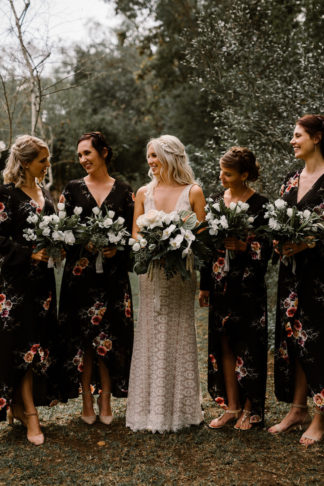 The bridal party dresses were black with soft floral. I did not want to include a lot of colour. The dresses were flowy and comfortable for them which I loved ( and they will actually be able to wear them again). The bridesmaid bouquets were similar to my own, just smaller.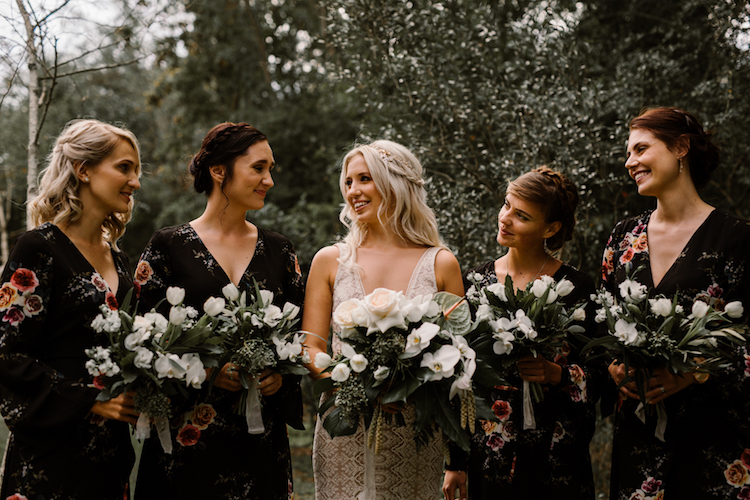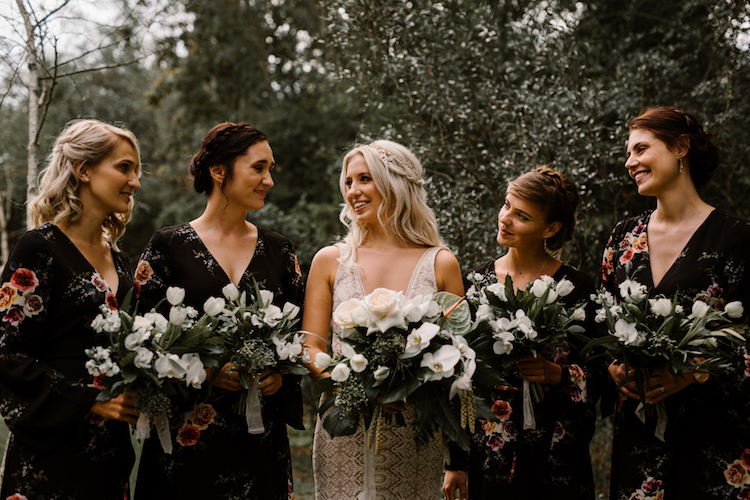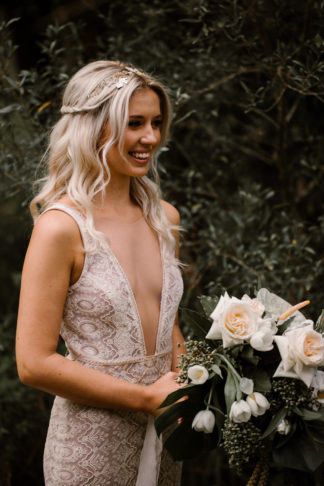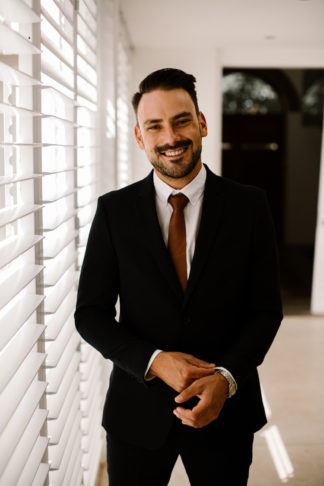 The groomsmen had the coolest ties ever! We had special ties made for each of them with their names, our initials, and the wedding date engraved at the back of the tie. Something special that they can keep, and also wear again!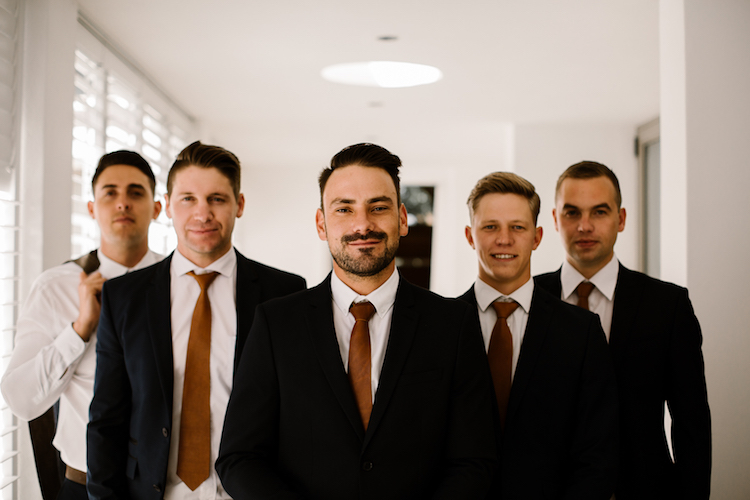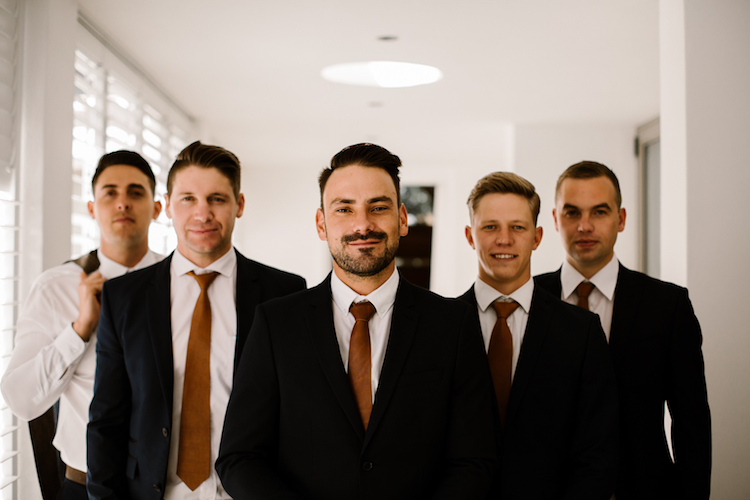 My groom wore the most stunning navy suit and brown shoes from Top Shop. It was so easy finding him something to wear because he just looks great in everything! He also had a tie made for him, in a darker shade. He wore his grandfathers gold watch from the 60's which was very special.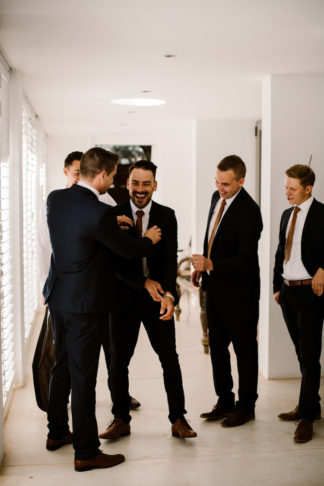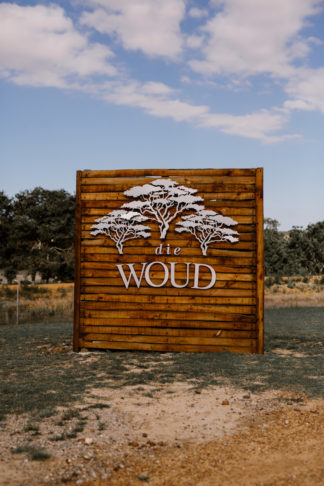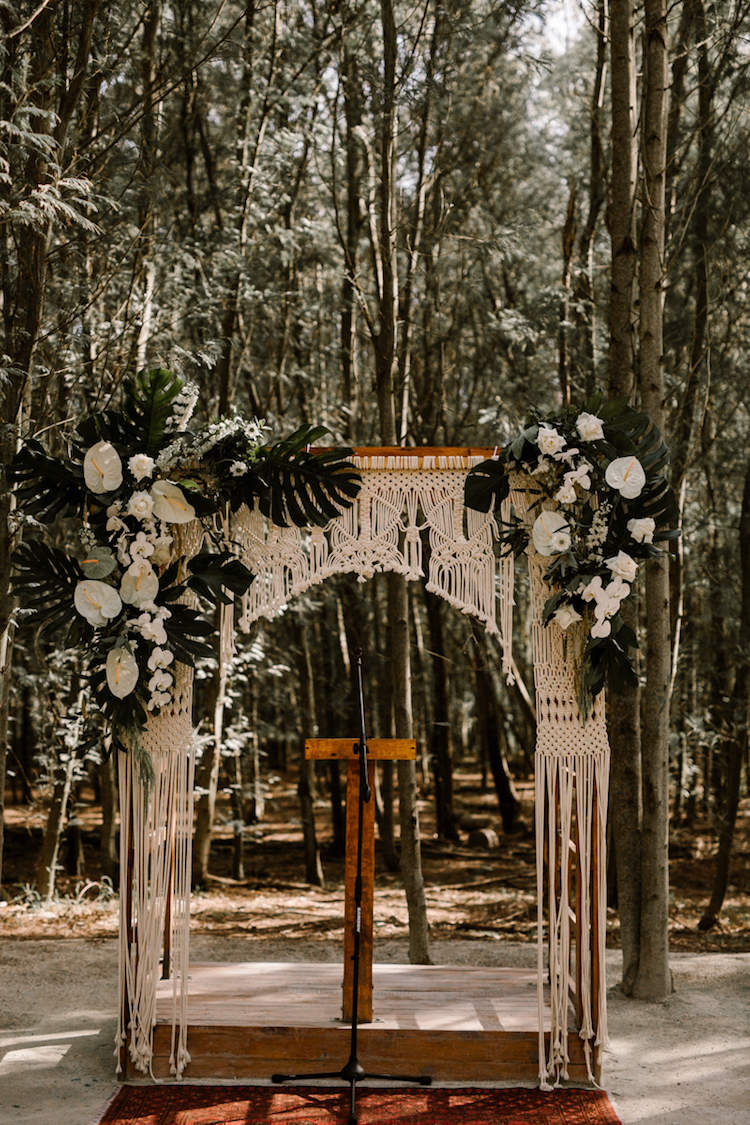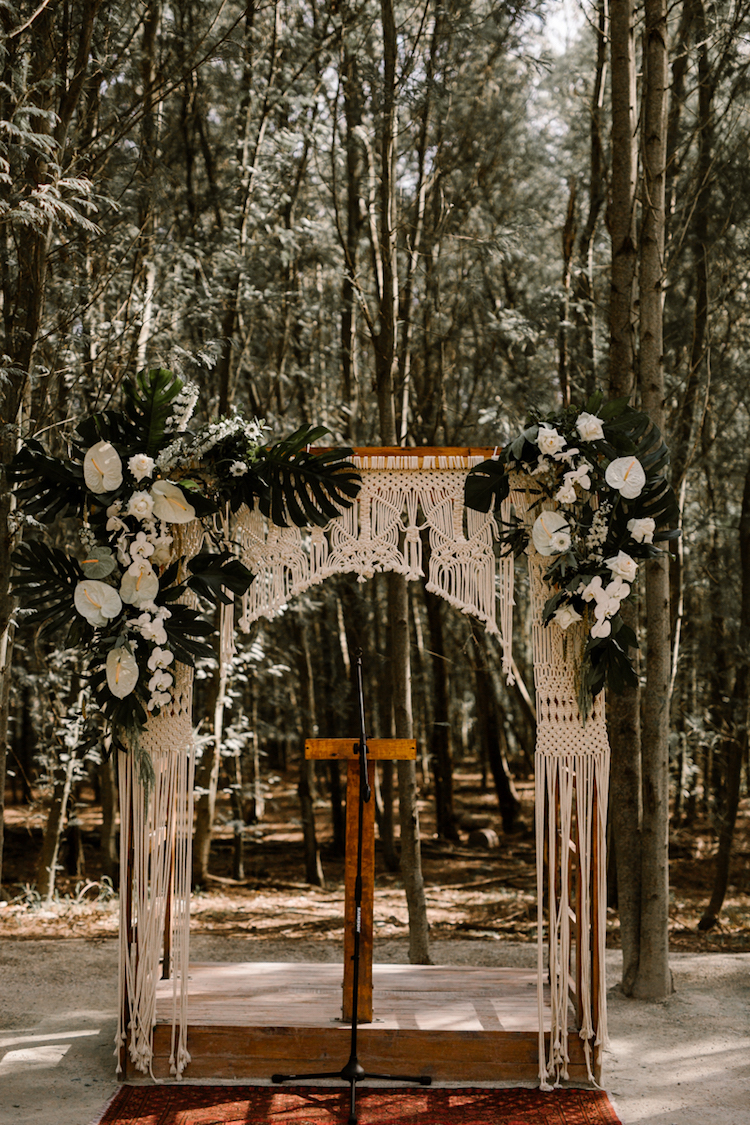 Our wedding ceremony decor was boho inspired. Die Woud has a beautiful outdoor church between the trees that didn't need much else. We had a cream macrame and wooden boho style wedding arch from Houthuis  which looked beautiful against the greenery of the forest. Pippa from Wildeflower did a beautiful job with the flowers on the arch, including a lot of Delicious Monster leaves and white flowers.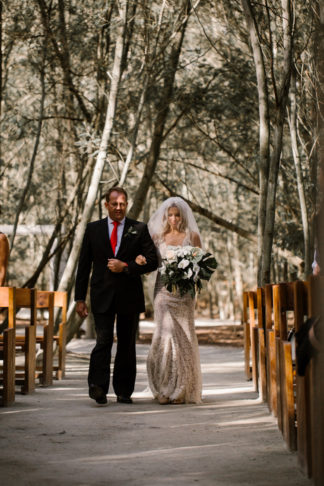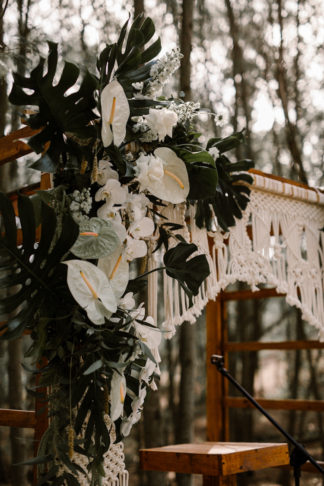 Walking down the ceremony aisle I started crying – something I hadn't wanted to do!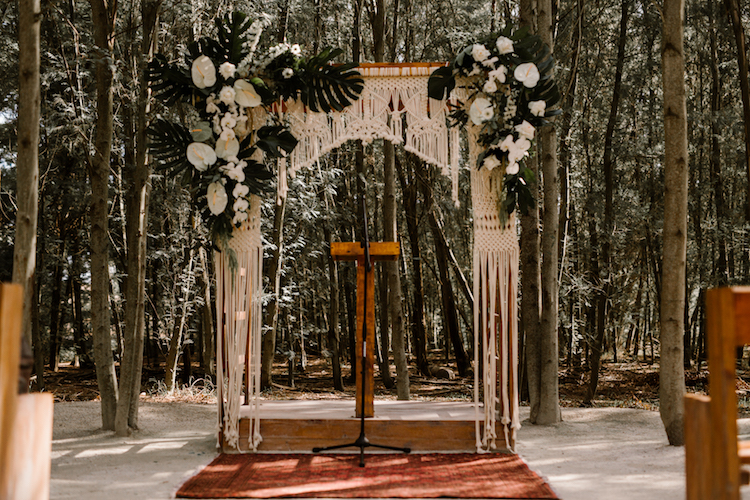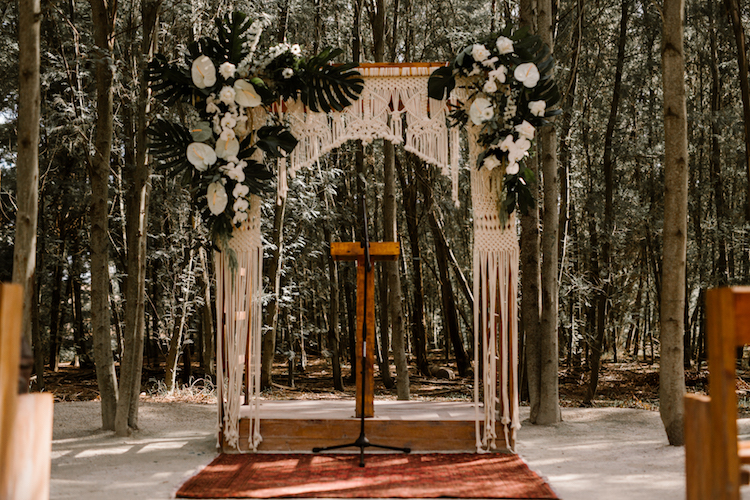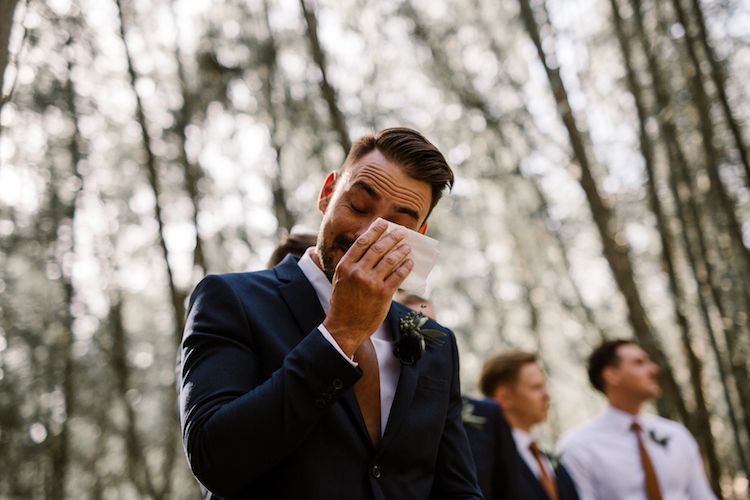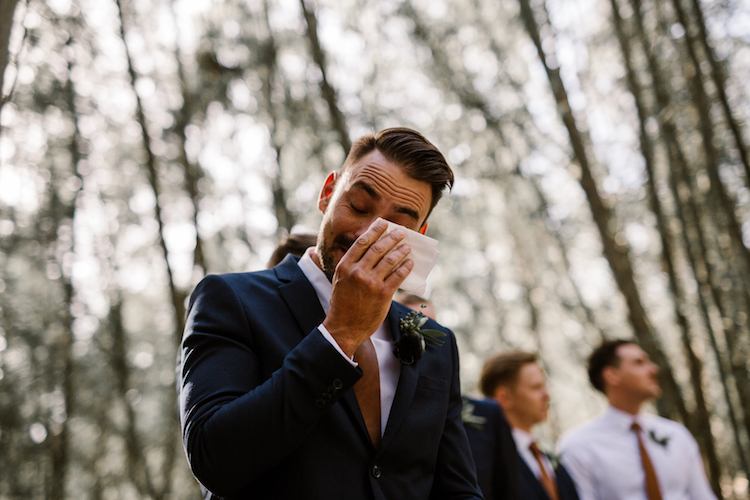 When my father and I walked throug the doors, I could see Johan was just absolutely crying his eyes out as well and knew it was okay for me to cry too. 🙂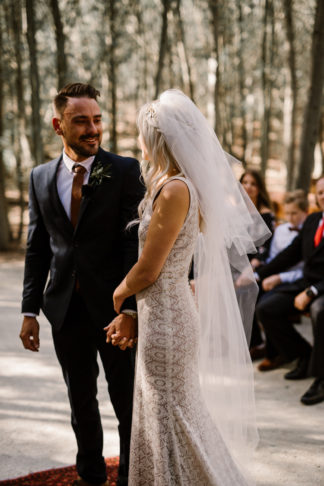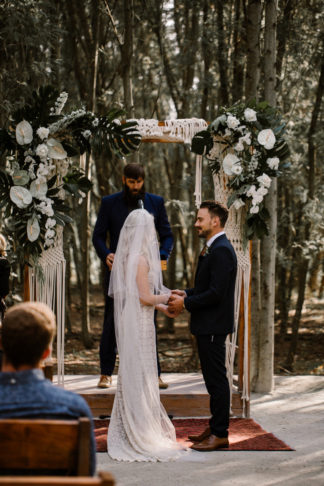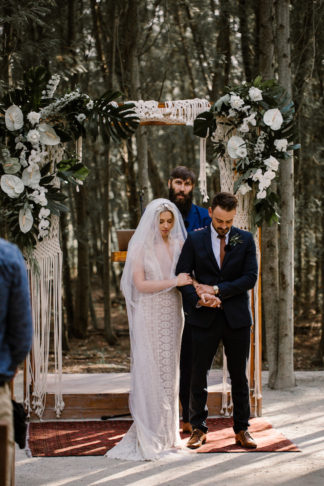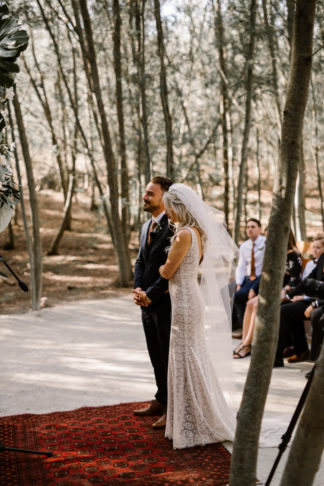 The wedding ceremony itself was beautiful. Our Pastor had the most wonderful message and really made it personal incorporating Johan and myself, our relationship with God and messages from our parents. We used communion as a symbol for our marriage in Christ.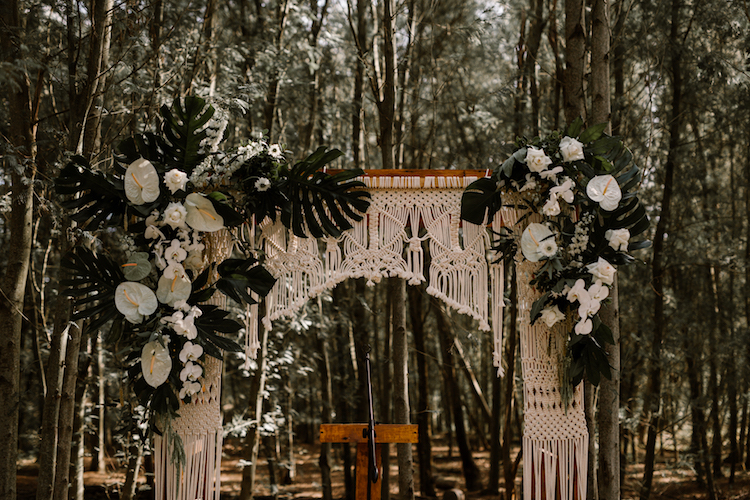 The pastor included a message from myself, as I dreamt of Solomon two nights prior to the wedding. This was incredibly special to me as the Song of Solomon talks about the Bride confessing her love and his delight in his Bride. The ceremony was overall the highlight of the day, and Johan cried multiple times during (which I loved!).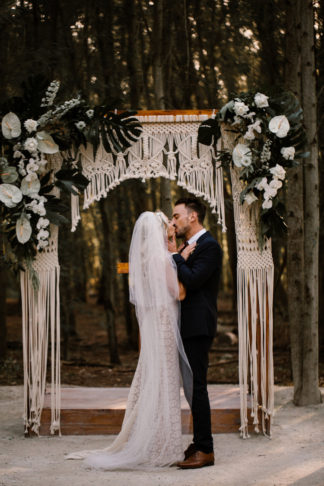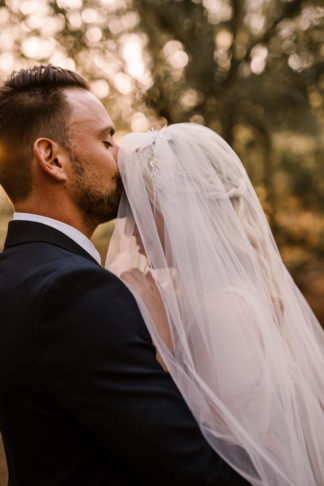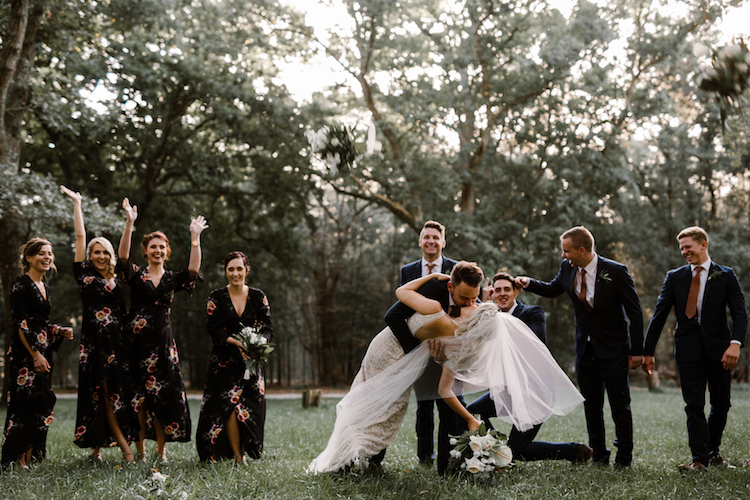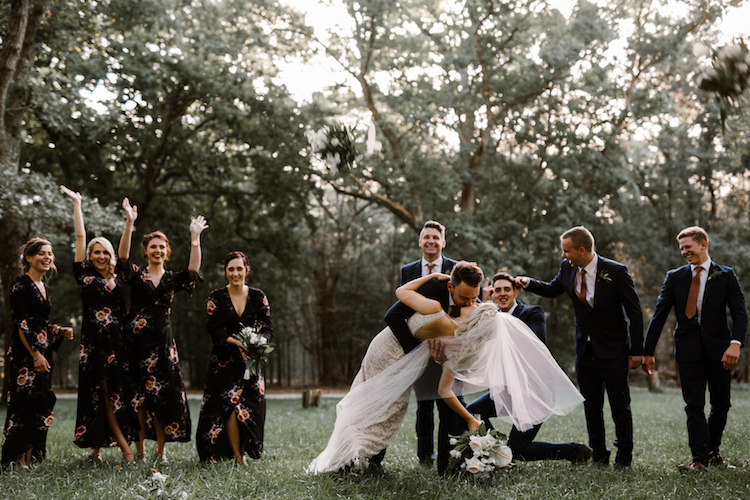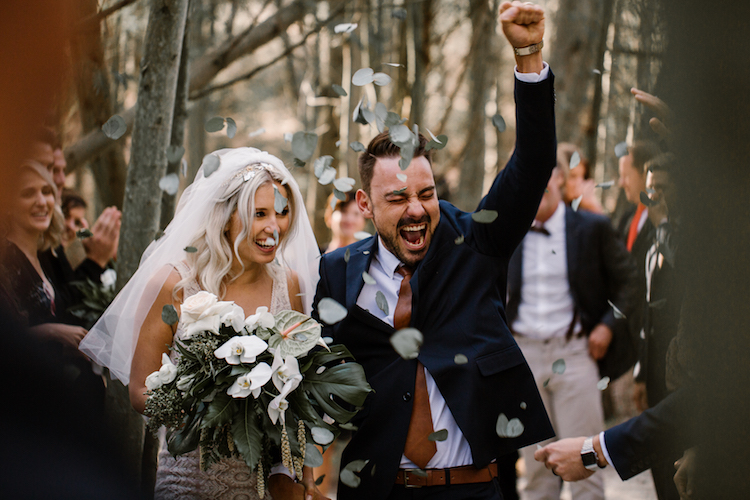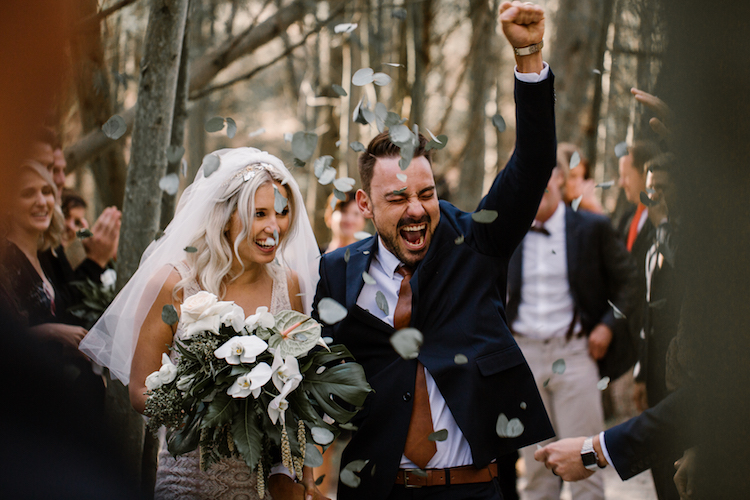 After the ceremony we went to sign our register. My father had a special pen made for us to sign the register with,  made of grape arbor with our date engraved on it.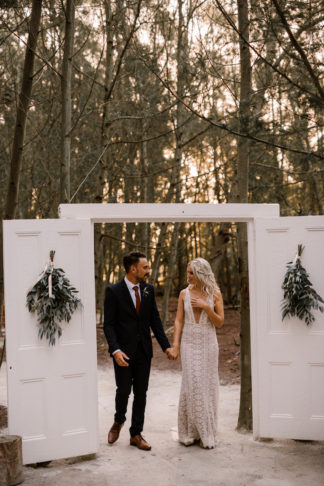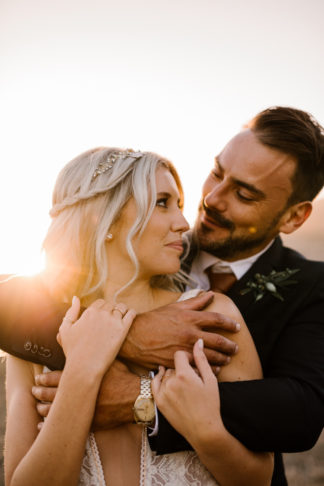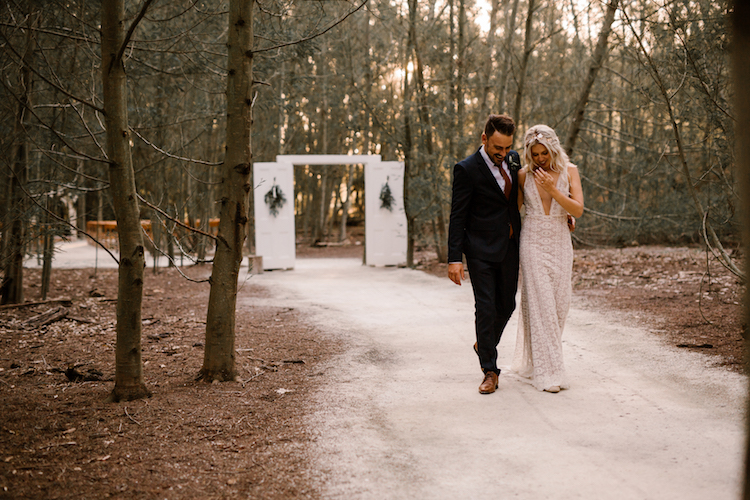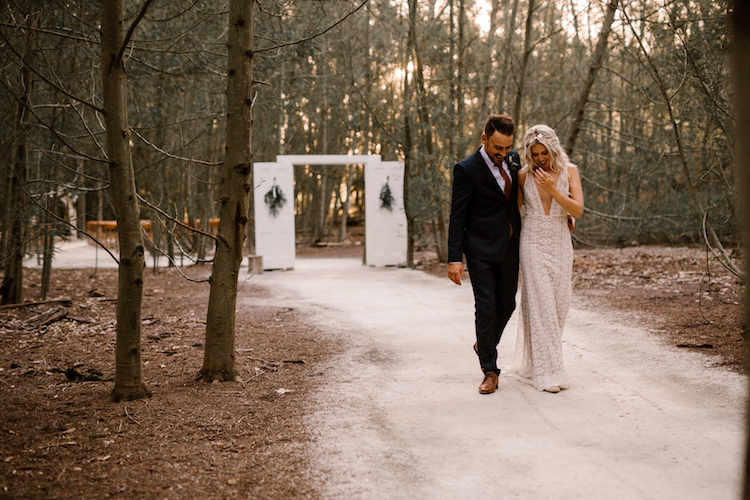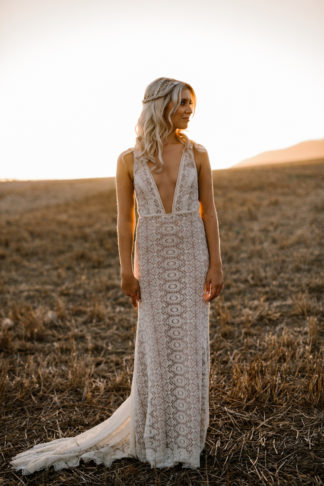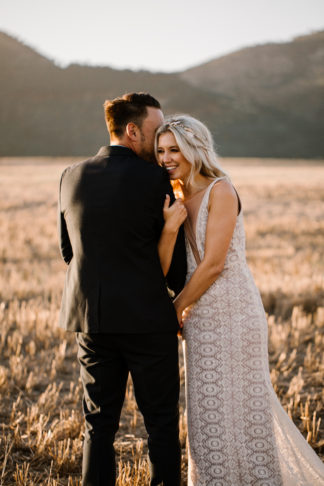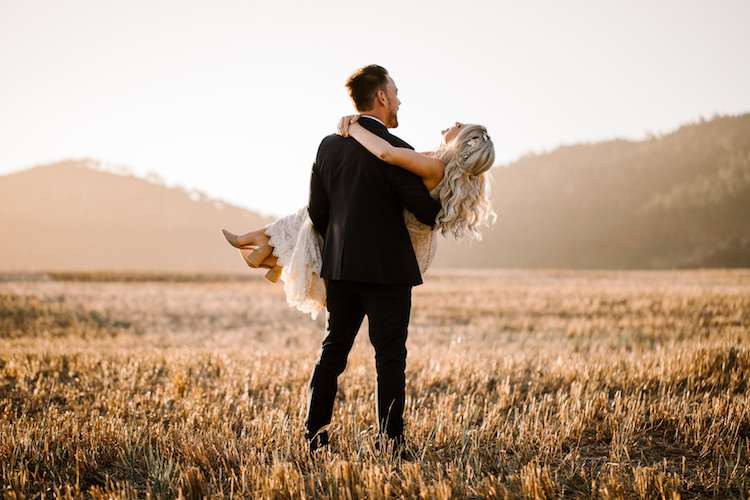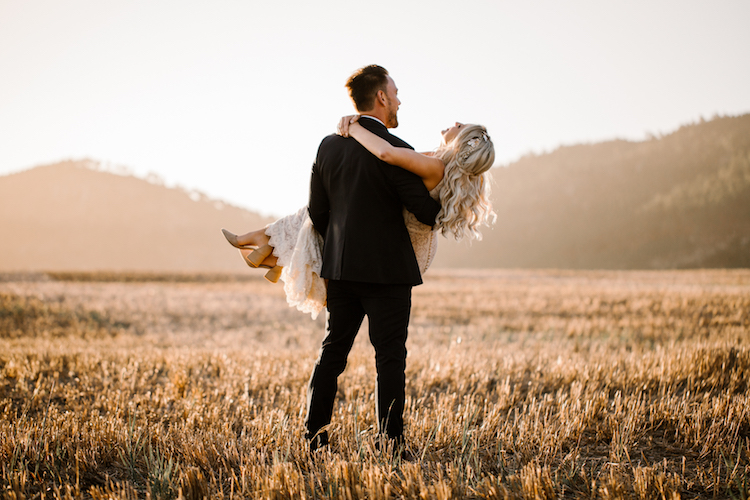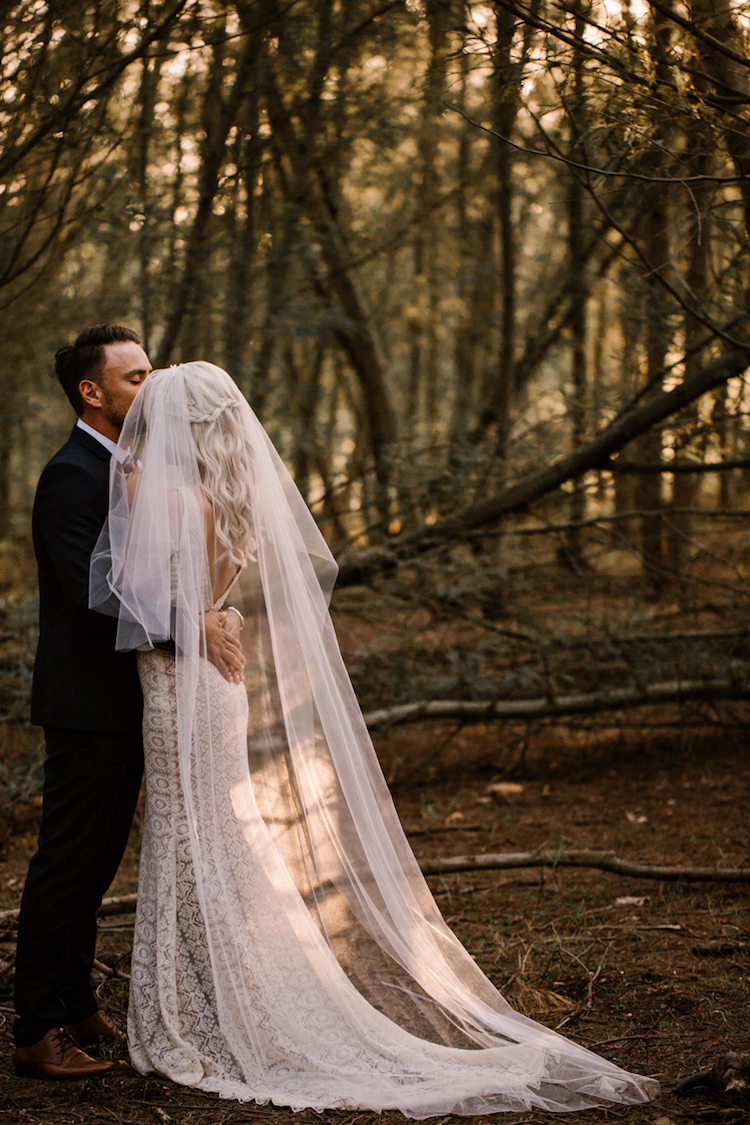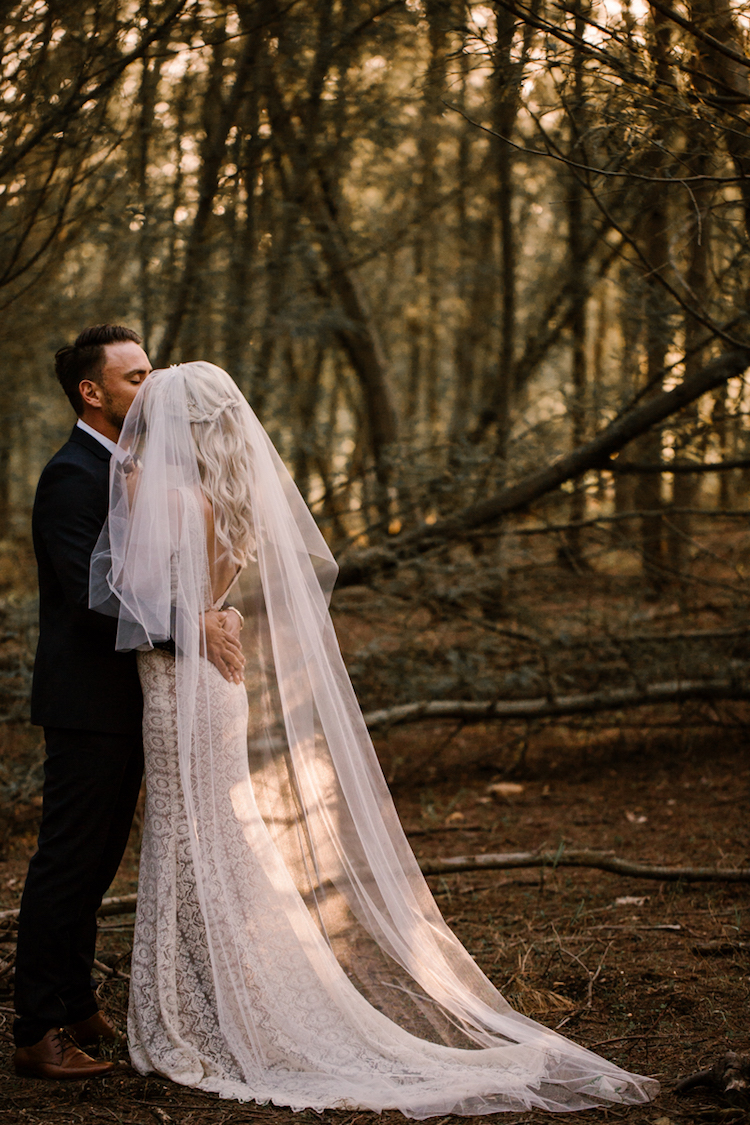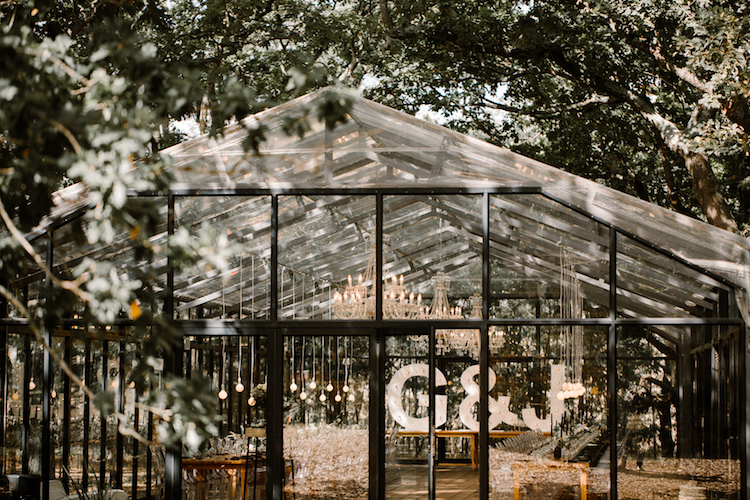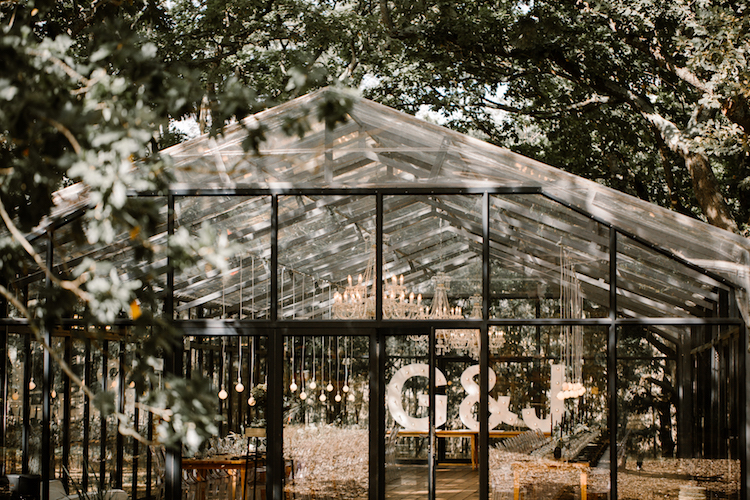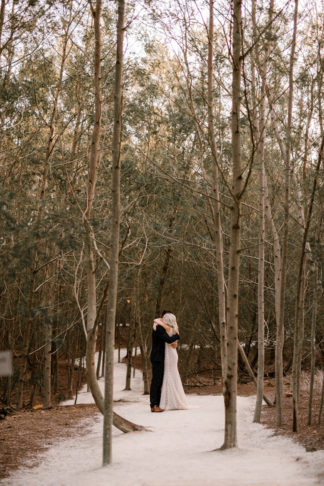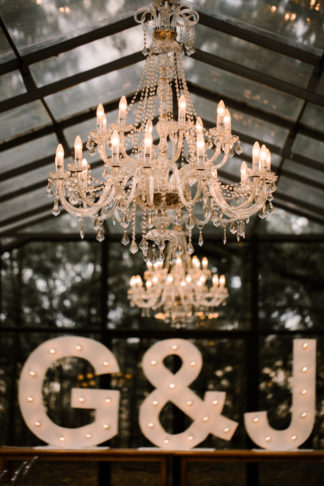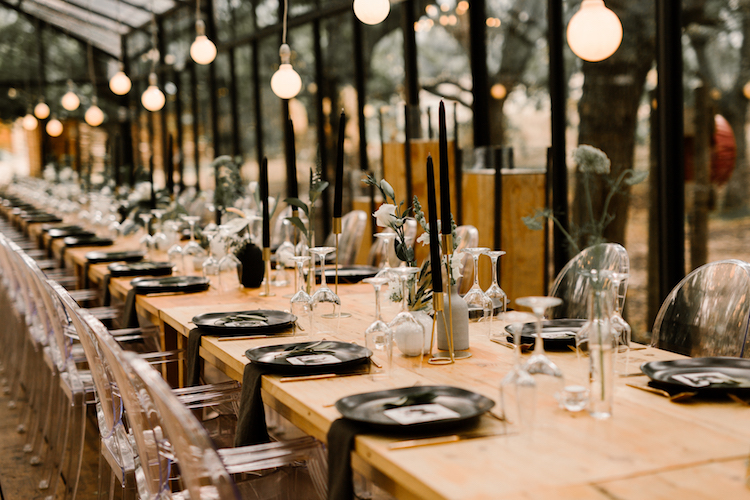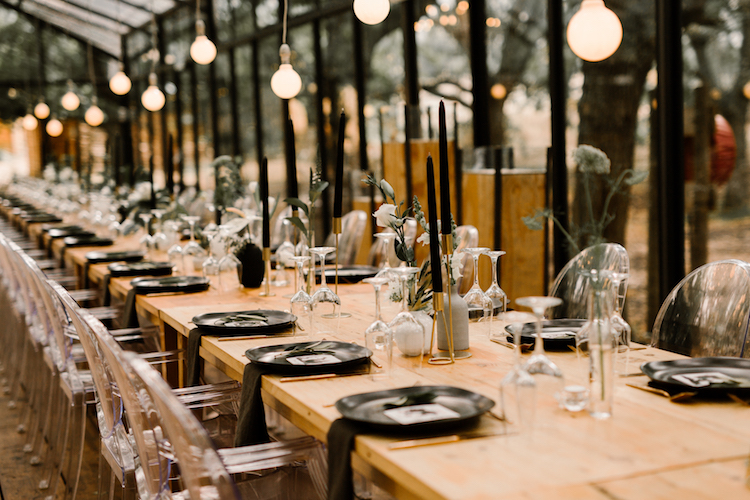 Die Woud has a stunning glass marquee in which the boho style wedding reception was held. The table decor was very simplistic and understated. We had different types of vases with white flowers and foliage.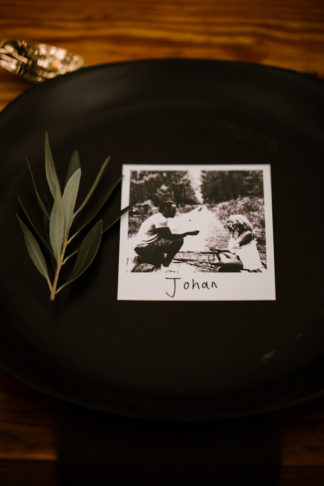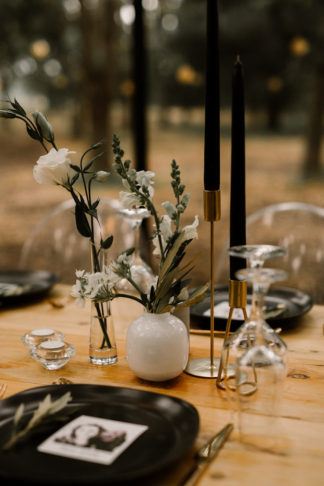 Giant Marquee letters displayed our initials at the far end of the glass tent.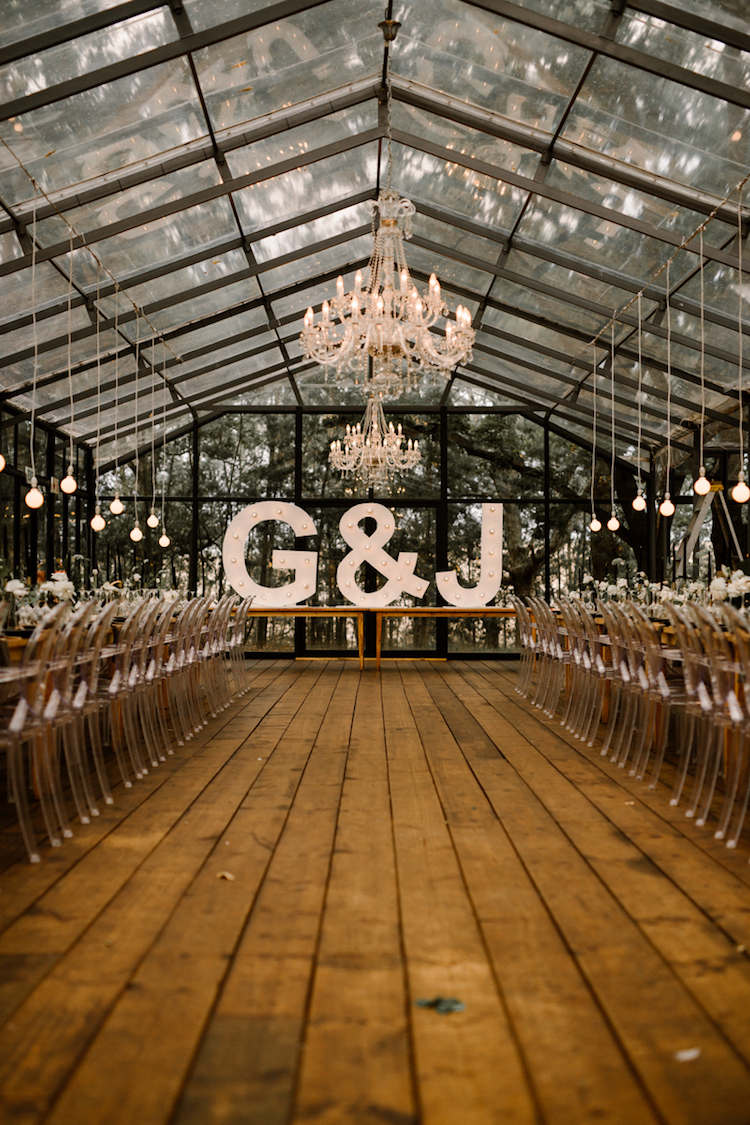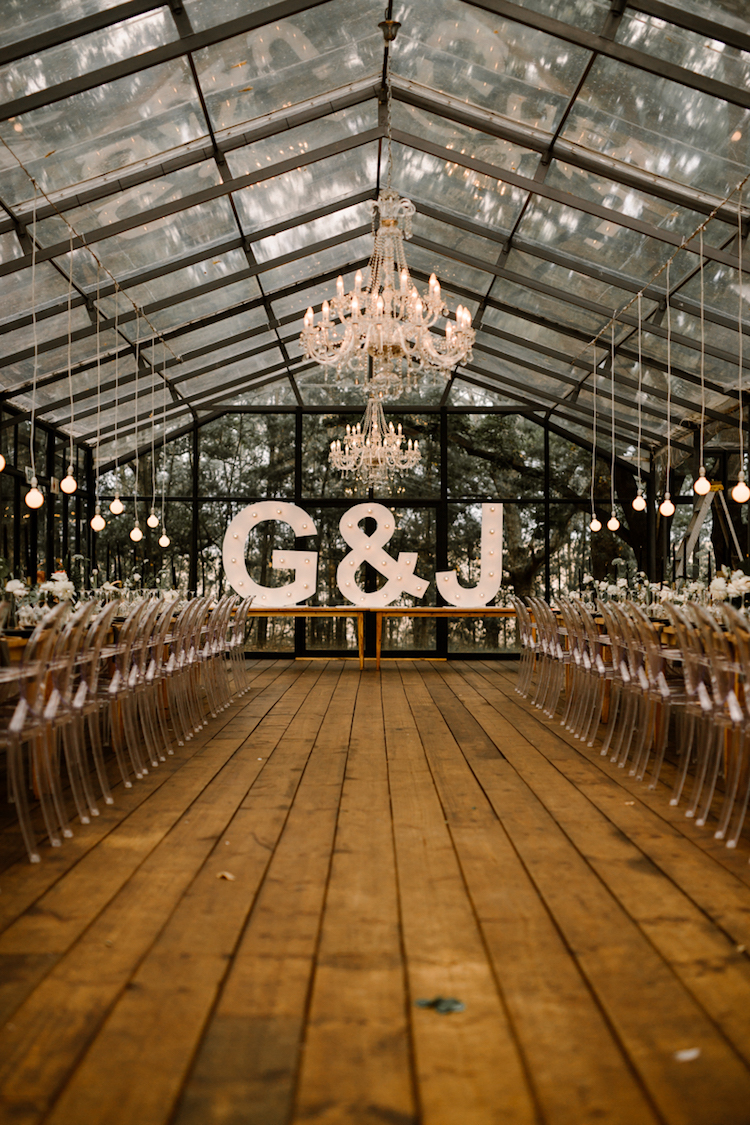 We included gold candle sticks with black candles, black plates and rose gold cutlery. Naked bulbs hung above the table at our boho style wedding reception, and we had Edison bulbs outside between the trees.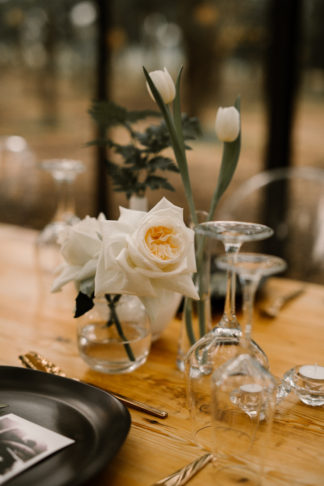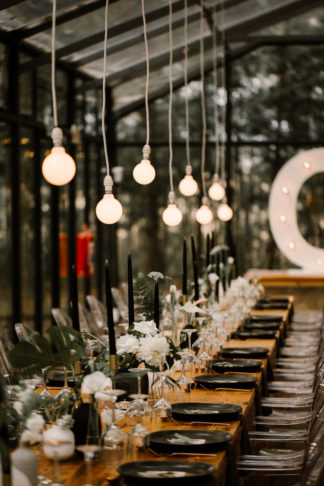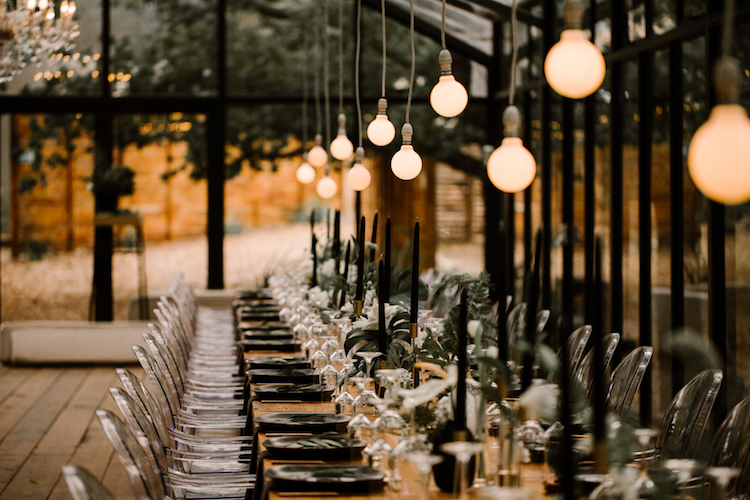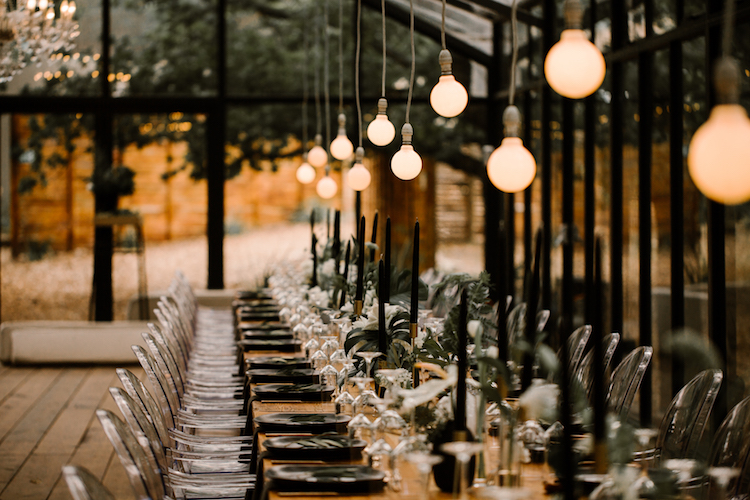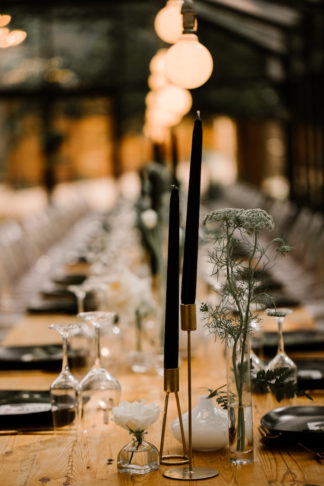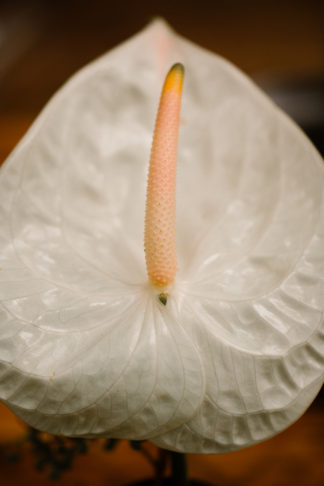 For place seating cards we wrote the name of each guest at the bottom of black and white polaroids from various moments in our lives – every photo was different and gave a personal touch to the day.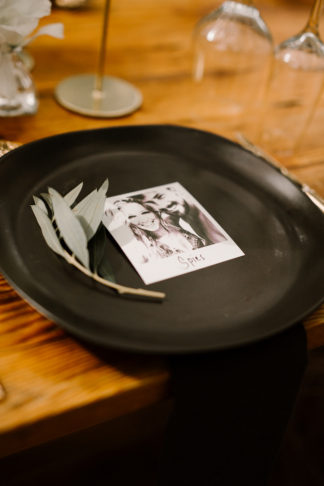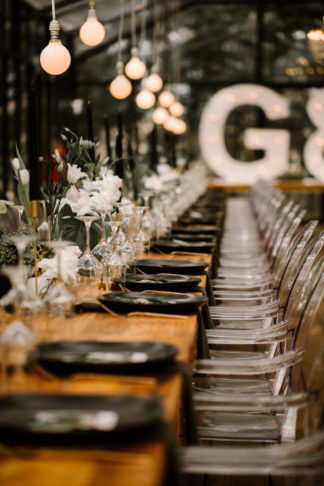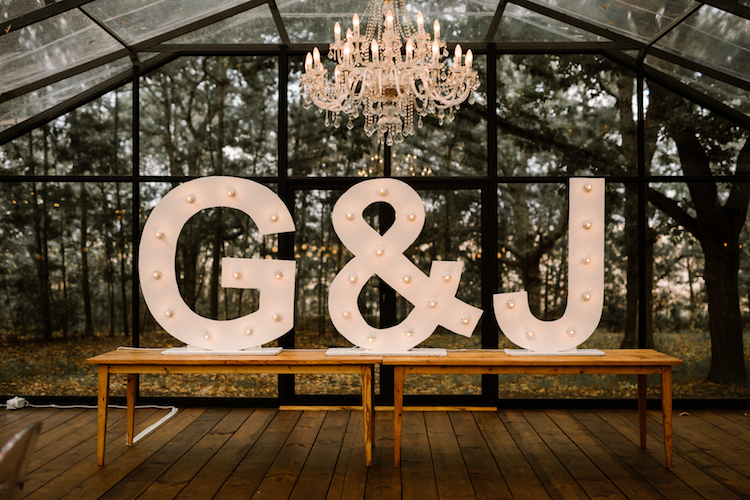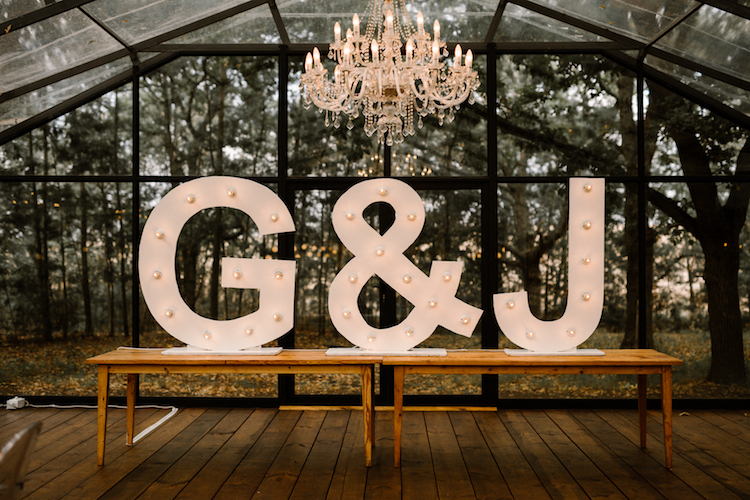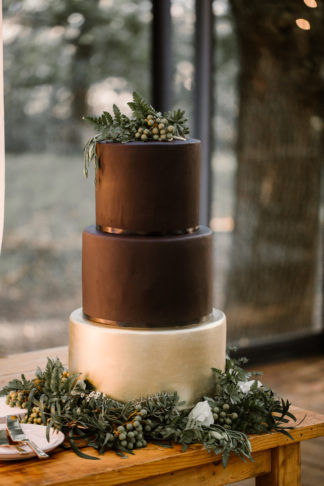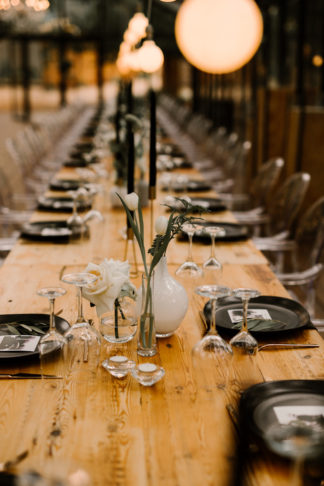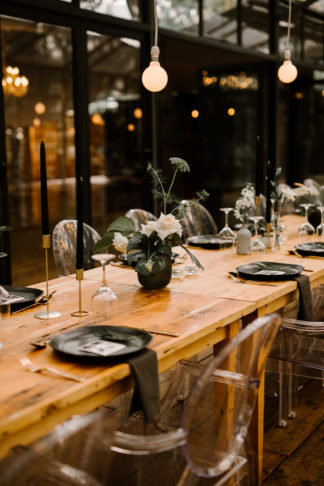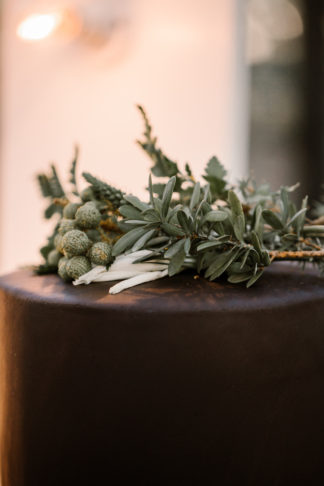 Our wedding cake was gold and black. The lower tier was poppy seed and lemon cream cheese filling. The middle tier was espresso with a chia filling, and the top tier was vanilla with turkish delight cream cheese filling. We served a plated dinner, followed by our wedding cake for dessert.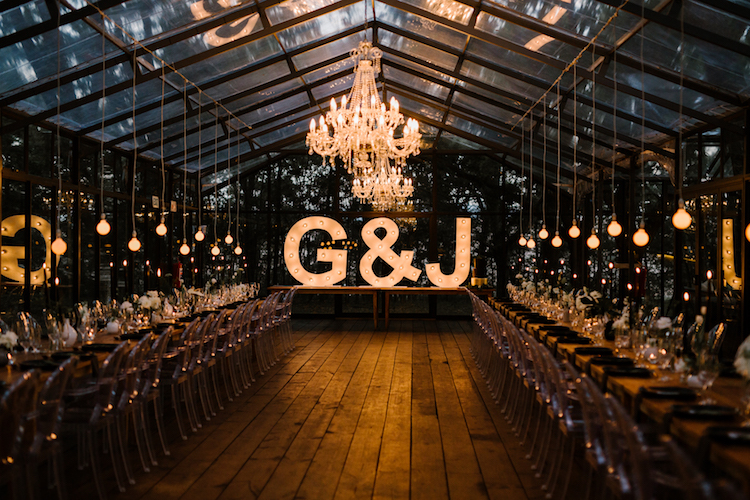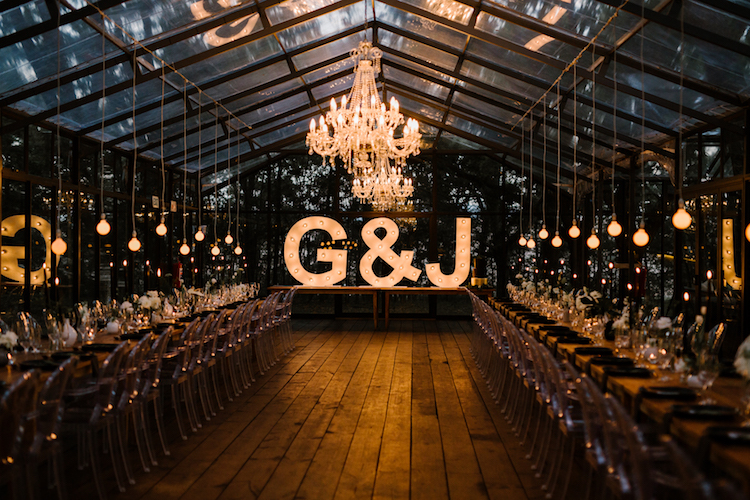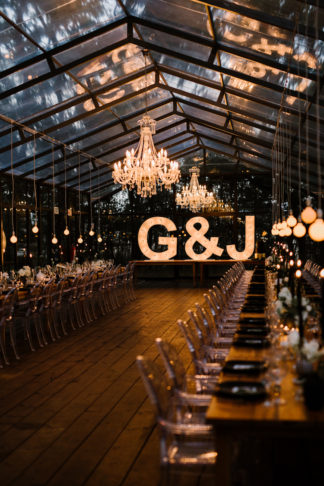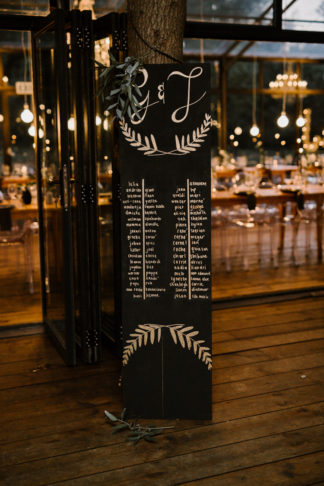 I made our wedding seating chart myself. Johan bought me a piece of wood and gold markers. I already had charcoal paint, so I went to work after actual work one afternoon 🙂 My mother and her partner had to drive the massive piece of wood down to the Cape in their Kombi, with all the wine and champagne!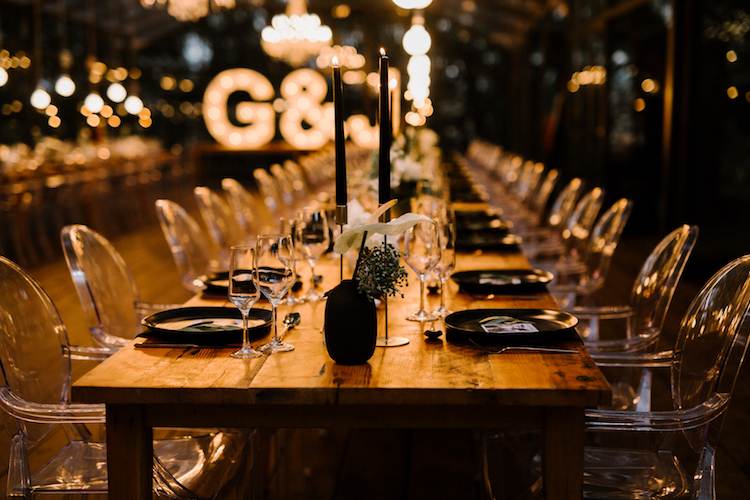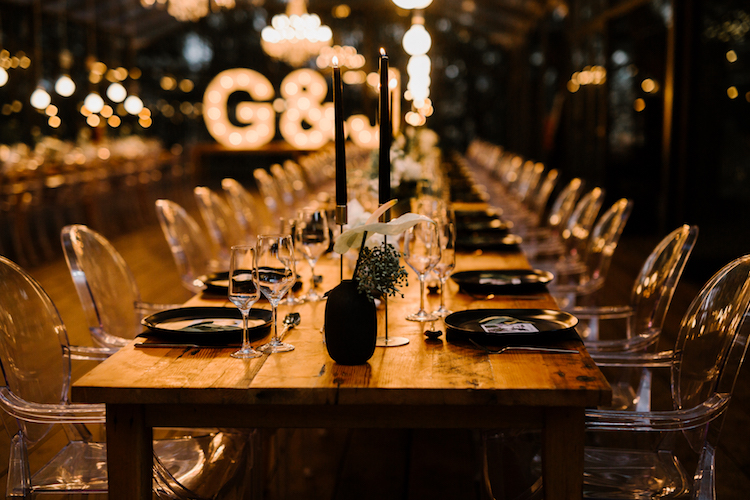 The best part of the reception was definitely Johan's speech. He was very nervous before, but he totally killed it! He was so comfortable with the mic in his hand, and he had everybody laughing hard. And when he came to speak about me, it was the most romantic, beautiful speech ever!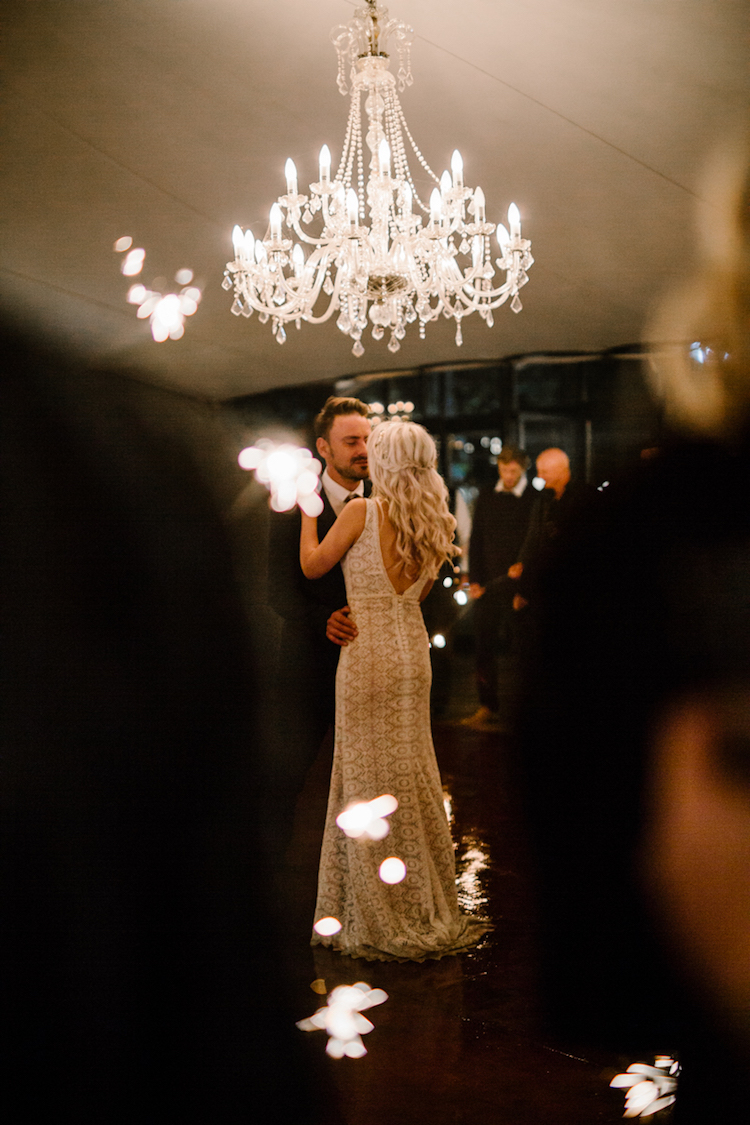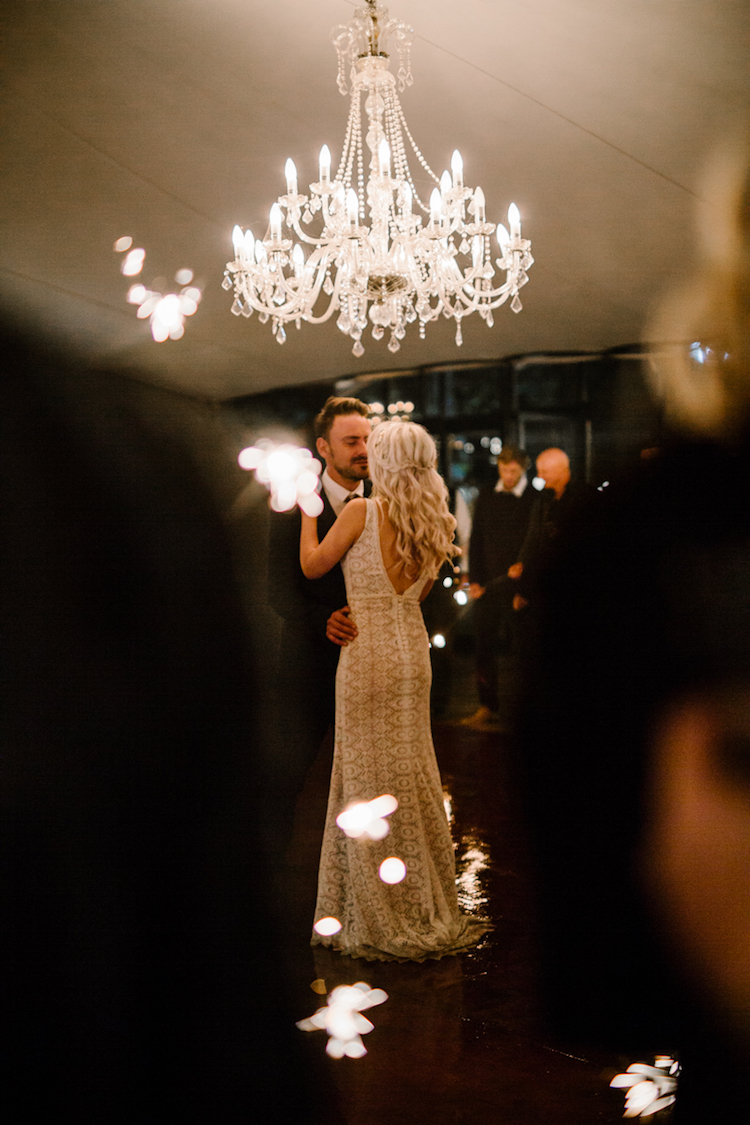 Wedding Planning Lessons:
The biggest lesson for us was definitely just to enjoy the planning stage! It can become hectic stressful for some brides, but there is no need for the pressure of the day to overshadow what should be a fun time for you and your fiancee!
I would also recommend clearly defining your and your fiancee's role when starting the planning. Johan knows I love managing things, so he just let me do my thing. I would give him a few options, and we both decided on them.
If you live in another town and are planning a wedding over email it's important to choose your suppliers carefully.  You'll need to have great communication flow over email, so you definitely need that service from them to ease the process.
There are so many ways in which you can keep your costs down! It's 2018 and I feel that there's no need any more for things such as guest favours, expensive printed invitations (we went digital), table seatings, seating charts etc. Be creative and add a personal touch by making these things by yourself!
Definitely do not cut costs on your photographer/videographer, as this is ALL you will have left of your special day..
Wedding Service Providers: Photographer Thunder and Love  // Venue Die Woud // Videographer Kikitography Motion // Dress White Lilly Bridal Atelier // Brides Hair + Make Up Cecilia Fourie  // Flowers Wildeflower // Cake Krummels Sugar Art // DJ / Music Silk Music // Decor Goeters // Macrame Arch : Houthuis // Polaroid prints : Nifty 250