Pretty Pink and Cream Protea Wedding ♥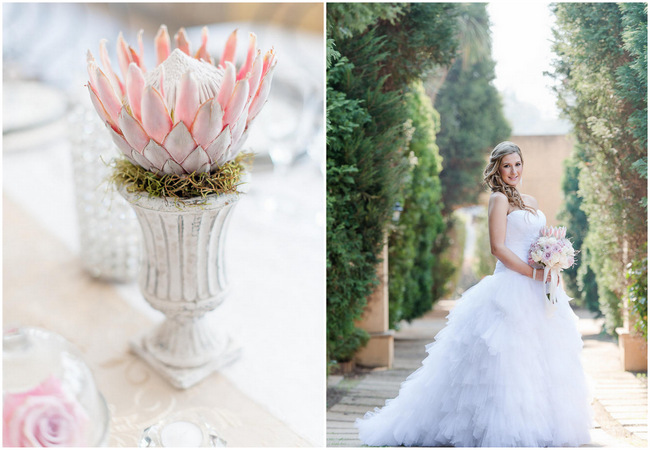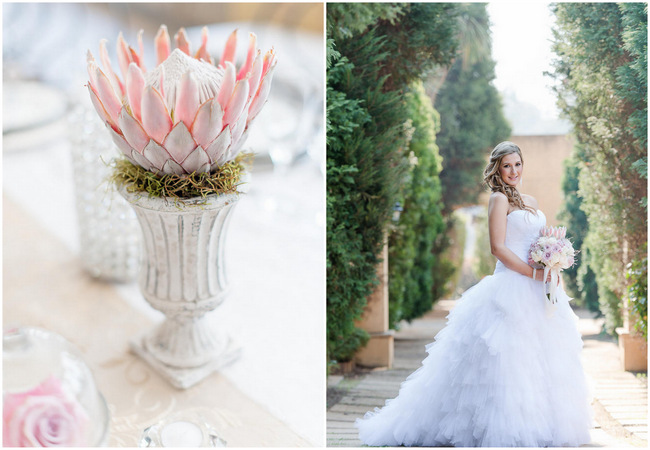 Jamie and Ryan wanted their pretty pink and cream protea themed wedding to be three things – classic, elegant and timeless. A wedding that they could look back at in 50 years and still think was beautiful. They chose soft colours to compliment the Tuscan architecture of the beautiful Avianto venue in Muldersdrift, and drew a lot of inspiration from King Proteas. These spectacular, massive flowers have a special meaning for Ryan and Jamie. Being a girly-girl, one after my own heart, I might add, Jamie also incorporated elements of sparkle into the décor.
This beautiful wedding is filled with gorgeous, girly details, a stunning bride wearing a dream Maggie Sotterro gown, perfectly elegant bridesmaids, a dashing groom AND the prettiest pink Protea wedding decor. Add photography by the outstanding Lightburst photography duo, and it's a recipe for perfection! (I apologize in advance for all of the dress pics, I'm a little obsessed right now!!)
"I never actually woke up on my wedding day because I could not sleep the night before!" shares the lovely Jamie. "It was a beautiful spring day – warm and not a cloud in the sky. I was so excited to marry the love of my life! The months of planning had finally become a reality.
My bridesmaids and I headed to the venue early to start getting ready. We all had matching dressing gowns to wear while we got our hair and make-up done. When I got there I stopped off at the Banquet Hall and when I saw how amazing the décor and draping look I was so pleased – it was even more beautiful than I had expected. Before I knew it, it was time to get my wedding dress on and prepare for the Chapel.
I could not wait to become Mrs. van der Walt. Walking into the Chapel and seeing my handsome husband-to-be for the first time and all of our families and close friends in one room was a little overwhelming. You could feel the love in the air. After the ceremony we provided refreshments and traditional Portuguese snacks for our guests. We also had a harpist there to set the mood. This kept our guests entertained while Ryan and I got to enjoy some alone-time and had our photos taken. We couldn't take our eyes off of each other.
Avianto has a "Locks of Love" bridge where you secure your lock on and throw the key's into the stream down below. Our wedding co-ordinator gave us a personalized lock with our names & wedding date engraved on. This was a special touch and our lock will be on the bridge forever. Just after sunset we entered the reception hall for the celebrations to begin."
Pink and Cream Protea Wedding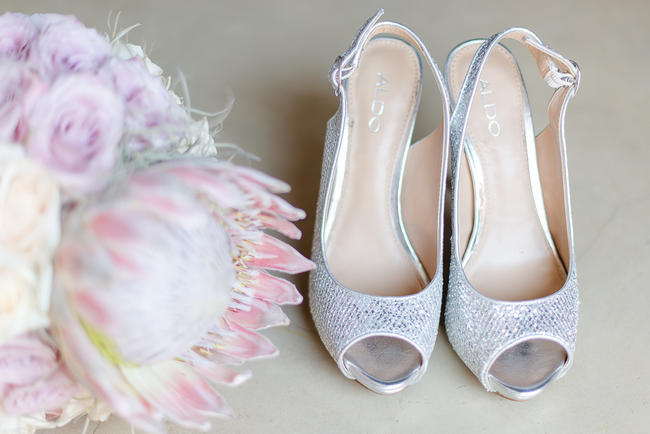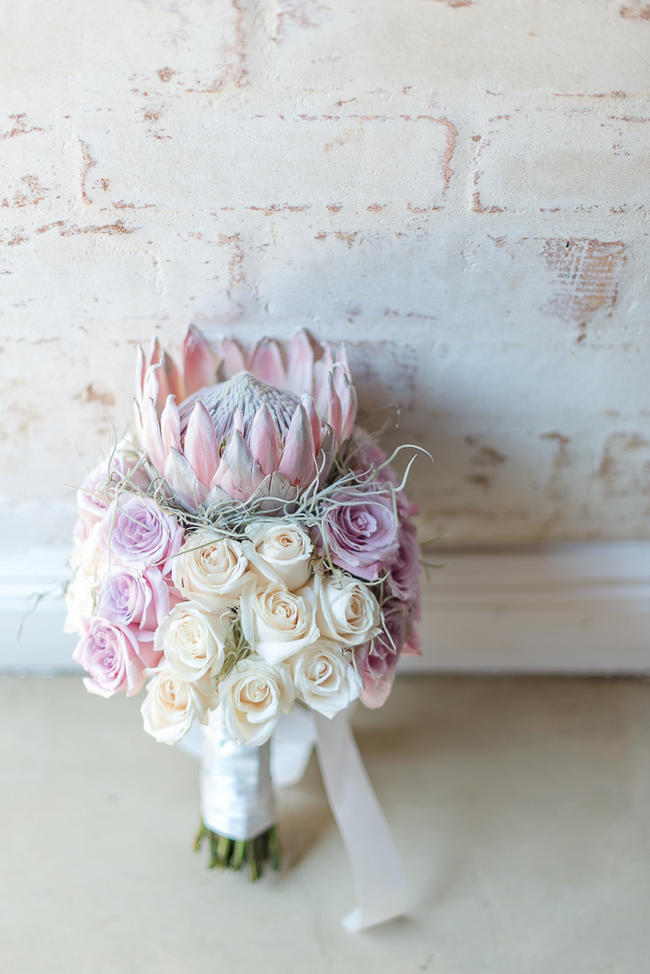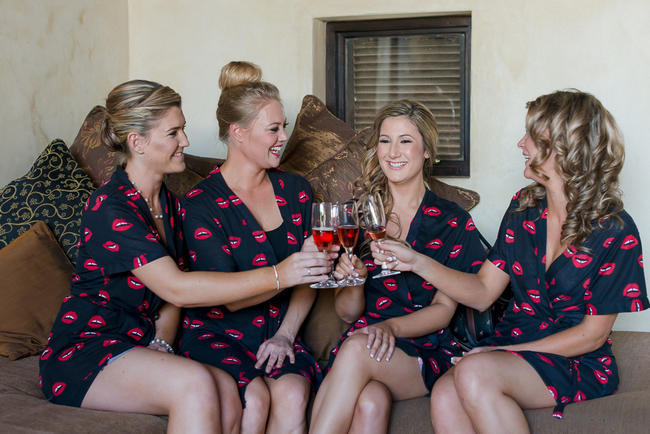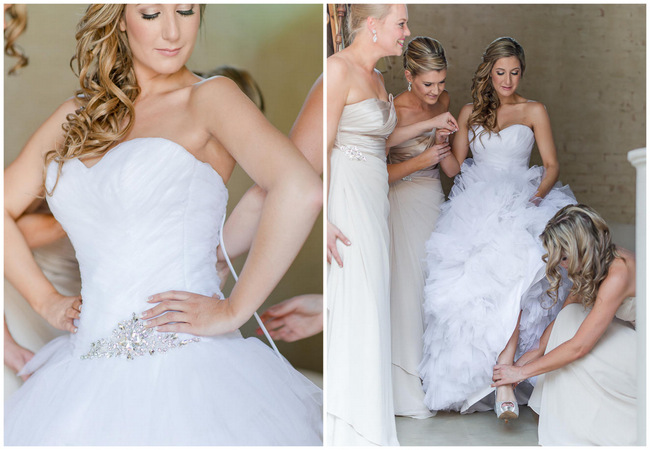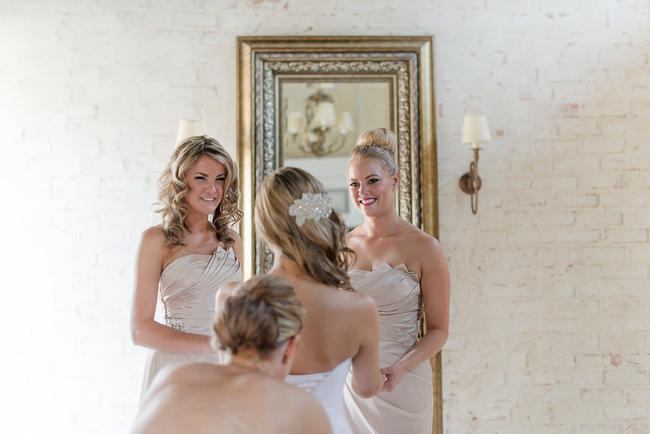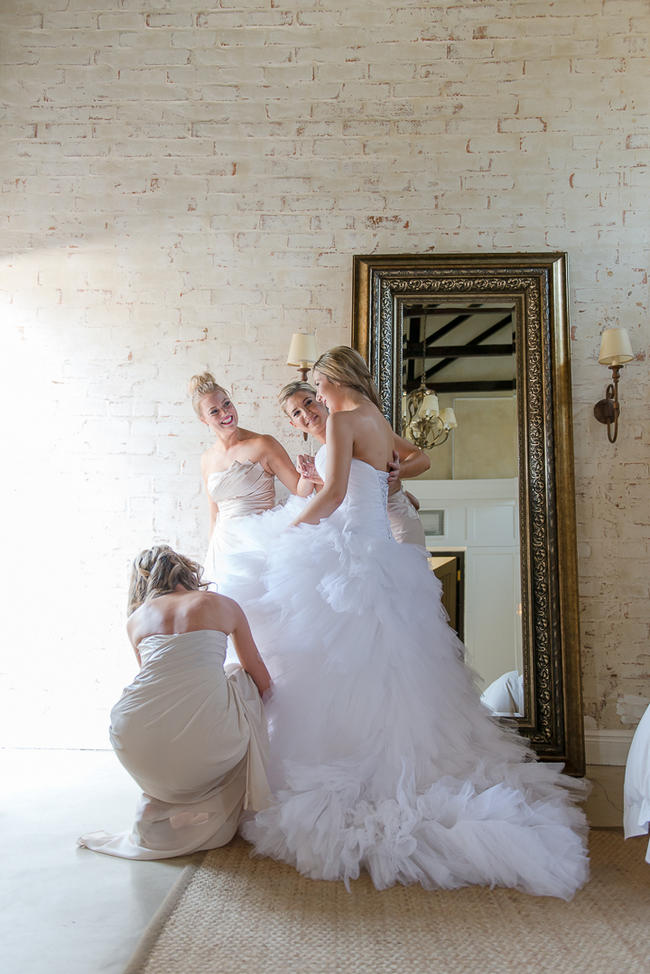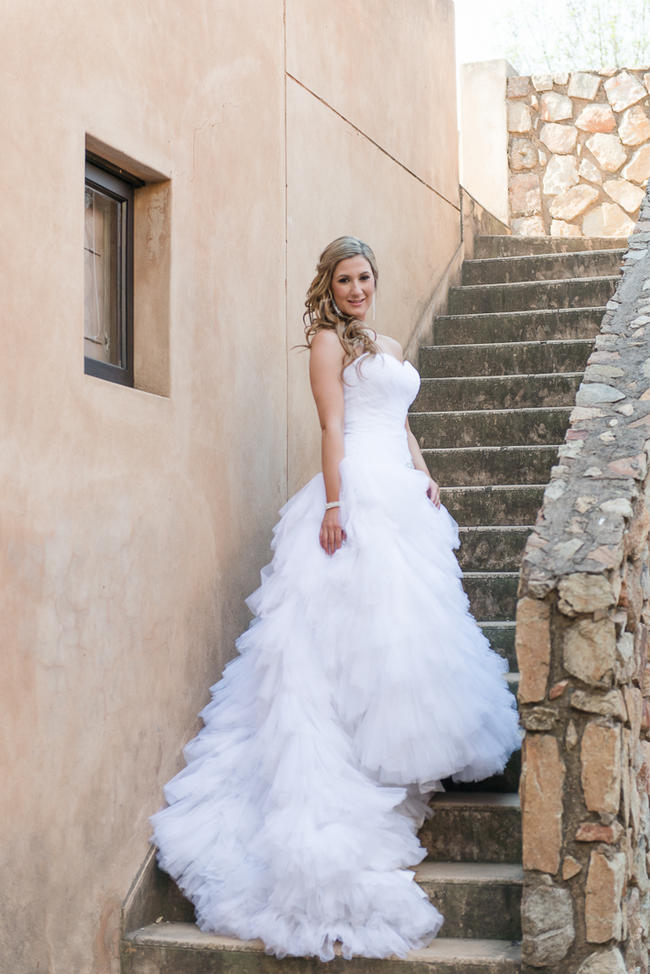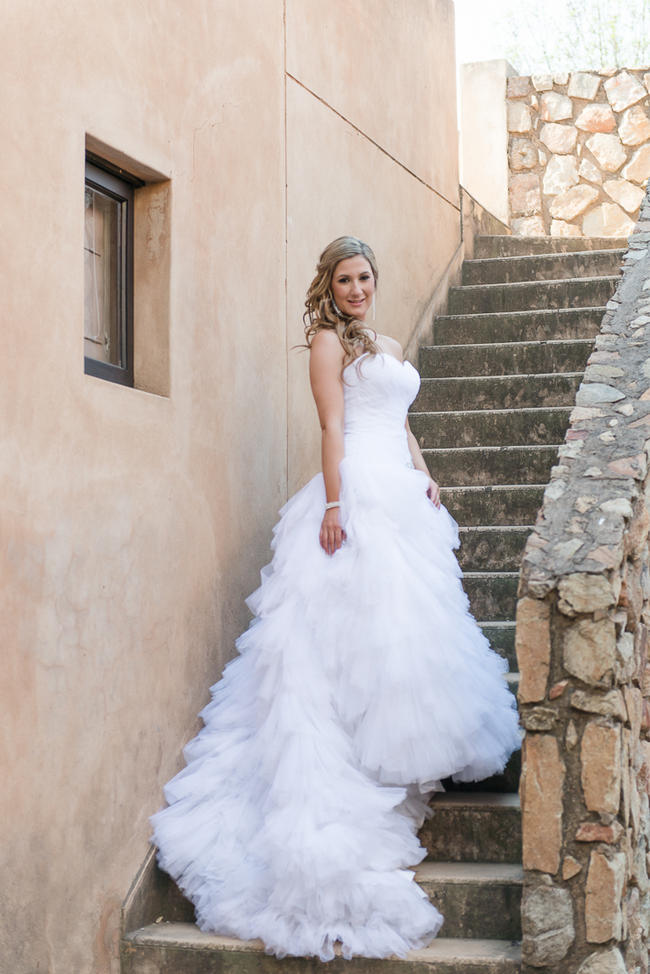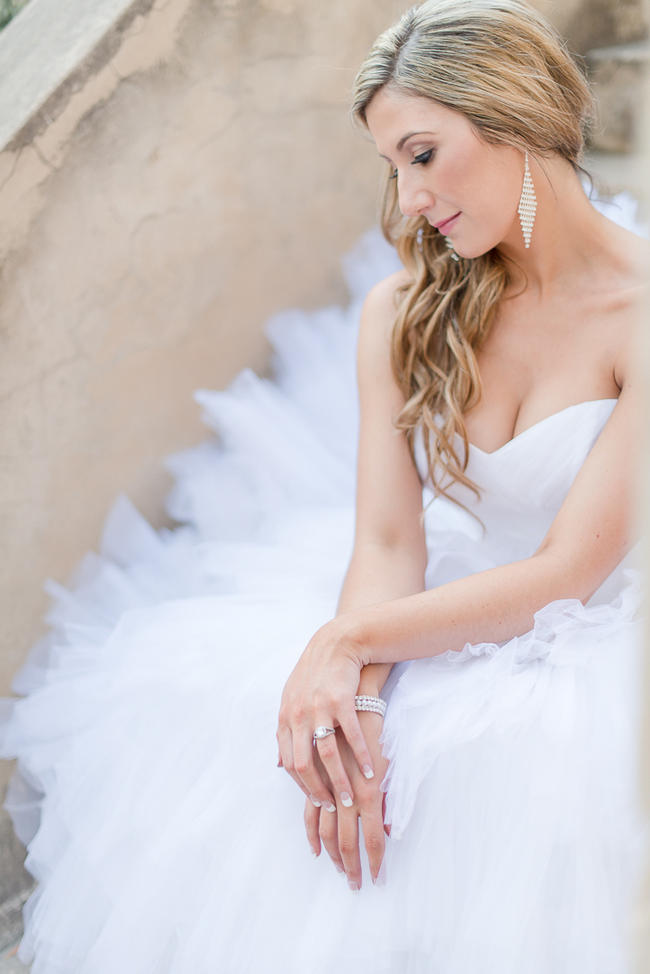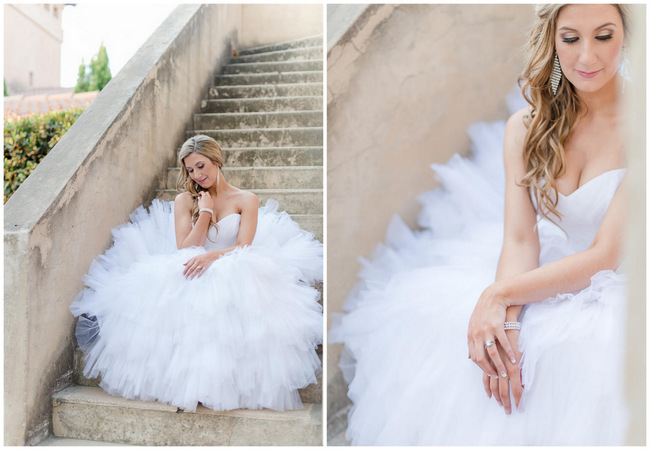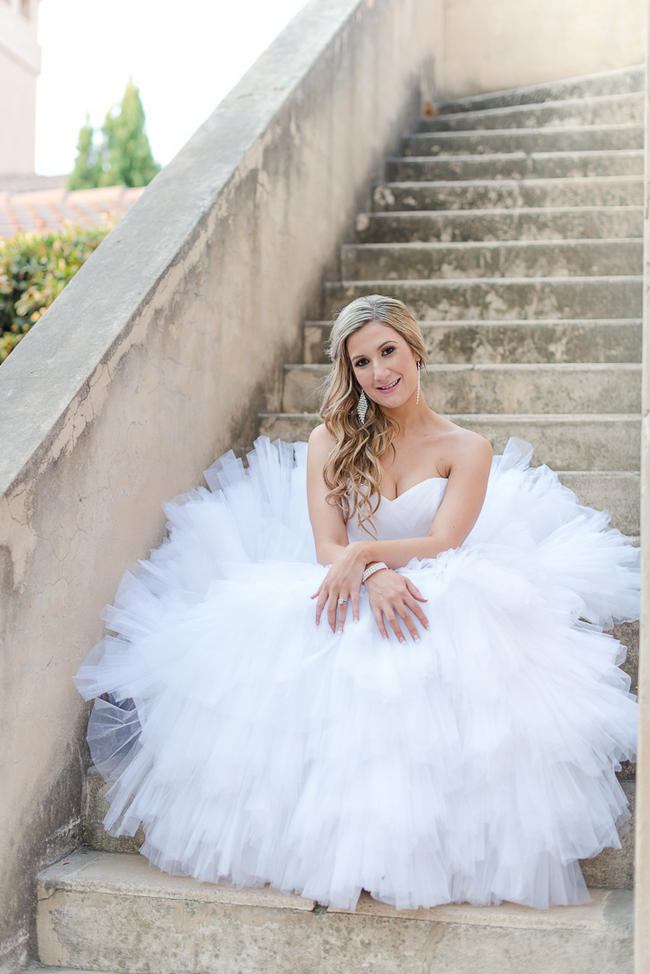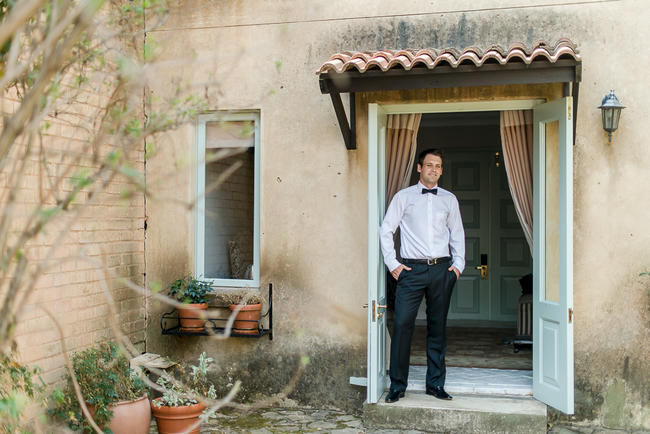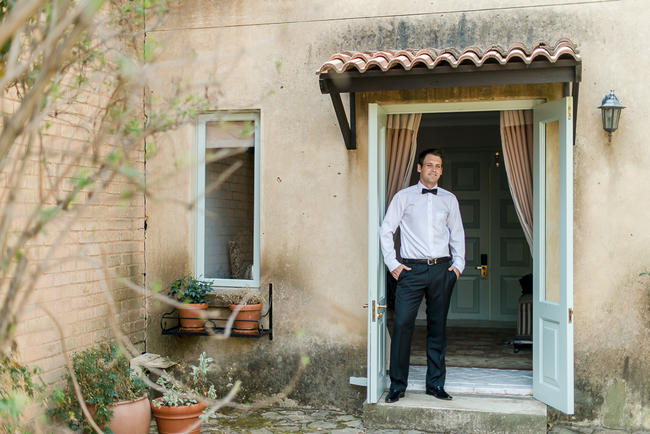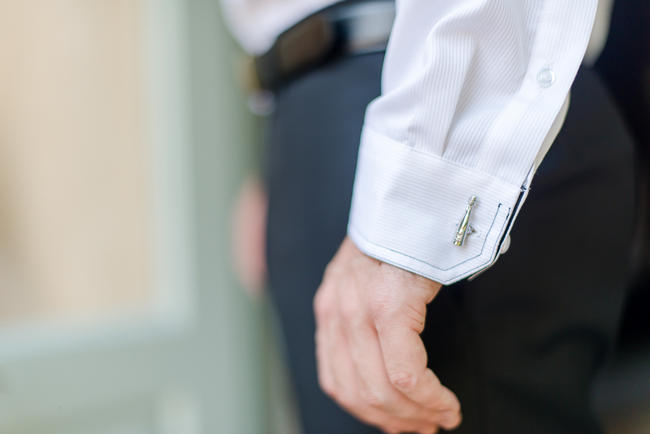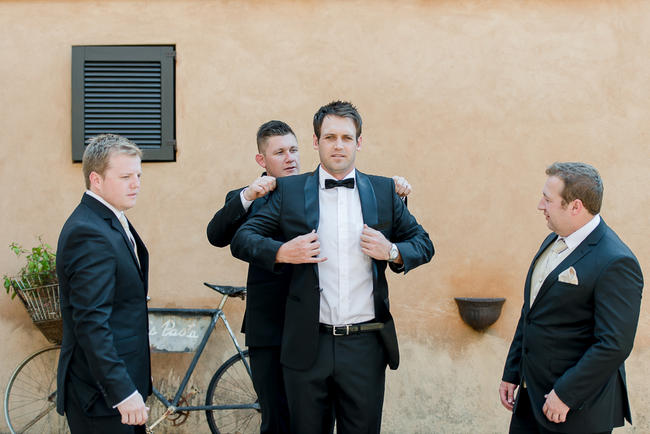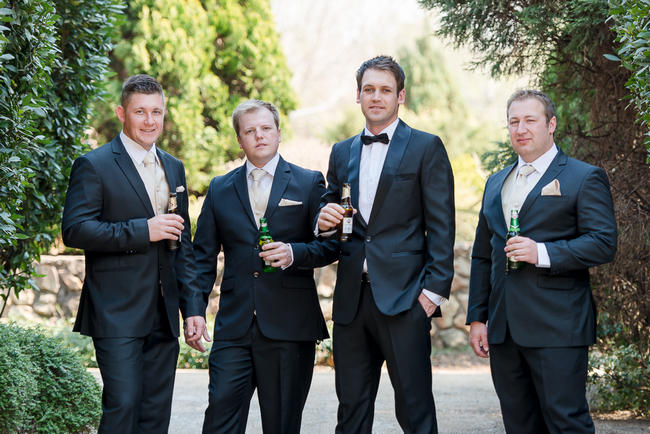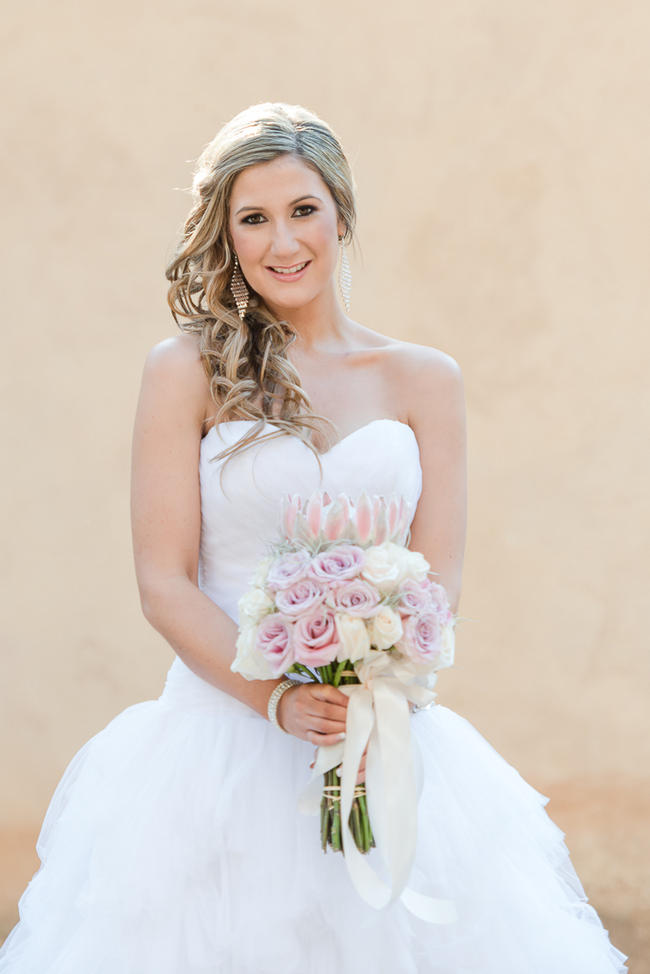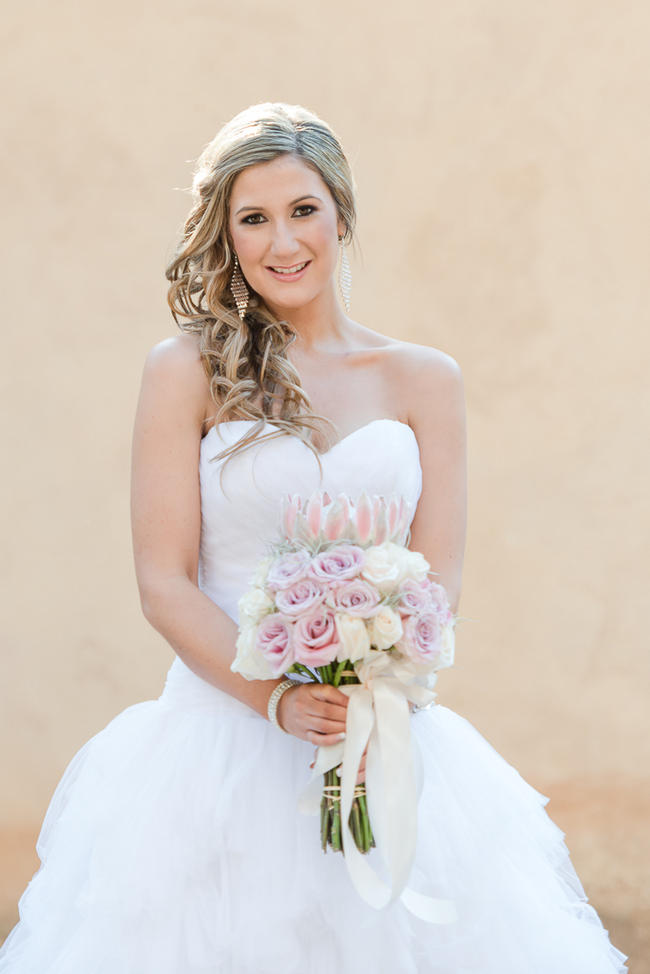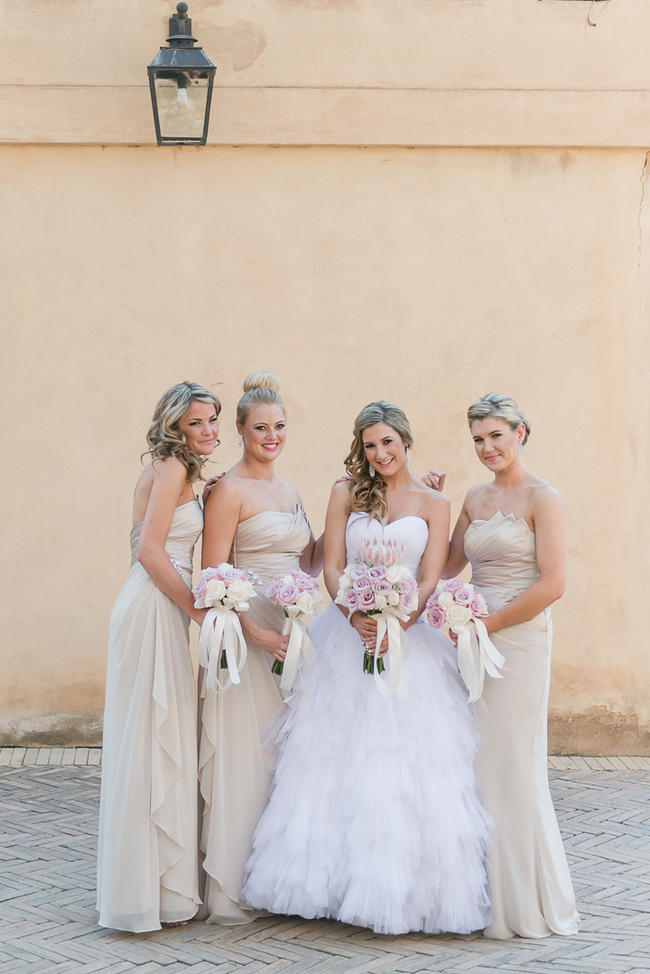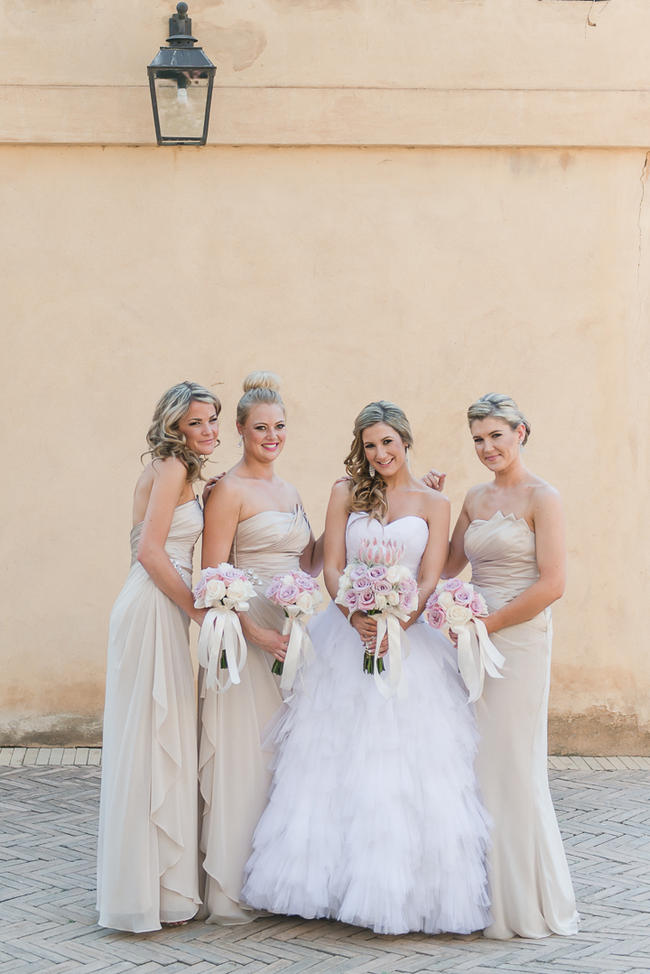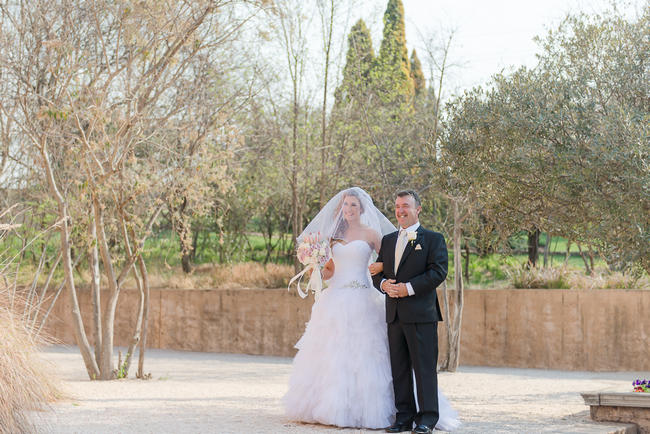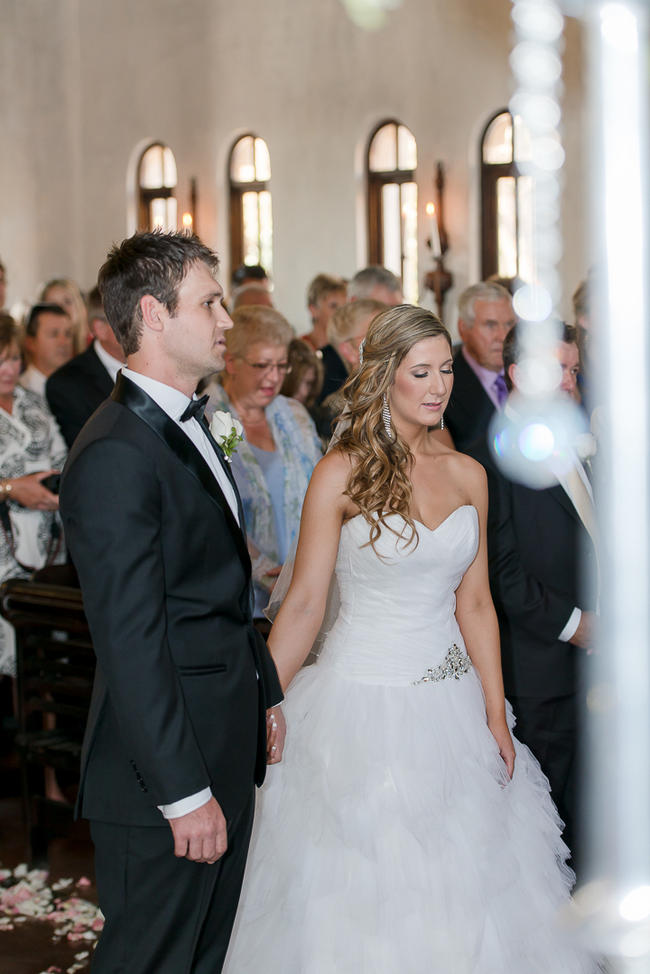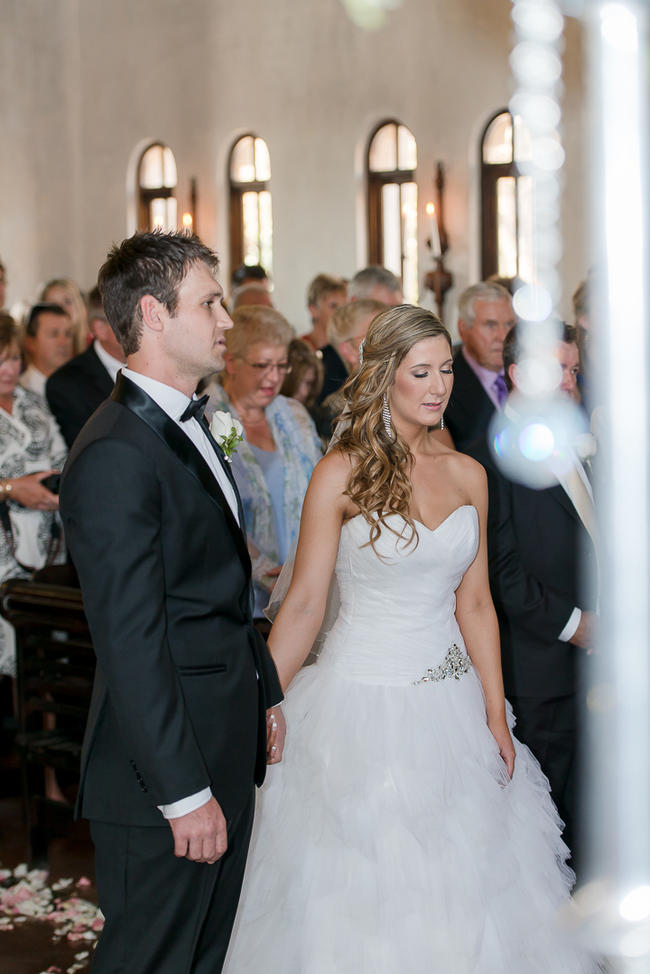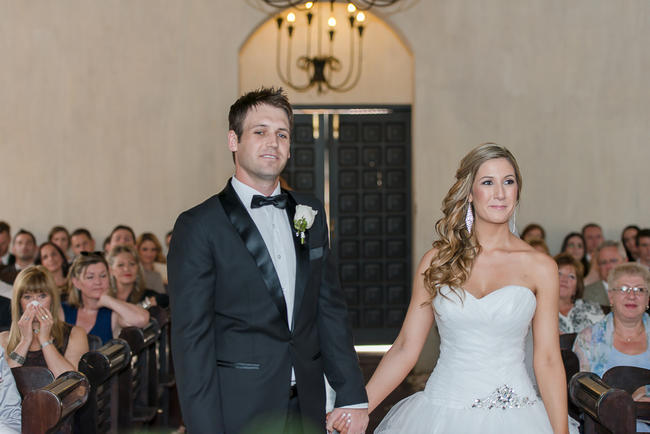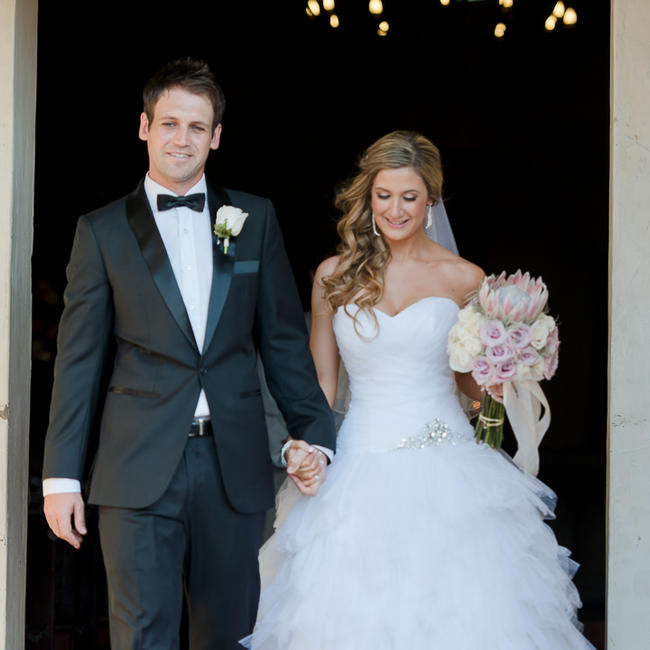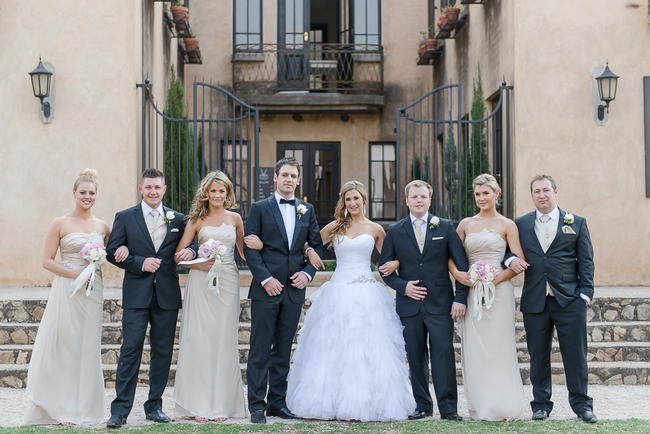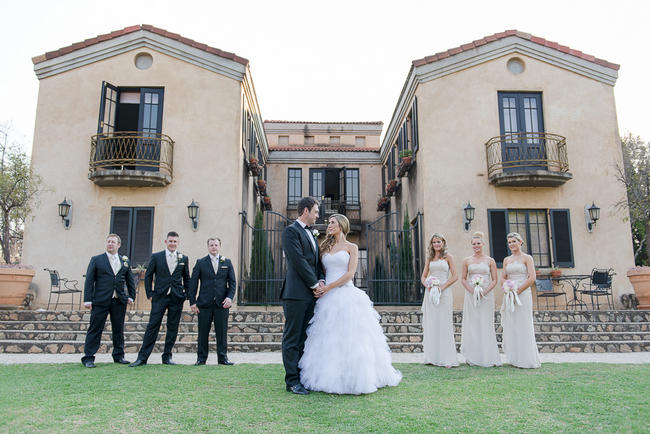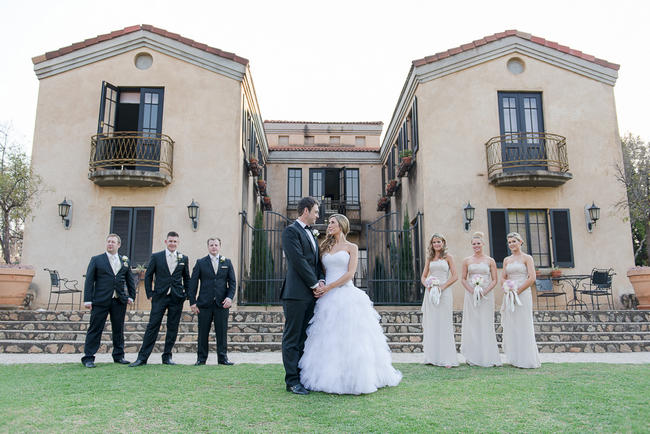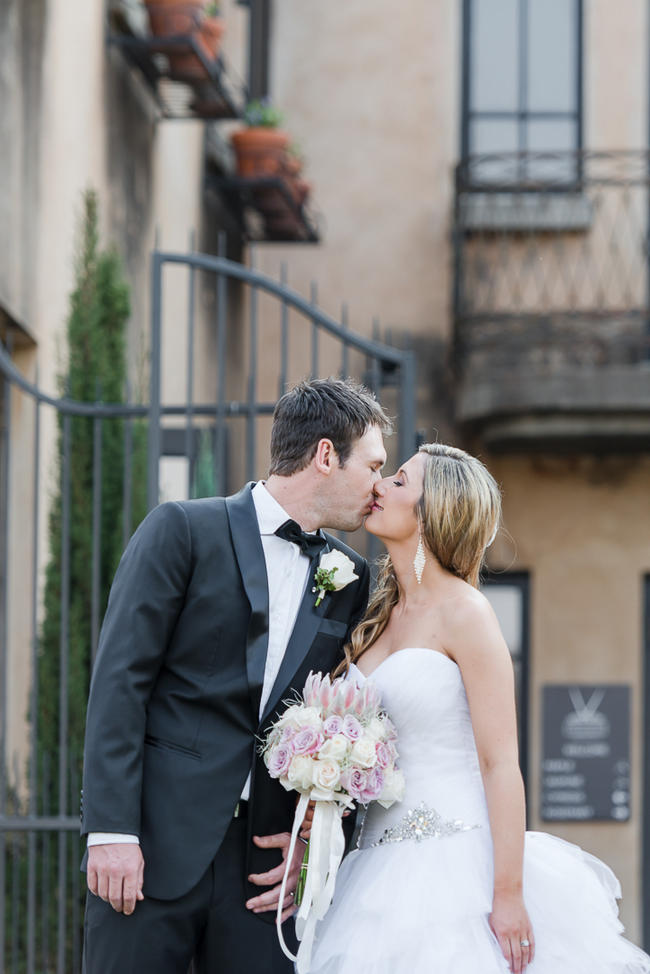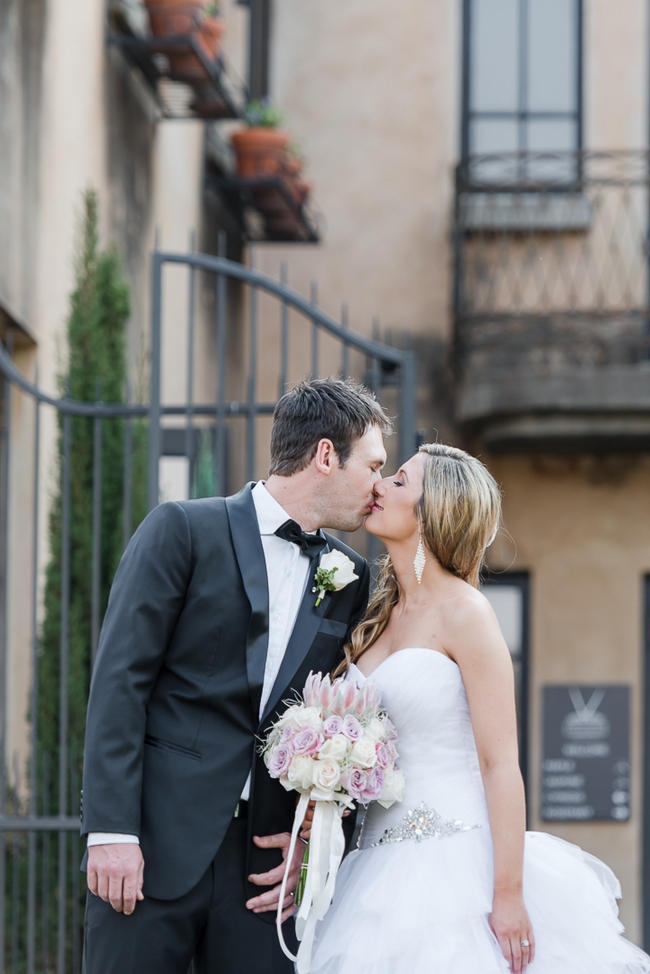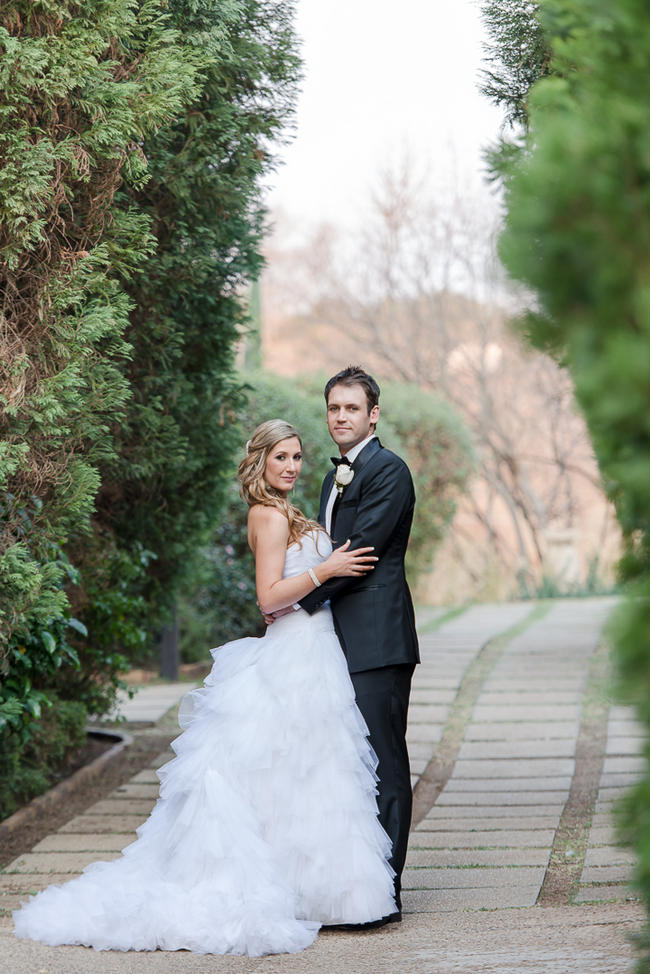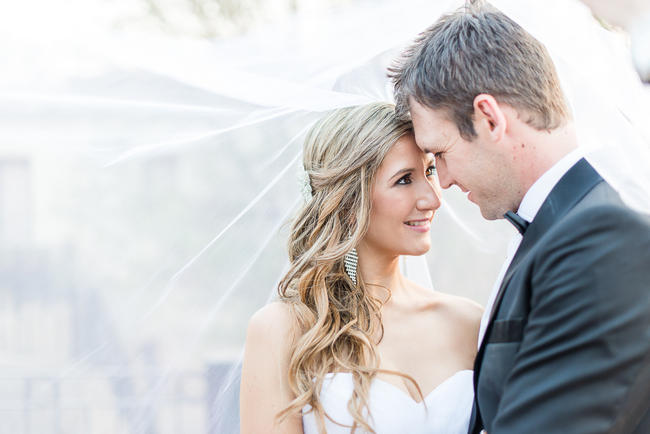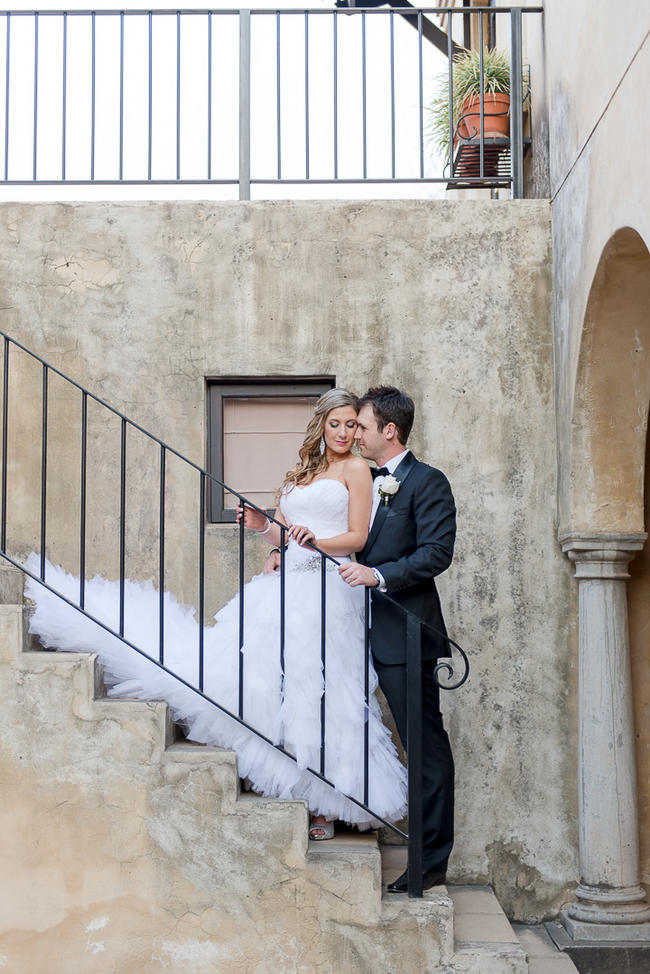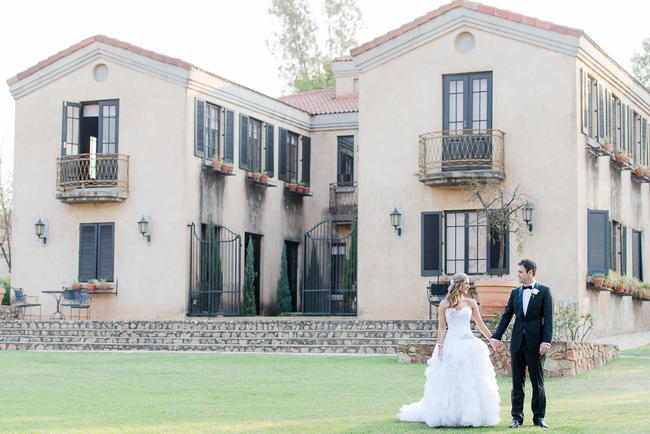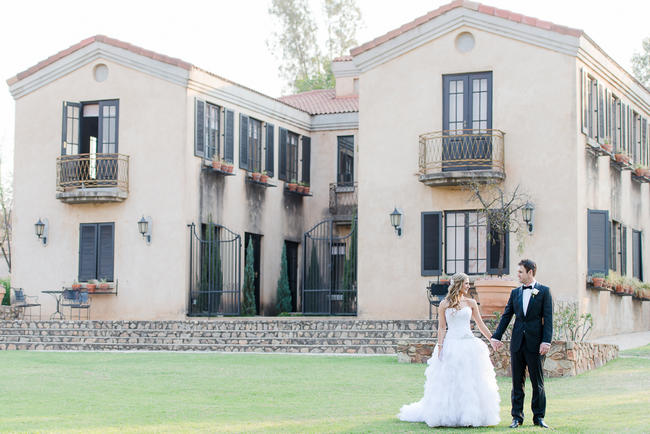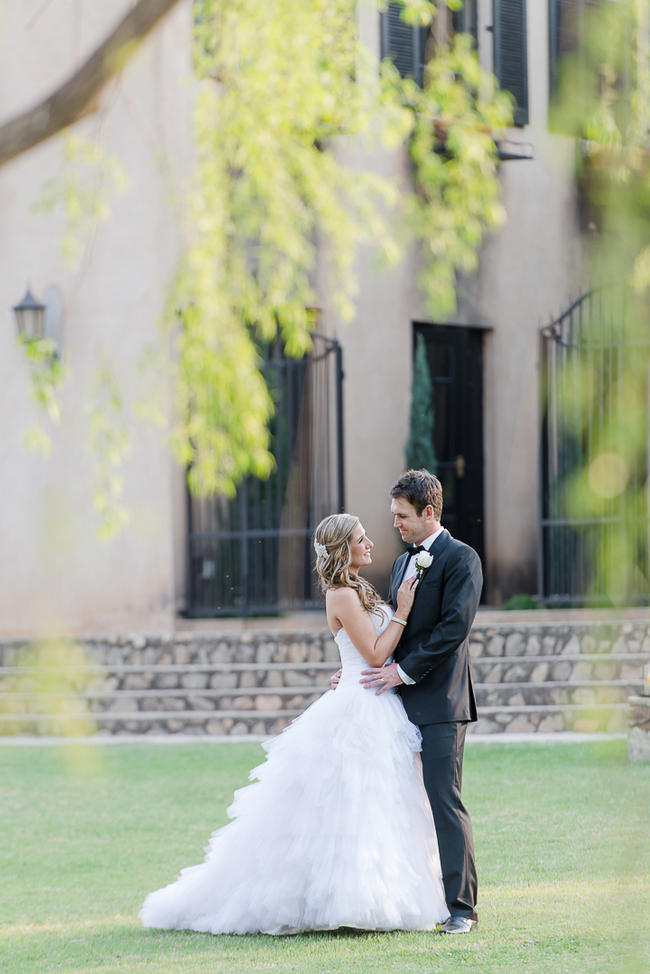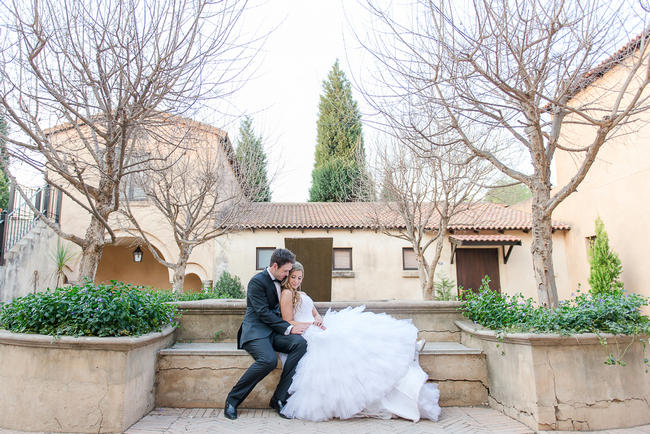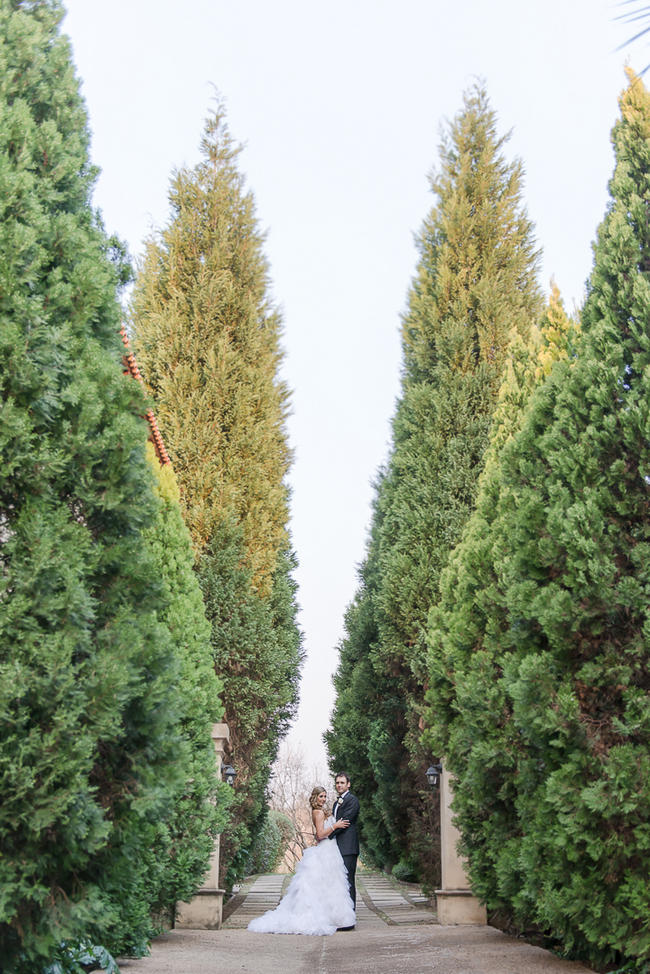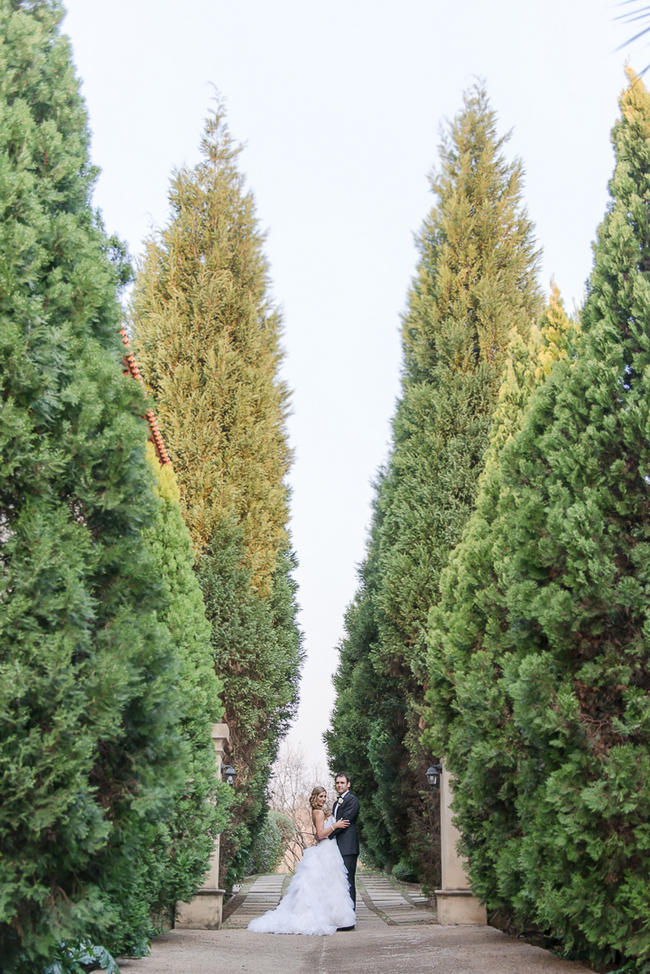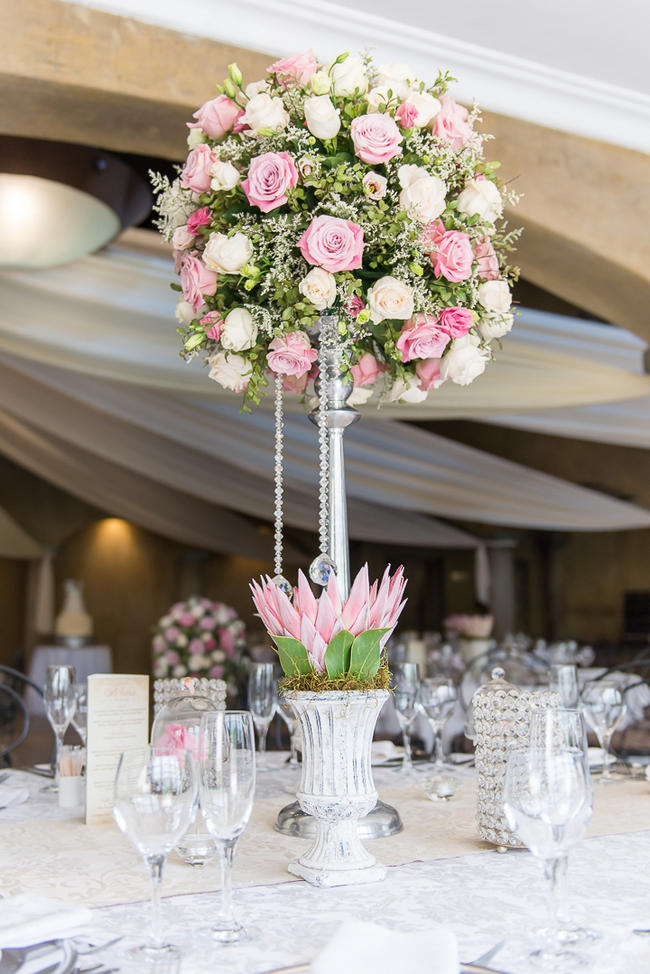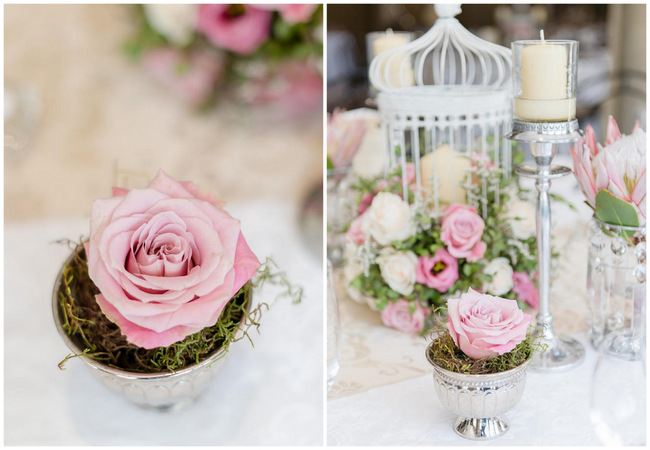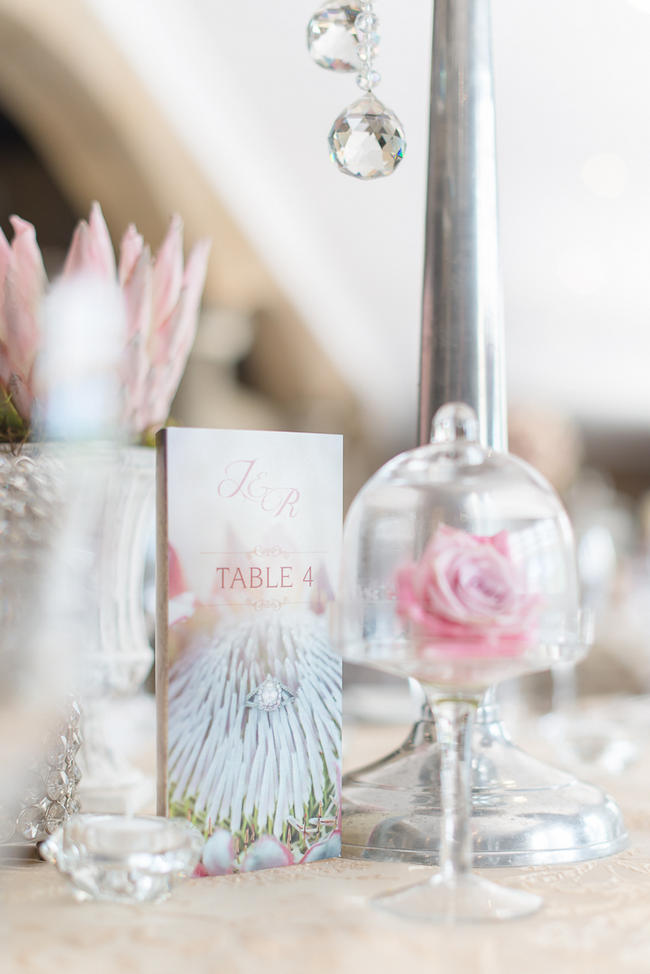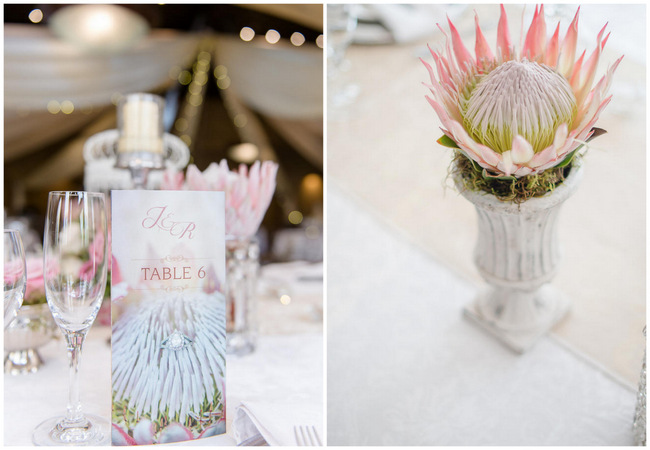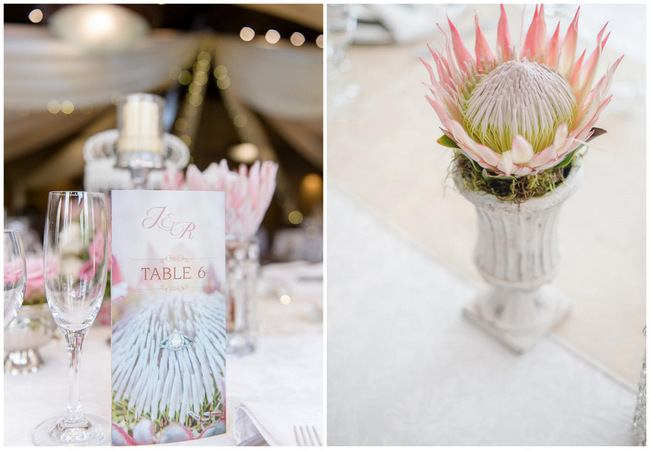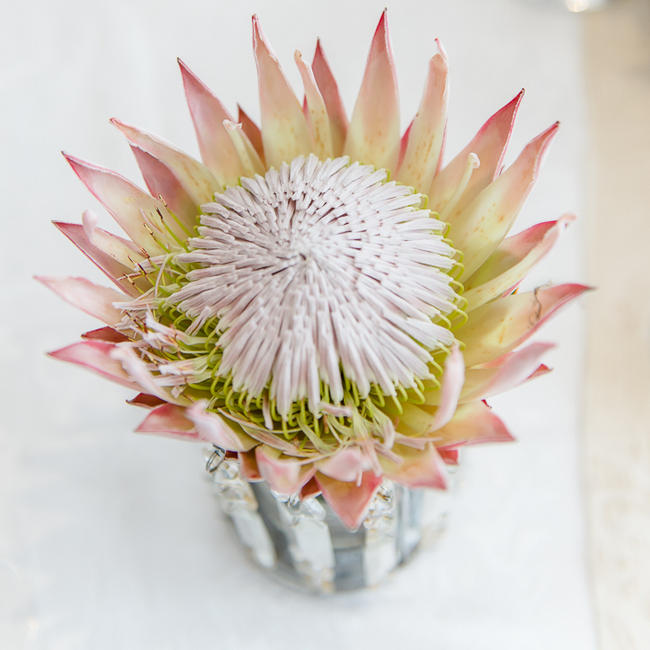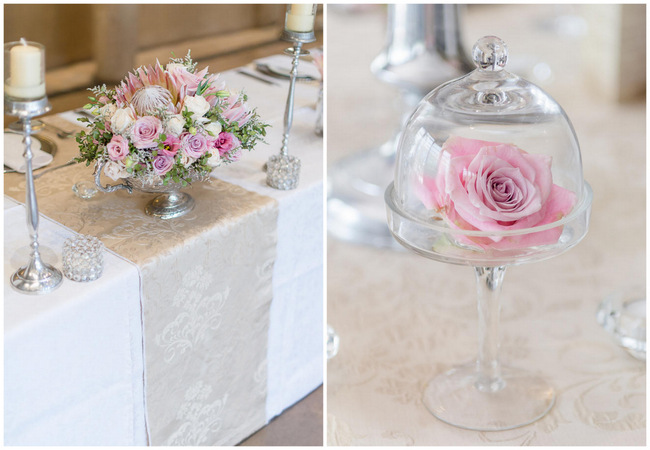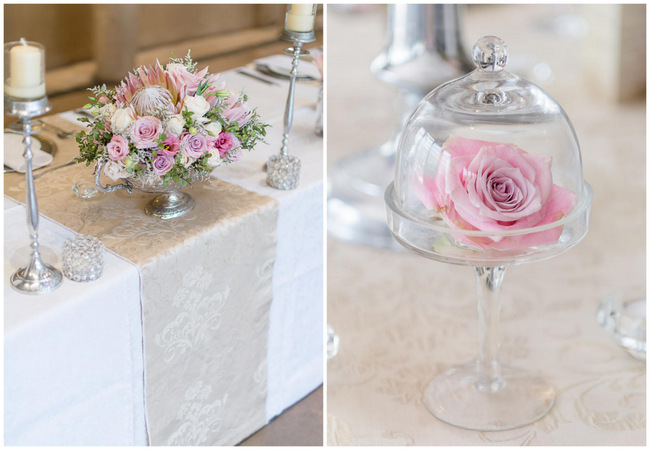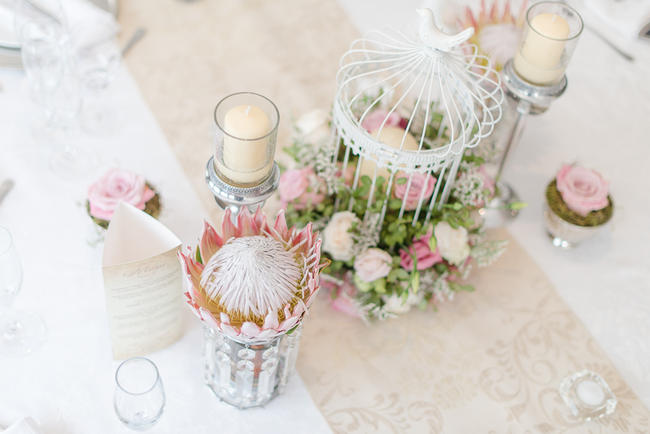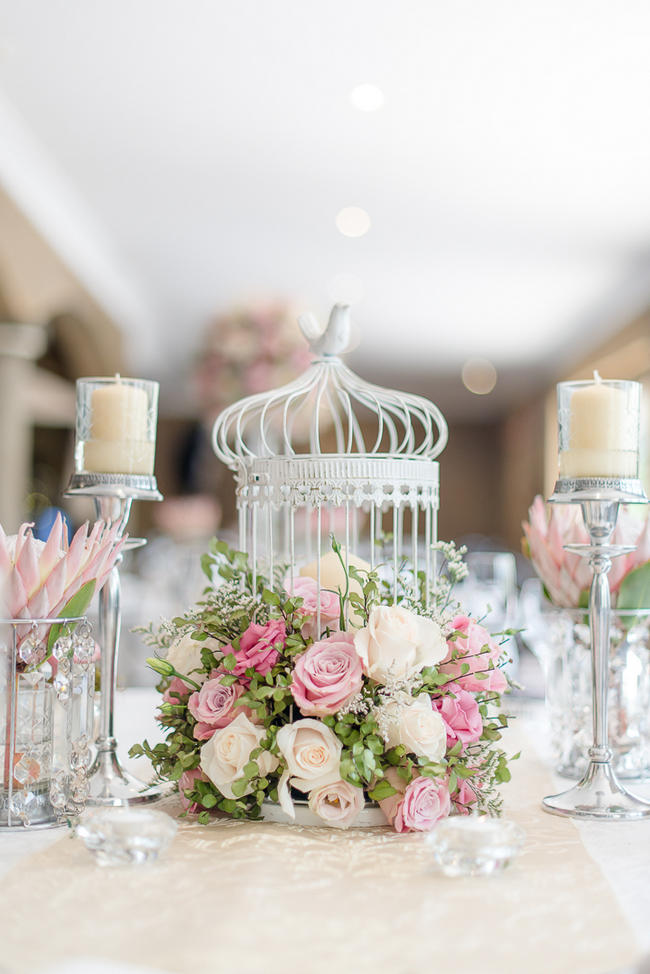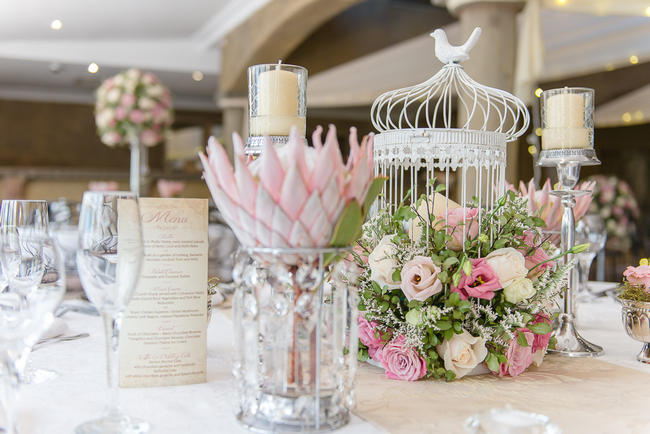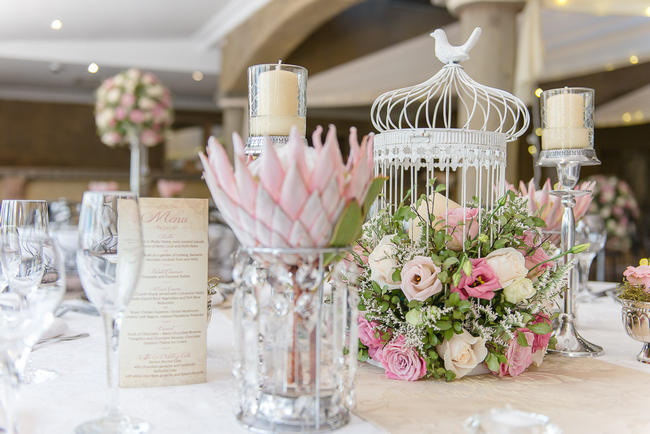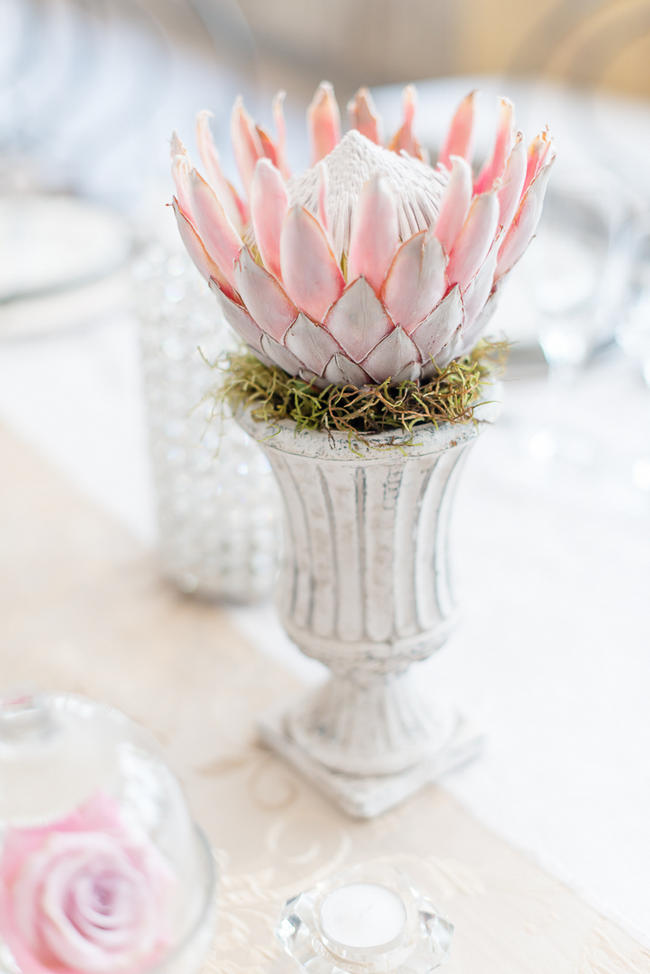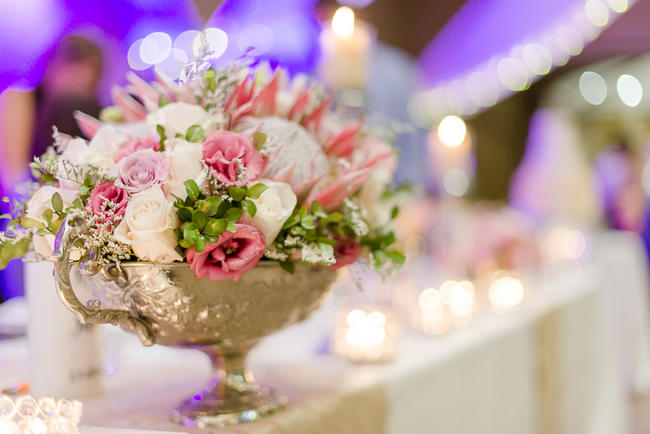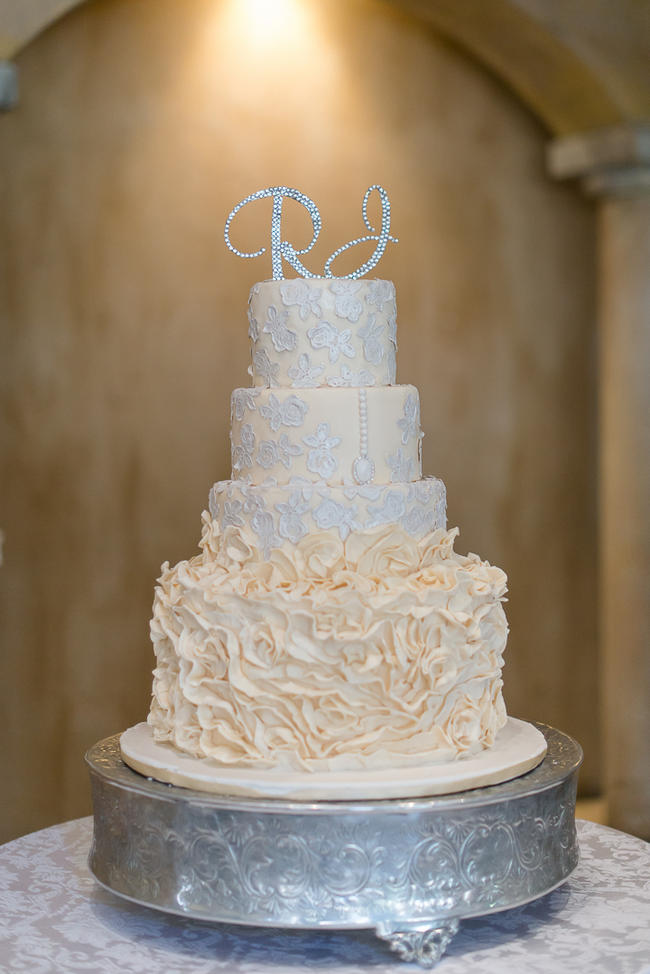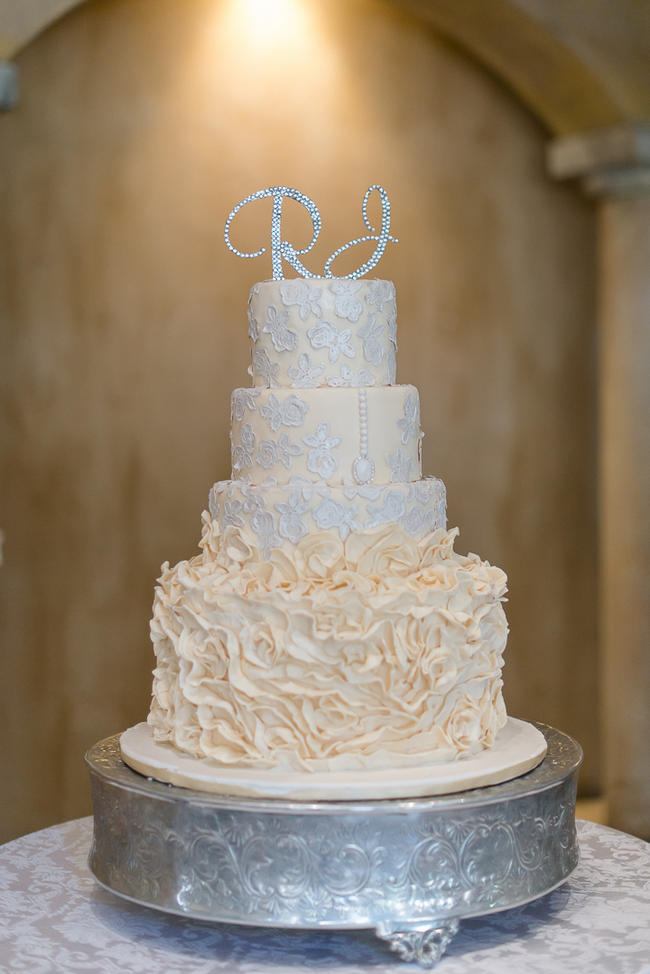 Pink and Cream Protea Wedding
Love Story: Ryan and I have been together for 4 years. We met on a blind date back in 2010 and it was "love-at-first-sight". We both went to the same University and had many friends in common, so it's amazing that we had actually never met before then. Last year, Ryan got down on one knee back in the spot where we first met. He had a little black box and inside was a gorgeous oval diamond ring which he had designed and had made for me – I was speechless when I saw it! He had planned on proposing on our 3 year anniversary, but once he picked up the ring he could not wait any longer and drove all the way from the Vaal to Pretoria to meet up with my Dad and ask permission (a true gentleman), and then popped the question on a random Thursday evening! I had no idea…
Bridal Style: My Mom and I set off wedding dress shopping every weekend in January/ February and I must have tried on about 65 wedding dresses (no lie)… In my head I imagined myself in a sleek mermaid-style dress, I kept going for this style in my fittings but didn't get "the feeling." I went into Olivelli in Centurion and chose another 5 mermaid-style dresses to try on, the assistant pointed out a different style dress and I said "Okay, why not" – without even paying attention to it. When she put it on me and I turned around I was speechless. For the first time, I felt like a "bride." It was a stunning Maggie Sottero gown (Ivanka Marie). It was a dropped waist, sweetheart neckline gown made from beautiful tulle with Swarovski crystal detail on it. I knew it was "the one."
I wore my hair down, styled in loose curls and clipped to one side with a diamanté hair clip. My make up was quite natural, highlighting my eye's. My hair and make up was done by Paint & Pout. My sister-in law did all of the bridesmaid's hair (including her own) on the day, she is amazing at styling hair!
My bouquet had a King Protea in the centre, surrounded by beautiful cream and soft pink roses, and tied together with an ivory ribbon.
Bridal Party Styling: I chose two of my best friends, Laura & Monique, and my sister-in-law, Bronwen, to be by my side on my special day. We found the perfect champagne coloured dresses with diamanté detail at Bride & Co. The long, strapless dresses looked very elegant and complimented my dress perfectly. They all wore the same dress but did their hair differently, in the way that was most comfortable to them. Their bouquets were made up of beautiful cream and soft pink roses (to match mine), and tied together with an ivory ribbon.
Ryan also had two of his best friends, Gareth & Ashley, and my brother, Steven, as his groomsmen. They all looked very smart in their black suits and champagne coloured ties & waistcoats
Groom Style: Ryan looked so handsome in a custom-made tuxedo made by Maverick Style Wear. A tux is such a timeless look and never gets old. He didn't see my dress before the wedding, and I didn't see his suit until I walked into the Chapel.
Wedding Ceremony: Our ceremony was held at Avianto's Chapel. We had a Catholic wedding ceremony – but the condensed version (30 minutes) as we respected that most of our guests were not Catholic. The bridesmaids walked in to Lana del Rey's "Young & Beautiful" – my favourite song. I walked down the aisle to the traditional Wedding March. We said our vow's facing the crowd.
We lit a unity candle to symbolize the union of two hearts and lives. The Chapel was decorated with the same flowers and décor as our reception – soft pink and cream roses & King Protea arrangements, crystals and rose petals along the aisle. We had personalized order of service booklets made for guests to follow the ceremony which was a nice touch. We had bubbles and rose petals for confetti as we walked out of the Chapel
Wedding Readings: Corinthians 13: 4 – 7: Love is patient, love is kind. It does not envy, it does not boast, it is not proud. It does not dishonor others, it is not self-seeking, it is not easily angered, it keeps no record of wrongs. Love does not delight in evil but rejoices with the truth. It always protects, always trusts, always hopes, always perseveres.
Guest Book and Seating Chart: Lily Young designed our wedding stationery. I was thrilled with how beautiful it all came out. We used our engagement photos to personalize our wedding invitations, order of service booklet, seating chart and menus. We had a guest book made by our photographers with our engagement photos which people wrote special notes in – it was so nice to read everyone's messages after the wedding was over. The stationery came out perfectly and set the whole scene for the wedding from when the invitations were sent out.
Wedding Reception Details: Just after sunset we entered the reception hall for the celebrations to begin. The draping and the tables looked absolutely stunning, done by Event Inspirations. We had two different table themes – one with tall centerpieces and another with bird cage centerpieces. Our photographers had set up a photo booth with fun props which was a big hit with the guests and made for great photos. The bridesmaids, groomsmen, my Dad and Ryan all said speeches. This was quite emotional but we also all had a good laugh! Ryan and I had our first dance followed by the father-daughter dance. The dance floor then opened and the guests wasted no time in getting up there. Our DJ did an excellent job in making sure the dance floor was packed the entire night. Our wedding went on until 2.30am the next morning and everyone had a fantastic evening! I couldn't have asked for a more perfect day!
Wedding Playlist: We walked into the reception hall with "On Top of the World" by Imagine Dragon's playing. It is such a fun and happy song and Ryan and I had often sung along to it while cooking, driving into the car etc. Ryan and I had our first dance to John Legend – All Of Me, I just love the words of the song. My Dad and I danced to Van Morrison's Brown-eyed Girl because I am, and always will be his brown-eyed girl.
Advice for Brides:
I am a highly organized person and got most of my planning done early which was great because the last month or two can get quite stressful. The most difficult part was definitely putting together the wedding guest list (and realizing that you cannot possibly invite everyone), and then sorting out table placements. But in the end it all works out. After planning a wedding myself I realized how much effort and time goes into it, but I loved every minute of it and enjoyed the quality time I got to spend with my Mom and bridesmaids.
It is very easy to blow the budget when it comes to planning a wedding. Everything seems to cost three times what you are expecting. I think that brides need to sit down and draw up a budget and then see what is most important to them and what they can cut out / scale down on, and still have their dream wedding. It is tough! I saw a cake that I absolutely loved at a wedding expo, but the supplier was way too expensive for my budget. A friend of mine recommended a lovely little bakery which she always uses. I met with them and explained how I wanted my cake to look and they did an amazing job (even better than the original) at less than half the cost – and the cake tasted delicious! I was lucky enough to have a lot of support from my amazing parents as well as my in-laws.
Pretty Pink and Cream Protea Wedding Video
     ♥ ♥ ♥ CREDITS ♥ ♥ ♥