Magical Mint & Coral Wedding Perfection ♥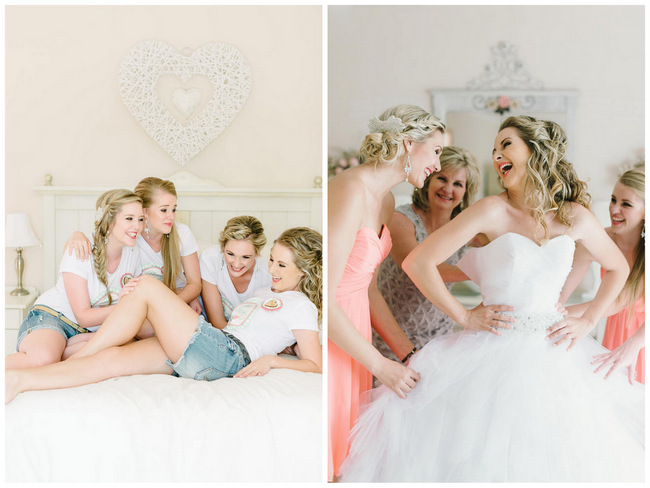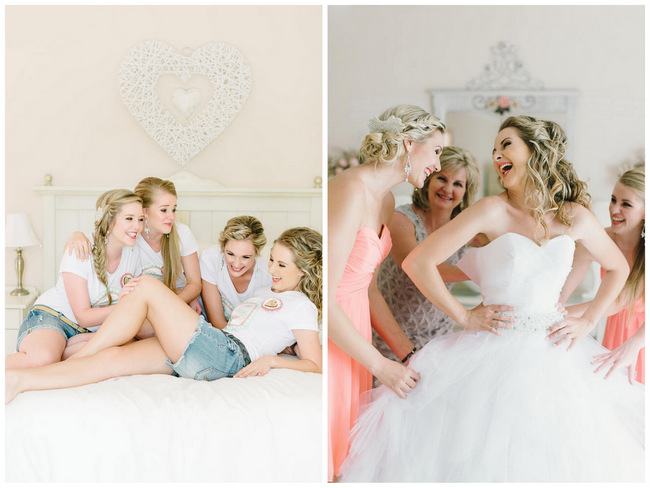 A mint and coral wedding palette can do no wrong in my books – such a fresh, modern, playful and feminine combination! Plus, which bride doesn't look great in a cute coral coloured lipstick? Of course, when you're as easy on the eye as today's bride, Chené, I think pretty much anything would look great on you. No doubt her dapper groom, Bernhard, aka Berries, would agree.
The pair held their mint and coral South African Wedding at Zakopane Country Village, which was decorated with flowers by Polkadots and Petals accompanied by meters and meters of personalized mint and coral bunting.  Berries and his groomsmen wore  specially designed Kudu brooches, looking especially stylish in his grey suit and bowtie. Chené, her bridesmaids, and the couple's mothers, wore custom getting ready t-shirts and brooches created in white, coral and mint. I absolutely adore the popcorn and candy floss stall which made for such sun bridal party photographs captured by the one and only Louise Vorster Photography. I know you're going to love today's wedding because the details, the couple and all of the totally fun photographs snapped by Louise are a dream. Oh, and if that weren't enough, we can swoon over even more of their big day details in the wedding highlights video captured by Motion Craft Films. Yipee!
"I love detail so I wanted to have special little things," explains Chené. "We wanted our wedding to be a special representation of us as individuals but most importantly the two of us as a couple. We had so many of our favourite things at our wedding! From my wedding dress to my coral shoes, everything I wore was an exact representation of myself and what I have envisioned myself wearing while walking down the aisle. One of the most special and personal parts of our wedding were the heartfelt speeches and blessings from family and friends."
 Mint and Coral South African Wedding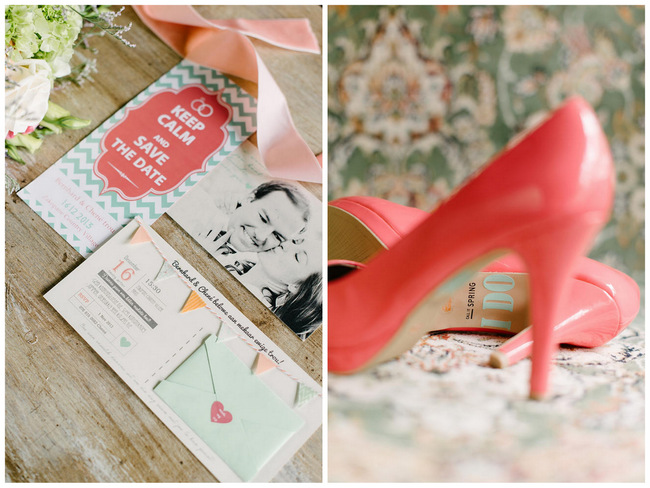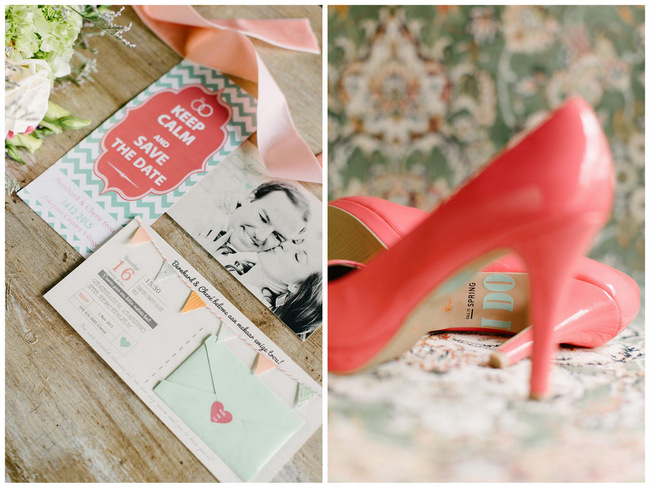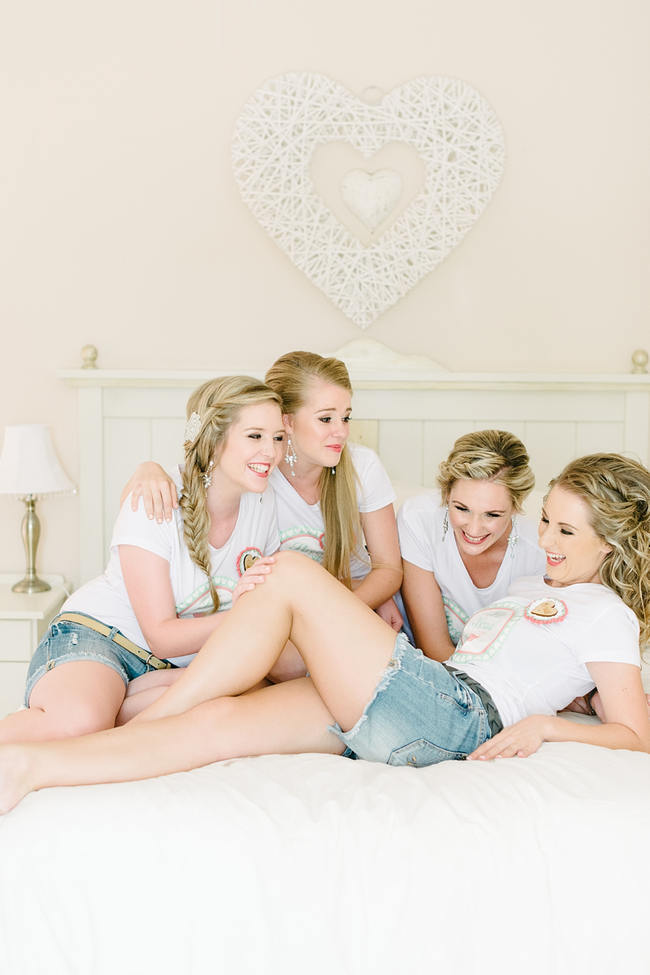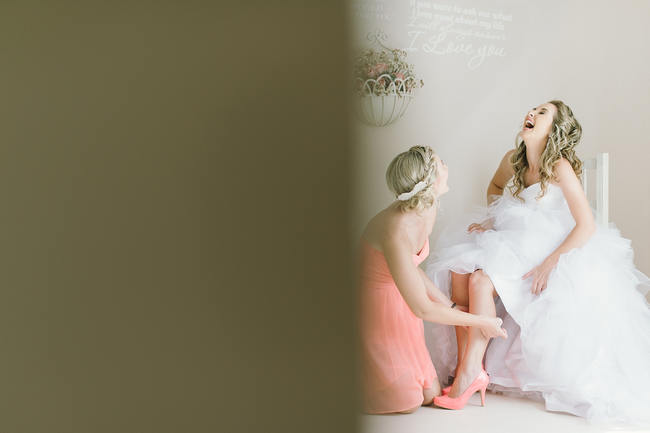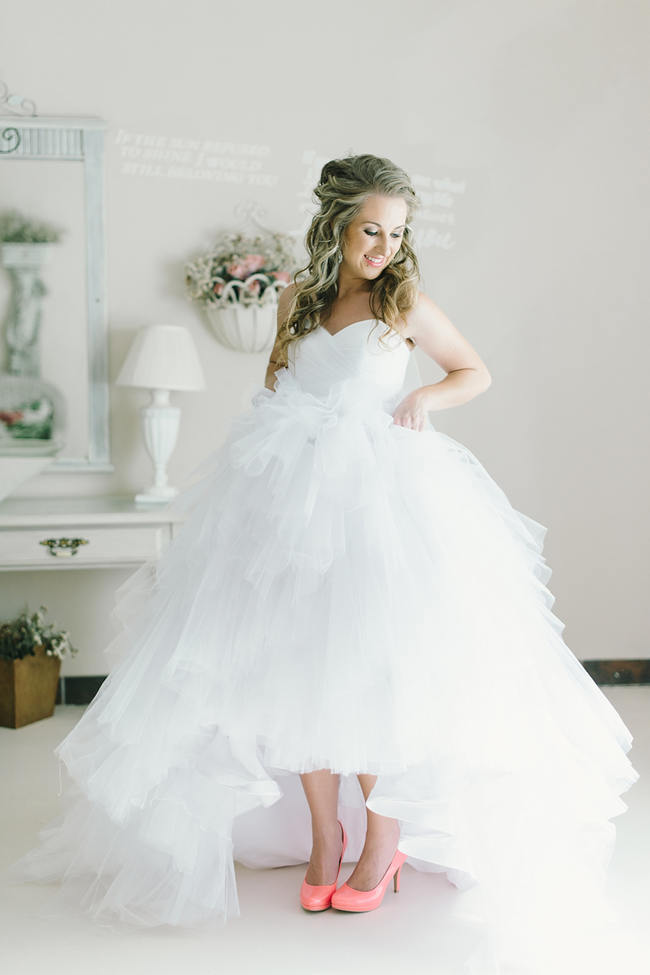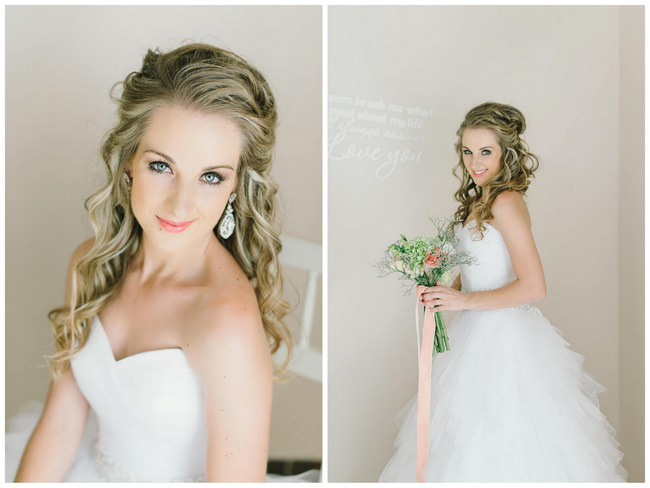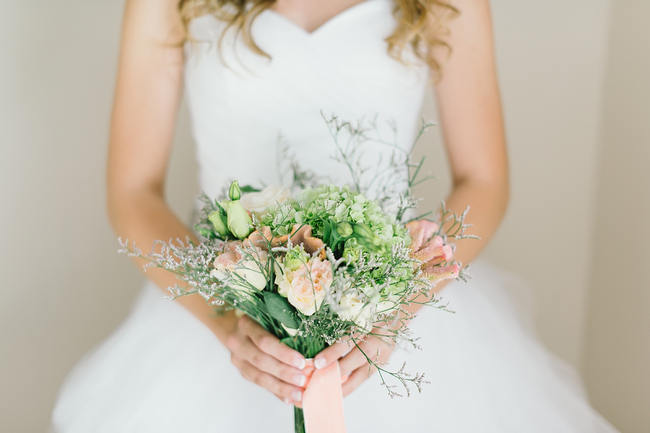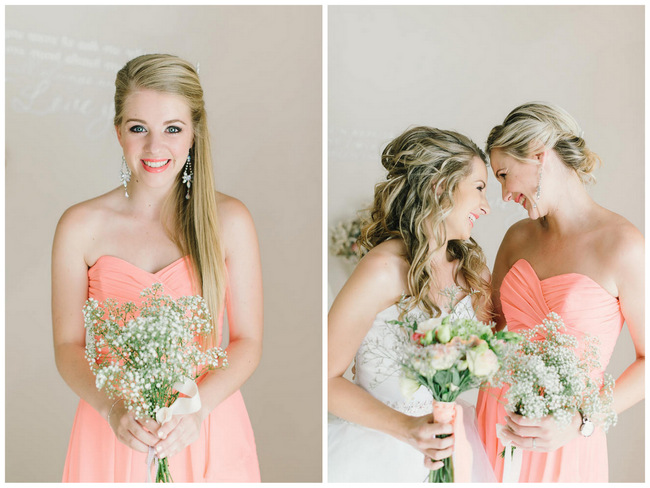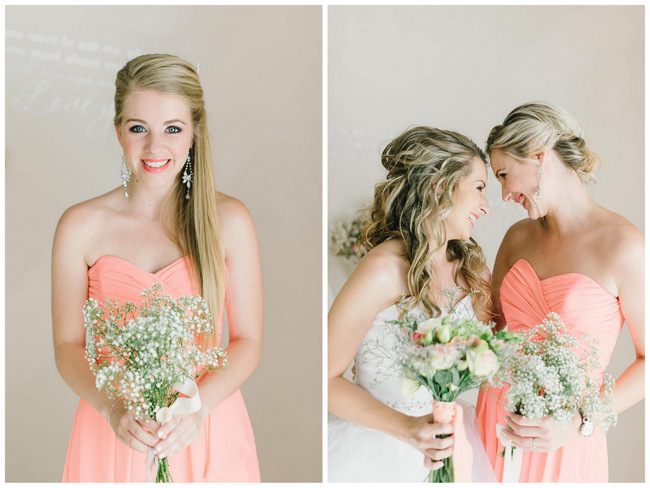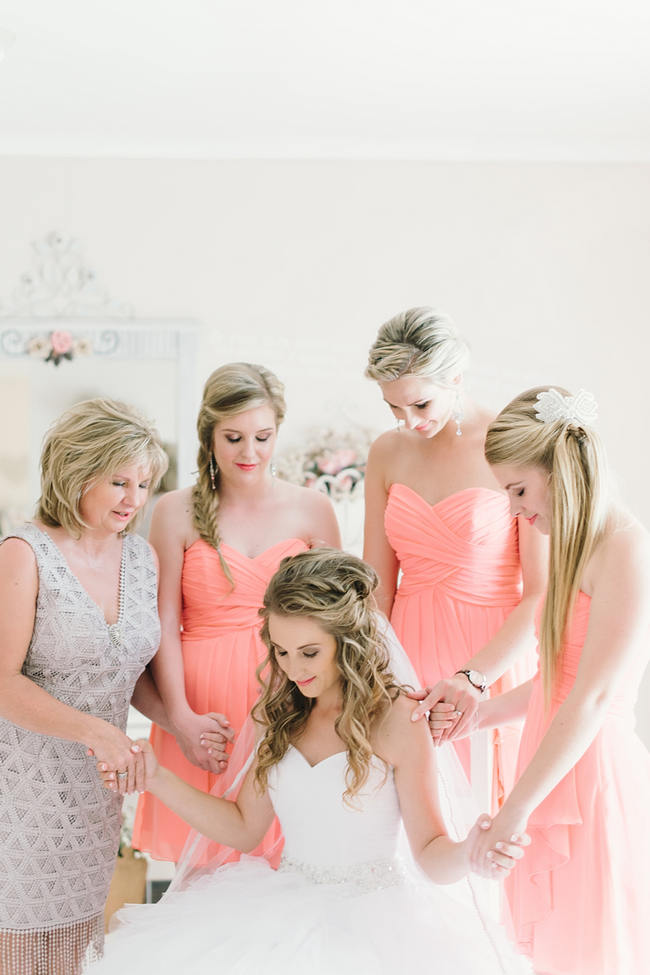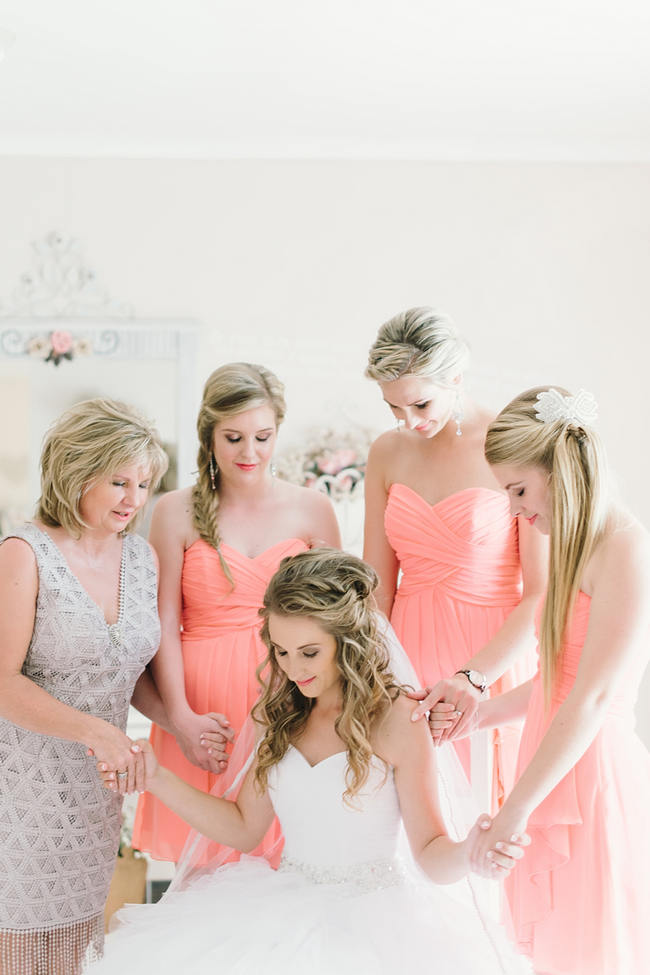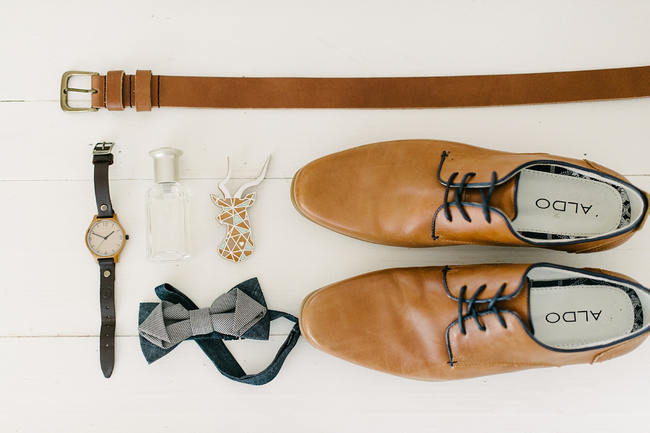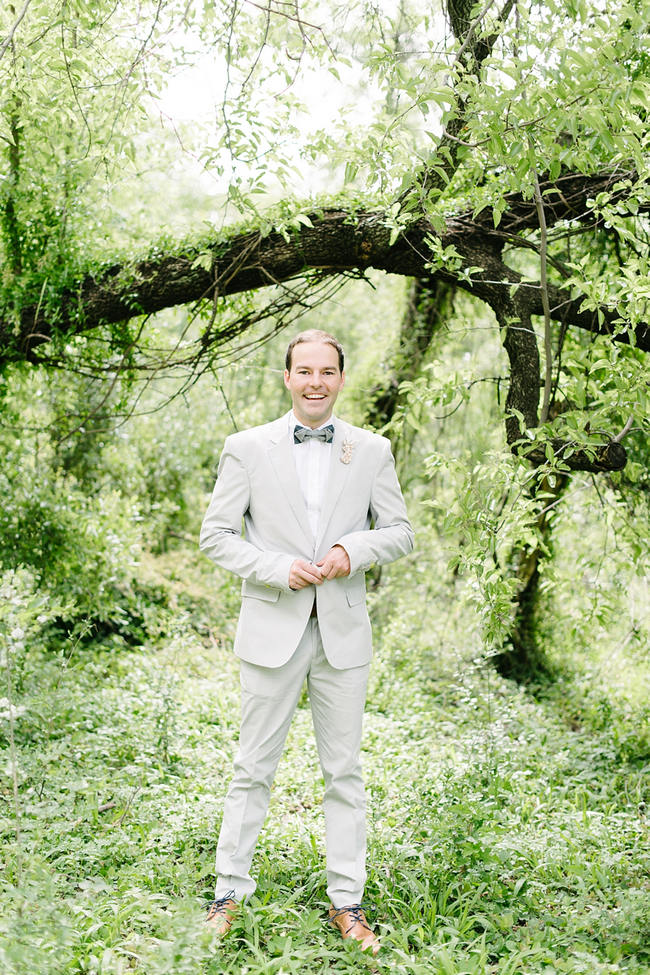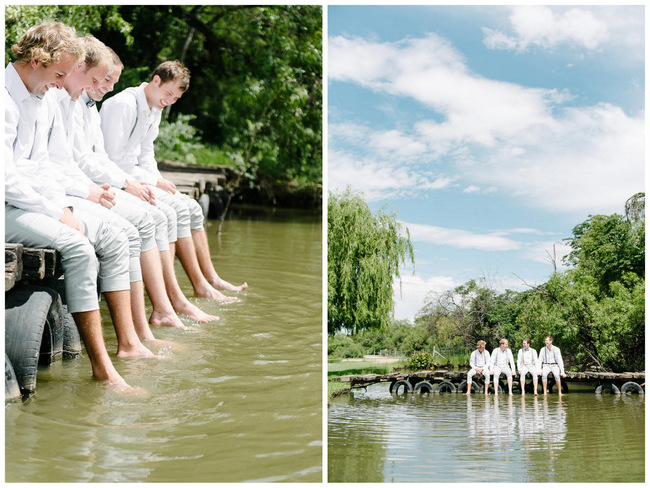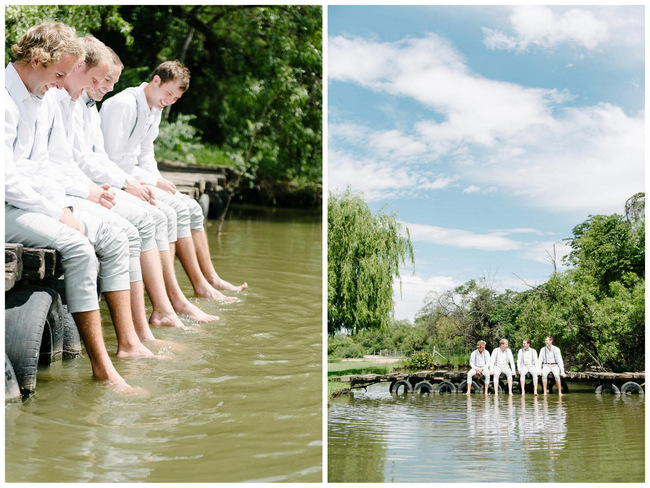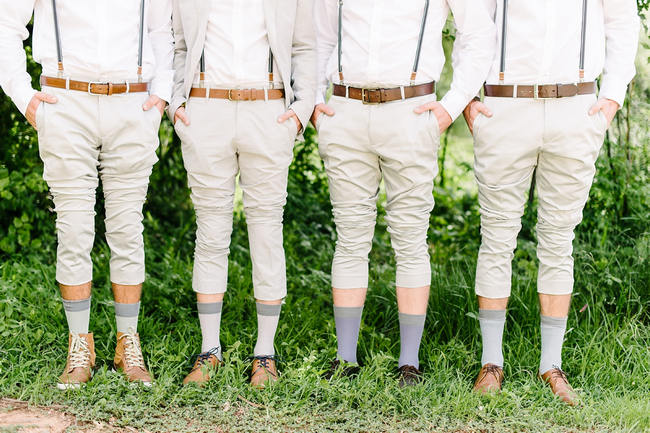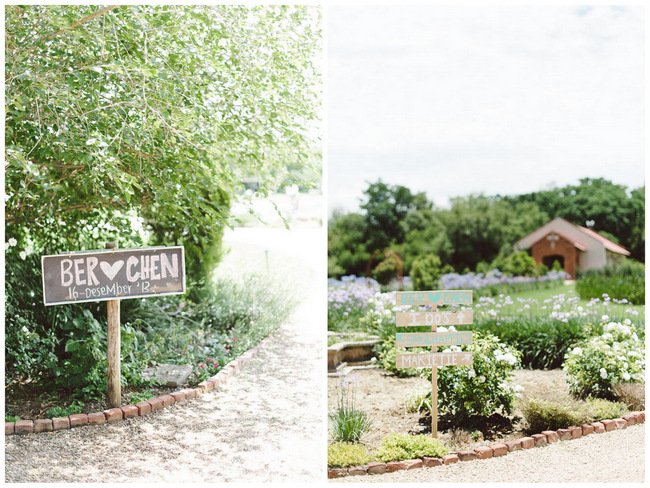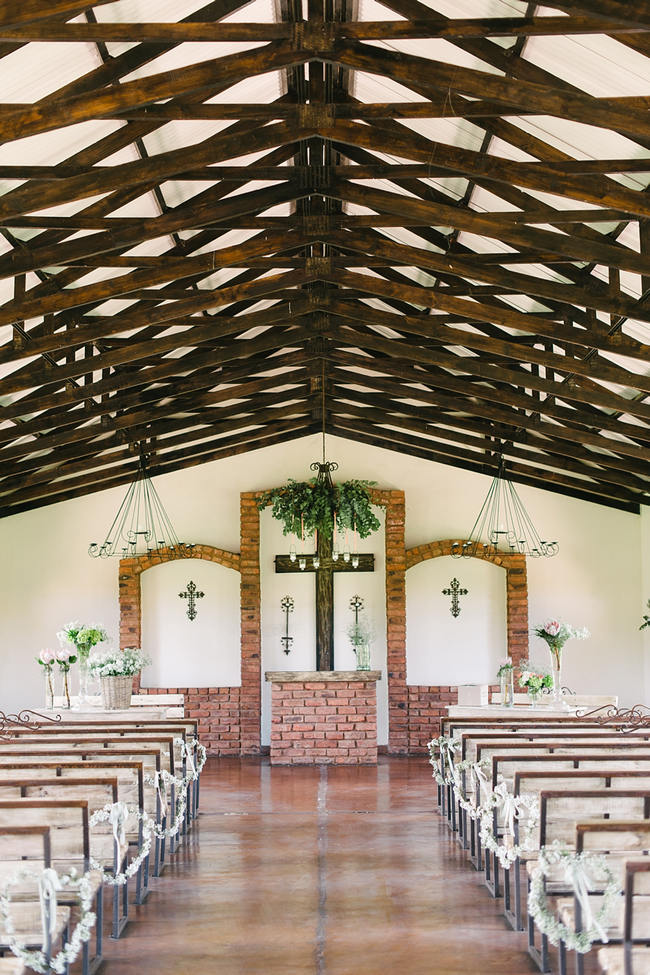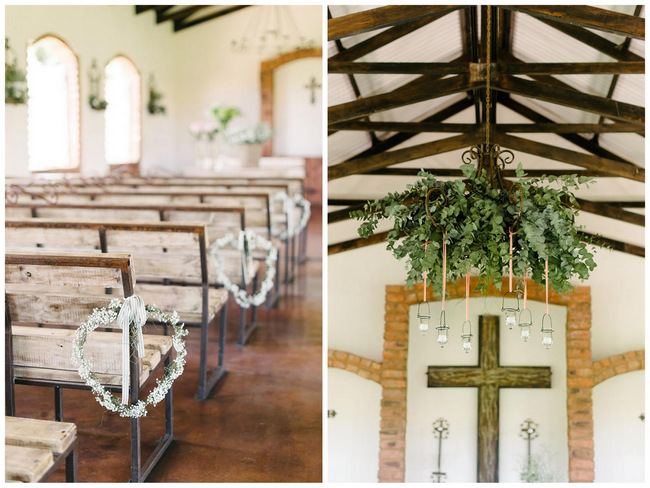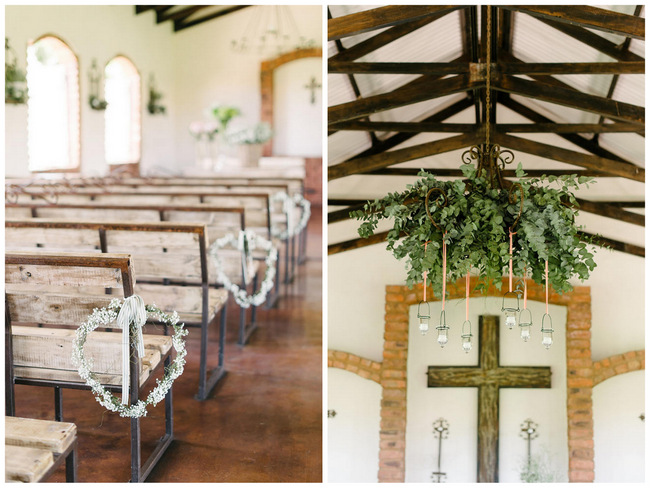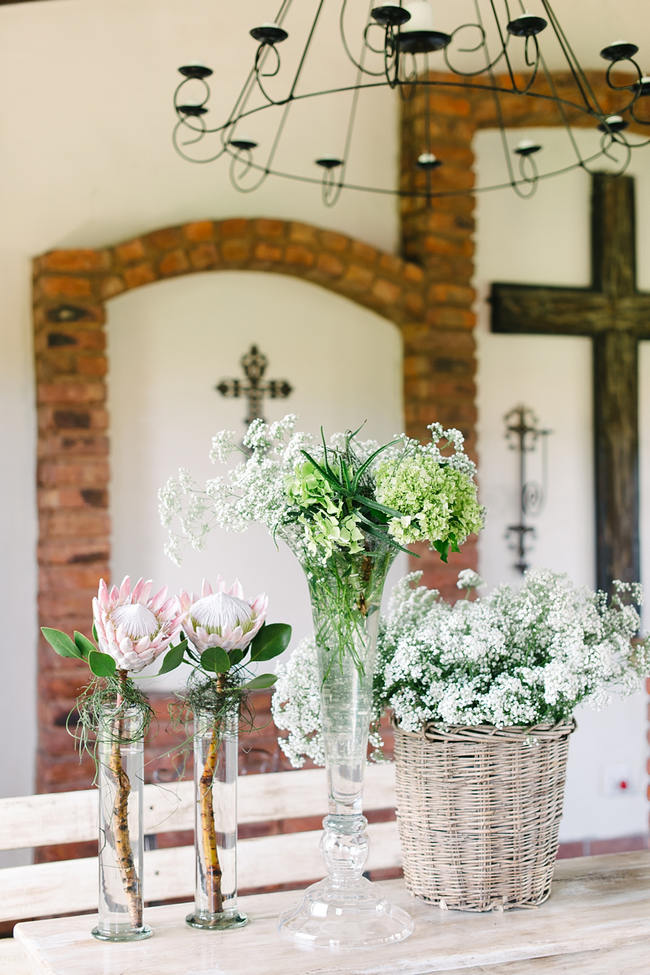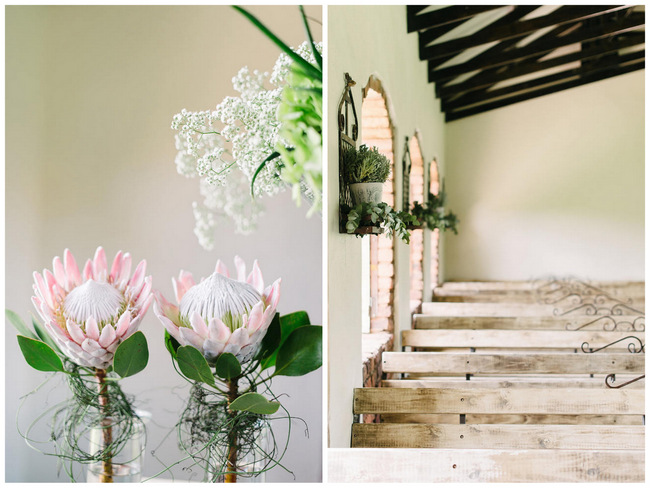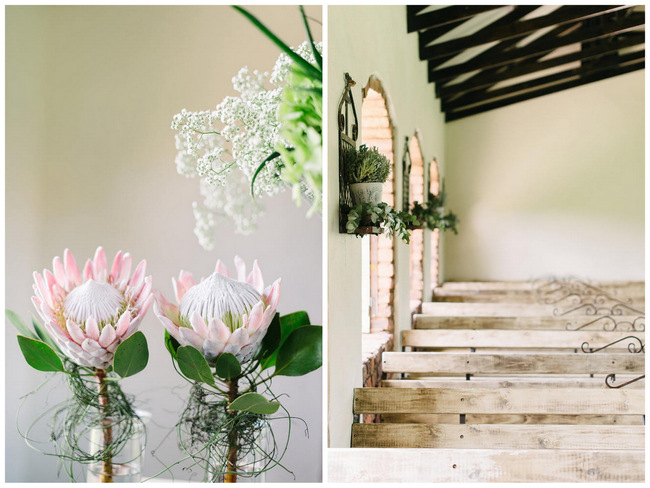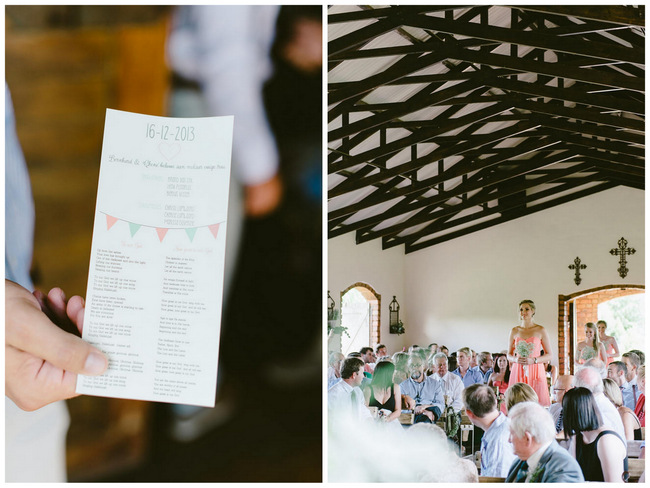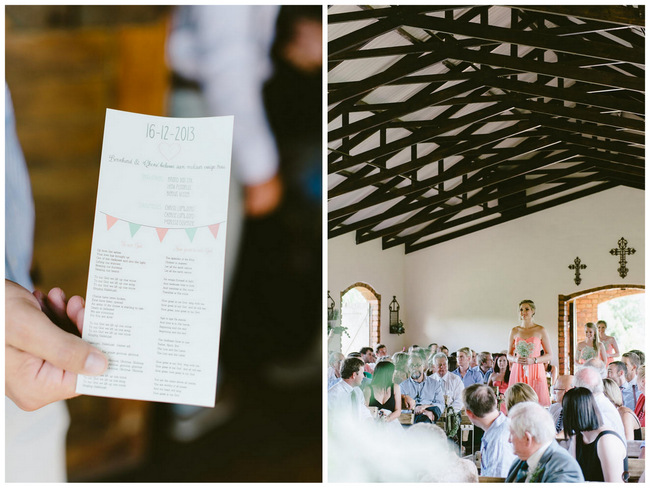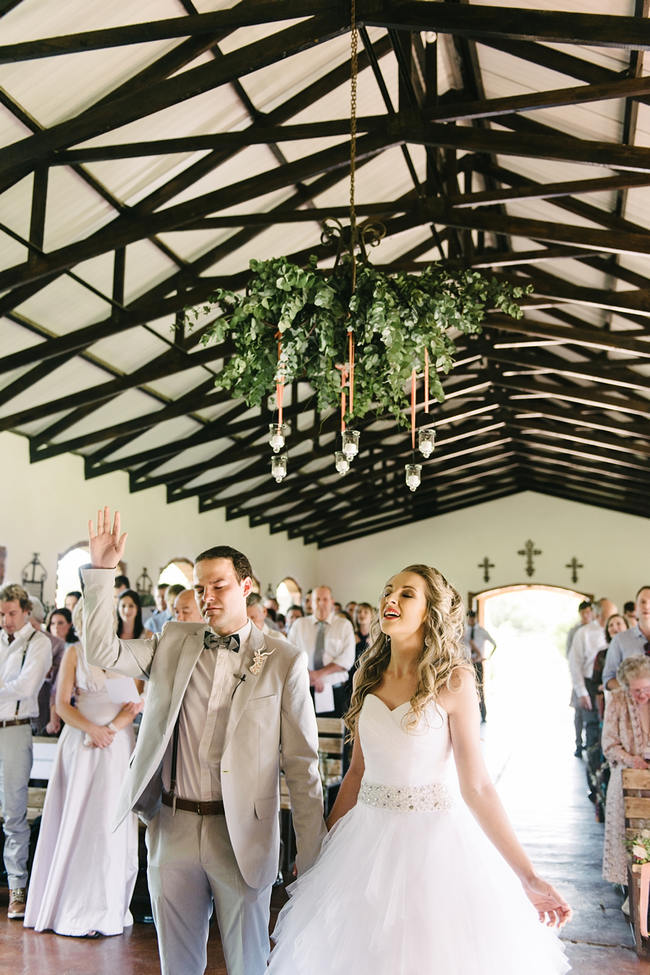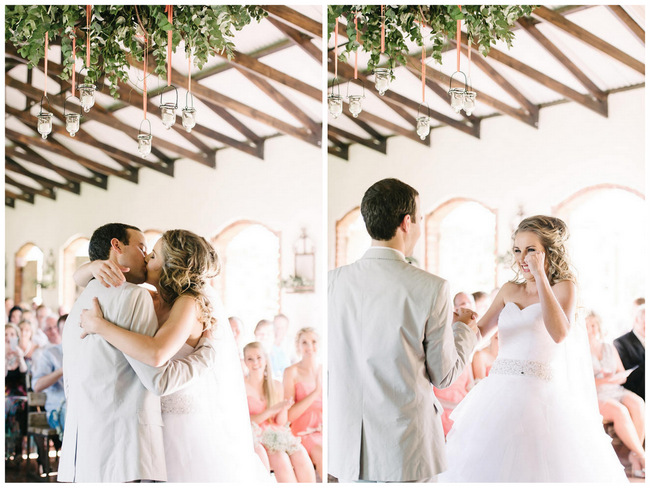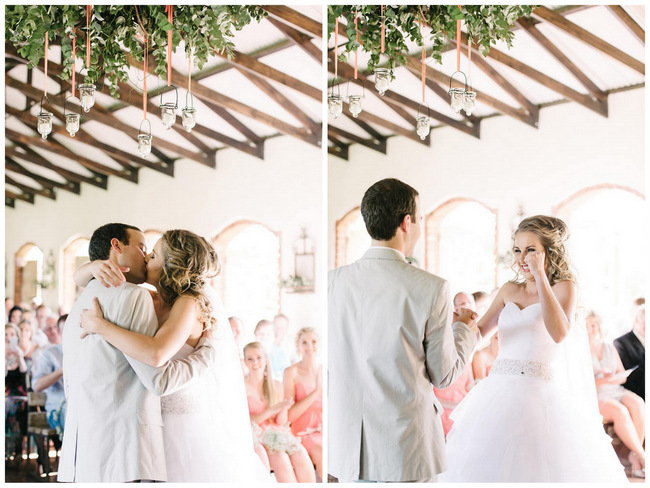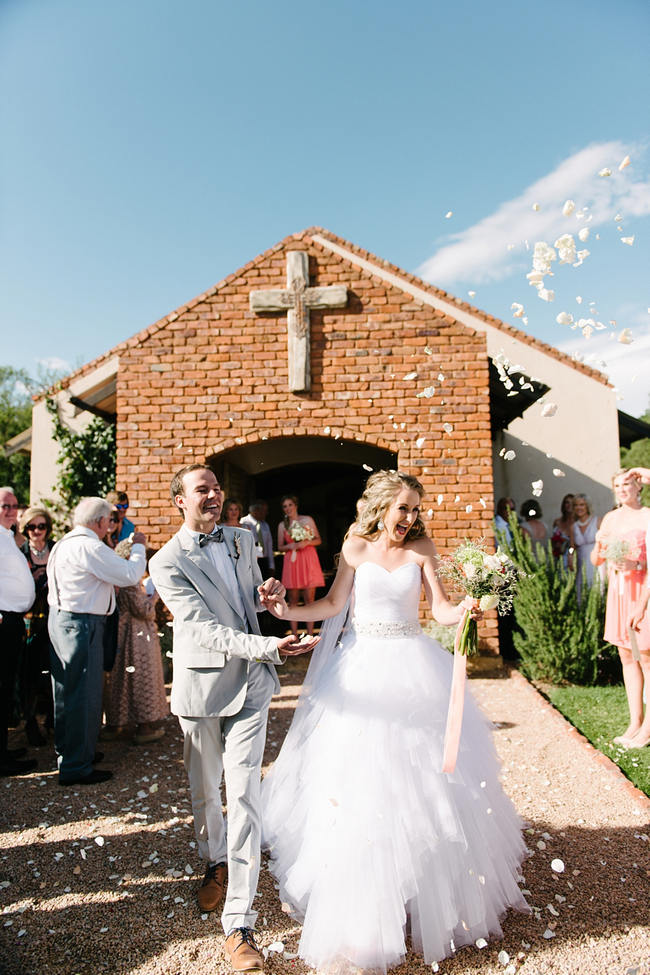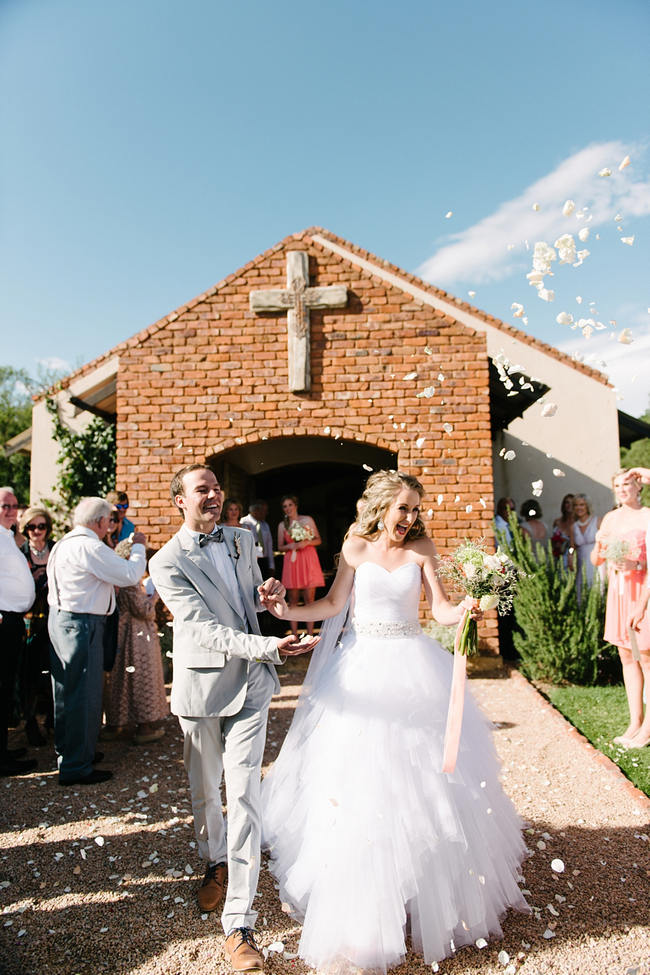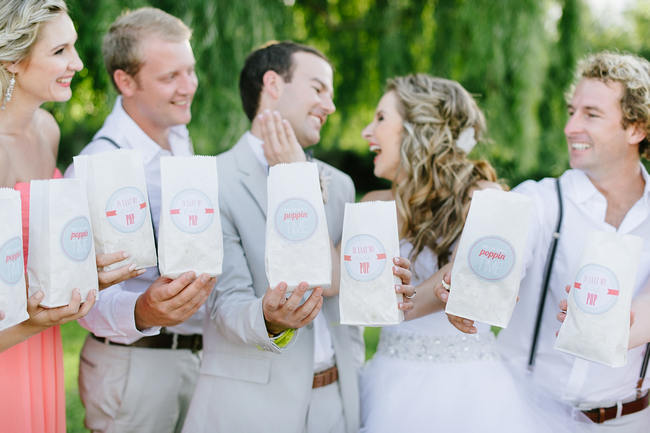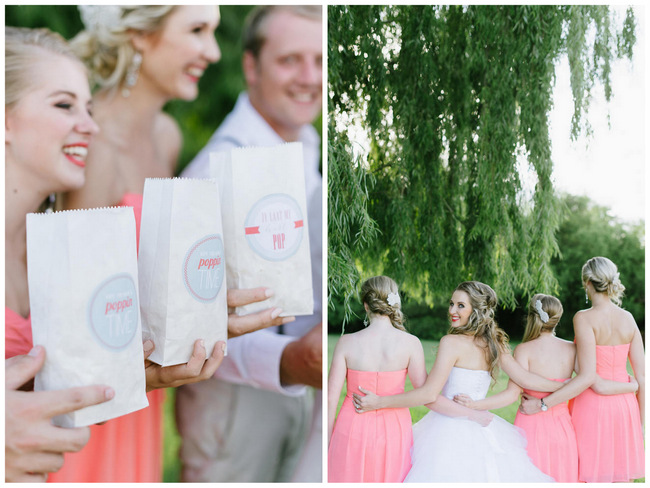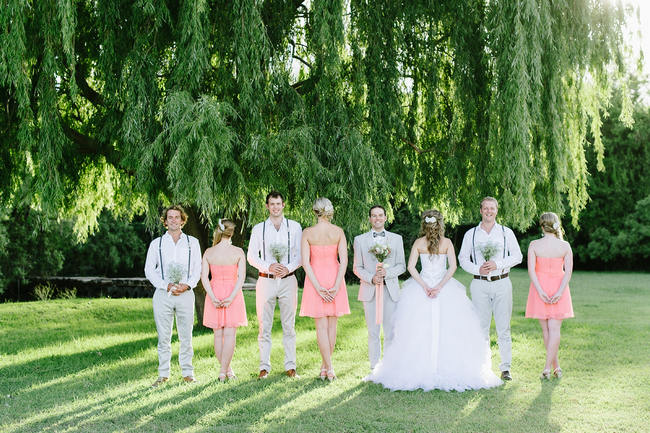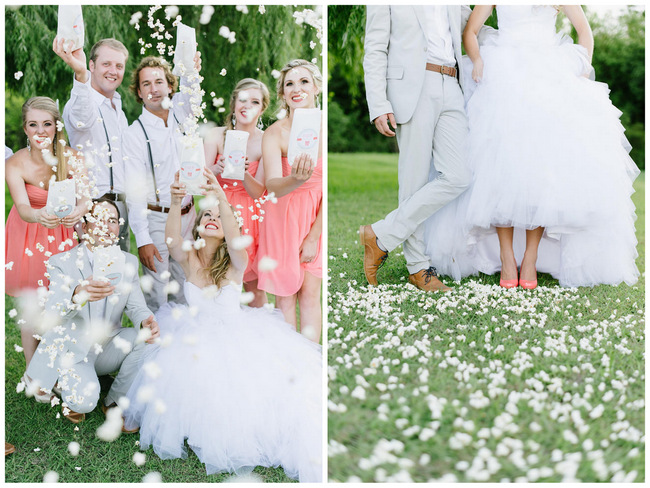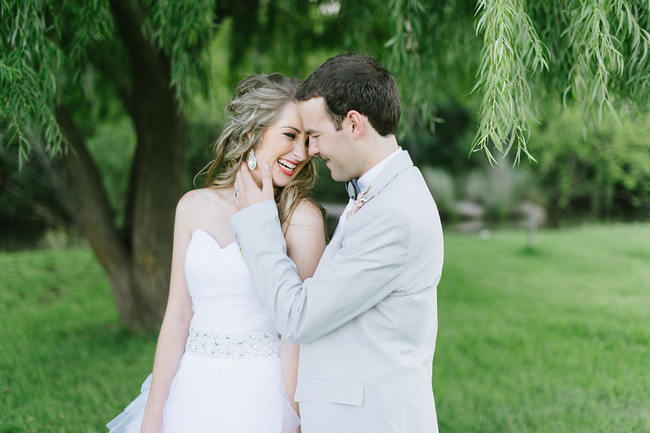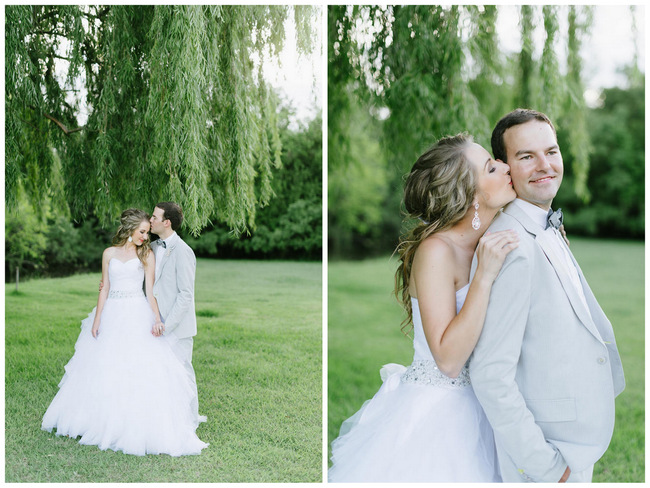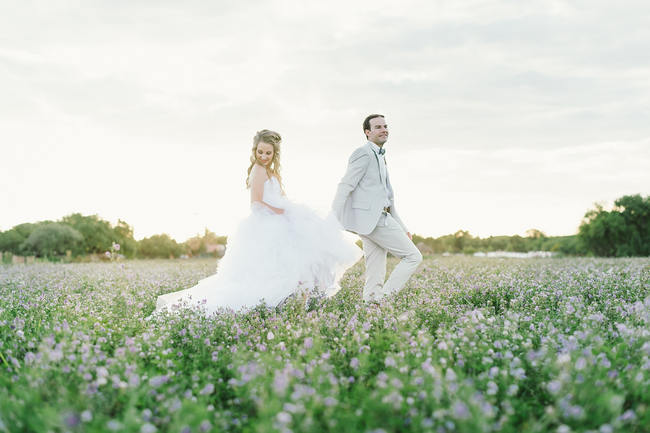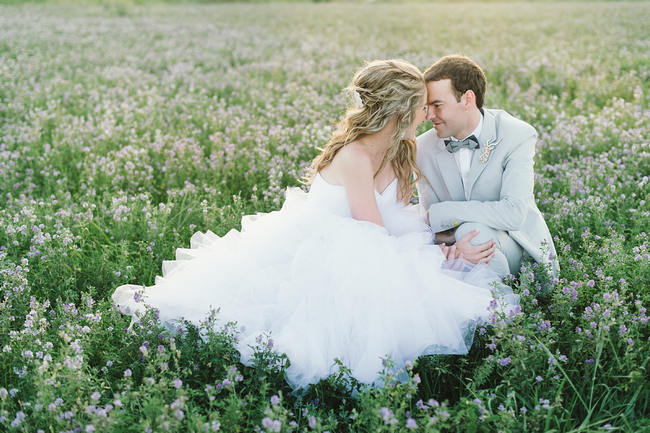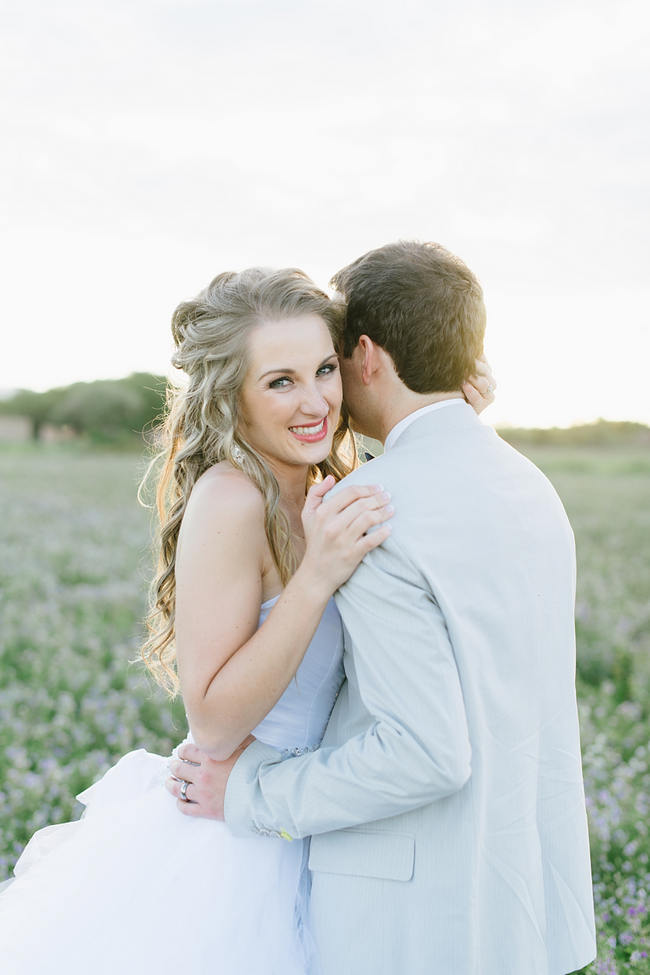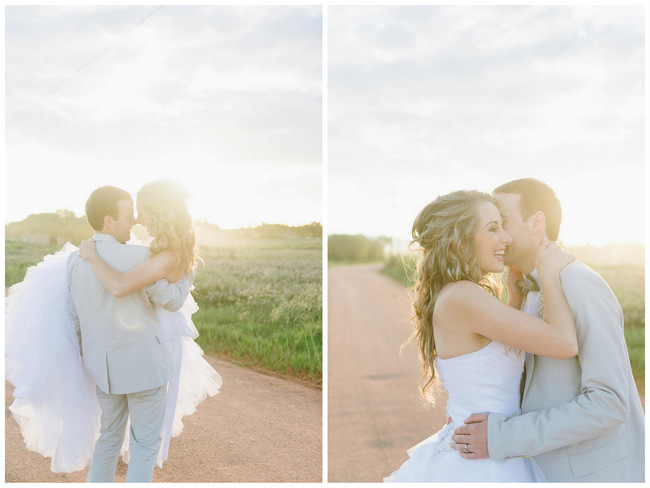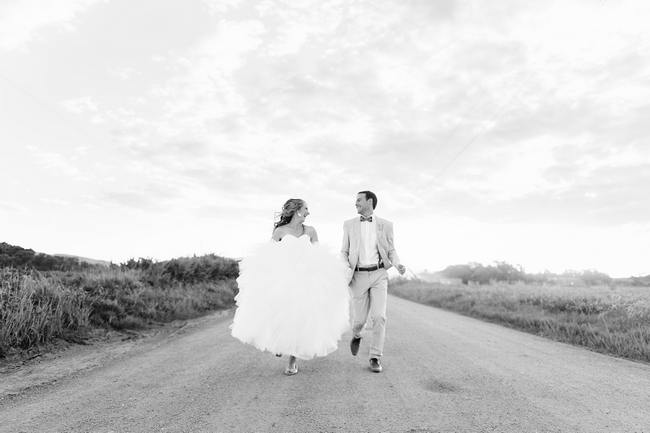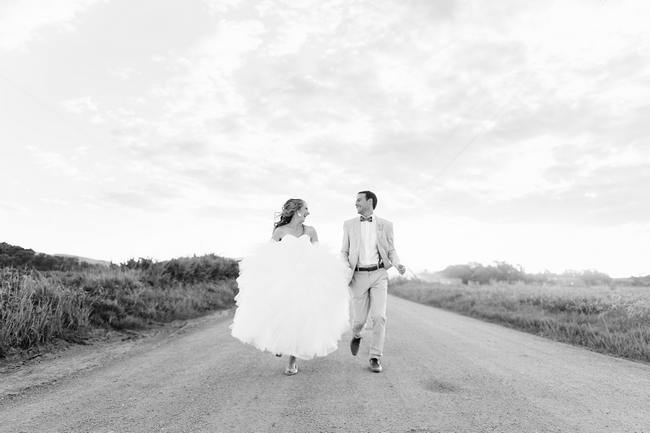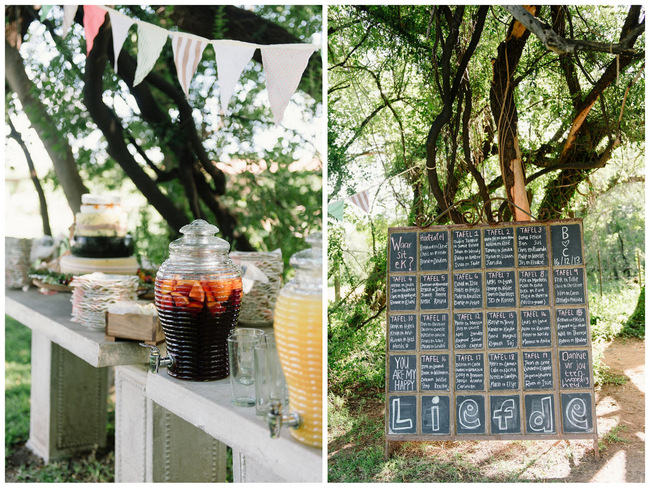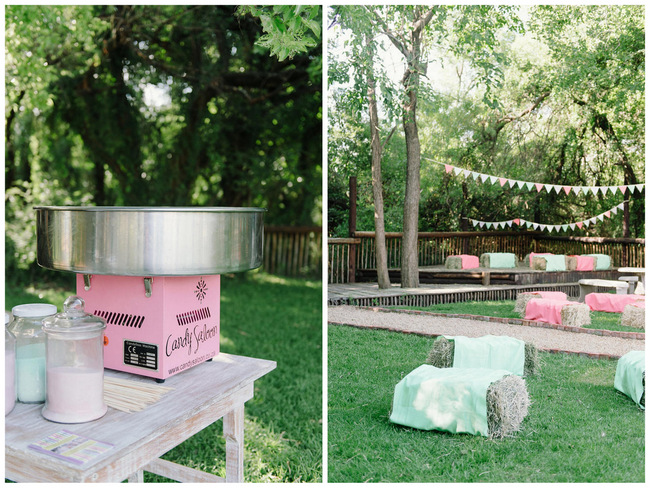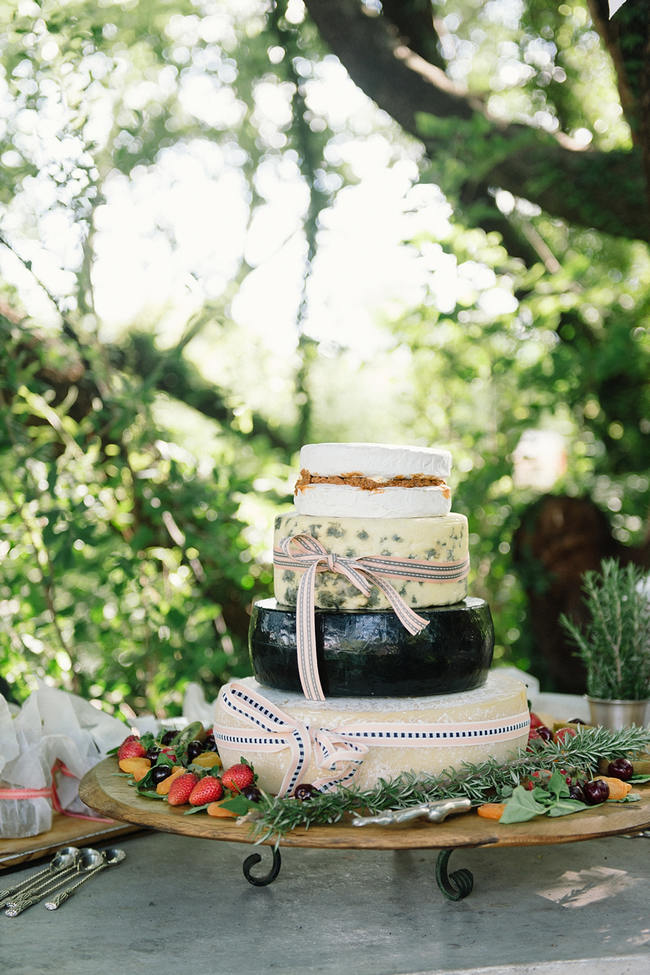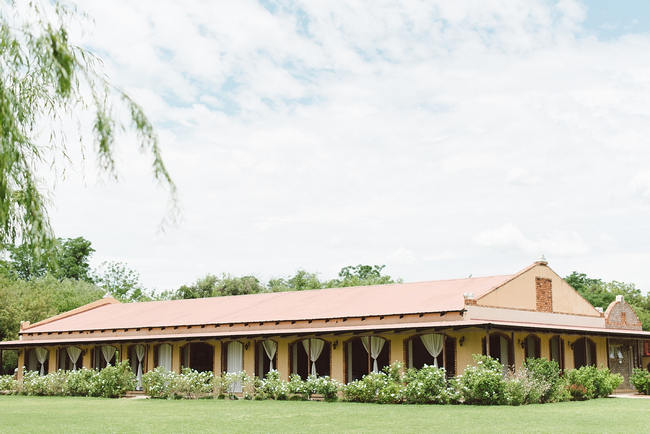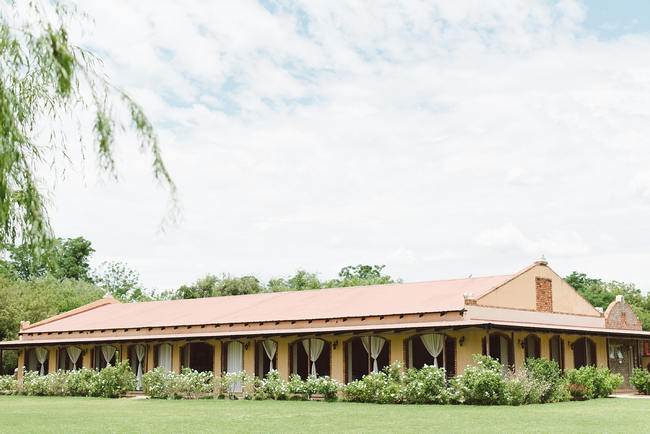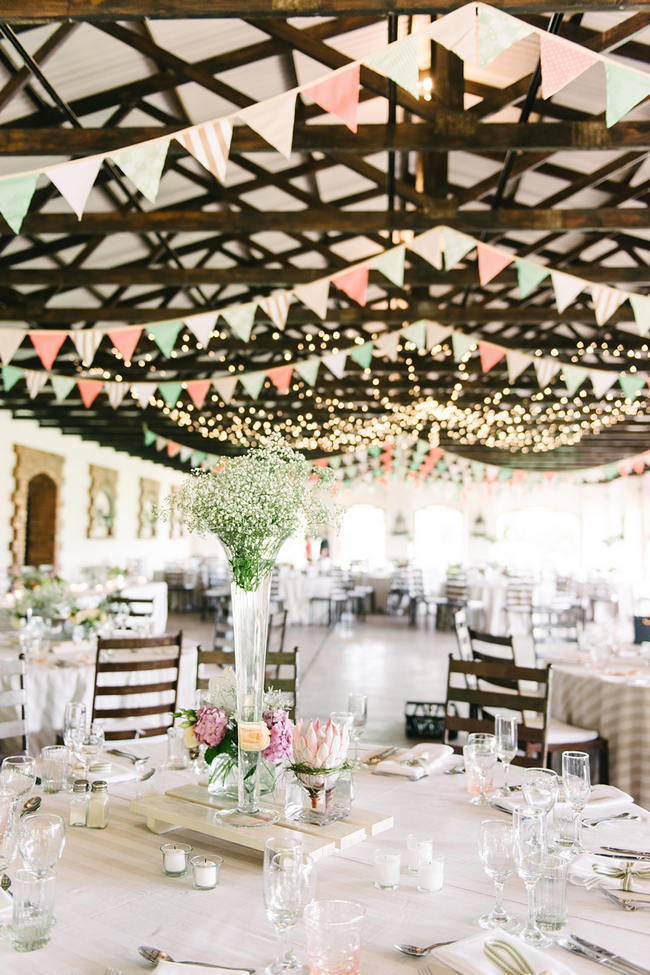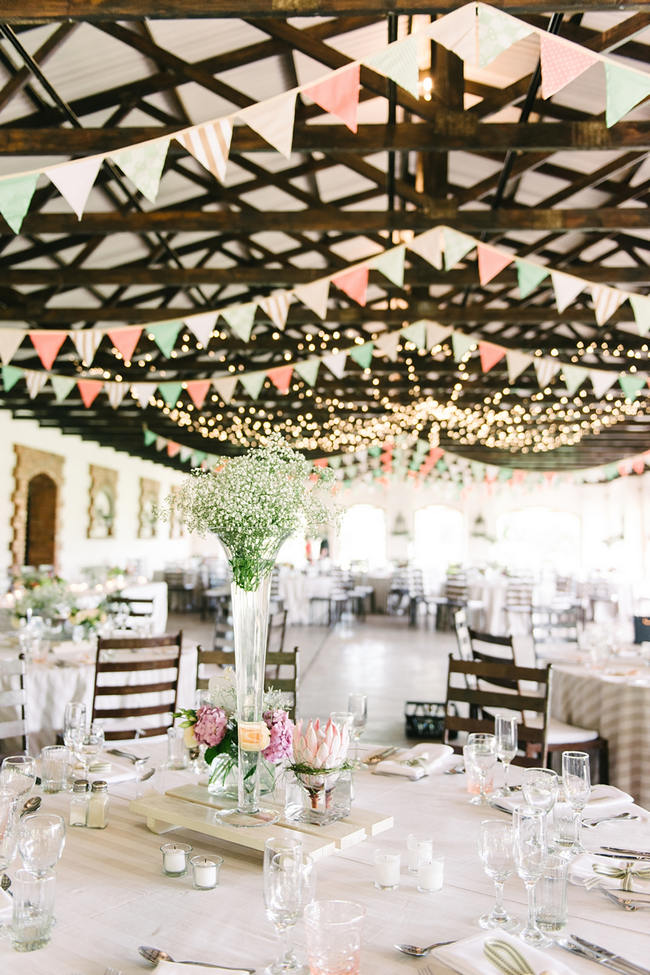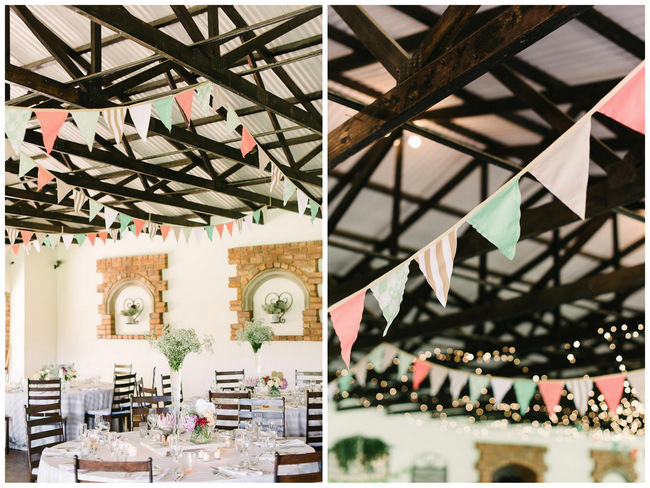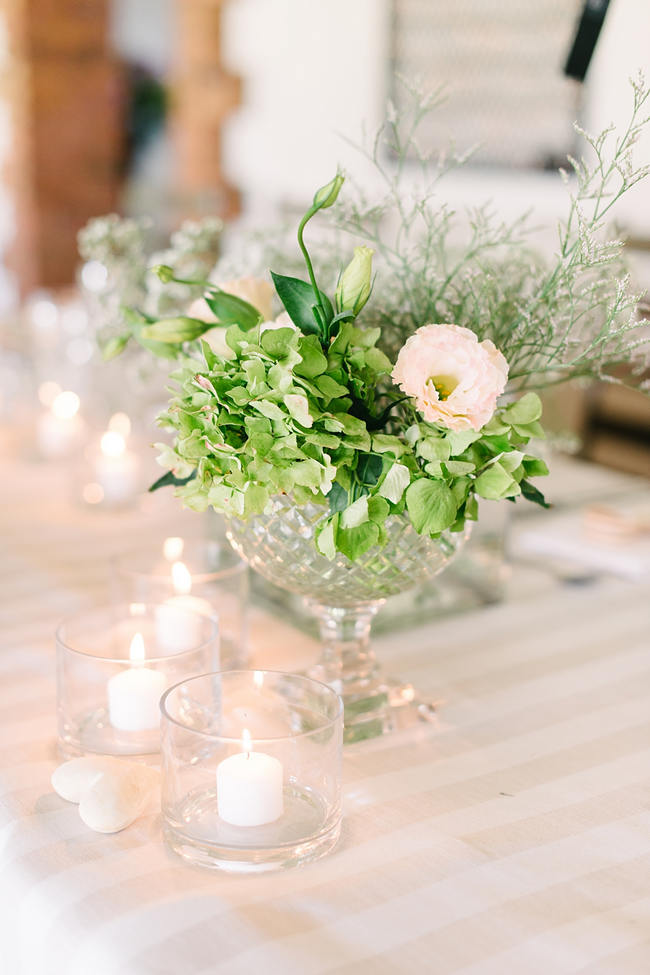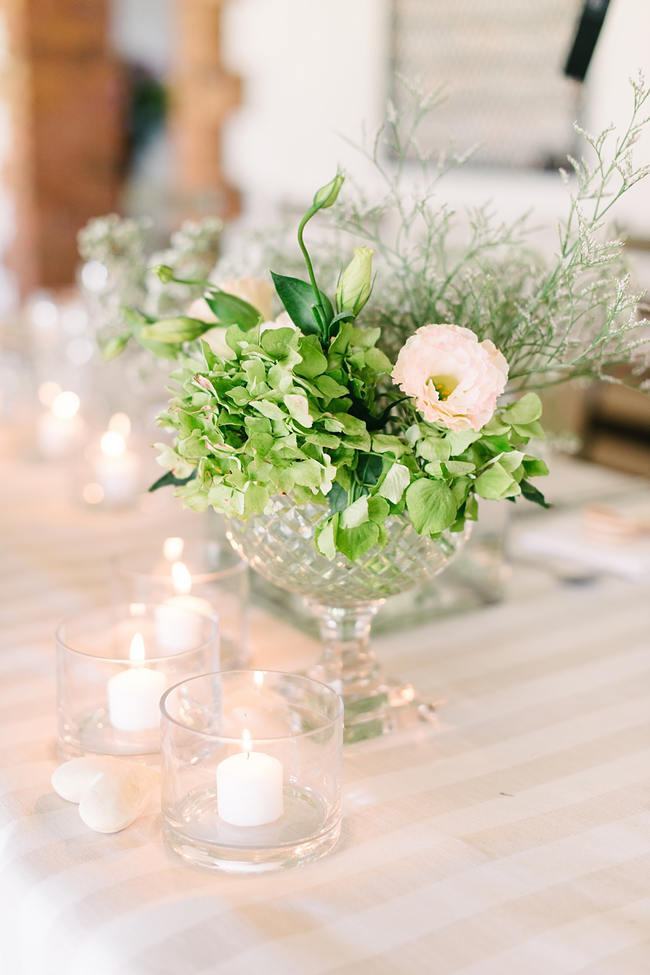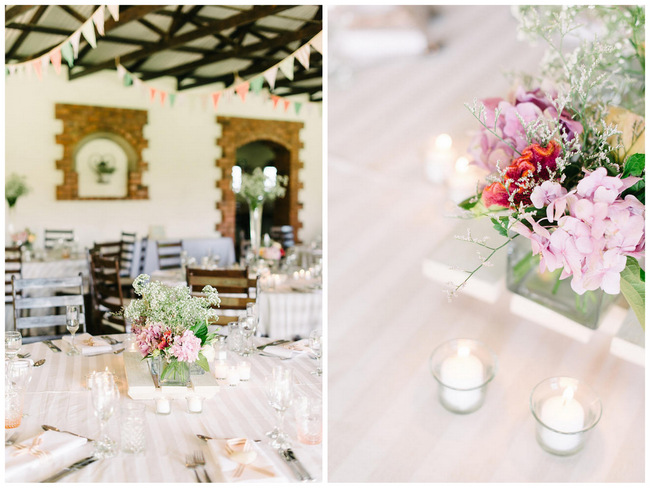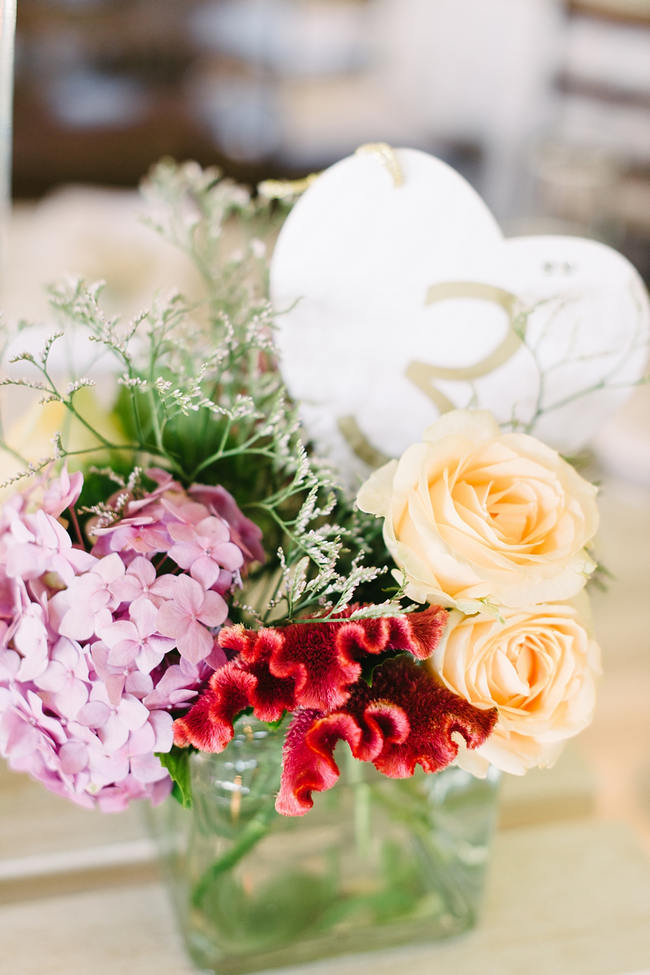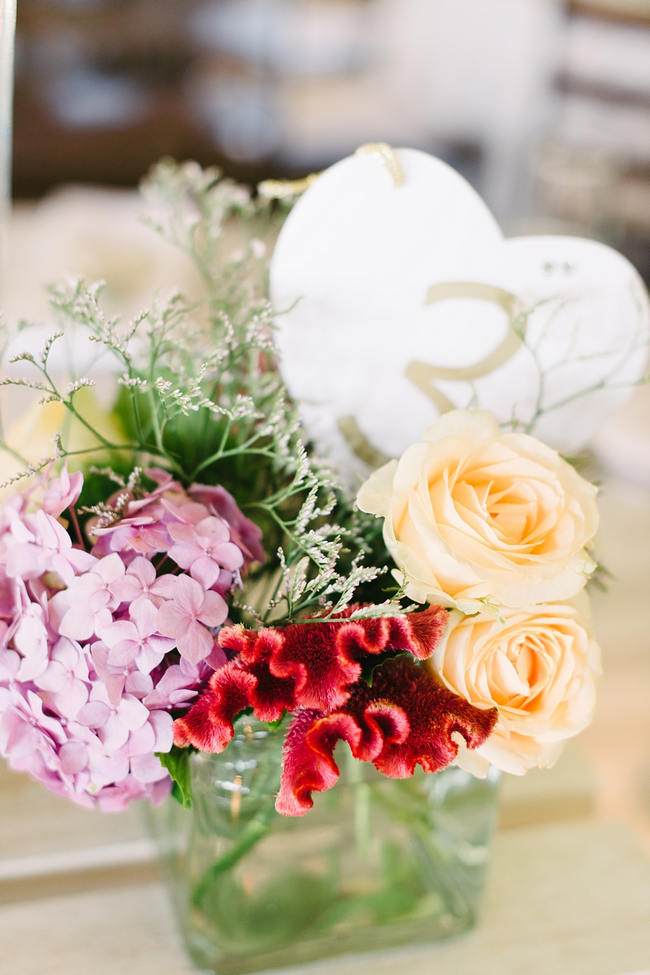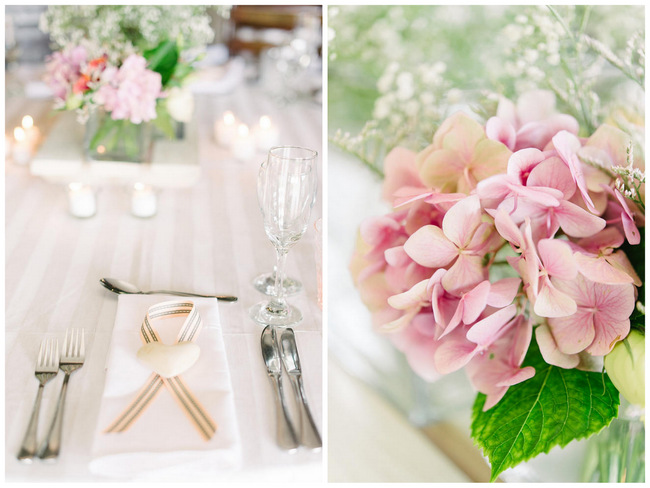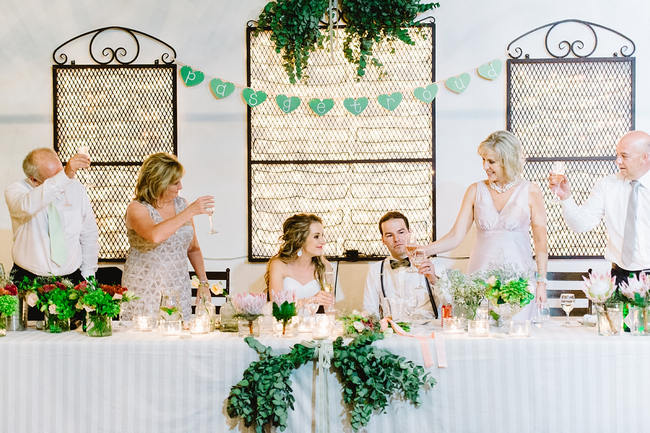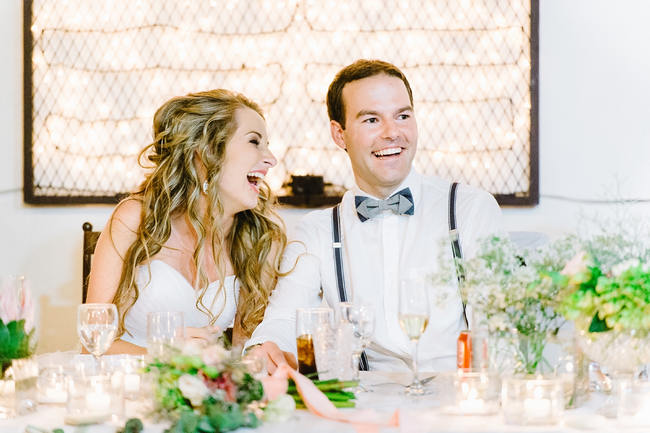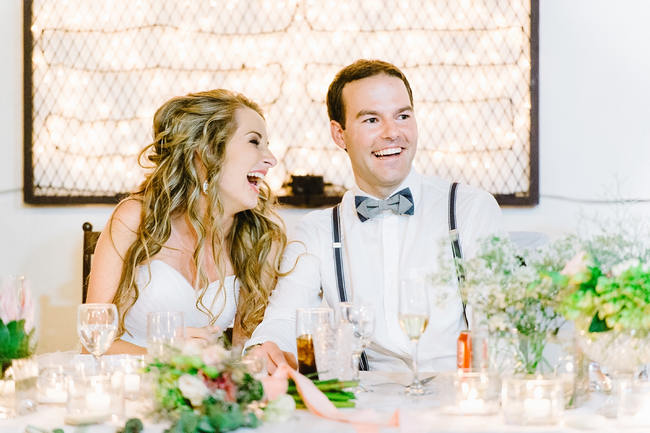 Mint and Coral South African Wedding
Love Story:  We met during our first year of university at a residence braai. We chatted away and got along very well! In February 2009 we started dating and as they say, the rest is history. In March 2013 we went for a wonderful picnic at Rosemary Hill where between the lavender fields he popped the question. He gave me such a special photo book with "our love story" and the last page said: "Keep calm and marry me!" Amazing day – amazing man!
Bridal Style: My dress was a soft chiffon and tulle princess wedding dress with diamond-like detail on the waist belt. I had googled wedding images and came across a few pictures which I loved and carried with me in my purse. After shopping around a bit, I came to a little boutique in Pretoria. While waiting and flipping through their catalogue –  surprise surprise, I found one of the images I had fallen in love with already! They didn't have the dress in stock, so I took a gamble and ordered the dress in my measurements hoping that it would be perfect upon arrival. When fitting the dress for the first time it was PERFECT! My dress was so comfortable and when I spun around, it made the most beautiful picture! In terms of my hairstyling, I wanted to feel like a princess on my special day so I thought beautiful curls and soft make up would do the trick. I also chose a hairstyle which I thought would compliment all my features the most. For my bouquet I wanted plain, pretty flowers with a burst of colour. My mother in law did all our flowers arrangements and I completely loved it!
Bridal Party Styling: The groomsmen had neutral coloured pants and crisp white shirts. They had Kudu brooches which added a special touch. The ladies wore short coral chiffon dress with nude shoes which was perfect for the hot December day. Everyone had a special hair clip in the hair and all the hairstyles looked different. Their bouquets were made out of "gyps" (baby's breath) and finished off with a coloured ribbon.
Groom Styling: Wow, did he look handsome! Berries wore a pin striped greyish suit from Urban, crisp white shirt, brown Aldo shoes and a bow tie. The Kudu brooch was his highlight!
Coral and Mint South African Wedding Ceremony Details: The ceremony had many special things… The décor included a lot of candles, mint and coral ribbons and "gyp hearts". We aimed for the "less is more" approach. Berries and I said our own vows to each other which was such an inspiring, perfect, extraordinary moment. The bridesmaids walked down the aisle to a remake of the song "Can't help falling in love" and I walked down the aisle on "The Wedding Song" by Matthew Mole. The atmosphere in the ceremony hall was indescribable…
Wedding Guest Book and Seating Chart: The seating chart was written in different colours on a big black chalkboard. Our wedding guest book was not actually a book but a table cloth on which our guests could write a message for us. We thought of doing something practical which we could use at home.
Coral and Mint South African Wedding Reception Details: Our tables in the reception hall were decorated so beautifully, very colourful and lit up with fairy lights. We used white and beige striped table cloths making sure that none of the tables looked exactly the same. The guests received a small wooden heart as gift. We used coral glasses on the tables and the flowers were visible but not over the top. Bunting with the word "Pasgetroud" hung above our table. We had candy bags for the guests when they left and they could take some sweet things home with them. All the sweet things were handmade by different family members and friends. The father daughter dance was a special moment and the speeches very touching. We danced the night away and only excused ourselves at about 3 a.m!
Advice for Brides:
If something is out of your price range, make peace with it and look for a great alternative.
Make it personal and do exactly what you would like, you don't have to follow the trend, just be yourself.
Try and find a newish wedding venue or one that is a bit cheaper. This will make a big difference to your budget.
You can get away with less expensive flower arrangements which will still look breathtaking.
Consider not going for the most expensive wedding dress but rather one that still looks stunning but is more affordable.
Cherish the special moments. On the day of your wedding: Breath, relax, smile, enjoy, dance the night away and eat enough of your awesome wedding food.
♥ ♥ ♥ Wedding Vendors ♥ ♥ ♥
Venue Zakopane Country Village  // Photographer Louise Vorster Photography  // Videographer André – Motion Craft Films  //Dress Chiqwawa Wedding Dresses  // Brides Hair & Make Up Jumandi Mcdermott  // Flowers Doulien van Dyk – Polkadots and Petals  // Cake Hylet Erasmus – For Goodness Cakes  // Music Charl – Fame Weddings  // Decor Candy Saloon, Trouklokkies, Crazy Mutton // Favors Friends and family and entrepreneurs on street  // Stationery Bloos Design  // Wedding Planner Karien Els – Something Else Wedding and Event Planning  // Shoes Call it Spring  // Suits Urban and Vertigo  // Bridesmaid hair and make up: Liezl Zene from Belle Ame
 Wedding Highlights Video
Mint and coral are such a great wedding colour combo – take a look at this Romantic, Rustic Coral & Seafoam Green Beach Wedding from BellaEva Photography to see how well these colours work at a rustic beach wedding too.
Fans of generally dreamy wedding photography should check these weddings we've featured by Louise Vorster photography here , and if you're just in the mood for loads of lovely real weddings head on over here.