A Bicycle Built For Two ♥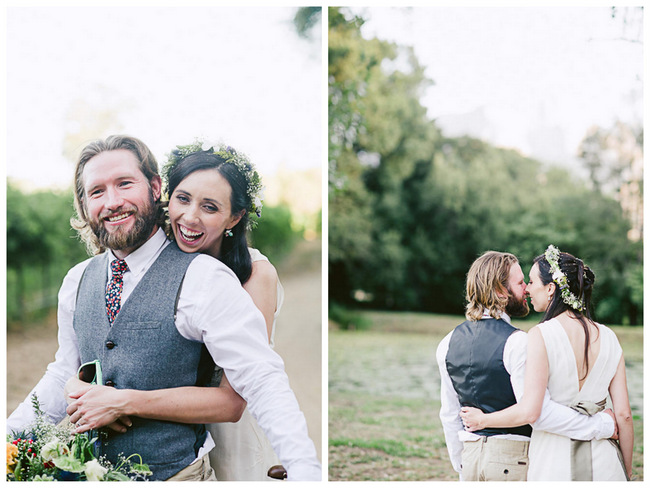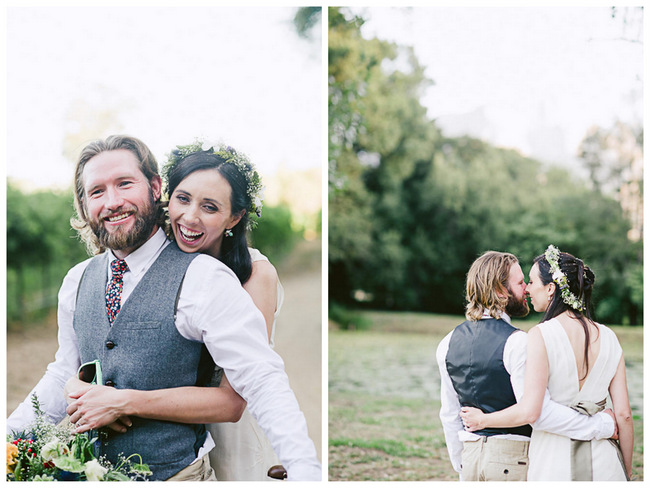 Despite UK-born Verity marrying her South African husband, Neil, in a decidedly boho, bicycle-themed wedding set under the trees, the couple are not your typical cyclists. In fact, they fell in love while sailing around the world together, but now spend their time cycling about on a tandem bike!
Their one-of-a-kind wedding day was awash with natural shades of green alongside wildflowers in a multitude of bright colours mixed with wood, hessian, hay bales, and organic elements selected to complement the natural surrounds at Solms-Delta Wine Estate. Photographer, Jules Morgan, brings us these delightful images capturing many smiles and lots of fun-filled moments including guests cycling about with bride and groom on bikes specially provided for the day!
In addition to being a beautiful venue, the couple chose Solms-Delta because they connected with it and found it to be a venue with heart. What struck the couple as especially remarkable was the commitment that the owner, Mark Solms, had to community upliftment. He established the Wijn de Caab Trust in 2005 to attempt to break the cycle of poverty and dependency among farm residents and employees, which really impressed the couple.
Verity shares their motivation behind all the personalized elements of their wedding: "Neil and I wanted to do something that was very us and at the same time have fun with our guests, many of whom had traveled great distances to be with us. They are part of who we are as a couple – they have helped shape us, support us, and having them all together in one place made the day feel 'whole'.  We wanted to celebrate with them in an interactive, personal way and say thank you to every single person to ensure they enjoyed the day as much as we did. By making everyone a part of the day it really felt extra special and personal. "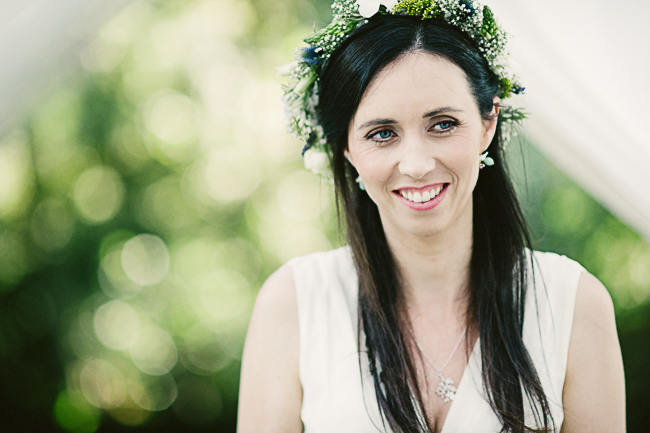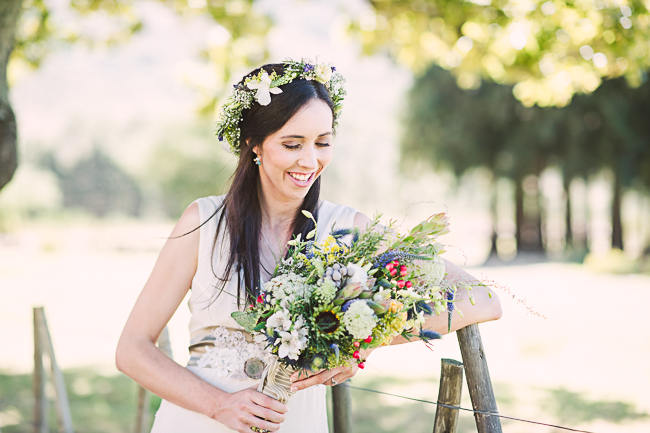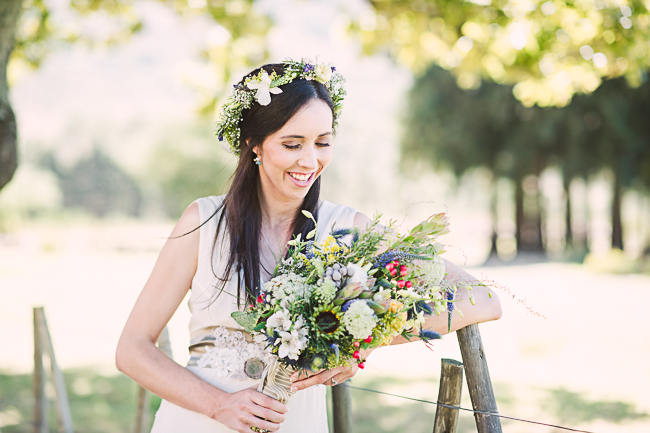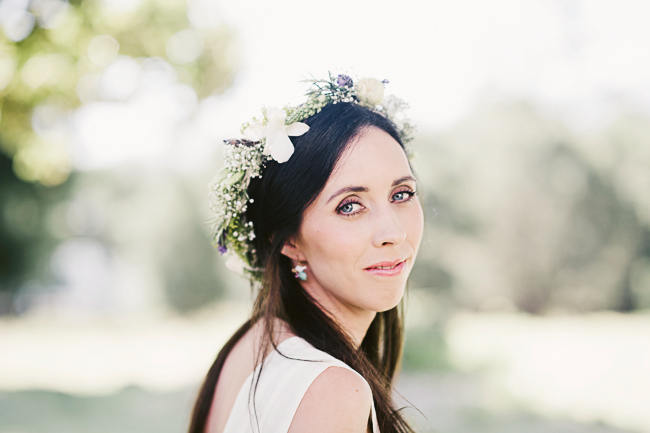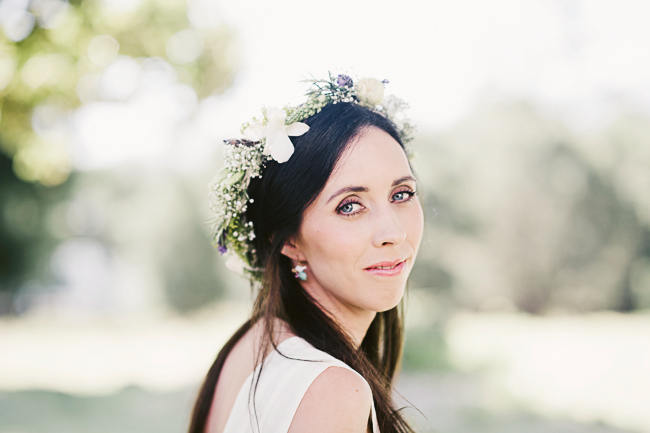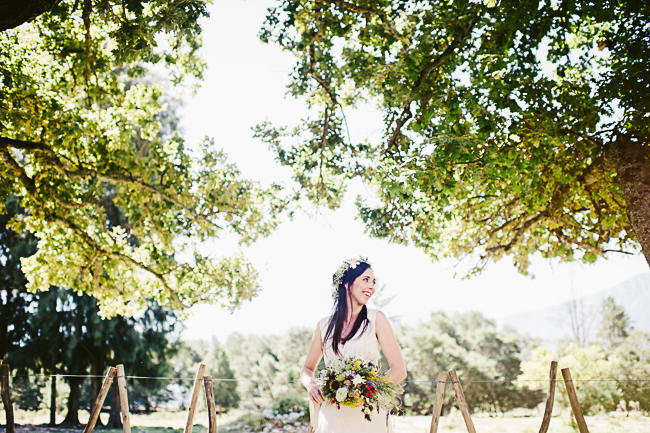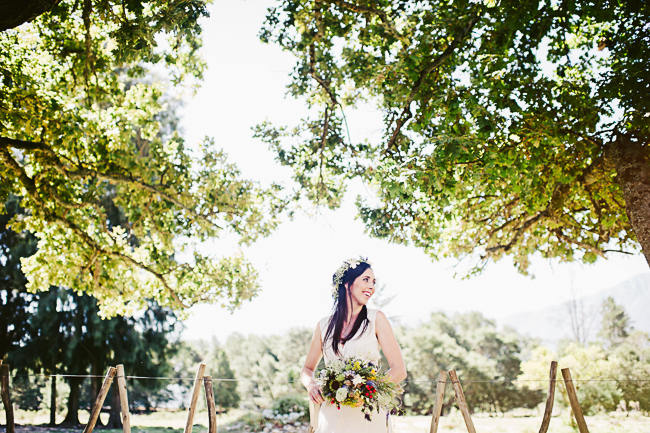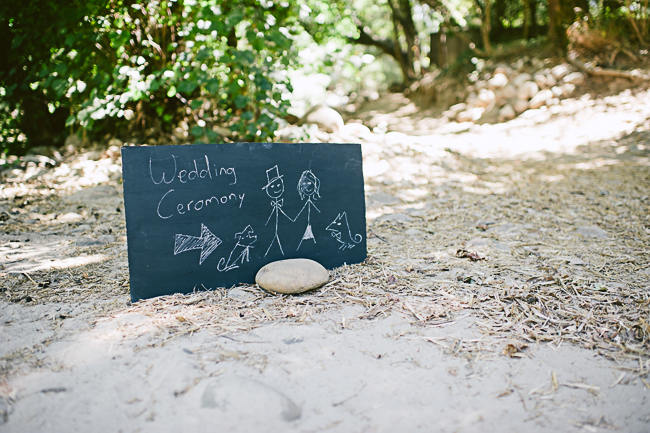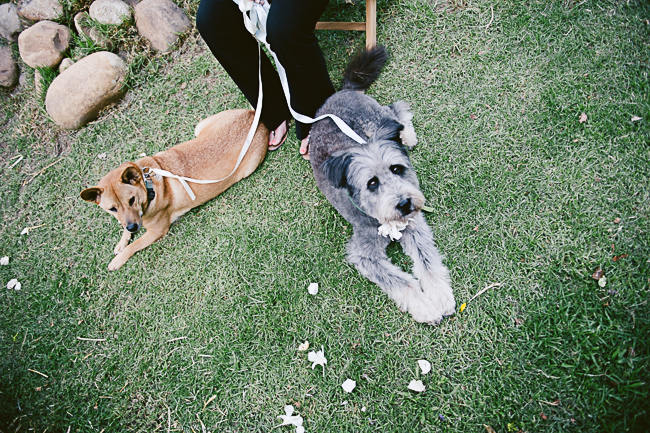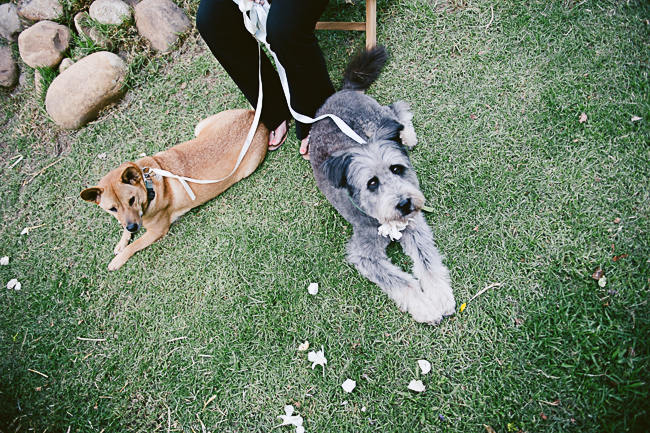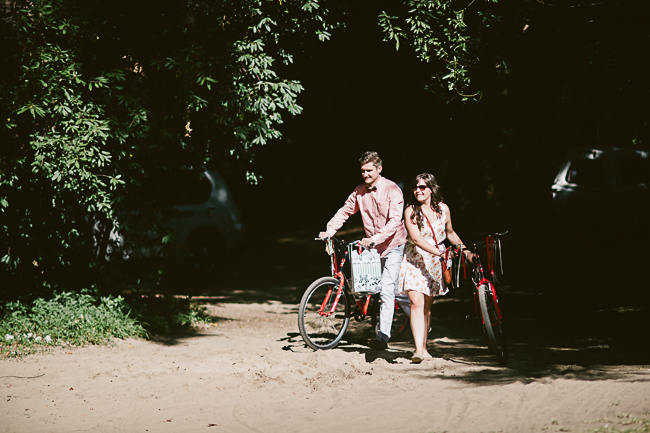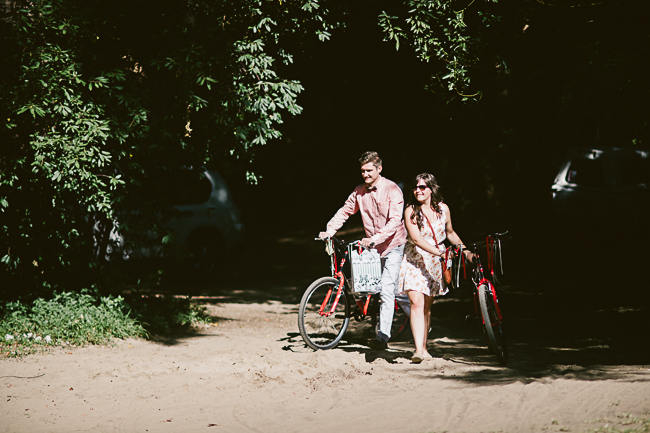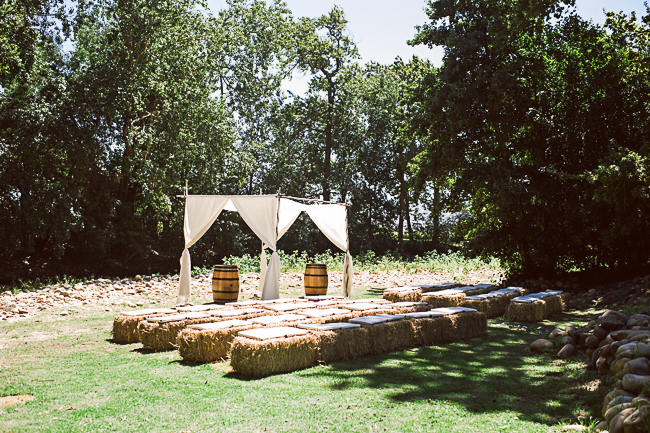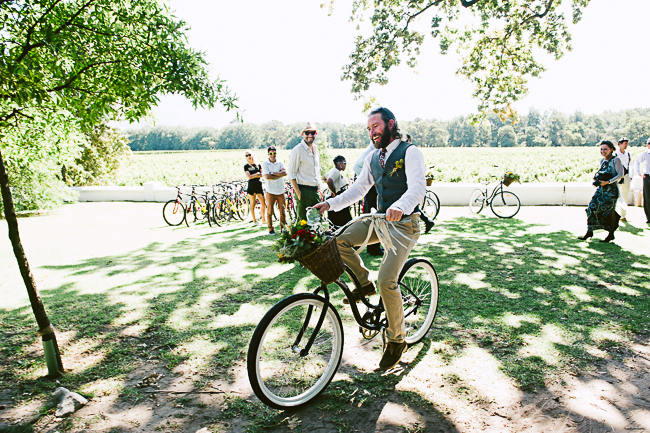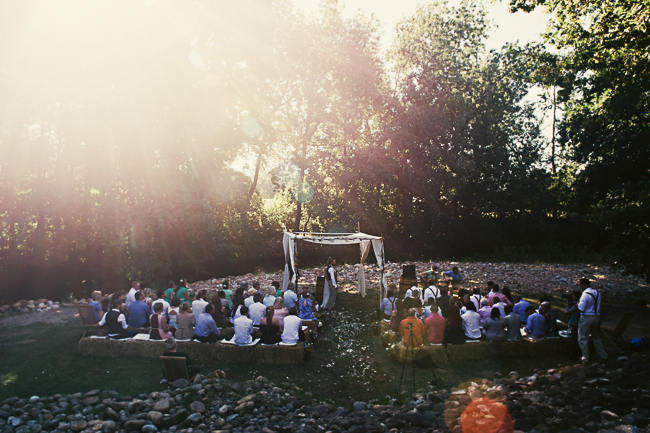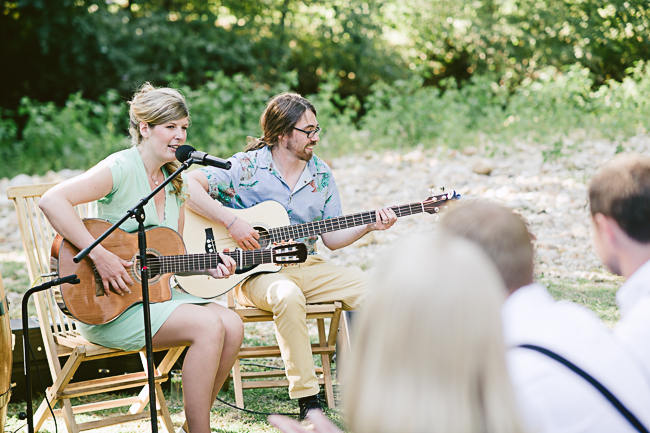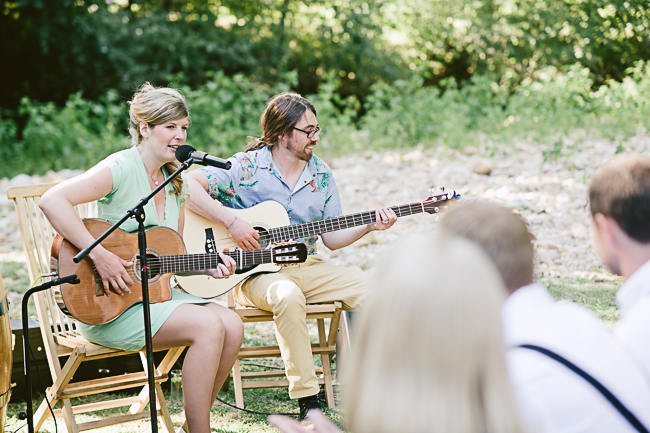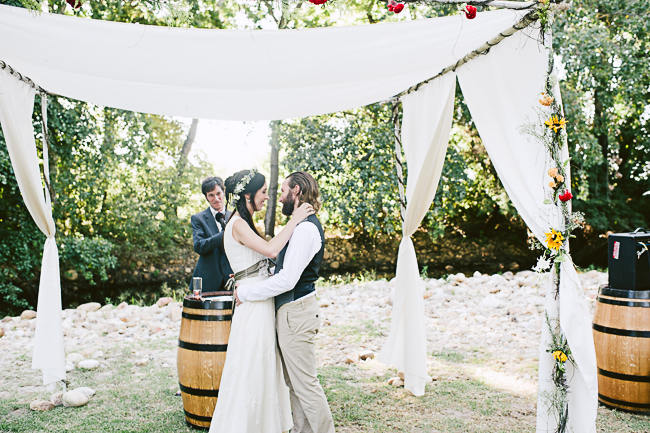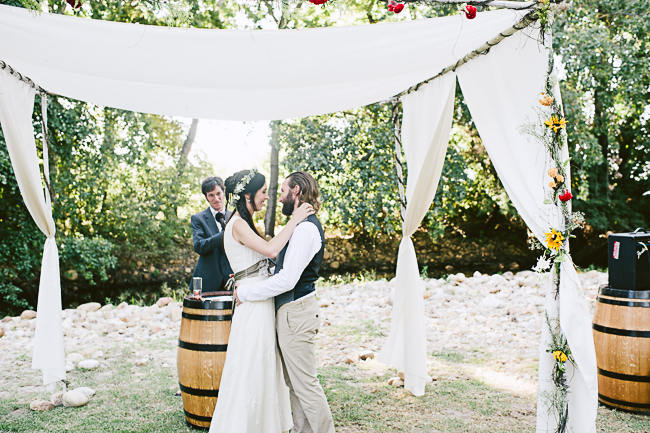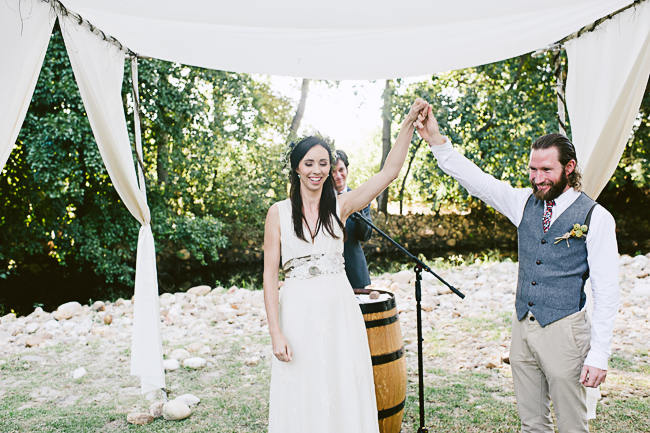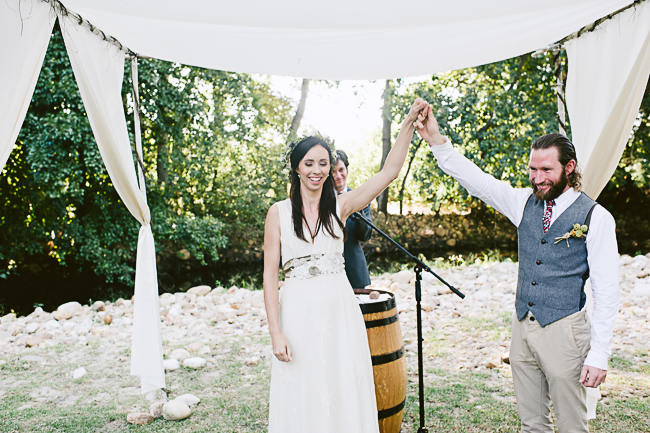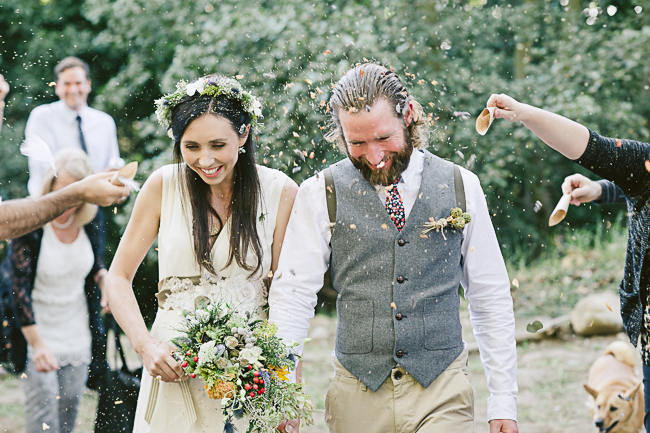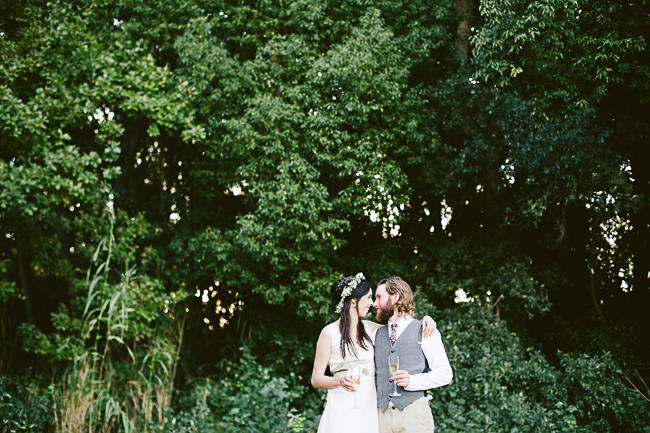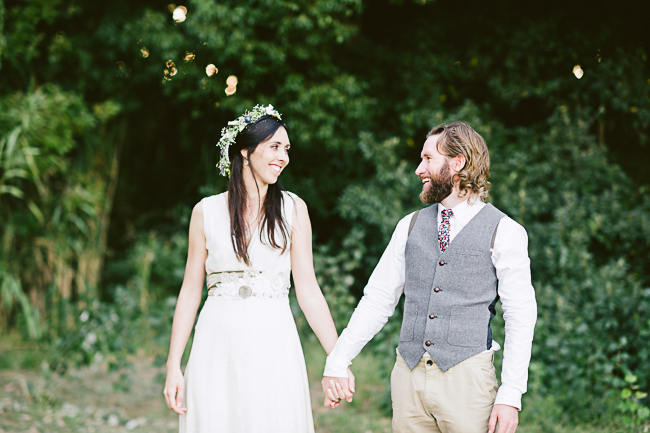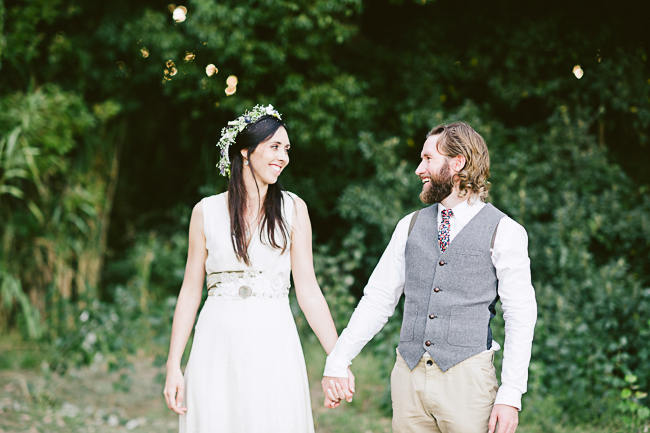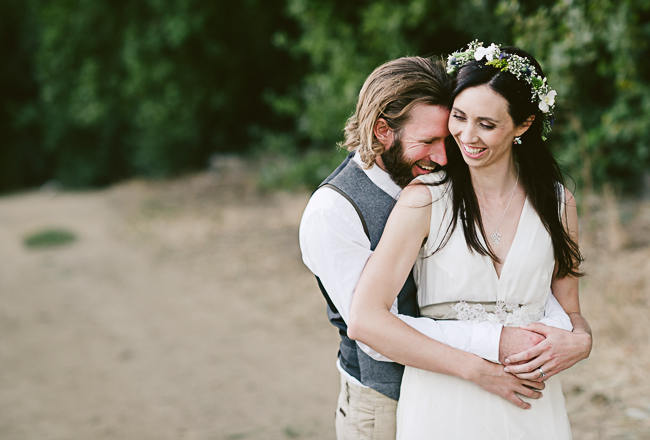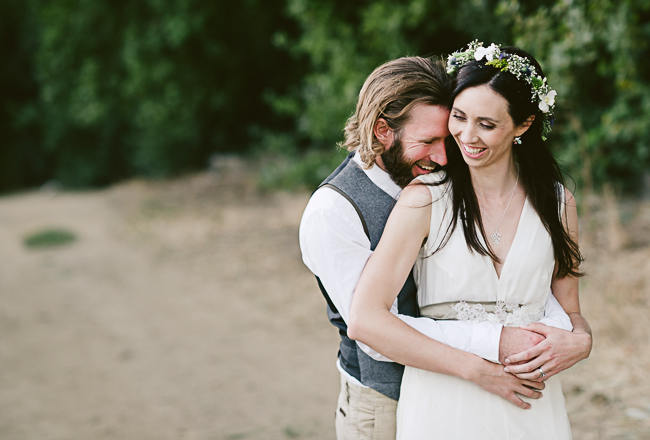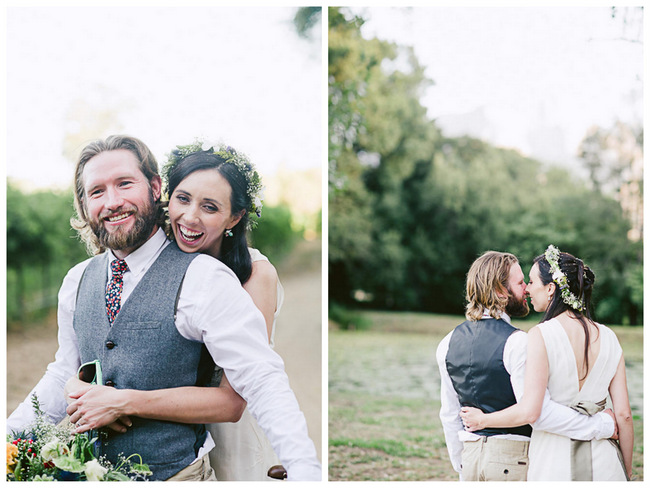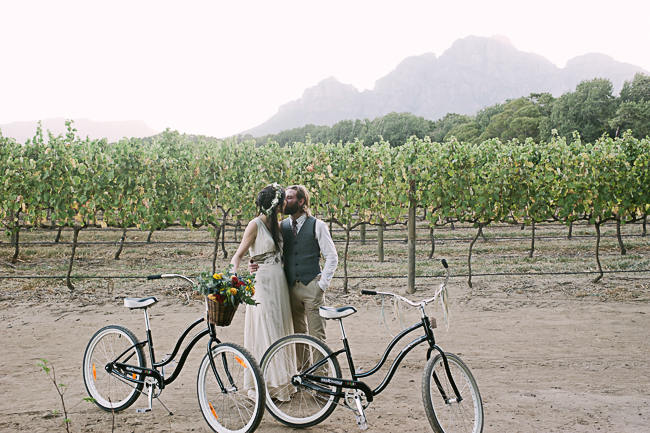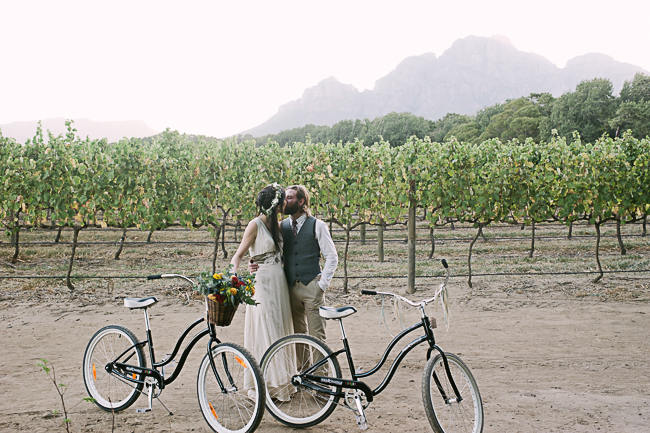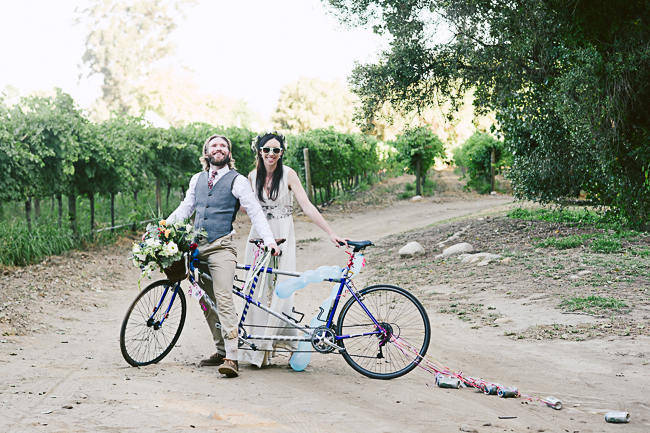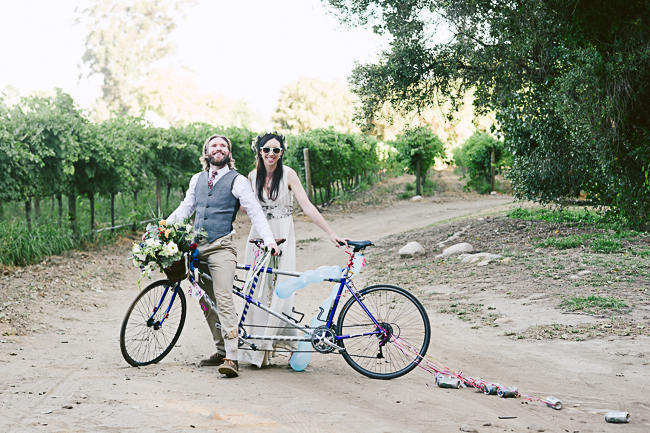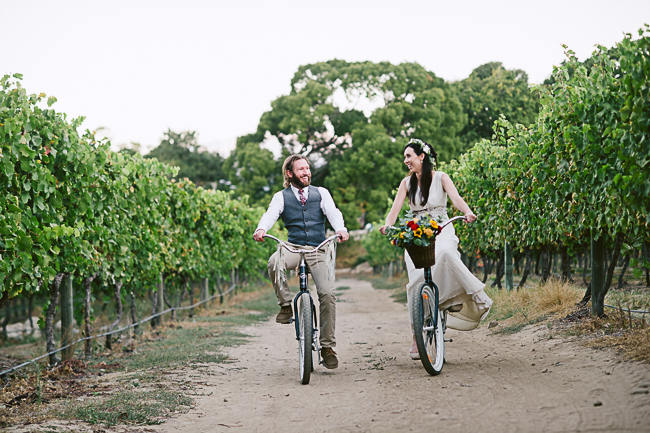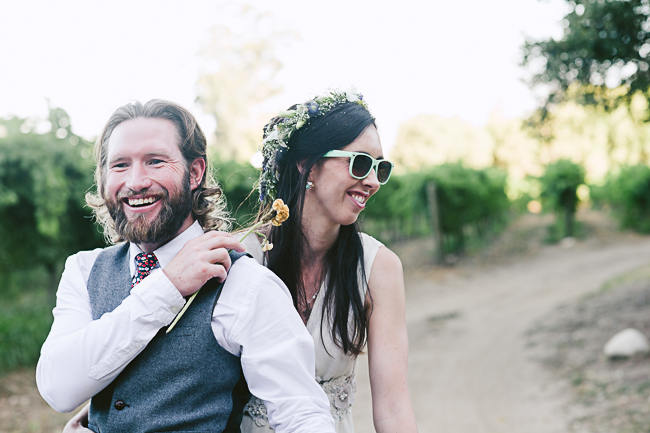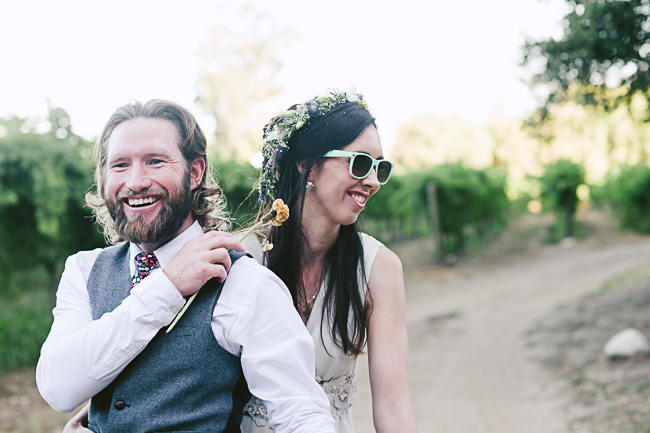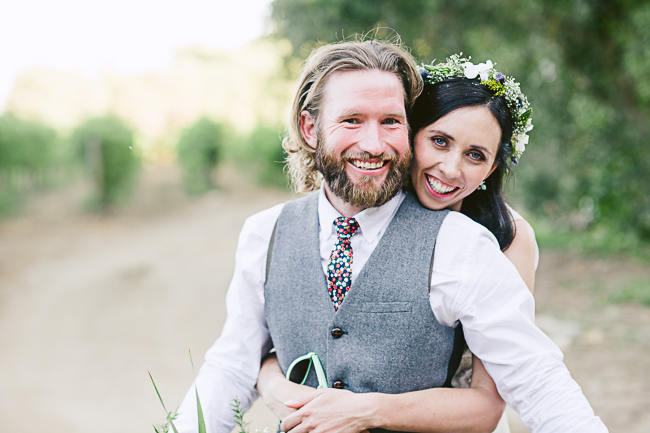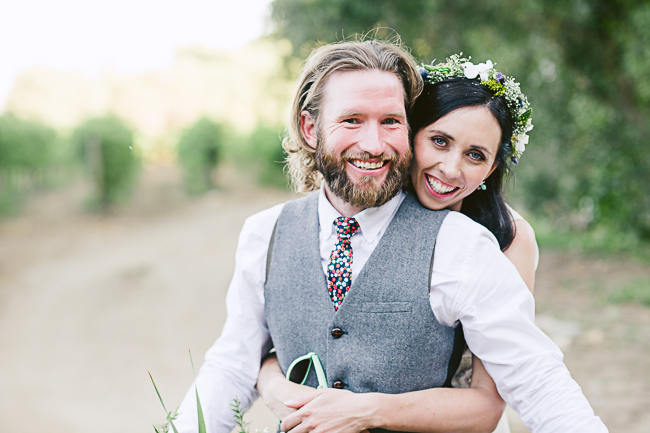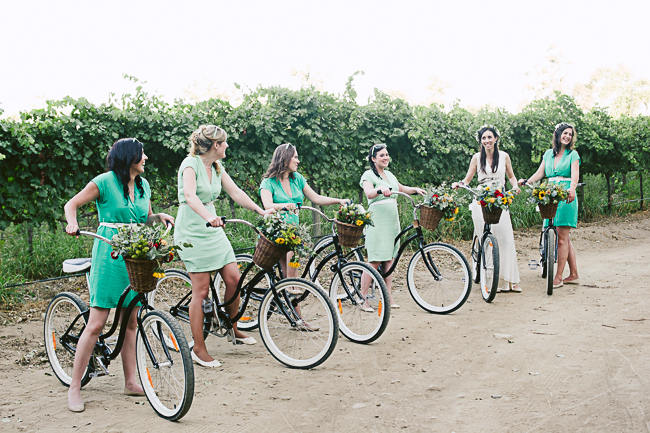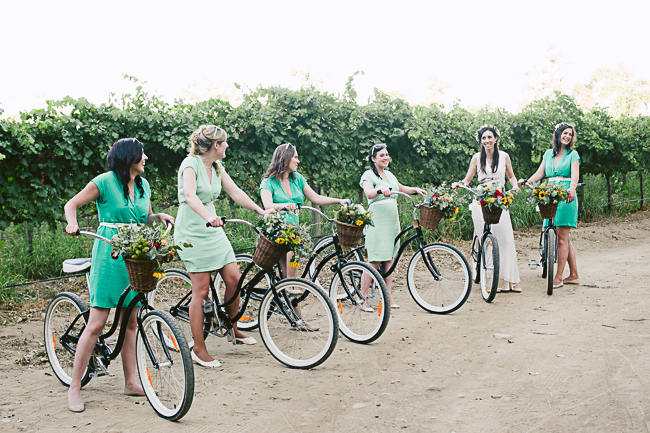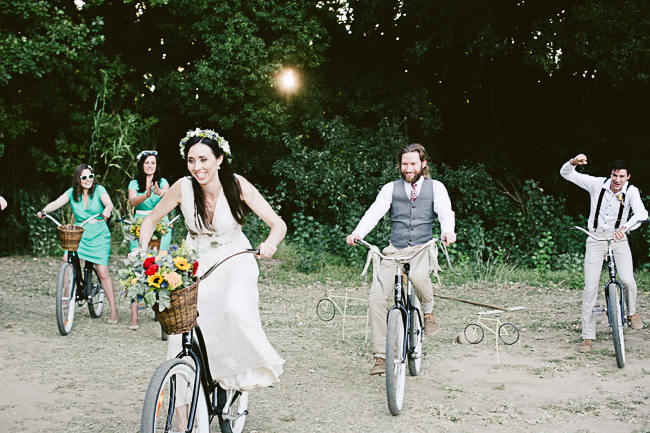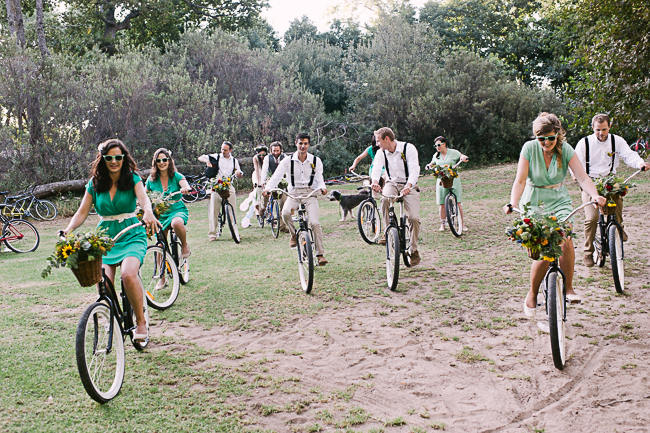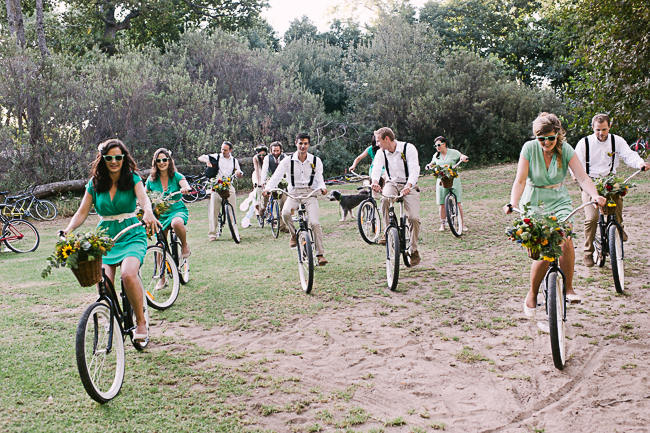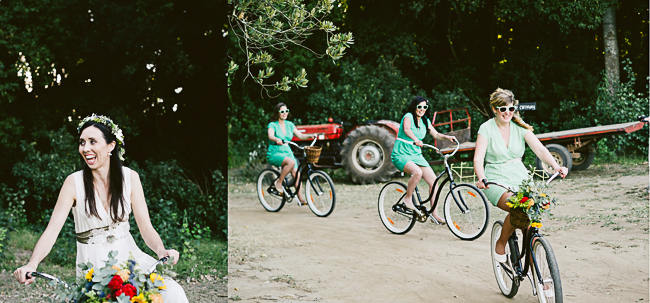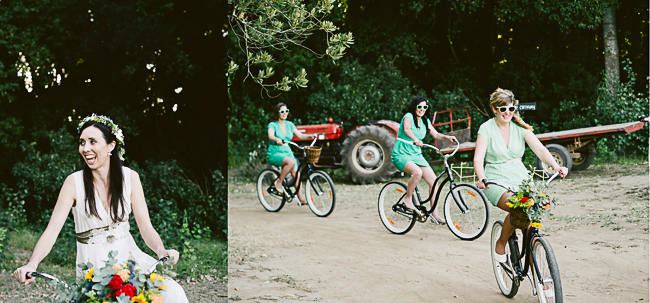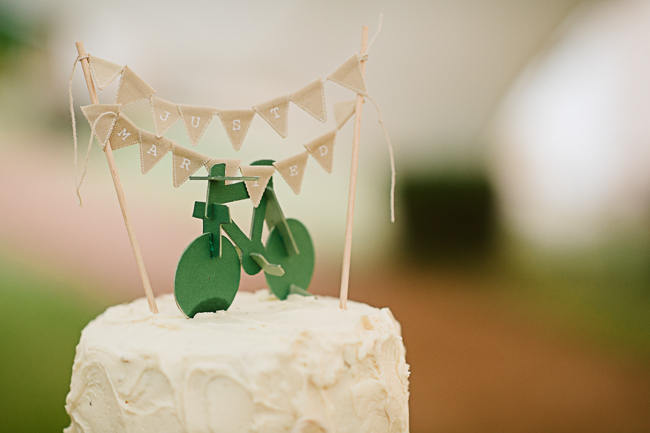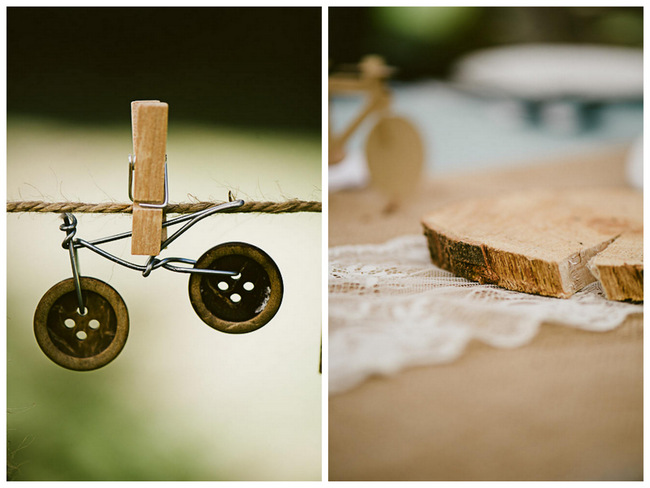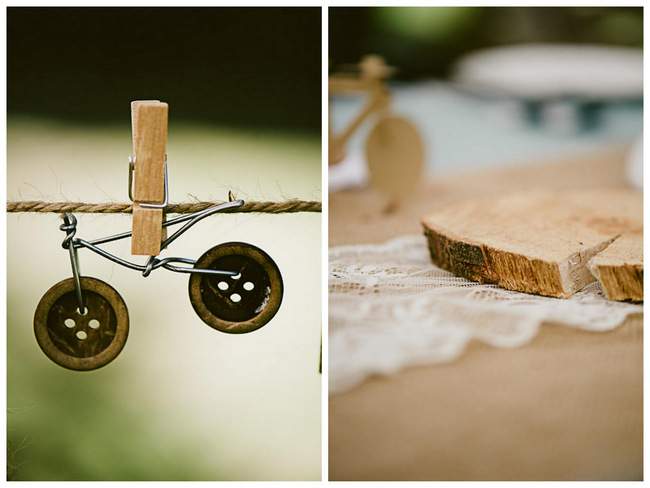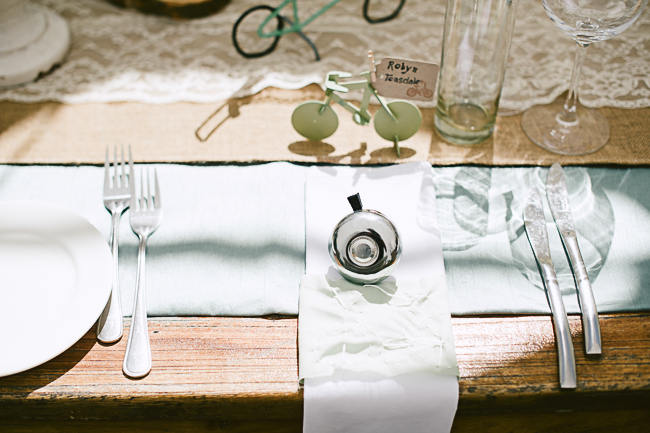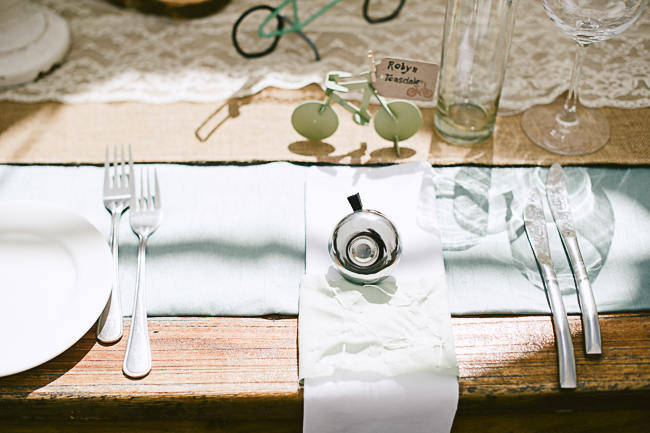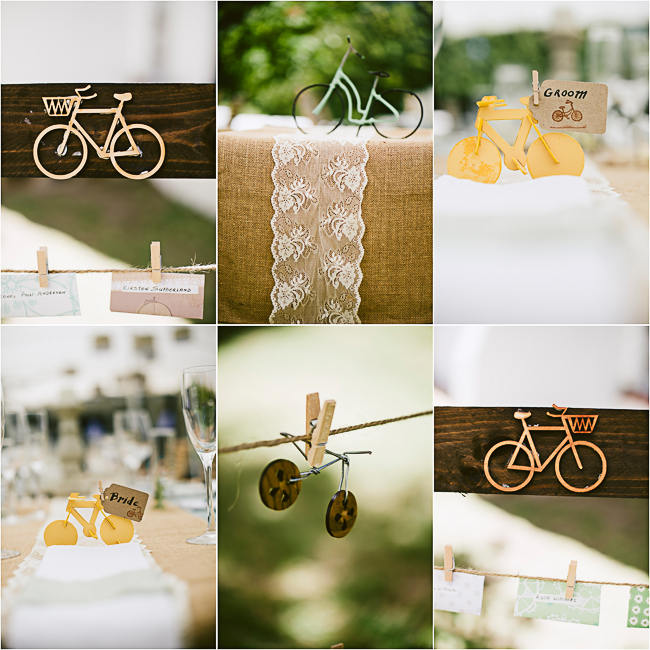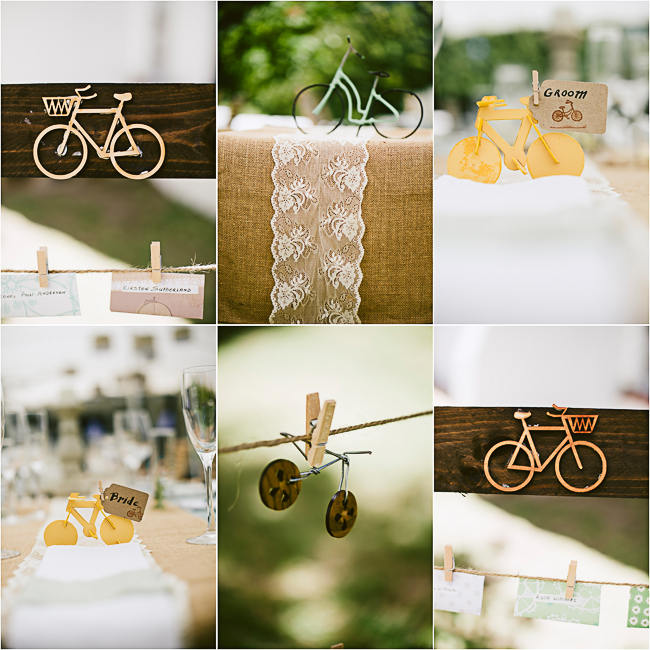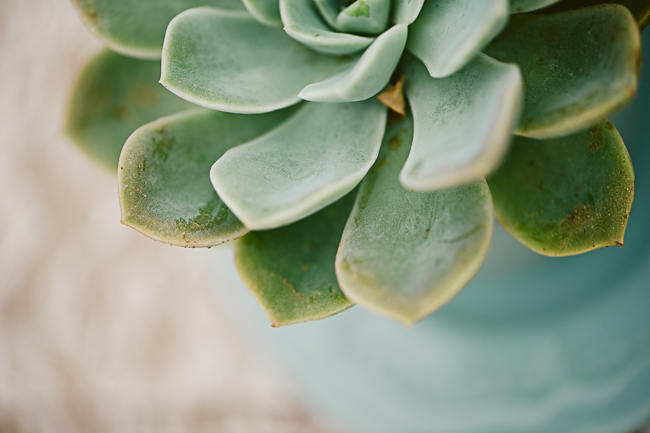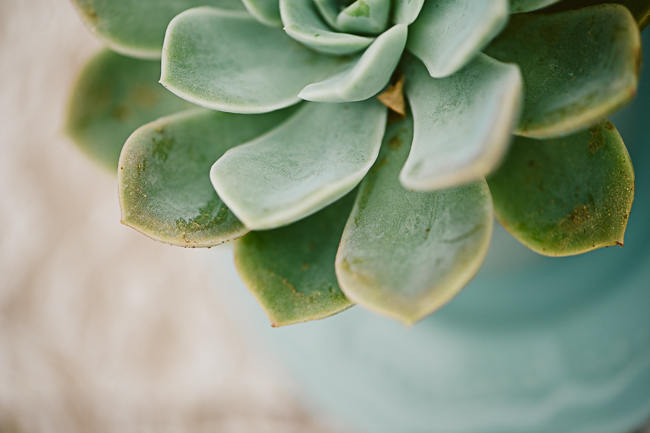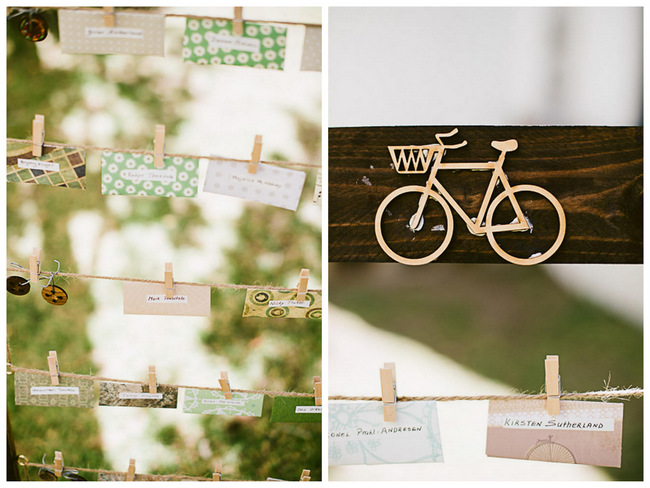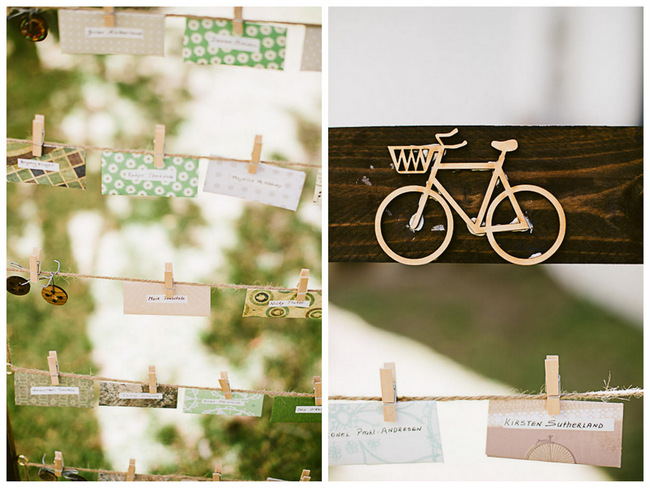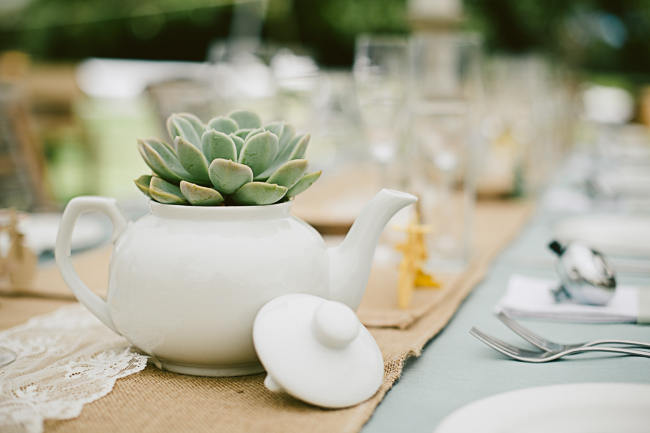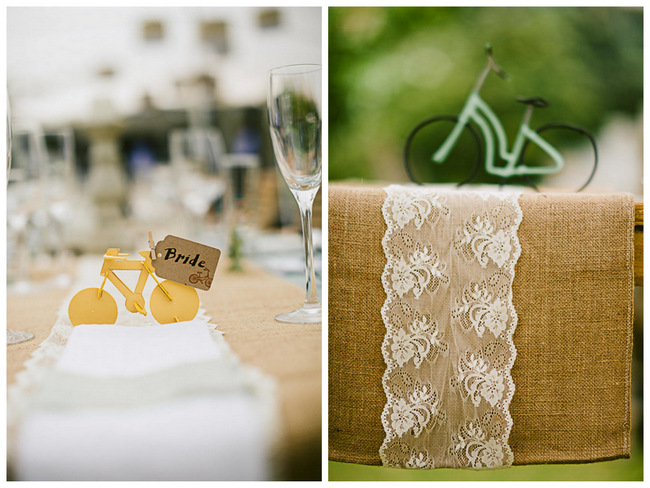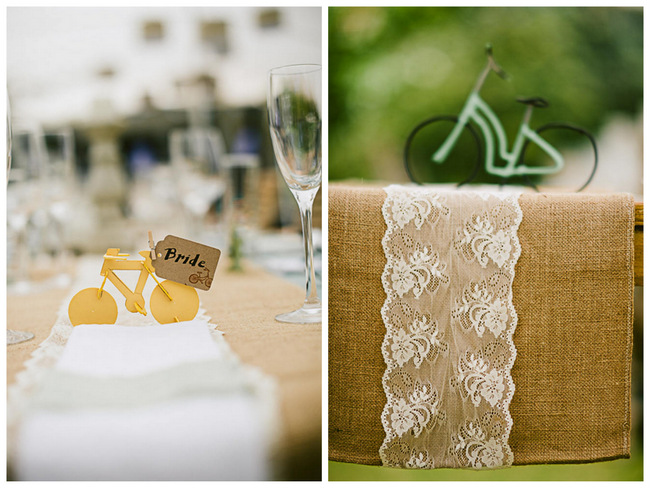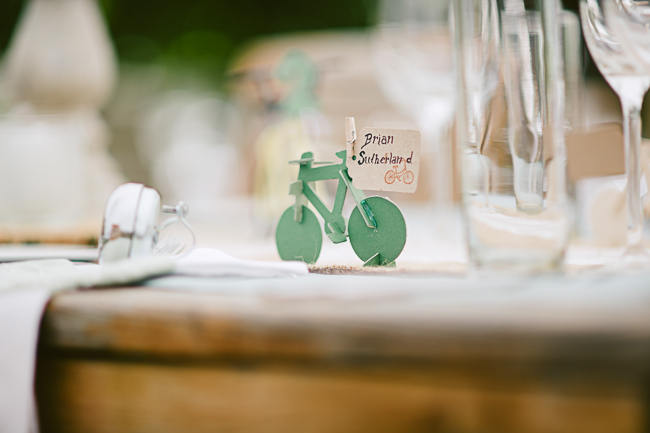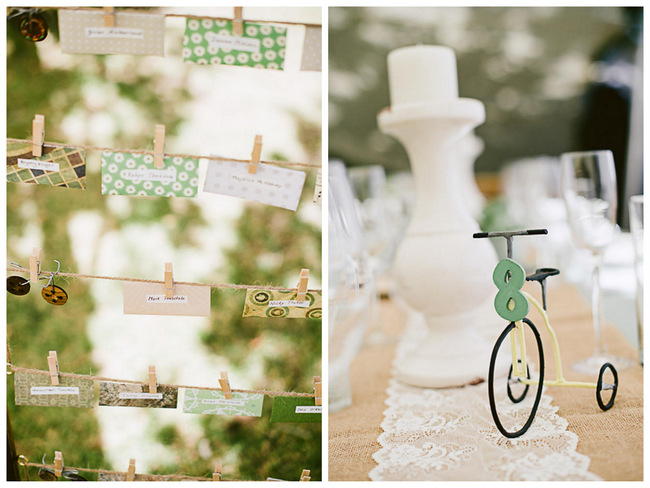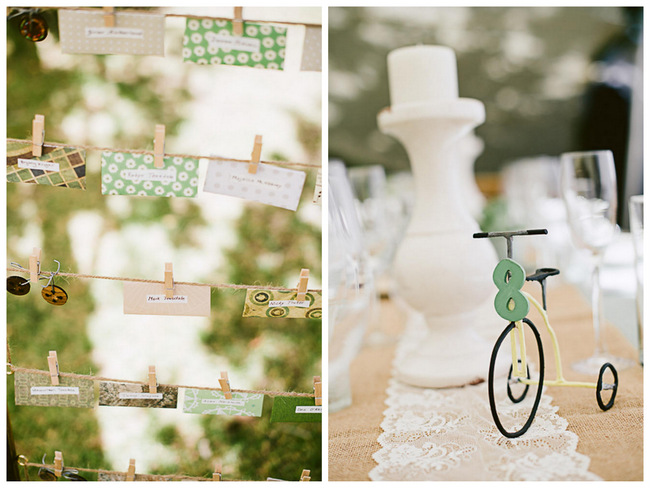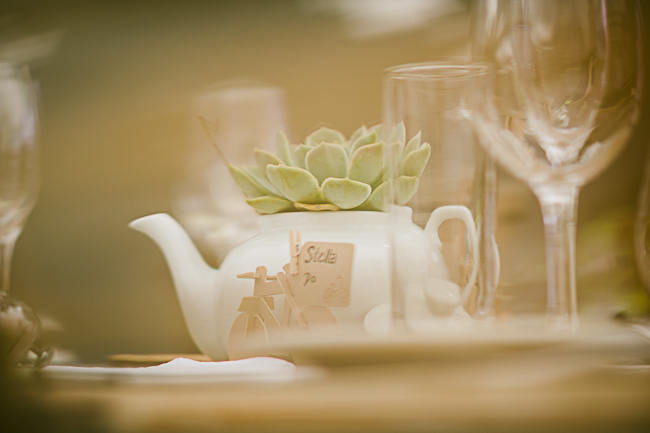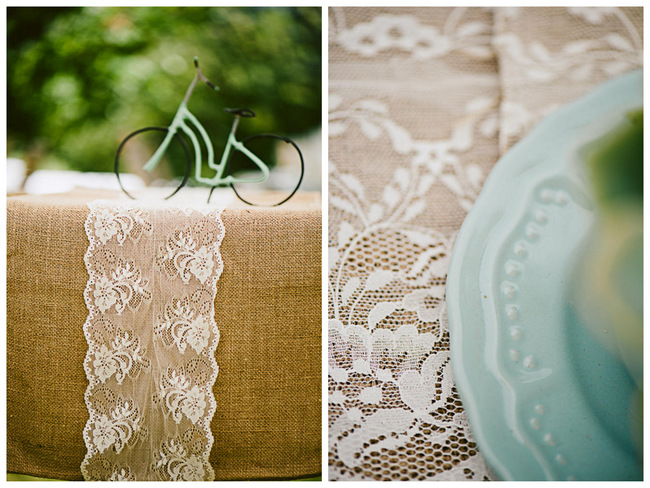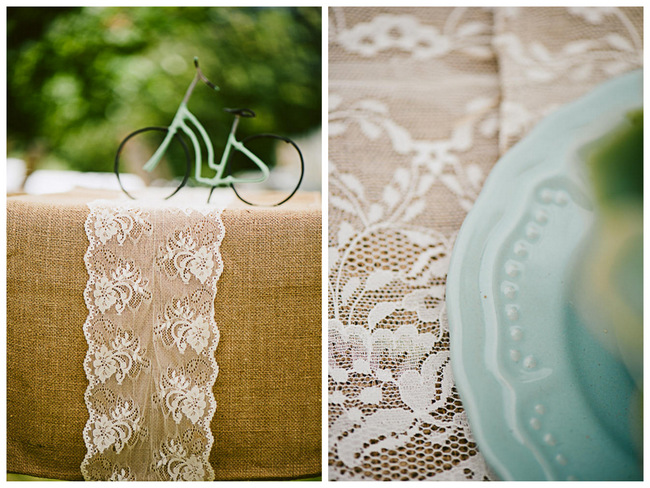 Bicycle-Themed Bohemian Wedding
Love Story: Neil and I met while he was navigating the world on a 50ft yacht with his friends -I joined as a new crew member who had never sailed before. Neil was the captain  and together with his friends they taught me how to sail. It was an amazing time. A few months into the trip in Tonga we finally had our first kiss and from then on I sailed with Neil for the next few years as he completed what turned out to be part of a six year journey around the world.  He was the only one of his crew to complete the whole journey and in that time he had gone from a boy to a man, and we had fallen in love.  Neil proposed to me a while later on mini holiday on the East coast of South Africa. Even thought he had bought the diamond he knew that I would enjoy designing the ring myself once we were engaged, and I certainly did. 🙂
Bridal Style: I like simple, elegant more bohemian styles and found my gown in the UK at a tiny place in London that did vintage, handmade, ethical wedding dresses.  The bodice was made from sheer and luxurious single silk georgette. The deep-v-neckline and back was just what I had been searching for. The elegant, maxi length skirt was lined with silk was made from delicate Scottish lace. When I went back to South Africa and received my dress in the post I found the gown needed some alterations and final adjustments so I went to my friend Dorette Funke and her sister Arina Rabie from Nina Couture who made adjustments to the gown. Dorette also made the intricate belt as well as belts for the bridesmaid dresses.  They were amazing! For my hair and make up I wanted something that was natural and bohemian in style  – Neil and I were a bunch of hippies when we met and at heart we still are! For my bouquet we used wild colourful flowers, which I love most. I didn't want anything too neat and prepped but wanted flowers that were natural, loose and wild. The result was exactly what I had envisioned: different types of flowers in many  colours, big and small, set amongst greenery.  The colours of the flowers really gave off a cheery vibe, which is what we wanted.
Groom Style: Neil wore light cream trousers, white shirt, leather braces (all the way from Germany), a grey waist coat, a fun vintage-styled flower tie and his leather veldskoene. He also had flowers for his button hole.
Wedding Ceremony: Before the ceremony began we had bicycles waiting for the majority of the guests as they arrived. They enjoyed a mini bike ride around the wine farm to get to the ceremony in the forest.  I arrived in the tractor cart with my bridesmaid and then walked down the aisle to Coldplay's 'Life in Technicolor' .  Our friend, Seth, conducted the ceremony and my bridesmaid Terri  along with her husband, James, performed a beautiful song by Damien Jurado called 'Everything Trying'.  My Aunt read a poem called the Owl & The Pussycat and our two dogs Bella & Foxie, who acted as our ringbearers, came charging down the aisle with the ring boxes.  Lastly we got both of our mums to do a blessing with my dad and Neil's grandparents watching on via skype on an ipad. At the end of the ceremony we walked through a shower of pick n' mix dried herds and feather confetti to the song 'Somewhere over the rainbow' by Israel "Iz" Ka'ano'i Kamakawiwo'Ole.
Wedding Entertainment: In the forest clearing we had laid out hay bales in a horse-shoe shape, facing a choir and band with bunting behind them.  This was to be the beginning of the music and dance driven wine-tasting experience.  The wine estate has wines named after dances and so as the guests were given wines to taste the bands would play the song that went with the wine, then teach the guests the dance that each wine was named after.  It really got the guests into the spirit of things while we snuck away to get our photos done.
Wedding Reception: Our wedding reception was lots of fun. The decor was bike themed as you would expect, with silver bike bells (with herbs through the rings at the back on them) for every guest on their napkins on which our friend Dorette, had individually sewn a bike. My dad (who sadly at the last minute could not fly out for the wedding due to them finding a clot in his lungs) had spent most of the year making around 80 coloured bikes out of thick card for the place cards.  Each bike was made up like a 3D puzzle as there were a number of different pieces that slotted together to form the bike. Across the Bedouin style tent we had fairy lights, natural styled lamp shades and open bulbs and lanterns.  We had chairs with bride and groom signs on a number of the tables as we wanted to move to different tables during the various courses to spend time with as many people as possible. We did not want a specific 'bridal table' as we felt we would remove ourselves from the guests we wanted to spend time with throughout the evening.  We have a sweets table in large glass sweet jars and green striped paper sweet packets and this is where we also had our cake.  My dad's speech was read by my uncle and my dad watch on via Skype on an iPad. It was quite emotional.
Custom "Local Gourmet' Menu: We wanted to have a distinctly 'local' flavor and the chef at Solms-Delta incorporated traditional ingredients and dishes and gave them a modern, gourmet twist.  We therefore decided to design our own menu so that people could learn about these ingredients and dishes (there were translations of the words at the bottom of the menu). We wanted to ensure that out of the options on the menu we could point out which options were vegetarian, dairy-free, wheat-free etc.  We tried to keep everything as wheat-free as possible so that everyone could eat everything, rather than catering specially for a few.  Our wedding cake was a carrot cake which is Neil's favourite and I made sure to get some on his face after cutting the cake.
Table Numbers: The table numbers were different bikes made out of steel rods that Neil have welded together and we both had painted with wooden number stuck on each.  The table cloths were a natural subdued green which we had chosen and there was a hessian runner.
 Guest Book and Seating Chart: Guests signed a large world map on a canvas (not a traditional map but one where the countries were splashes of multi-coloured paint).  They wrote messages next to where they are from in the world or where they met us as we had friends and family at the wedding from all around the world (including the many international crew member who had journeyed with us over the years).  The seating chart was made up of little personalized envelopes with love letters inside to each special guest – these were pegged on string in between little metal bikes I made out of wire and buttons.  Each 'clothes line' had a number (for the table) and all of the lines were strung in a large wooden frame that Neil made.  We wanted to use the seating plan as an opportunity to leave a personal message for each guest as we knew that you don't always get time to speak to everyone as much as you'd like on the day.
Wedding Playlist:  We walked in to the reception to the Monkees 'I'm a believer' as we have always liked the song. We take every opportunity to be silly and have a giggle so we did a bit of a dance coming in.  Our first dance was 'Time Warp' from the Rocky Horror Show as we tried practicing to slow dances and just ended up laughing and messing around. The song after was Shaun Jacobs 'Love Can' – a bit more romantic.  We played the song 'Business Time' by Flight of the Conchords for Neil removing my garter with his teeth as that song is hilarious.  Please go and listen to the lyrics, they are comic geniuses.  We left at the end of the night to Gangs of Ballet 'Don't Let Me Go' as we danced under the arms of guests holding sparklers as they formed a human tunnel for us to dance through and then we finished off the song by doing a giant conga around the tent before Neil and I rode off on our tandem bike.
Advice for brides: 
Don't leave things to the last minute as you find yourself going into a last minute frenzy where you don't care about the price, and just buy buy buy because you have no more time to look.  Also I just kept thinking up more and more ideas and you need to know when to stop.
To truly personalize your wedding, look at yourself and your partner and yourselves as a couple and use that as inspiration.  There is no one quite like you both and so if you focus on that it will always make your wedding unique and personal.  This is not about creating a day to suit other people, or impress your guests, this is about tailoring your perfect day – if you focus on that it will work out beautifully.
We had wedding drinks vouchers designed for the reception and each person got four.  The bottles of wine and champagne on the tables were free but we limited the number of free drinks per guest beyond this as we knew we had a budget to keep to and this is one area that can spiral out of control.  After the vouchers and table drinks were finished people had to pay for drinks at the bar. Funny enough most people didn't even get through their drink vouchers and everyone said they had plenty to drink throughout the night so it worked out well.
We created a digital wedding invite – not just to keep costs down but also because a lot of people were coming from abroad so this way we could provide more and up-t-date information to them and ensure that everyone received their invite (postage can sometimes be very unreliable).
♥ ♥ ♥ Wedding Vendors ♥ ♥ ♥
Venue: Solms Delta Wine Estate  // Photographer: Jules Morgan   // Videographer: Bride's brother, Alastair Willcocks  //  Dress: Purchased from Minna altered by Arina Rabie from Nina Couture  & Dorette Funke //  Brides Make-up & Hair: Powder Puff Make-up & Hair  //  Flowers & Decor: N Concepts and Designs  //Tent: Martin Scott, Twin Flame Events  //  Cake: Juanita Quinot-Loubser, The Cake Lady  // DJ: Dukes Disco // Favours: DIY //  Stationary (menus) Thought Capital /  Groom & Groomsmen shoes: Groundcover