Classic Elegance at Vivere Country House ♥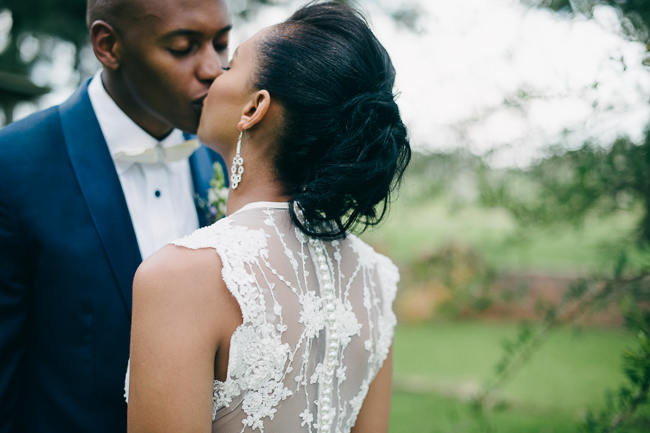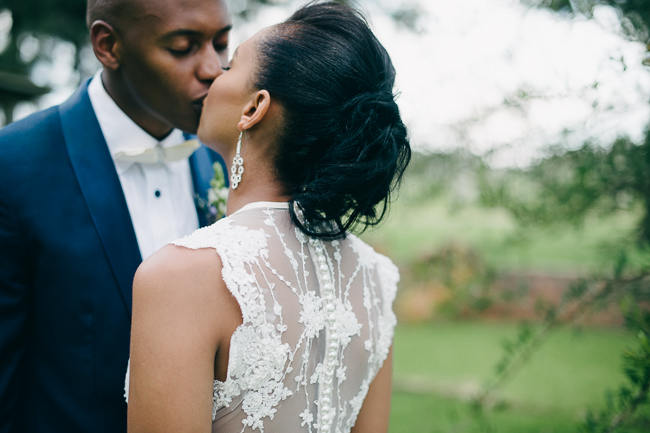 The detailing on Melissa's exquisitely beaded lace wedding gown is elegance personified. Her deliciously blue Badgley Mischka heels serendipitously matched the exact shade of her groom's classic navy suit – despite the fact that they had not discussed their attire prior to the big day!
Melissa and Tsepo said their I do's at Vivere Country House on a deck overlooking a dam with idyllic green hills in the distance. In fact, it was so picturesque that you'll even spot a few zebra in attendance soaking up the sun during their ceremony! The day's events were lovingly documented by Simone Franzel Photography who brings us these delightful images.
The couple's classically elegant reception decor included floral arrangements courtesy of Floral Blessings, made from lavender, hydrangeas and baby's breath in shades of light blue and purple. Like her bouquet, Melissa wanted the floral arrangements to have a freshly-picked-from-the-garden feel, adding a dash of whimsy to their reception. Simply beautiful!
 Timeless Vivere Country House Wedding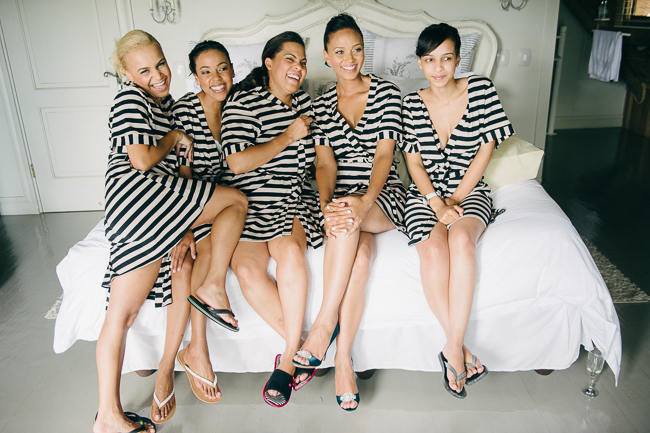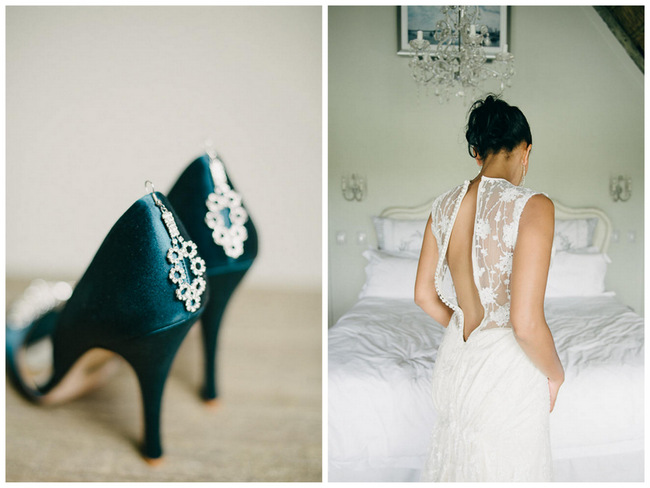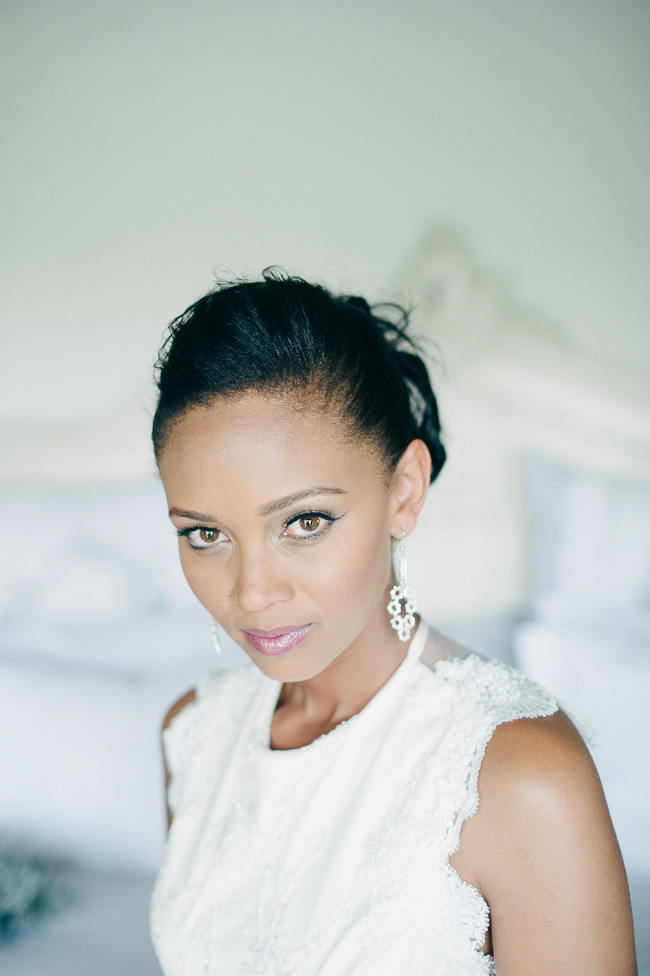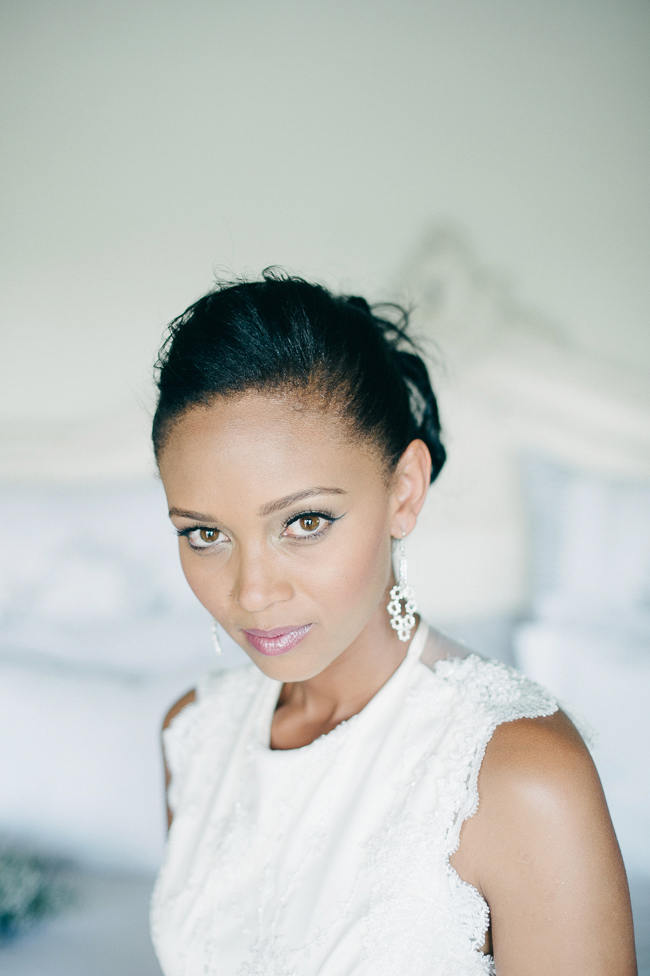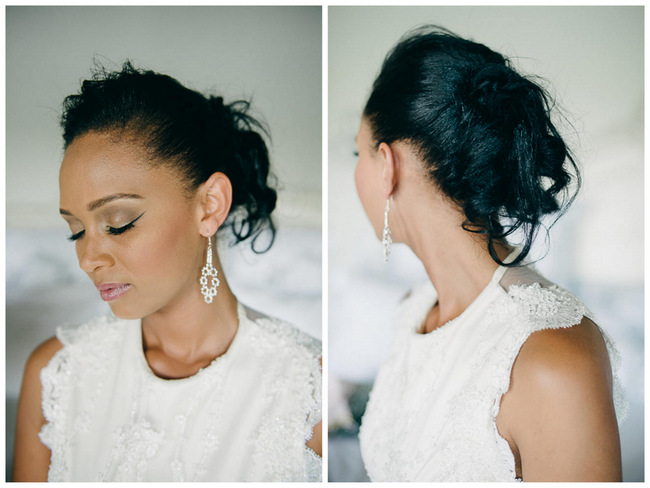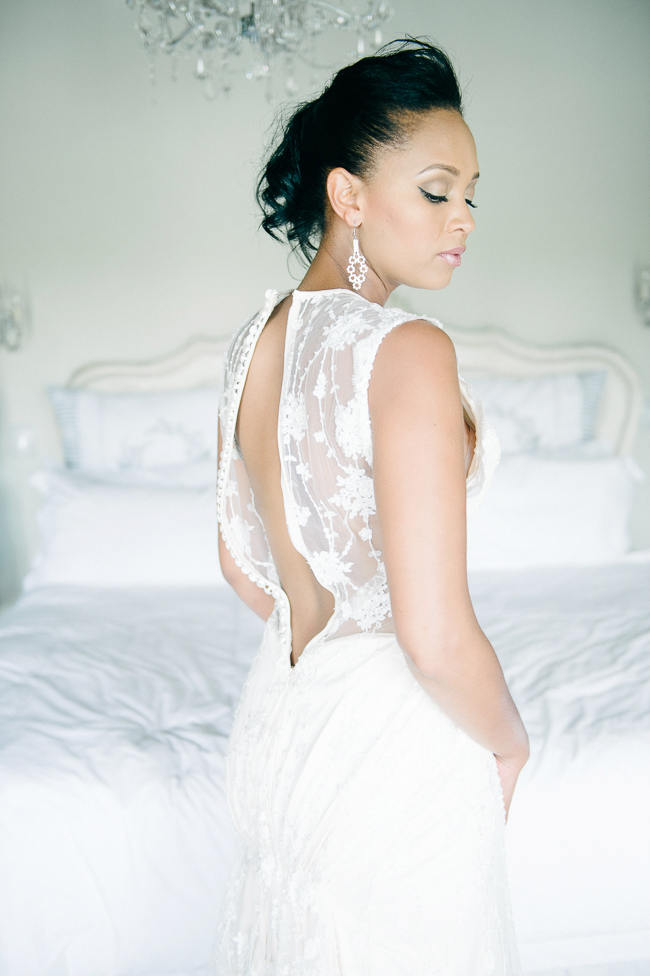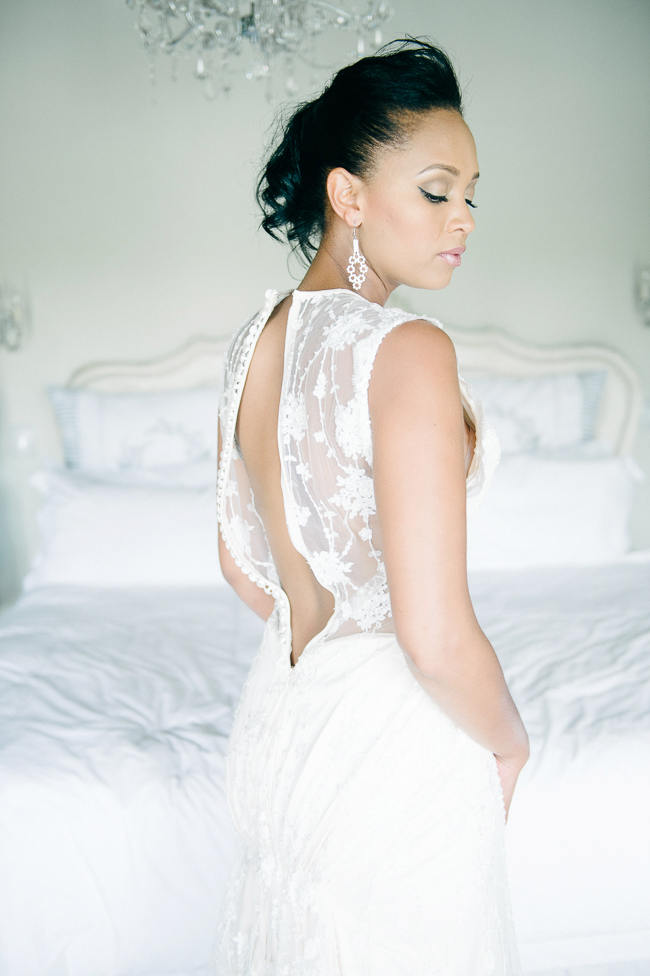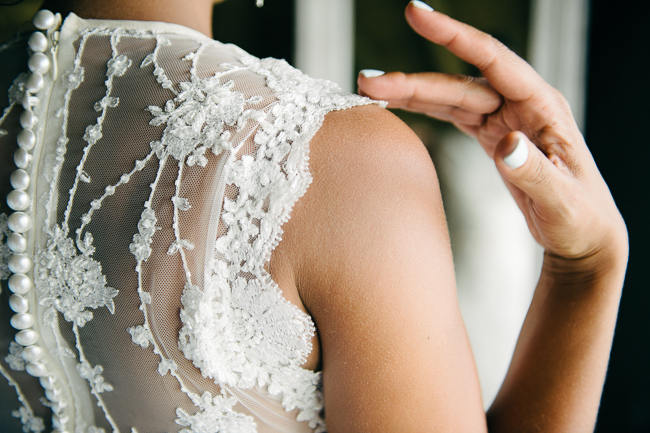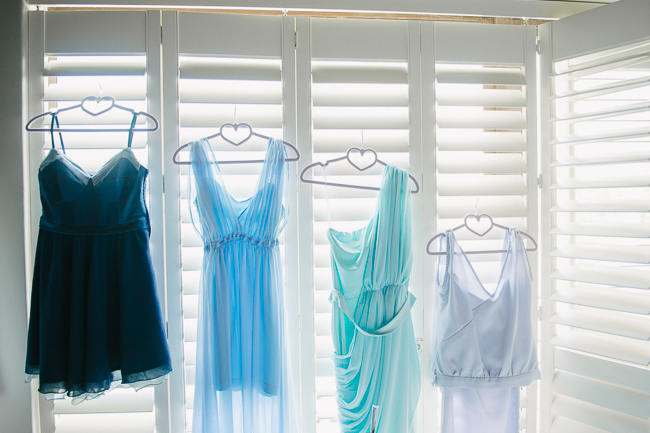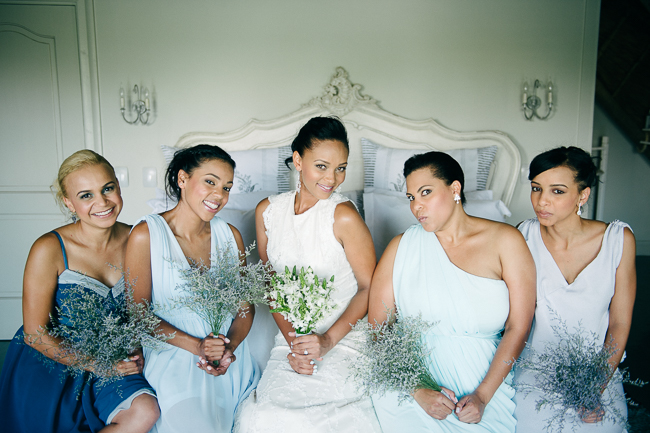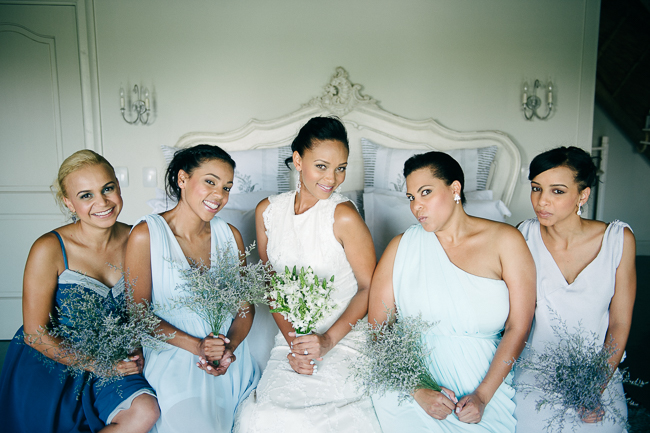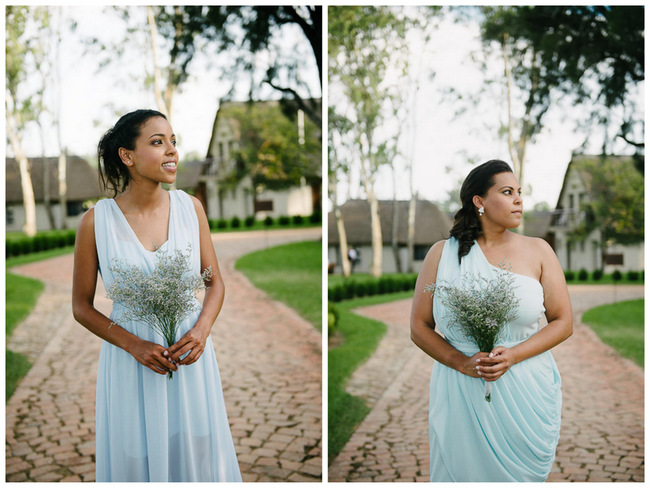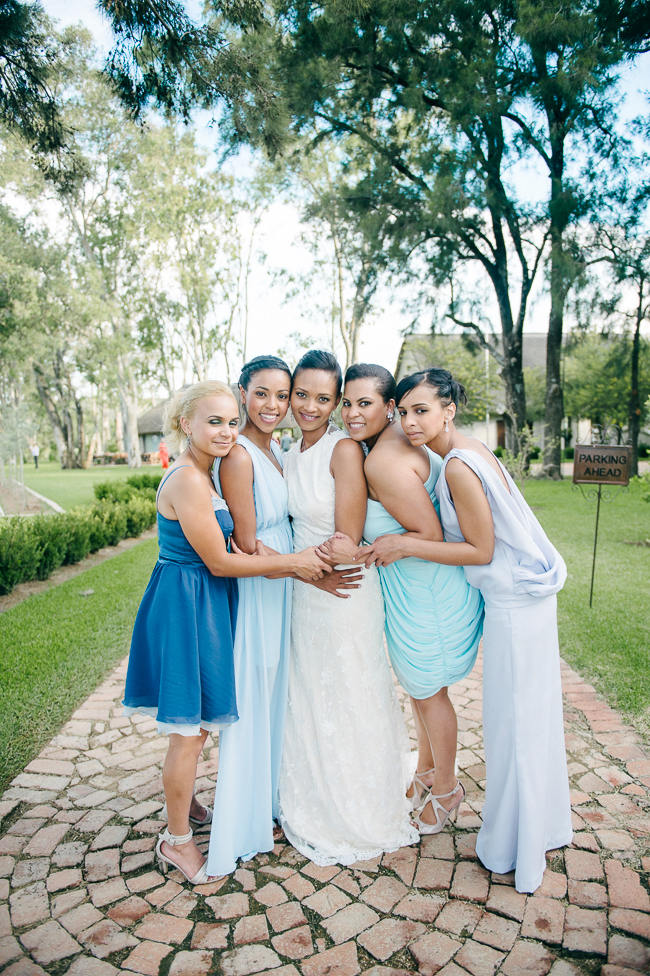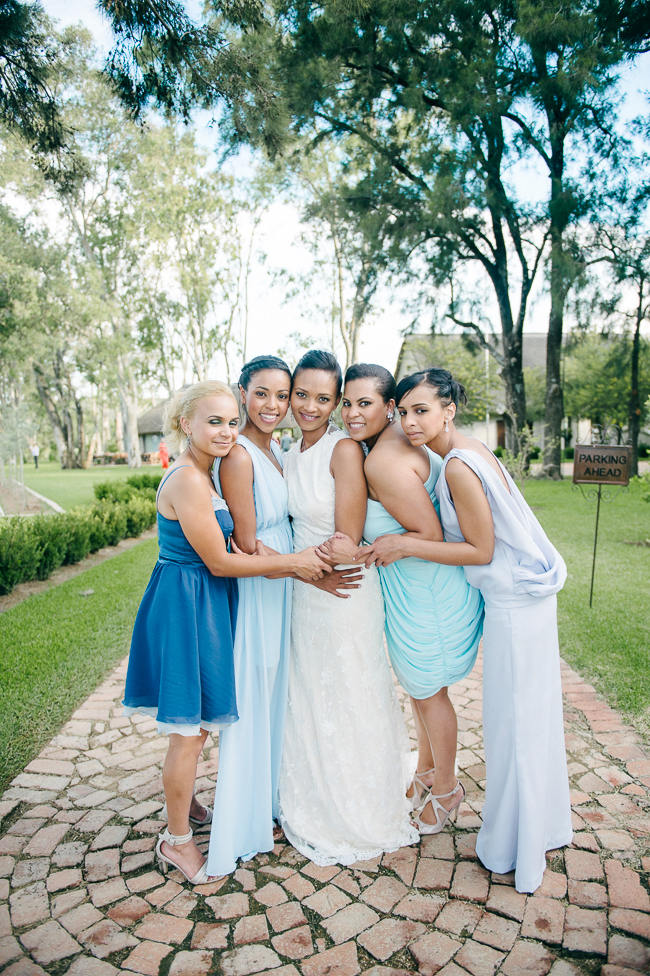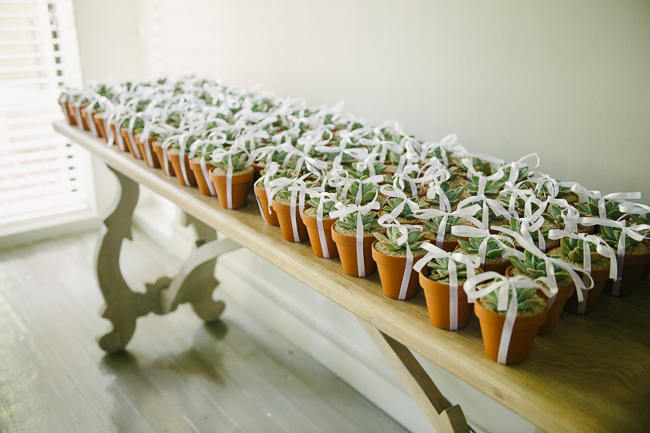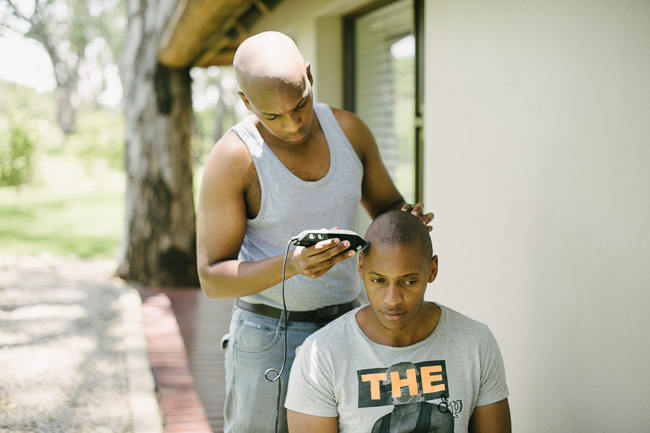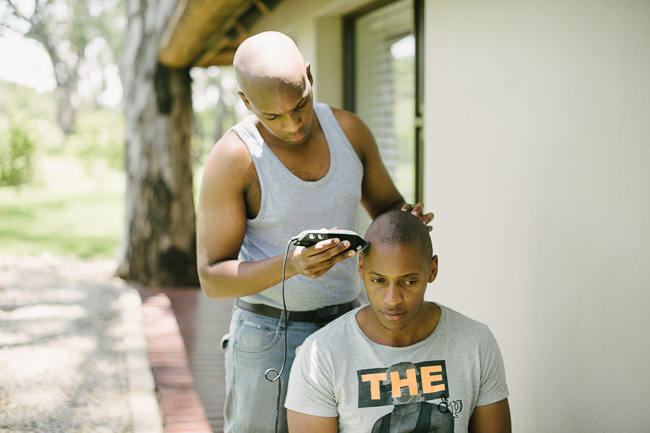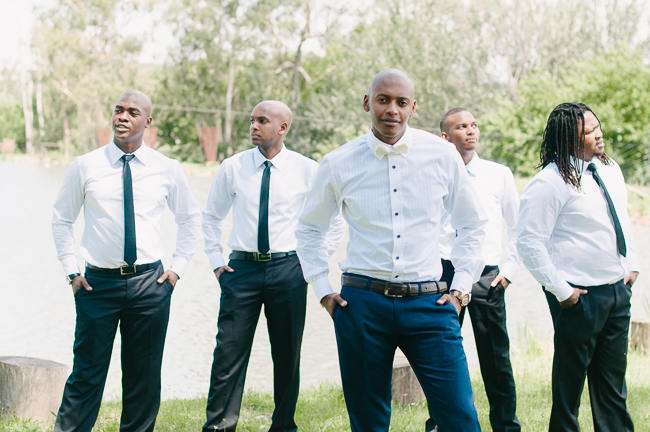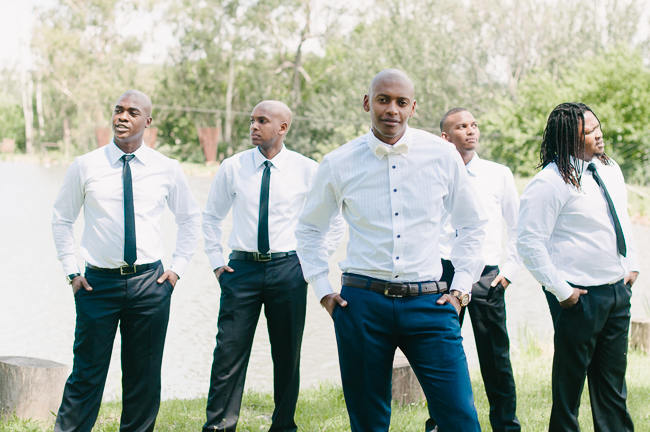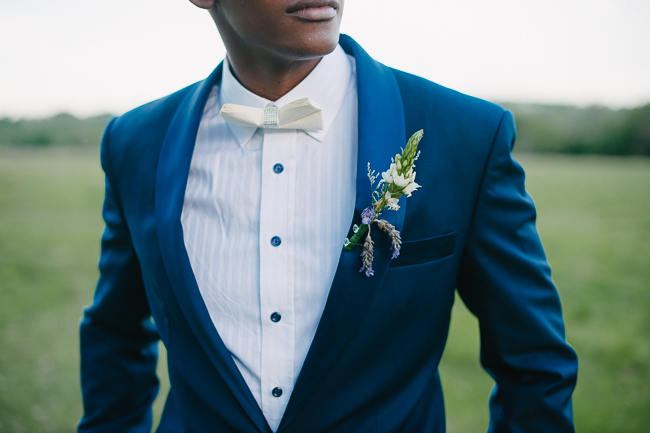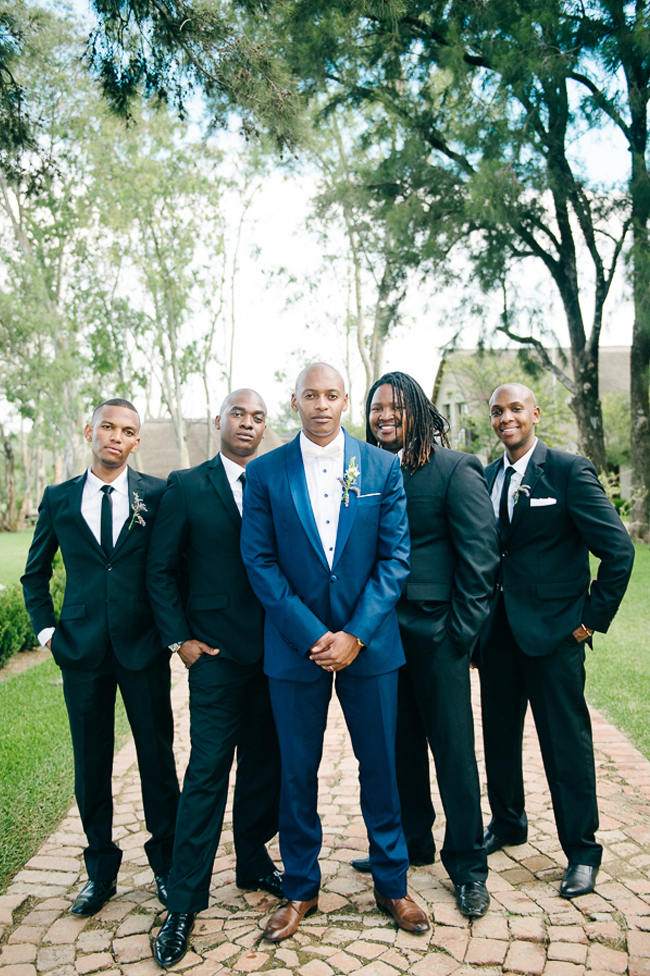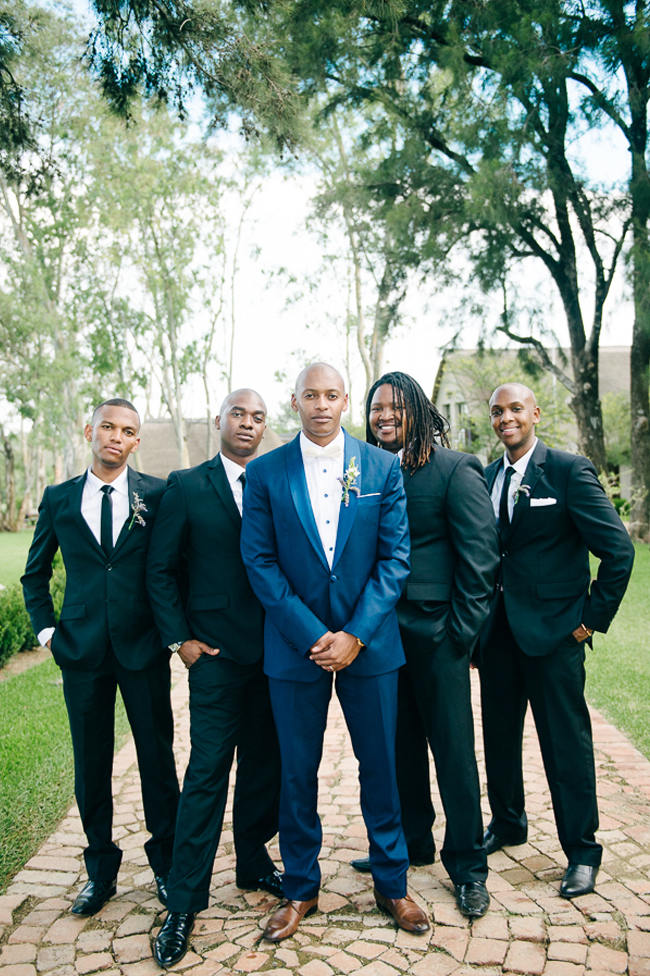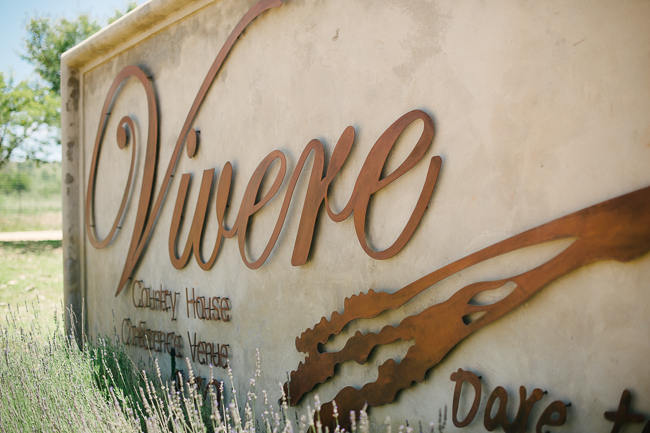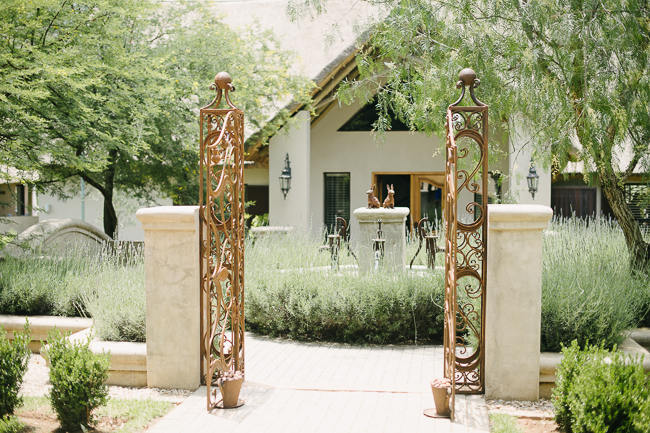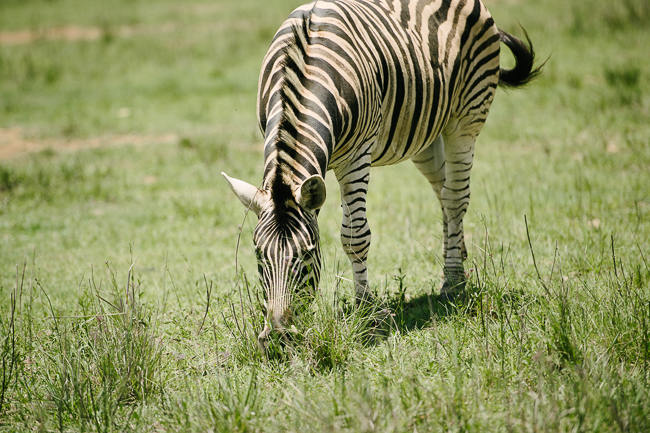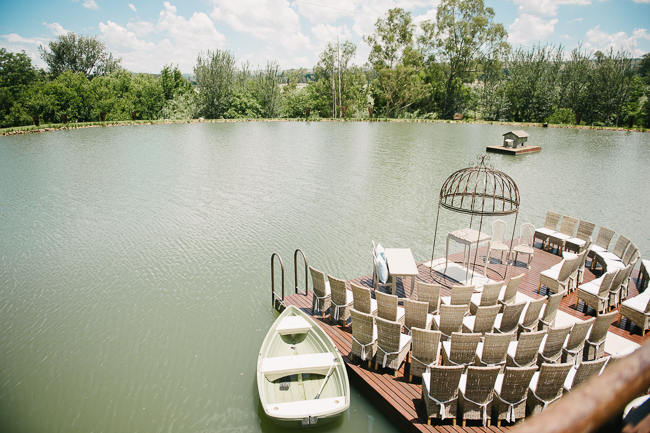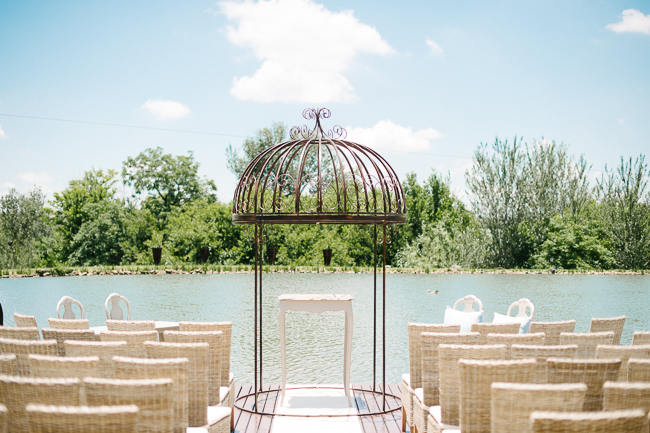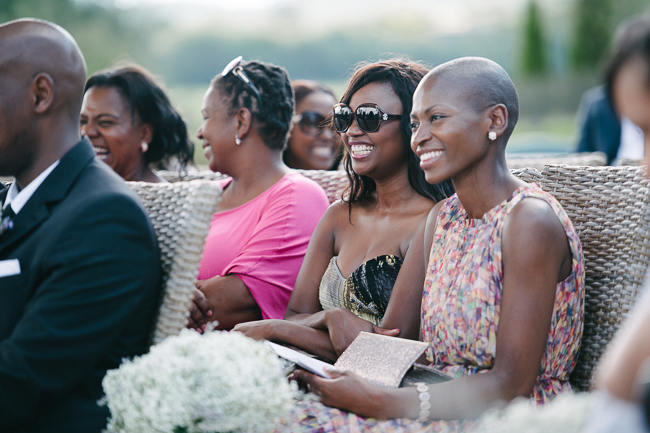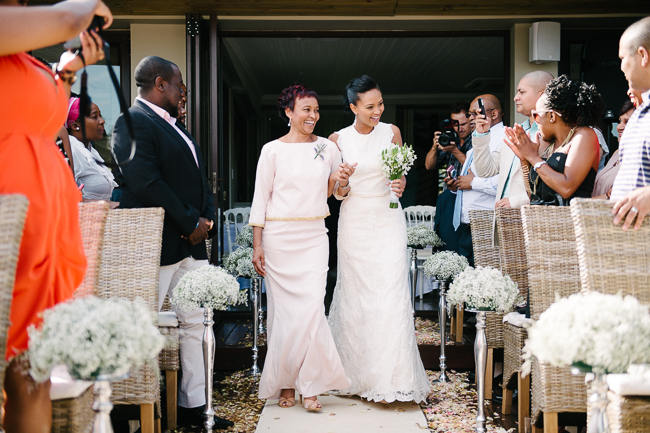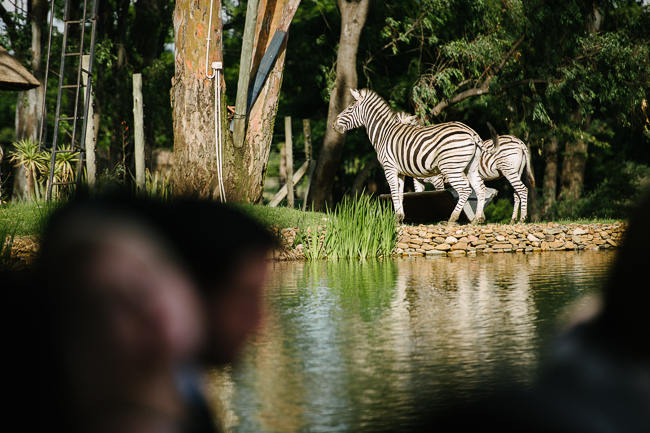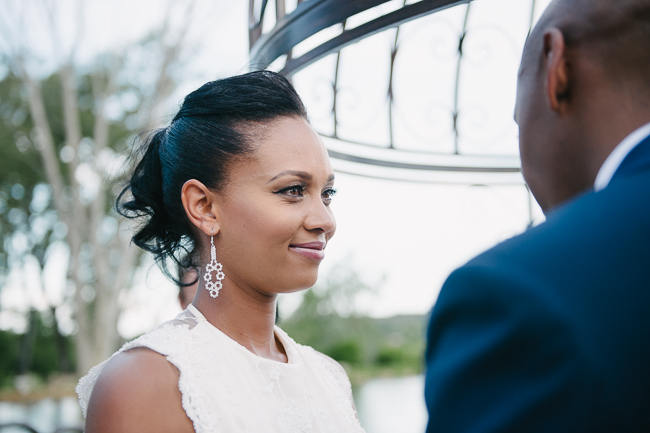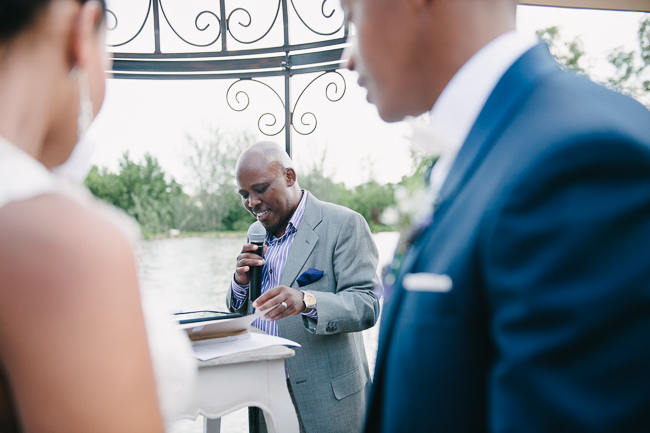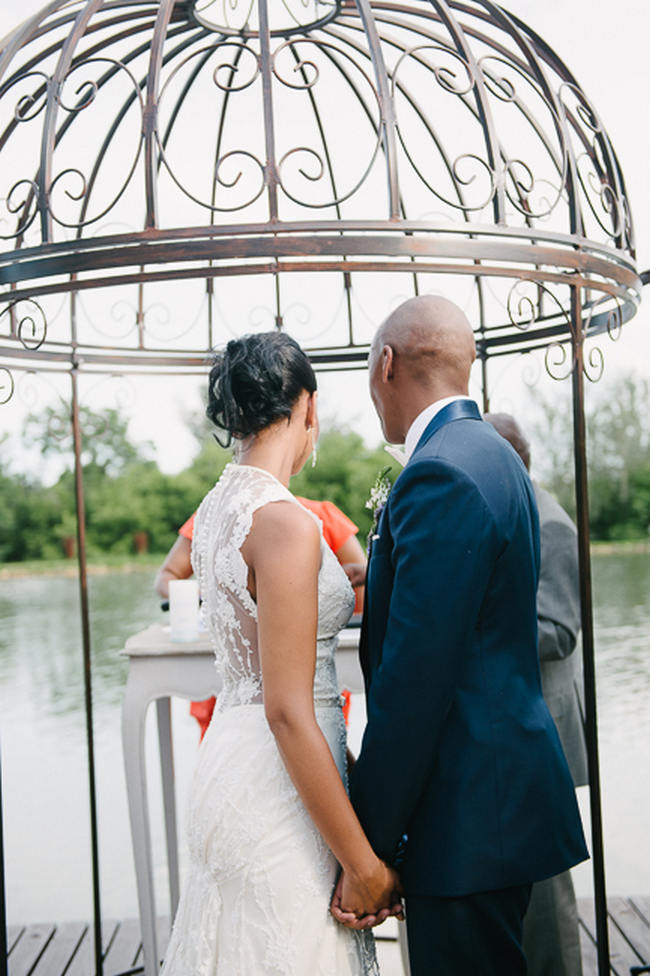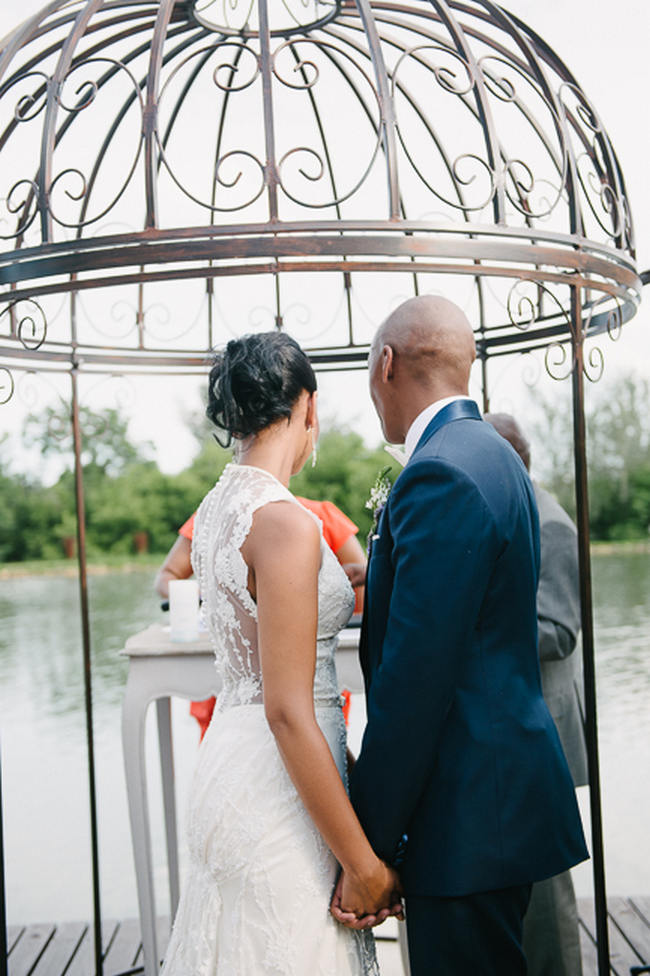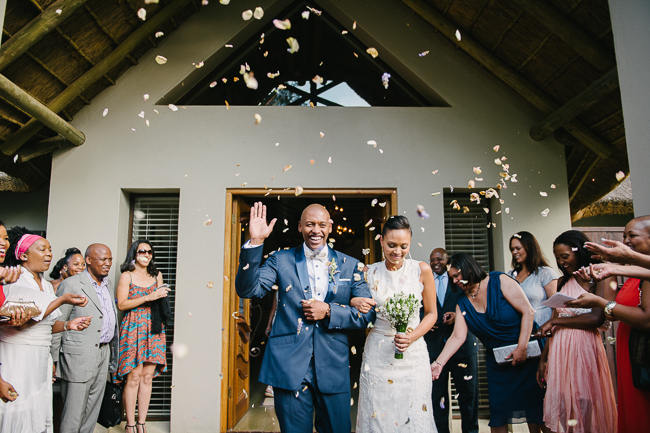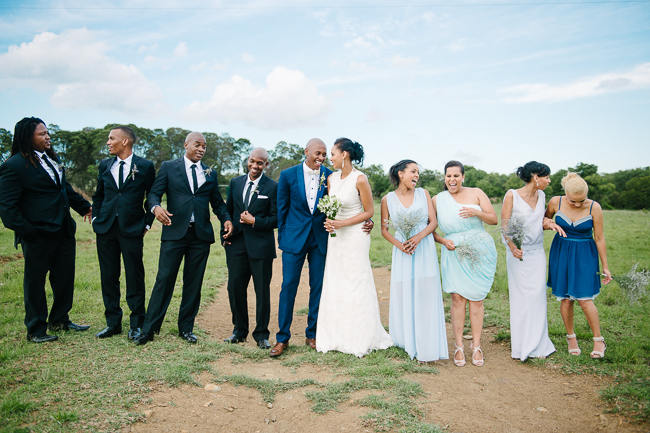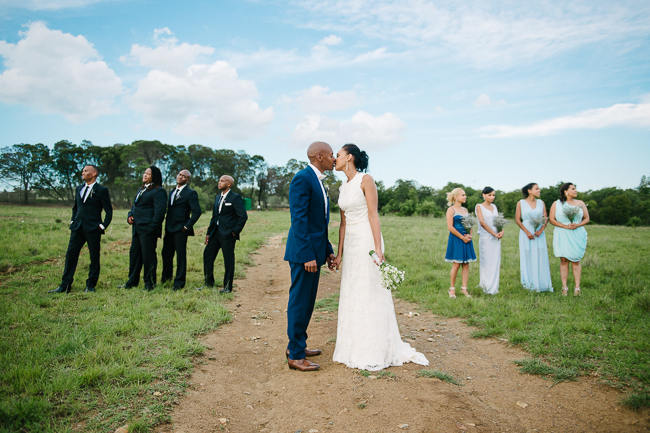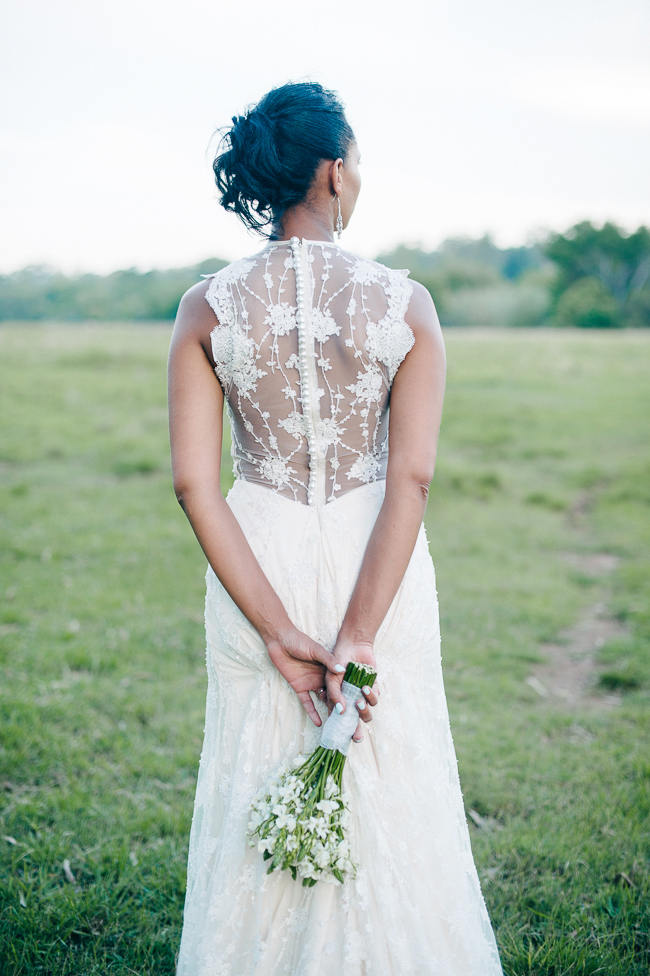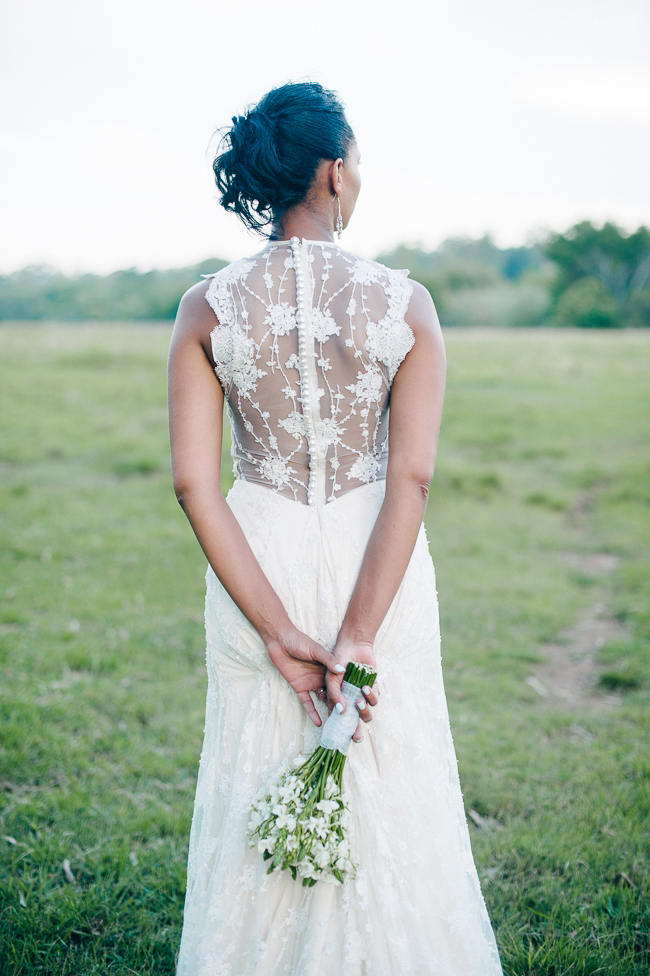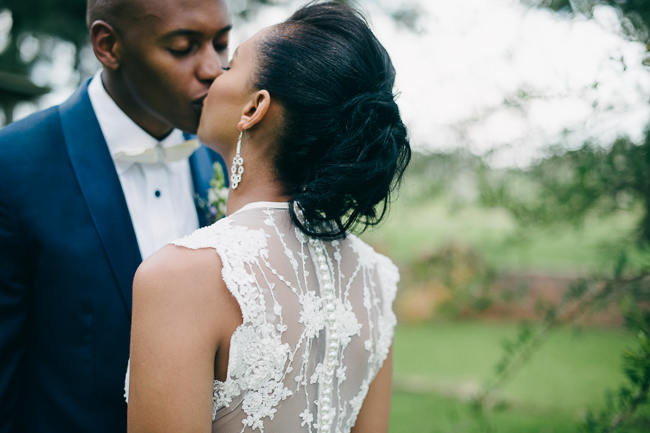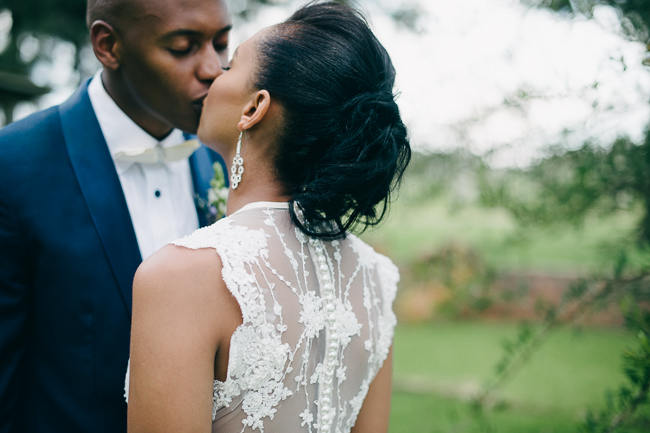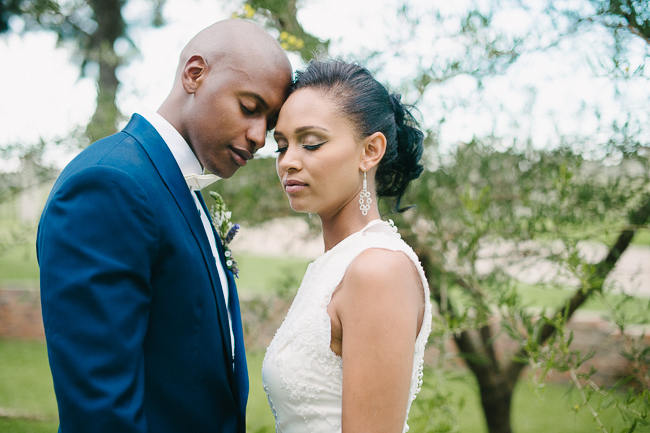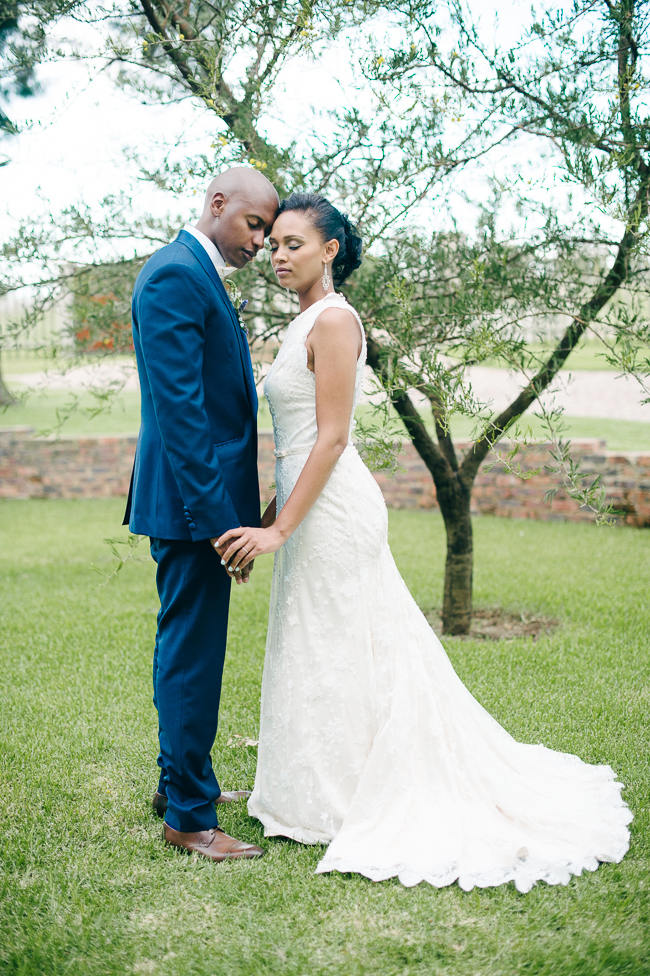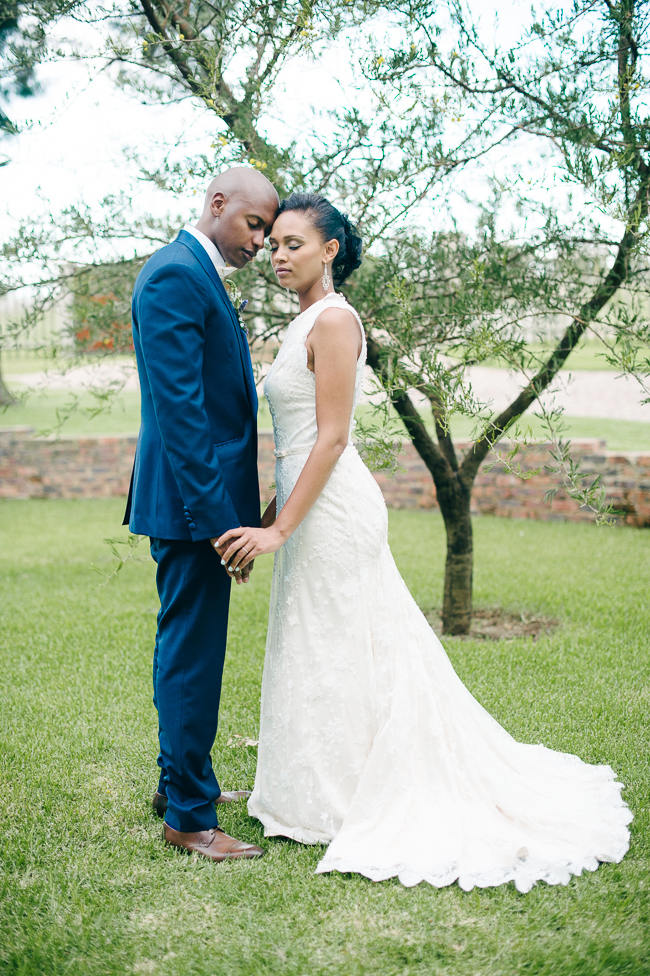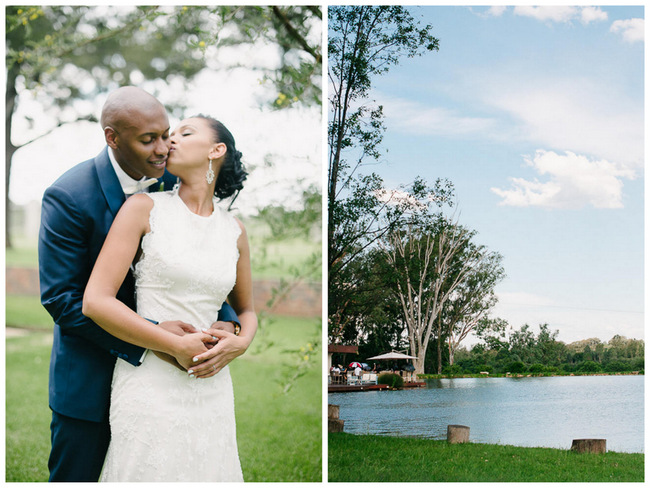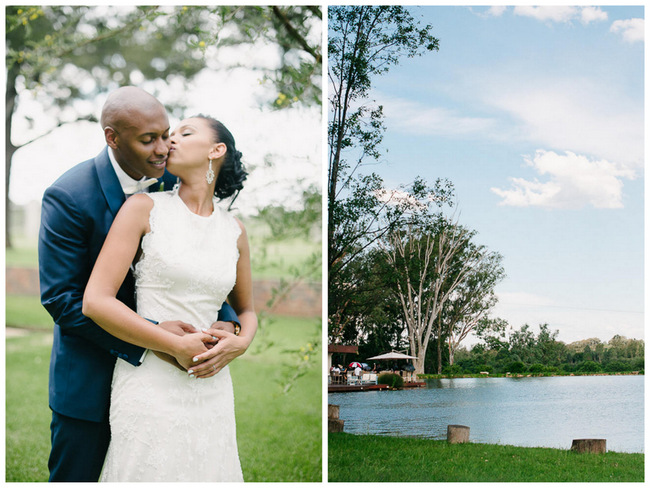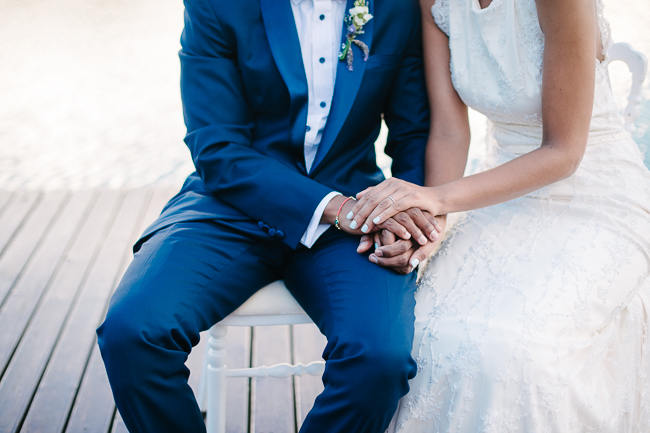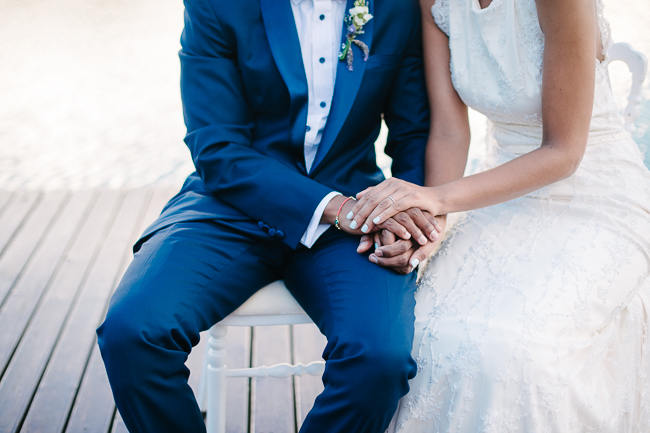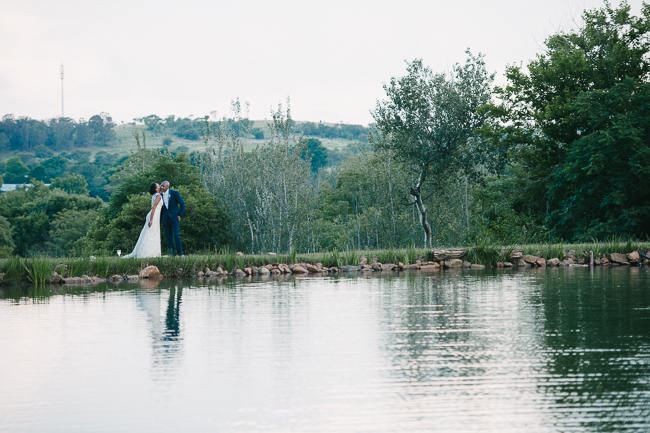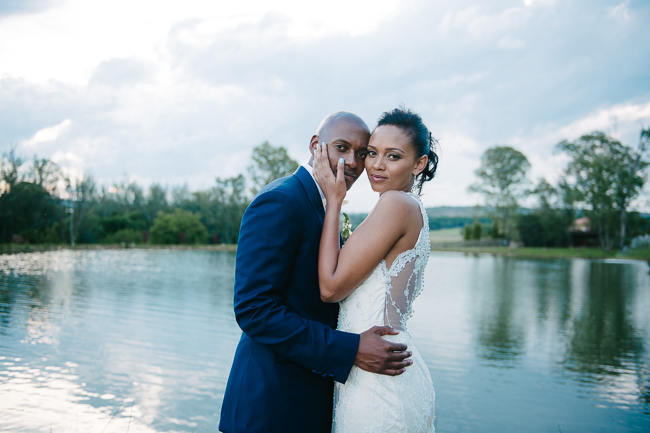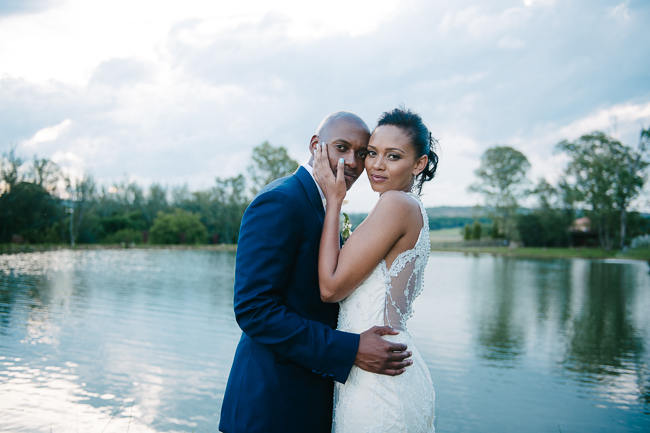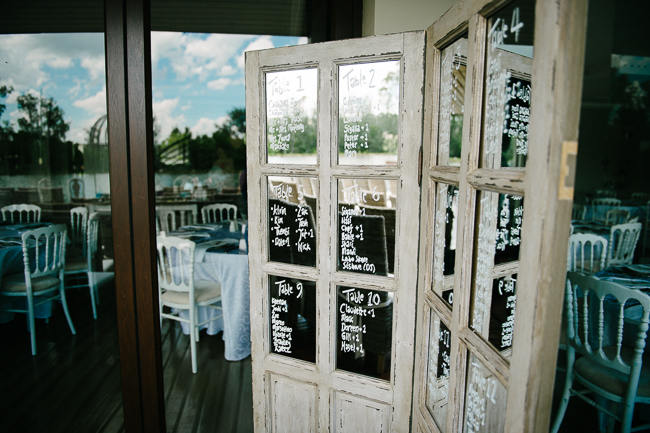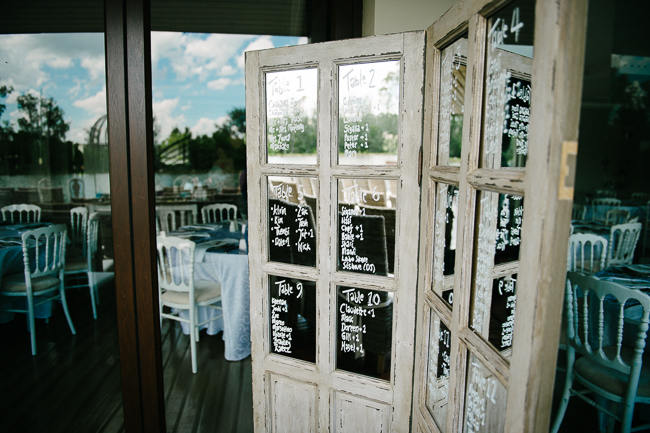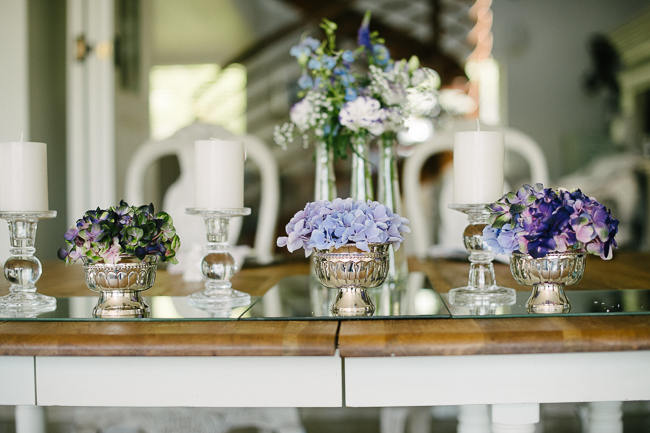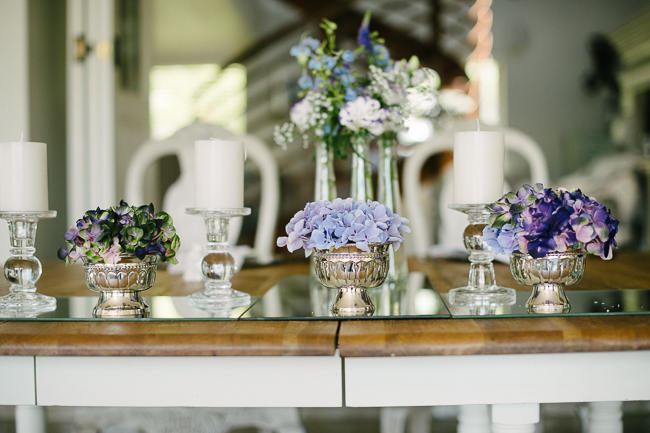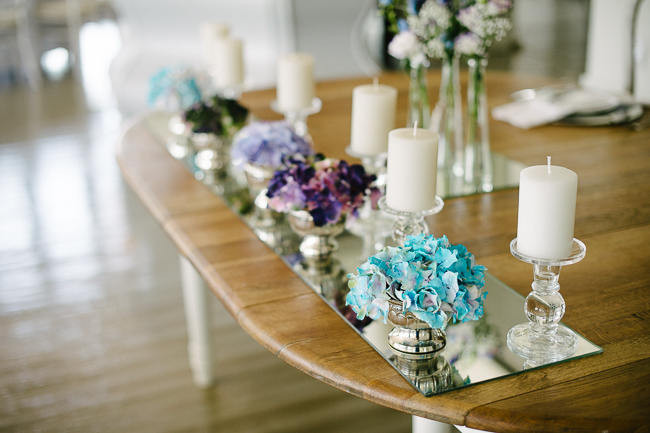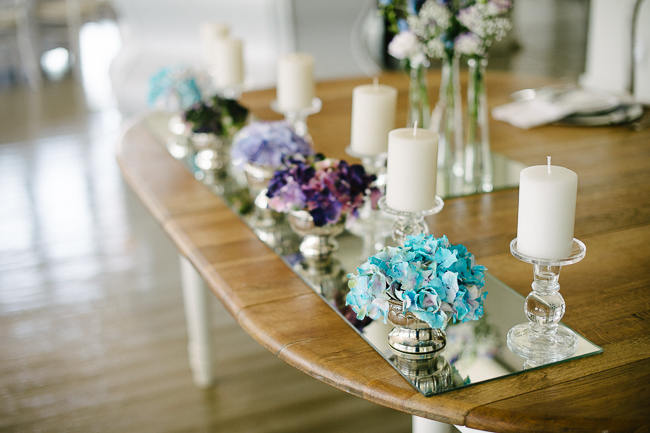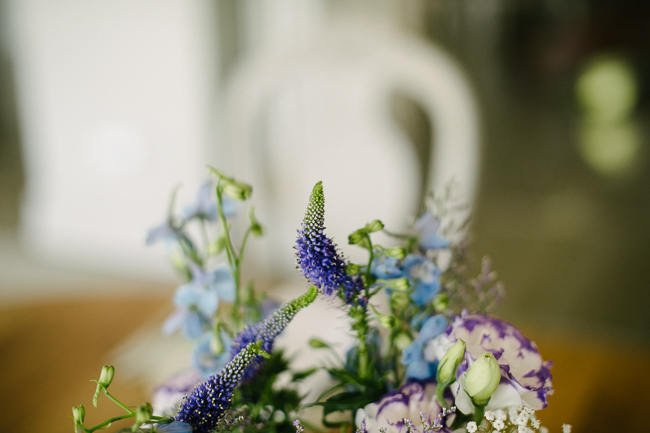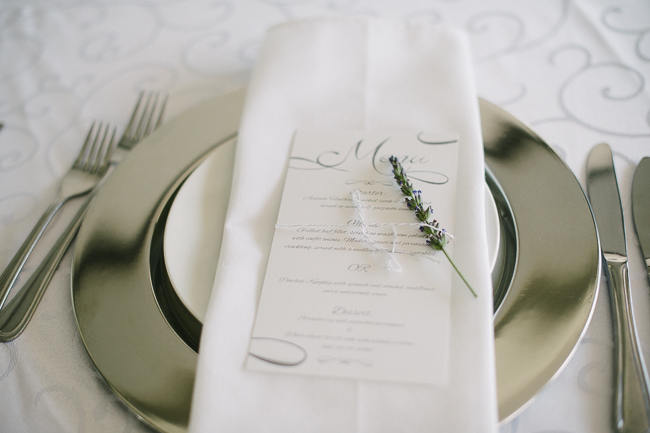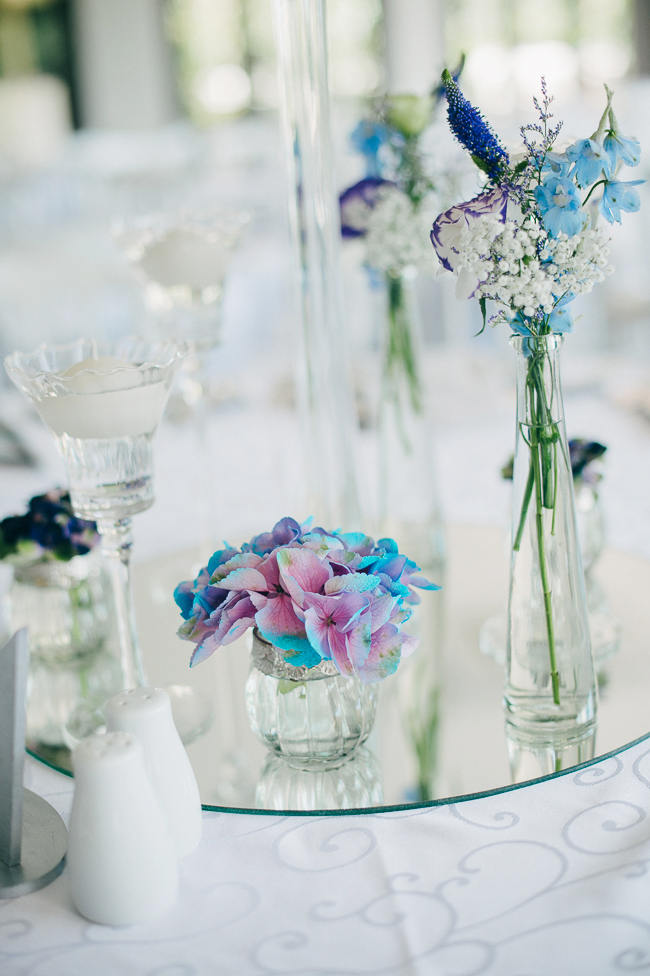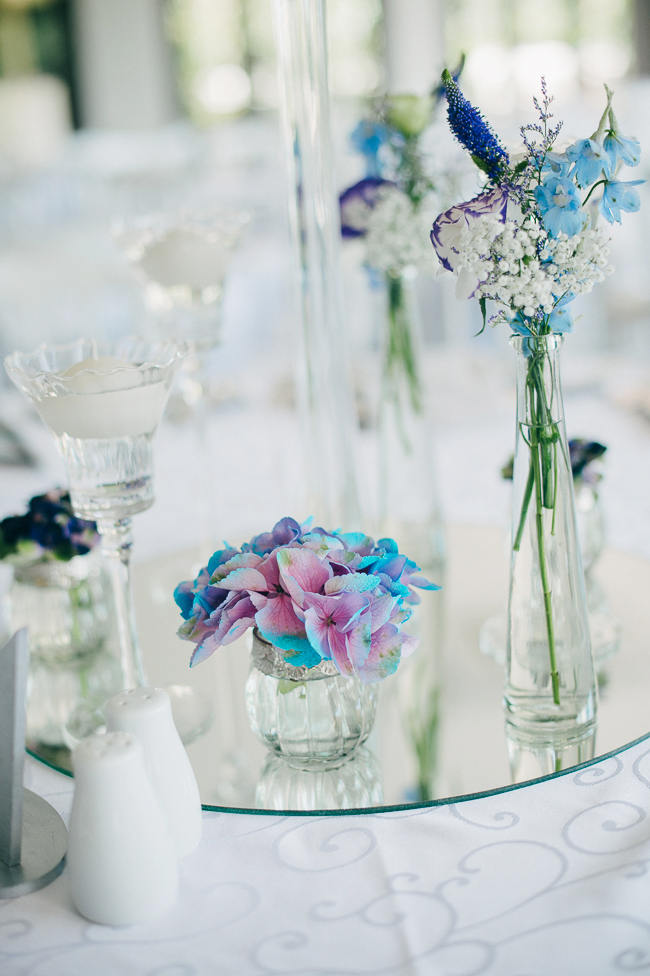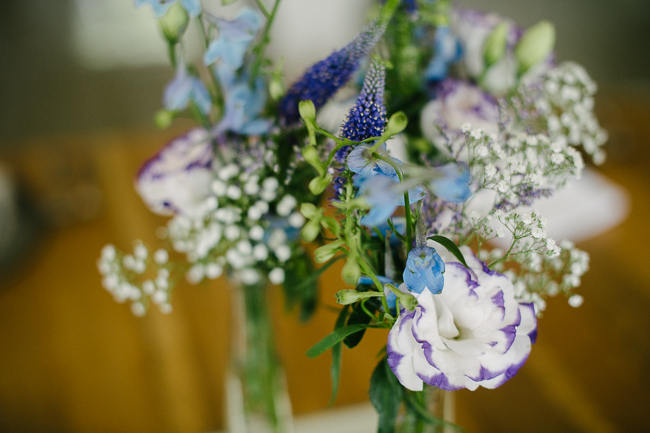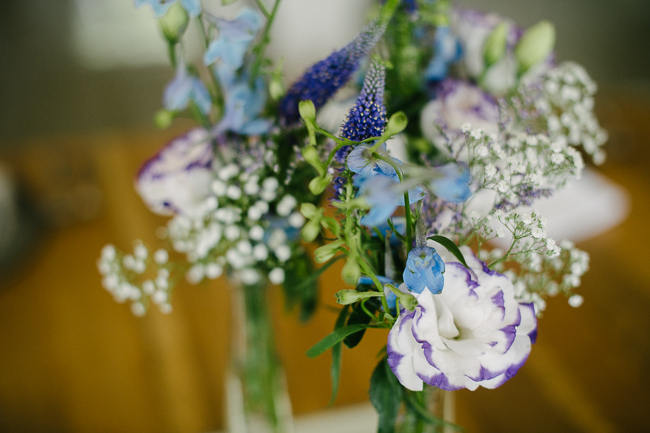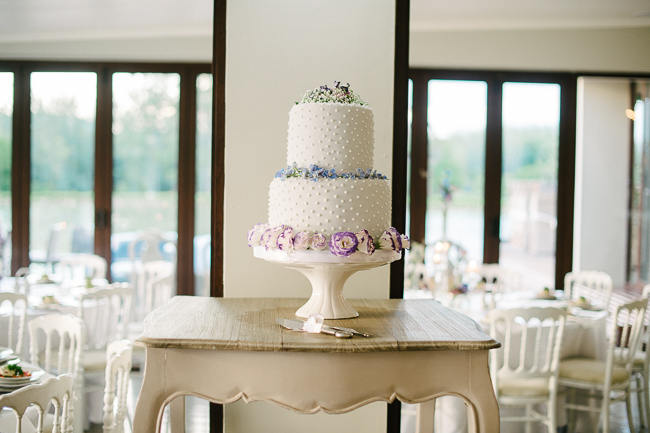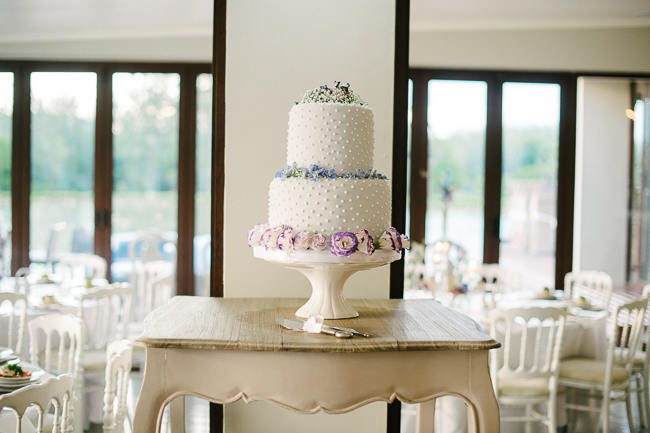 Timeless Vivere Country House Wedding
Love Story: Tsepo was my crush. We officially met on new years eve in Cape Town and as they say, the rest is history! For our engagement Tsepo surprised me on my birthday with a holiday at a beautiful beach house in Yzerfontein. He coaxed me out to the balcony one night by telling me there were shooting stars and when I looked out something caught my eye. He managed to distract me for a while, as he went out to set up candles in the yard that said marry me. Having finally noticed the candles I stood there completely shocked! He snuck up behind me and I turned around to find him on bended knee with the ring in his hand. It was so surreal!
Bridal Style: I tried on a few dresses but they weren't quite what I was looking for – something classic and timeless. I met a dress maker who made it exactly as I pictured it using beaded lace fabric which I had already purchased fallen in love with and purchased. The dress was a bit heavy because of the beads, but wow, it was beautiful. I wanted my make-up to look natural and for it to stay put all day. December is extremely hot so it was important that there was no mascara running down my face, even with all the tears shed. My hair was up and out of my face – the hairstyle decided upon during my trial with my hairstylist, Keith, who was amazing.  I wanted my bouquet to look like the sort of flower arrangement you would pick in a field or garden and put in your home – the less fuss the better.
Bridal Party Styling: The bridesmaids all wore dresses in a different shades of blue –  from dark to light grey, all in different styles. The groomsman wore matching black suits with white shirts and black ties. Their socks were engraved with groomsman and the best man's socks said best man.
Groom Style: Tshepo wore a dark blue suit with an ivory bowtie that matched the colour of my dress which was a total surprise as we did not discuss what we were wearing beforehand! Go figure!
Wedding Ceremony Details: We had our ceremony on the deck of the venue overlooking the dam. During our ceremony the zebra's and buck came to the dam – it was beautiful. We had a white carpet and babies breath in tall candlebras lined the aisle together with rose petals. Our pastor read The Hands Passage before we said our vows and good friend of ours read the Irish Blessing as our final blessing at the end of the ceremony
Seating Chart: Our seating chart was a mirrored wooded screen which fit in really well with the decor.
Wedding Reception: The reception was quite a party with wonderful speeches and surprise songs by friends!  Our floral decor was a mixture of lavender, hydrangeas, baby's breath and other flowers. Like my bouquet, I wanted the floral arrangements to look like something you picked from your home garden – nothing too formal or stuffy.
Advice for brides:
Make tons and tons of lists, call your suppliers and check in with them often until you feel comfortable that everyone is on the same page.
To help keep costs down shop around and ask for discounts – don't be shy.
♥ ♥ ♥ Wedding Vendors ♥ ♥ ♥
Venue Vivere Country House  //Photographer Simone Franzel Photography   // Videographer Intwine // Dress by Christa van der Walt Designs  // Brides Hair Keith Dube from Colours Hair  // Brides Make-up Tsolo for m.couture  // Flowers & Favors Floral Blessings // Music Sizwe Ngcobo  // Decor Lilly Love // Shoes Badgley Mischka