A floral feast filled with love
Tables dripping with floral runners from length to length, a fantasy dress designed by the bride and custom made fairy tale sculptures commission by the couple themselves are just a few of the highlights from today's wedding wonderland! The beautiful Meanca and her groom, Eric, decided to tie the knot at the stunning De Hoop Nature Reserve because it represented their love of animals and nature. Their celebration turned the space into an exotic fairy tale world filled with mix and match animals, unusual compositions with layered patterns, and a plethora of creativity! The day, captured by Dreampix Photography, was filled with detail, fun, laughter and friendship.
♥  ♥  ♥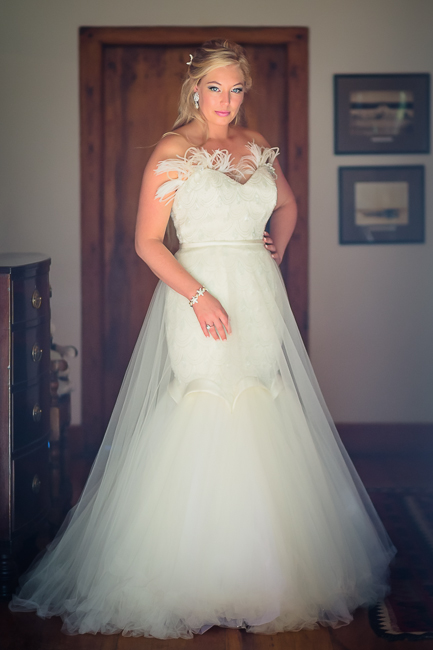 I wanted all aspects of the wedding to be unique or have a surprise element. The ceremony was held at the beach with a beautiful back drop of sea, sand dunes and a floral sensation of fynbos. I had unique clay hares all along the aisle with fynbos necklaces around their necks. The guests were entertained by a few whales that came around to give their blessings.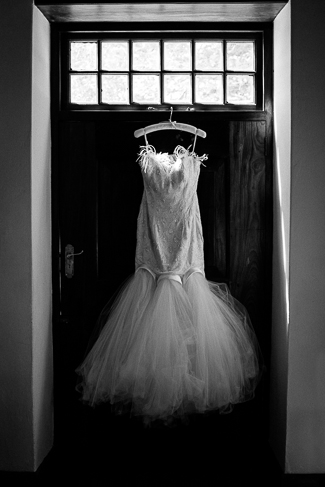 Wedding Dress: I designed my own wedding dress. This was hard work but definitely worth it. I work for a fashion design studio in London and one of my work colleagues, creative pattern cutter, Masahid Yasin, took on the enormous task of making my dream gown a reality.
I decided on a mermaid style dress. I love the silhouette and I think it suits my body shape. I found a lovely silk georgette fabric with beaded arches that reminded me of rainbows which reflected playfulness. The bottom kicked out in layers with more than 40m of tulle. For the ceremony I had a tulle skirt overlay. I added some feather detail and crystals on the edge of the corset. For my hair I had little sea stars hiding between my curls.
Bouquets:
The bouquets were a soft arrangement of: Blushing brides, Lily's combined with baby's breath, orchids, White Anthurium, tuberose. Unfortunately I lost my best friend and bridesmaid-to-be Doris Beyers in a tragic car accident a month and a half before the wedding so I wanted to represent her presence in each bouquet with a giant white protea. I had white wooden laser cut flowers arranged in-between the flowers for my bouquet to make it a bit different.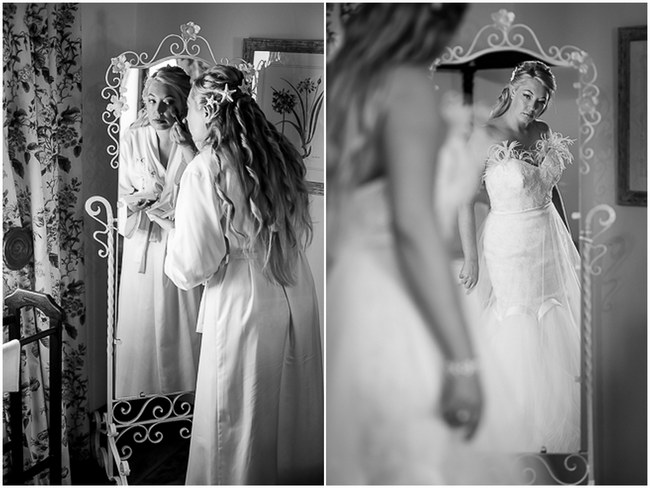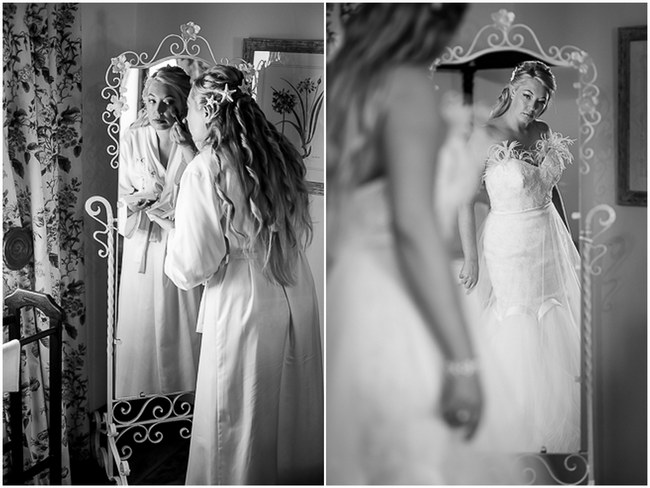 Choosing a wedding theme:
I couldn't choose a theme after studying magazines, blogs and attending numerous wedding shows. There was just nothing different and unique that represented us in one word or sentence. So I thought: "Let's start with things that inspire and excite us!" Being in the fashion industry most of my inspiration came from print designers, artists and fashion photographers. I started a mood board to get a concept together and one element that repeated was animals set in quirky ways. As we both are animal lovers, this was a good direction.
We ended up with a ''theme'' of an exotic fairy tale world, mix and match concept of animals, odd compositions with layered patterns, tiny details blending together in subtle pastel colours.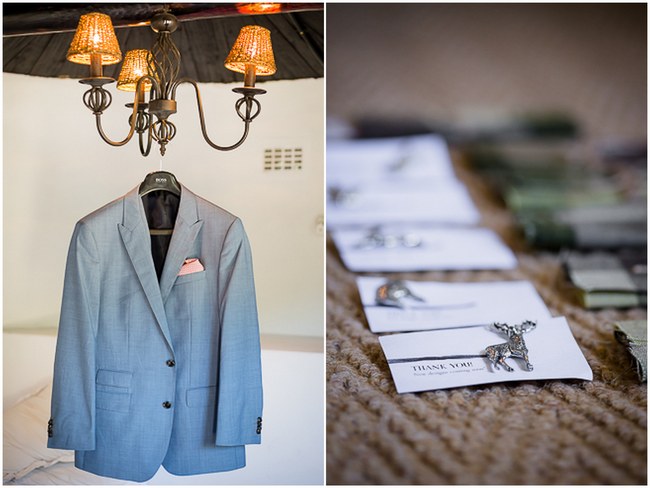 Groom and Groomsmen Attire: Eric purchased his stunning blue suit from Hugo Boss that he chose with his brother – best man, Charles. He looked so handsome and stylish, especially with his Jeffry West shoes. The perfect gentleman! Eric found stunning animal brooches that the groom, fathers and groomsmen wore.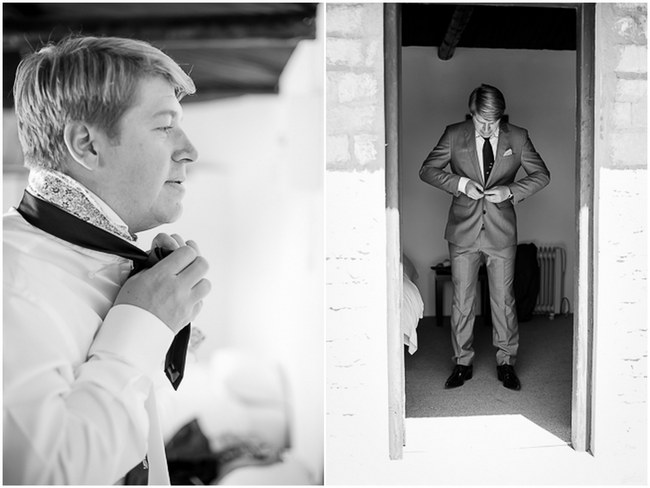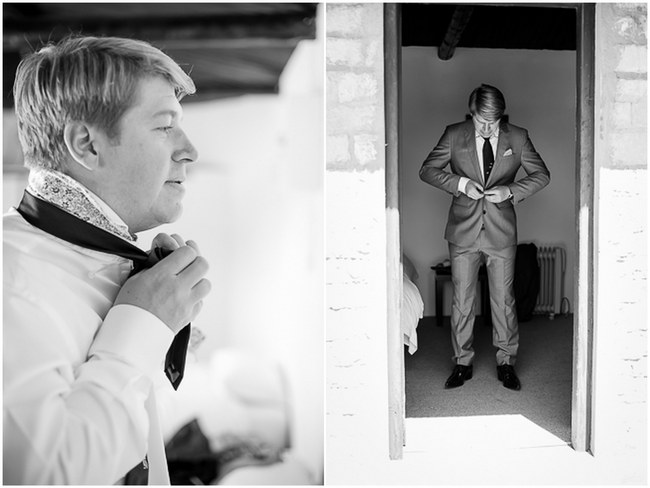 Their love story: 
It was just a regular night out in Stellenbosch for me and the girls but turned out pretty interesting when I met Eric and his friends in one of the Clubs. We had a great night but he never took my number. I bumped into him again after a few weeks and I just saw a face of relief and happiness… Eric went to the same club for weeks to try and track me down. When he told me this, I was swept of my heels. He asked me out on a date and as they say the rest is history. We came to love not finding a perfect person, but by learning to see an imperfect person perfectly, the perfect match! We have a saying: We were distilled in Stellenbosch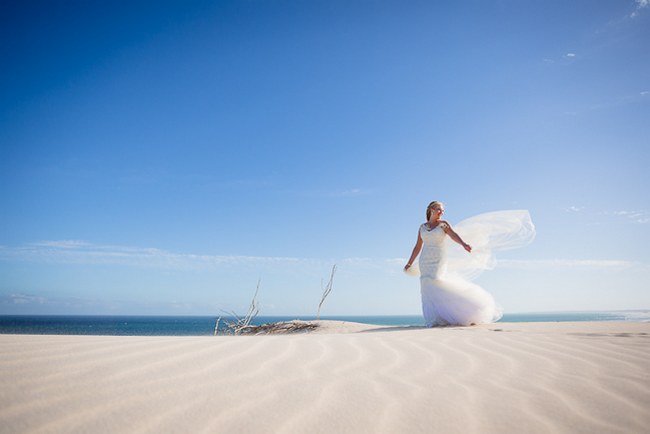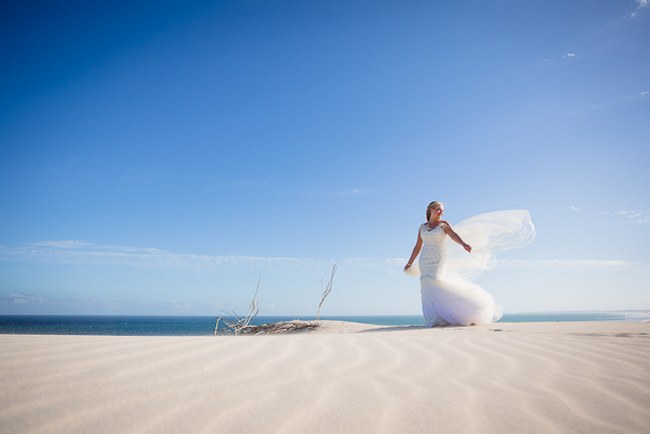 Their Proposal:
We were on a summer holiday in Cape Town when Eric took me on a surprise day out. We went horse riding along the beach in Noordhoek, but little was I to know of what was to come. I was over the moon! I have a great love for horses and I've been riding since I was 6 years old, this was very special. We were galloping next to the waves when all of a sudden Eric told me to stop and get off so we can take a photo of the breath taking view. Just as I got off my horse and turned around, there he was down on one knee with the most amazing and unique ring I've ever laid my eyes on, designed by him, and of course my answer was YES!
We had Champagne and went off celebrating with a private picnic Eric organized at Zorgvliet wine estate. He went all out and everything was perfect!!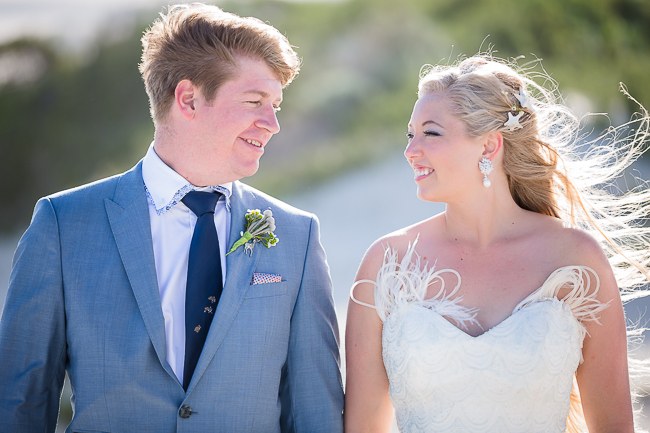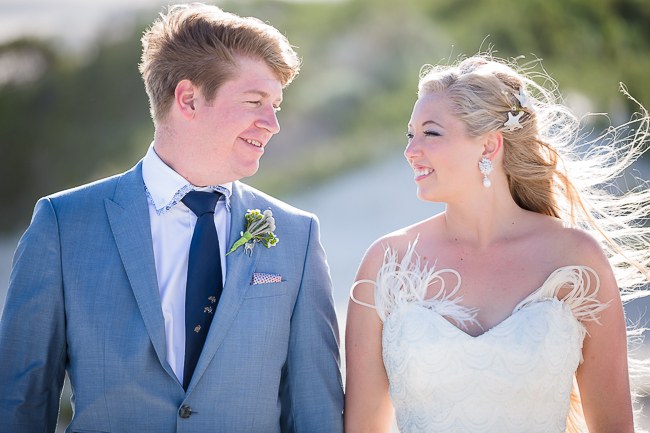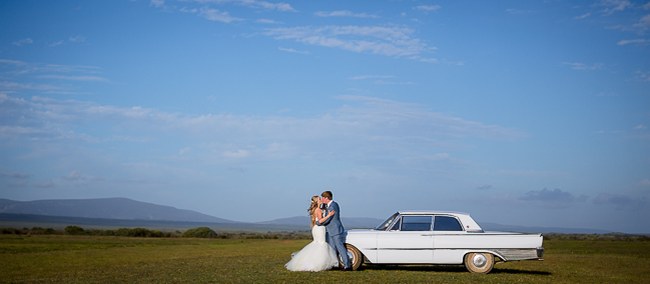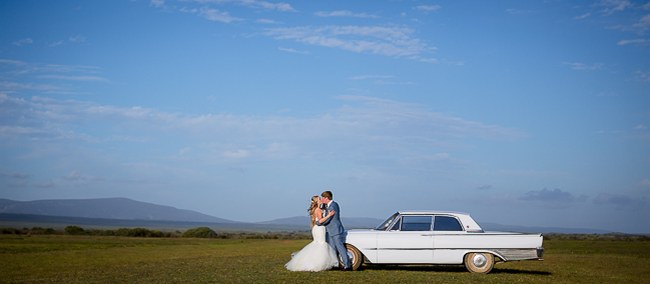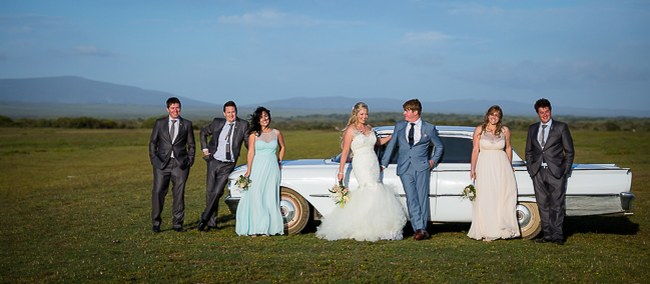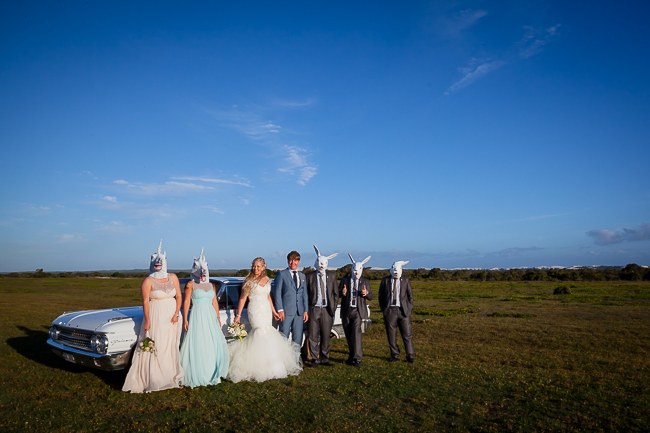 Special touches: Animal masks (unicorns, rabbits and foxes) which we used for some of the photos and for our guests to enjoy on the dance floor. It was a great hit!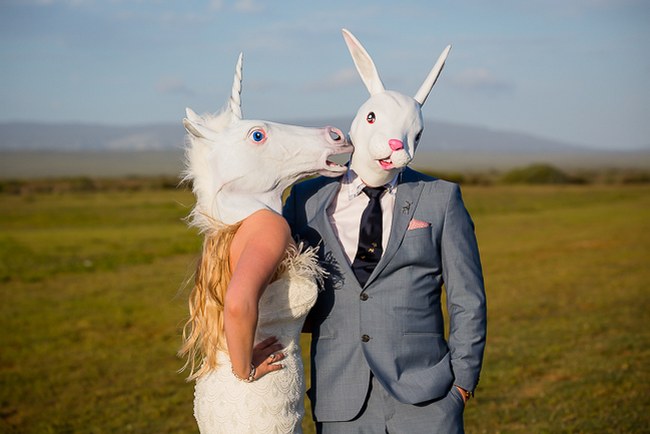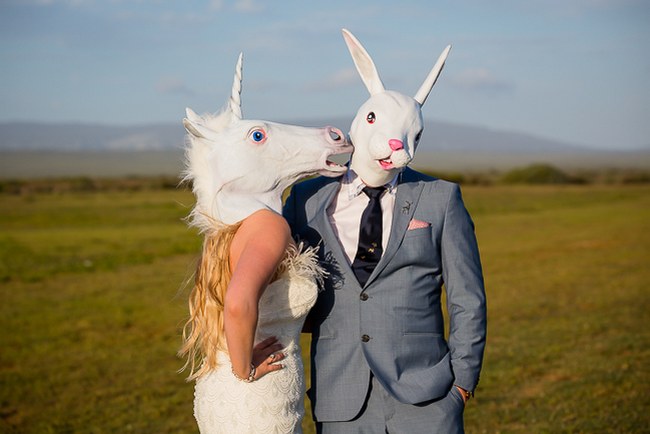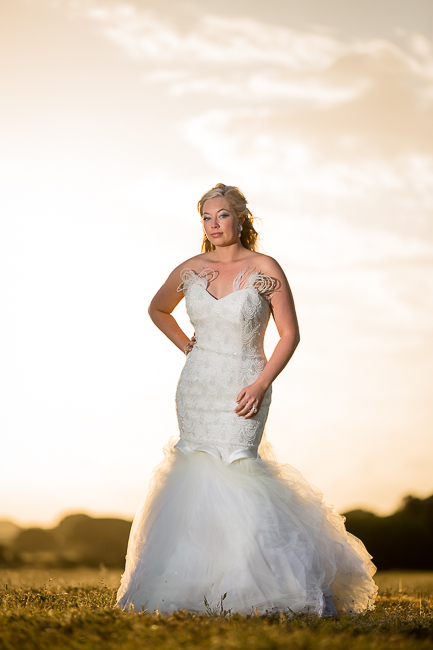 ♥  ♥  ♥
The reception was held under a massive fig tree that created the WOW factor and it was filled with paper pom pom's, fairy lights and chandeliers that created a lovely atmosphere under the starry sky.
♥  ♥  ♥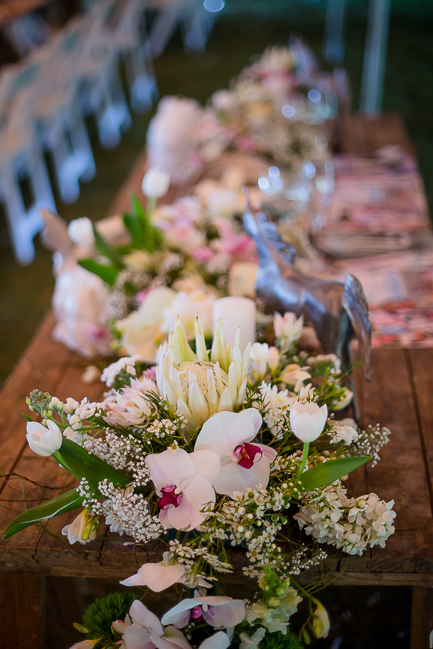 Wedding Décor: We chose pastel blushing colours. We included hares along the aisle, sculpture unicorns, candles, glass birds filled with coloured water, pompoms hanging from the fig tree, corals with candles, and silver sea stars scattered between the grass. We displayed giant paper flowers in the centre of each table amd had water filled pewter pots in the centre with floating table numbers and water lilies.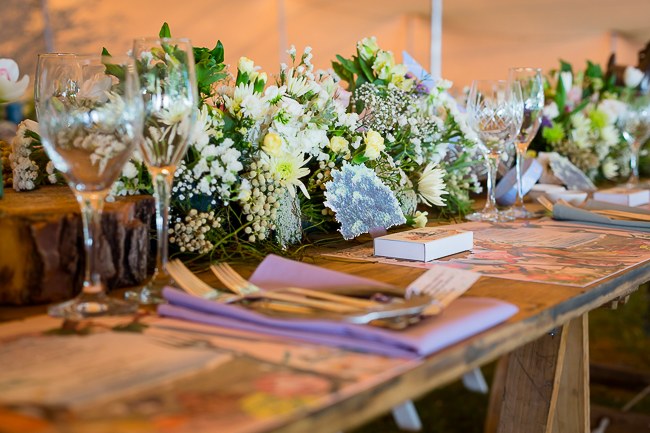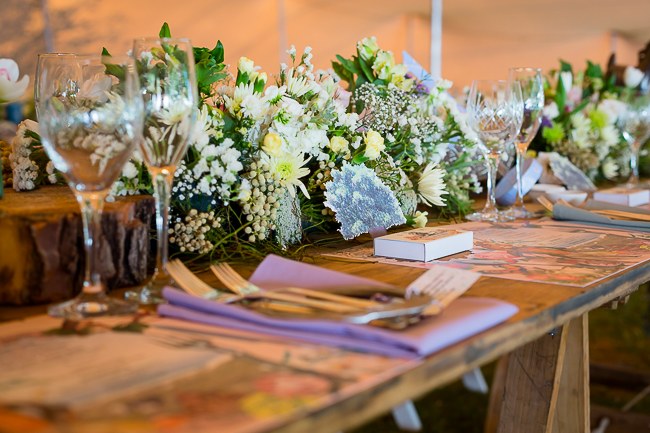 Wedding Flowers: Huge 600 x 4 meter flower runners adorned the tables filled with blushing brides, giant proteas, silver brunias, roses, baby's breath, queen anne lace, orchids, delfiniams, lisianthus and lilies. On the one side I had jars filled with cotton balls- I loved this as it's a beautiful plant and quite understated.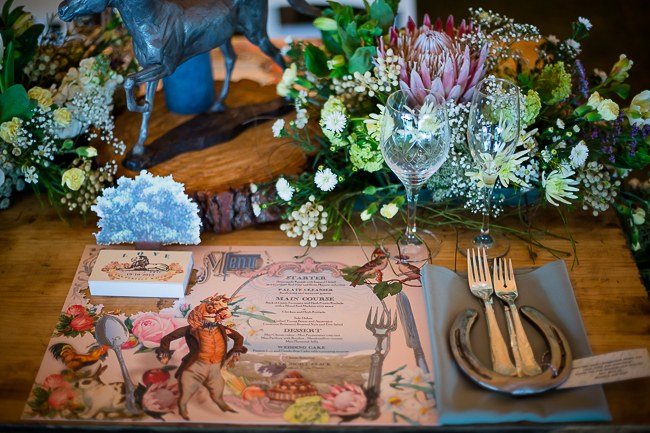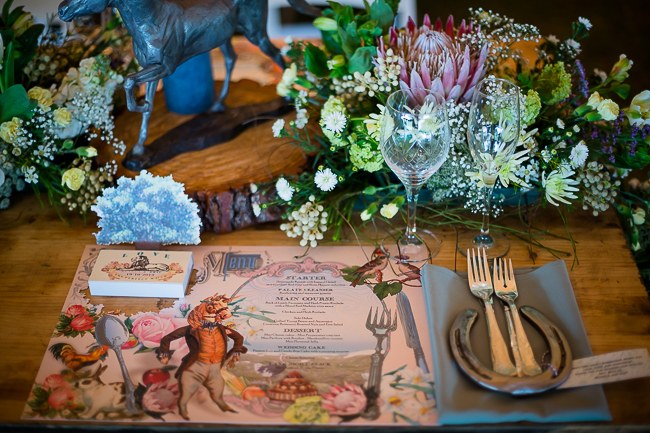 Wedding Stationery: Designing of the invites was a lot of fun with lots of creativity that illustrated in 3D the theme of the wedding with pop up elements and laser cut silhouettes: swirling clouds pattern, unicorns standing next to the wild fig tree. Good Letter Press exceeded my expectations to create my vision in print and pattern for the stationary. They even created mirrored name tags for the desert table!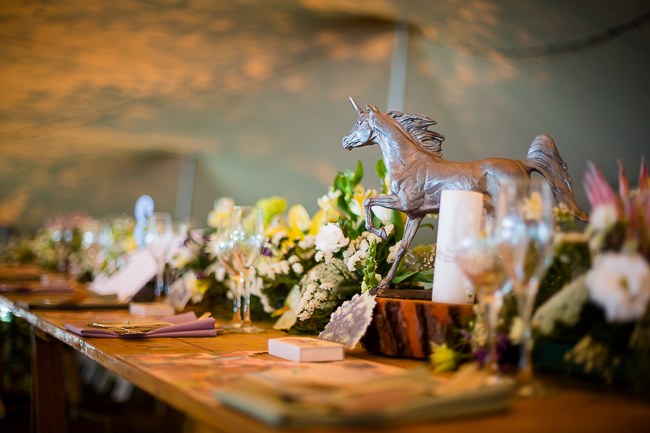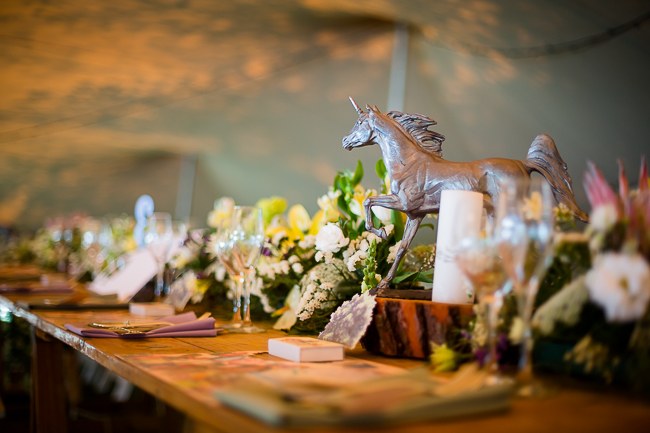 Custom Made Fairy Tale Sculptures:  I wanted to make my own unicorns but was unsuccessful in sourcing moulds. My mom came across local artist Arend Eloff and we commissioned him to sculpt champagne coloured unicorns that were placed on tables grazing between the flower runners. Arend Eloff  captured the magical emotion in each one and was a great talking point for the guests.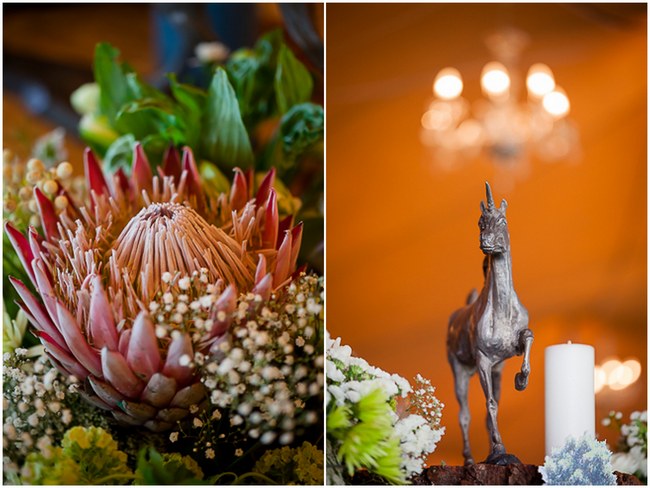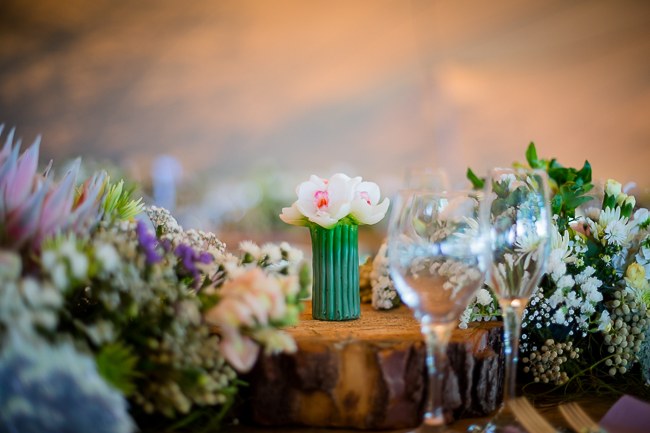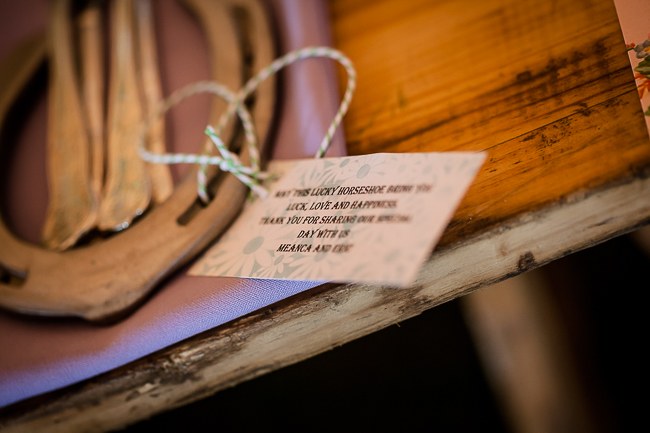 Wedding Gifts and Favours:  Real horse shoes were given to guests as favours for them to have the luck we had the last eight years together.
Unfortunately my grandmother didn't have the strength to travel 1800km. I wanted to include her so the guests could feel her presence and how better way to do so than creating her very own "Ouma Annie'' rusk box with her face on it. This looked amazing! And the rusks went down a treat.
On the tables we had homemade shortbread fingers in match boxes with a quirky logo I illustrated:  'A Perfect Match'.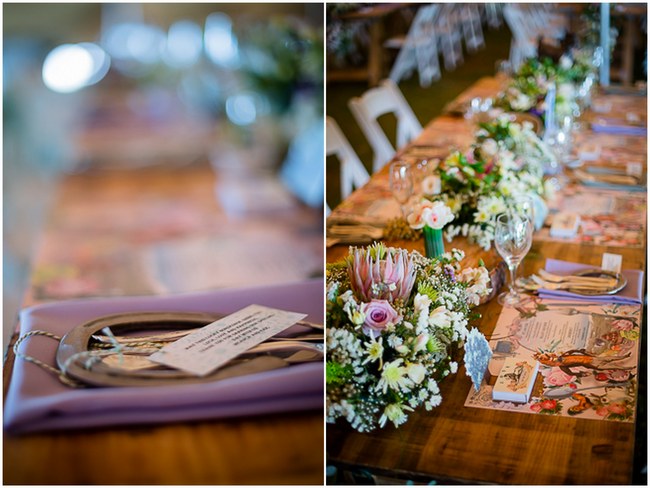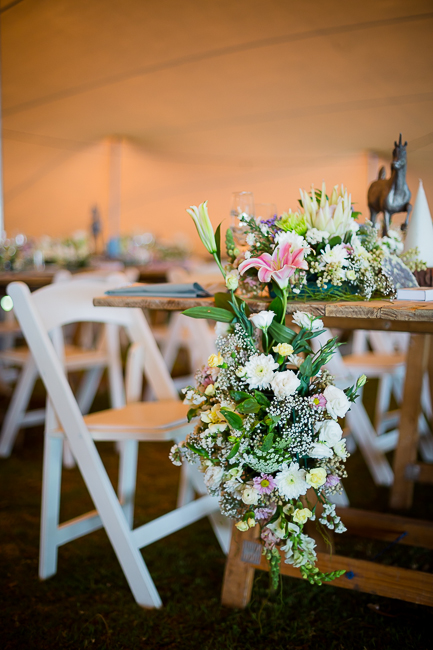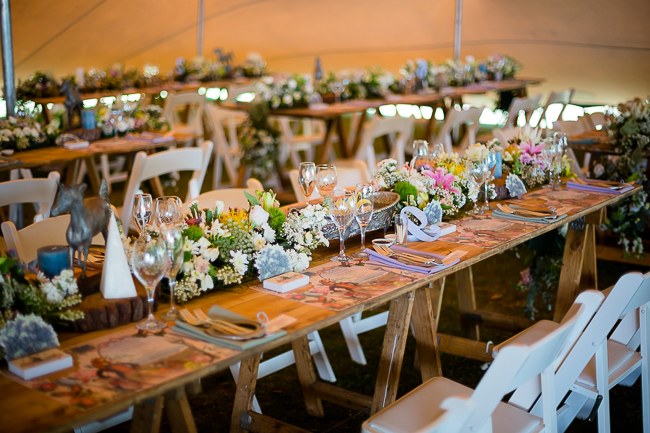 Real Bride Meanca's Advice For Brides-To-Be
Have a separate budget for any surprises. We had to hire a marquee tent last minute due to the strong wind and this was never included in our plan or budget. If there's no surprise then enjoy the bonus on the honeymoon!
If your wedding is going to take place outdoor, have a backup plan for any weather changes.
Take the wind into consideration. I was only looking at the rain forecast but the wind can also be a factor. It doesn't only bring the chill factor down but also delay decor and table setup.
Do what you want, there are no rules- it's your day. Stay true to the purpose of the day and no one will spot the mistakes- It's a celebration!!
Be clever with DIY, try and do a rough costing of what it will cost and how long it will take to make. Sometimes you think it's cheaper to do it yourself than to hire but if the project require loads of elements and time it will probably turn out to be more expensive and you don't want to burn the midnight oil trying to finish projects- one needs your beauty sleep for the big day.
Save paper! We found that creating a website was a great way to communicate with our guests and provide useful information- Instead of including a massive information pack in your invite that they probably will forget to read closer to the time.
Technology- use it! My dad created a group message on his phone going out to all the guests with key reminders (Cash bar, no ATM available on site, gravel road so make sure the spare tyre is ok…).
My sister-in-law I gave me a year's subscription to a wedding magazine which was a great gift and to save money as magazines can get expensive.
♥  ♥  ♥    CREDITS   ♥  ♥  ♥
Photographer: Dreampix- Kobus Tollig | Wedding Planner: Bride & family (mom Mari Eicker) |  Wedding Venue:De Hoop Nature Reserve– Nini Stephens | Wedding Décor: Bride & Mom | Catering & Flowers:Antoinette Events– Nikki du Toit | Bar: The Fig Tree Restaurant @ De Hoop Nature Reserve |  Cake:  Mia Neethling  | Wedding Favours: Horseshoes from Terrouges Stables | Wedding Stationery: Good Letter Press | Dress: Designed by the Bride Meanca | Brides Hair: Studio Karin – Karin van Staden |  Bridal Shoes: Sergio Rossi | Bridesmaids Dresses: Forever New |  Flower Girl Dresses: Made by the bride Meanca |  Pastor/Officiator: Etienne van Heerdem |  DJ/Music: Jebo Africa: Willem Steenkamp  |  Videographer: Groenspoor – Etienne van Heerden.  |  Candles: The Space and Kabula | Hares: Hares and Graces |  Unicorns: Powerstar Studio – Arend Eloff  |  Glass Birds: Garden Bleu |  Couches: Baiegoeters – Anelma Basson