Fresh Garden Wedding Style in Green Silver ♥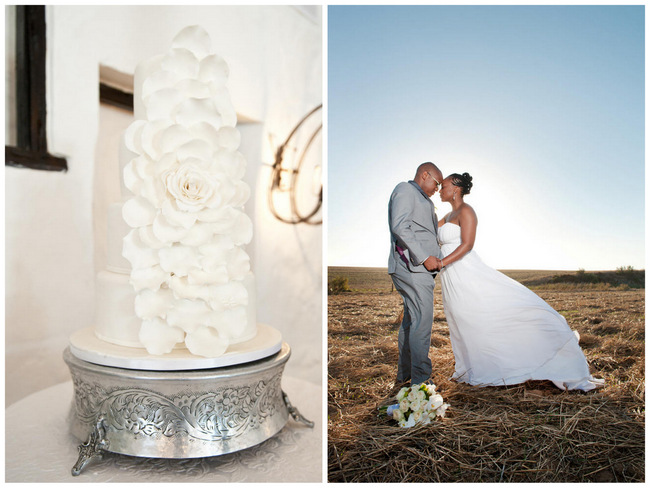 Batandwa and Sifiso's crisp white, silver and green South African Summer Garden wedding photographed by Samantha du Toit photography at Meerendal Wine Estate is fresh, clean and elegant. The adorable couple decided on the Summer Garden theme because of Cape Town's famously beautiful summer weather, with February being the perfect time for a gorgeous tented outdoor wedding in South Africa.  
Michele Steyn, of Passionately Weddings, coordinated an elegantly beautiful reception featuring tables filled with white blooms, clear glass and crisp summer elements including apple centerpieces. Wades Cakes created at totally petal-licious four-tiered statement cake with adorned with handmade peony petals in white that is a total stunner!
I just love how Batandwa described her wedding colour palette: "Being a numbers person I had to choose my colour scheme precisely. It was 50% white, 40% apple green and 10% silver!"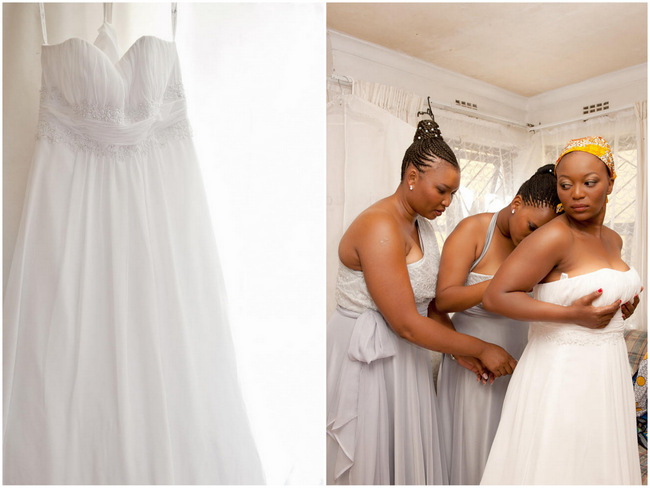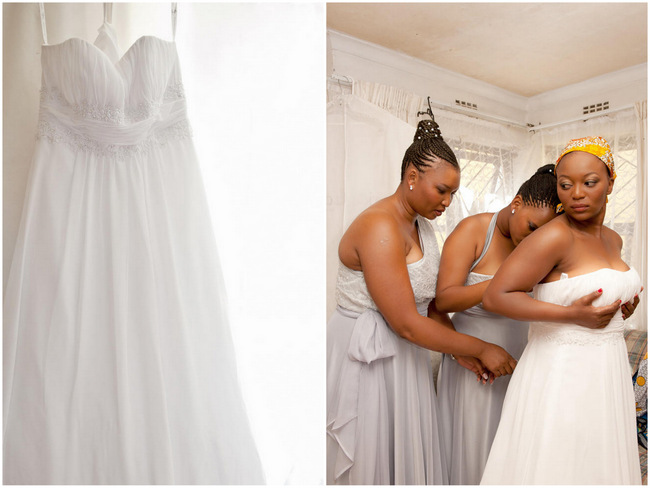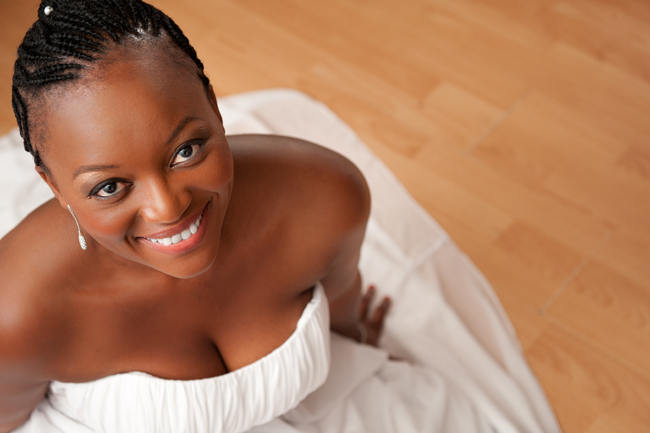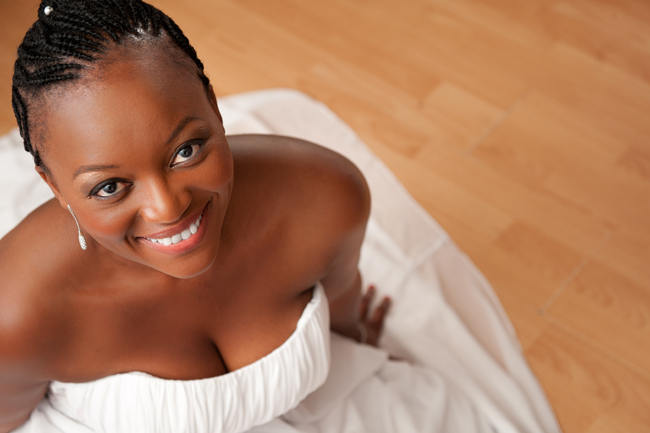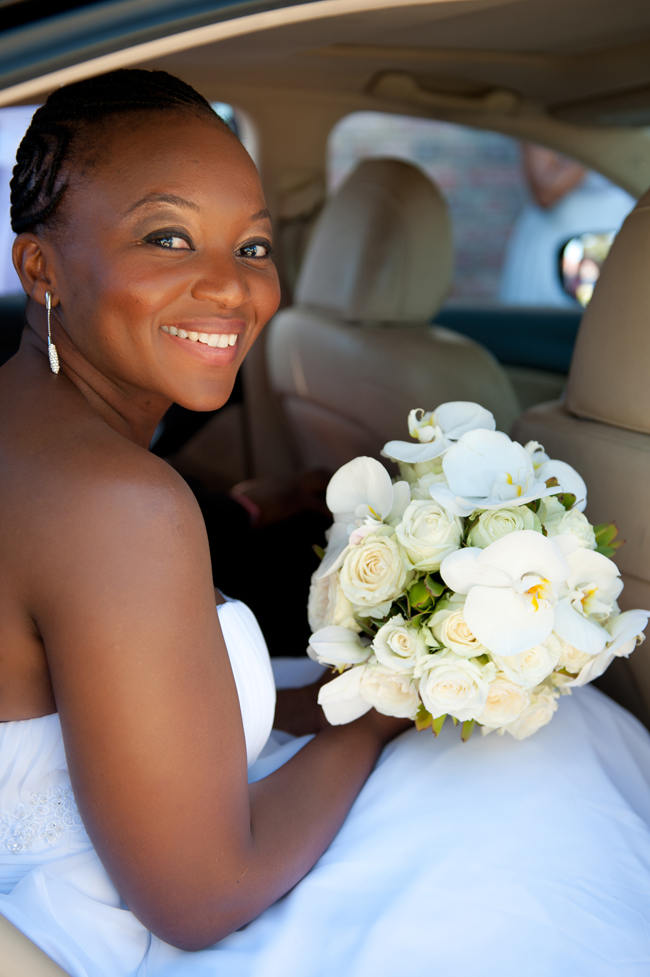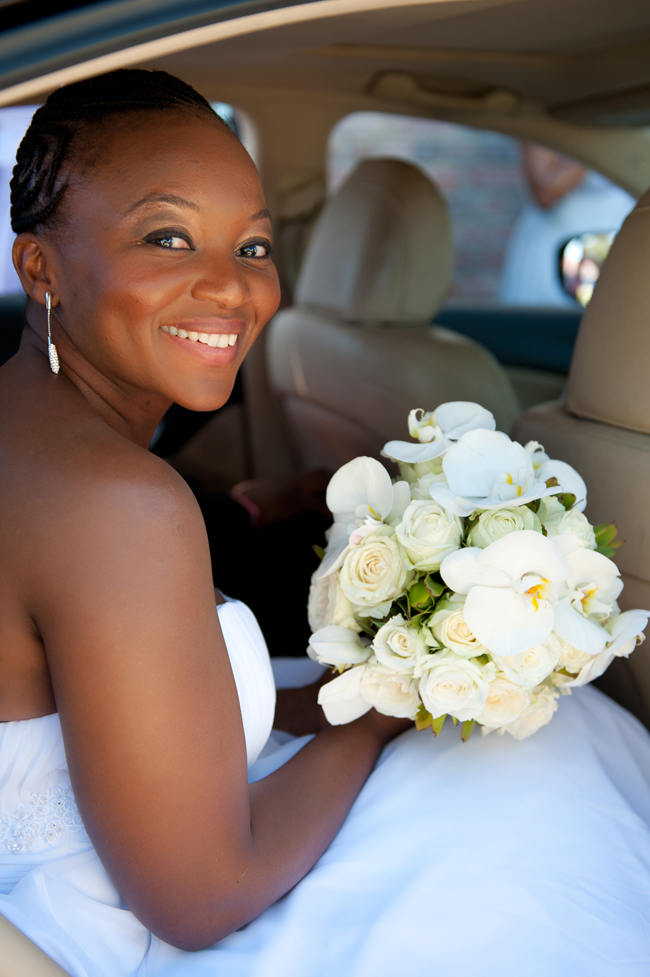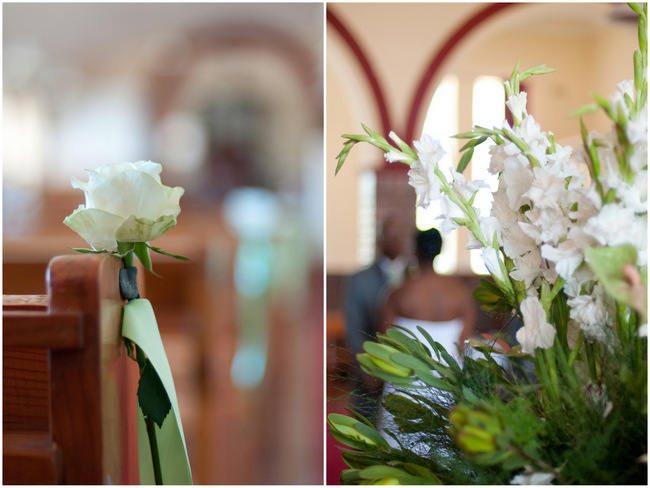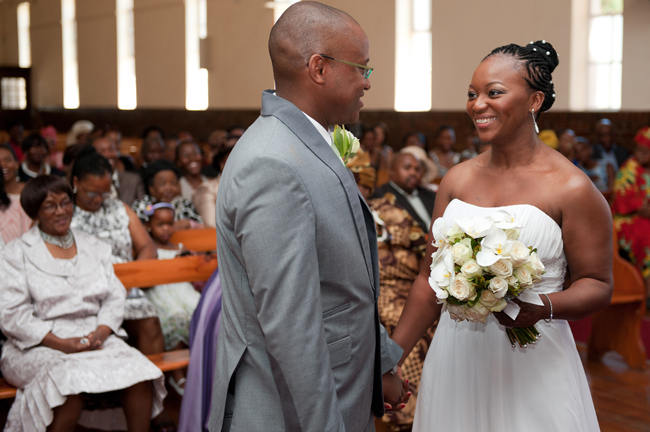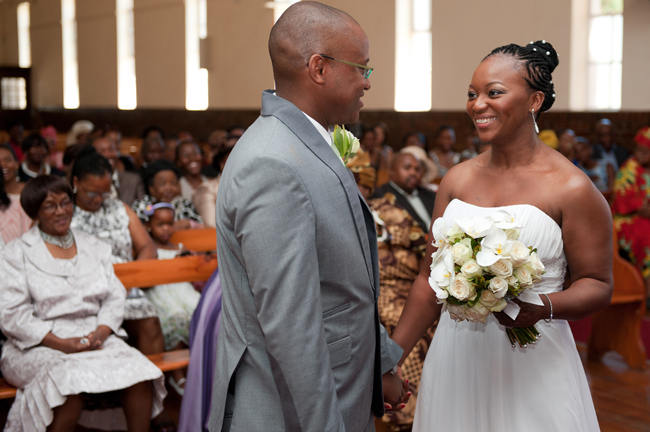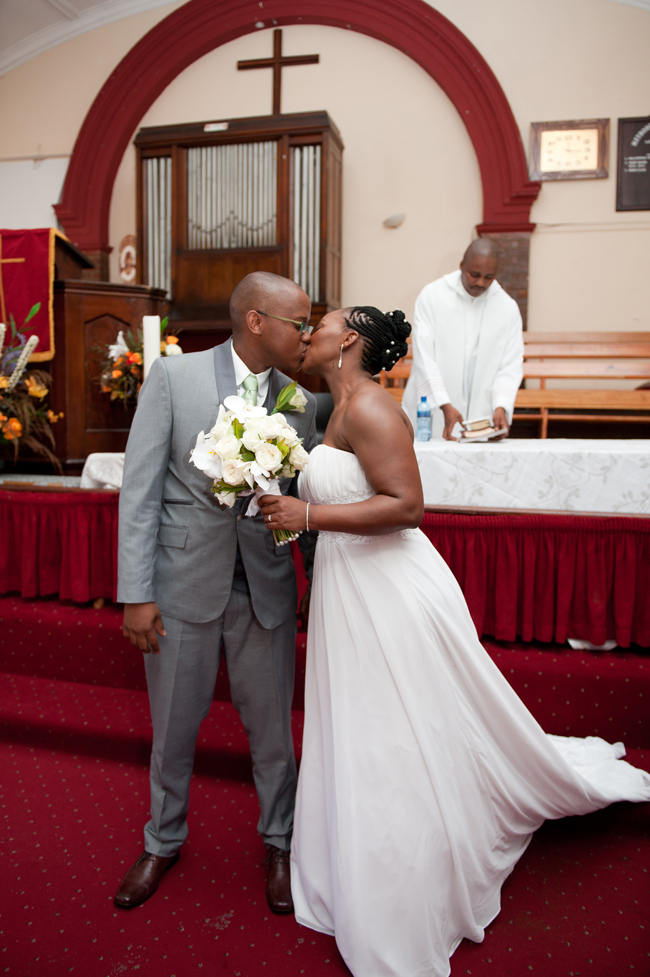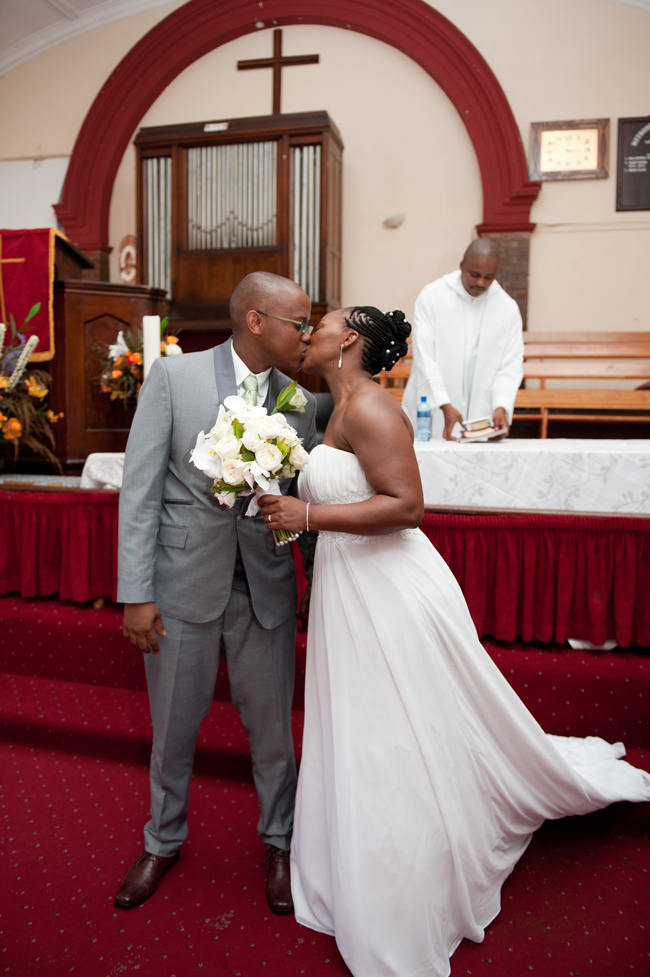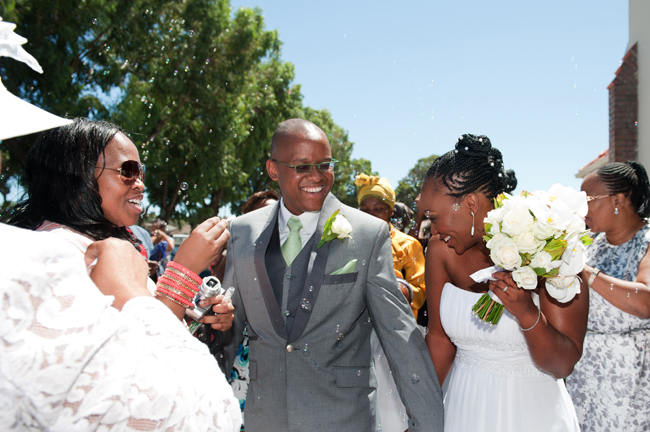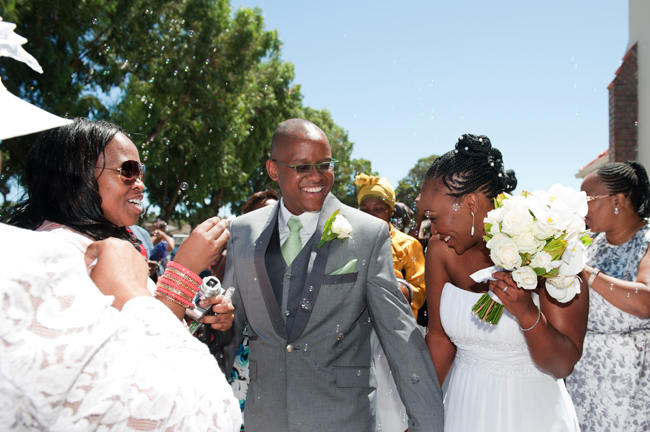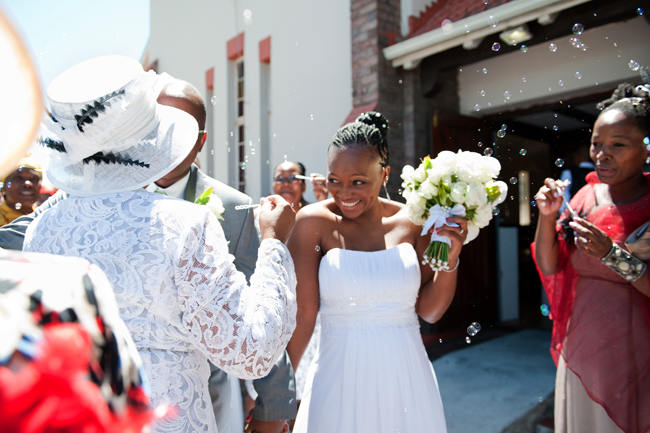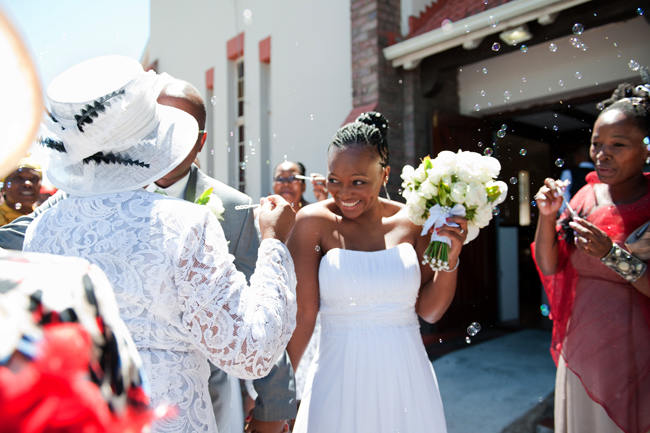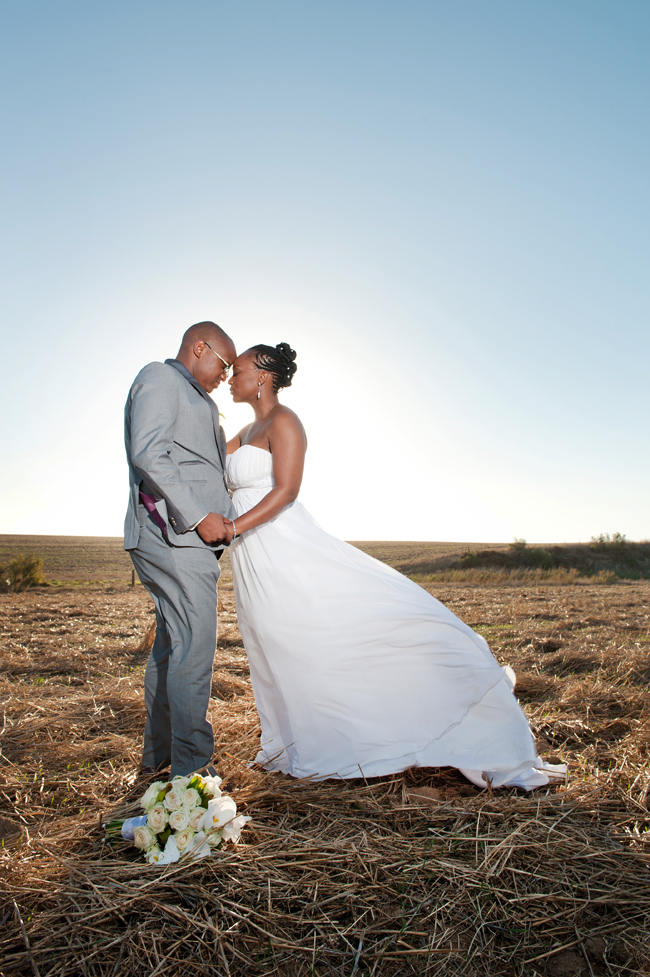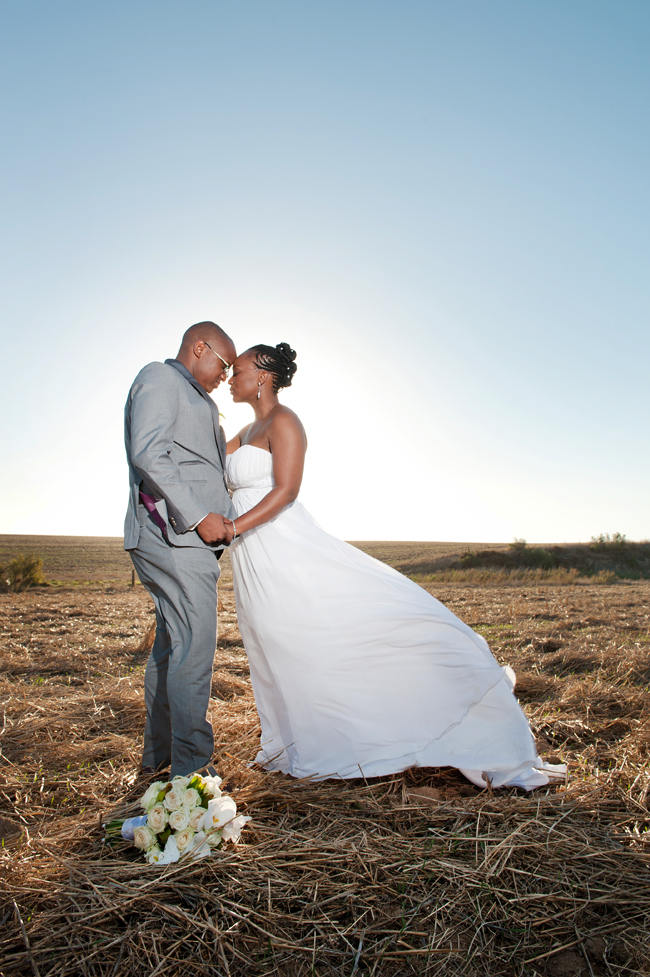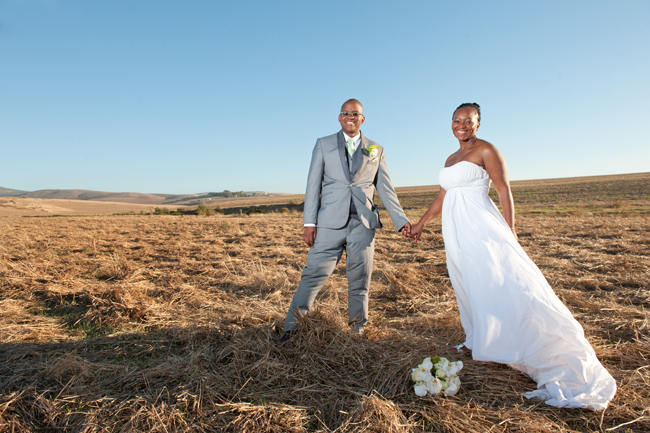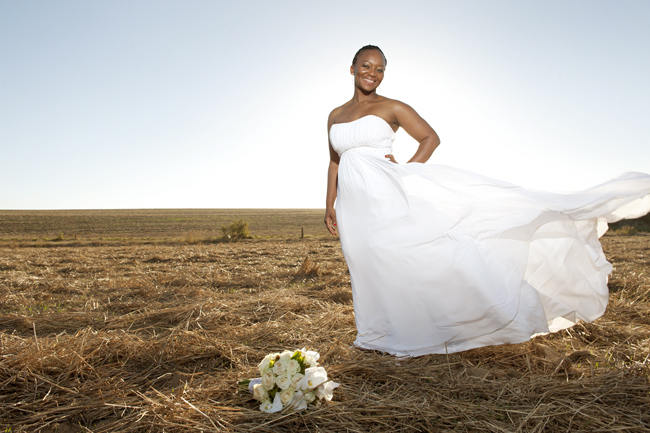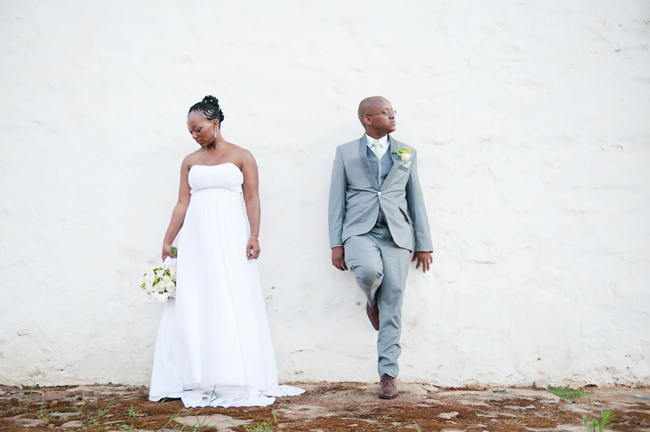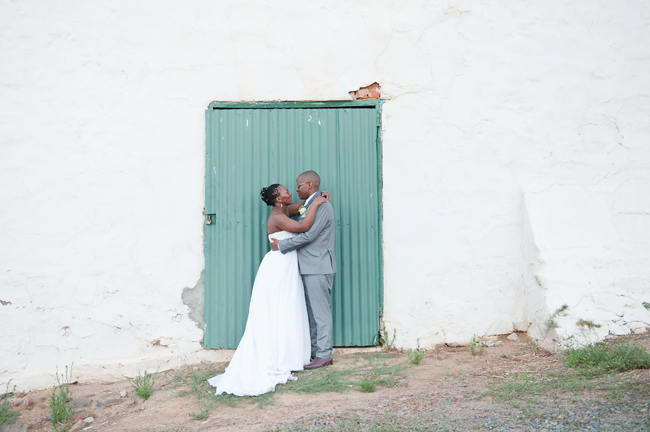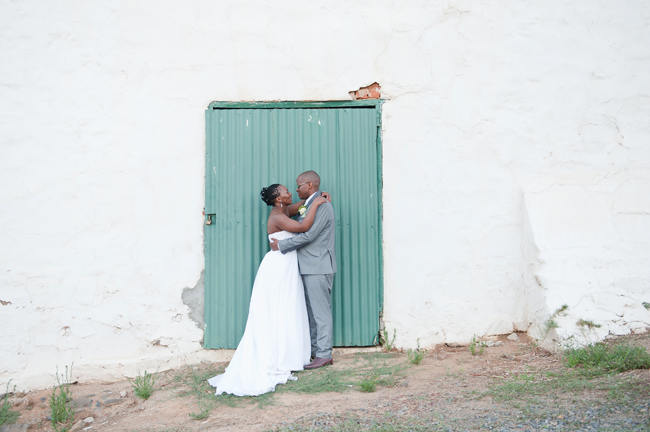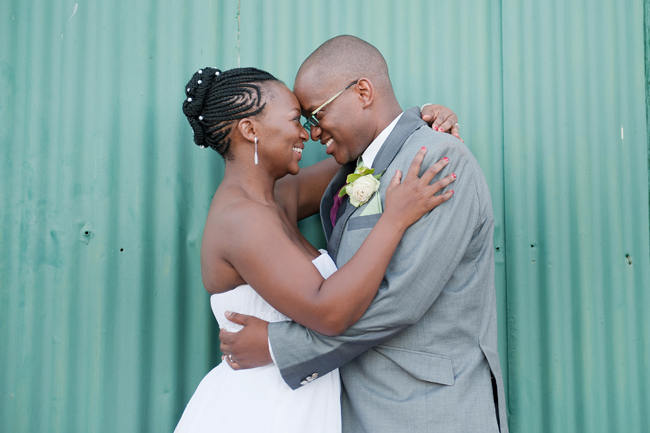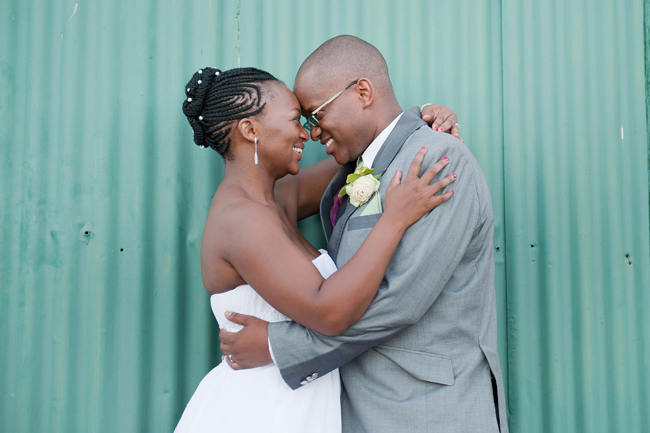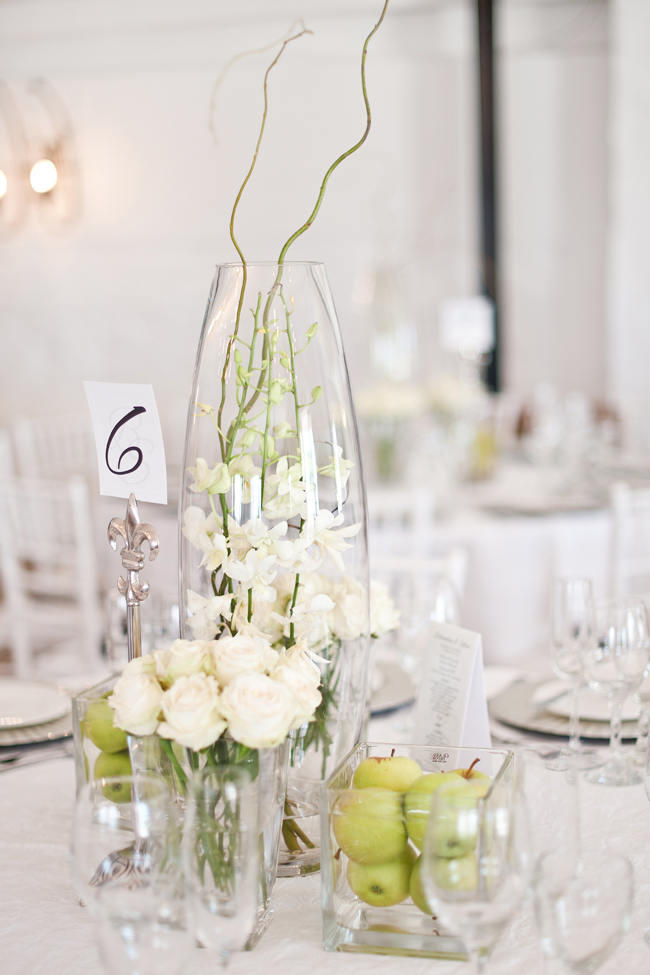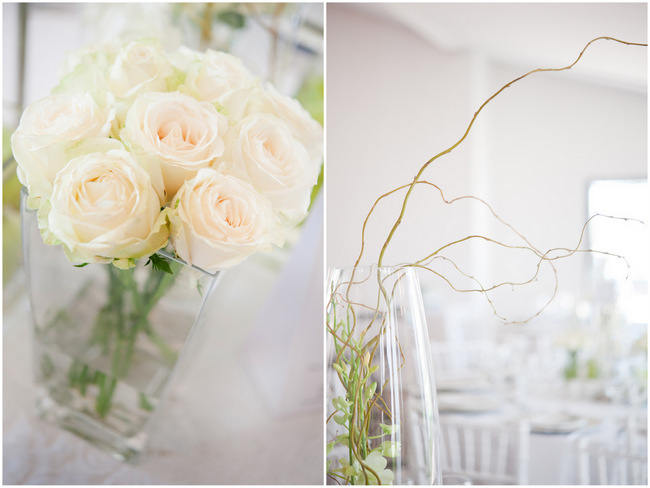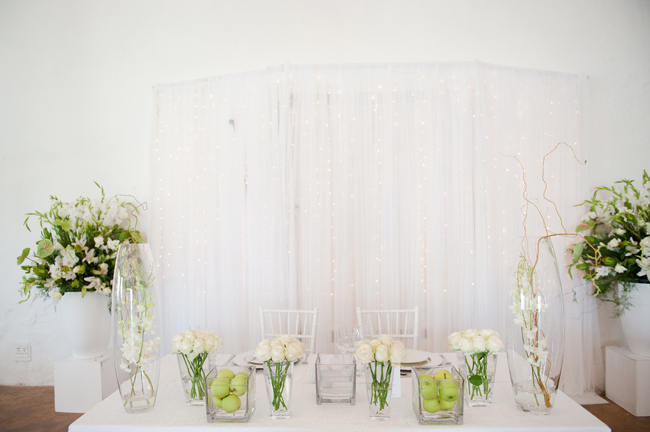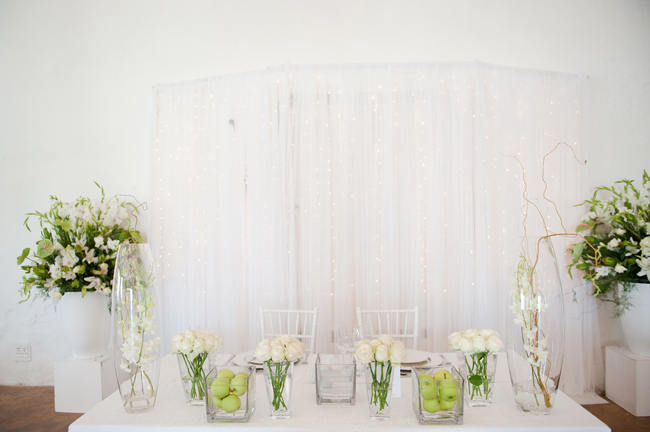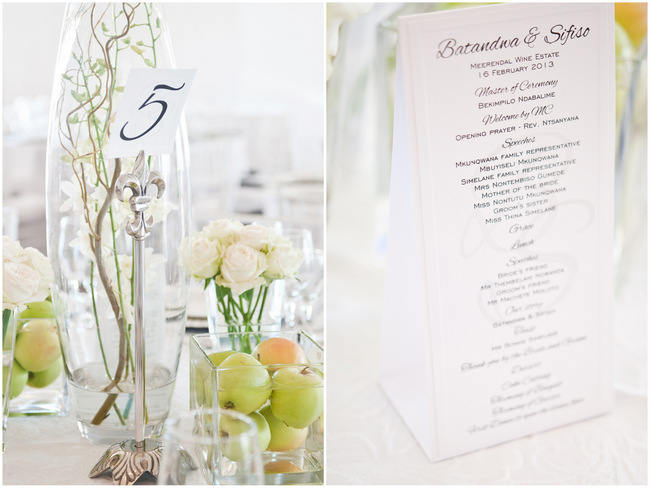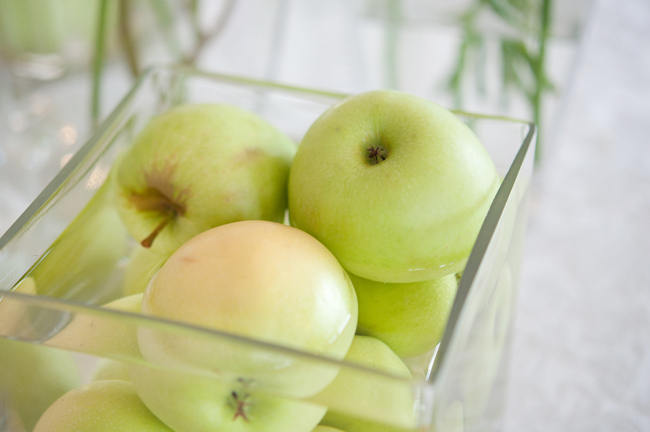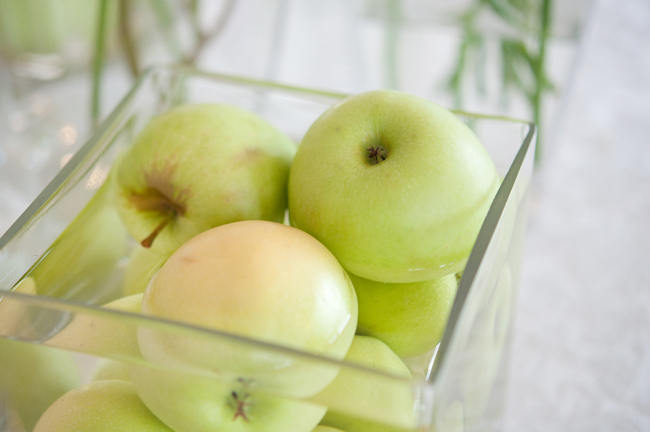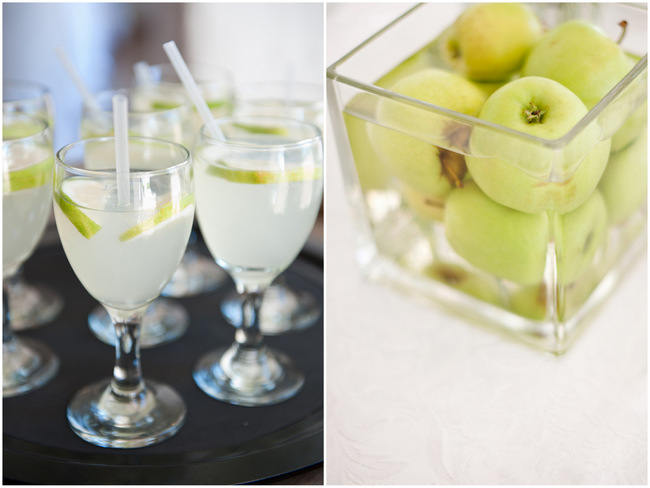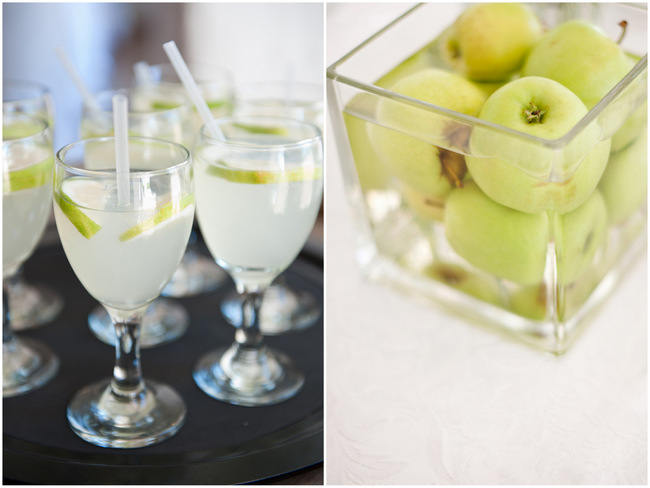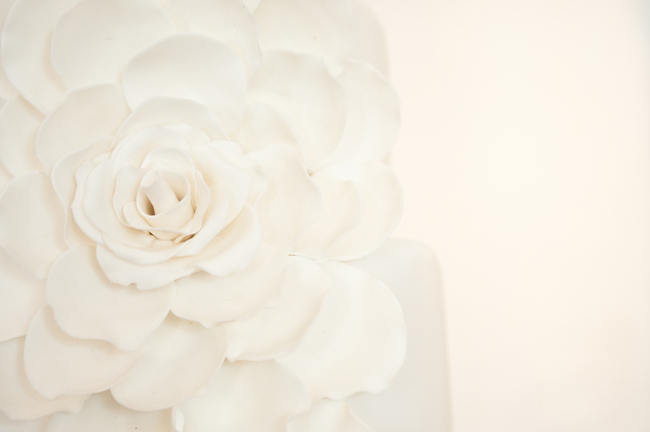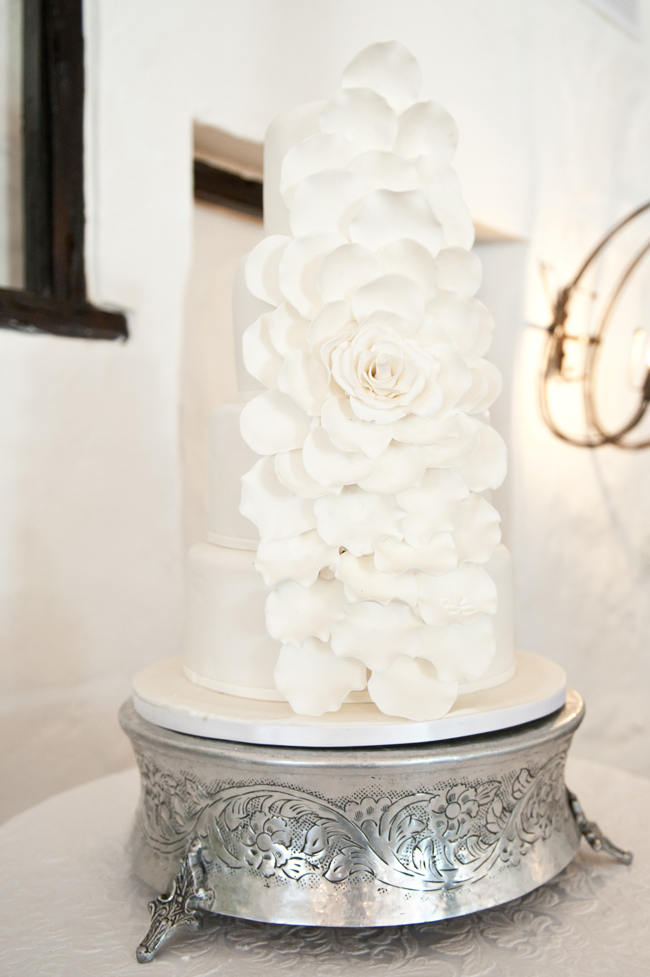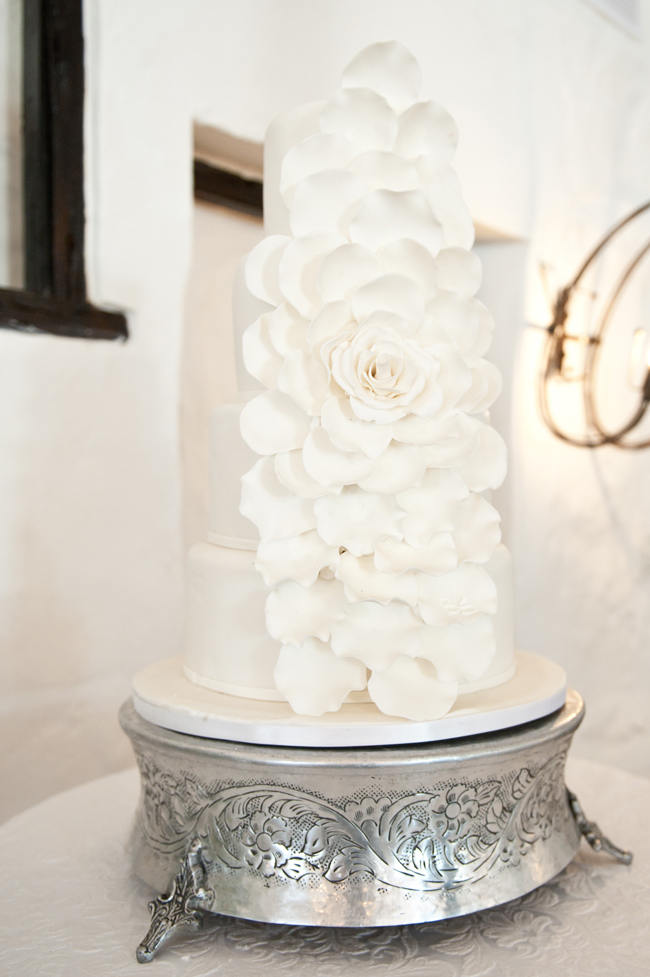 Crisp White Green & Silver South African Wedding
Love Story:  We stayed at the same res at varsity. The first time I saw him, I told myself I'm going to do whatever it takes to be his girlfriend. He had a beautiful and gentle aura about him. Six months later, I was his girlfriend.
Bridal Style: The dress is the most important thing, my dress was the third dress I had tried on. I loved that it was flowing and it was perfect for the hot February summer days in Cape Town. The dress being a boob tube was also a plus for me, it accentuated my shoulders. I don't wear make-up, so I wanted a natural look. My make up artist did a great job in using natural colours. For my hair I wanted a hairstyle would needed the least maintenance when I prepare for the wedding in the morning. I decided to go with braids because they were easy to manage.
Bridal Party Styling:  The bridesmaids designed their own dresses. I had to let them choose fabric and styles they found comfortable. At the end of the day everybody had to be comfortable and enjoy themselves.
Groom's Styling: The groom and grooms men had their suits tailor made for them. My husband wanted suits they they could wear after the weeding. so they opted for practical and re-usable suits. They had dark grey suits and wore apple green suits.
Wedding Playlist: We chose Michael Jackson's The Way You Make me feel as our reception entrance song. We both don't like the steps because it felt too practised and once you miss a step, you were in big trouble. So we decided to go in dance our hearts out and entertain our guests. It was the best moment of the day. Our first dance was on Beyonce and Marc Nelson's All said and done from The Best Man album. We chose this song because it was the first song we danced to when we started dating.
The rest of playlist at the reception contained RnB songs from the 1980's and 1990's. We chose these songs because it was a crucial time in our loves and most of our guests related to these songs. It was like a playlist from Eddie Zondi's ballads. As the night progressed we changed the tune to more modern songs that included house and kwaito for those that wanted to get down.
Gifts and Favors: I have an obsession with scarfs and my husband loves ties. We decided to give our guests pashminas and ties as wedding favours. We gave the kids party packs with toy goodies to keep them entertained.
Advice for brides:
Trust your instincts. If it feels like it's the one, then it is the one. Don't put doubt in your mind and convince yourself otherwise. It causes unnecessary stress and sometimes it can lead to extra costs.
Get a wedding planner, they seem like an additional cost but they save you money in the long run. They will find you suppliers that are in line with your budget and will negotiate the best price for you.
Stand Out Vendors: My wedding planner, Michele Steyn from Passionately Weddings did such a great job in ensuring everything went according to plan and everything was perfect.
♥ ♥ ♥ WEDDING VENDORS ♥ ♥ ♥
Venue Meerendal Wine Estate // Photographer Samantha du Toit Photography// Videographer Dutch Tulip Productions // Dress Bride & Co Cavendish  // Brides Make-up Ebony Njonga  // Cake Wades Cakes  // DJ / Music Sebenzile  // Stationery Michele Basset Little Works // Wedding Planner Michele Steyn, Passionately Weddings  // Shoes Bride & Co, Cavendish  // Suits Thato Mafubelu, African Swisss