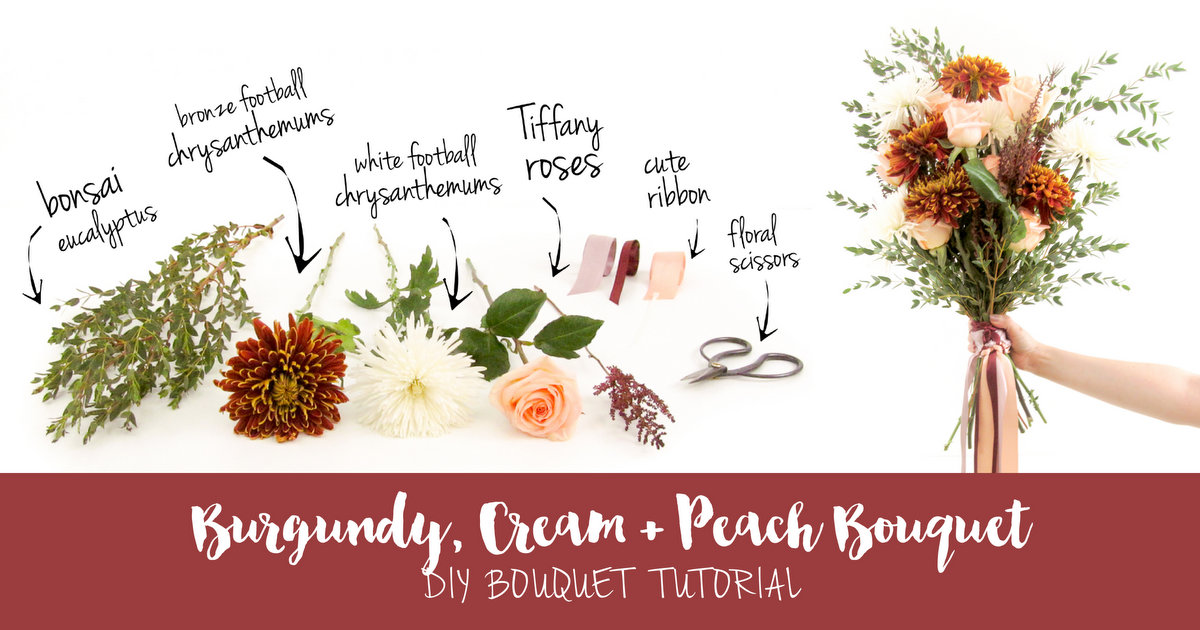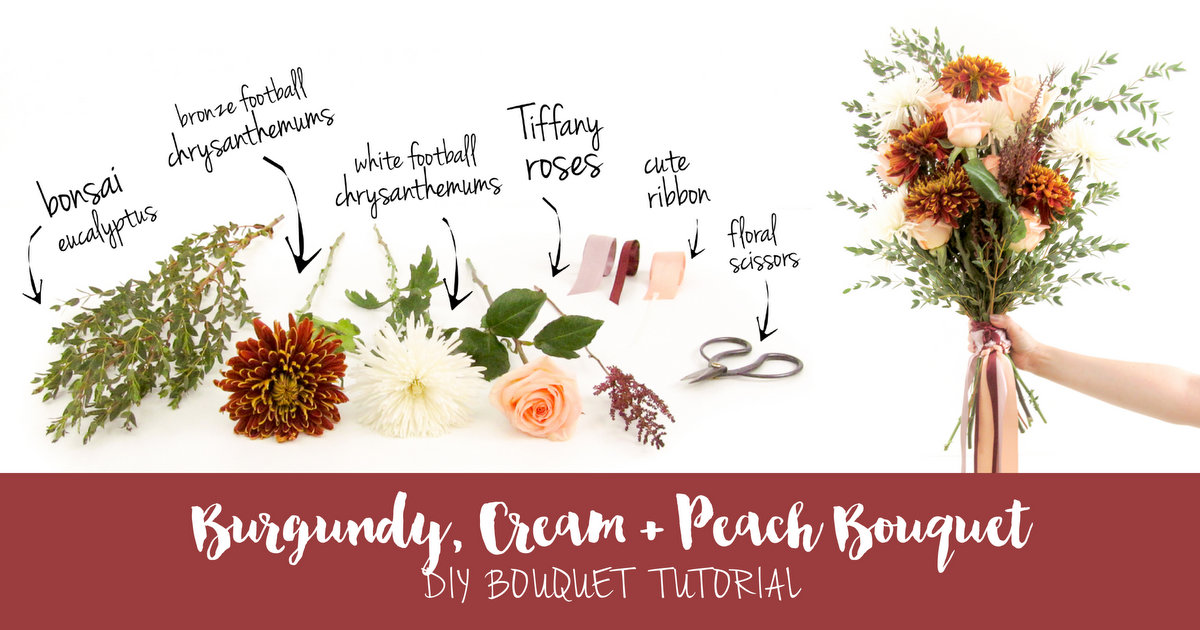 Today we show you how to make this pretty burgundy and cream DIY wedding bouquet with an easy step-by-step tutorial. This DIY wedding flower tutorial is great for a rustic wedding, or a garden wedding with a touch of whimsy. Plus it's made up of only four flowers and some eucalyptus greenery – which is awesome for a DIY bride!
All of the flowers for this bouquet can be easily ordered online from our bulk floral friend and sponsor,  Blooms By The Box here. Most of them are available year round – the bronze mums are fall flowers, but can easily be subbed with another red eye catching wedding flower like pincushion Proteas, burgundy Dahlias or red peonies, depending on season. When you order the blooms in bunches, you'll have enough left over to create smaller versions for your bridesmaids' bouquets too. At the time of writing (2017) we've got this DIY bouquet coming in at around under $60, with three bridesmaid bouquets coming in at just about $30.
We'll be working with white football mums, peach Tiffany roses, eucalyptus for wedding greenery and for burgundy red wedding flowers we're using red Astilbe and bronze football mums. This bouquet is totally perfect for a fall wedding and would look great if this rustic garden wedding was re-imagined in with touches of burgundy! In fact,  we think it would look beautiful at just about any of these burgundy weddings!
Burgundy and cream DIY wedding bouquet
  
Burgundy + Cream Wedding Bouquet: DIY Tutorial Bouquet Recipe

Burgundy + Cream Wedding Bouquet: DIY Tutorial Instructions
Cross 1 white and 1 bronze football mum so they form an X shape, add a tiffany rose in the center. Repeat.
Place 2 stems of astilbe on top of the other blooms, facing opposite directions.
Add another layer of each flower in the same order. Fill in any gaps as needed and adjust flowers to form a bouquet height and shape that is pleasing to you.
Bunch the stems together and flip your bouquet over, frame your flowers with 2 stems of bonsai eucalyptus on the outer edges.
Flip your bouquet back over and tie the stems together using a zip-tie, this will help you achieve a loose look.
Cut any excess off of the zip-tie and shorten the stems of the bouquet to your desired height.
Take a long ribbon of your choice and tie it around the zip-tie, layer as many ribbons as you'd like.
Burgundy + Cream Wedding Bouquet DIY Tutorial
Remember, you can purchase all the flowers and equipment needed to build this fabulous burgundy and cream fall bouquet from bulk online floral and sponsor, Blooms By The Box here.
Check out our other wedding flower guides for the names of wedding flowers in your color palette and more cute tutorials:
Looking for more flower inspiration?
Burgundy, Blush + Peach Wedding Flower Recipe with Flower Dictionary
Cascading Protea Wedding Bouquet Recipe {Flower Cheat Sheet}