Love Amongst the Sweet Apple Blossoms ♥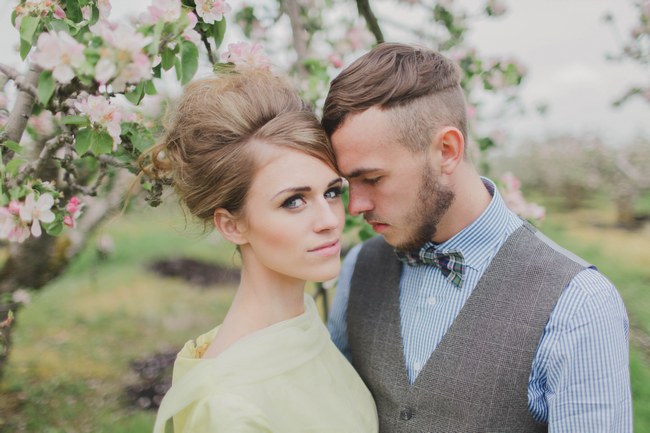 Inspired by the effortless chic style of Mad Men's Betty Draper, Debbie Bailie, of the amazing Gibson Bespoke, put together a team of local vendors to create a romantic styled shoot just brimming with with fabulous full skirts, lovely layered petticoats and intense, passionate embraces.
The colour inspiration behind the shoot, captured by photographer Kirsty-Lyn Jameson, was taken from the pastel shades of the apple blossom orchid in spring and summer – fresh hues but with a hint of sparkle and glitz. Although the weather completely ignored the brief on the day and arrived in all it's tempestuous glory, the grey clouds resulted in amazingly moody photographs. To add to the romance, the models photographed are a real life couple – and what a dreamy couple they are!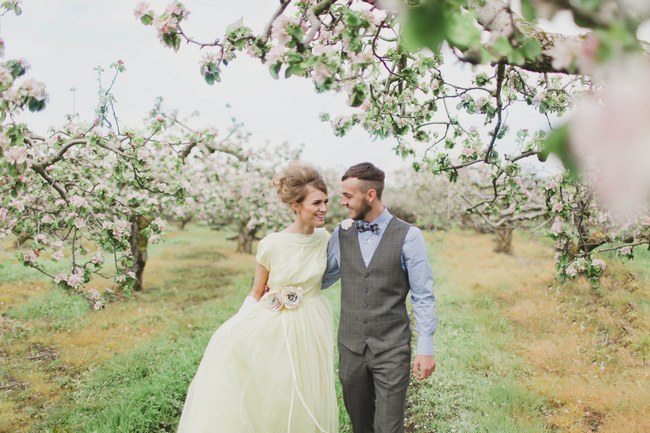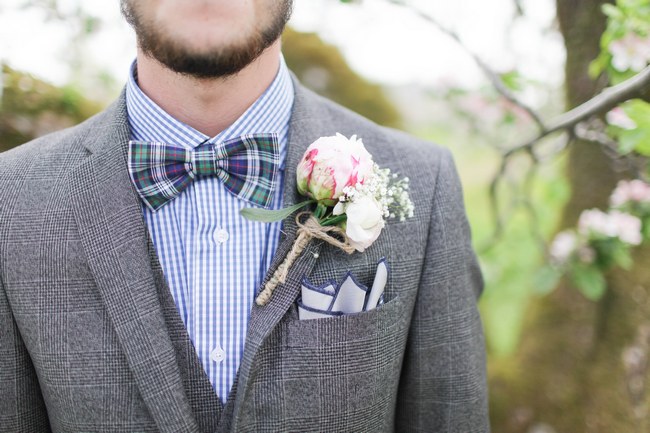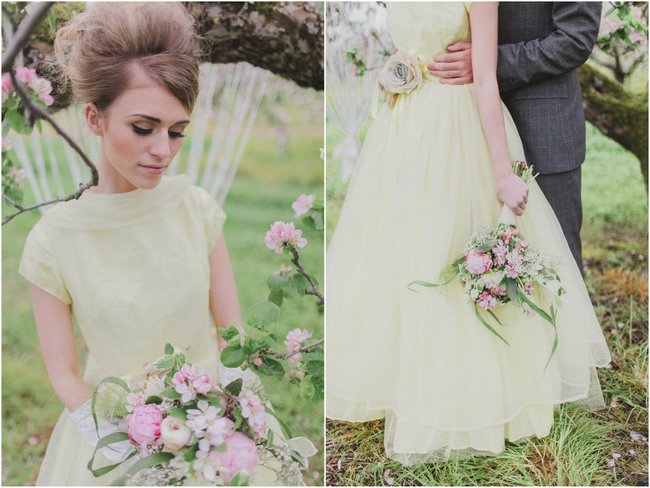 "I have been dreaming of this shoot for what feels like years! Growing up in the country surrounded by the apple blossom every year is a memory I miss, but I am so lucky to have been able to create this beautiful shoot alongside Gibson Bespoke. Love was truly in the air with the real life couple, Jay and Destiny, who modelled for us, it was beautiful to be able to capture that realness on film!
We did all our prep that morning from my childhood home and used neighbouring fields and farms that I played in as a child to shoot in. The 50s was such a special time for fashion and to mix that with modern day glitz and glam all in the country setting was a mismatched, magical experience."
– Kirsty-Lyn Jameson, Photographer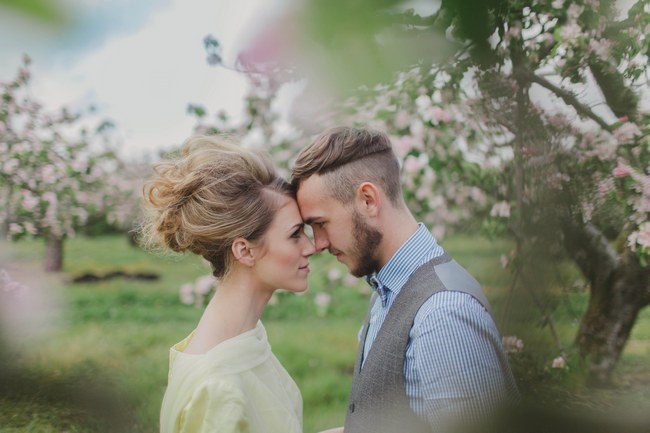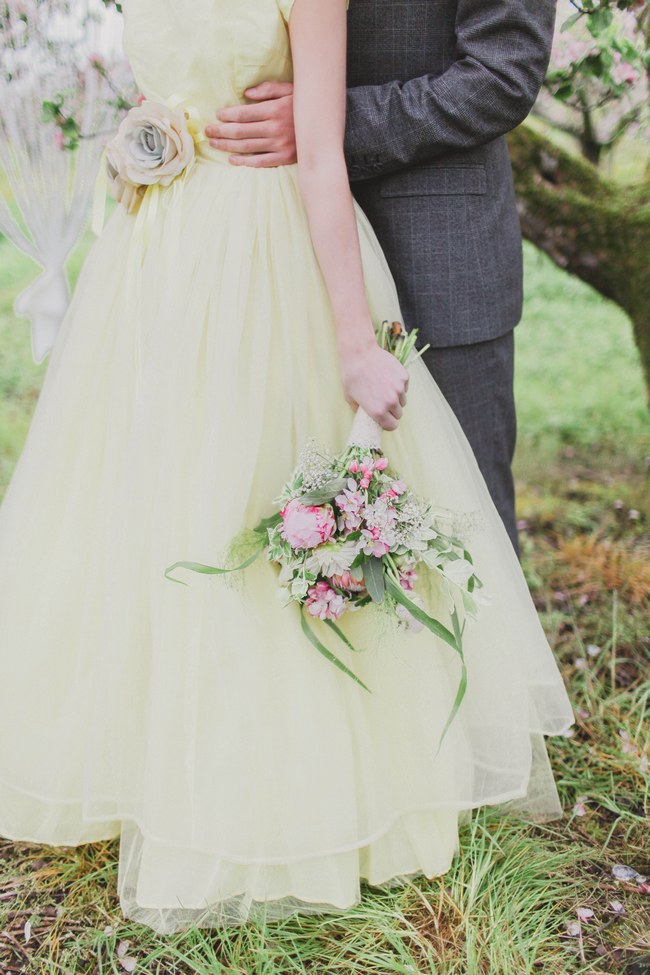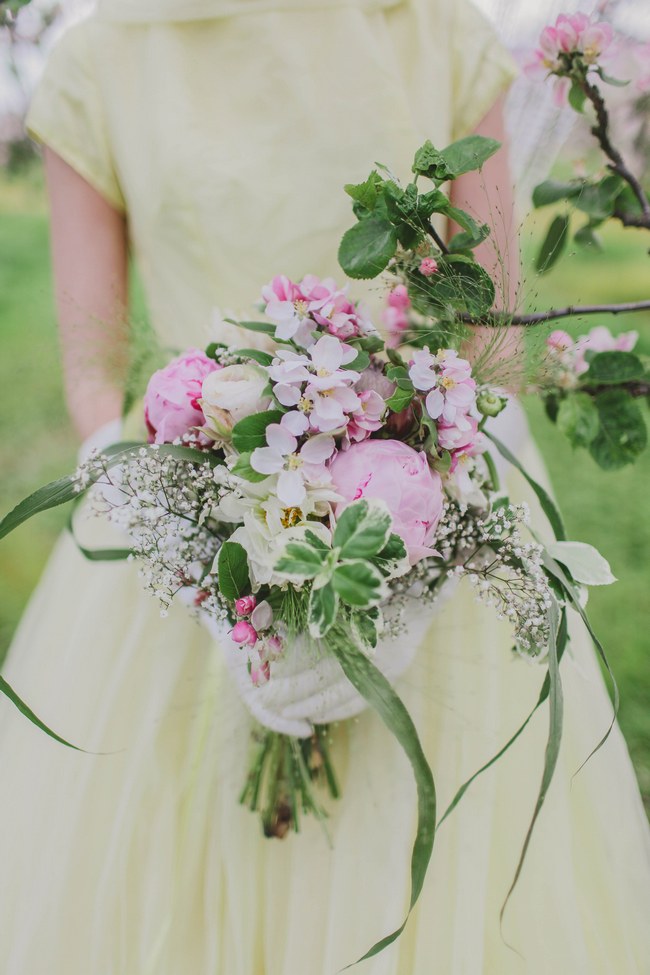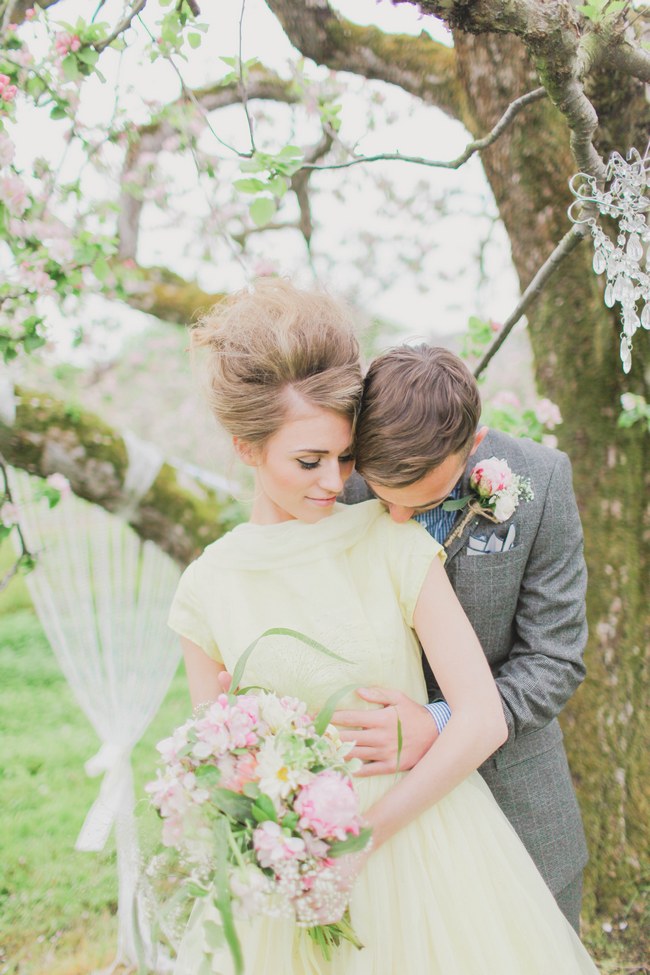 "For the sweetheart table under the apple blossom, I used unique pieces of vintage mercury glass candlesticks, vases, lanterns, teamed with kitsch chandeliers and crystal curtains draped from the blossom.
I wanted to give our shoot a real mid- century glamour feel with silvers, crystal and sparkle juxtaposed with hints of soft pastel rose, purple and blues in the flowers and table settings . Pretty hand beaded bows, pewter beaded placemats and an ivory paillette sequin table cloth lent itself to the 1950's prom feel we wanted for the shoot."
– Debbie Bailie, Gibson Bespoke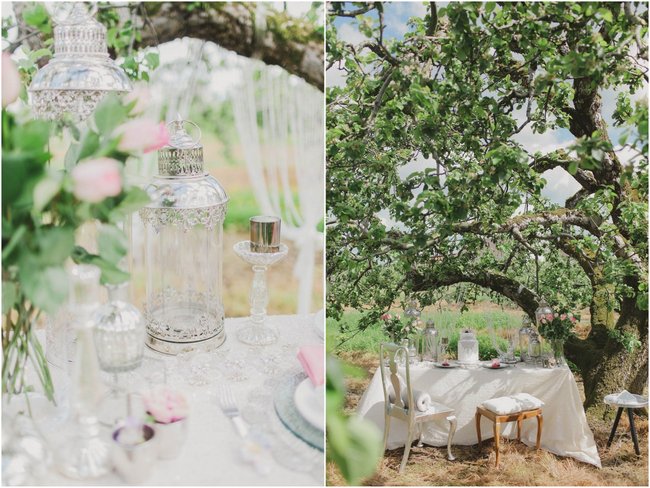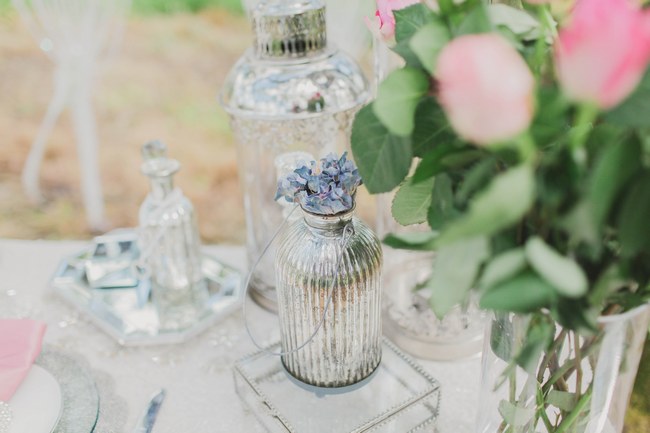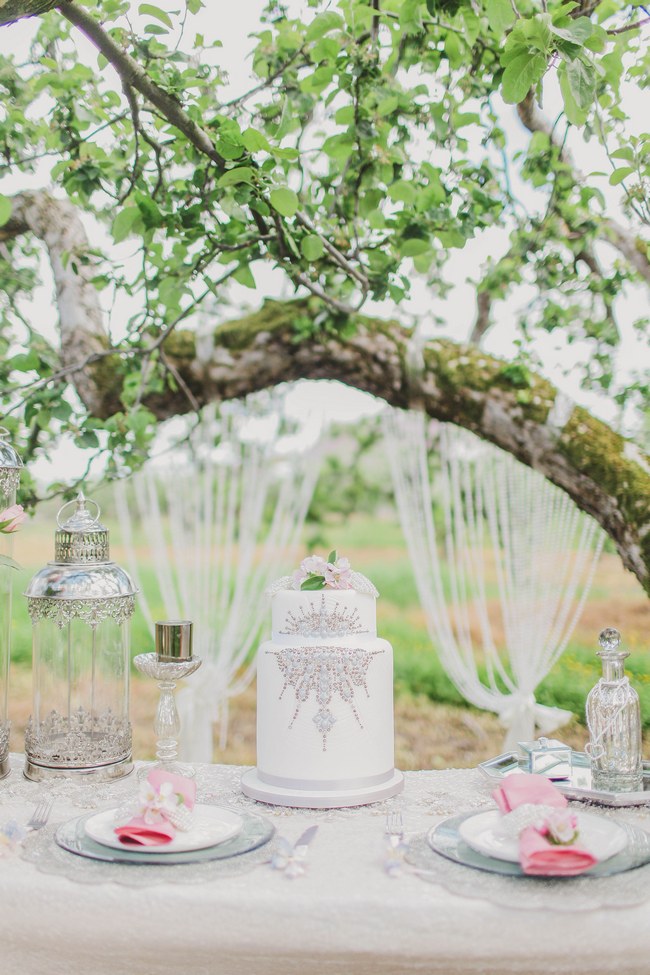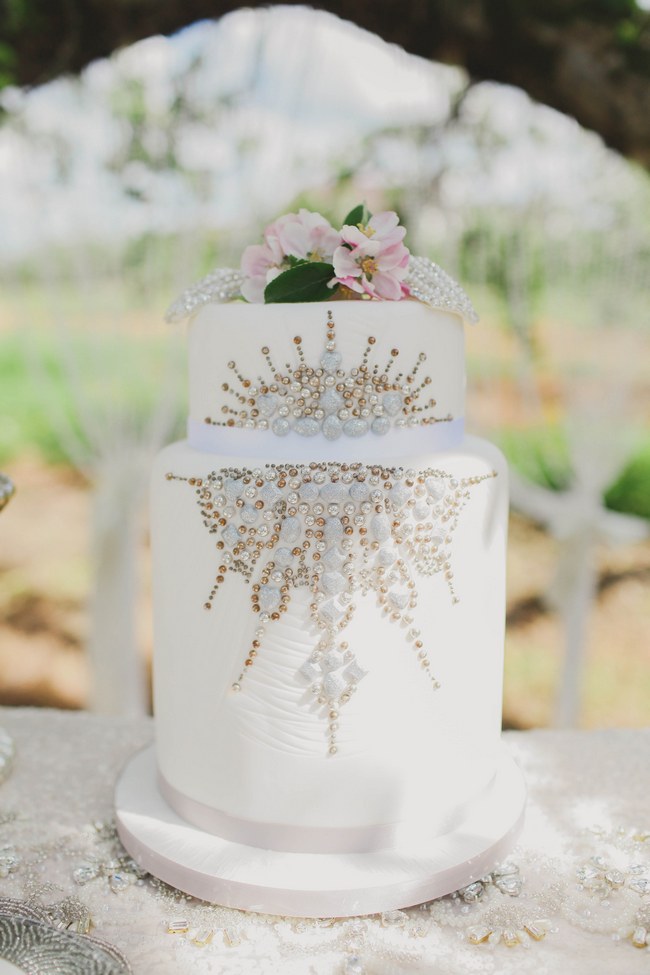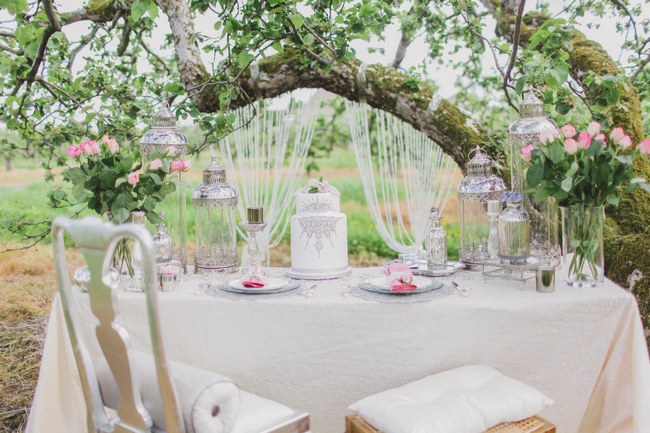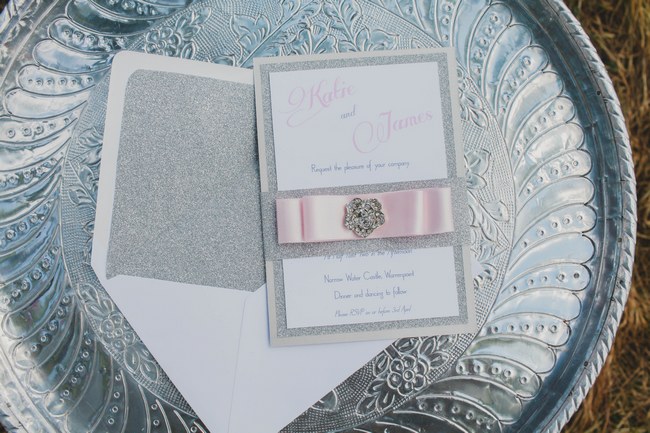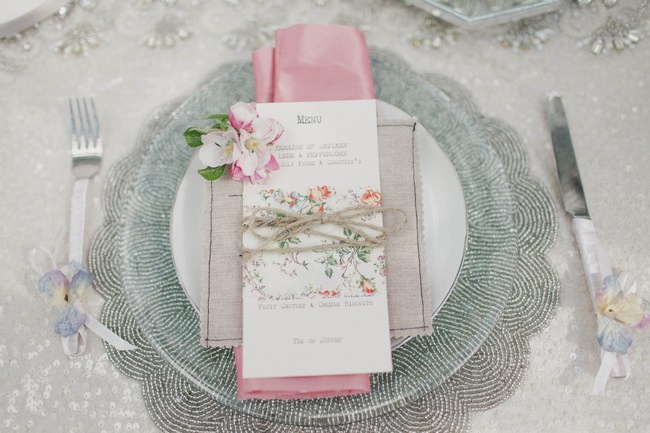 "For this shoot we were hoping to create stationery that reflected grown-up girly glamour with lots of tactile elements such as glitter papers, vintage fabrics and pretty embellishments."
– Petty Coat Prints, Stationer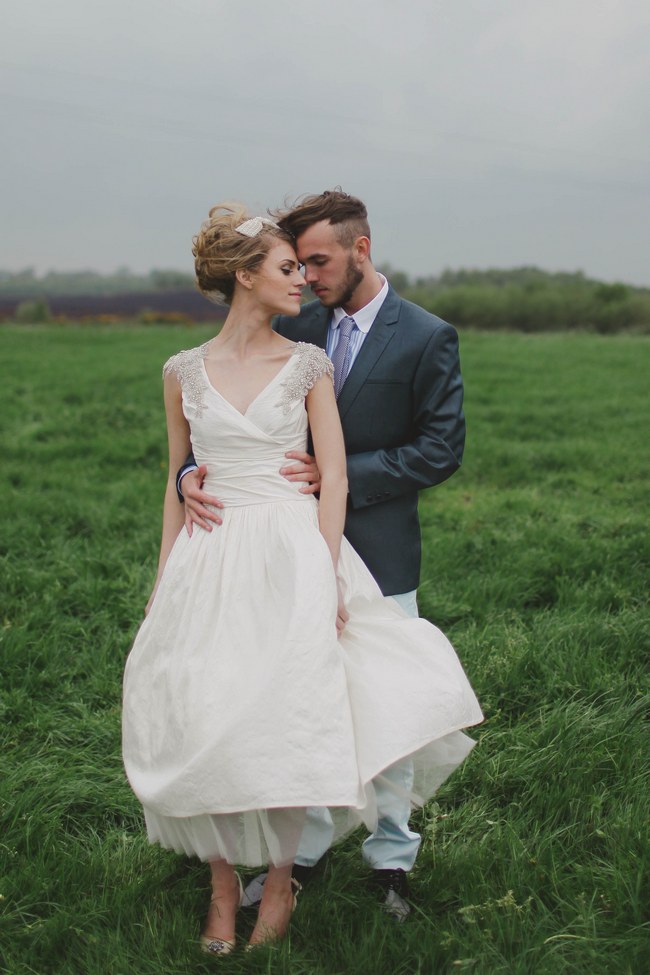 "My inspiration for the apple blossom shoot came from listening to my sister Kirsty-Lyn Jameson speak passionately about her desire to capture the yearly crescendo of colour that nature provides. Her nostalgia made me think of combining a retrospective look with a contemporary fit and so to marry the old with the new I chose a classic prince of Wales check three piece suit to emulate the grandeur of the countryside.
The second look was chosen to show that a well cut suit can multi task. I paired the suit jacket with slim light chinos trying to tip my hat to a French Riviera meets the Northern Ireland country side look. Unfortunately the Northern Irish weather that day maintained its gloomy stance, but this ruggedness helped enforce my view of always being bold through rain hail or shine."
-Statement Menswear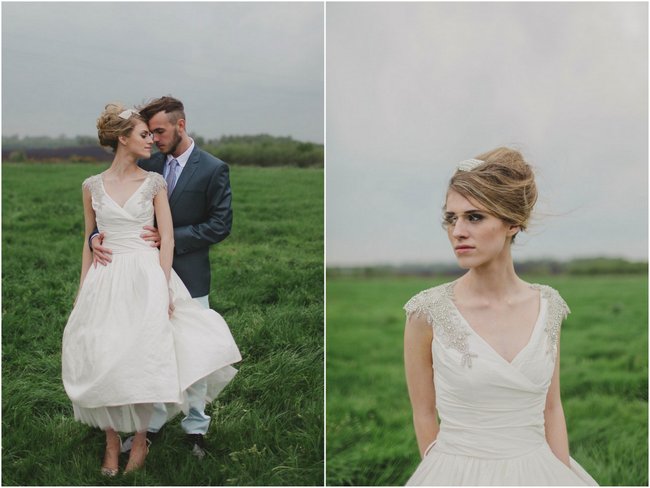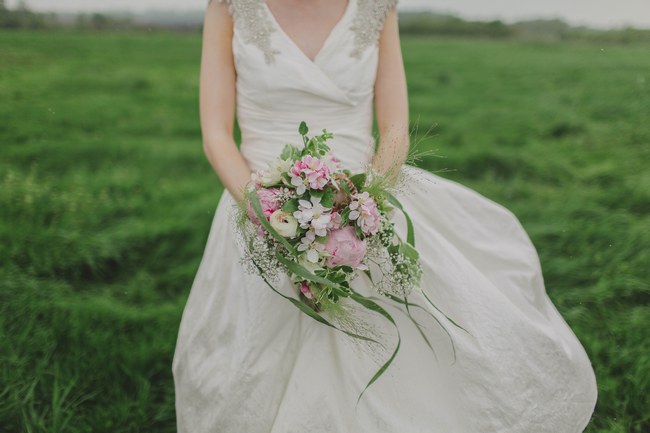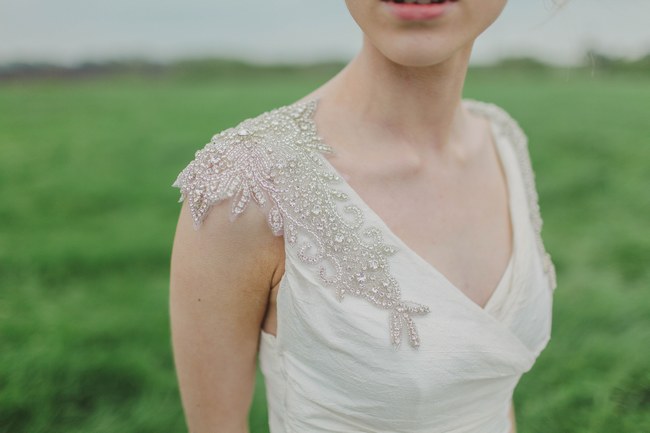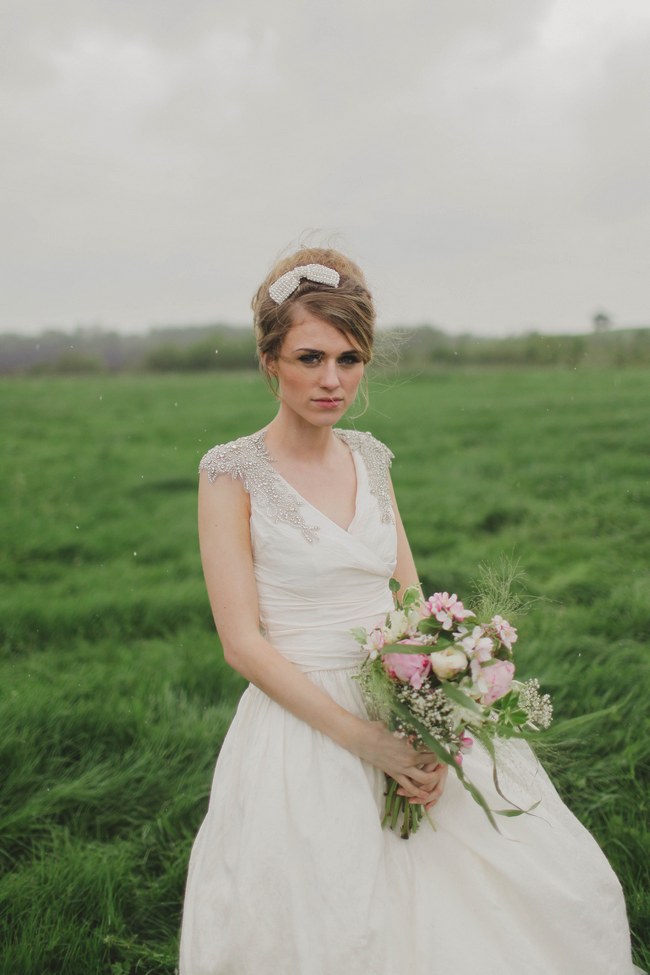 "I'm lucky to have apple trees in my garden, as apple blossoms were my inspiration for this shoot. I included the beautiful blossoms in both the bouquet and the floral crown."
– Vintage Violet, Floral Boutique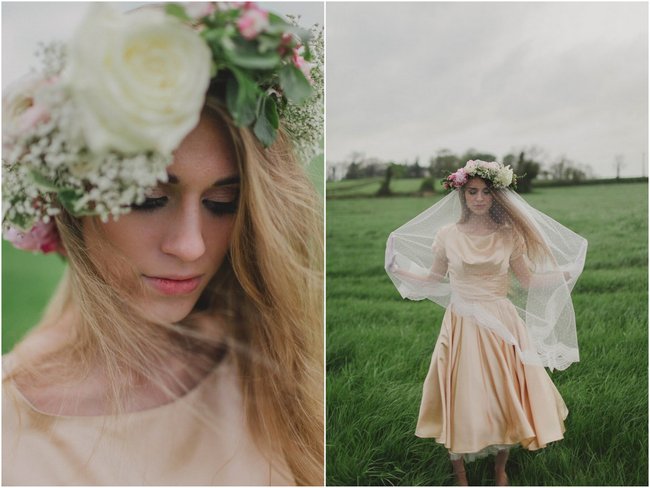 "My inspiration for this look was Audrey Hepburn. A timeless & classic look that expands through the ages and looks great on any woman. A flawless base with slight contouring, lots of liquid liner & a soft lip! My must have products to create this look are BENEFIT Pore Professional, MAC Harmony blush, CLARINS 3dot liquid liner & TOPSHOP lipstick in saint."
– Laura Kelly, Makeup Artist
"For hair inspiration I used the iconic beauty of Brigitte Bardot from the 1950's to complement our romantic theme. I created this look by using the 'O' heated rollers by Cloud 9 to create flirtatious waves, a little bit of teasing the hair for max volume and my favourite styling product is L'oreal Professional's tecni art fix design."
– Sarah Tiny, Hair Stylist.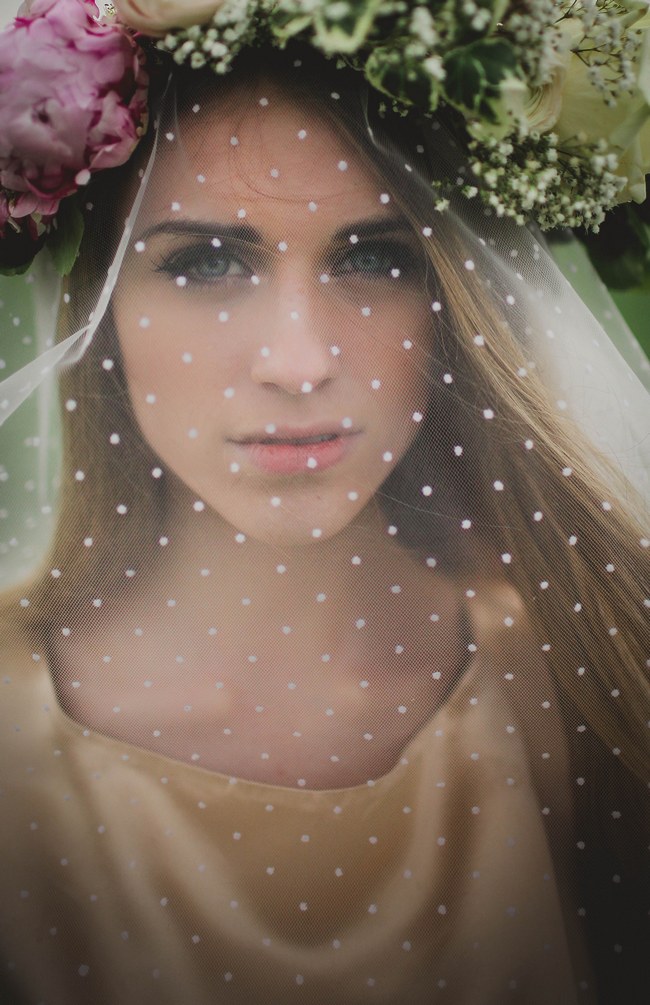 ♥ ♥ ♥ CREDITS ♥ ♥ ♥
Gowns & Styling: Debbie Bailie – Gibson Bespoke |  Photography: Kirsty-Lyn Jameson | Stationery: Petty Coat Prints | His Attire: Statement Menswear | Florals: Vintage Violet Floral Boutique | Make Up Artist:  Laura Kelly – Makeup Artist | Hair Stylist : Sarah Tiny | Cakes: Airy Fairy Cakes