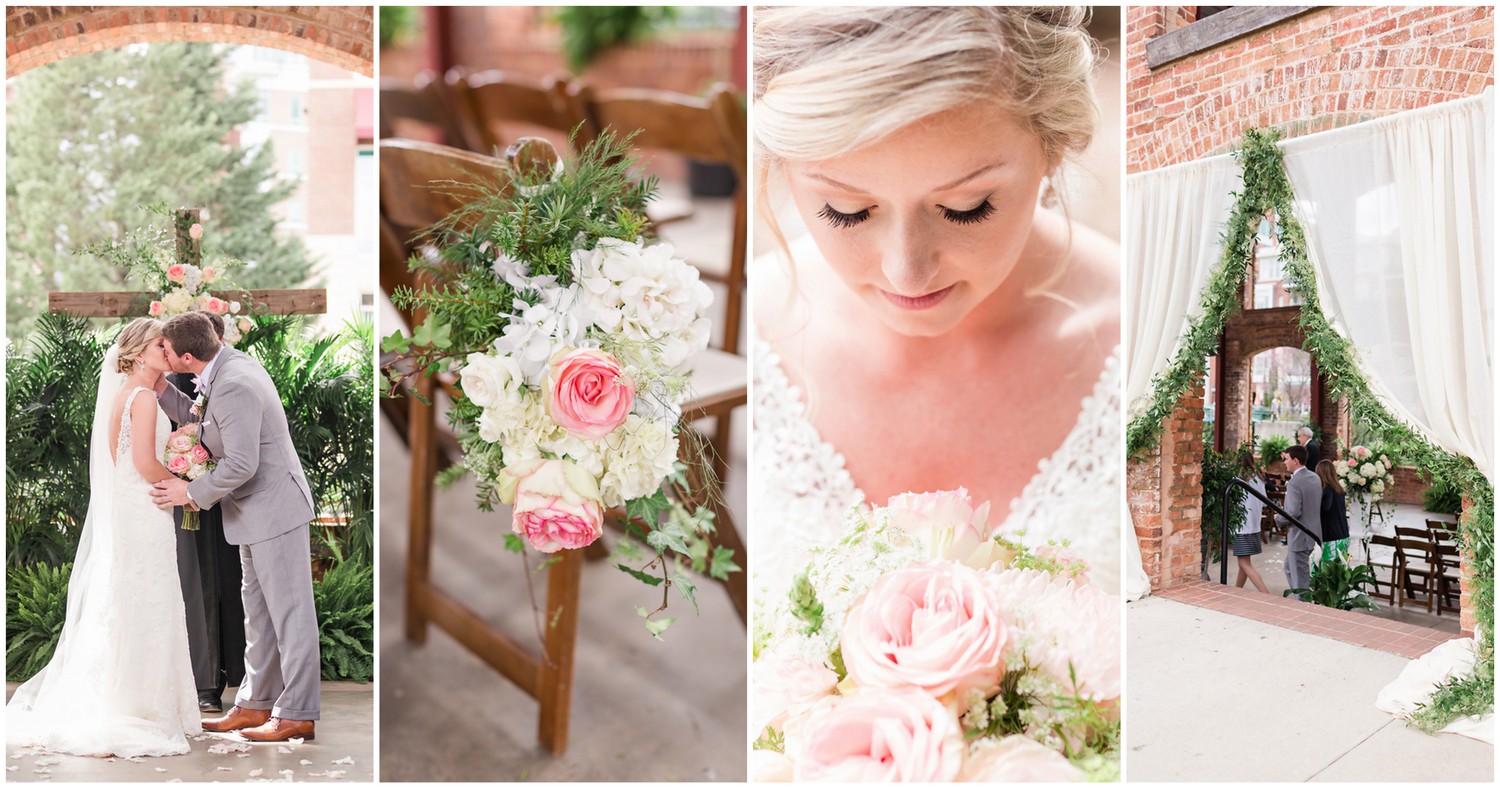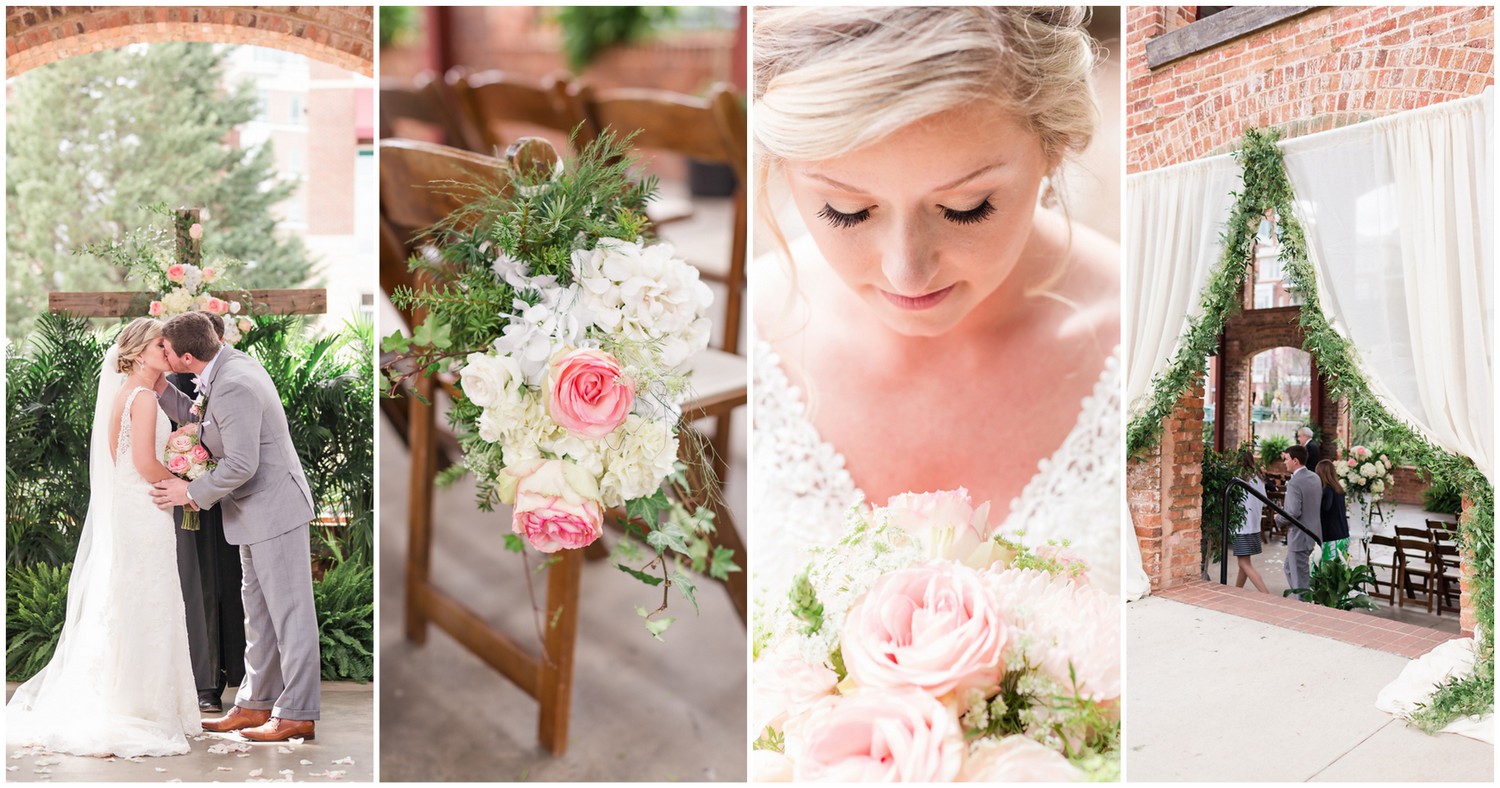 Katie and Michael's wedding was a delightful celebration of the freshness the spring brings. The couple focused on wedding details in shades of pink, gray and white. Katie chose a soft pink for the bridesmaids and florals, accompanied by soft greenery against delicate white fabrics, highlighting the softness of the season. The couple were married in downtown Greenville in an gorgeously intimate ceremony, with beautiful images captured by Jennifer Stuart Photography.
Blush Pink + White Spring Wedding
Love Story:  Michael and I met my senior year of college while he was in town visiting a friend. He had asked me out to a really nice restaurant a few nights after we met but I was too nervous for that. We texted occasionally but I never went out with him. Six months later, he asked again and I agreed to go to drinks. We spent the next six months dating before I made the risky decision to move to Greer, SC (where he had recently moved) to be together.
Proposal: A year after moving to Greer, Michael took me out to a nice restaurant to celebrate finishing my first year of teaching. It was very romantic! After dinner, we went to get ice cream at Abbott's. Afterward asked me if I wanted to walk around downtown Greer – which was an unusual suggestion for him to make.
We walked around the park and got to a swinging bench and sat down. A photographer came and asked us if he could take our picture for the Greer Magazine. Michael and I kept talking and when we got up to leave he stood up. He turned white and he just kept saying "I love you, I love you a lot" and then asked me to marry him. The photographer took the pictures and it all made sense! We got back in the car to go home and when we pulled in the driveway I saw all the cars. All of our closest family and friends were there to celebrate and that was a HUGE surprise! It was perfect!
Blush Pink + White Spring Wedding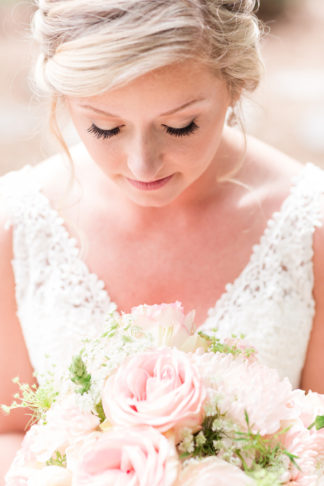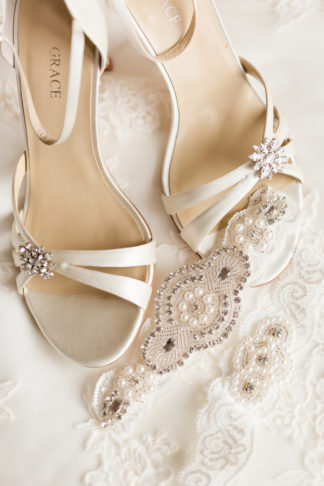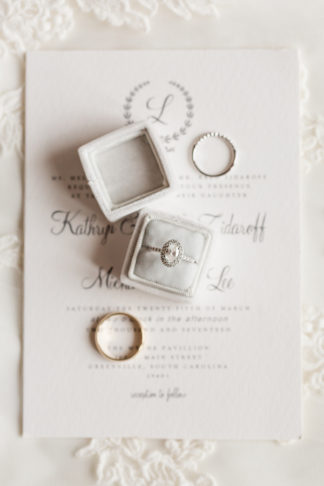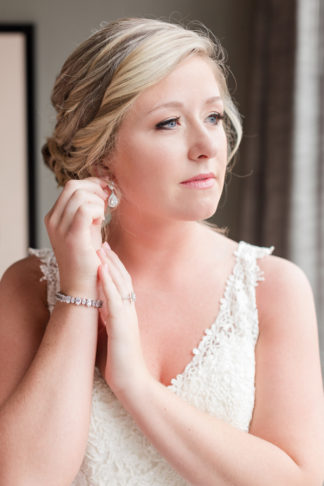 My (Katie's) family and bridesmaids stayed downtown in the Hampton Inn on the River the night before. Our room overlooked the venue where we would soon exchange our vows. The morning of the wedding, the girls got ready in our suite overlooking the set up of the Wyche Pavillion. This way we got to be close to our family and friends in our favorite city.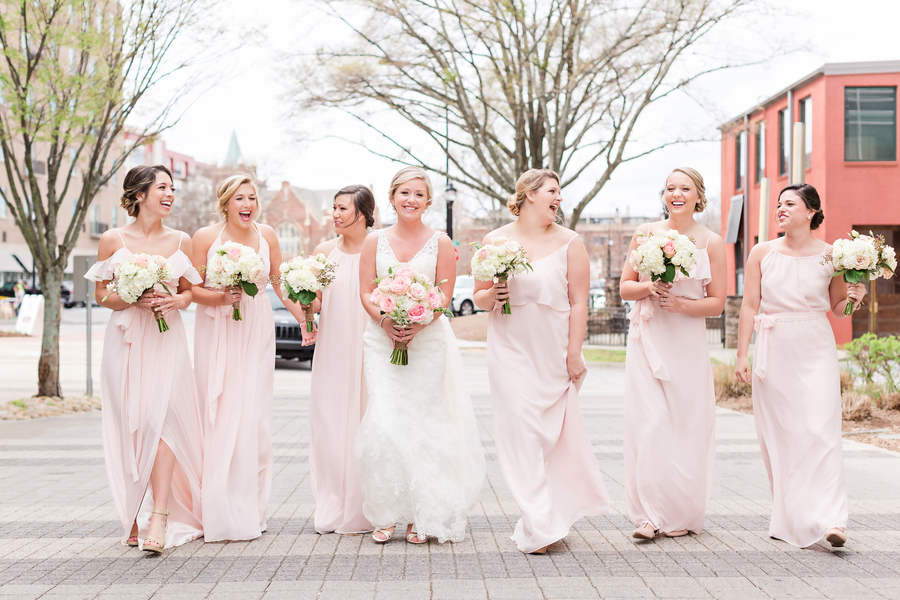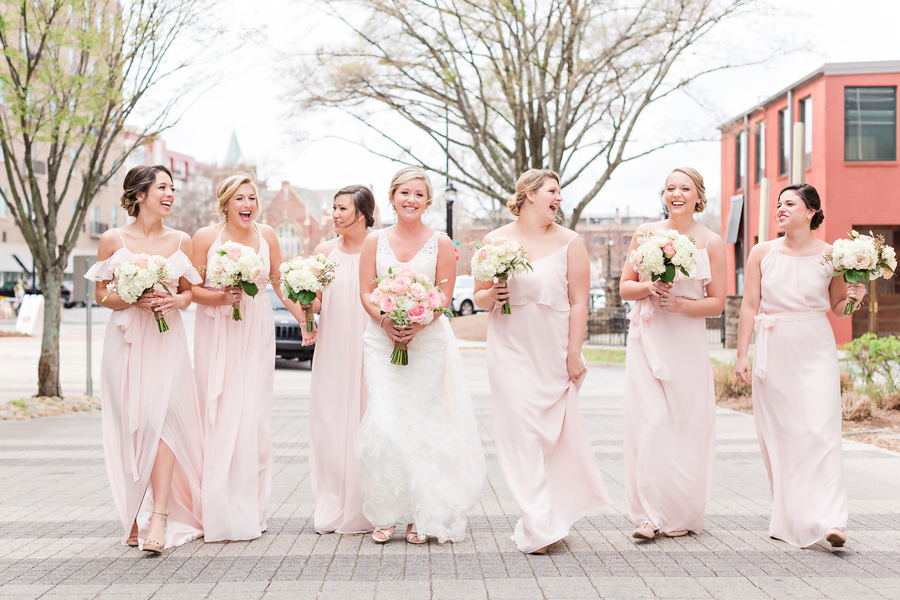 Our bridesmaids wore different styles by Joanna August in the color tiny dancer. Their hair styled in updos to maintain the intimacy of the day. Their bouquets featured white hydrangeas with a few light pink roses and light green greenery.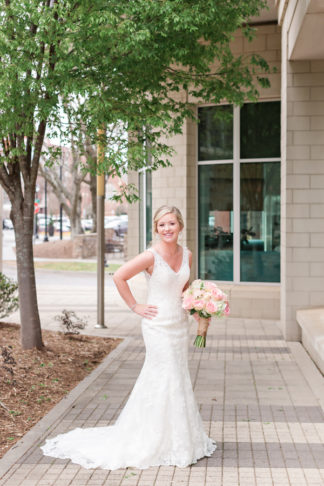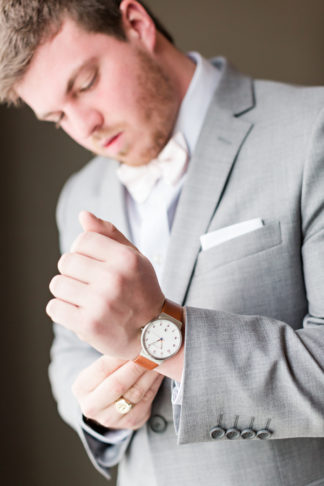 I wore the Geddes gown by Maggie Sottero covered in floral lace applique. It had a v-neck neckline and a deep-v back. The gown was adorned with a few sequins on the bodice. It was simple, elegant, but highlighted my desire to be timeless and stunning. My bouquet was heavy with light pink roses and light green greenery, wrapped in jute cord.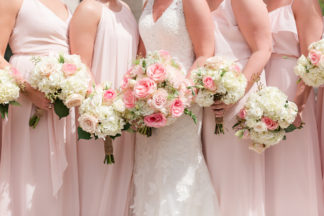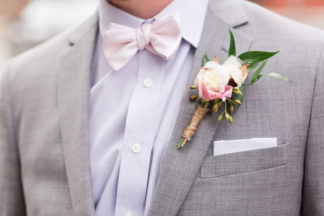 My groom's boutonniere was raw cotton and a light pink rose. The groom and groomsmen wore light gray custom suits from Smith and James. Their bowties and pocket squares featured light pink gingham. The groomsmen's boutonnieres included pieces of raw cotton.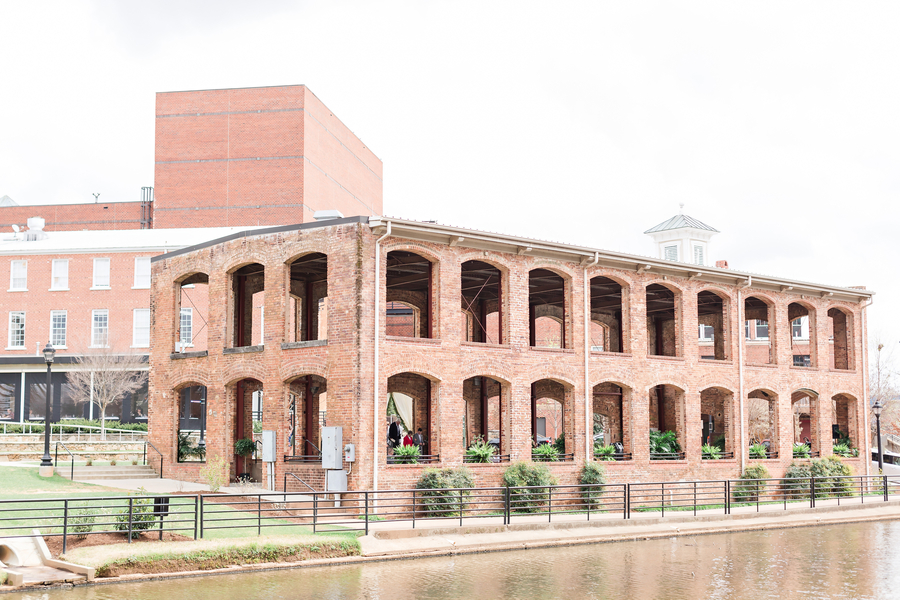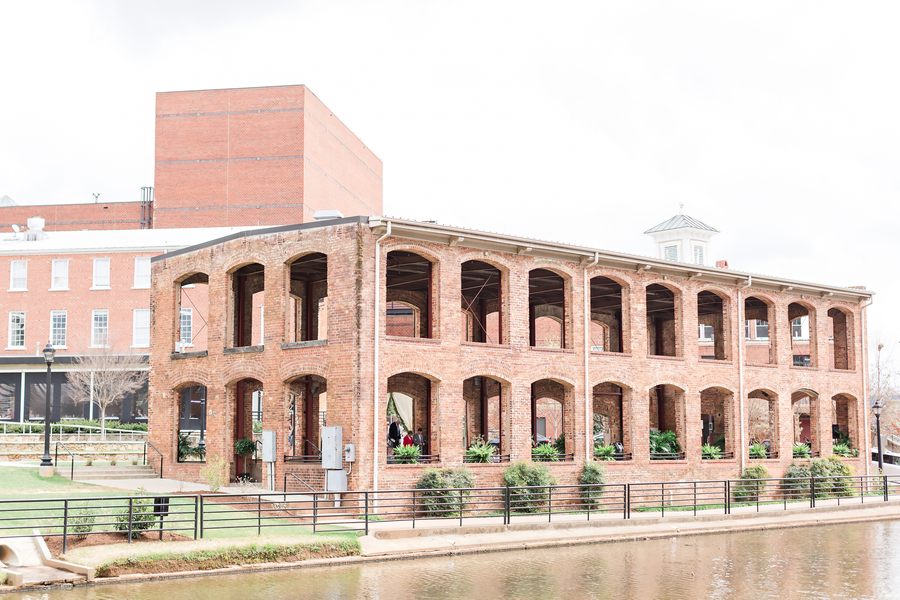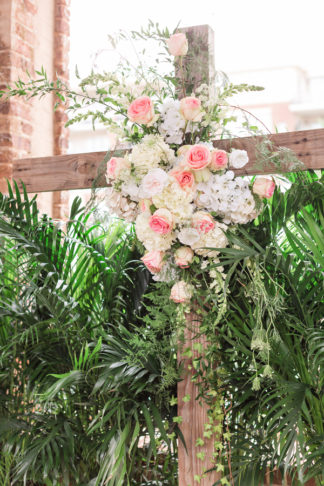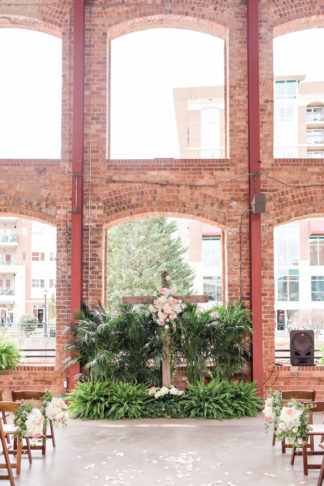 We were married in the Wyche Pavillion, over looking the river in front of a cross with pink and white flowers. Our ceremony was short and simple.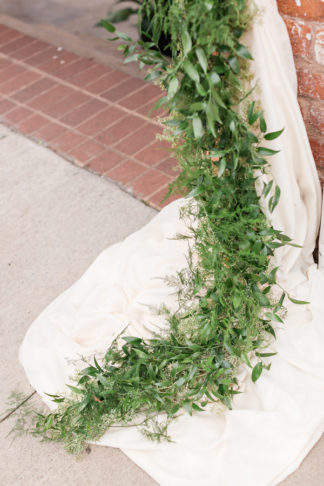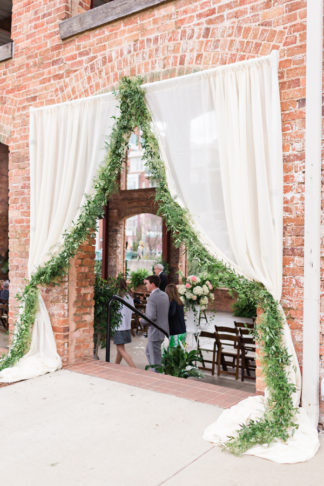 Wedding guests were seated in rows of wooden chairs decorated on end by beautiful blush pink and white florals, lining the aisle.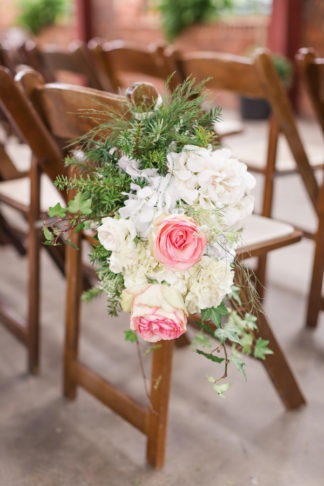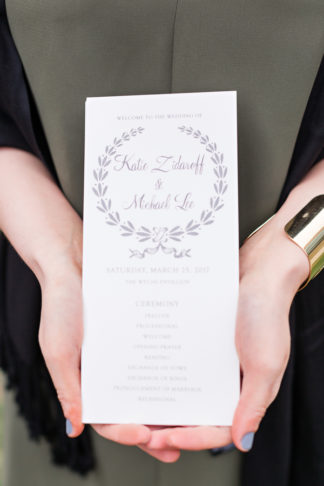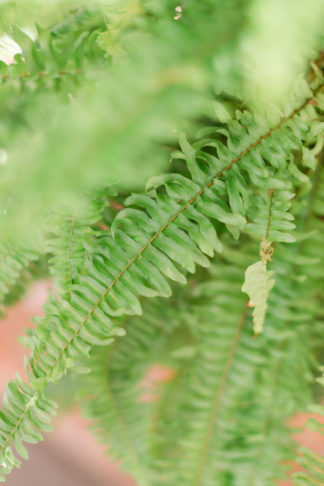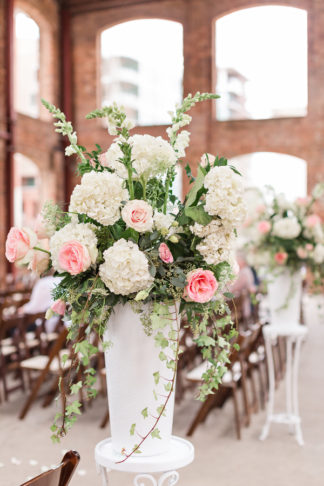 The wedding guest book was a large printed engagement photo of the couple. The frame was signed by guests at both the ceremony and reception.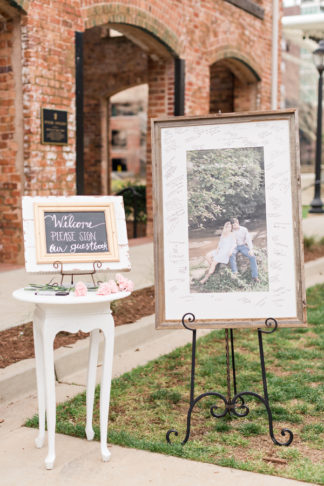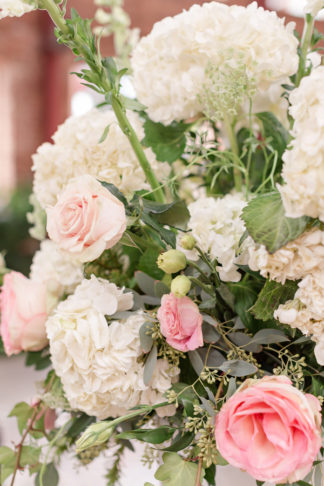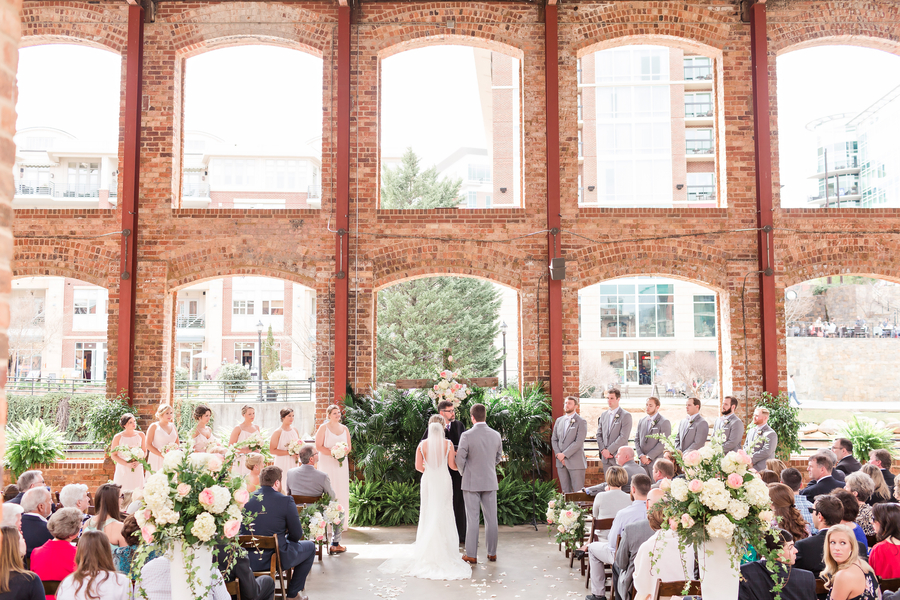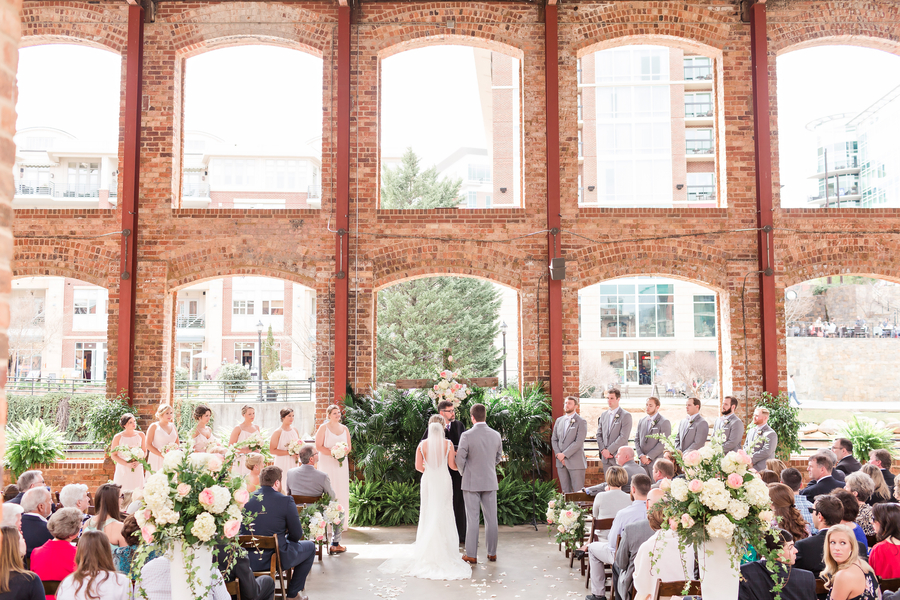 SEE MORE SPECTACULAR BLUSH WEDDINGS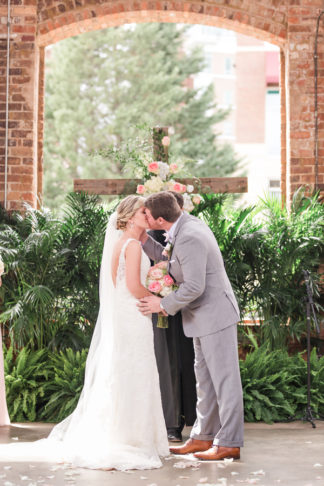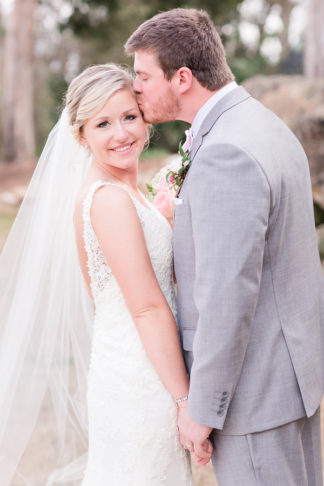 We had a delayed ceremony at 4pm. This allowed us to take photographs and be able to celebrate with our guests beginning at cocktail hour.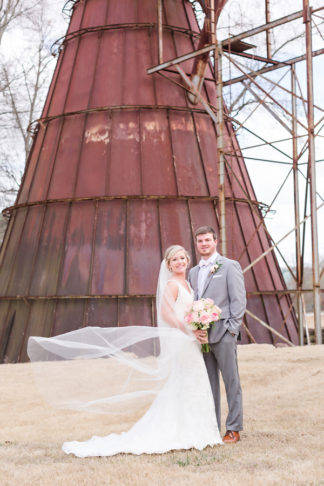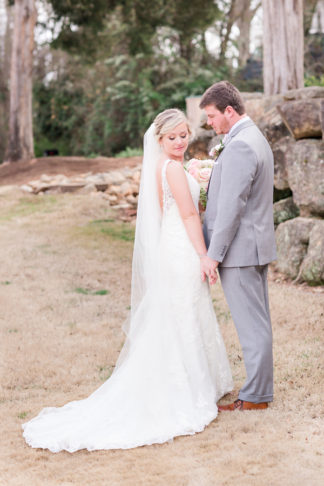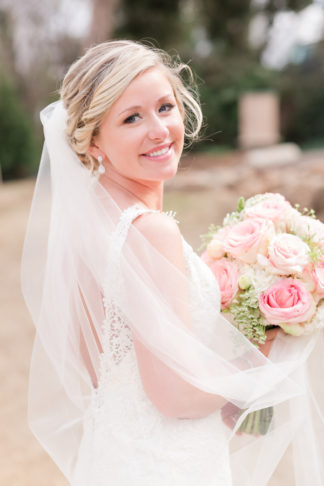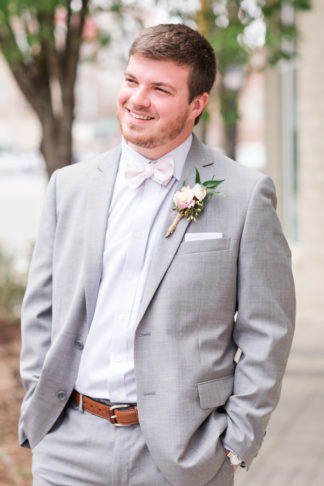 After the ceremony, our reception took place at Larkin's Sawmill. From the moment we walked into our reception, we were dancing, mingling with friends, and having the best night.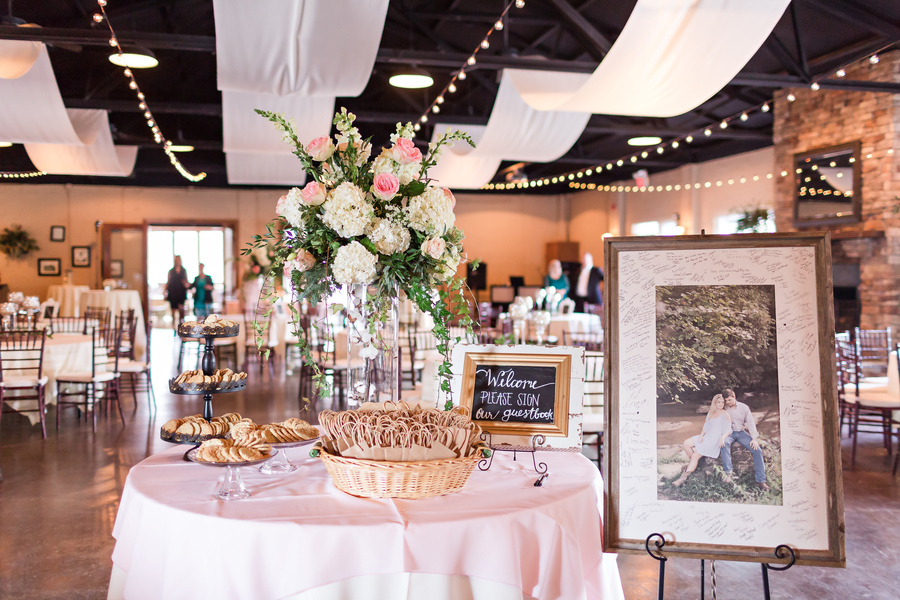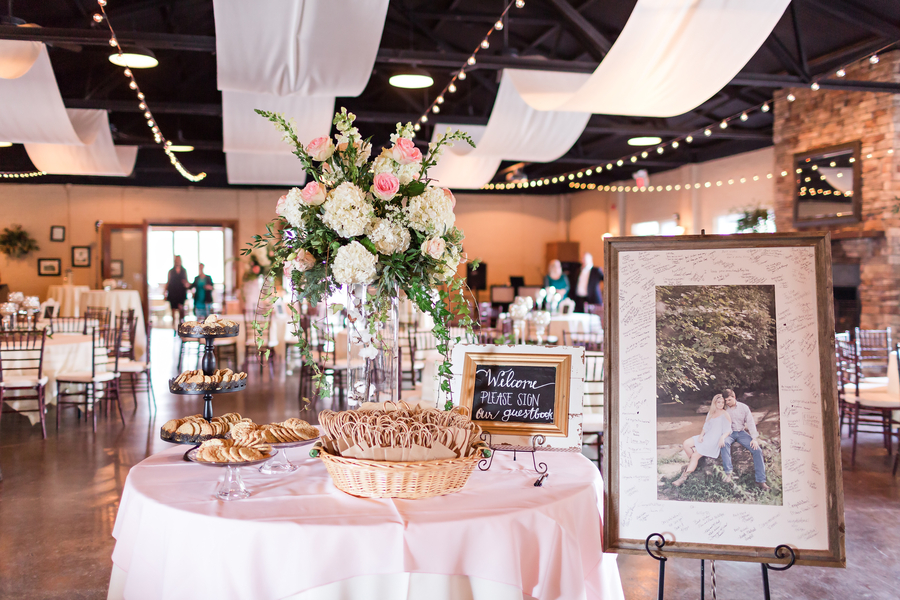 There were 3 different centerpieces on the tables at our wedding reception. The first was a 3 mercury, stemmed candle holders on top of a wooden server with greenery. The second was a large lantern with a candle inside on top of a wooden server with greenery. The third centerpiece was a tall, clear hurricane, filled with raw cotton. On top of the hurricane sat a pink, white, and green floral arrangement.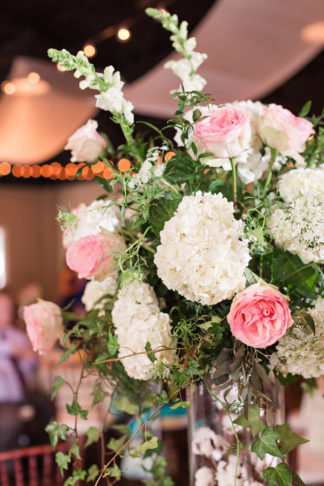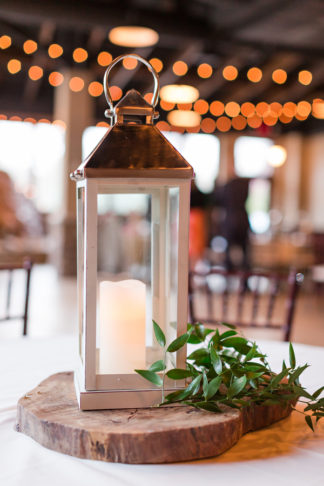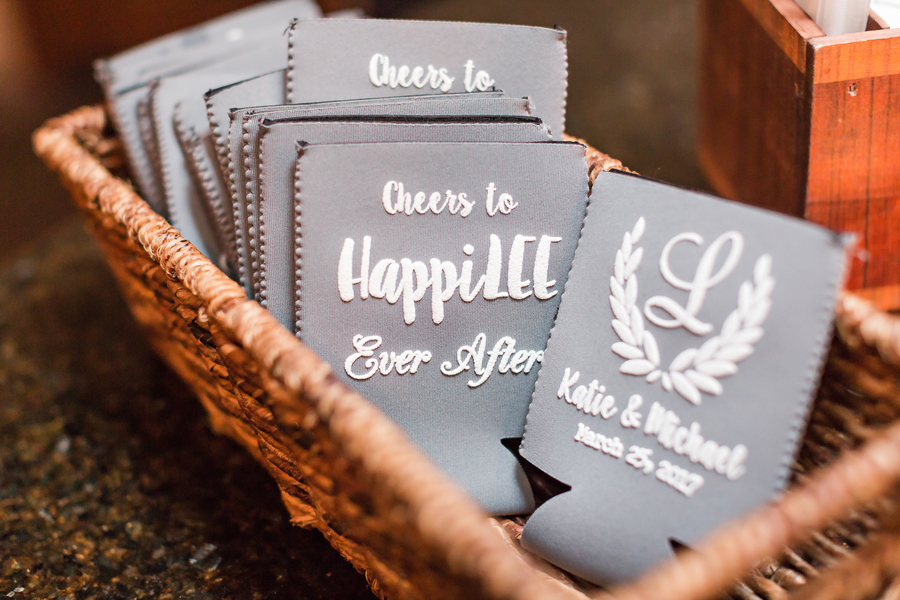 We personalized our wedding with different flavored wedding cakes instead of a traditional cake.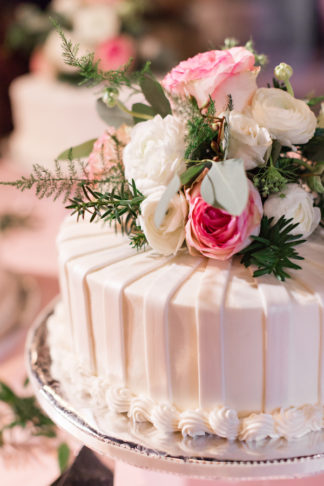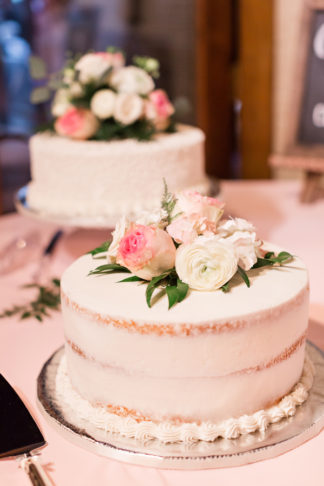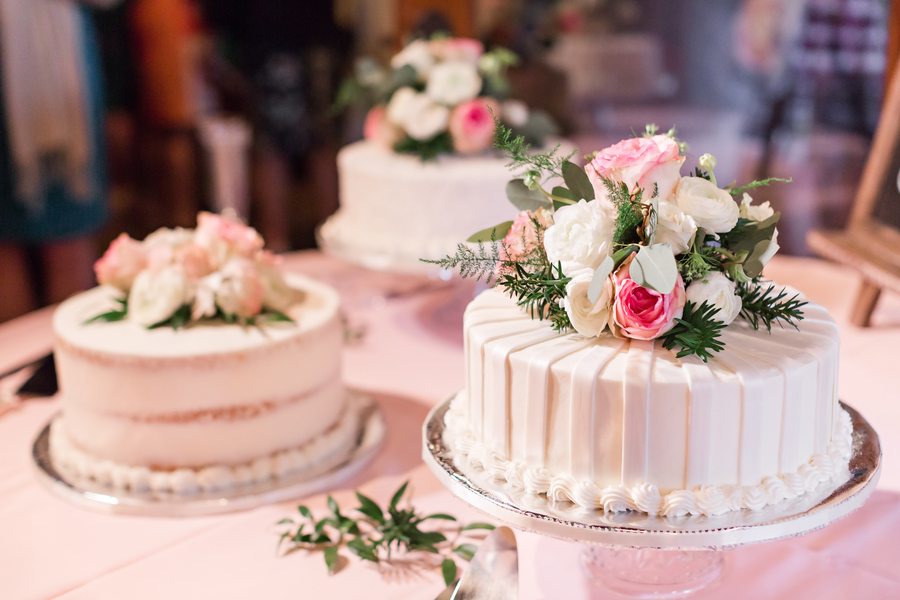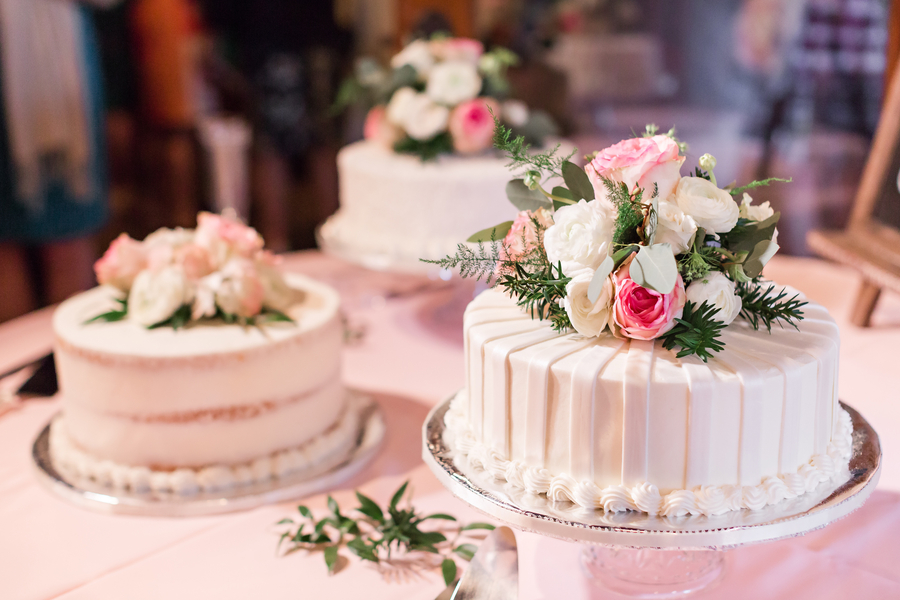 Wedding Service Providers: Photographer Jennifer Stuart Photography // Ceremony Location:Wyche Pavilion at the Peace Center// Reception Venue: The Sawmill At North Main// Bridesmaid Dresses Joanna August // Dress Maggie Sottero – Geddes // Brides Hair and Make Up Cotton Rouge and Company (Melissa Aubil) // Flowers, stationery + Decor  Culpepper Designs // Cake Old World Cake Company // Music Sam Stubbs // Favors The Chocolate Shop // Wedding Planner Angie Johnson- Culpepper Designs // Suits Smith and James // Catering Larkin's Catering and Events
MORE WEDDING INSPIRATION:
Secret Garden Ivory Blush Pink and Gray Wedding {Jennifer Stuart Photography}
Beachy, Floridian South Seas Island Wedding {Kristy and Vic Photography}
Elegant Blush Pink, Ivory + Champagne Wedding in Houston {Endless Exposures Photography}
Bright and Modern Kate Spade Inspired Wedding in Oklahoma {Sarah Libby Photography}
Delicate Blush, Ivory + Gold Wedding Reception Decor Ideas {Veronique Mills Photography}