Blush, gold, glittery romance ♥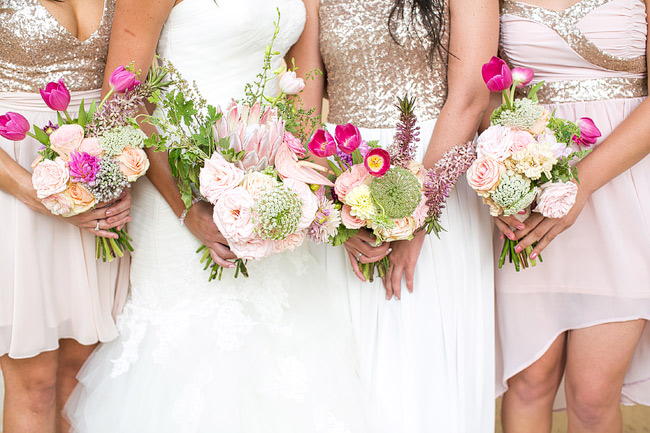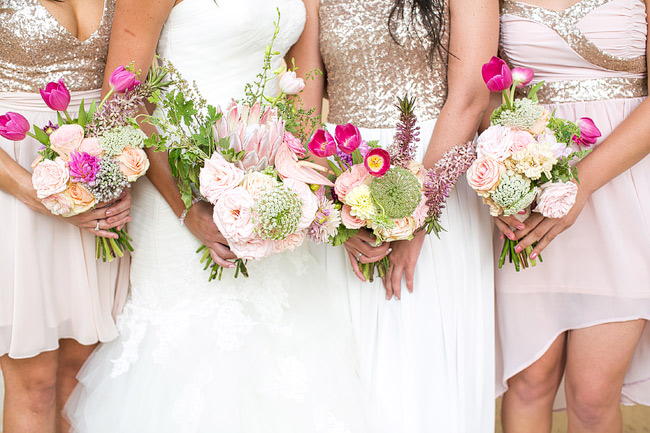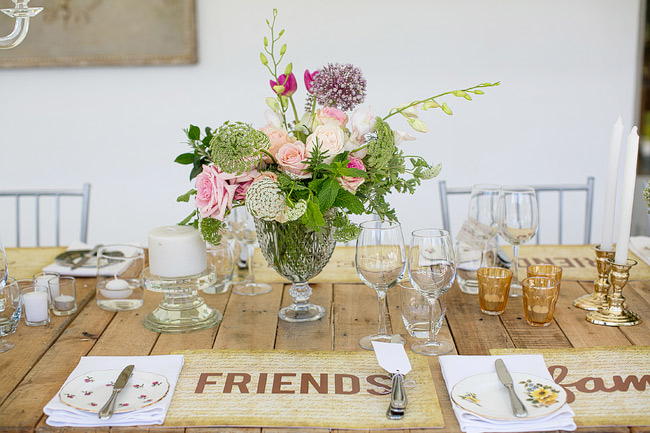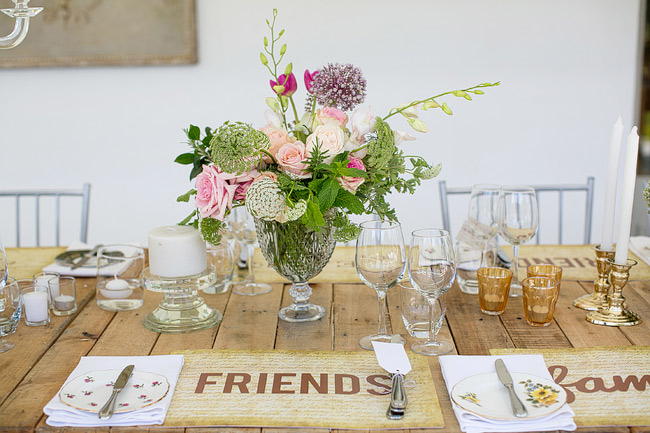 Today's wedding is so perfect you'll be forgiven for thinking it's actually a styled shoot. Featuring some of the absolute best wedding vendors South Africa has to offer, it feels as if it's more of a dream wedding showcase than Bianca and Jason's actual wedding! From the whimsically romantic florals by none other than Anli Wahl, to the blush and gold glittering bridesmaids gowns, to the picture perfect tablescapes, and the drop-dead divine bride, I am not sure that I would change one delightful detail even if I were to steal this wedding for my own vow renewal. It's pink, it sparkles, it's set in the beautiful outdoors, it's captured by Adene Photography, AND it features a kick-ass 80's cover band to dance the night away to? Really, what else is there?!
Bianca was inspired by one of Adene's gorgeous styled shoots. She wanted glittering gold sparkle and classic blush pink dreamy romance with a chic, modern twist. Their  wonderfully warm colour palette included rose gold, ivory, champagne, dusty & dirty pink, greys, blush, taupe, copper and gold. I love that they had the cutest customized place-mats made for guest favors, and adore the fact that they had custom shooters named after bride and groom,  presented at different intervals when they rang a big cow bell! Such a fun, magical wedding, and I apologize in advance for the total photo overload. When you see them, you'll understand why!
From the bride:
Our big day was everything I could have ever dreamed of. Everything was perfect, from the weather, to the atmosphere – it was just one of those magical days on which you know the stars are aligned for something beautiful. I was of course very nervous, but still pretty cool and calm, thanks to my bridesmaids feeding me champagne :-)! After a beautifully sentimental exchange of vows, we shared our first kiss as husband and wife! Yay!  We then got ready for the speeches, dinner and celebrating until the early hours with the most awesome 80s cover band ever! It was the best day (and night) of my life!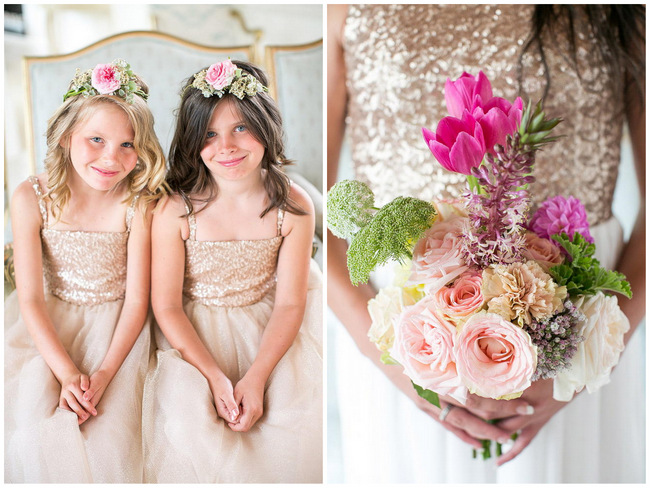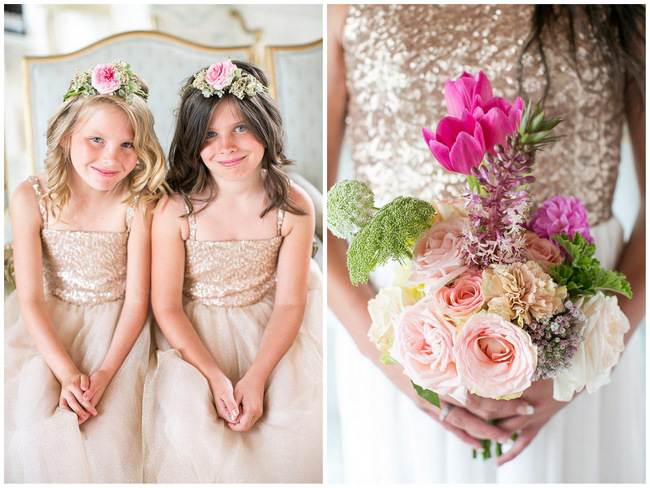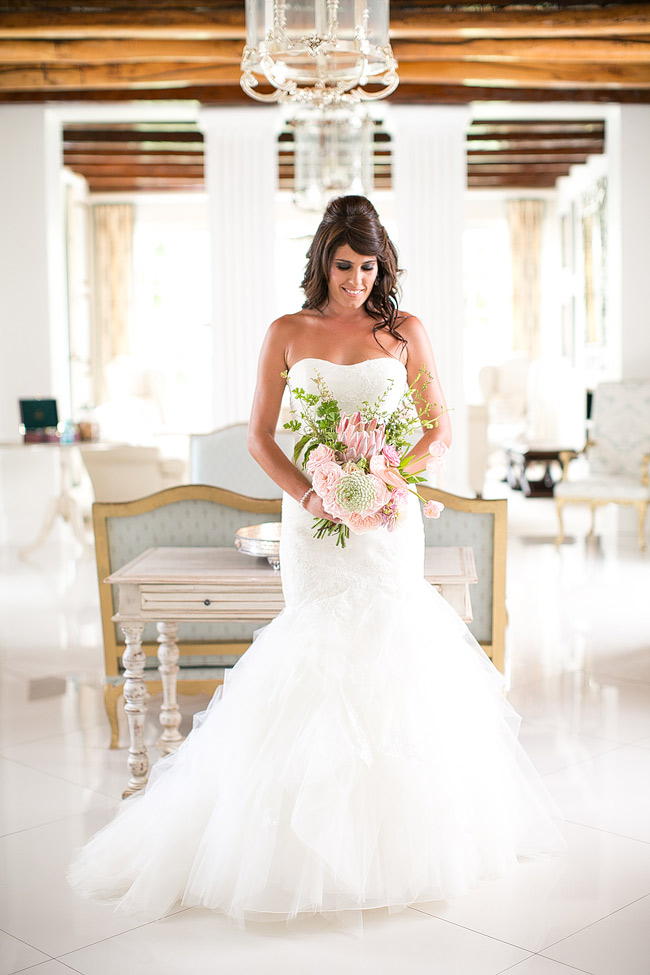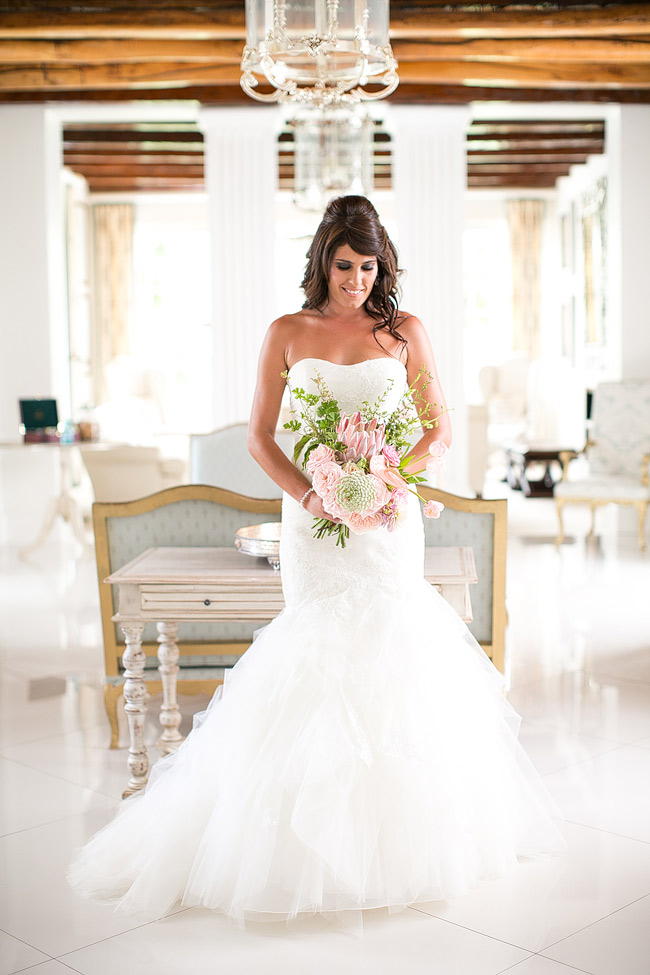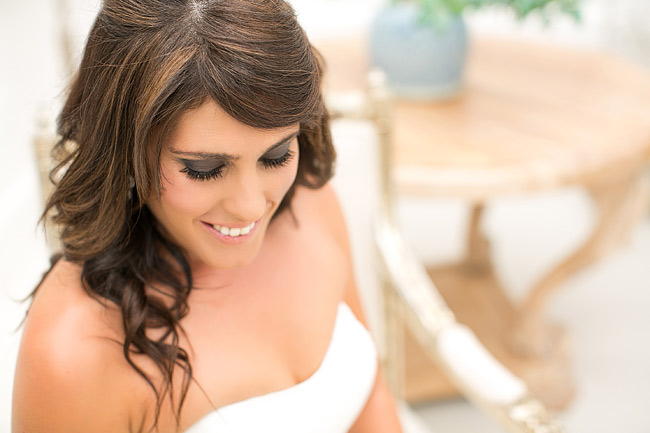 Love Story: We met via our friends Tarryn and Arden on a camping weekend in Cape Town. It was love at first sight, we were totally "love struck". The connections soon became obvious when we were chatting by the fire that first night at the camp as everyone else went to bed. We realized that we had attended the same school and that we knew the same people. And short after meeting, I started a new job which turned out to be working with Jason's mom! Indeed, too many coincidences. It was clear that destiny had a hand in this! We laughed through the night… there was definitely a connection, and this happened instantly. And like in all classic love stories, we realized that we wanted to see more of each other so we made plans to meet the following weekend. And the rest is history…
Epic Surprise Proposal (via a secret trip to Brazil, Cuba and Panama!)
Jason suggested we go to Durban for a weekend away together for his birthday. He gave me a simple instruction: "Pack for a warm climate for a weekend". The weekend arrived and I realized that something was up at the airport. It turned out that we were not going to Durban, but actually going to Brazil! Jason had organized all the necessary paperwork and I was pinching myself!
We spent a day in the first city on our trip when Jason told me to pack my bags for Panama City! Two days later Jason did it again: "You better pack your bags " he said. And off we went, this time to Havana, Cuba! We did a lot of sightseeing for 5 days.
On our last day, Jason told me that he had arranged yet one even more special thing for us: he had booked a beautiful hotel in an isolated island in Cuba called "Caya Santa Maria". The island had a gorgeous climate and beautiful long beaches. We would swim or snorkel in the warm blue water every day. It was the most romantic place ever. It was pure paradise. Every night after dinner we would sit on the beach. There was nobody in sight. The weather was lovely and we loved putting our toes in the water.
The last night, I didn't notice that Jason had a bottle of Champagne with him. I suddenly heard the cork pop. I turned around and looked at him, and there he was on his knee. He held my hand in his and I thought: "This is it". And he proposed. There was a full moon, which we call our special moon because it was so beautiful. Its light made a pathway on the sea. It was truly magical. Aaaah!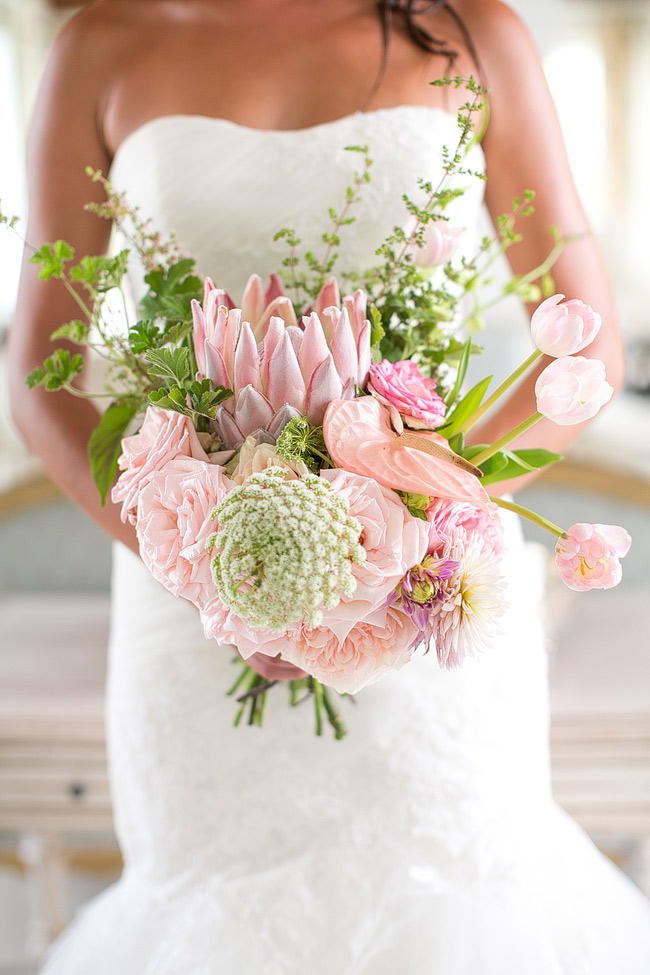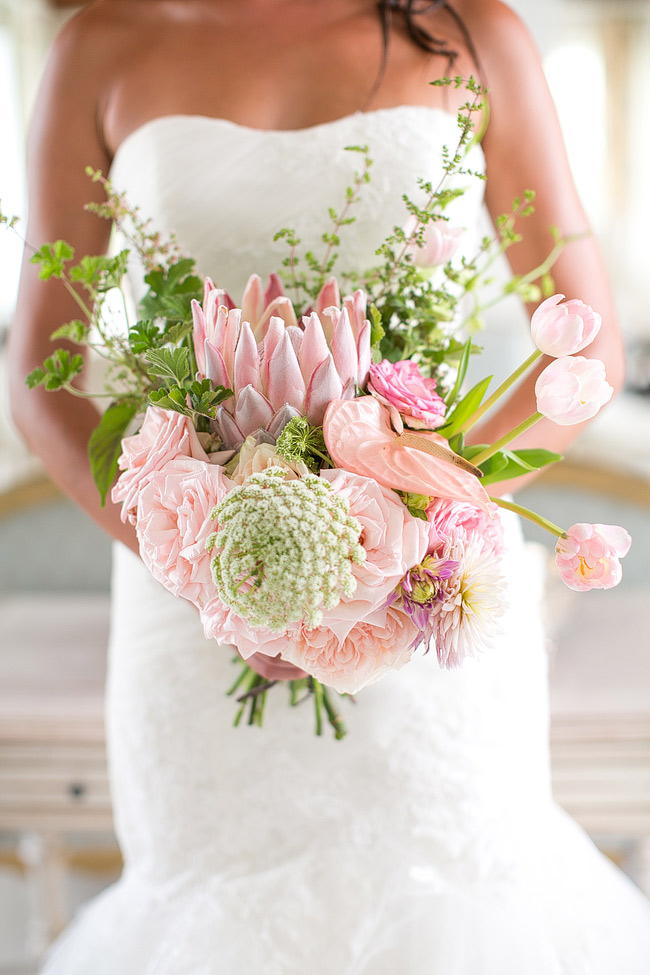 Blush Pink Bouquet: I love a very natural look, so I went for succulents, desert roses, babies breath, herbs, lavender, Proteas and a few other really beautiful flowers.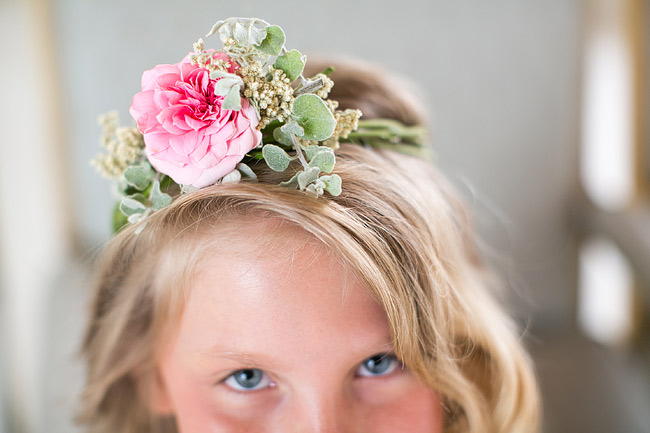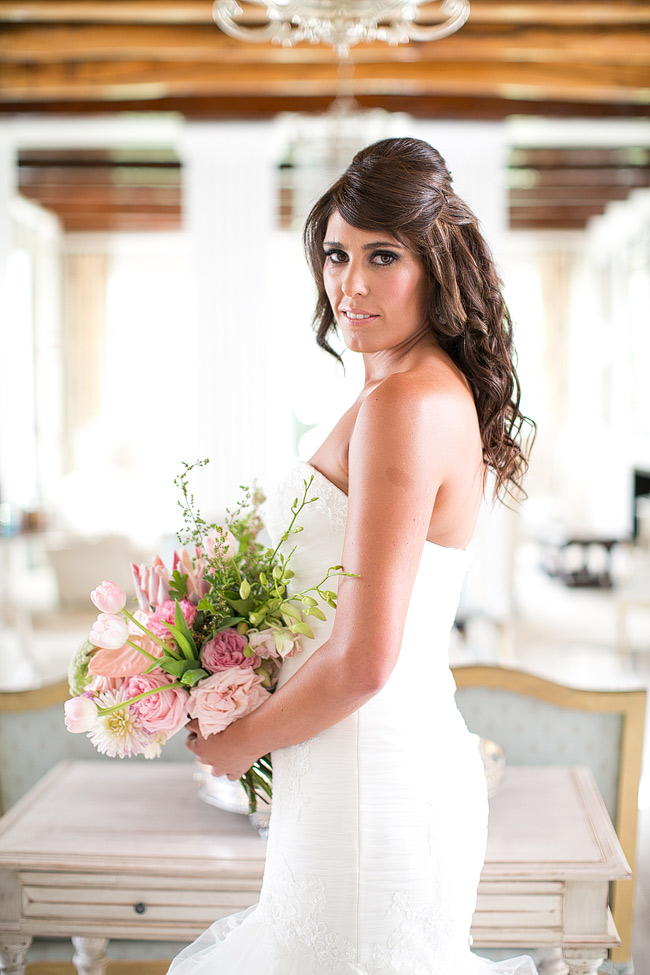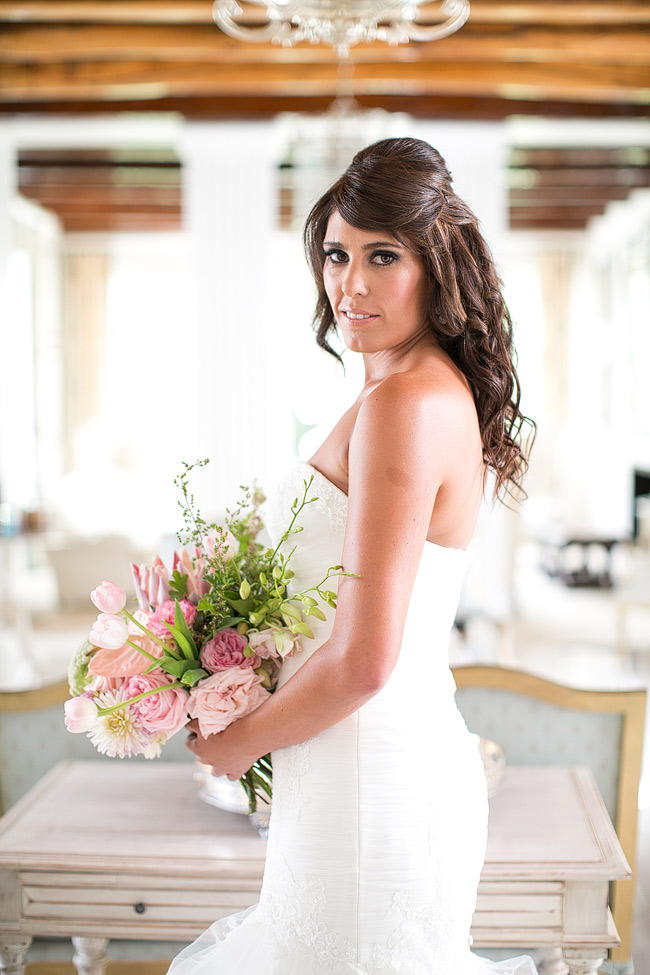 Bridal Hair and Make Up: Hair and make up was simple but elegant. I wanted smokey eyes as I have never done it before and wanted it to be slightly different to my normal style of make up. My hair was big and full, I wanted alot of hair, bit of an Amy Winehouse inspiration I guess but alot more toned down.
Wedding Dress: The dress had to be beautiful, a little bit seductive to accentuate my curves, but still look elegant. I decided on a mermaid style dress which was fitted in all the right places yet still had a very poofy bottom. I fell in love with the Blue by Enzoani dress called Fairyland as soon as I put it on. It was a beautiful cream tulle which was designed in a wispy style, with a soft romantic feel. I felt like a princess in it and knew it was the one!
Gold Glitter and Blush Bridesmaids Attire: The bridesmaids were all individually dressed, and we found the most amazing dresses at YDE, which had the exact same gold sequins on each dress but in the different styles. The flower girl dresses were custom made, combining the colours and sequinned fabrics of the bridemaids dresses.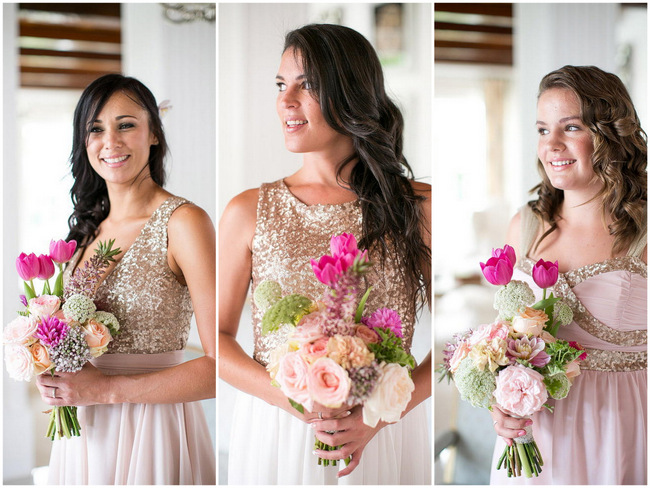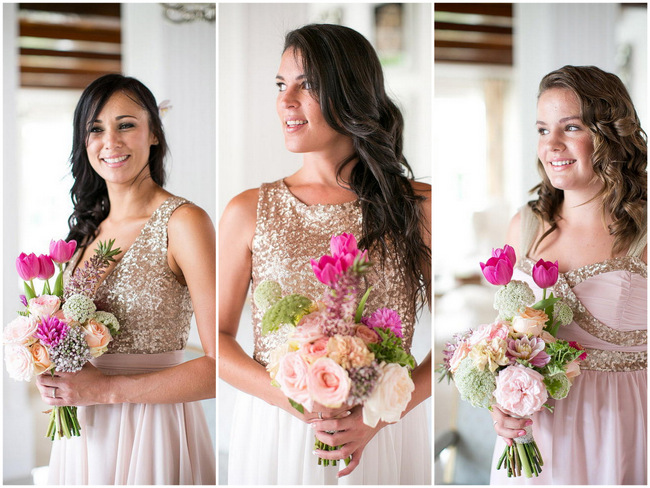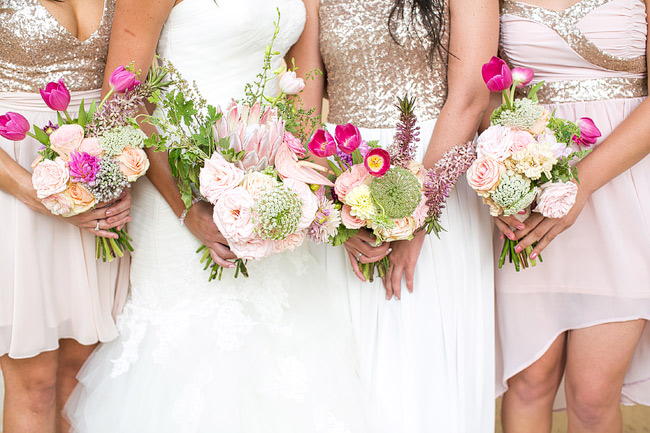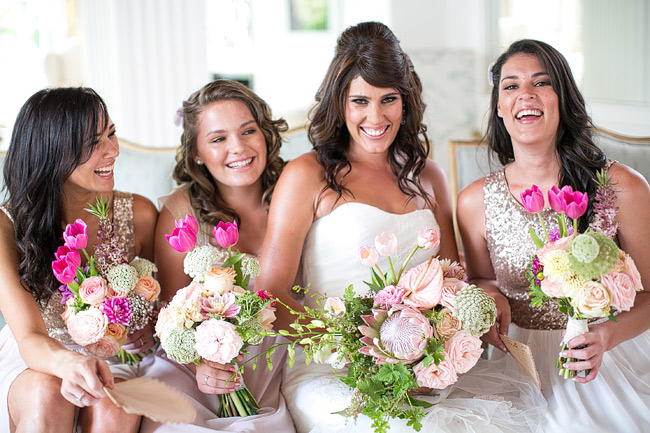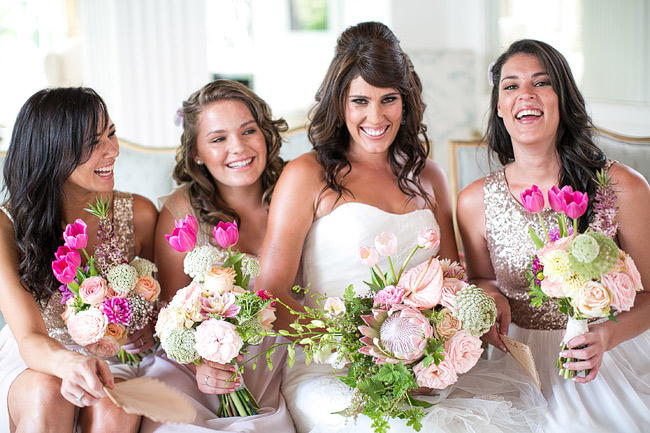 Groom and groomsman Attire: My groom wore a stylish and sleek Carducci Suit, styled by Moi styling. We based the groomsmen's look on the groom. I had laser cut "wingman" badges made for the groomsman and for the groom a "groom" badge, just in case he forgot haha! 🙂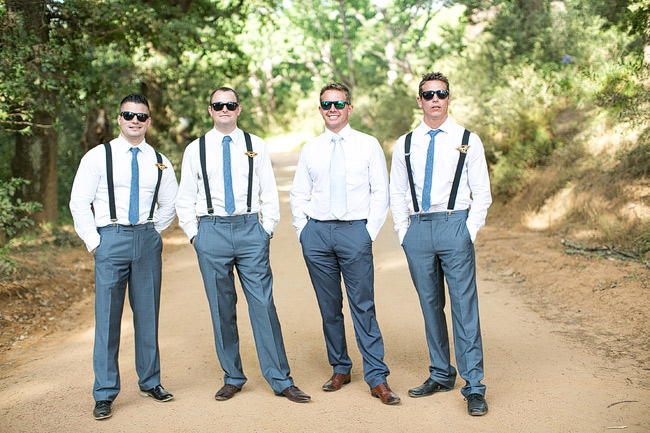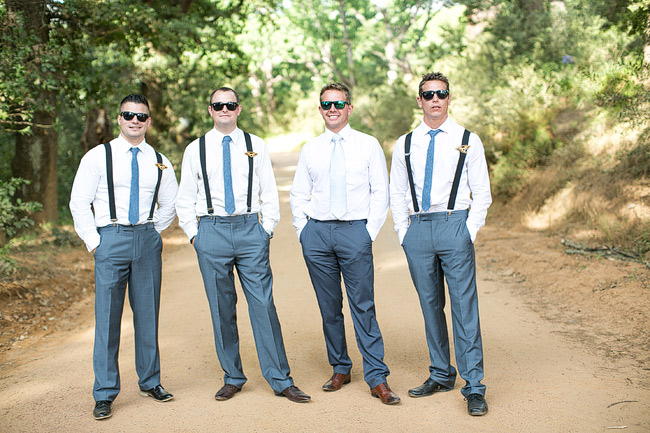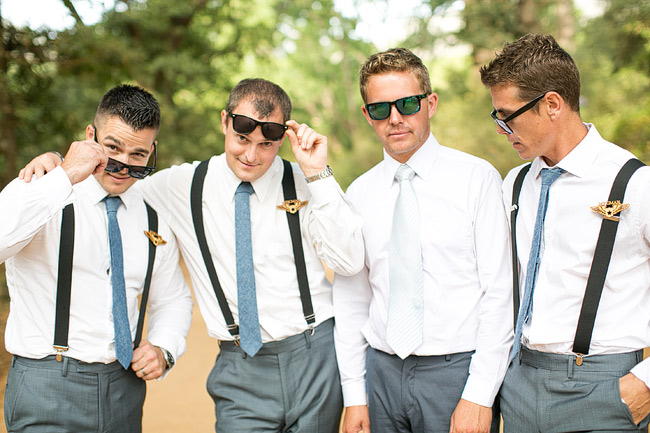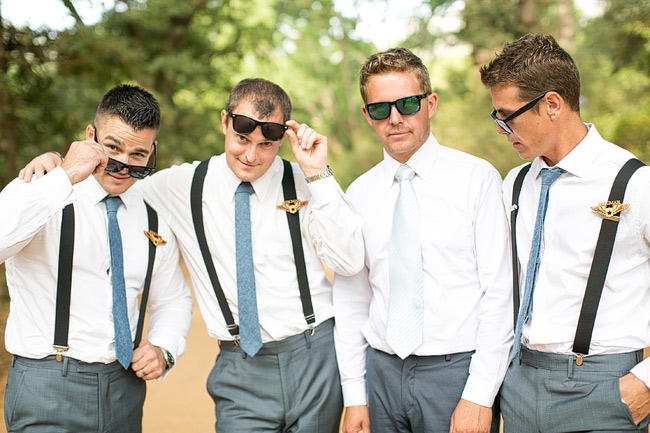 Wedding Ceremony:
The ceremony was outside overlooking the gorgeous valley and mountains of the Grand Dedale.  I hadn't seen hubby-to-be since the night before and could almost burst at how excited I was to see him standing at the end of the aisle. Walking down the aisle was very special as my father and I got time to bond. I could feel how proud he was of me. As I made my way down the aisle to the Bridal Chorus by R Wagner, all I could see was my Jason wearing the biggest smile I think I've ever seen. I fell in love all over again!
I had our church priest marry us, and he was also a family friend so it was beautiful and personal.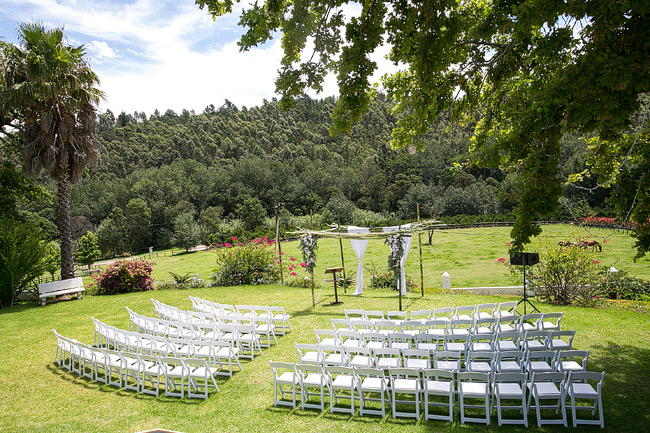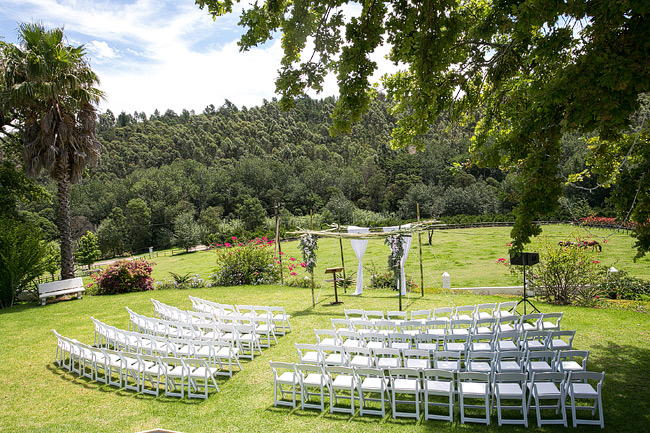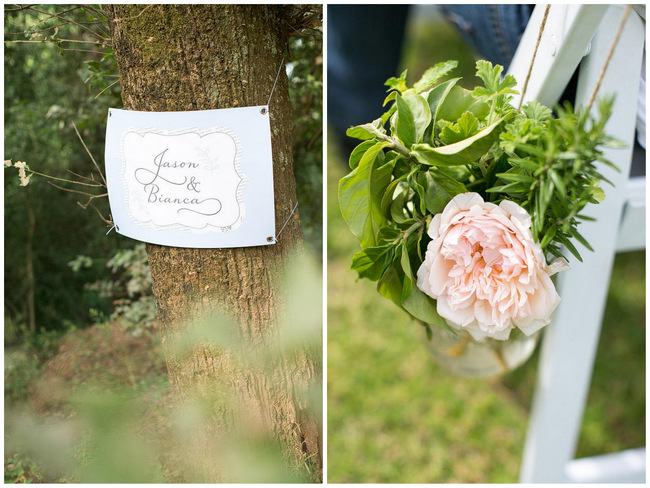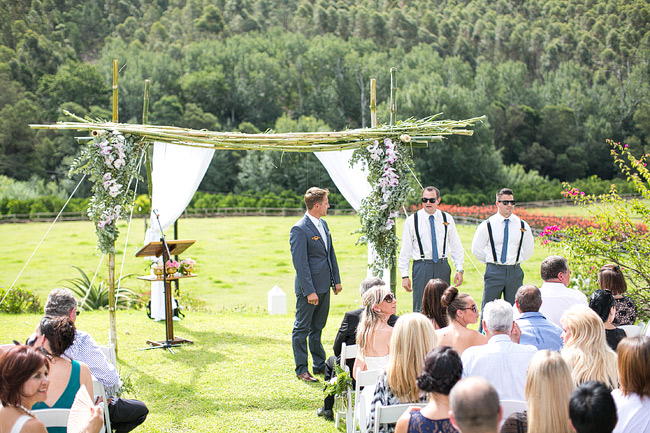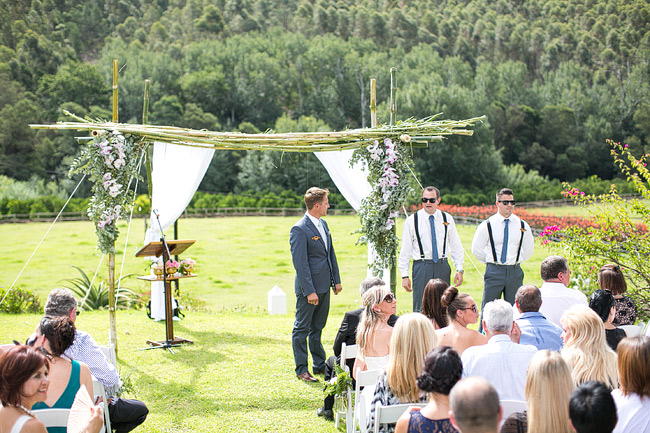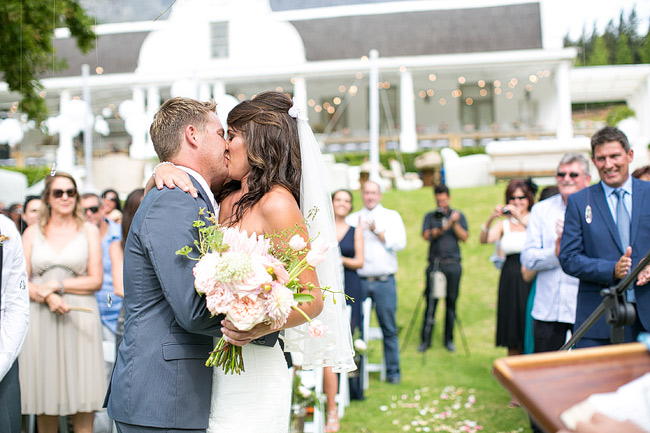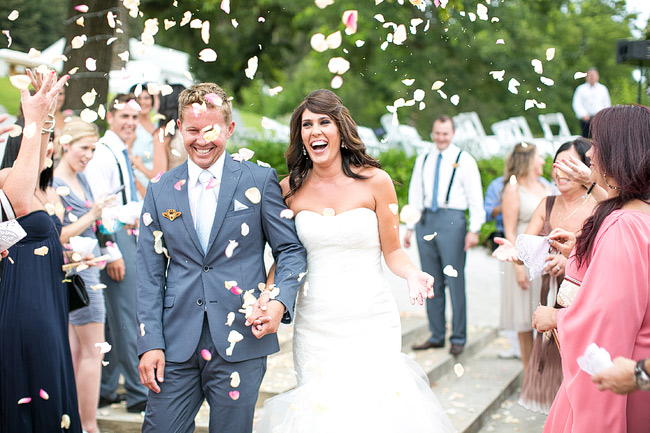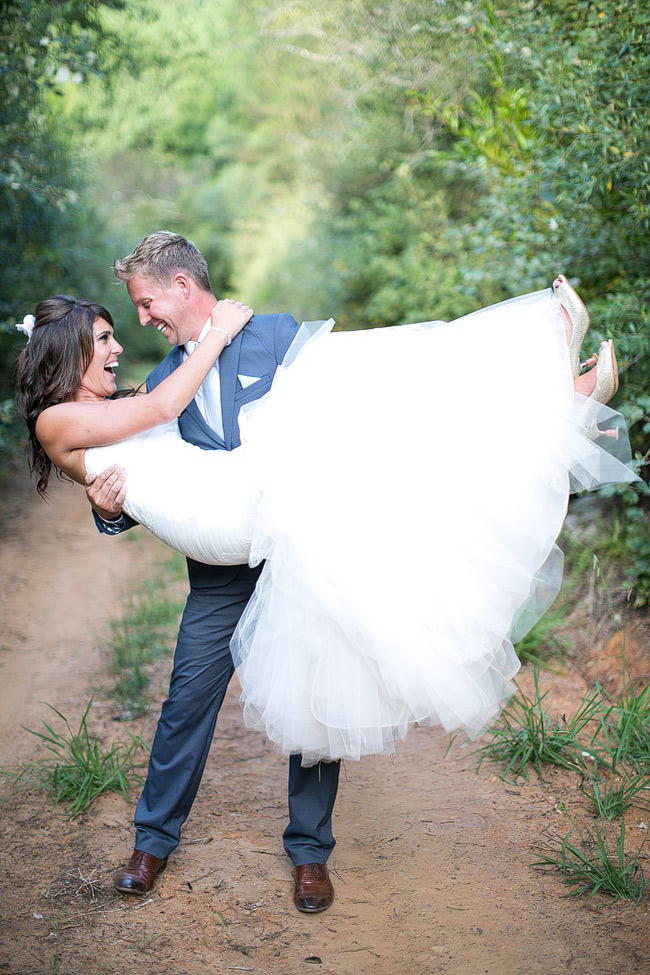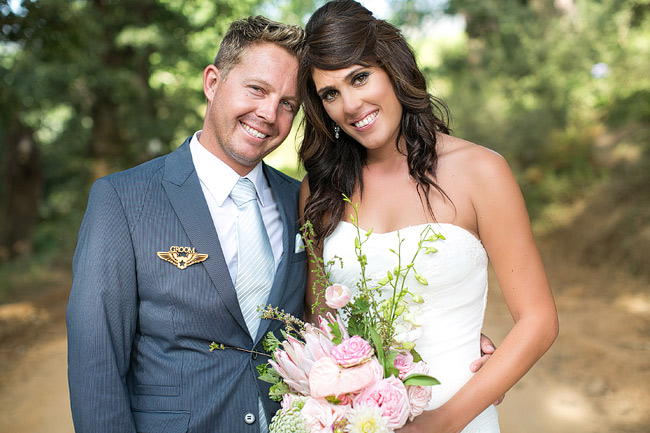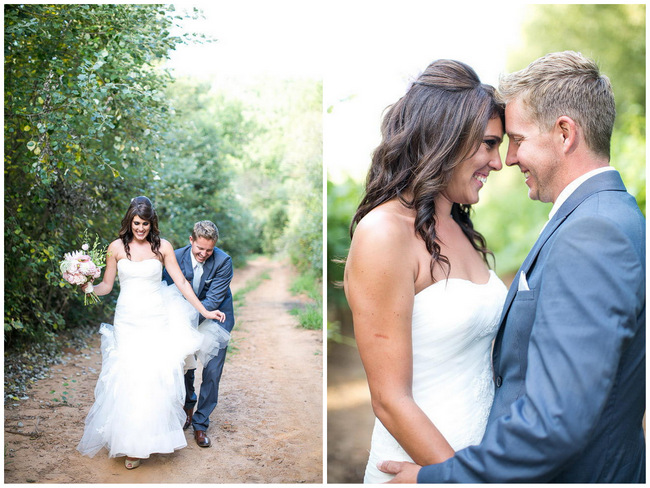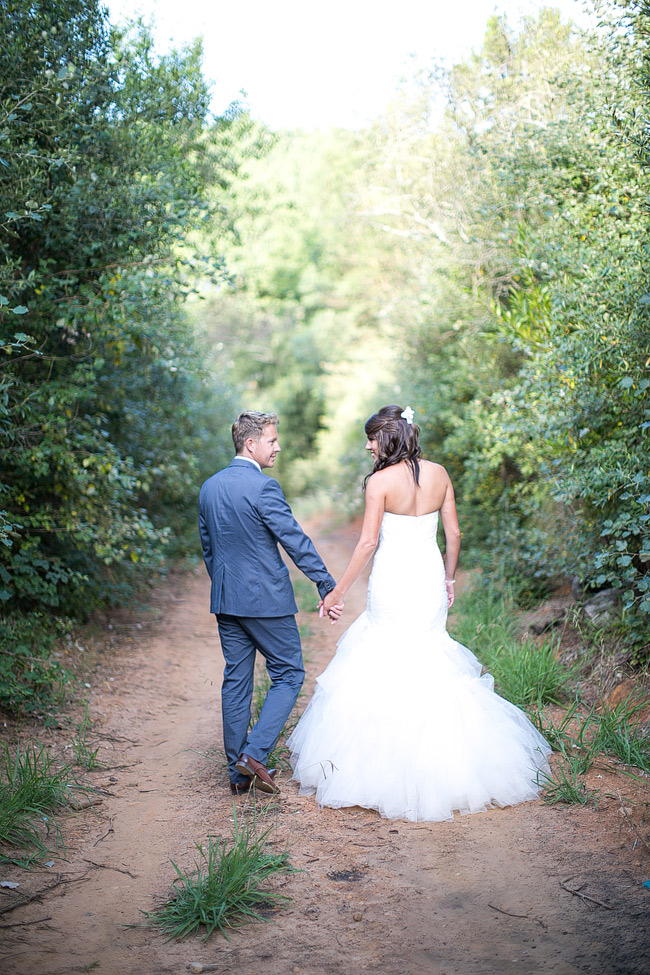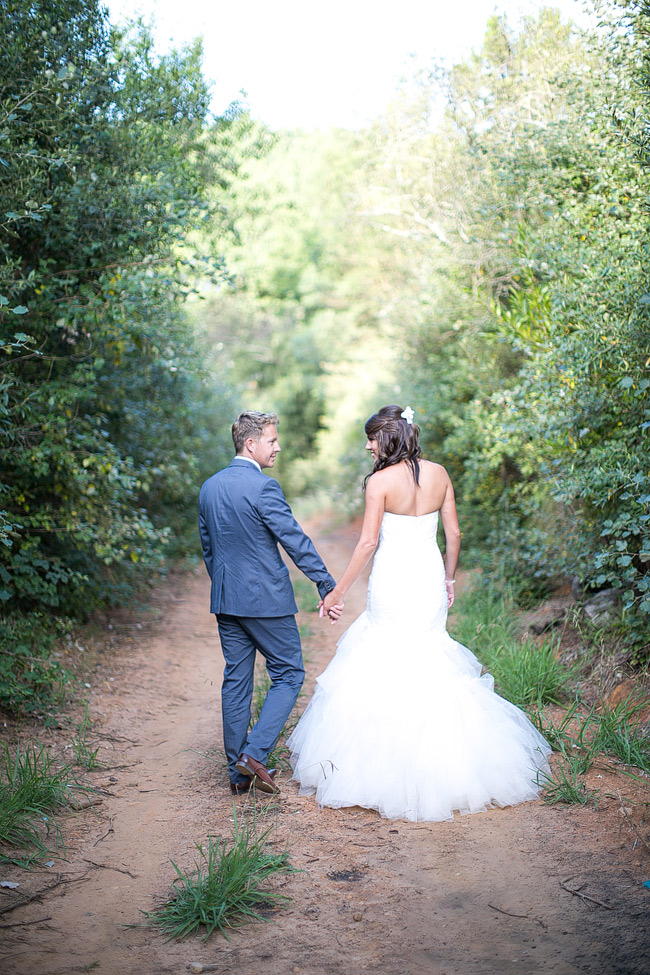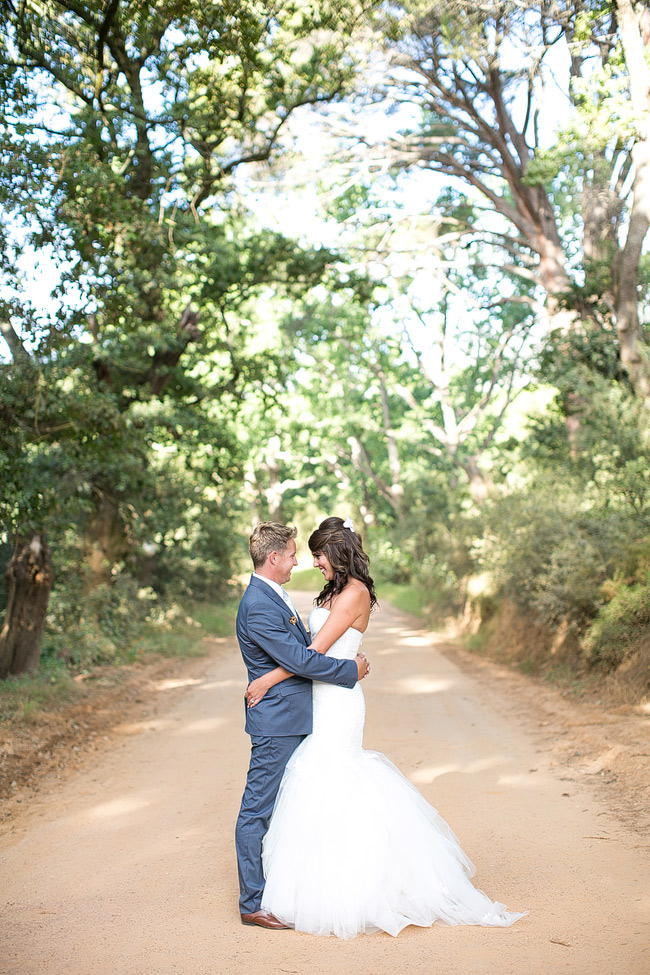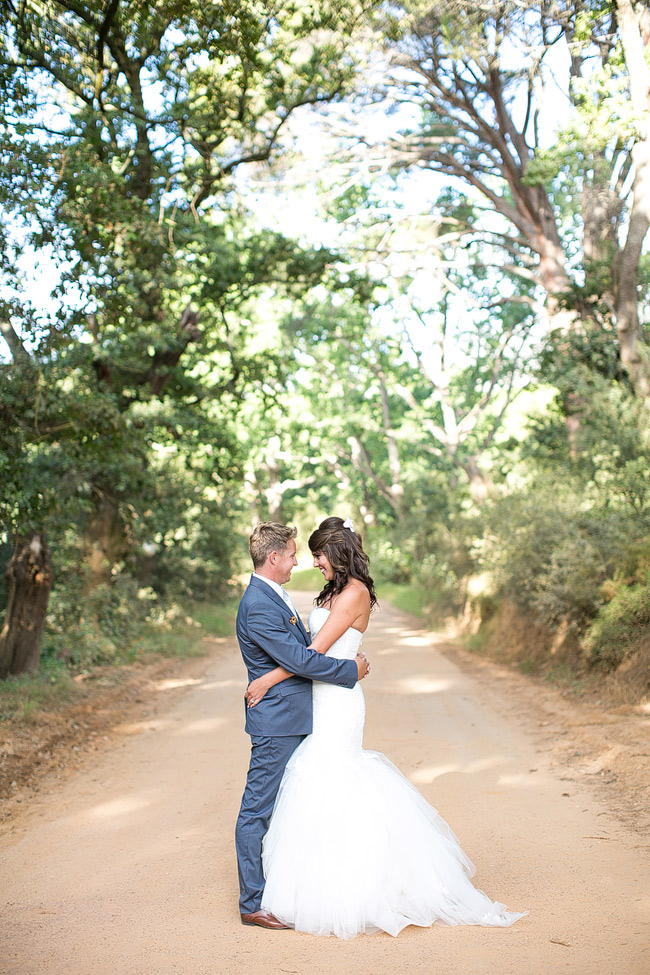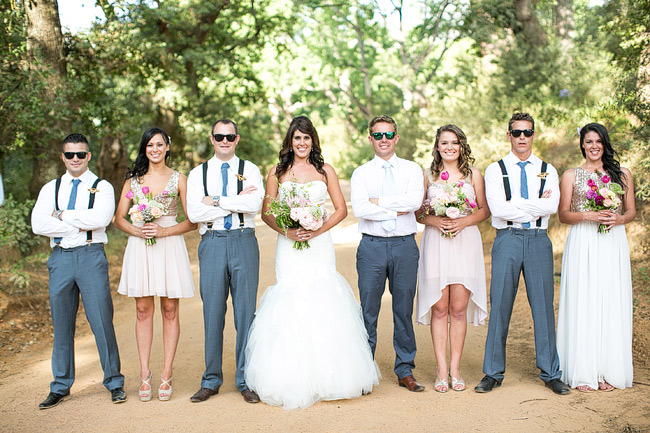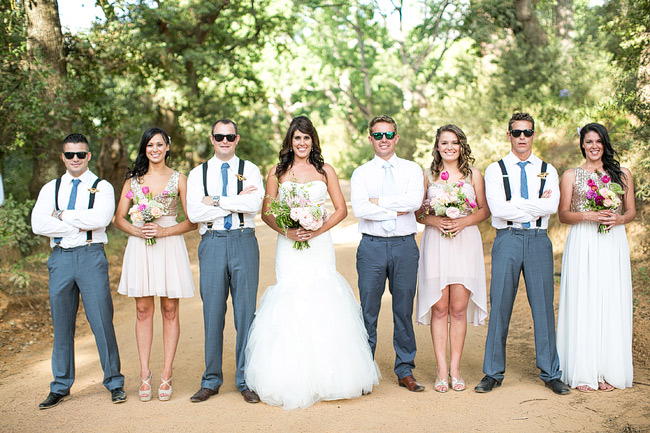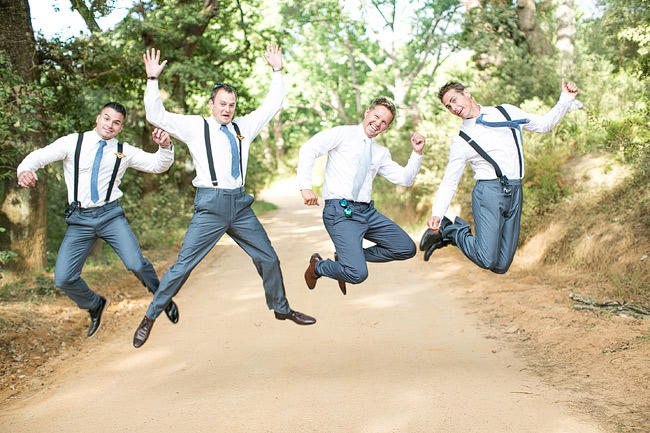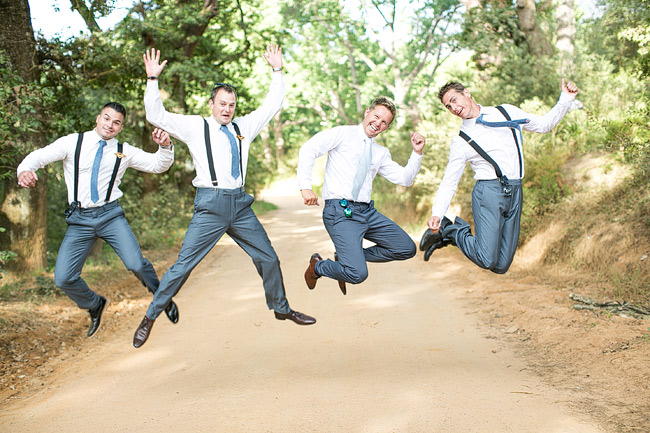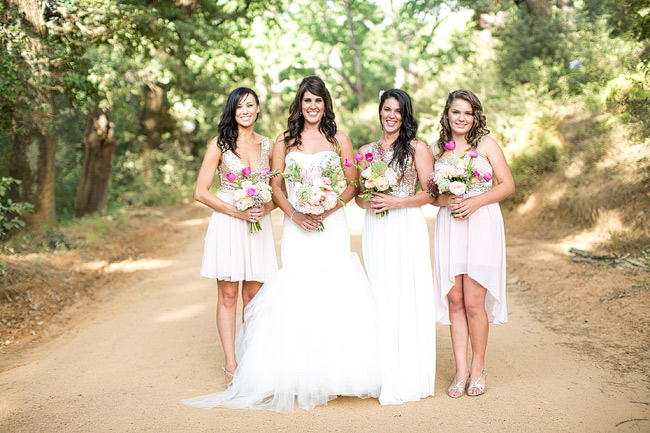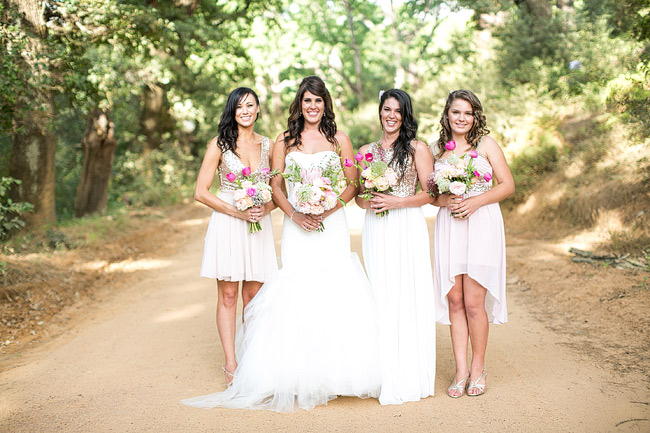 Blush Pink & Sparkle Outdoor Wedding Reception Decor:  The floral decor was done by none other than the amazing and talented Anli Wahl. Her flowers and arrangements are so dreamy and out of this world, I absolutely love her work!  For our seating chart we used two spare wooden tables, turned them up on their side and wrote the seating plan in chalk. Despite being a total last minute detail, it come out amazing and looked really authentic!
DIY Glitter Shot Glasses and Jars: I collected and had the whole family collecting jars and glassware. I wanted to cover them in gold glitter and we also spray painted a few wine bottles and jars with a beautiful copper spray. We copied the same trend down to our "shooter paddles" which my handy hubby made from scratch, holding 10 shooters each. One was gold and the other copper for the stronger or lighter shooter. It was so funny, when the bell rang, everyone came running!!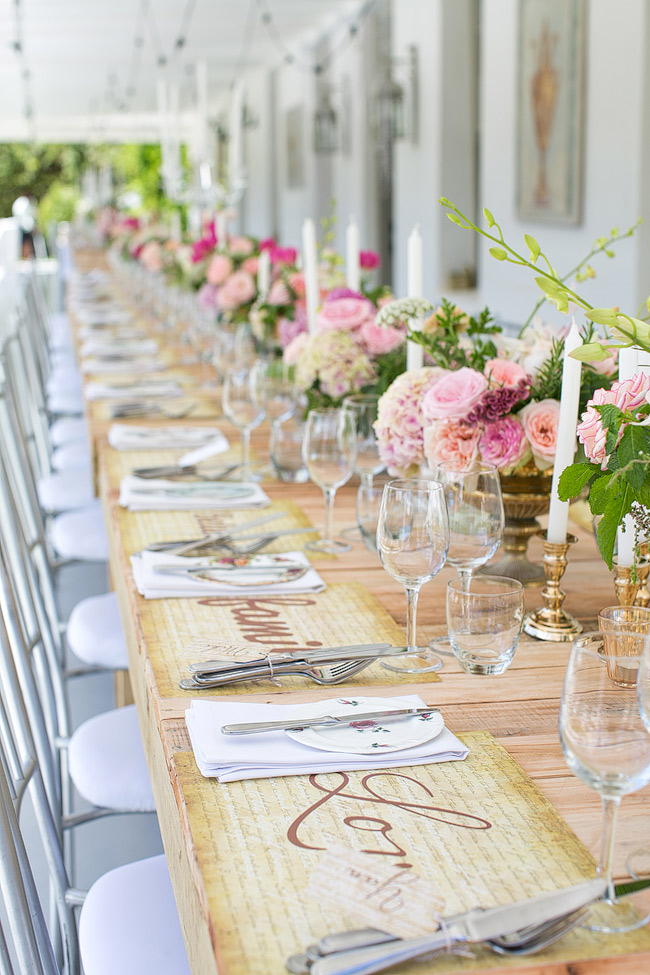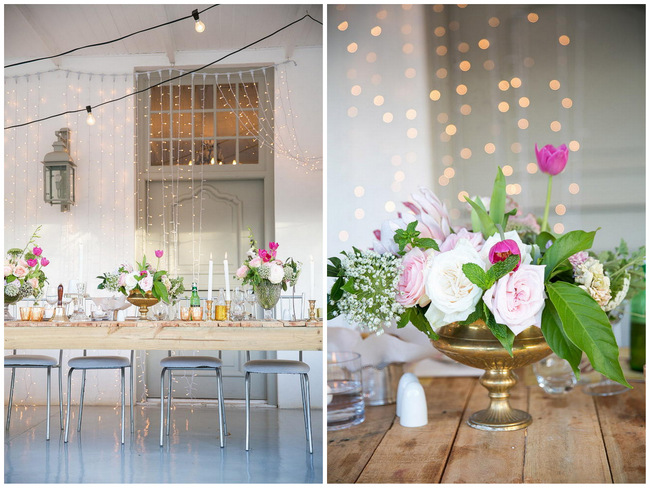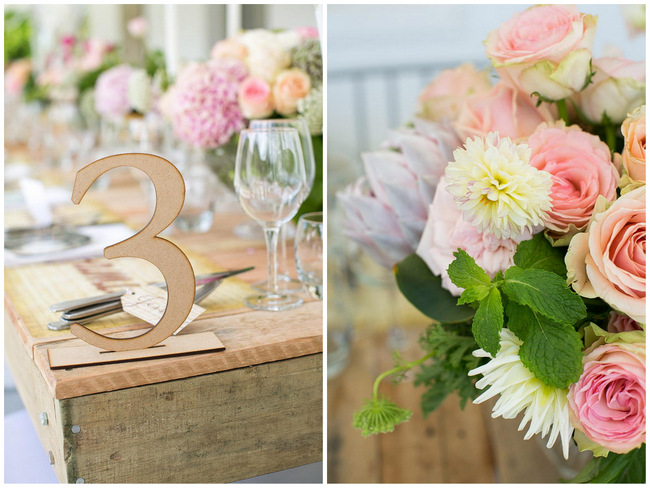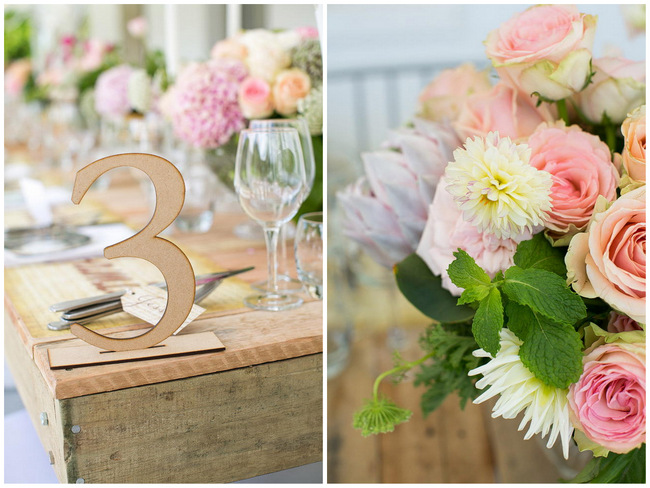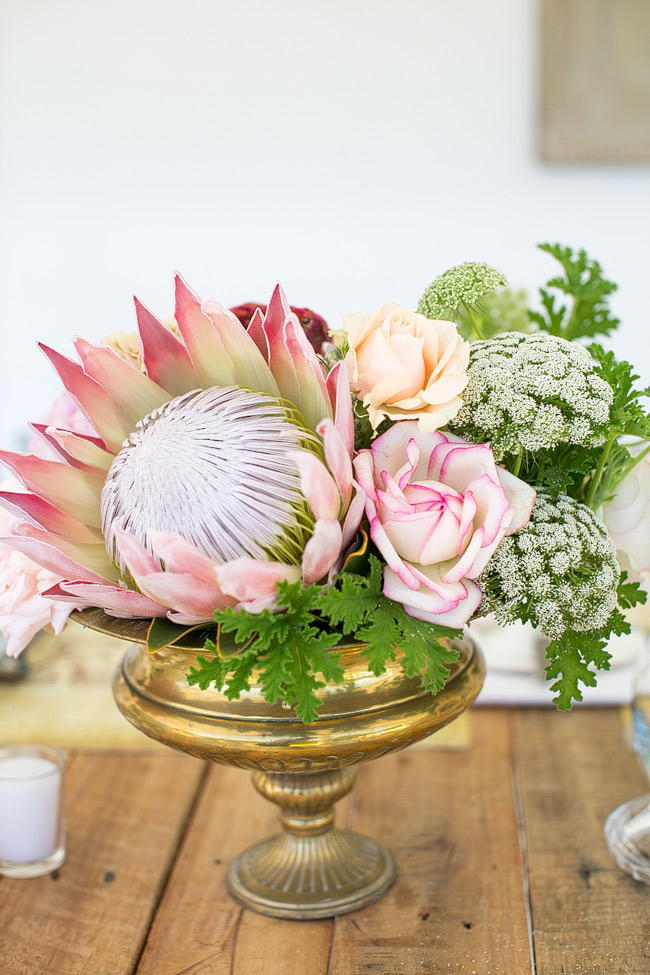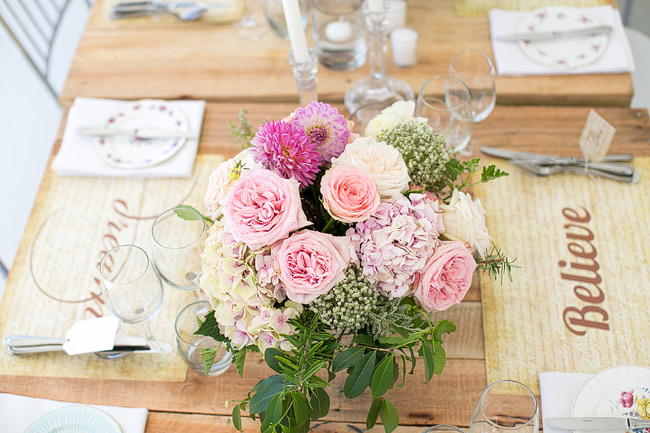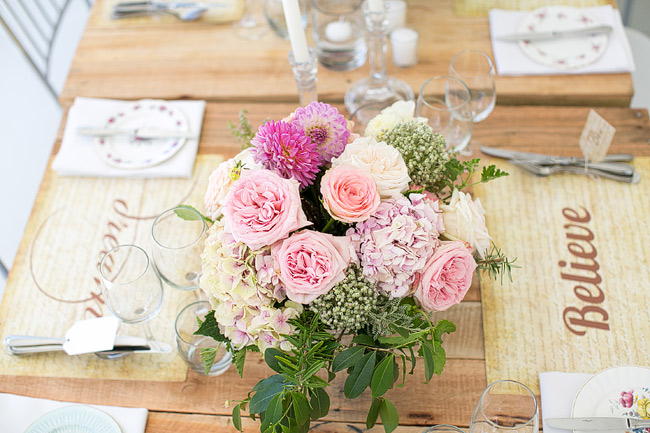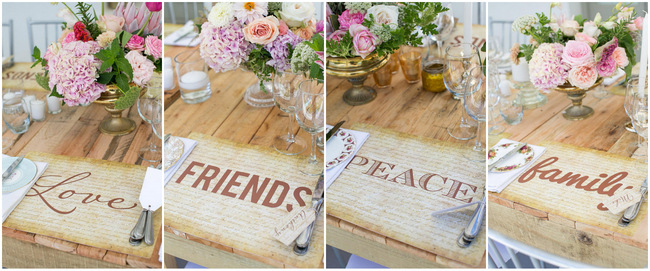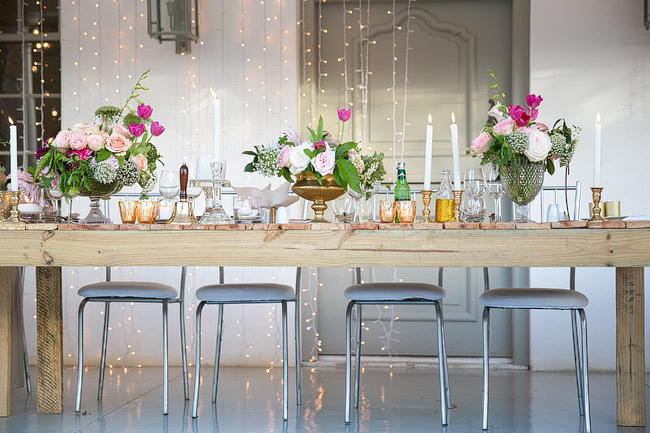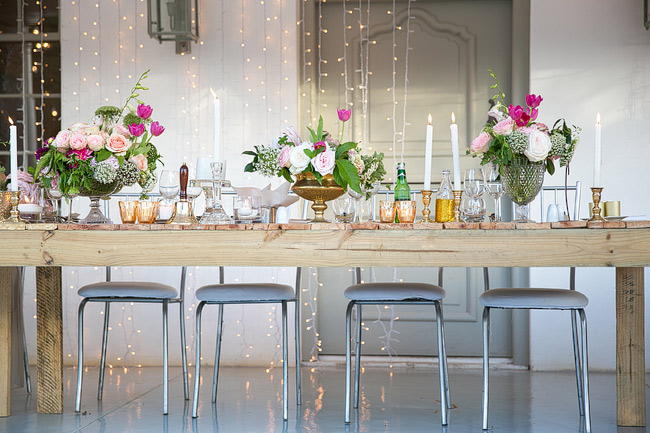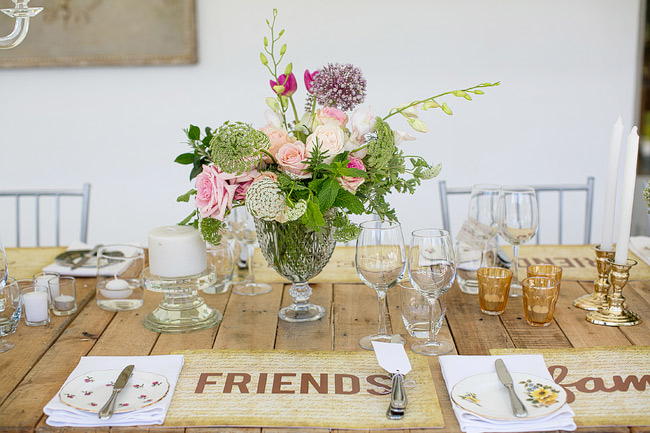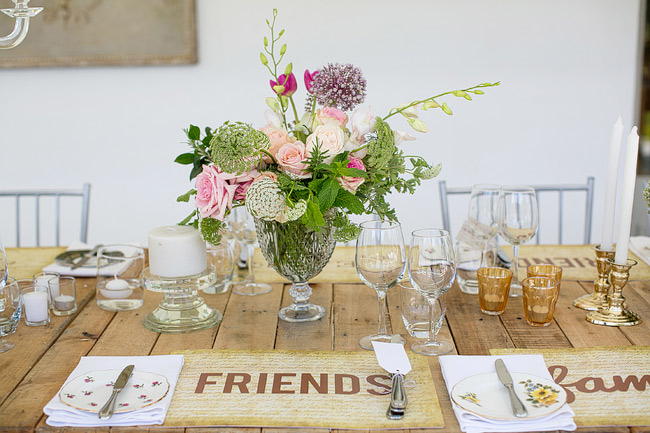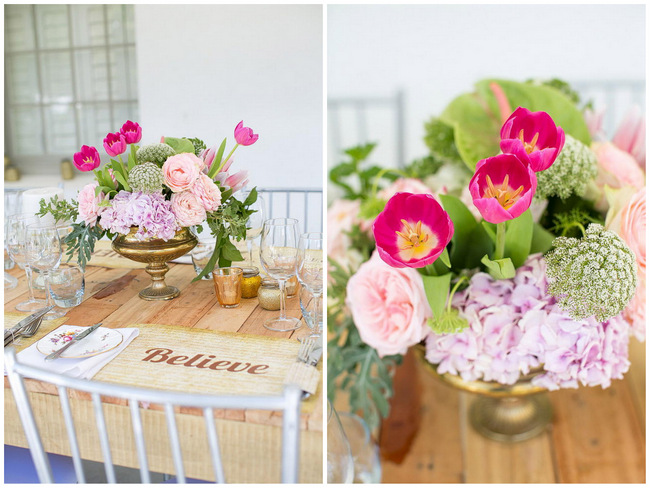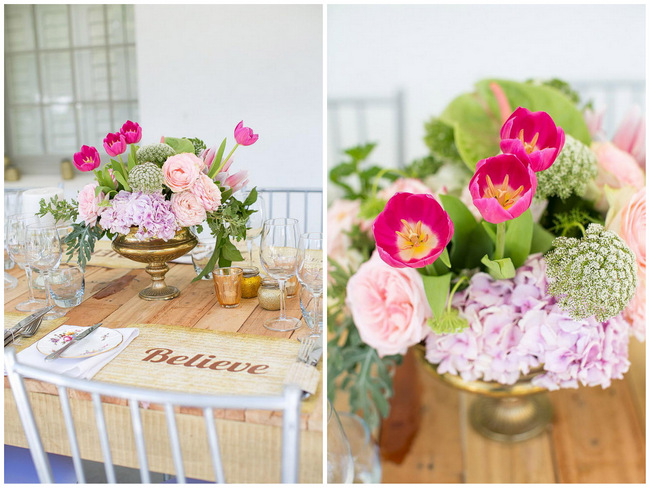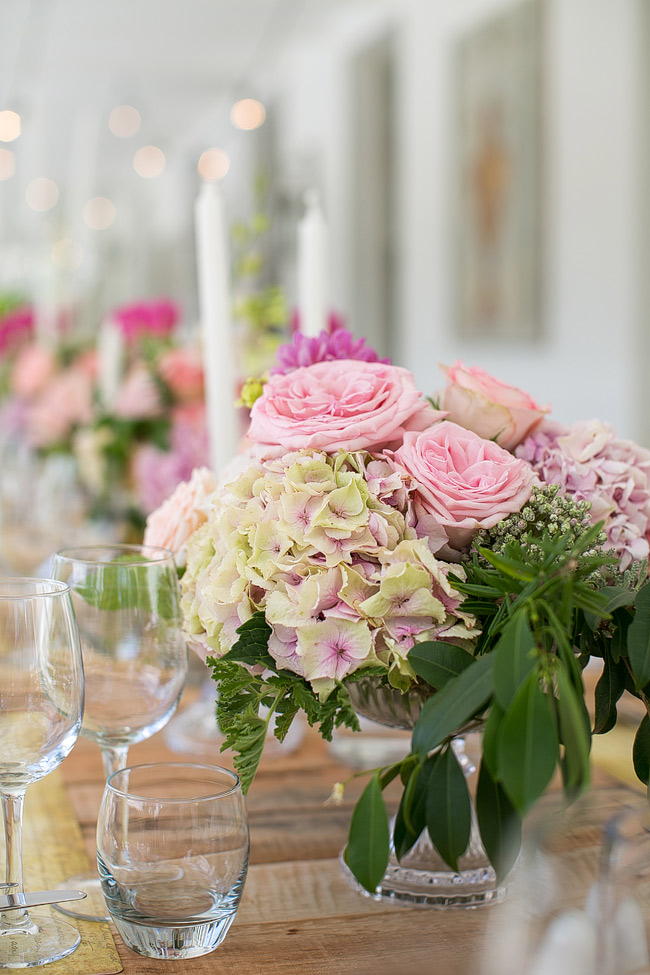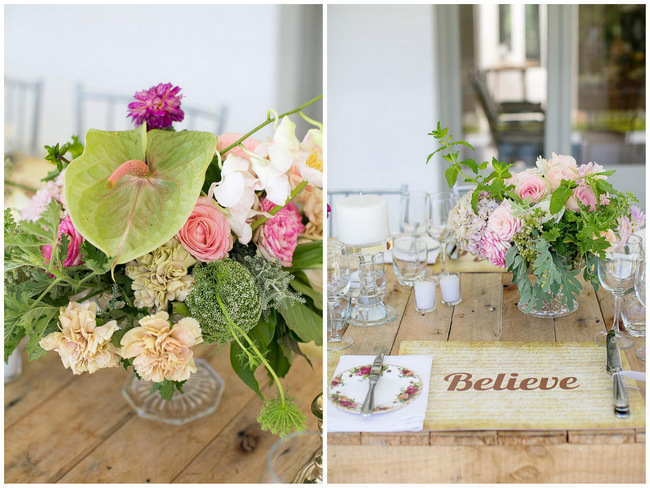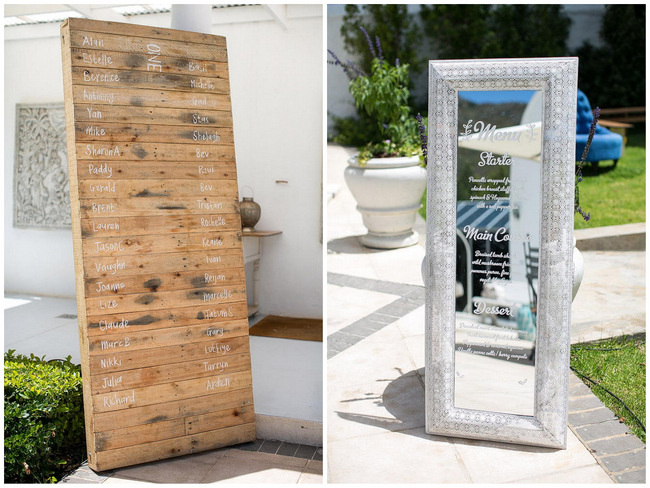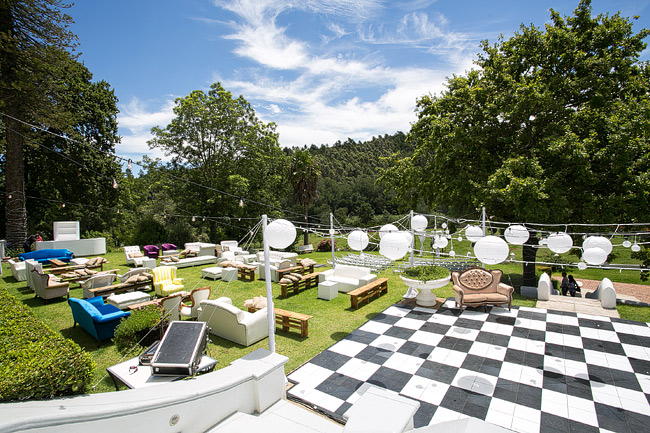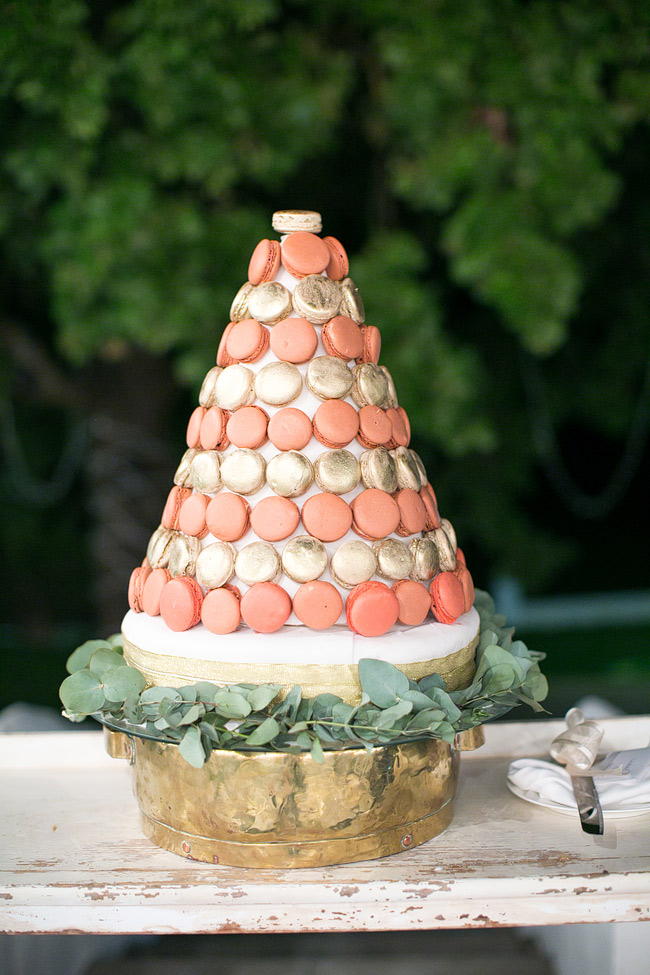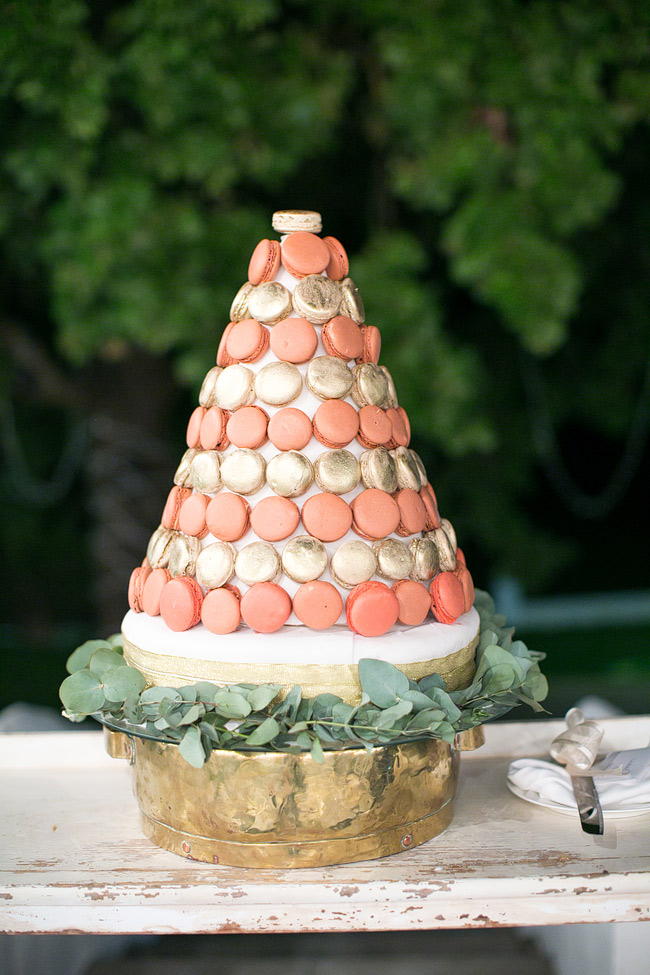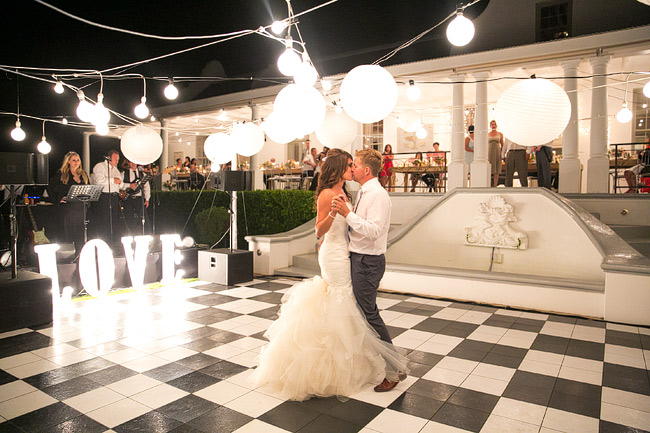 80's Cover Band: Having an authentic 80s band was non negotiable when planning my wedding! We chose WattsUp Heywire and wow did they deliver, they totally blew all our guests away and just by the way the dance floor was shaking the whole night, I knew their feet would be sore the next day, mission accomplished! The party went on till the wee hours of the morning, under the stars, like a proper fairytale dream wedding. I know my guests, hubby and I had the most memorable day ever, expressed over and over by all.
Wedding Playlist: Our first dance song was True by Spandau Ballet and it was the only thing I dreamed of as a little girl regarding my wedding day –  no dress or carriage or anything like that, just this one song. I knew I would get married and dance to that song one magical day.
Advice for future brides:
Try your absolute best not to stress and enjoy your beautiful day because at the end of the day its all about you and your husband coming together. You cant please everyone and that's okay.
Keep a handle on your budget as the smallest things start adding up quickly.
And just stand back every so often with your partner and take it all in, its the most beautiful day of your lives!
Try and get your family and friends involved in the extras like decorations etc.
Forget the champagne for the toasts as everyone toast with whatever they are drinking.
Their Romantic Wedding Video:
You didn't think I'd let you run off without first spending a few minutes sharing this special day with the couple just like you were there in person, did you?
PS: If you're addicted to glitter and romance, you have to check out this superb cream and gold rustic glittering wedding too featuring lots of pretty sparkle and a dreamy Janita Toerien gown.
♥ ♥ ♥  CREDITS ♥ ♥ ♥