Perfectly Pretty Watercolor Wedding Invitations ♥
Today we bring you our absolute fave hand-painted and watercolor wedding invitation designs. If pretty pages filled with florals, flowy scripts and hand-painted details sound like your thing, then today's featured filled with Watercolor Wedding Invitations is going to rock your wedding world! ♥ If this feature helps you find the pretty wedding invitations that you've been looking for and you decide to purchase using one of the affiliate links below, we earn a small referral fee and you're helping support our blog. Thank you! ♥ 
Gorgeous Watercolor Wedding Invitations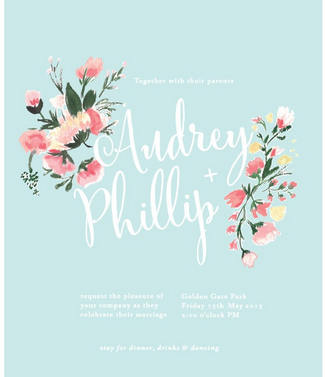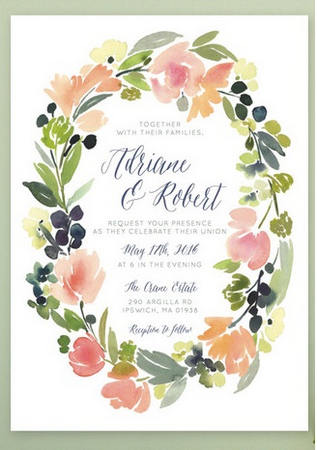 (Above) Hand Painted Floral  Wedding Invitation. Decorated with beautiful bouquets of pink and blush blooms, this powder blue wedding invitation with whimsical script text is available from Heart and Fox here.   // (Above) Berries 'n Blooms Watercolor Wedding Invitations.  A detailed wreath of watercolor berries, blooms and foliage frame a handwritten-style script font in these gorgeous wedding invitations.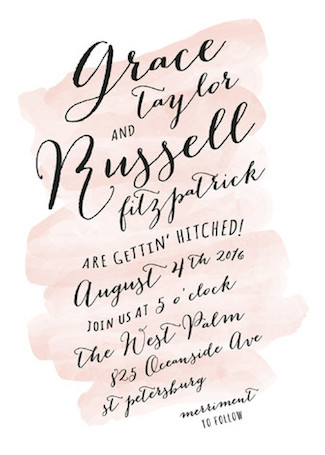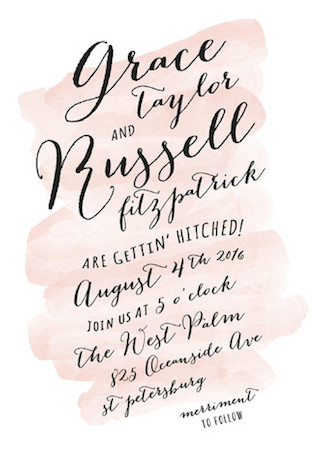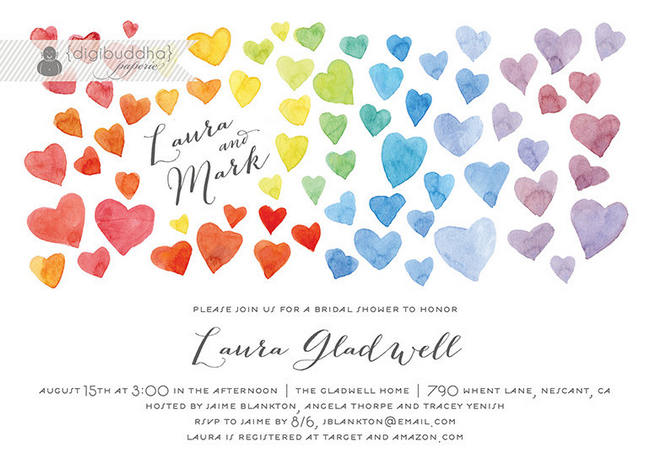 (Above Left)  Pastel Watercolor Wash Wedding Invitations. These lightly washed watercolor invitations with pretty angled type give a gorgeously handwritten effect with lots of personality. // (Above) Ombre Rainbow Heart Watercolor Bridal Shower Invitation. This whimsical invite is filled with an explosion of ombre rainbow hearts, watercolor style!  While technically not for a wedding, it is perfect for your bridal shower. Available for download as a DIY printable suite from Digibuddha Paperie here.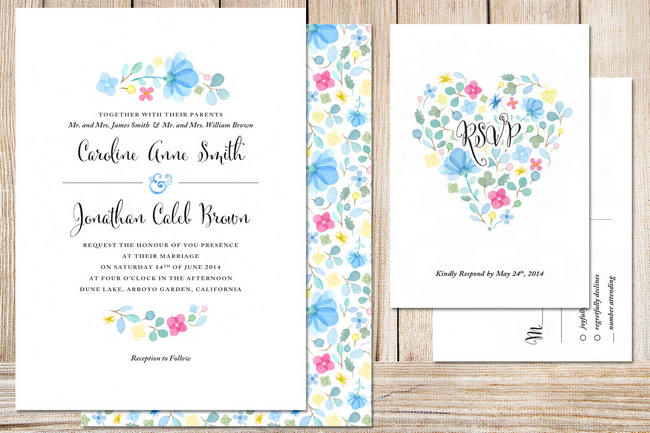 (Above Left) Printable Floral Watercolor Wedding Invitation. This blue and pink watercolor invitation set from PL Papers with pretty painted flowers and heart design  reminds us of spring and the sea all at once.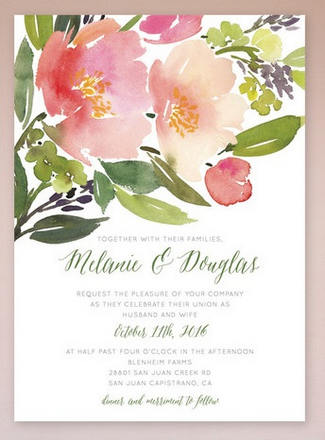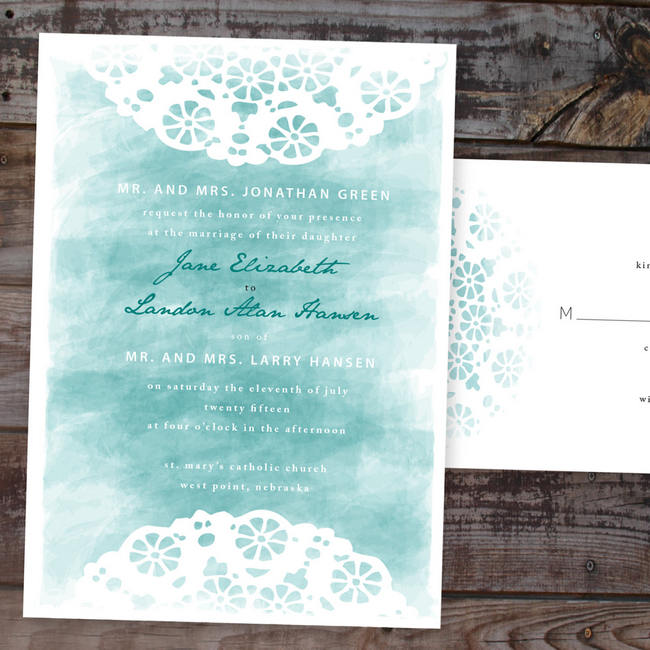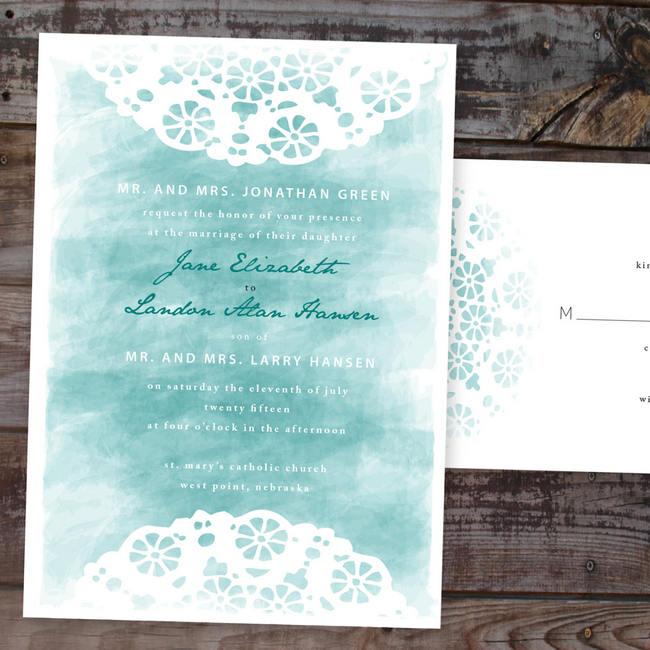 (Above Left) Watercolor Floral Wedding Invitations.  With blooms as beautiful as spring, these pink, peach and green watercolor invitations with script style font are nothing short of darling! // (Above Right) Printable Vintage Lace Doily Watercolor Invite. Available in just about every color under the sun, this vintage lace, doily inspired watercolor invite can be purchased from Annamalie here.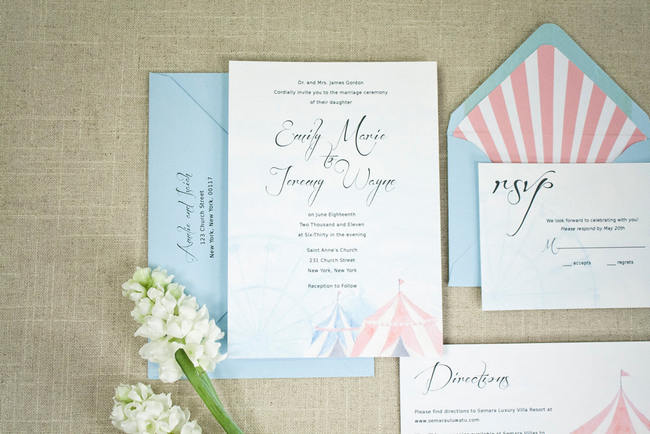 (Above) Vintage Carnival Watercolor Wedding Invitation.  So sweet in baby blue and peach this fresh invite suite captures the fun and easy-going nature of summer with its watercolor ferris wheel and big top tents. Available from My Beloved Paper.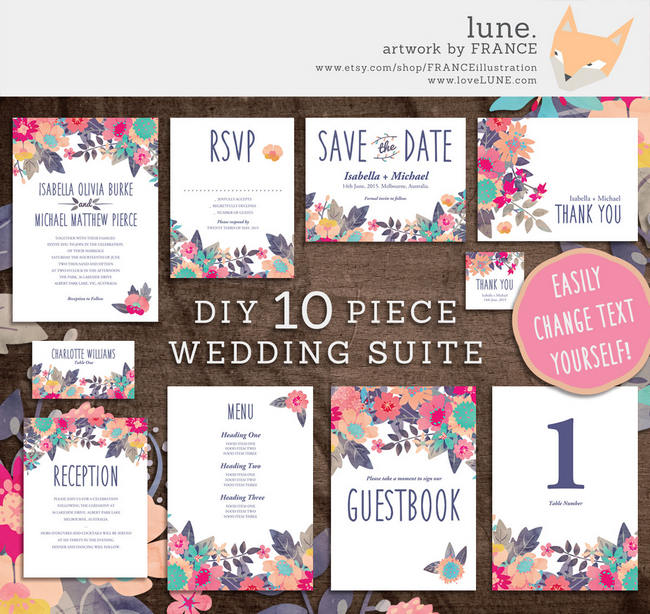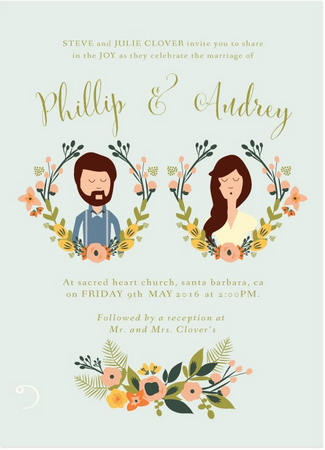 (Above) DIY Printable Wedding
Invitation Set.
While not technically watercolor, this cute and cheerful ten piece hand-painted wedding invitation set with darling floral detail is available for download as a DIY printable suite from France Illustration here.
♥  ♥  ♥
(Left) French Meadows Custom Illustration Wedding Invitation.
To end off our selection we leave the best for last – how about a totally cute custom illustration of yourself and your partner created by the folks at Heart and Fox!
MORE WATERCOLOR WEDDING INVITATIONS:
If you're looking for Wedding Invitations with a bit more sparkle, check out our fave Glitter Wedding Invitations here. If you're a rustic kinda gal at heart, these Rustic Wedding Invitations might just be what you are looking for and for all you vintage fans take a look at our fave Vintage Wedding Invites here. 
Here are some more absolutely lovely wedding invitations for you to swoon over:
Plus make sure you head on over to our DIY section to grab these fab free watercolour escort and name card printables, too!