Delight in Victoria KyriaKides' 2015 Bridal Collection ♥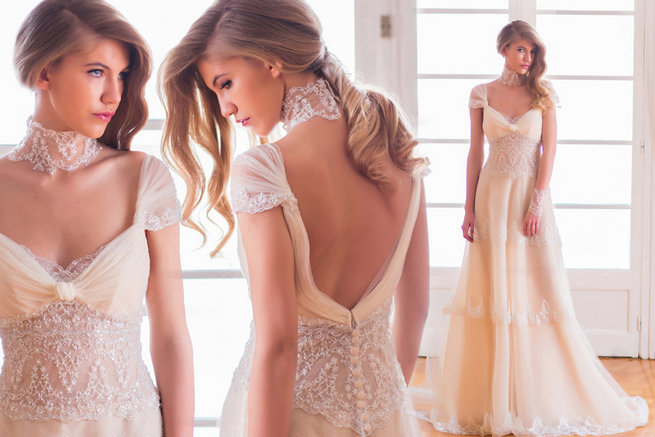 The Victoria KyriaKides  design house (pronounced Key-Rea-Kiedis) has been creating true Couture bridal and evening wear since the early 2000's using Victoria's individual "sur mesure" technique. With boutiques in New York, and with gowns available in San Francisco and San Diego, everything is made by hand in Victoria's European Atelier in Athens. "My focus is to create elegant, glamorous and ultra-feminine gowns that are fashionable and timeless at once," shares Victoria. "I use only the best silks and fabrics available, and faithful to true Couture, no detail is left unnoticed." She shares that impeccable service is also extremely important to the Victoria KyriaKides design house: "My ultimate goal is to make a bride feel confident and absolutely beautiful on her most important day."
Victoria KyriaKides' spring 2015 bridal collection's precise attention to detail results in elegant, flowing silhouettes: "Elements of grace are visible in every delicate detail. Seamless combinations of exquisite fabrics are woven together. Cordone French Chantilly, French tulle, Italian crepe satin and Italian organza in complementing subtle color palettes create an intricate artistry, which is elegant and romantic."
Built in support complements the bride's figure without the need of any underclothing: "Flowy ballgowns, trumpet and A-line silhouettes envelop perfectly the female body. For the bride who prefers more structure, a sublime mermaid silhouette in embroidered crochet French lace is anything but expected as the eye travels to notice the airy tulle bottom vents."
Victoria KyriaKides 2015 Bridal Collection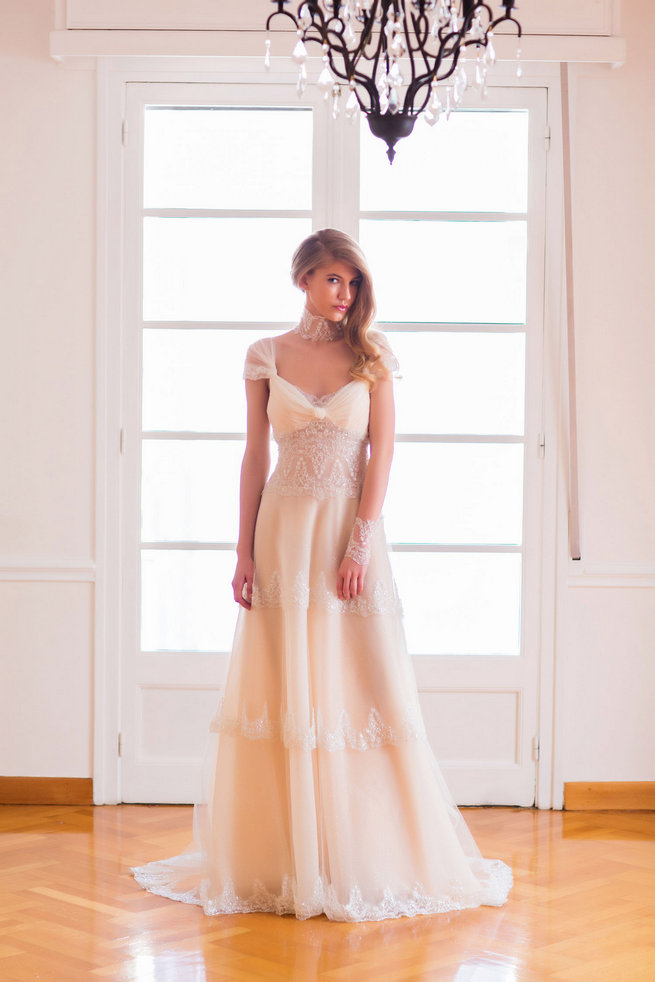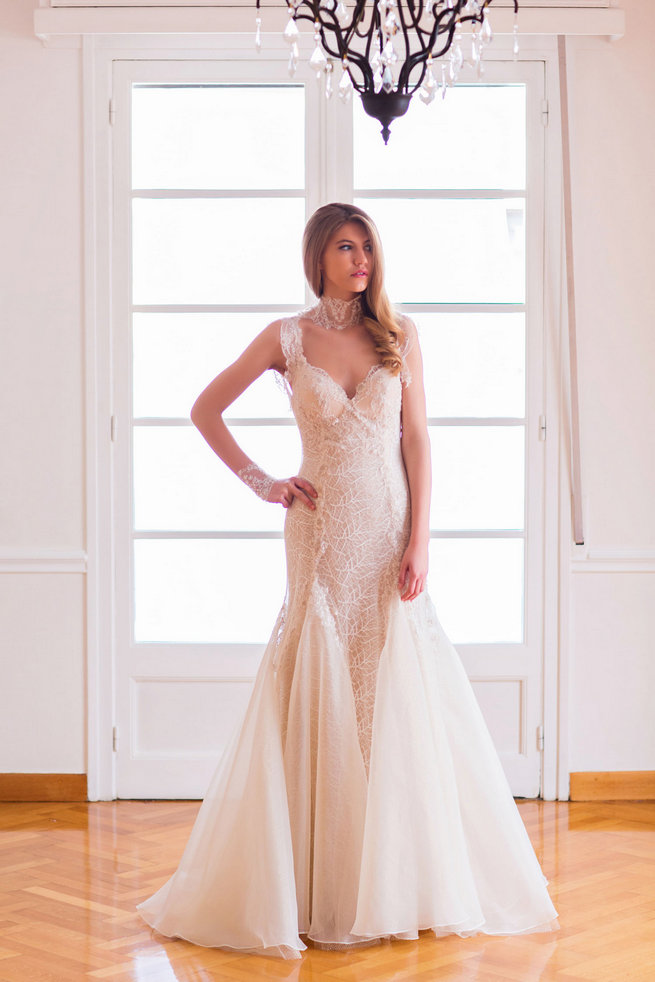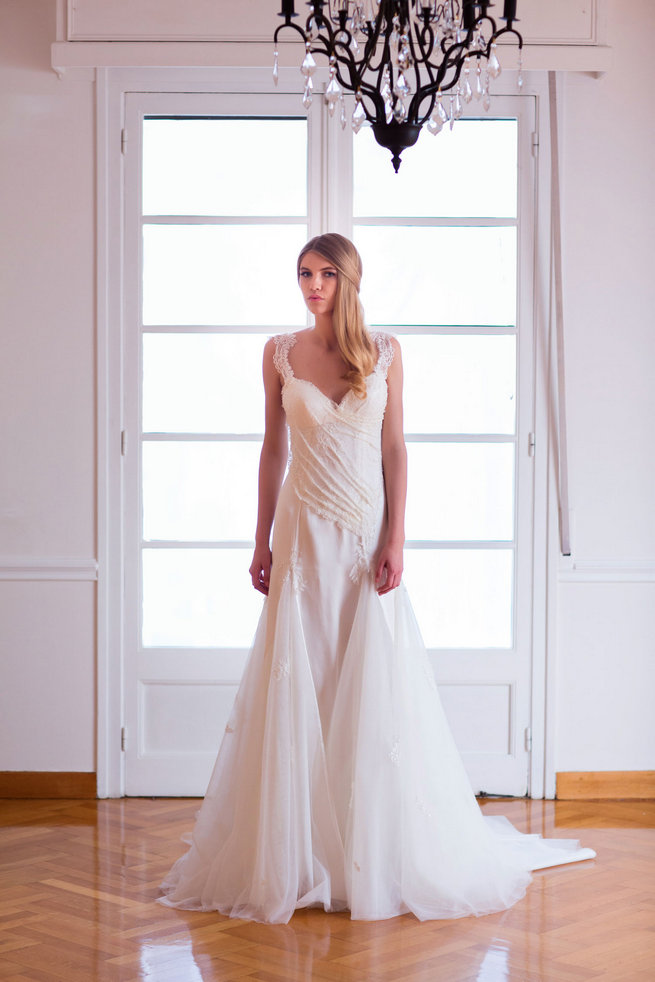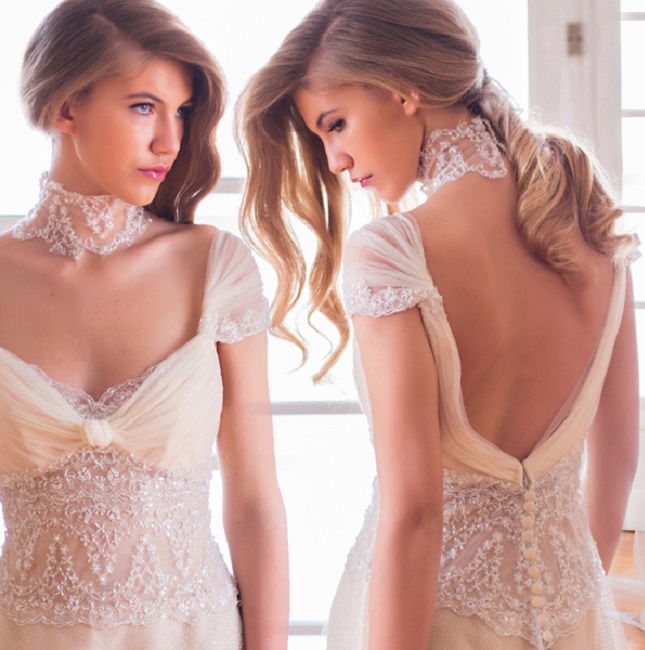 "Every one of my dresses are created by hand in the master atelier to the precise measurements of each individual bride. "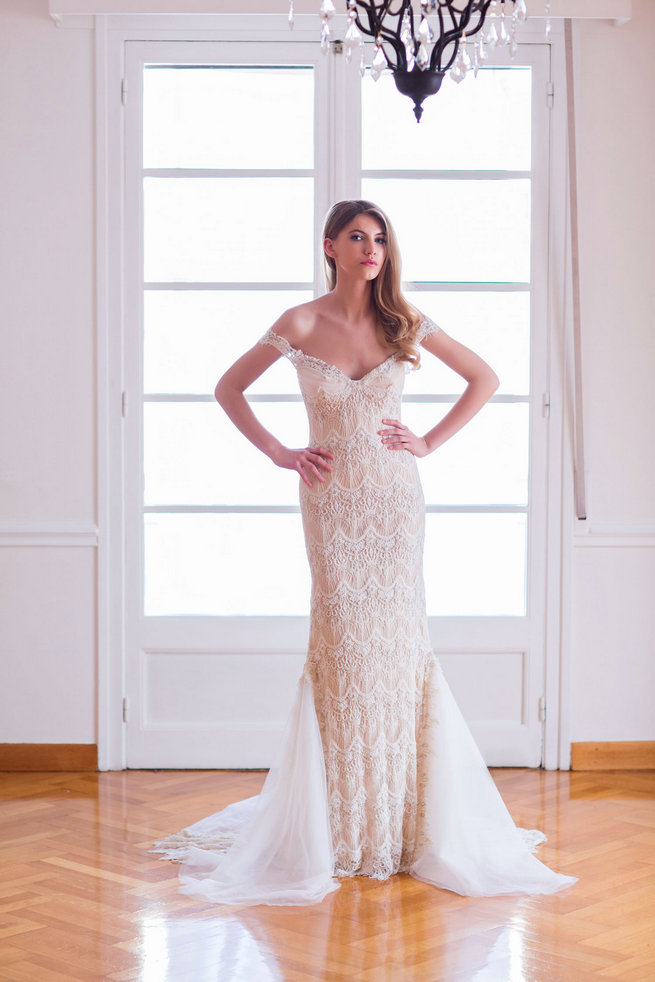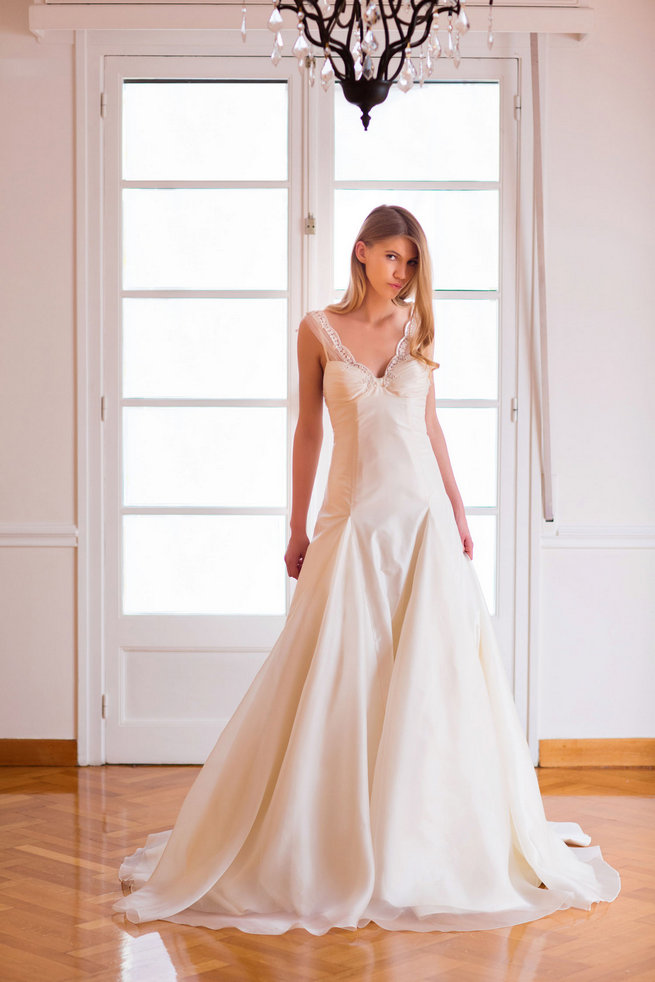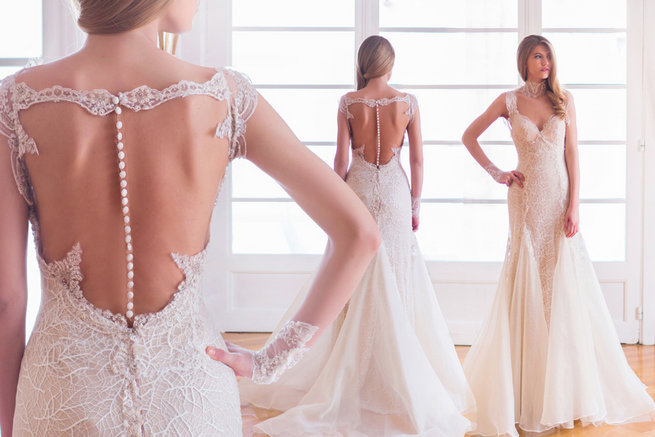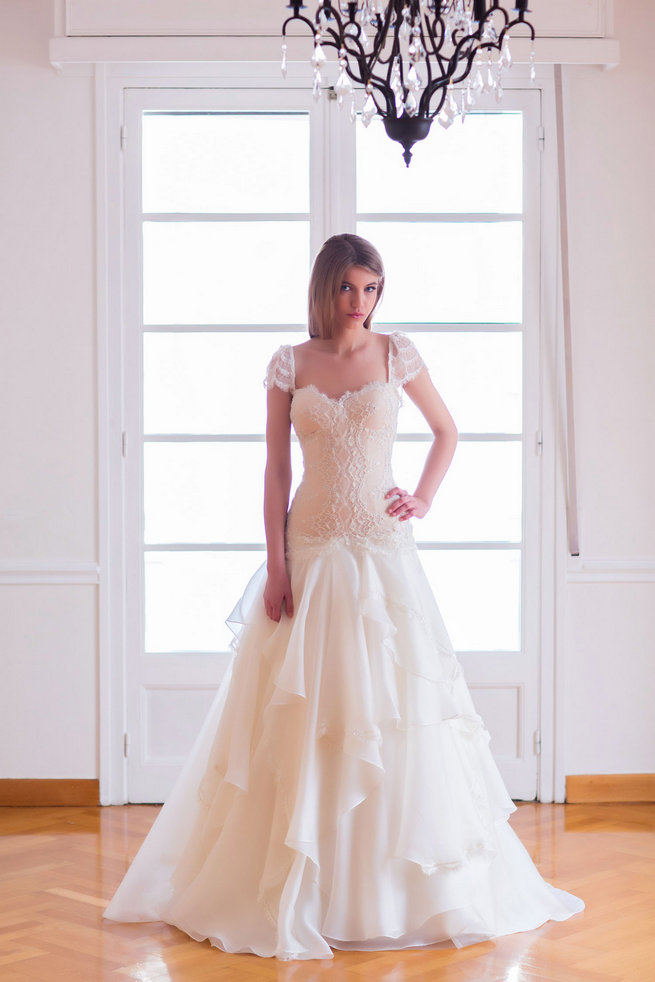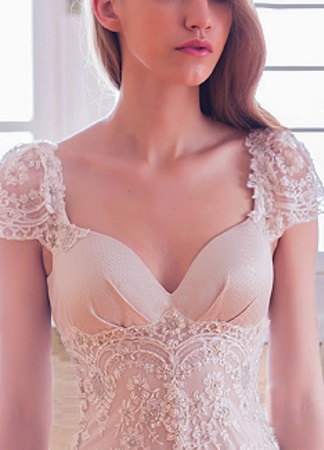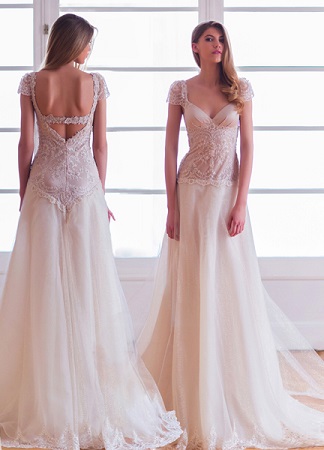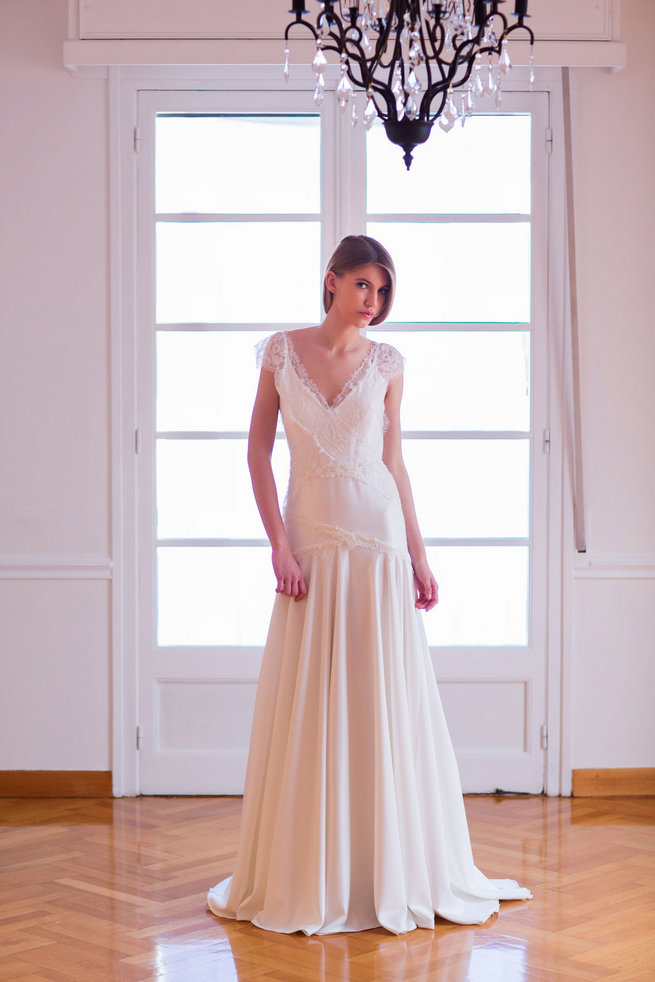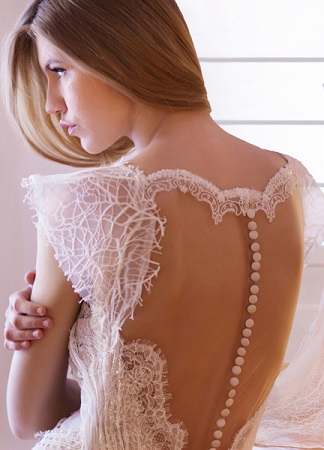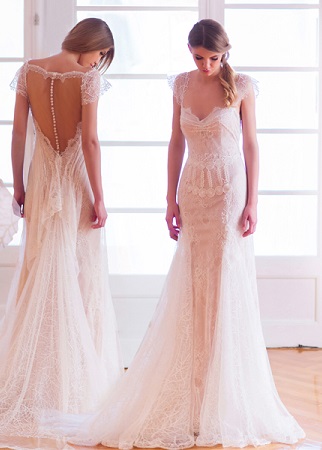 "Dainty cap sleeves radiate a demure elegance in this collection."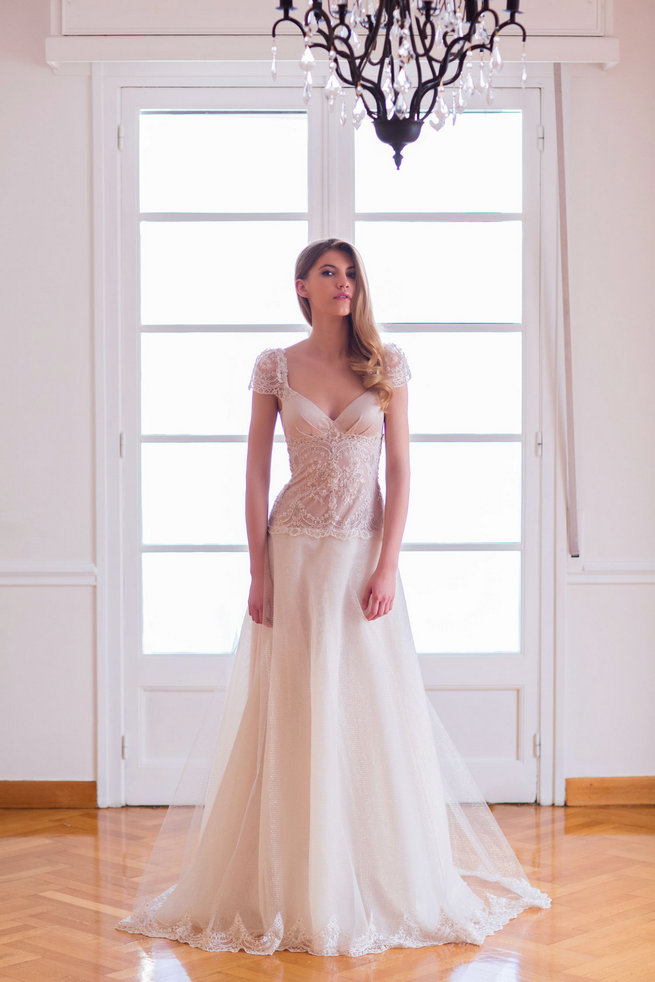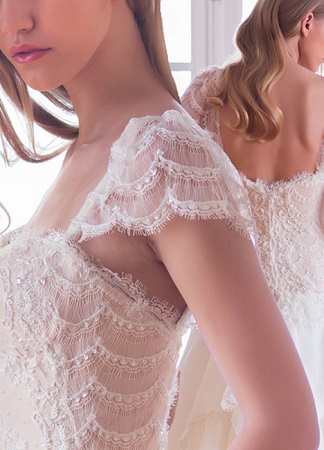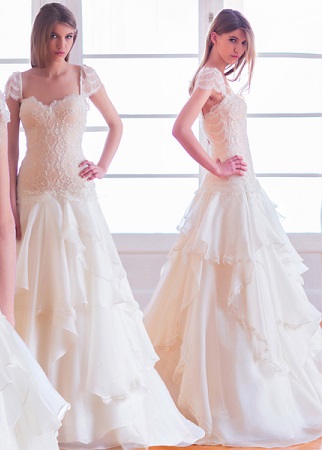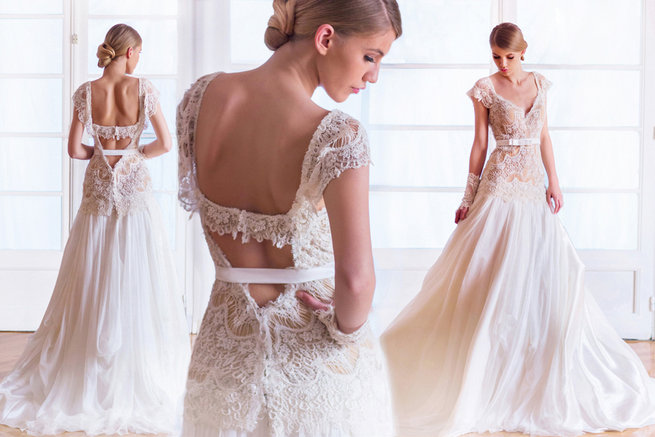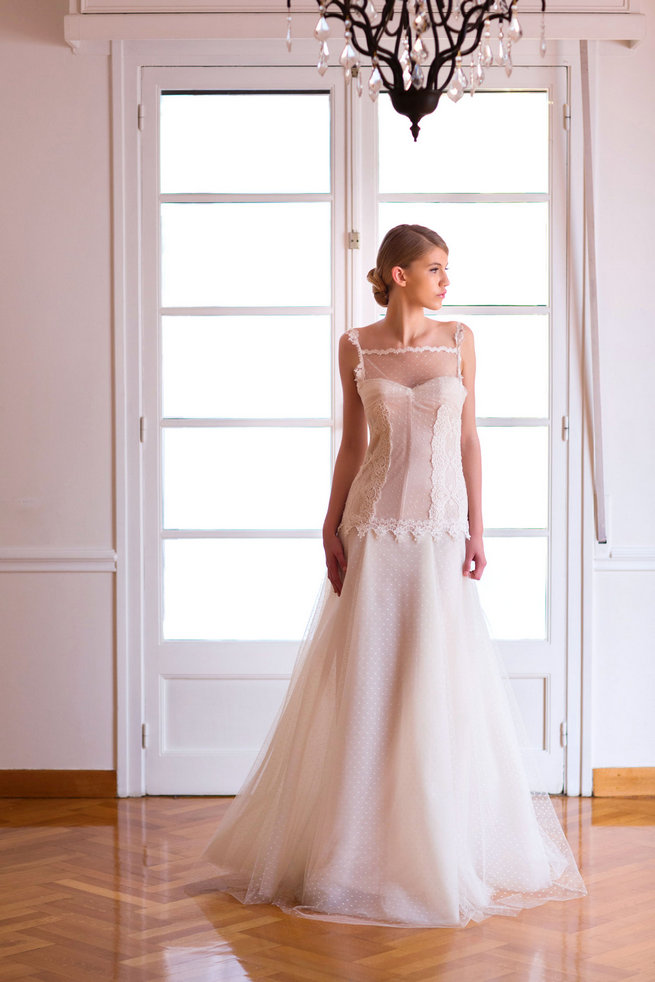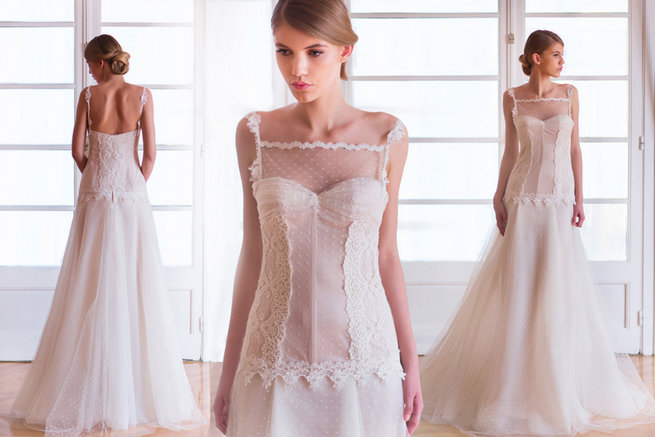 "Using the French Haute Couture, technique of "Moullage",  I build the whole dress, with my hands, like a sculptor."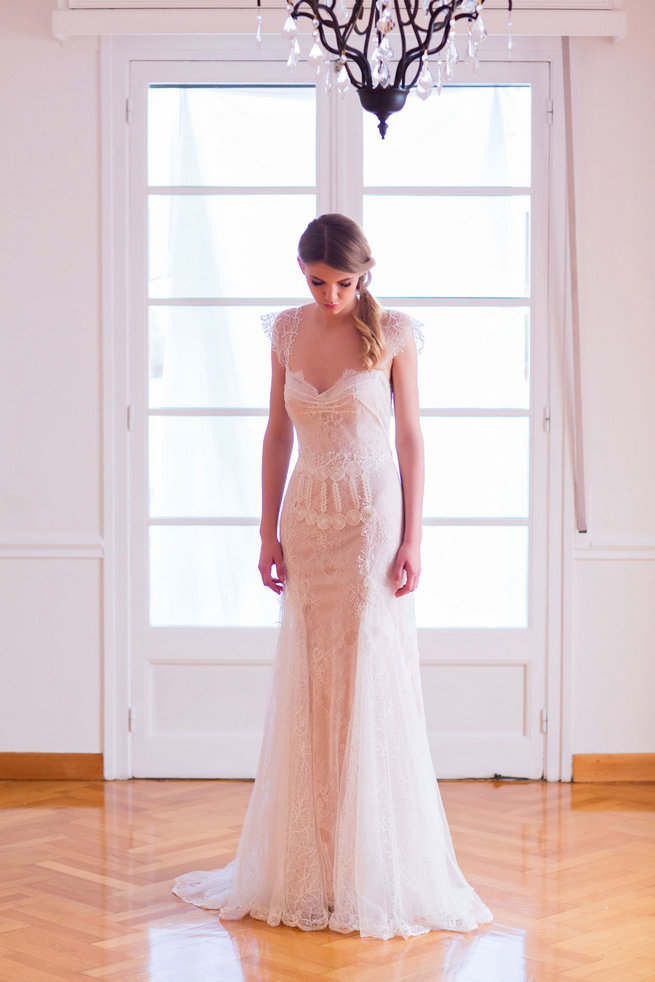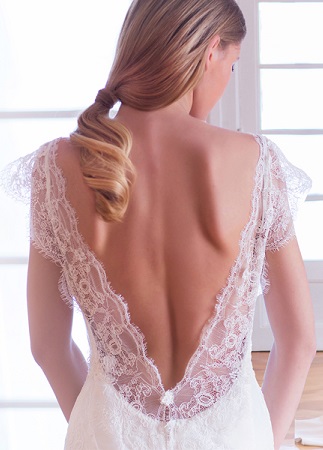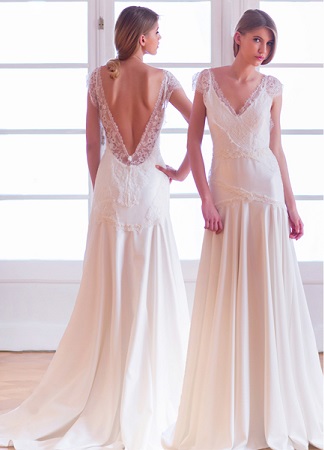 VICTORIA KYRIAKIDES: MEET THE DESIGNER
At a very young age,  designer, Victoria KyriaKides, became immersed in beautiful, luxurious fabrics and tailor-made clothing. Victoria's mother had all of her clothing custom-made, which served as an early introduction to the concept of couture. It was here that Victoria began learning about design and a deep appreciation for fine fabrics and craftmanship began to grow.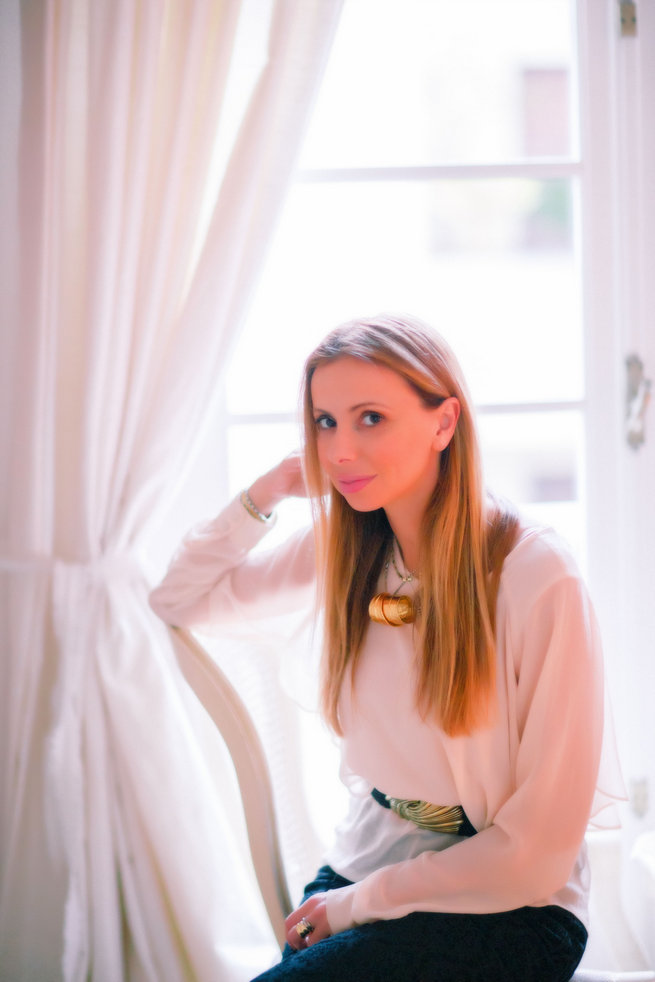 "I used to watch the tailors create these beautiful clothes and would pick the left over fabrics, the small french silk pieces and make miniature dresses for my dolls," recalls Victoria. She shares that she was infatuated with constructing them perfectly on her dolls' bodies.
That fascination continues to this day, where it translates to Victoria's designs: "I put utmost emphasis on creating impeccably constructed dresses for women. I still have some of those miniature dresses I first created!"
Signature Style:
I design dresses that flatter a woman's body to enhance her femininity and make her feel absolutely confident and beautiful. There is an elegance and glamour to my designs that is ultra-feminine, modern and timeless. 
Appropriately low cut sexy backs and exquisite, visually stunning trains are part of my signature style.
The construction of my dresses is something extremely unique in that they are designed to envelop the body for a slimming effect. Additionally, no undergarments are ever needed with my dresses as everything is built in the dress.
The Creative Process:
I absorb everything for a period of time and by the time I start sketching the new line, I always know what will be the aesthetic. I travel to Paris and Milan, meeting my trusted associates from the finest silk and Lace Houses to show me their new ideas of fabrics, that would be compatible with my sketches. Upon my return to my atelier, I start working on mannequins.  
Then, using the French Haute Couture, technique of "Moullage",  I build the whole dress, with my hands, like a sculptor – the draping, every cut and small detail, with hundreds of pins, on the mannequin. It is a very creative, but time-consuming procedure, after which the new designs are ready for my tailors to "solve the puzzle" under the pins and make the first patterns. 
The next step of the process is to match every small element that will identify the style of the new line, the Swarovski belts, the feathers, etc. Finally, each dress is finished by hand, with care and craftsmanship.
2015 Bridal Trends:
Elegantly exposed backs are timeless but also an important trend for spring 2015. Sky grey and blush undertones add subtle color to a modern dress. Dainty cap sleeves radiate a demure elegance in this collection. Flowy ballgowns abound.
Style Icon:
I loved the style of Jackie Onassis. She was a risk taker yet always faithful to her own personal style which is timeless and still seems fresh even today.
Advice for Selecting the Perfect Bridal Gown:
Be yourself. You wouldn't like to look like a different person on this unique day.
Listen to your heart and you'll pick the right "One", the dress that will make him not want to take his eyes off of you!
Remain calm. Try to leave behind any anxiety you may have while searching for your dress. Listen to your designer and you'll shine!
Victoria Kyriakides' master atelier is located in Athens, Greece, and an additional atelier is located in New York. Stay up to date with Victoria's designs by following on Facebook here. To contact the Victoria KyraKides visit her website here, or to reach her New York design house send an email to [email protected]   
♥ ♥ ♥ CREDITS ♥ ♥ ♥
Gowns:  Victoria KyraKides // Images: Courtesy of Designer
View More Bridal Hair Inspiration Here and Read More Designer Interviews Here