Beautiful Garnet and Tan Wedding  ♥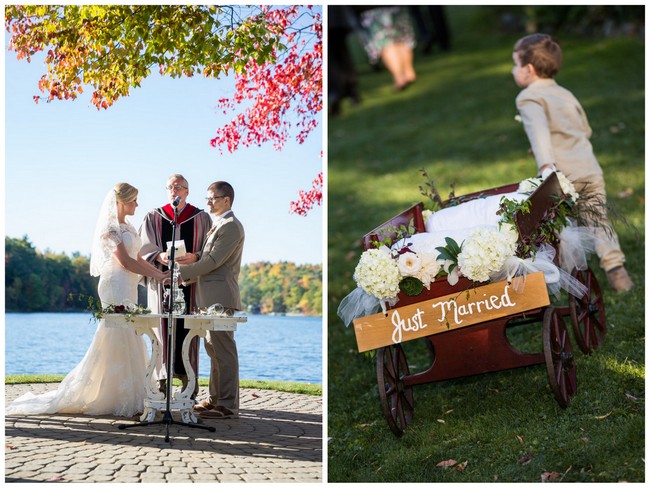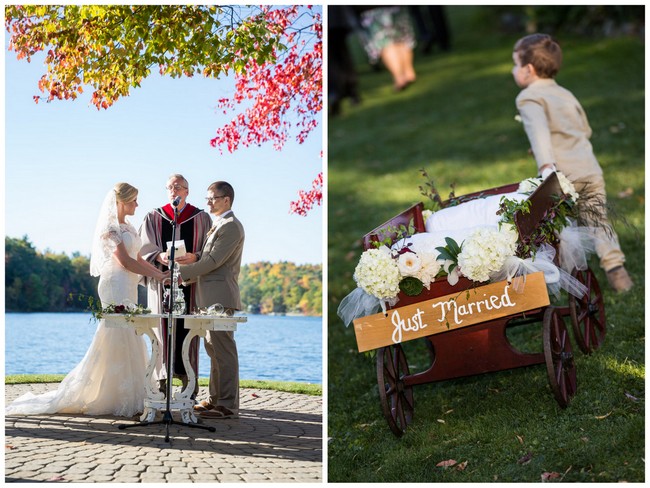 Michelle and Adam's wine and cheese themed wedding in burgundy and tan was held at Old Daley Inn on Crooked Lake Averill Park. Adam and Michelle host wine and cheese parties for all occasions. It's their "thing" as both of them love wine and cheese individually and together. In fact, they often import cheeses, so the theme for their wedding just fell into place. A natural starting point was using the burgundy / garnet color of red wine as their focal point. Complete with burgundy dresses, flowers by PoppyTree Florals, tan suits, flower filled wine bottles, planning by Every Little Details, photography by Molinski Photo  and lots of personal touches, their day was filled with beauty. And wait untill you see the cute flower girl in her cart being pulled by the ringbearer – it's just too precious!
The bridesmaids had tan pashminas and were gifted garnet earrings along with monogrammed matching clutches containing all of the wedding day necessities (floss, sewing kit, tissues, lip gloss, blotting sheets, etc.). The groomsmen were gifted watches and also had superhero cufflinks.
"We had a wine blending ceremony during our marriage vows," shares Michelle, "With personal touches throughout the venue and we made nearly every item ourselves! It was so much fun!"
Burgundy and Tan Wedding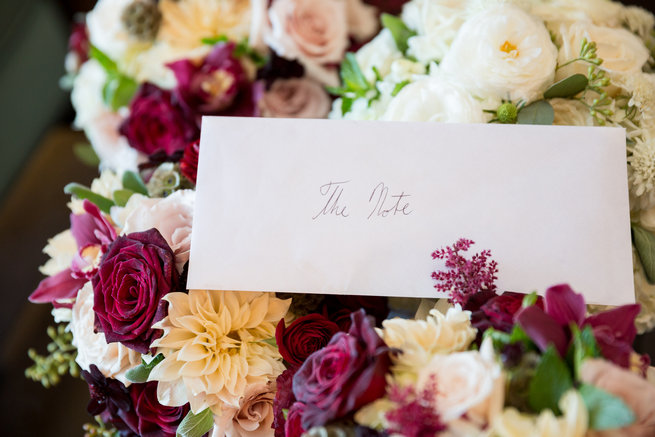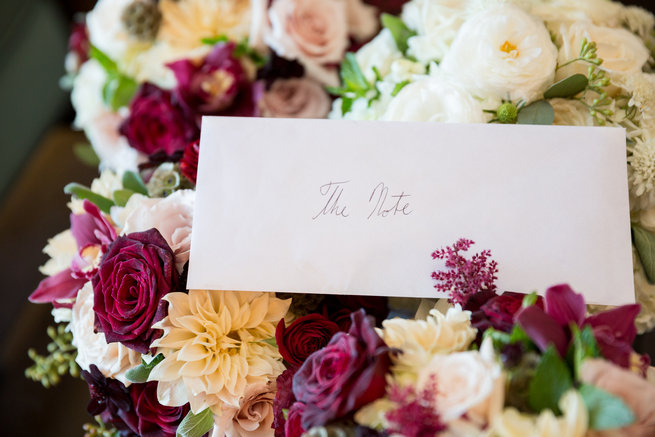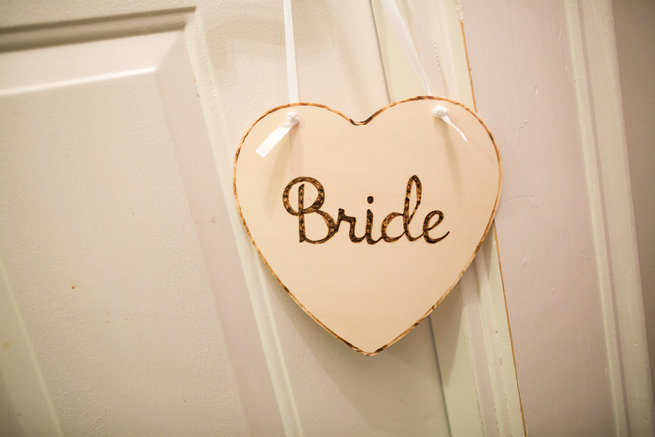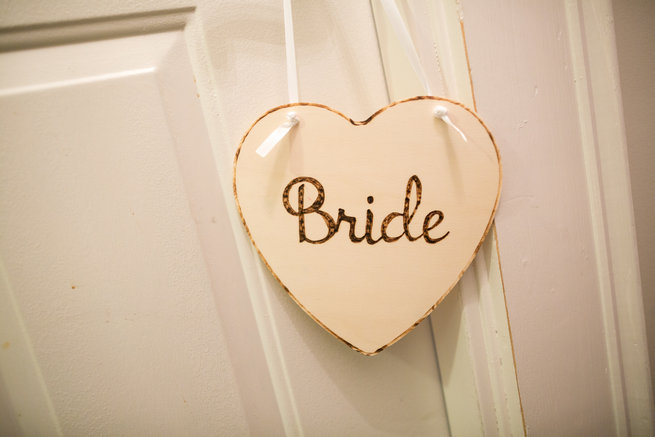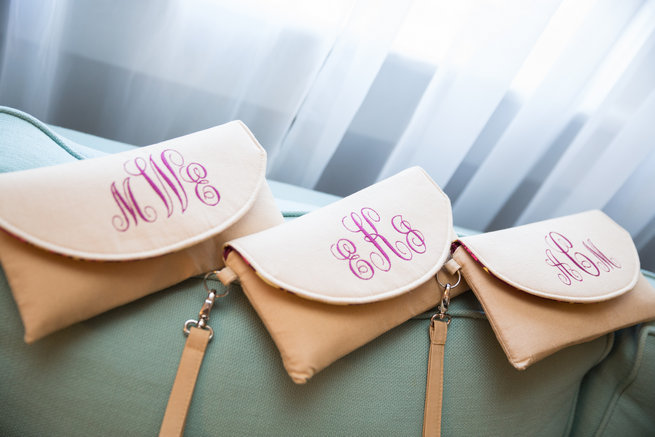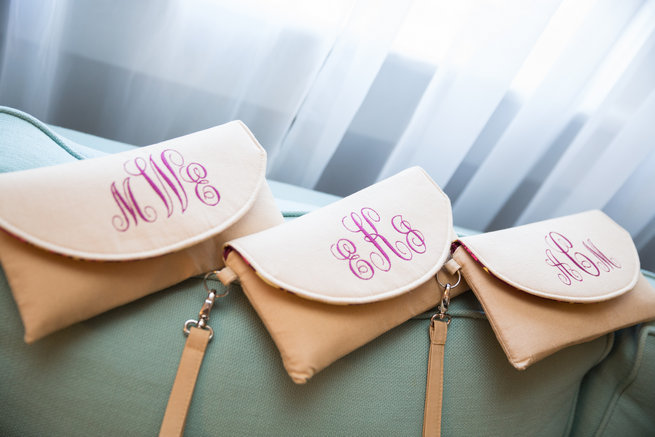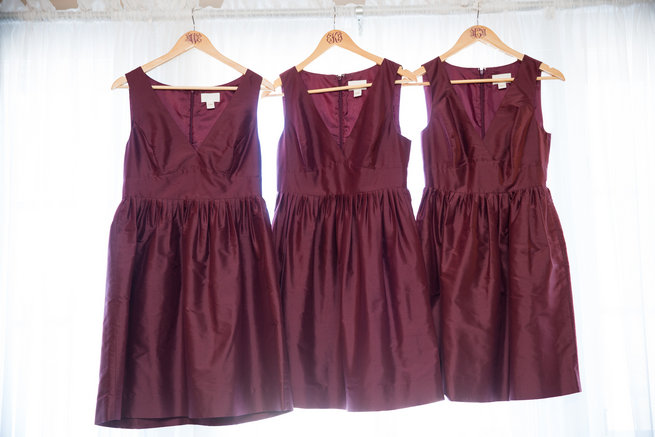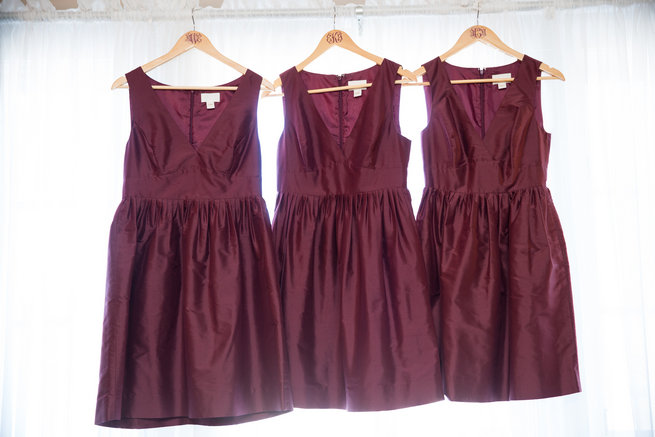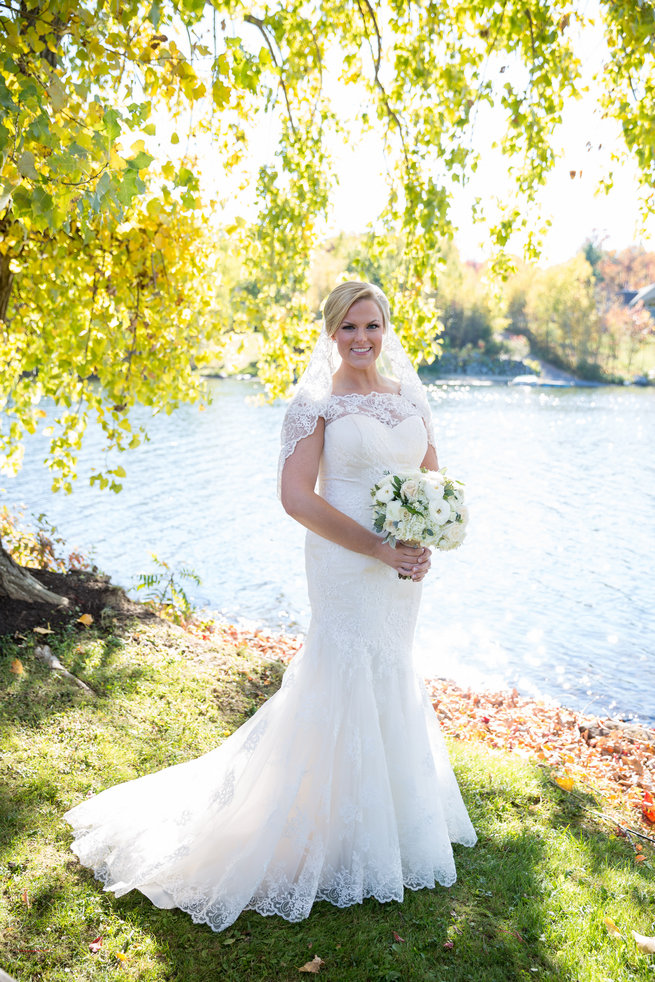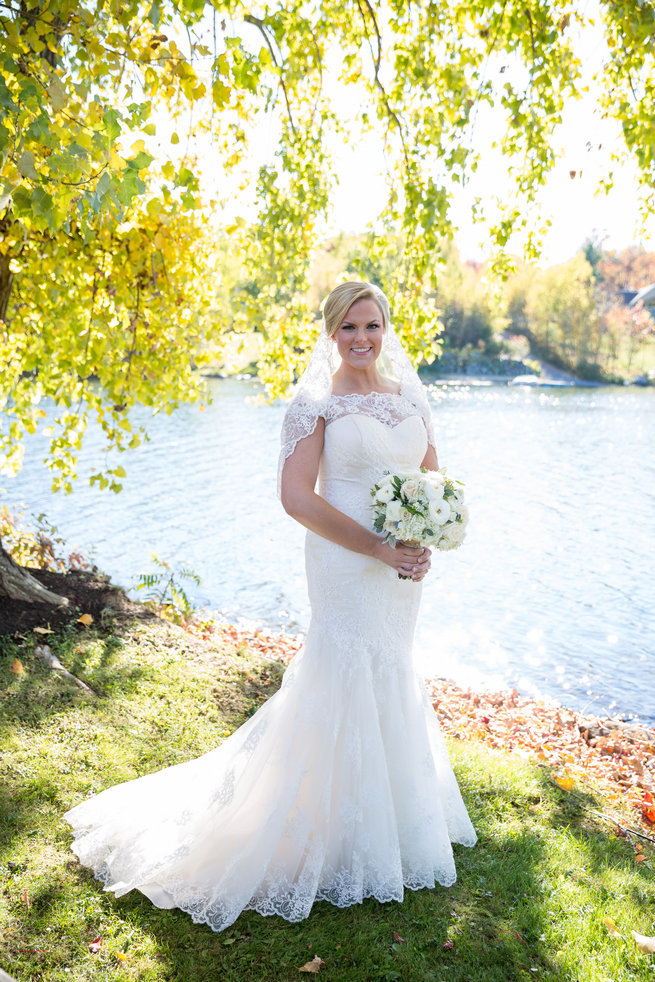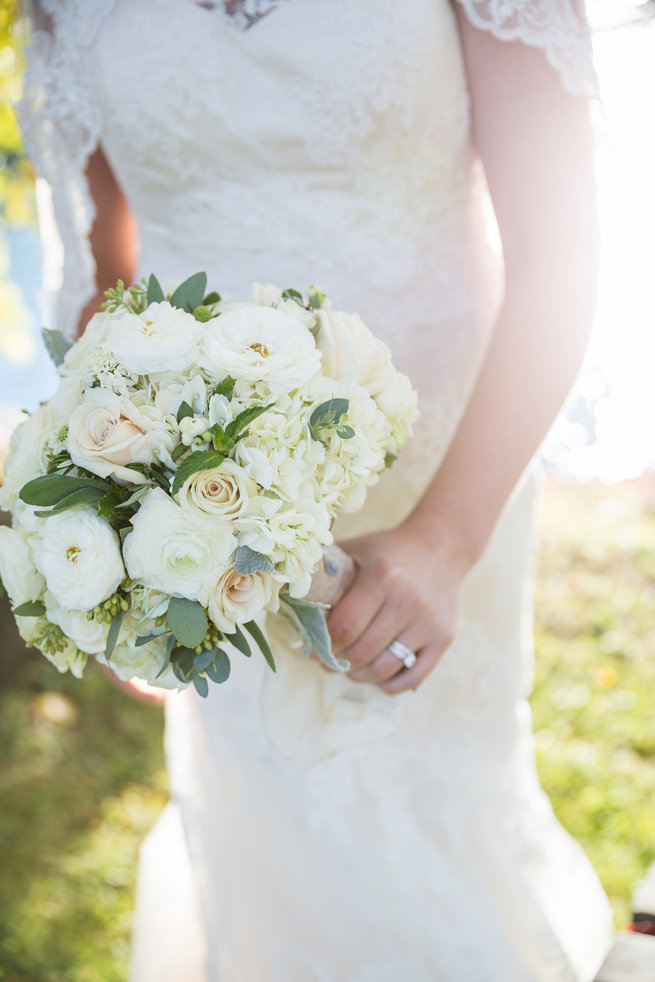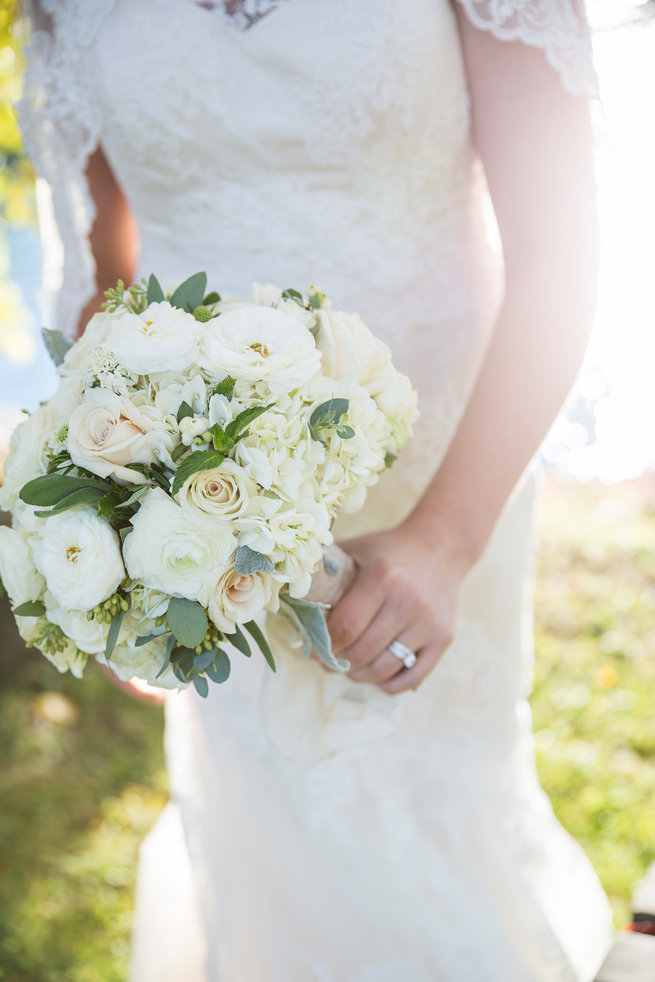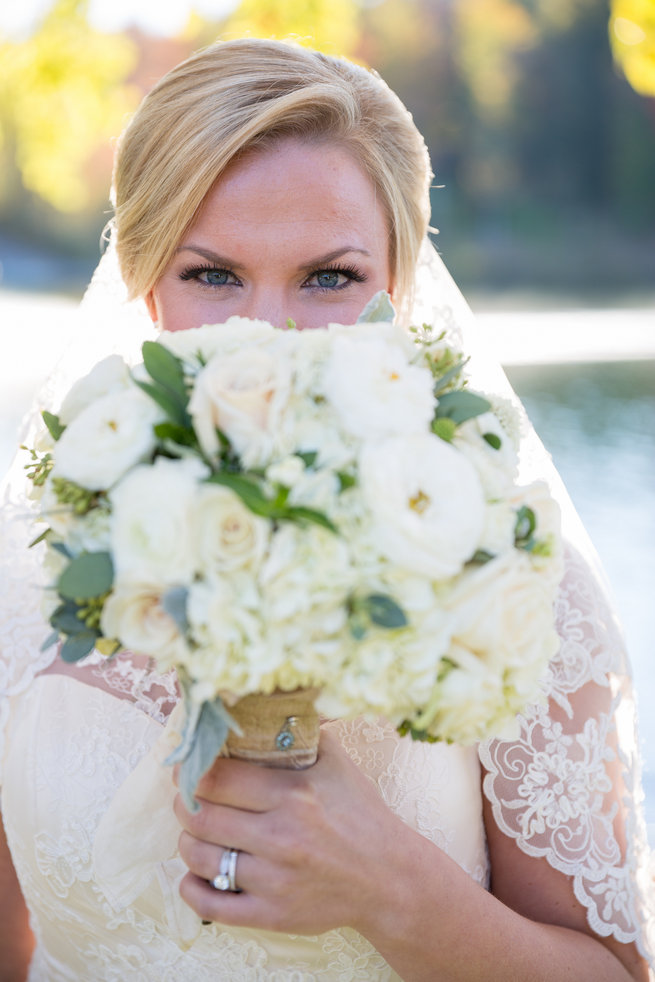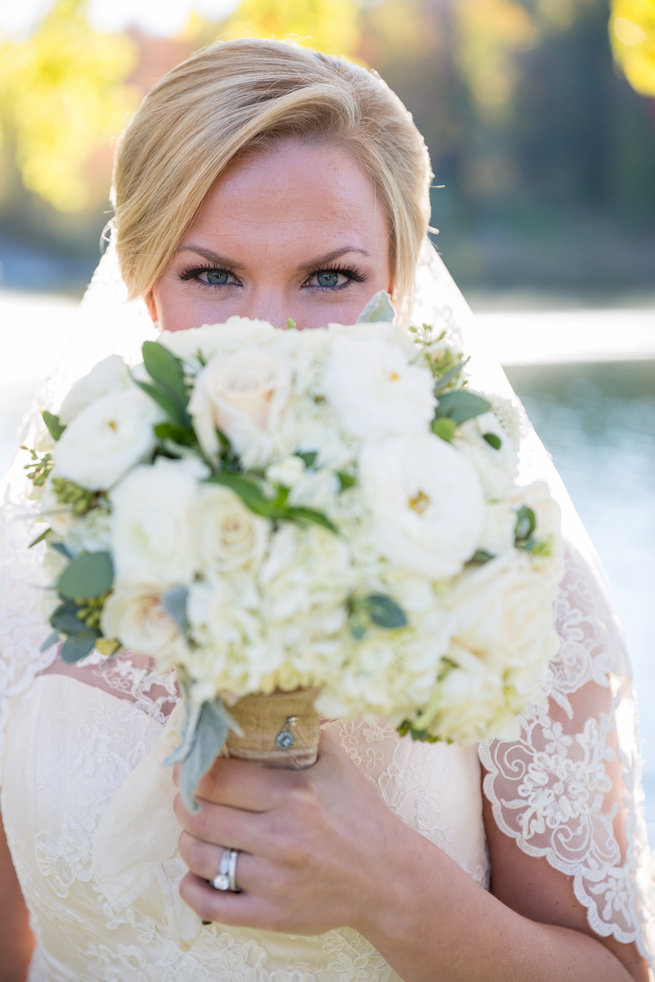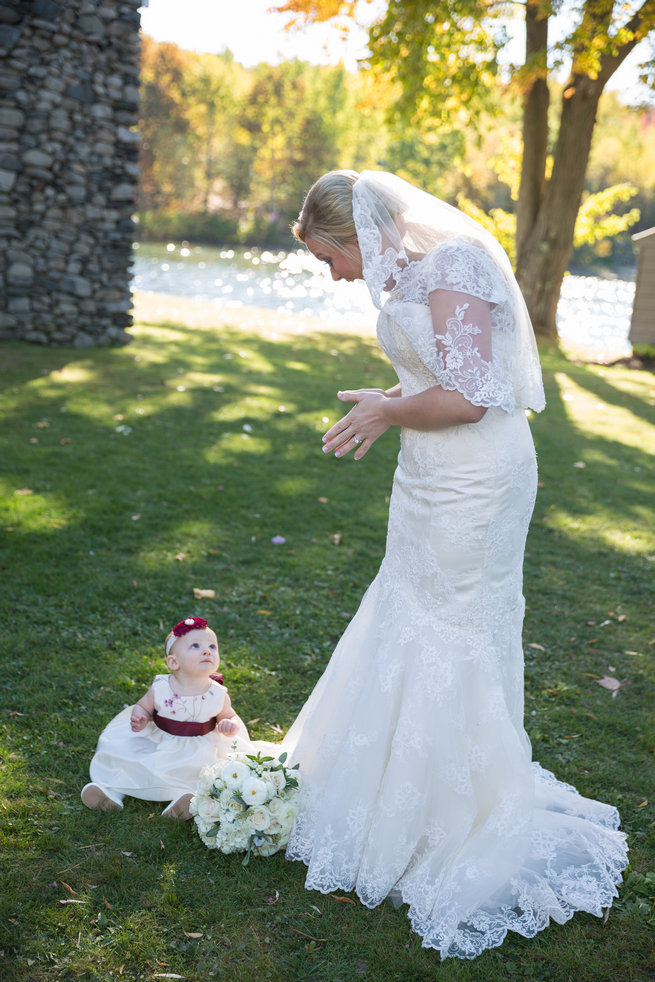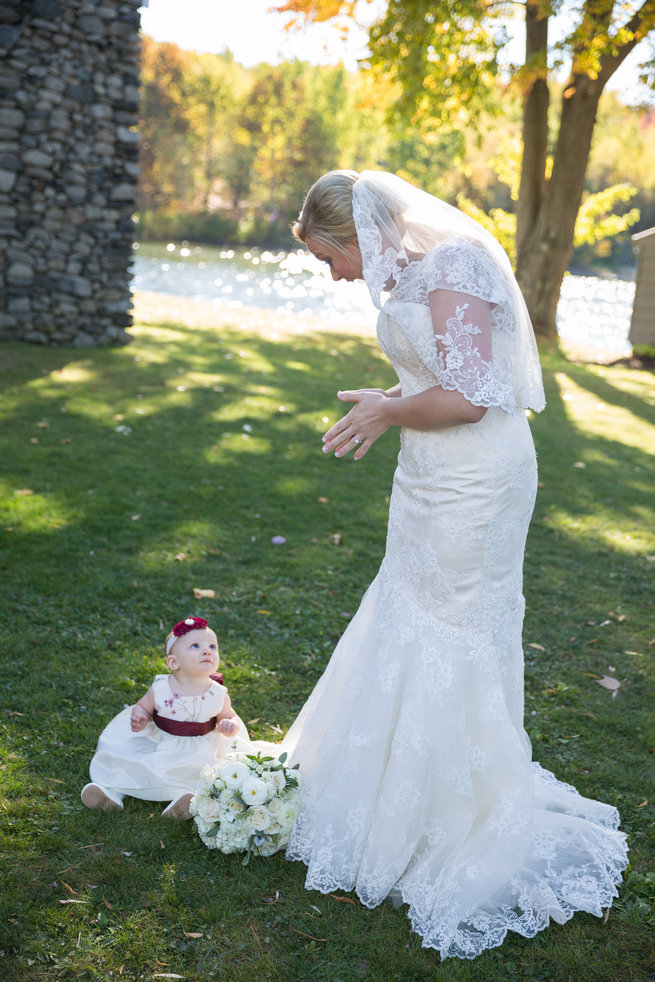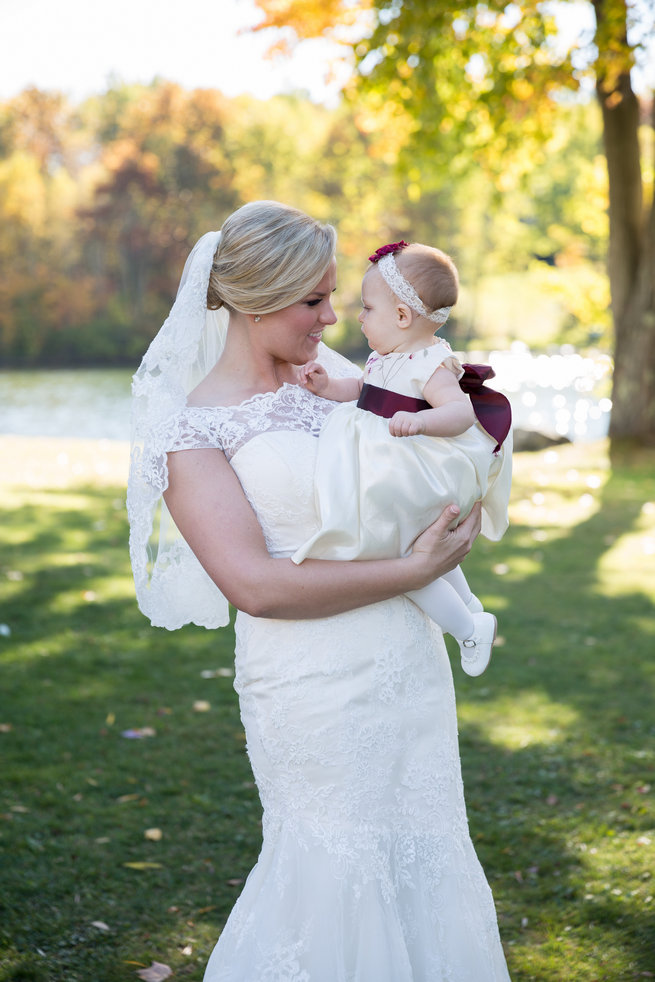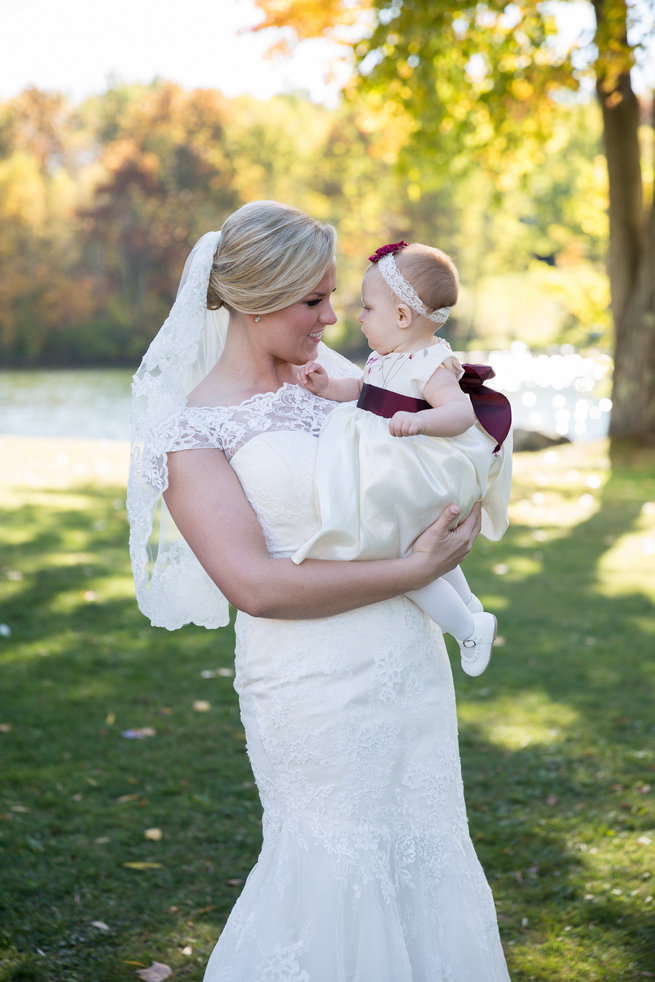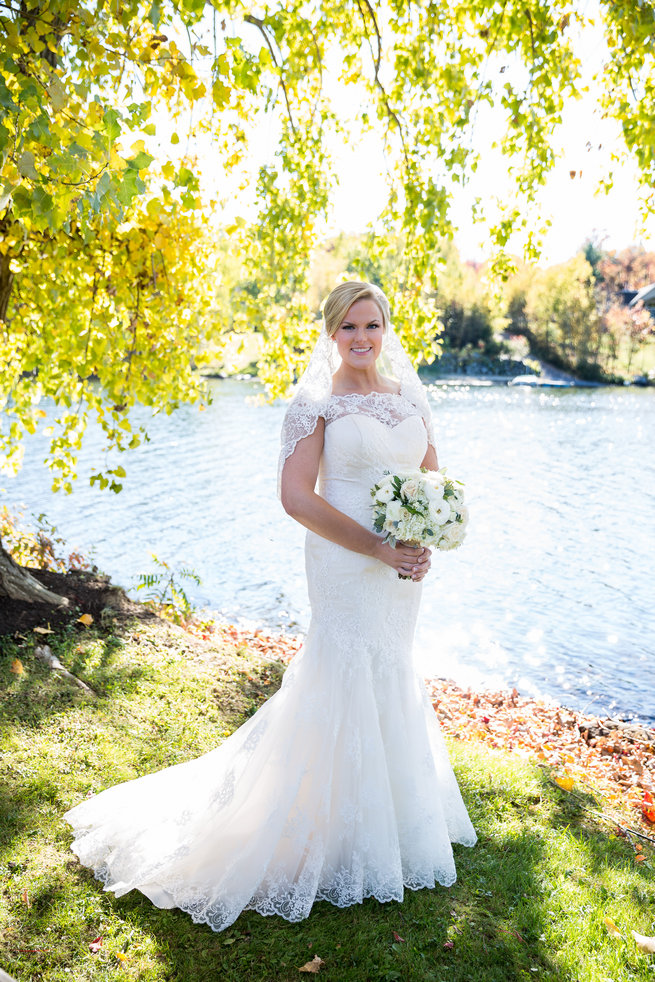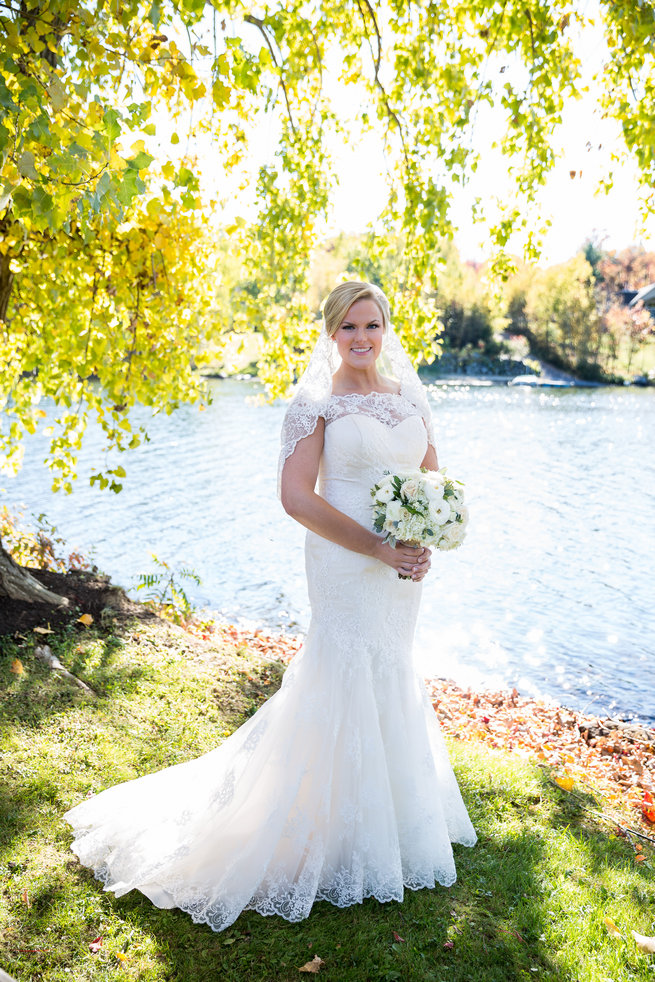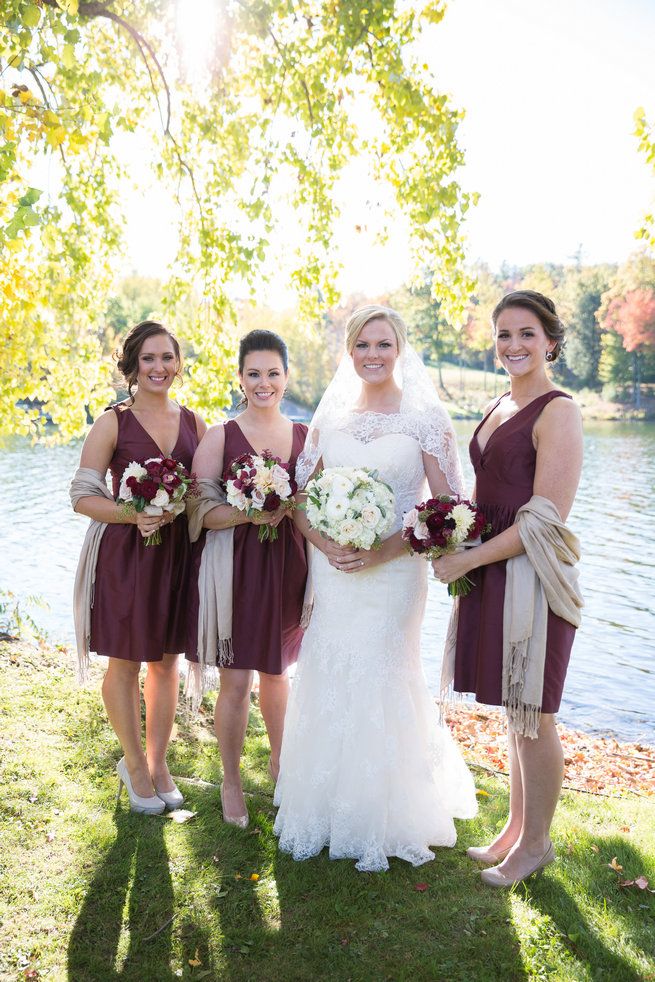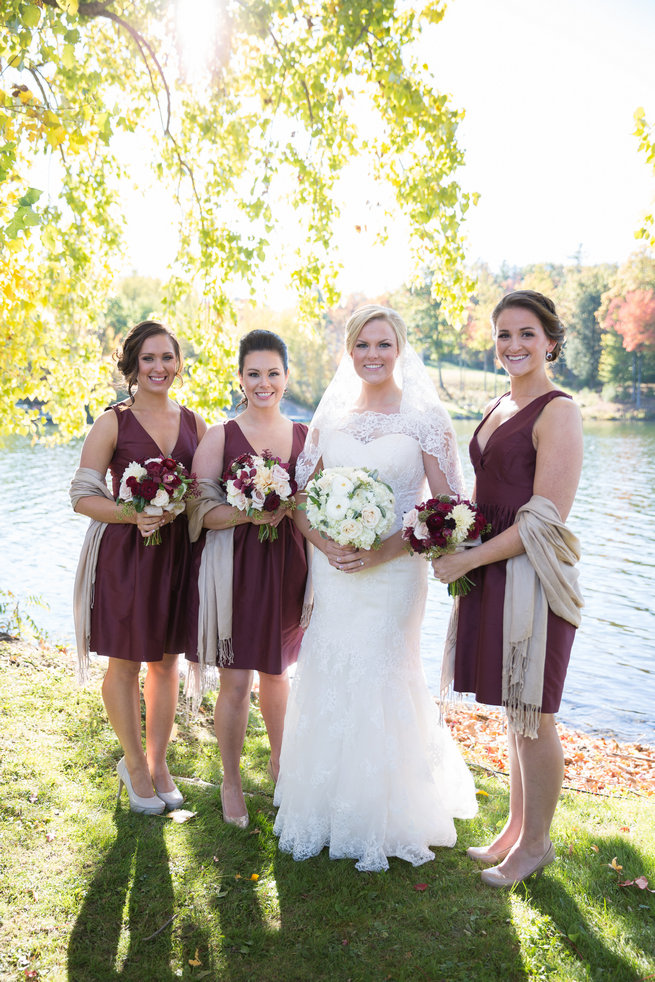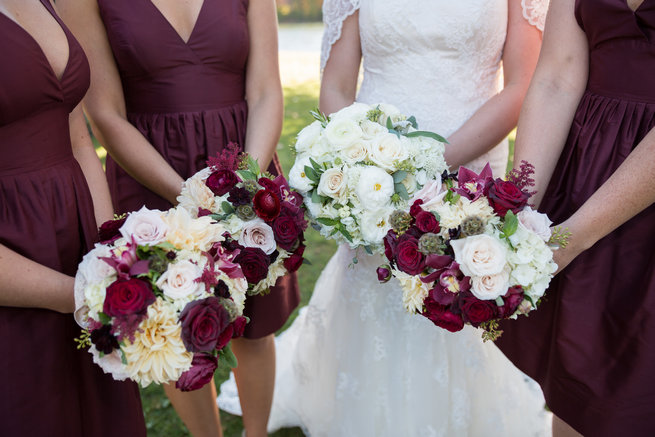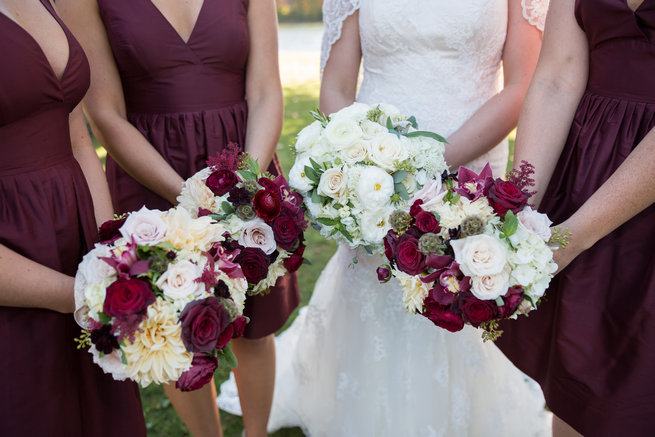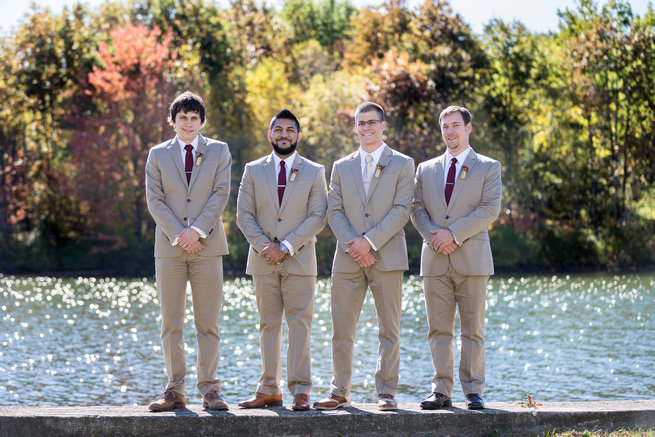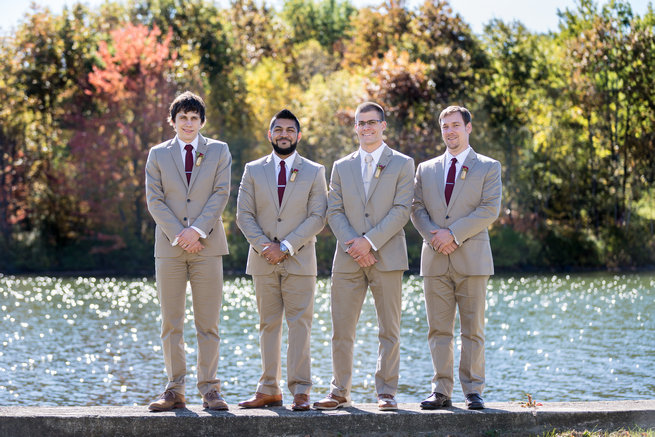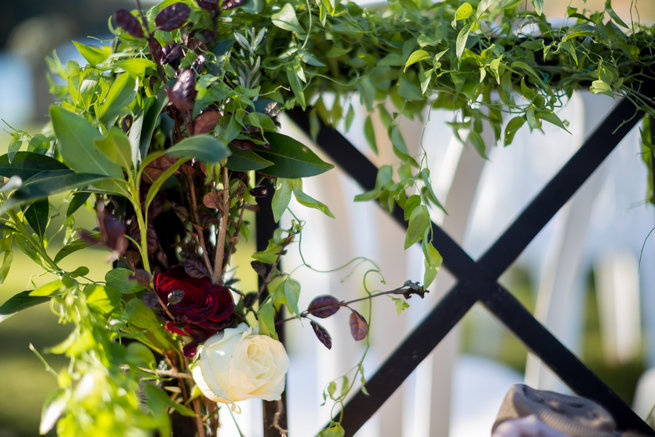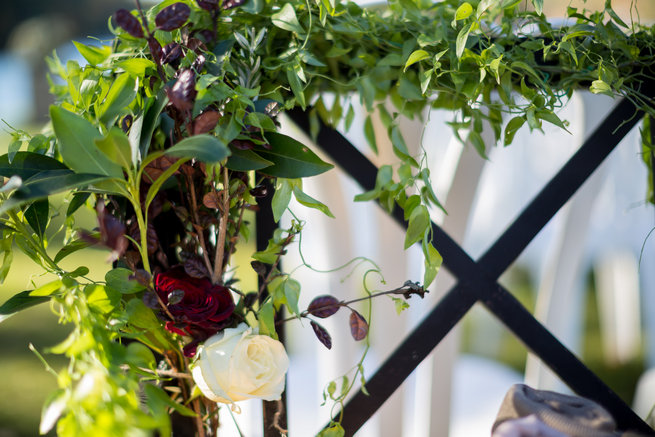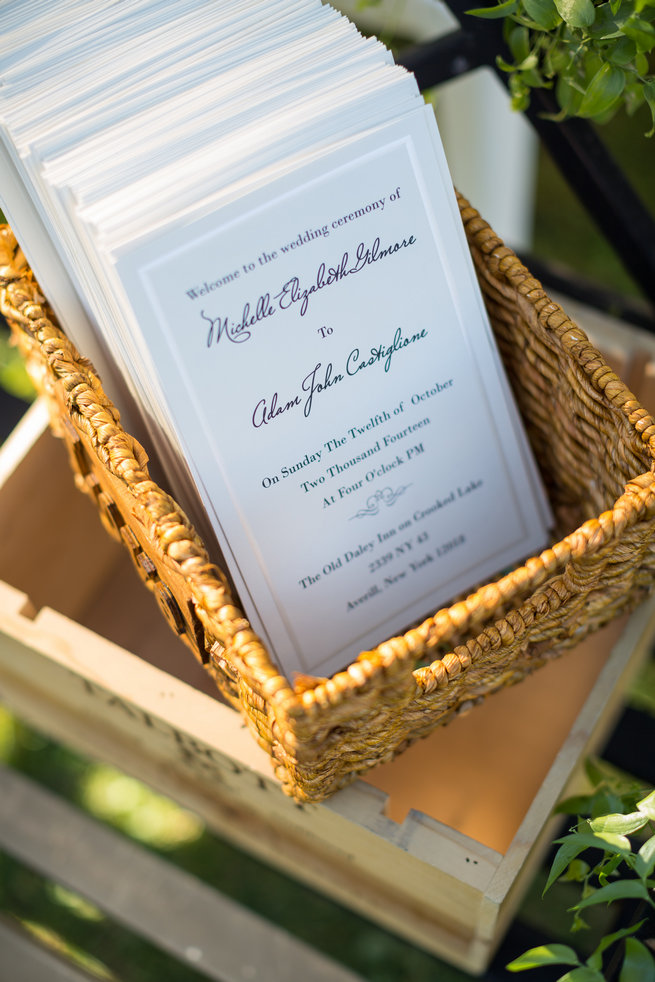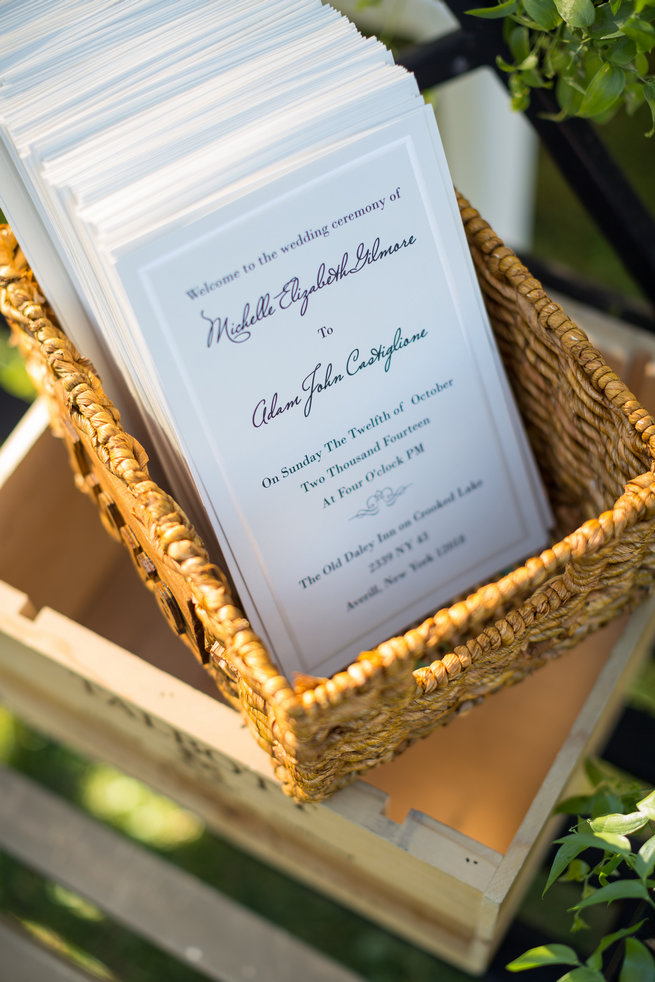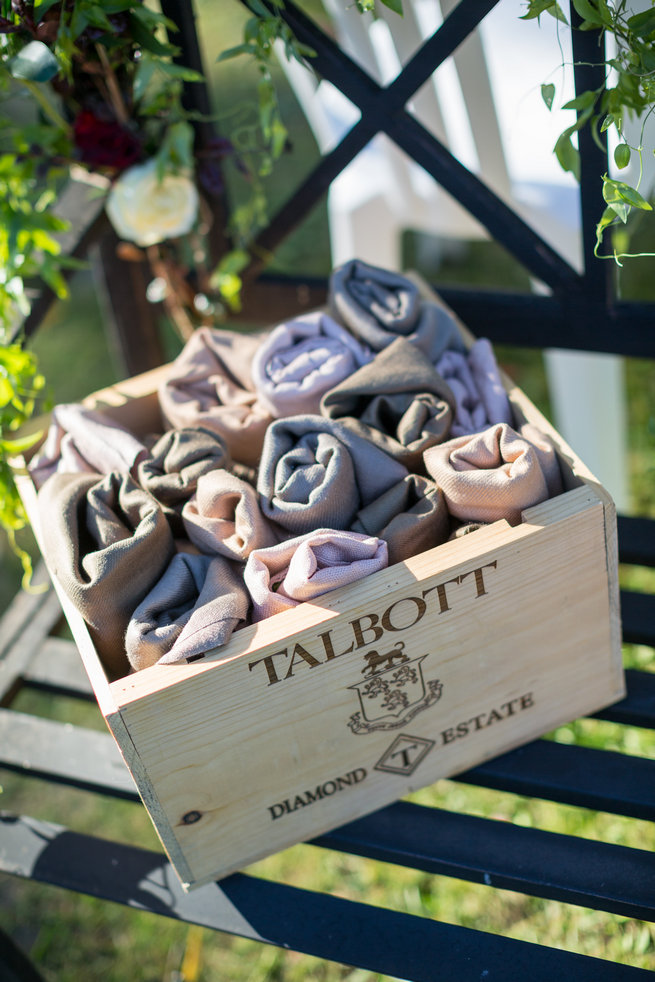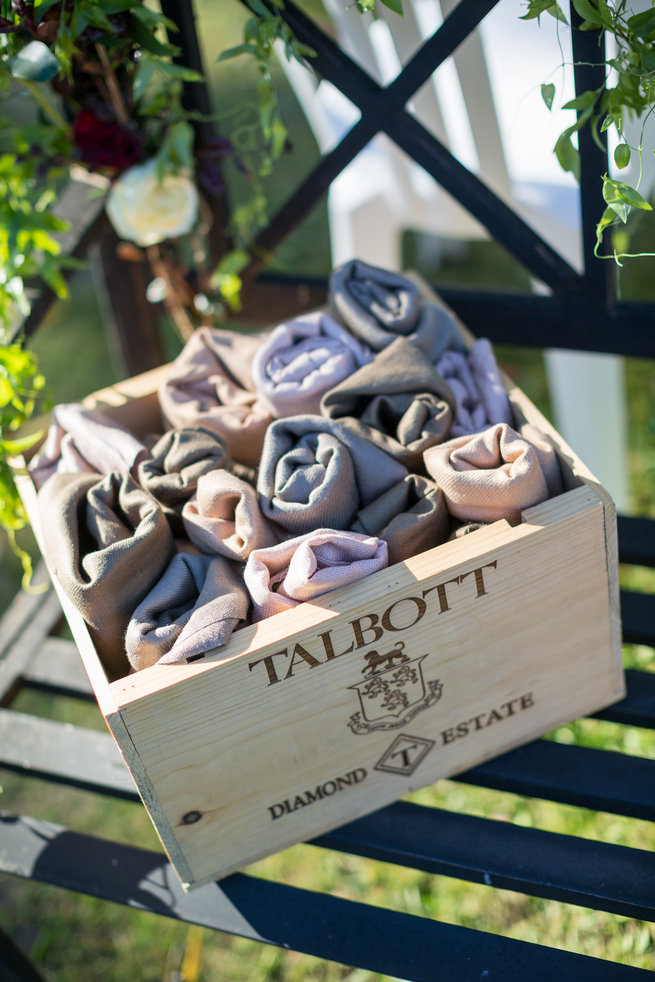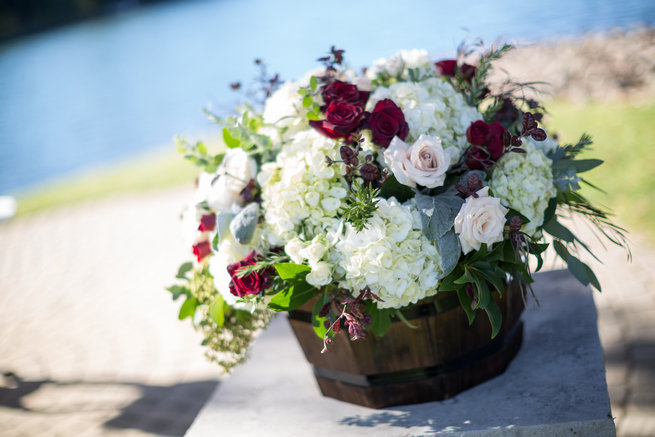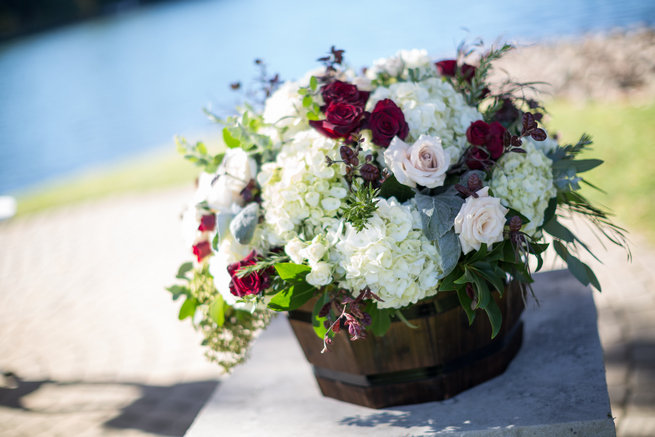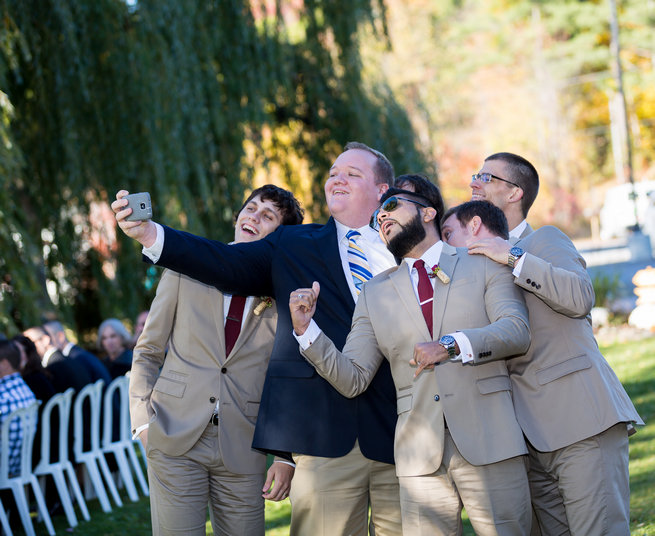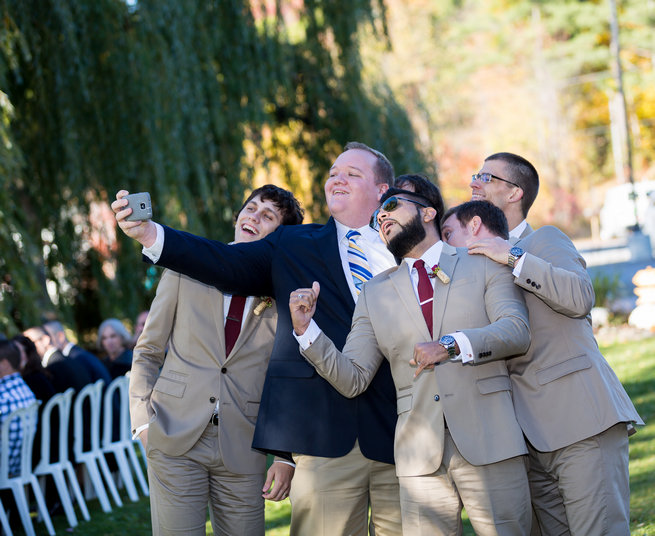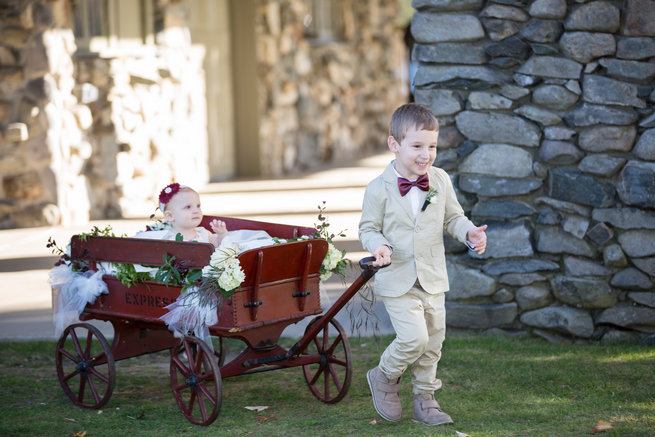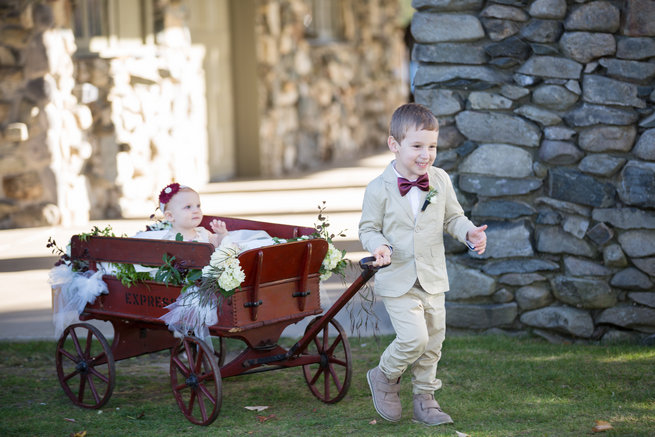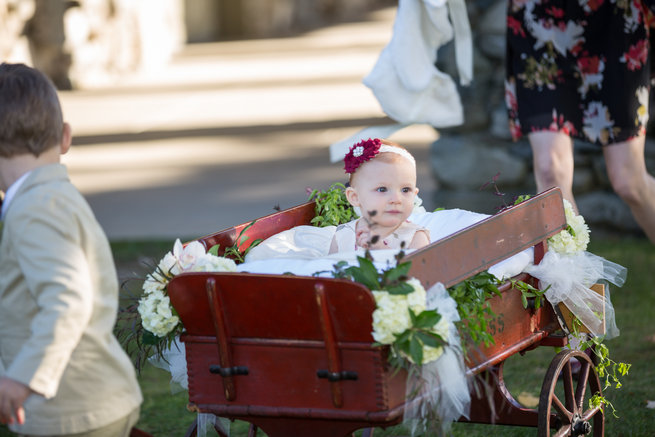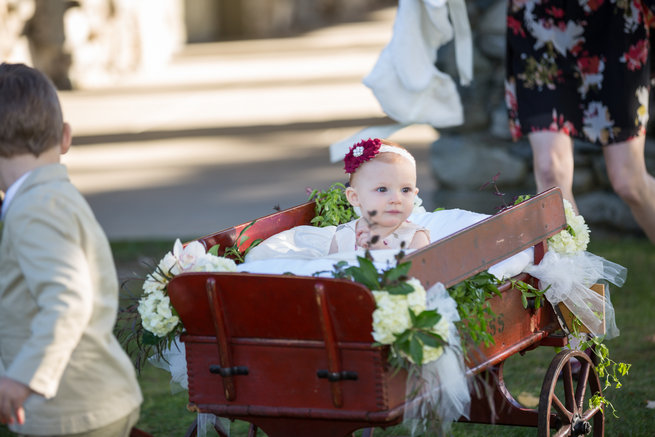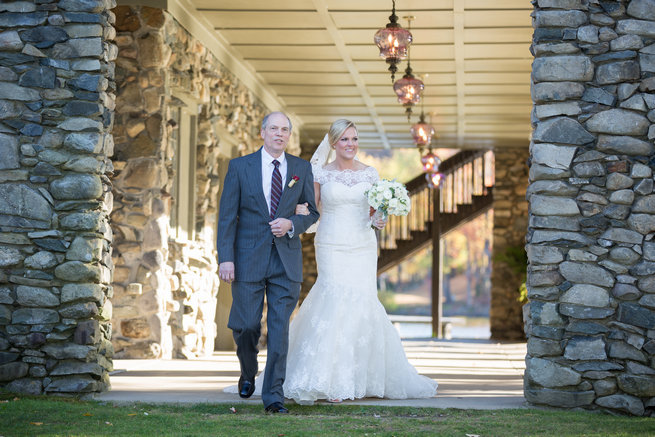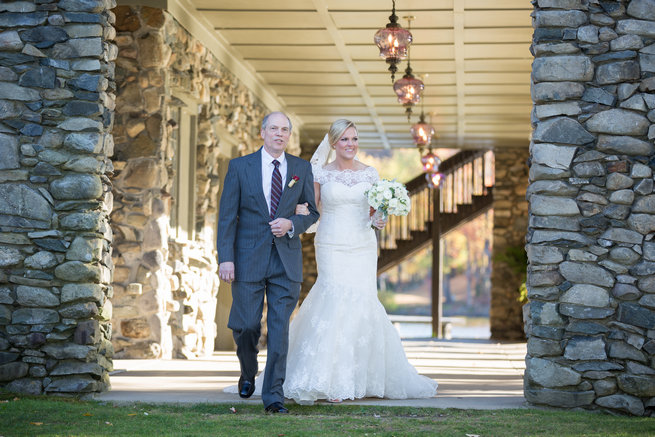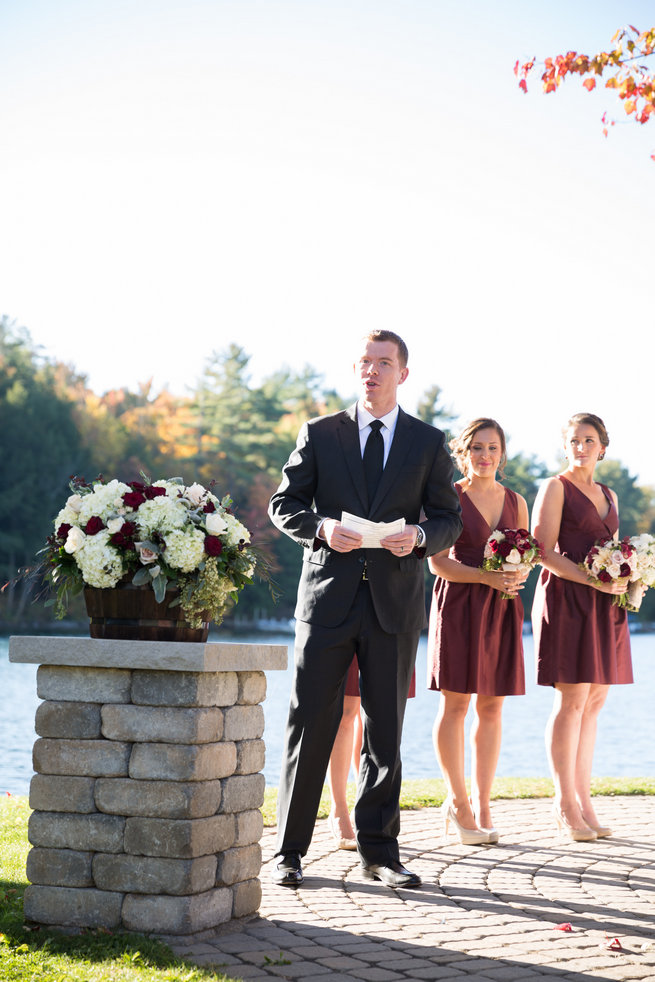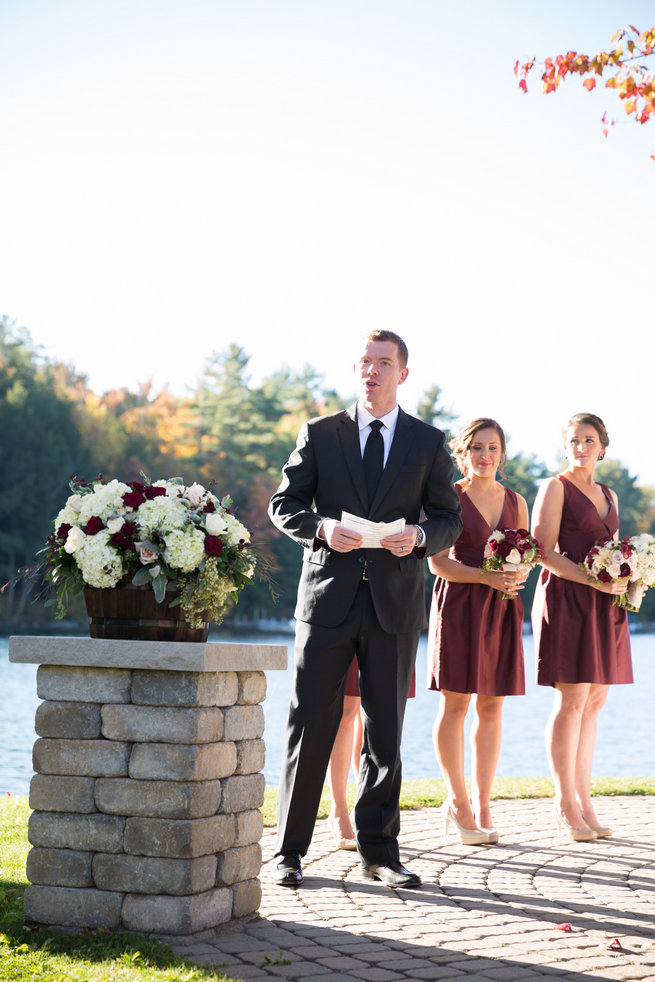 See more red wedding inspiration here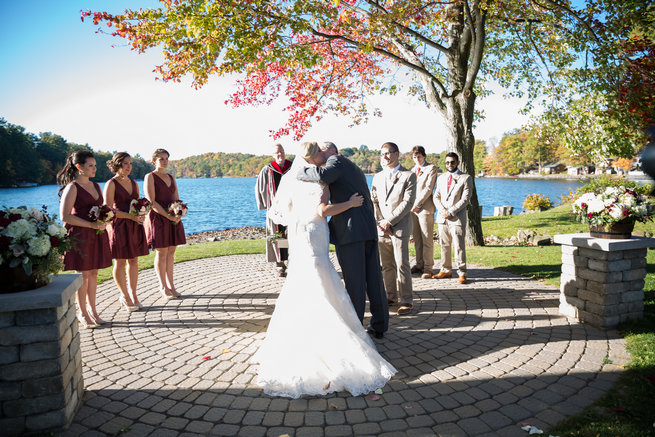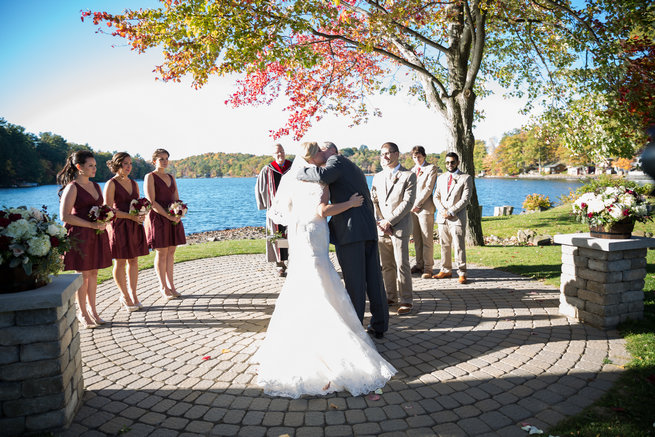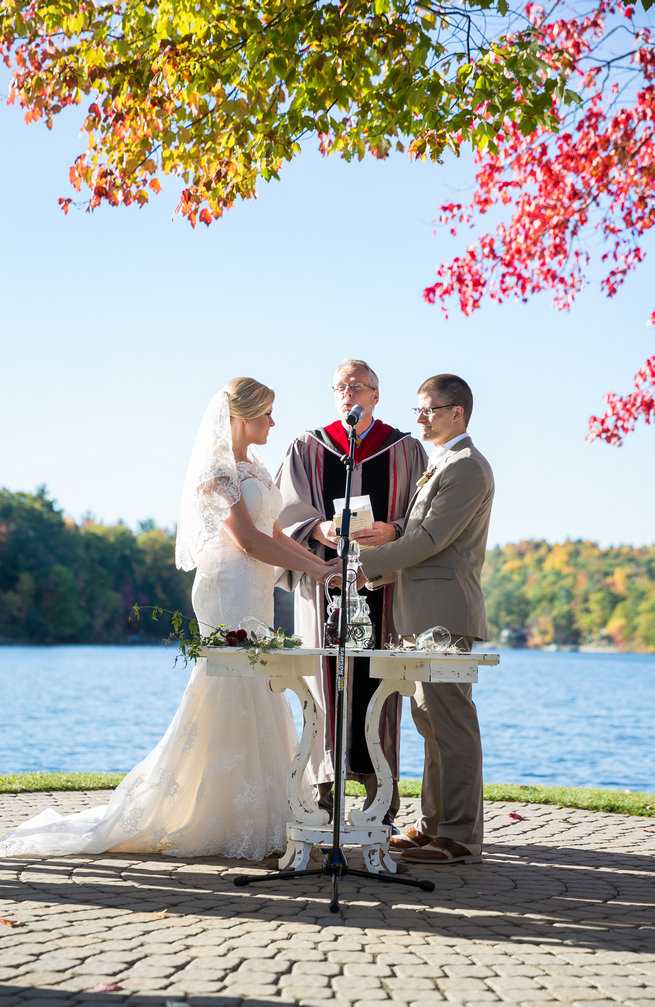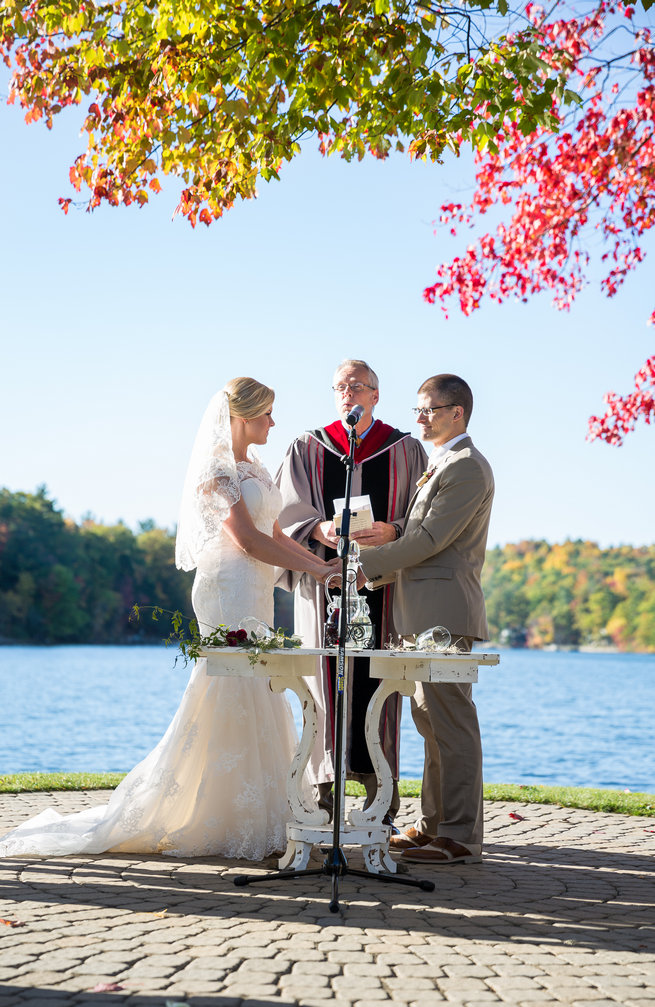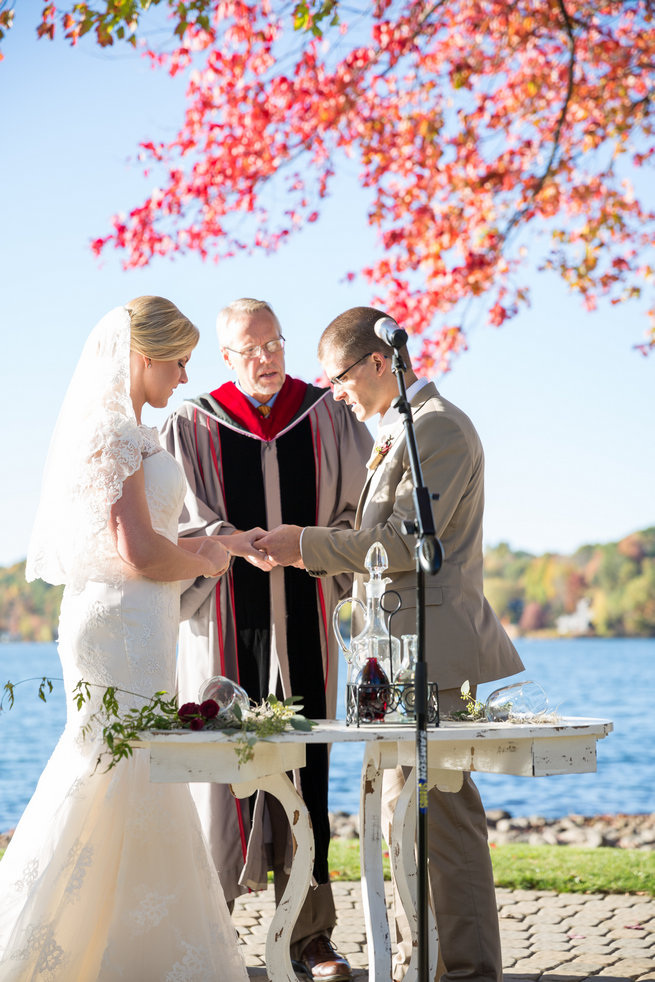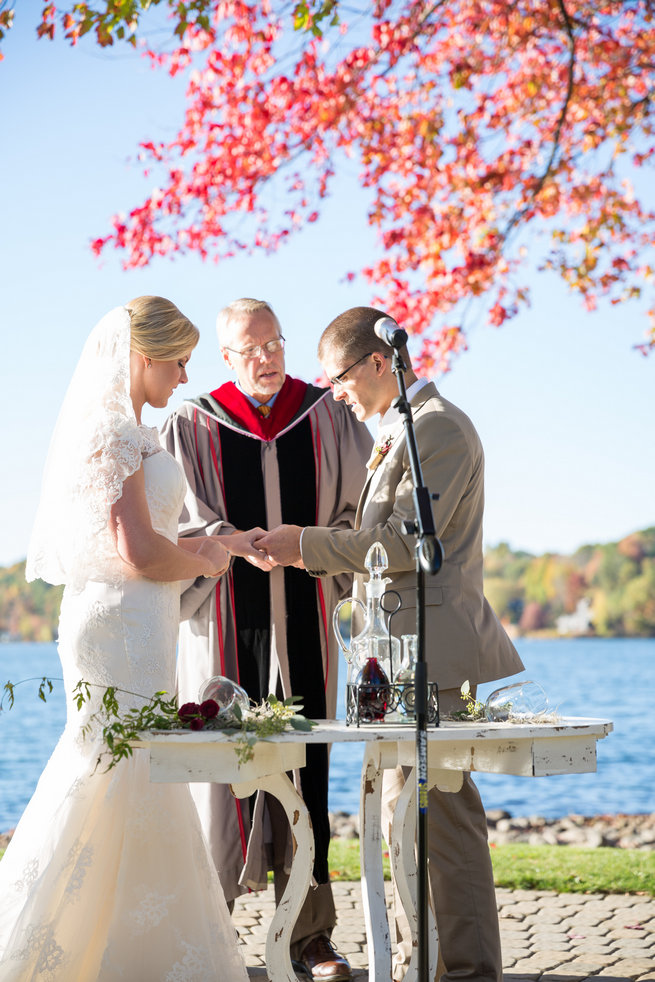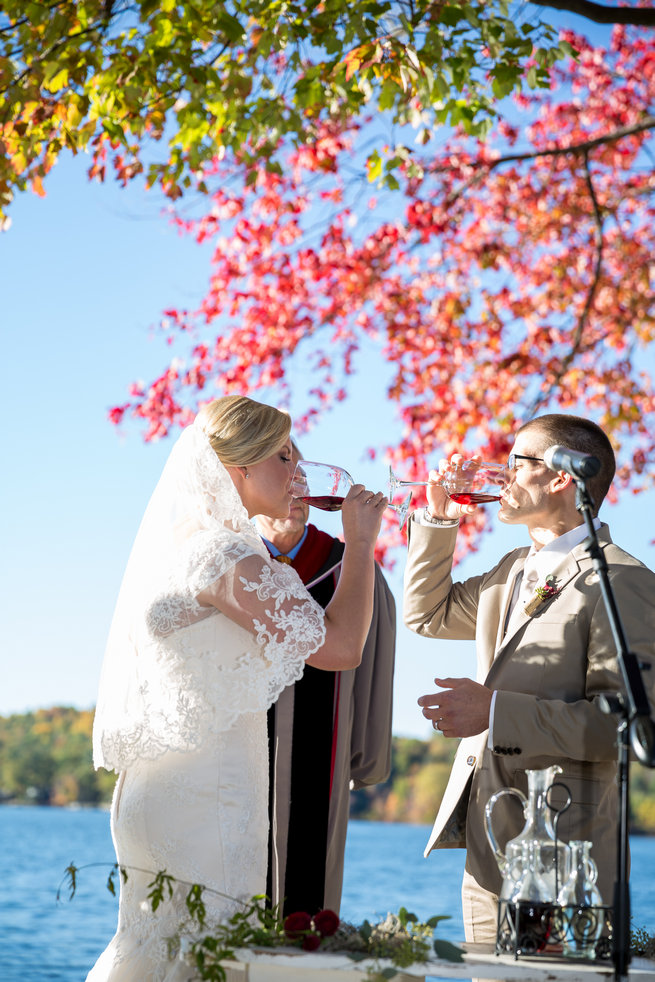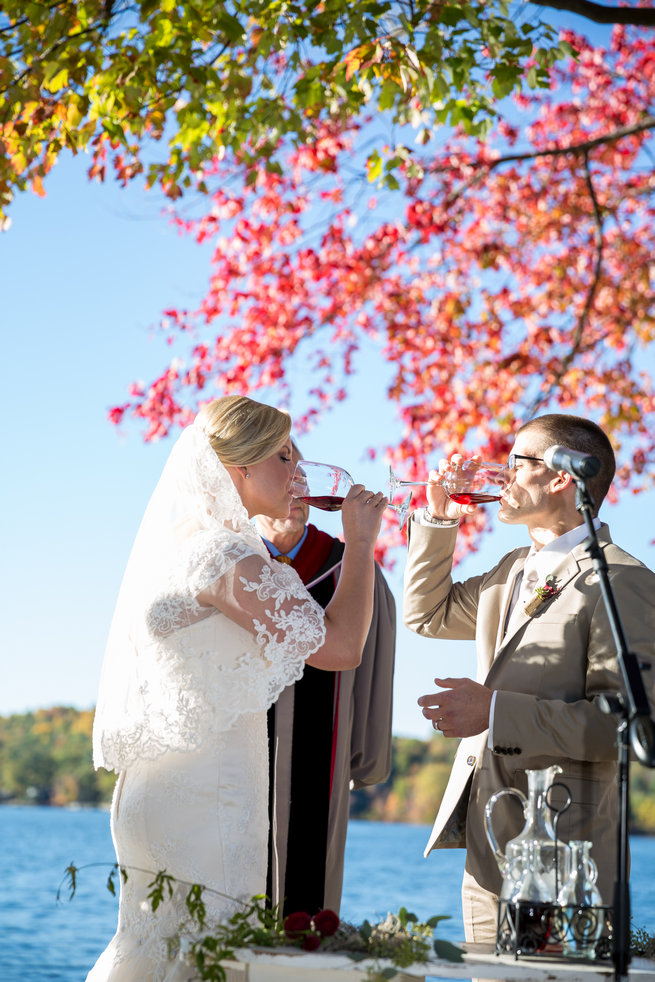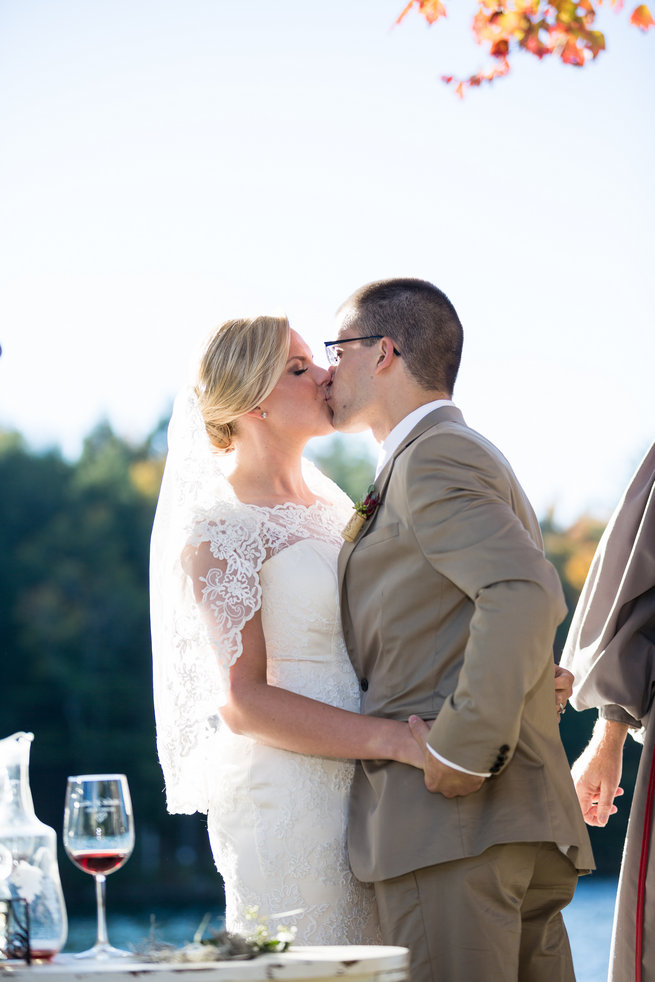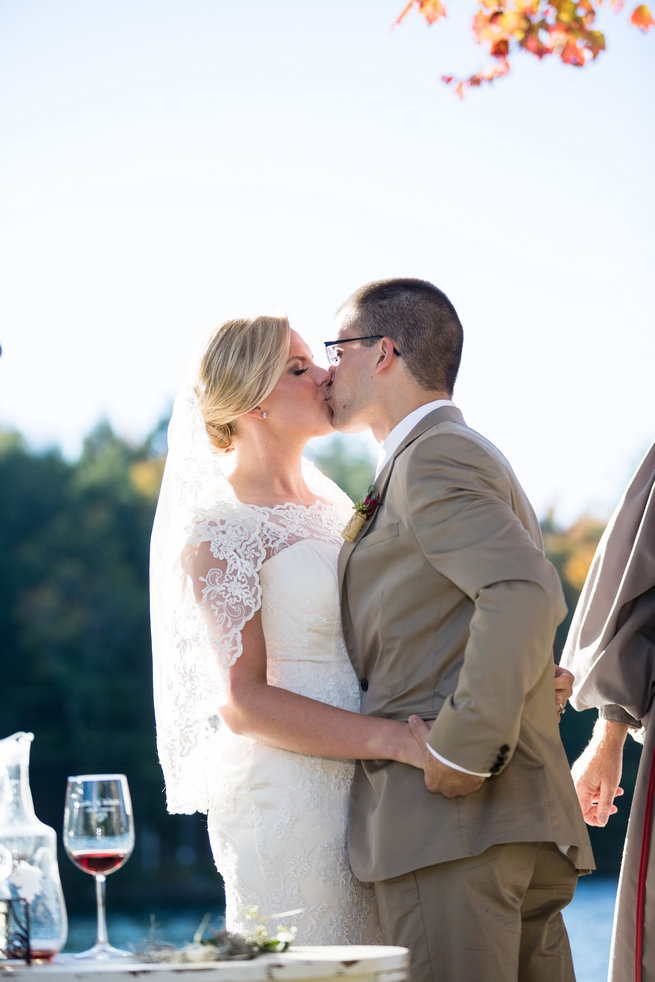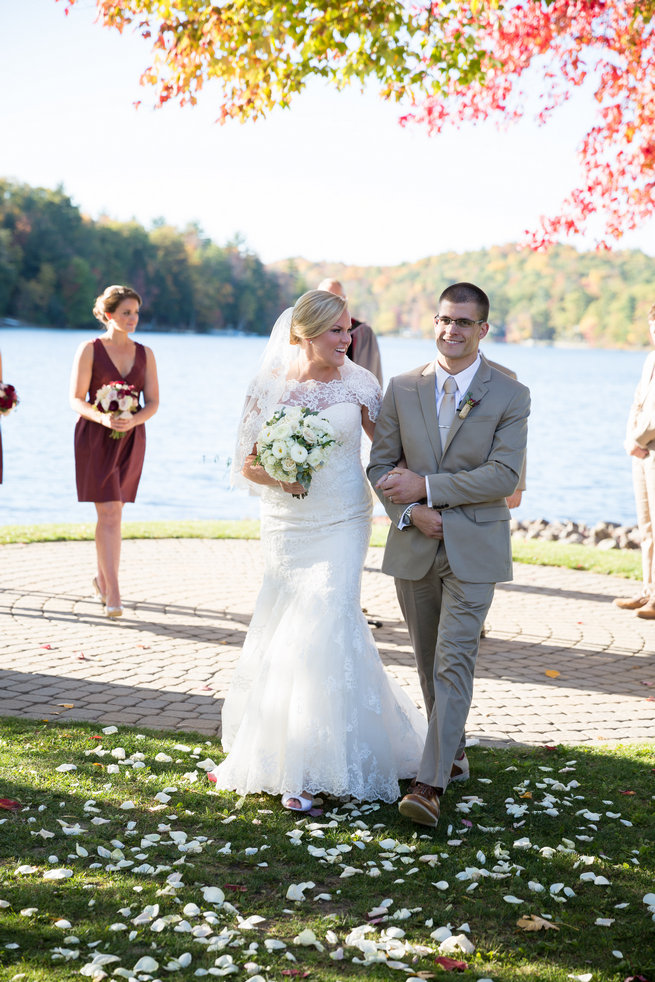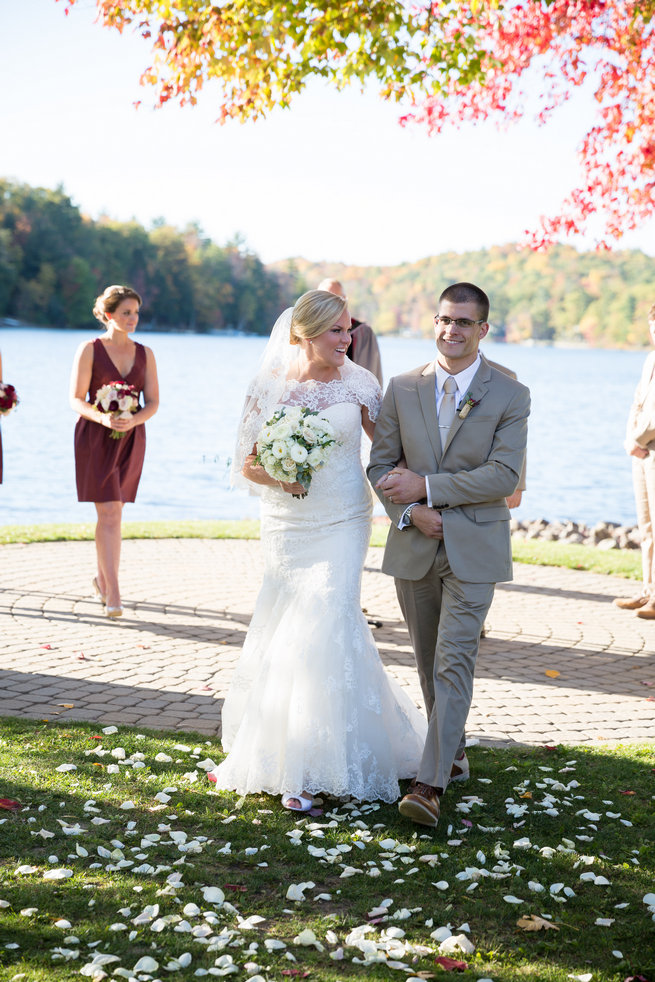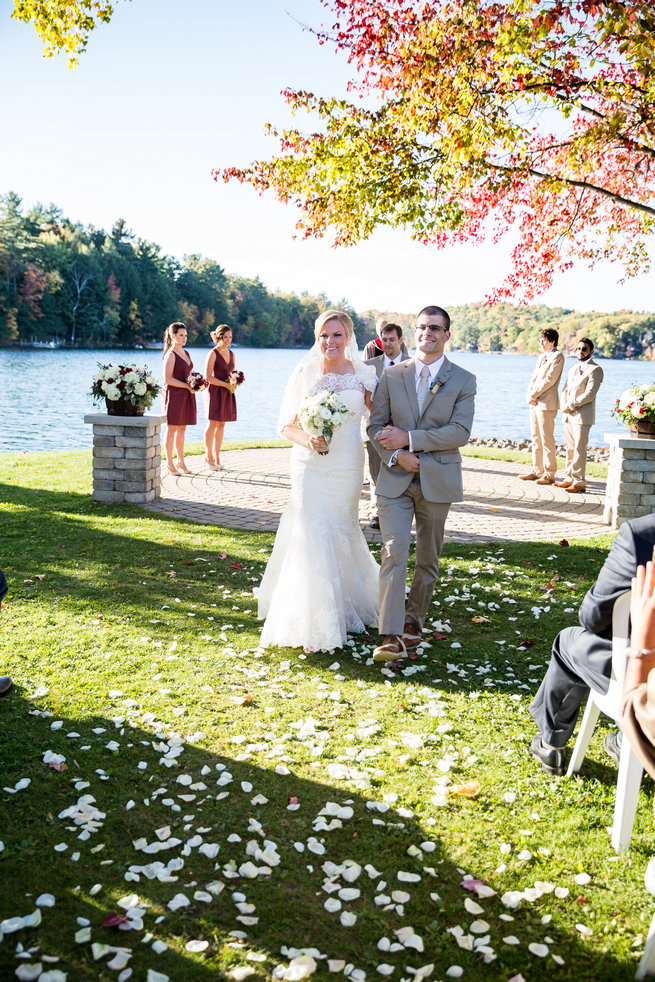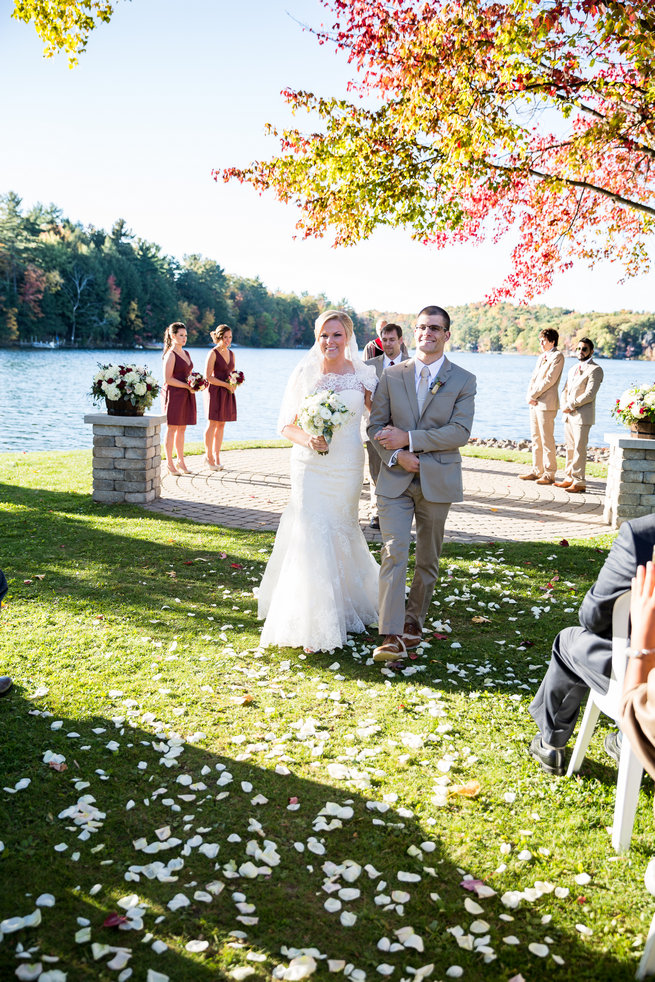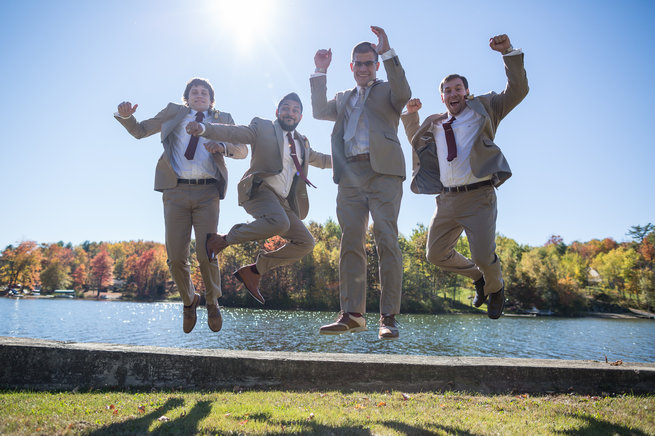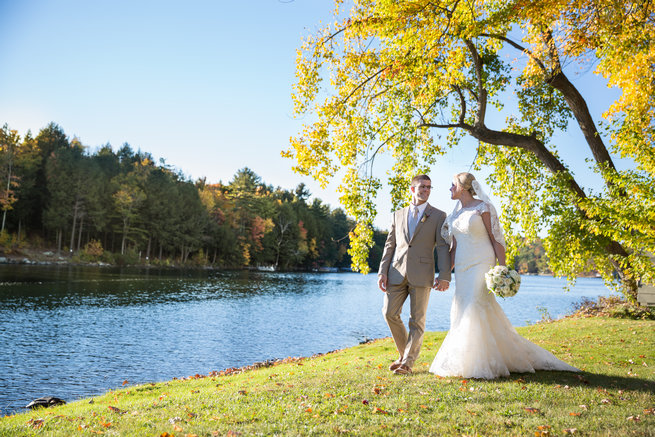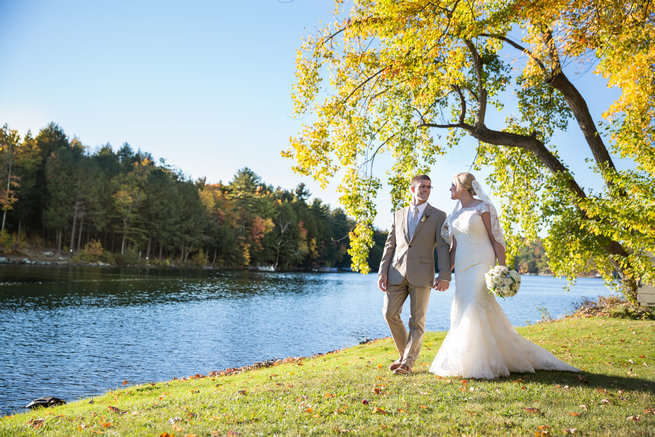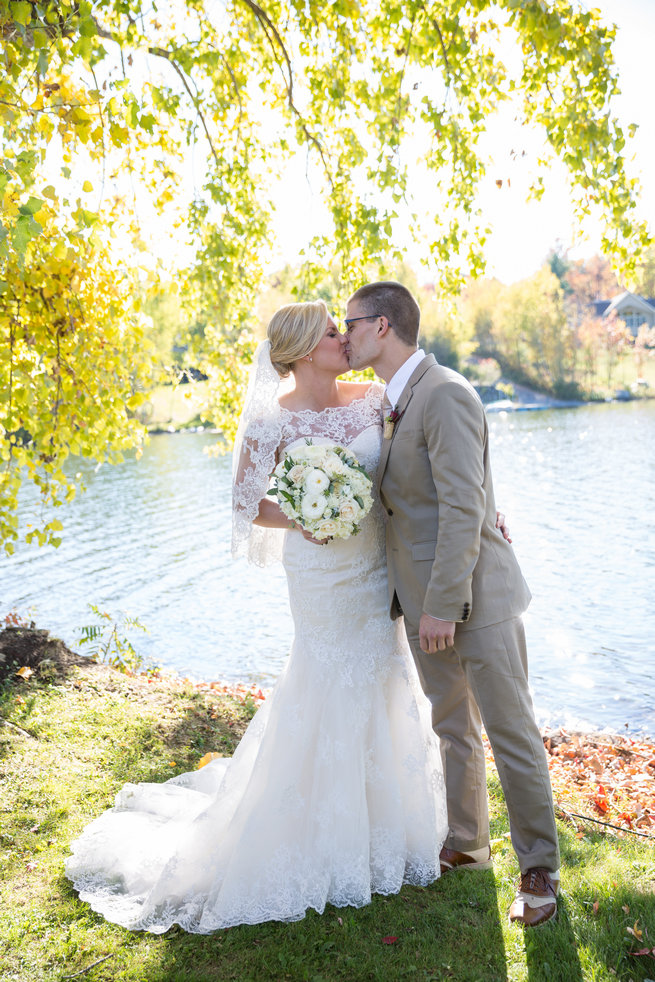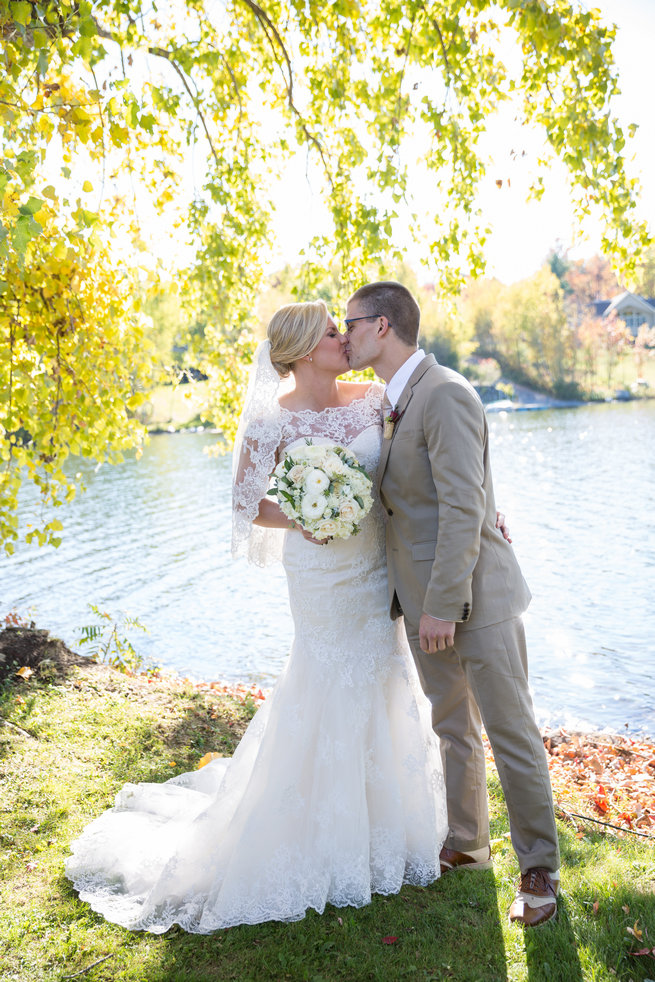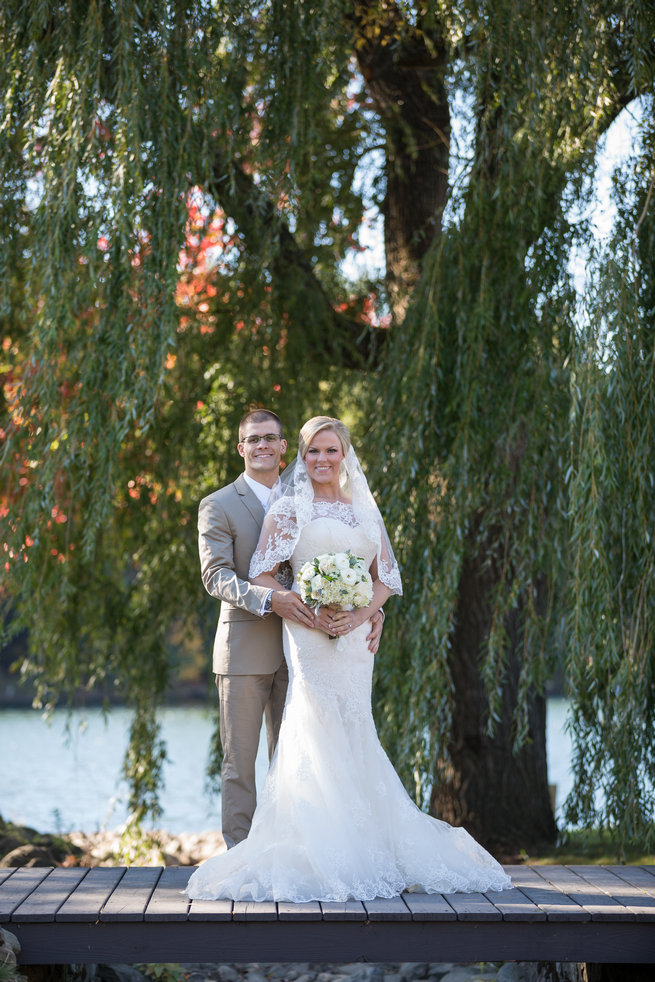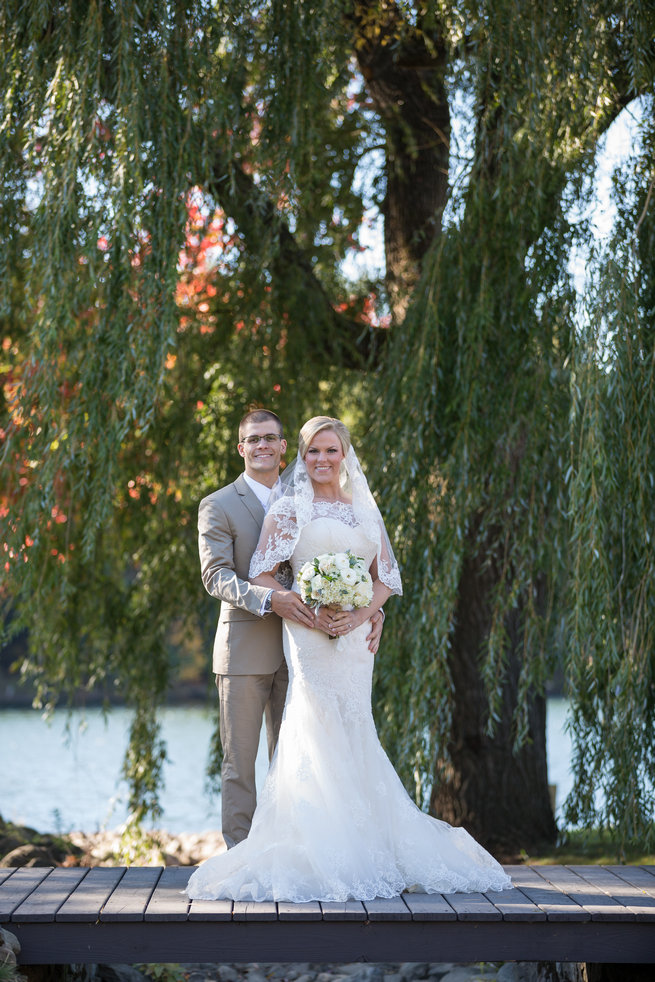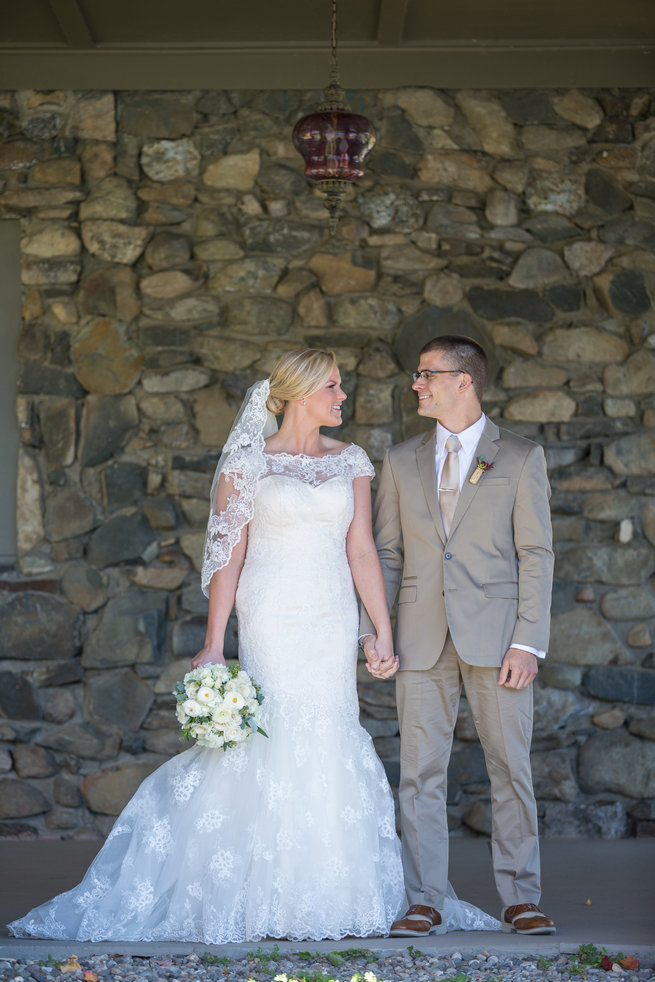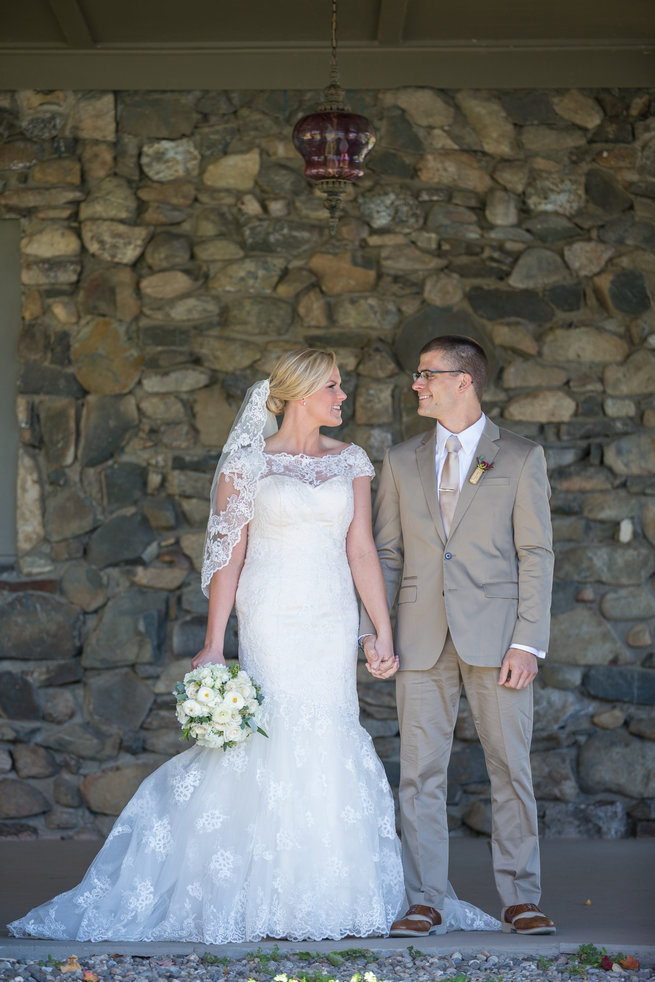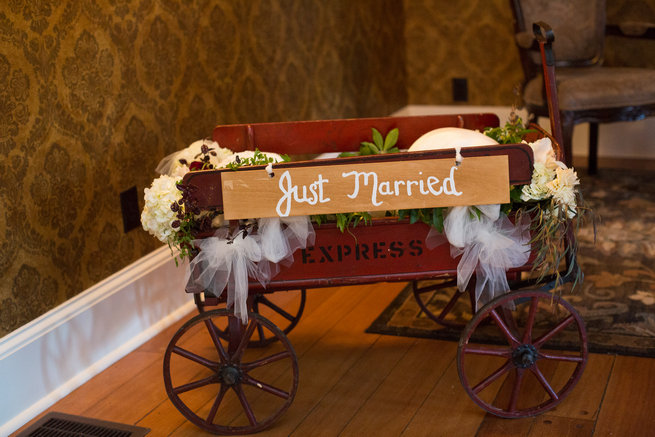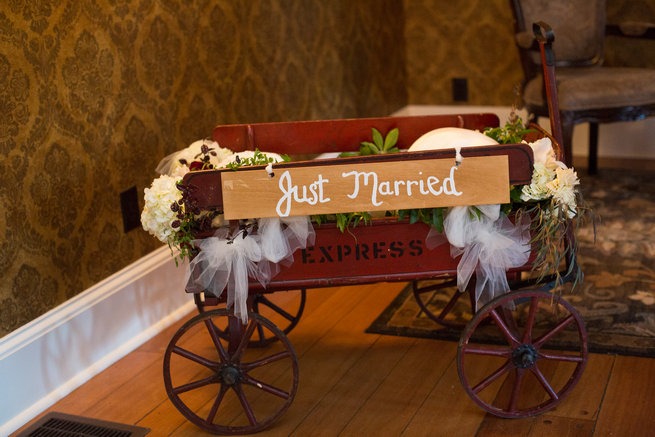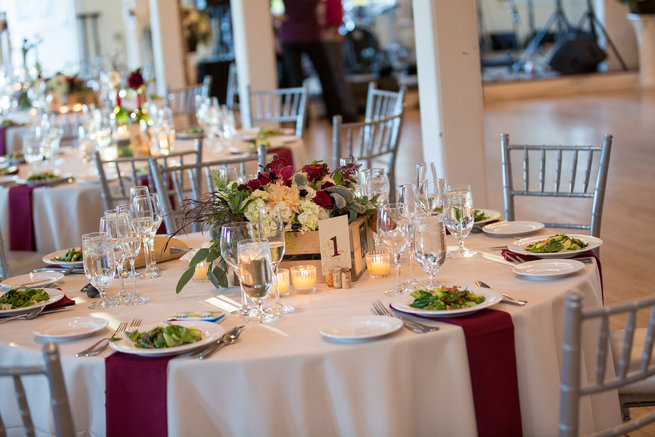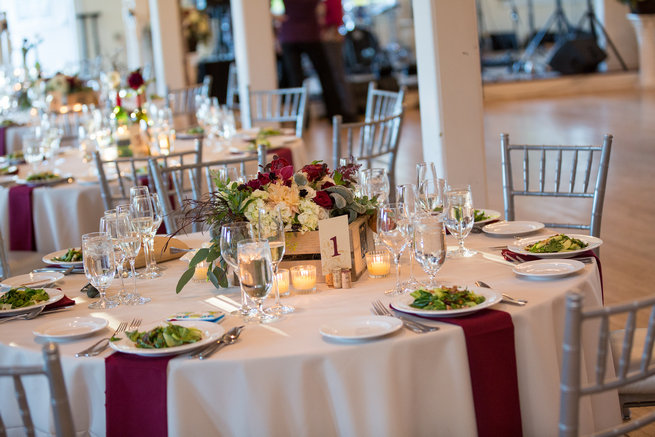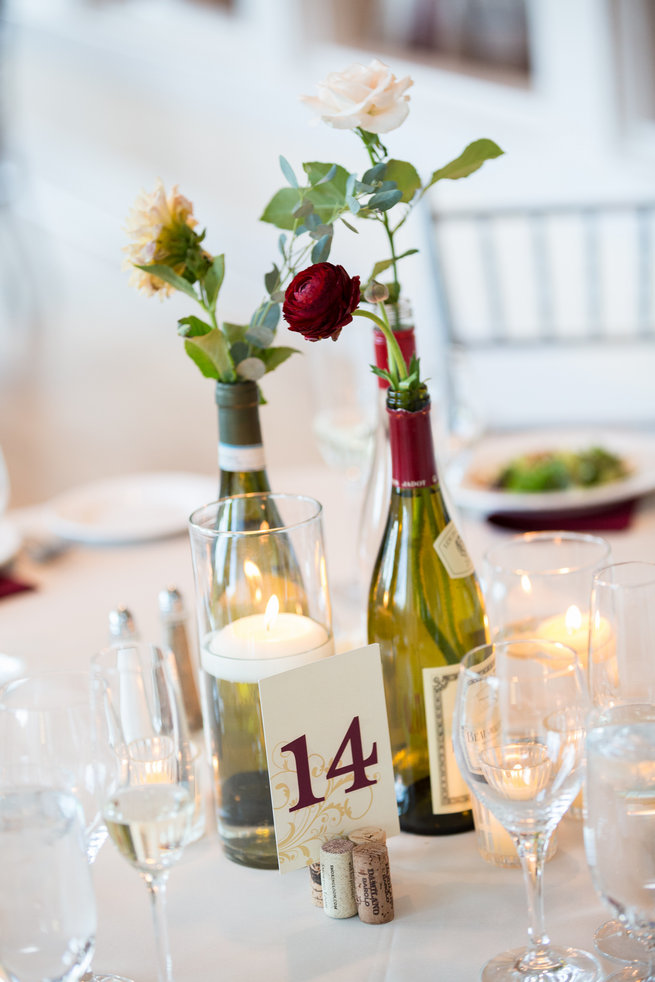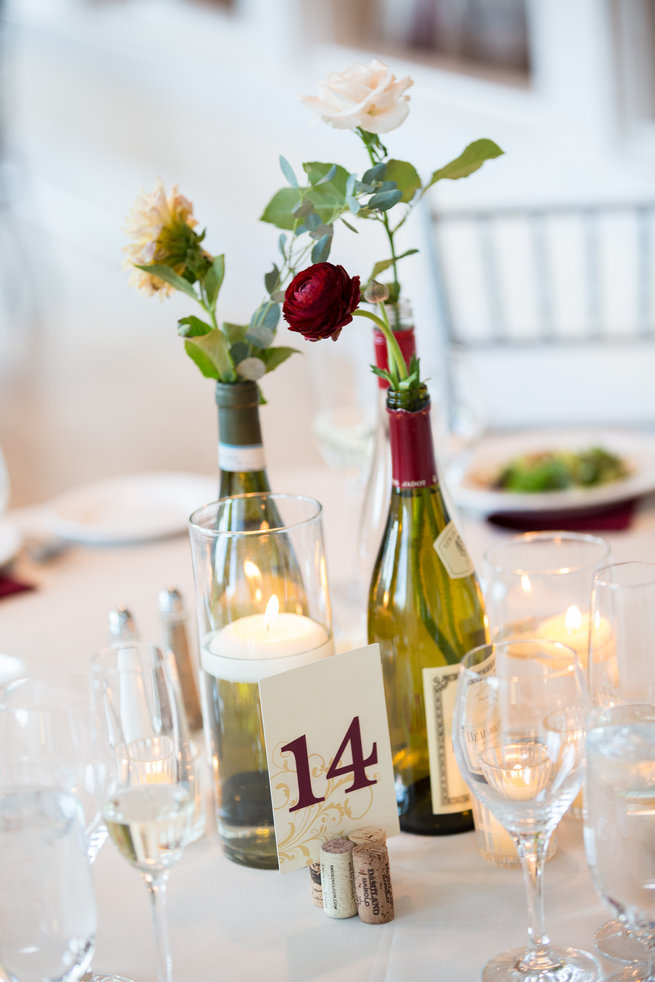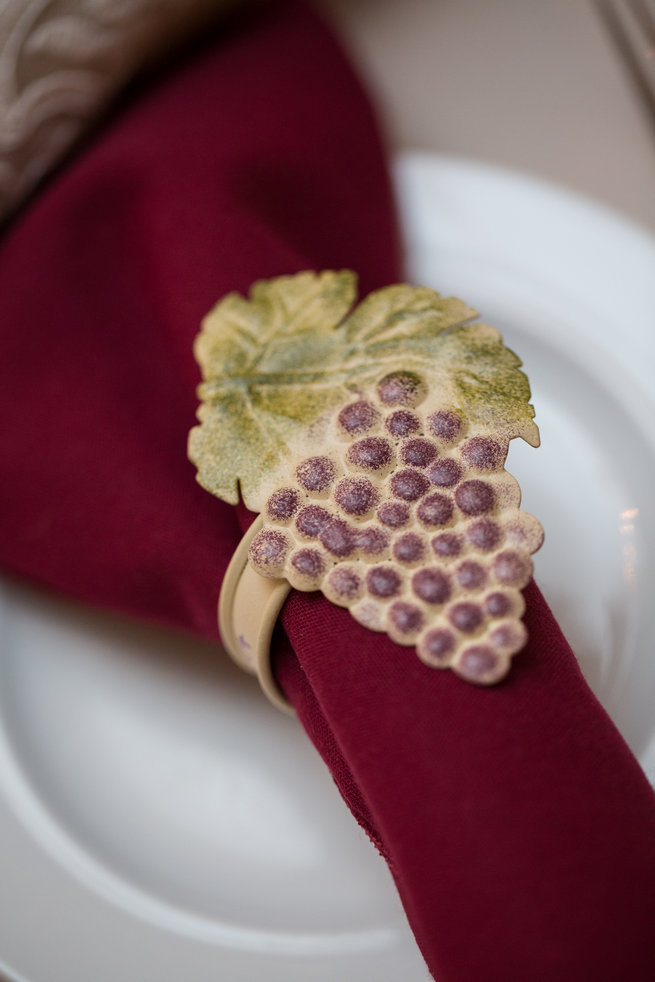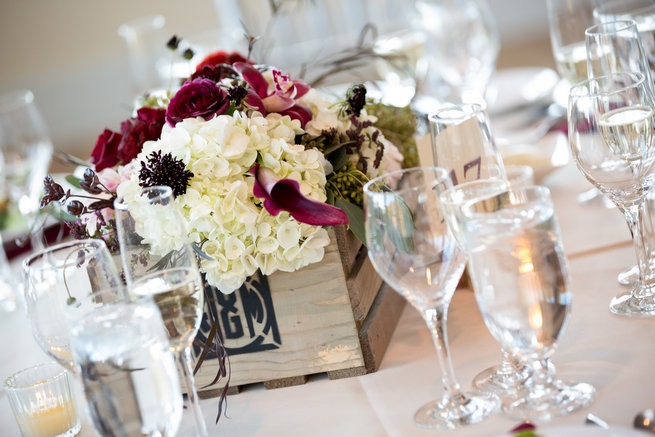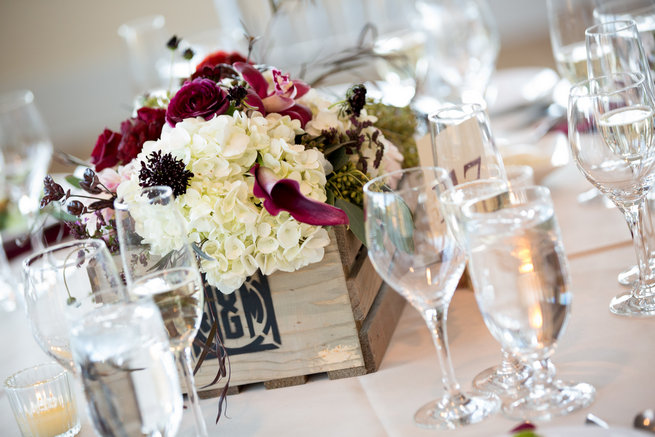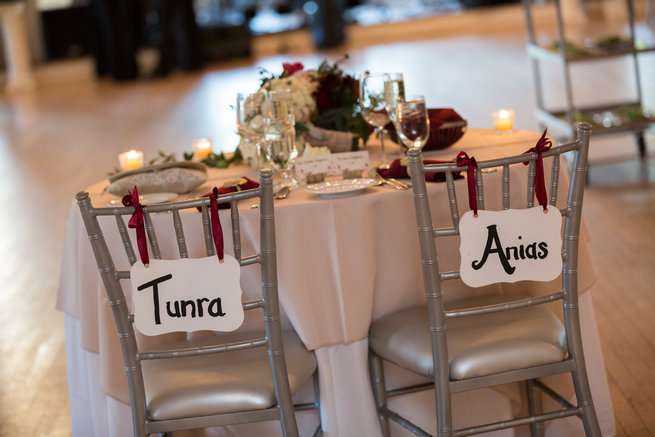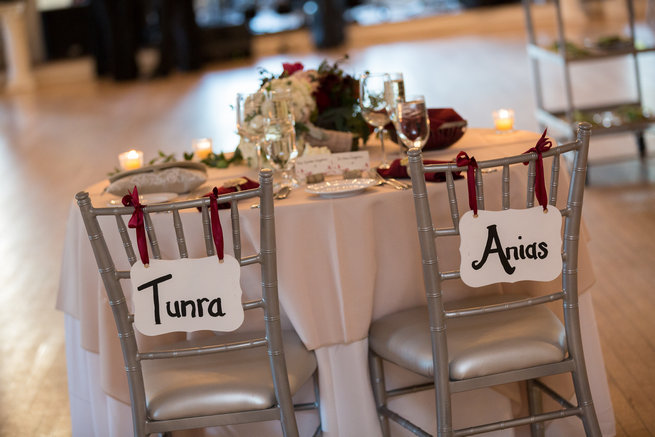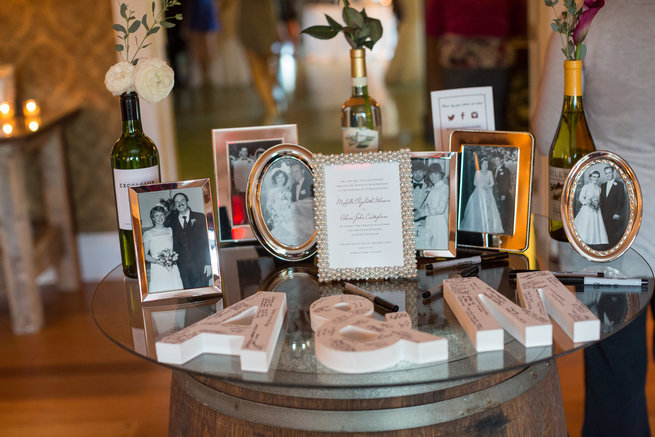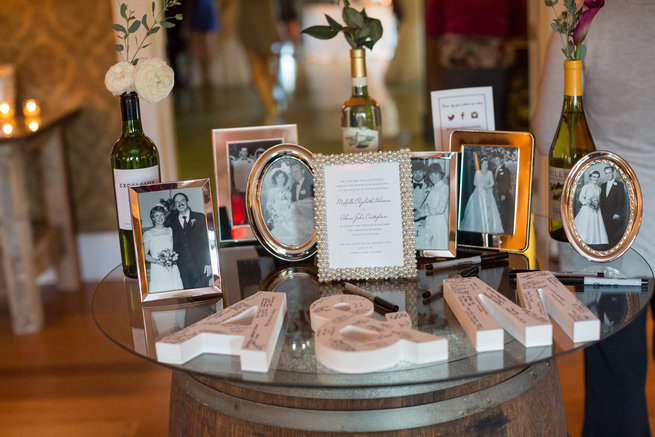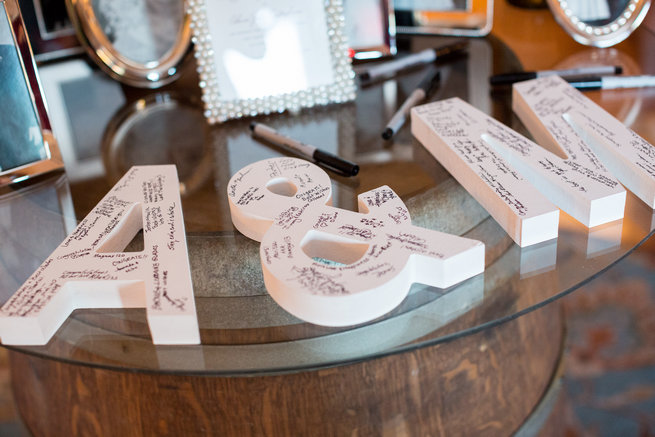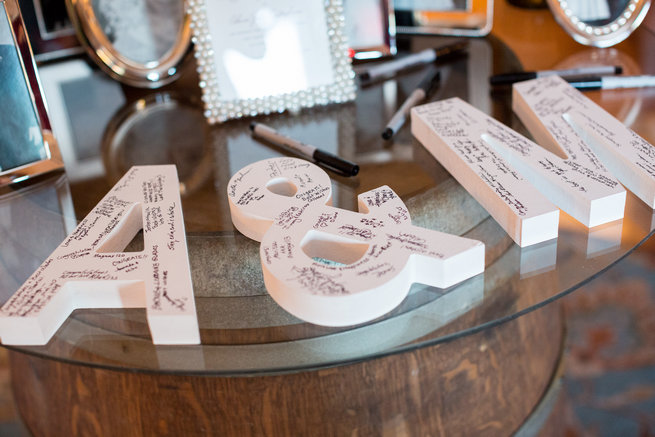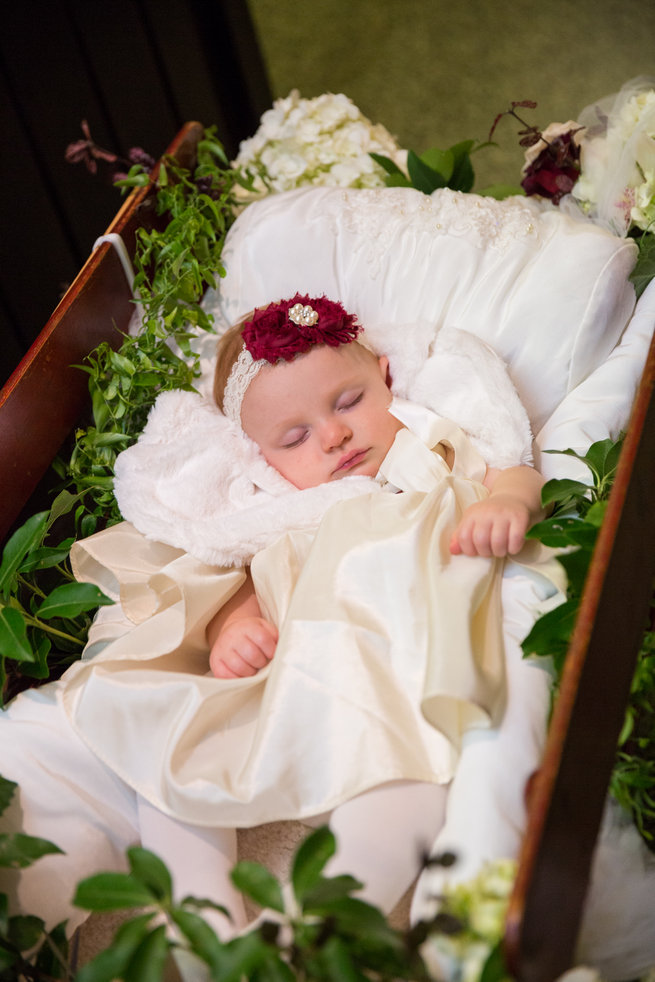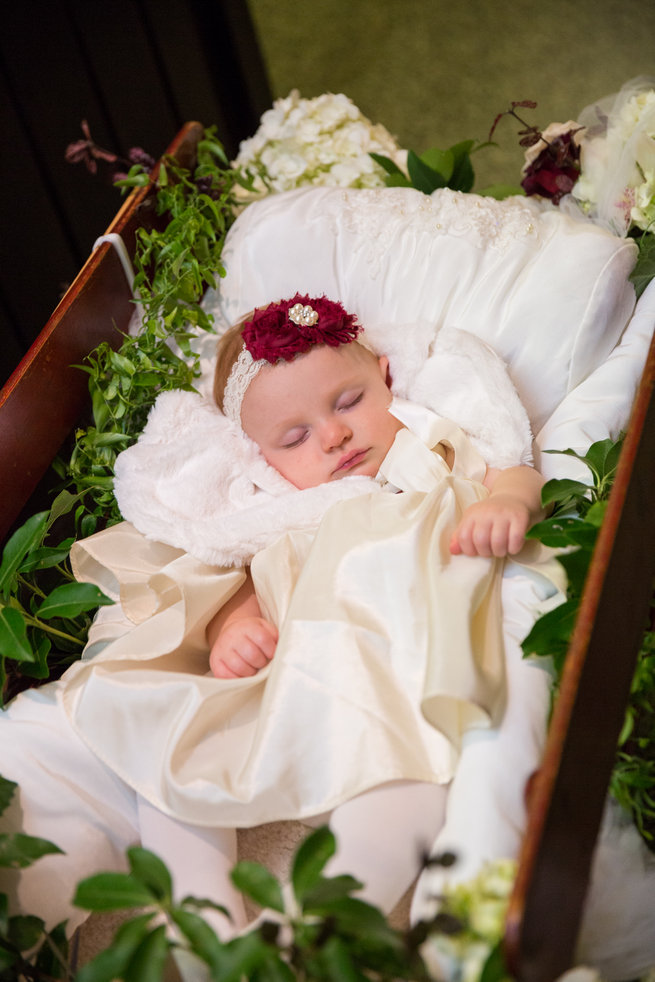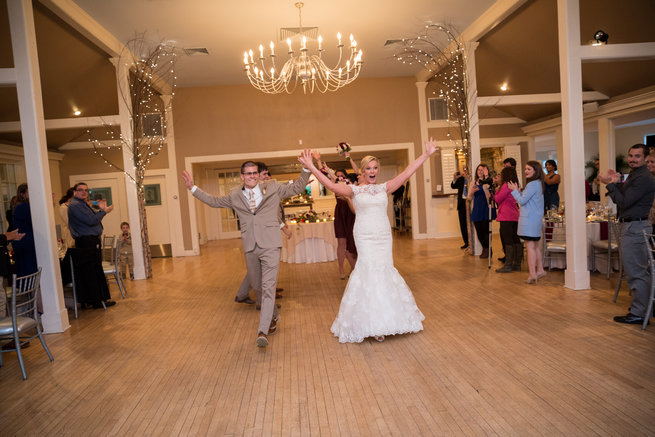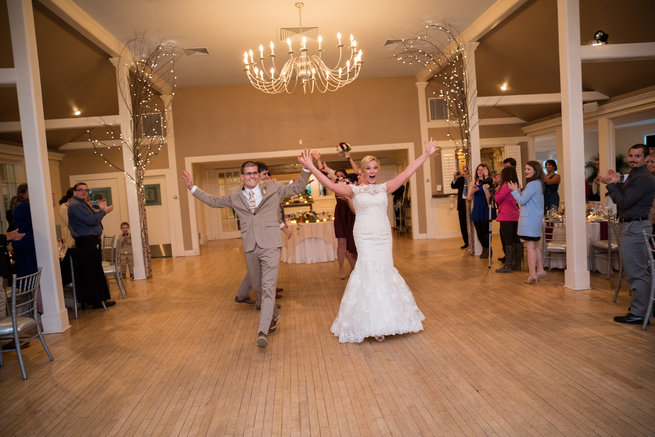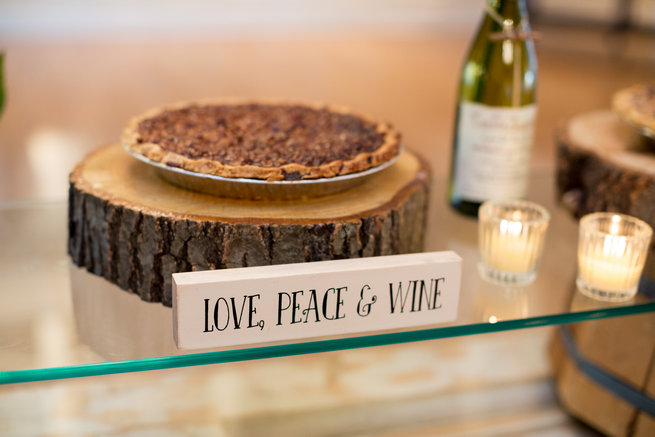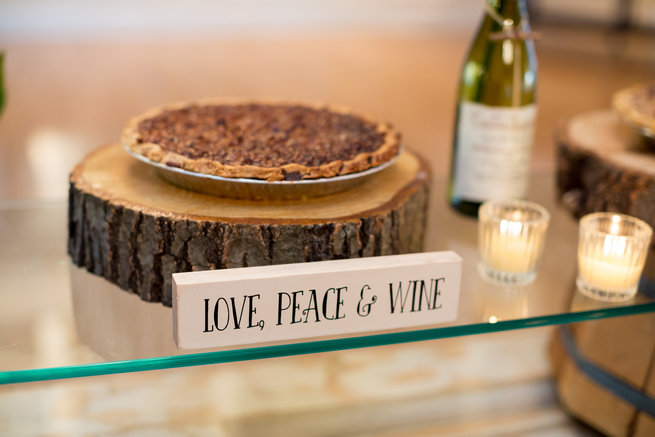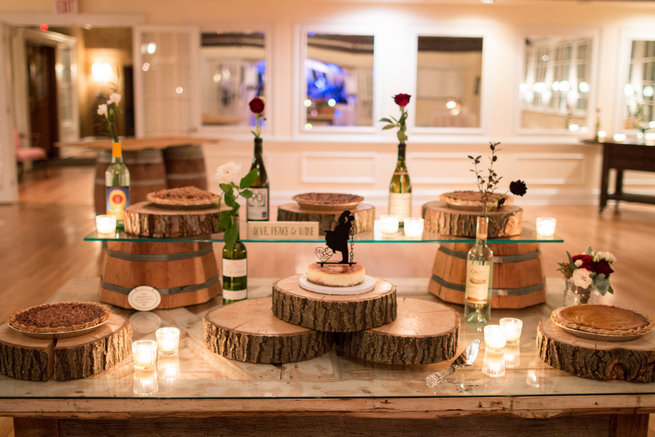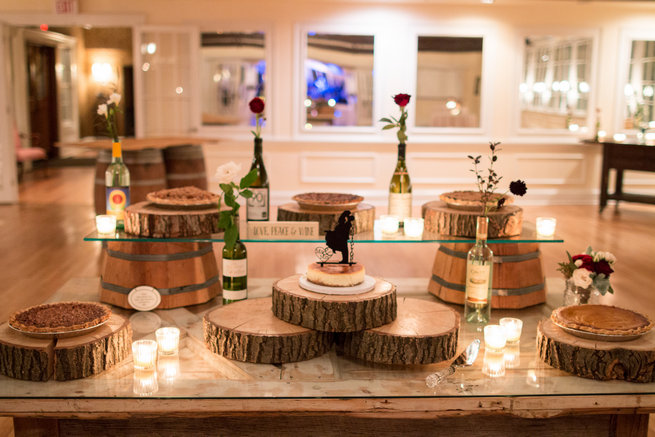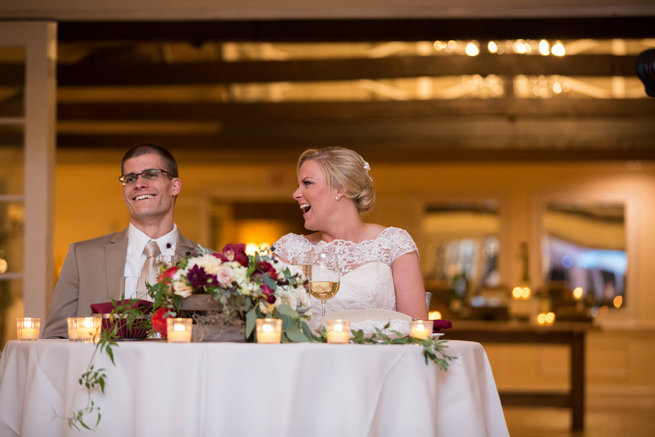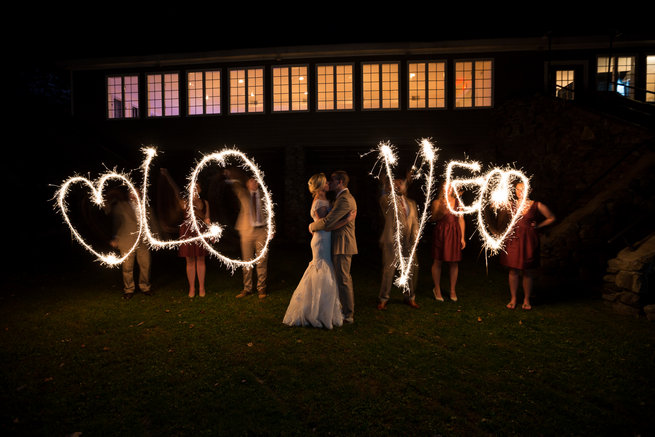 Burgundy & Tan Wine Lover's Wedding
Love Story: Michelle was working as a Registered Nurse in Newport, RI and went on a date with a nice guy her age. The date seemed to have gone well, but ended without any "spark." The young man and Michelle parted ways to their separate cars and waved goodbye. To Michelle, this seemed odd. She called a childhood friend for advice and to share her date details. This friend said she had a male friend over who might be able to give her insight. Adam, the groom, was that male friend. He patiently heard all of the date's details and stated he thought the other guy was interested in Michelle but that she'd be better off if she dated him (Adam referring to himself) instead. Michelle was caught offguard by such a bold statement. Adam and Michelle spoke for HOURS and kept in touch. Adam followed up with Michelle a few days later to see if the other young man asked her out again and while they were talking, that young man did contact Michelle, but she was too interested in Adam to even notice the phone ring. Adam and Michelle used Skype, texting, and phone calls until they met in person a month later. Adam was in grad school at the time. Though the first phone call seemed like an instant connection, they really knew that they had found "the one" when they met in person a month later and have been together ever since. Their dating relationship was mostly long-distance and even through Adam's clinicals in 3 different states. Michelle moved to Adam's hometown in NY and got her own apartment and established herself as Adam graduated and started working as well. Soon Adam proposed at a local pumpkin patch/apple orchard overlooking the fall foliage and they wed a year later.
Wedding Dress: I had my custom made, a boat-neck lace dress with a fitted fit-n-flare bodice.  I find lace to be absolutely timeless and stunning and I love boat-necklines and cap sleeves. My mother-in-law purchased the exact lace when they were making the dress and custom made the veil to match. The overall timeframe from design to finish was approximately 9 months. I had the dress fitted to perfection by my childhood seamstress family friend. She has fitted every formal dress I've ever worn, including all high school proms!
Hair and Make Up: I wanted to look like me, but a glamorous version. I had airbrush makeup because I swear by it for all weddings/formal occasions. My hair was inspired by a timeless, natural updo and done by my hairdresser in Rhode Island who drove 4 hours to do my wedding day hair. We'd been talking about my dream wedding for years, she had to be the one to do my hair and she was of course, invited to the wedding!
Floral Design: Poppy Tree Florals, our floral artist, was amazing. I told her colors and that I liked soft greens and VOILA the most amazing wedding flowers I could ever imagine! My goal was to have refreshing scents by including herbs: rosemary, sage, eucalyptus, etc. and still have flowers that reflected the autumn season.
Groom Styling: The groom wore a fitted tan Express suit with champagne tie. His Citizen watch was given to him by the bride for their wedding day and had a personalized engraving. The groom also designed his wedding band himself.
Bridal Party Styling: Each bridesmaid chose their own hairstyle and wore nude heels of their choosing. The v-neck J Crew knee-length garnet bridesmaid dresses were a satin-cotton blend with pockets. Their bouquets were a burgundy-autumn blend. The groomsmen wore tan Express suits with burgundy ties and burgundy socks.
Wedding Ceremony:  I walked down the aisle to Canon in D to live acoustic guitar. We had a wine-blending ceremony instead of a unity candle. We blended a red and white wine and drank from the blend to reflect the various aspects we bring to our relationship. A small amount remained separate of both the red and white wine to reflect our individuality as well. The ceremony song during the wine ceremony was When I Say I DO by Matthew West sung by Silver Arrow Band. This song reflects Michelle and Adam's Christian faith, but is also romantic and subtle. The ceremony area was minimally decorated with two floral pieces on stone pillars and scattered flower petals down the aisle. The ceremony was officiated by Rev. Stanley White of Preston, CT who drove 3 hours for the wedding. Rev. Stan performed Michelle's Baptism, 1st Communion, and Confirmation. It's a very unique experience to have the same minister perform all of these ceremonies.
Wedding Readings: My brother read a poem written by our grandmother which was not only beautiful but extremely meaningful as Adam and Michelle purchased a home at the same time as their wedding (within a few weeks). Michelle's grandmother passed away a few years ago and never was able to meet Adam. It was so special to feel her presence when Will (bride's brother) read this poem. Her grandmother's book of poetry is one of the items her grandmother left to Michelle when she died. Michelle's father (the son of said grandmother) had no idea this was going to be read and it was an emotional, special moment during the ceremony. The poem was written in 1941.
Wedding Ceremony Details: Each and every centerpiece was unique at the reeception. Adam and Michelle collected wine bottles for months prior to the wedding and the other centerpieces were crates that were painted and designed by the bride and groom. The crates were brand new and were aged with vinegar and brillo pads. The logo was designed by the groom's sister using the bride and groom's initials. Their goal image was to reflect wine crates. Cork stands with their instagram #cheersadamichelle were scattered as well as quotes, photoframes, and personal touches. Michelle had provided vases for the bridesmaid's bouquets to display on the pie dessert table. there were personal signs everywhere throughout the ceremony, cocktail hour, and reception. Adam made the placecard tabletop himself and all of the corks for placecards were cut and made by the bride and groom to reflect their wine and cheese theme. The bride even made the wreaths that hung on the door of the venue!
Advice for Brides:
Truthfully, the biggest lesson I learned was to let go. I had to trust the vendors to do their job. I also learned that nothing is perfect. Our seating chart was meticulous but somehow two tables were reversed. The wreaths I made were hung upside down. The groom's boutenierre was burgundy instead of white. Contracts and wedding planners hold all the details, but everyone is human. The truth is the point of the day is marrying the love of your life. We loved every minute of our wedding. We danced the night away and tried not to get caught up in details or drama.
We did a first look (which I would recommend to everyone) so we got many photos done prior to the ceremony. There are many reasons we did that but it's so worth it because we could even enjoy our cocktail hour!
If you can do it yourself, do it. We made all our own placecards, programs, gift bags, etc. We made it a fun activity and never dreaded it. We saved a ton on those small things that add up and were able to put that money toward "splurge" items.
We researched everything we did to know when we were getting a good deal and we had a budget from the start-a realistic one, not a daydream one. We had a list of priorities and had to compromise with each other. It's a lot of work, but so fun and we'd do it all over again!
♥ ♥ ♥  WEDDING VENDORS  ♥ ♥ ♥
Venue Old Daley Inn on Crooked Lake Averill Park, NY // Photographer Photographics Solution (now Molinski Photo) // Dress Casablanca custom dress at Bridal Cottage Kingston, NY // Brides Hair RaNew Salon Newport, RI // Brides Make-up La Tua Bella Beauty Bar Rhinebeck, NY // Flowers PoppyTree Florals Averill Park, NY // Cake Make Me a Cake Next Door // Music Silver Arrow Band  // Favors Favors Unlimited  // Stationery Magnet Street online // Bridesmaid Dresses J Crew // Wedding Planner Every Little Details Red Hook, NY // Shoes Cinderella Shoes online // Suits Express // ActionPhotoBooth was an incredible photobooth rental