What's the difference between a venue coordinator & wedding planner?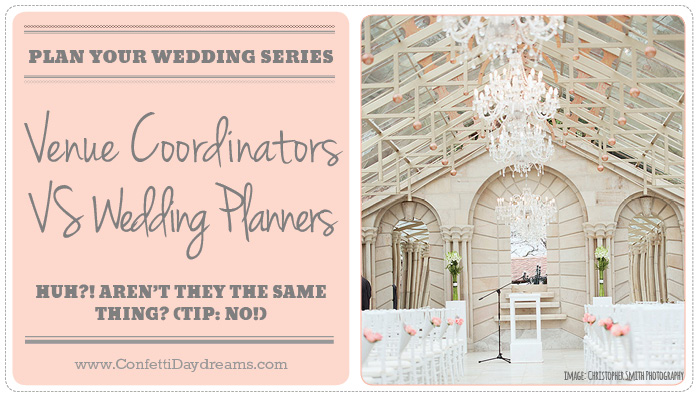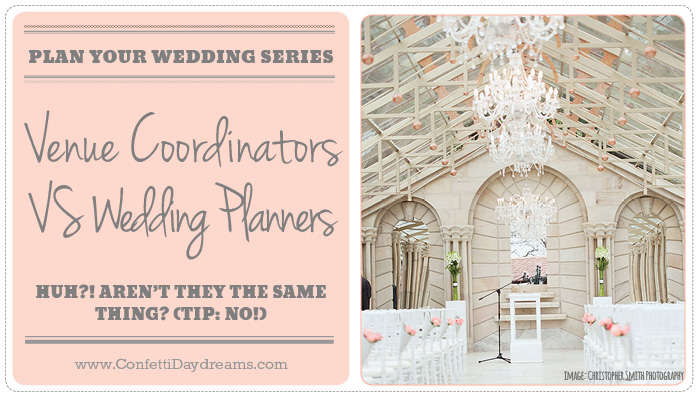 Understanding the difference between a wedding venue coordinator and a wedding coordinator (or wedding planner) can help you avoid a lot of unnecessary frustration. Because the names of the two roles sound very similar, you'll be forgiven for assuming that they perform the same function. It's an easy mistake to make. And a common one, too. In fact, many brides mistakenly think that if their wedding venue offers a free on site co-ordinator, they don't need the services of wedding coordinator at all. You might be tempted to do the same, especially to save on costs. But there's a good chance that you could end up frustrated and stressed out on your wedding day when the venue coordinator fails to "perform".
In short, the venue coordinator is coordinating between yourself and the venue staff only.  Unfortunately it is often mistakenly assumed that the poor venue coordinator is going to help set up your decor, liase between your third-party vendors and act as a general overseer on the day. When this doesn't happen, the coordinator ends up getting a bad rap, being blamed for not performing duties that were actually not part of her responsibilities at all. And the bride spends her wedding day freaking out because nothing is happening as it "should". Sadly, it happens.
But how does this happen? Maybe you hear the venue coordinator say: "Of course I'll be there to assist on the day should you need anything." But what you think she means is: "I will plan and take full ownership of making sure that each and every detail falls perfectly into place for your wedding day, and will take responsibility for all third party vendors too." Although your venue coordinator will offer her assistance with emergencies should you need it, that is quite a different thing from taking responsibility for the running of the entire wedding. This is commonly misunderstood and can be quite confusing for you when you mistakenly and innocently infer additional responsibility over and above what is explicitly stated in the contract.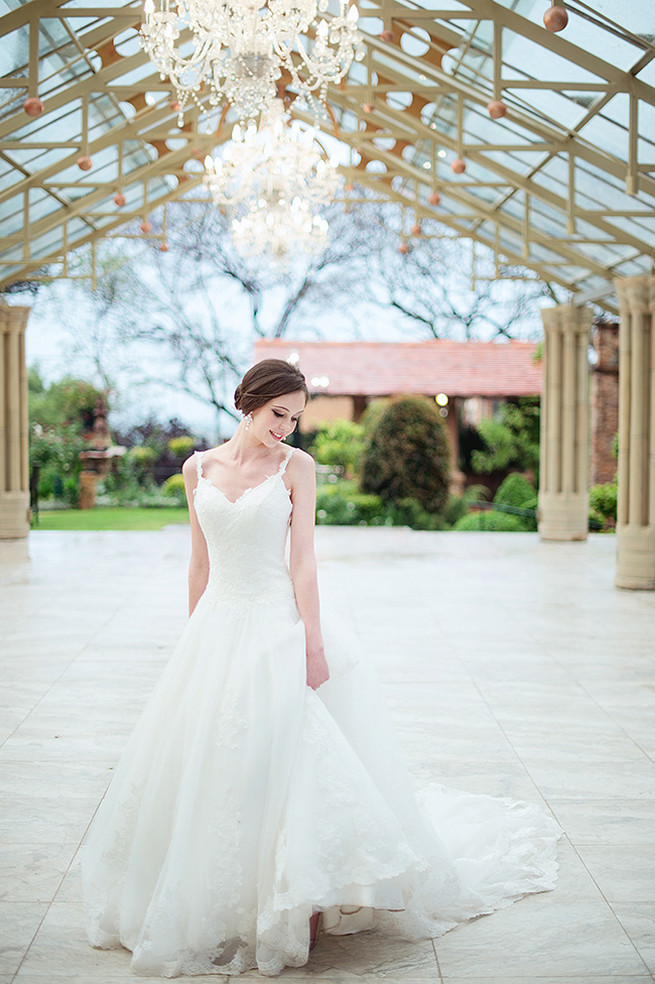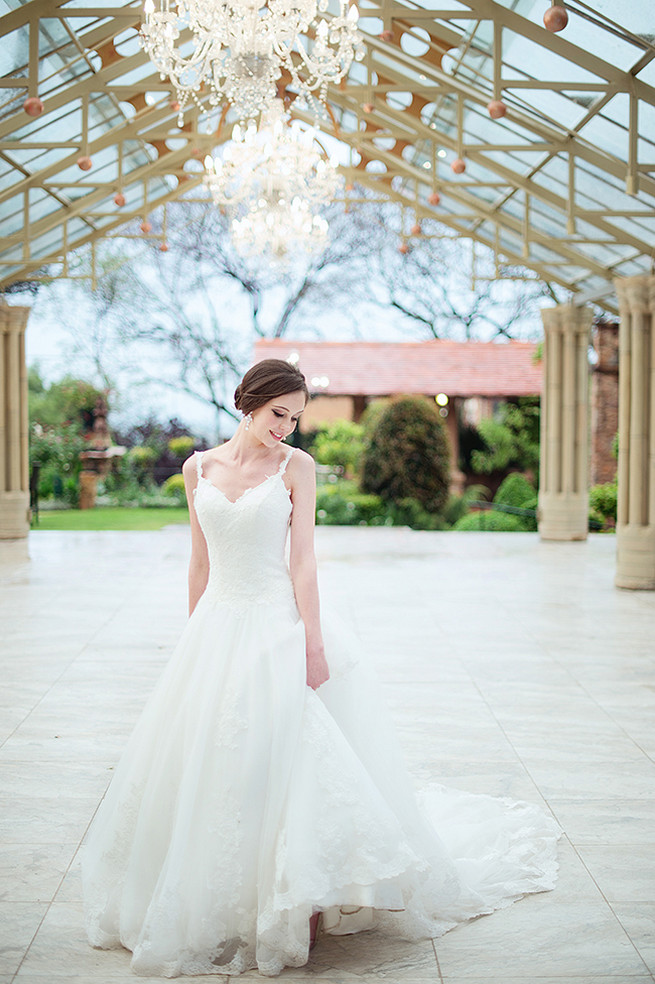 Image: Christopher Smith Photography
What a wedding venue coordinator does:
Here's what you can expect from your venue coordinator in most cases:
Your venue coordinator essentially works for the venue. He or she is there to be the point of contact between the bride and the venue staff. She is there to make sure that basic venue facilities, as agreed upon explicitly and contractually, are available to you and your guests. This could include the parts of the venue being hired for your wedding, the overnight rooms you booked for yourself and your guests, catering (if part of the venue package) and basic reception room set up (ONLY if tables and chairs are included in the venue package). 
Your venue coordinator might be working on multiple weddings that day. A super important fact to bear in mind is that if you are getting married at a venue that hosts multiple weddings over a weekend, or even multiple weddings in a day, the venue coordinator is not going to be focused solely on you until all other weddings at the venue have ended. That means that if you're having an evening reception at a venue which is hosting a morning wedding too, your venue coordinator is going to be on-site overseeing the first morning wedding until its reception ends, possibly mid-afternoon. He or she will likely NOT be available for questions or assistance until then, and you might become super stressed wondering why your decor has not yet been unpacked or, even worse still, when the morning wedding is vacating the ballroom you booked so that you can access it!
Your venue coordinator is there to protect the interests of the venue and honor your contact. This includes making sure you receive all the above-mentioned deliverables according to your agreement, and that you, in turn, adhere to the contract guidelines too. If the venue is also the caterer and bar provider, the venue co-ordinator will be there to make sure that the food is served at the time agreed upon in your contract, and that any pre-arranged drinks limit is not exceeded at the bar.
They also make sure that no outside suppliers or vendors break the venue's rules. They look at where,  how and when these vendors may set up additional lighting, where they may or may not hang drapery or suspended decor, make sure that anything attached to ceilings or the building's exterior causes no damage, and ensure that the parameters of any additional outdoor dancefloors, bars, marquee tents, or scaffolding being sourced externally by yourself meet the venues requirements, causing no damage to the property.  They are there to make sure that the DJ's soundsystem is set at an acceptable level, but not to make sure that the correct playlist is adhered to.
They are not there to co-ordinate between your florist and your lighting people to ensure that any approved lighting is set according to your requirements, or to double check that the peony arrangements on the table are in rose gold vases instead of blush.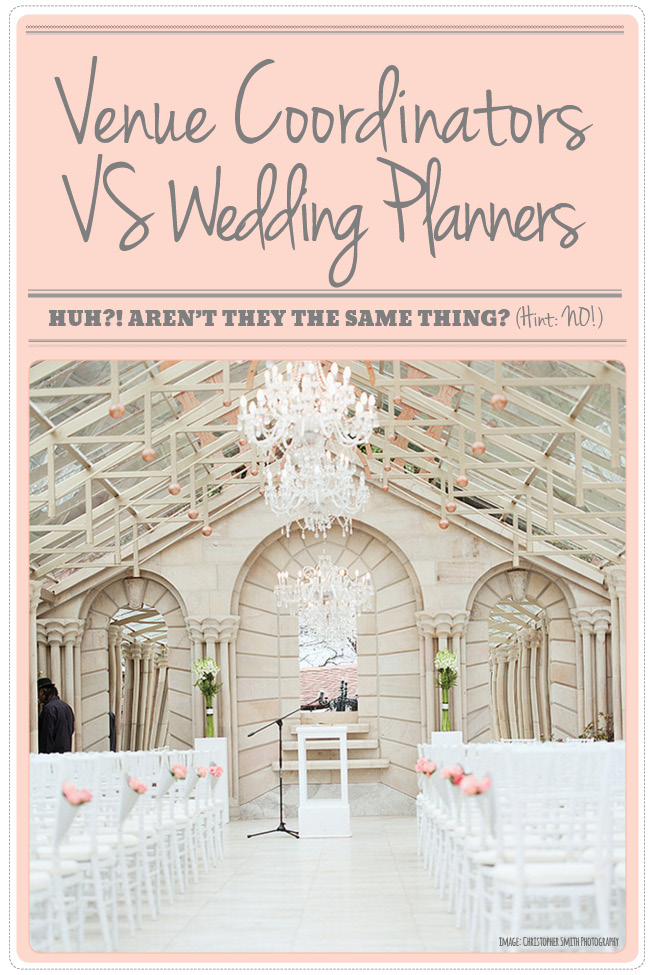 Image: Christopher Smith Photography as seen here
What a wedding venue coordinator does not do:
These are the things that your venue coordinator is most likely not going to oversee:
The venue coordinator is not going to set up your wedding decor. They might make a room available for you to store your decor, but they're not going to make your tables look beautiful or add your ruffled chair covers or even place the cute favors you painstakingly decided upon at each place setting. They're not going to be responsible for anything other than making sure the actual tables, chairs and dinnerware are set. They're not going to set up your flowers, name cards, or even place your table numbers on the tables. This would be the job of a wedding planner to oversee, or something you would need to take care of personally. (DO YOU EVEN NEED A WEDDING PLANNER AT ALL??)
The venue coordinator is not going to oversee that outside vendors do their job. Even though you might have shared your color scheme and flower choices with your venue coordinator, they are not going to check that the tablecloths you arranged with a third party hiring company are the correct fabric or shade upon arrival. They are not going to make sure that bouquets you ordered are the correct size or contain the correct flowers. They are not going to make sure that the DJ plays the requested song as you enter the reception hall, or that the DJ even arrives on time at all. All of these functions would be overseen by a wedding planner who has been working with you, or by yourself.
The venue coordinator is not going to assist you with your dress fittings, hair, make-up selection and bridesmaids attire. Dress fittings, sourcing of bridesmaid dresses and fabrics, coordination of accessories, and the finding of a professional, talented hair and make-up artist all fall way outside the realm of a venue coordinator's responsibilities. If you want guidance and help in this area, you'll absolutely need a wedding planner. Possibly even a wedding stylist, if you're feeling extra fancy! Of course, you could also totally handle this yourself, if you have the time to research, plan and interview vendors. The important thing is that you at least know what you're getting and aren't surprised when you realize that your coordinator isn't going to be there for these parts.
The venue coordinator is not going to make sure that your carefully plotted wedding timeline is adhered to. With the exception of deliverables that the venue is explicitly providing, such as serving of meals and access to the agreed upon areas, the venue coordinator is not obligated to make sure that things are happening smoothly and according to schedule. Is hair and make-up taking longer than expected? Are one of the bridesmaids missing in action looking for the flower girl who's mom is late? Is the ceremony decor set-up running way behind schedule? Are the first look photographs taking too long? Here a wedding planner is pretty much a life saver, acting as a behind the scenes director, making sure that all the players know their parts, and that they are on cue, too. If you have a super organized Maid of Honor, she could step in here too, however she might not have the experience and you might want her by your side during these precious moments instead of running around trying to fix things all day.
The venue coordinator is not going to help with unforseen issues that arise on the day. Did the lace of your gown get caught in the zipper and tear? Has a relative had too much champagne, making a scene at the reception? Did you remember to bring your bouquet to the reception hall for the bouquet toss? Is your maid of honor feeling ill? Is the DJ playing an explicit rap song that you forgot to have excluded from the playlist? There are so many things that are non-venue related that can go wrong. Having a wedding planner there by your side can help take the stress out of these moments if you need them to. Of course, in the bigger scheme of things, these events generally turn out to be some of the funniest memories of the day, and as long as you and your fiancee both wind up married at the end of it all, you're okay. Mission accomplished!
TAKE OUR WEDDING VENUE QUIZ AND DISCOVER YOUR VENUE STYLE.
Wedding Venue Coordinator Checklist:
DOES
Show you around the venue
Arrange menu tastings if the venue provides catering
Act as point of call between yourself and the venue staff
Ensure basic setup of tables and chairs is fulfilled if included in contract
Ensure on-site food and drinks are served correctly and as agreed, if catering is included in contract
Ensure there is no damage to the venues property by yourself or third party vendors you bring in
DOES NOT
Does not set up third party decor.
Does not set up third party dessert stands or cake stands.
Does not stay till end of wedding reception. Leaves after meals have been served.
May not be available the entire day, if overseeing multiple weddings that weekend
Does not liase between your third party vendors to ensure that things run smoothly
Does not manage your wedding day timeline (getting ready, photographs, timely decor set up, etc)
Of course each situation and venue offering will be unique, so you'll absolutely need to have a very detailed conversation with your vendors to determine what will be handled by whom. By making sure you're familiar with the general responsibilities of an onsite wedding venue coordinator VS a wedding planner,  you can avoid quite a bit of frustration and unmet expectations, and be in a position to have an informed discussion with your vendors. While having a wedding planner is not a must for every bride out there, understanding what to expect if you did want the full wedding planning service is super important to ensure you get what you're hoping for!
If you're planning your wedding and trying to figure out where to start, make sure you read our entire wedding planning series from start to finish! The series includes advice on how to select your wedding photographer, tips for planning your engagement party, how to choose your bridesmaids, advice on setting your wedding guest list and more. Plus, if you're looking for some really cute and fun wedding ideas and trends, click here.