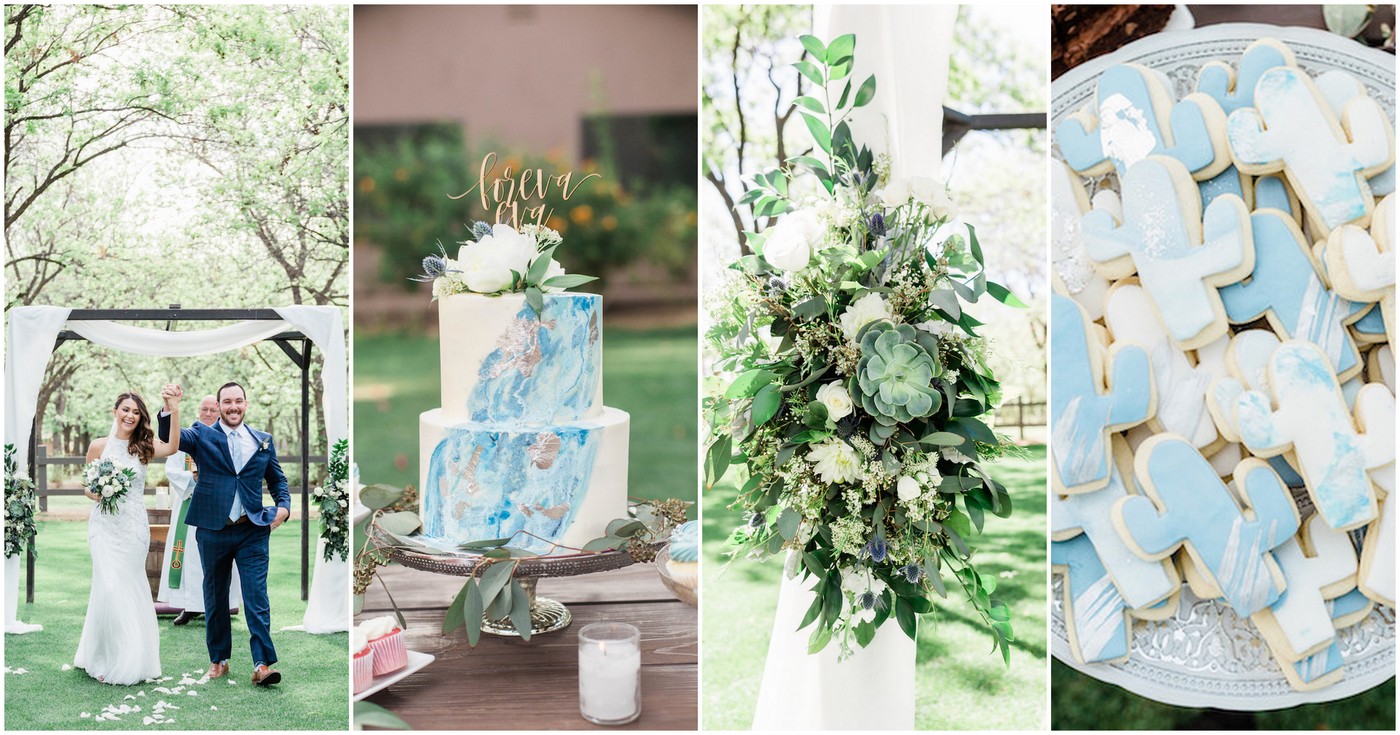 Kevin and Leah's wedding at 'Venue at the Grove', Arizona, was filled with lush greenery, succulents, and the most awesome touches of dusty blue and navy. They said their "I do's" in a garden wedding ceremony, under a beautiful wedding arch. It was draped in white then adorned with succulents and greenery by Bloom + Blueprint. 
The garden wedding ceremony which followed was a celebration with all of the family and friends who had been with the couple since the beginning of their relationship. "It was very special having our Pastor marry us," added the couple. "Not only did he baptize both of us way back when, but this man married Kevin's parents, his brother, and both of my brothers! We felt so blessed to be able to turn that into a sort of family tradition!"
We adore this couple's sentiment and style. Make sure you check out sift bakehouse's marbled cake and cute Arizona-themed cactus cookies in dusty blue. These photographs by Jen Jinkens are just perfect!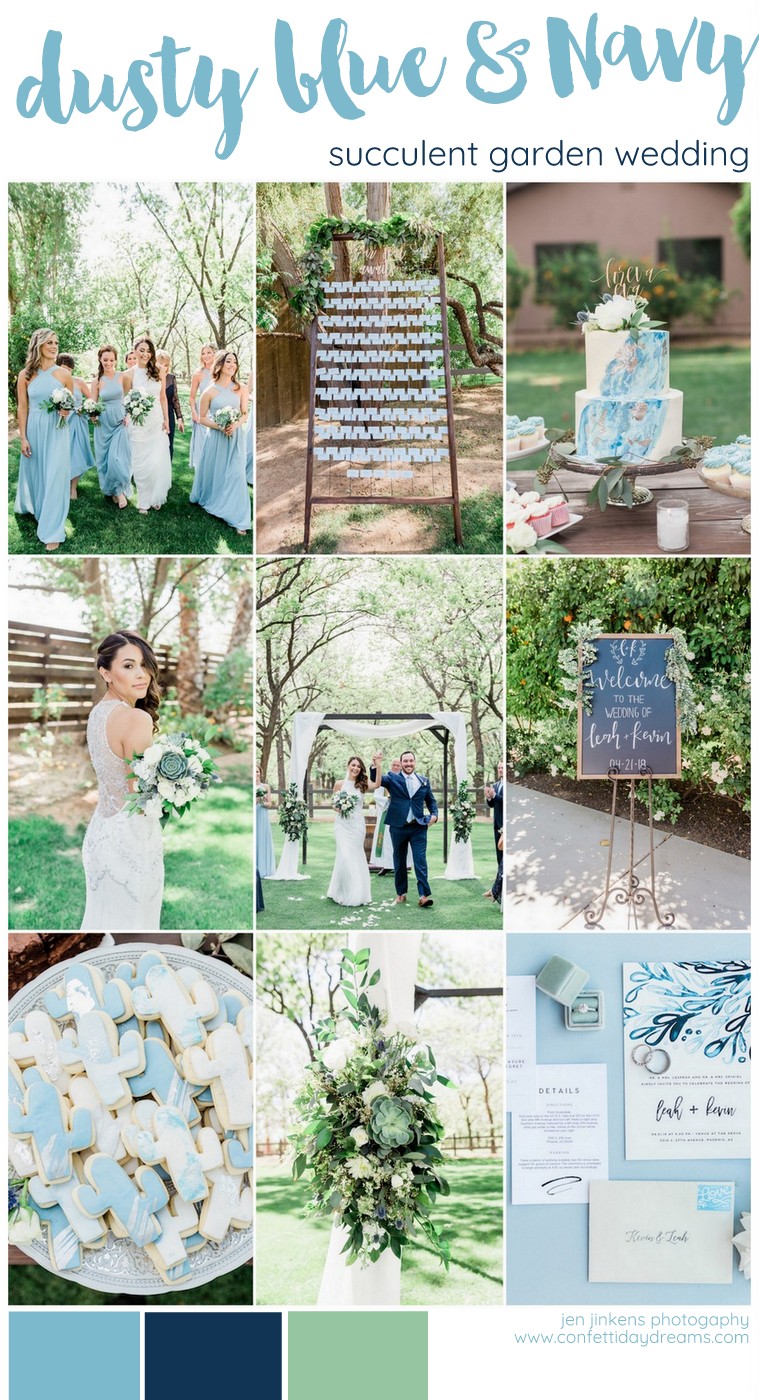 Our love story: Kevin and I began dating when we were sixteen and sweet! Our relationship continued to grow into something really special. When we were juniors we decided to take a break. After over a year of doing our own thing, we found our way back to each other.
The summer of my 25th birthday was when we became engaged. In the past, whenever we'd talked about engagements I always told Kev that I didn't want it to be on any typical holiday… like not on Valentine's Day, Christmas, or anything of the sort. I always mentioned that I wanted it to be just a regular old day… like a random Tuesday.
It was a Sunday when he told me I needed to pack a bag. He had arranged a "surprise early birthday trip" and we'd be leaving for Seattle the next morning. We arrived to Seattle on Monday and started making plans for what we'd like to do for the week. He mentioned that he wanted to go to at least one nice dinner . Tuesday evening came and we headed out for dinner. We ended up at Myrtle Beach (right by the restaurant we had reservations for) and we went on a little walk before dinner since we were "early". We were walking and he started talking about our relationship and next thing I knew, he was on one knee. Of course once that happened, I blacked out. We spent the rest of our trip celebrating!
Arizona Wedding in Venue at the Grove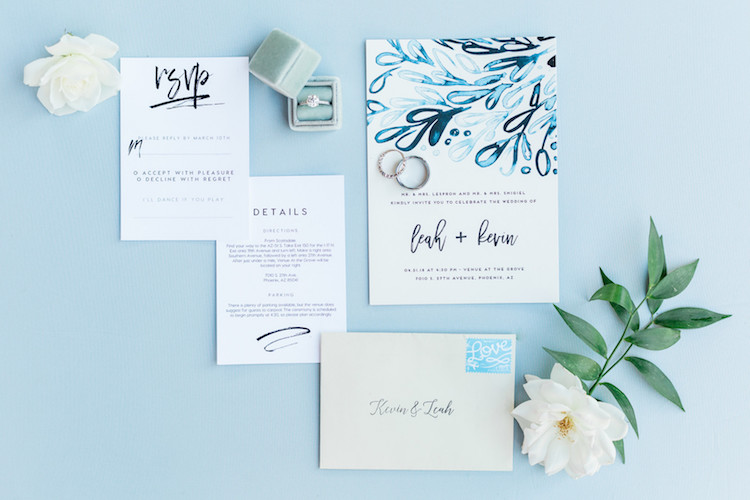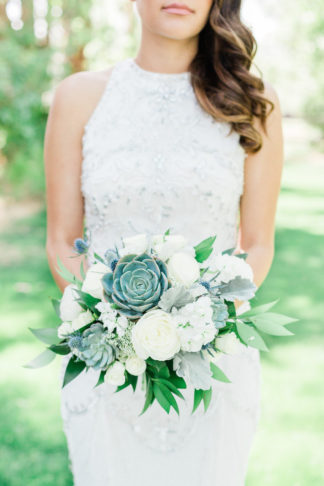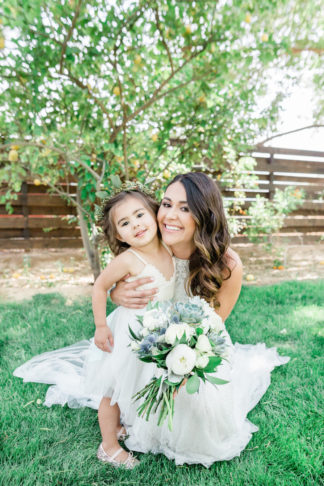 For our bouquets we had succulents and white flowers. I showed my amazing florist, Bloom + Blueprint, some inspo pics, and she took the reigns from there. I have always loved anything she ever posted and knew she couldn't go wrong. I'm so happy I put my trust in her and her talent!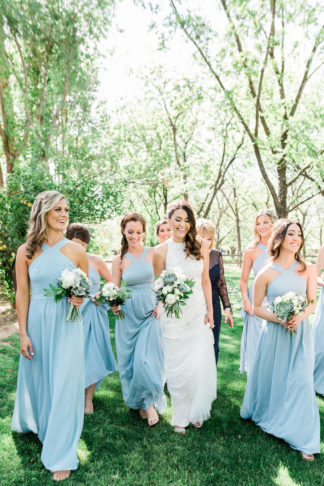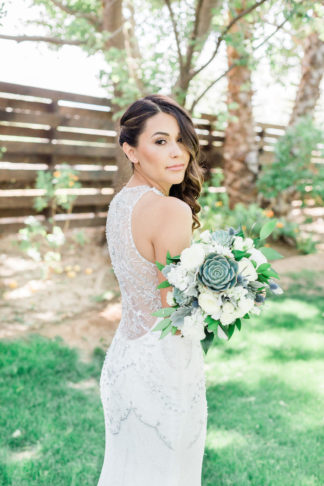 Bridesmaids wore dusty blue dresses. Their bouquets were simply a smaller version of mine. They had their hair styled however they felt comfortable.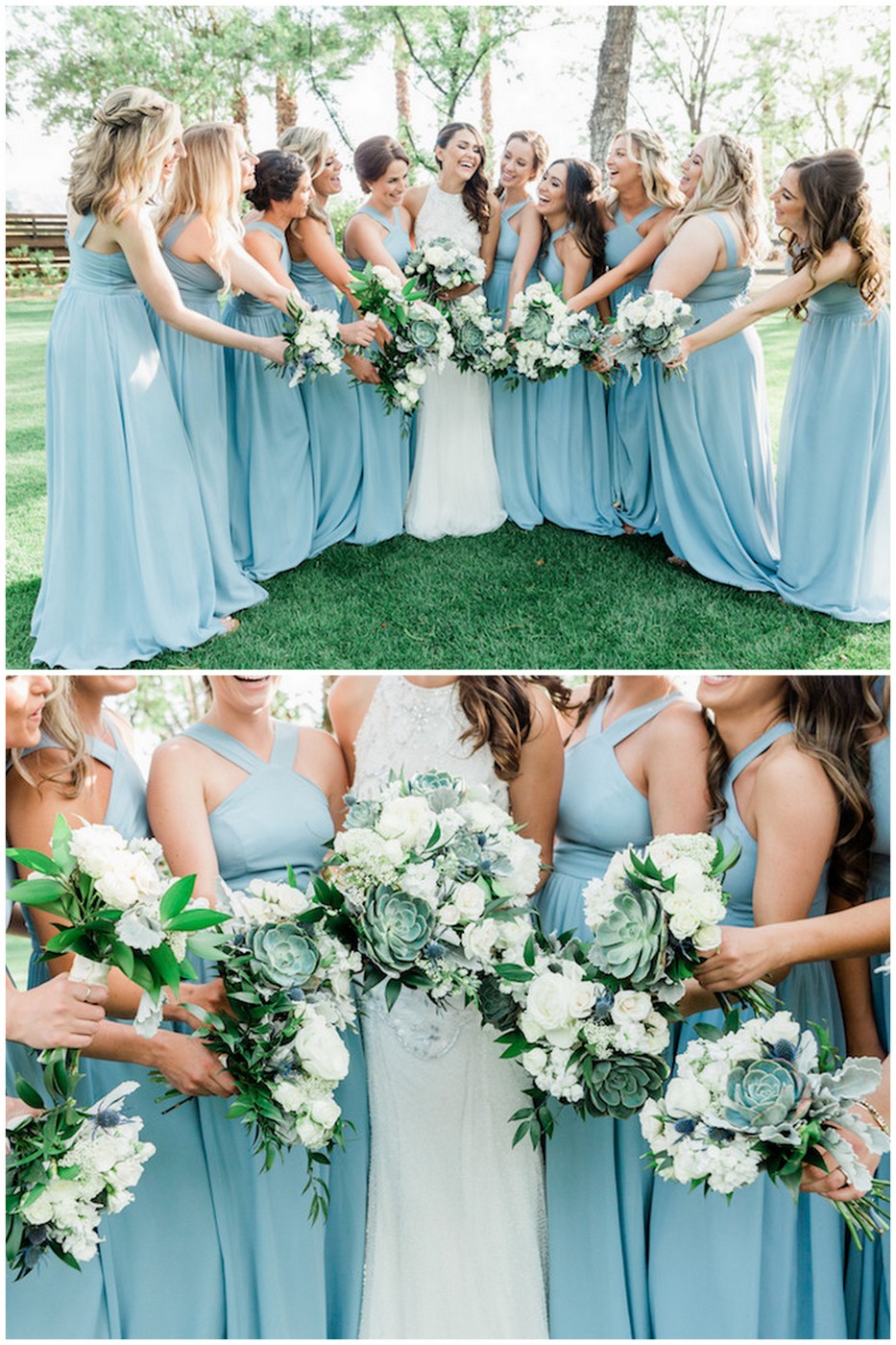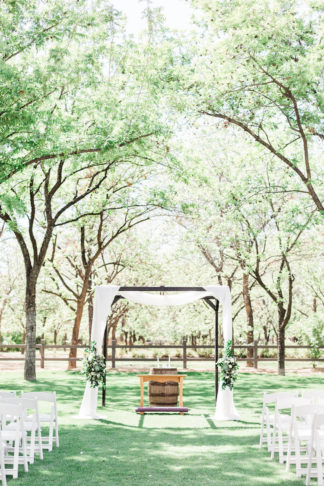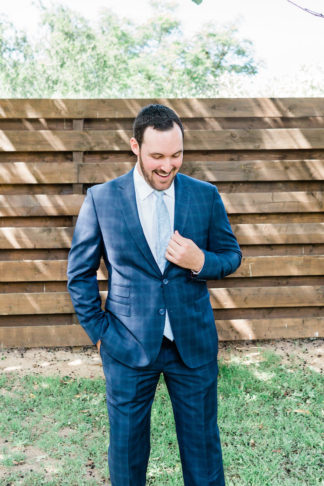 Kev wore a navy suit with a subtly plaid pattern, to stand out from the groomsmen since it was his day too! The groomsmen wore standard navy suits and paisley patterned dusty blue ties. Kev and his groomsmen were tied together by the paisley patterned dusty blue ties.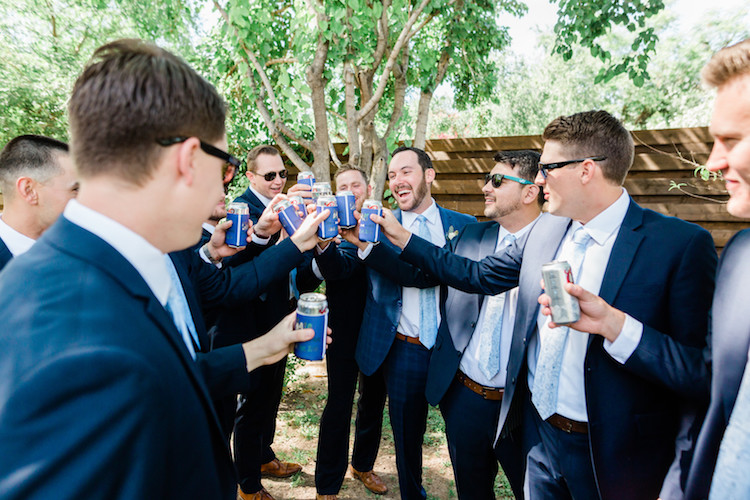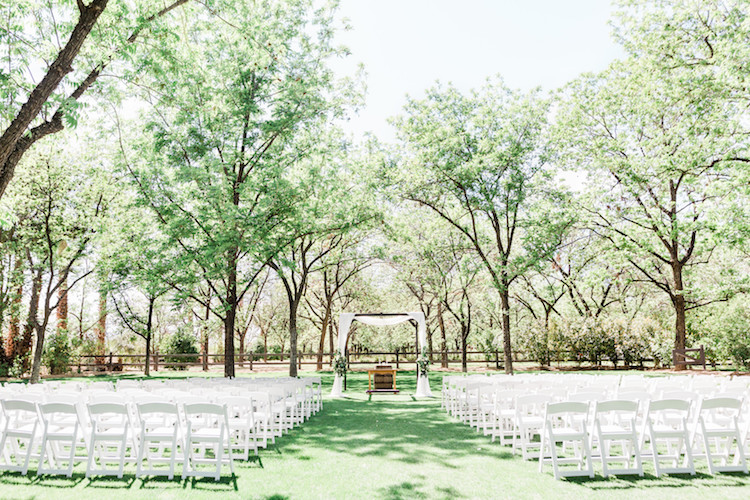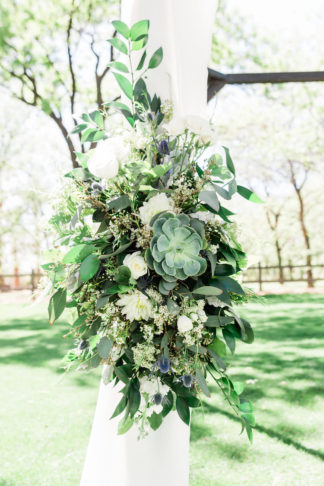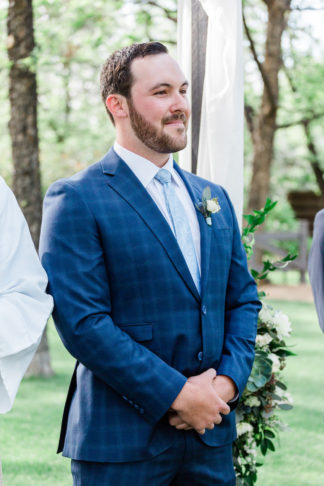 We kept our wedding ceremony simple. The venue's beauty really took care of that for us! They provided us with the arbor and fabric. My florist doctored it up with a couple of gorgeous flower cages!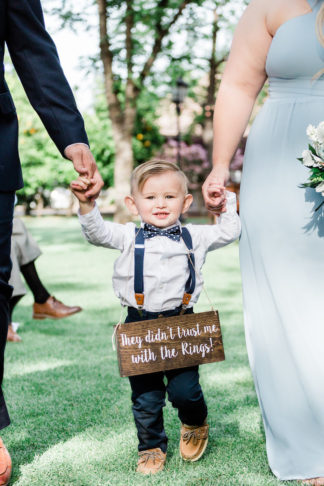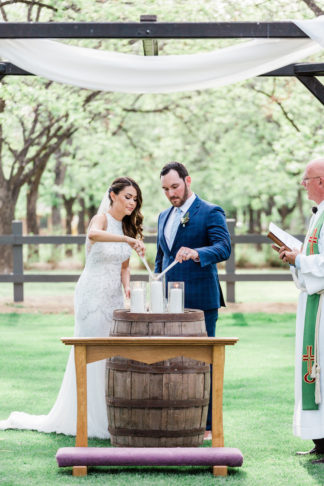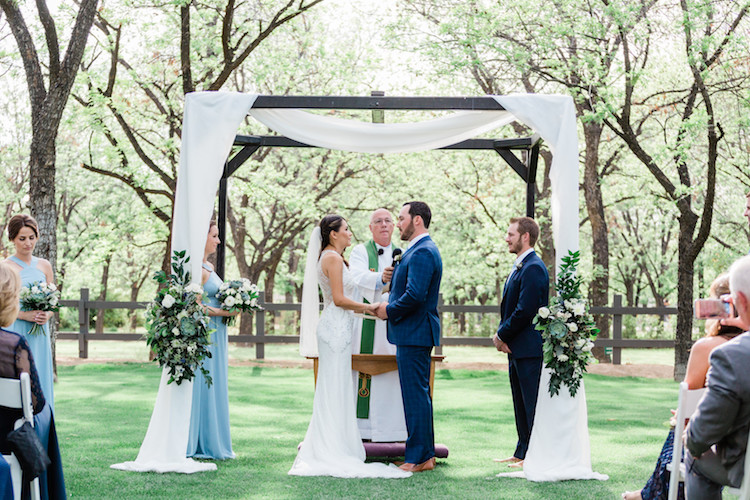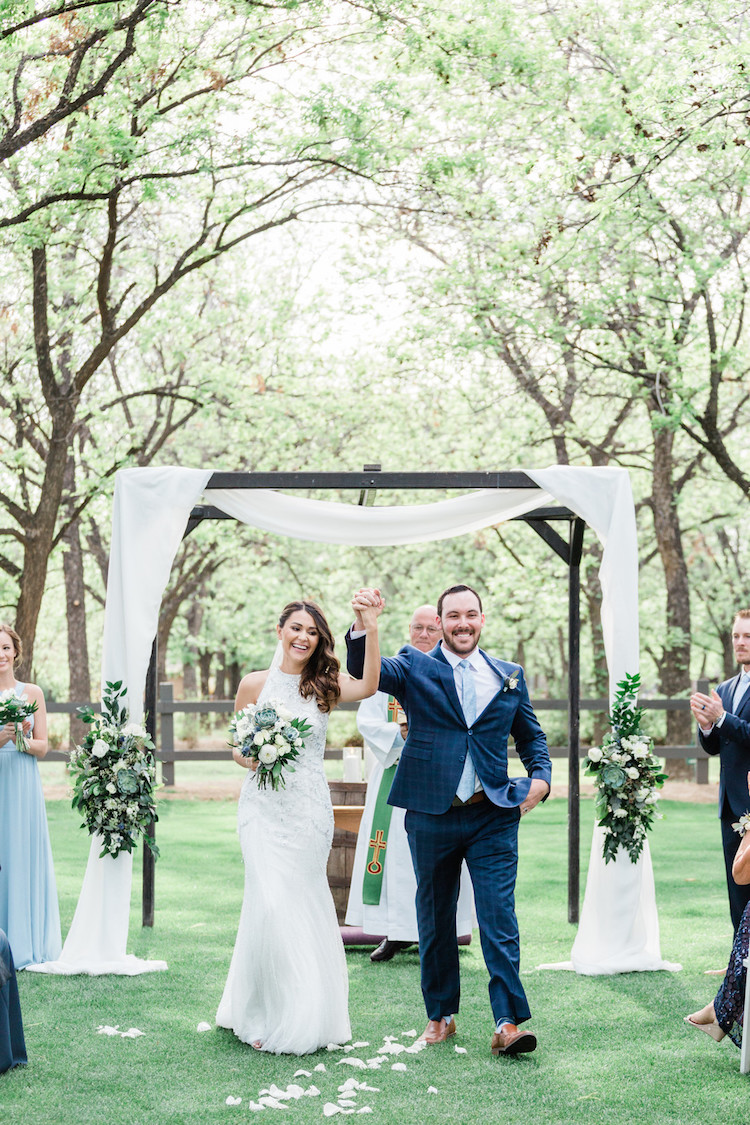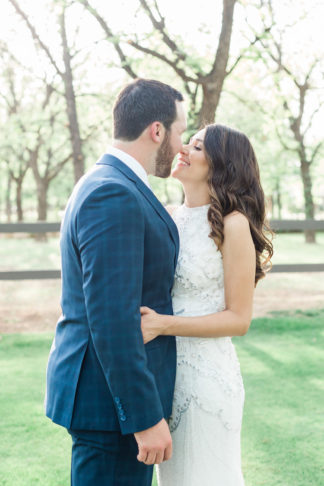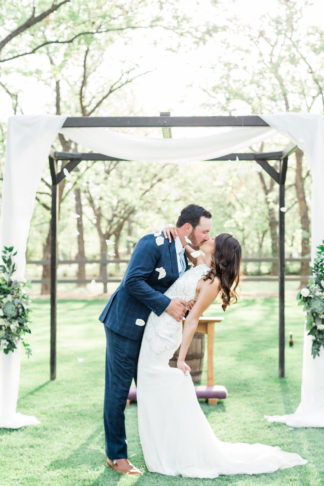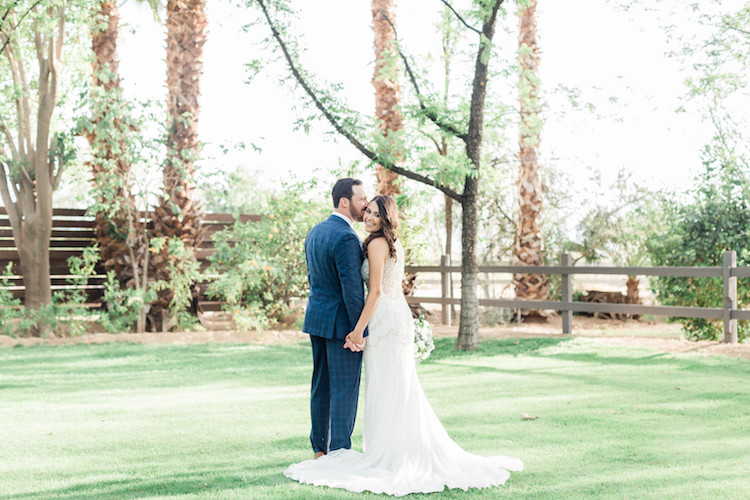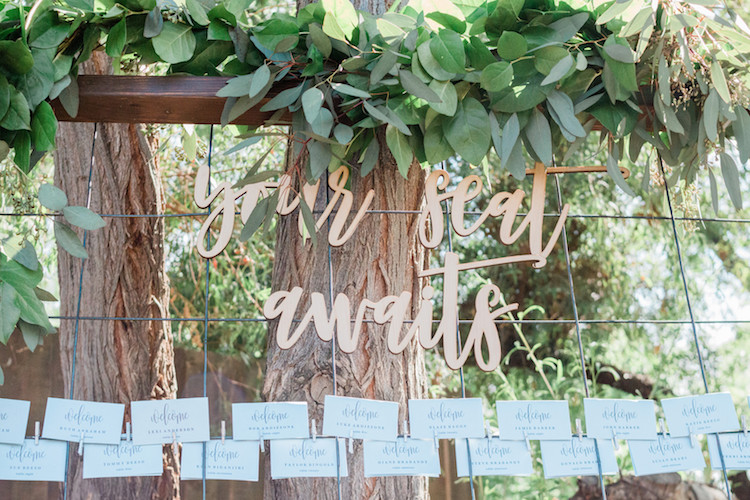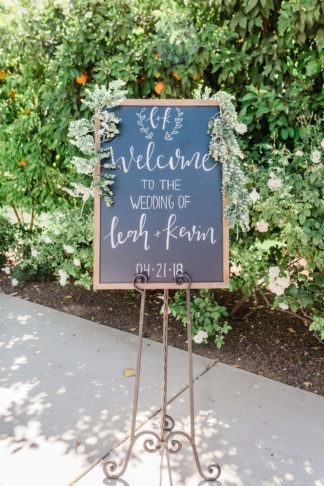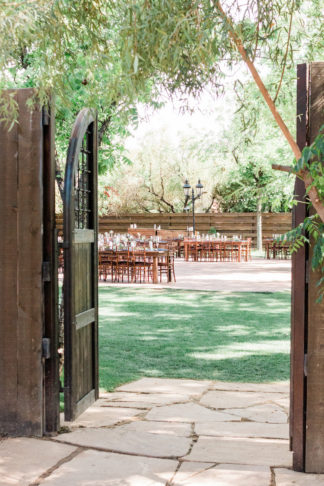 For our outdoor garden wedding reception we set simple, tall, white candle jars and differently-styled votives along greenery garlands. The tables were the venues rectangular and rustic option.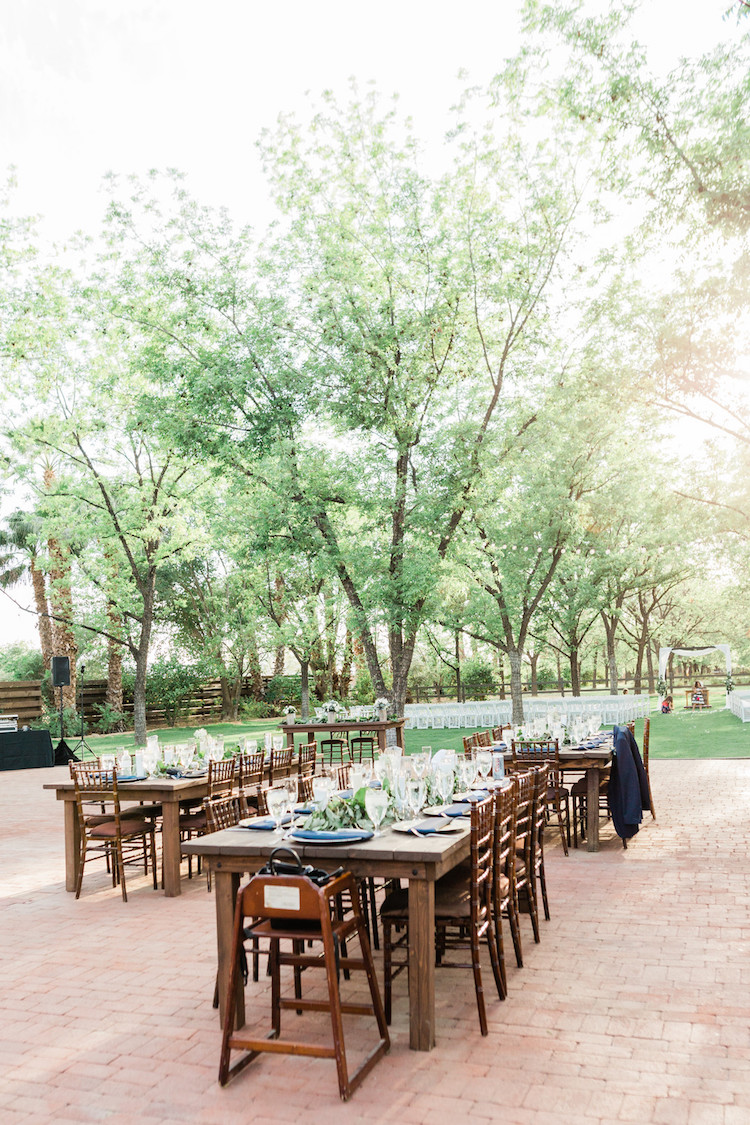 We repurposed the bride and bridesmaid bouquets as part of the reception decor. We had vases to stick them into after the ceremony and picture. We used a few for our head table, and scattered the rest throughout by the desert table, bar, etc. Between the garland, candles, chargers, glasses, and place settings our tables were well taken care of!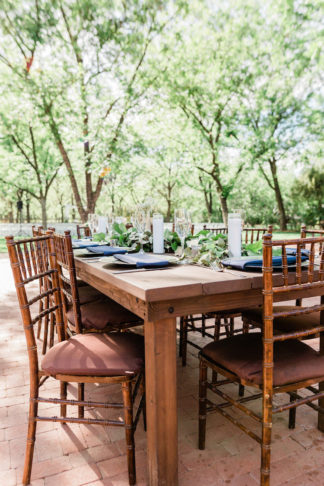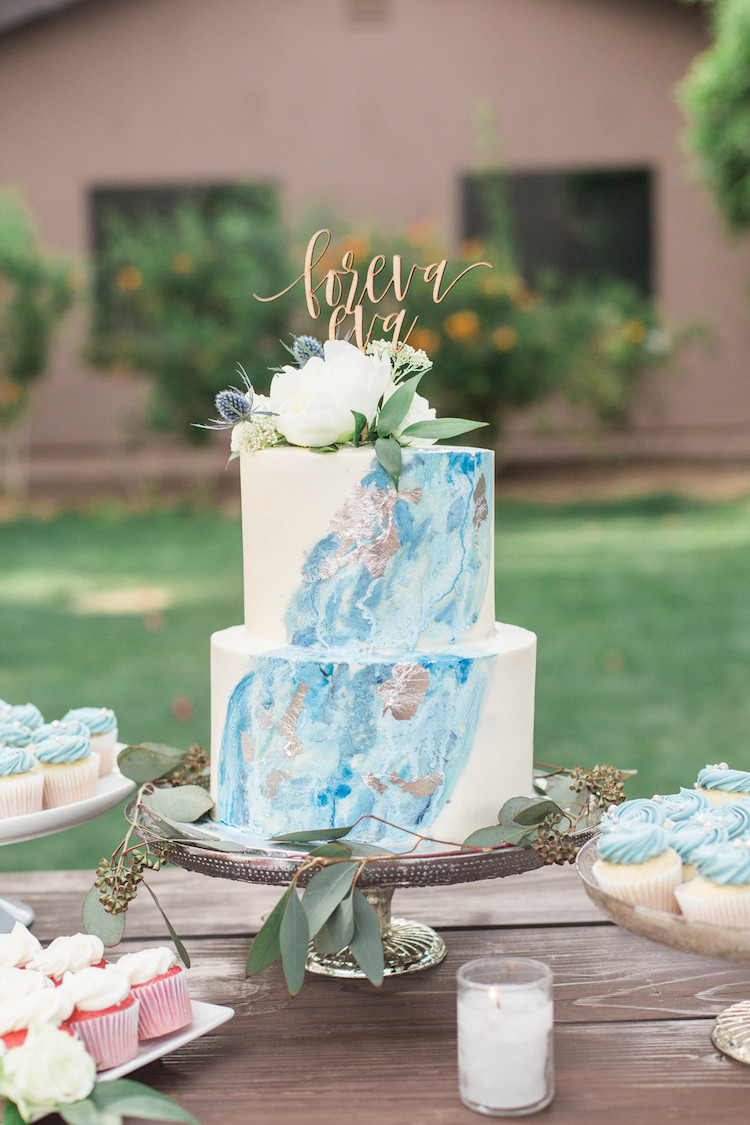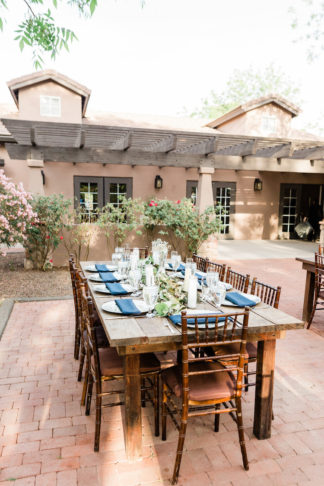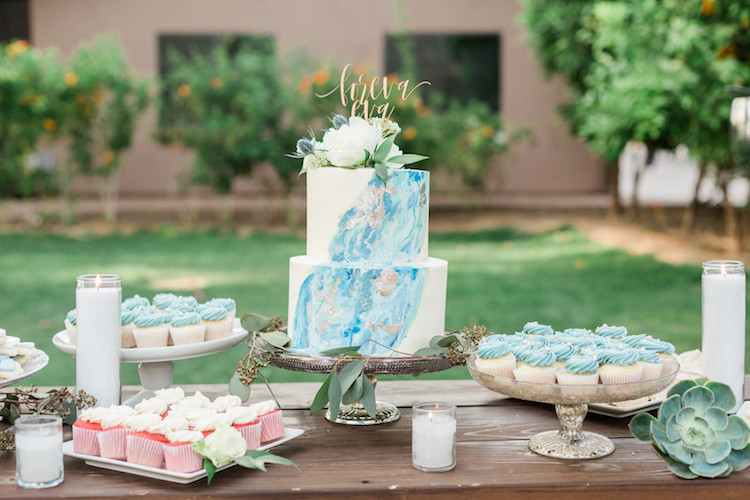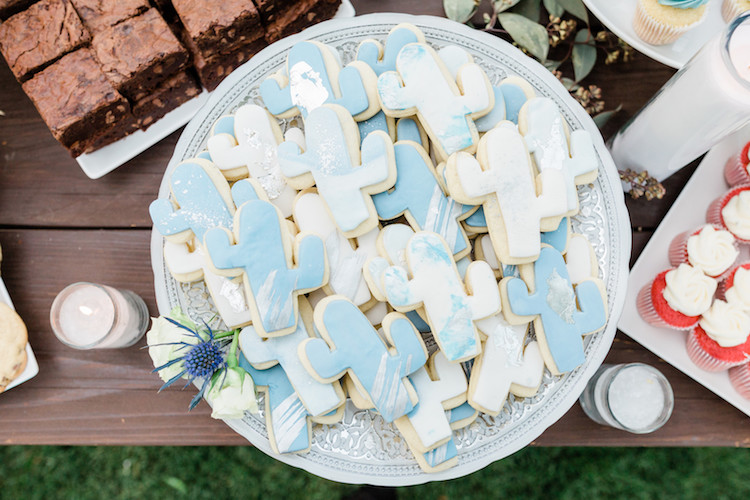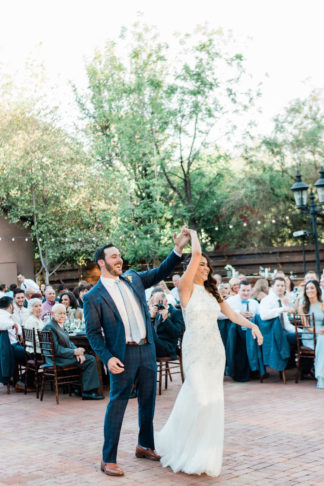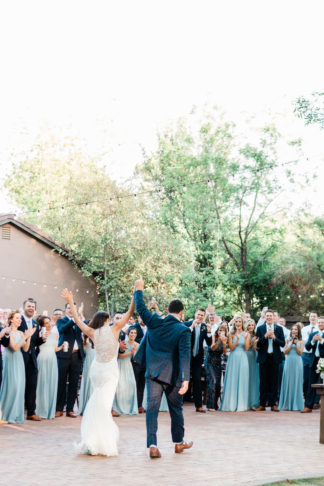 Arizona Garden Wedding at the Grove Service Providers: Photographer: Jen Jinkens Photography// Reception Venue: Venue at the Grove// Floral Designer: BLOOM BLUEPRINT EVENT CO// Event Designer: Bloom + Blueprint// Dress: Schaffer's Bridal // Bakery: sift bakehouse