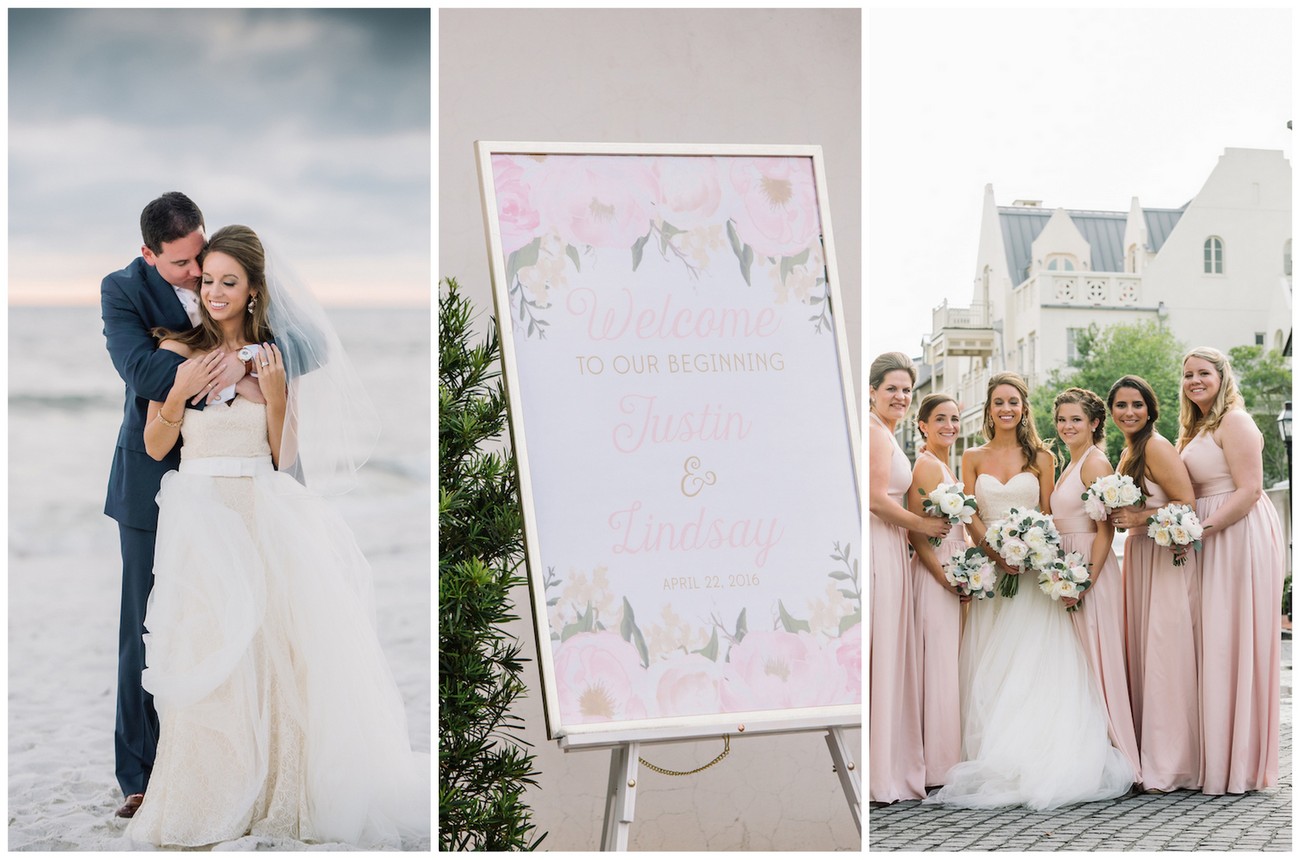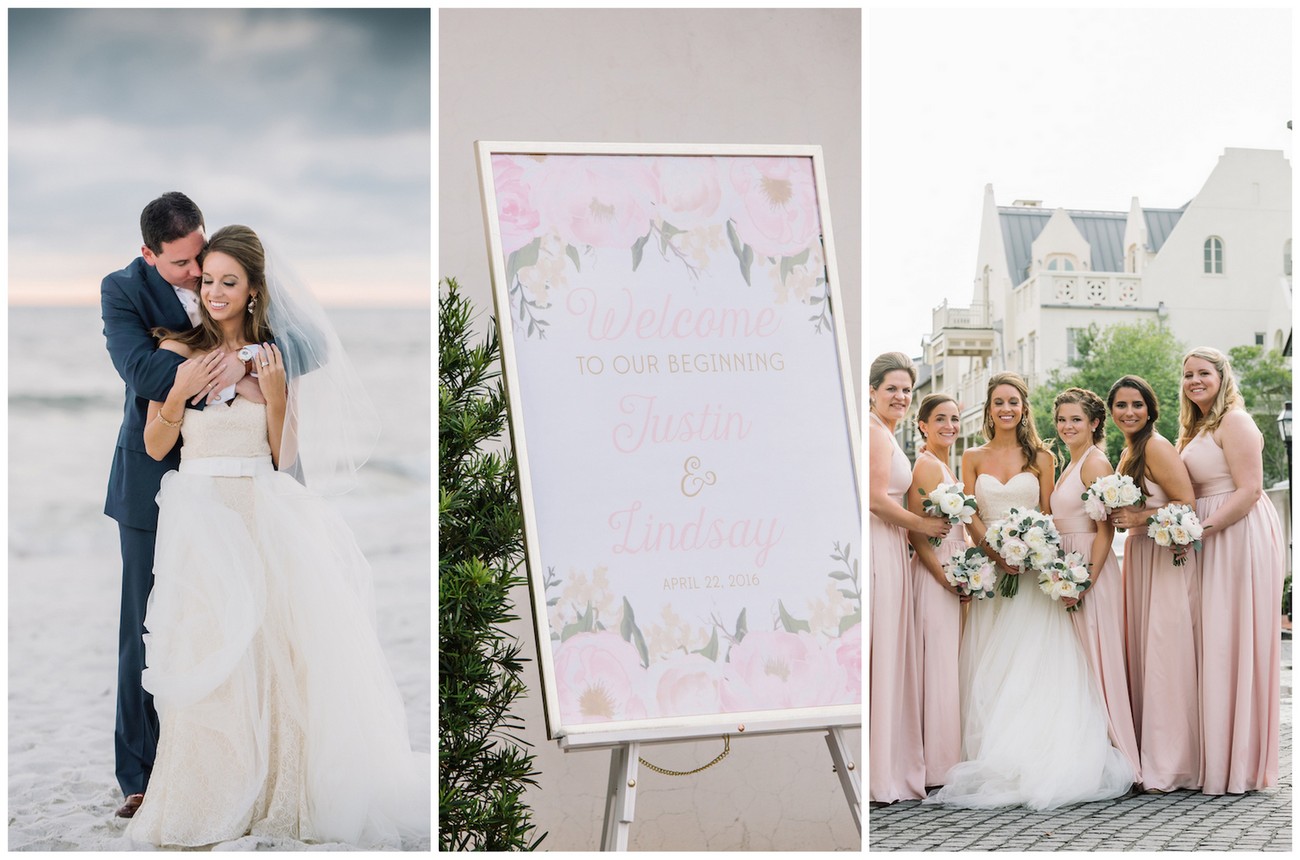 For their romantic, elegant Rosemary Beach wedding captured by dear wesleyann, Lindsay and Justin wanted an intimate destination wedding celebration somewhere that all their friends and family could be close together. When they found Rosemary Beach, they knew it was perfect. The colors, the location, everything!
Rosemary Beach Town Hall was the perfect venue because it offered indoor and outdoor space, and the couple could have the ceremony and reception both in the same location. They loved being close to the ocean without having a beach ceremony. "I love the beach, but I love my heels more!" says beautiful bride Lindsay. 
"I woke up on our wedding day to POURING rain. We had decided a day or two before that we needed to go ahead and reserve a tent for the courtyard of our venue, and thank goodness we did! Luckily, the rain stopped an hour or two before our first look, and it stayed dry the rest of the evening (and the rest of our trip!)."
The day after the wedding, Lindsay's parents hosted a casual brunch at their cottage which gave the newlyweds a chance to say goodbye to everyone before they headed home!
Romantic, Elegant Rosemary Beach Wedding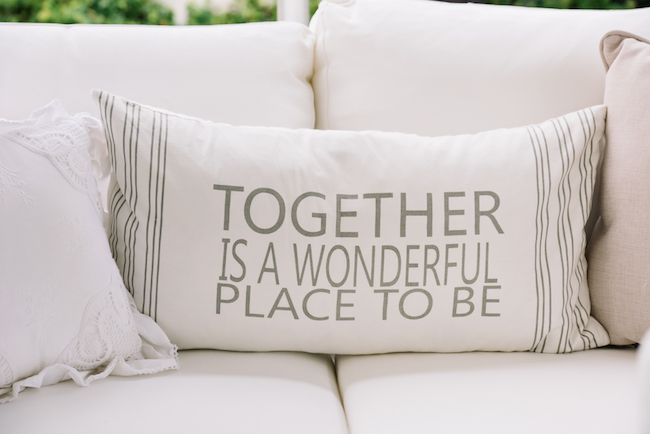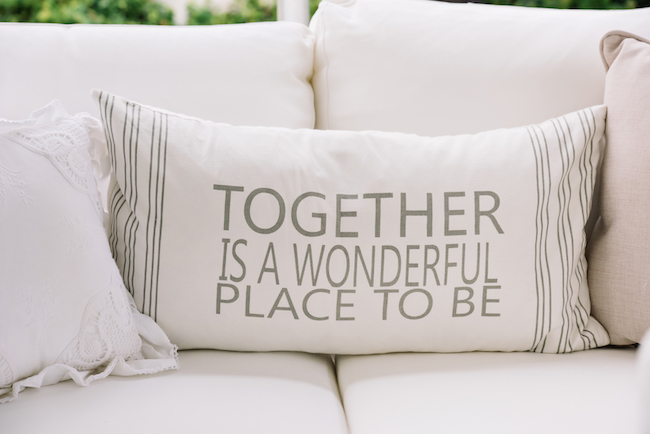 Justin and I went on our first date to Louie's Wine Dive in the neighborhood where we both lived. We hit it off right away and were both sad to see the date come to and end, but saw each other again within a couple days, and never looked back! The beginning of our relationship included a lot of dog walks, a little tennis, and lots of eating out. We had fun doing pretty much anything together. I remember one night we laid on the couch watching a 90's music video montage for what felt like hours and couldn't stop laughing. He says he first knew that he loved me one day after we had hung out all day and then he was with his friends that night and missed me. He makes me laugh every single day. We truly are partners in life and I can't imagine life without him.
Justin proposed to me in Napa. He had planned the trip for my birthday, but I had a suspicion that he would be proposing sometime on the trip. He still managed to surprise me by proposing at our first stop on our way into Napa – Domaine Carneros. Domaine Carneros is in gorgeous building with a massive grand staircase leading up to it. Justin proposed at the base of the steps, which was perfect because we immediately got to toast to forever with several glasses of sparkling wine! Later, Justin said he was so nervous about the proposal that he had to do it first thing so he could enjoy the rest of our trip! He also surprised me by scheduling our engagement pictures for while we were in Napa. He did an absolutely amazing job of making the whole experience so special.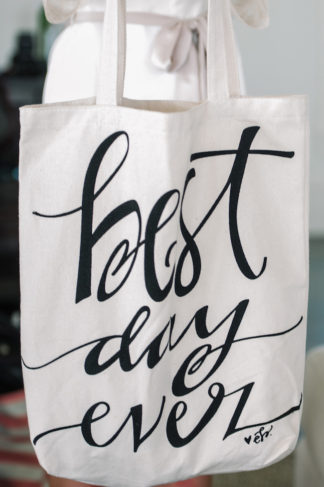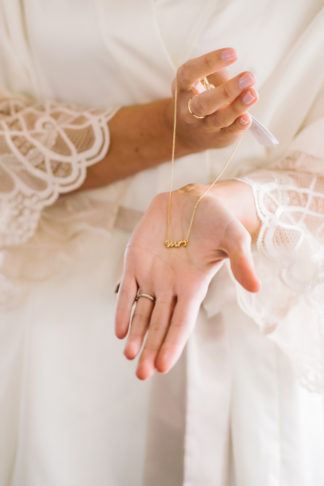 Before our first look, Justin and I exchanged small gifts. I gave him a pocket watch from my grandfather's collection, along with a notebook of reasons I wanted to marry him. He gave me a Kate Spade "mrs" necklace that I had been eyeing and the most beautiful letter that he wrote me that morning. My dad gave me a beautiful diamond and rose gold ring by Lisa Leonard. It's called a passage ring which was very fitting. My mom gave me my "something blue" – a blue pearl with our wedding date, which I pinned to my bouquet (along with my grandpa's handkerchief and a pendant my dad had given to my mom).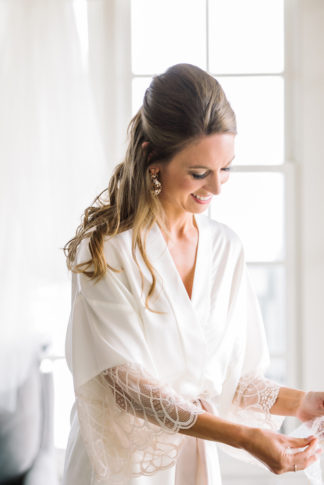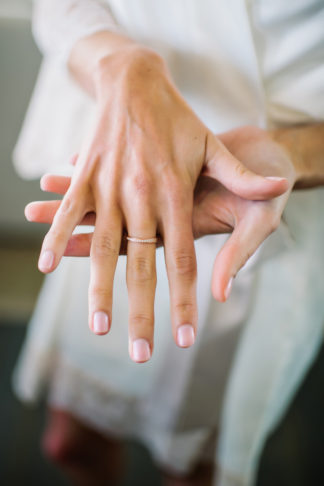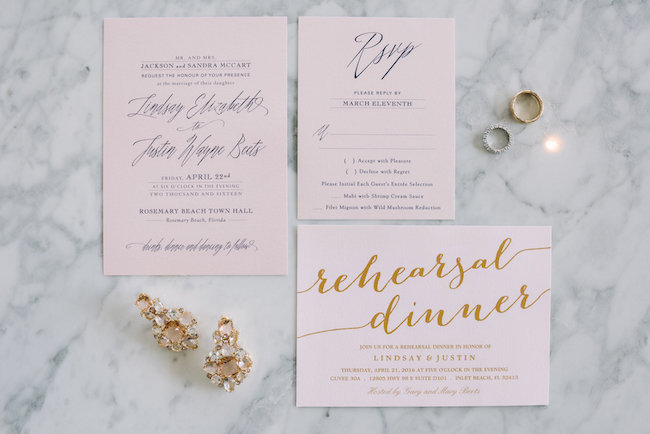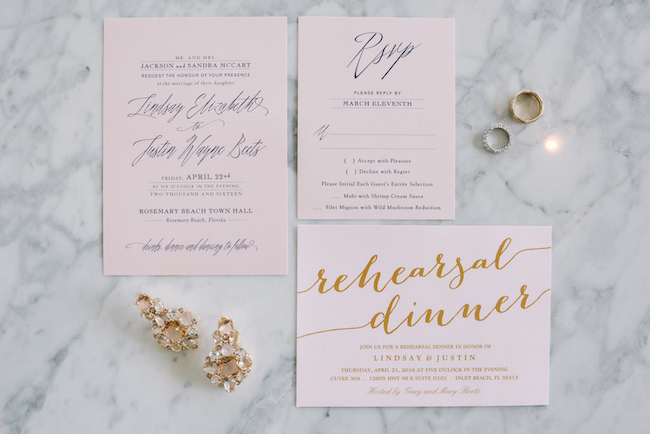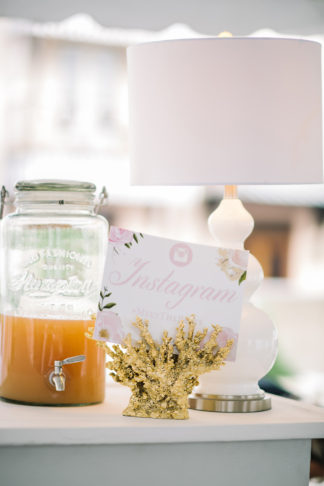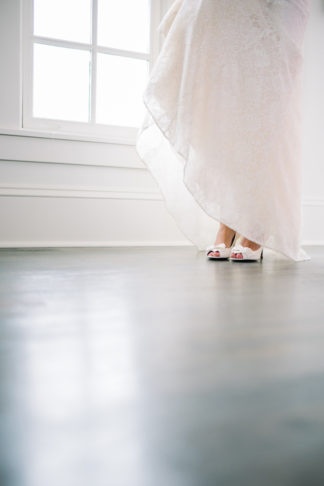 You always hear how quickly the day flies by - so it was important to us to have MORE than just one day.
Click To Tweet
Most of our guests arrived Wednesday or Thursday and stayed through the weekend, which was exactly what we hoped for. We had time to hang out with everyone who had traveled and made an effort to be with us. When guests check into Rosemary Beach, they were given a bottle of rose' wine, with tags we created. They were also given an invitation to a beach bonfire the night before the wedding, with a simple map that I made of the area.
We tried to plan several events to get everyone together. Two days before the wedding, we had a casual get together at Justin's parents cottage, with pizza and drinks. It was the perfect opportunity to spend time with everyone that got in that day. After our rehearsal dinner, we hosted a welcome beach bonfire for all our guests. It was so much fun! We had a few drinks and handed out koozies that I had designed as a favor.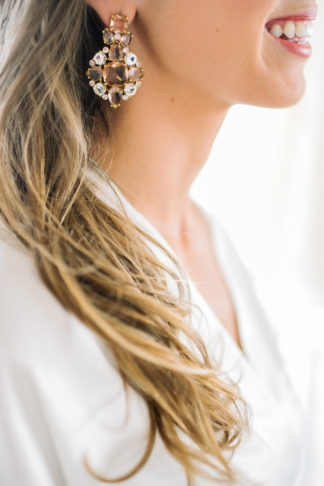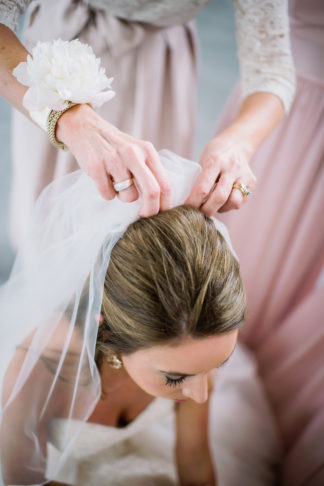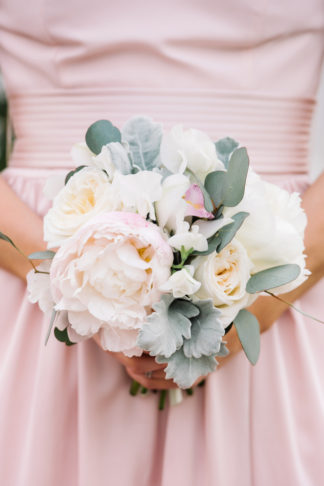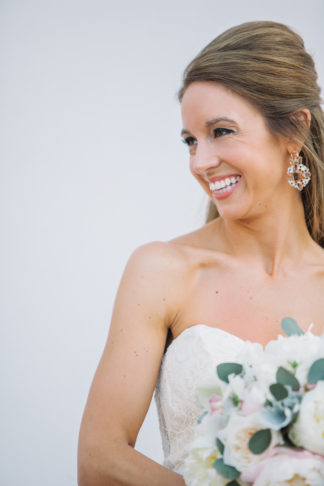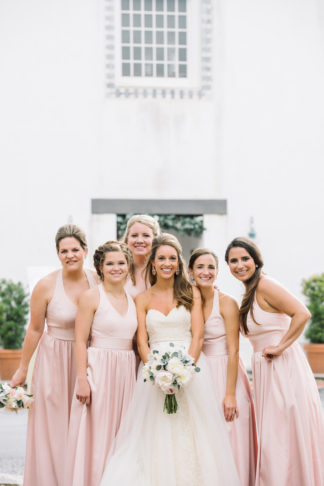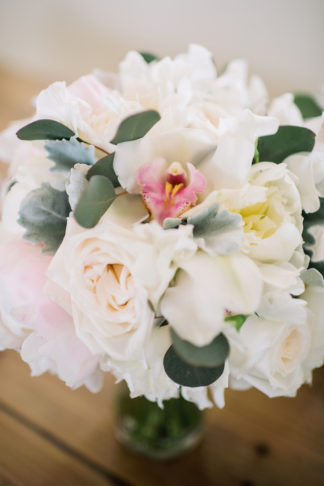 I originally picked a line of bridesmaids dresses with various styles, but all in the same color and fabric. The girls all liked the same one, so I ended up having them all wear matching blush gowns with a cute t-back. Their bouquets were smaller versions of my own.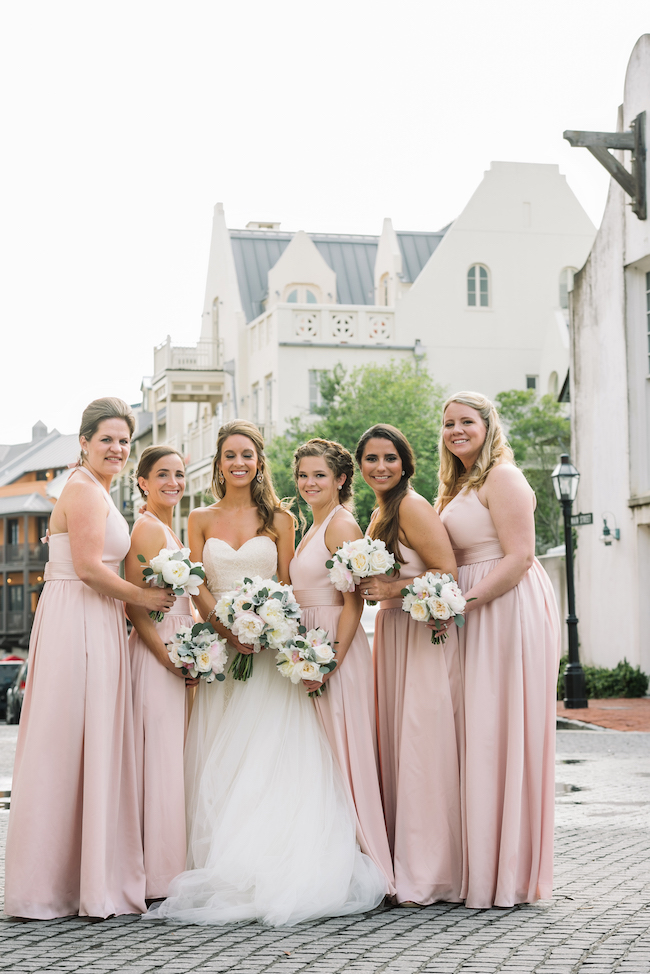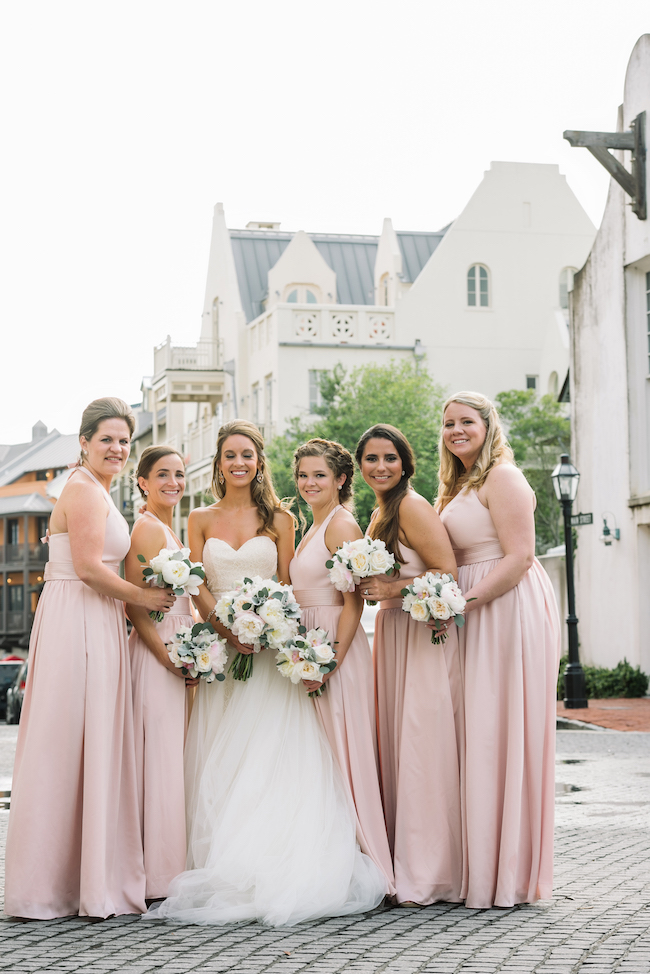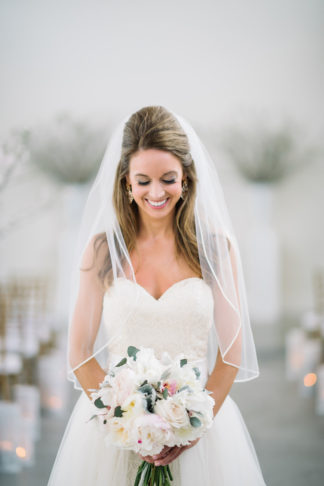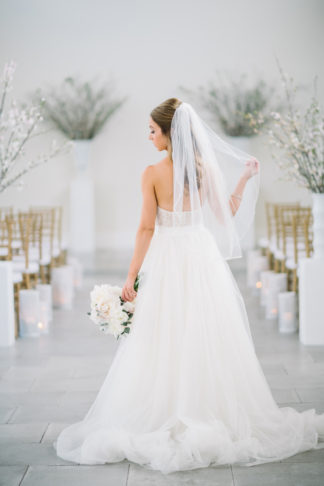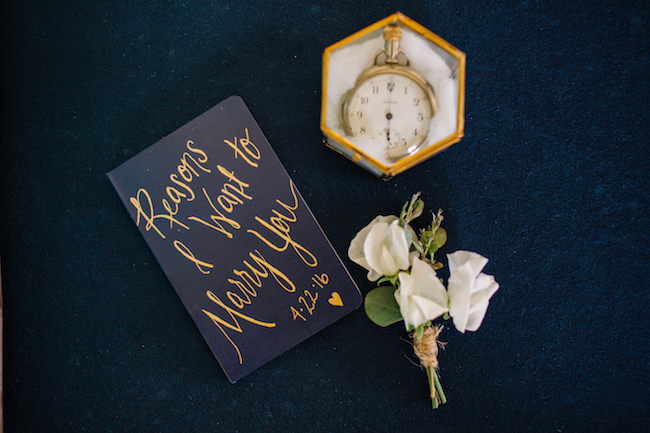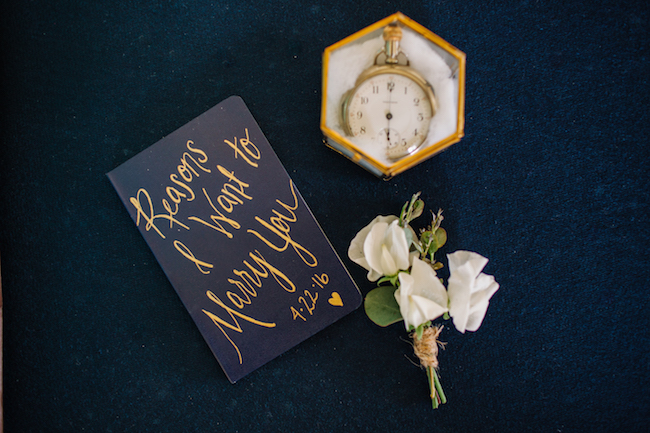 I finally found my dress at a small bridal salon near my hometown, in Manhattan, Kansas. I first tried on dress, which I loved, – when I put the skirt on over it, my eyes teared up and I knew it was the one! I loved the idea of having two looks – one for the ceremony, and another for the reception, without having the expense of two full dresses. My dress was fitted with gold lace. The tulle skirt I wore over it had a satin waist with a boxy bow – which I loved! After I removed the skirt, I had a blush and rhinestone belt to wear during the reception. I never thought I would pick strapless – but I ended up loving the way it looked.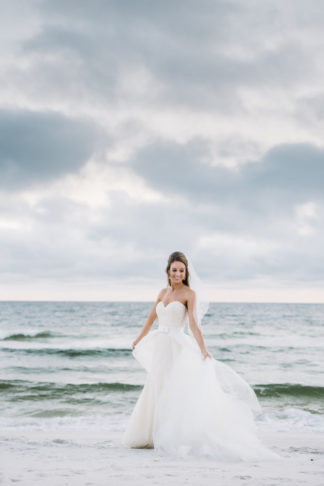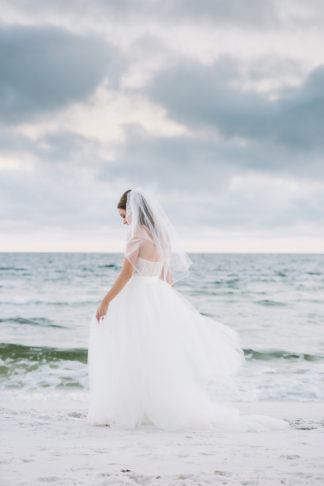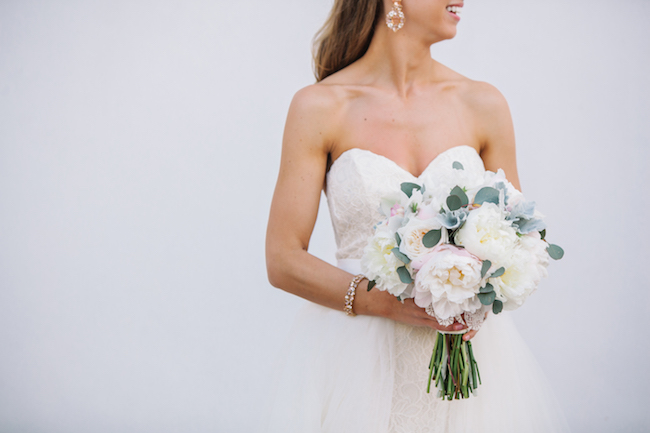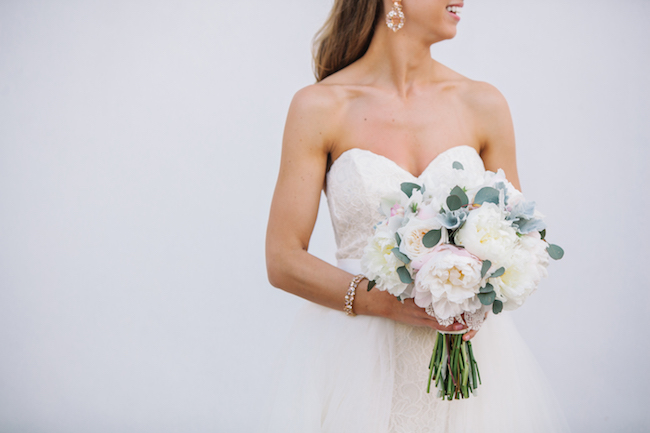 I love peonies, so that was my first choice for the bridal bouquets. Our florist added in sweet peas, dahlias, and cymbidium orchids, along with some eucalyptus.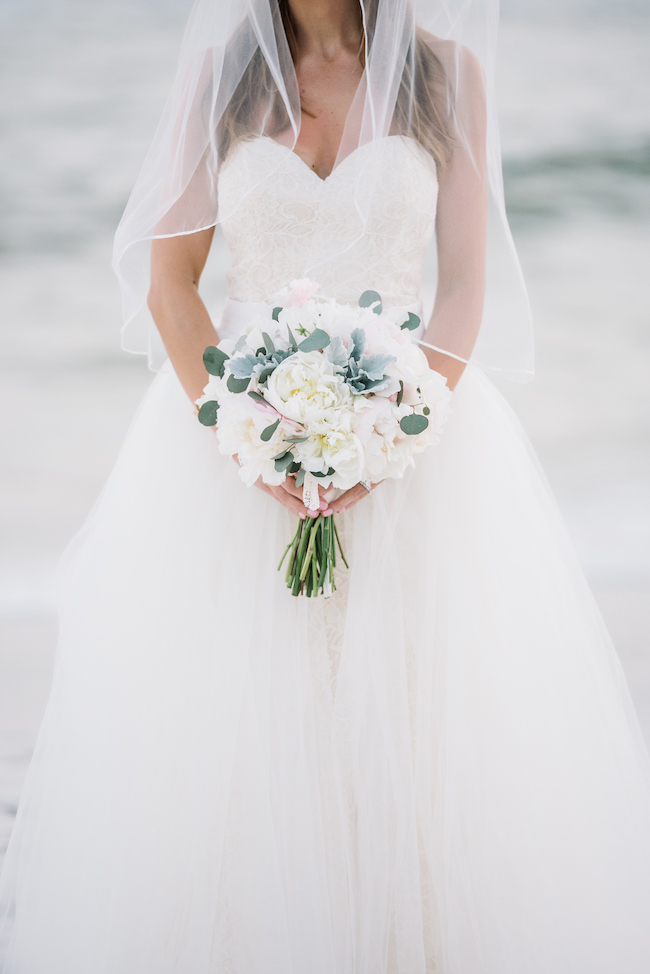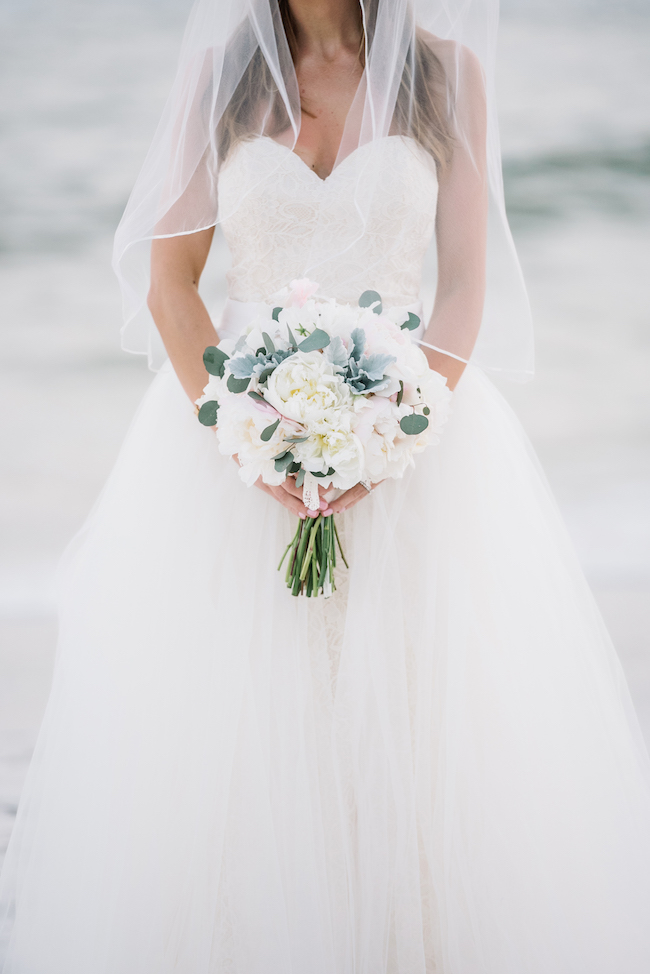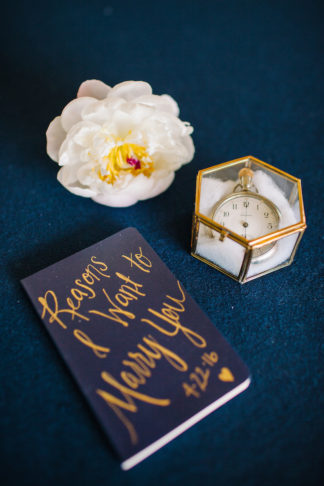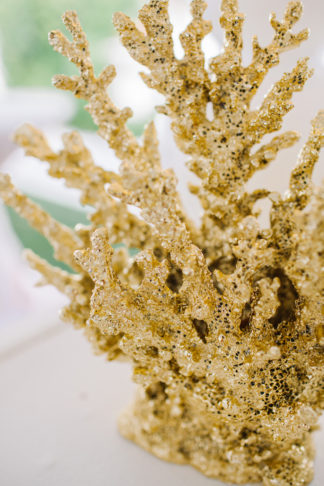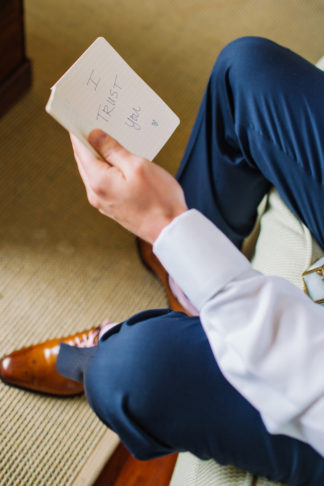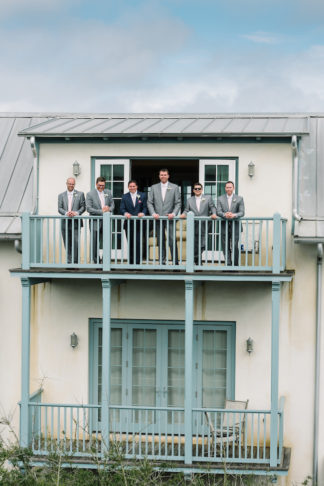 The groomsmen all wore suits ordered from Combatant Gentleman – they had them made and got to keep them rather than renting tuxes or suits. We liked the slightly more casual look for our venue. Justin gave them all blush ties to wear for the wedding.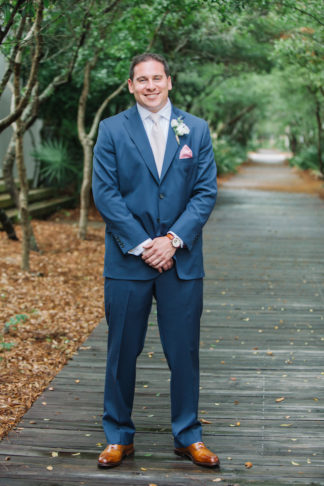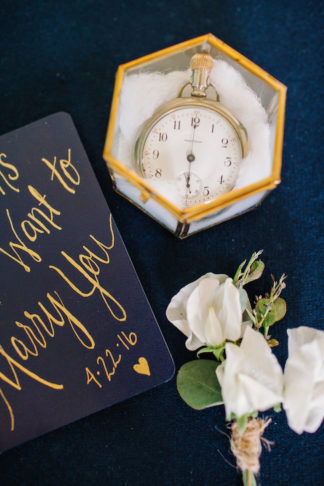 Justin wore a navy blue suit he had custom made and Allen Edmonds shoes. His blush tie fit in with the theme, and he also had navy and blush cuff links, socks and even blush shoelaces! The inside of his suit has our wedding date embroidered.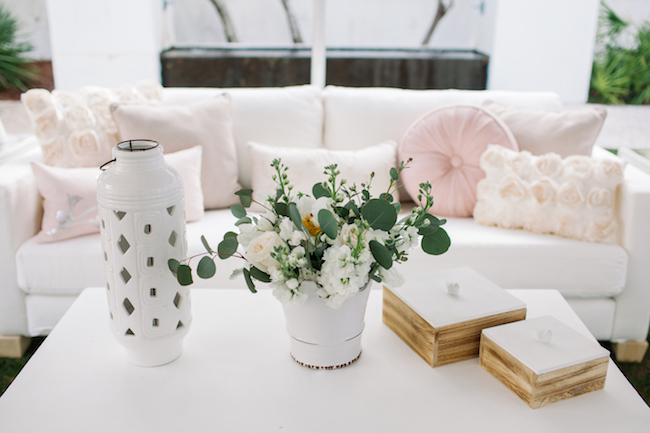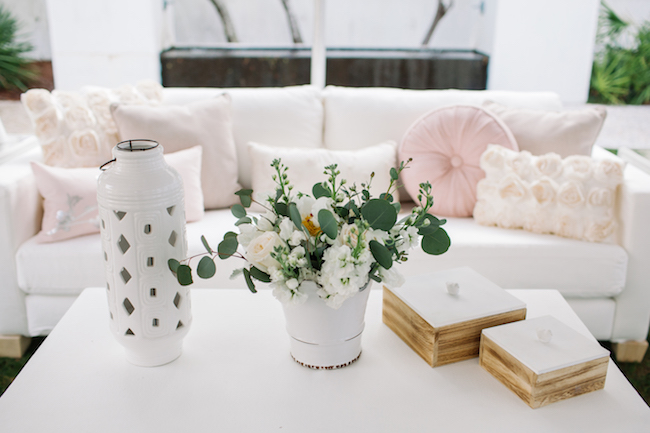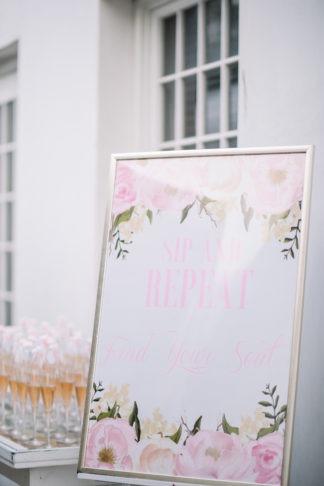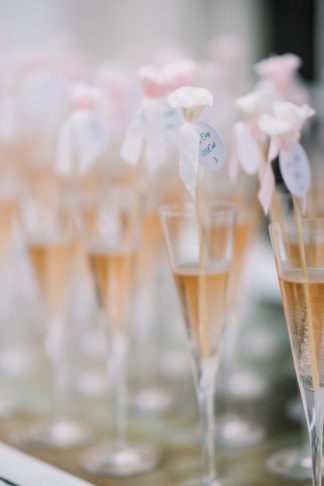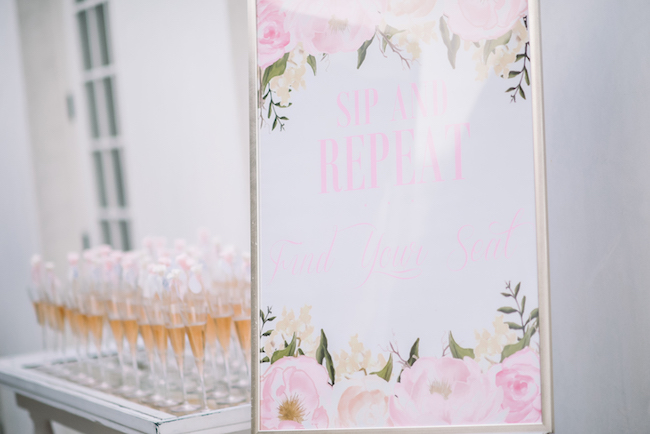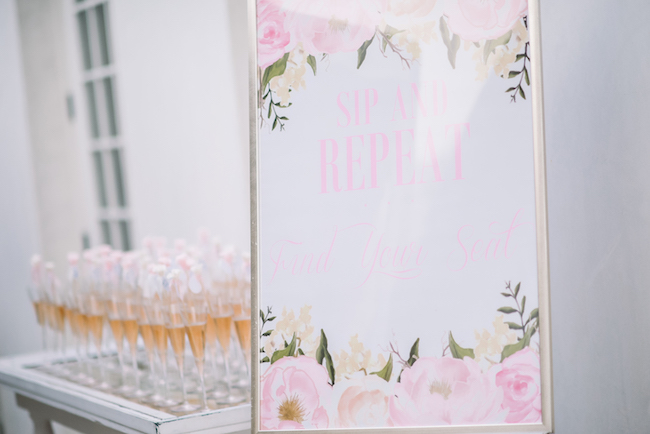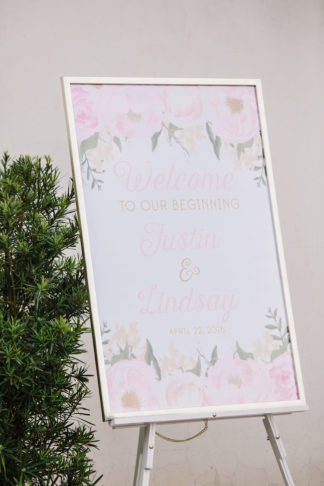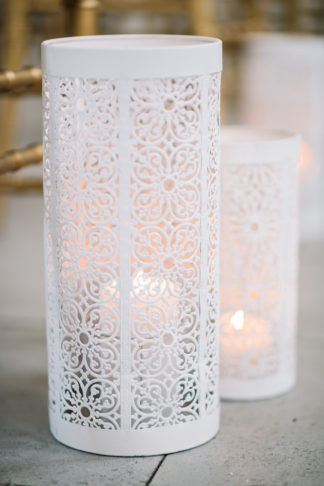 My mom and I planned the décor for the entrance to Town Hall. We found white hurricanes at West Elm (which now decorate our home!) and made the peony monogram "B" for the front door ourselves. I also designed a welcome sign and had it framed and put on an easel. We had the florist make a eucalyptus garland to go over the threshold.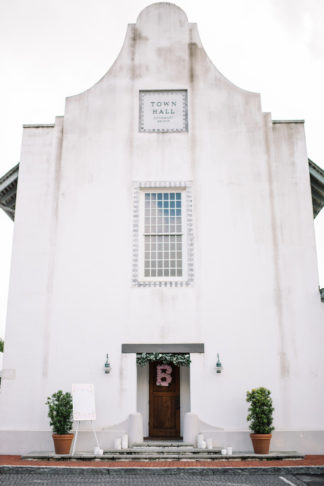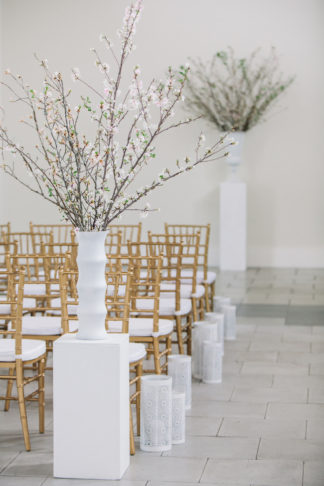 When I found out that the large altar pieces I imagined would be out of our budget, my florist suggested cherry blossoms, as they are only available during April, and create a big impact. I couldn't have been happier with how the arrangements turned out. They gave us the look and size we wanted and were just gorgeous. We also had white hurricanes lining the aisles, otherwise the architecture of beautiful Town Hall was all we really needed.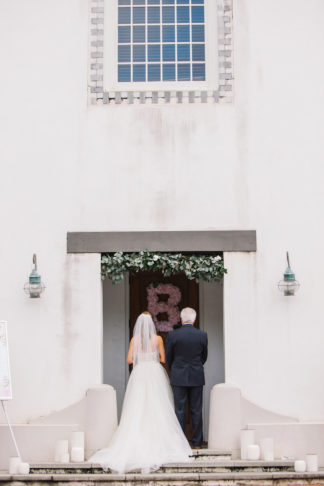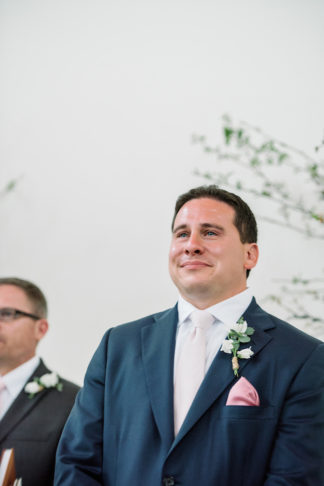 I walked down the aisle to "How Long Will I Love You" by Ellie Goulding. It was one of my favorite parts of the ceremony. I randomly heard it on the radio one day, and knew it was the perfect song for my walk down the aisle. If I could have written a song for Justin, this would be it! It was even more special because Justin didn't hear the song before the wedding, so it was a surprise for him. It will always be a special song for us.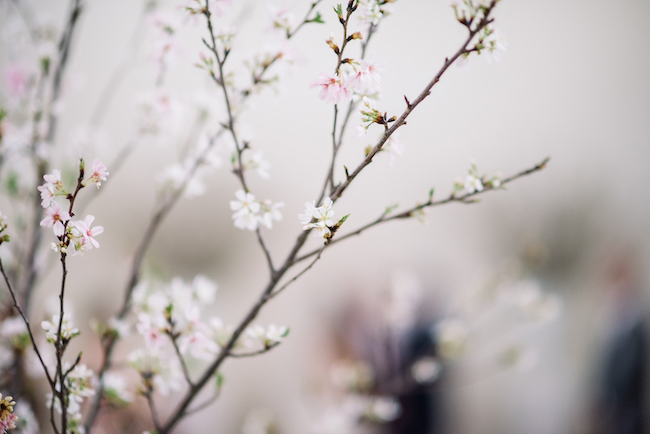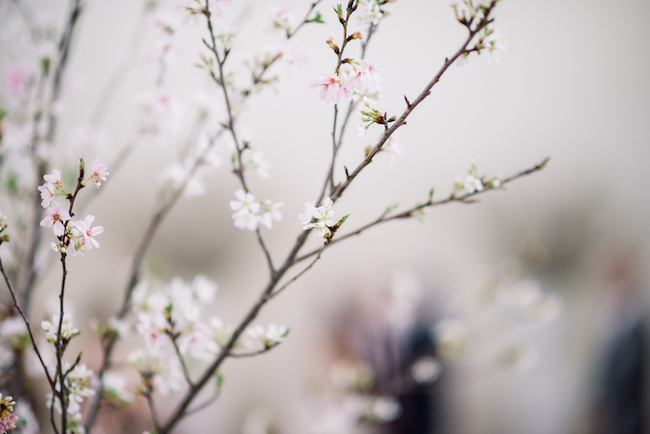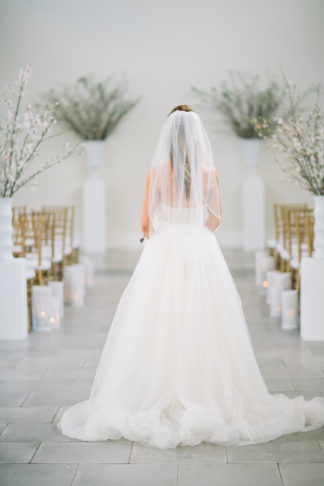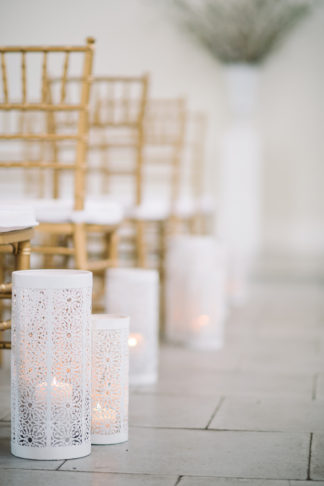 Our ceremony was simple and very sweet. We wrote our own vow books and my oldest brother officiated. One of Justin's friends performed a solo (Ben Rector's Forever Like That).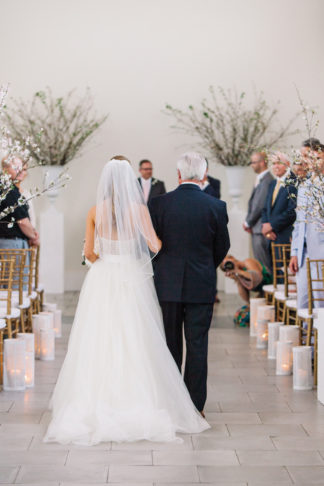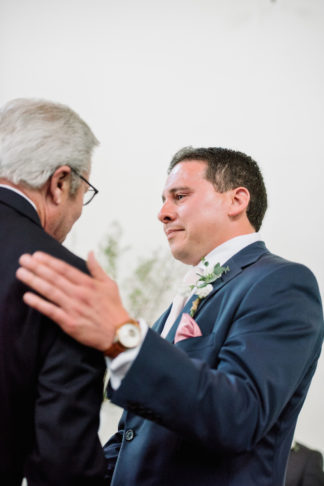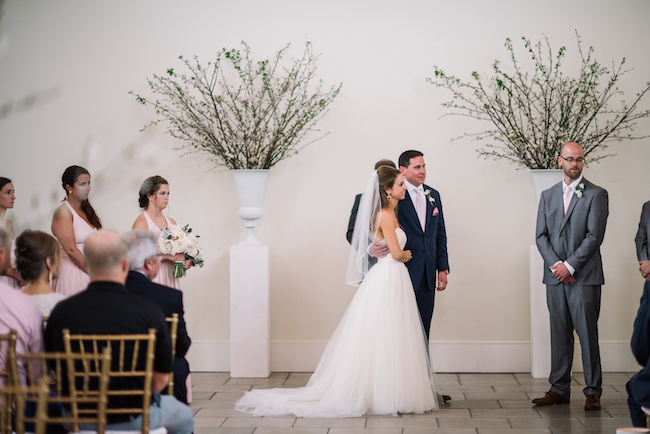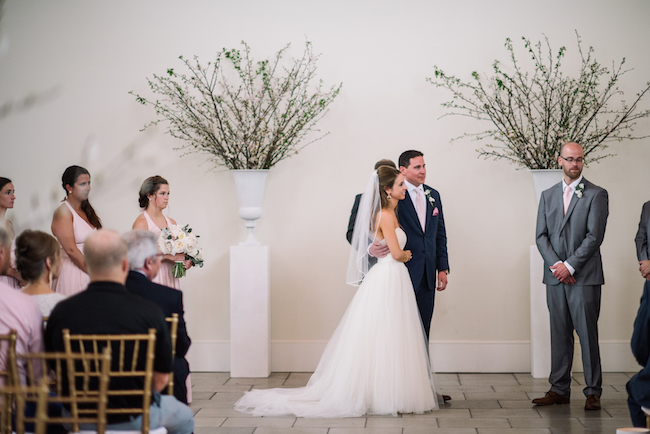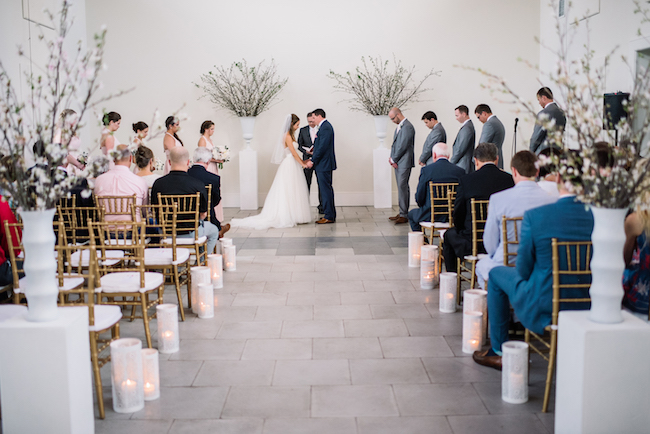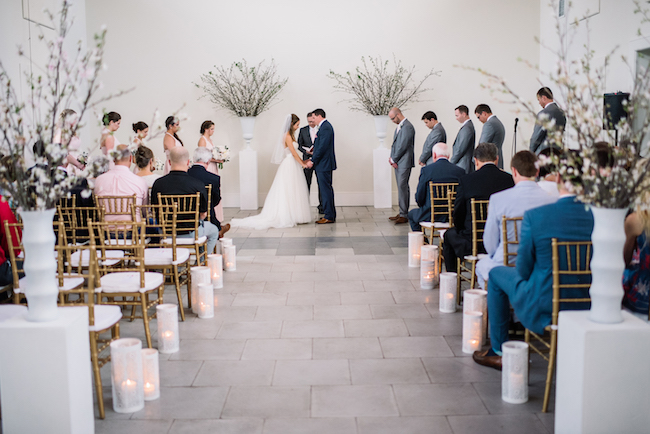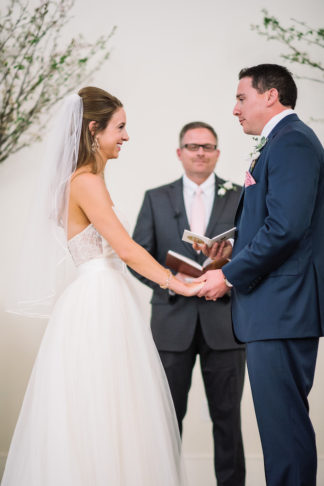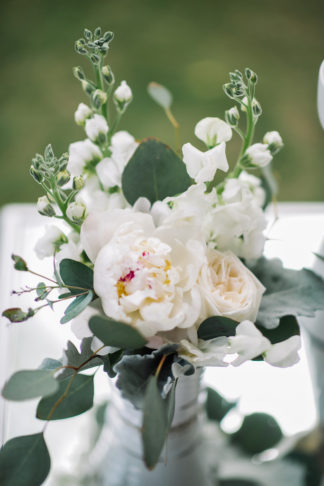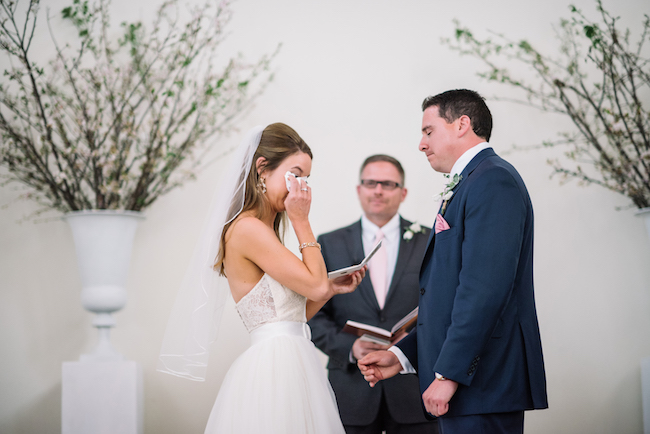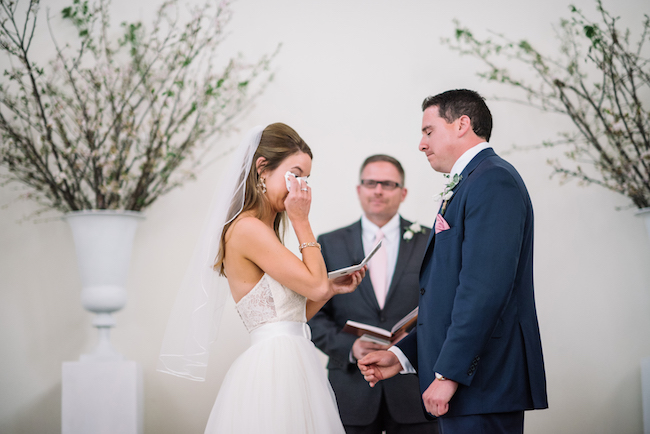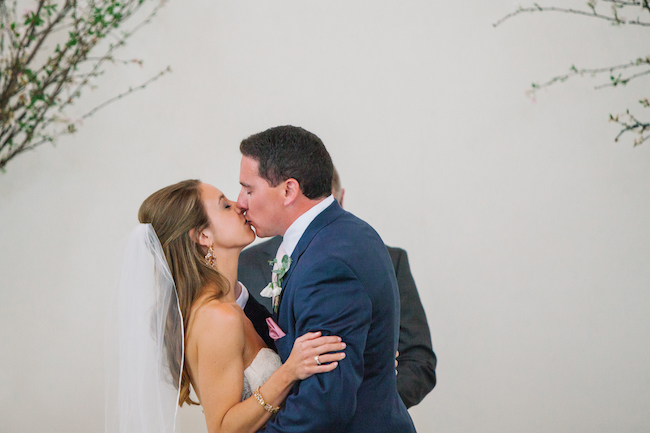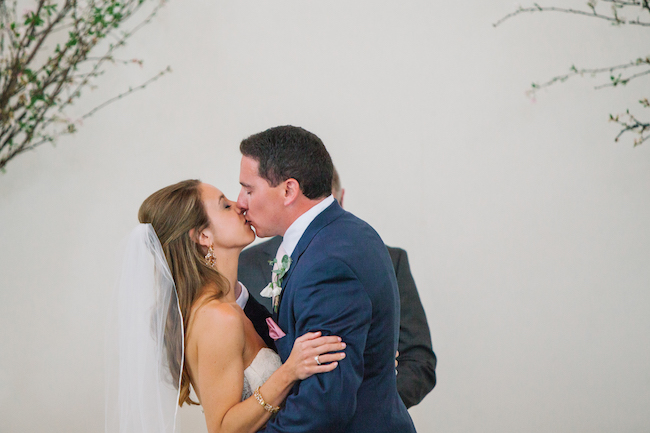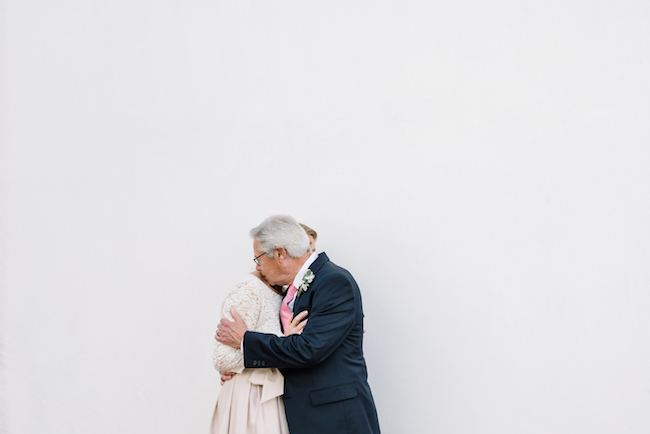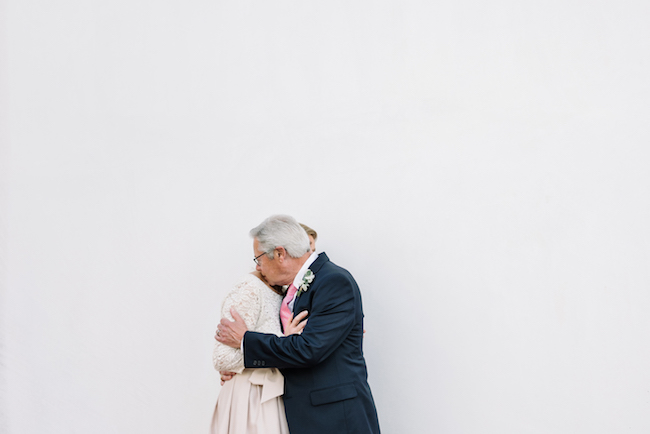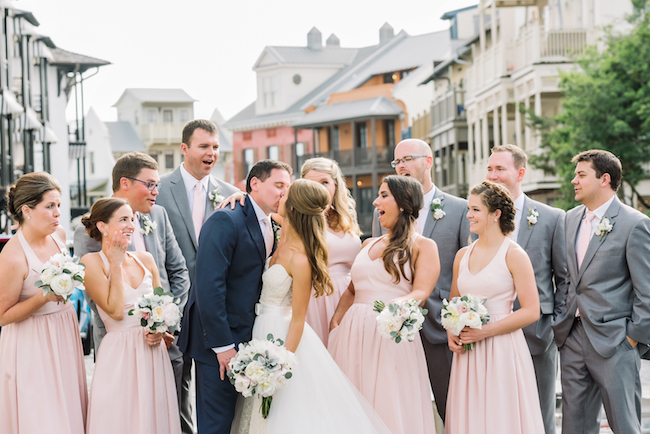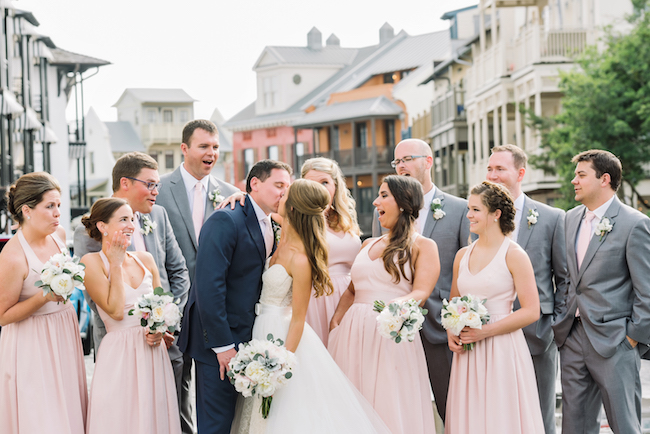 Afterward, our guests moved outside to the courtyard for our cocktail hour while the inside was flipped for dinner. We had a couple of custom cocktails – mine was a Rosemarried Breeze – vodka, grapefruit juice and rosemary-ginger simple syrup. Justin's was a good ol' whiskey and ginger ale!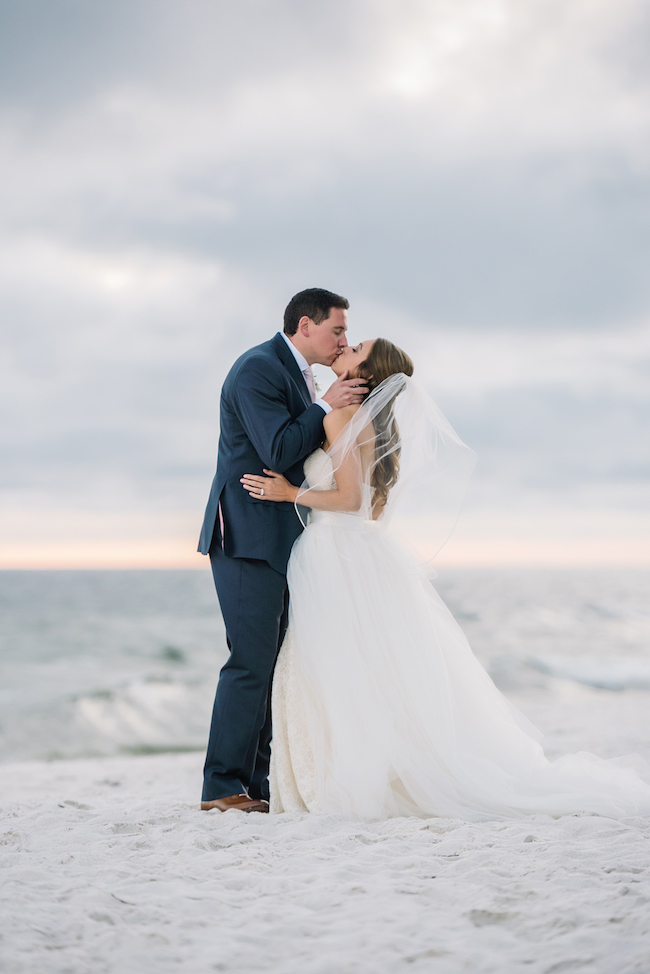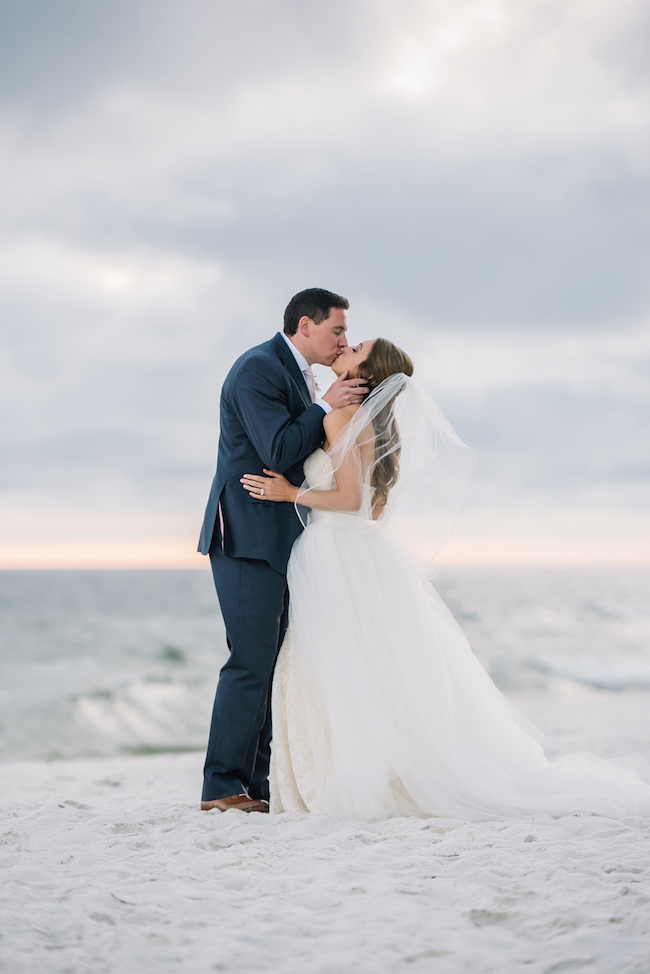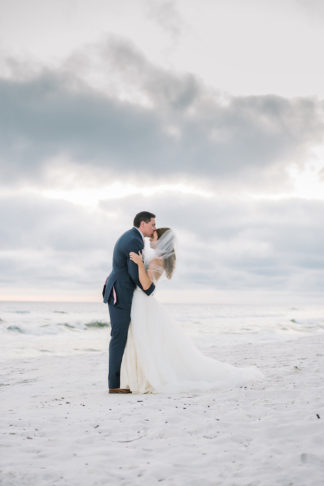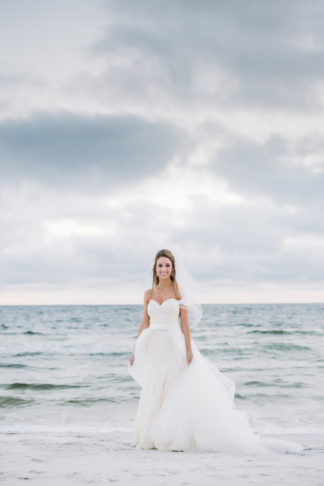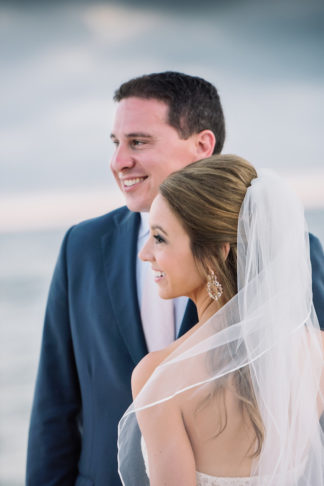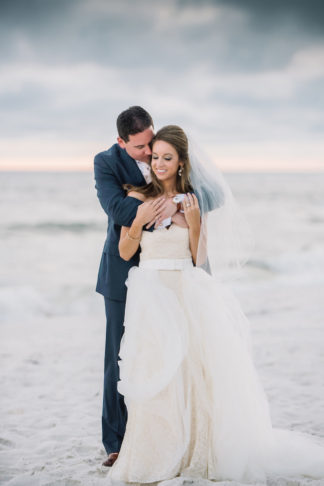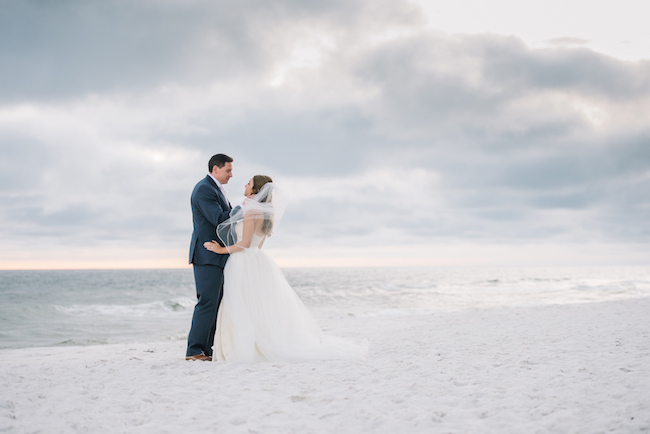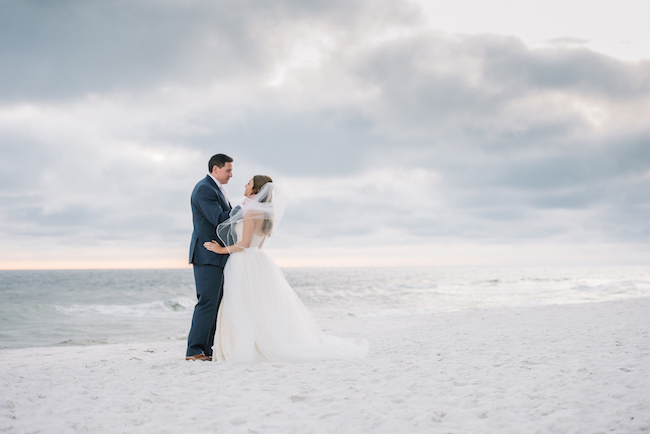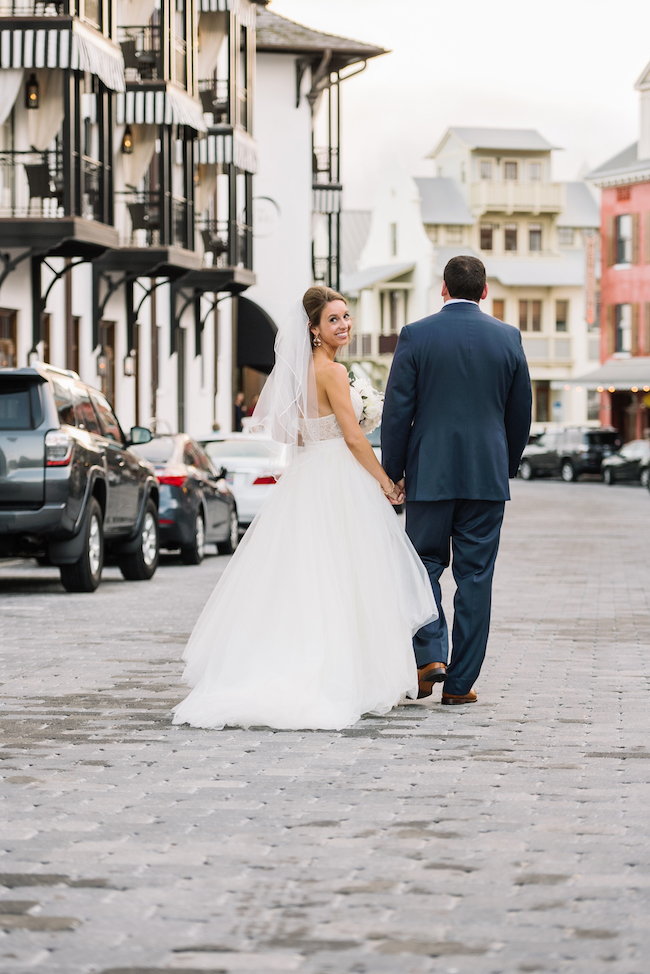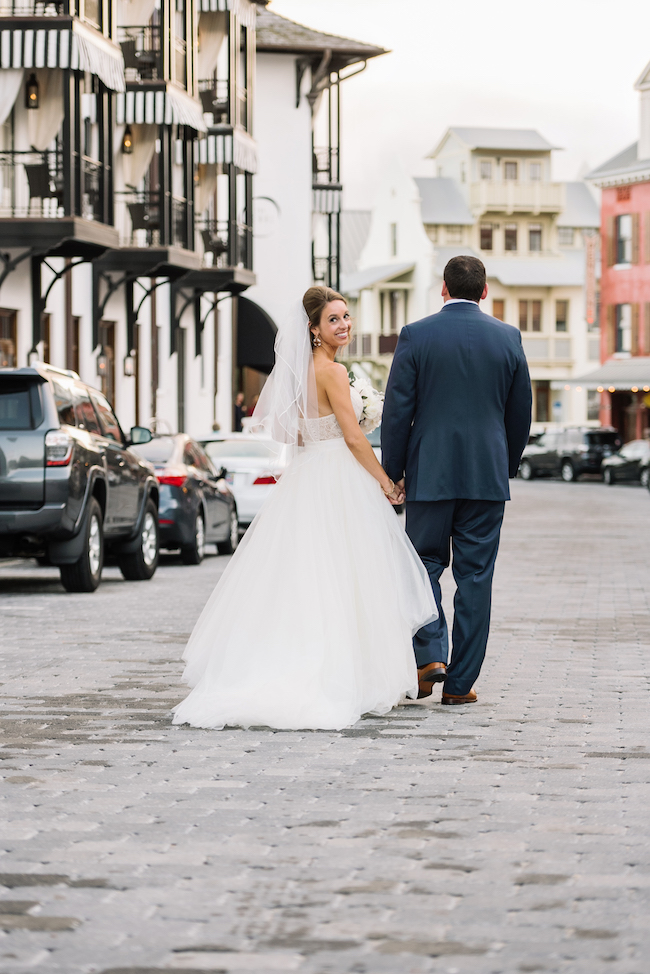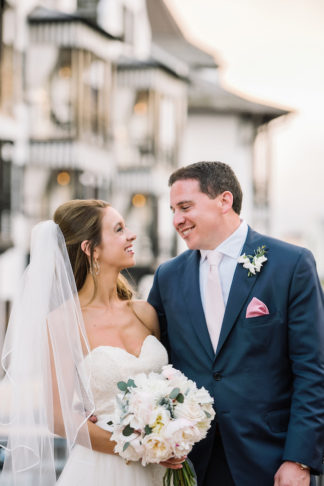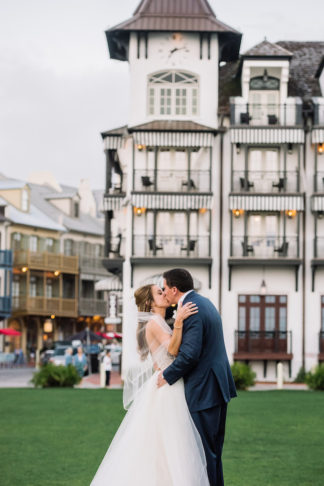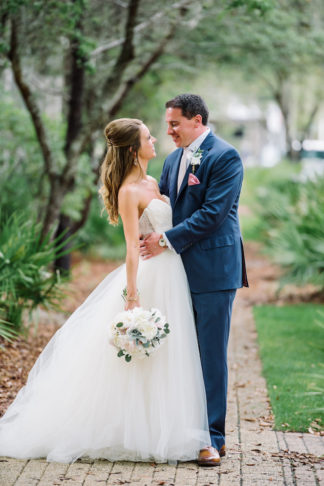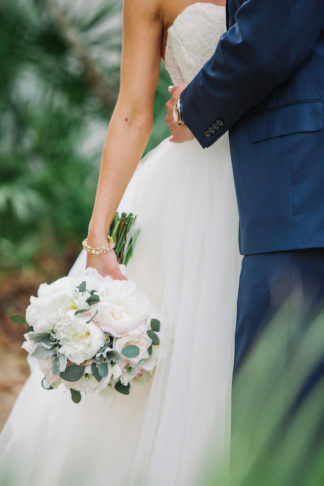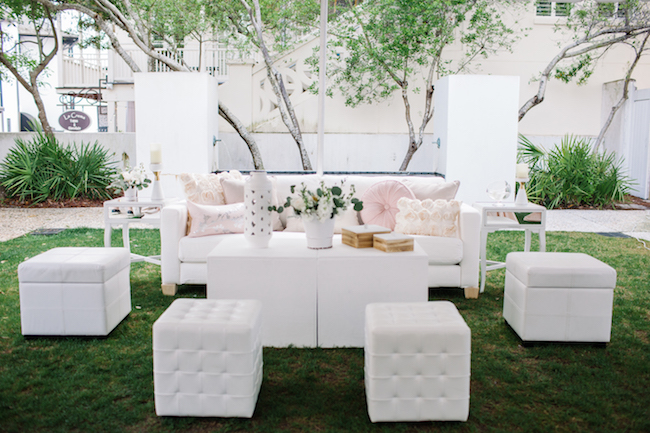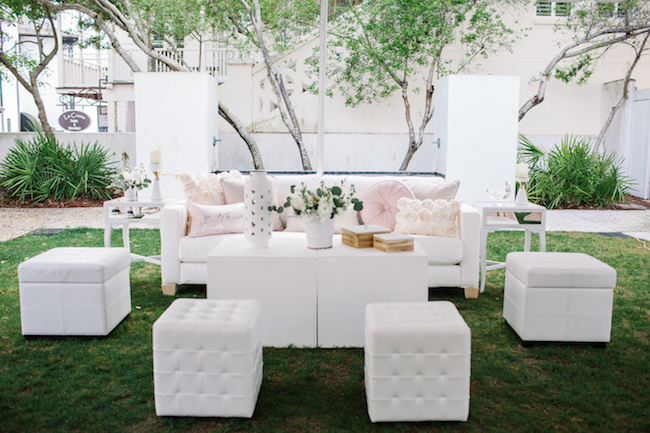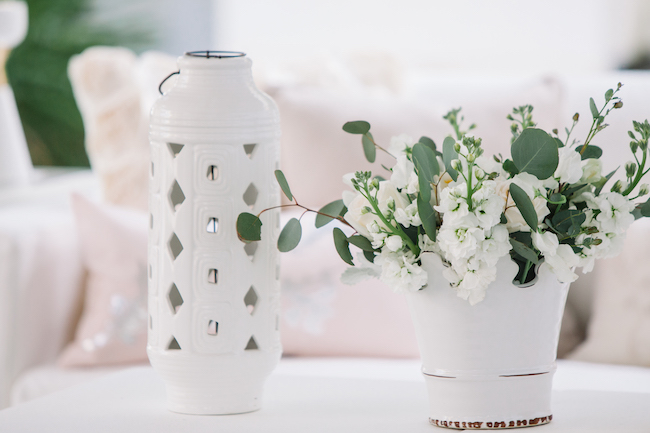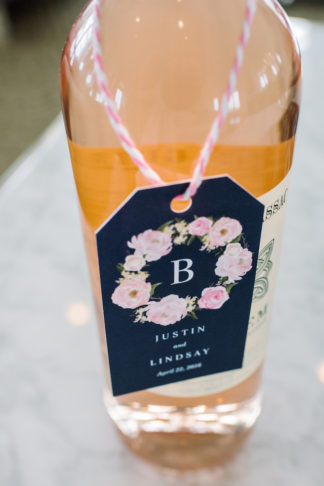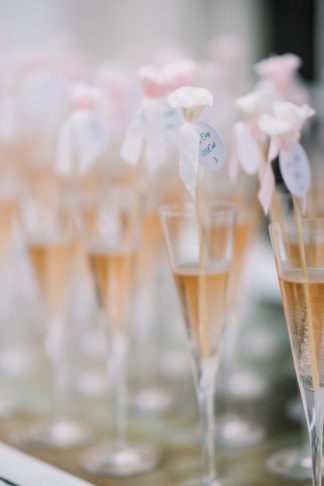 Our escort "cards" were another one of my favorite details. I saw an idea for escort cocktails, and knew that was what I wanted to do. Right before the ceremony ended, we had the caterer pour glasses of pink champagne, and each glass had a swizzle stick with a tissue paper flower on the end, and a tag with each guest's name and table number.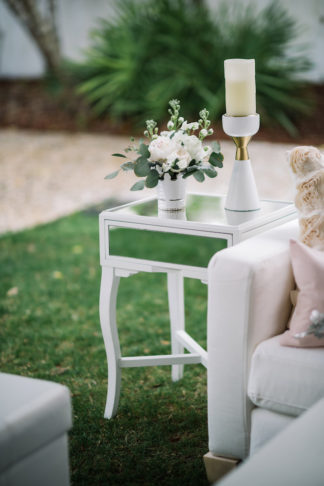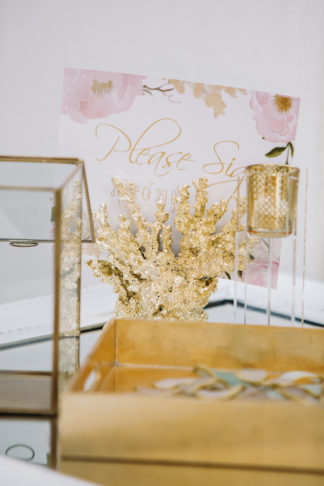 We reused some of the floral arrangements from the ceremony as centerpieces and to flank the dessert table at the reception. I designed the simple table numbers and had them printed on pearl paper, and the florist did the rest of the centerpieces.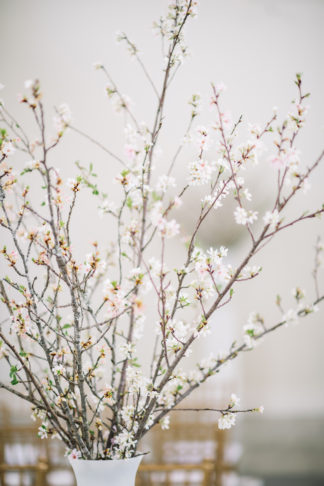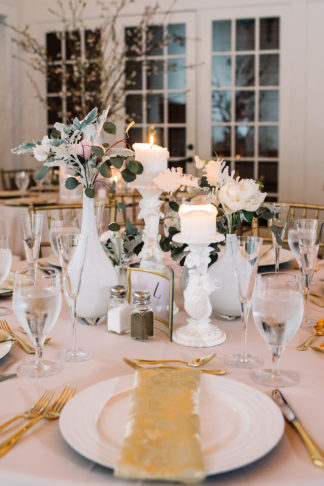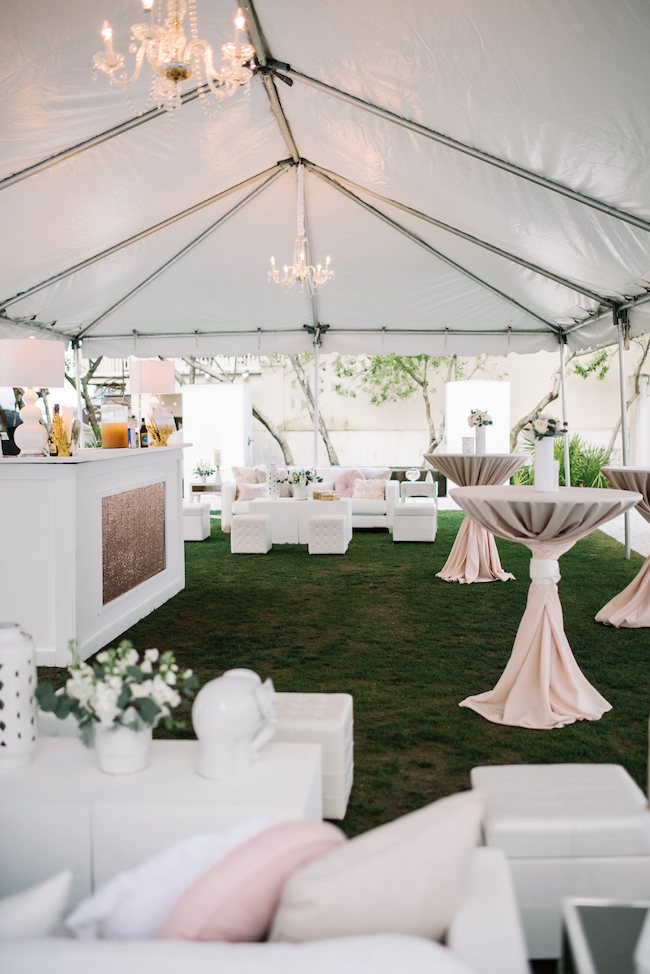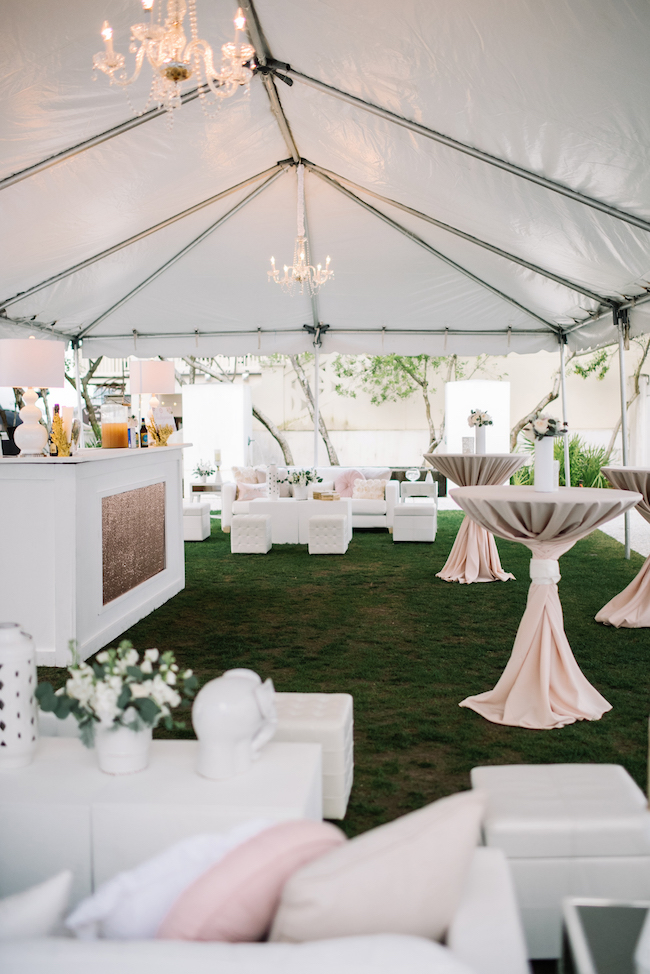 We were excited to find out that our caterer could get gold flatware to go with our theme. We found gold coral pieces that worked to hold various signs (bar menu, guest book, etc) – at Target of all places! We had a few pictures of Justin and I together and as children on the sign in table.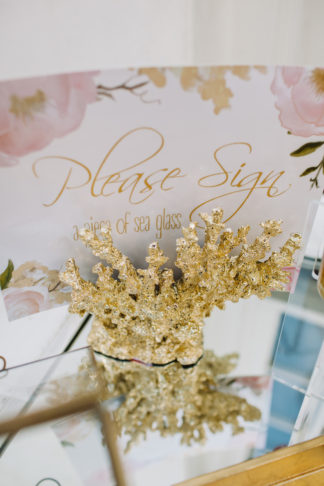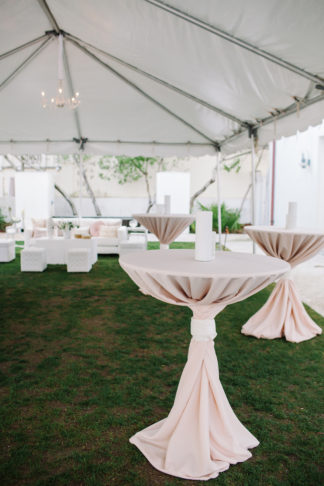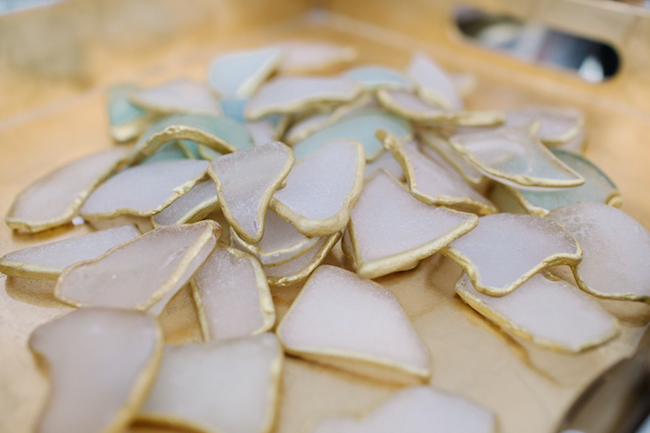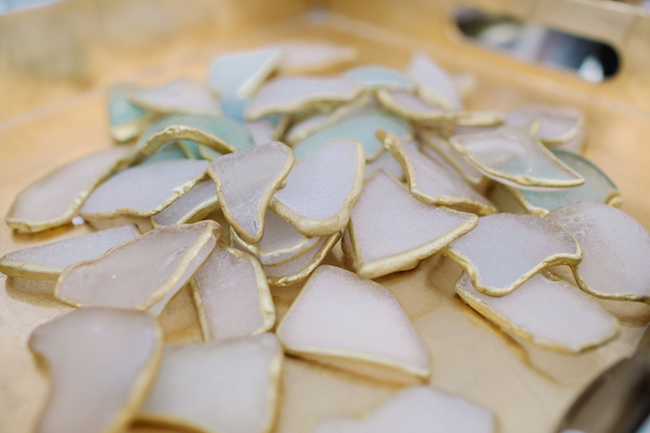 Our guest book was one of my favorite details! When we were visiting Rosemary Beach during our wedding planning, I saw these pretty pieces of sea glass in one of the shops there. I had seen stones for guests to sign before, but I thought it would be really fun with sea glass. I found a place on Etsy that sold sea glass with gold edges, which was perfect. After signing, we had guests place their piece of glass into a gold and glass terrarium we found at West Elm. The guest "book" is now on a shelf in our home together and a special reminder of our wedding day!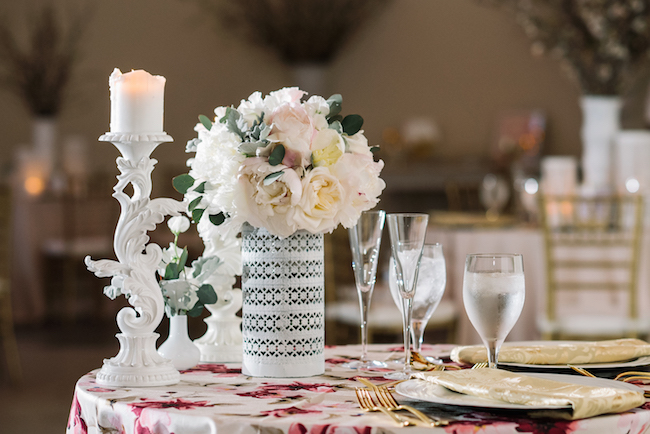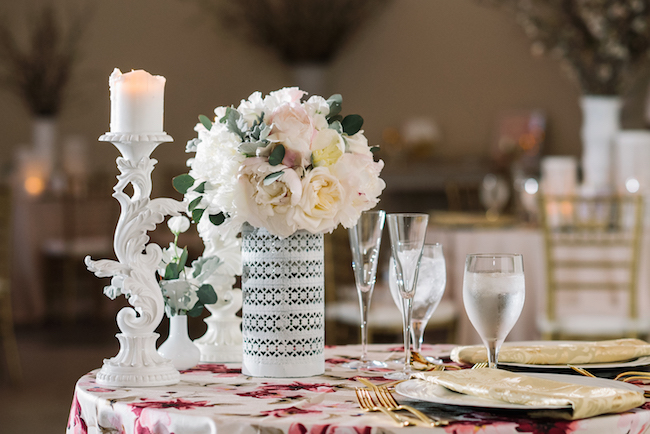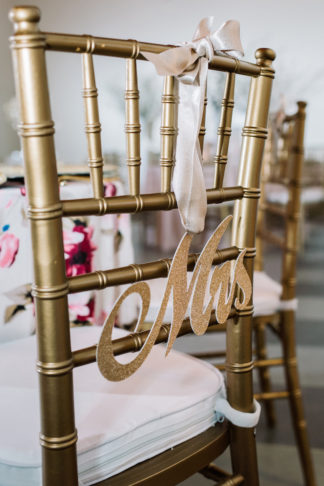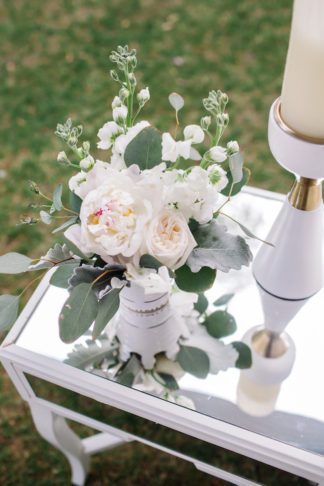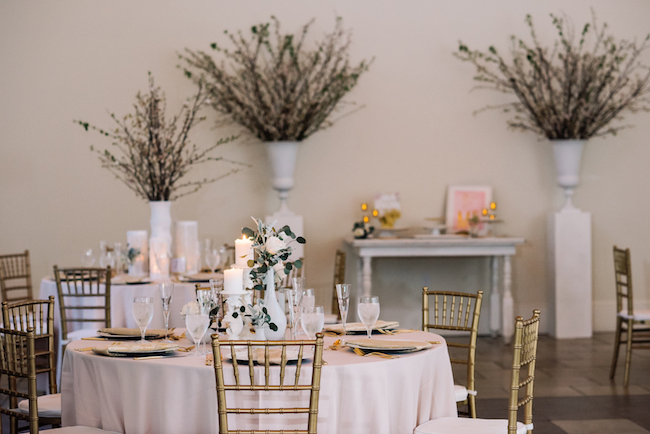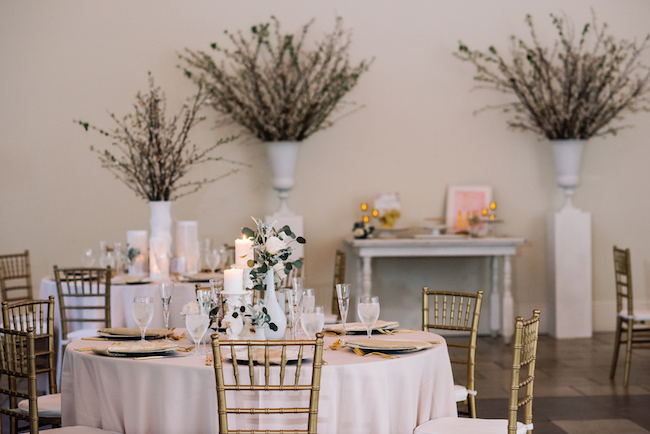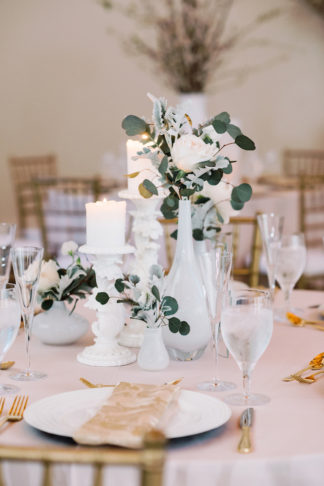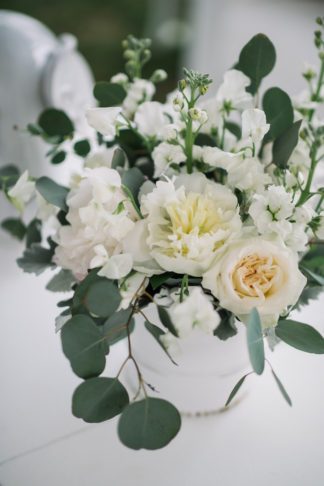 Wedding Planning Advice:
Wedding Vendors
Venue Rosemary Beach Town Hall
Photographer Dear Wesleyann
Dress Celebrations of the Heart  at Jasmine Bridal
Brides Hair Mindy Norris
Brides Make-up Robin Klag
Bridesmaid Dresses David's Bridal
Flowers & Decor Florals by the Sea
DJ / Music B-Boy Productions http://bboyproductions.com/
Favors Bride
Stationery Minted, Zazzle
Wedding Planner- Day of Coordinator: Shelby Peaden Events
Suits Combatant Gentleman (groomsmen) and Tom James (groom)
Dreamy Blush Punta Mita Destination Beach Wedding {Caroline Ross Photography}
Colorful Isla Mujeres Destination Wedding – Jessica Arden Photography
Glamorous Old World Italian Elopement {Rochelle Cheever Photography}
Soft Blush + Gold North Carolina Wedding {Magnolia Photography}
Rose Quartz Pink + Serenity Blue Geometric Wedding Ideas {Veronique Photography}