Love and lace under the starlit sky ♥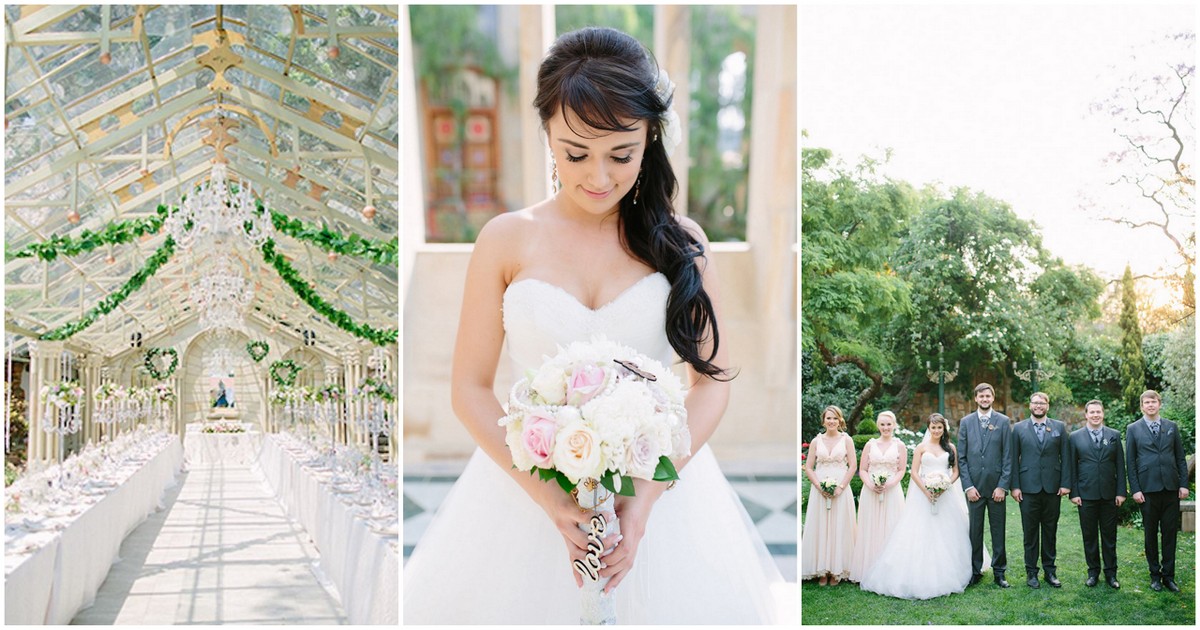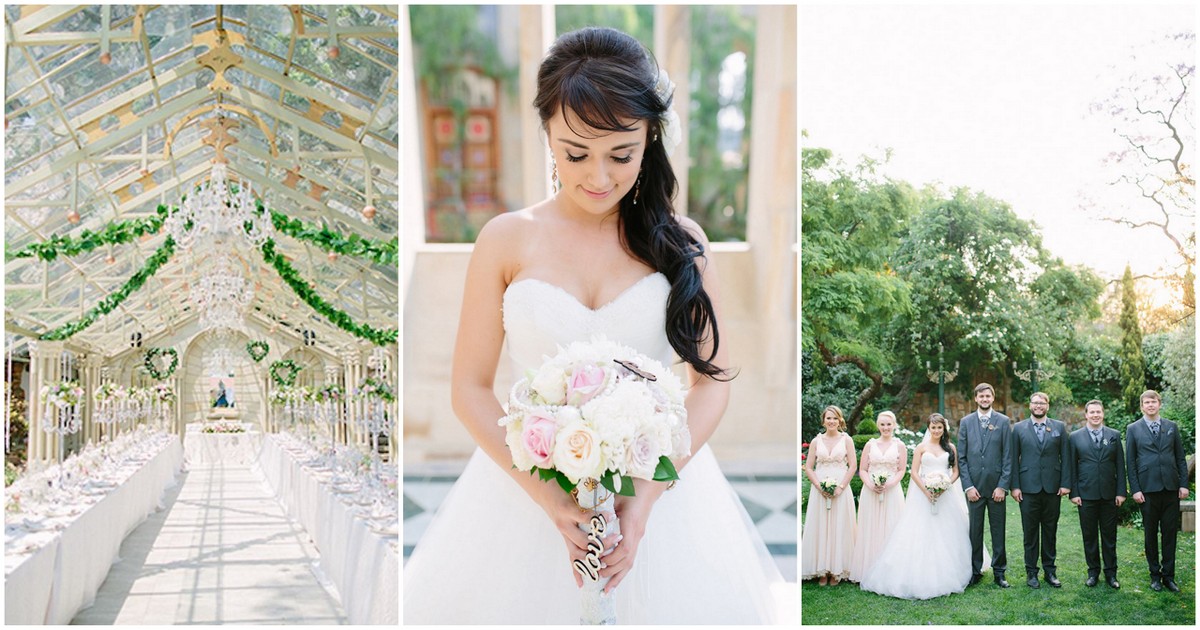 Landi and Christo's romantic Johannesburg garden wedding had a one-worded theme: LOVE. Wrapped up in antique lace, gentle vintage details and soft pink pastels, the couple exchanged vows at Shepstone Gardens. They held their wedding reception under the beautiful glass structure with the elegant chandeliers which the Johannesburg wedding venue, Shepstone Gardens, is so famous for. The couple hung crystal beaded curtains between each pillar which reflected the candle light beautifully. They had two long, beautiful tables with a separate table for the bride and groom, in a U-shaped formation.
With the love of family and friends, and the help of photographers, Mighty Fine Productions,  they created an unforgettable day filled with handmade touches! "Most of the decor was DIY. My mother added the most beautiful touch of details like hand-sewn material hearts as chair decor, the ladies favors were handmade heart brooches and lace serviette rings."
Landi's mother also made me a beautiful lace nightgown which she wore while getting ready, as well as a delicate lace garter with rose details. "My father made breathtaking wood-items like our vintage key seating chart, a unique guest-message station where guests wrote on a wooden heart and threw it in a glass frame, sweet wooden signs with our favorite quotes scattered throughout the venue and three large metal hearts decorated in ivy and little blooms that hung above our bride and groom table at the reception. For the wedding programs I folded in a hundred colorful origami hearts.|
Landi's mother-in-law, a florist, created beautiful centerpieces. "Among other things she used my grandmother's teacups and filled them with delicate roses, little blooms and draped them with pearls. One of the most special highlights was the personalized boutonnieres we made for our closest family and friends. We had laser cut-outs made of an image or word that best represented that person. Another very special moment was when one of our close friends arranged for a choir to come and bless us with a few songs. I still get goosebumps when I think back to that moment."
For their romantic Johannesburg garden wedding  invitation the couple wanted to do something special: "We gave our invitations in a photo frame. We created a design of the Tree of Life which was laser cut from wood and pasted on the plain glass photo frame. We put our invitations inside." This gave their guests something useful they could enjoy afterwards.
"I wouldn't have gotten through the day was it not for Nadia Mångels from Shepstone Gardens," shares Landi. "She kept everything together and made sure we stayed on schedule. Mighty Fine managed to capture every joyous moment of our special day – they managed to capture every goosebump feeling and the magical atmosphere that was present that day."
Romantic Johannesburg Garden Wedding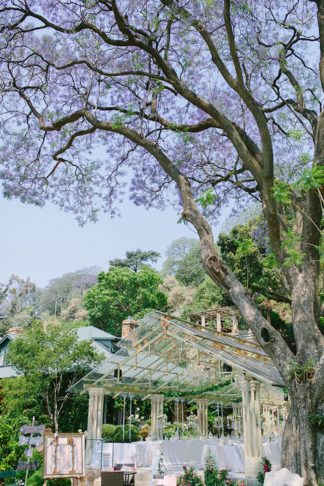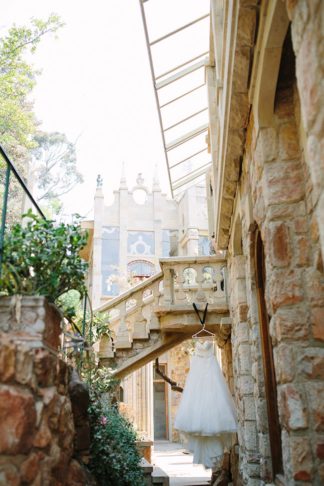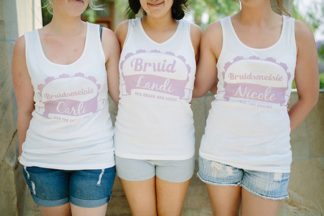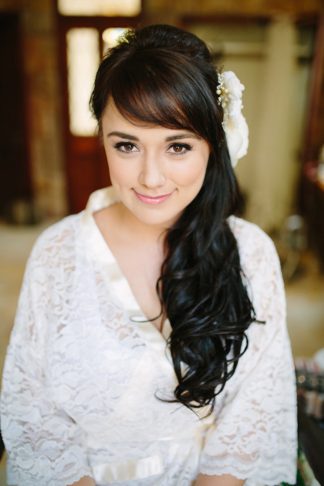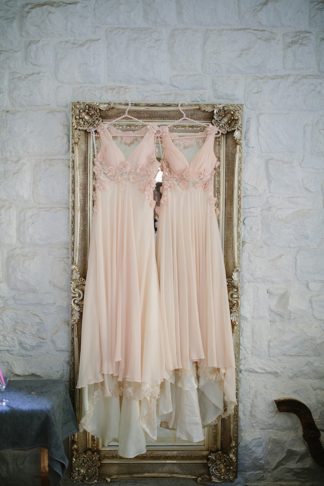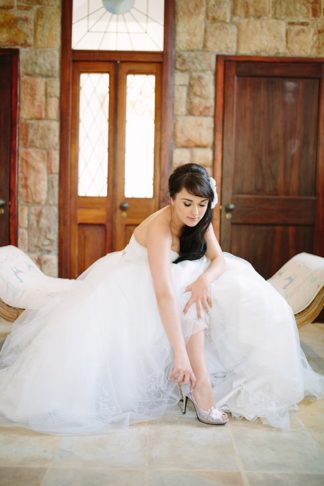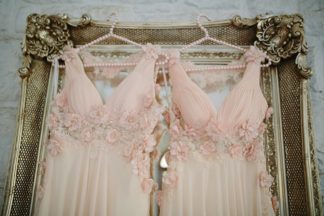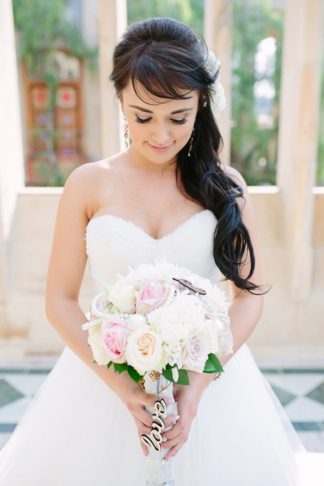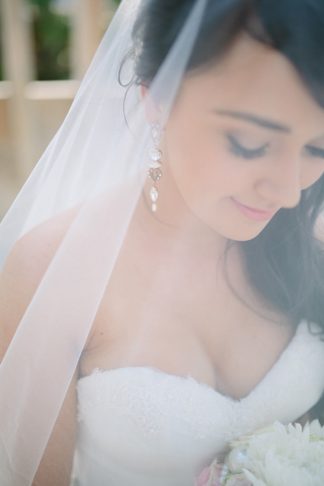 I researched the meaning of flowers in our color palette and only used flowers with a special meaning to us as couple, this included roses which symbolizes love, joy and beauty, carnation symbolizing boldness, stock symbolizing lasting beauty and stargazer lilies symbolizing the fulfillment of a dream. Our wedding day truly was a fulfillment of our every desire! We also included pearls of various sizes to adorn the bouquets. This vintage-romantic style could also be seen in my bridal bouquet as well as the bridesmaids bouquets. We used delicate lace and an abundance of pearls to create this look.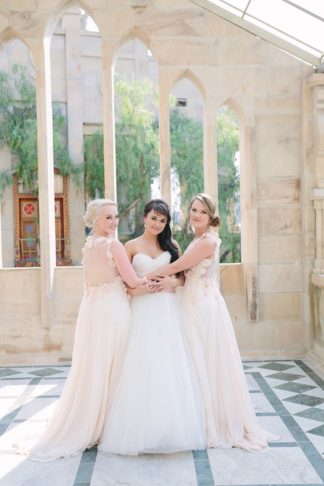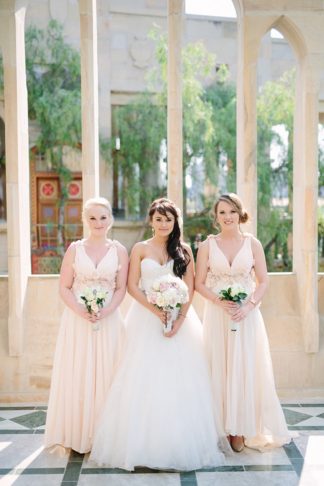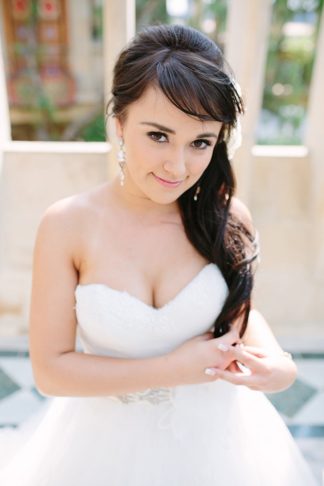 My two bridesmaids looked stunningly beautiful in their lucky-find full-length nude pink dresses with beautiful details of blossoms and lace. I say lucky because there were only these two dresses left at JS Collections and the sizes suited them perfectly. The back was completely open covered with mesh and adorned in scattered blossoms. Their bouquets complimented my bridal bouquet with completely white blooms, lace and pearly details. Each bridesmaid also had a laser cut-out pinned to their bouquet representing their identity and personality.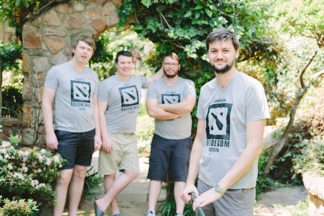 My groom is a bit of a nerd (one of the features I love about him) – so for the day of the wedding I made t-shirts for the groom and groomsmen with the logo of the computer game they play, with each of their names, to wear while getting ready.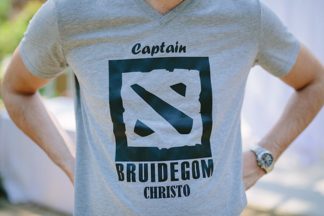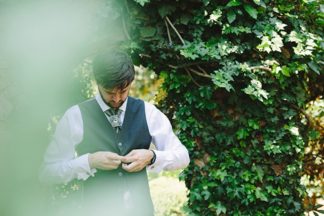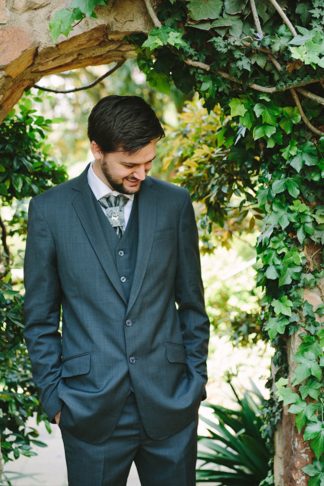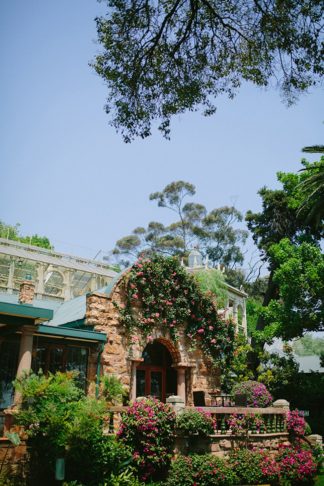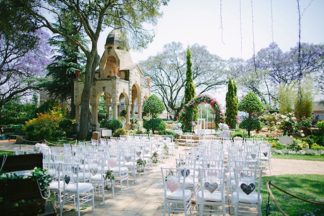 At the beginning of the aisle we stacked vintage suitcases with ivy, the top suitcase open containing the heart glitter confetti which made beautiful photos. Standing beside it was a big wooden sign with Song of Solomon 2:11 painted in delicate letters on it. The aisle had a white carpet leading all the way to the front, adorned in a curly pattern of rose petals with lanterns lining the side. Each chair was decorated with a tulle bow and material heart.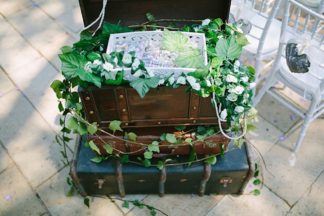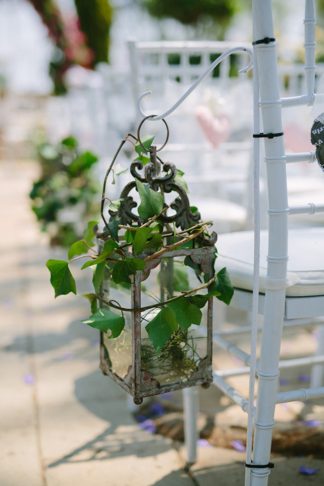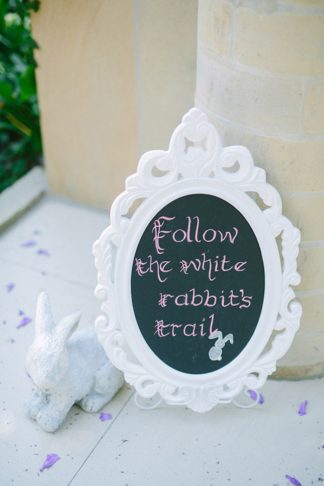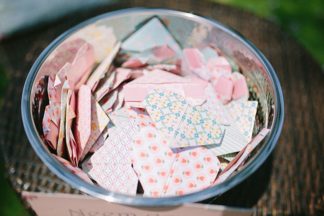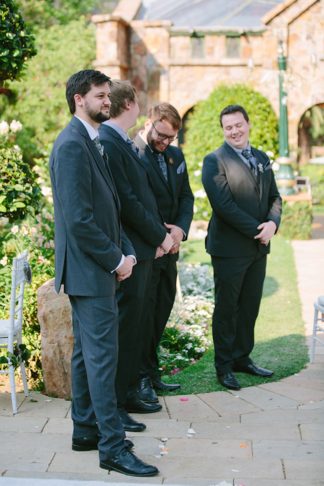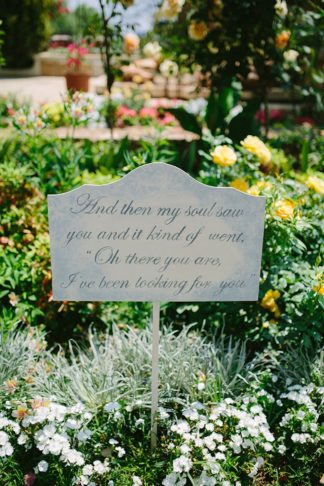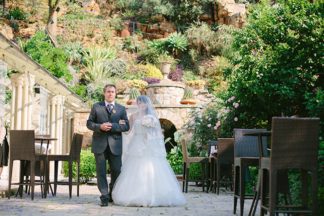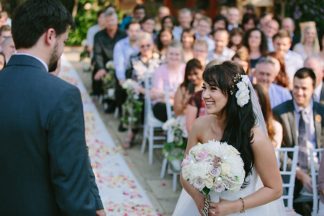 We got married in the garden under a beautiful arch blooming with bright pink Bougainvillea flowers. The arch was decorated with strings of crystals and pearls. For the ceremony we each wrote our own vows and recorded them before-hand so we could just play them on the day, taking off all stress and allowing us to just listen and take in the words.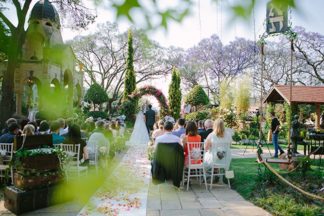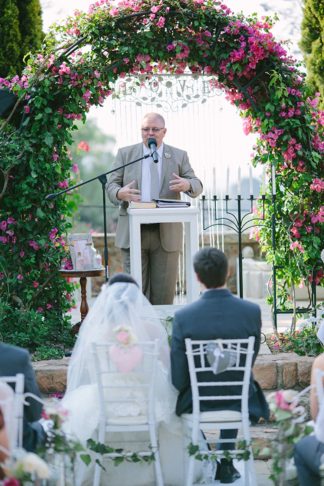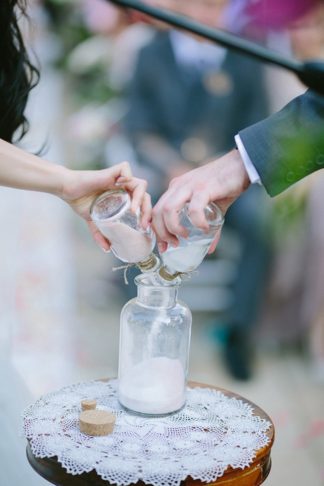 We also did a salt covenant with one another, it is like a sand ceremony but just with salt. A salt covenant is a declaration that the promise of love we make to one another can never be broken and will last for eternity.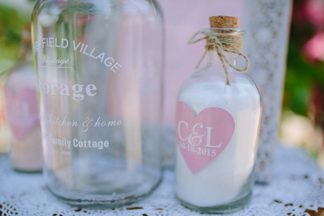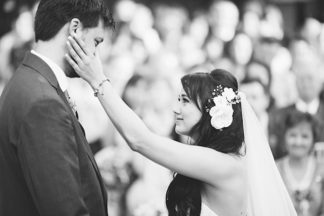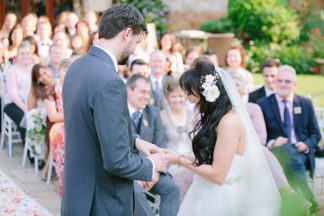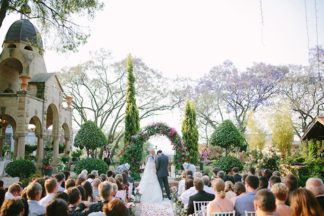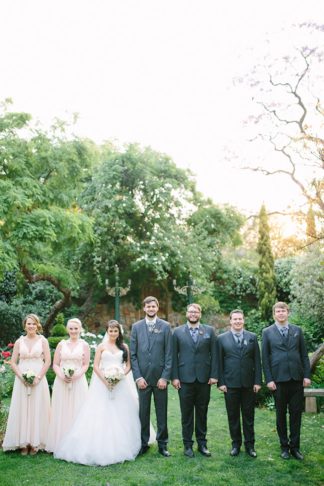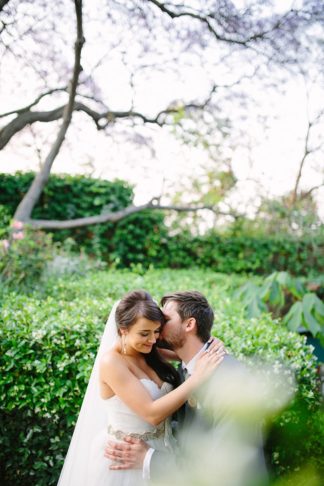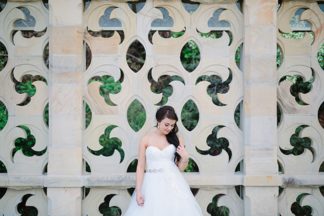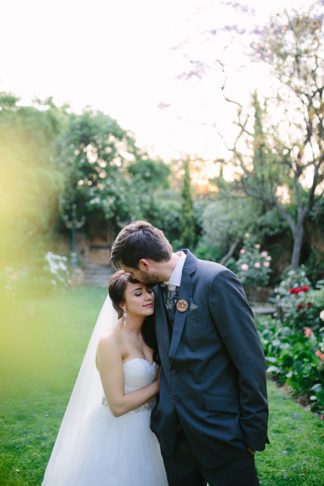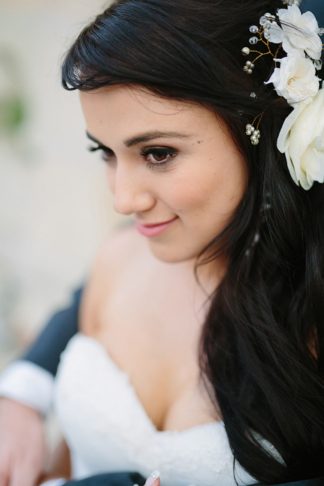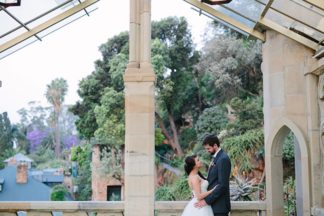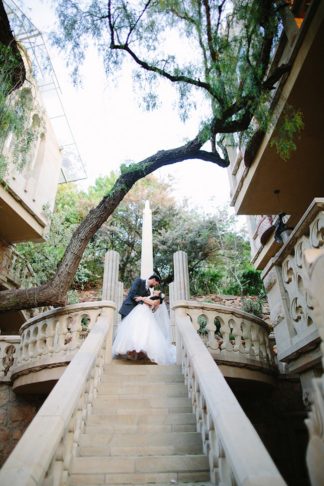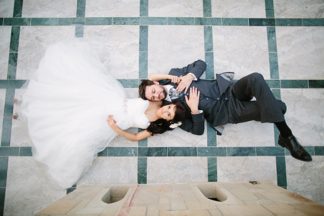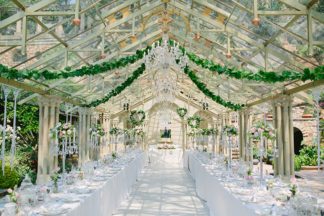 We opted for two long tables instead of separate tables, I refer to them as king's tables as this is how I imagine Kings celebrated and ate in the old days.  The tables were adorned with ivory lace runners, we used soft pink pastels and cream and white flowers with touches of greenery.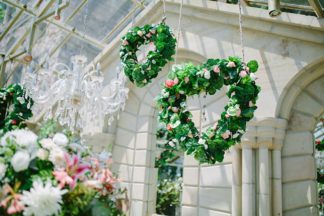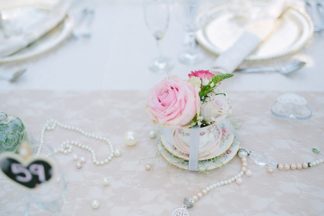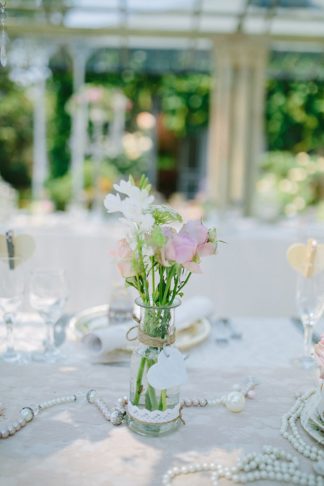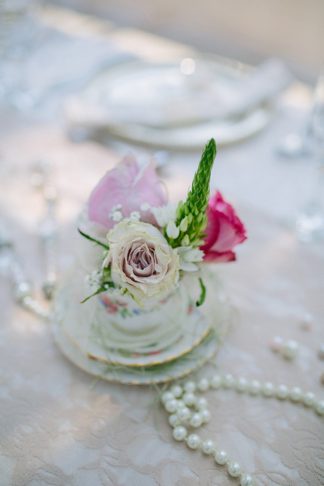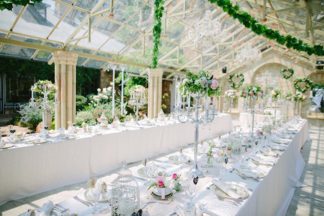 The decor consisted of silver candelabras with hanging crystals, candles and a beautiful floral bouquet, bird cages with candles, teacups with roses, varying vases of glass and pearls and crystals everywhere. As a wedding favor we gave the men a small bottle of liquor wrapped in a handkerchief in honor of my father who, like a gentleman, always has a handkerchief with him. The ladies received a handmade heart brooch encased in a lovely laser-cut box. Every bottle of wine or champagne was covered in a personalized label.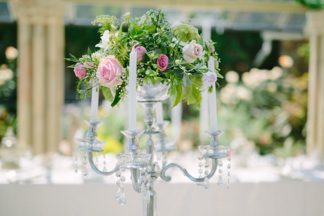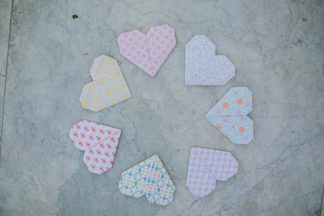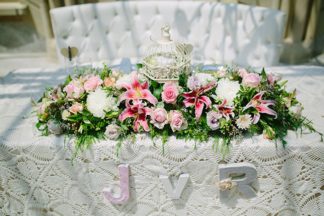 The bride and groom's table looked very vintage with my grandmother's crochet table cover and an overflowing bouquet of blooms. Above us hung the metal hearts decorated in ivy and small hearts my father made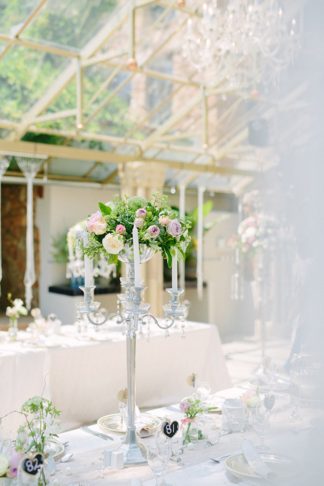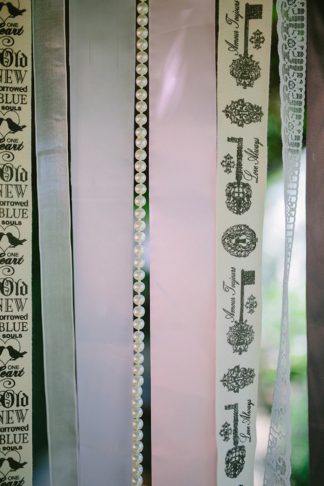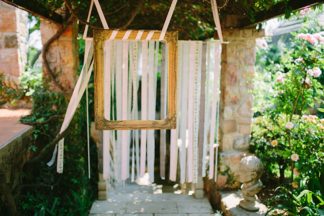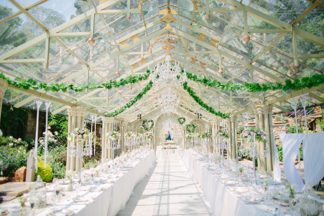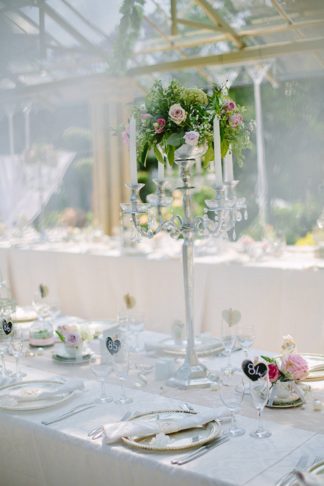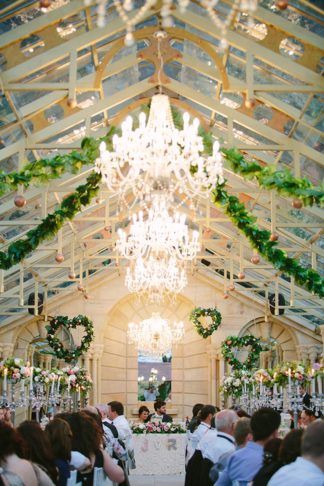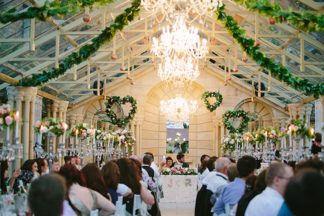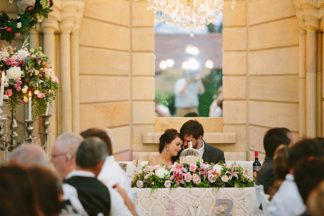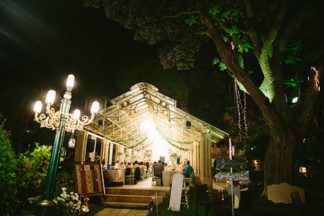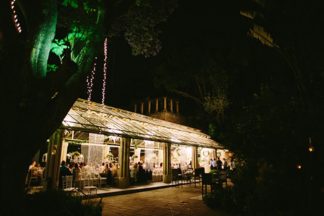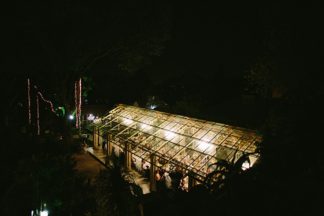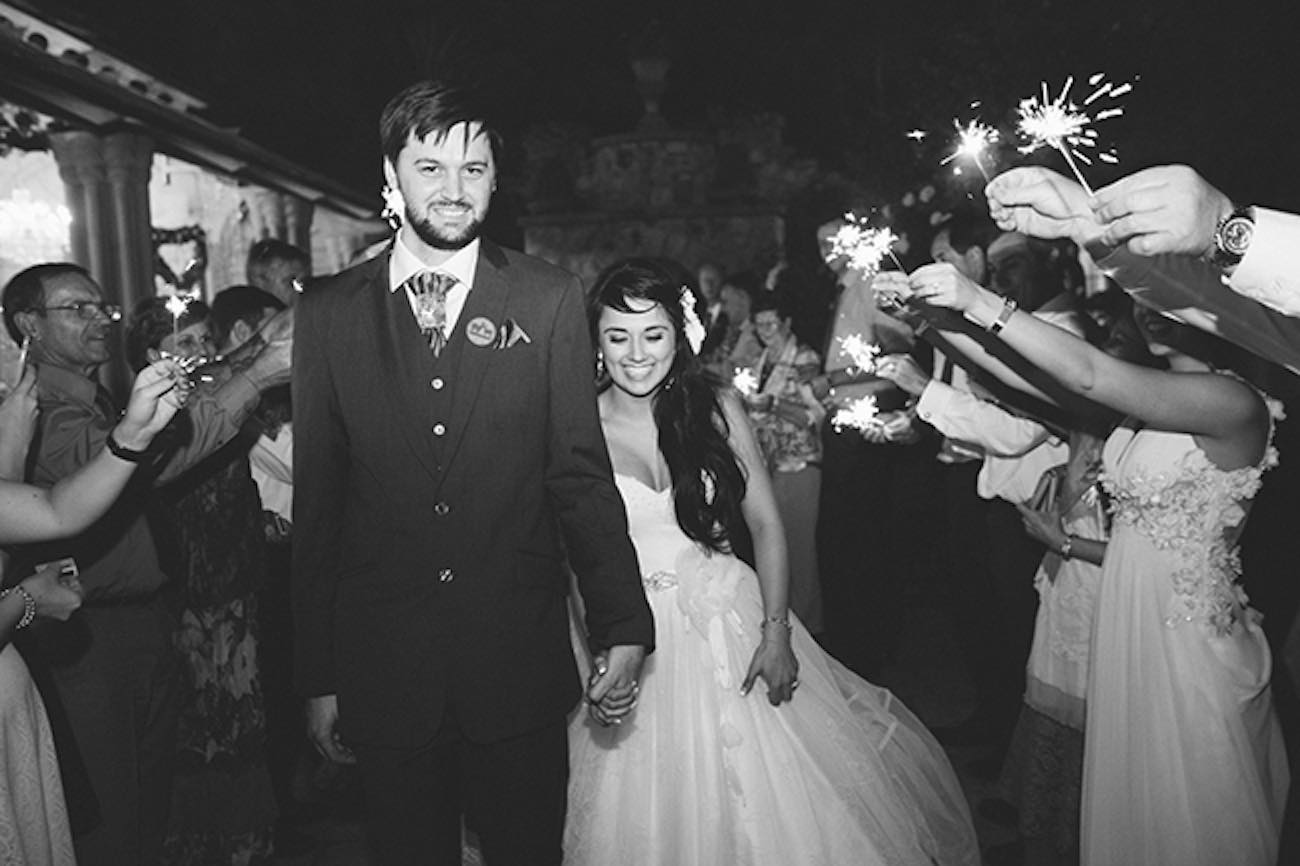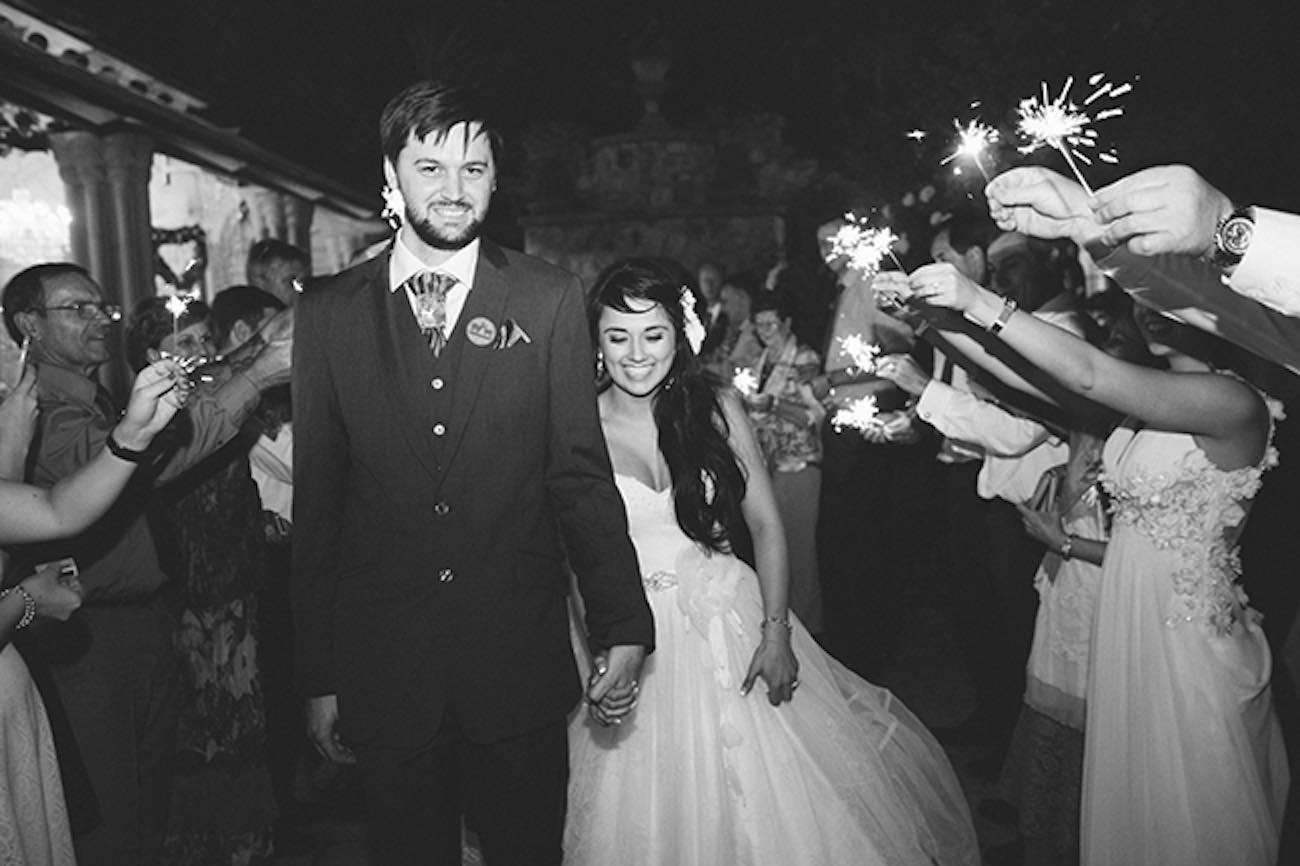 Romantic Johannesburg Garden Wedding
Love Story:  Our romance started through faith. Both of us are part of the same ministry. We met at a gathering in the autumn season of 2014. After months of persuading from Christo's father he finally decided to attend our weekly gatherings. According to my husband, on that first night he laid eyes on me he knew I was his bride. He immediately started pursuing me. After a month of wooing over text messages we decided to meet for coffee. The coffee date turned to a wine-date. We are both avid lovers of wine and coffee. That night we shared our first kiss while the song Can't take my eyes off you by the Cary Brothers played. Our relationship bloomed! Shortly after making our relationship official both of us saw a small "steenbokkie" near where I lived at the time. As we live in the city this was a rare and special occurrence. After that Christo started calling me his "steenbokkie". Six months later we went to a marriage preparation seminar in Meulstroom stretching over a weekend. Christo surprised me with a proposal at the end of the weekend in front of everybody there which included my family. He designed the ring himself, a gorgeous floral filigree design with delicate details. Some might think we got engaged quickly, but as they say, if you know, you know, so why wait?
Wedding Dress: Like all girls I have always dreamed of my wedding day and finding the perfect dress. This was my once upon a time and I wanted to feel like a princess. I wanted to fit as many dresses as possible! But it was not meant to be, because I found my dress at the first store. Like Christo I just knew. I got goosebumps and my mother started crying when she first saw me in the dress. I bought my dress at Lady Marmelaide. It is a ivory princess style gown with a full skirt and a sweetheart neckline designed by Cosmobella. When I wore the dress it looked like I was floating. The bodice was pleated creating a flattering slim figure that finished of in a natural waist. The skirt had a subtle floral pattern underneath a cascading cloud of organza that went out into a train creating a romantic soft look. I added a few personal touches by sewing on delicate lace at the top of the bodice and a crystal and pearl beaded belt with a big material flower from which small bell flowers flowed. The dress fit perfectly and I felt not only radiant but comfortable. I floated and danced in the dress on my wedding day. My Cinderella-like shoes also helped. They fit perfectly, like glass slippers.
Wedding Hair and Make Up: Because the theme of the wedding was vintage love, I opted for a romantic style for my hair and makeup. A cascading of loose curls draped over my shoulder. I had a lovely hair piece made consisting of three flowers with a crystal vine which was draped loosely in my hair. To compliment my hair I asked for a soft smokey eye and soft pink lips which came out beautifully.
Groom and Groomsment's Attire: I call Christo my gentle giant. With his tall form and soft heart he truly is a gentle giant. Measuring a tall 1.92 meters we did not even try to find something in the shops. We went straight to Reliance Tailors and had a handsome, formal, three-piece suit made for him. The suit itself was charcoal grey, with an Egyptian cotton white shirt, personalized cuff links with an image of a "steenbokkie" I gave as a wedding gift to my groom, a paisley pattern cravat with a deer pin and black accessories like the shoes and belt. Because our wedding's style was quite formal we dressed the groomsman in a three piece charcoal grey suite with a soft grey shirt and a paisley pattern cravat we hired from Euro Suit. Each groomsman wore a unique boutonniere, a laser cut-out of an image that best described them.
Wedding Ceremony: The ceremony was my favorite part of our whole romantic Johannesburg garden wedding . To see the look of adoration on Christo's face when I walked down the aisle with tears streaming down his face. That was such a special moment. In the photographs and video afterwards I saw my father and mother was also crying when they saw my groom's face. That was such a precious moment. I walked down the aisle to Matthew Mole's The Wedding Song.
My mother wrote a beautiful Afrikaans poem for us which was read during the ceremony about us finding one another, the bride drawn from the groom's side and how the bride and groom are an example of our relationship with Christ.
Seating Chart: We had a vintage key seating chart made by my talented father, where every guest had a number allocated to their seat. We did not do the traditional throwing of the bouquet and garter, but instead locked a bouquet and garter in a small wooden chest and locked it. We hid the key between all the keys that would unlock the chest. For our guest book my father built a unique guest-message station where guests wrote on a wooden heart and threw it in a glass frame.
Wedding Playlist: For our first dance we danced to "Dat jy myne is" by the Afrikaans singer "Joshua na die reën". We went for a few dance classes as my soulmate has two left feet. On our wedding day we missed a few steps with our first dance but nobody noticed and thought we danced beautifully!
Wedding Planning Advice:
Preparation is key! We did the bulk of the work at the beginning of our engagement and made sure everything was finished to just quickly hang or place on the day. At the end of our engagement a few weeks before the wedding all the planning and stress had taken its toll on me and my fiance. Everybody was tired and lacked energy. I remember telling my mother how thankful I was that we prepared so well in advance. Only the small things were left at the end and I could relax and enjoy a bit of pampering the week before the wedding. It took a lot of stress off my mother, father and mother-in-law who were completely involved in the setting-up process on the day.
DIY, DIY, DIY!! Although its hard work, we saved a lot of money by doing some of the things ourselves and it also lent a special, personalized touch to the wedding. For example, I had a look at the prices for hiring/buying material hearts similar to the ones my mother made. Our decor expenses would have sky rocketed!
Wedding Service Providers: