A laid-back South African Wedding Celebration at the Sea ♥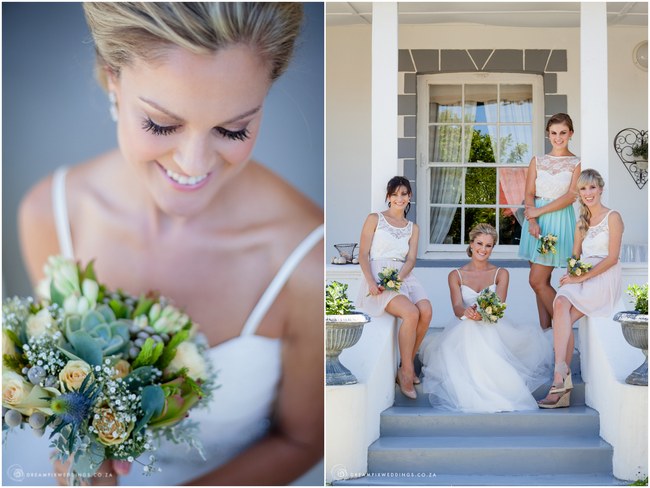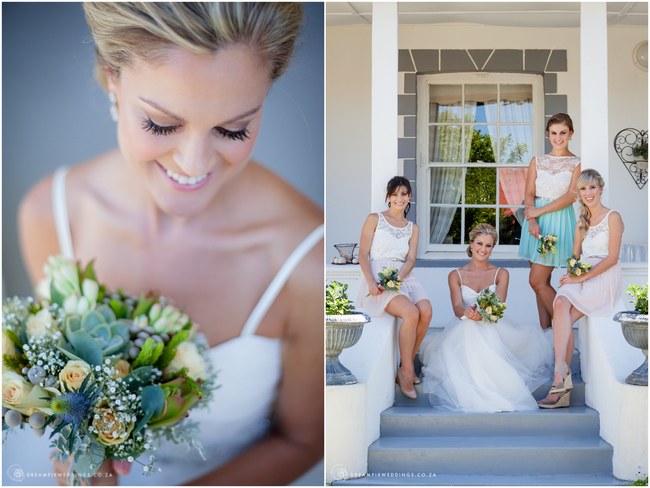 South African couple, Fiela and Biance, were married in a natural, laid-back and simply charming seaside celebration held at L'Agulhas in the Western Cape. Biance grew up in the South African Overberg where fynbos (a South African term for hardy vegetation including succulents) is pretty much the only type of vegetation around, making her decision to use succulents as the focal point of their floral wedding decor an easy one. Their relaxed, beachfront reception complete with a magical marimba band, took place in a delightful tent decorated with fairy lights, Chinese lanterns and candles, against the sensational summer backdrop of outdoor bonfires.
"We wanted the tent to be connected with the oceanfront," shares Biance as she describes the scene. "It was February, the peak of the South African summer, therefore our guests could enjoy the warm evening and ocean view outside. Our surroundings were beautiful and you could here, see and smell the ocean." Dreampix Photography was in attendance to capture the couple's celebrations as the day turned into night.
From the Bride:
Part of what made the wedding so special for us was the attendance of our families, who are scattered all over the world. Fiela's sister and her family (husband and two beautiful little girls) came to our wedding from Canada and his brother came from Australia. My brother also lived in Turkey at the time and he also came down for the wedding. The whole family (his and mine) therefore gathered a week before the wedding in Struisbaai for one big summer vacation!
The wedding day was very special since we shared the day with my dad's birthday. The whole wedding day was just "us" and our personalities. The ocean, the outdoors and the nature. That is exactly how we wanted it! There was a marimba band playing during the pre drinks and it gave the whole feeling of an island vibe. Some of the guests later swam in the tidal pools in front of our tent! We had the most amazing weather: no wind, blue skies and in the evening the full moon was our spot light. It was magical!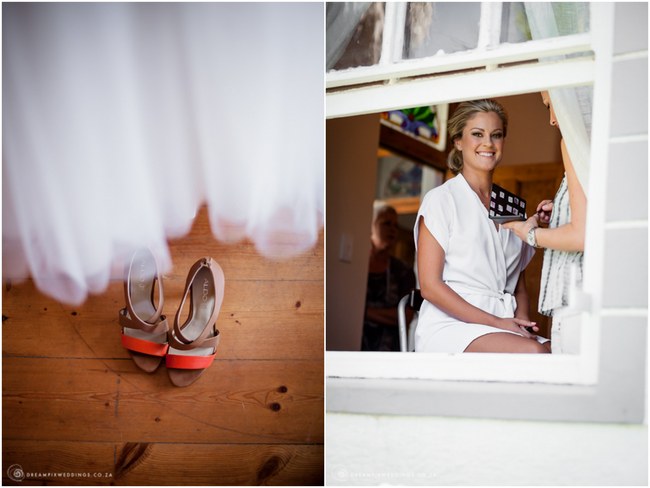 Their Love Story:
Our story started in December 2009. It was my last December as a student at Stellenbosch and my best friend and I went on holiday in Jongensfontein, near Stillbay, and there I met Fiela. He was also on holiday with his family (who is scattered all over the world – his sister in Canada and brother in Australia). I therefore had the privilege to meet his entire family on our first date!
We were spending every day together with his group of friends for almost two weeks during that holiday. I remember telling my friend that I have never met someone who laughed so much as he did – and with the most beautiful smile I have ever seen – if I may add! We immediately had a connection, the same interests and sense of humor. It was the perfect summer fling. I moved to Cape Town in January 2010 where I started working, and, luckily for me, Fiela had already lived there for 7 years. Therefore he was the perfect candidate to show me my way around Cape Town 😉 Needless to say we continued our summer fling throughout autumn, winter, spring and yet another summer. The rest is a very happy history!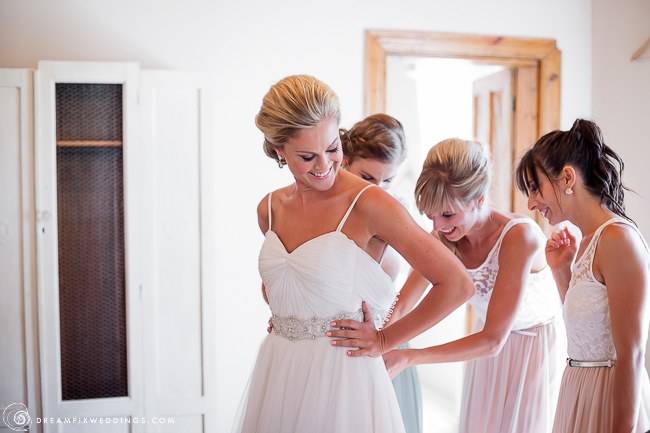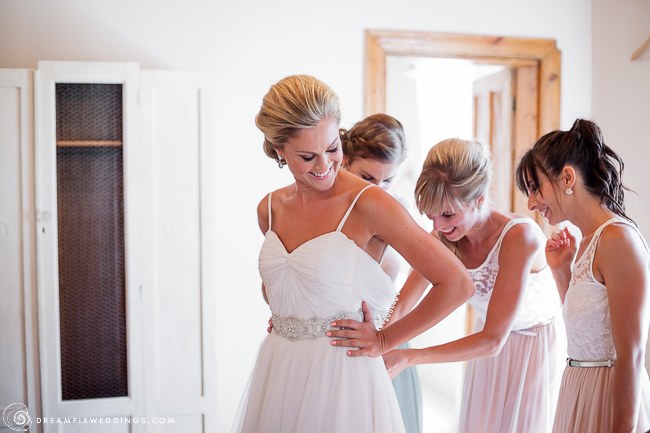 Their Proposal:
During the long Easter weekend of April 2012 we visited my parents in Struisbaai. It was raining. And when I say raining, I mean it was pouring rain from morning to night! Fiela obviously had the idea to ask me to get married outside somewhere. And for that we needed sunshine… On Monday, the last day before the long weekend was over, it stopped raining for a short while. Fiela then suggested a stroll on the beach. As we walked on the beach I stopped to take a picture of the sun shining through the clouds. He kneeled down to take the camera out of his camera bag of and to my surprise it wasn't a camera in his hand, but an engagement ring! He asked me to get married on the exact same spot where our wedding tent was standing 11 months after that!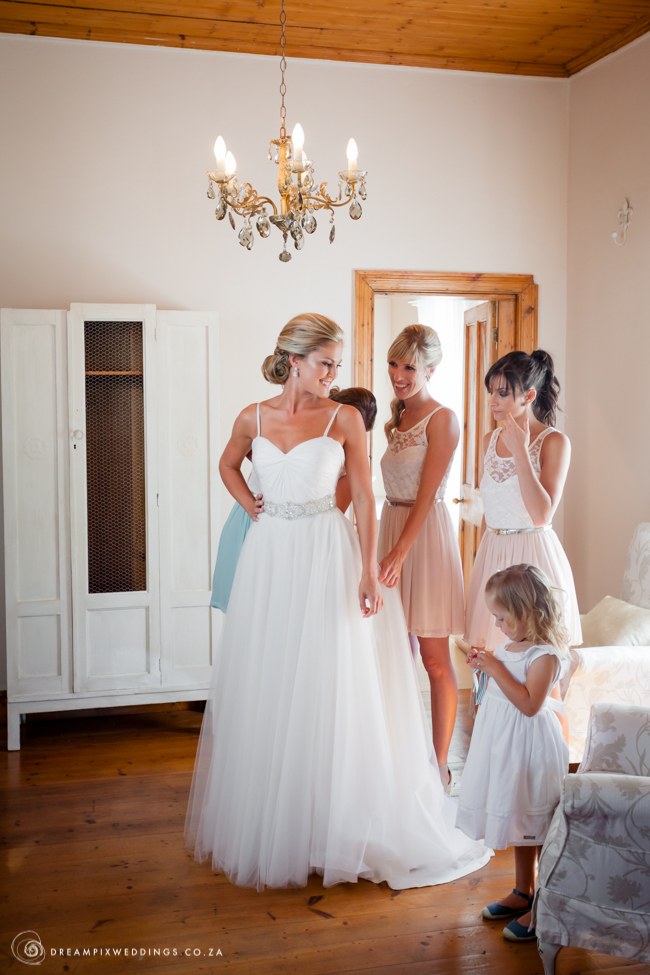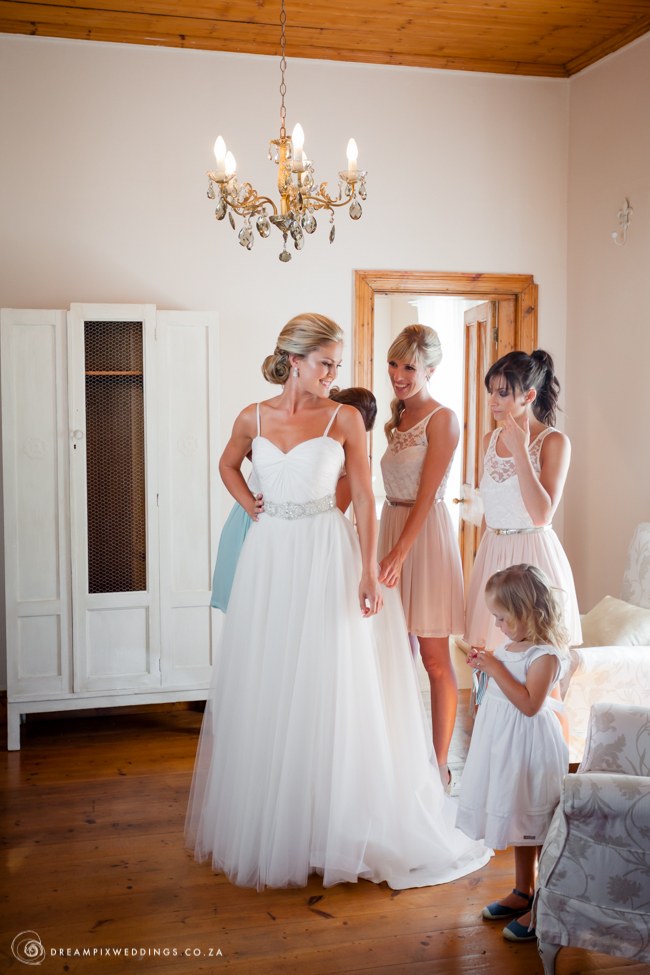 Wedding Dress & Bridal Styling: My wedding dress was first of all comfortable. Comfortable and beautiful. It was a soft dress with 8 layers of tulle. I went for the classic look with my hair, make-up and jewellery. My nails were painted with an interesting pink colour. I wore light brown high heels form Aldo. I went for the classic and timeless look.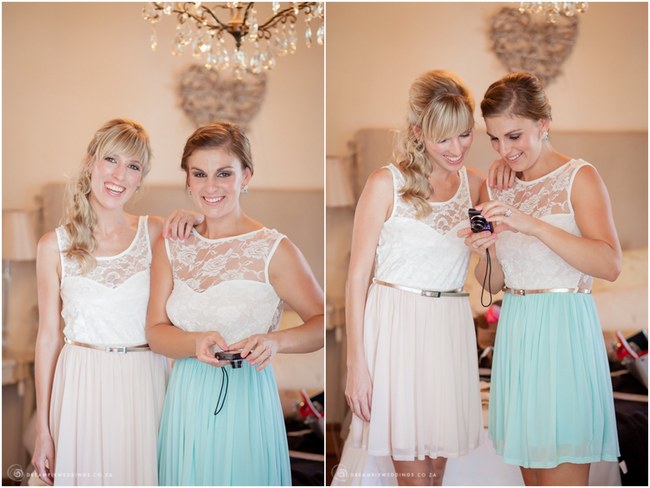 Bridesmaids: I bought my bridesmaids' dresses at YDE in pastel colours. Their dresses were soft and flowy. They also had soft brown shoes.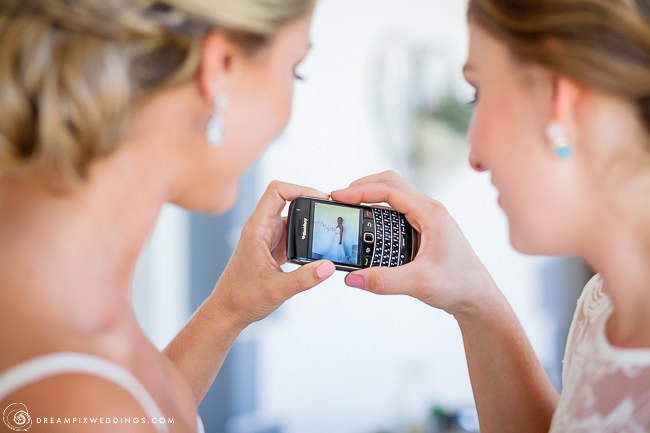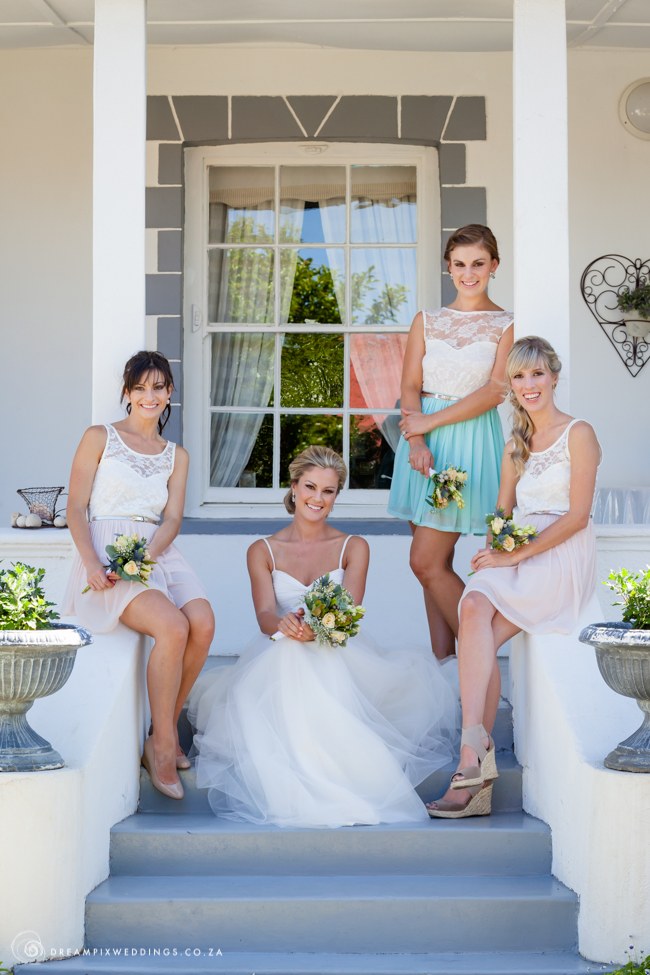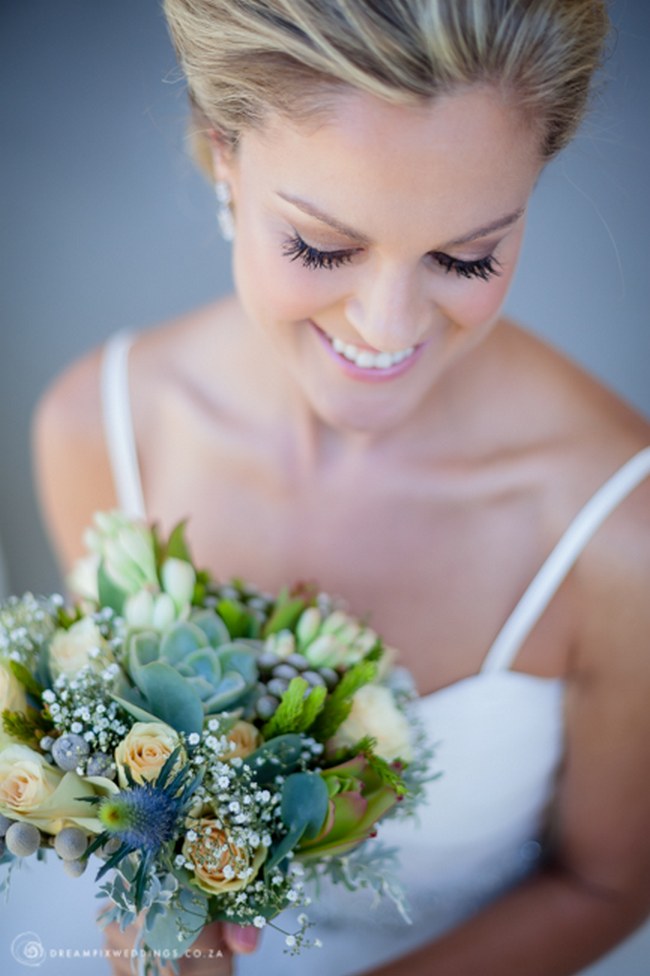 Bouquets:  Our bouquets were made using local Fynbos and other flowers in natural colours – lots of greens and pastels.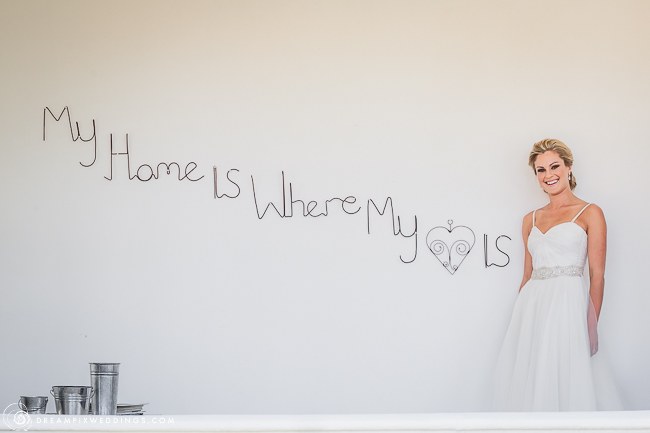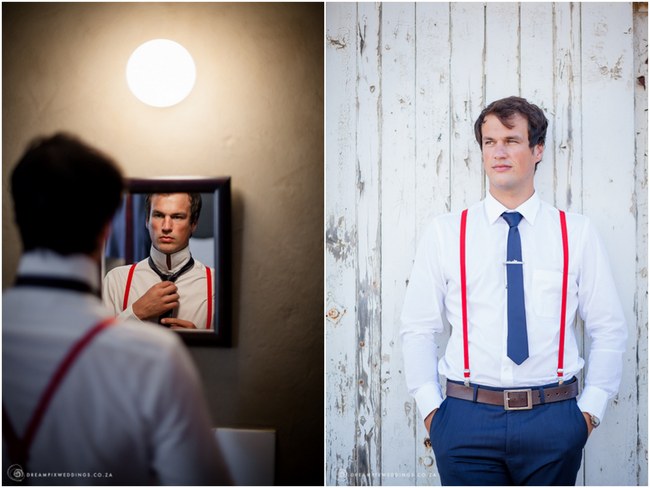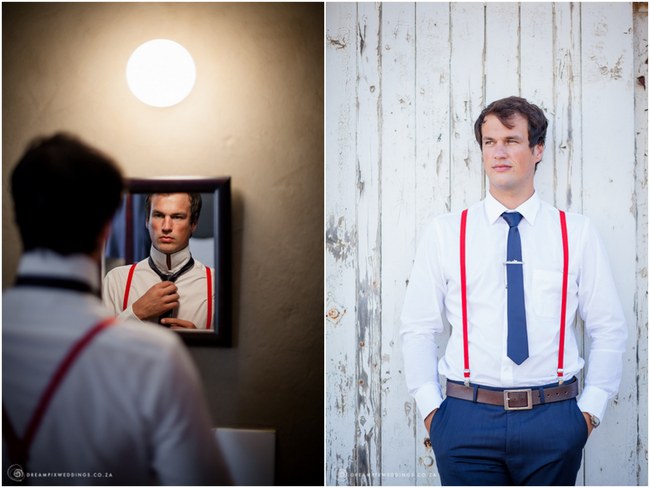 Groom and Groomsmen: My handsome groom had a navy slim-fit suite with a crisp white shirt and slim navy tie. He had red braces ("kruisbande") to add a touch of fun to his look, and this went well with our retro red interior of our wedding car. He also had cufflinks in the shape of a ship as we were to be married by the seaside. The groomsmen had the same style as the groom – slim fit navy suits. minus the braces.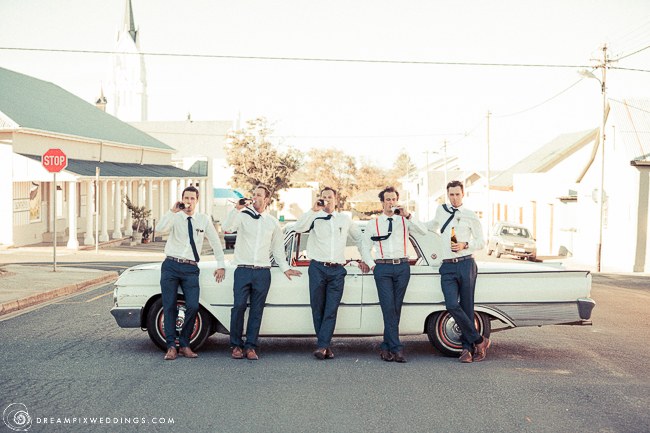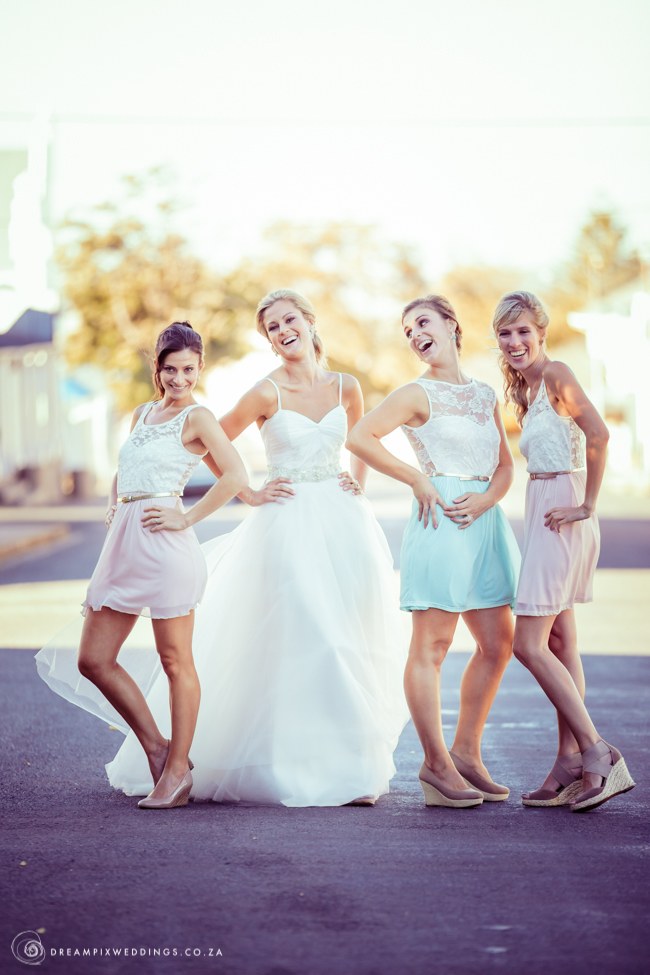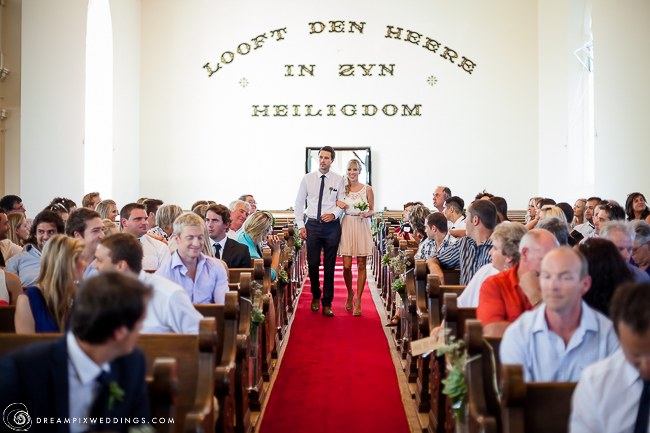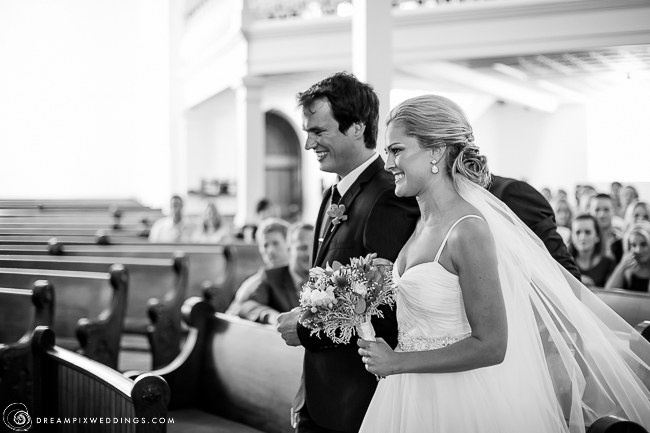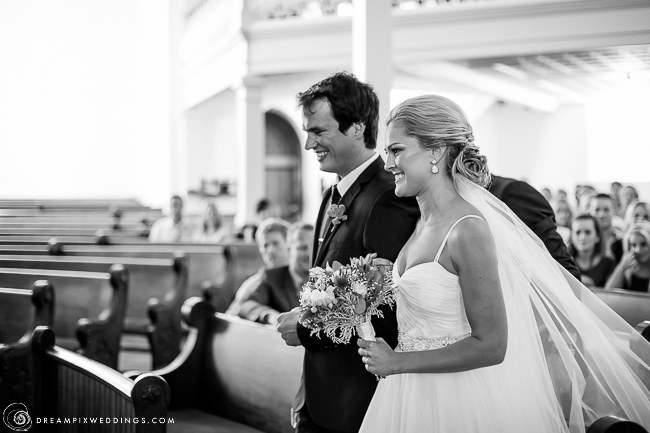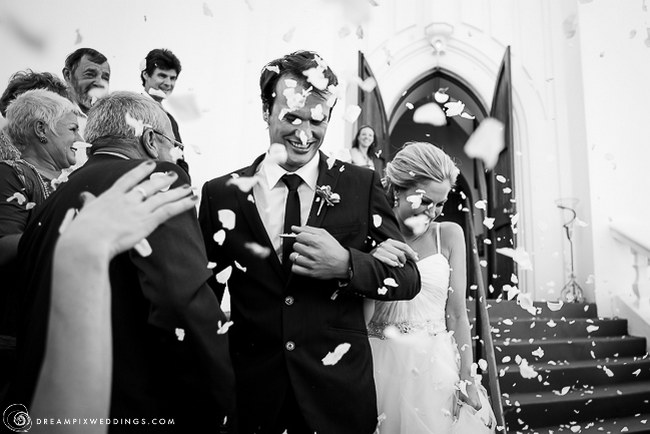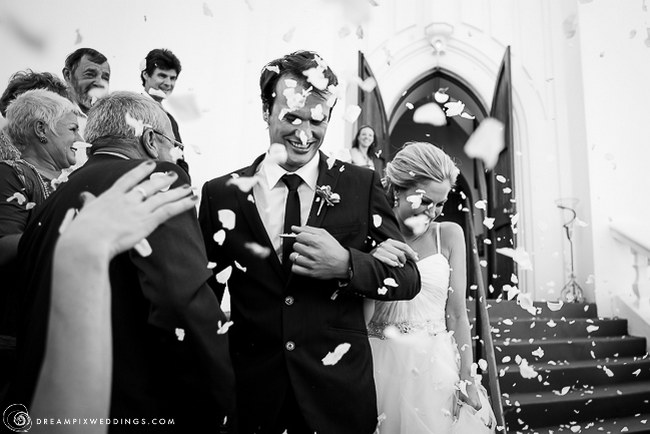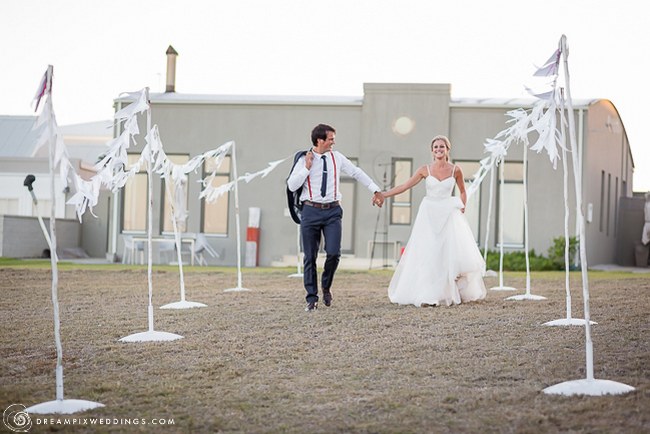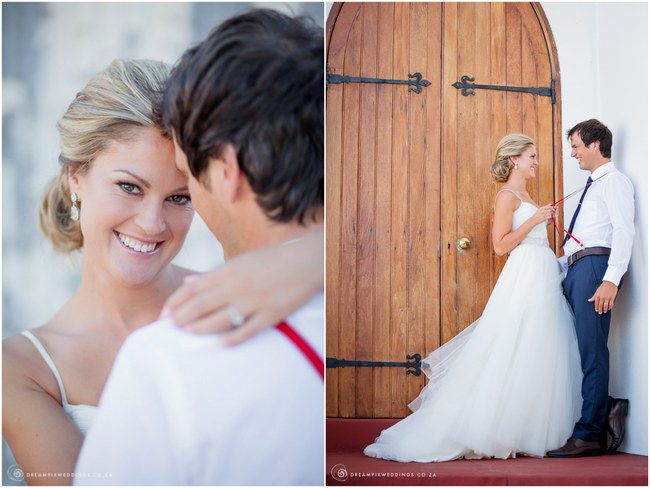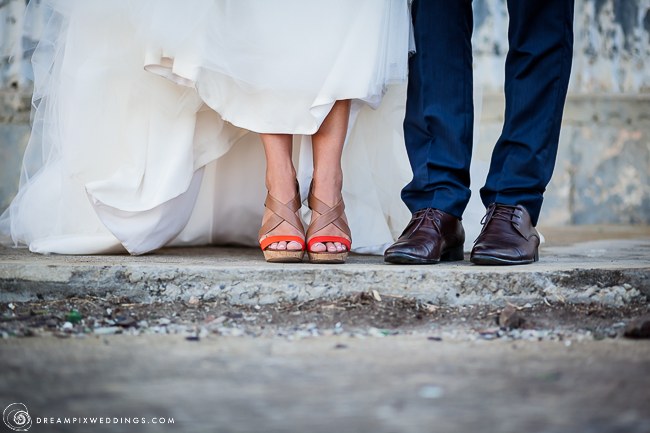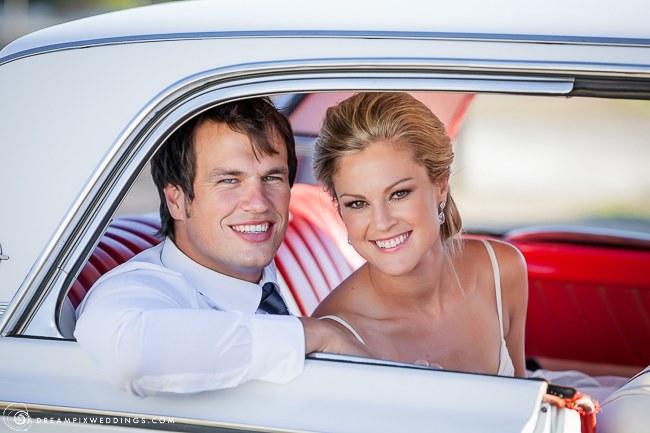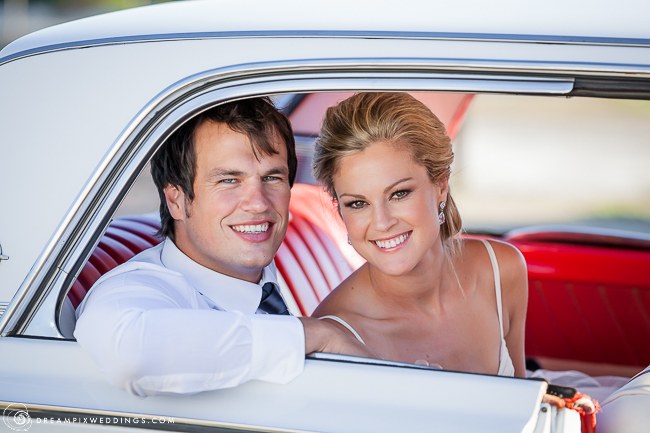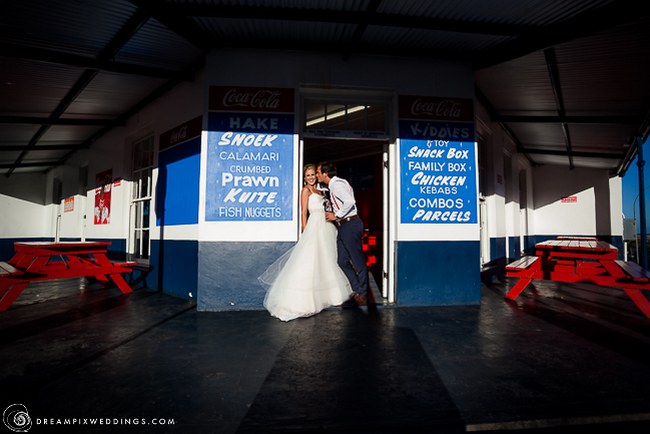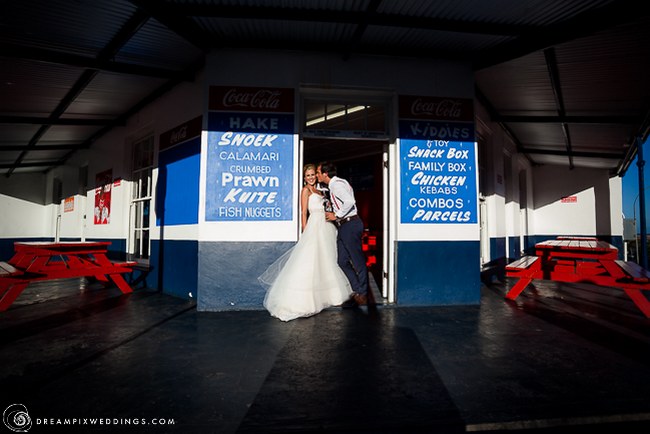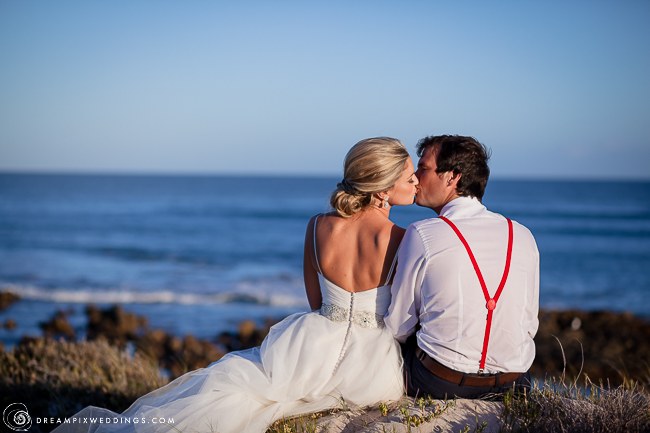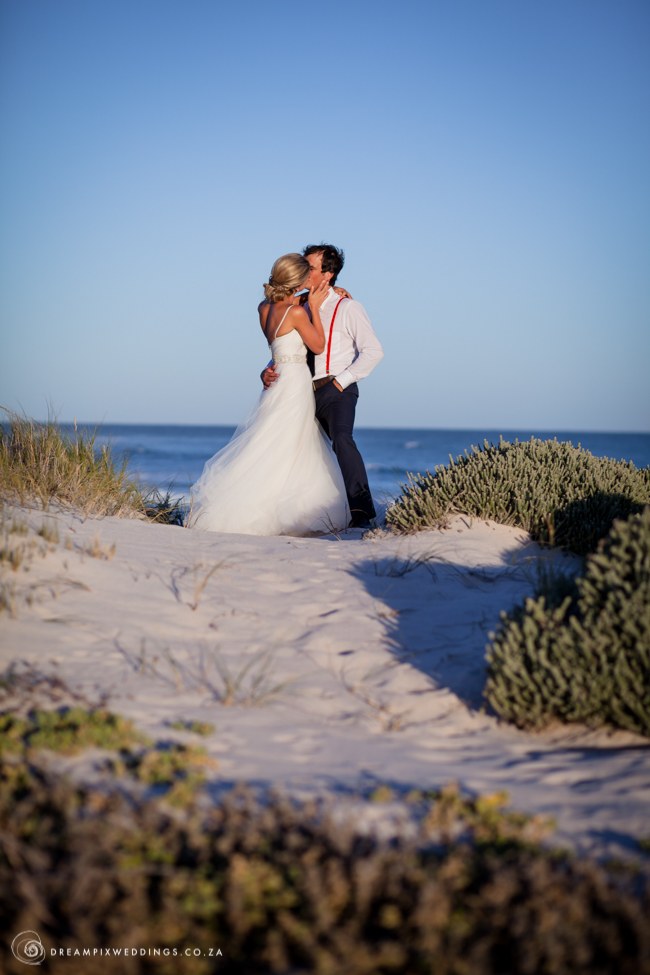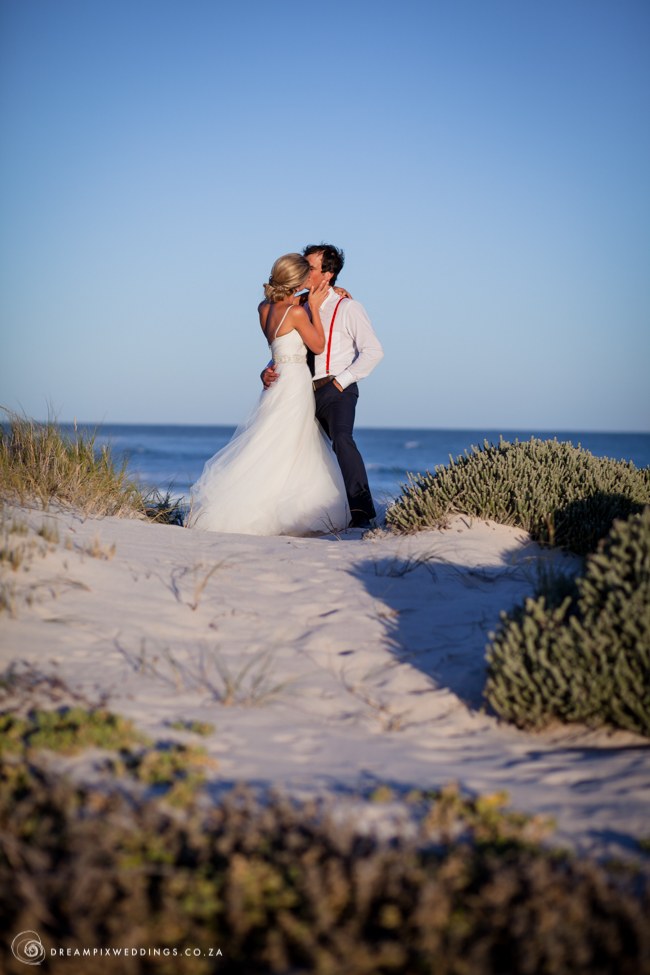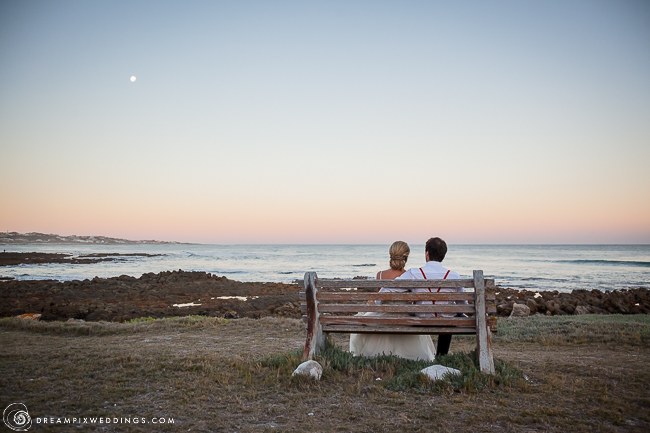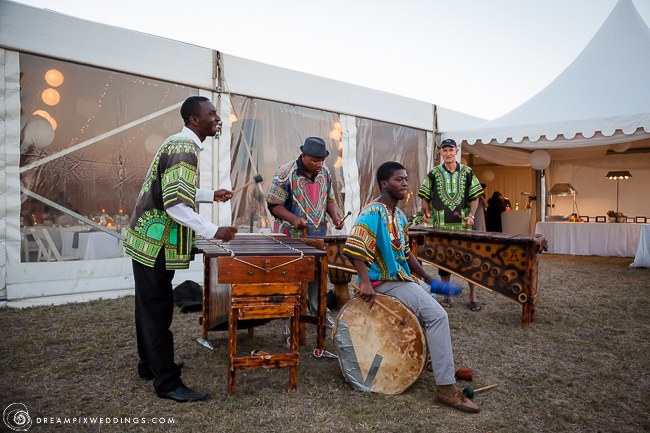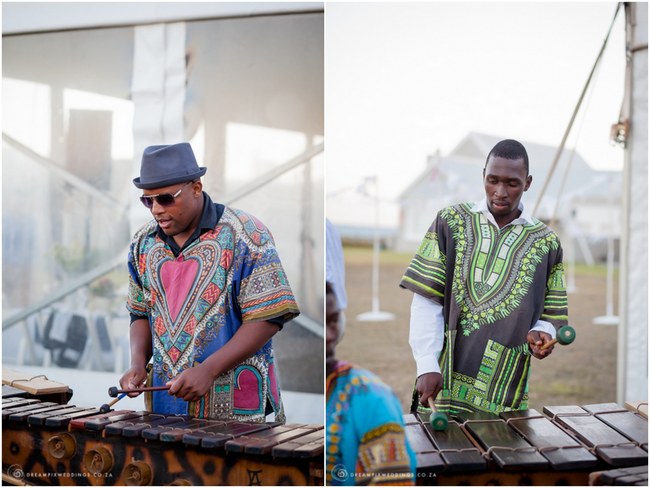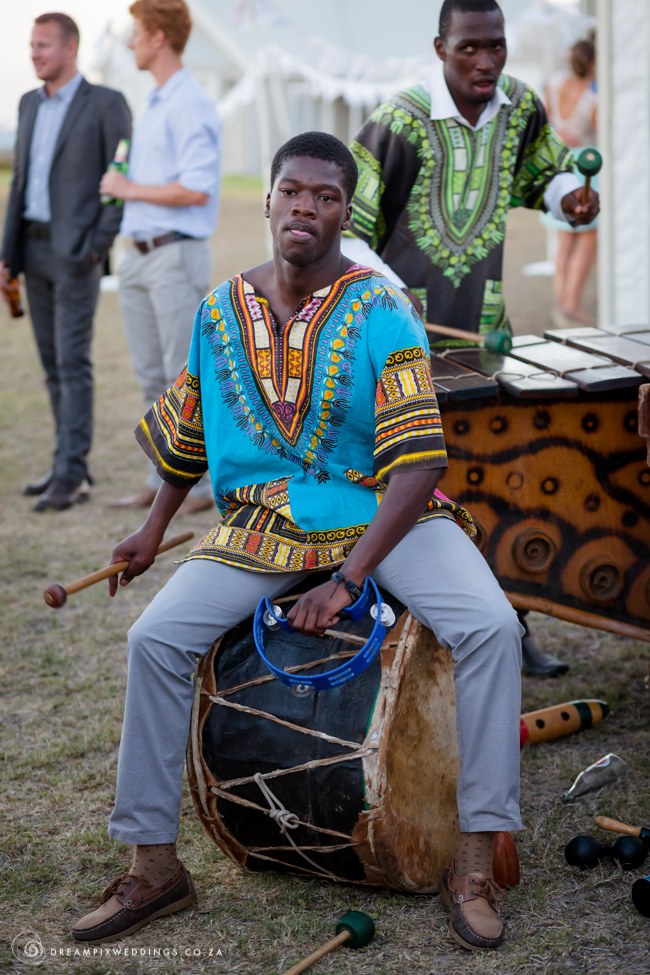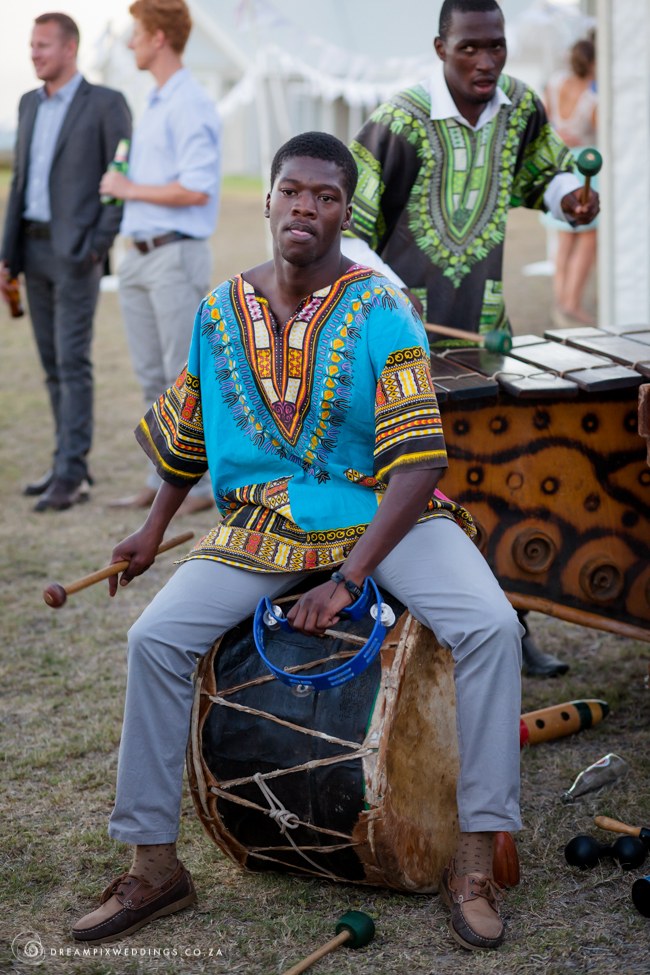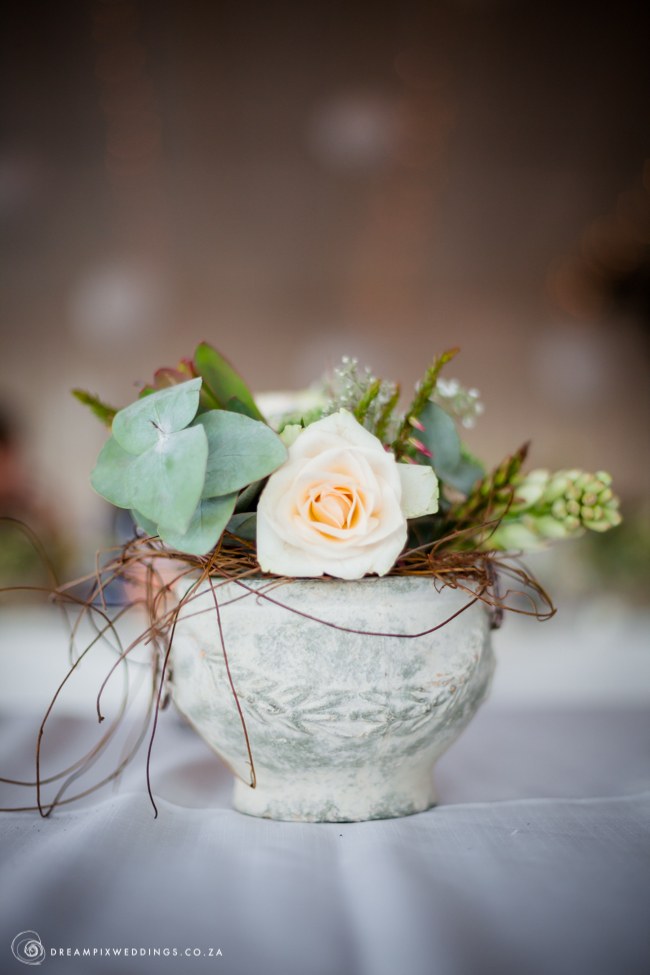 Wedding Décor & Flowers: Our wedding decor had a natural feel, with a lot of white, fairy lights, Chinese lanterns and earthy colours. We wanted to stay as close as we could to the already beautiful scenery and ocean setting. For floral decor we selected Fynbos and various other flowers in soft colours.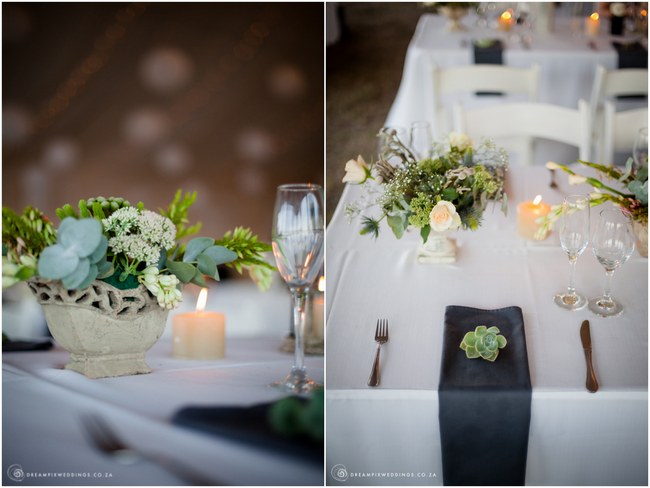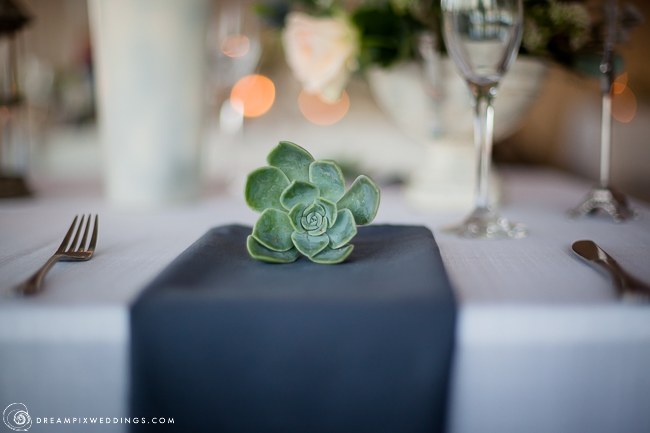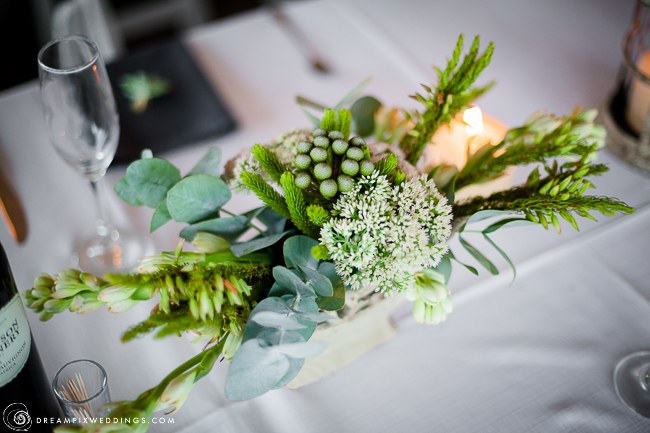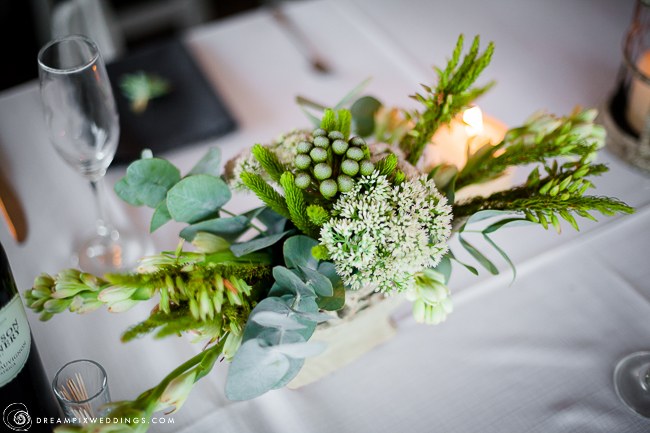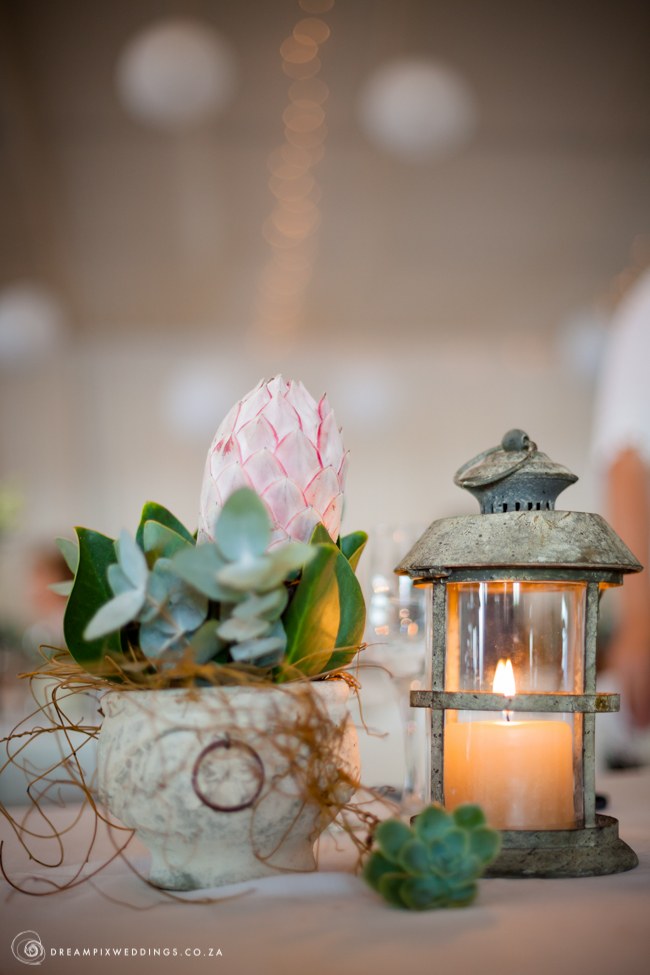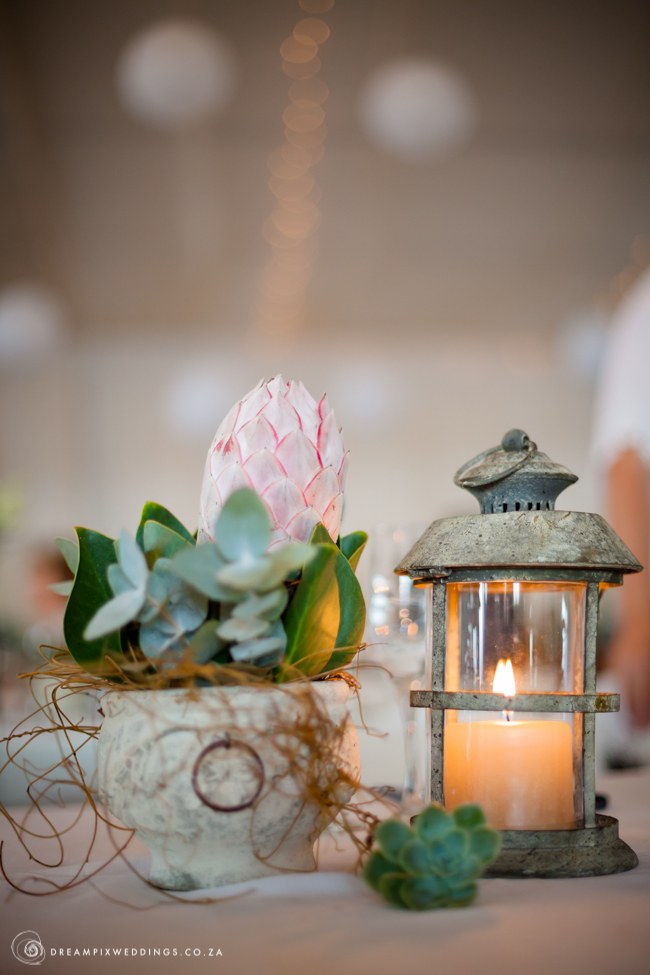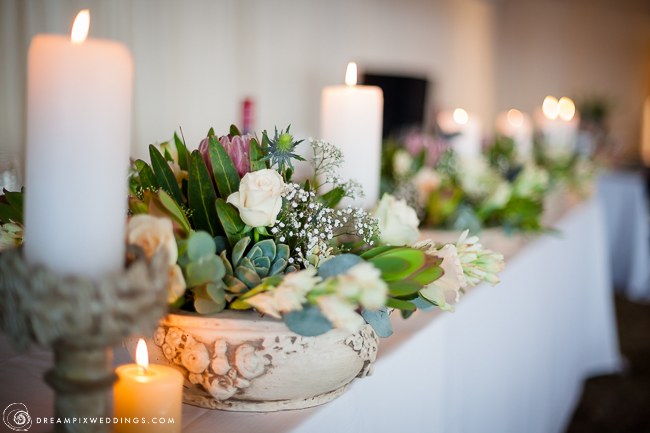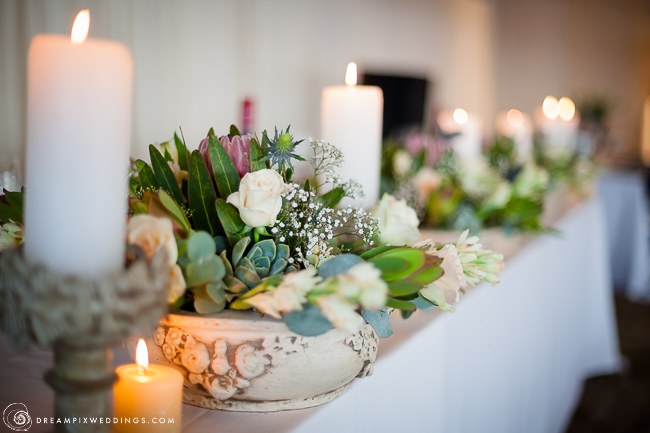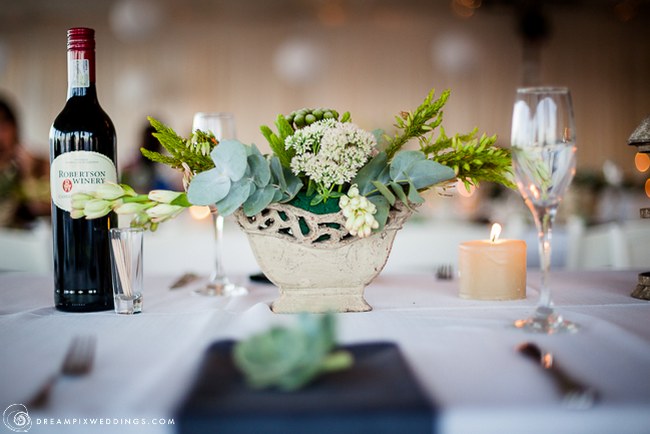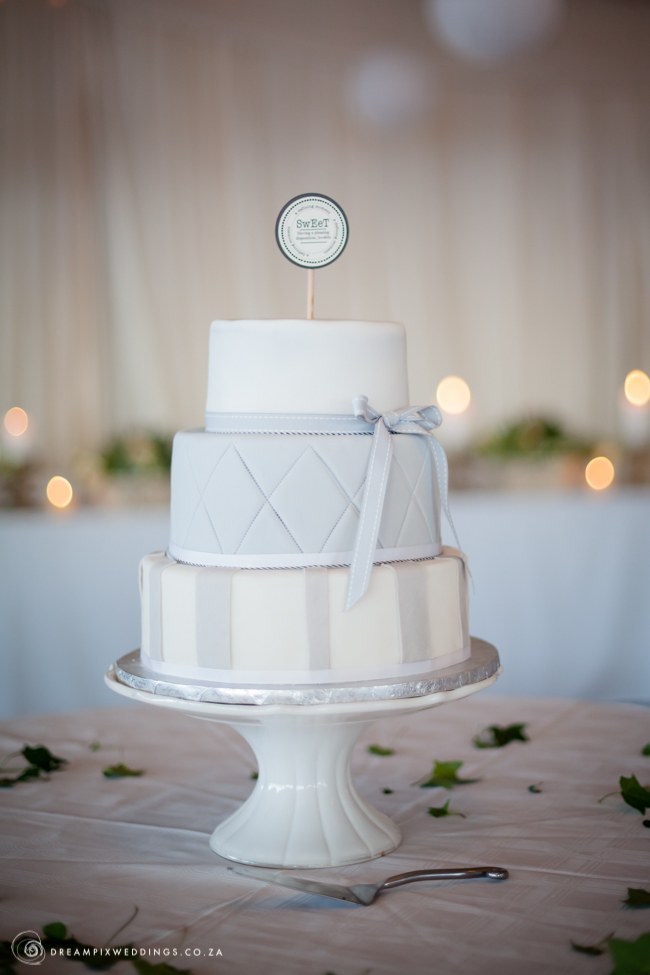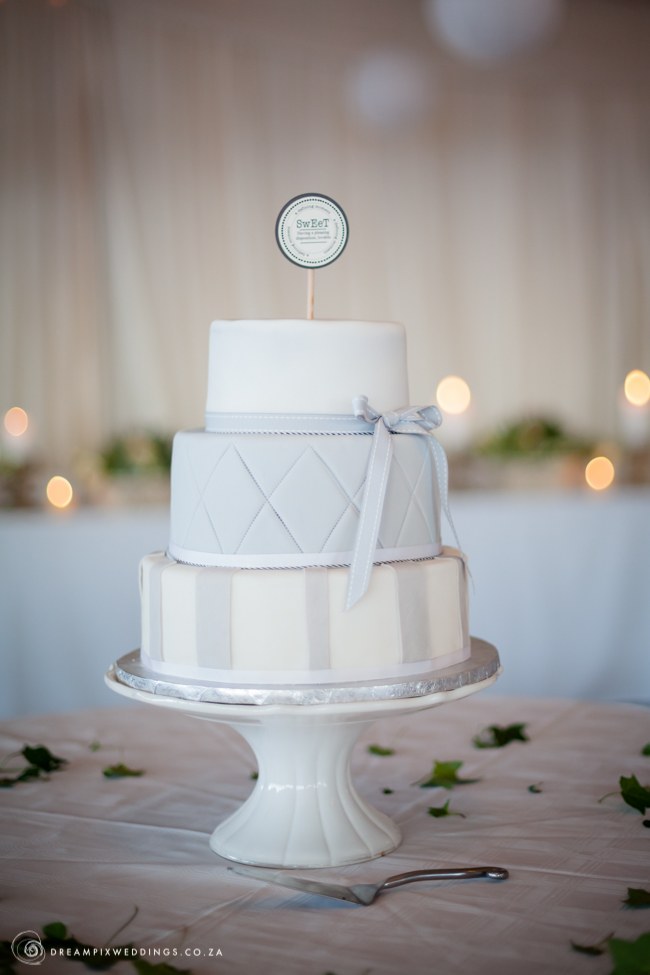 Real Bride Biance's Advice For Brides-To-Be
Get the formalities "out of the way" at the wedding reception. We did it early enough and thereafter people could relax and enjoy the evening. We also made time before the formalities began to mingle with the guests at our pre-drinks. This gave us enough time to greet everyone and thereafter we enjoyed the evening with everyone! Plan the detail of the happenings in the church – everyone is nervous and it helps if the bridal party knows exactly what to do.
Don't have too many different ideas. Stick to one "look". If you have too many ideas, you will end up with no idea what to do or want you actually like! Keep it simple – it is timeless.
Plan your wedding "theme" according to your location. For example: Don't do a stiff and elegant wedding when you're at the beach / farm. Use the environment of your wedding venue to create your ideas and decor.
Do not stress. It will ruin the planning and excitement of the day for everyone! Some things will not go according to your plans, accept that! Once you're okay with that nothing can ruin your day!
Don't accept the first quote that you receive!
We chose what was important to us and decided that certain things will come second. For example: We wanted to get married on the beach and in a tent. That wasn't easy to put together since you need everything hired in – kitchen, bar, electricity, tent, cutlery etc! But that was what we wanted. It was our biggest expense and we had to make a decision that the rest of our focus will shift. We therefore focussed on our food, location, drinks and music. In our opinion this is what makes a party great! People enjoy good food, wine, music and obviously the location/setting.
Also, try to do some things yourself. We designed all the stationary and shopped around for printing quotes – until we found the most cost effective places!
 ♥  ♥  ♥    CREDITS   ♥  ♥  ♥
Photographer: Kobus Tollig from Dreampix Photography | Wedding Planner, Decor & Venue: Antoinette Events | Cake: Rocky love Emily Wedding Cakes |  Dress: Elbeth Gillis Couture |  Brides Hair & Make Up: Marli Basson | Videographer: Lizel van Wyk