Rustic Rock Roses & Powder Blue Perfection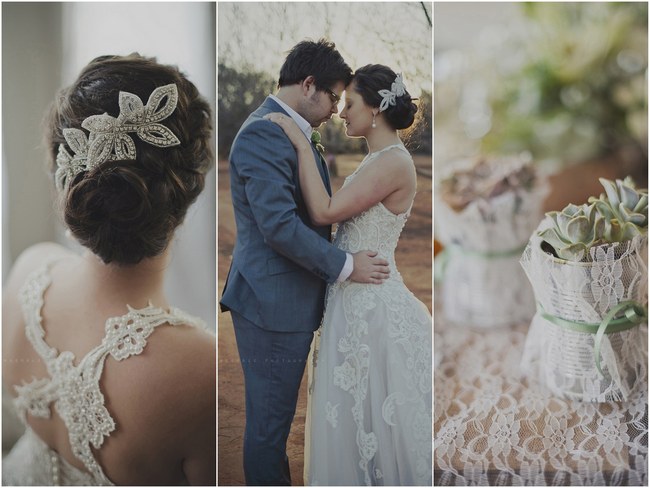 Anine and Christiaan's rustic, lace and loved-filled wedding day showcased handmade displays of succulent rock roses amidst white paper doilies, lovely lace and charming silver buckets. The couple wanted their guests to enjoy a celebration in a beautiful, but relaxed atmosphere, where they would feel right at home.
Anine's intricately detailed lace and pearl gown with an extremely swoonworthy back certainly made a statement. The gown was perfectly co-ordinated with both her groom's attire, as well as the pretty powder blue gowns worn by her bridal party. The details of their special day were captured in all their intimate splendour by GingerAle Photography.
♥  ♥  ♥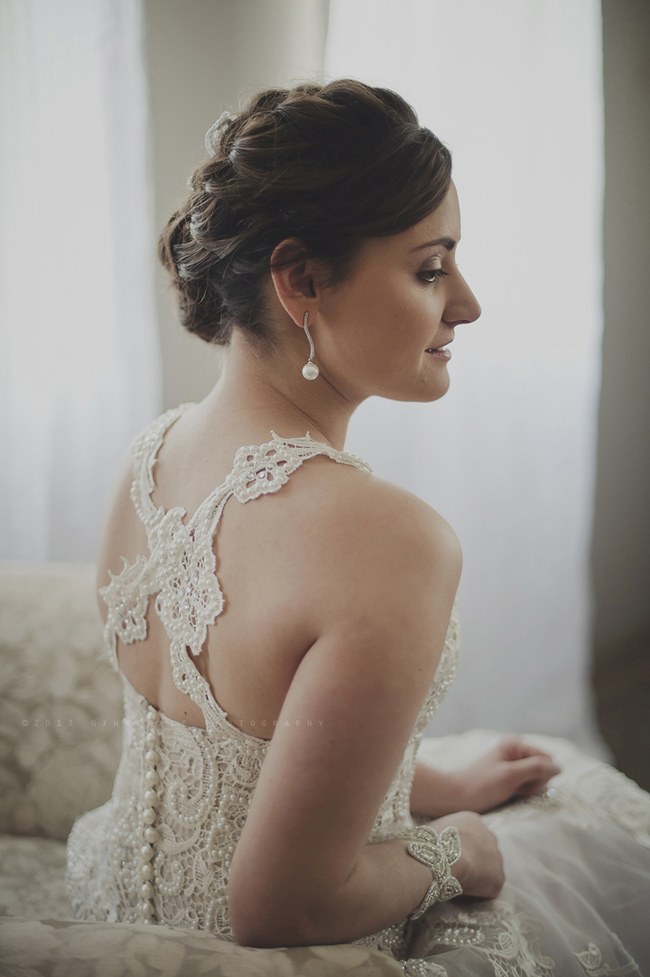 Their Love Story:
Christiaan had a holiday fling with my best friend from school in the December of our grade 11 year. A few years later, in our matric year, we had a girls night out and we bumped into him and his friends! Then, during our first year of varsity I bumped into him again at church and we decided it was time to go for coffee.  After that it wasn't long before we started dating…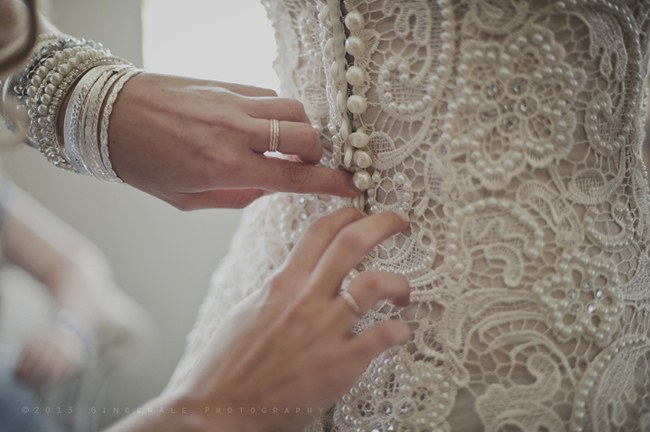 Their Proposal:
We were on holiday in South East Asia with friends. We had already been travelling for two weeks of rather rough travelling in Cambodia, Vietnam and Malaysia.  Then we arrived at the jungle in Thailand where we stayed in raft houses that were floating on the lake! It was the most beautiful and tranquil place I've ever been to. That day we spent time with elephants, went snorkelling in bat caves and took a night hike through the jungle. When we returned from our hike I was so tired from the past two weeks' adventures that I decided to go to bed. Christiaan convinced me to just take a few minutes to sit on our little 1x3m patio looking which overlooked the lake to enjoy the stars. We ended up sitting there for quite a while, enjoying the full moon's reflection on the lake, when he started the proposal. As there was no electricity and no lights I only realised he was proposing when he shone his headlamp on to the ring he was holding! It was the perfect setting and so special. I was not expecting it at all!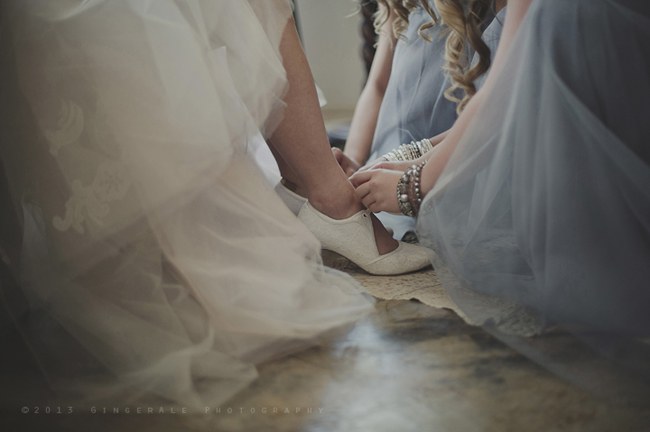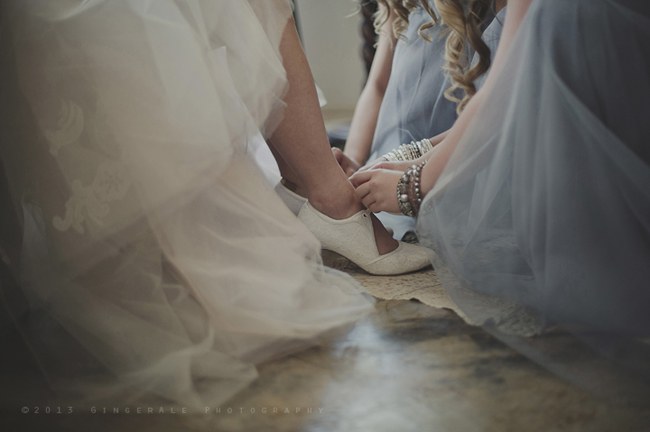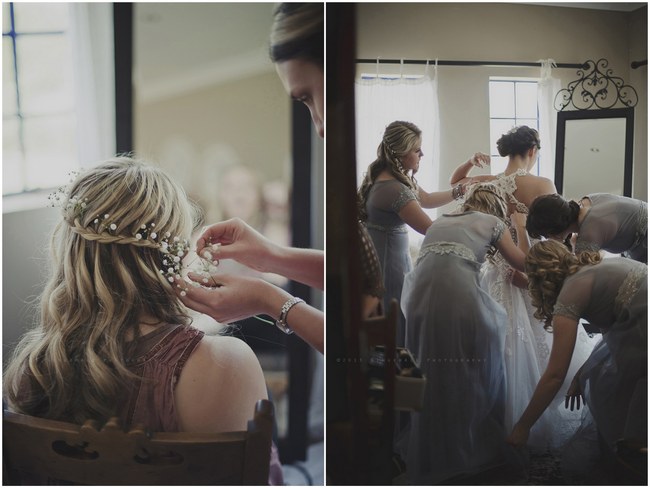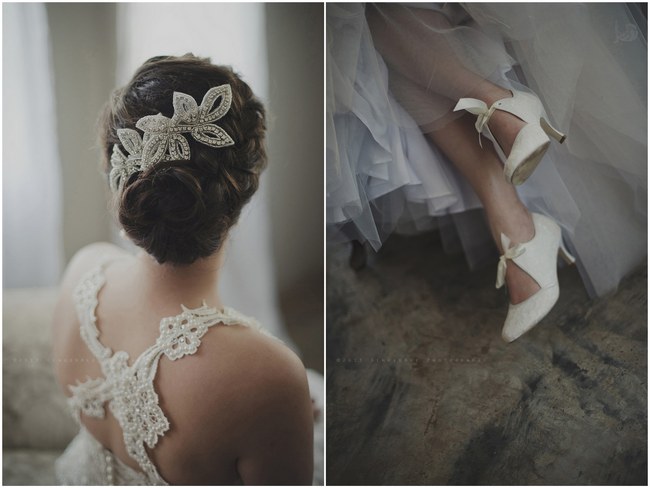 Wedding Dress:
My wedding dress was an A-line lace and tulle dress with an intricate back and a very, very long veil.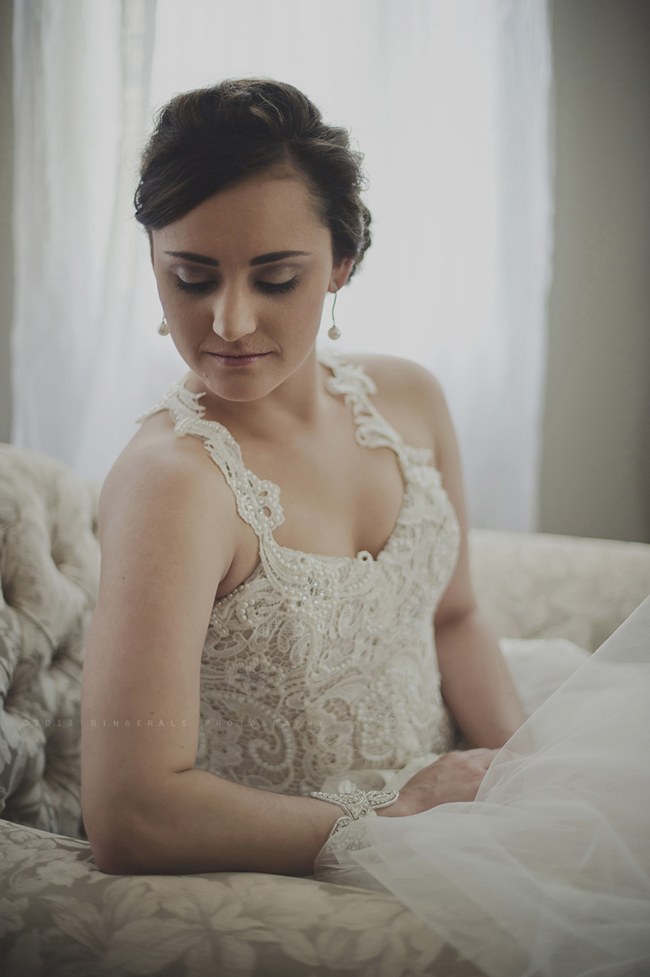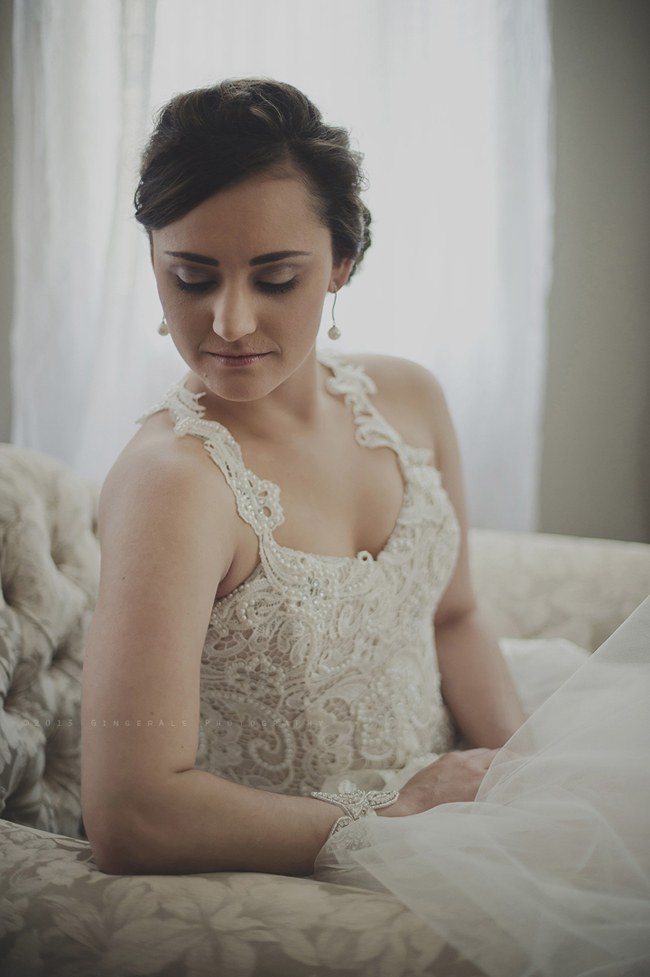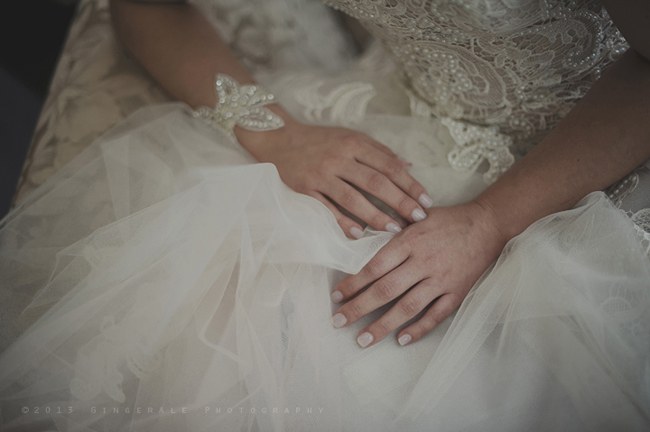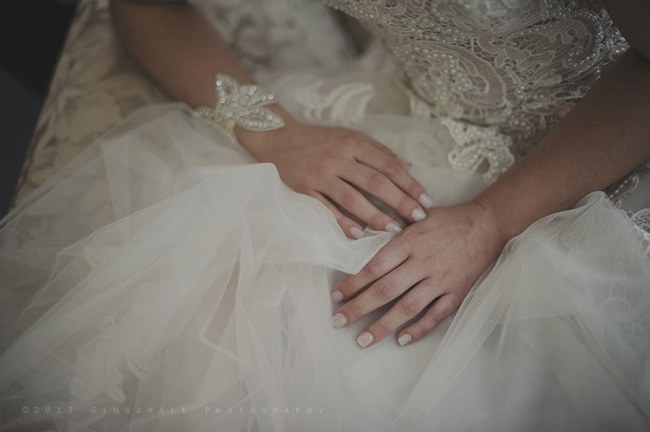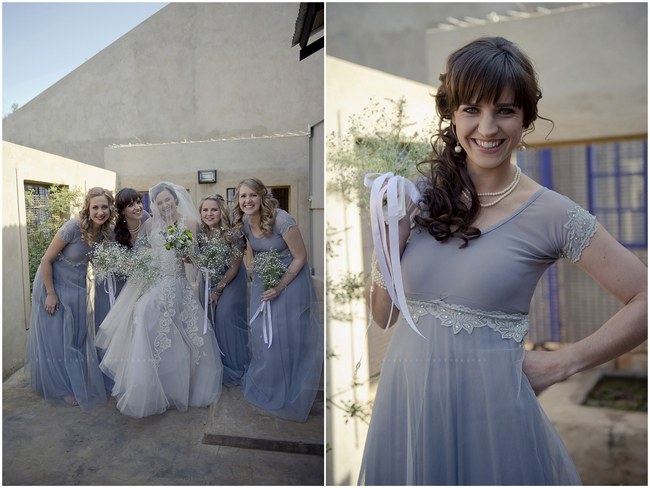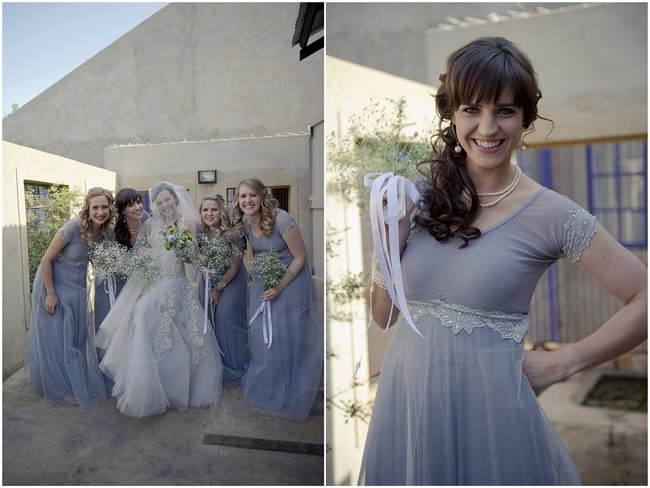 Bridesmaids:
The bridesmaids' dress were grey empire line dresses with a tulle skirt that they could remove after the ceremony and photos to be more comfortable. Their bouquets were bunches of gip (baby's breath) with long ribbons tied around the stems.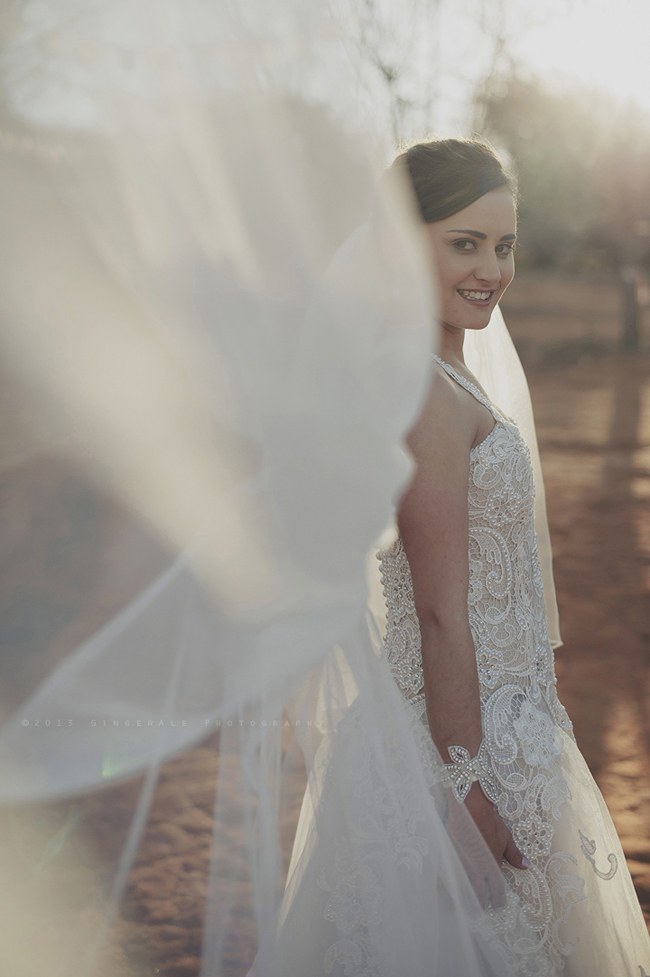 Special Touches
We created most of the décor ourselves. By 'ourselves' I mean the whole family had some kind of input into this day. So everything was special, from the wedding favours that were personalized pickled chillies prepared by my mom, to the old door with photos of Christiaan and myself from birth up to now. One of the most special things at the wedding was our first dance song which Christiaan's brother wrote and performed for us.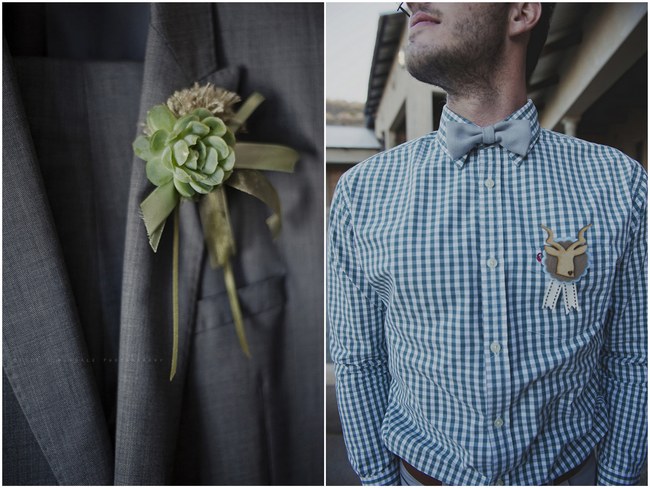 Groom and Groomsmen: 

The groomsman's corsages were wooden buck head brooches and the groom as well as all the rest had corsages made with rockroses.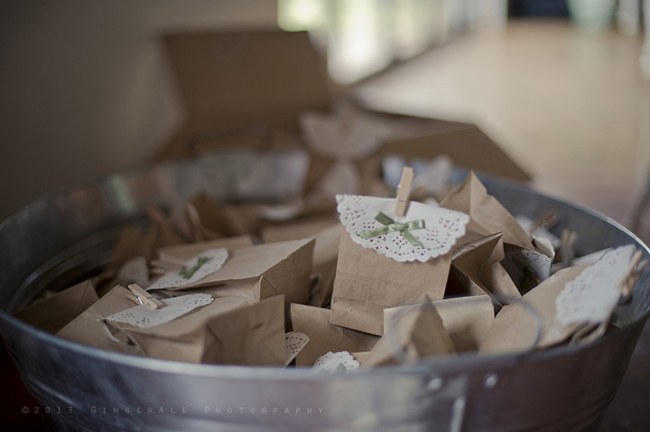 Ceremony decor:
As guests arrived at the gate of the venue, they drove through a plantation of nut trees between which there were lace bunting, hanging above the road as they drove. In front of the church were thirty silver buckets in different sizes and shapes with flowers in.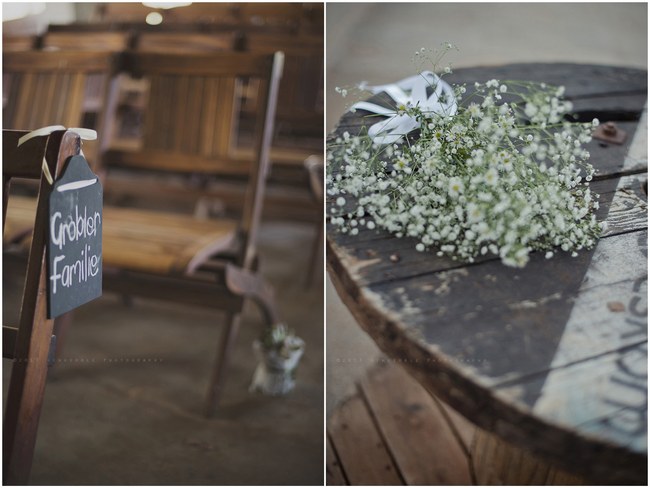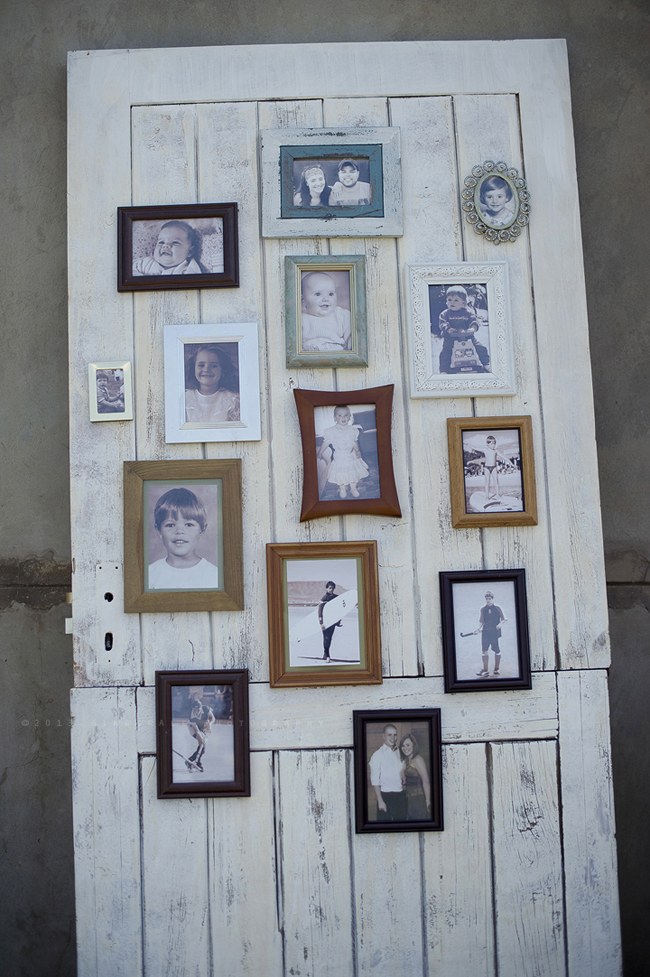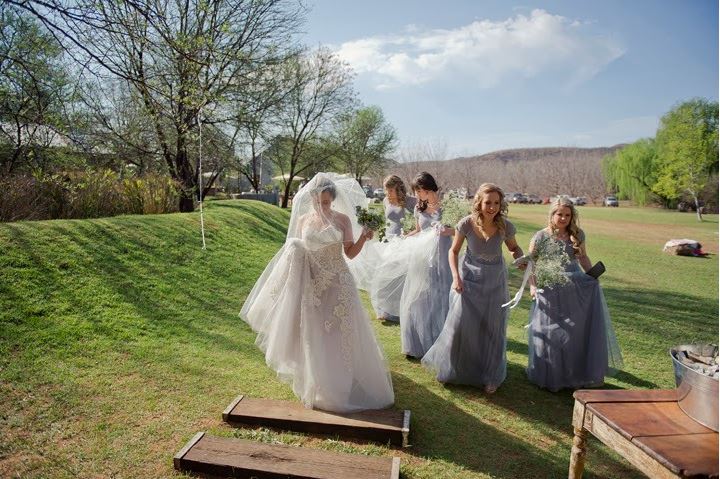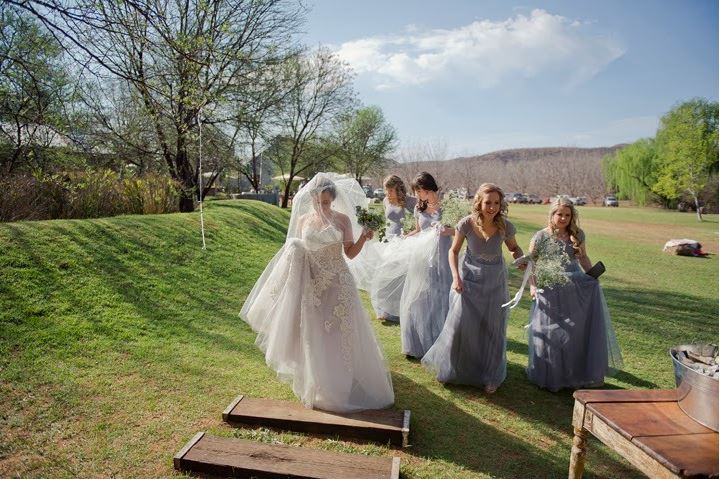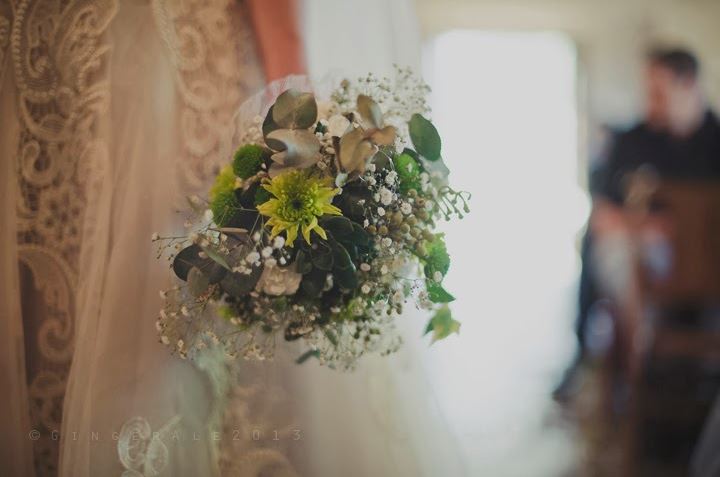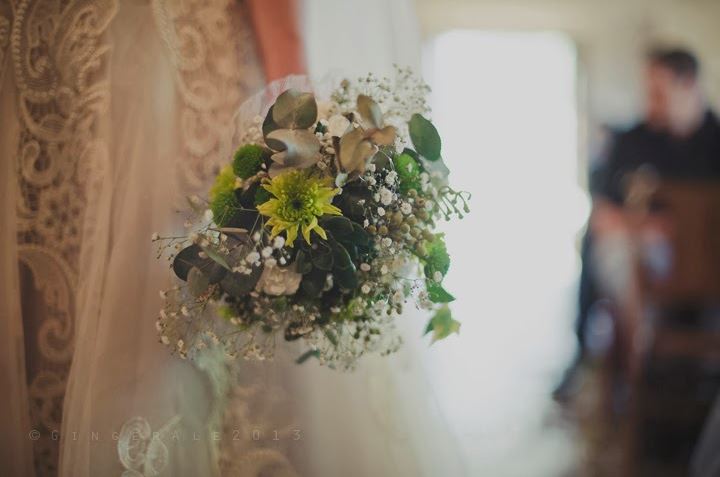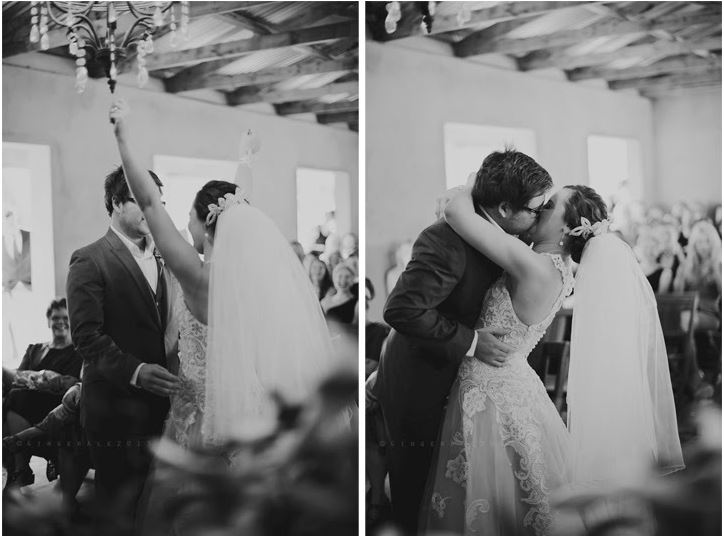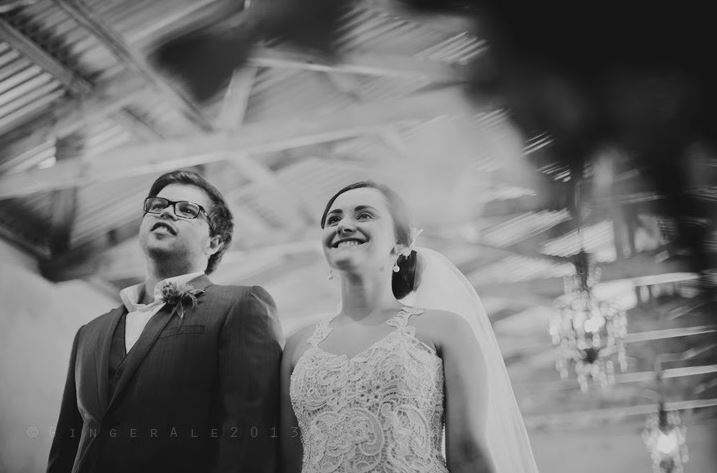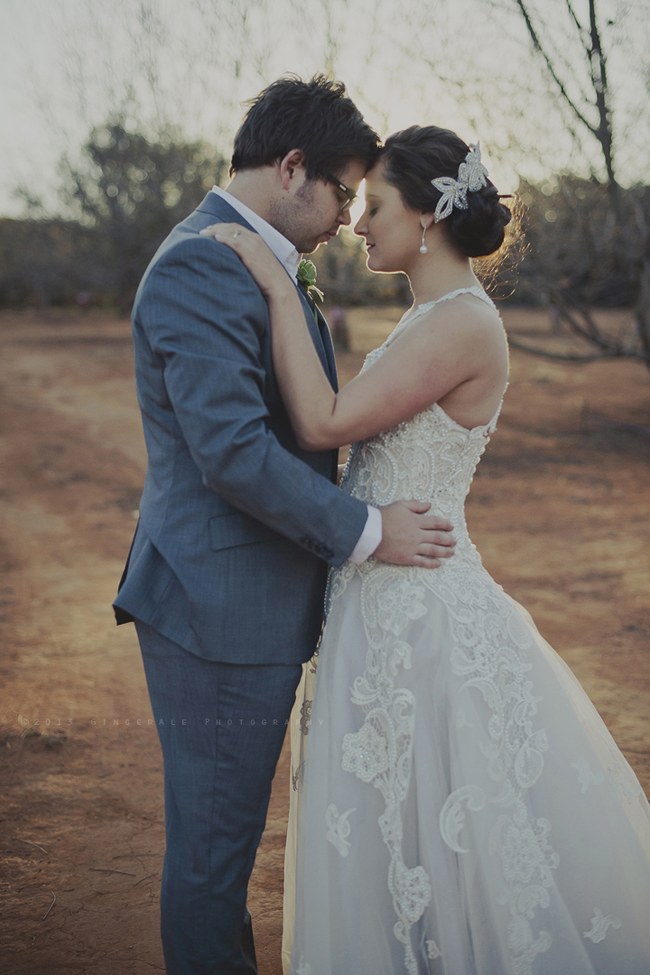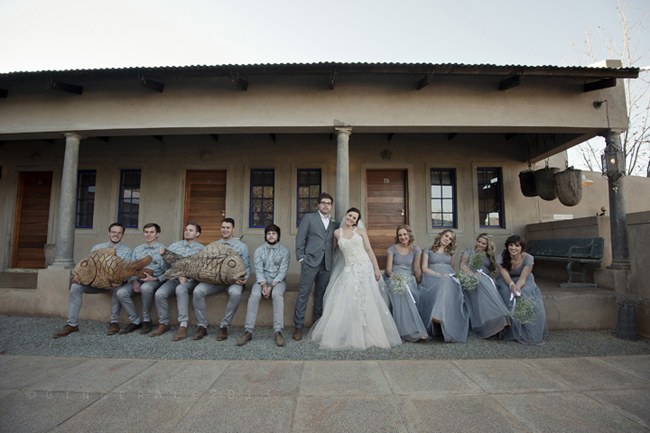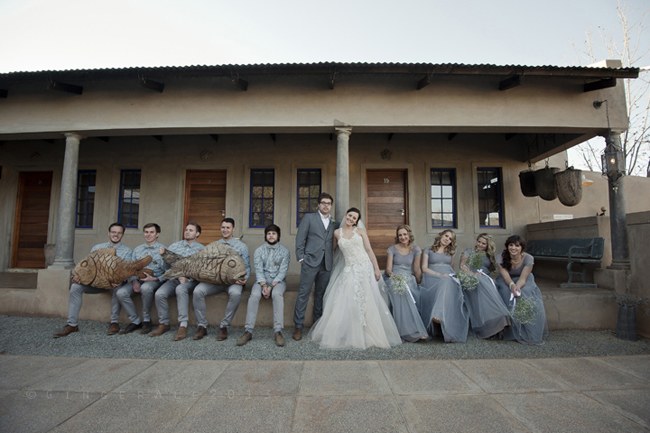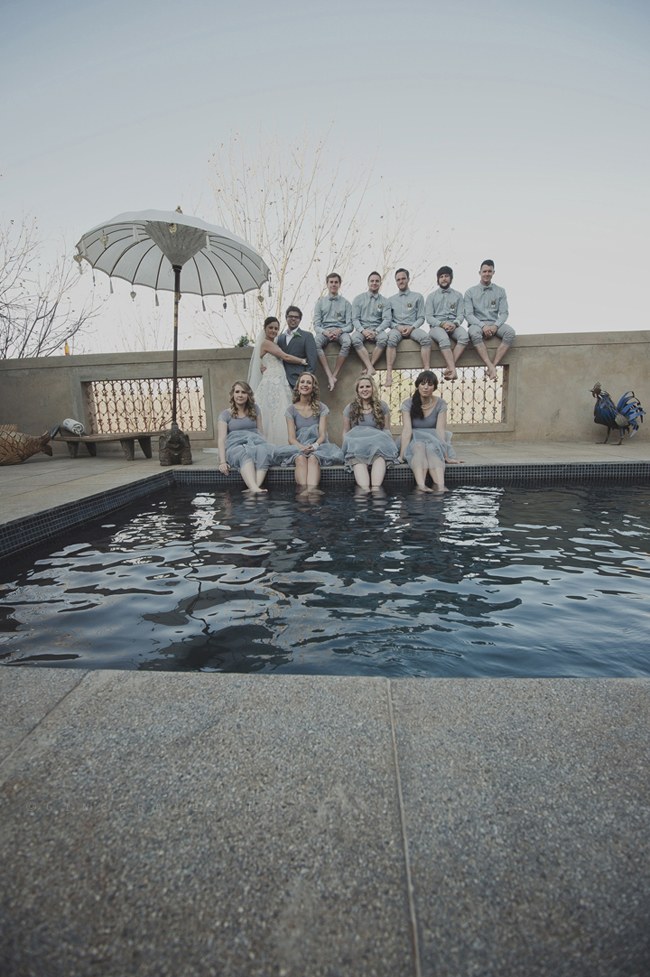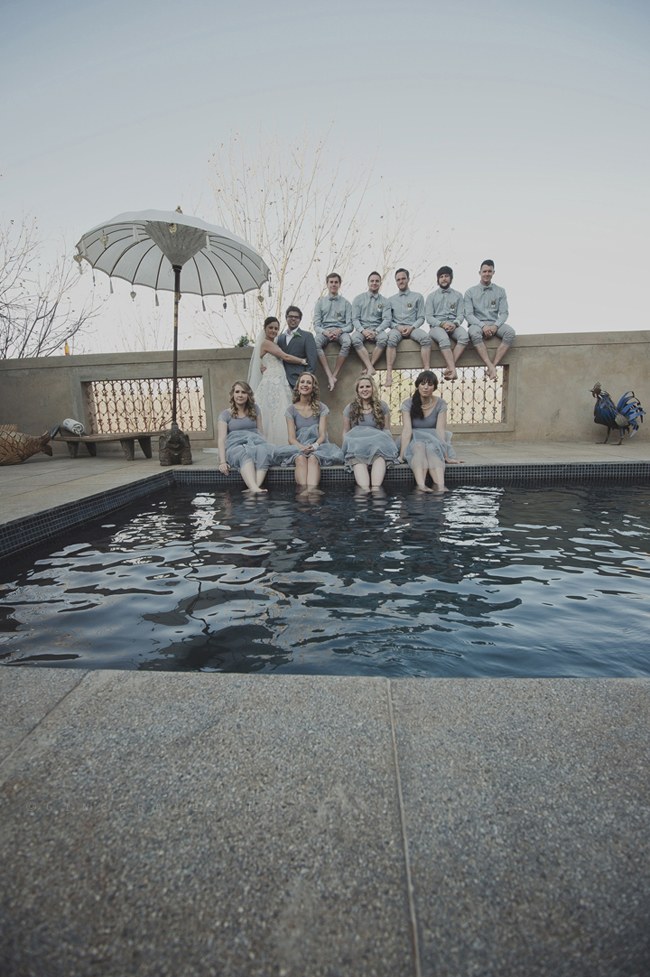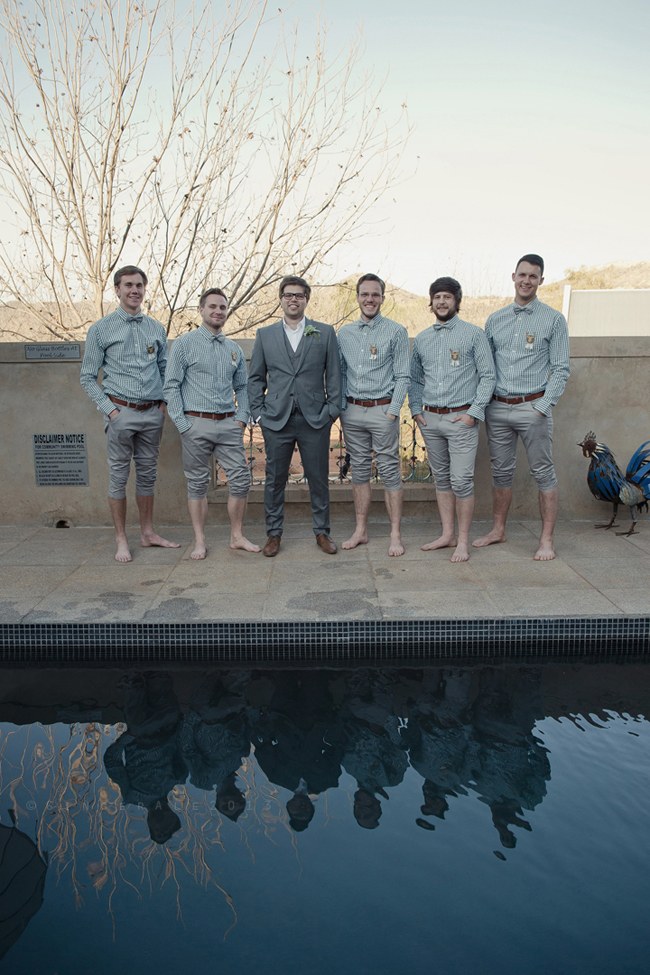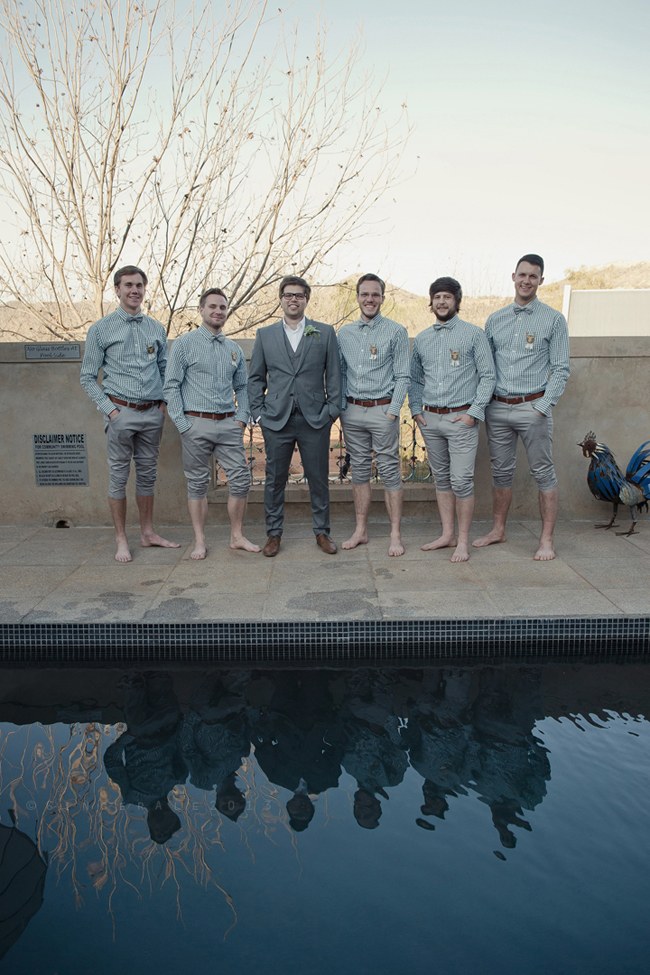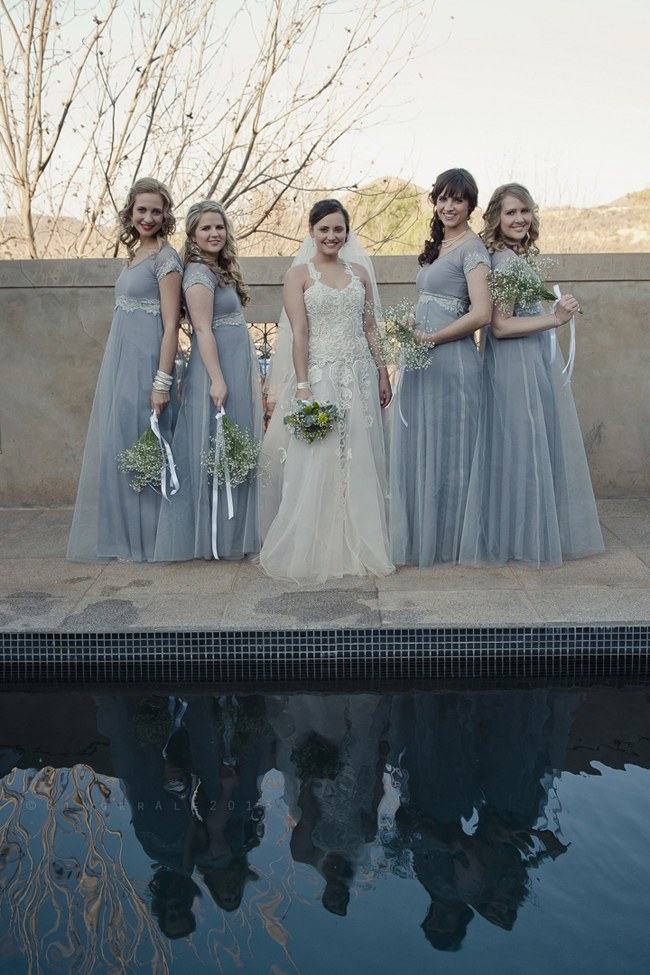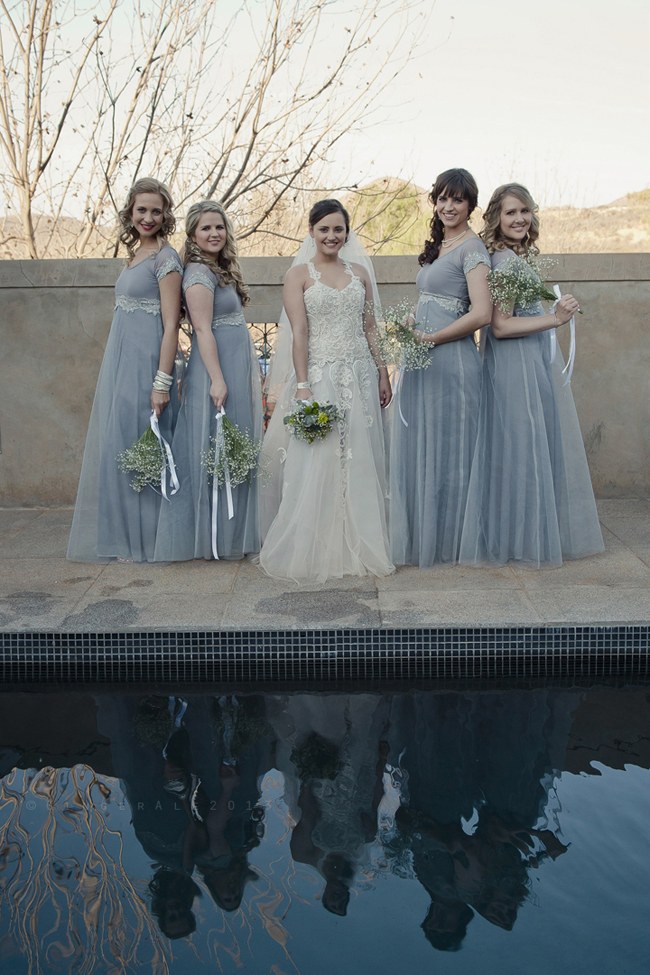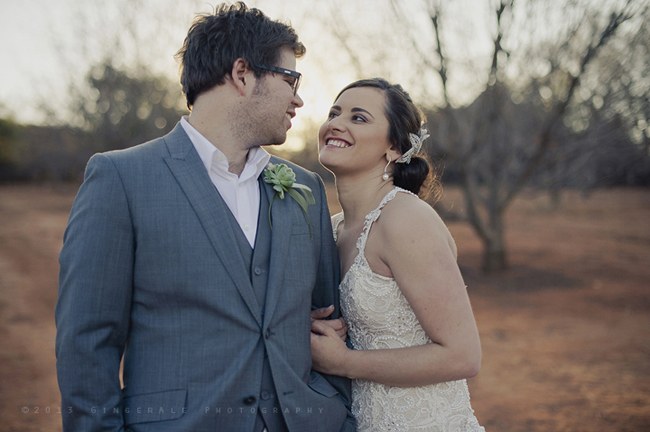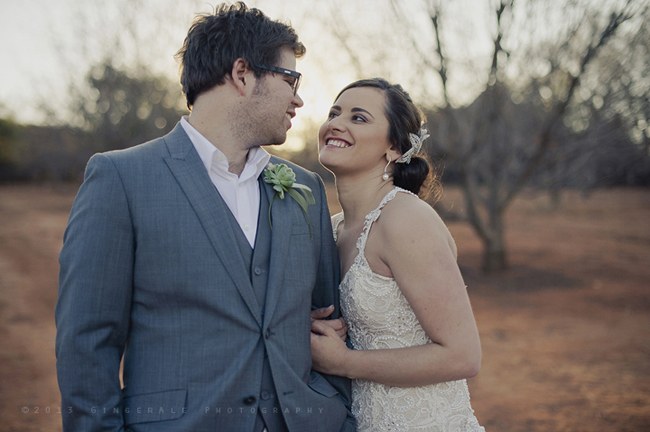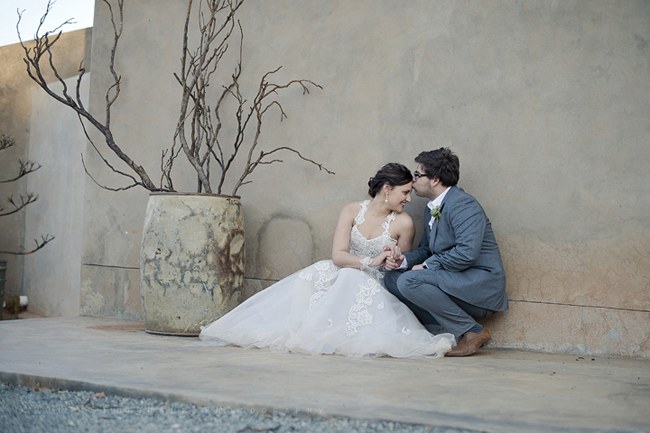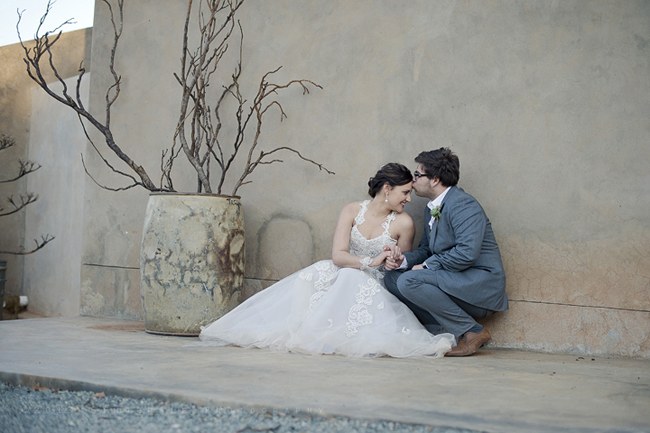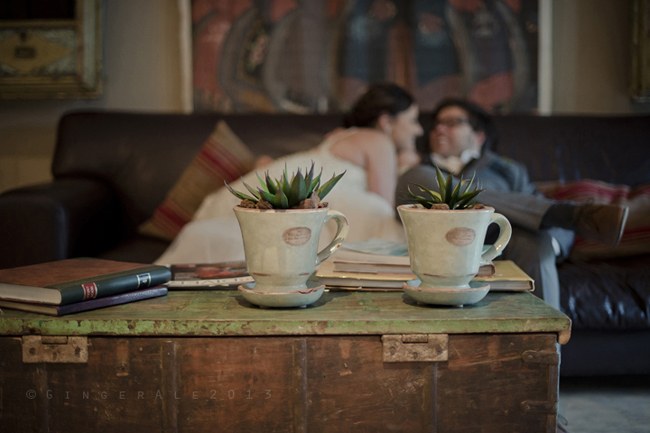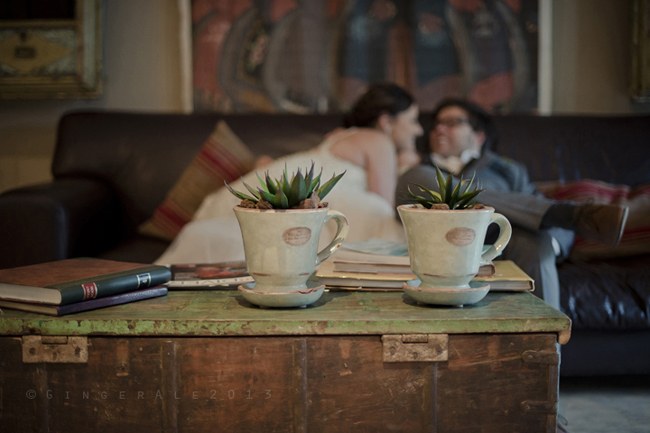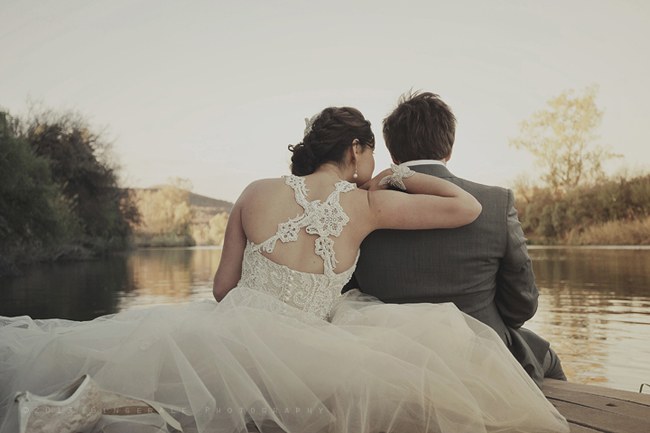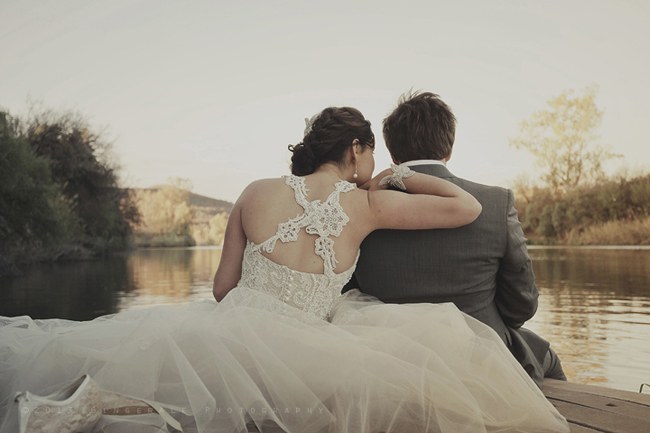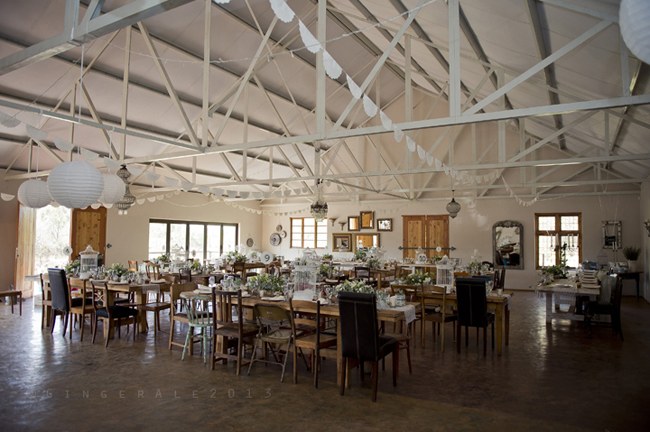 Wedding Reception Décor:
The roof of the venue was covered in doily flags and fairy lights and above the dance floor were Chinese lamps. All the tables and chairs were different, adding to our mix and match theme. There were a lot of candles everywhere.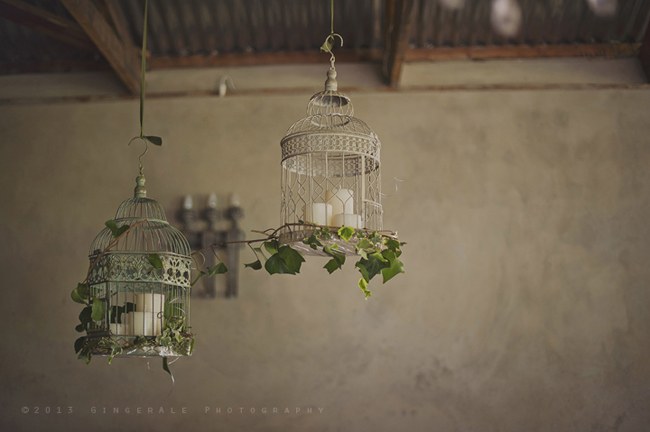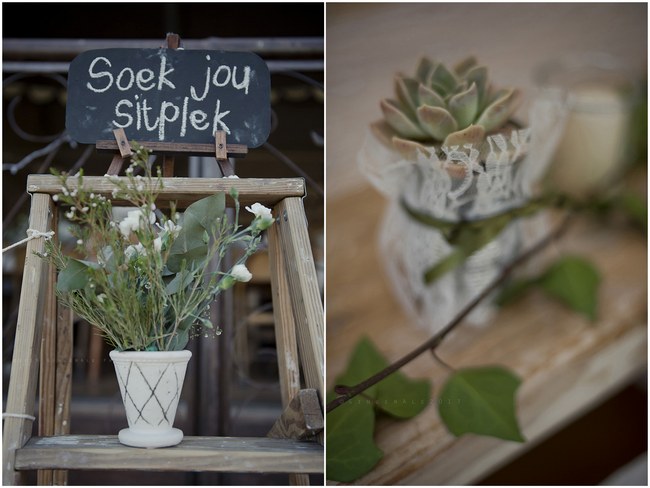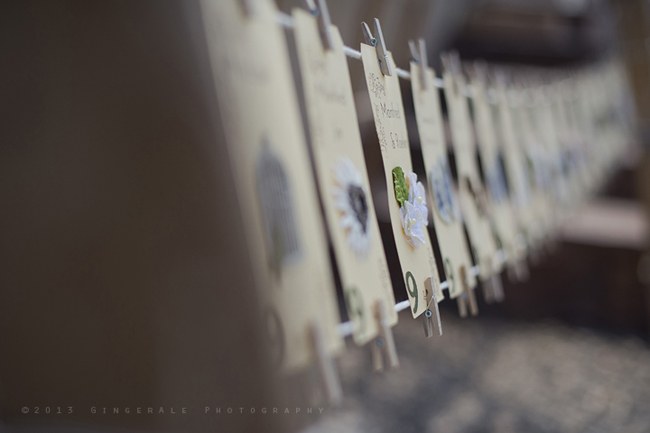 Seating charts:
We hung yellow name tags  on strings of ribbon between two ladders. Each ladder was decorated with flowers and candles.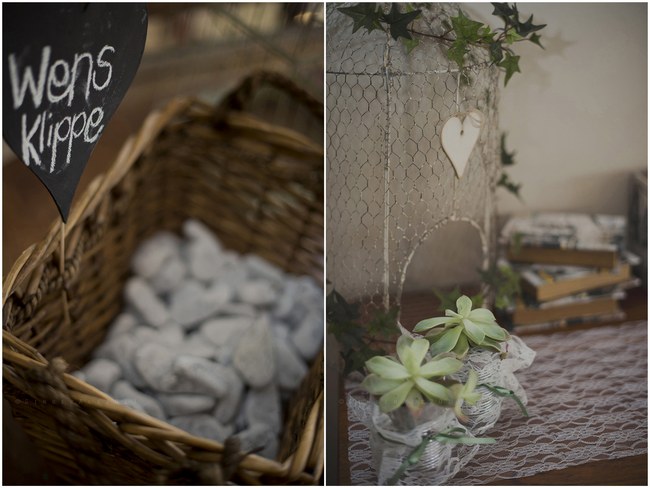 Guest book: 
White pebbles that each guest could write a message on. These pebbles are displayed in a vase in my living room now.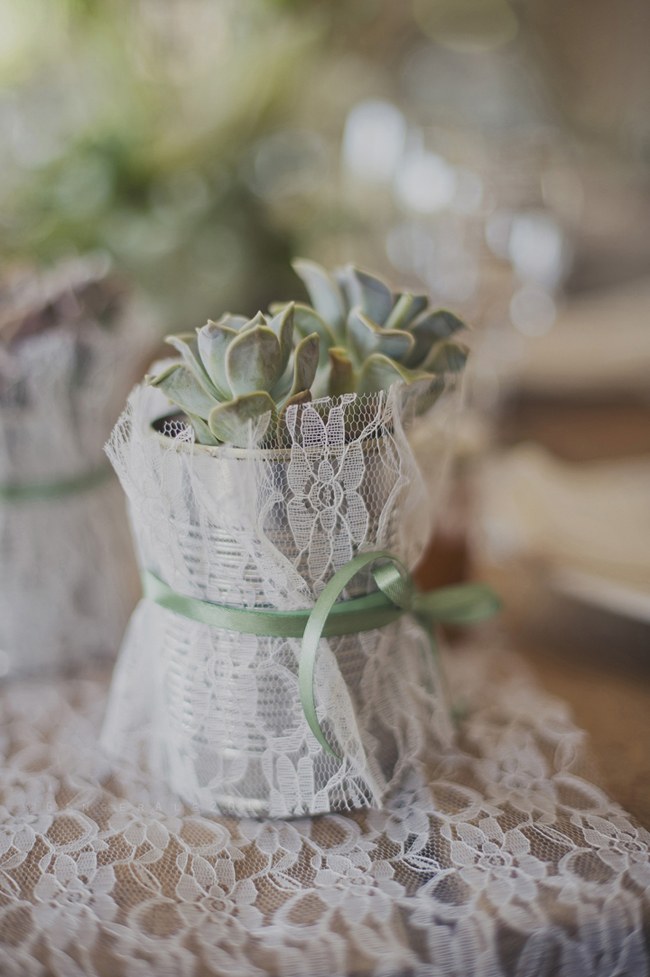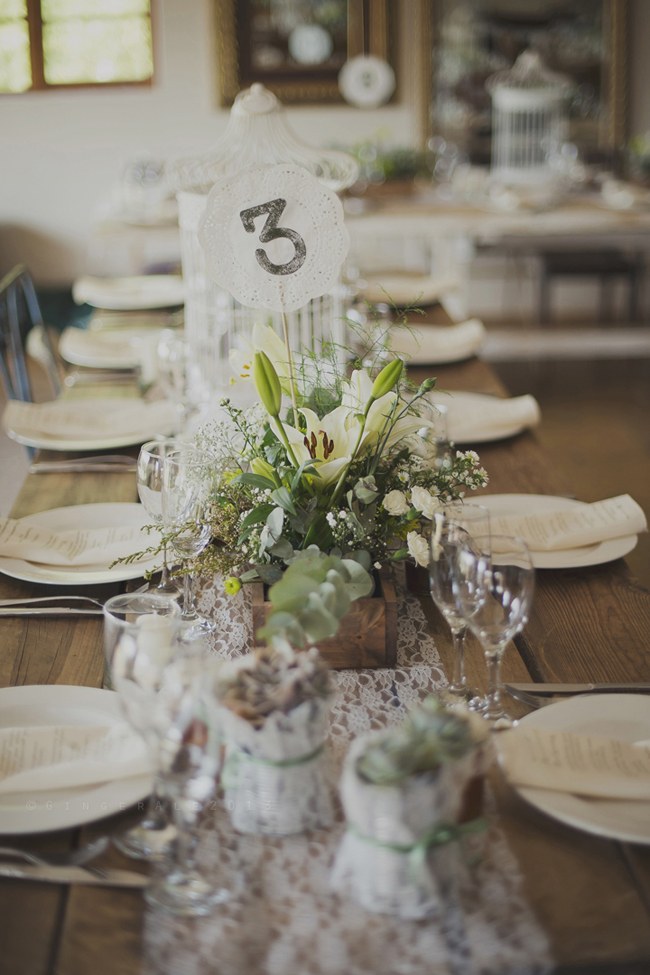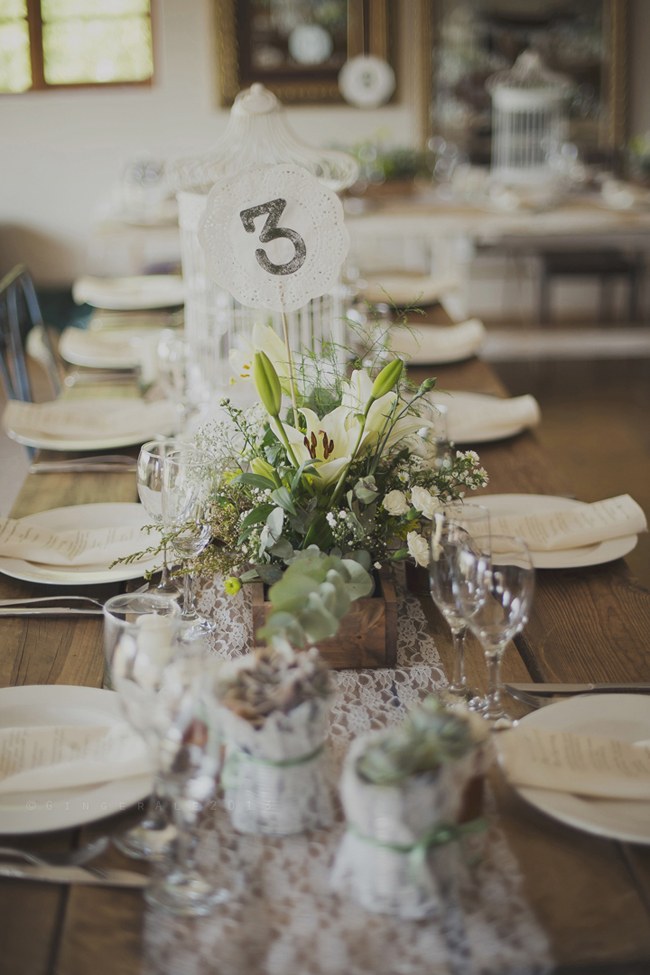 Wedding Flowers:
Gip, St. Joseph lilies, rockroses and a lot of green. Each table had a bird cage in the middle with two wooden boxes each side containing a mixture of flowers. We also had silver food cans wrapped in lace and green ribbon with rockroses in, on all the tables. Tumbler glasses with small candles also had their place on the table. Underneath all of this was a lace runner.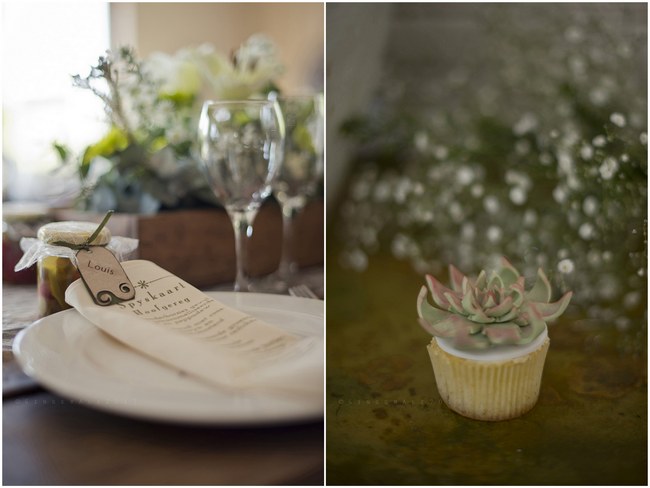 Wedding Gifts and Favours:
The wedding gifts for the men were pickled chillies and for the women honey.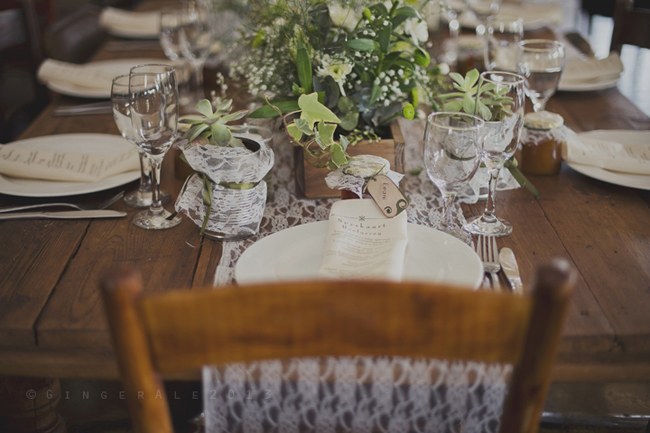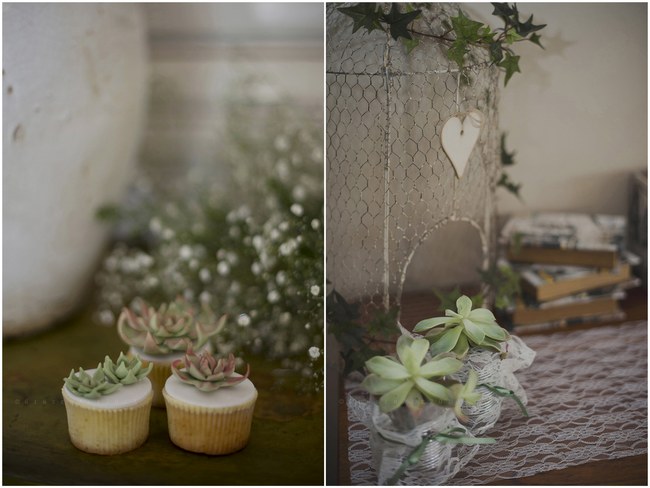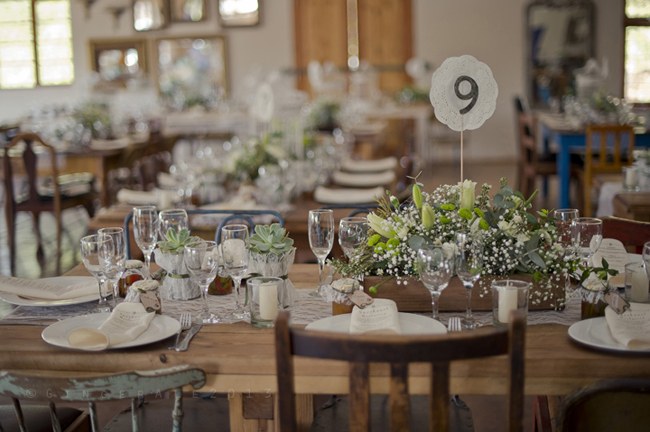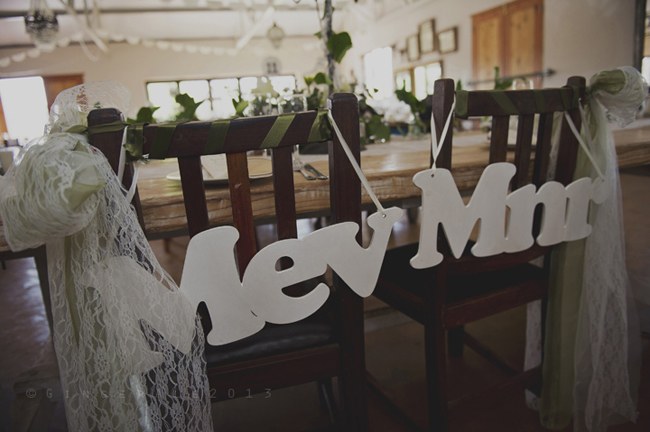 DIY Wedding Music:
I think the biggest DIY project we took on is doing our wedding play list ourselves. It took weeks to get all the songs together and then it took a few more weeks to put it into order. We had a dinner play list, a mellower dance play list and a party play list. I do think this is one of the best DIY projects that every couple should do. It is the best way to assure that you only have music that you and your guest want to hear. One of the ways that we gathered songs was to email all our guests and asked them to email us a list of ten songs that they would like to hear at the wedding. Our guests started to dance after the first dance and never left the dance floor after that. The music created the mood for the guests to enjoy themselves.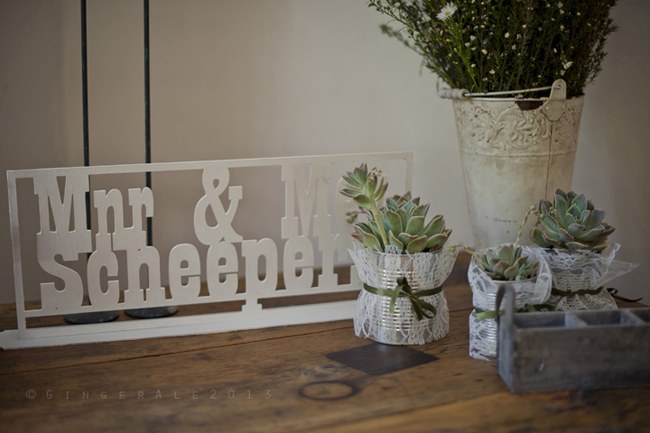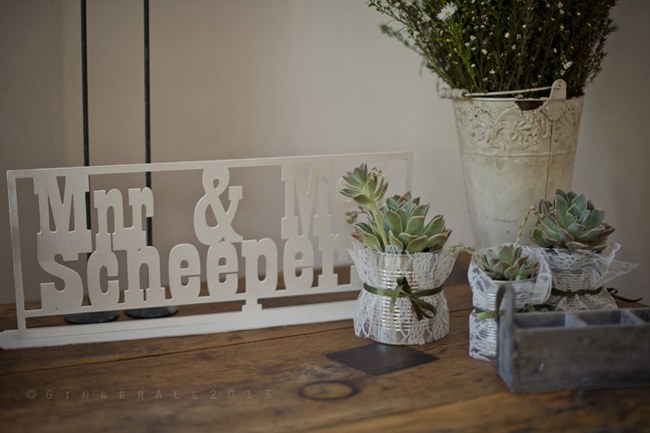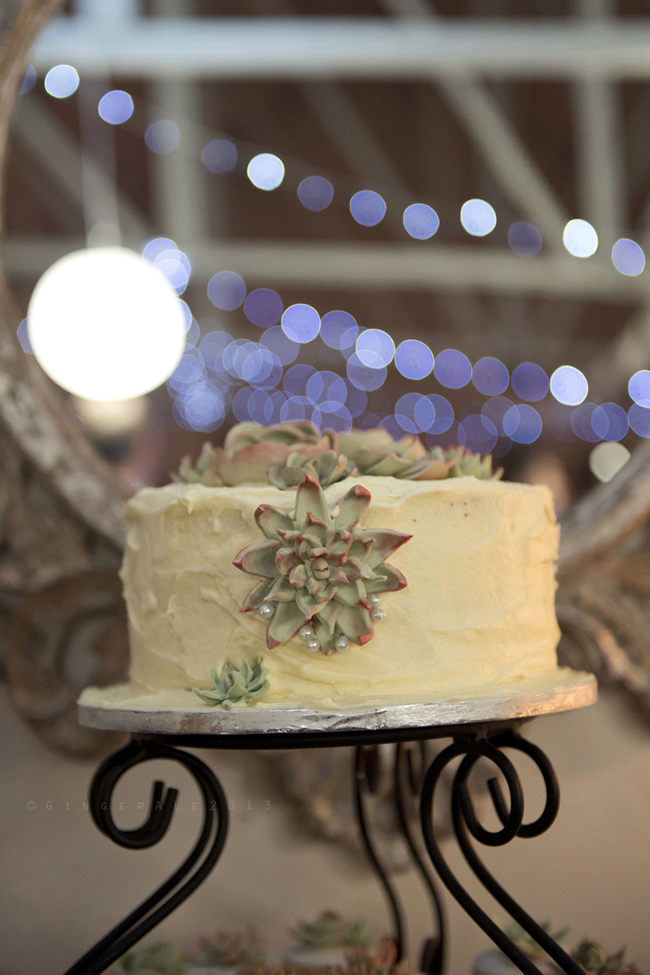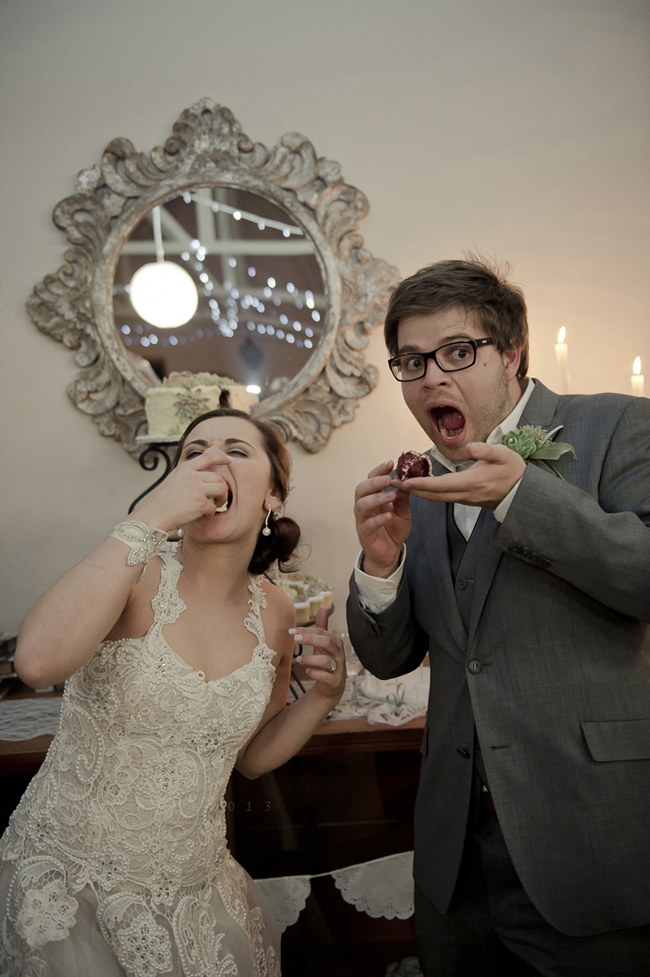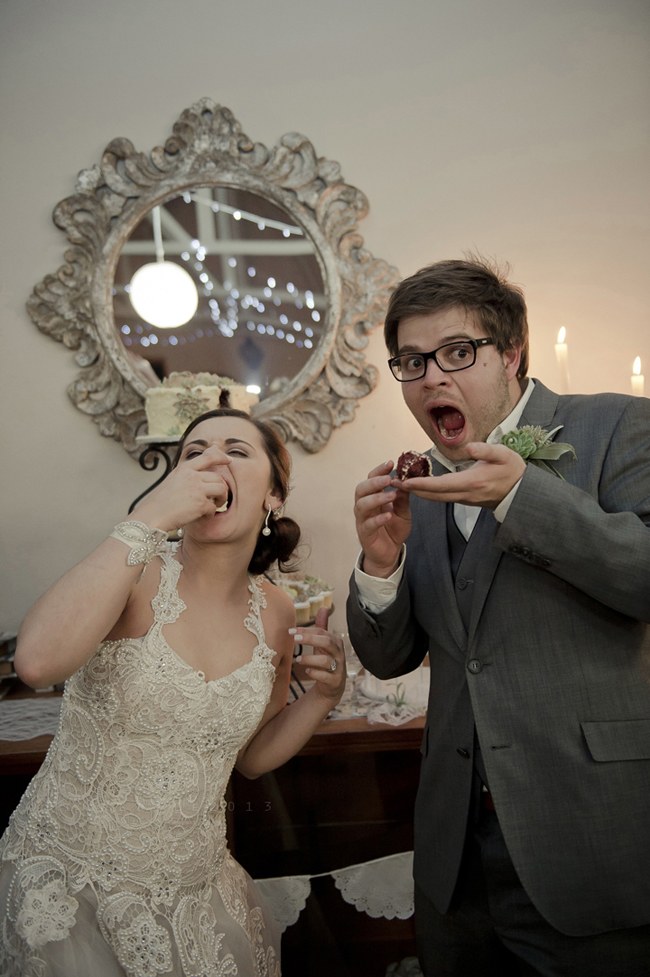 Real Bride Anine's Advice For Brides-To-Be
At the end of the day if you are married to the one you love it does not matter what went wrong, your wedding was a success.
If you can do it yourself rather than to buy it, you will definitely save.
Are there any other's that we've missed? It is definitely worth it to get a good photographer. At the end of the day it is all that you have left of your big day. And it is a great feeling when you get the photos a few months later and you relive that day and you have a sense of pride when you show them to other people.
 ♥  ♥  ♥    CREDITS   ♥  ♥  ♥
Photographer: GingerAle Photography |  Wedding & Ceremony Venue: The Nutcracker country retreat |  Cake: Janice- Ann Burns from Parys |  Wedding Stationery: O.Three |  Dress: Elamri Jacobs |  Brides Hair: Tersia from Salon Bello |  Brides Make-up: Sonika from Salon Bello |  Bridal Shoes: Anella Shoes | Bridesmaids Dresses: Elmari Jacobs |  Suits: Country Road |  Pastor/Officiator: Jaco De Witt |