1920s-Style Backless Wedding Dress Wow!
Paying homage to the glamorous Art Deco era, this devastatingly detailed 1920′s-inspired Charleston-style backless wedding gown is unlike anything you've ever seen before! Created by Galia Lahav this sizzling and stylish backless dress is made from nothing less than triple silk crepe with an unbelievable sheer net back. The lace details and cascading chains entirely embroidered with pearls, and seductive sequin fringes are set to blow your mind!
Today's session, captured by the superbly gifted photographer, Ginny Silver of Retrospect Images, is the second in our series of backless wedding dress editorial spotlights. If you missed our look at the Saffron gown, head on over here now.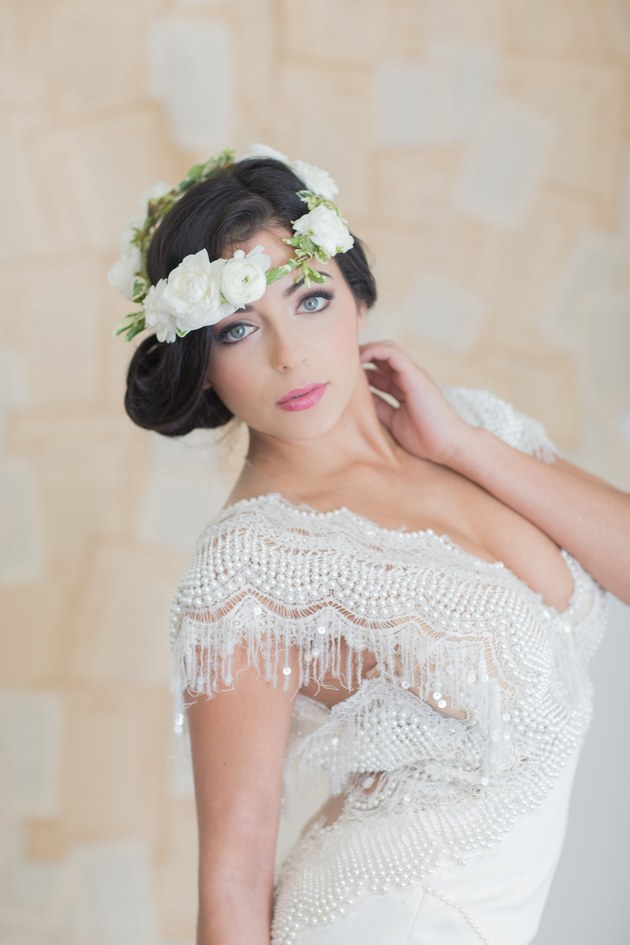 Dark haired model Christina in the "Pearl" dress reminded Susan Kelly of Three Sisters Custom Flowers & Events of two eras – both the 20's and the era of the Gibson girl with her dark hair, creamy skin and piercing blue eyes.
"Hair and Makeup artist, Kat, did a stunning job that I didn't want the flowers to distract too much from the dress. The white ranunculus crown with variegated foliage was a simple enhancement for the highly detail dress. The two different necklaces looked amazing on her!  The one with the dark leaves and tiny succulent is actually a locket. The one we tied on a ribbon is a tiny airplant which can also continue to live for a long time."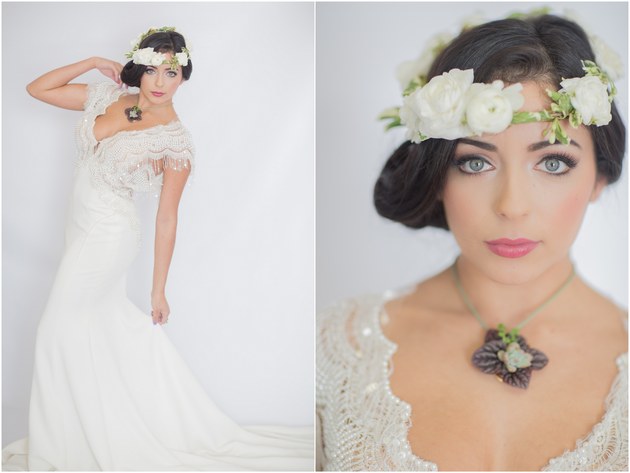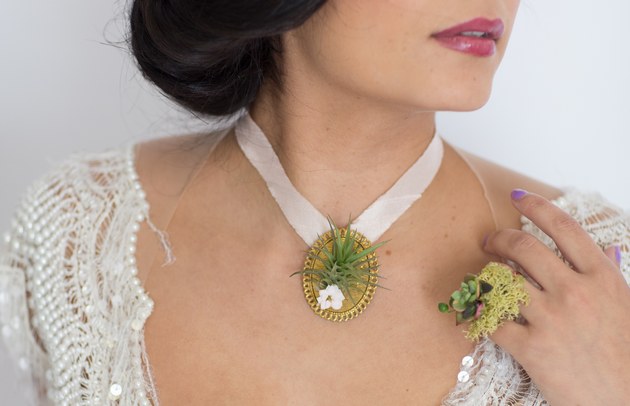 The succulent rings were a fun project that the Susan Kelly and the team at Three Sisters Custom Flowers & Events created the day before the shoot.
"I showed my team how to make them and each of our floral design assistants – Laura, Hillary and Becca made one and they really reflect each of their personalities. They are tiny works of art that are such a great alternative to a Mother's corsage or Bridesmaid gift. They'll last for 2-3 weeks and many of the tiny succulents can be planted to last for a very long time as a keepsake."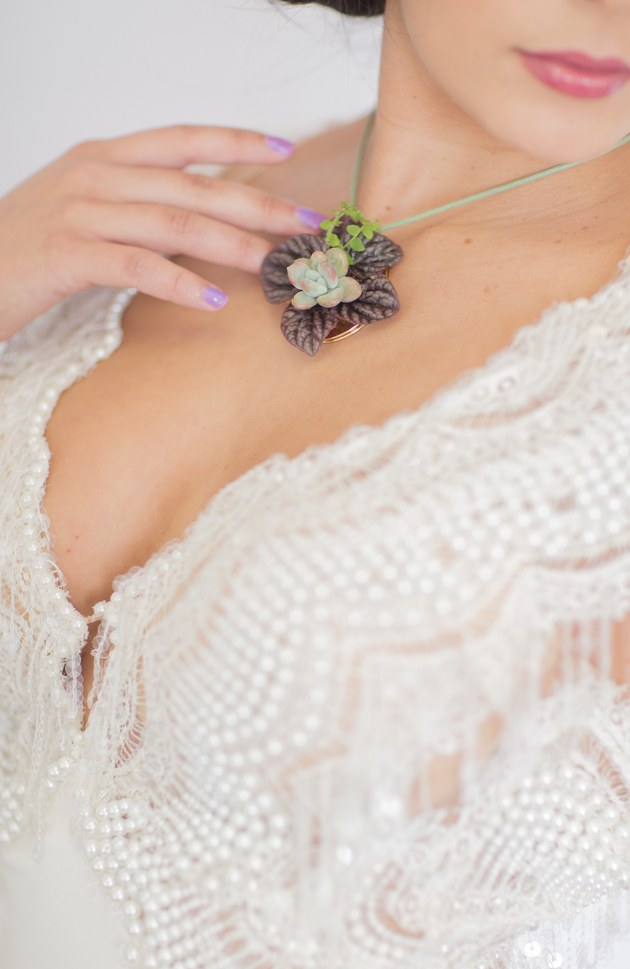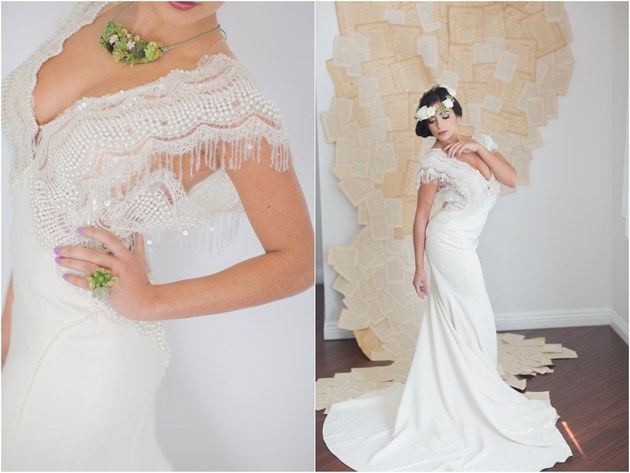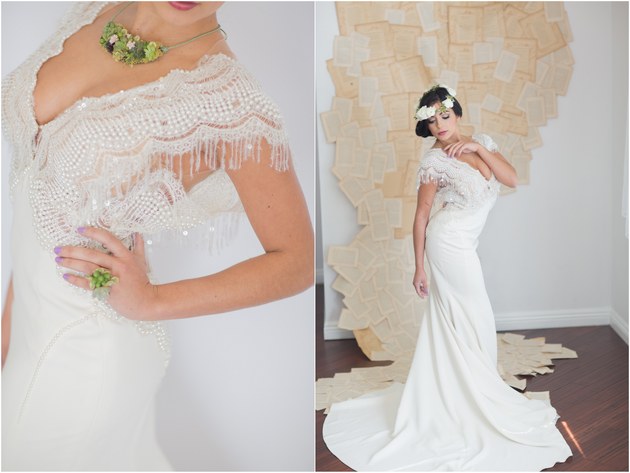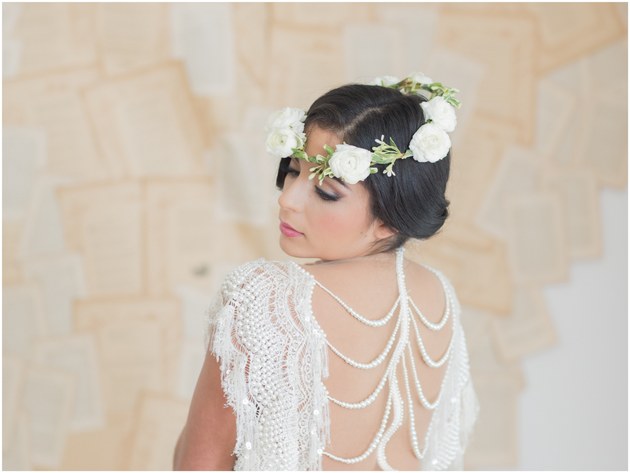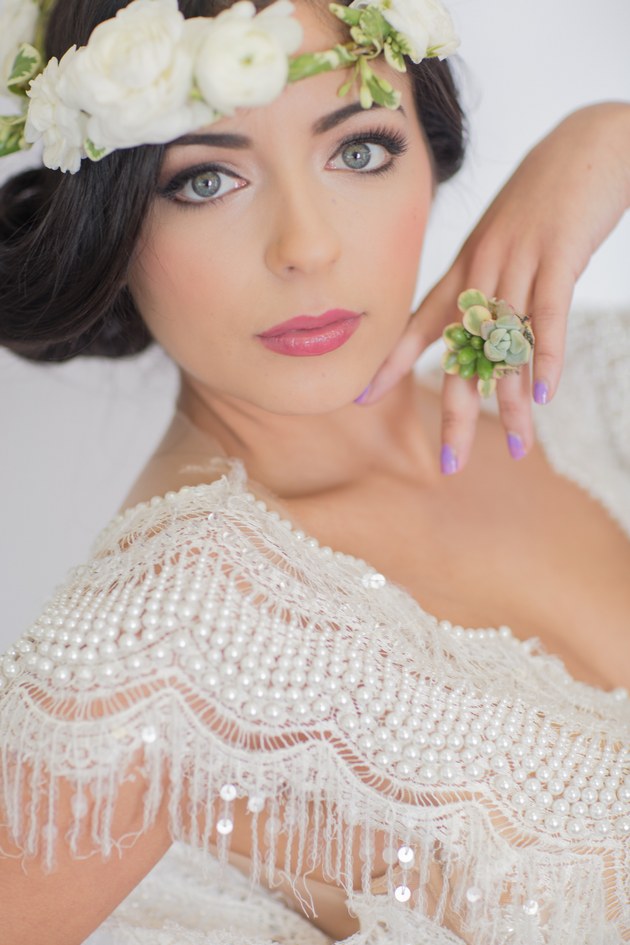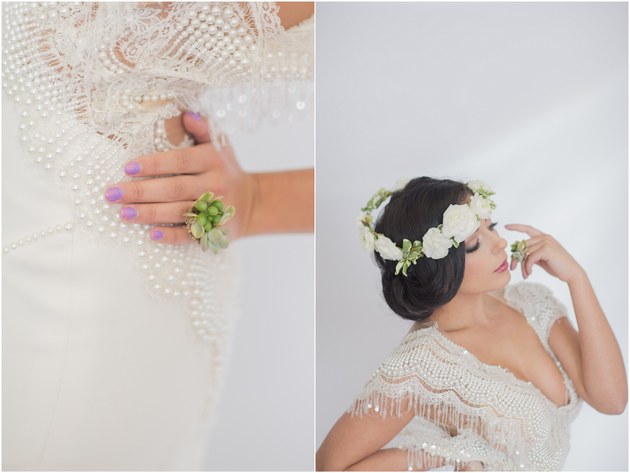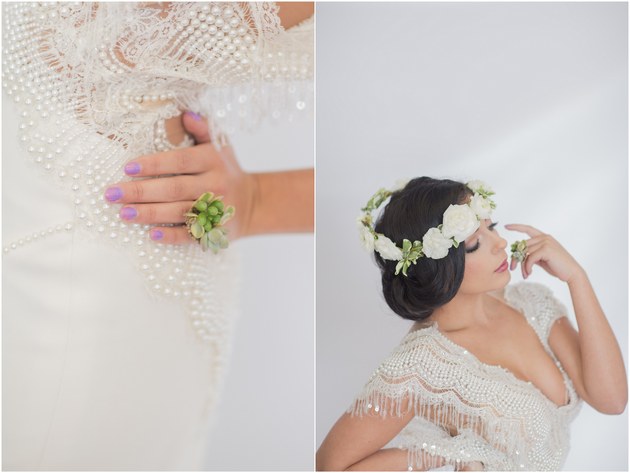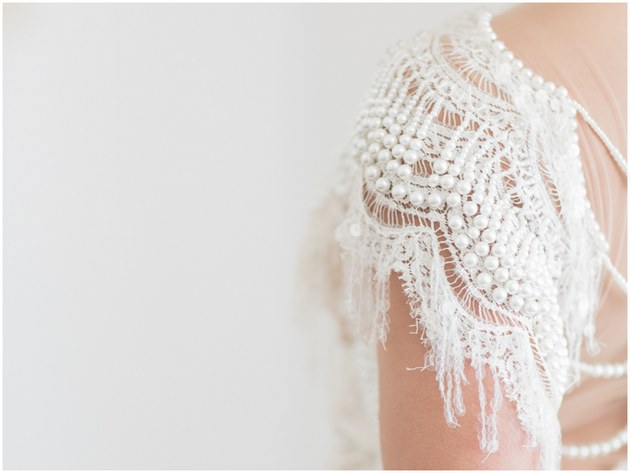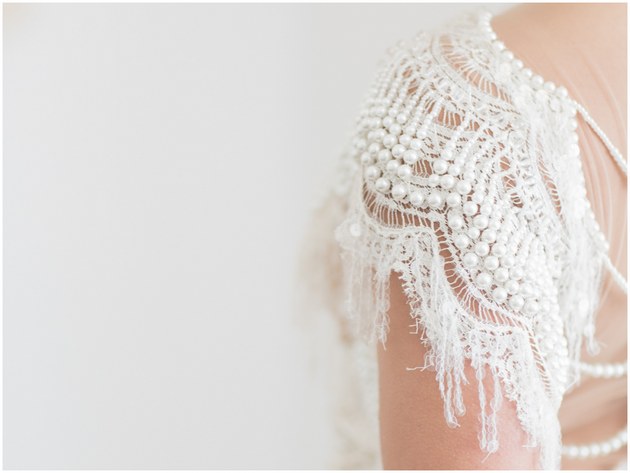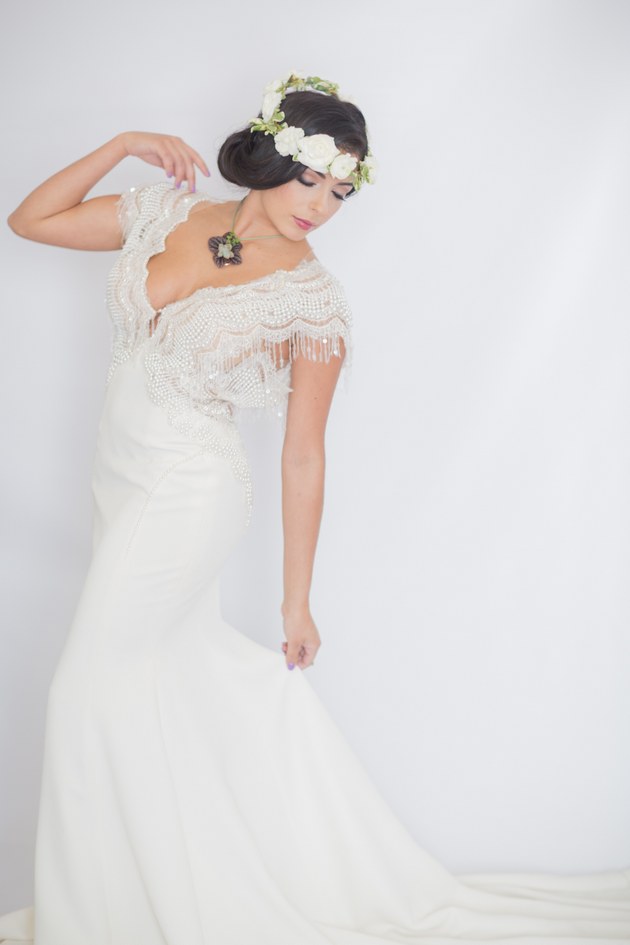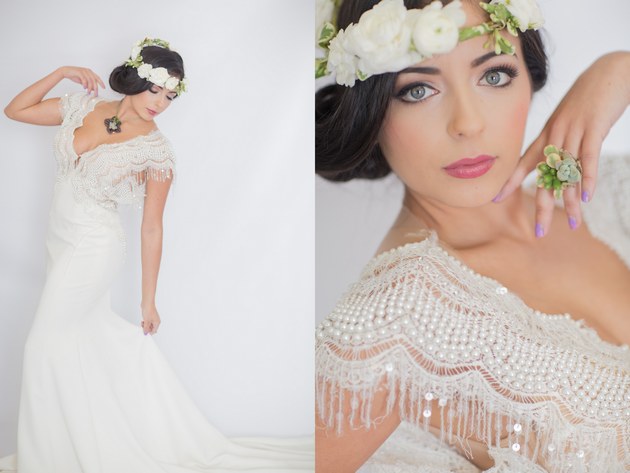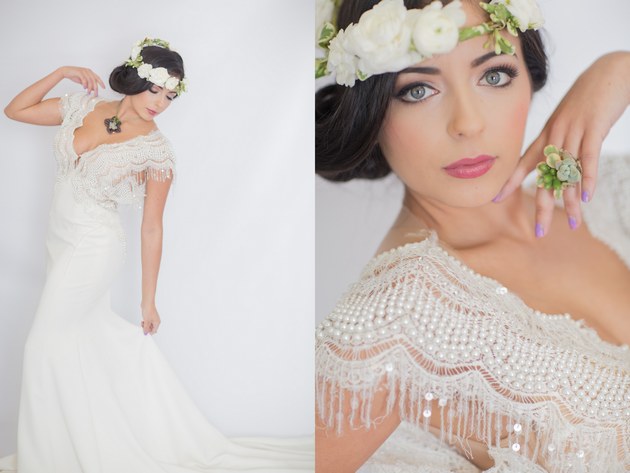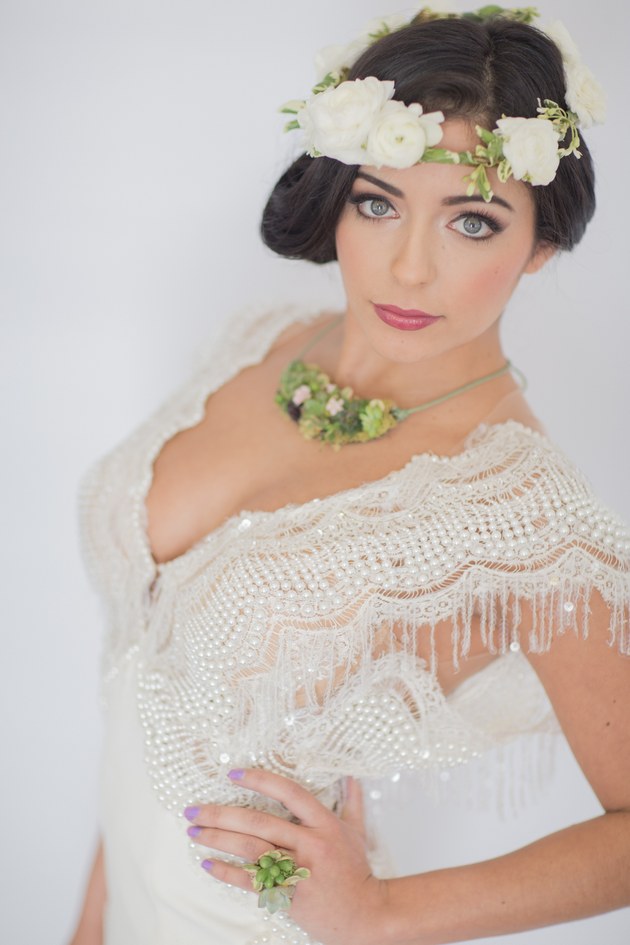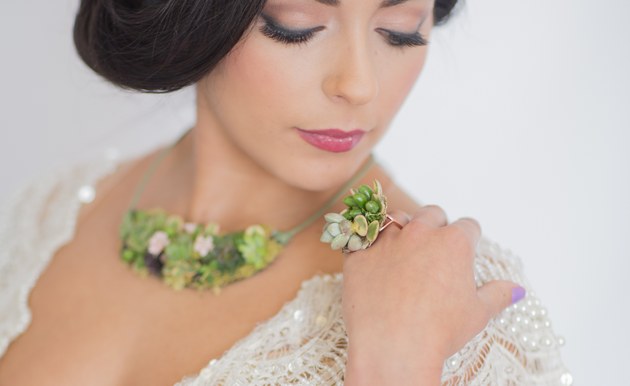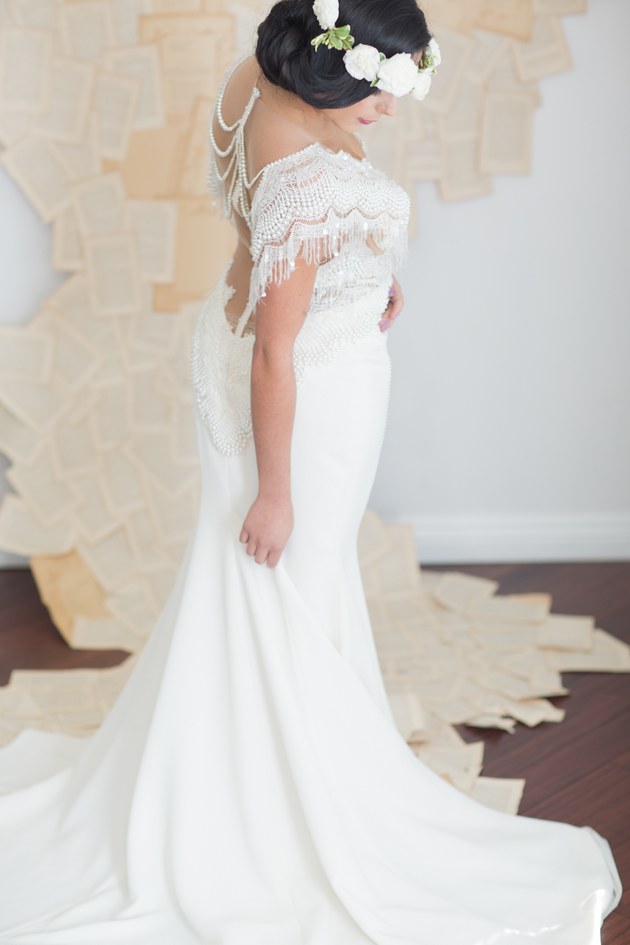 GALIA LAHAV 2014 TRUNK SHOWS:
The Galia Lahav Haute Couture Bridal team is currently on the last leg of their USA trunk show tour, so make sure you attend while you still can!
April 11, New York, Bridal Market
April 4-13, Los Angeles, Panache Bridal Due to popular demand the LA trunkshow is now extended until April 13! Contact Panache Bridal to make your appointment today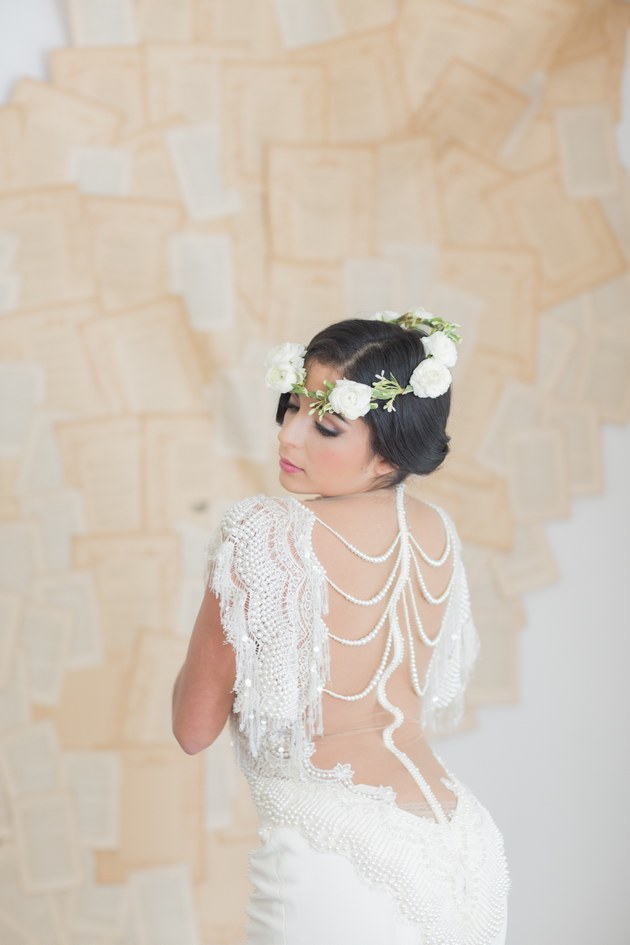 ♥  ♥  ♥    CREDITS  AND THANKS   ♥  ♥  ♥
Our heartfelt thanks go out to the entire team of talented wedding professionals that collaborated to make this shoot a reality including Ginny, of Retrospect images, the team at Galia Lahav, the lovely ladies at Kinsley James Bridal and the talented Susan Kelly of Three Sisters Custom Events for sharing her expertise and creative work with us!
Backless Wedding Dress: Pearl 2 by Galia Lahav | Photography and Backdrop: Ginny Silver of Retrospect Images | Stockists: Kinsley James Bridal | Floral Accessories:  Three Sisters Custom Flowers & Events  | Hair and Make Up: A-list Hair and Makeup Artist Kat | Model: Christina de La Pena   | Rentals: Seventh Heaven Vintage