How to look & feel your absolute boudoir best ♥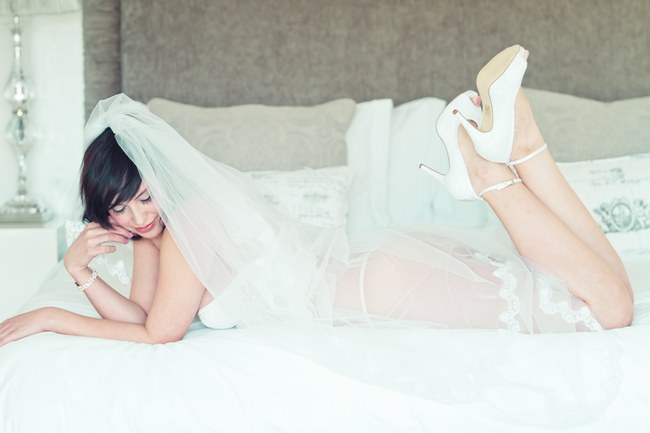 A boudoir photography session is an extremely intimate experience, and can at first seem to be quite an intimidating idea. While the results of a professionally styled and photographed boudoir shoot can be nothing short of breathtaking, the initial concept of stripping down to your tightey whiteys in front of a virtual stranger is more than enough to make most of us just a teensy bit apprehensive! To help demystify the process of a bedroom shoot, and provide a few helpful tips for looking and feeling your best during your session, we hear from wedding and boudoir photographer, Samantha Jackson, who shares some of her secrets and insights into getting the most out of our your boudoir experience.
"Boudoir photography is very close to my heart. As a woman, I know how hard it is to accept your body and be proud of every part of it. I find one of the biggest factors in preventing women from booking an intimate session like this can be a women's confidence in herself and her body," shares Samantha.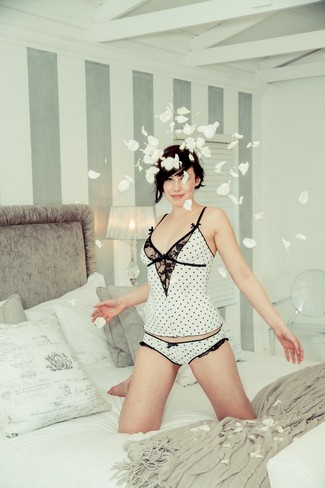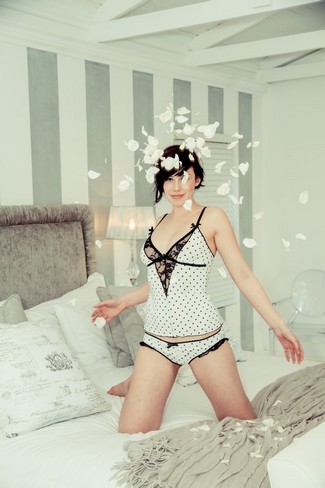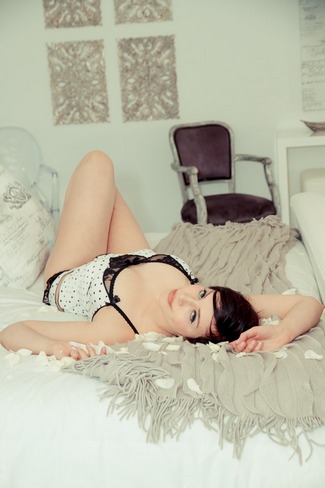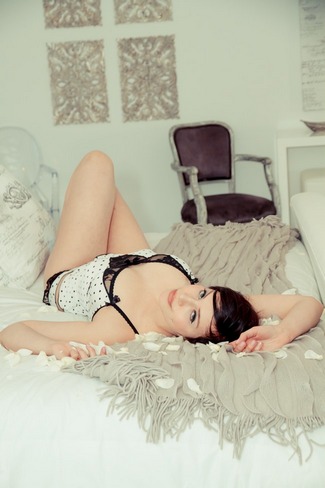 ♥  ♥  ♥
" I let my clients know that everyone is nervous before the shoot starts and that they soon build confidence when they realize how fun and easy the whole process is."
♥  ♥  ♥
When a woman feels good about herself, and is in a comfortable environment with a photographer she trusts, the results of the session can often be a fantastic confidence boost in itself. Many women do not realize or value their true beauty, and sometimes all it takes is a really great photosession with a professional who can help bring out the best in her, to help that woman  begin seeing herself in a whole new light.
Confidence Boosting Secrets for Amazing Boudoir Photographs
Work with an experienced boudoir photographer whom you feel totally comfortable with.
A professional boudoir photographer will guide you through every step of the process including what to expect on the day,  help with boudoir poses and sometimes even tips on what to wear.  "A good boudoir photographer gets to know each and every one of their clients personally to ensure that she is comfortable," says Samantha Jackson.
Have Your Hair and Make-up Professionally Styled.
"Professionally styled hair and make-up makes my clients feel and look like supermodels.  Being professionally styled finishes the entire look of the shoot and I encourage my clients to go out for dinner or a night out after the shoot to show off their stunning hair and makeup.  They simply love this idea and almost always do just that!"
Select a Flattering Wardrobe That Will Make You Feel 100% Beautiful.
"I like to get involved in assisting my clients to choose the right outfits and have a a number of amazing items in stock which I take along to my sessions for clients to purchase.  I definitely want my clients to feel gorgeous."

"Sexy doesn't always have to mean less clothing.  Clients can rock a boudoir shoot without even having to wear lingerie items. Just get creative with frumpy jerseys, knee high socks or even a shirt and tie."

Bring Along Upbeat & Sexy Music To Set the Mood
"I like to have music playing in the background that is upbeat and sexy to get you laughing and relaxed.  I find this definitely helps my clients feel more at ease."
Super Secret: Get Your Hair Blowing in the Wind,  Mariah Carey-Style!
"Having a fan set up during the shoot is an instant confidence booster which is lots of fun. Having their hair blowing glamorously in the wind really does make my clients feel like models. This always makes a woman feel a bit more sexy and also helps ease them into boudoir poses. They feel like they are on a movie or music video set which is great for their confidence and for the shots!"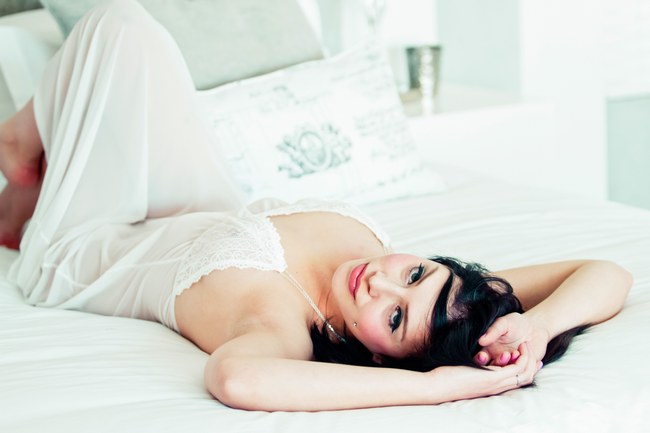 Ten Questions to Help You Select the Best Boudoir Photographer
Before you decide on booking this amazing shoot you need to ensure that you choose the right boudoir photographer to capturw this intimate and fun shoot.  To be comfortable with your photographer and their work, and consider following ten questions when making your decision:
How many years of boudoir photography experience does he or she have?
Do you like this person? (Almost the biggest deciding factor, after quality of work!)
Do you like his/her photography style? Take a look at the latest work on their website to get a feel for their work.
Do they have a studio to shoot in OR will they come to your location?
Can they help you with posing? Your photographer should be able to 'direct' you into flattering poses that work your best angles and assets.
How much does he/she think you will spend to get what you want?
After the shoot, how and when will you receive your proofs?
Is any retouching is included?
If not, how much will retouching cost?
Can the photographer provide a list of contactable 'real' clients so that you can ensure that the examples of shoot's you're seeing are not only of professional or semi-professional  models.
Here is an example of a super styling Rockabilly Inspired Boudoir shoot which proves just how fun a boudoir session can be!
Now that you know more about how to work your boudoir booty, go ahead and book that session with confidence. No doubt your other half will love the results just as much as you do!
And if you have a few tips of your own to add, go ahead and leave some love in the comments box below. x
 ♥  ♥  ♥    CREDITS   ♥  ♥  ♥
Photographer: Samantha Jackson Photography