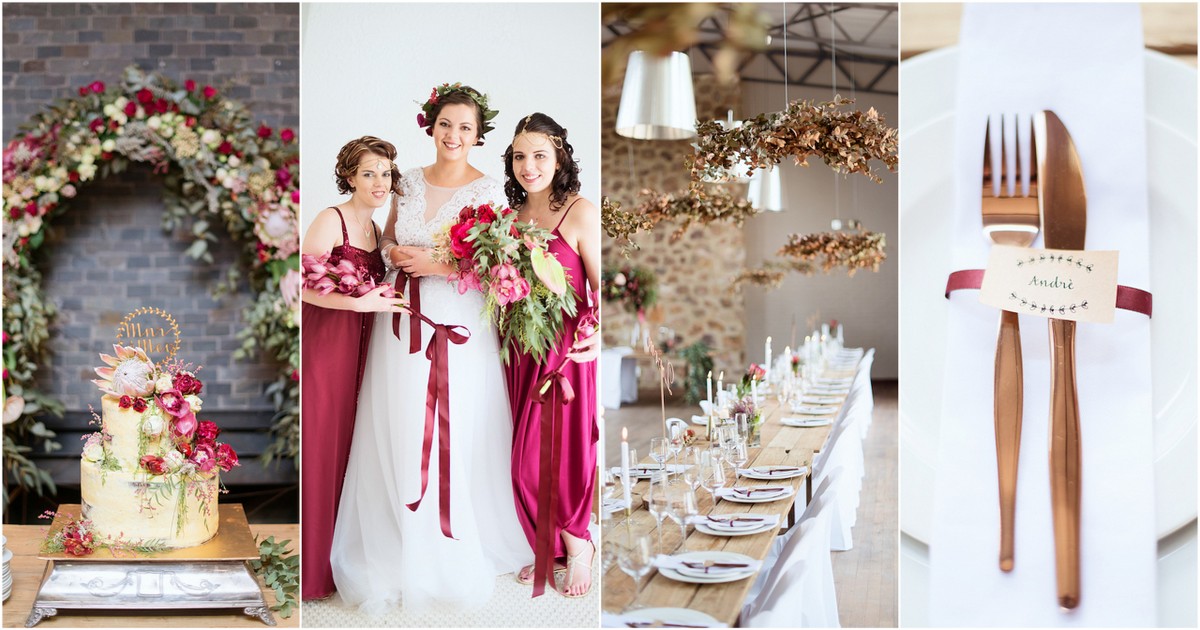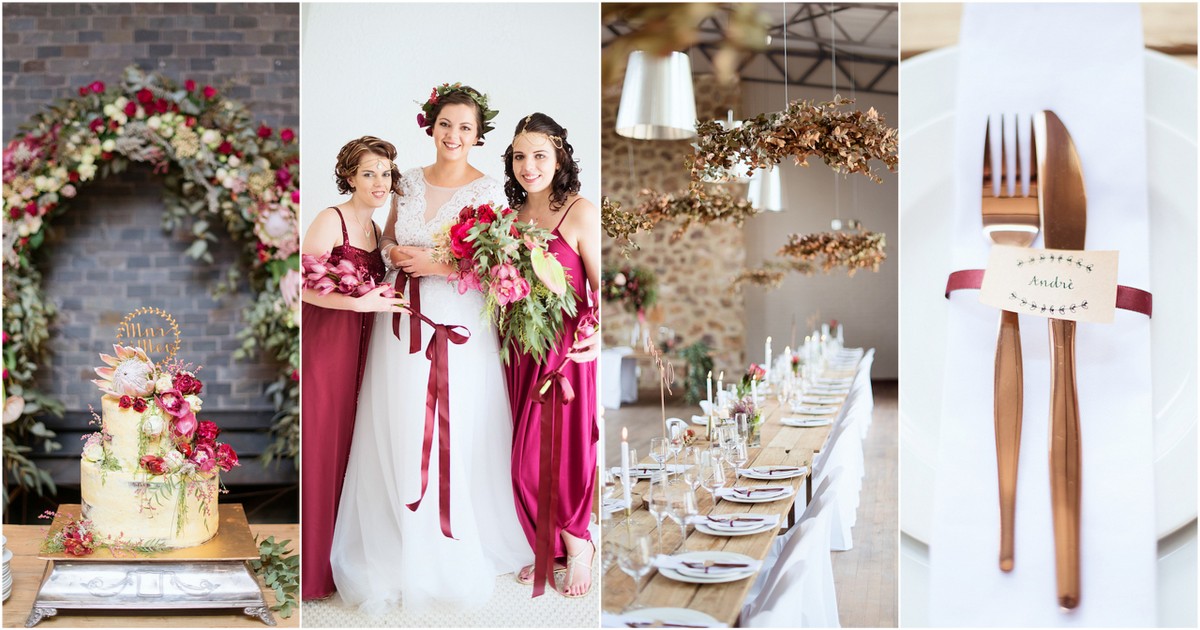 George and Yolandi's burgundy and gold wedding at the Poortjie wedding venue in Heidelberg, Gauteng, was an earthy farm wedding with a modern twist. Their wedding combined elements of classic country charm such a long, family style wooden banquet tables and rustic eucalyptus chandeliers, with contemporary elements including gold geometric wedding decor ideas and mix and match bohemian bridesmaids dresses.
The inspiration came from Yolandi's childhood memories of growing up on a farm. "We would make use of the things we'd find in nature to decorate a Christmas table or any other table for that matter. The modern twist came from the things we see around us at present and from my time spent in Cape Town. The Poortjie Wedding Venue, in Heidelberg, Gauteng, perfectly complimented what we had in mind, being situated on a farm for classic country charm with finishes incorporate contemporary design adding the modern twist."
Christopher Smith photography captured this luminous images filled with light and love!
Their colour palette was burgundy, gold, rose gold and teal, with lots of proteas. "The idea of a burgundy wedding stole my heart because of its warmth and boldness. And, of course, because it reminded me of my favourite drink – red wine!"
Burgundy + Gold Poortjie Farm Wedding in Heidelberg, Gauteng
Their wedding reception was a relaxed gathering with delicious food, good wine, gorgeous flower arrangements and an atmosphere like few with close friends and family. The couple shares that they were blessed with a rainstorm later in the evening: "To us it symbolized God's blessing of our new beginning as Mr. & Mrs. Booker."
Poortjie Wedding, Heidelberg, Gauteng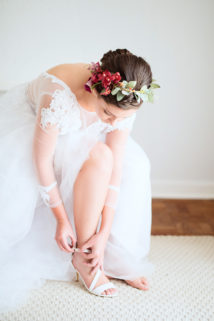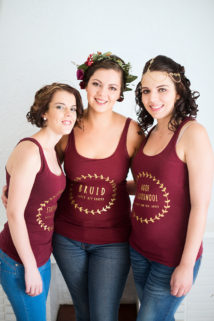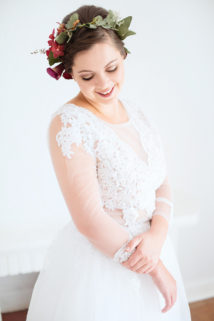 Love Story: George and I met for the first time in 2009 through our families. He swept me off my feet and there was an instant spark that could light the room, but nothing came from this evening. For about four years we kept some contact, but the time was just never right for us. One day out of the blue George phoned me up to talk and see if my number was still the same. When we saw each other again after four years, we realized that the spark had never died and as the saying goes, the rest is history!
Our engagement: After a short visit to Heidelberg, I returned to Cape Town for a planned family holiday with my mother, to celebrate my birthday. Sadly, George couldn't make it so I had to leave him behind in JHB. We left for Langebaan the next day and after settling in there was a knock at the door…I opened, expecting a stranger, and there was George! Little did I know that this wasn't the only birthday surprise he had planned. We went for a stroll and came to a hill which overlooks the harbor and a great part of Langebaan. As I was busy appreciating the view George got down on his knee and nervously asked the big question. I couldn't stop smiling and without a doubt answered YES!!! This was truly a birthday full of surprises, not only did I turn a year older, I also got engaged to the man I prayed for and received a gift that keeps on giving.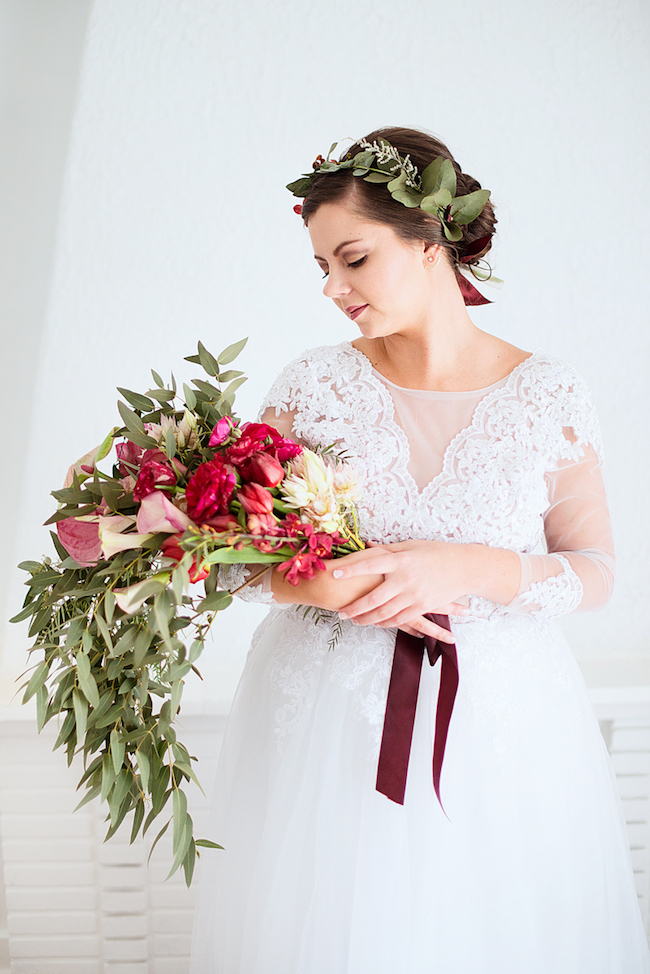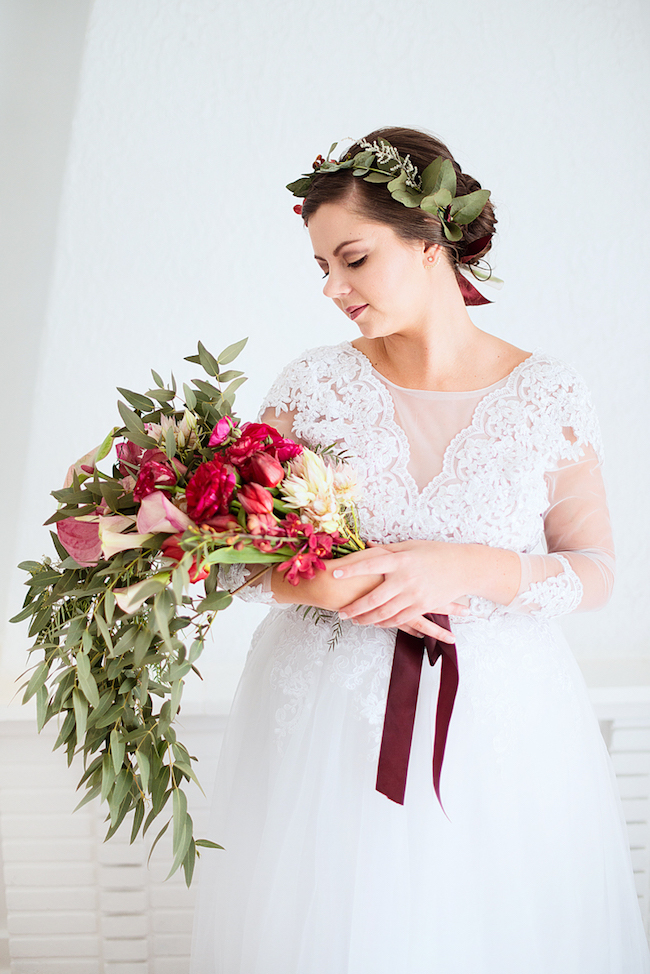 For hair, my inspiration was something simple and romantic that could be worn with a flower crown.  I had my dress made, but the final product required quite a lot of alterations after the face. I am very thankful for Elsabè, who worked through the night to make sure that I had a dress to wear. For make-up I didn't want to look like a whole different person on the day of our wedding so I opted for something soft and romantic.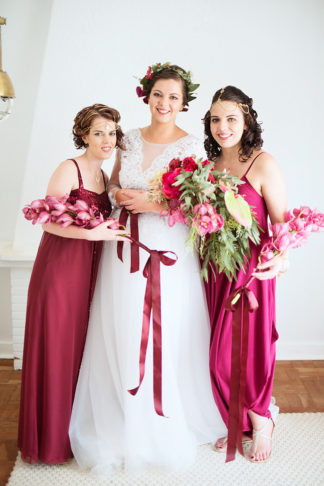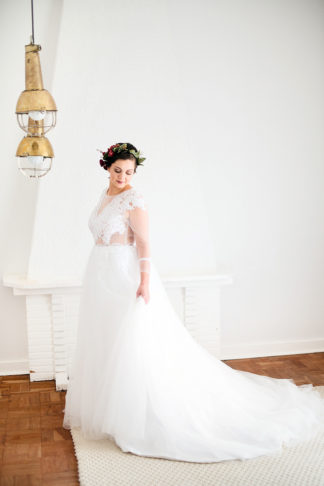 We went for a mismatched, bohemian look for our bridesmaids. We kept the colour and length of the dresses the same and added golden accents with head chains, shoes and earrings. For the bouquets, I trusted what Monet had planned and the orchid stems sure went well with the burgundy bridesmaid dresses.For the guys, we didn't want to take the risk of mismatched styles so they all wore the same cream pants, white shirts and burgundy ties, rounded off with colour matching boutonnieres. The neutral colour of their outfits also ensured that George stood out as the groom, with his navy suit.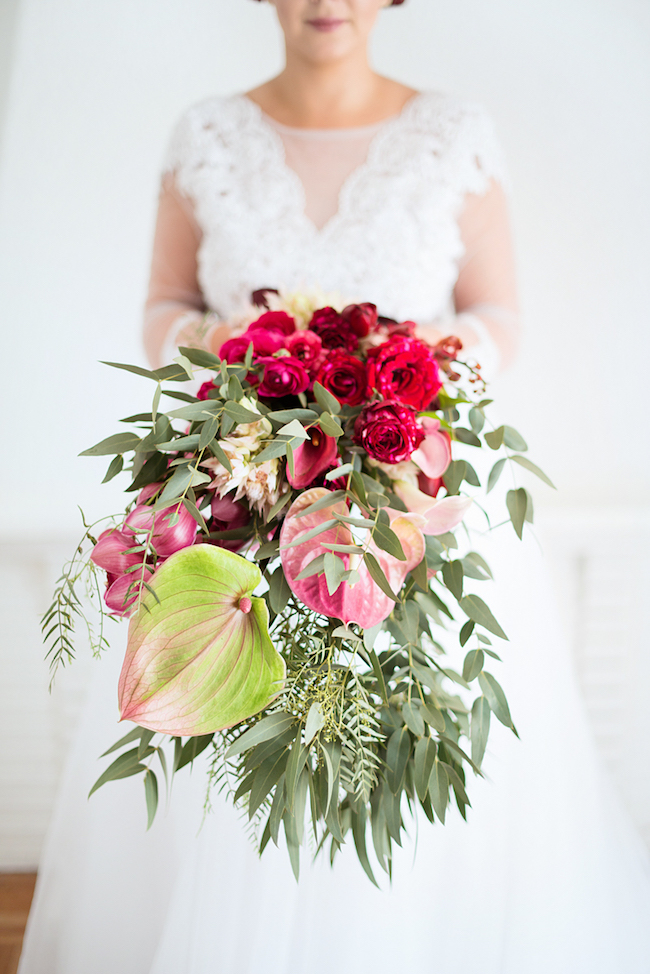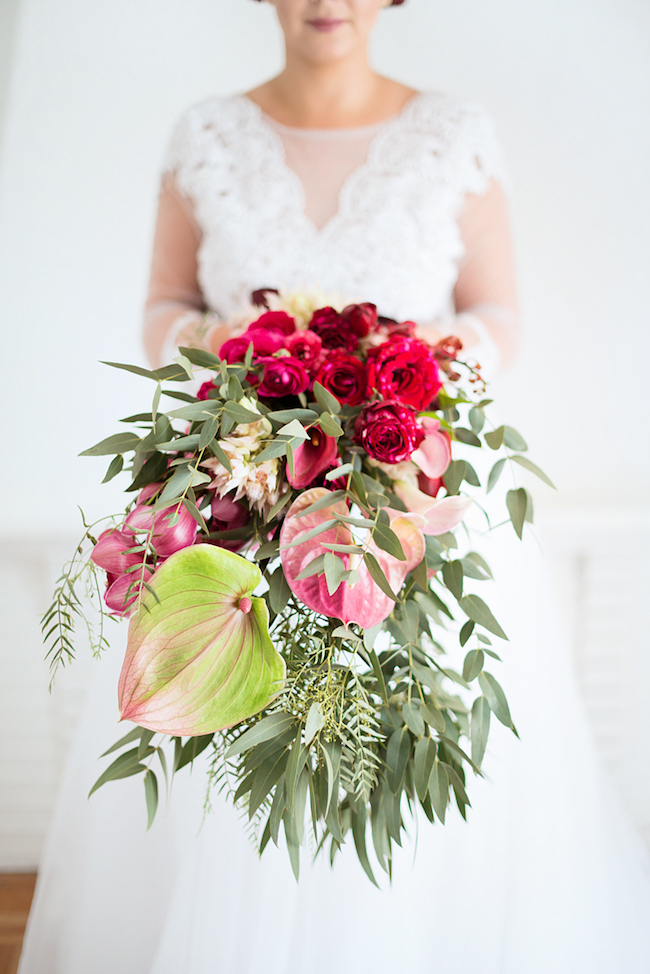 My only requirements for my bouquet were to incorporate the colours of the wedding with proteas and eucalyptus leaves. I opted for a simplistic, earthy feel with delicate detail and metallic elements. I left the flowers and bouquets to a friend of mine who really knows her way around flowers. Monet is a flower artist and has a very artistic eye, she pays attention to detail and has a special gift with flowers.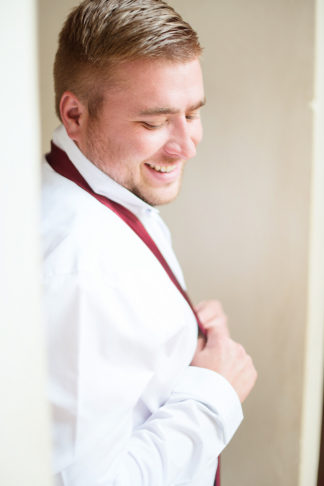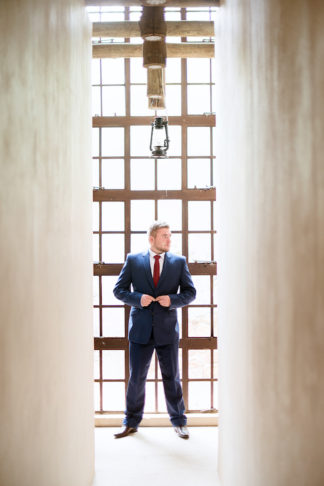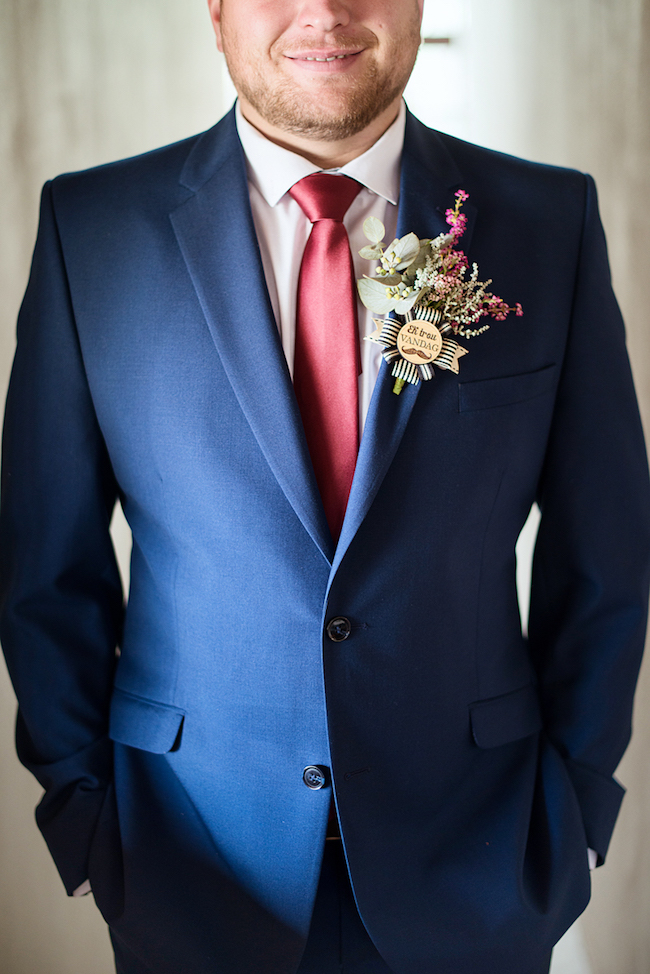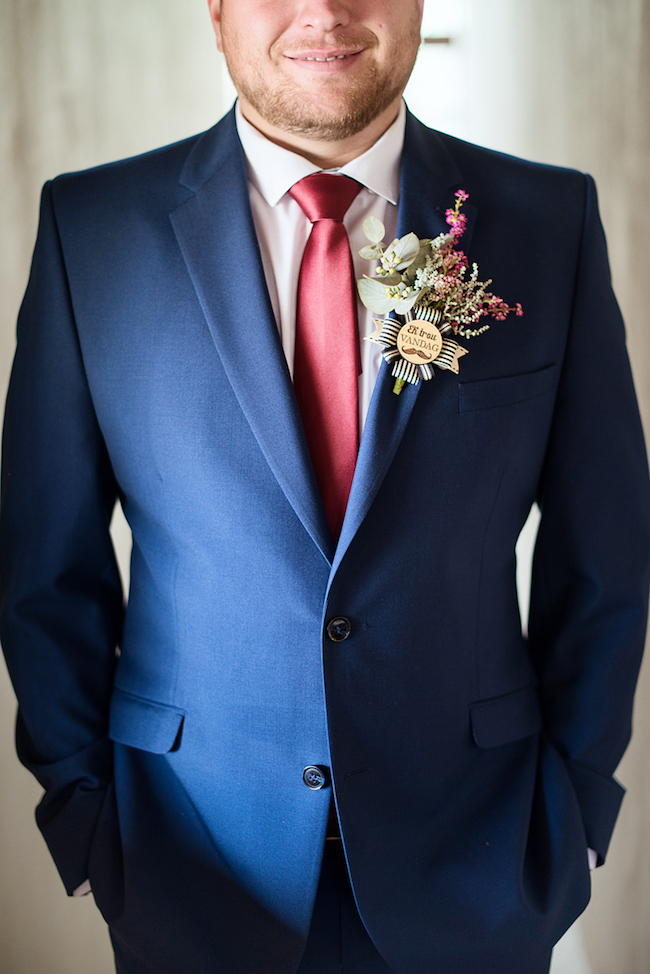 If only a finding a wedding dress could be as easy as finding the perfect suit. George didn't stress too much about finding the right suit and left it until two weeks prior to the wedding. We discussed the colour upfront, but this was a trip for the boys. He tried on a few suits in different styles and colours and then chose the top three. Based on the voting of his groomsmen he chose the navy, slim fit suit from Edgars.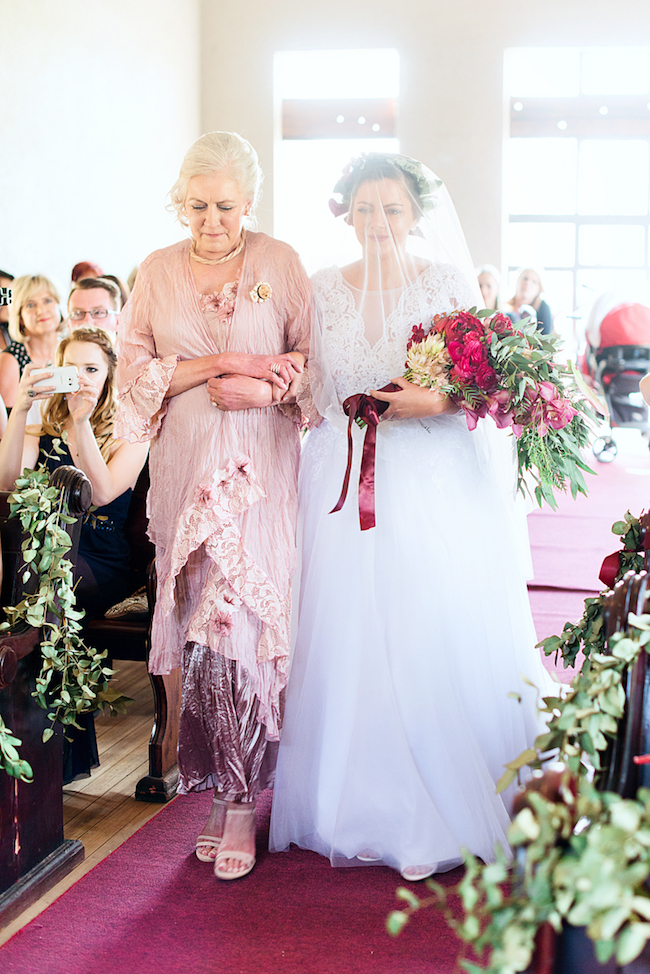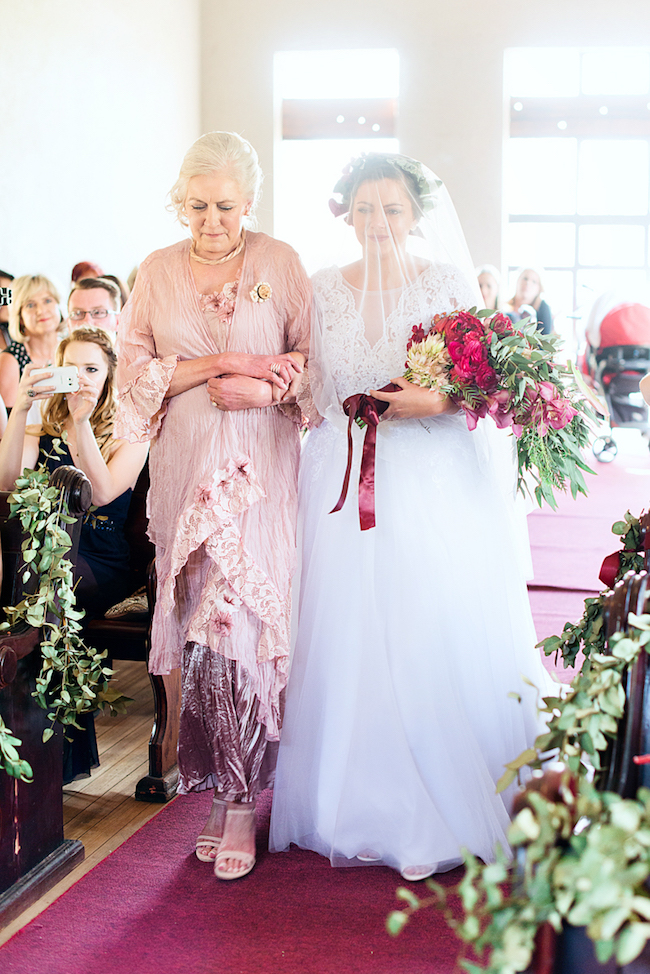 It was quite a process to choose a song to walk down the aisle to, but we decided on "River flows in you" by Yiruma. The song set the perfect atmosphere for the big moment and will forever be special to us.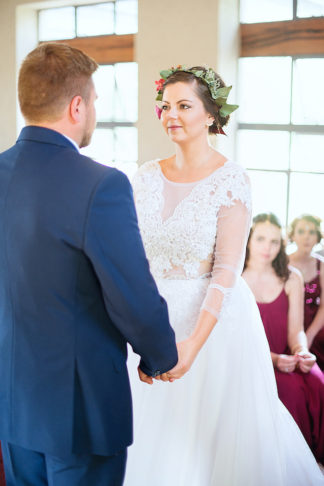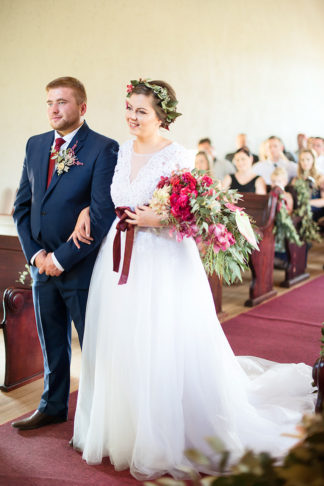 The Poortjie wedding venue has a stunning, intimate wedding chapel with wooden flooring, a red-carpet aisle leading you to the alter, antique wooden church benches and big glass windows. The chapel overlooks the well-kept lawn and water feature of the canape area. With an already beautiful setting we didn't have to do much to make the Chapel wedding ready so we hung eucalyptus wreaths around the ends of each bench, Monet also made a beautiful bouquet for the registry table and filled an arch with gorgeous blooms to feature behind the alter. Outside we hung some proteas and Consol solar jars that would come to life later that evening.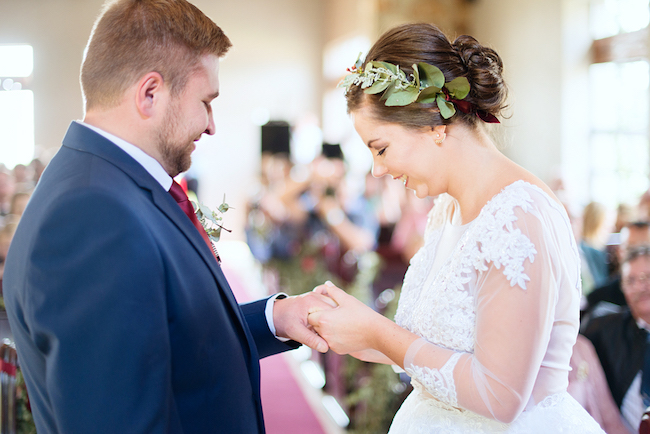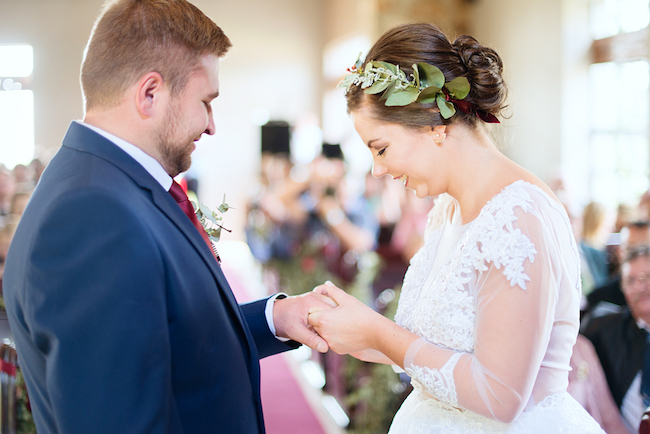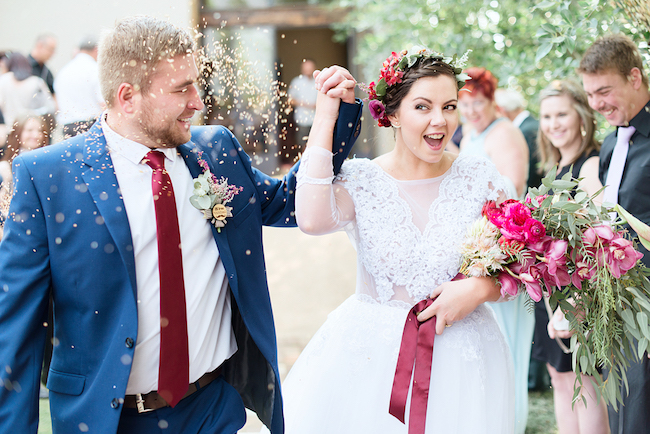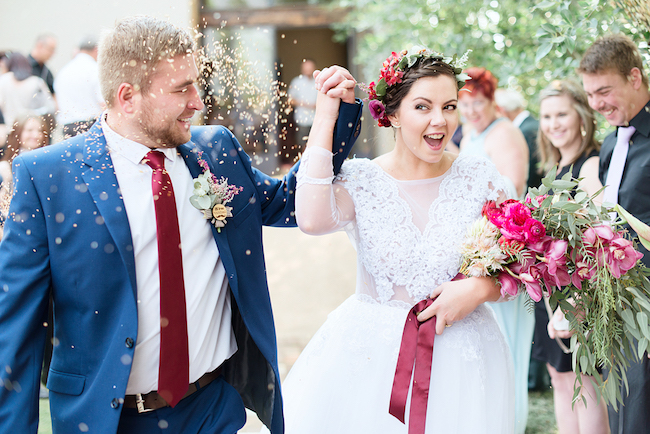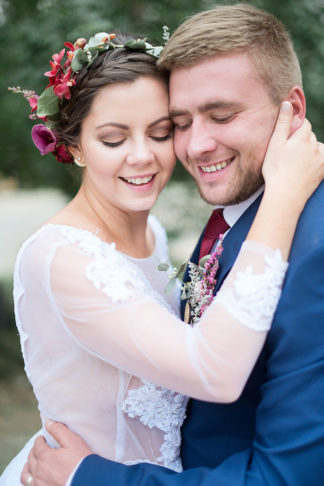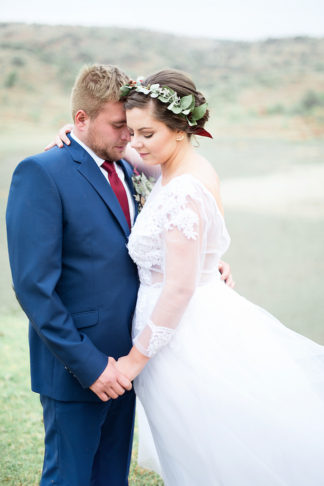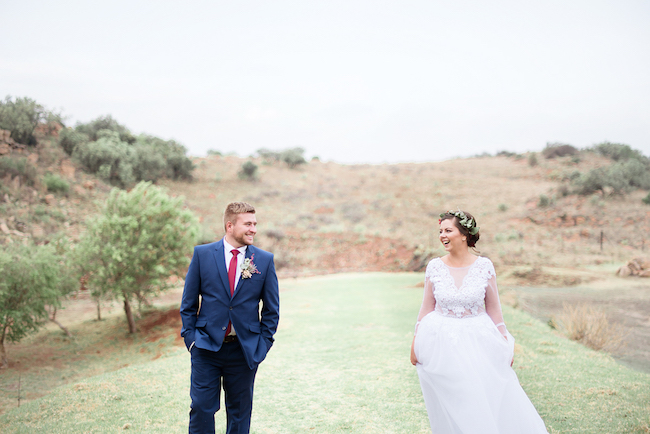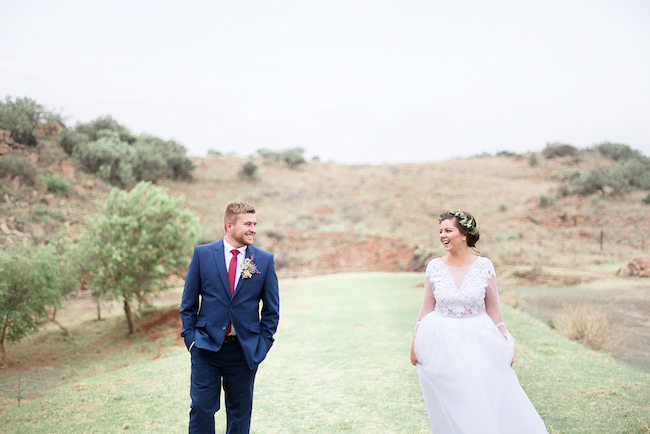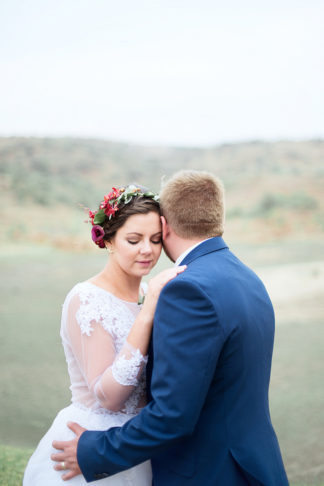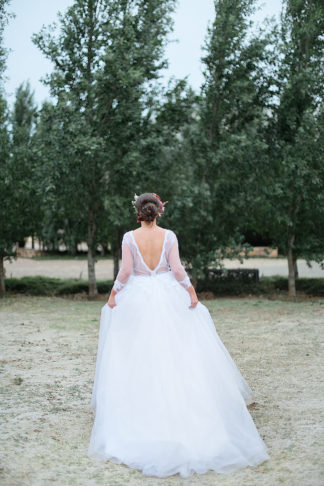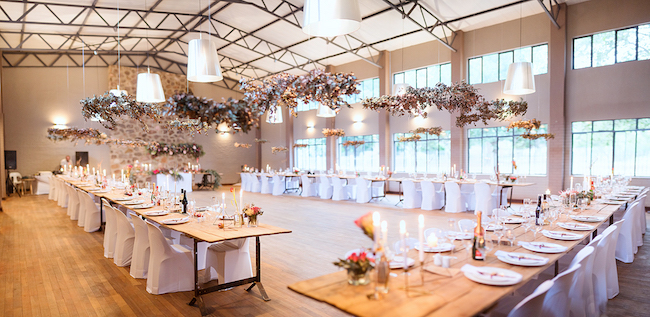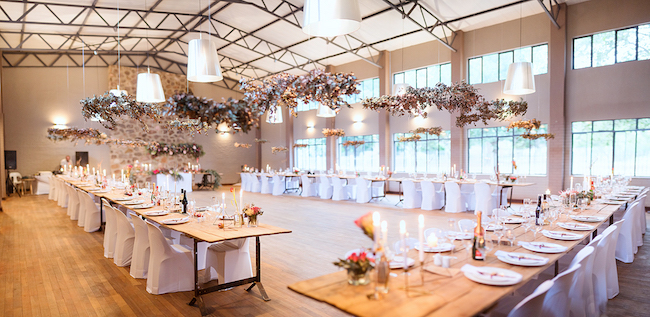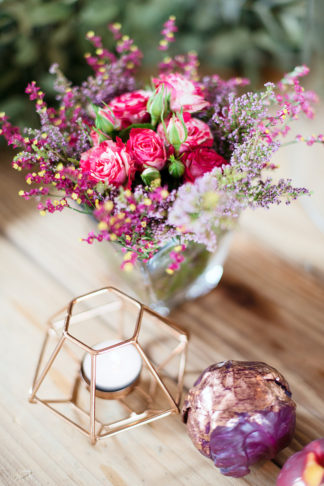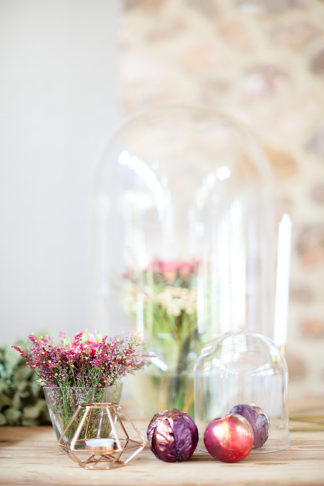 The bridal table was the focus point and we went all out here with a table bouquet, big glass domes with flower arrangements, a large flower feature hanging above the table, lots of candles, geometric candle holders and some more eucalyptus wreaths on the ends of the table.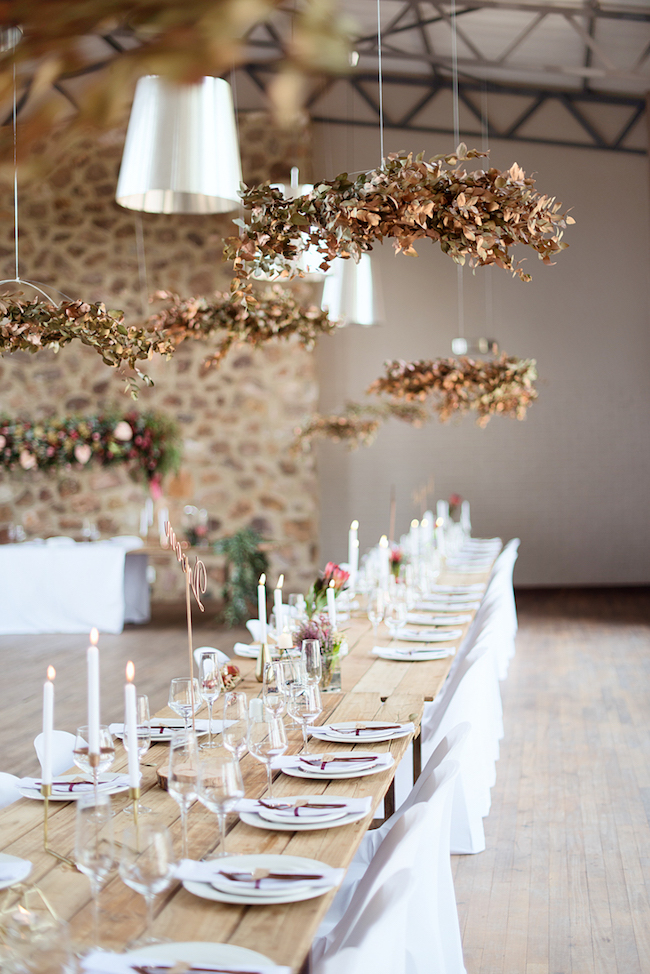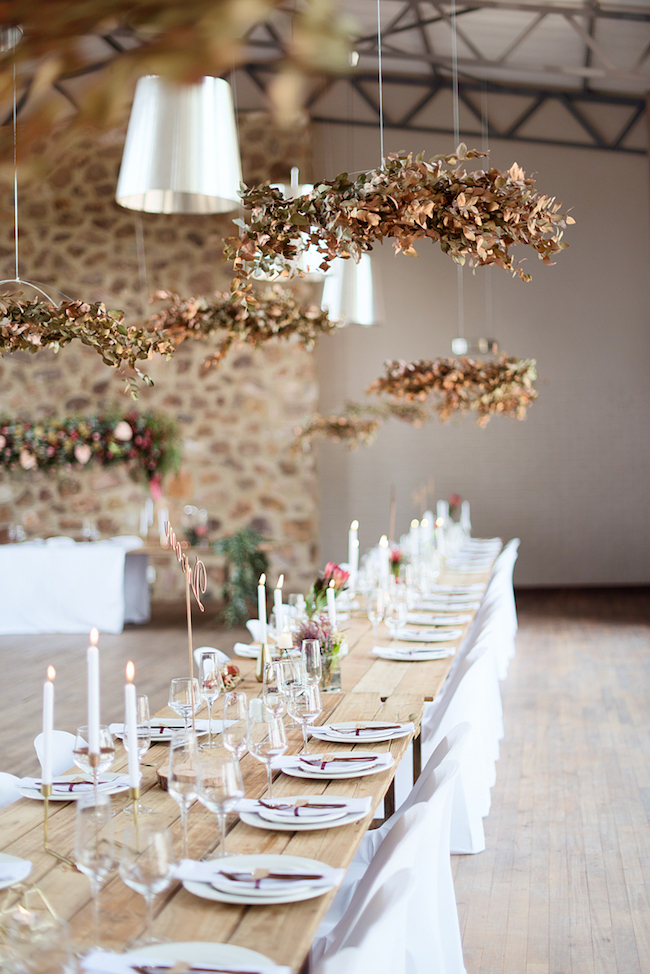 The reception area was decorated with eucalyptus leaf wreaths, hanging from the roof. The wooden tables were left bare, and the décor on guest tables were minimalistic and earthy with rose gold cutlery and geometric candle holders in gold and rose gold. We also added some tealight- and tall white candles.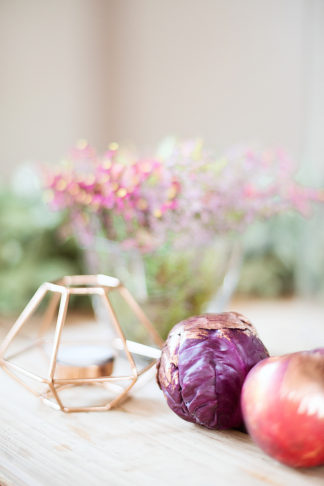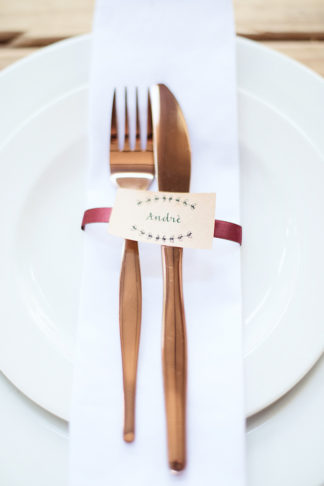 Wedding Planning Advice:
Take it all in and be present in the moment (I made a point of reminding myself to do this), because it goes by so quickly.
Be organized and make lists of responsibilities for the bridesmaids and groomsmen.
Don't take it personally (people will always have an opinion or be unhappy about something)
Save up so that you can use a reputable dress designer
Don't sweat the small stuff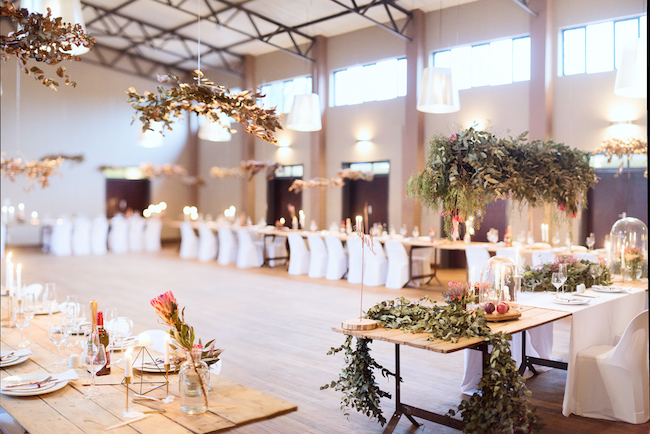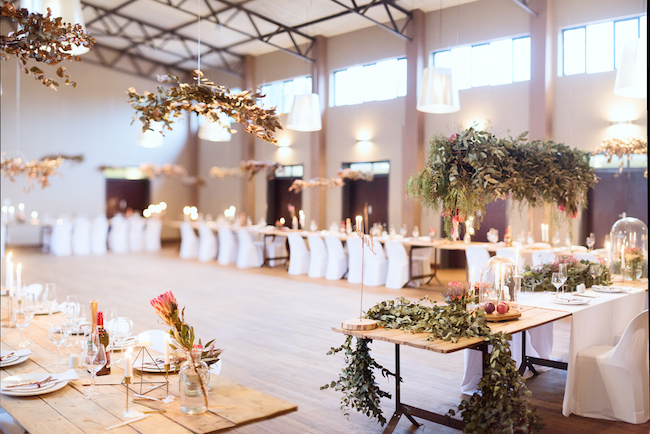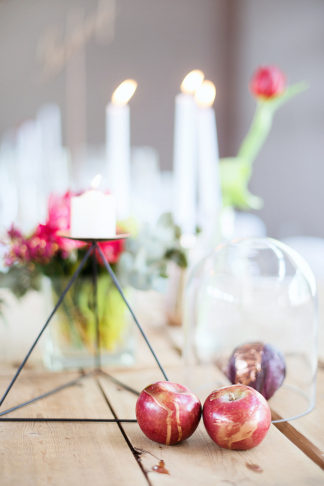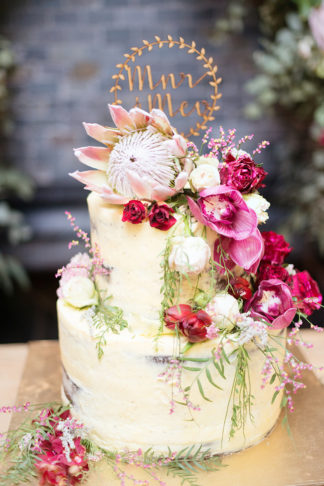 We personalized our wedding by asking my grandmother to make some of her famous biscuits for guests to take home. We also decided to have our food served family style because we wanted guests to socialize like families do around the kitchen table on a Sunday afternoon. For the rest, we asked friends and family to help with things like table seating charts, menu's, name tags, table names and the welcoming board.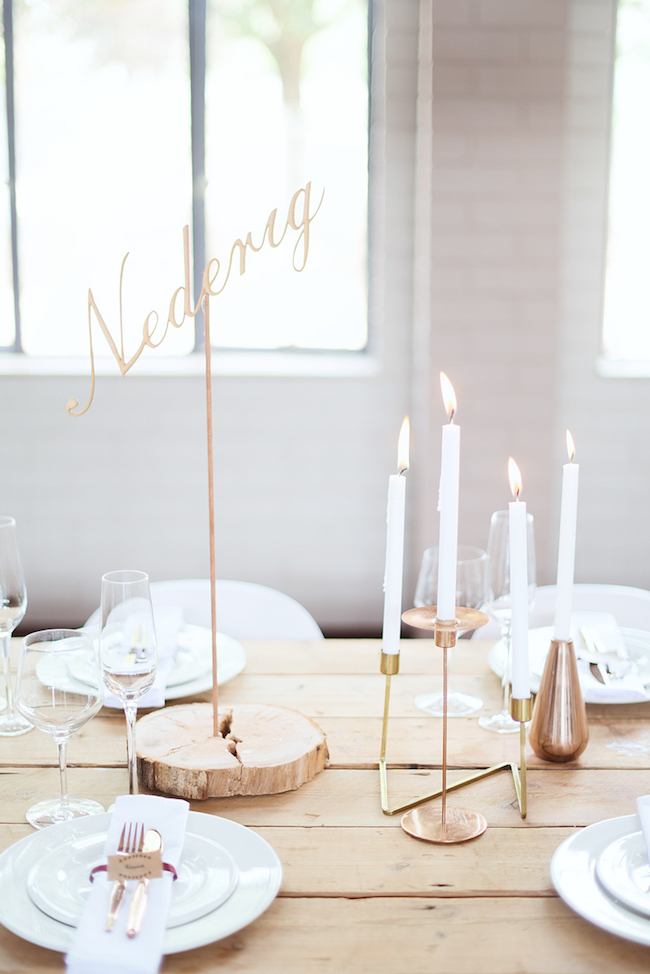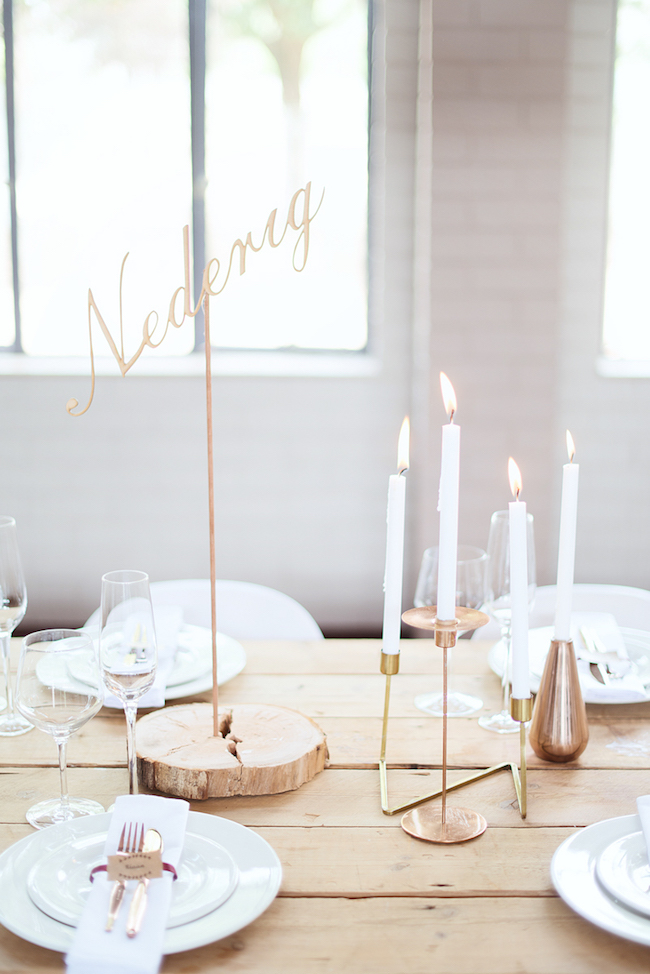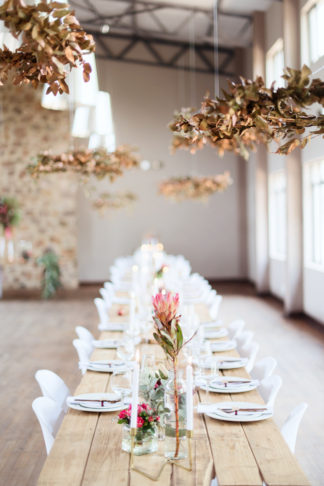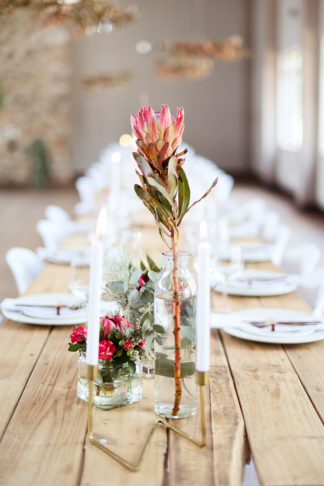 Eco Friendly Stationery: As most brides or upcoming brides will know, stationary for your wedding can be overly expensive and that's why e-invites are becoming so popular. George and I still wanted old school paper invitations, but tried our best to find a way of not spending so much money on something that didn't have a second life and would just end up in the bin eventually.
We eventually came across Growing Paper, a company that produces handmade paper with a conscience. Their paper is embedded with seeds that will grow into flowers or herbs once you have planted your used wedding invitation. The paper is made from post-consumer waste paper and is processed to make a range of environmentally responsible products.
The paper making process uses large amounts of water, so they reuse waste water for farming activities on the farm where they are situated. Products are printed with waterbased ink and made in such a way that any part of the product which isn't plantable is either biodegradable or recyclable.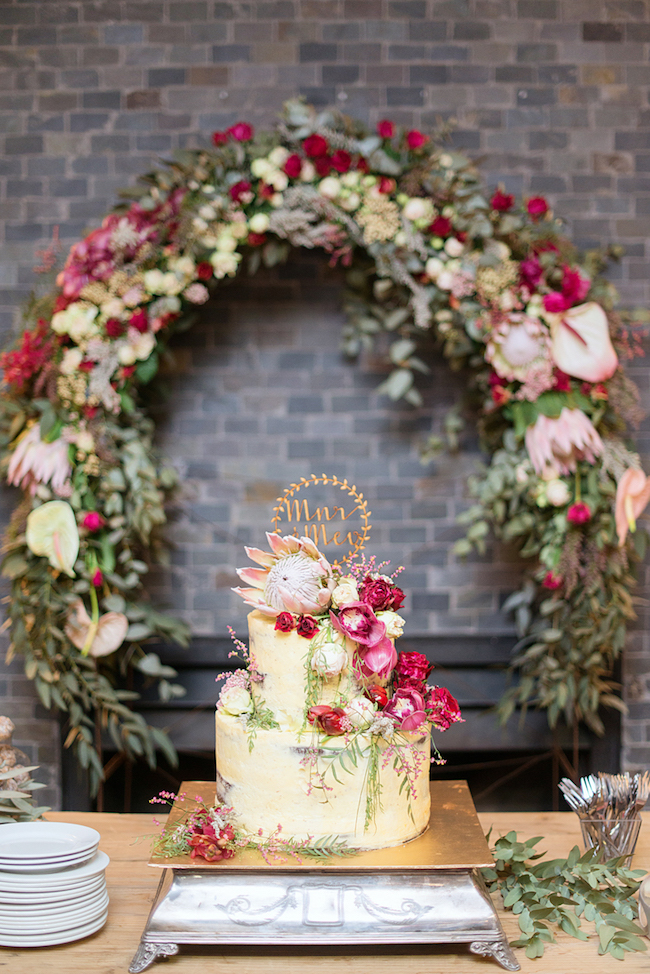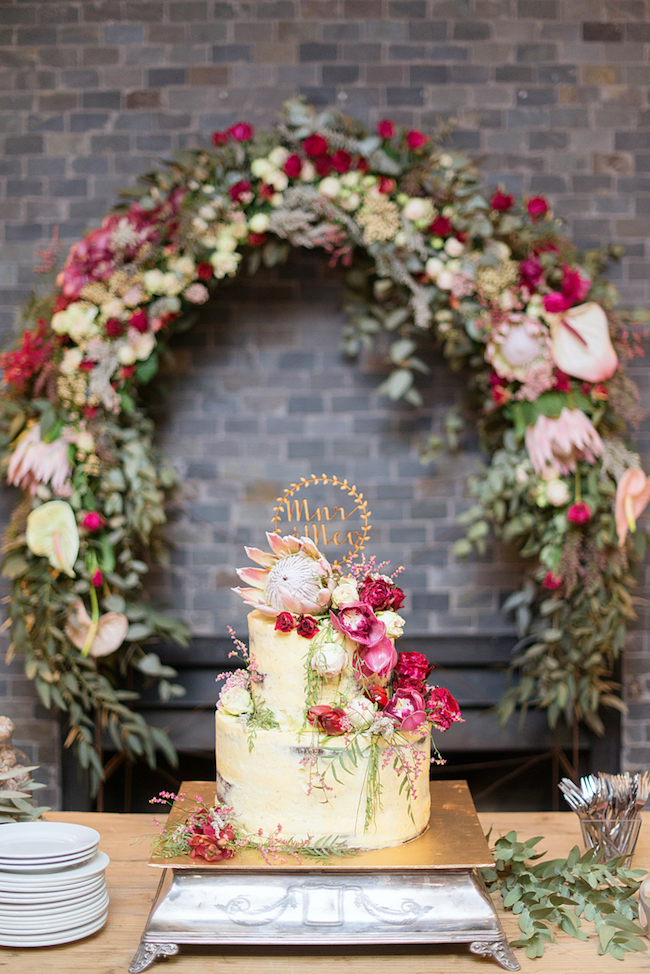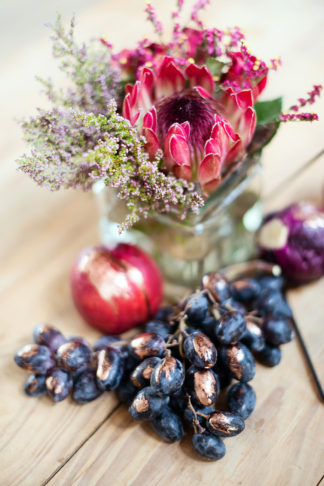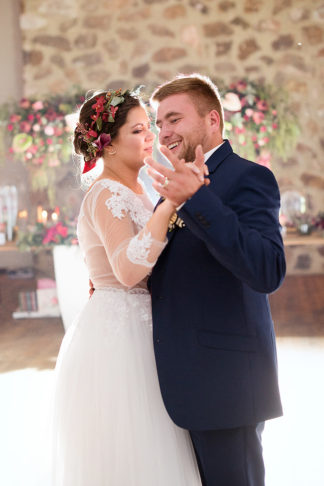 We both love music and had to choose a theme song for every big moment, so here they are:
Walking down the aisle: River flows in you by Yiruma
Our confetti song: Magic by Pilot
Walking into the reception: On top of the world by Imagine dragons
Our fist dance: Tien van harte (Rooi roos) by Gerhard Steyn & Nadine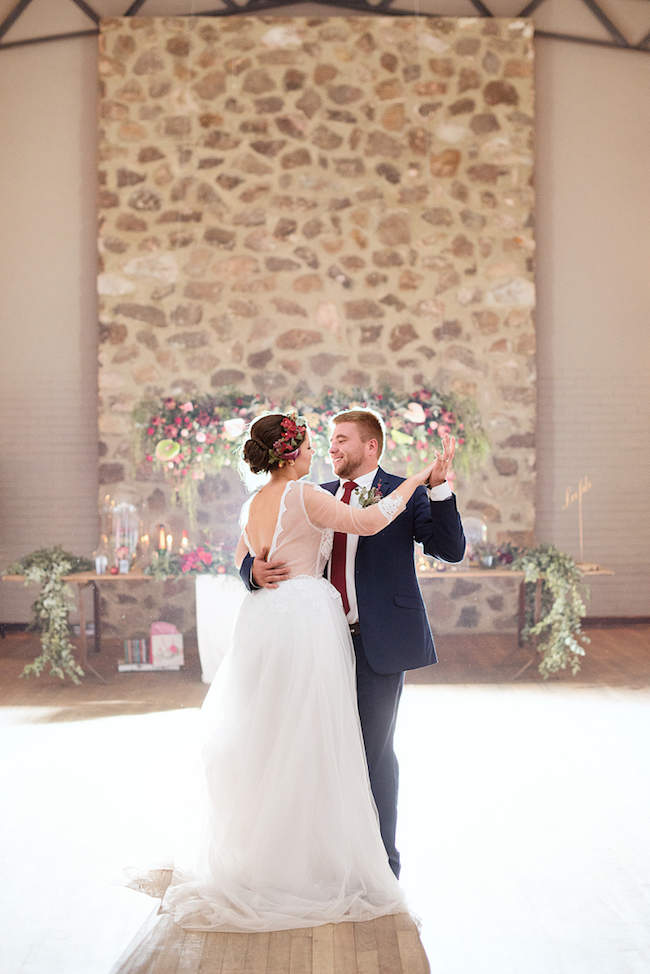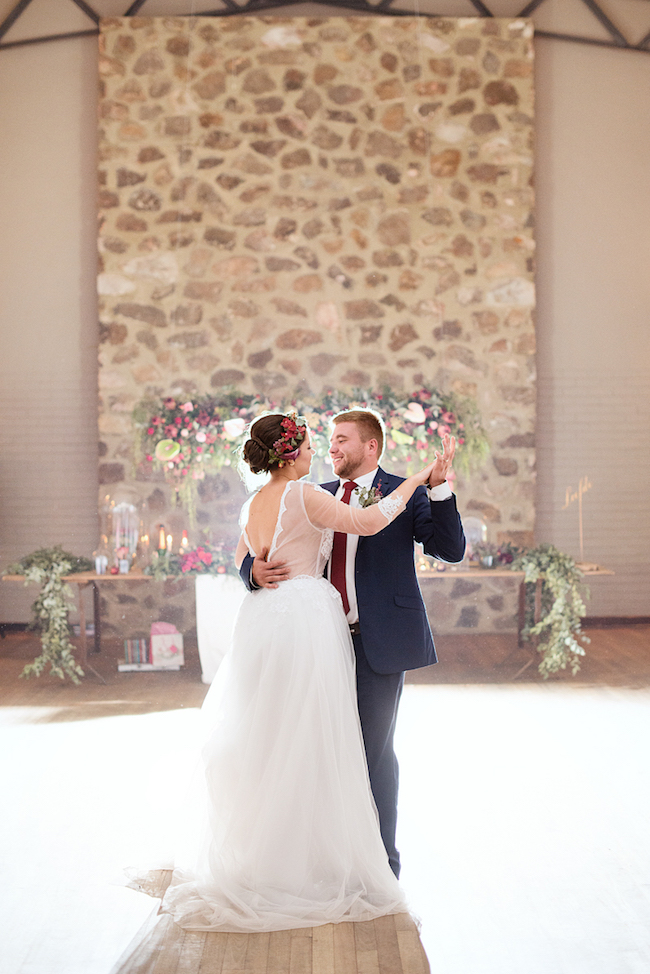 Katryn Beaurain from Poortjie wedding venue in Heidelberg really pulled out all the stops to make sure that we had everything our hearts desired and more. Monet Bonsma from Myrrh & Hedgehog for our beautiful wedding flowers exceeded my expectations and made my dream of a fairytale wedding come true.
Suppliers for Poortjie Wedding Venue in Heidelberg, Gauteng
Venue, decor + cake Poortjie Wedding Venue Heidelberg Gauteng // Photographer Christopher Smith // Brides Hair Anushka Badenhorst from Hair by Lize  // Flowers Monet Bonsma – Myrrh & Hedgehog // Favors Grandmother // Stationery: Invites Growing Paper // Stationery: Sleeves  Note Studio Creative // Shoes Contempo // Suits Edgars