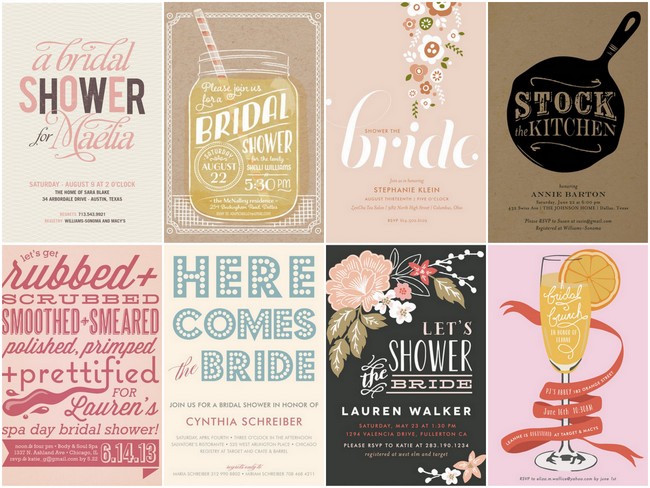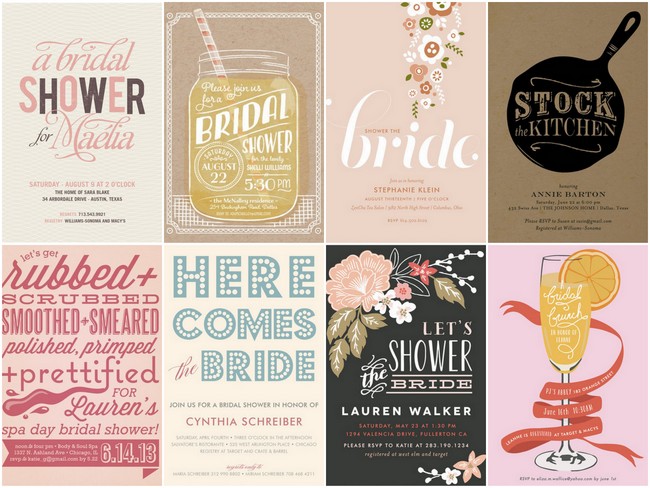 Say good bye to stuffy old bridal shower invitation styles and say hello to these cute, curious and darn-right adorable shower invite ideas! A bridal shower can take so many forms – from pamper parties and champagne lunches, to traditional kitchen teas with recipe cards, or lush lingerie parties. Perhaps the engaged couple have decided to forgo the separate celebrations, instead opting to have a couples BBQ shower? Don't worry, we've got you covered on your search for the perfect invitation to bridal shower! 
If you love this bridal shower invitation feature and decide to purchase one of these cute invitations, you're helping support our blog. We'll get a small percentage of the sale for sharing them with you, which helps us pay the bills. Thank you!
Rustic Bridal Shower Invitation Ideas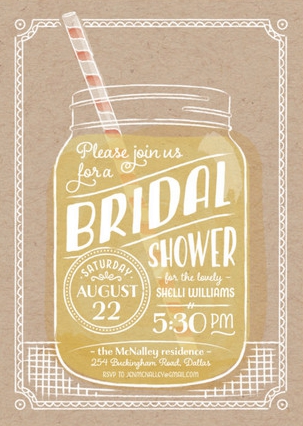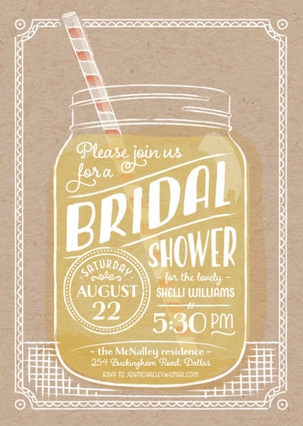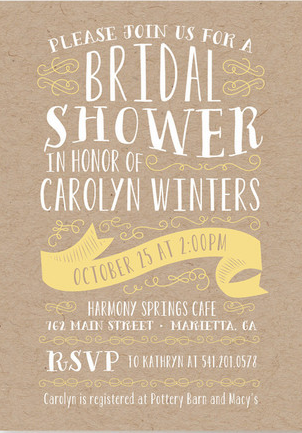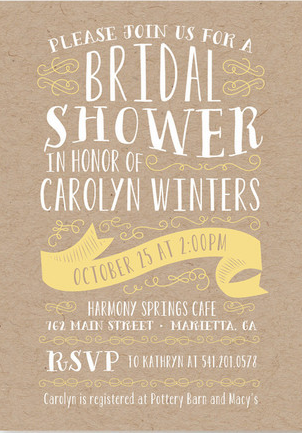 ABOVE LEFT: This summer sippin' bridal shower invitation has a cute mason jar that is perfect for a summers day celebration outdoors!    // ABOVE RIGHT: Warm and cheerful, this kraft style and simply delightful bridal shower invitation is a rustic treasure.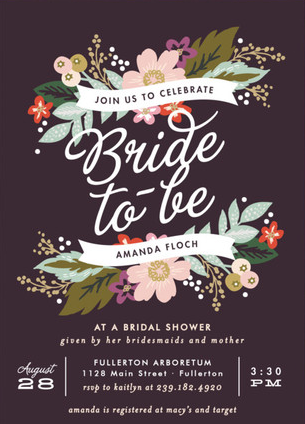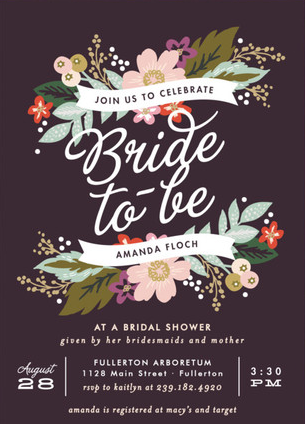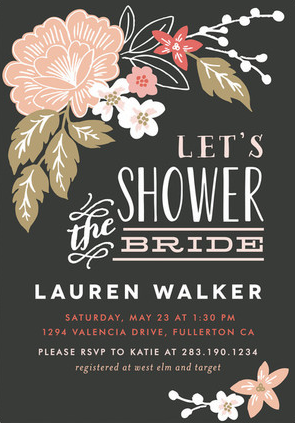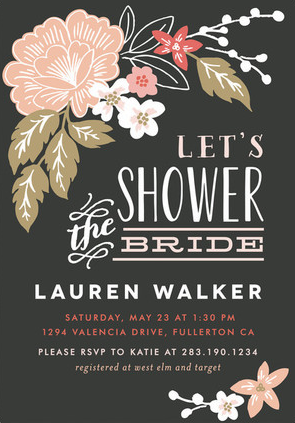 ABOVE LEFT: Pick a pretty posy – or two! We adore the rustic floral detail on these  illustrated bridal shower invites. // ABOVE RIGHT: If you're a fan of the current chalkboard wedding trend then these pressed flowers bridal shower invitations are for you!
Pampering Invitation to Bridal Shower
 
ABOVE LEFT: "Time to get rubbed and scrubbed, smoothed and smeared, polished, primped" – it's time to get prettified! Grab these super cute bridal shower invitations here. // ABOVE RIGHT: It's all about ribbons and lace in this lingerie themed bridal shower invitation.

ABOVE: Celebrate at the spa and get your gorgeous on! Grab these pretty purple pampering bridal shower invites. Available in pink too, yay! UPDATE: No longer available, look for something similar here.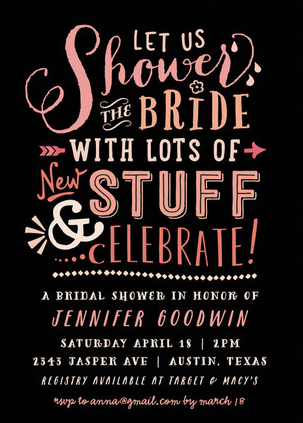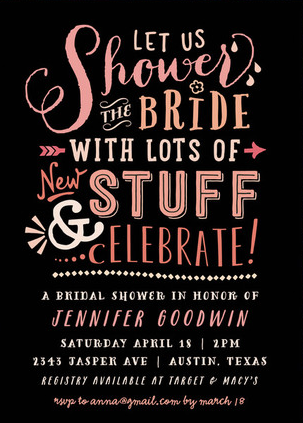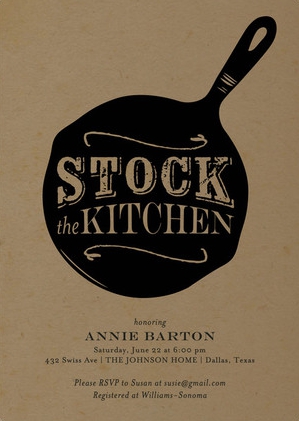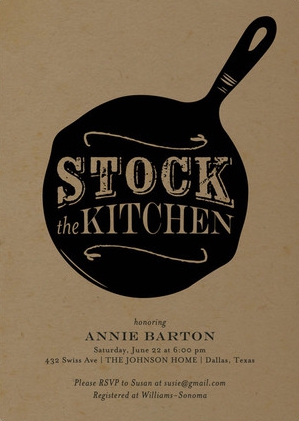 ABOVE LEFT: Fun typography and an all round party vibe announce the celebration of your girl's shower, cutesy style! // ABOVE RIGHT: Pan fried goodness are what these kitchen shower invitations are all about.
Couples Shower Invitation Ideas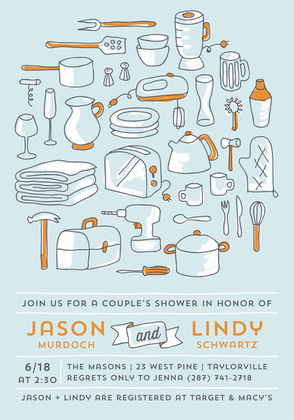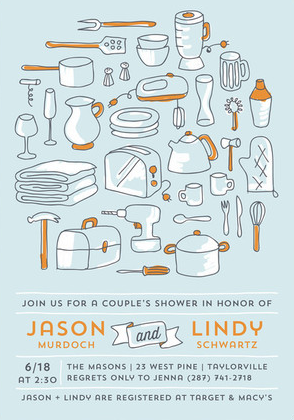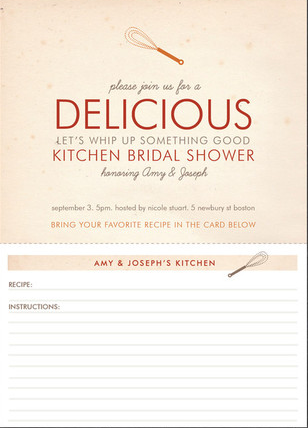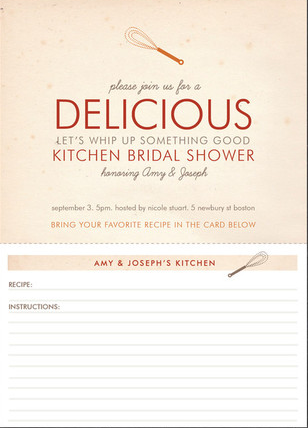 ABOVE LEFT: Throwing a celebration for both parts of the engaged duo? This couple shower hits the nail on the head. // ABOVE RIGHT: This couple's recipe bridal shower invitation even includes a spot for a newlywed recipe.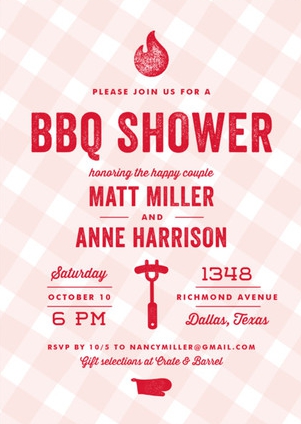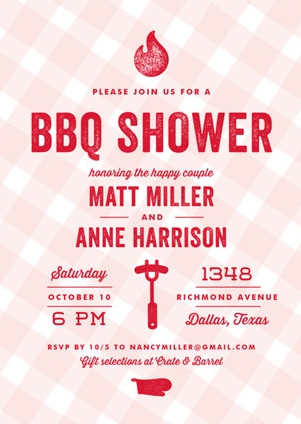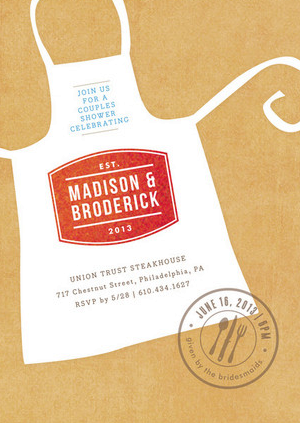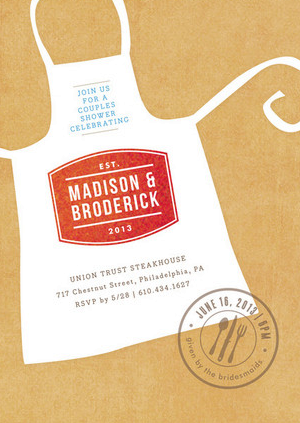 ABOVE LEFT: Get your grill on with these BBQ themed couple's shower invites. // ABOVE RIGHT: Calling all chefs! Announce your engaged couple's shower with these fun invites and get the pair ready to cut those apron strings, pronto!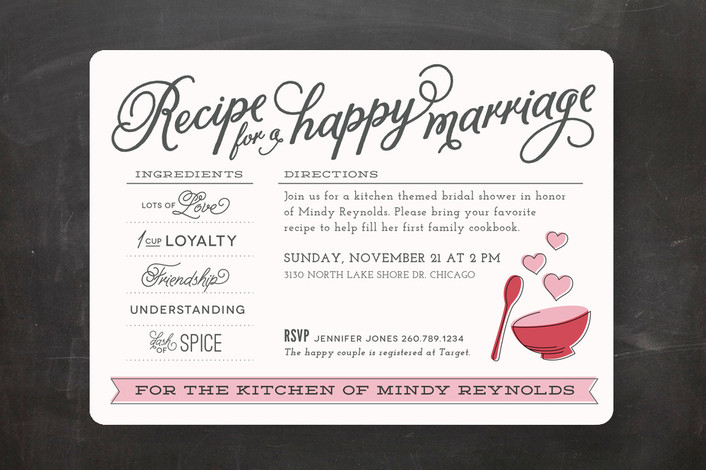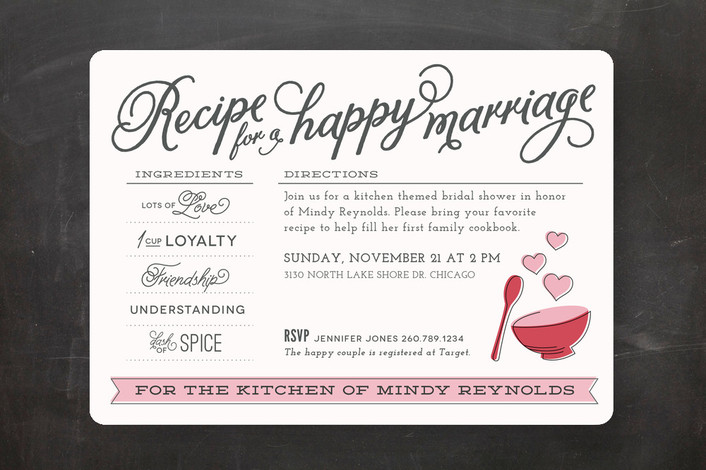 ABOVE: What's the recipe for a happy marriage, you ask? These sweet kitchen themed bridal shower invitations reveal all!
Brunch Bridal Shower Invitations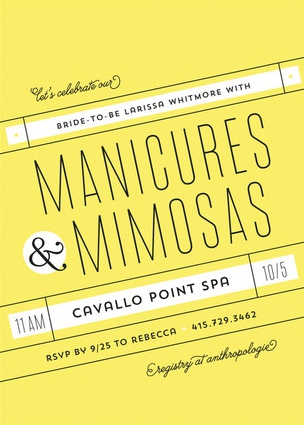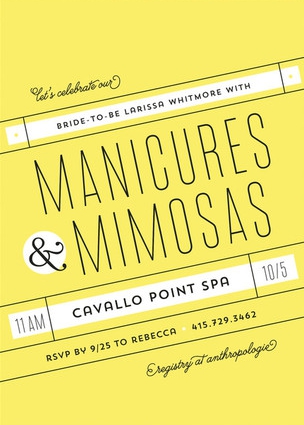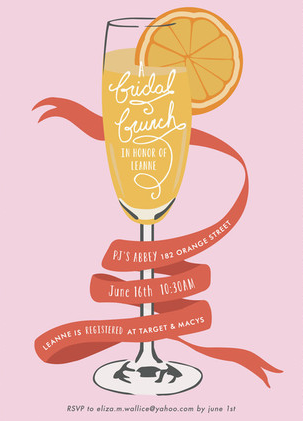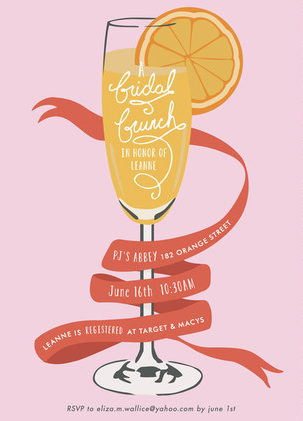 ABOVE LEFT: Invite your girls for an afternoon of mimosas and manicures with these cheerful, yellow invites. // ABOVE RIGHT: Cheers! This brunch is all about the bride, baby! So grab those glasses and get ready to pop the champagne in style!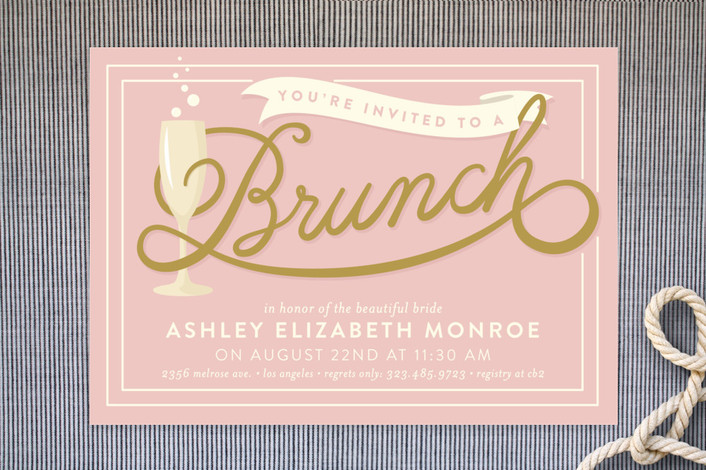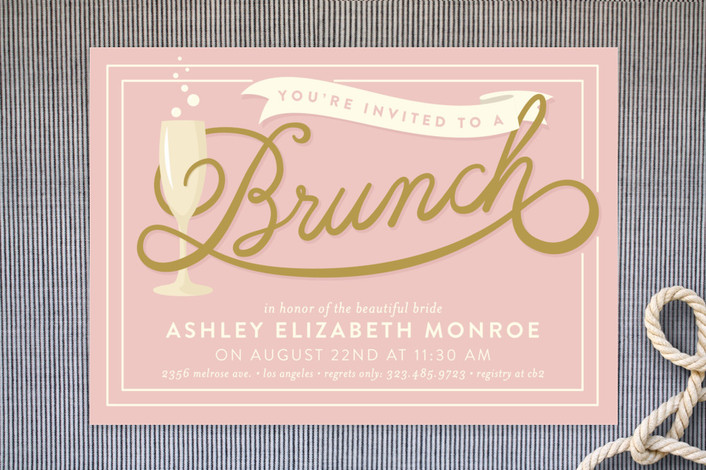 ABOVE: This delightful dusty pink and gold bridal brunch invitation with darling script style font is available here.
Cute Bridal Shower Invitation Ideas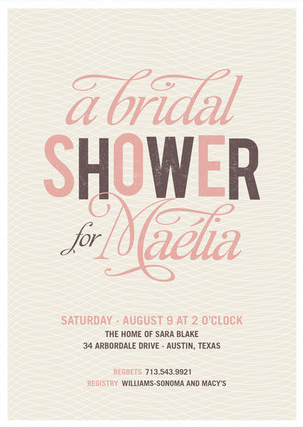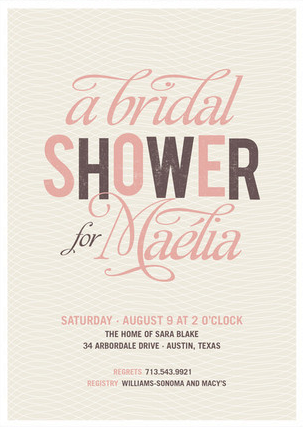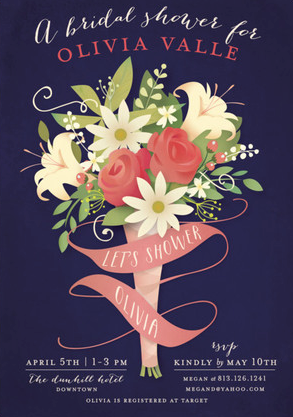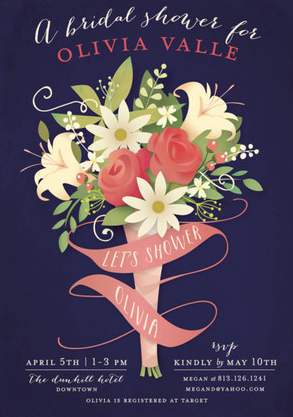 ABOVE LEFT:  We love the slightly vintage vibe about this dusty pink and beige bridal shower invite, available from Minted here. // ABOVE RIGHT: Who can resist a bright, beautiful bouquet like this? And honestly, who would want to? These invites are perfect for a spring or summer shower.
 
ABOVE LEFT: Chic and shiny, these elegant script-style invites are foil pressed and fabulous! // ABOVE RIGHT: Light up your life with these quirky cool 'Here Comes The Bride' shower invites.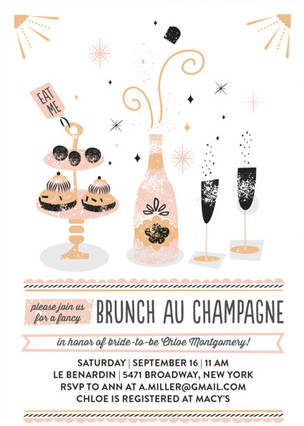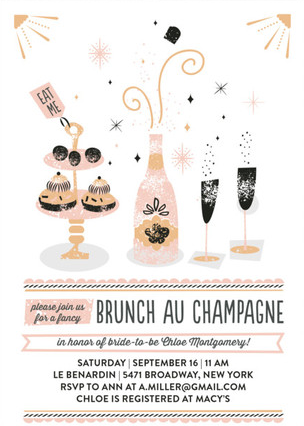 ABOVE: Shower her with love! These peach bridal shower invitations say it all. Available from Minted, here. // LEFT: It's all about a sparkling champagne lunch with the ladies in this pink and gold bridal shower invite available here.