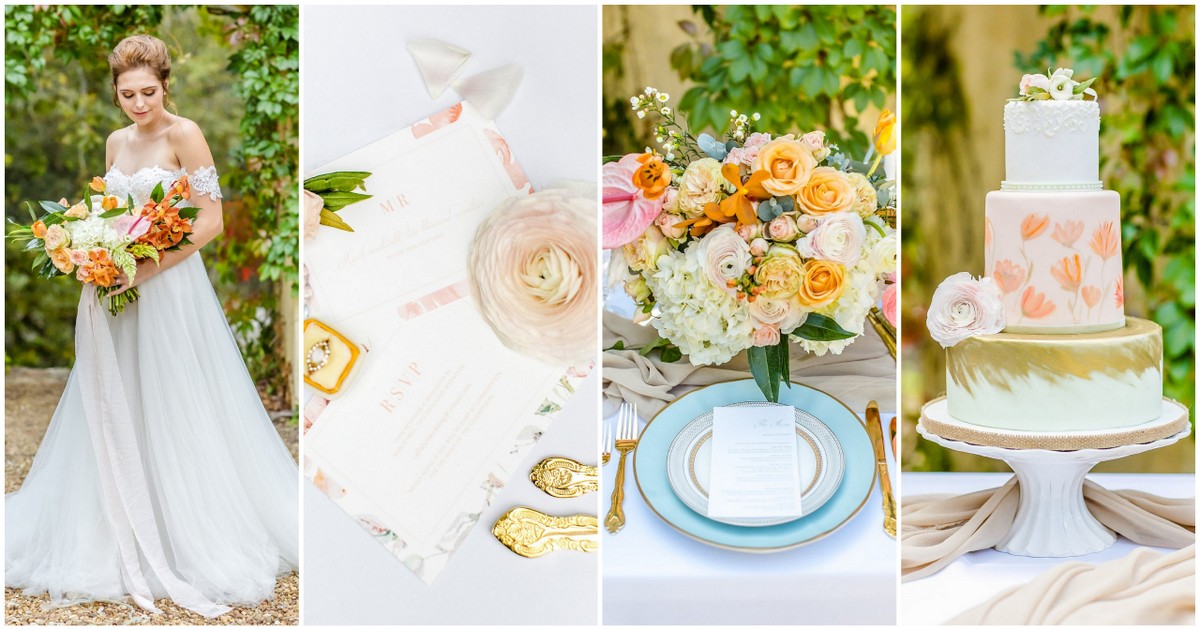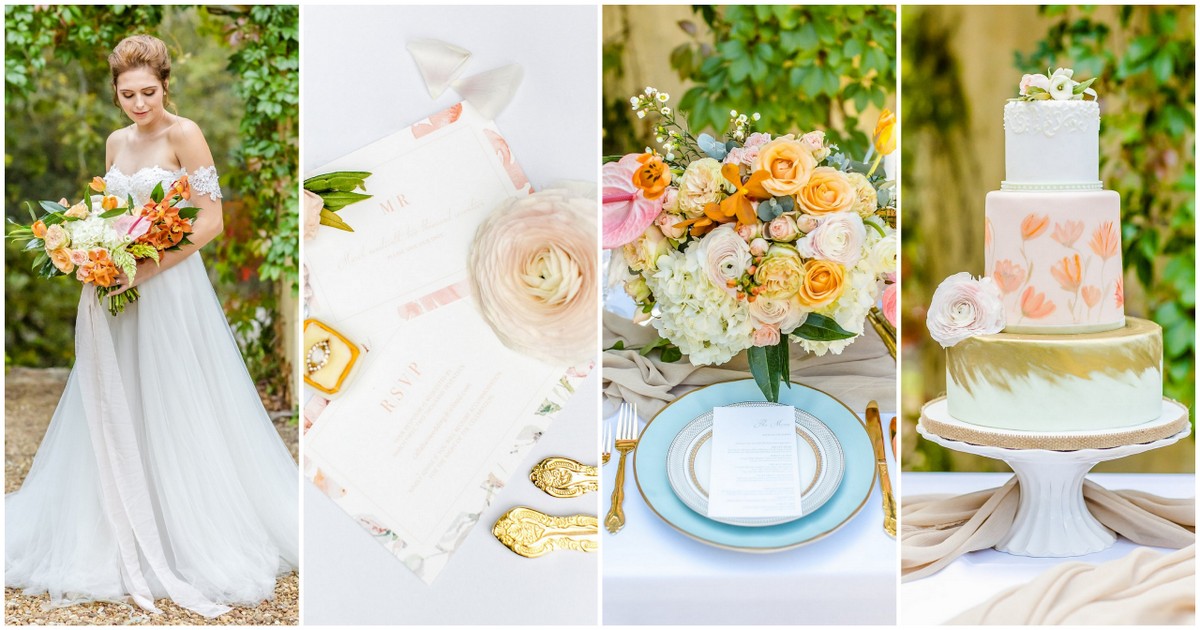 Today's beautiful peach, pink and gold summer wedding ideas bring to life that warm feeling you get when relaxing in a delightful garden celebration with those you love most in the world. Imagine a delicately set table out in the garden on a summers day, filled with whimsical, romantic florals, delicate turquoise tableware with intricate gold detailing, and exquisite gold flatware. Pair that with a peach, pink and gold wedding cake painted in watercolor, brushed with gold and then topped with fresh florals. 
"The smell in the air is undeniably summery, but the heat has faded and you're free to chatter amongst friends and sip on bubbly beverages. Relaxed, happy, lulled by the sights, sounds and colours," share the team of South African wedding service providers including Claire Nicola and Lavishly Done. These South African wedding creatives came together against the canvas of Langverwagt's beautiful grounds to create a dreamy peach, pink and gold summer wedding scene, adorned with bold, fresh greens. A dreamy Cape Town wedding scene!
"When thinking of these colors, isn't one instantly transported to thoughts of summers in lush locations?" These warm hues of summer were the inspiration behind the peach, pink and gold summer garden wedding splendor adorning your screen. Oh, and make sure you check out the team's helpful planning tips which follow – we're in (summer) love!
Peach, Pink + Gold Summer Wedding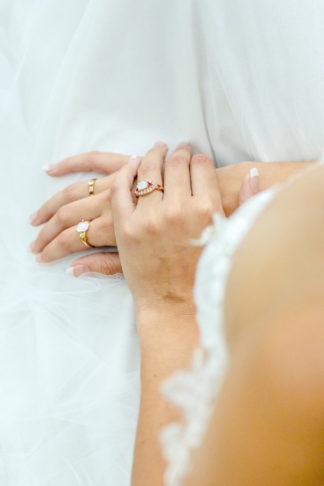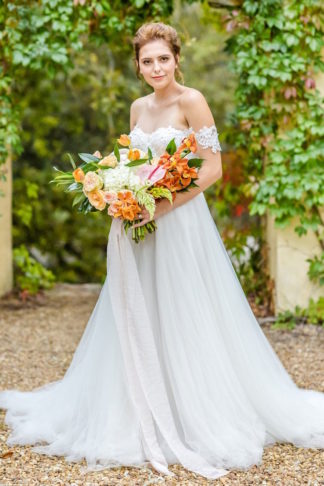 The "Secret Garden" at Lanverwagt Farm, was, in its earlier days, the tennis court. Through many years of toiling and love however, the owners redesigned it to be a wild and magical garden, tucked away from the rest of the property.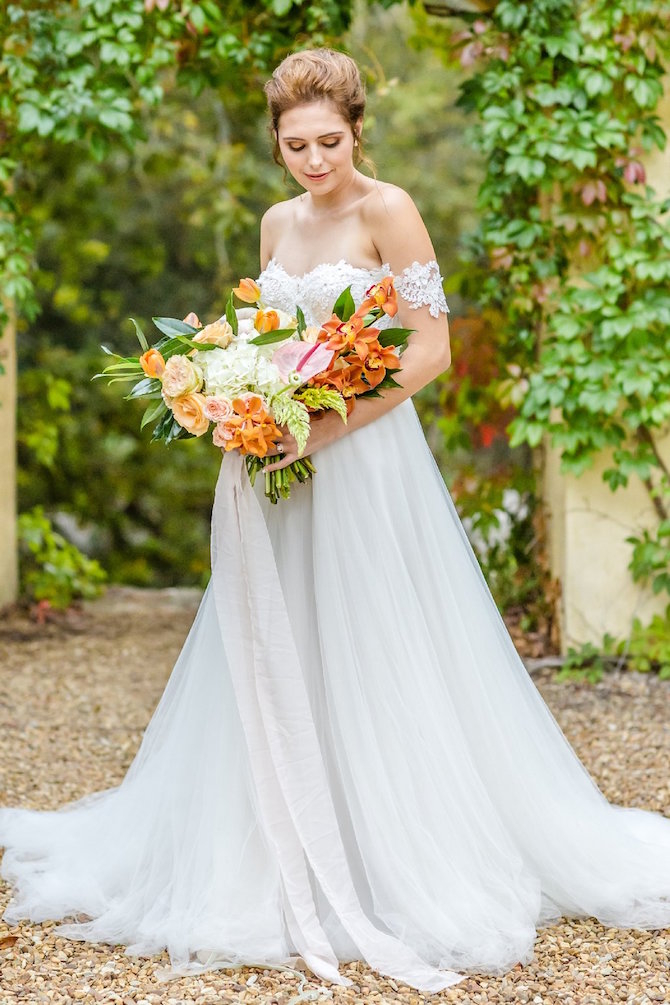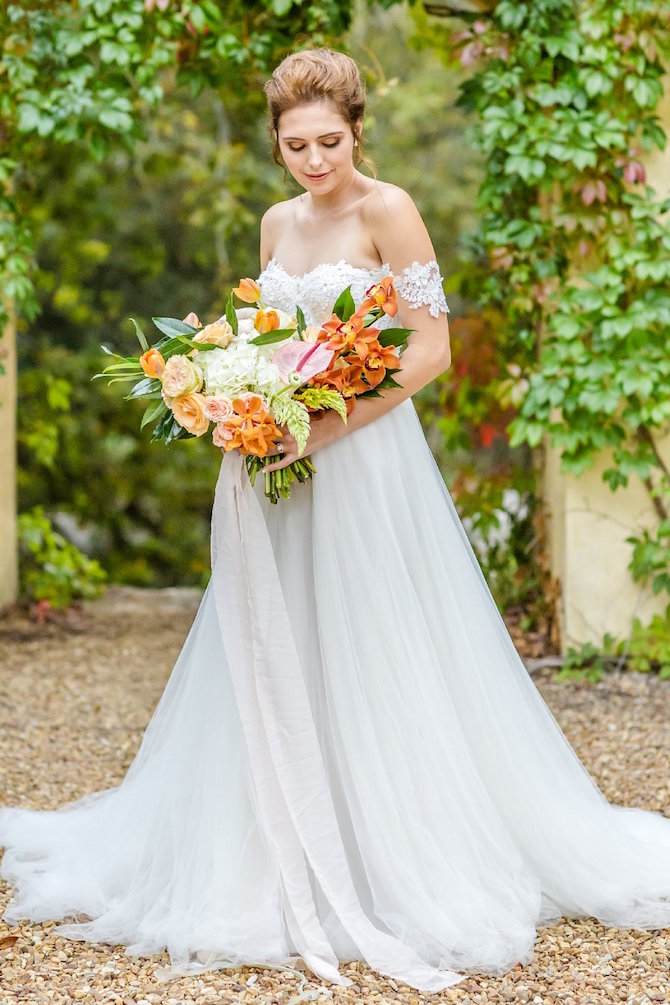 The bold colours used in Lavishly Done's floral design were offset against the softness of the tulle and chiffon of the designer Cindy Bam dress and ribbons. A delicate but durable updo was styled by Adri Hugo – a wise choice for an outdoor celebration where winds might wreak havoc on looser styles.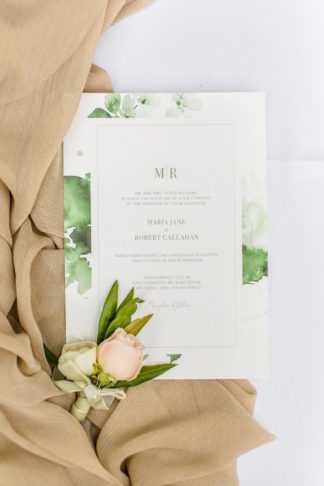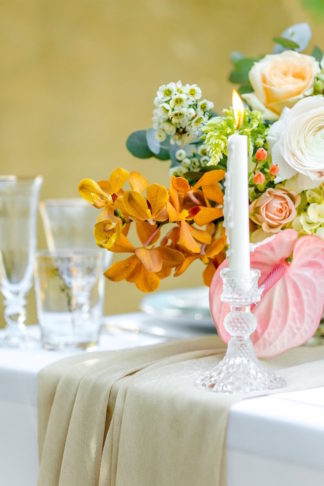 Watercolor stationery in shades of mint and green, from Creative Republic, set the tone for a garden wedding celebration.
See more garden wedding inspiration here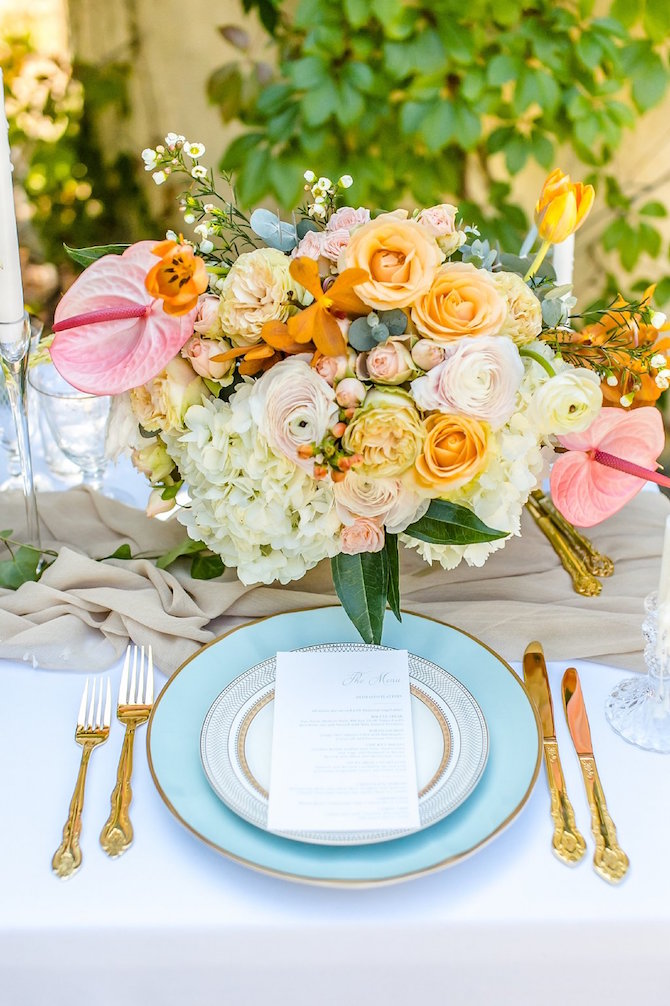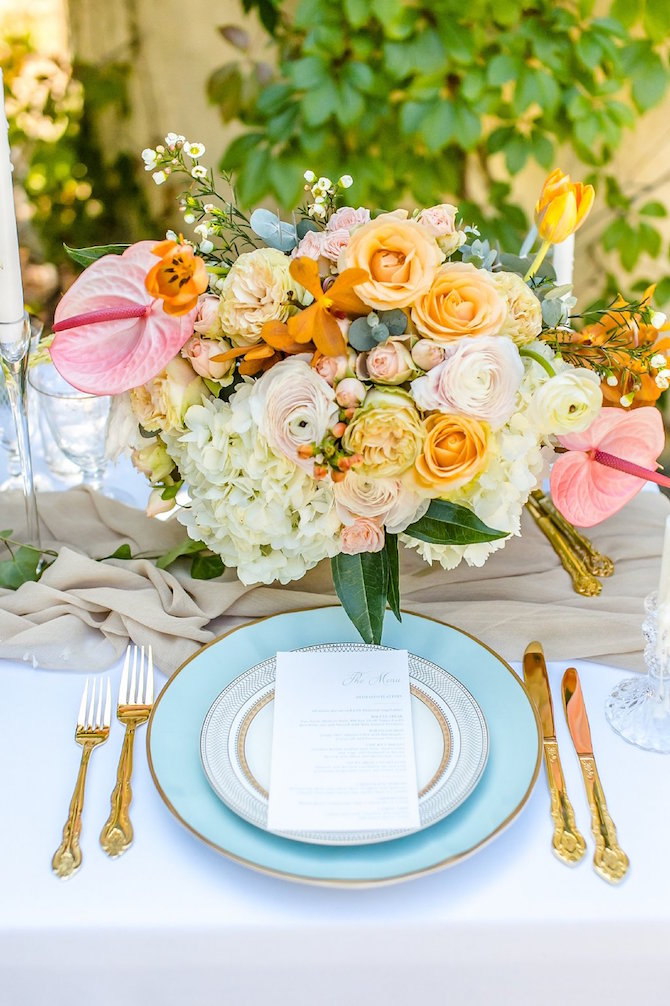 Florist Schimoney loved having a chance to order the less commonly used flowers she's been dying to incorporate – one of the most striking being the bright pink Anthurium which isn't often used for weddings. Her new spin on this flower saw it being used subtly and to add shape and height to the arrangements.
Other flowers used included Ranunculus , Garden Roses, Tulips, Cymbidium Orchids, Dendrobium Orchids, Feather Celosia, Cluster Roses, peach Avalanche Roses, Hydrangea and Hypericum Berries.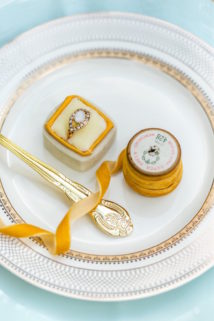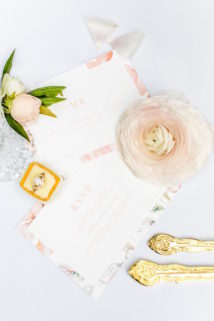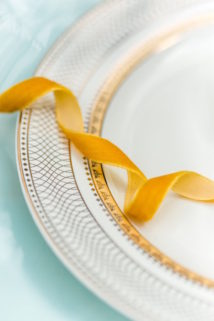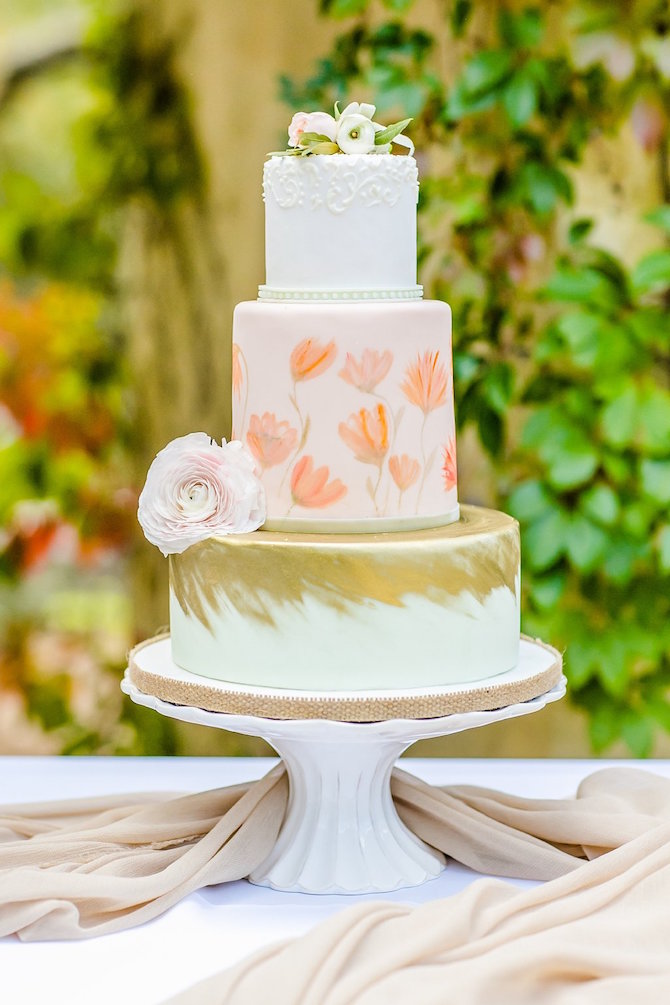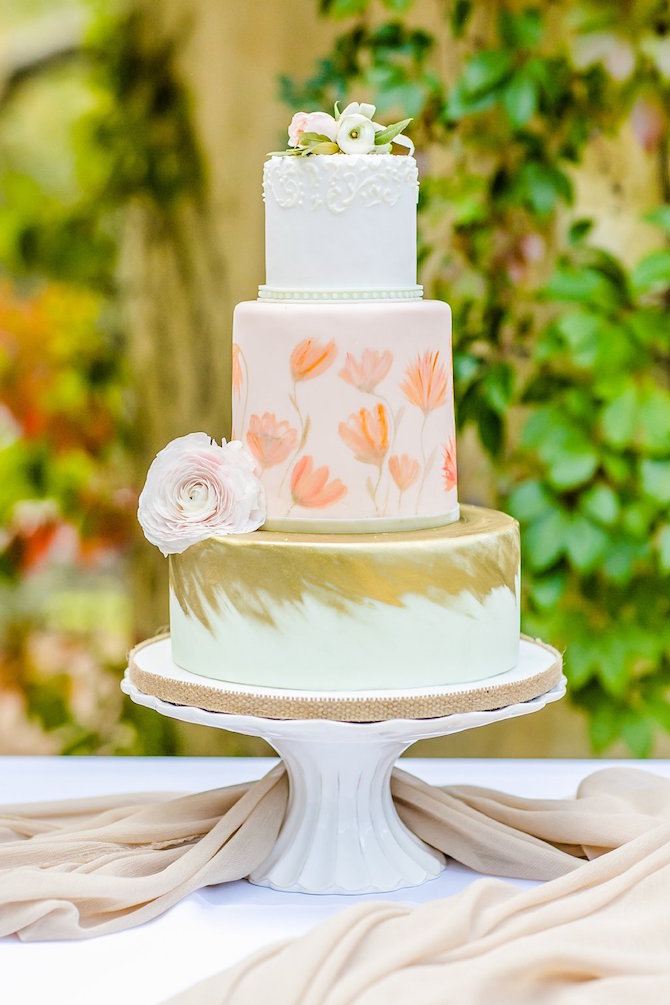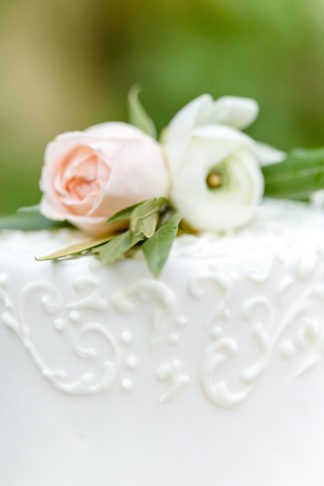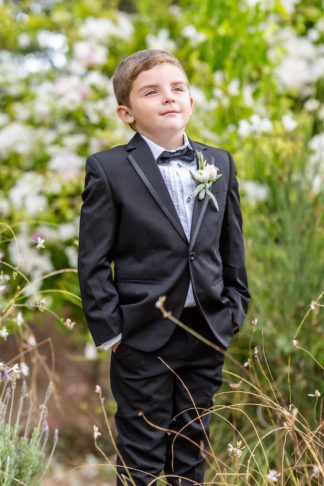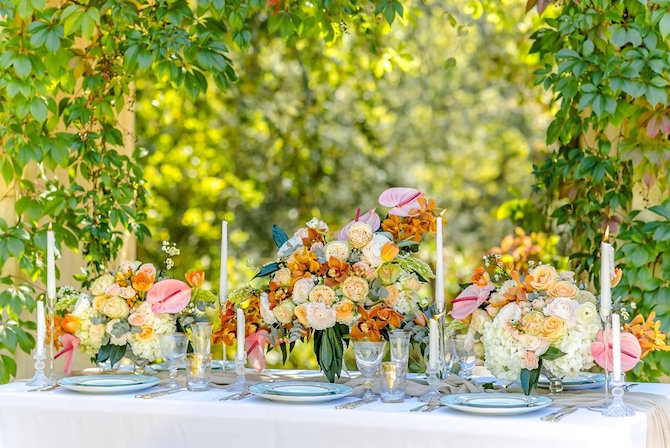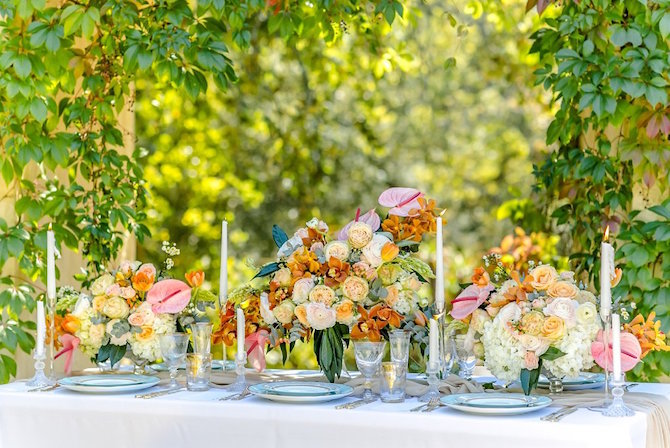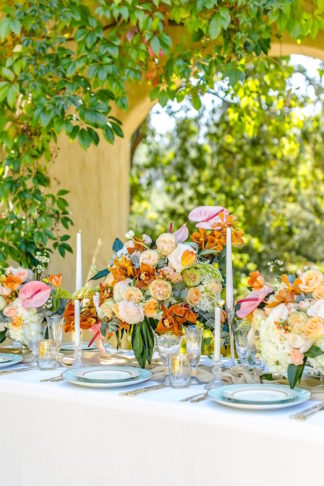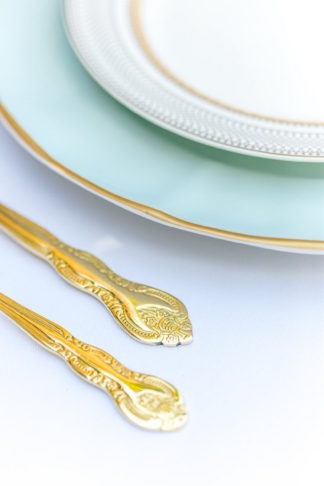 Elements of gold added an opulence to the otherwise relaxed garden feeling.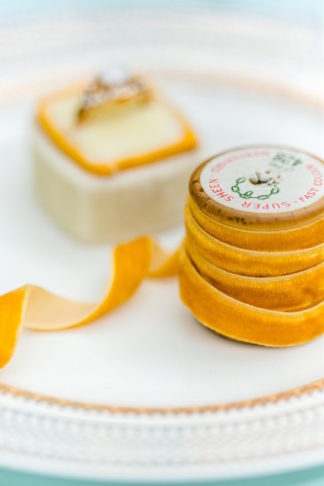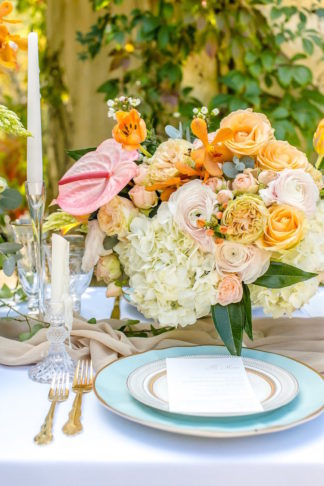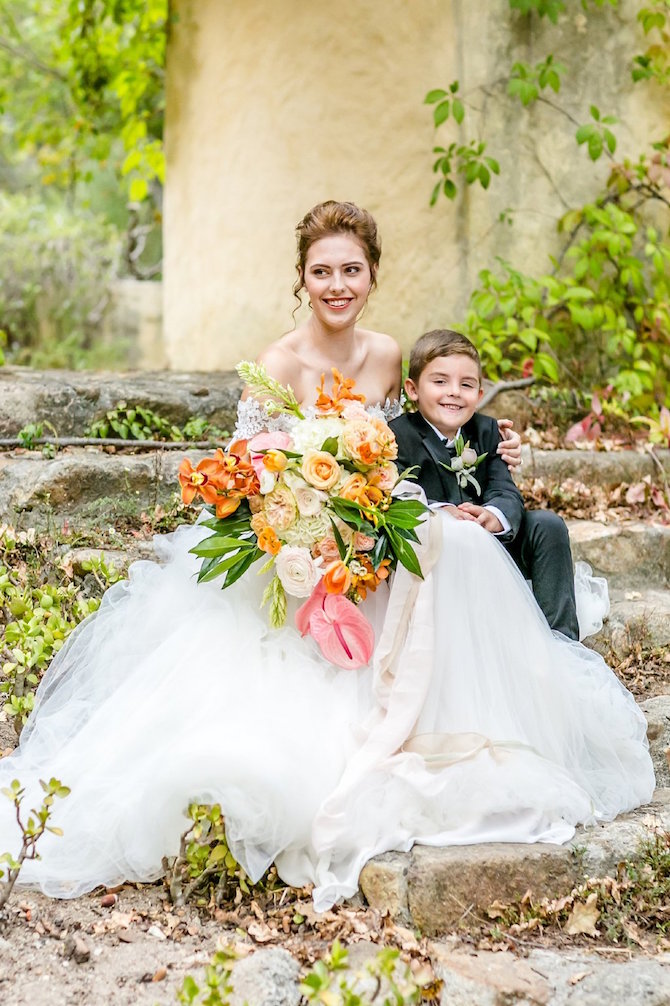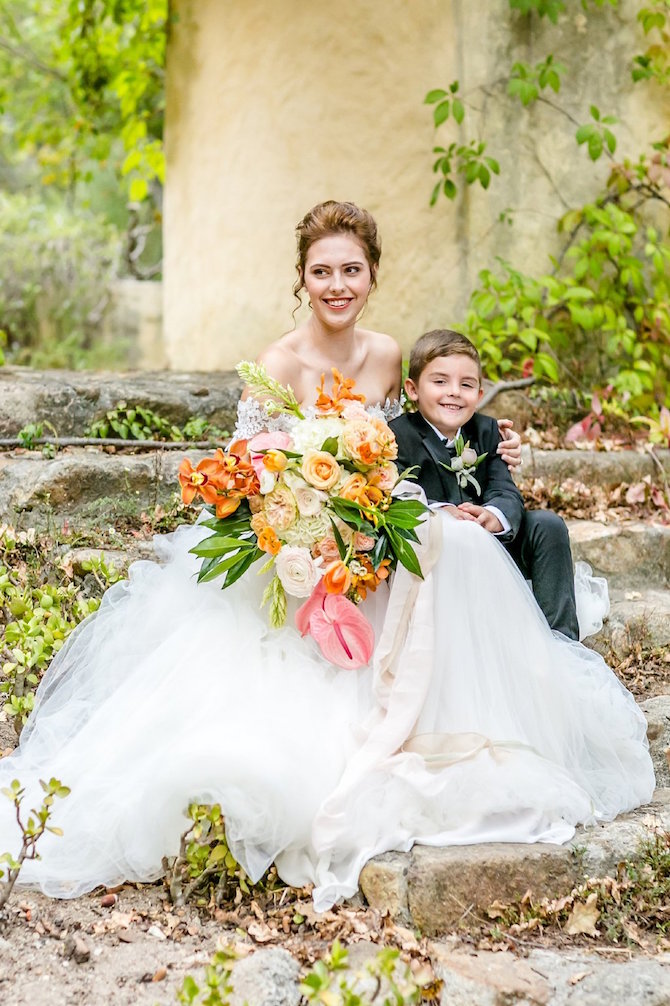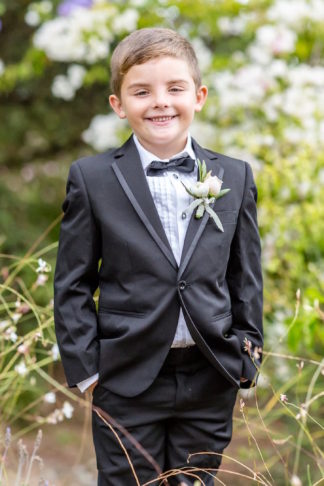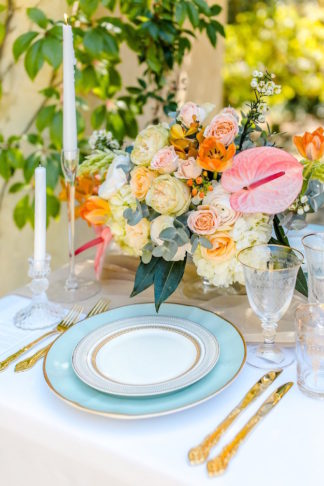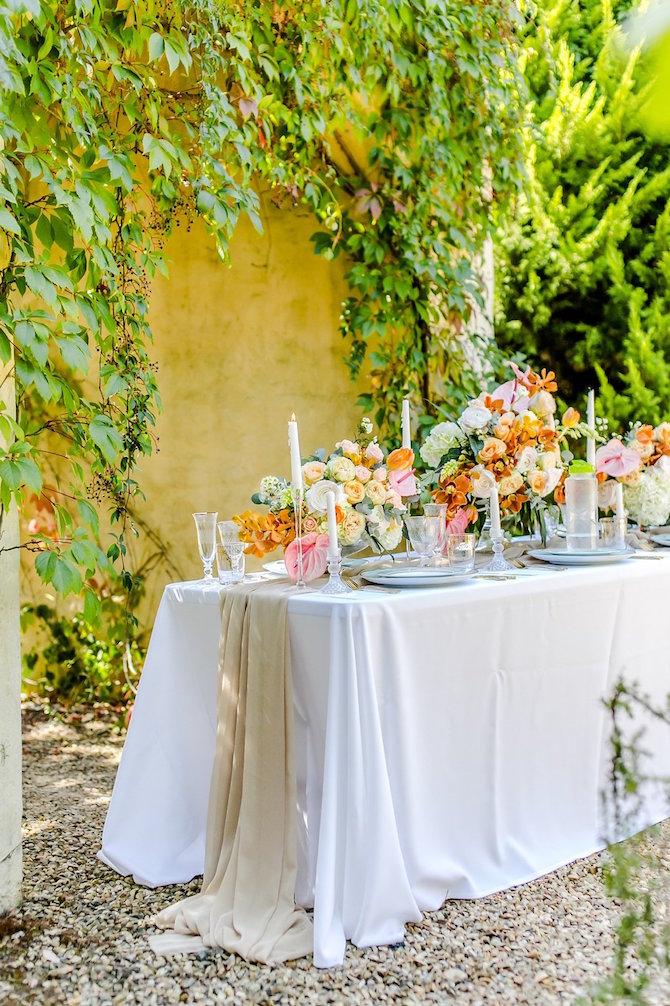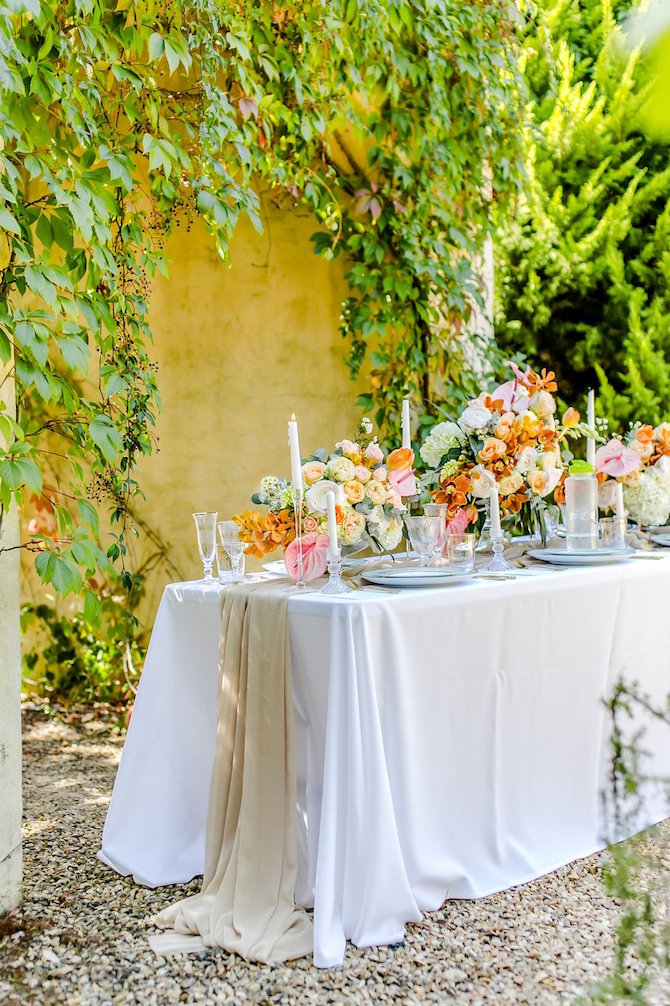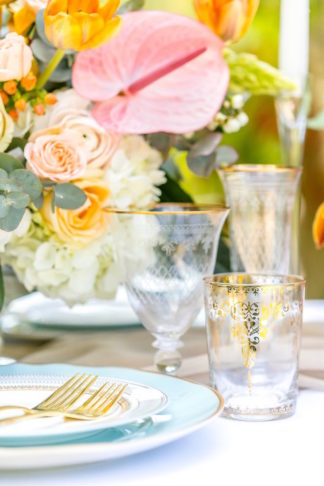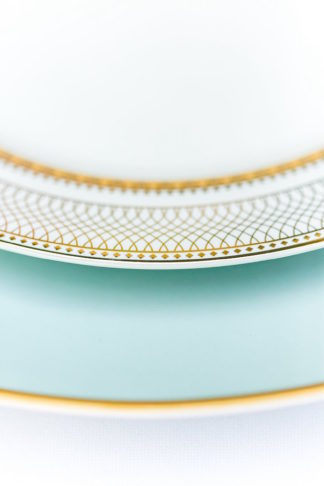 Additional table decor from Something Borrowed  and a peach pink and gold painted wedding cake from Miss Muffets add the final stunning touches of summer garden elegance to this wedding inspiration shoot!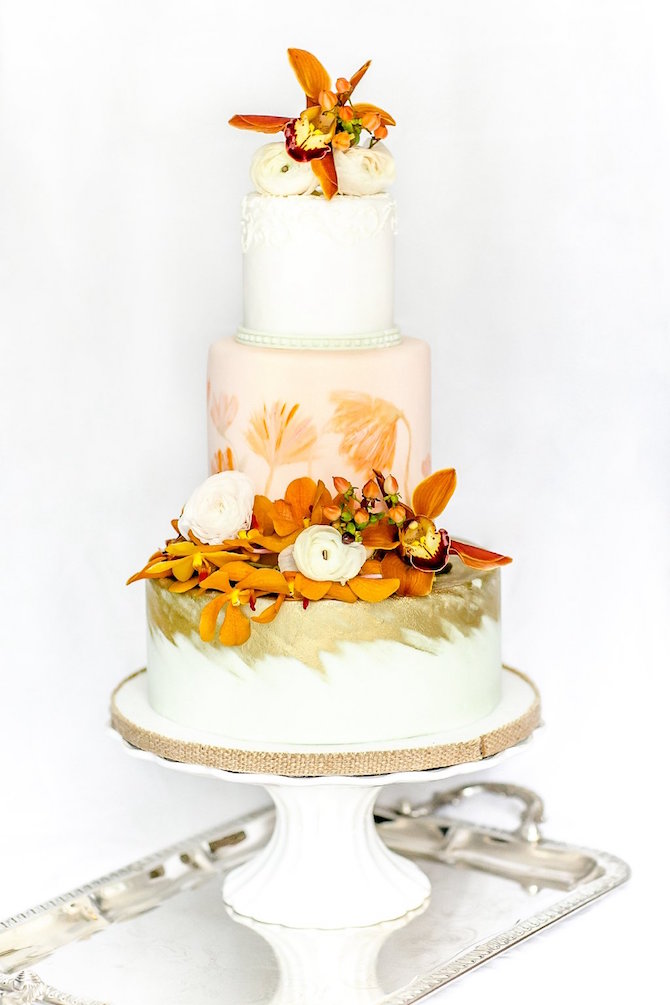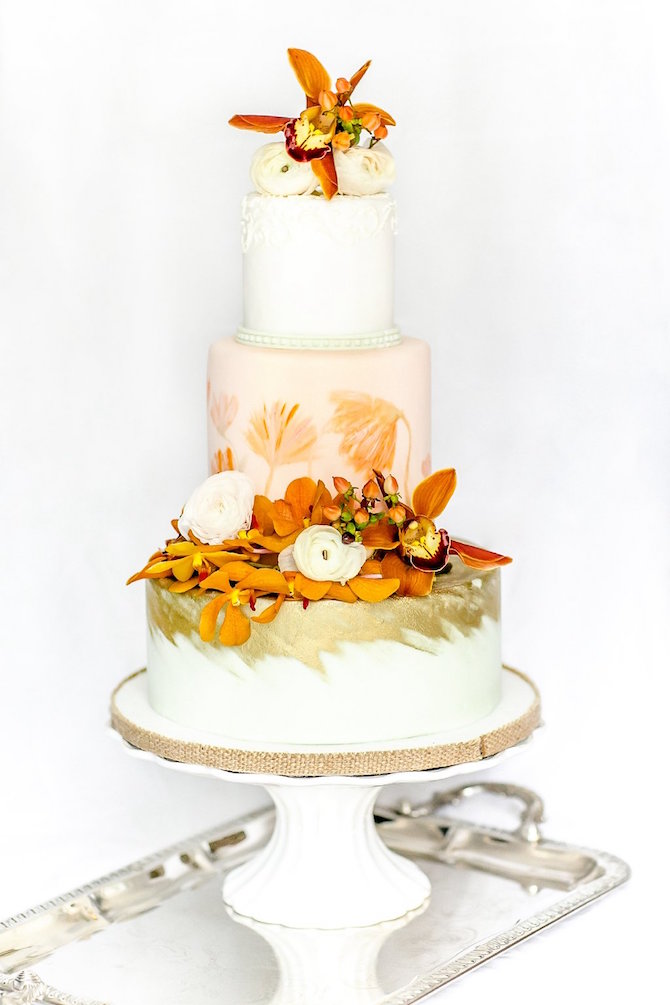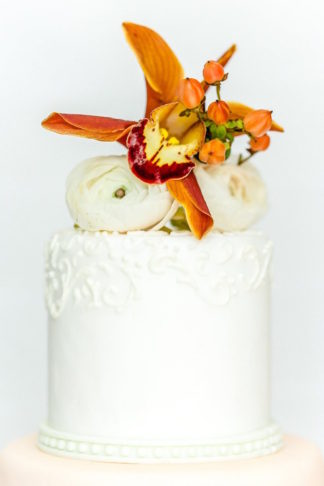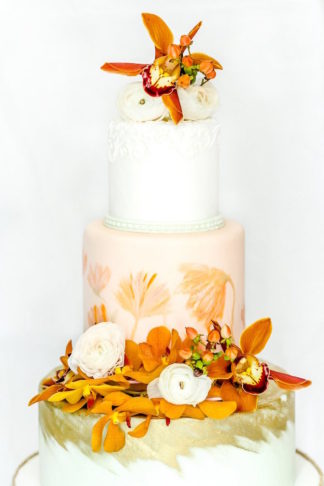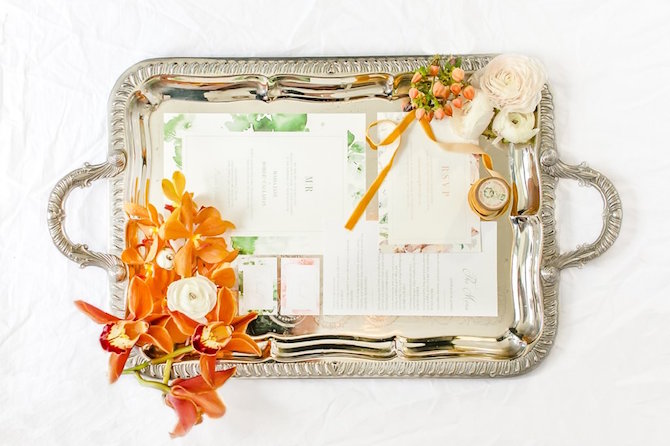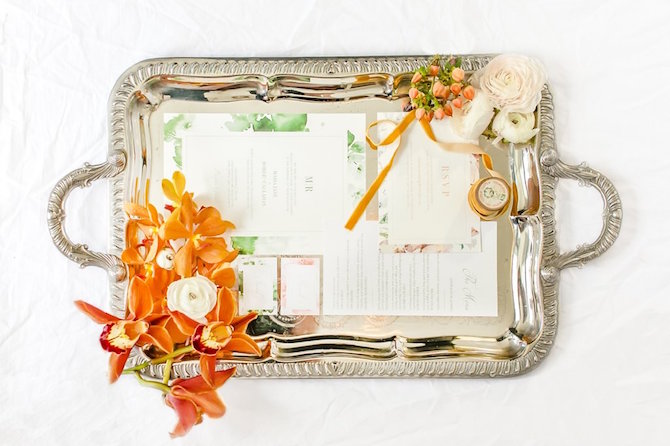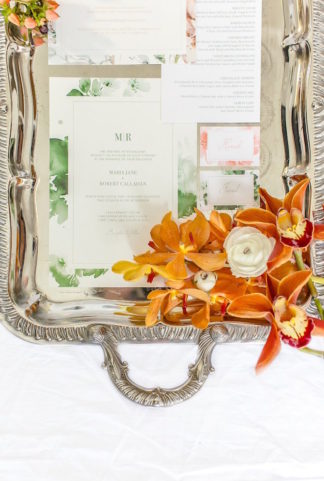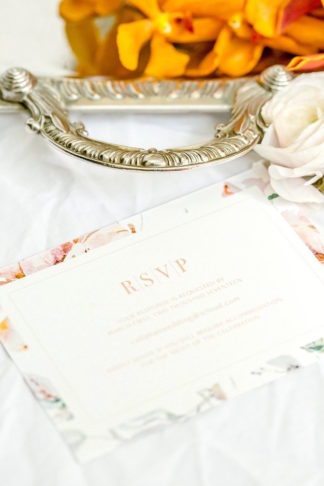 Peach Pink and Gold Summer Garden Wedding Planning Tips:
So you've fallen in love with this sweet, summery peach, pink and gold wedding color palette? Here's what the team behind this stunning garden wedding inspiration advised for couples seeking a unique and inviting, outdoor summer wedding:
Mix and match! Don't confine your choices for table decor and place settings to one company's available options. If you have the time for the extra admin, it may be worth your while to use the items you like from several companies that offer unique choices. That way, your aesthetics won't be identical to those that each one a hiring company has supplied!
When ordering flowers understand that final arrangements depend on what is available and in season. If your order arrives in a slightly different shade to what you'd intended or a specific flower isn't available, let your florist get creative with what they can get hold of! Take a breath and allow the professionals to work their magic … it may end up being more beautiful and unique than what you'd envisioned in the first place! This happened with our shoot, (which was initially supposed to be all peach), but the brighter oranges that arrived with the compliment of the soft blush, created something we had never before had the joy of experiencing!
Check out your favorite homeware store if you cannot find what you are looking for available to hire. It's often more economical to hire, but if you have your heart set on a specific style of vase or centerpiece that you cannot find for hire, purchasing is an option. You can always sell the items on an online classifieds site for half price after your wedding and make half of that money back.
Loose hair on a bride is always beautiful, but it's a great idea to have plan B for an up-do. If the wind is howling (or sometimes even just breezy) not all hair types will hold onto their curls or blow dry's for the duration of the day. If you want to look great from beginning to end, and not risk having frizzy or windswept hair two hours in, perhaps consider something elegant like what was used on our model!
Choose a dress that fits your personality, as well as any activities you'll be participating in on your wedding day. A mermaid cut has the most beautiful silhouette, but if you're the kind of bride who will be the life of the dance floor then you may want to consider something that moves more freely.
Peach Pink and Gold Summer Garden Wedding Vendors: Photographer: Claire Nicola // Florals and Planning Lavishly Done// Venue Langverwagt // Gown: Cindy Bam // Hair and Make Up Adri Hugo // Stationery: Creative Republic // Cake Miss Muffets // Decor Something Borrowed // Model Carii