South African Winelands Destination Wedding  ♥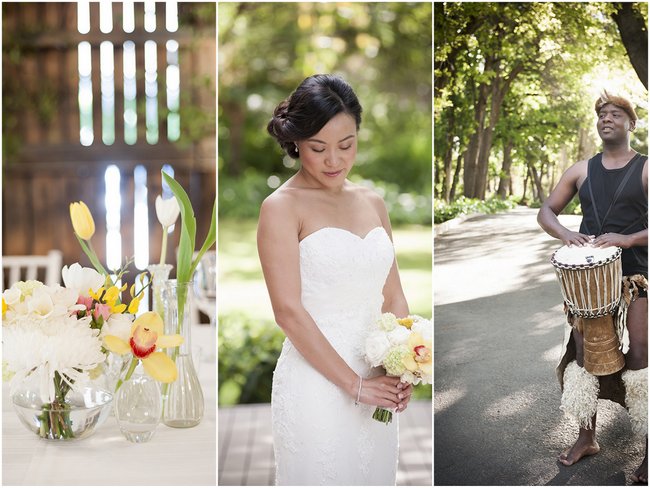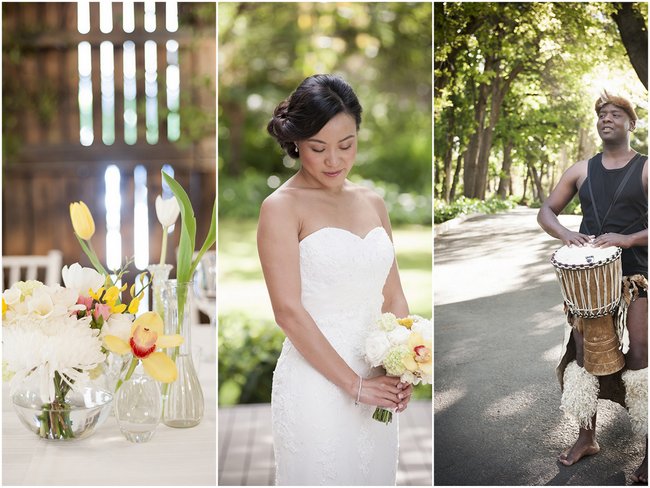 Today's destination wedding, captured by Cape Town wedding photographer, Joanne Markland, is a beautiful blend of cultures and traditions from across the globe. Australian bride, Teresa, of Chinese heritage, met and fell in love with her South African born husband, Michael, while they worked together in London!
After considering a number of possible countries and locations, they decided to exchange vows in the serenity of the Cape winelands. Michael and Teresa's ceremony was held at the secluded Molenvliet winelands wedding venue which perfectly encapsulated the beauty of the area, against an idyllic backdrop of magnificent mountains. The super cute pair incorporated a Chinese Tea Ceremony, a traditional Zulu praise singer, and a Marimba band into the festivities! Talk about a multi-cultural South African wedding!
From the Bride: We wanted a classic elegant wedding combined with a rustic flavour. The colours were white and yellow with a hint of pale pink. We wanted a day where we and our family and friends were relaxed to celebrate the day. We put a lot of emphasis on food, drinks and the festival area. We definitely want to integrate sense of African charm into the wedding as there were many guests from overseas who would be visiting South Africa for the first time.  We decided to hold a Chinese Tea Ceremony to pay respects to my Chinese heritage. My mum brought a traditional red Chinese tea set from Hong Kong for the celebrations. During the Tea Ceremony we knelt down and presented our parents with Lotus seed and red date tea to thank them for raising us and our parents present us with a gift of a lucky red pocket.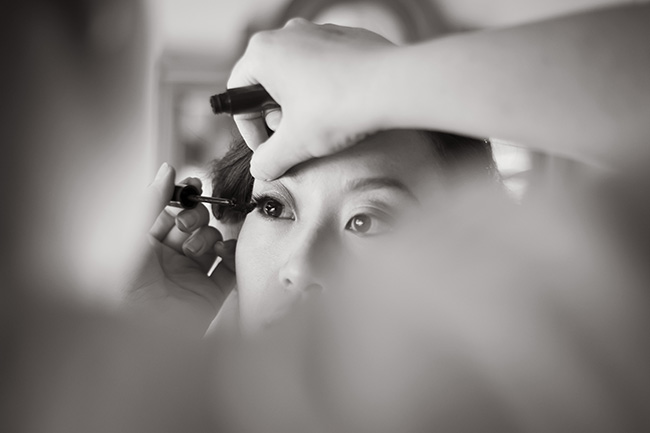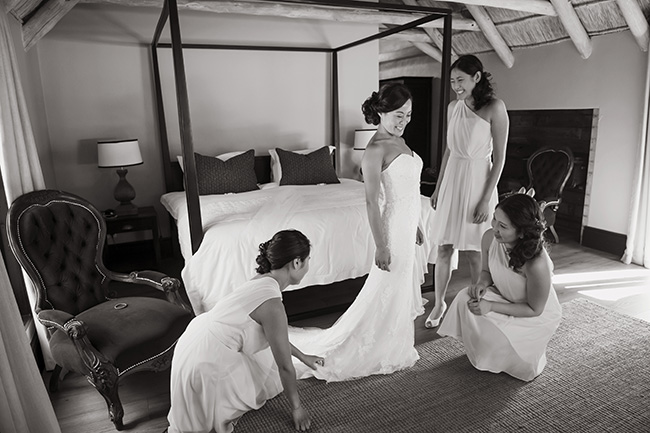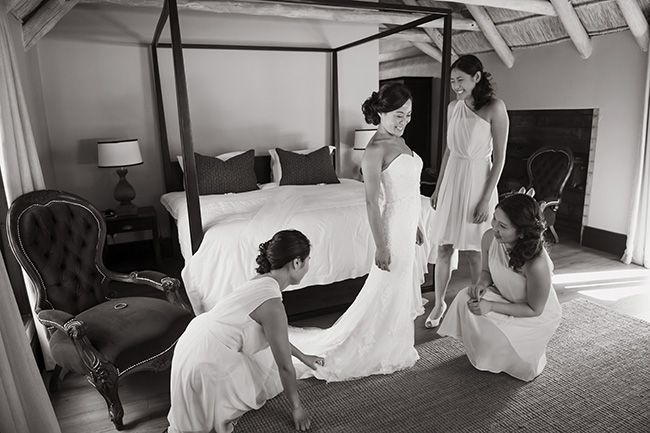 Their Love Story: Mike and I met at work in London. I had just moved to London from Australia and was starting my first role. Mike had moved to London from Johannesburg a year earlier. After a couple of months Mike asked me out a few times but I didn't know if he was joking or being serious so I erred on the side of caution and said no. Initially I was hesitant as not only did we work together but I thought Mike was not the type of guy I would want to date. However, after many coffee breaks together I found he was fun, cheeky, humble, loyal and very sweet. A few weeks before Mike changed jobs I accidentally stood him up so I offered to take him out to lunch and that was the start of our relationship.
Their Proposal: Mike proposed during a weekend trip to the Cotswolds, a historic region in the UK comprised of quaint villages, beautiful hills and open countryside. We were lucky that the weather was stunning as it had been overcast and raining for over a month. As usual, Mike had planned the whole trip and mapped out the route we were going to take so I was having a very relaxing trip. I had noticed Mike was quite quiet during the drive and not his usual cheeky self. Mike drove us to the bottom of a hill and suggested that we hike up the trail to see the views. I was not in the mood nor dressed for a hike and resisted but he insisted that we should see the view. So I packed a little picnic for us and followed him up. After a while he picked a spot and stopped. I was keen to unpack the picnic but he said he had a question to ask me first. Then he knelt on one knee and proposed. He didn't have a ring but he did have a picture of a ring he thought I'd like and had made an appointment with a jeweller to design the ring together. The ring we ended up designing was exactly the picture he chose.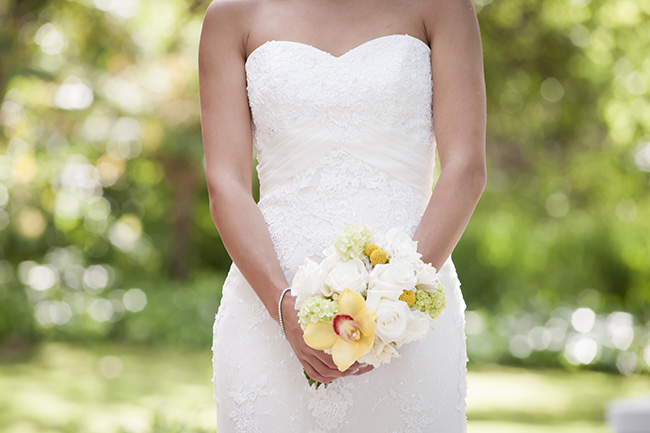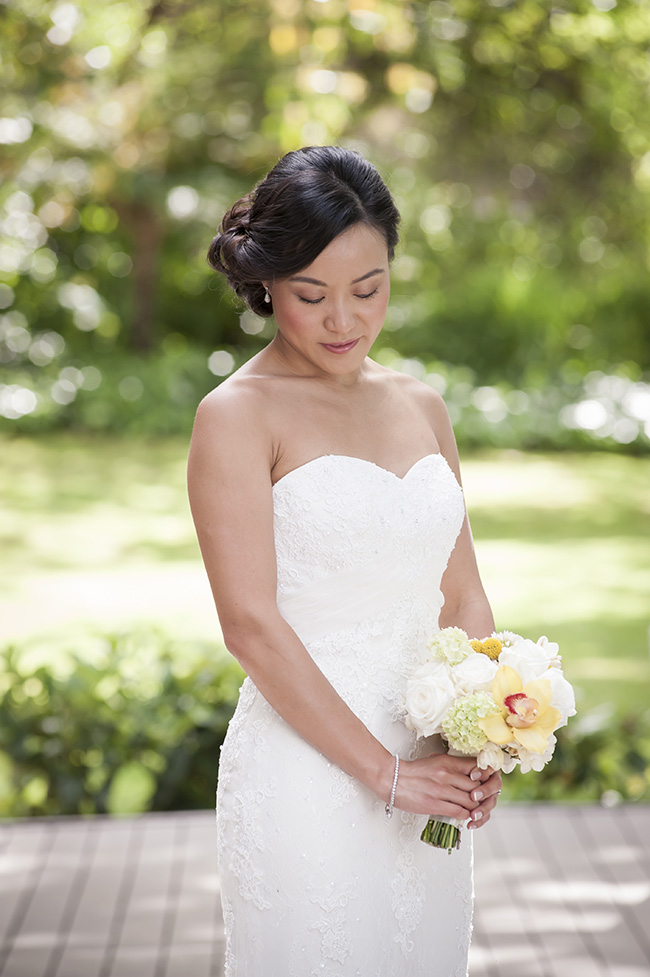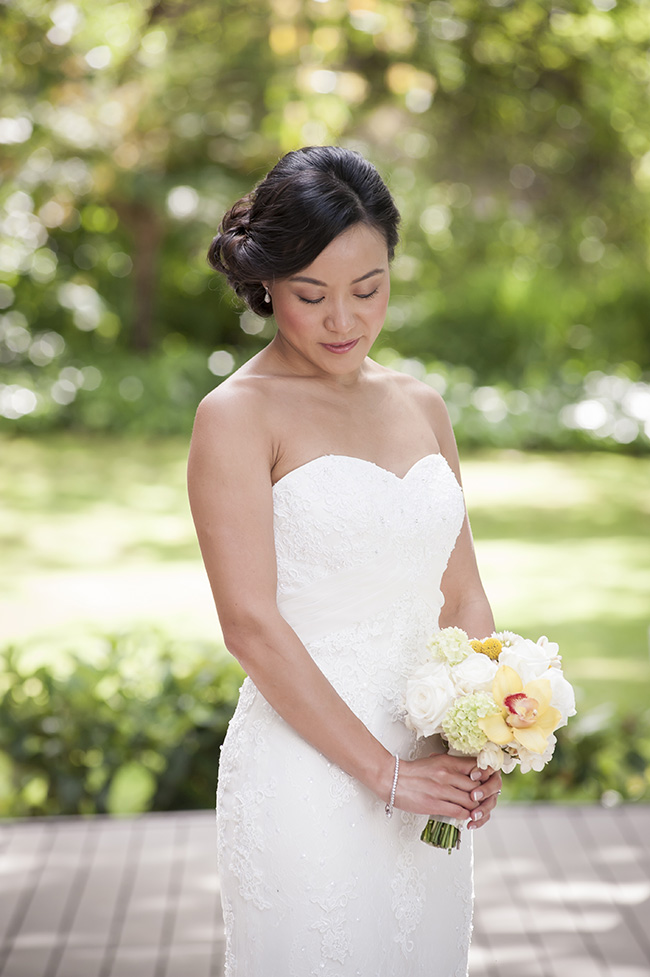 Wedding Dress: My wedding dress from Mori Lee was simple, elegant and understated, paired with a classic bridal bouquet containing white roses and a yellow orchid.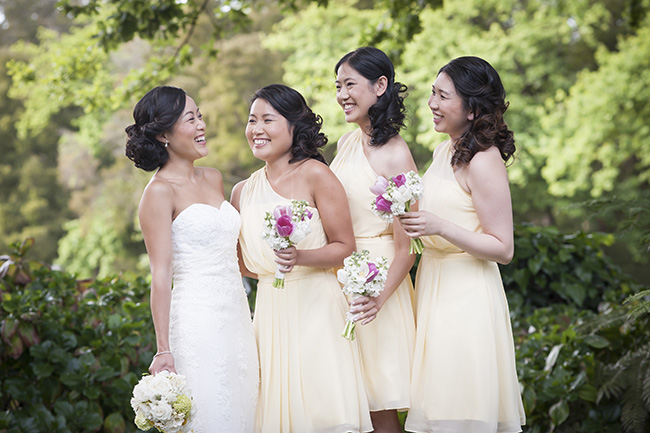 Bridal Party Attire: Our bridesmaids were dressed in relaxed daffodil yellow cocktail dresses, and the groomsmen were dressed in smart black suits with yellow and ivory striped ties. Mike's nephews were the cutest page boys in newsboy inspired outfits!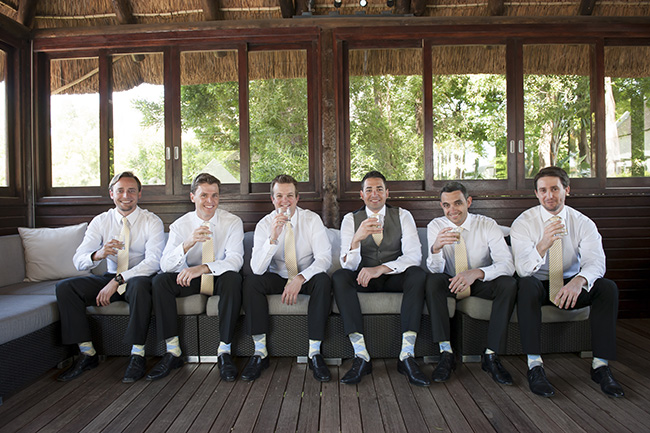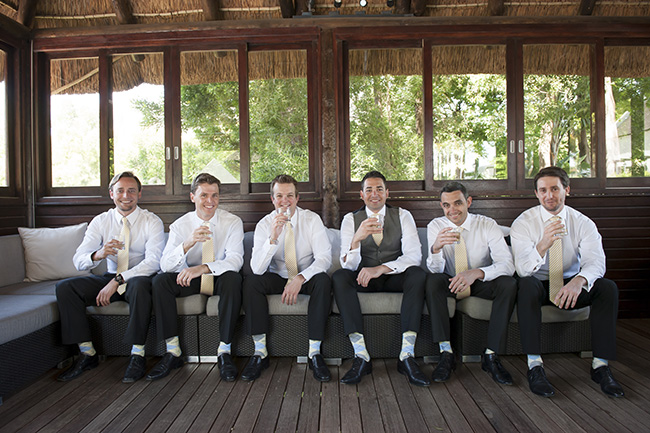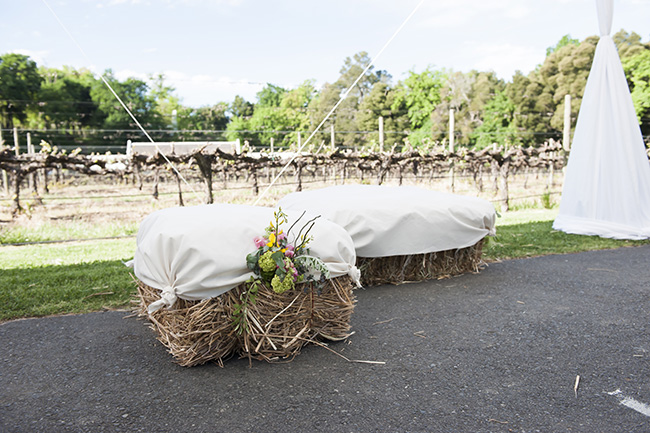 Wedding Hay Bales: The hay bales in the festival area were covered with cotton material so they wouldn't be prickly to sit on. With the addition of some flowers, the hay bales and wine barrels created the relaxed rustic atmosphere we were after.
Outdoor Wedding Ceremony: We just loved with the mountain views and gorgeous natural beauty at Molenvliet so we wanted very simple floral décor at the ceremony so that the stunning scenery was on show behind us. We chose to have two floral arrangements on either side of where we stood and softly coloured petals scattered down the aisle.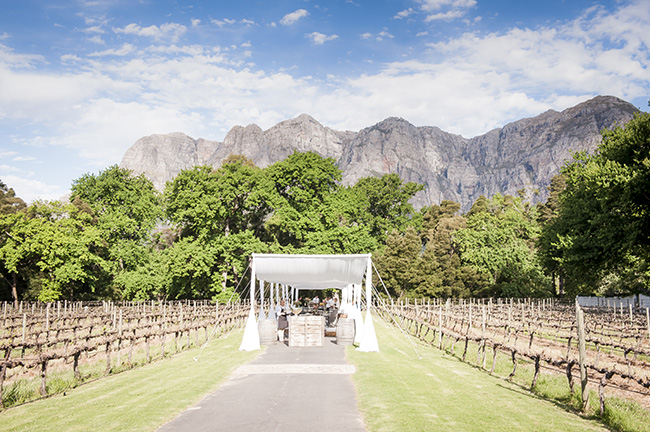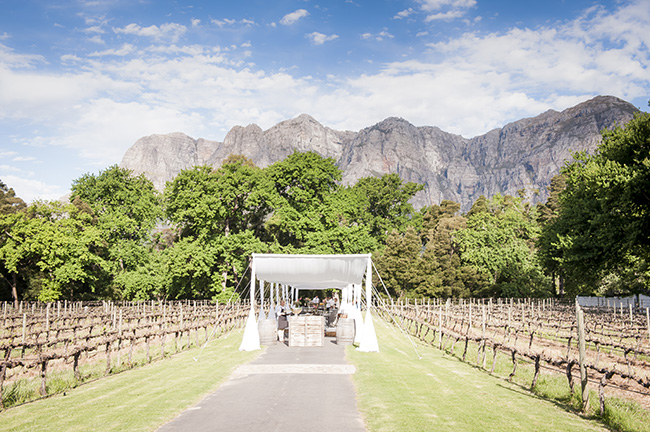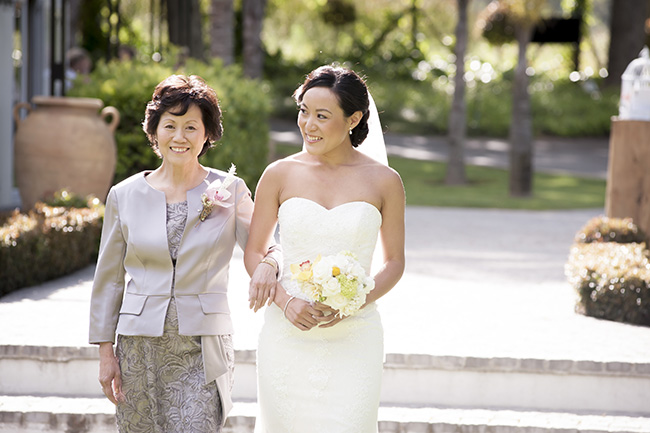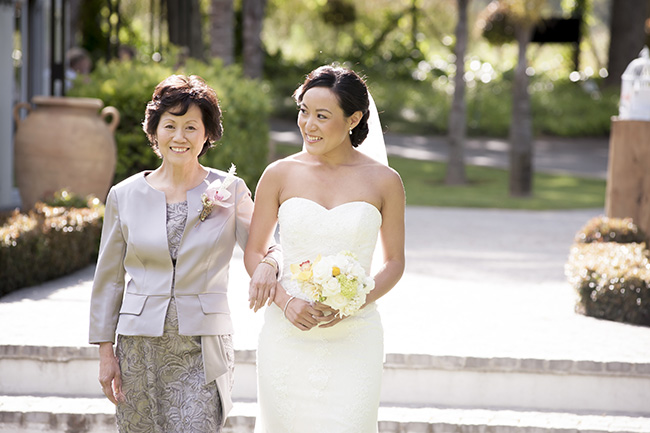 Wedding Ceremony Playlist: Mike and I tried to include some key songs into the wedding proceedings and their reference to the evolution of our relationship.
Muse – Starlight was the song which the bridesmaids and page boys walked down the aisle to as this marked catalyst to our relationship. I had told Mike I would meet him at Wembley Stadium for pre-drinks prior to the Muse concert. Unfortunately I took the tube in the opposite direction and did not end up meeting him after all. I felt bad so I offered to buy Mike lunch to make up – after that lunch my view of Mike changed.
My bridal song down the aisle was James Yuill's – This Sweet Love. While Mike was still trying to get me to go out with him he had told me that I needed to listen to James Yuill. I never got round to listening to it but after work on the tube home he put the song on and I absolutely loved the song. I was impressed with his music choice and thought he might not be such a Neanderthal after all.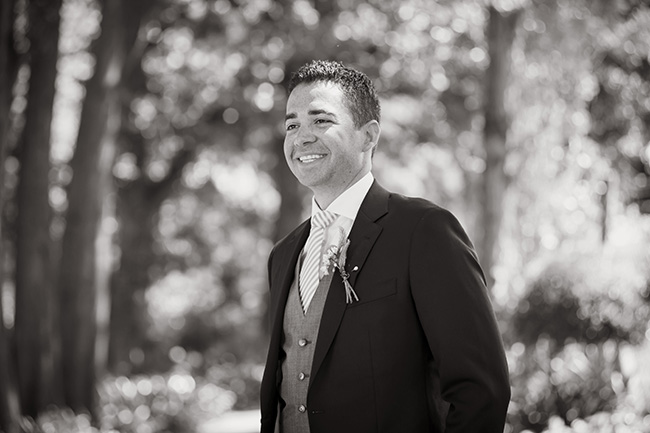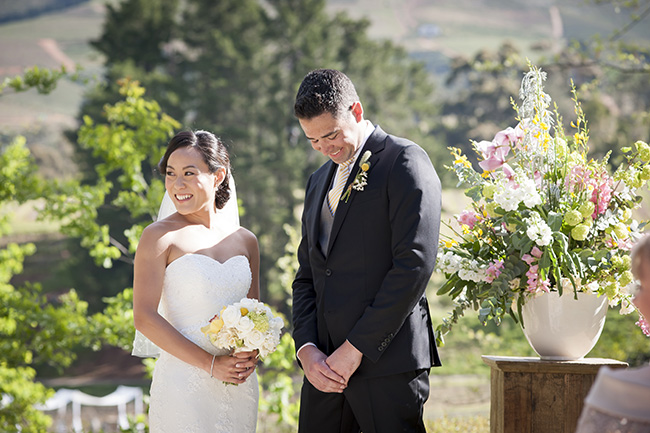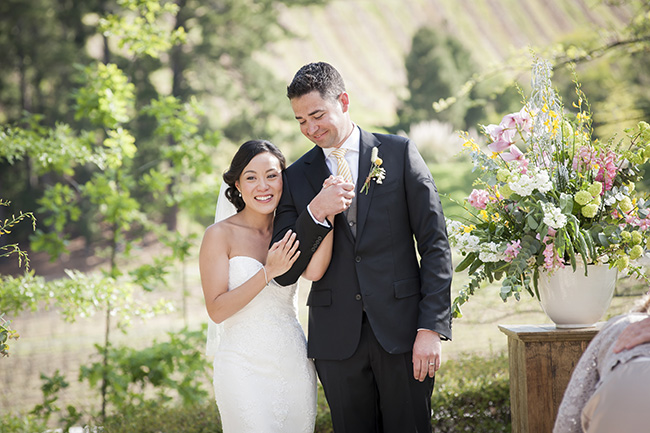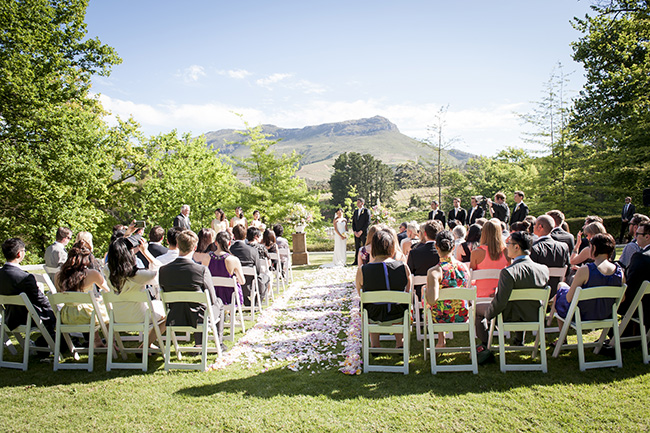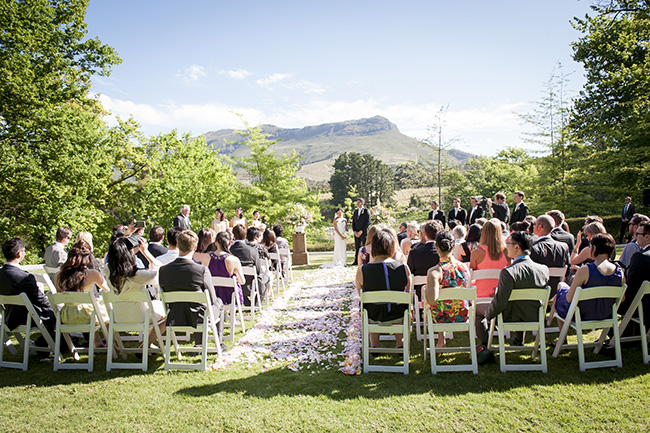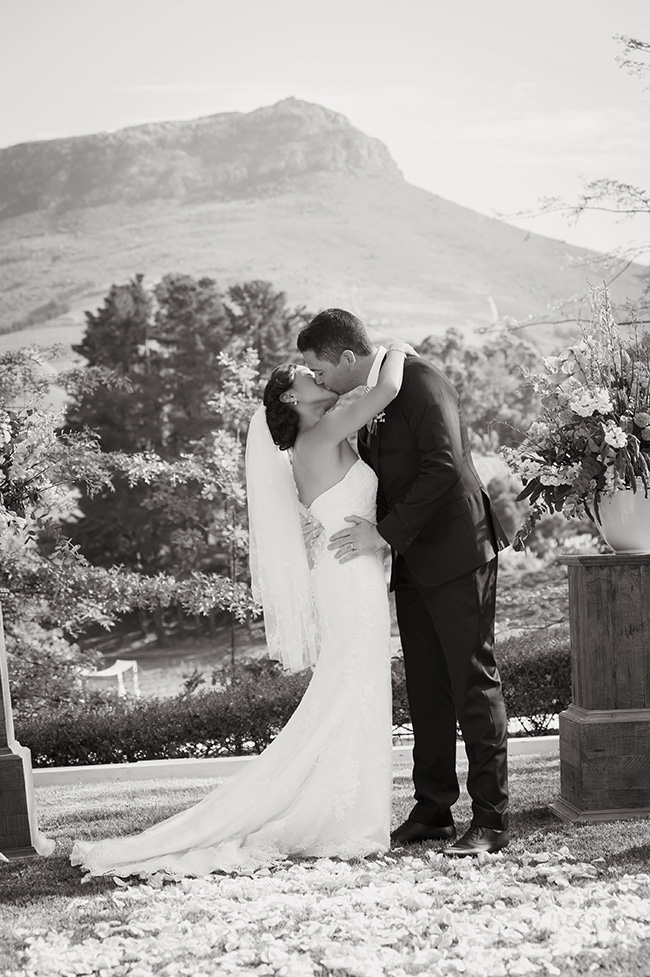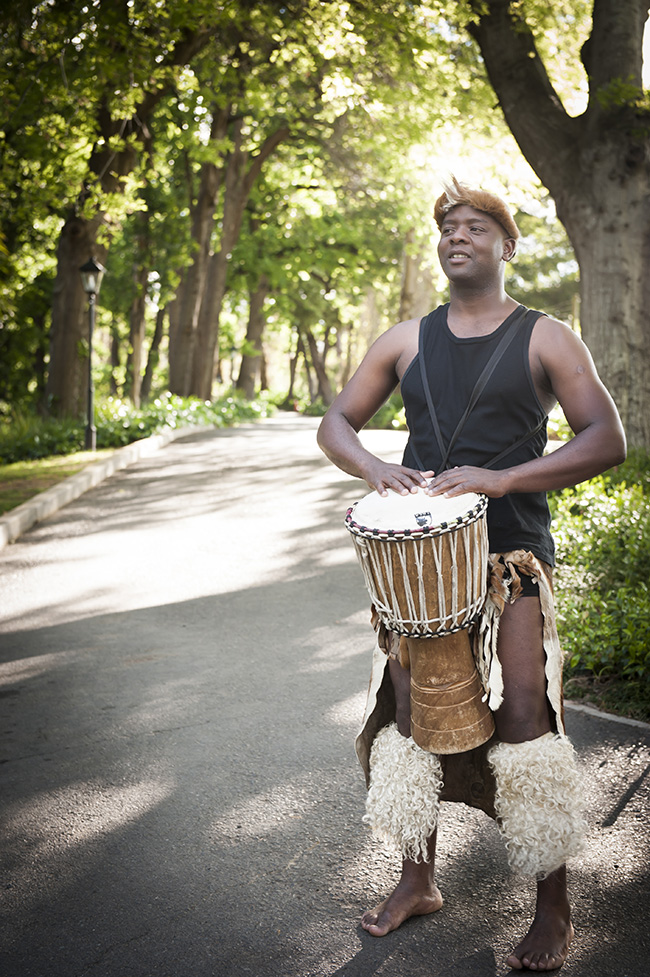 South African Wedding Elements: To incorporate an African element to our wedding we organised a Zulu praise singer to lead the wedding procession and guests from the ceremony down the walk into the vineyards to the festival area where the champagne and marimba band AmaAmbush were waiting. All the guests enjoyed the relaxed sounds and vibe of the marimba band.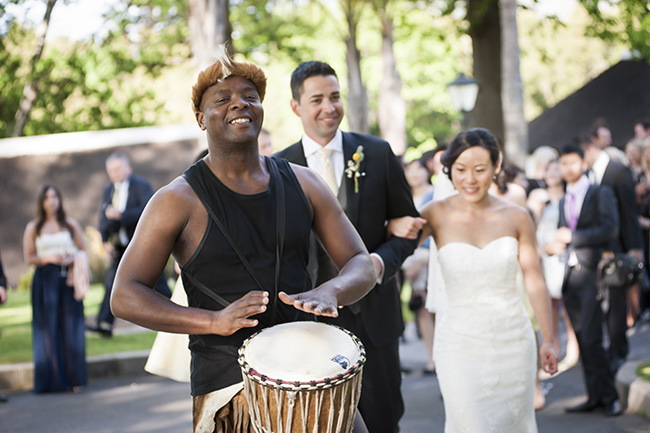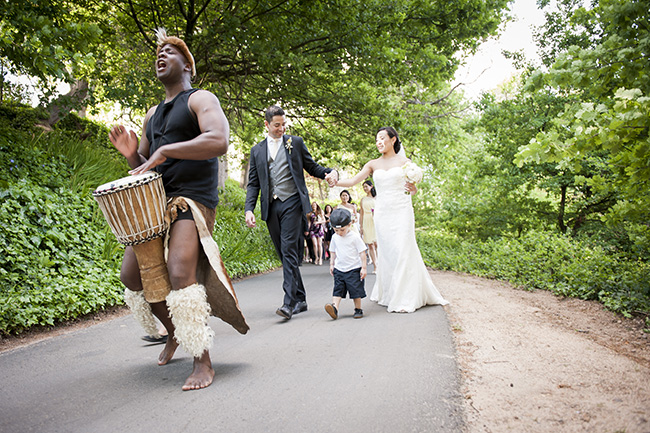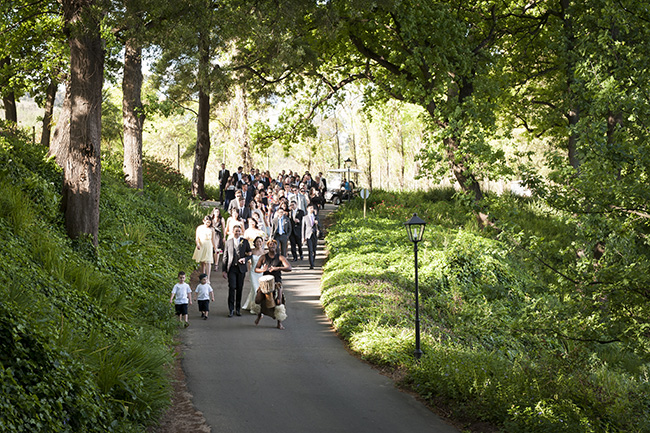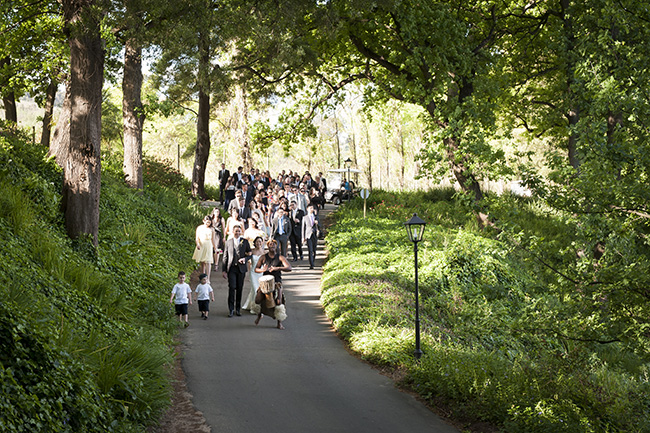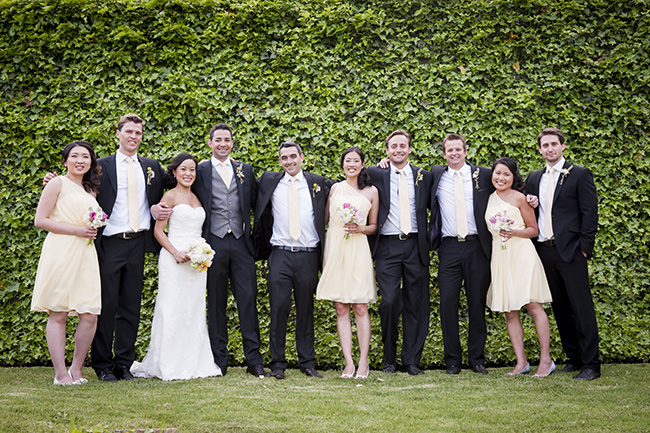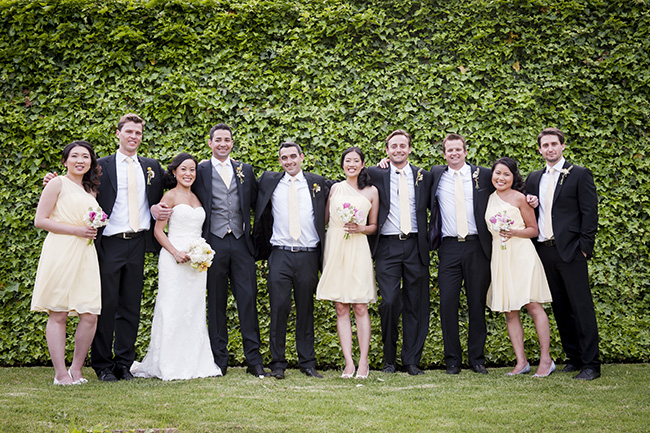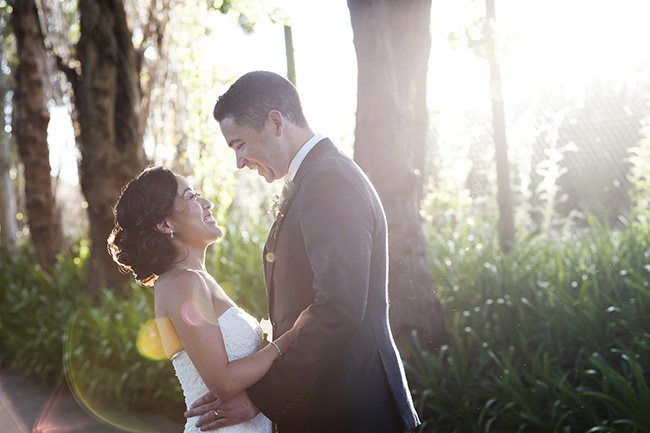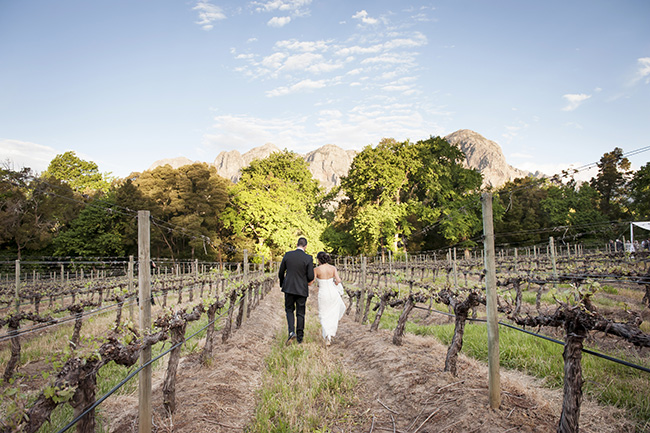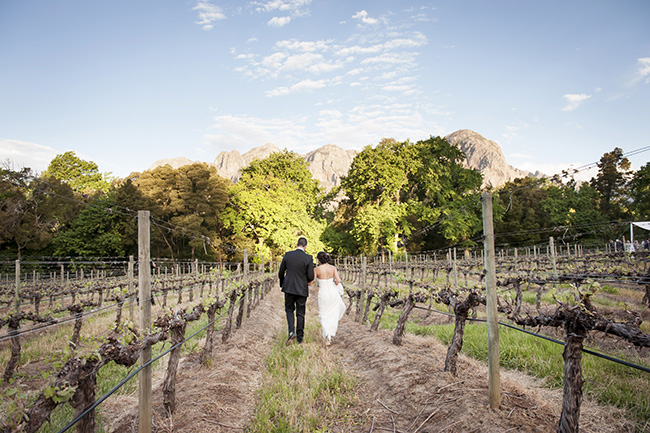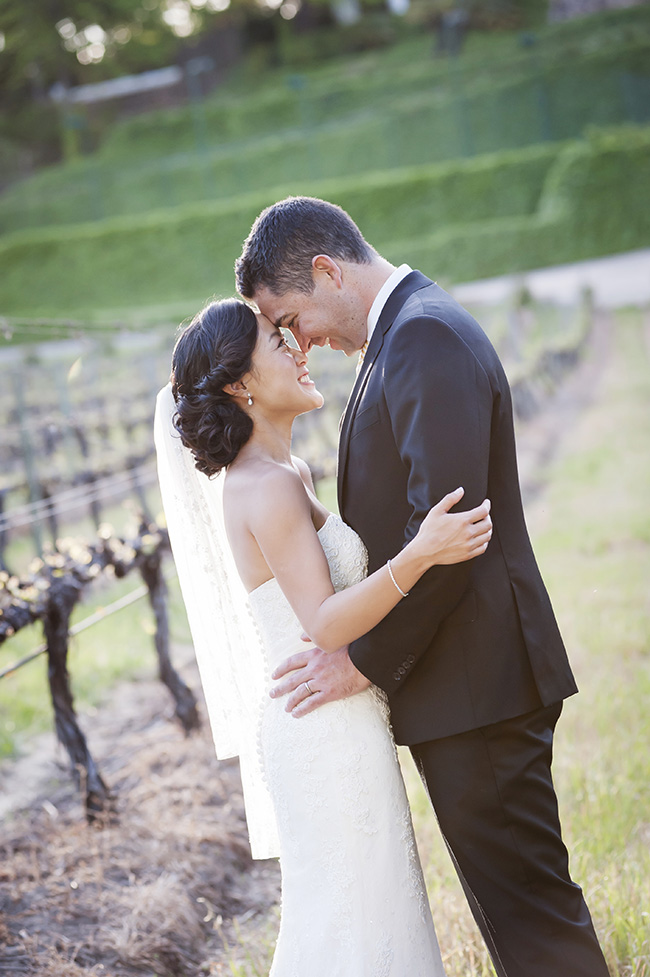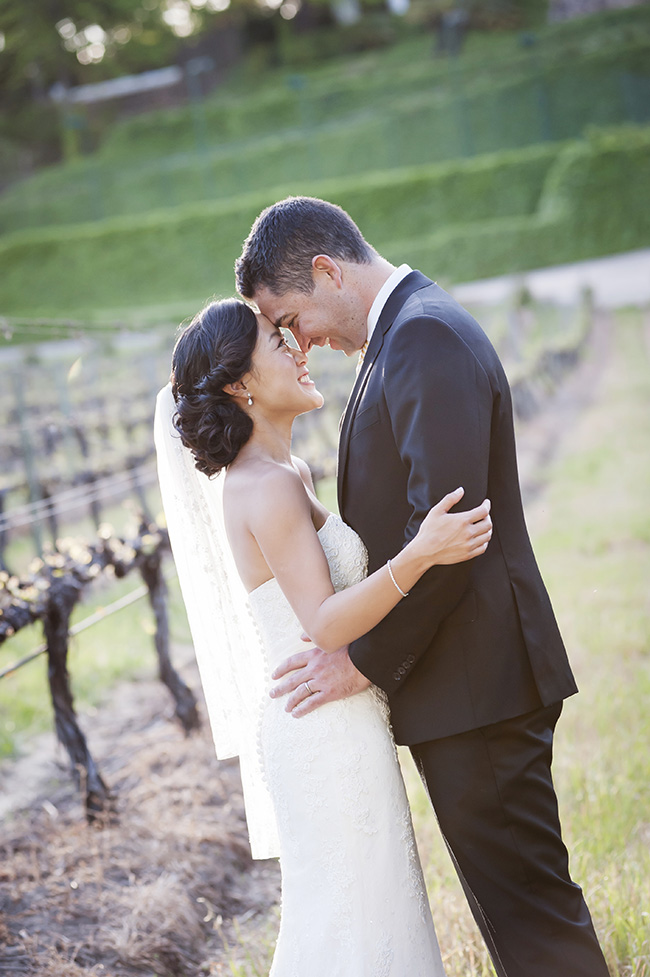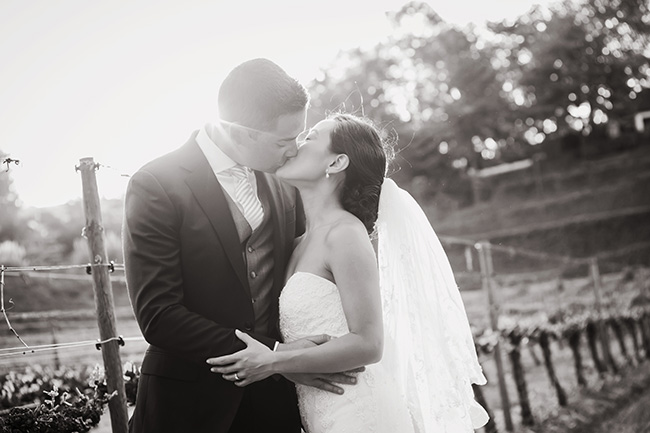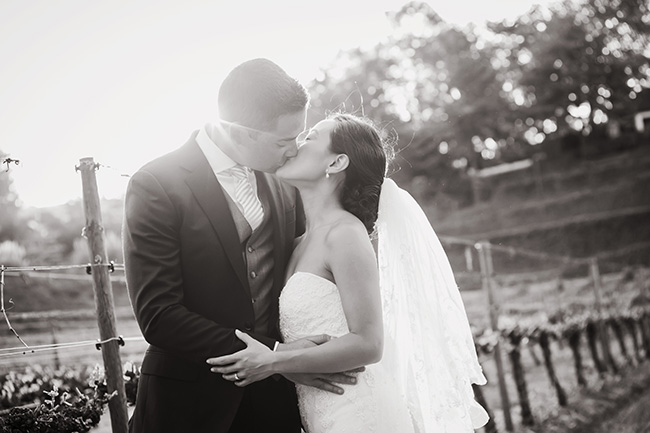 Wedding Decor: We focused a lot on the décor at the pre-reception drinks. We wanted a rustic and relaxed atmosphere for our guests to enjoy the food and marimba band. We had white draping erected between the vineyards and had a mix of covered hay bales, wine barrels, wine bins and classic cocktail tables and chairs. The area was decorated with soft yellow, pink and white flowers.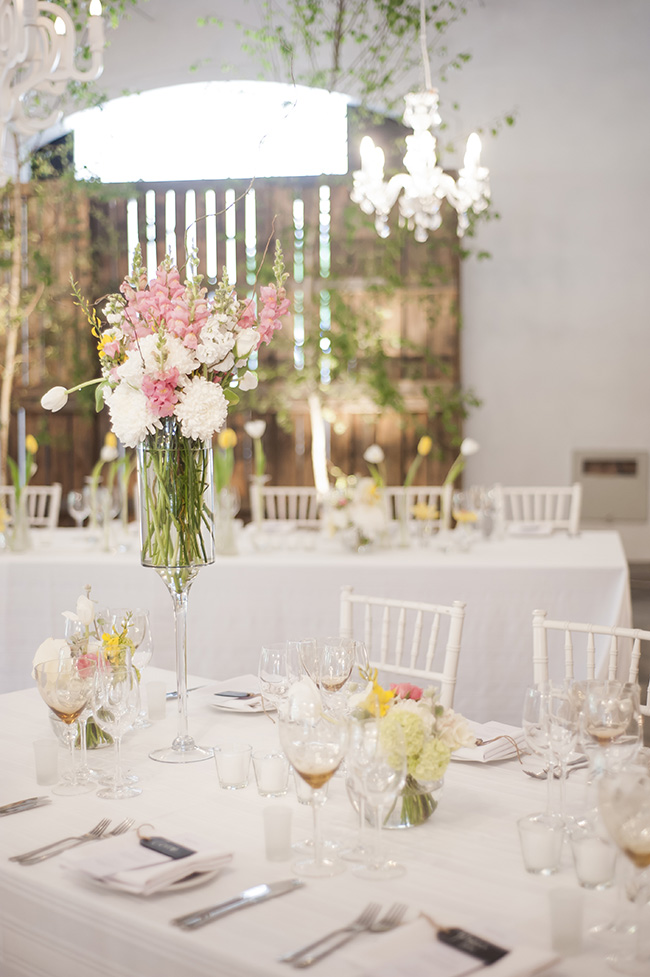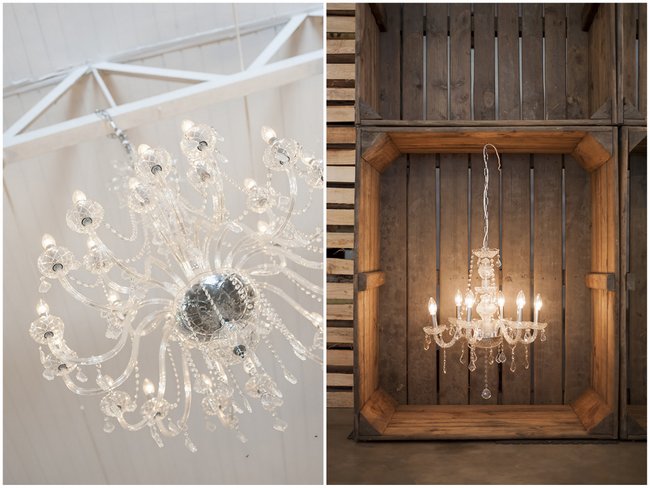 We wanted to maintain the elegant rustic theme in the reception area so we used wooden wine bins to create a feature wall and hung lovely chandeliers inside the bins which created a charming warm atmosphere.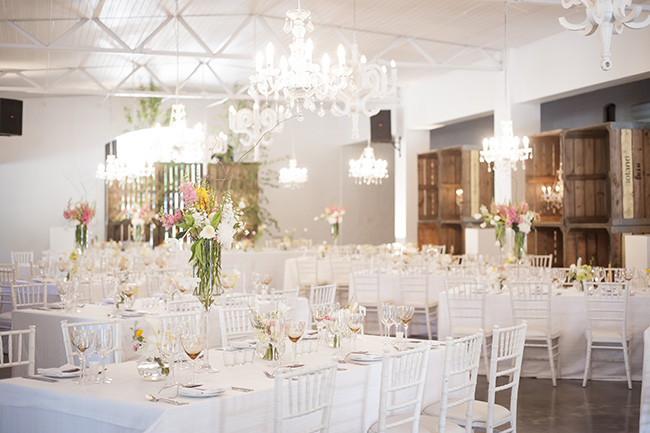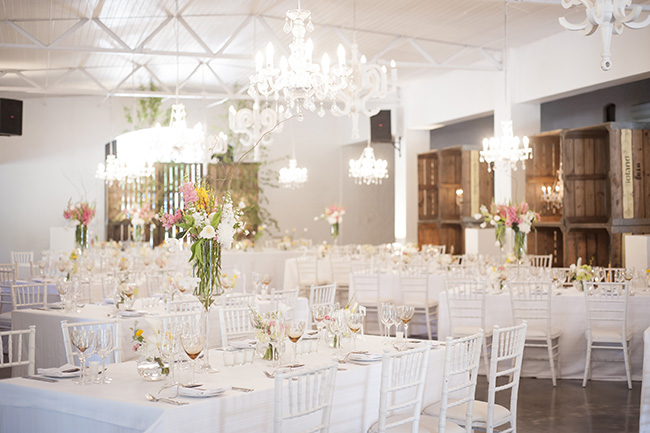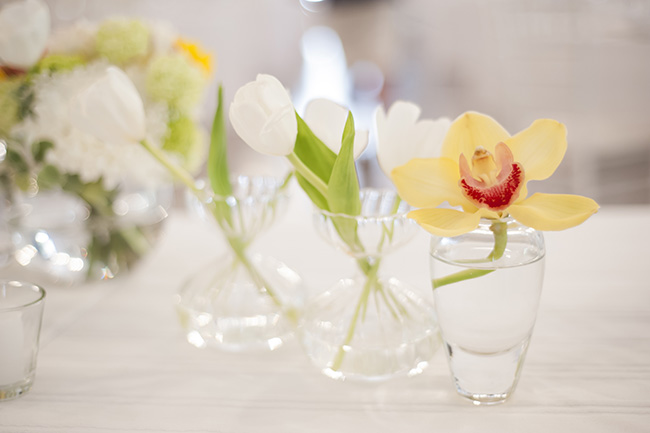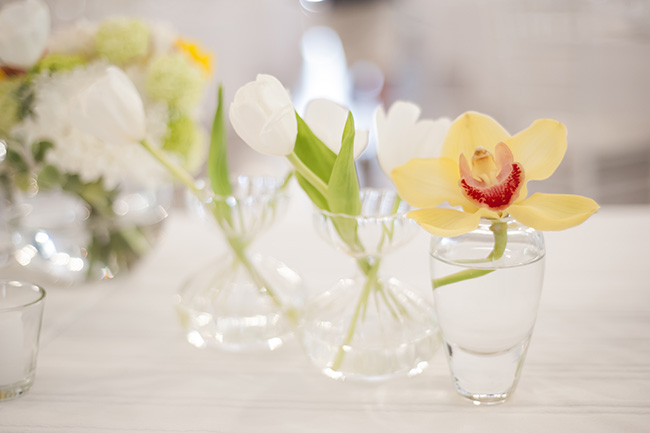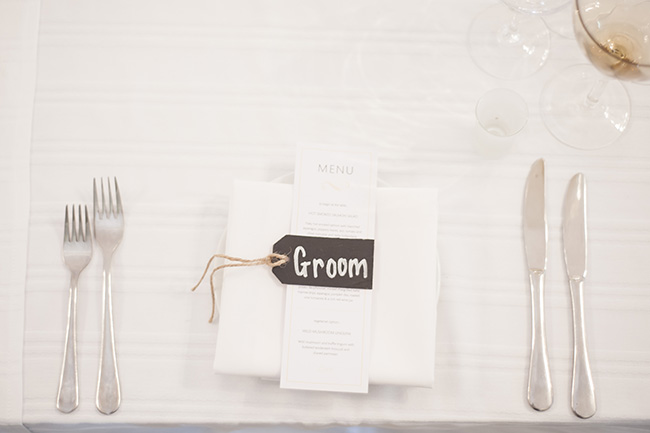 Menus & Stationery: Our menus were designed by Paula Stafford, Mike's talented sister in law.  They were simple and classic, printed on white card with yellow embossed touches. To compliment this we also hand wrote our guests seat tags on blackboard style name tags with twine ties.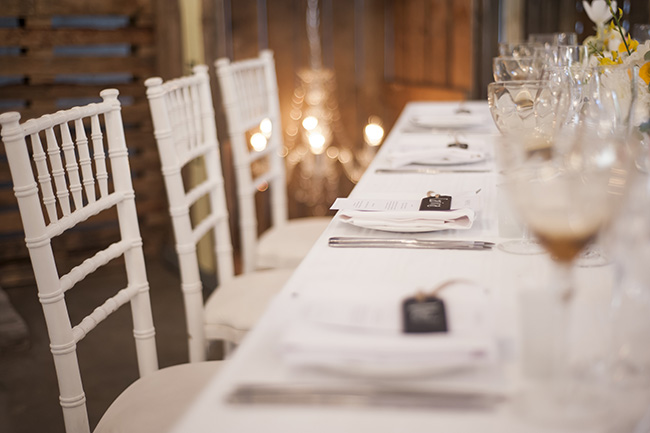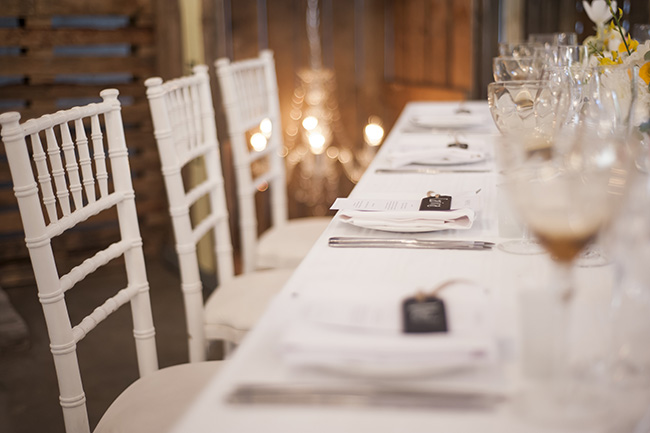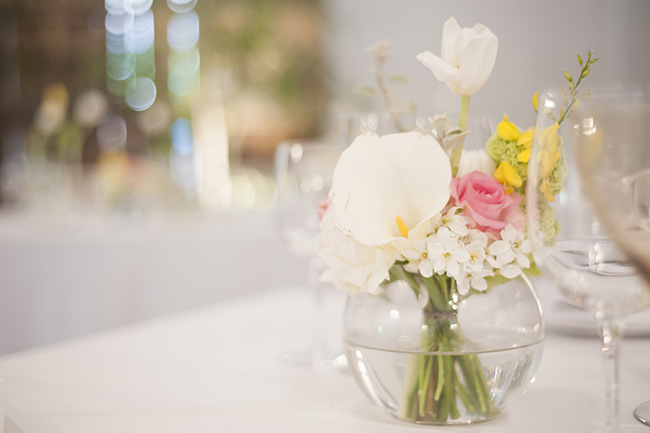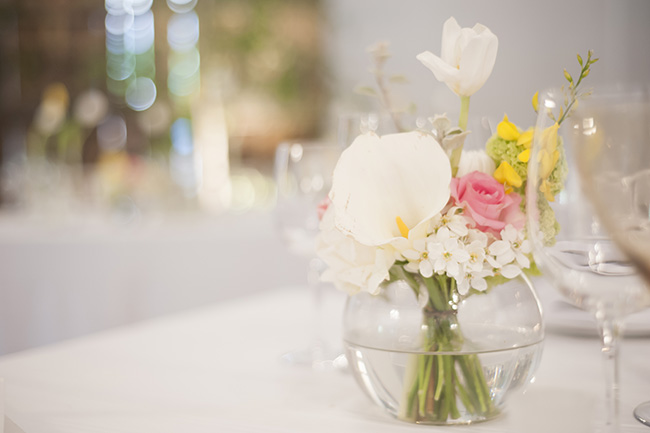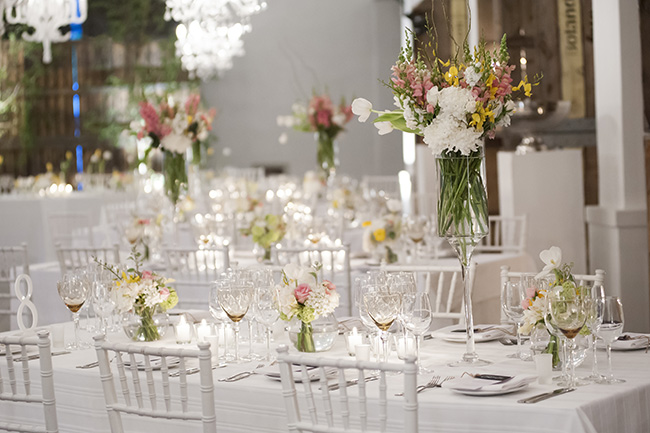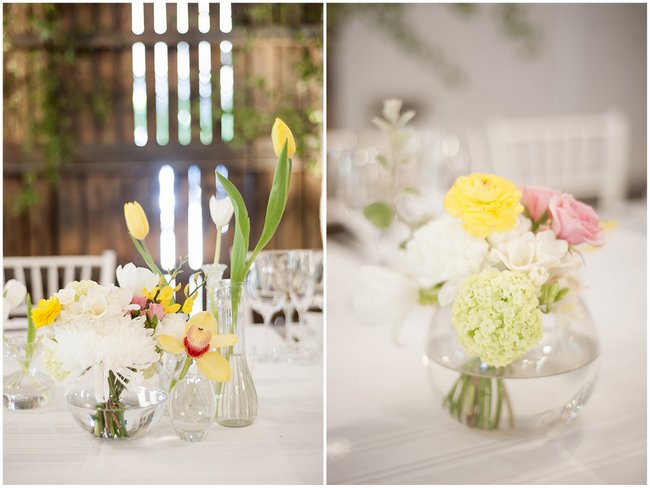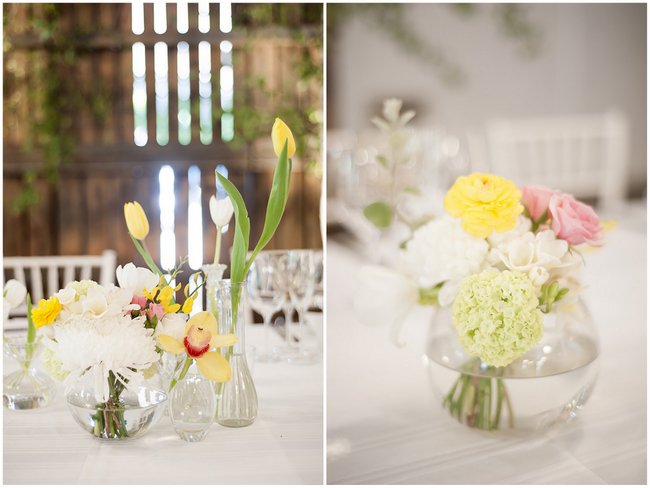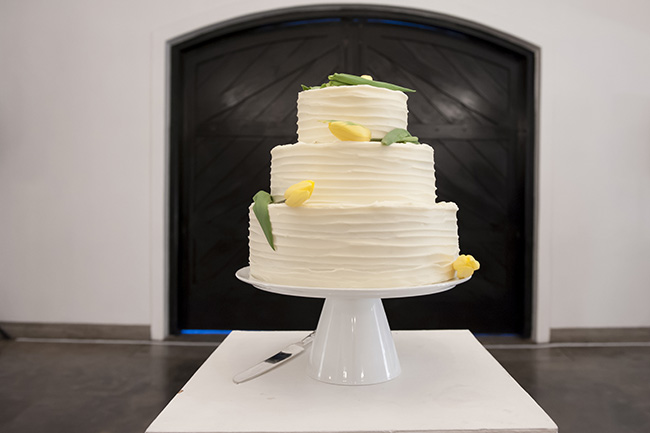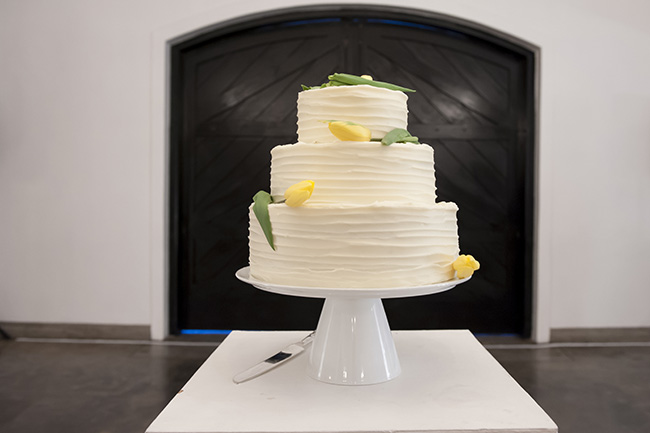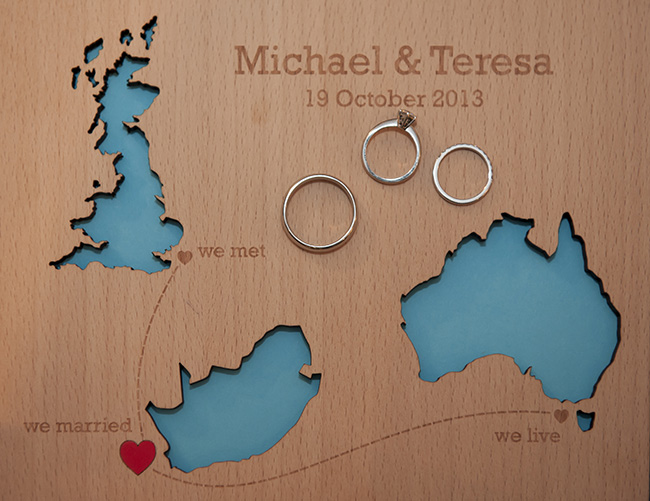 Travel Love Guest Book: We had a wooden guest book cover with the shape of the UK, South Africa and Australia cut out to map out our journey together.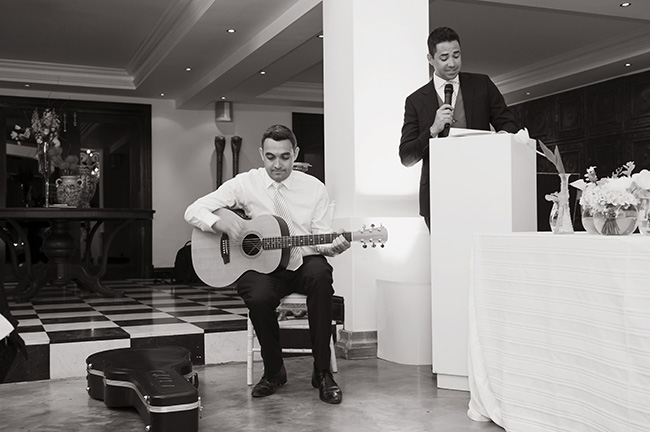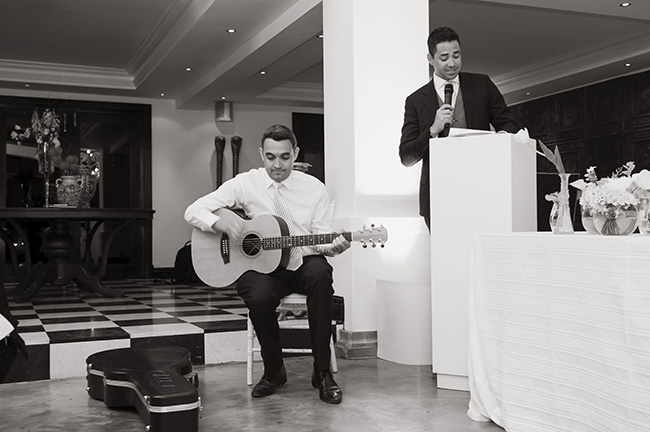 Surprise Song by Groom for Bride: I used to give Mike a bit of grief because he had never sung to me but he used to be part of an acapella group at school. During his wedding speech Mike surprised me by singing a poem he wrote whilst his brother accompanied him on the guitar. He sang about how we met, my initial resistance and what an exciting and happy future we had ahead of us. It was funny yet so heartfelt he had me and almost all the guests in tears. When he finished singing we just held each other at the podium forgetting everyone was around us. That was definitely one of my most cherished moments of the day.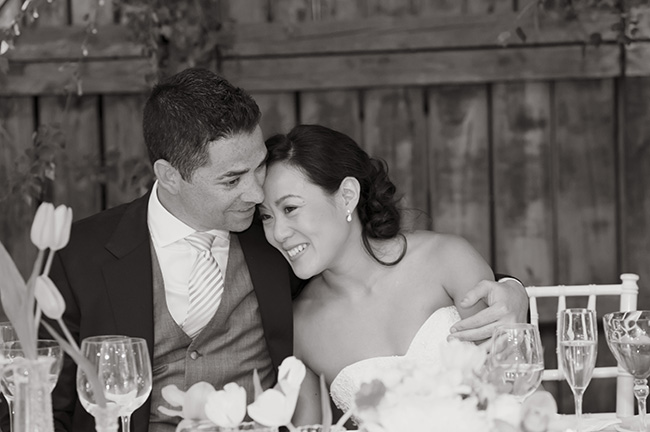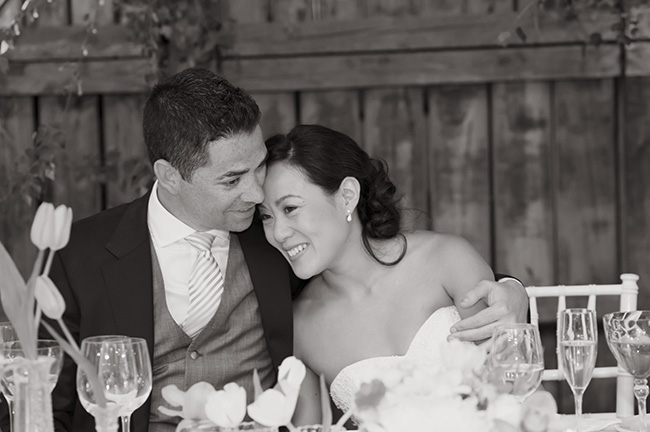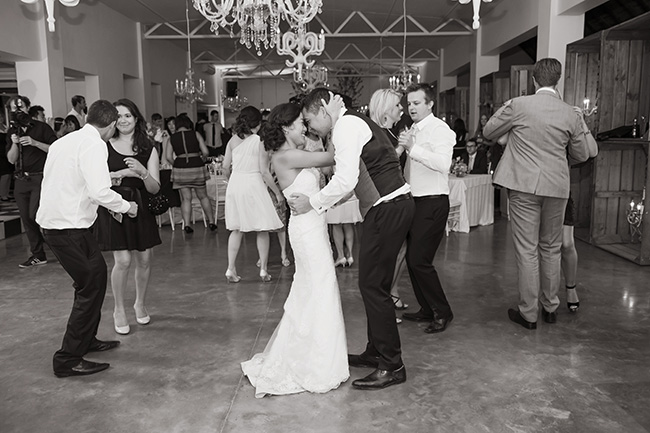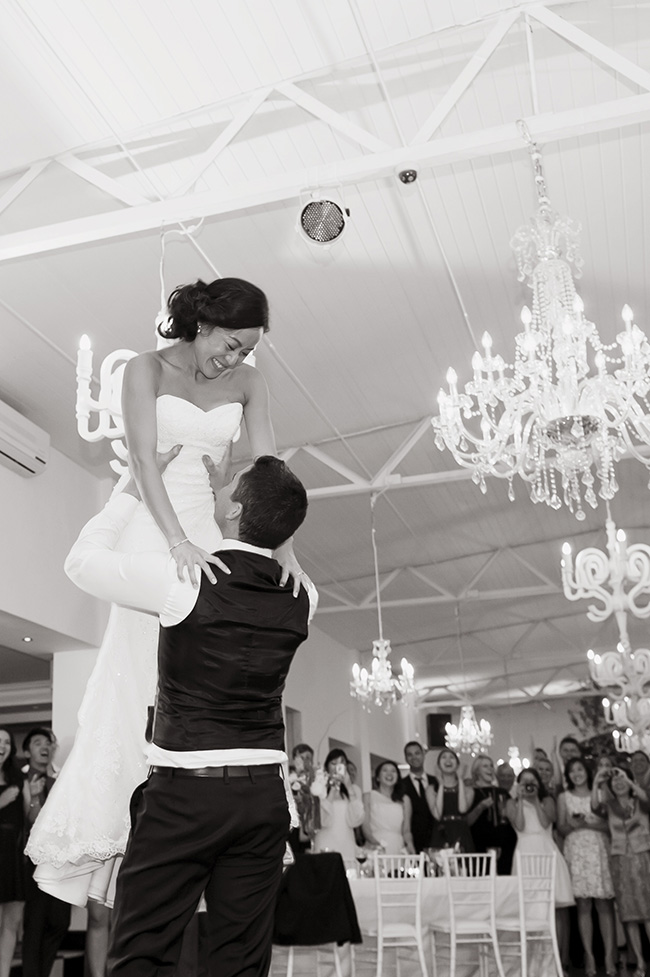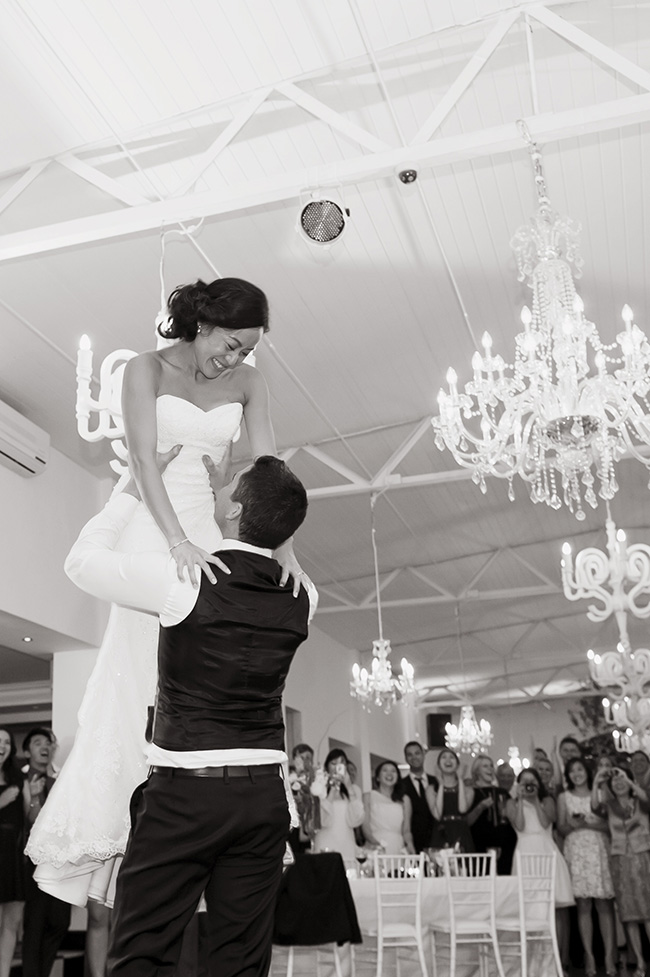 Destination Wedding Planning Advice:
As we were planning the entire wedding from London we had to rely a lot on Lize-Mari our wedding co-ordinator. Good communication with her was paramount and we had to have a clear idea of what we wanted and our budget so she could help us organise the wedding. Fortunately we established a great relationship with Lize-Mari and she helped turn our wedding ideas into reality.
Another important aspect we didn't consider before the wedding is the quality of service provided by the waiting staff as this helps set the tone for a relaxed evening. Luckily ours were terrific and a lot of guests commented on how professional and accommodating they were.
Identify the most important aspects of the wedding to you and your groom and focus on them. Try not to be tempted by the many other options you will find whilst you are planning as you may go over budget or you may have to scale down on the key aspects.
We also found that there are many good quality suppliers that may not be the most expensive so it's important to do your research and get a few quotes.
CREDITS
Photographer: Joanne Markland |  Wedding Planner: Lize-Mari van Zyl W Collaboration | Wedding Venue: Molenvliet Wine & Guest Estate | Wedding Décor & Flowers: OKASIE Flowers & Décor and To-Netts | Catering: DISH Food & Social |  Bar: ASAP Staffing | Cake: Birdcage Tea Bar | Wedding Stationery: Paula Stafford |  Dress: Mori Lee | Brides Hair & Make Up: Yolande Mamacos