A Serendipitously Fateful Coincidence ♥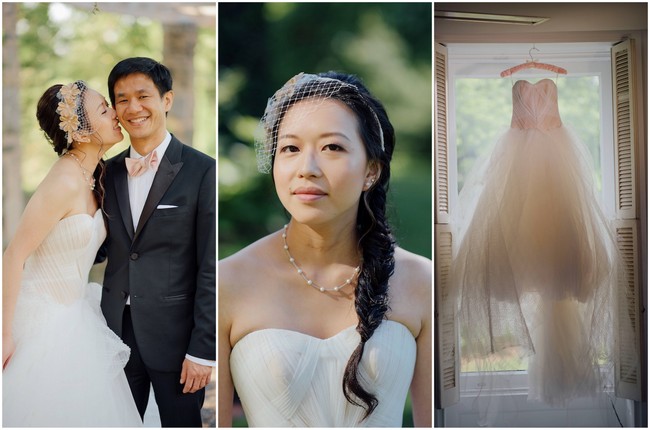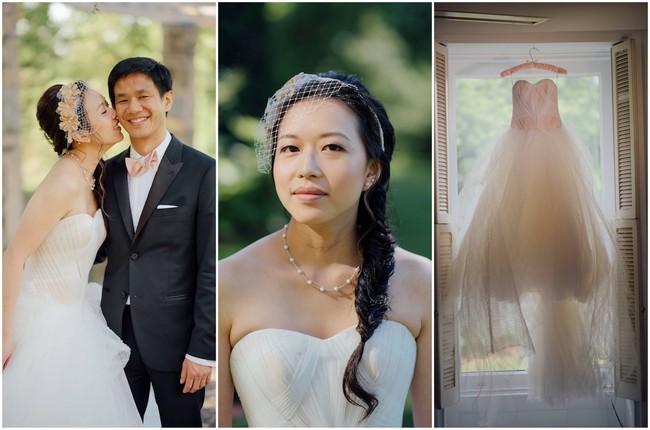 a
Diane and Simon's New York wedding at Wave Hill is the beautiful result of a chance meeting in Whole Foods! Diane was looking for bucatini, and Simon noticed a cute girl standing in the pasta aisle. That was the beginning of their yuan fen, (a Chinese concept of fate) and became the binding force linking the couple evermore.
Their beautiful wedding in New York was centered around their mutual love of food, music, and adorable pet rabbits. Their ceremony began with a traditional Chinese tea ceremony to honor both of their parents. Their color palette was pale pink, a softer shade of red, to reflect their semi-traditional wedding – red being the traditional color for Chinese weddings.
The couple also had a string quartet during the ceremony, Venus Ensembles, that played some of their favorite pieces. "We walked down the aisle to songs from our favorite movies. During the reception, we had a six course tasting menu, by Great Performances, featuring a pasta that played a large role in how we met. Our sister and her husband gave a musical toast and a local Brooklyn band, The Engagements, played cover songs of music from the 80s.
The decor was garden- and bunny-themed to pay homage to our two beloved pet bunnies. They are a pair of bonded house rabbits named Sesame and Vanilla. Our website and favors were accented with cartoon depictions of them. Our incredible planner Michelle of Michelle Elaine Weddings helped us make this day happen. Her boundless positive energy was a godsend in keeping us optimistic and focused."
These stunning photographs by Ryan Brenizer hit us right in the feels!
 Outdoor Chinese Tea Ceremony Wedding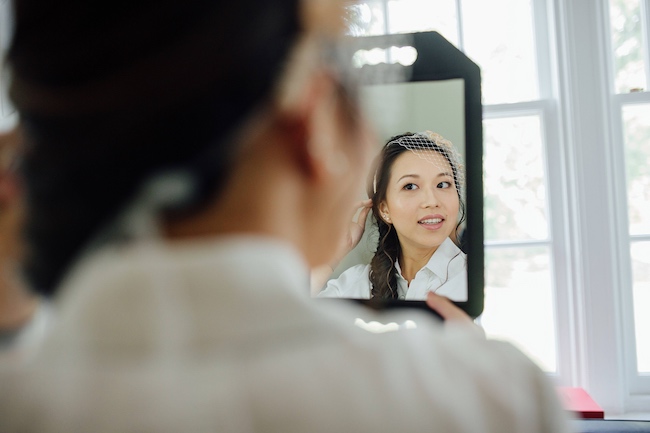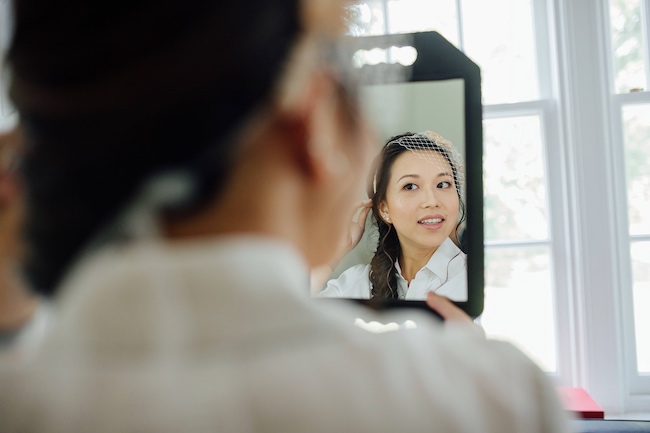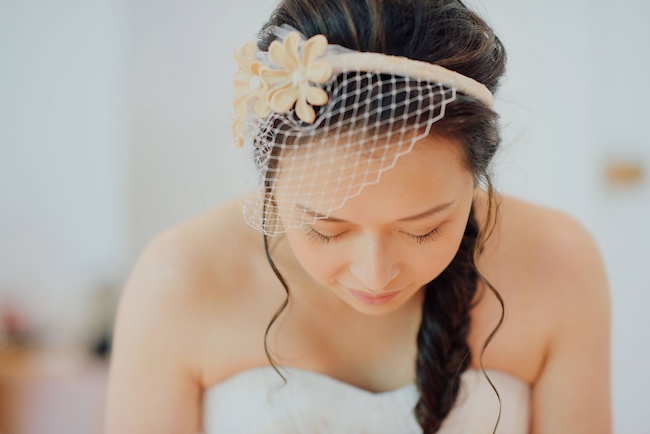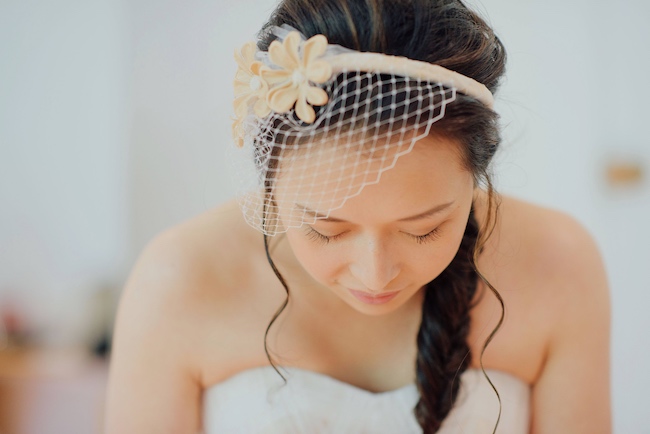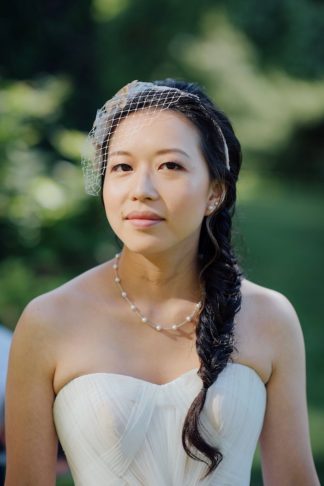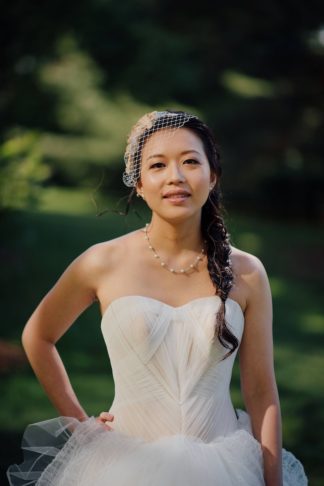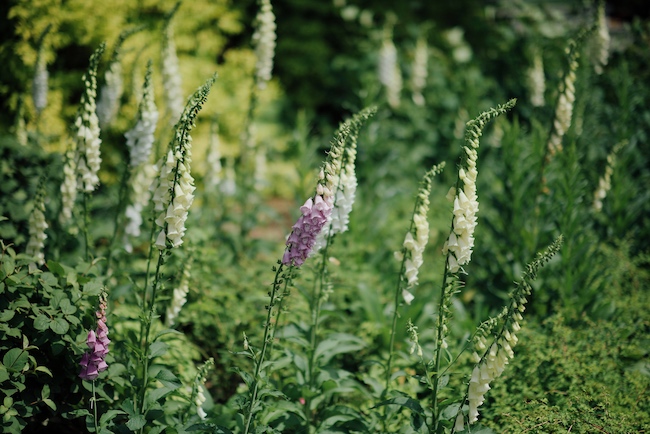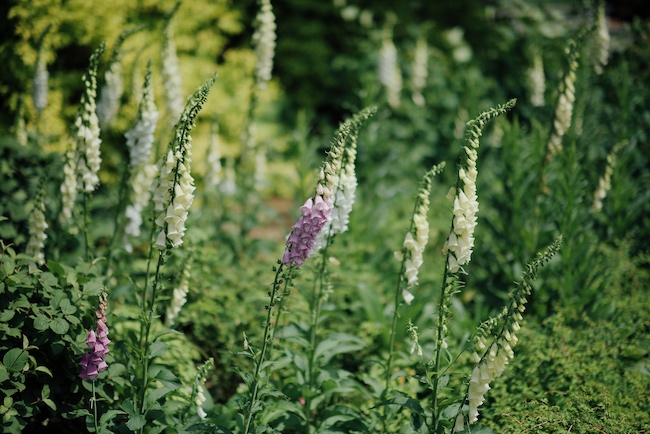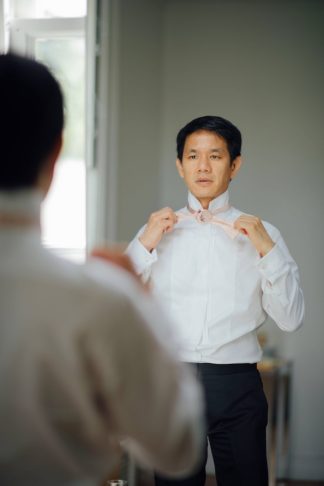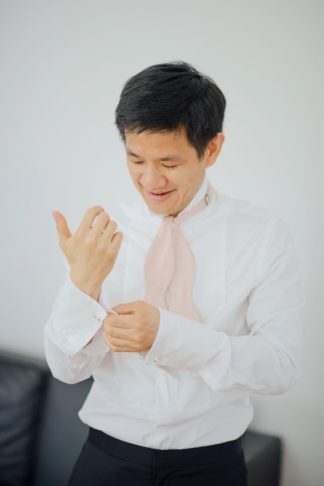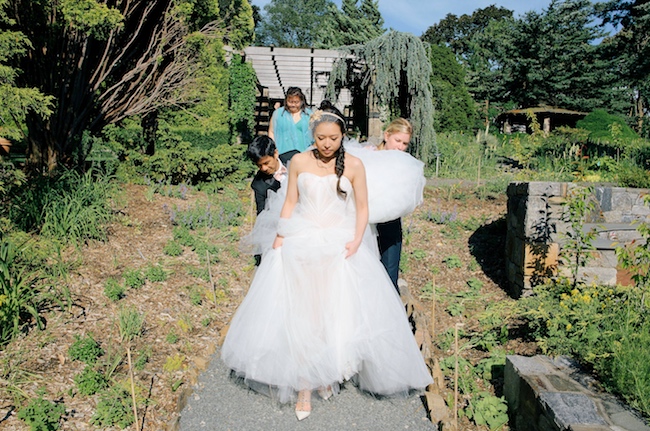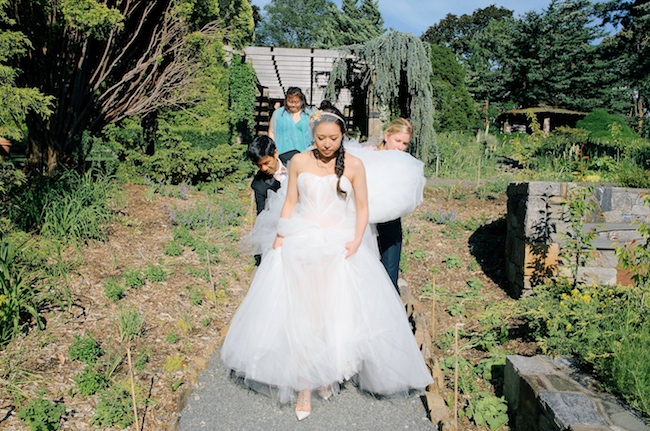 "We started with a private family-only tea ceremony in the Aquatic Garden at Wave Hill. As a sign of respect, the groom and I kneeled down in front of our parents and called them mom and dad as we served them tea. As each of them drank the tea we were welcomed into the family. After the tea ceremony we had the main ceremony on the Great Lawn."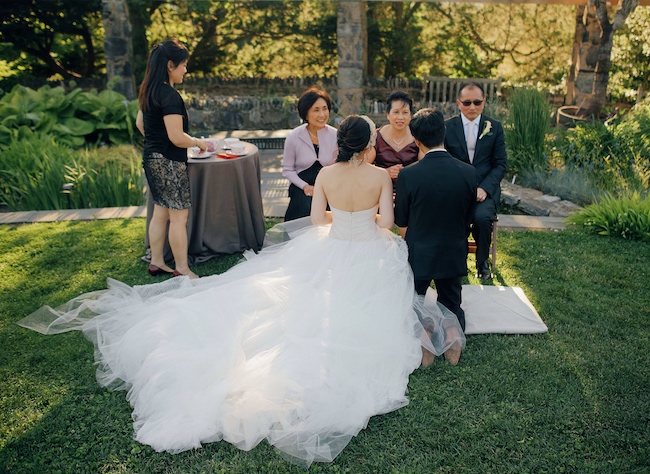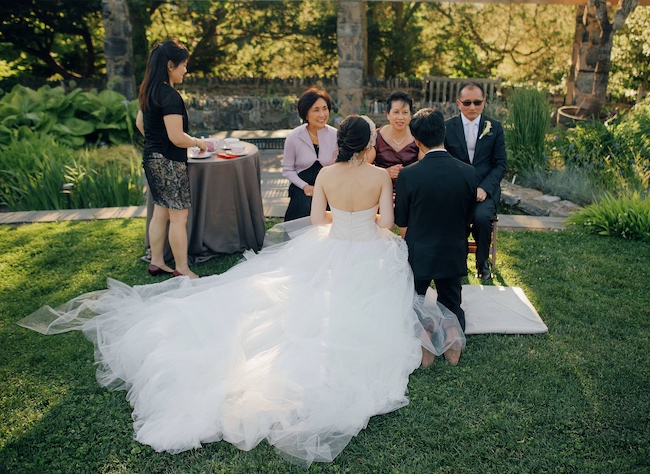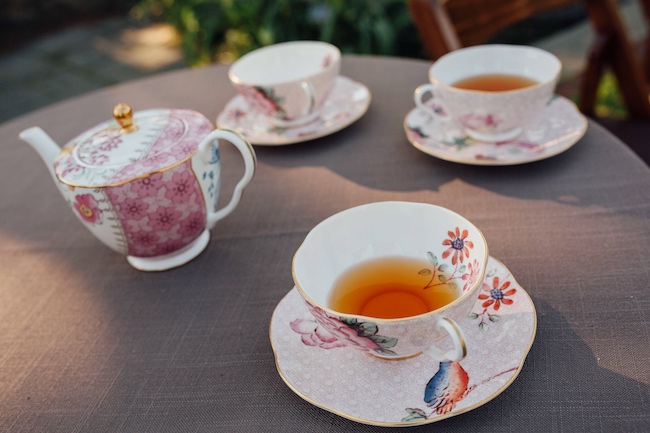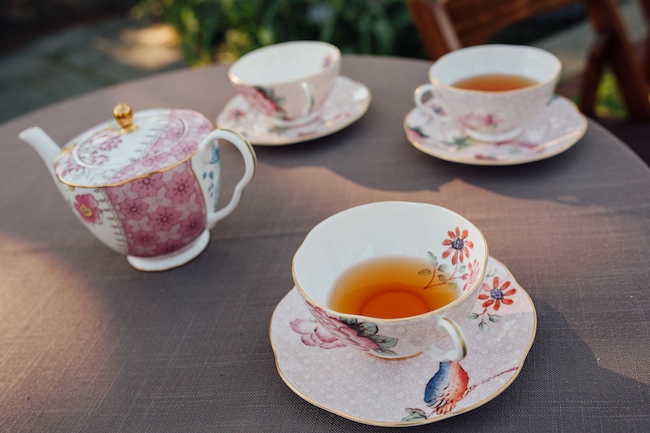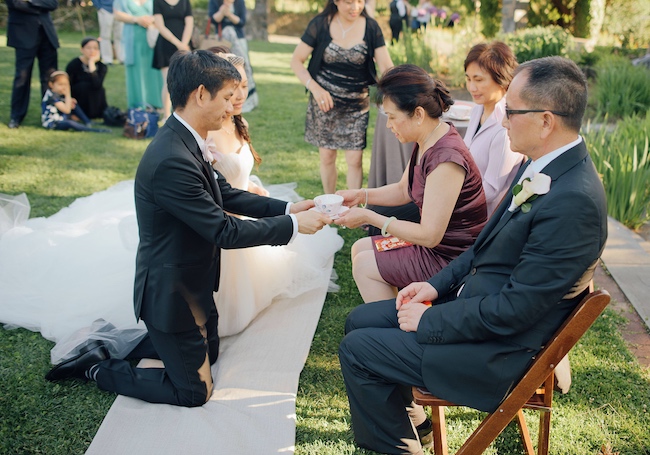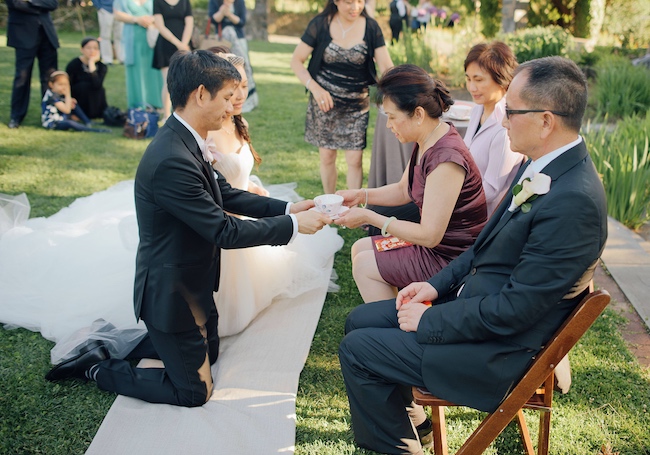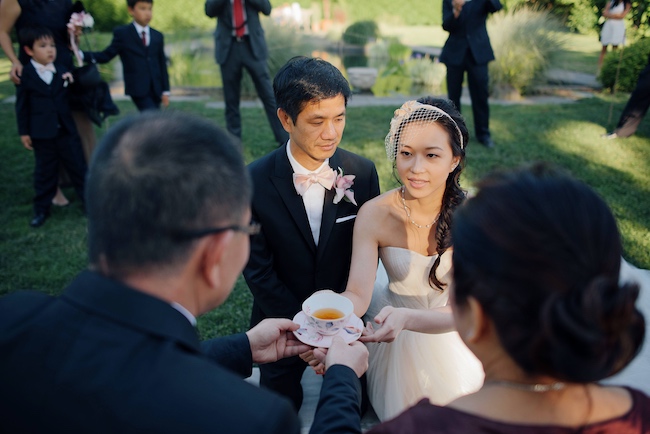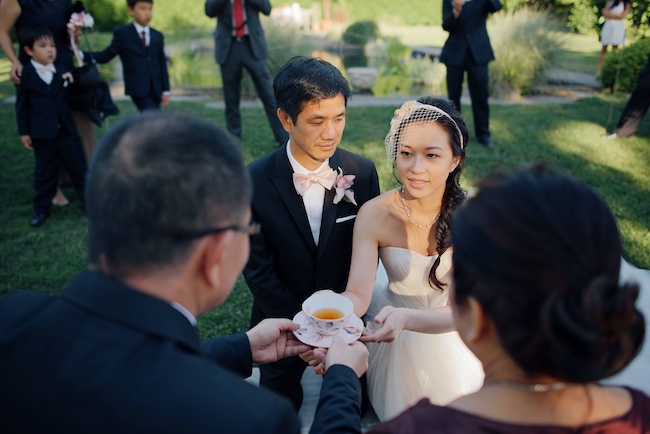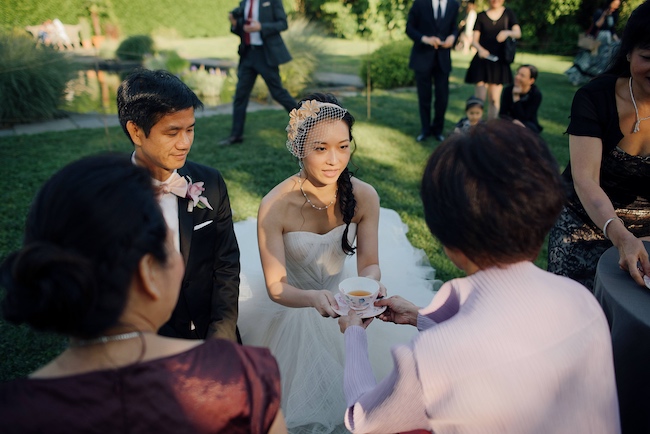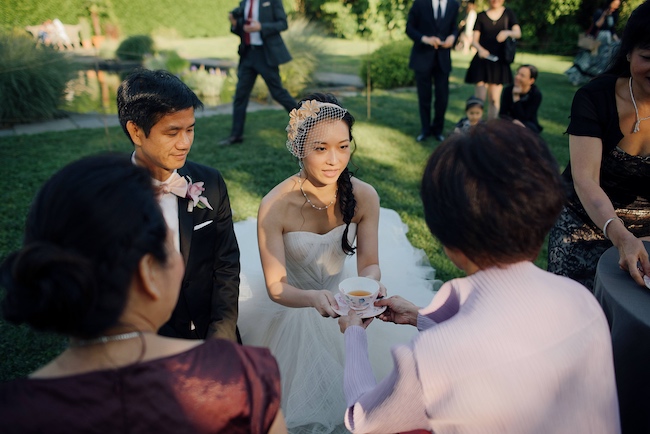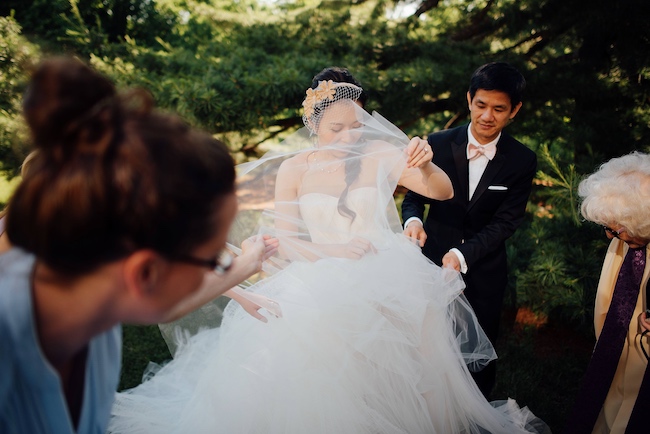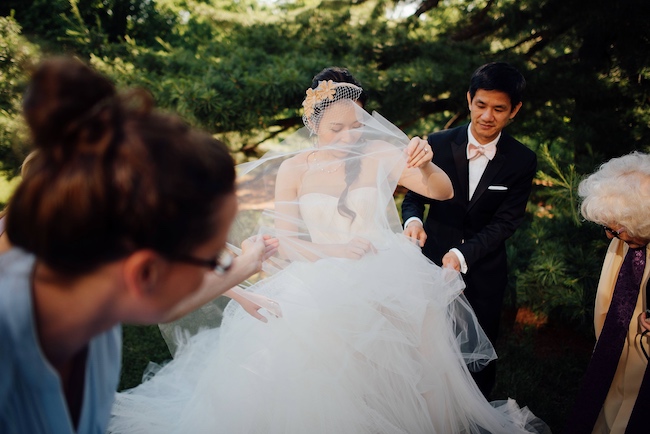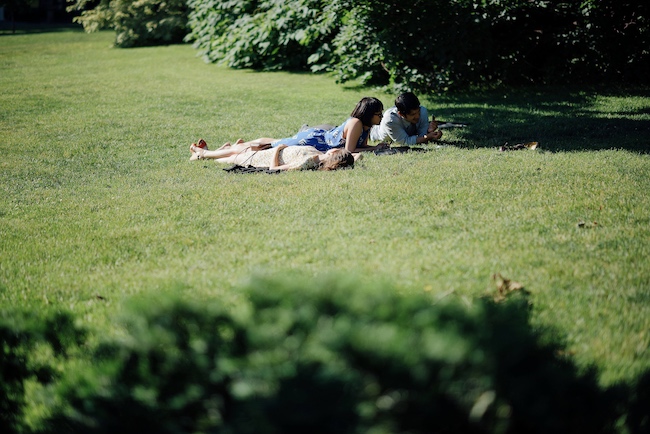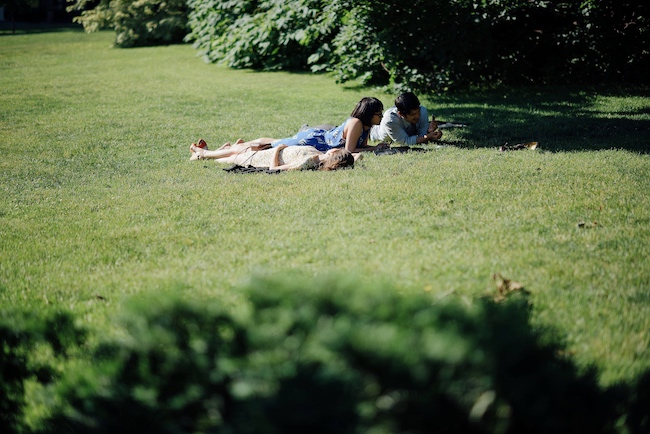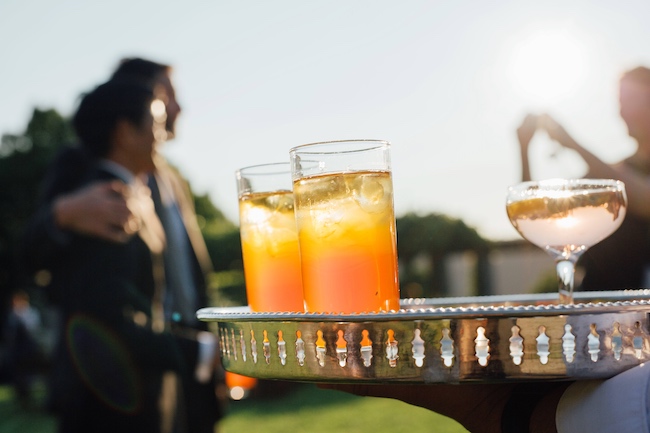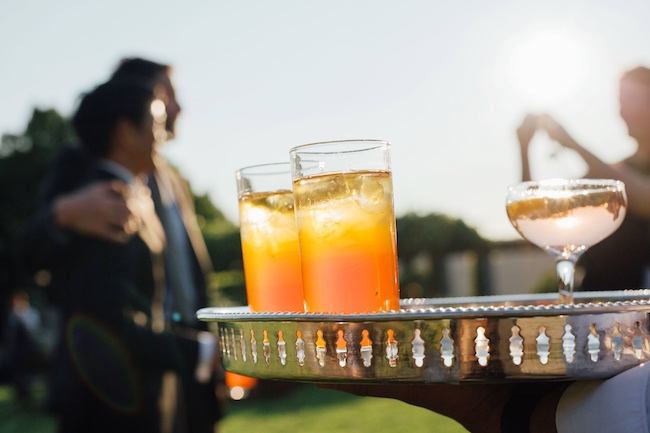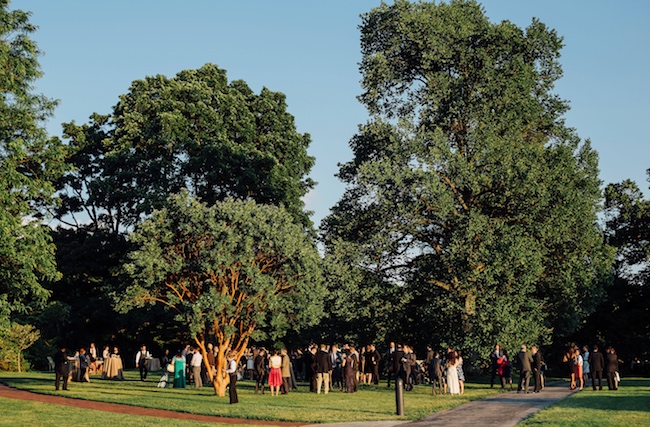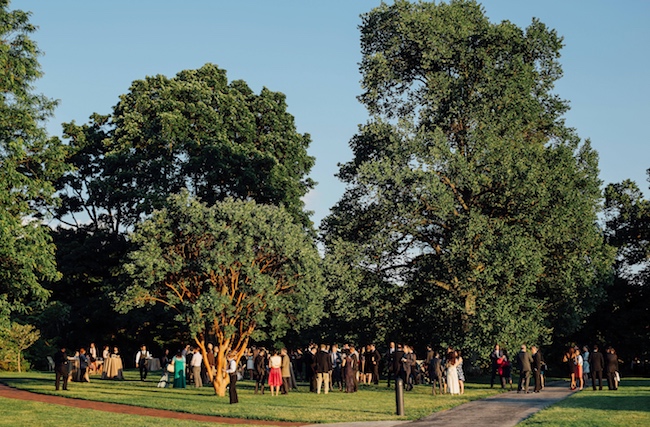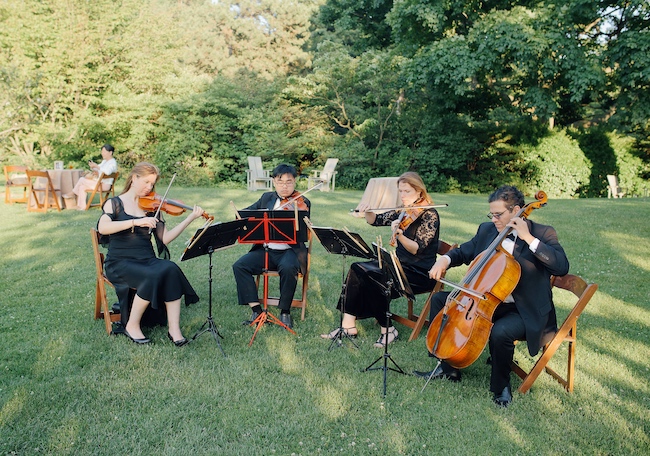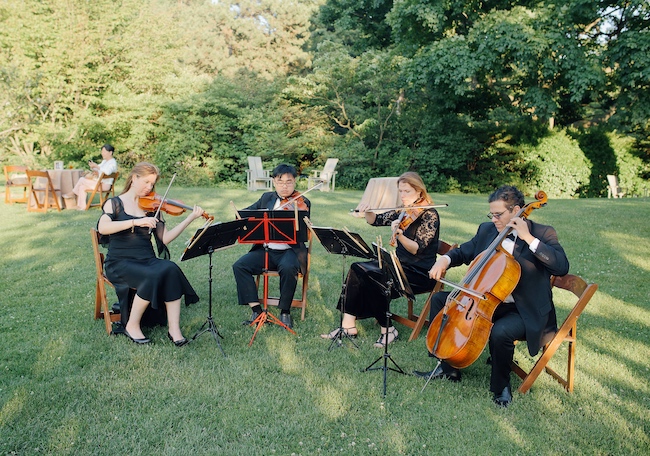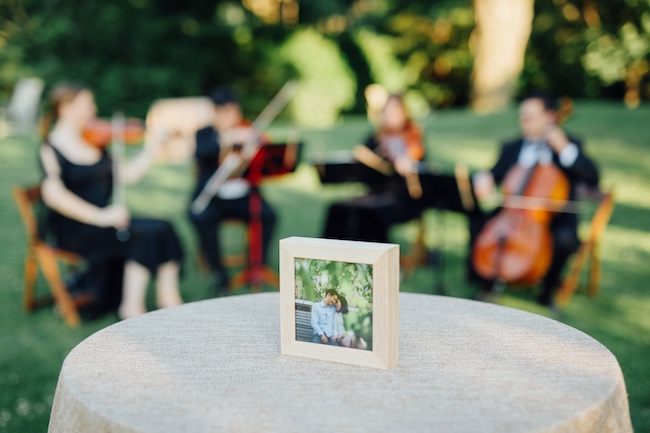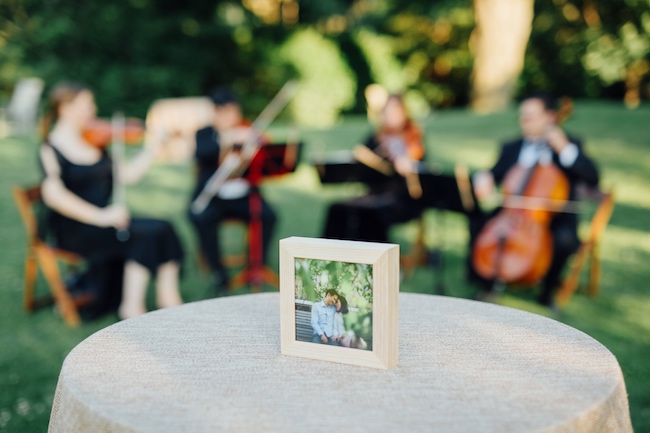 "The main ceremony was minimally accented with garden flowers since the Great Lawn was already so beautiful. We were married by the Pergola Overlook overlooking the Hudson River. Venus Ensembles played all the songs we meaningfully selected and even had a vocalist sing the words ."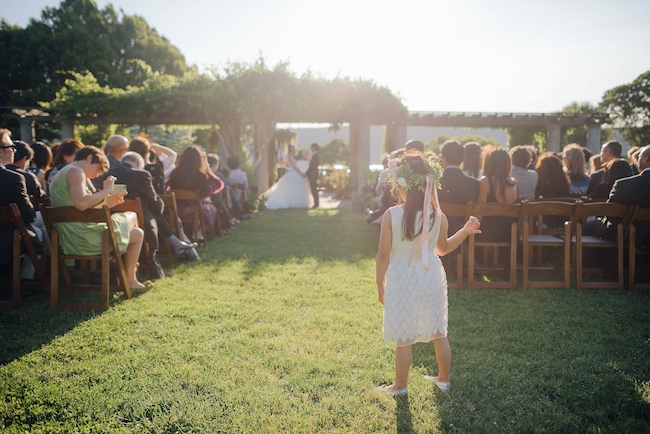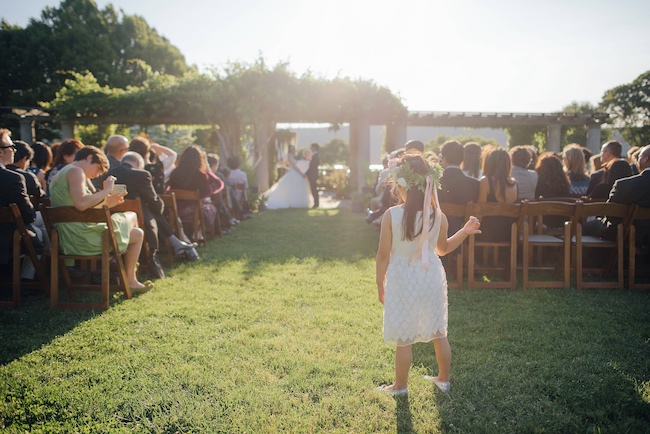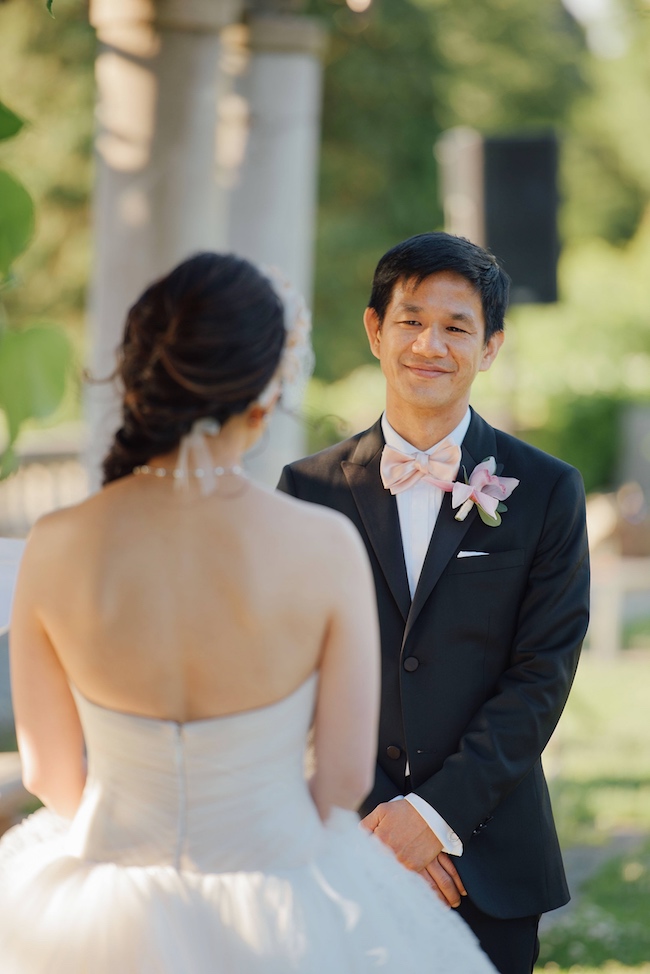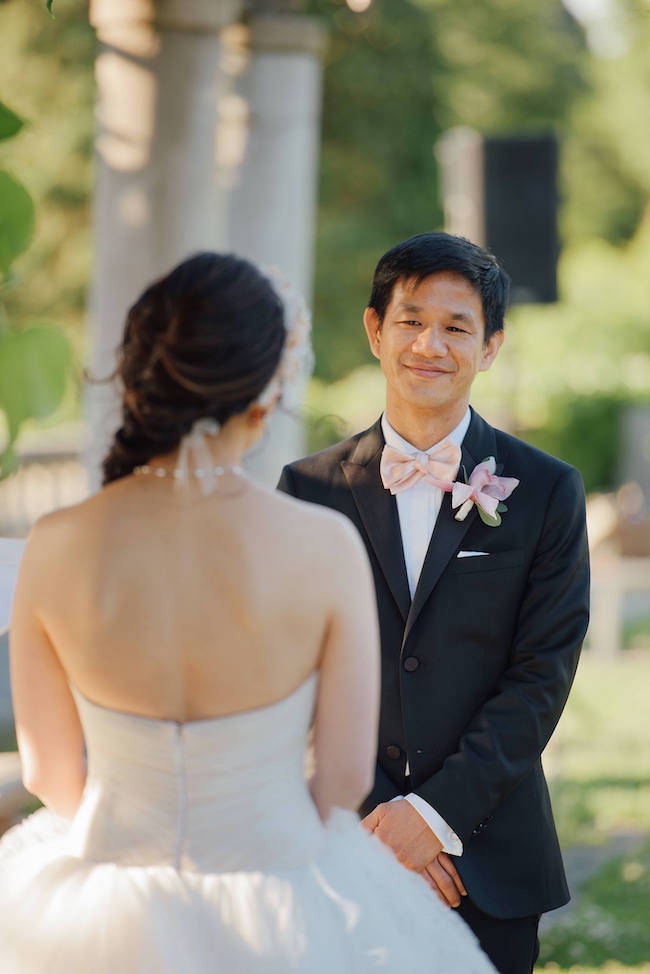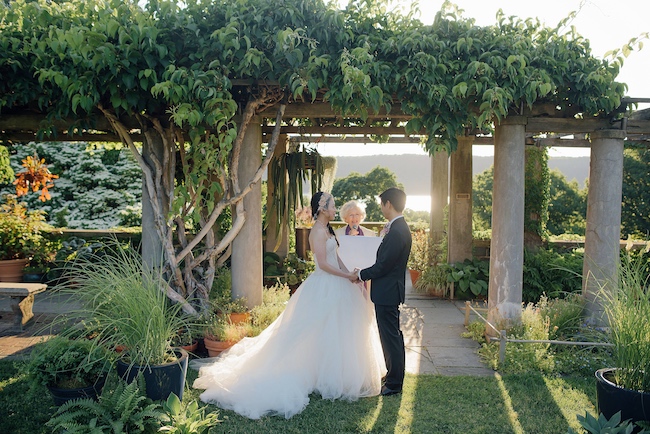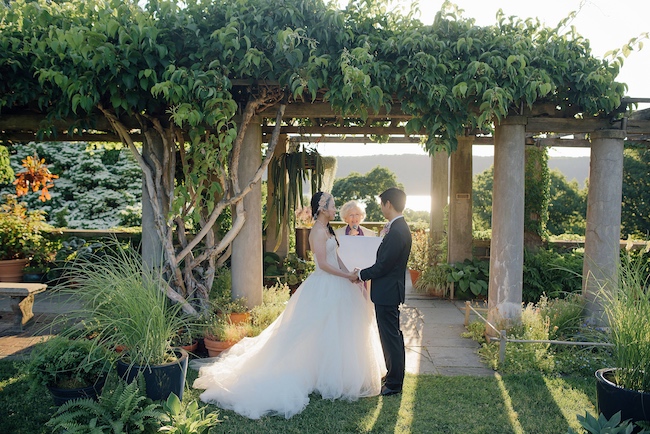 "When you think about the number of events that had to occur in order for this day to happen, it seems like improbable coincidence. The Chinese have a concept called yuan fen for which no direct translation exists in the English language. It is a combination of destiny, tried-and-true effort, and a bit of luck.
Simon's mother had an improbable journey to the US where she met Simon's father. If Simon's father hadn't been a Woody Allen fan, Simon may have never fantasized about Manhattan while growing up, and perhaps never would have made it to New York.
Diane, on the other hand, grew up in Brooklyn and traveled west. After finishing her degree, she could have taken a number of different paths, but due to a series of unforeseen events ended up back in New York.
There are eight and a half million people in NYC. Simon and Diane did not know anybody in common. They lived and worked in different boroughs, and in different fields. But one fateful day three years ago, they both met at the Whole Foods in downtown Manhattan. Diane was looking for bucatini, and Simon noticed a cute girl standing in the pasta aisle. That was the beginning of their yuan fen, the binding force that links two people in a relationship.
For Simon and Diane to arrive to this day, they must have both yuan and fen. They need "yuan," the serendipitous meeting of two people to create the possibility of lasting love, and "fen" the action of sharing and working toward that bond that draws them together."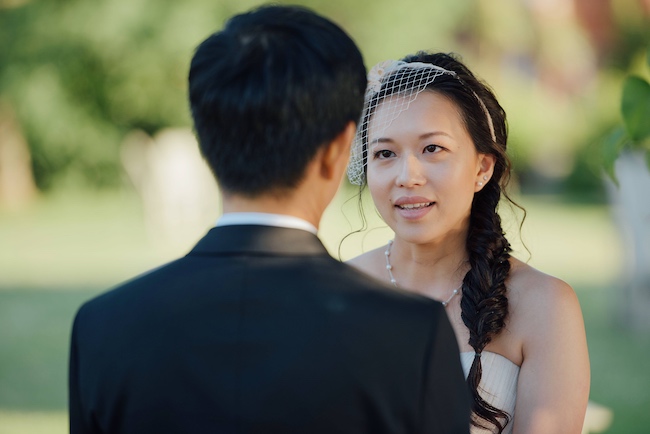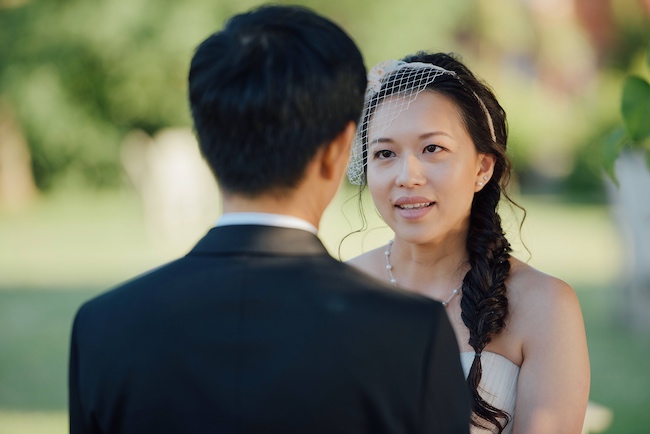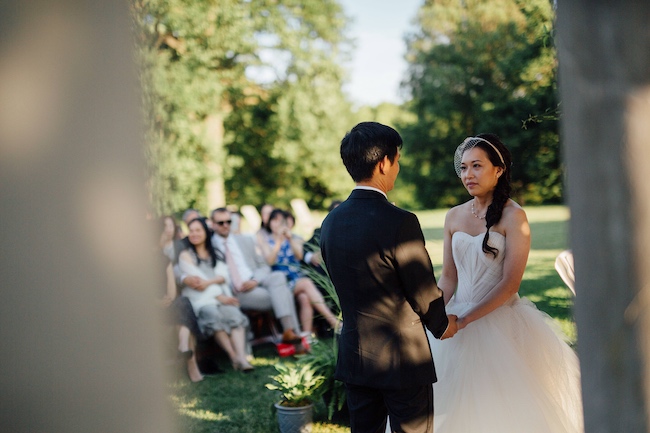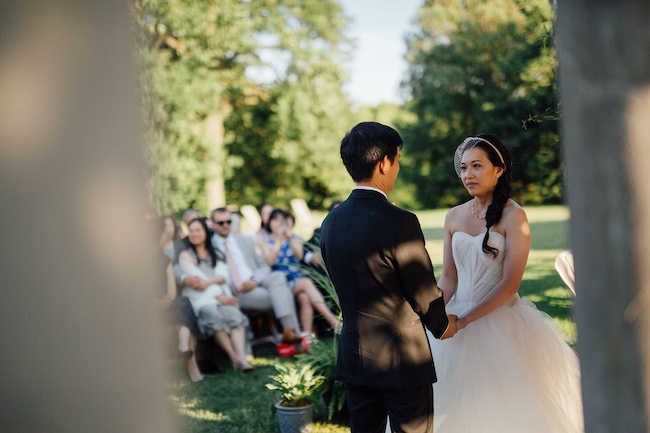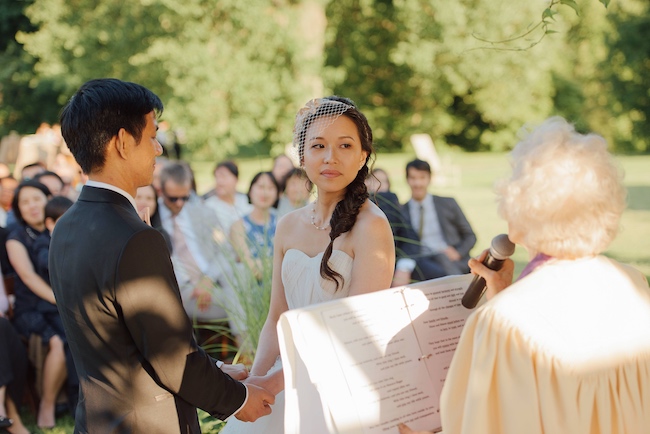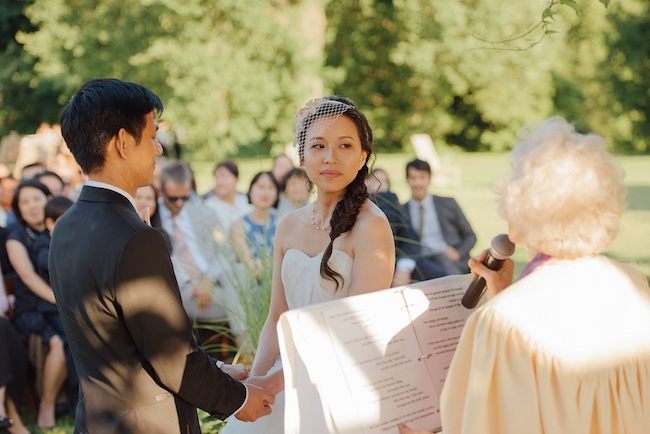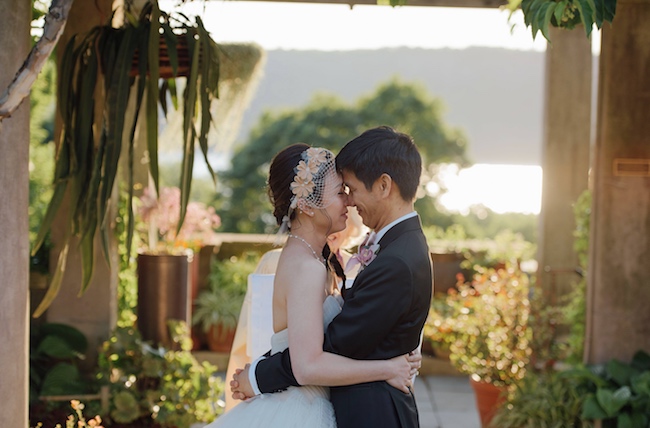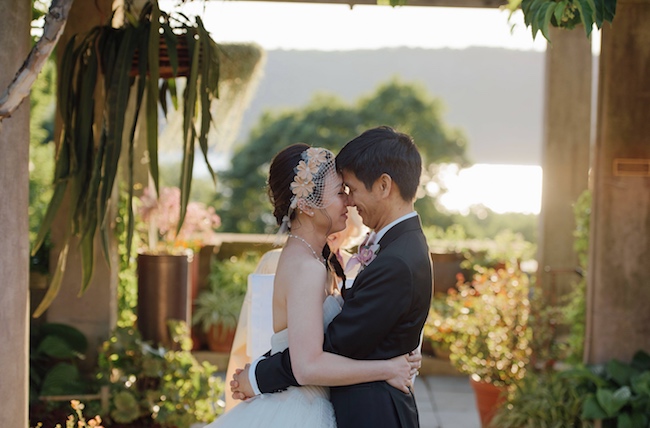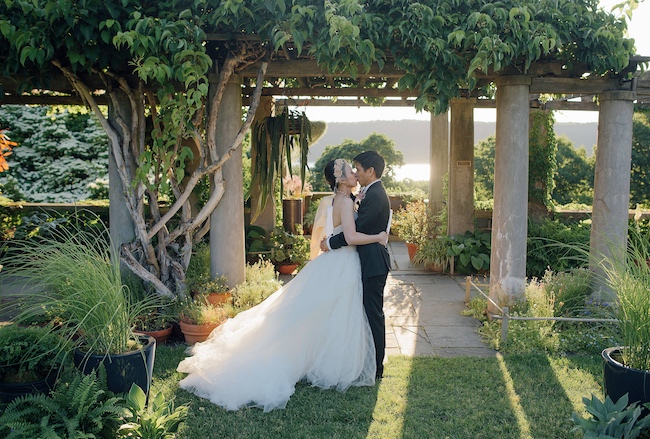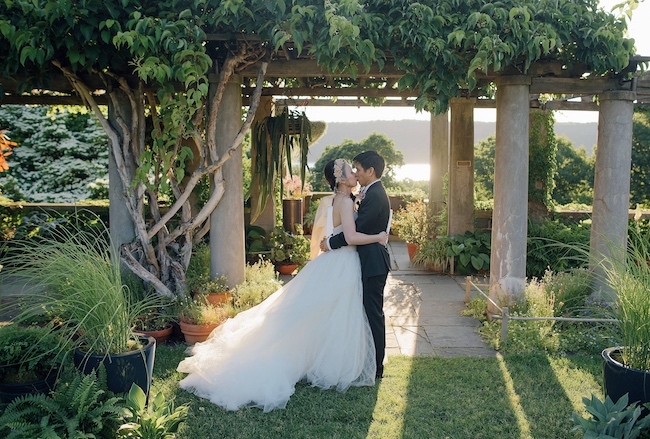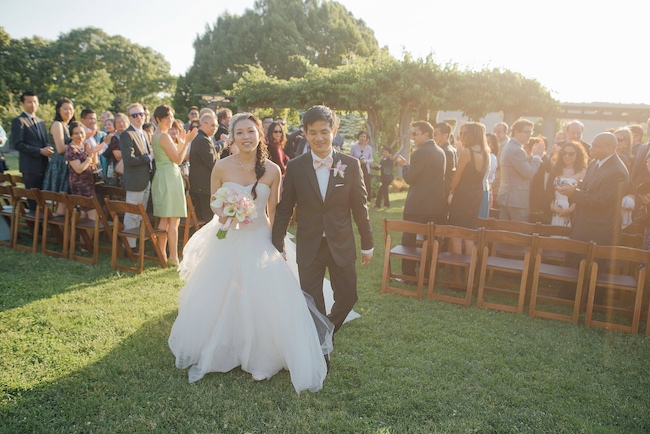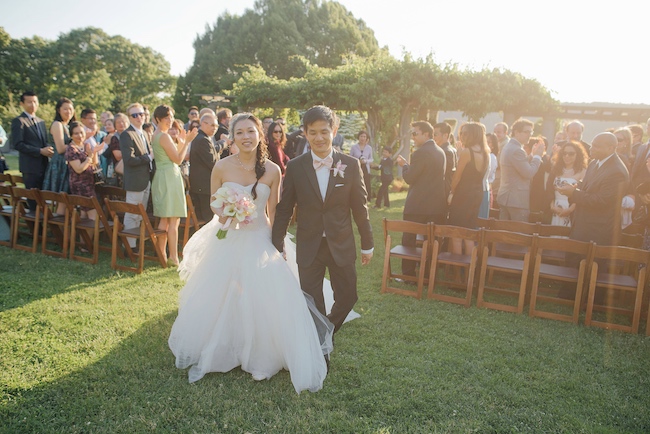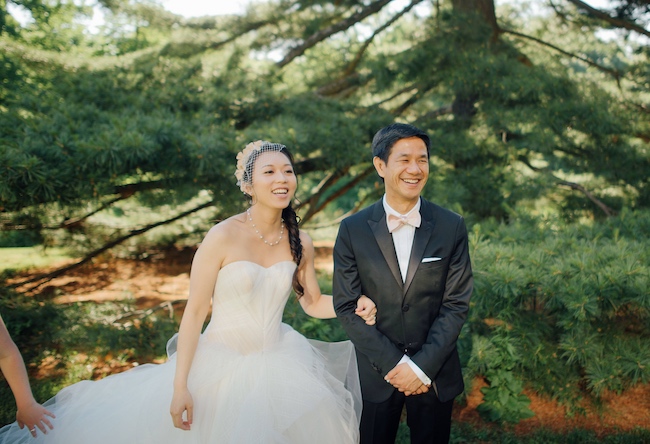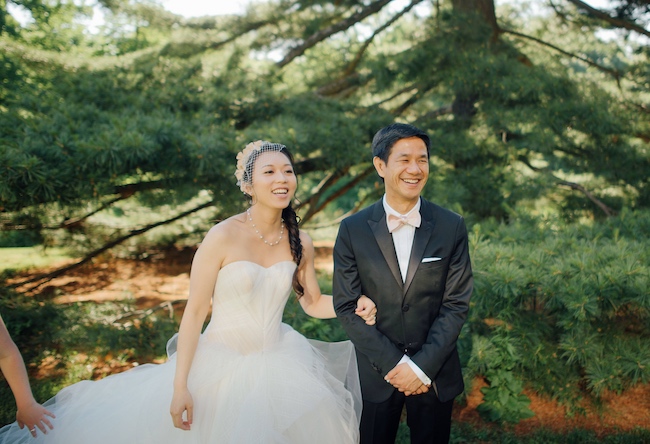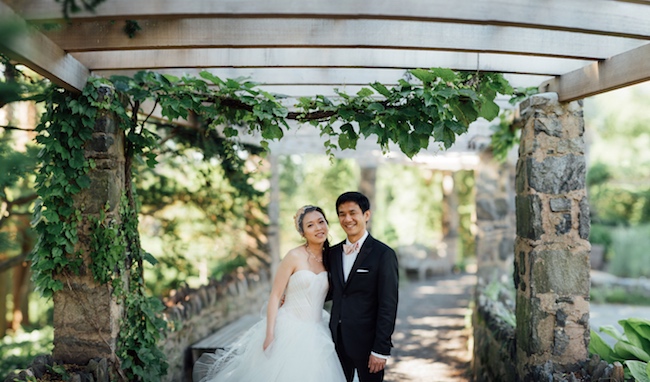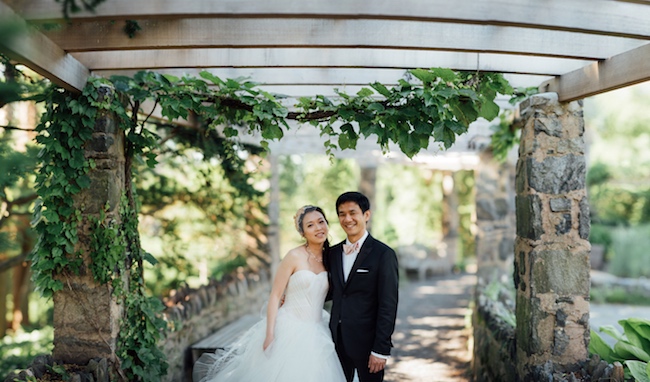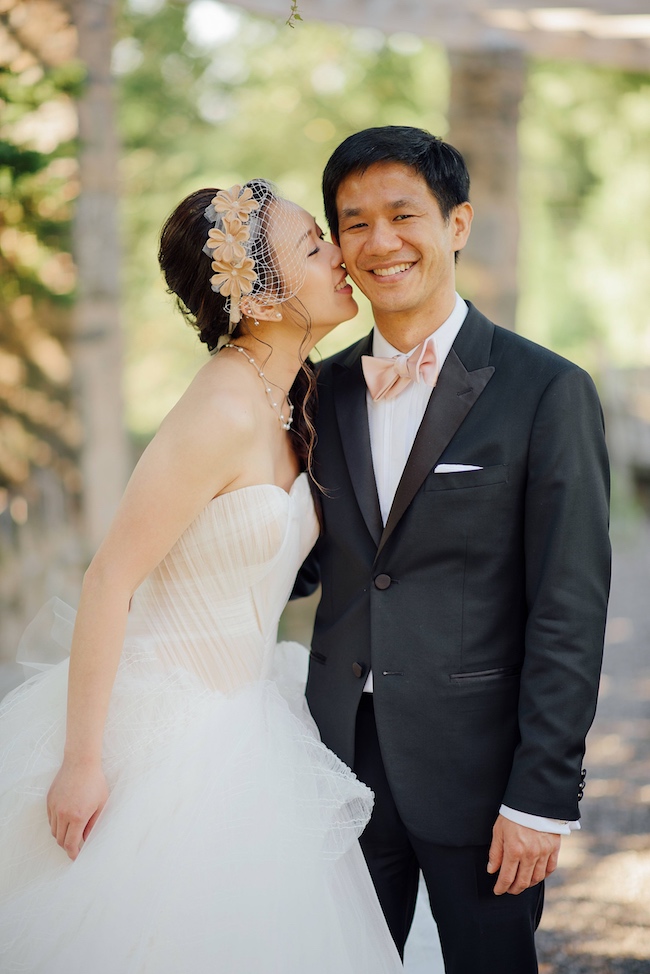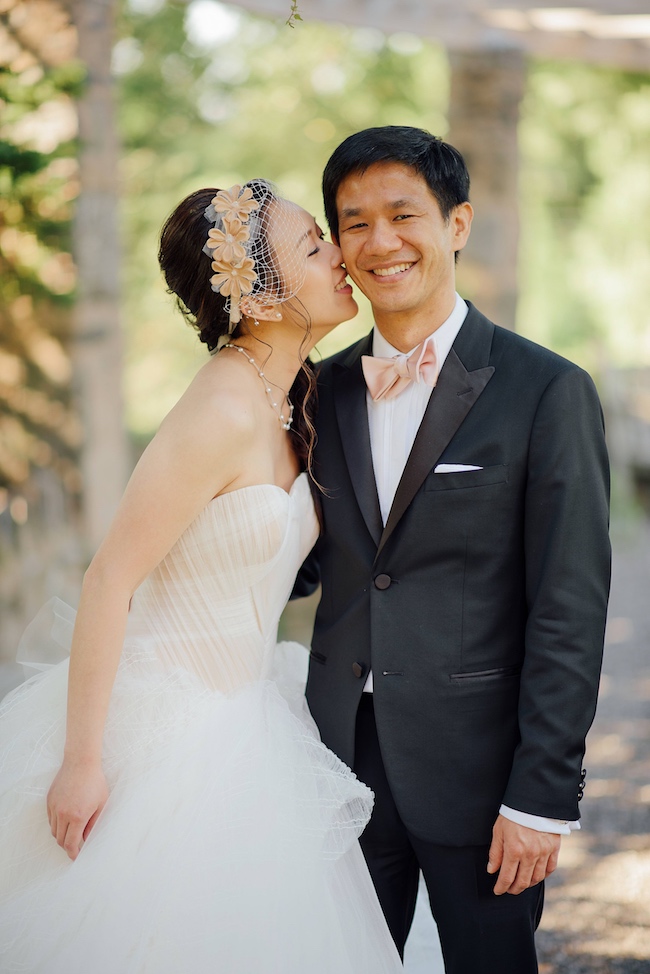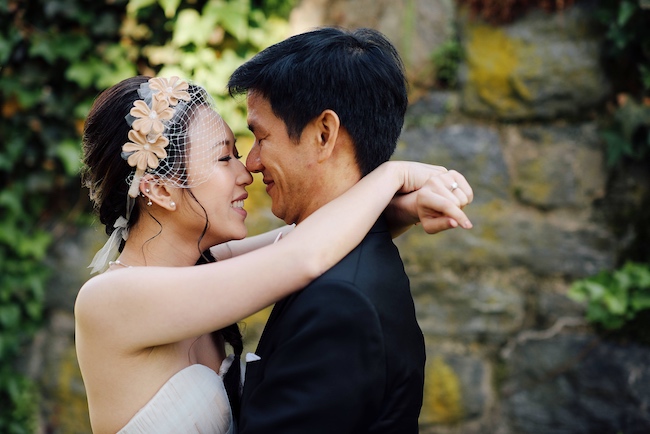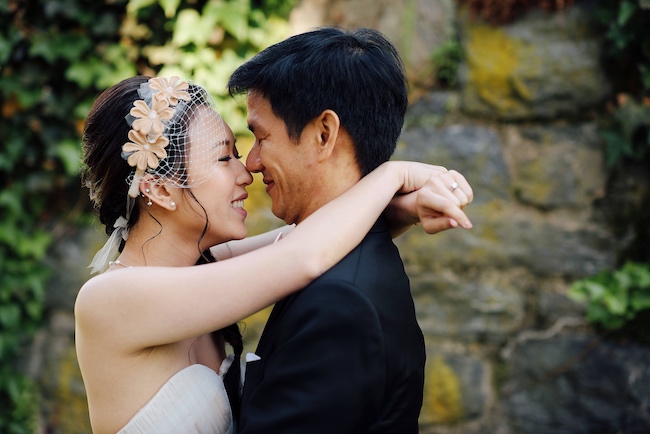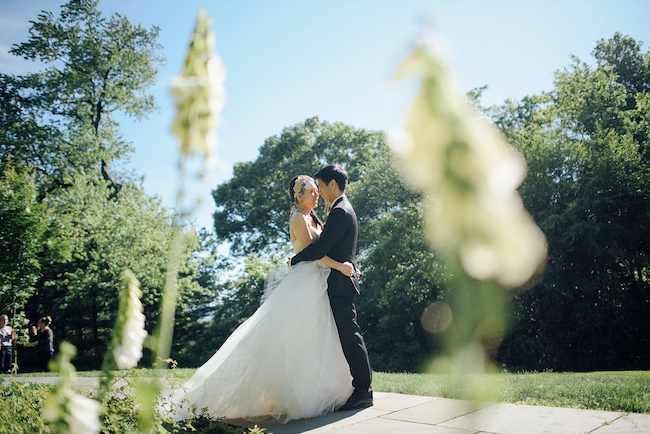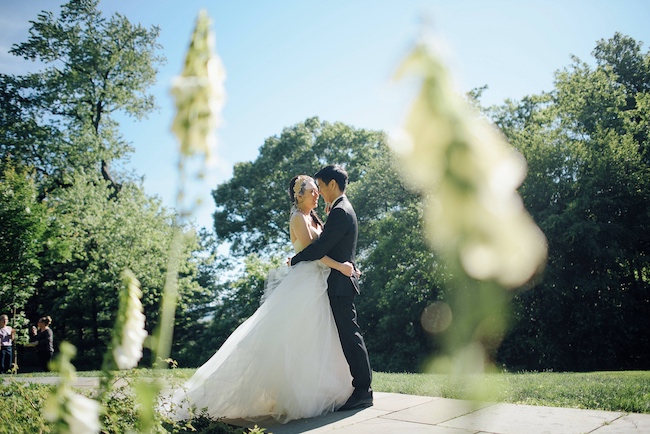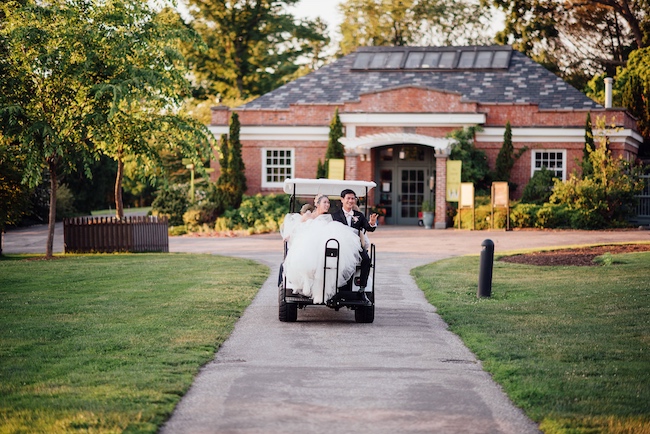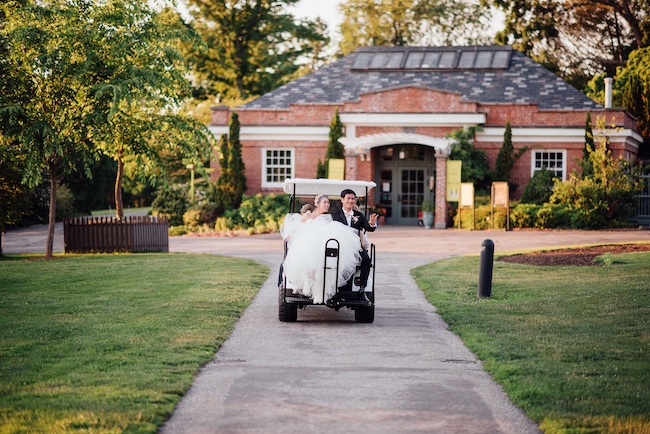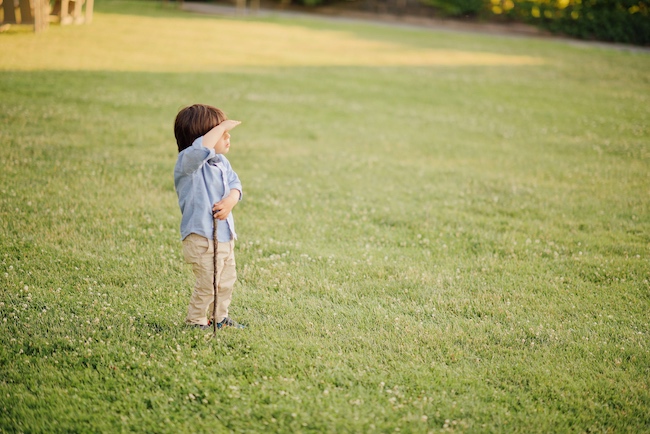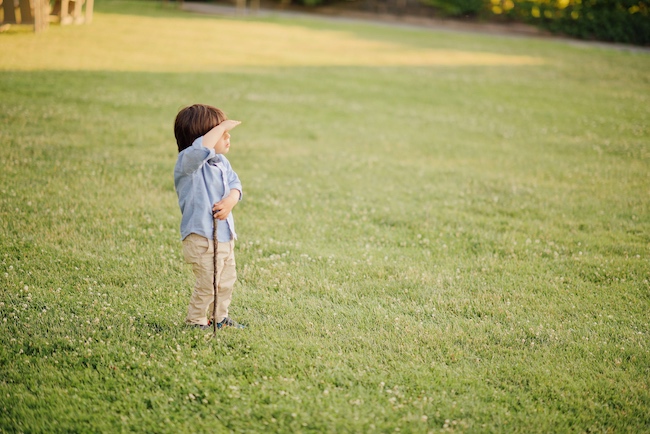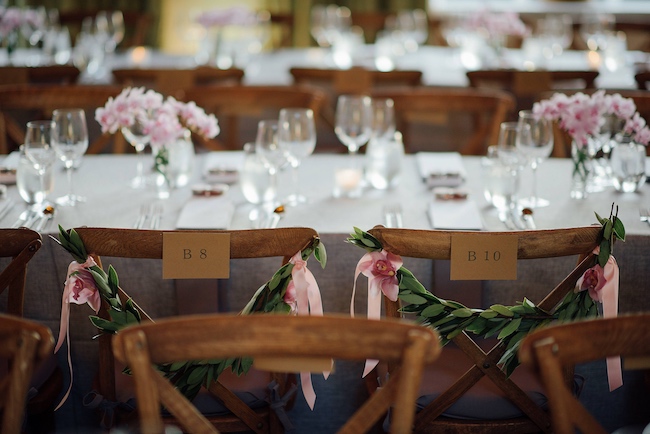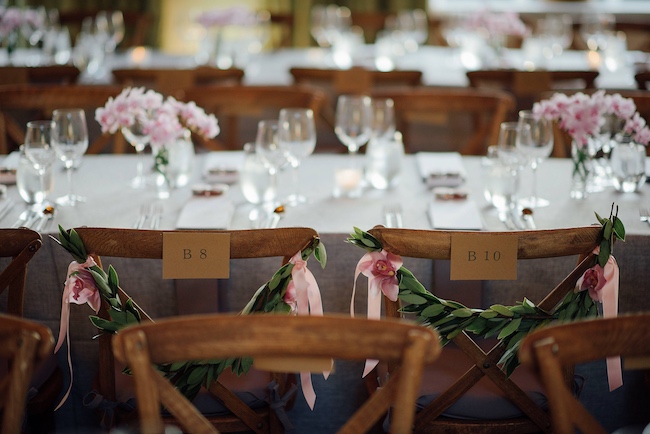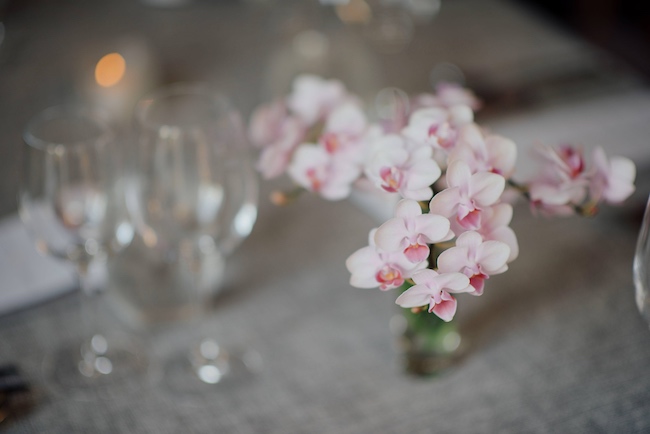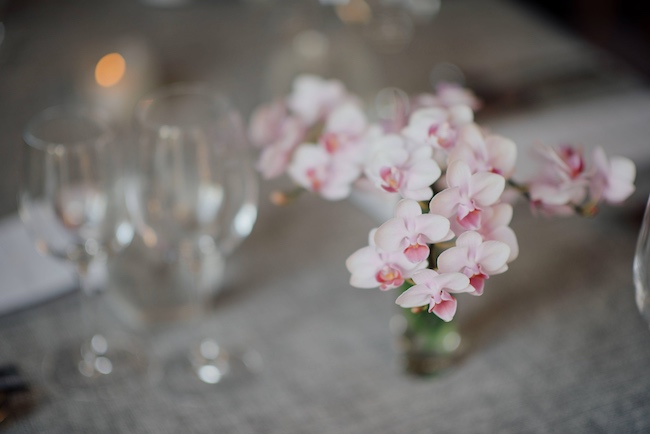 "I have always loved orchids because they are beautiful and unique, existing in so many intriguing varieties. Our bouquet and flower arrangements consisted of mostly soft pink cymbidium orchids to go with our color palette. Everything was beautifully arranged by Anne from Blade Floral."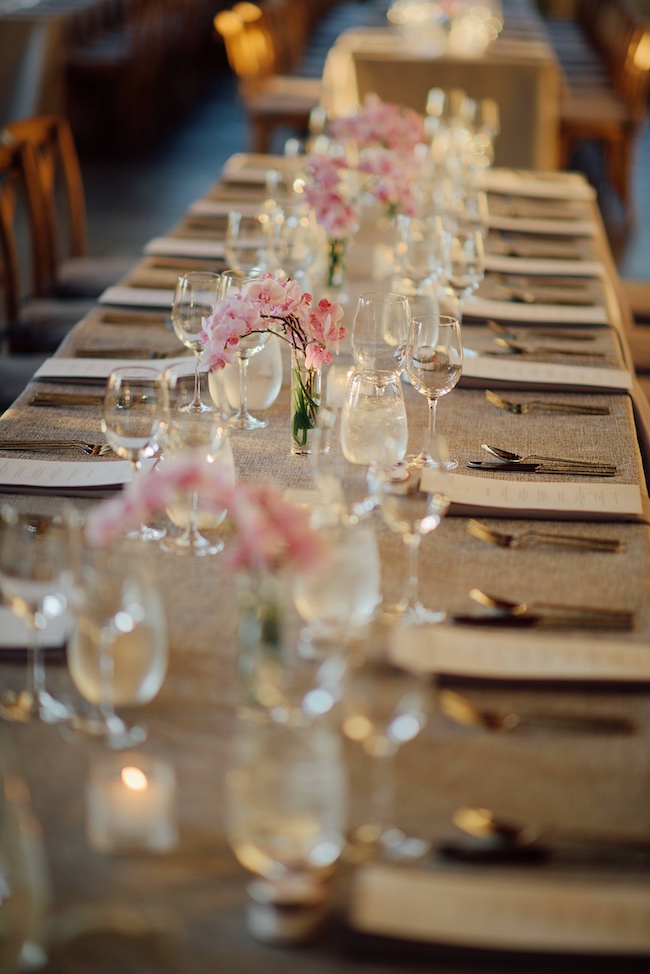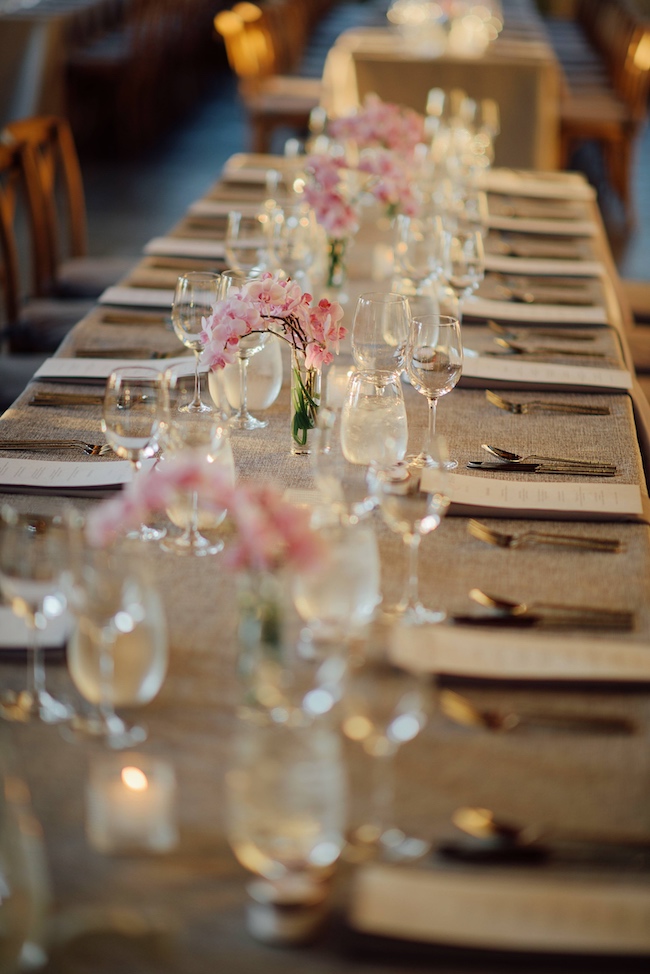 "We placed the favors, a duo of mini Alain Milliat jams, at each table setting. On the lids we put pictures of our bonded pet bunnies and around the jars we put the Chinese proverb, 'Good things come in pairs'."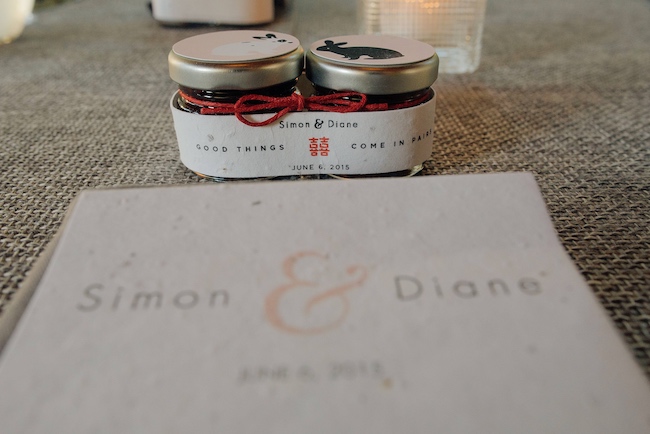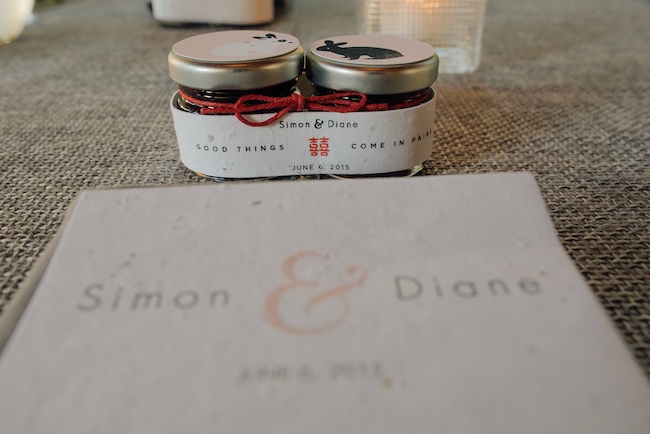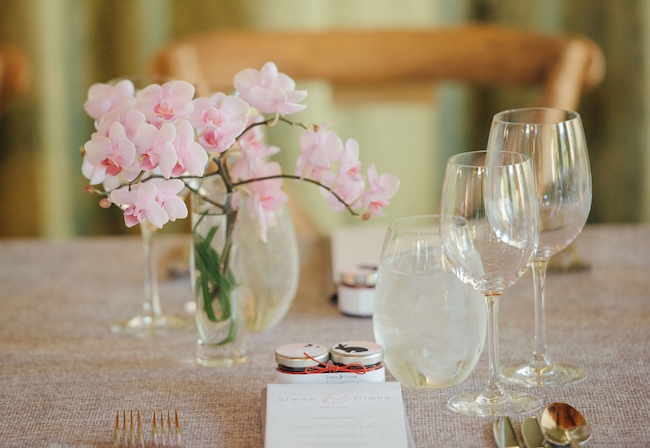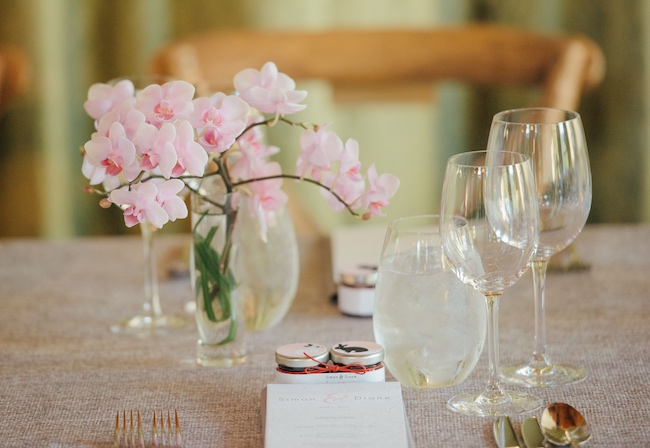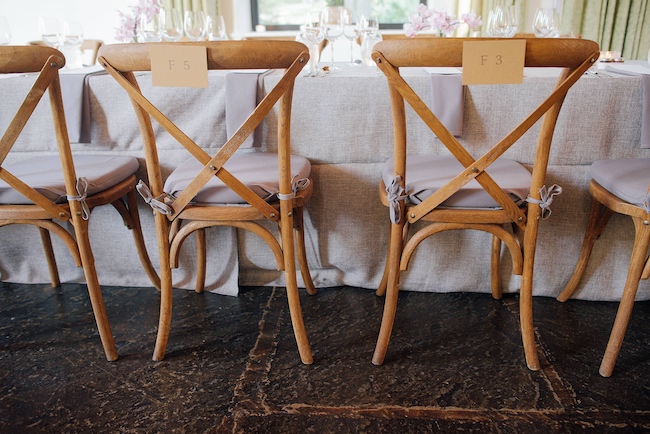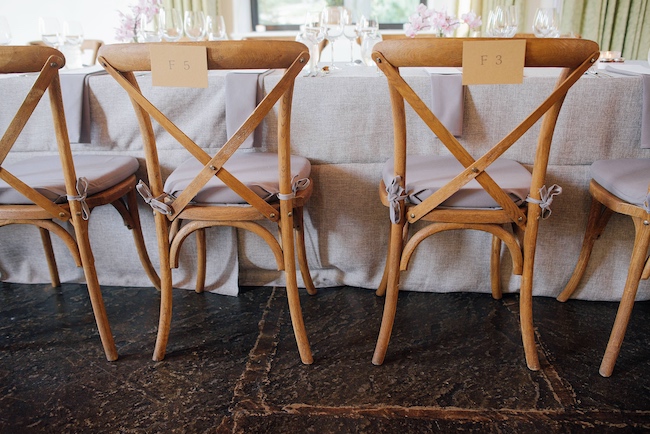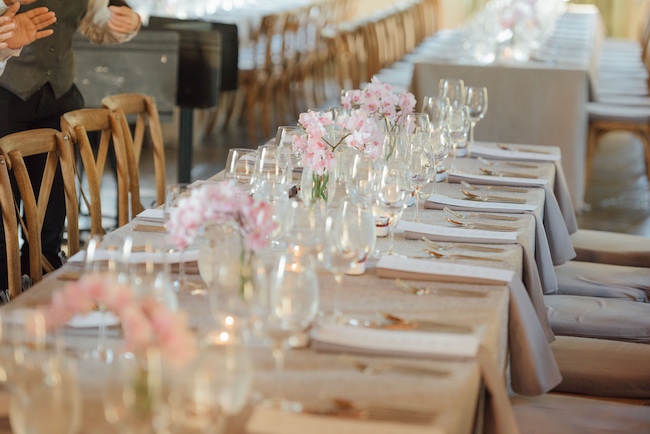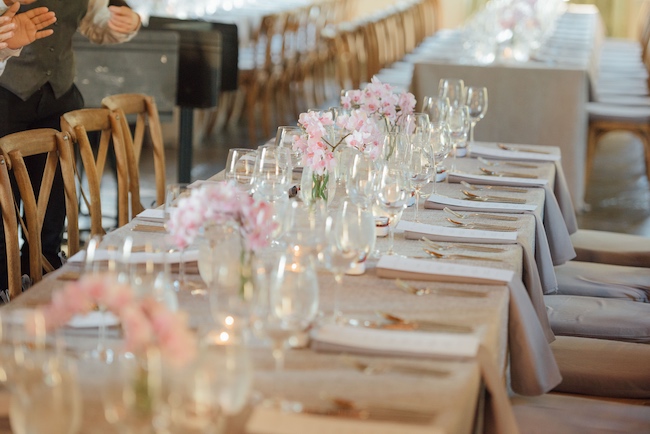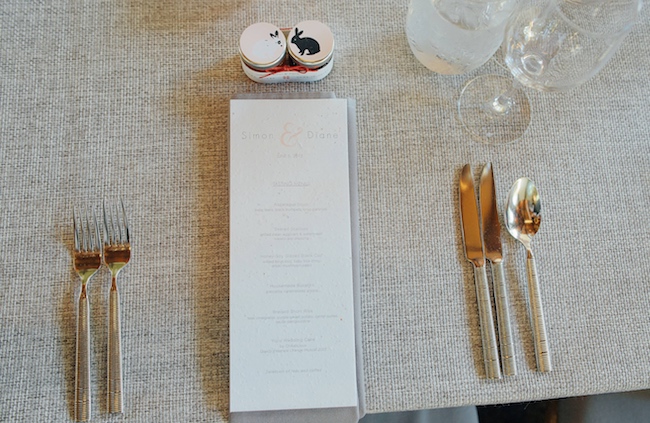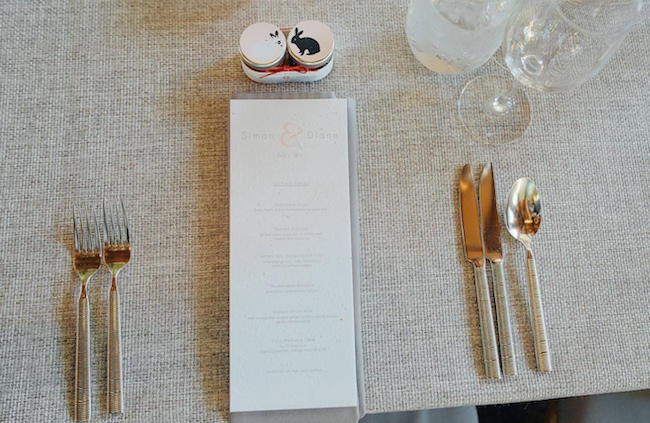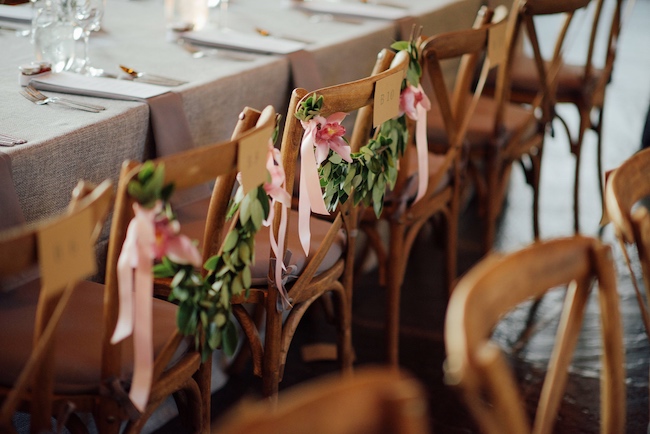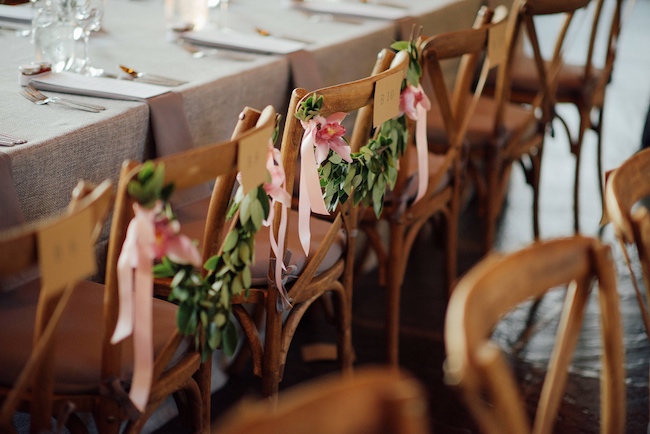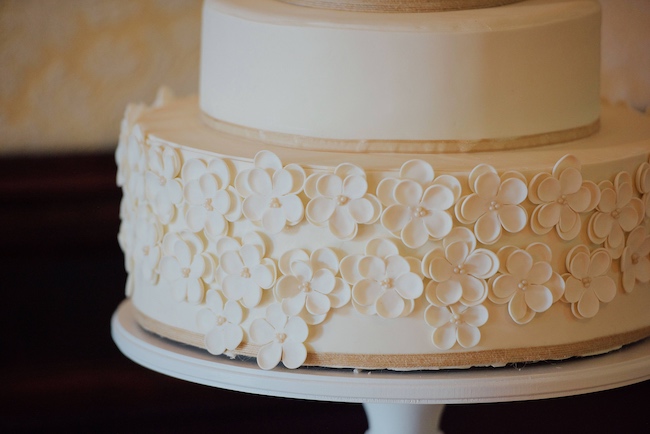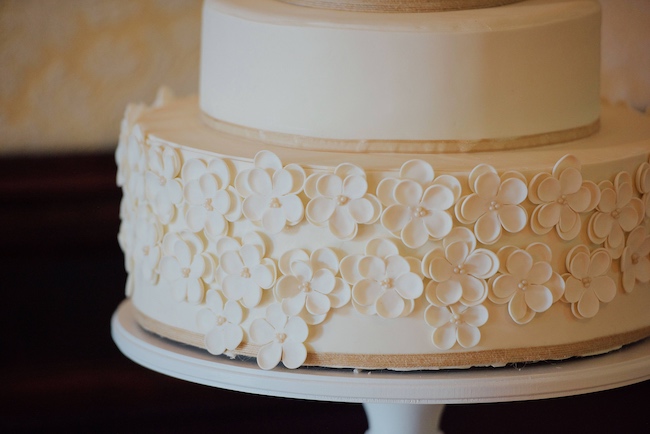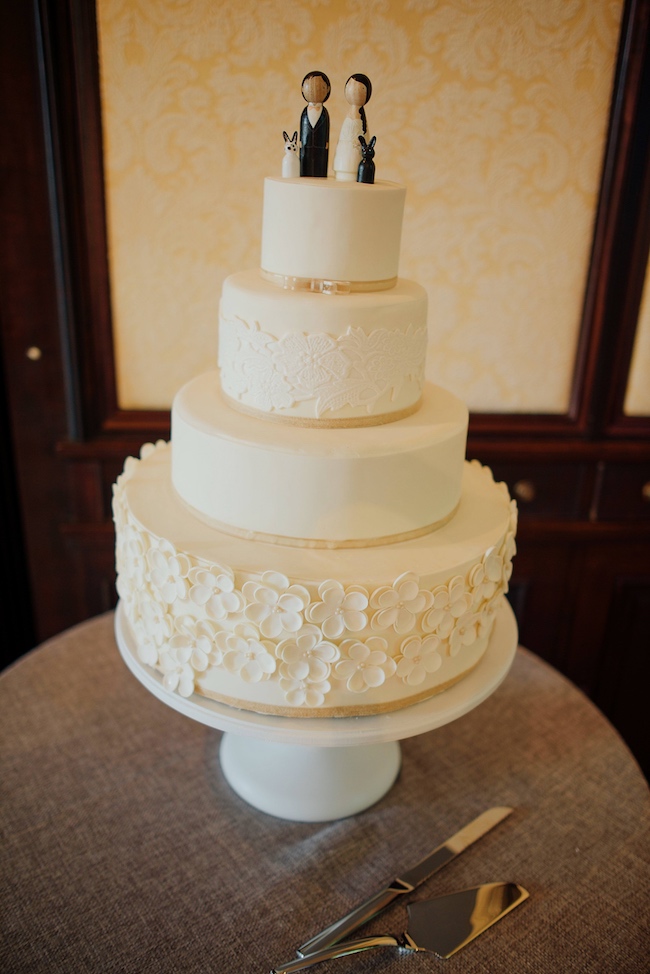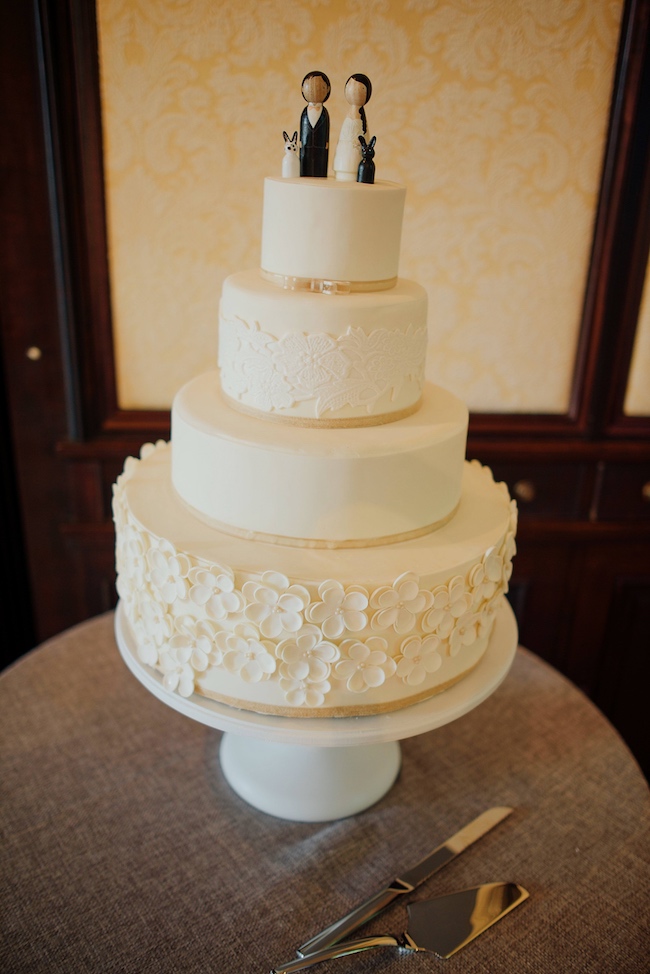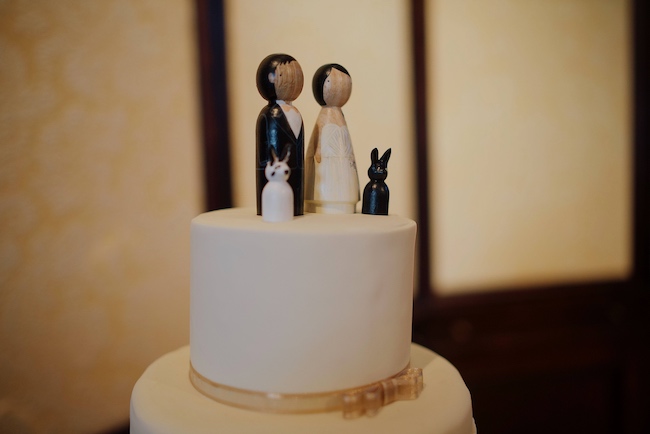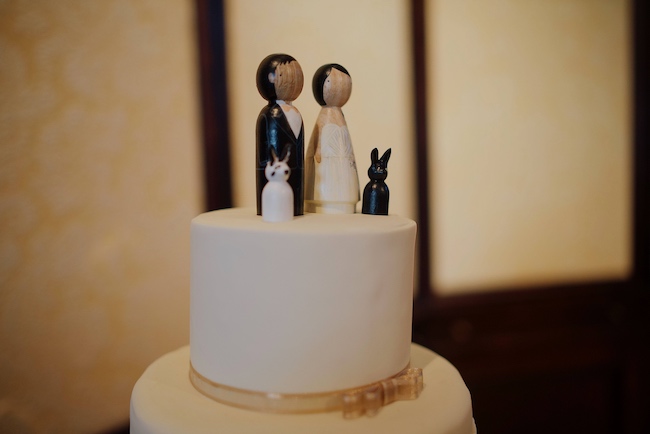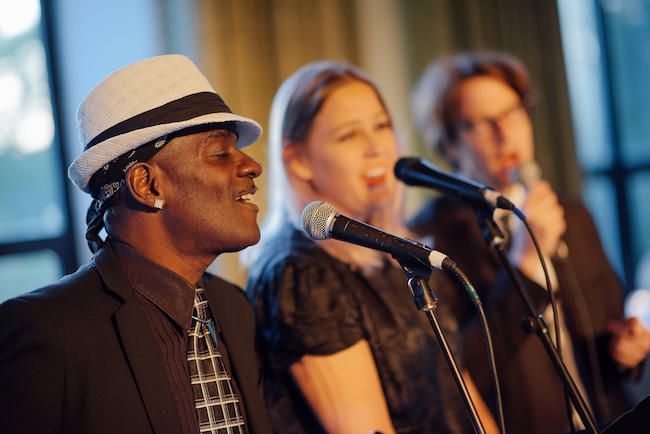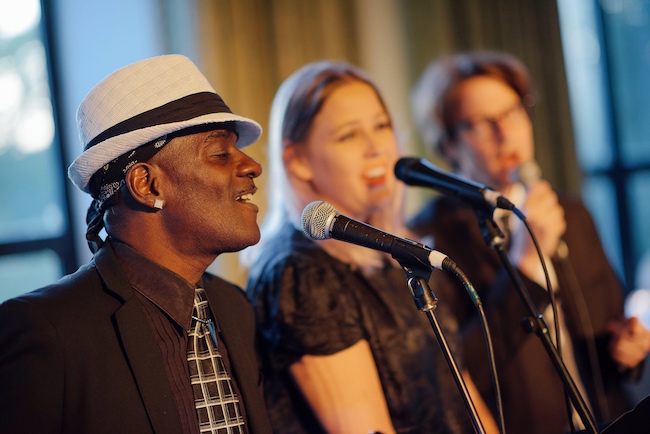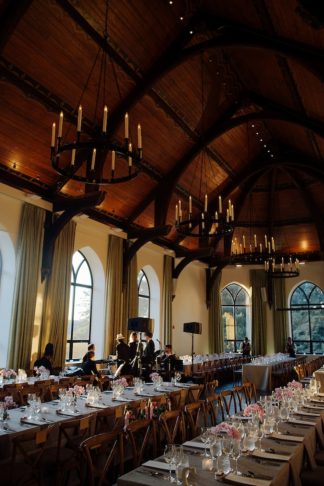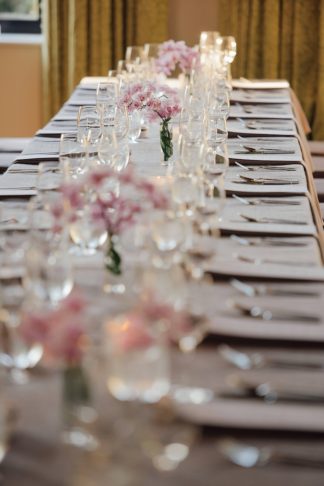 "My husband was trained as a classical pianist, so it was particularly meaningful to have his sister and her husband (both classical musicians) perform a cello-piano duet (Rachmaninoff Vocalise) as a musical toast as the guests entered the reception."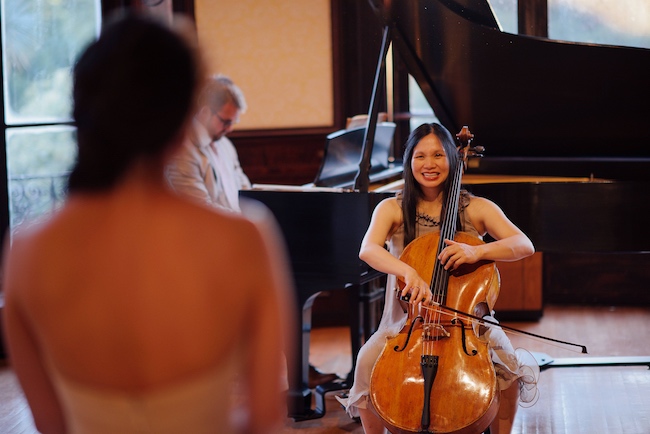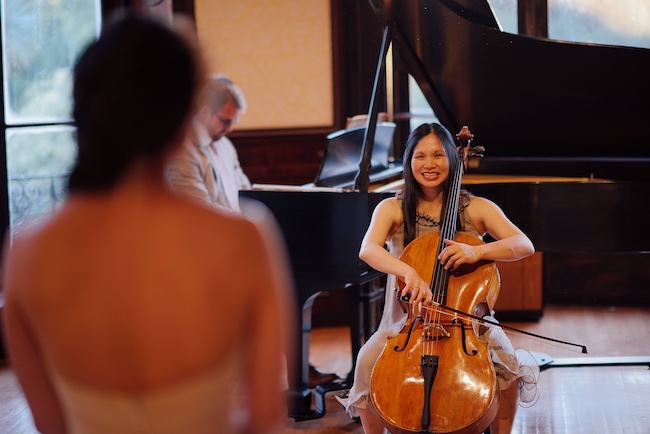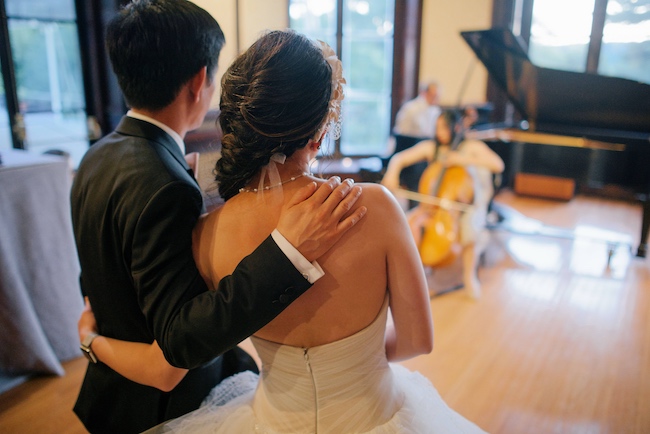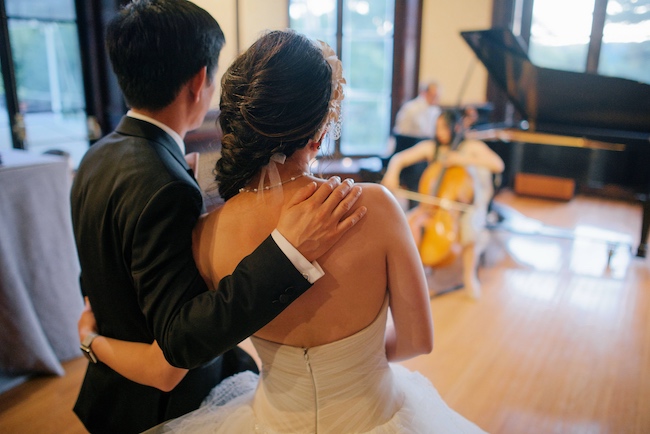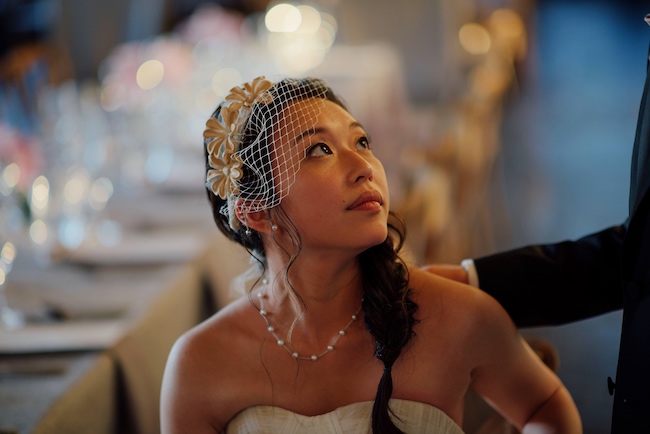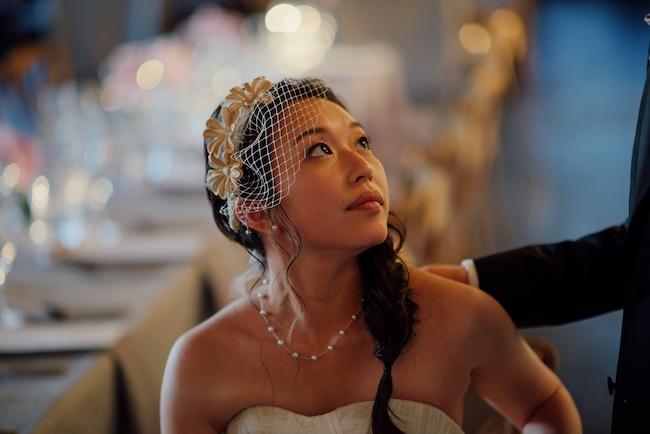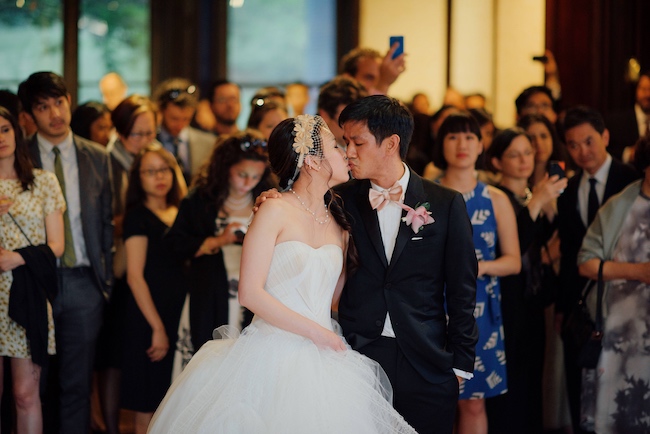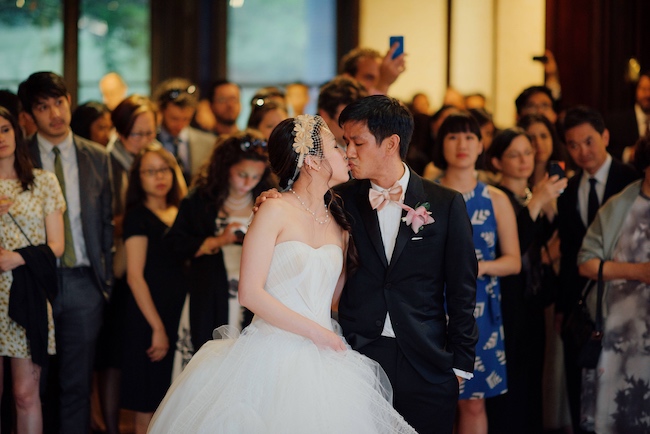 Outdoor Chinese Tea Ceremony Wedding in New York
Love Story: We met at the Whole Foods in the Lower East Side of Manhattan. At the time, I was standing in the pasta aisle looking for bucatini, a specific type of pasta they did not stock. Simon approached me with a question about how to choose pasta. We then struck up a conversation and discovered that we both have a passion for food. After several e-mail exchanges we started dating. Two years from the day we met we returned to the same aisle at the Whole Foods. Simon had hidden a ring inside a custom-built bucatini box with "Die's Bunny Bucatini" engraved on it. He asked me to see if I could find the same type of pasta I was looking for two years ago. At first I thought they started stocking bucatini, but then quickly realized the box was too fancy and it had my name on it. I opened the box to read the note inside (it was the sweetest note), but then accidentally dropped the rest of its contents. There, in a heap of scattered pasta on the floor, was a large diamond ring on top. Of course, I said yes.
Wedding Dress: I wore Vera Wang's Octavia dress, part of her Spring 2015 bridal collection. It was a sweetheart ball gown with ivory French tulle criss-crossed over a nude bodice and an ivory tulle overlay skirt. The skirt had many transparent layers of soft and stiff tulle, and some whimsical pieces revealing a grid-like plaid pattern as the dress moves. Right away I fell in love with its combination of playful elegance and edginess that perfectly fit my personality. After trying on a few dozen dresses over two months I always came back to this one.
Hair and Make Up: My hair and make up was done by Flora Kay, a celebrity makeup artist from London and Hong Kong. I had a romantic messy fishtail side braid. My make up palette was nude pink and warm silvery gray to complement the decor. I wanted a look that was effortless and natural for a garden wedding.
Bridal Party: We decided not to have a bridal party because we wanted a more casual, less structured wedding. We did have a flower girl and ring bearer who walked down the aisle after the groom. My pseudo- maid of honor flew in from Paris and supported me throughout the wedding and my husband's pseudo- best man did the same for him. We requested they wear whatever they choose and did not color coordinate.
Groom's Attire: The groom wore a modern tuxedo with a Burberry shirt, blush pink bow tie, and Tiffany XO cufflinks.
Wedding Reception: We arranged a number of long tables in the reception hall around a central area for dancing and the band. We sat in the middle of all the guests. The setup was designed to encourage conversation and mingling. The decor of the reception was rustic modern. The tables were covered with a light grey rough linen tablecloth and lined with a row votives and mini vases containing small pink orchids down the middle. Our menu was printed on plantable seed paper, same as the invitations.
Wedding Playlist: Our wedding playlist was a combination of mostly 80s music and Motown, with a few other oldies sprinkled in (e.g. BeeGees How Deep is Your Love). We were lucky to find an amazing band (the Engagements) who specialized in these genres, as well as a string quartet that played some of these songs before and after the ceremony. Our first dance was to Adele's version of Lovesong, since The Cure was one of my favorite bands growing up. The Engagements concluded the evening with "Just Like Heaven" by the Cure.
Wedding Advice:
A good wedding planner will positively transform your wedding experience. We interviewed several planners before deciding on Michelle Elaine Weddings. Michelle came highly recommended to us by a friend of my husband's and she went above and beyond to ensure our wedding was everything we wanted it to be. Even our photographer commented on how calm I was on the wedding day, and I'm the type of person that freaks out at any sign of imperfection.
You will have to make compromises with what to spend money on. Spend less on the things that don't matter as much (for us it was the decor, flowers, hair and makeup), so you can splurge on what matters most (for us it was the venue, food and the band). Having a wedding planner certainly helps balance the budget.
Wedding Vendors: