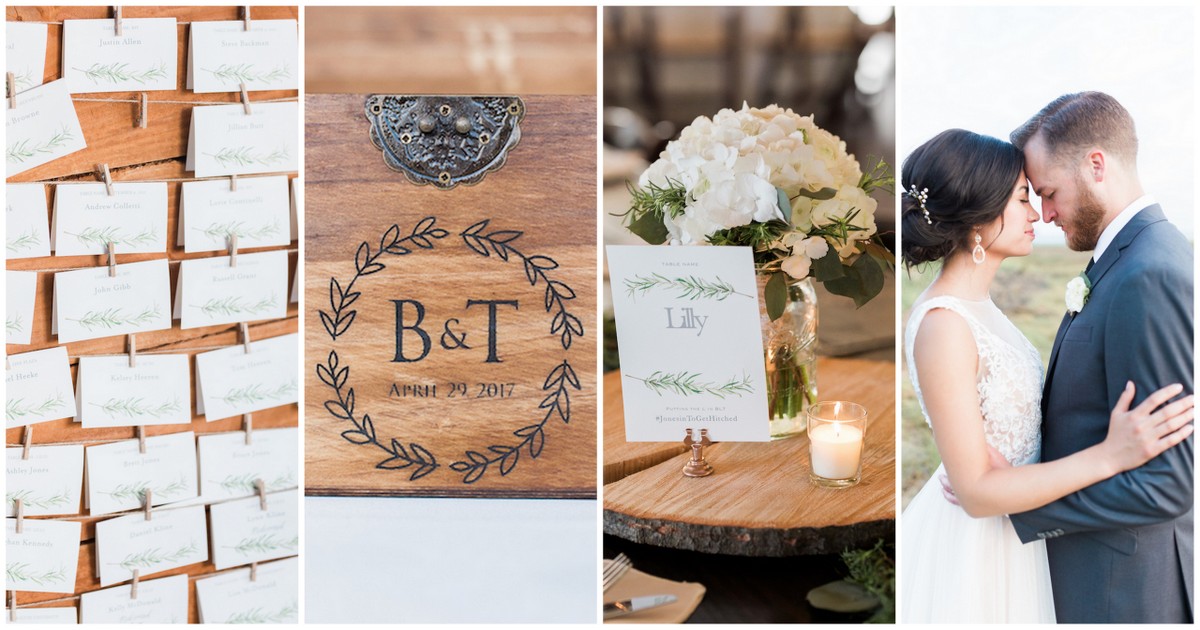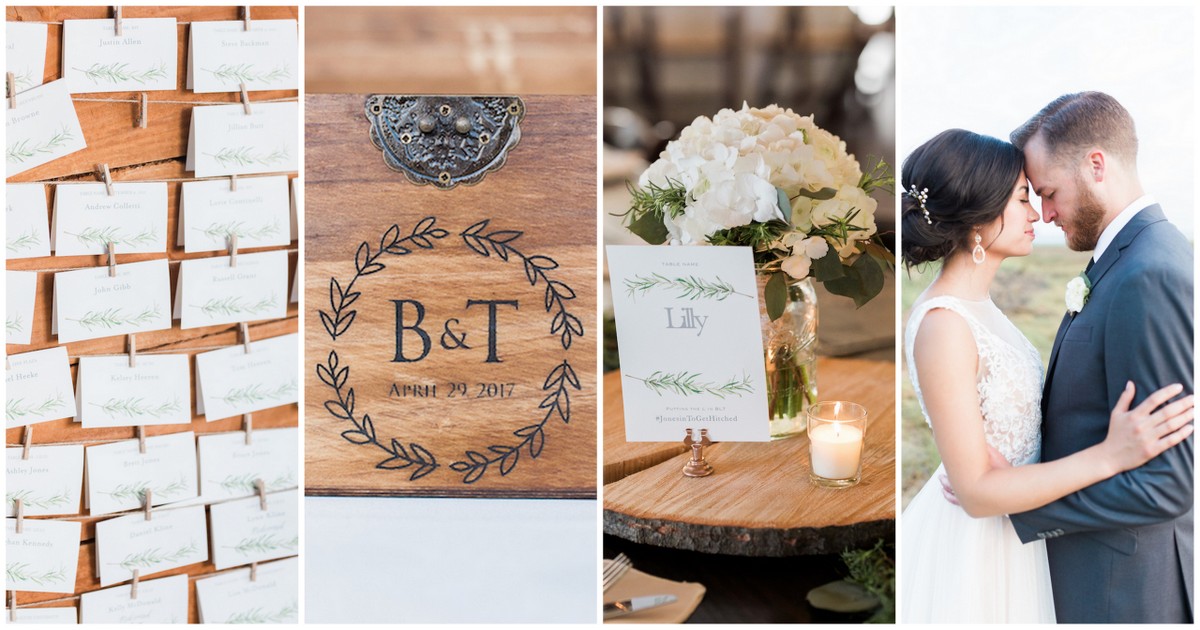 Brittany and Trevor's organic wedding with rosemary details was simple, elegant and minimalistic – with a foodie twist! Brittany is a registered dietitian, and the foodie couple loved the idea of incorporating rosemary and herbs into their wedding. What a gorgeous take on the greenery wedding theme!
Table runners were made of eucalyptus and rosemary. Bouquets were filled with white hydrangeas, ranunculus and a collar of green herbs. Bunches of rosemary lined the aisles of their herb wedding, and rosemary motifs were found on the escort cards and table numbers.  The couple worked with ivory colored linens, incorporating wood rounds that groom Trevor made himself.  Jenna Marie Weddings was chosen photograph their herbilicous celebration.
Rosemary Wedding Details and Decor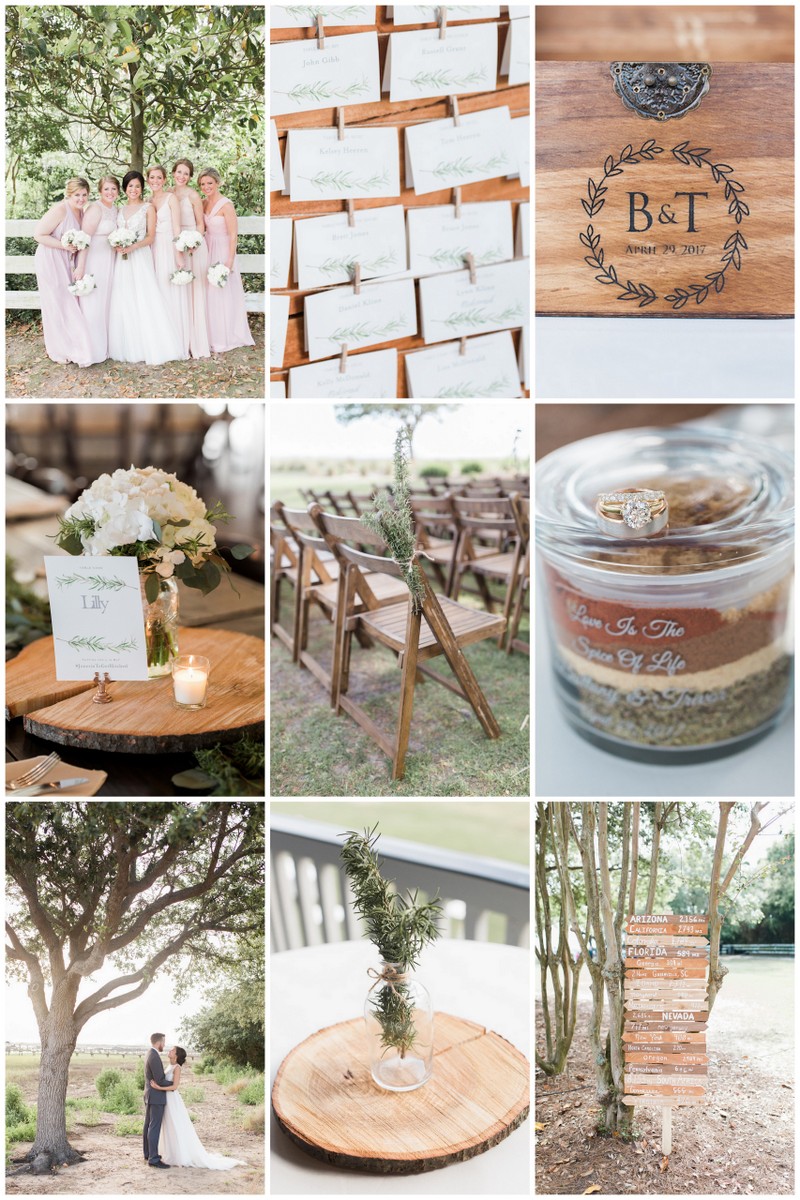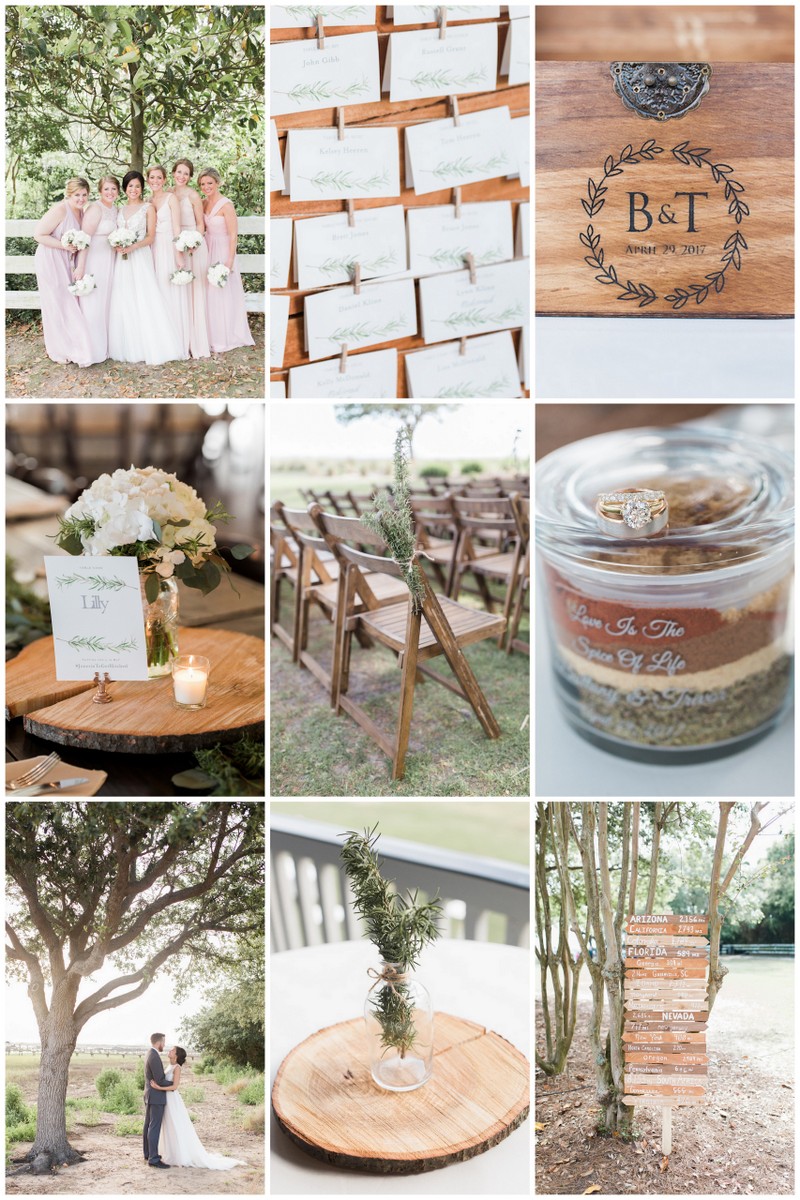 "We created a rosemary wedding logo that Trevor had stamped into a wooden chest for our gifts," explains Brittany. "Our rosemary wedding logo was also featured throughout the wedding like on the his/hers cocktail menus. The wood rounds that we used on the dinner and cocktail tables Trevor made from a tree in our back yard."
Love Story: The couple met at a charity event in Greenville. One of Brittany's friends made the comment that there were a lot of cute guys at the event. Brittany spotted a cute guy with a magnificent beard approaching and asked them to take a picture of her friends. The pair got to talking and realized that Trevor went to school in Upstate NY where Brittany is from! They spent the night walking and talking about hometowns, their shared love of hockey, how Trevor and her father both went to the same schools and were brothers at neighboring fraternities, and generally having a great time.
The Engagement One night, on the way out to dinner to celebrate the completion of some house projects, the couple began reminiscing about how their friends got engaged and all of their unique stories. When the pair arrived at the restaurant, Brittany joked Dr. Suess-style that they could get engaged "here, there, or anywhere!" Trevor also channeled his inner Dr. Seuss and said "would you get engaged in a boat?" She said "Yes! Rich and Kory got engaged on a boat." "Would you get engaged in a coat?" he asked. "Yes! I am wearing a coat right now!" she said. It was then that he said "I would be the luckiest man in the world to marry you," to which she exclaimed "Let's do it then!!!"
And then, in One Plaza downtown Greenville, he got down on one knee, pulled out the ring, and popped the question! Brittany was astonished as she thought this whole time he was joking and hadn't started planning anything yet. After a minute of freaking out, she yelled "Yes of course!" There were people clapping and yelling in the streets, and the busking piano player changed tunes on the spot from playing "We Wish You A Merry Christmas" to "Here Comes the Bride."
Naturally Organic Rosemary Wedding
Our bouquets were made of hydrangeas and ranunculus with collars of rosemary and eucalyptus herbs.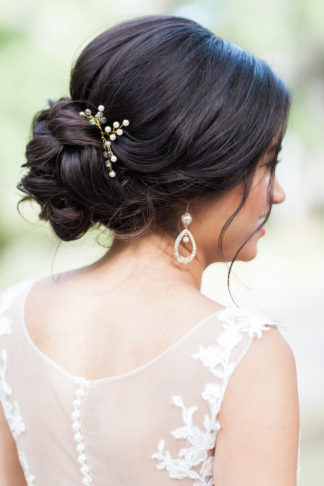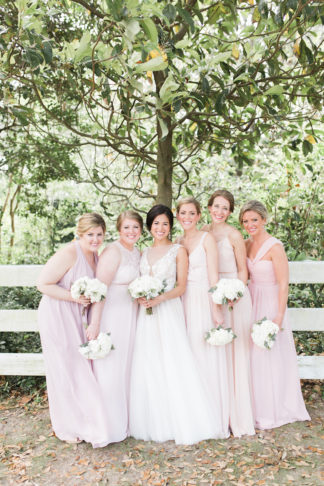 My wedding dress was a classic WToo combination of lace with the flowy French tulle. It was also comfortable – because as mentioned before we are foodies and I was totally going to eat on my wedding day (and dance). My hair and make up was classic and natural. I also brought some hair pieces to give my hair some depth because it is so dark! I worked with my stylist to create a natural make-up look with golds/browns rather than harsh black on my eyes. My lipstick was Blushing Bride from tarte – how appropriate!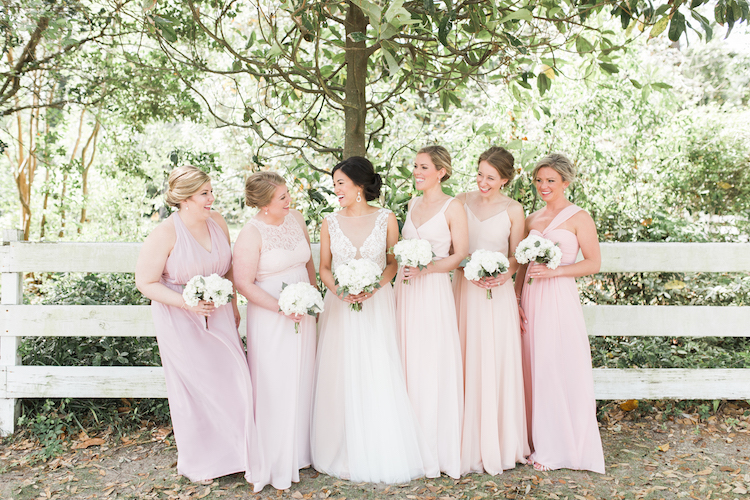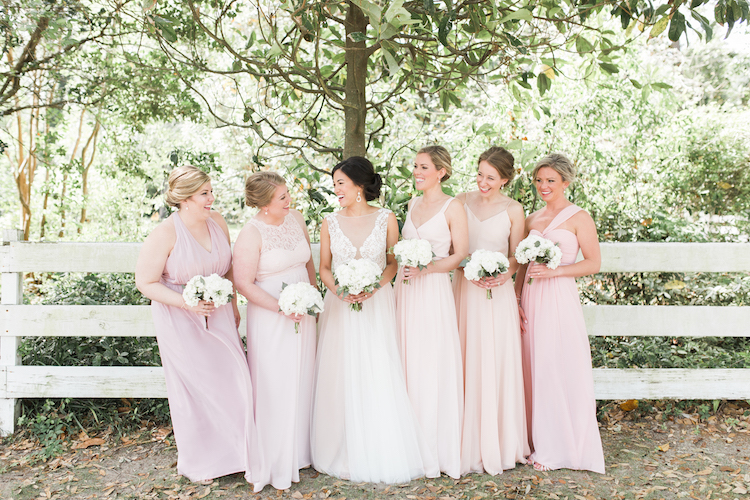 My bridesmaids chose their own floor length gowns in blush. I asked that they choose any gown that they like as long as they felt confident in it and it put a huge smile on their face because that would reflect in the photos! My Matron of Honor wore lace on hers as well to stand out a bit more!  I incorporated rose gold into the bridesmaids outfits by giving them rose gold earrings and bracelet as their gift – my shoes and earrings were rose gold as well!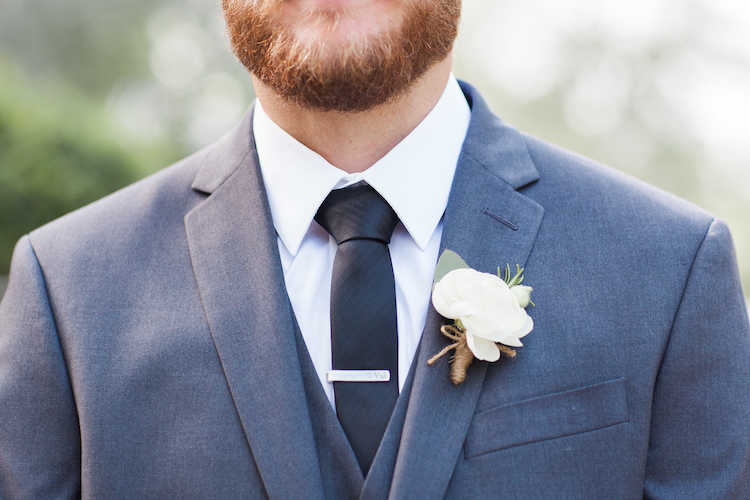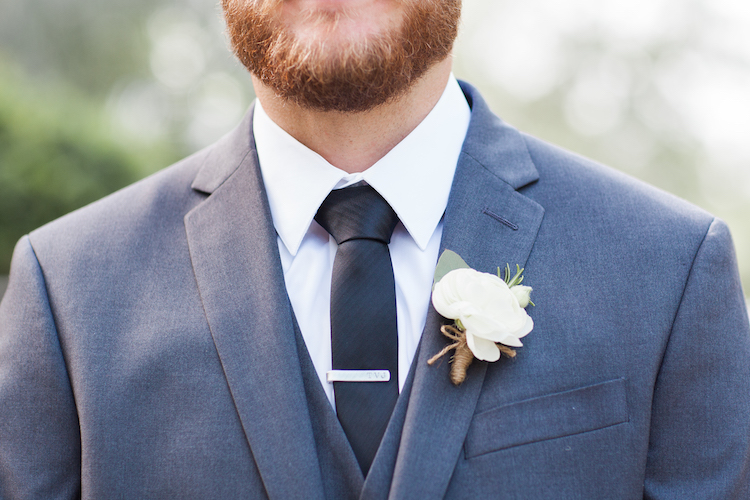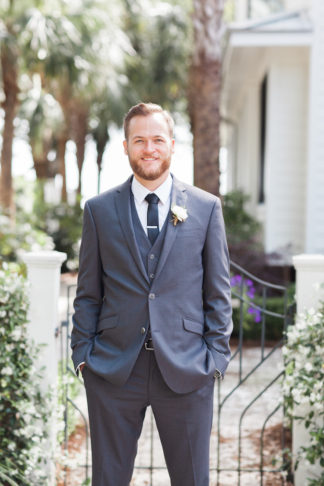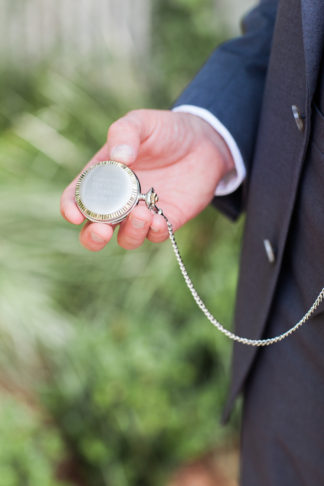 Trevor opted for grey suit pants and vests for the groomsmen. Not only was it cooler than full suits in terms of the heat, it was more comfortable and very dapper! It also let him stand out a bit more as he was in a full 3 piece suit (but could take the jacket off later at the reception).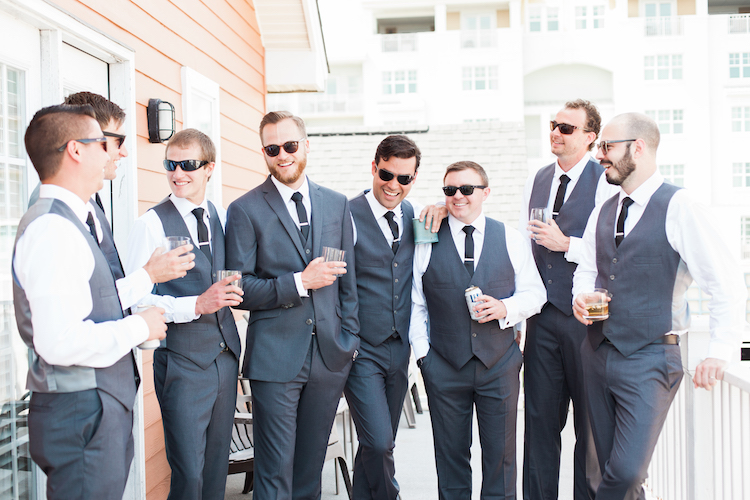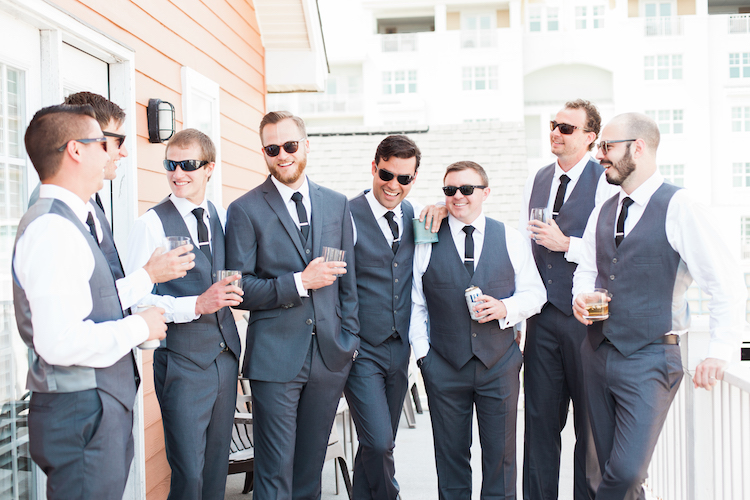 Bunches of rosemary were tied together with twine, placed them on the end of each aisle at our wedding ceremony. The backdrop of the Charleston Bay was so beautiful at Alhambra Hall and the tree was so gorgeous that we didn't add anything else to it!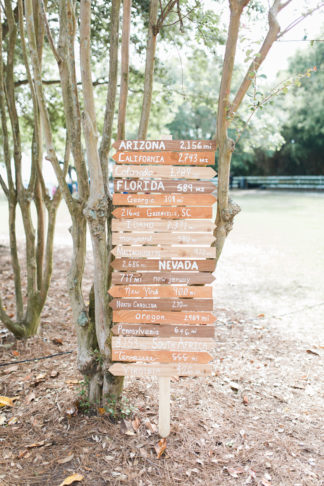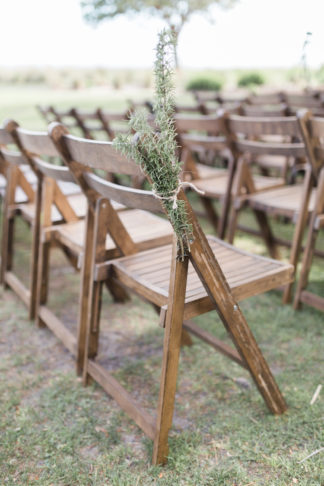 Trevor made a sign indicating where everyone traveled from and how many miles away from Charleston it was.  We had friends and family travel from 17 different states and 1 country to be there with us and that was one of the first things we wanted to highlight.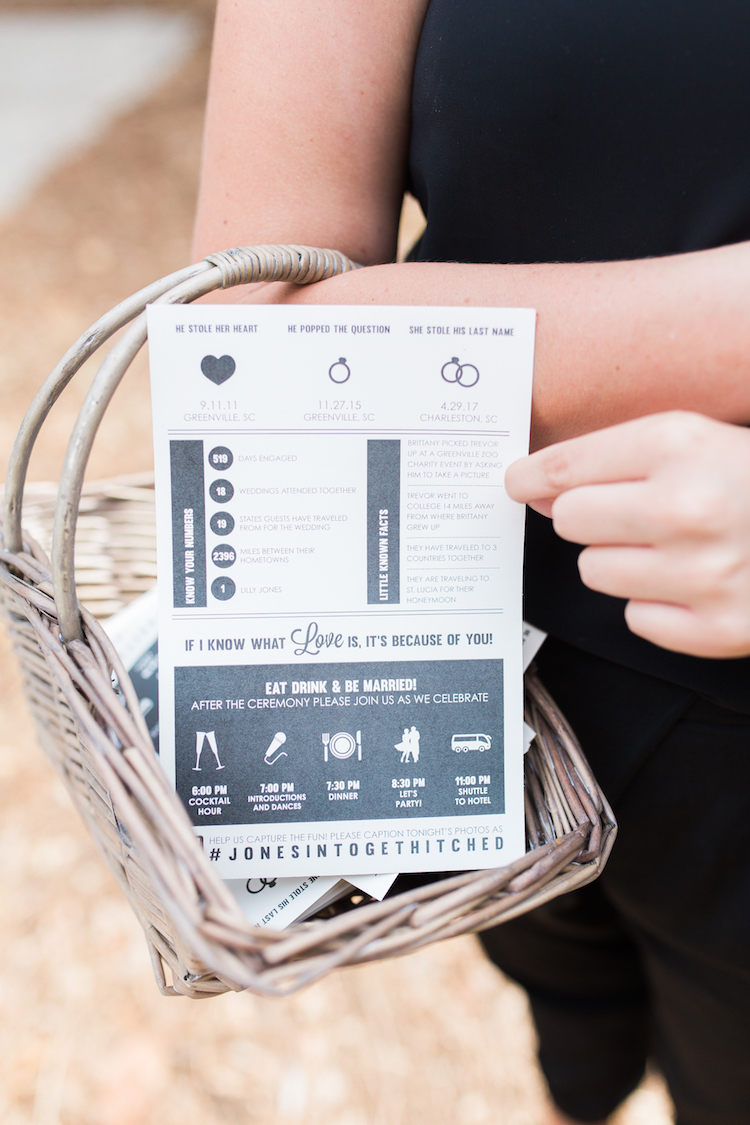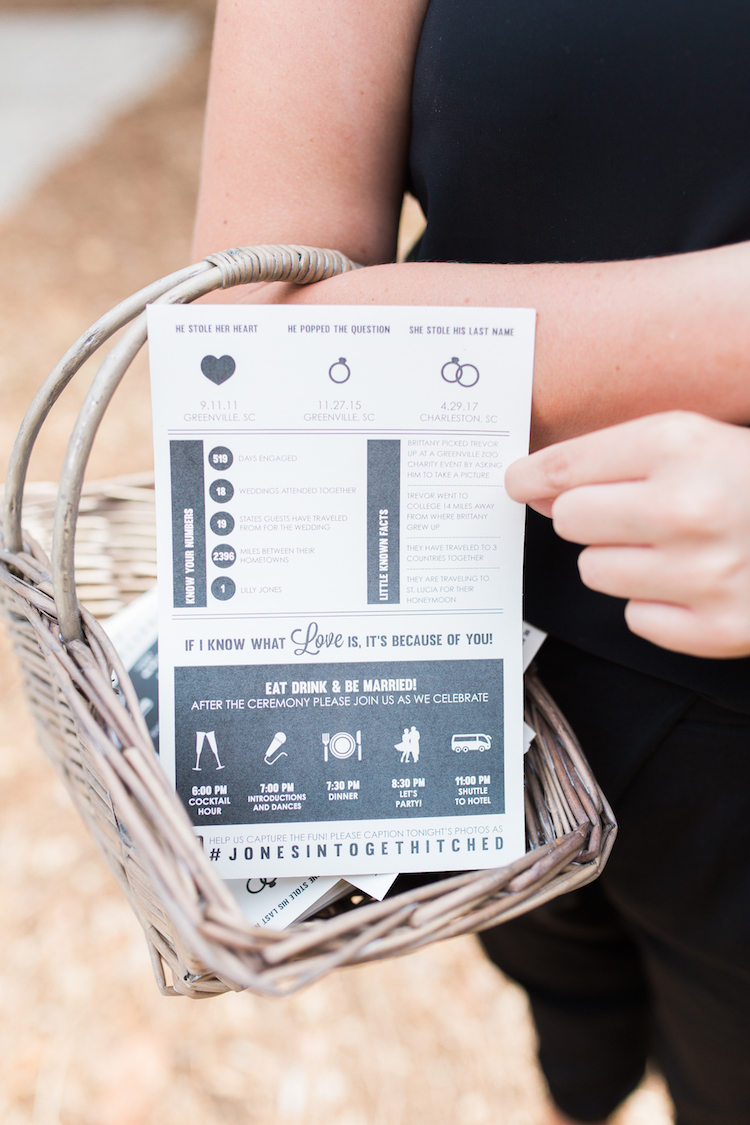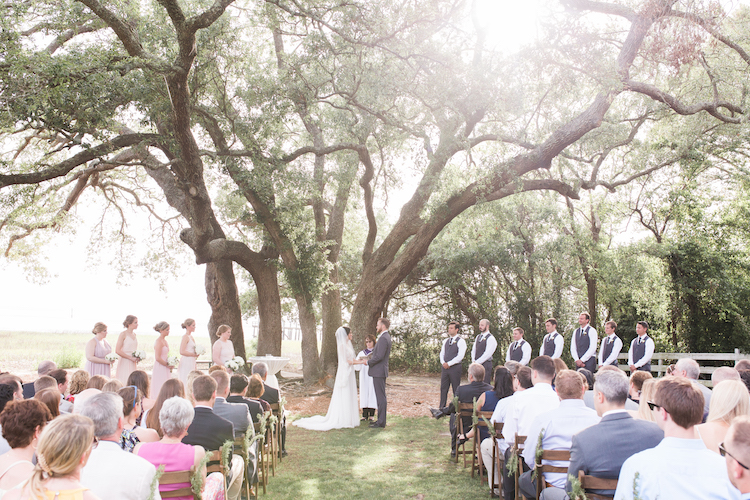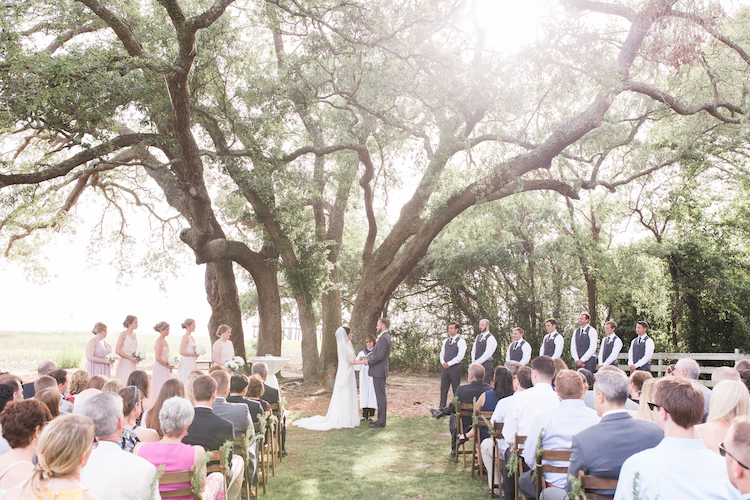 To keep the foodie theme alive, we customized our ceremony creating a "Love is the Spice of Life" unity ceremony where we created a spice mix with flavors that represented the dreams we had for our marriage. The day was perfect, in the high 70s with a breeze coming off of the Charleston harbor. Our officiant Lee completely customized our ceremony for us to make it extra personal including a reference to our fur baby Lilly, really making the ceremony customized and about us.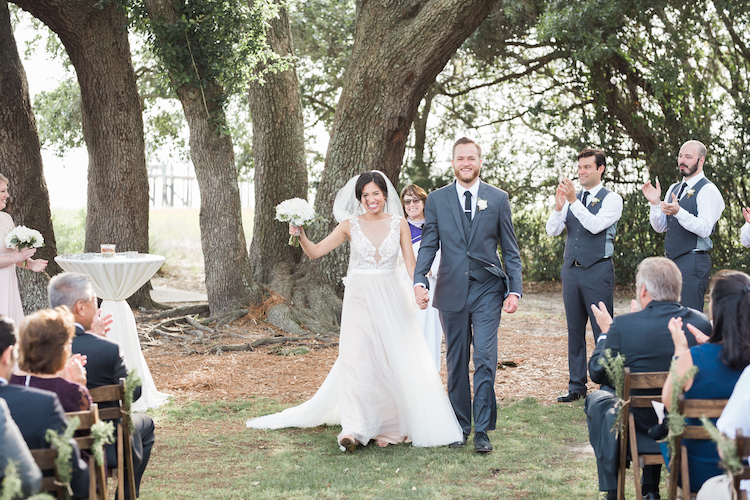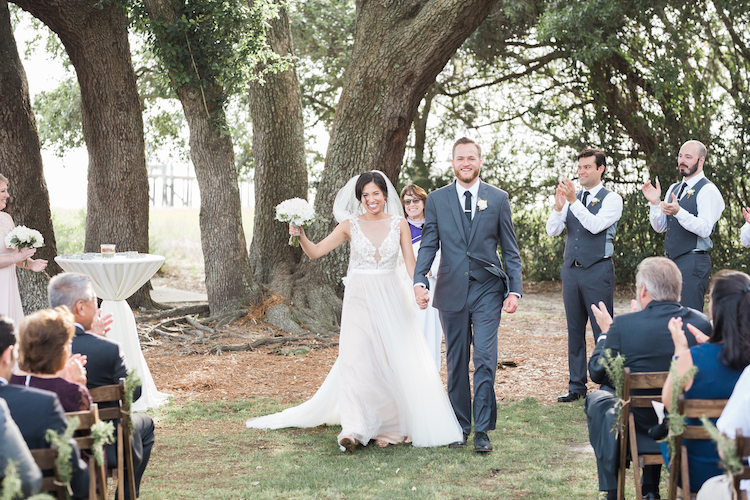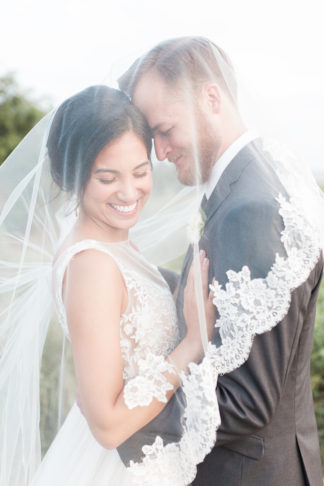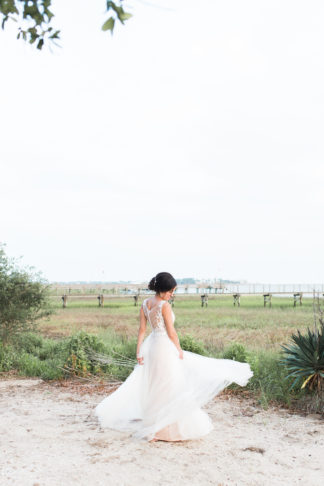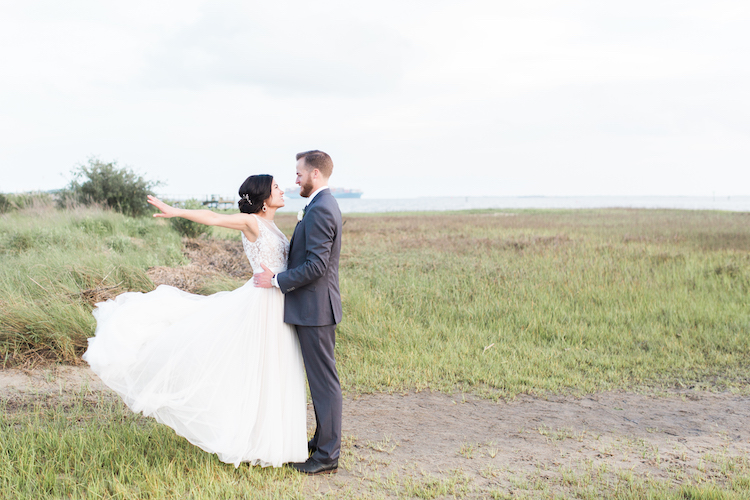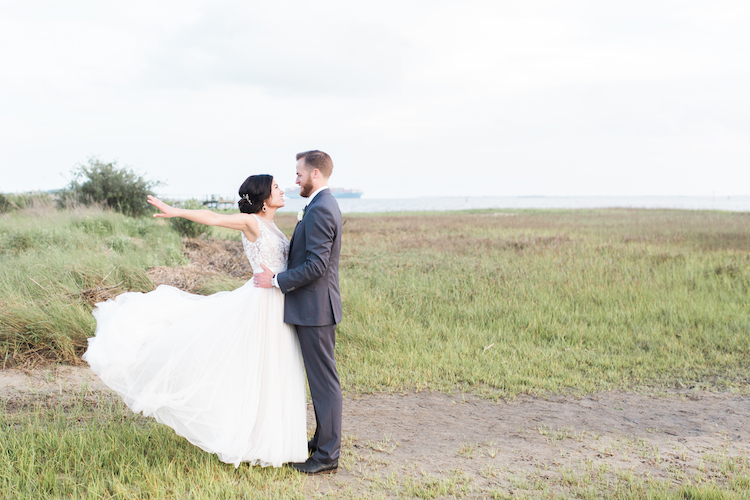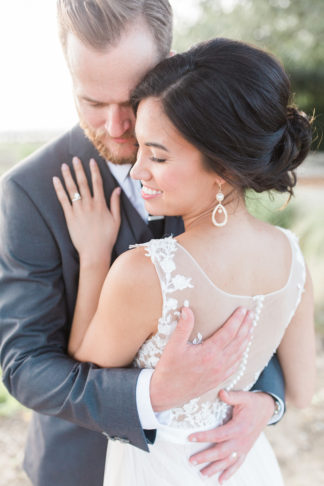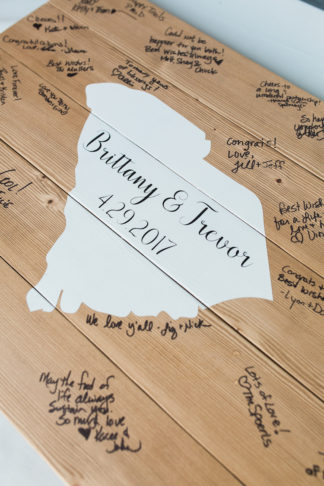 Our wedding guest book was a map of South Carolina with a heart where we live and where we met. With everyone traveling from all over the US to be with us, we wanted to have all of their notes together on a sign that represented our new home. It's now in our living room!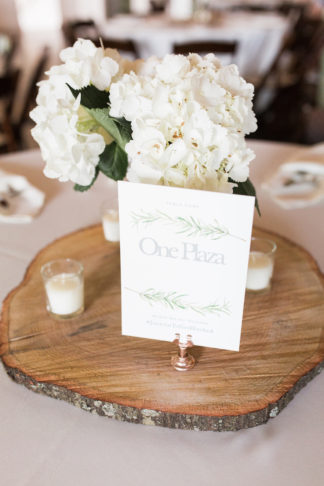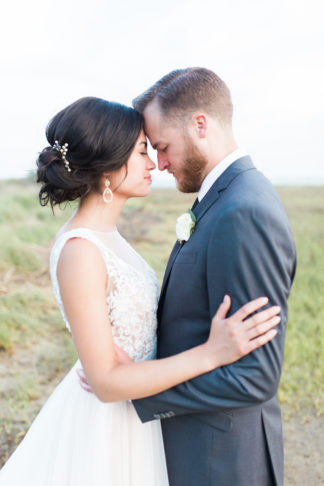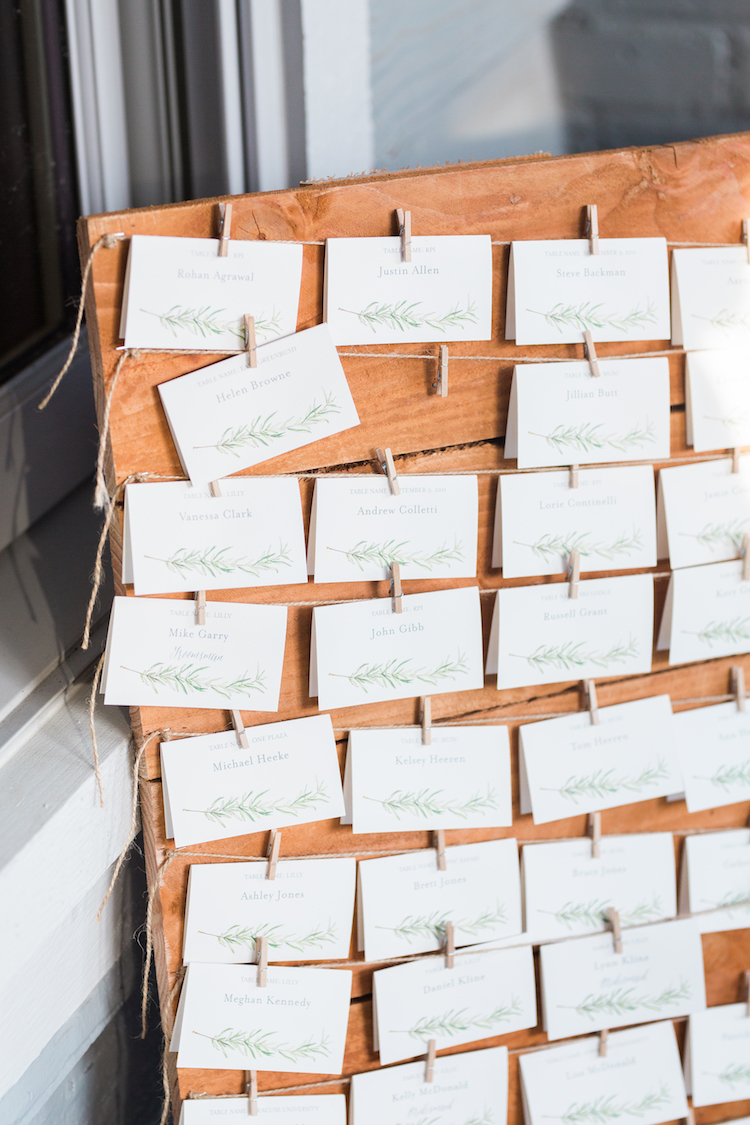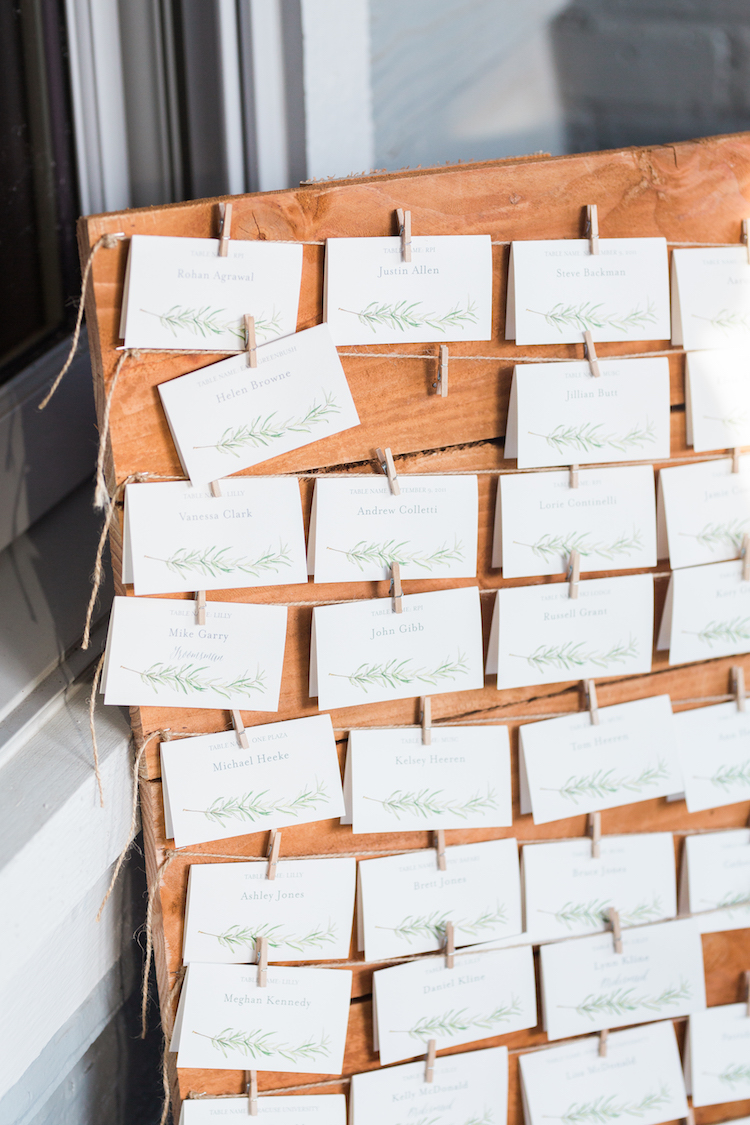 Trevor made our rosemary wedding escort card holder by hand when I couldn't find something I liked.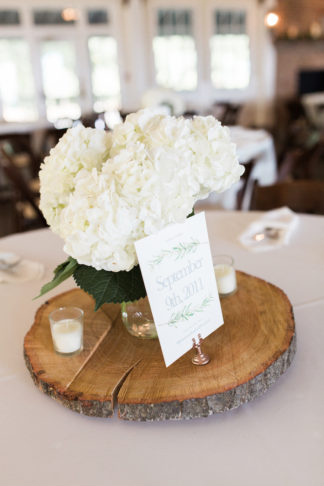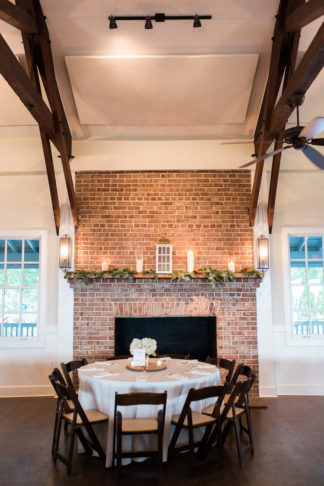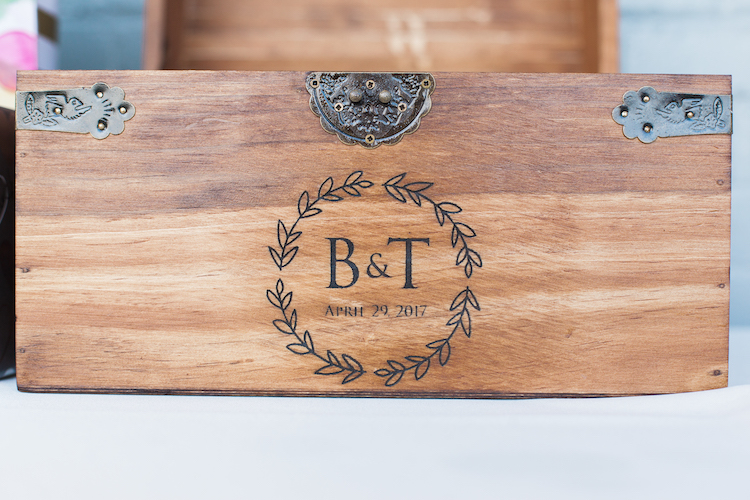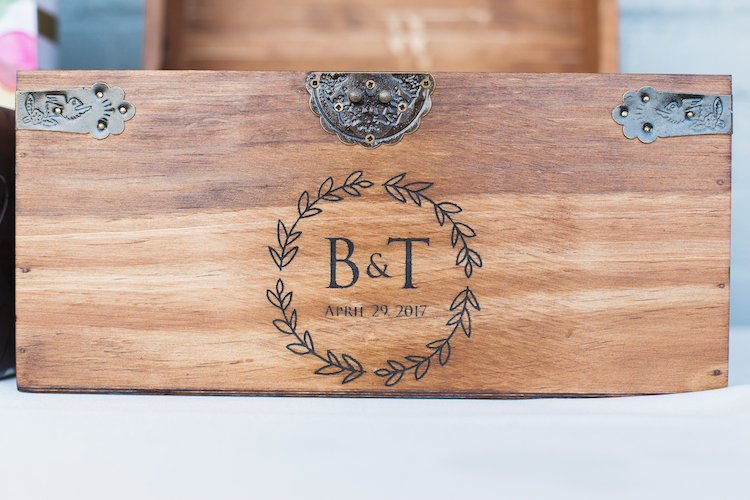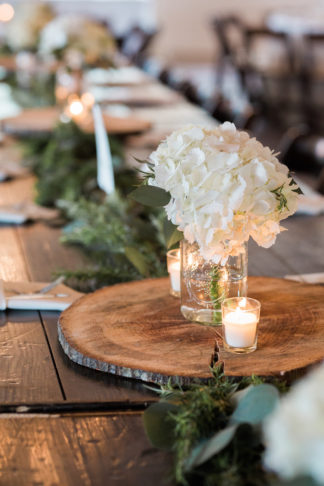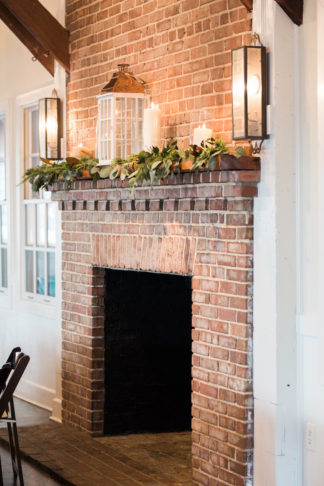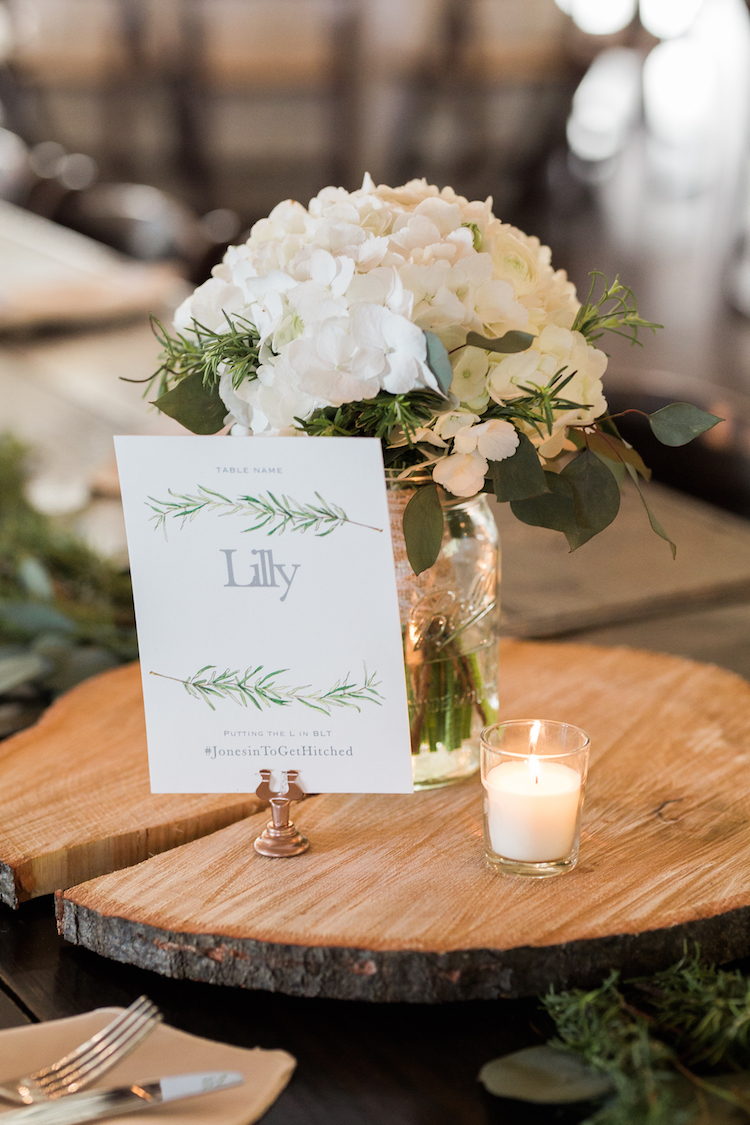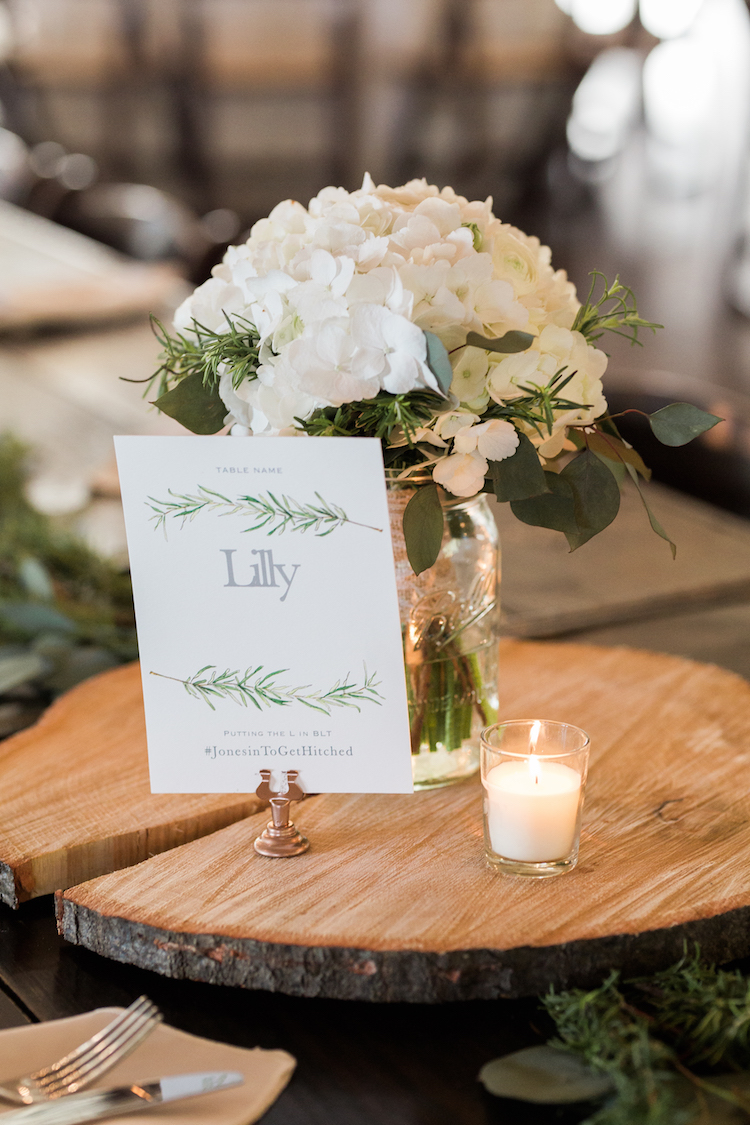 Instead of table numbers we chose to name each table – names of our schools, of the towns we grew up in, where we met, and of course the head table was named "Lilly" after our sweet golden mix.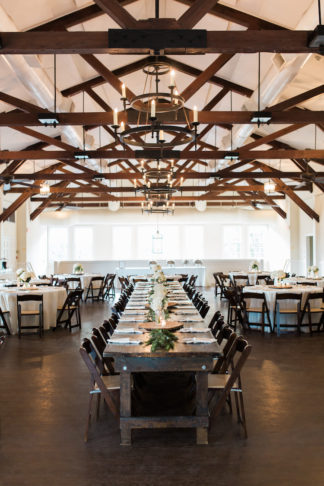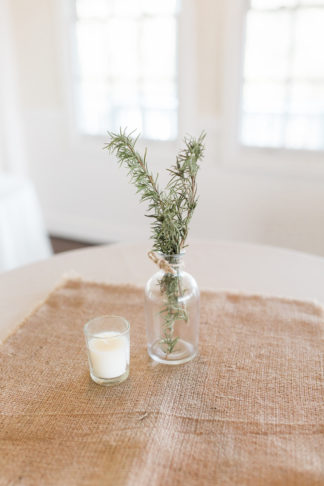 The reception decor was quite minimal just really wanting to highlight the natural beauty of Alhambra hall. I had ivory table clothes with natural wood rounds (from our back yard) votive candles, hydrangeas and greenery down the farm table.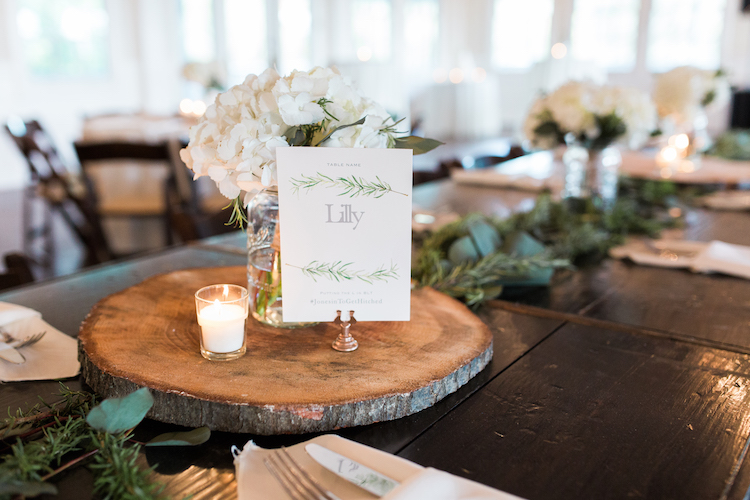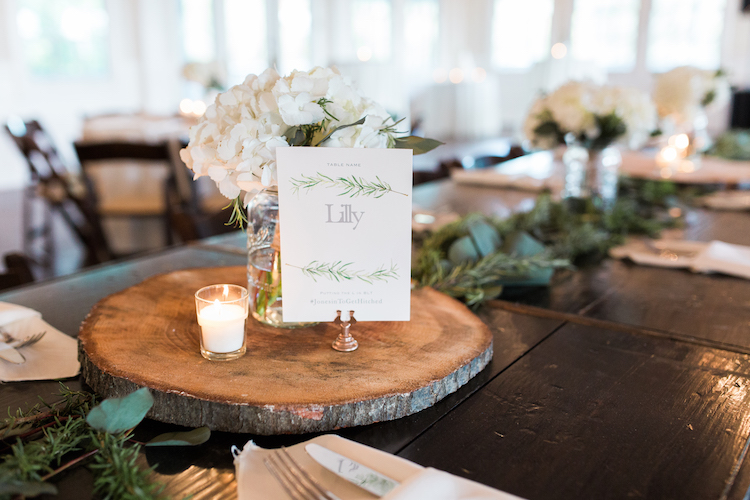 There are a ton of "rules" out there but we didn't have an official cake cutting, bouquet toss or garder toss because it wasn't us. Some of the biggest lessons I learned is that you can do whatever works best for YOU!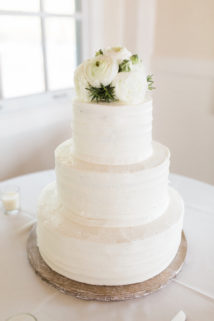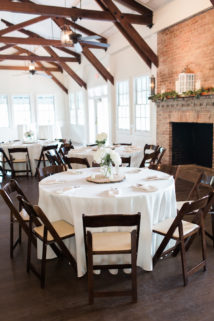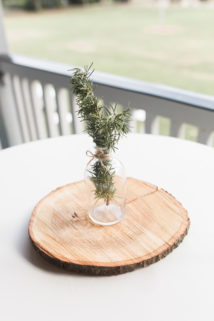 Brittany doesn't really like cake, but our good friend is a pastry chef and he learned how to re-create the only cake that she likes – a sweet potato cake – and he made us the most beautiful and delicious cake as our wedding gift!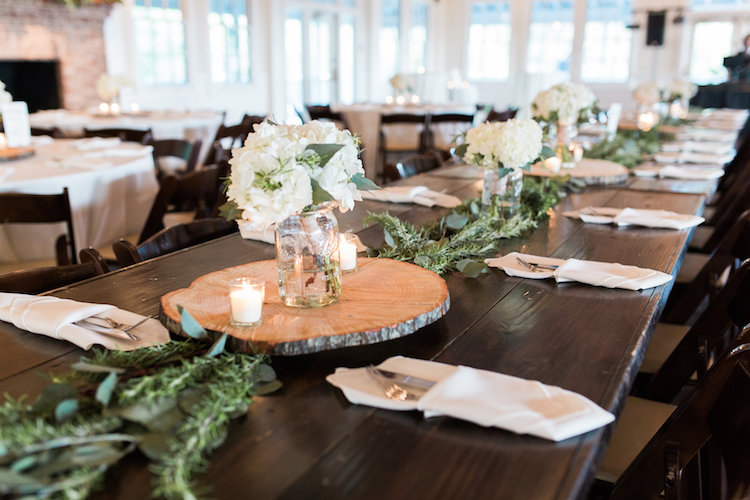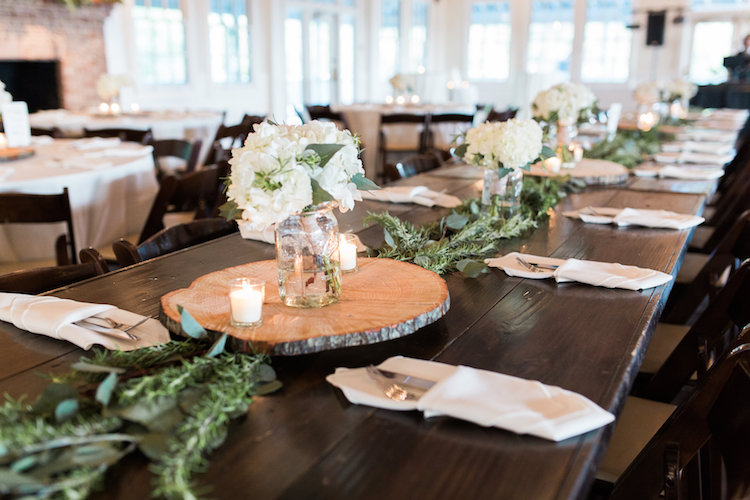 Our rosemary wedding favors were hand salves that were rosemary and eucalyptus scented made by Trevor with our logo!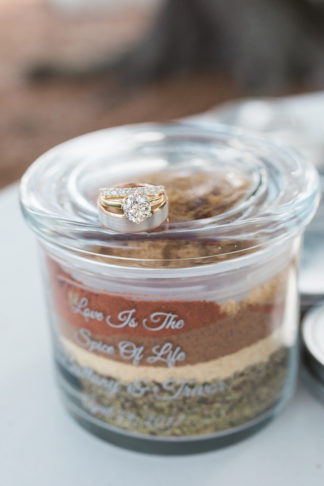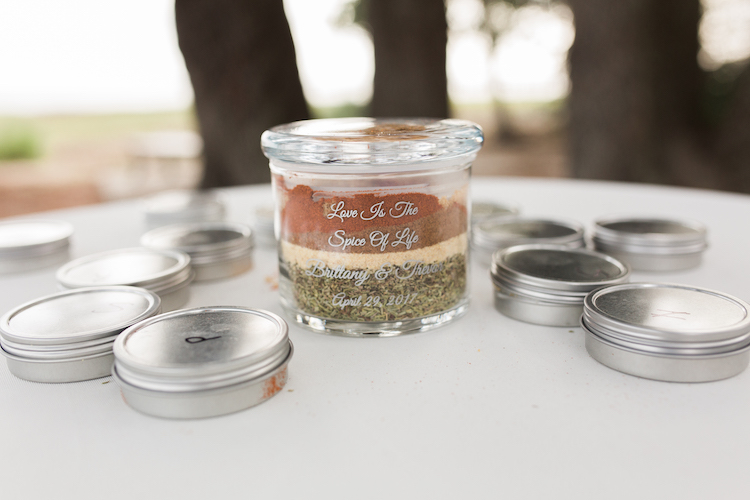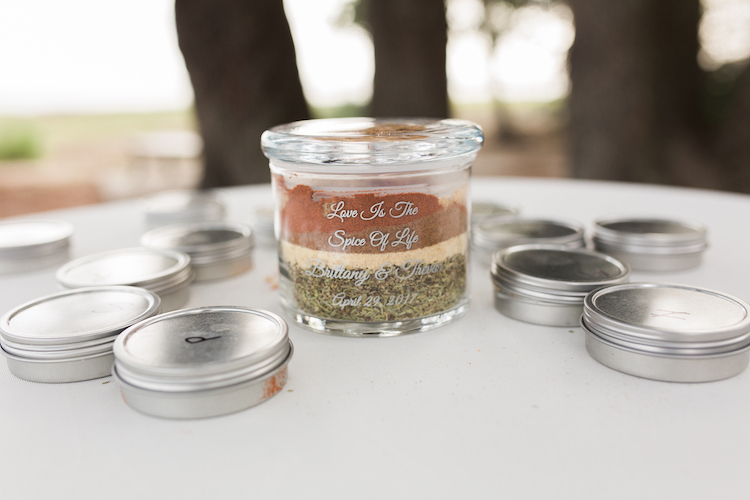 Wedding Planning Advice:
We chose the top 3 things that meant to the most to us and then chose not to go big on the others.
We worked with a graphic designer on Etsy to create something custom for us for $15 and had them printed locally to keep costs down.
Trevor is incredibly handy and made a lot of decor for the wedding such as the wood rounds on the table, the sign showing where all of the guests were from, and also the escort card display.
Hire a wedding planner! We had a month with our wedding planner and she was worth her weight in gold. I had no idea what time it was all day and that was awesome – I just lived the day and did what I was told to do. It was nice to know that someone else was keeping everything on track and that I had done everything I could do! At about 11AM on the day of my wedding Allison just about pushed me back downstairs and said "that's it – you're done planning!" and I truly was. That was an amazing moment.
My last tip is to consider spending money on a videographer! We were not going to get a videographer but because we had a smaller wedding we decided to put that money towards a videographer. I can't believe I almost didn't have one! We LOVE our wedding video and I would highly recommend having a videographer even if it's just for a couple of hours – there are things in the video that never came through on camera and I'm so glad we didn't miss that because the day can be such a blur!
Wedding Service Providers: Photographer Jenna Marie Weddings // Venue Alhambra Hall Mt. Pleasant SC // Bridesmaid Dresses: BHLDN, BCBG, Jenny Yoo, Alfred Angelo and Hayley Paige // Videographer Nest Productions // Dress WToo Marnie // Brides Hair and Make up Paper Dolls Charleston // Flowers Sweet Magnolia Florist DJ Craz-e Crane // Stationery Serendipity Paper Co  // Wedding Planner Charleston Weddings by Allison // Suits Kenneth Cole Techni-Cole // Caterer was Just Eat This Catering!
See more organic weddings // See all weddings