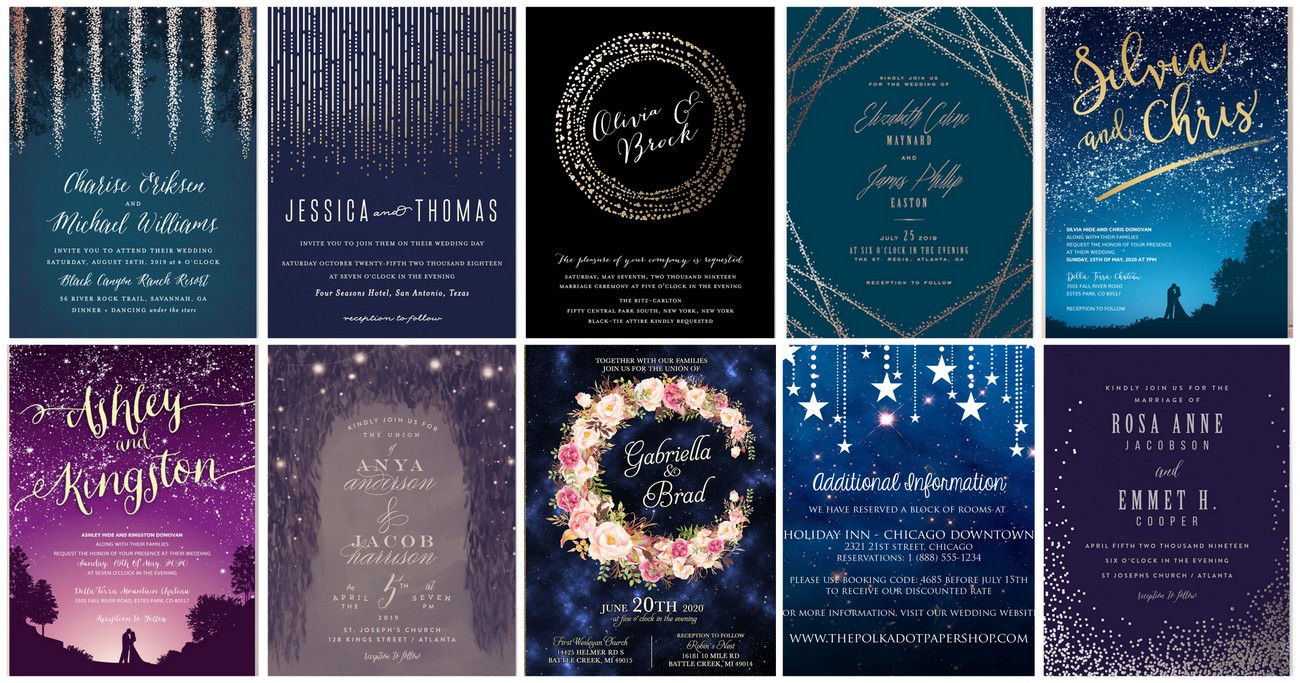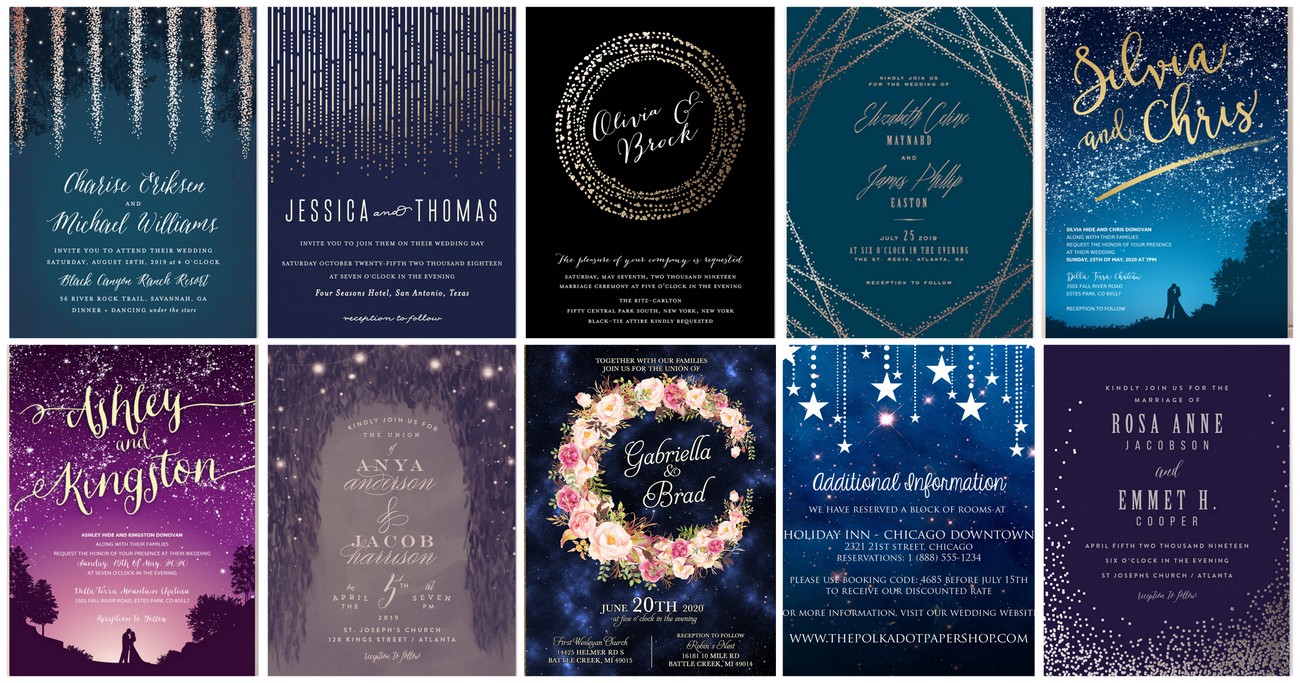 Set your soul alight with these starry night celestial wedding invitations. Whether you're planning to celebrate under the starry evening skies with gorgeous strings of cafe-lights, or dance the night away with sparkling fairy lights overhead, you'll find something to sparkle about in this this selection of love and light-filled wedding invitations.
Sparkling Starry Night Wedding Invitations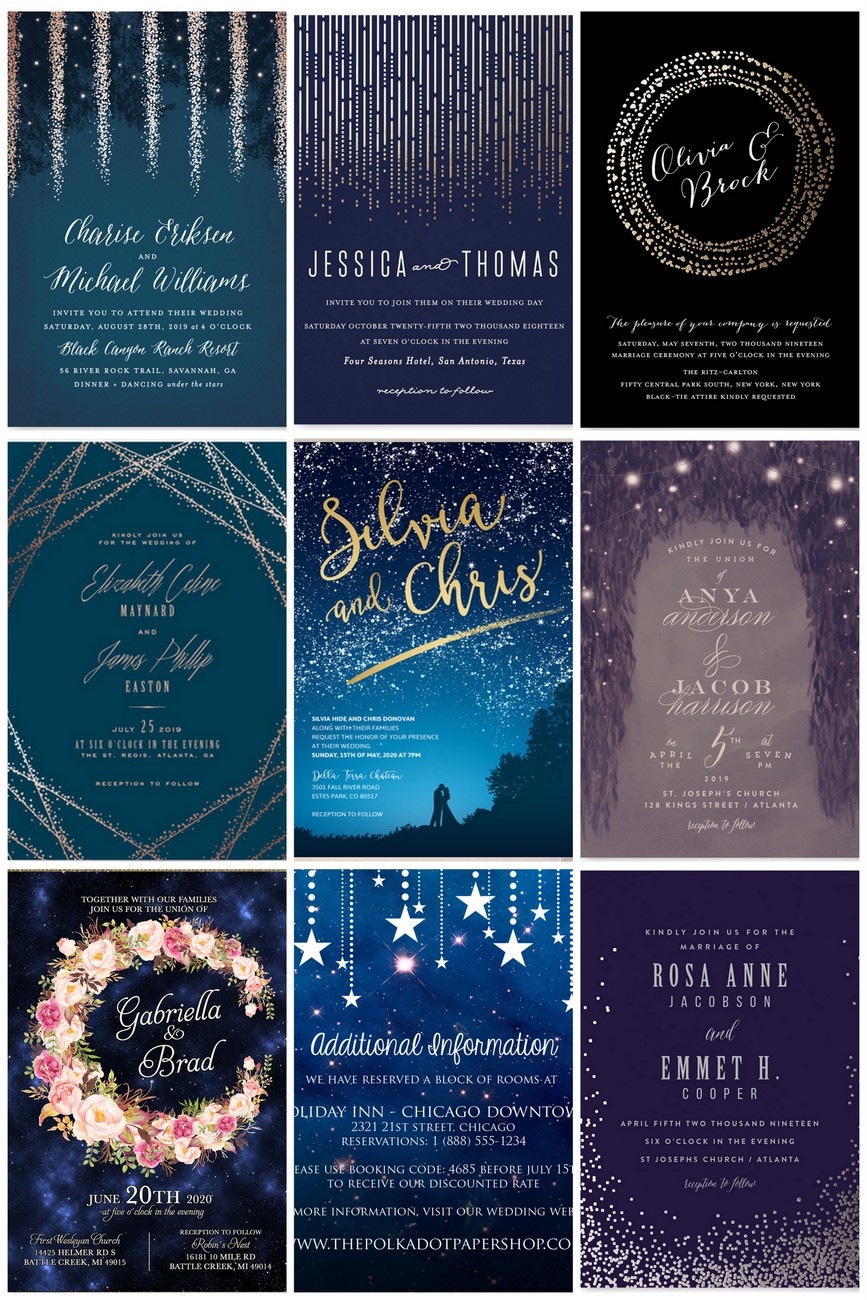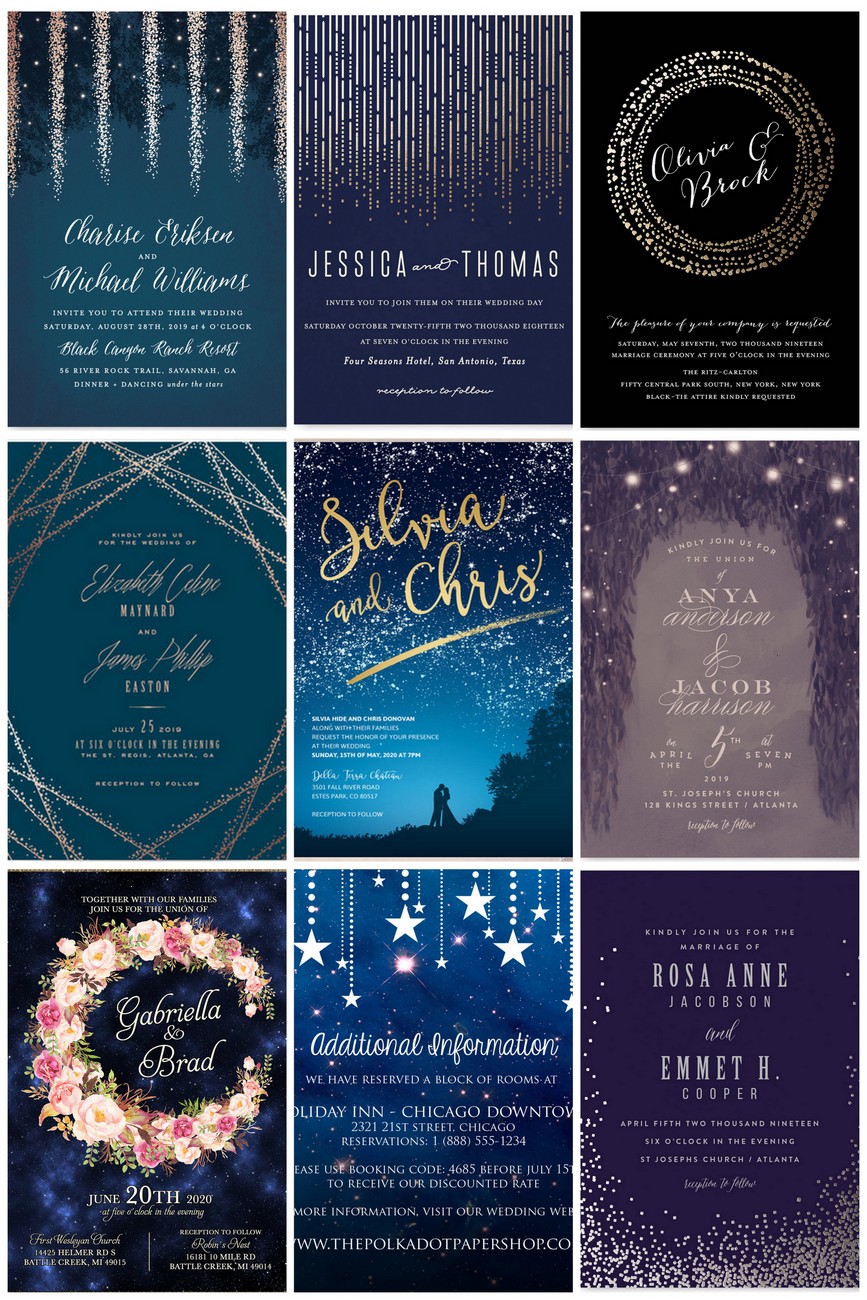 From twinkling, star-crossed designs, to celestial trails of light celebrating the night sky, this hand-curated selection of starry night wedding invites is set to light up your life!
Starry Night Celestial Wedding Invitations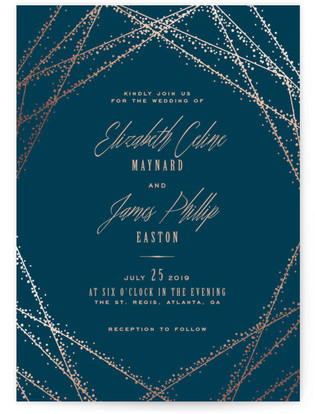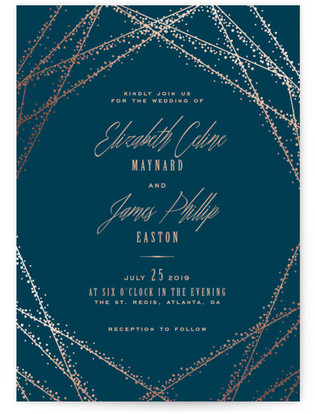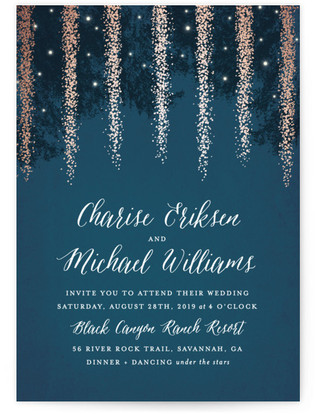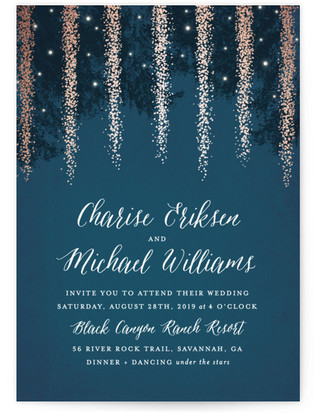 If you are star-struck by one of the starry-night invitations in this hand-picked selection of designs and decide to make a purchase, we'll earn a small referral commission for sharing them with you. Thank you for helping to support our content!
1. Above Left: These Geometric Starry Night Wedding Invitations in navy blue with celestial spangles of rose gold foil are perfect for positively star-crossed lovers. Check them out here. // 2. Above Right: Strands of light set in rose-gold foil brighten up the navy night skies in these celestial wedding invites, available in a range of color combinations.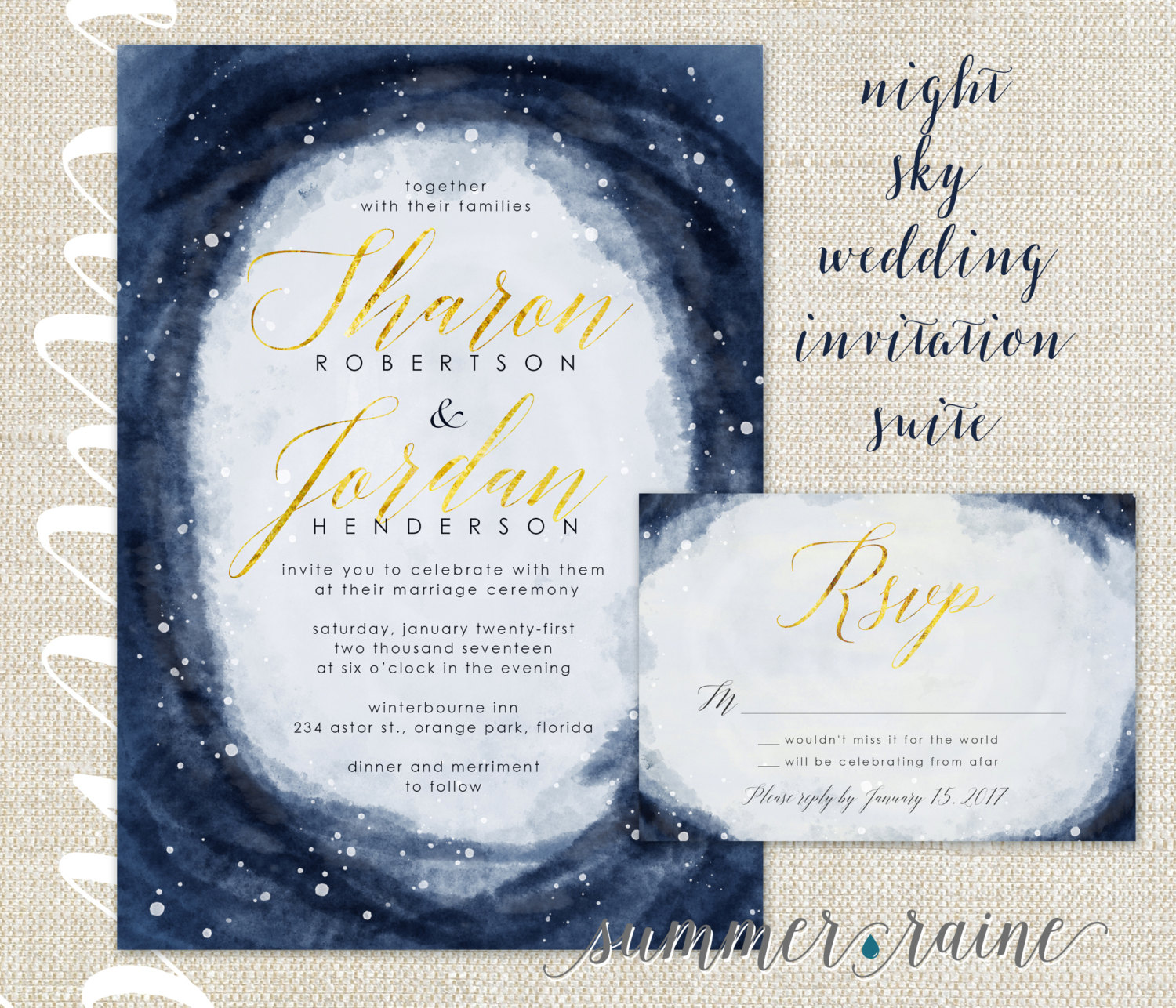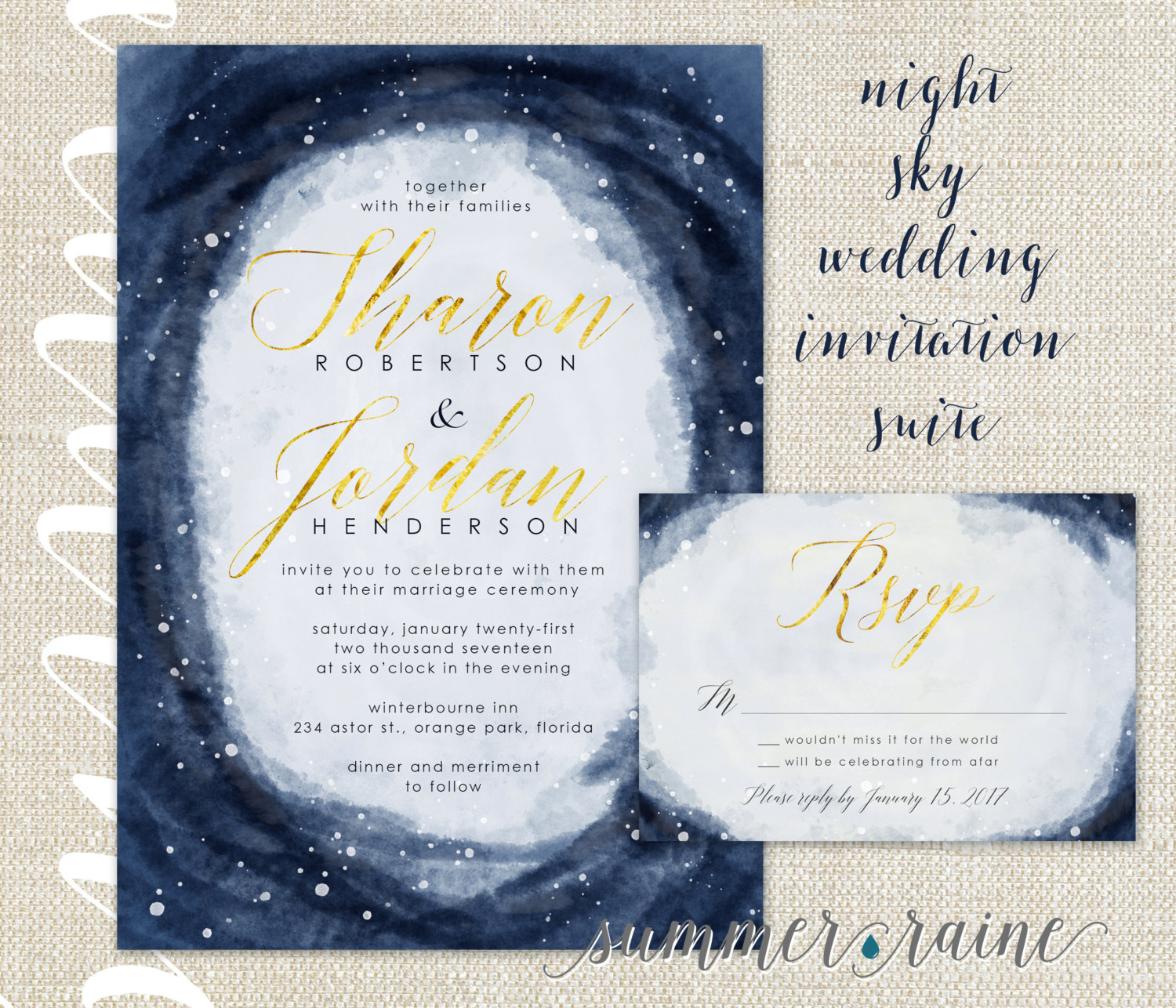 Above: 3. This pretty painted DIY two-piece Watercolor Celestial Wedding Invitation Suite in navy blue and gold is delivered digitally as a custom PDF for easy-peasy printing at home. Check out here.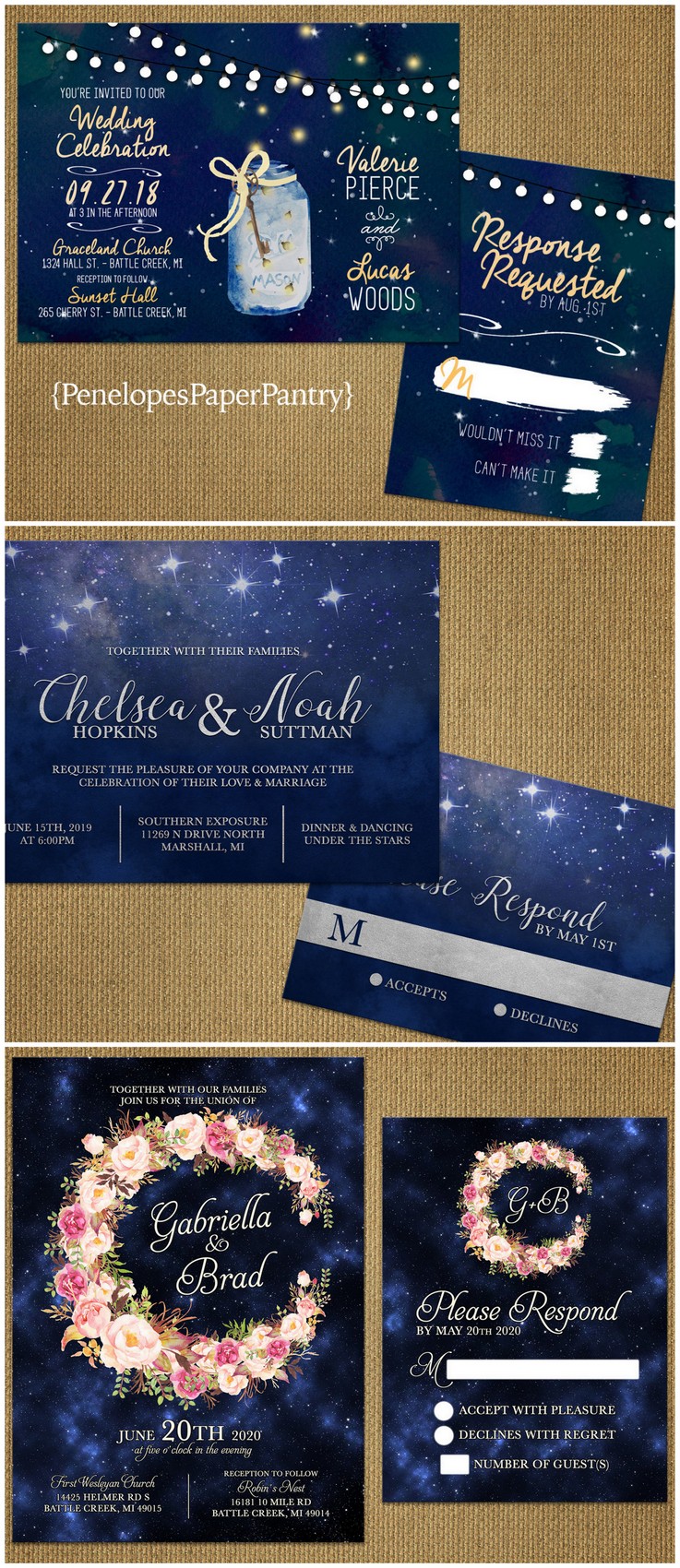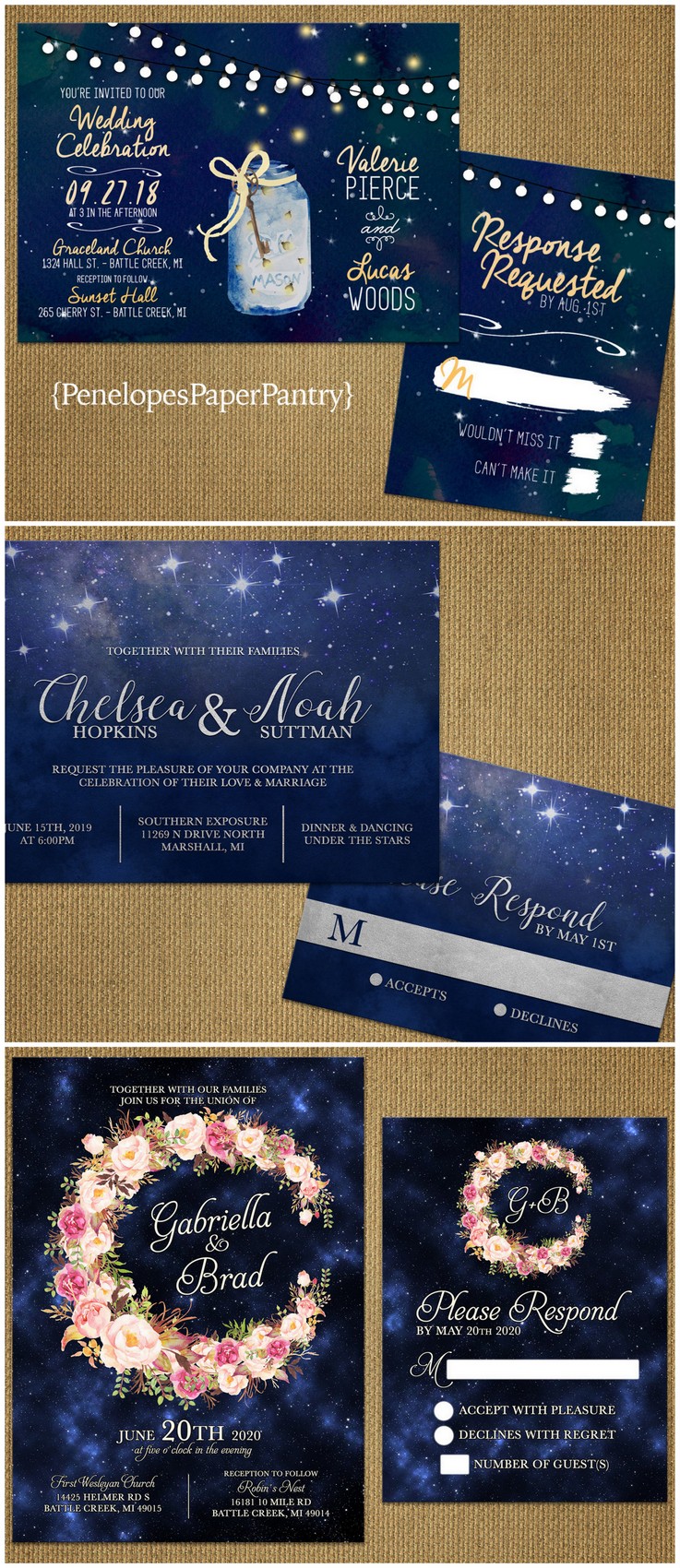 Top Row: 4. Celebrate the summer skies with this Rustic Starry Sky Wedding Invitation Suite, complete with fire flies, fairy lights and mason jar illustrations. Get them here.  // Middle Row: 5. This silver and navy Romantic Celestial Wedding Invitation Set reminds us of a night spent dancing under the stars with loved ones.  Order them here.  // Bottom row: 6. This Floral Moon Celestial Wedding Invitation Suite sets a gorgeous crescent of blush pink flowers and greenery against the galaxy-speckled night sky.  We love it for a spring or summer wedding! Check them out at Penelope's Paper Pantry here.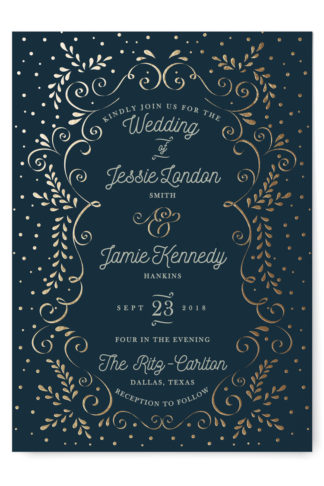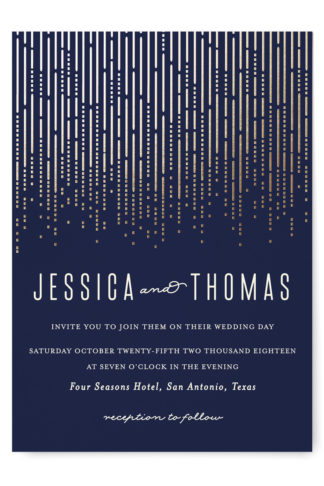 (Above Left) 7. Golden leaves unfurl, creating a Celestial Frame of Love set against a navy blue backdrop of shimmering night skies. These pretty foil-pressed invites are available with a variety of color choices here.  // 8. A silhouette worthy of a cityscape skyline glimmers in these Gold Crystal Curtain Celestial Wedding Invites. Get yours here.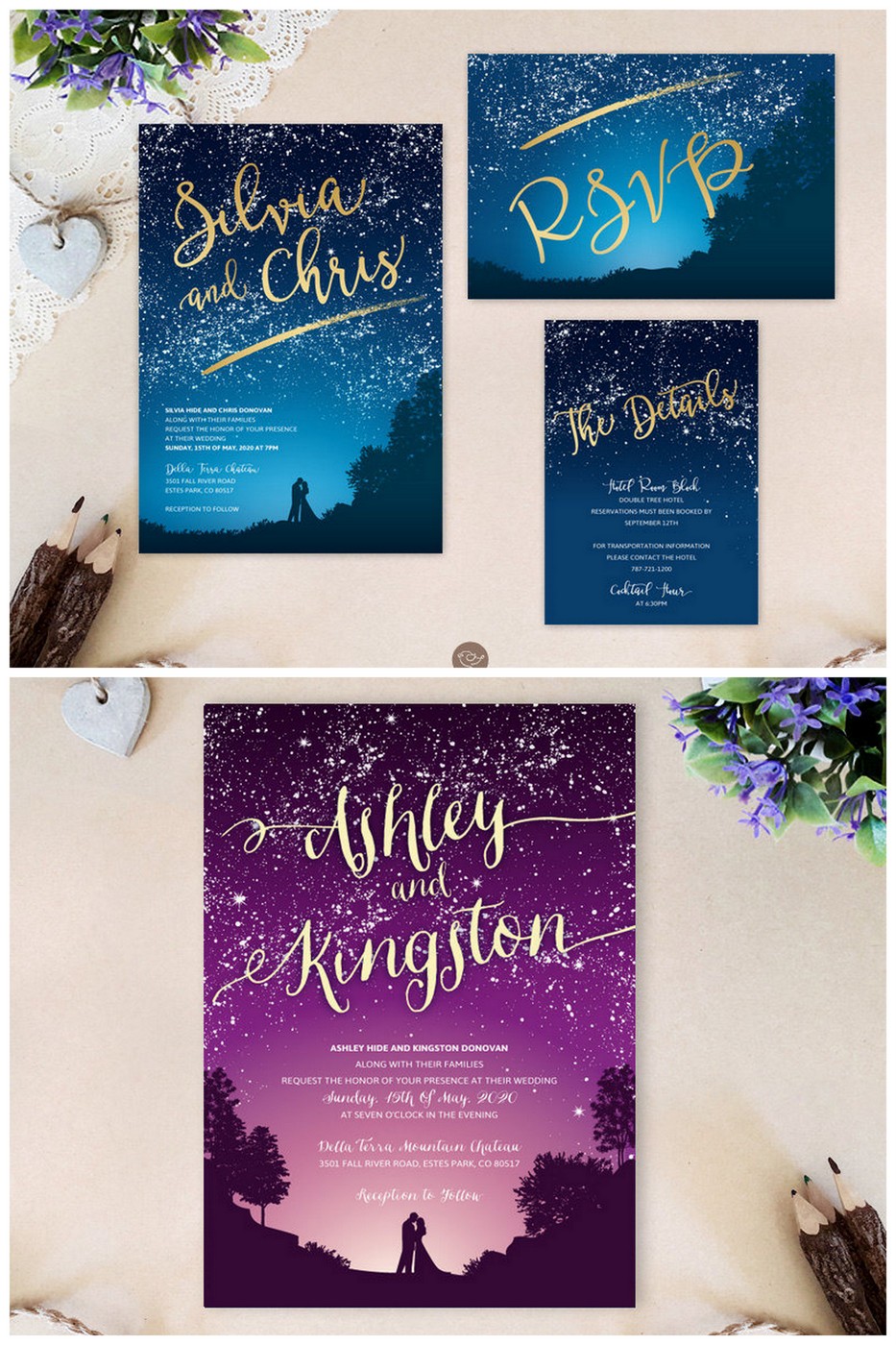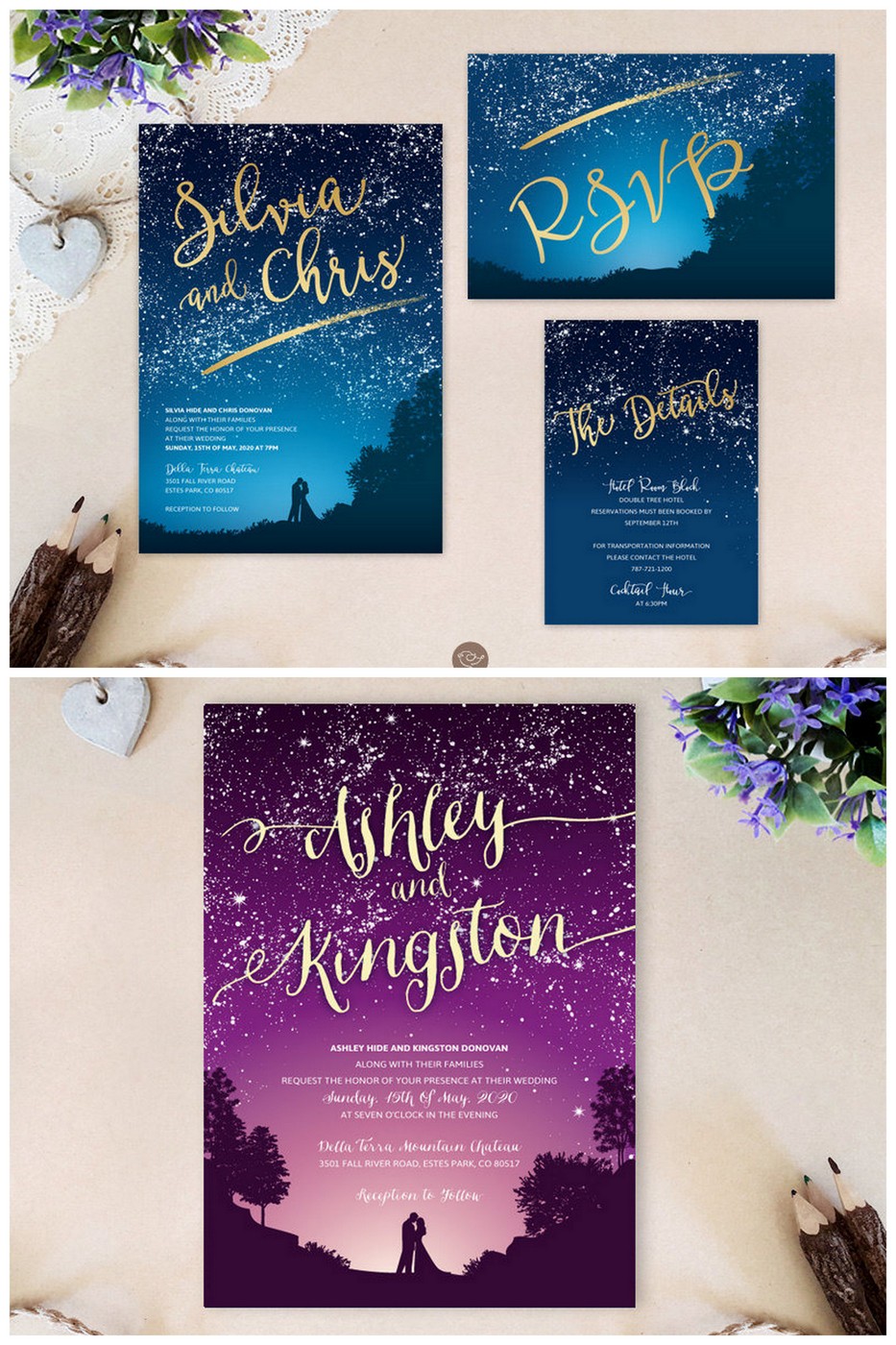 Above: 9. Stars that sparkle set the skies alight in these Constellation-Filled Wedding Invitations, printed on pretty pearlescent card stock. Available in navy or similarly in purple.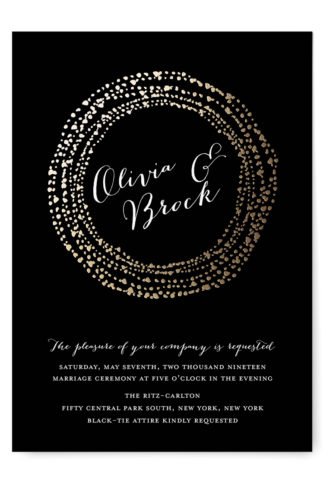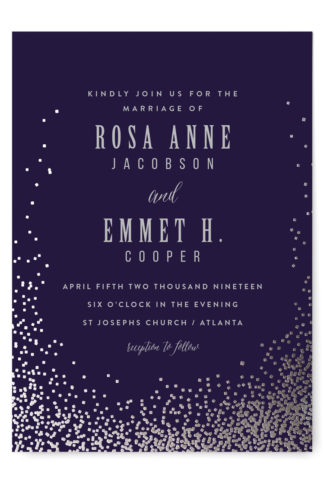 Above Left: 10. A Sphere of Starry Speckles Circle the Night in this black tie wedding invitation, which looks gorgeous in black and gold. Check out other color variations and foiling options here.  // Above Right: 11. This effervescent explosion of bubbly stars creates a glowing constellation in the night sky. Check out this invitation for your celestial wedding here.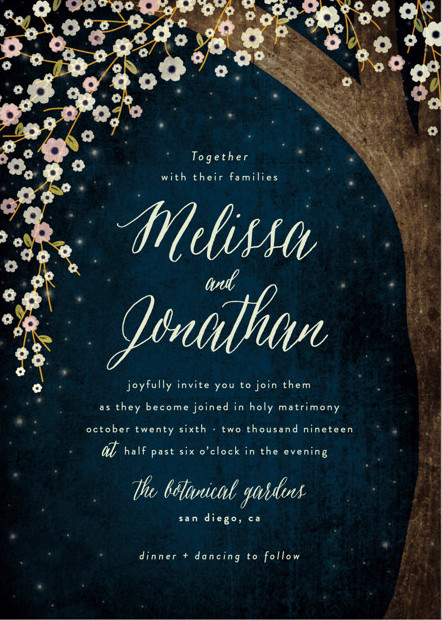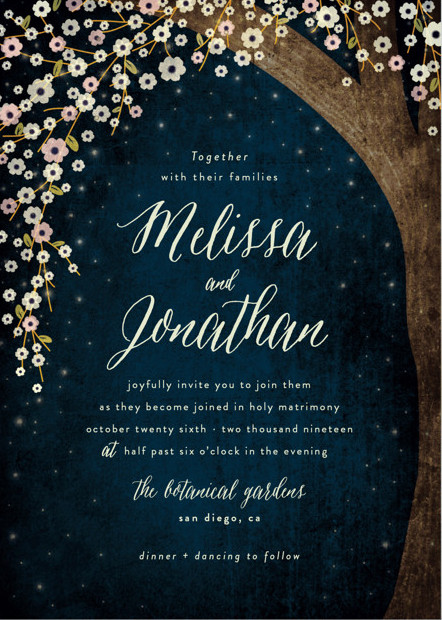 Above: 12. Spend the evening celebrating outside, beneath branches and boughs backed by ethereal beauty. Check out these Botanical Starry Sky Wedding invitations for your outdoor wedding here.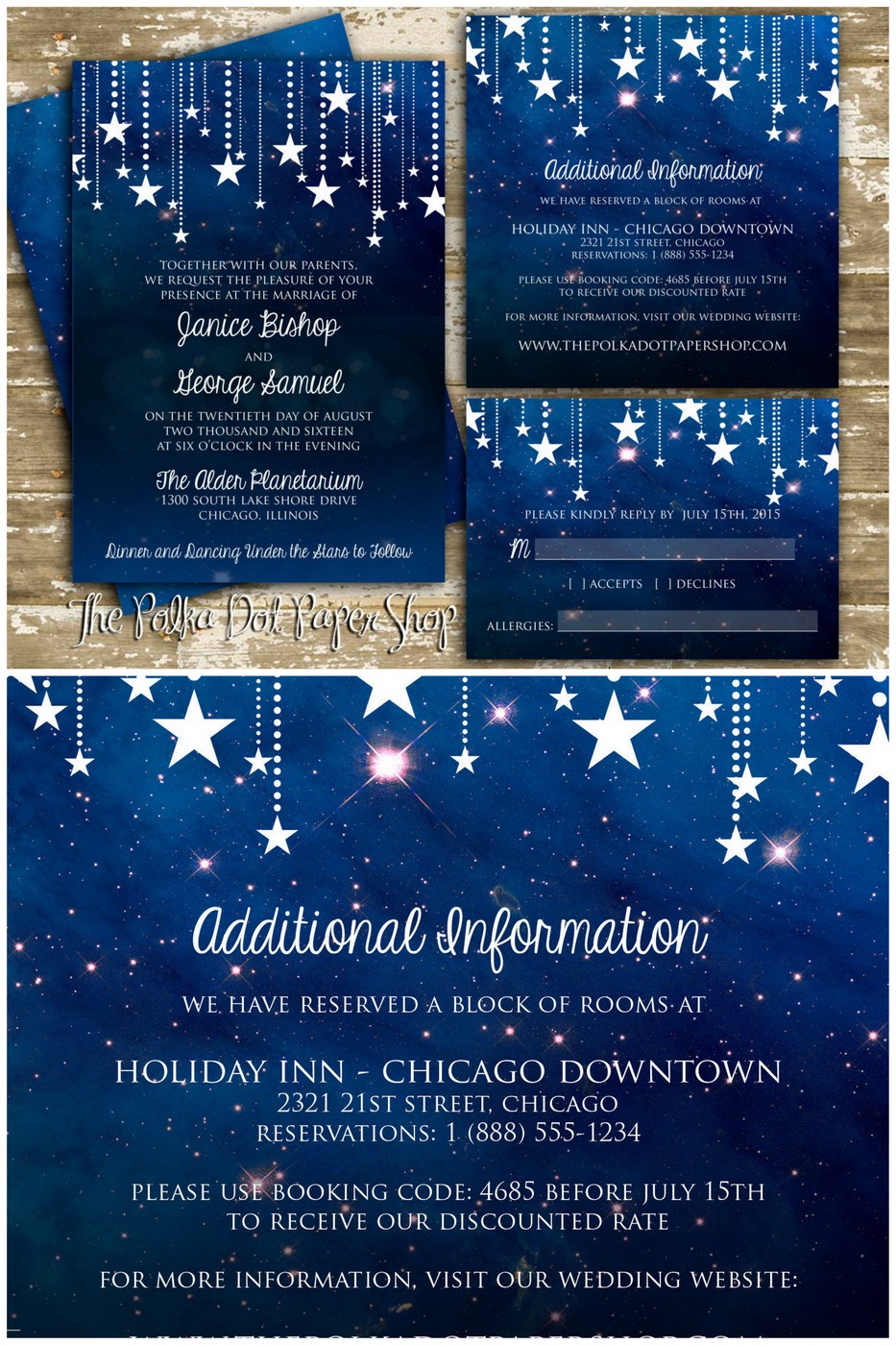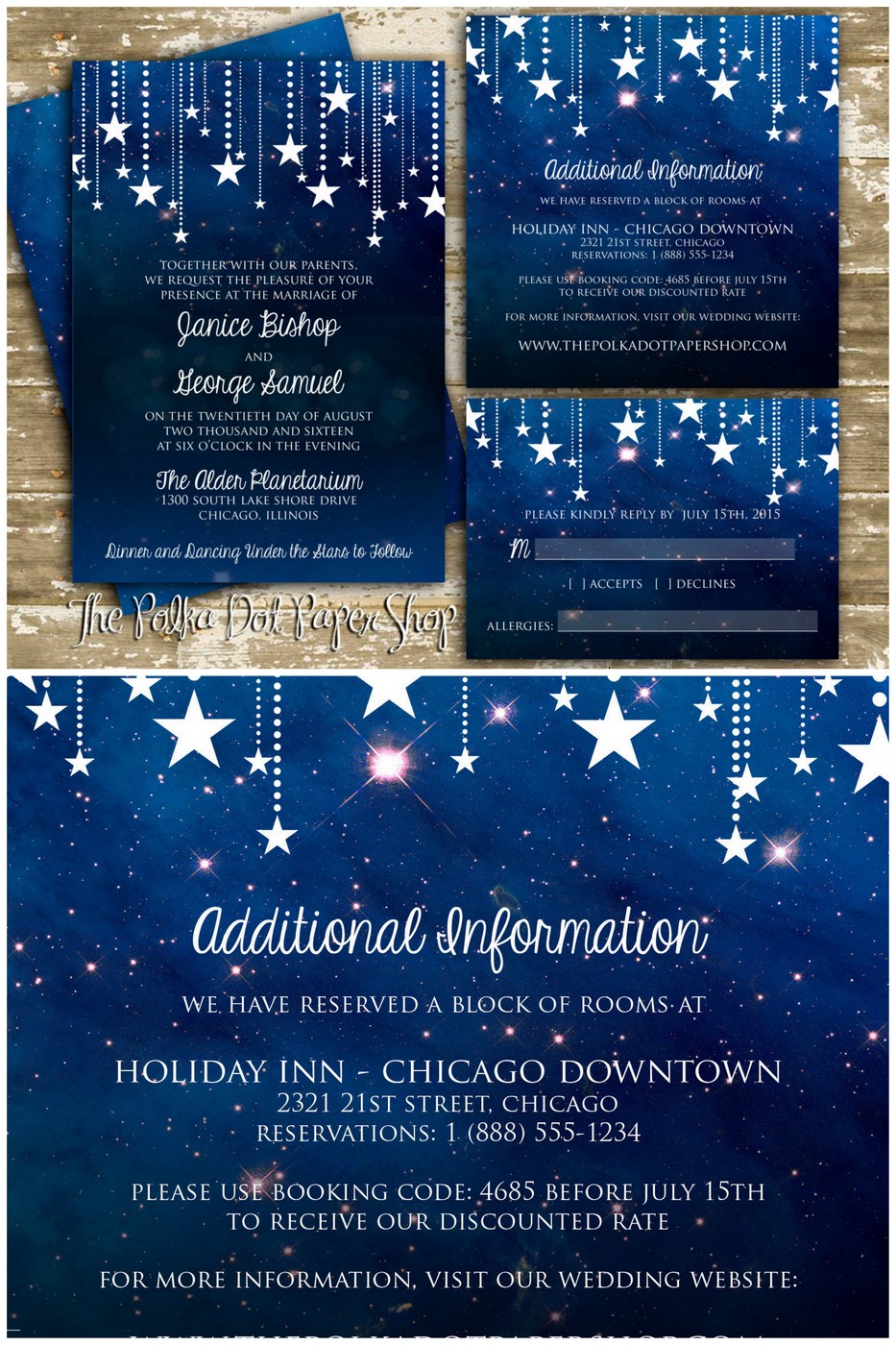 Above: 13. With sprinklings of hand-painted Fairy dust (aka glitter), these double-sided Night Sky Wedding Invitation are star-filled and heaven sent! Available here.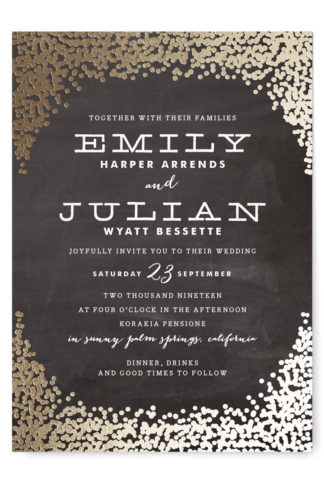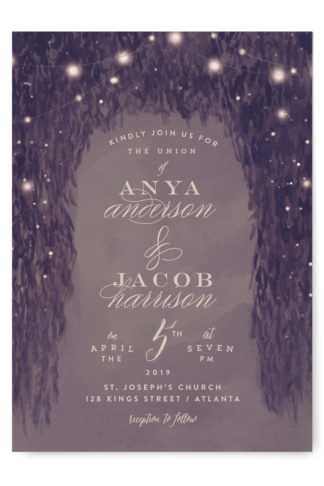 Above left: 14. Get swept away in a rush of sparkle with these Gold Foil Glittering Night Sky Wedding invitations. Choose your card stock silhouette and check out the color options here.  // Above Right: 15. Reminiscent of an evening spent Stargazing in a Paris Garden, these celestial invites are available in a number of night-sky perfect shades, including purple. Available here.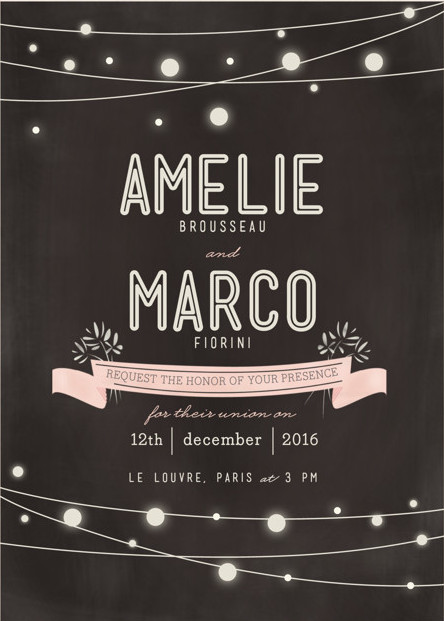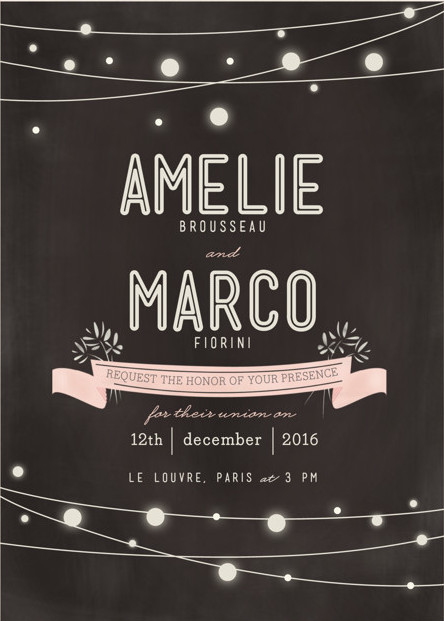 Above: 16. String strands of dazzling cafe-lighting from tree to tree, and relax under the heavens with these Paris Lights Starry Night Wedding Invites. Choose your invitation color and card-stock style here.
Still searching? Check out loads more wedding invitation ideas here, and get real-talk wedding planning advice here.
15 Geode Agate and Crystal Wedding Invitations to Rock Your World!
22 Ultra Cute & Super FUN Engagement Announcement Photos + Ideas
20+ Totally Adorbs Bridesmaids Gifts: Ideas To Spoil Your Girls!