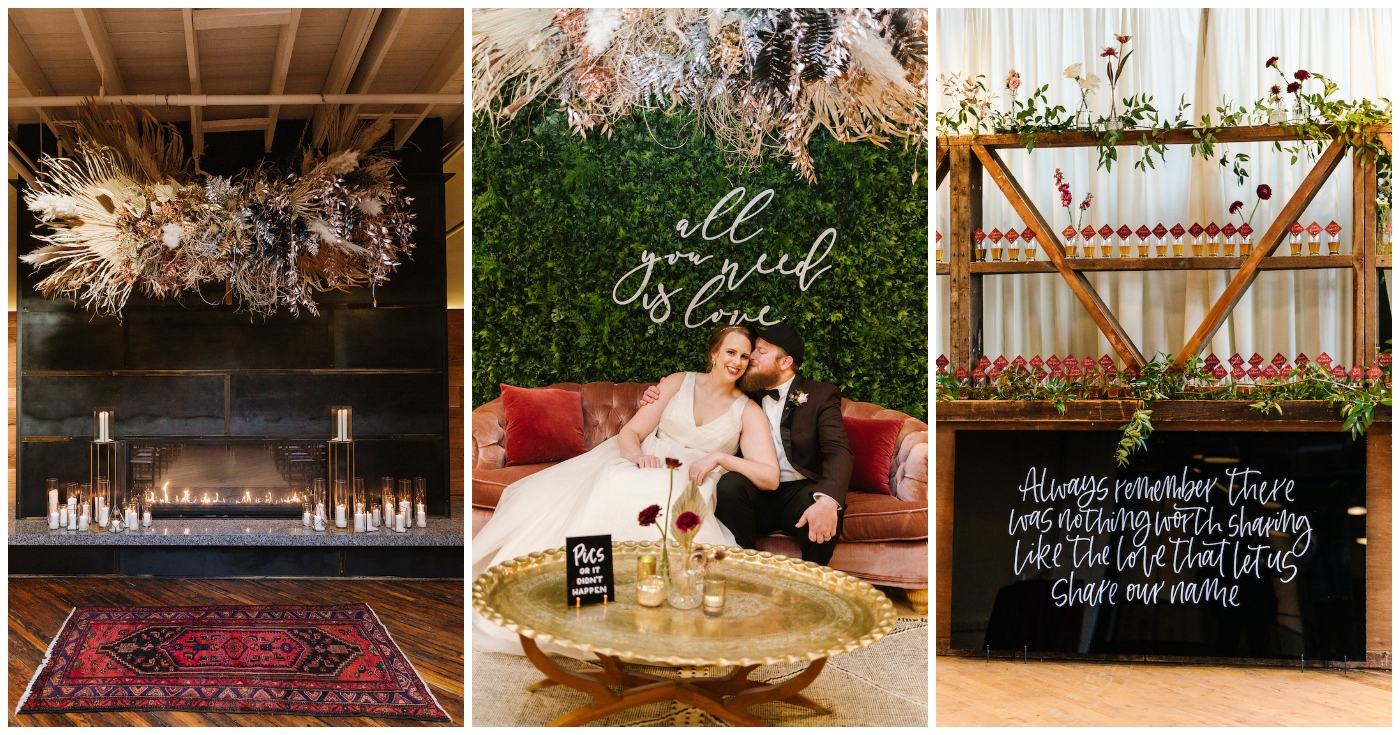 Heather, an HR Professional, and Jordan, a software engineer, who live in Baltimore, Maryland, were married in a winter wedding celebration inspired by their love of craft beer, their favorite band, and their love of modern industrial locations in the city of Baltimore with URBAN ROW PHOTOGRAPHY there to capture the magic!
The couple selected the Accelerator Space as their wedding venue because of its modern industrial aesthetic and location directly above a brewery. Jordan is a homebrewer and checking out new breweries is the couple's favorite thing to do together, so the location seemed perfect!
They decided on a burgundy, blush pink, and rose gold theme to make it feel very "winter romantic" as they exchanged vows in front of the gorgeous fireplace, working with The Otherside Creatives and Thurman & Fig to bring their vision to life.  The couple was married on Leap Day – the same wedding anniversary as Heather's grandparents.
Two of the couple's favorite local craft beers were created as signature drinks, and their favors were pint glasses that said "Love is Brewing" which their guests took into the brewery for the after-party.  Their escort card display featured mini glasses of beer with hand-lettered table assignments on a coin card secured to each glass. The couple had a 6′ black acrylic sign made with song lyrics from our favorite band, The Avett Brothers. It said, "Always Remember There Was Nothing Worth Sharing Like the Love That Let Us Share Our Name." I'm loving all of these personal touches!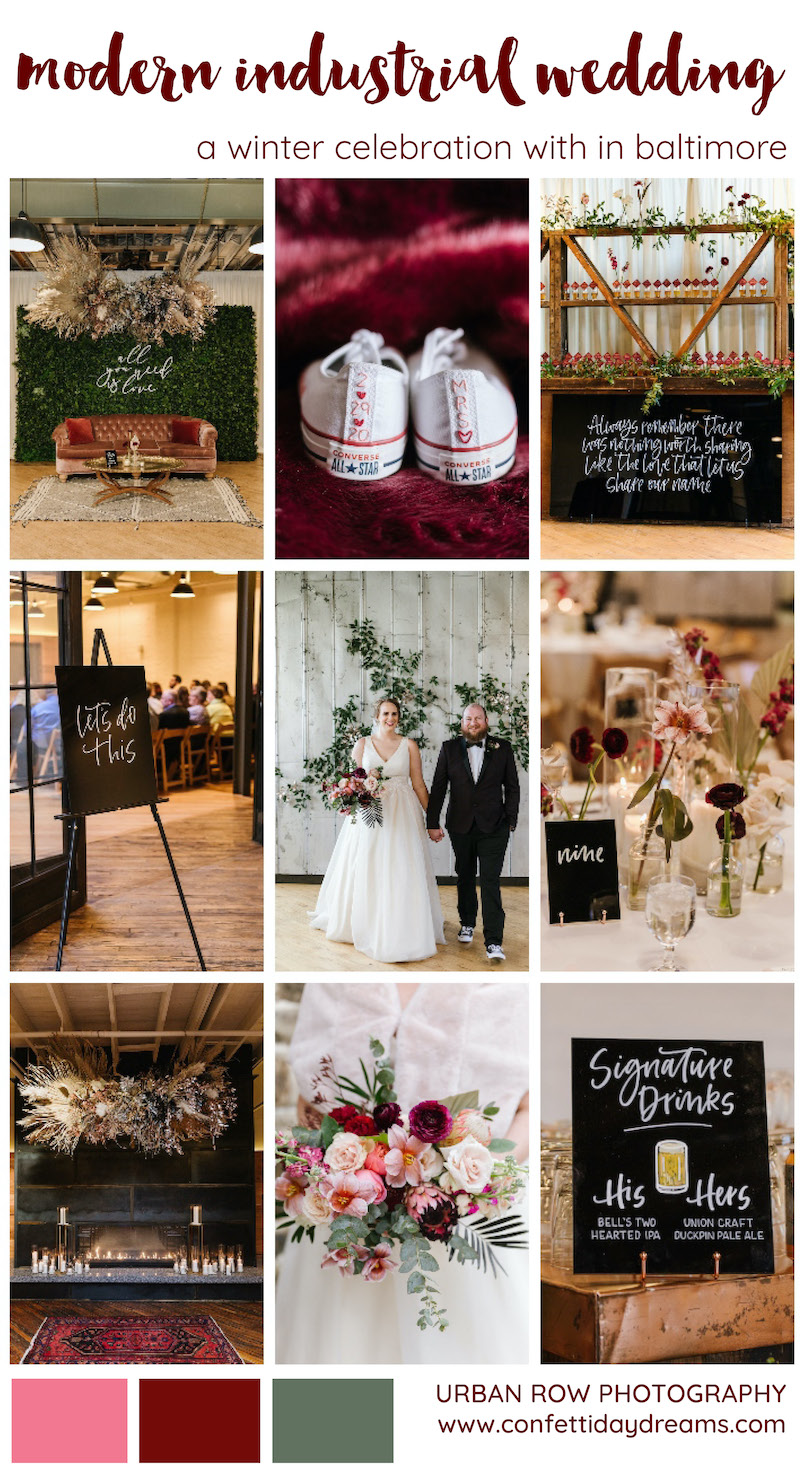 Love Story: Jordan and I met in September 2017 using an online dating app. We bonded over our love of craft beer and decided to meet for the first time at a local brewery in Baltimore city. We ended up being inseparable from the day of our first meeting, dating for about a year and a half before we became engaged in 2019.
It was a Thursday evening and he suggested that we go out and grab dinner to get a jump start on celebrating the long holiday weekend. I went upstairs and got changed for a nice dinner. On my way down the stairs, I noticed that Jordan was standing at the base of the stairs waiting for me. As I moved closer, he dropped to one knee and proposed at the base of the staircase in our home. It was perfect!! After many tears, he told me that I needed to get myself together or we were going to miss our dinner reservation. We ended up going to my favorite restaurant and there was champagne waiting at the table.
After a perfect evening, we drove to Virginia for a long weekend to brewery hop and see our favorite band, The Avett Brothers. I couldn't have asked for a more perfect engagement weekend.
Modern Industrial Baltimore Winter Wedding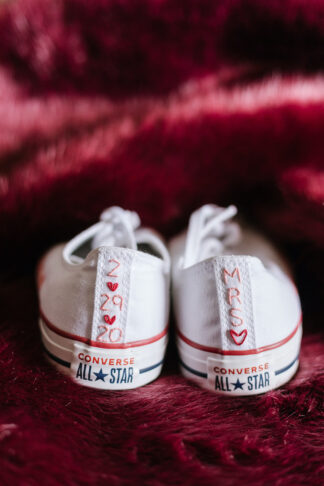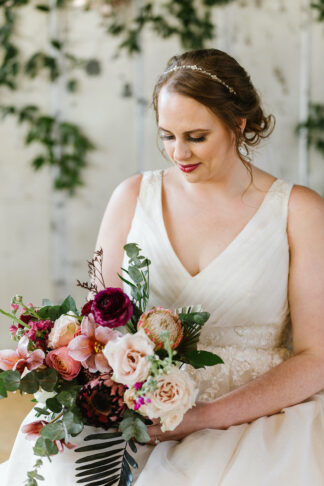 My dress was an off-white A-Line dress with a champagne tulle overlay that had gold sparkles in it! There are flower details at the waist of my dress and more flowers on the sheer back. Since it was winter, I wore a BHLDN blush pink stole over my dress, which matched my flowers perfectly, and had my makeup artist add a red lip that would match the burgundy in my husband's jacket.
My hair was in a soft updo that was swept to the side. I wore a small headband in my hair which was actually a belt that my bridesmaid gave to me and let the hairstylist pin into my hair to look like a headband.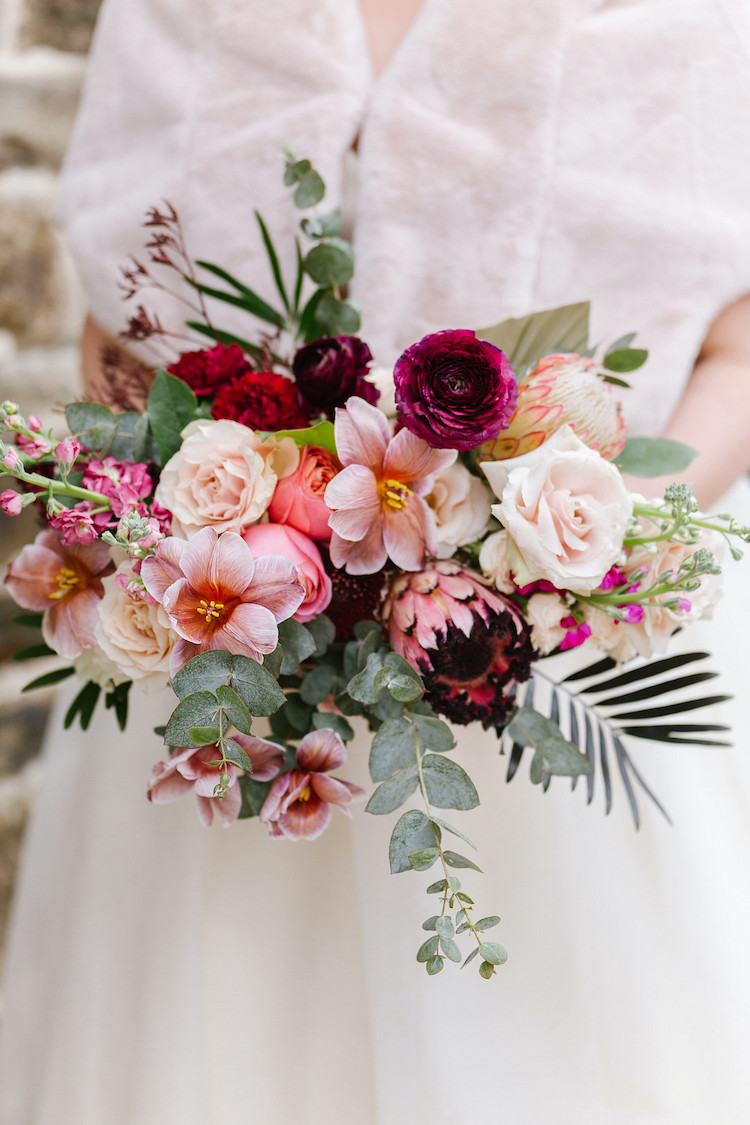 Thurman and Fig created our floral arrangements and I fully trusted her to bring my vision to life! I told her that I wanted a lot of texture and something different. My bouquet was full of king protea, tulips, roses, eucalyptus, ranunculus, and palm elements. It was gorgeous!
Our  wedding party wore long dresses in burgundy, in different styles, and had wine-colored fuzzy stoles to cover up when outside. They also wore blush pink and burgundy flower combs in their hair.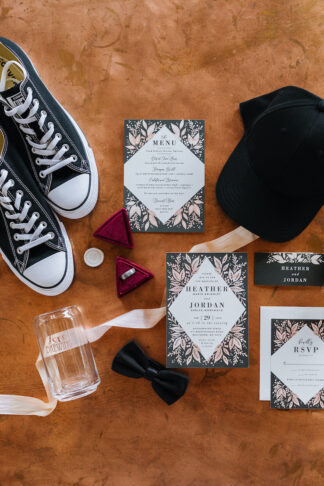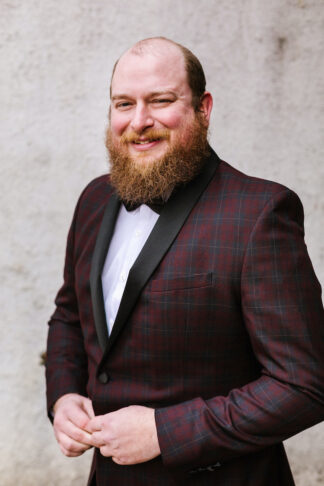 Jordan is known to wear baseball caps and flannel shirts 24/7 so he wanted to feel like an upscale version of himself on the wedding day. He ended up wearing a burgundy plaid sport coat paired with black converse and a black cap. Heather also wore white converse that were embroidered with her name.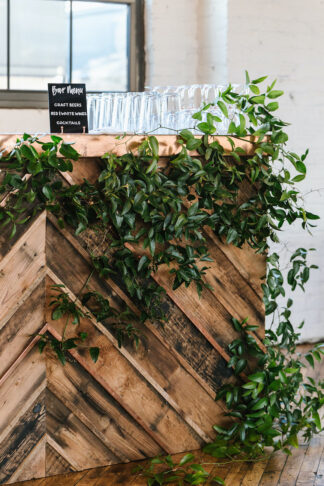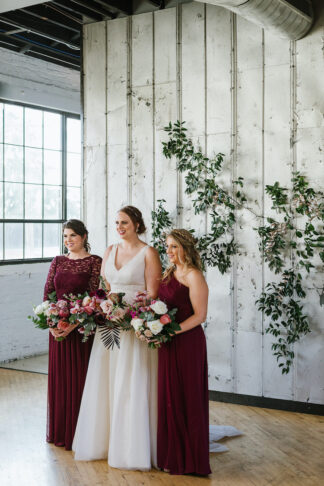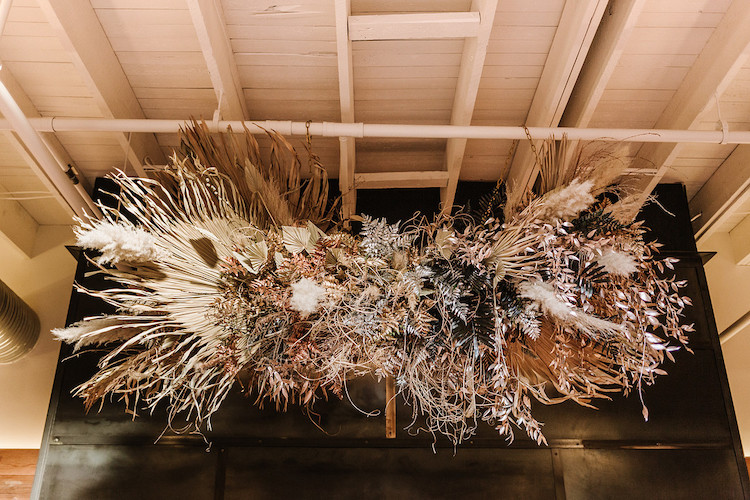 Our ceremony was held in a cozy den room at the Accelerator Space in front of a floor to ceiling black marble fireplace. Above the fireplace was a 6′ hanging dried floral installation that was absolutely beautiful! It had palm elements and fern in different metallic colors, including rose gold.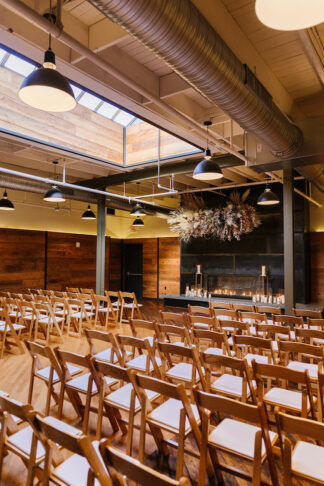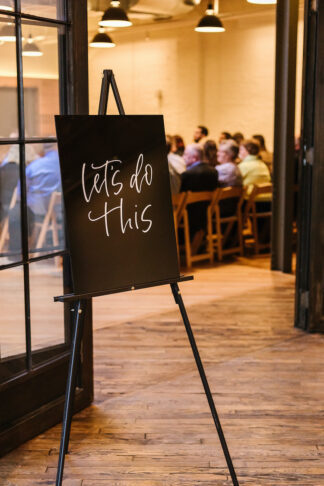 To either side of the fireplace were different sized candles to compliment the fireplace and expand the fire elements.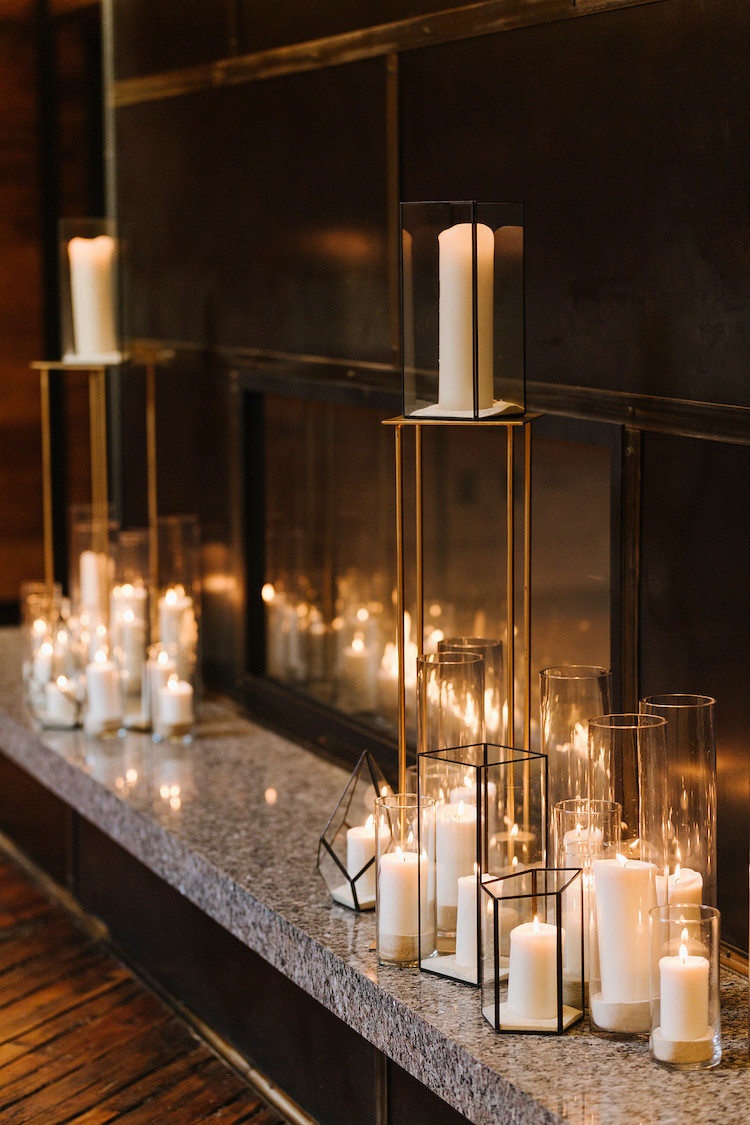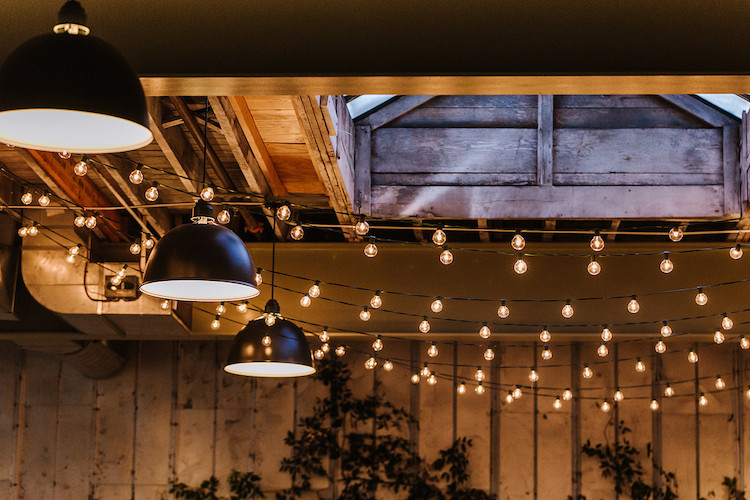 Our wedding ceremony was short, sweet, and very meaningful. It was officiated by my best friend of 20 years who flew in from California. Instead of reading vows to each other, we each selected lyrics from a song and secretly shared them with our bridesmaids to be read for the first time at the wedding in dedication to the other person.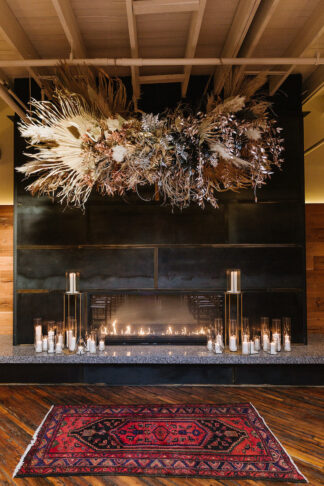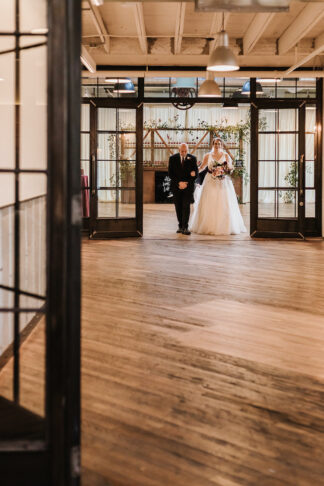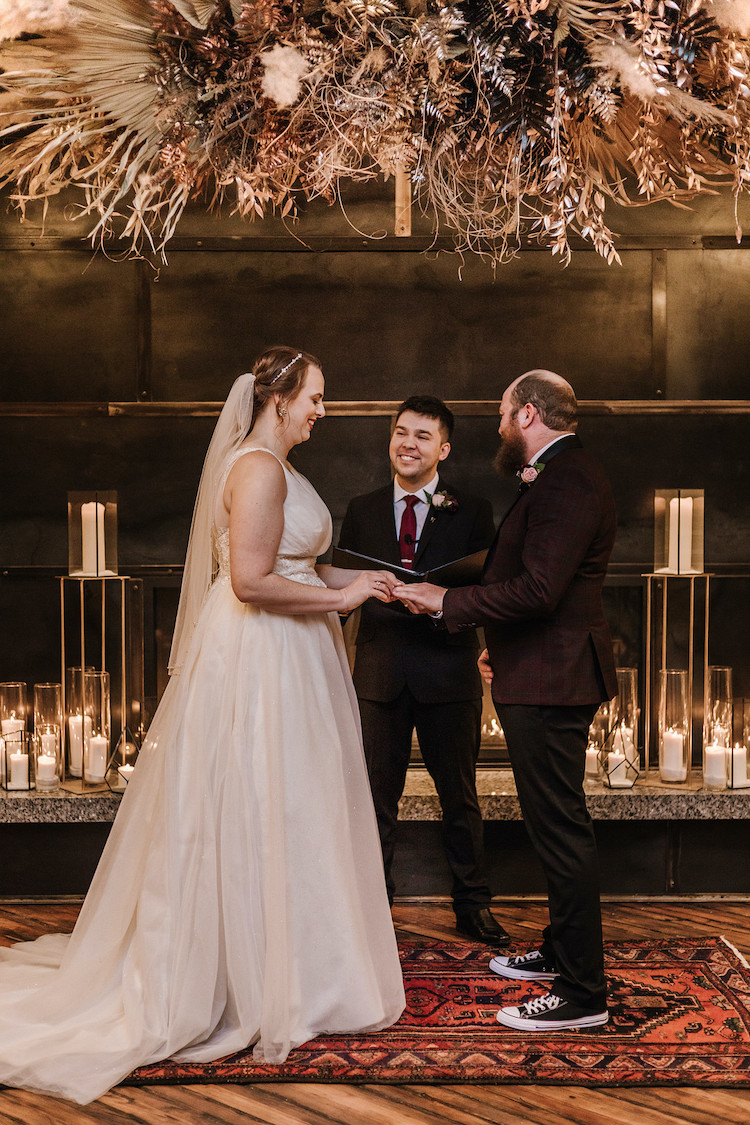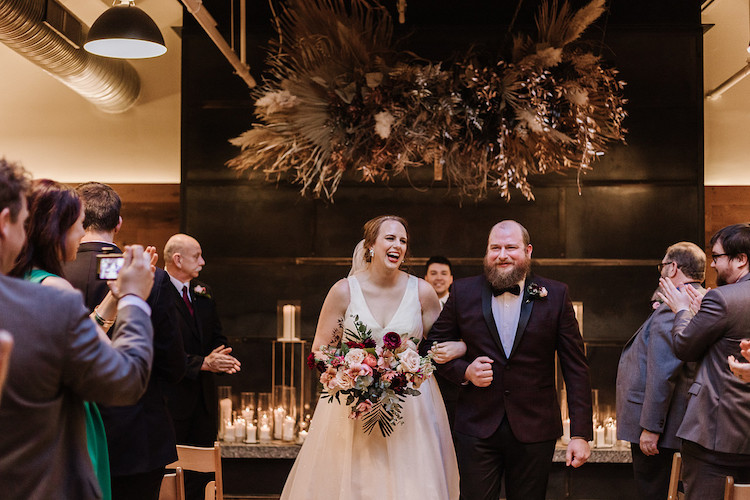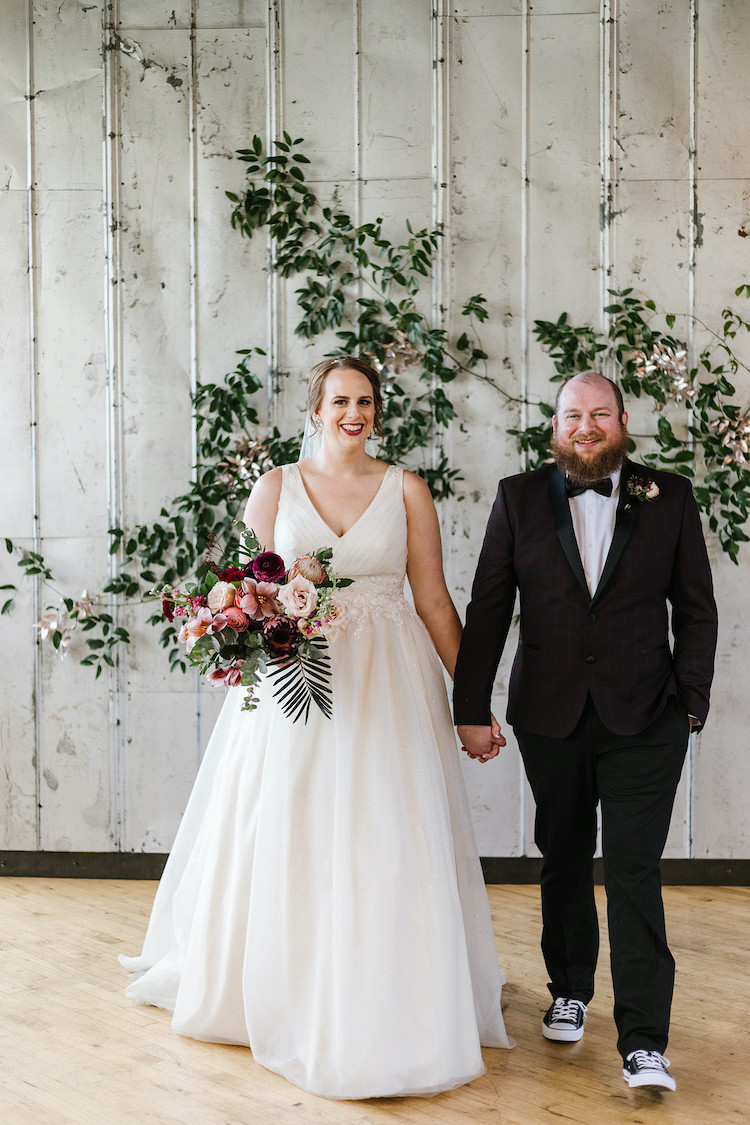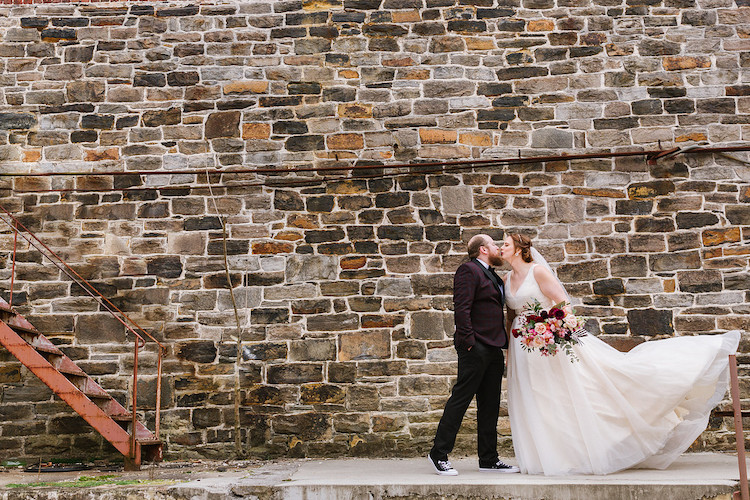 When guests walked from the den ceremony room into the main space, they were greeted with a HUGE 12′ bar back that was covered in greenery and bud vases and included mini glasses of beer with coin tag table assignments for each guest.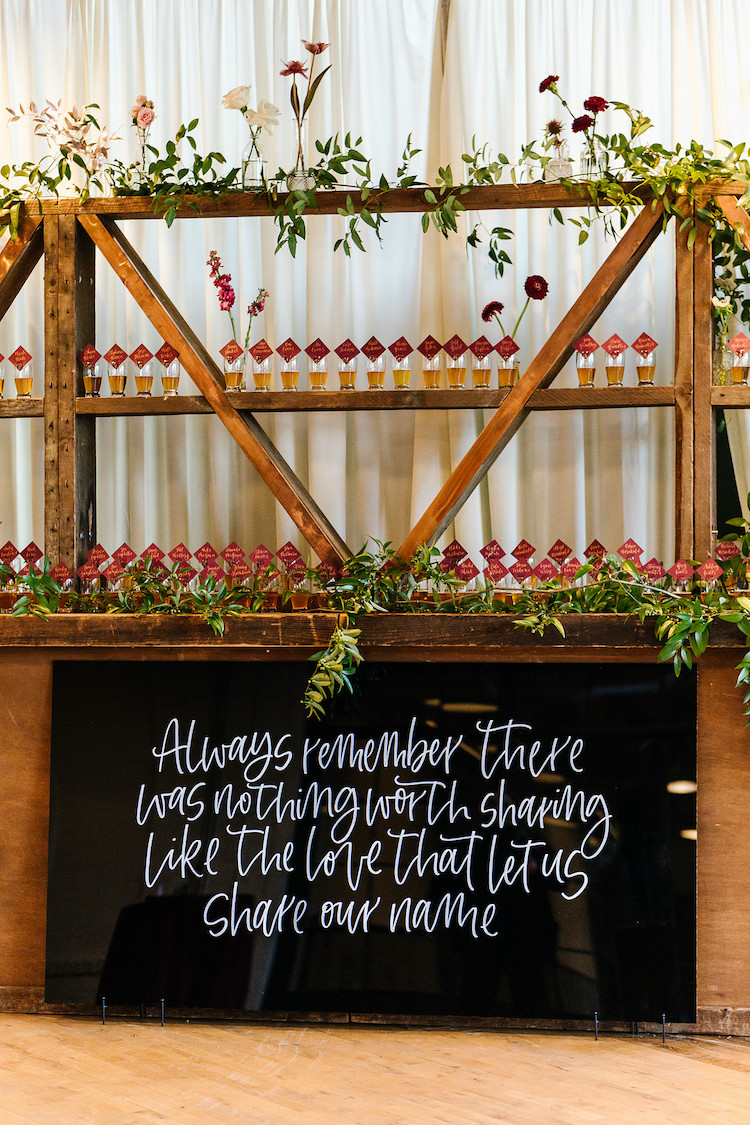 In front of the bar back was a huge 6′ black acrylic sign that read our favorite lyrics "Always Remember There Was Nothing Worth Sharing Like the Love that Let Us Share Our Name".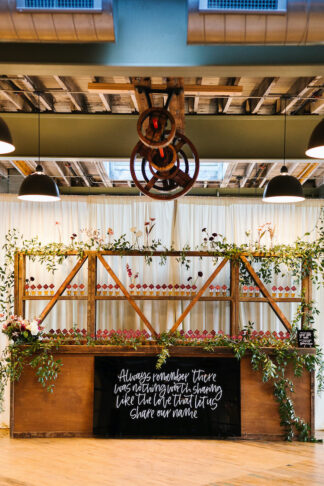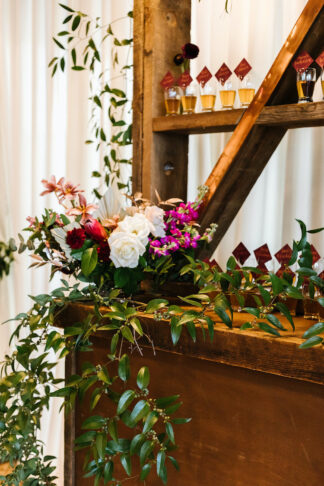 After grabbing their mini beers with table assignments, there was a stationary table with food plus passed hors d'oeuvres for the guests. During the cocktail reception, we had a 3 piece acoustic trio play easy listening / jazz music. The cocktail and reception bars brought in more metallic elements as they were made from reclaimed wood with copper tops.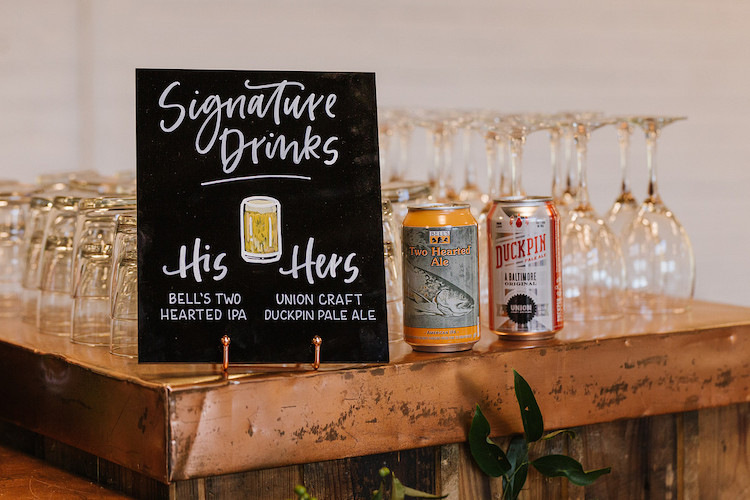 Prior to the dance party, our guests grabbed food at our four different food stations, including a taco bar! Following dinner, a 7-piece band played the rest of the night and we had an epic dance party with all of our guests! Our band stood directly in front of the galvanized wall greenery with café lights hanging above the band and dance floor.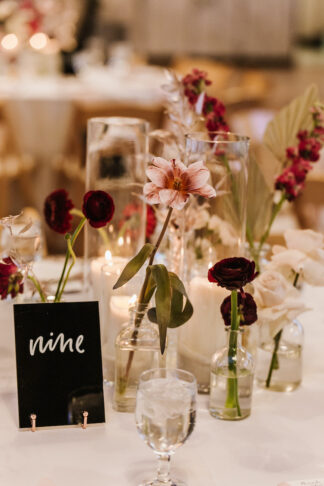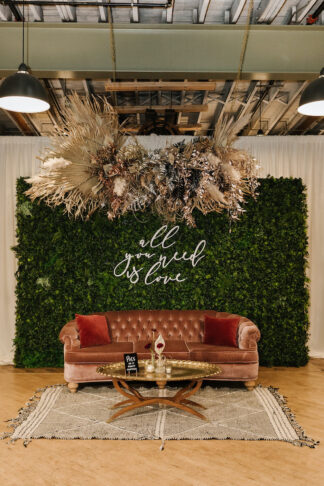 Our tables included bud vase floral arrangements and black acrylic signs with table numbers. The far wall of the Accelerator Space is all metal and our florist added about 150′ of smilax greenery with small pieces in rose gold to tie in with our metallic theme.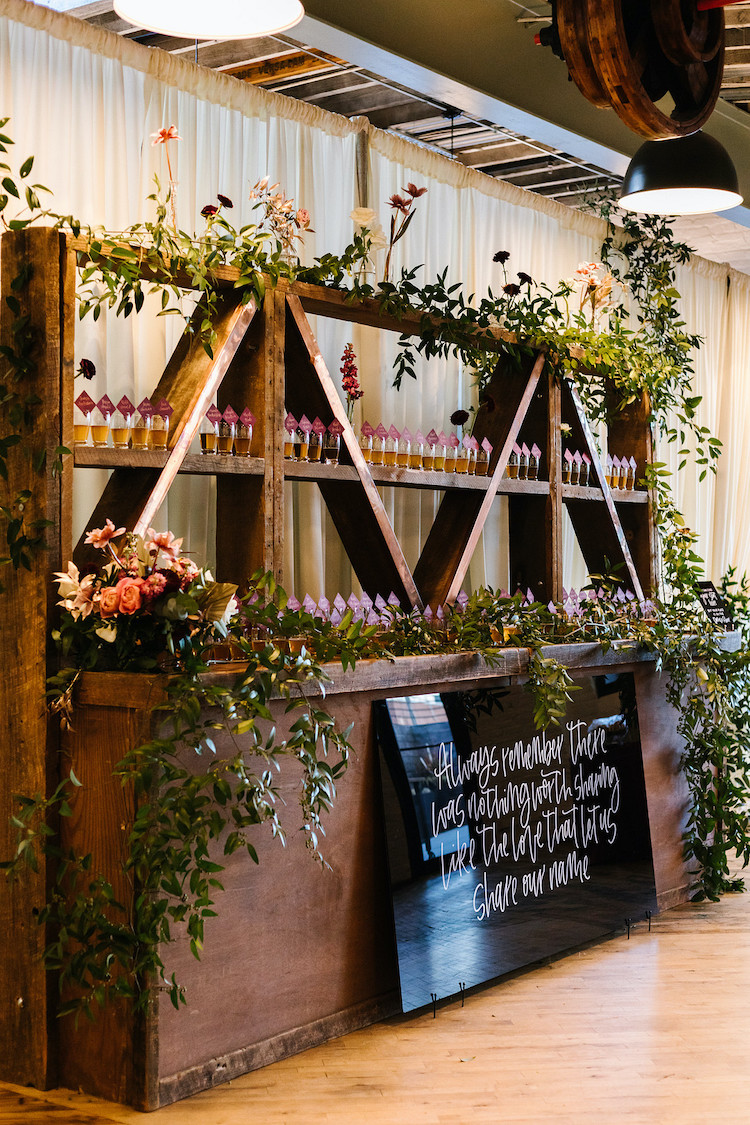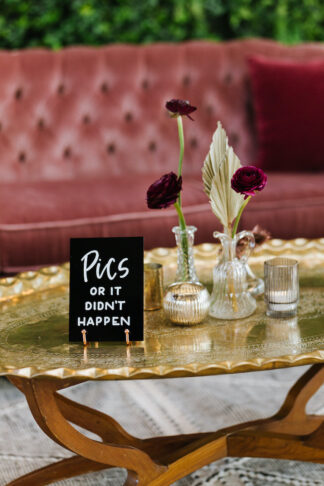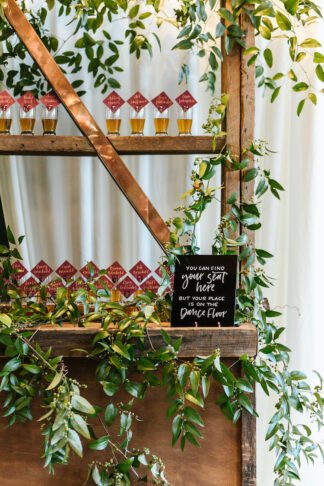 One of my bridesmaids was not able to attend at the last minute due to the death of her father from a rare cancer. It was absolutely devastating and our hearts were broken for her and her family. In honor of her and to ensure she was part of our wedding that day, we made up some "in lieu of cards", even though we also had favors, and donated money to the American Cancer Society in honor of her father.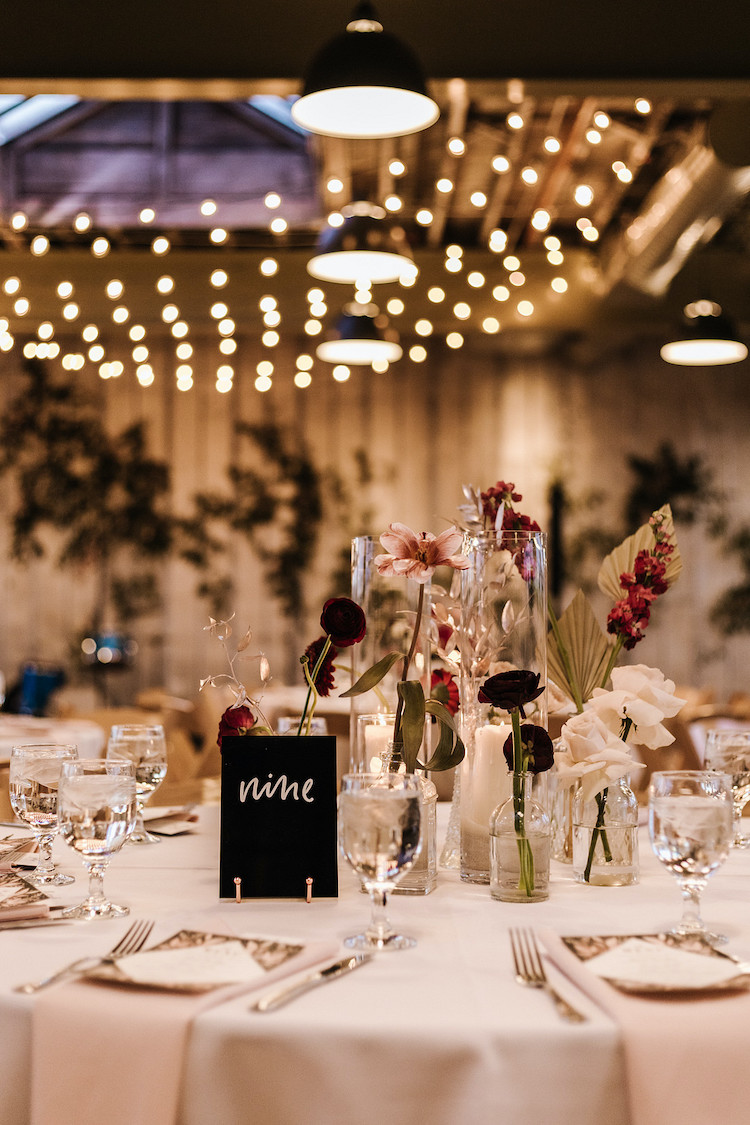 As guests walked through the bone-white curtain to go into the main reception area, they were surprised to see a photo lounge area that had a mauve couch, fern wall with "All You Need is Love" lyrics, and the hanging floral installation from the ceremony repurposed above the lounge to provide a really unique background for photos.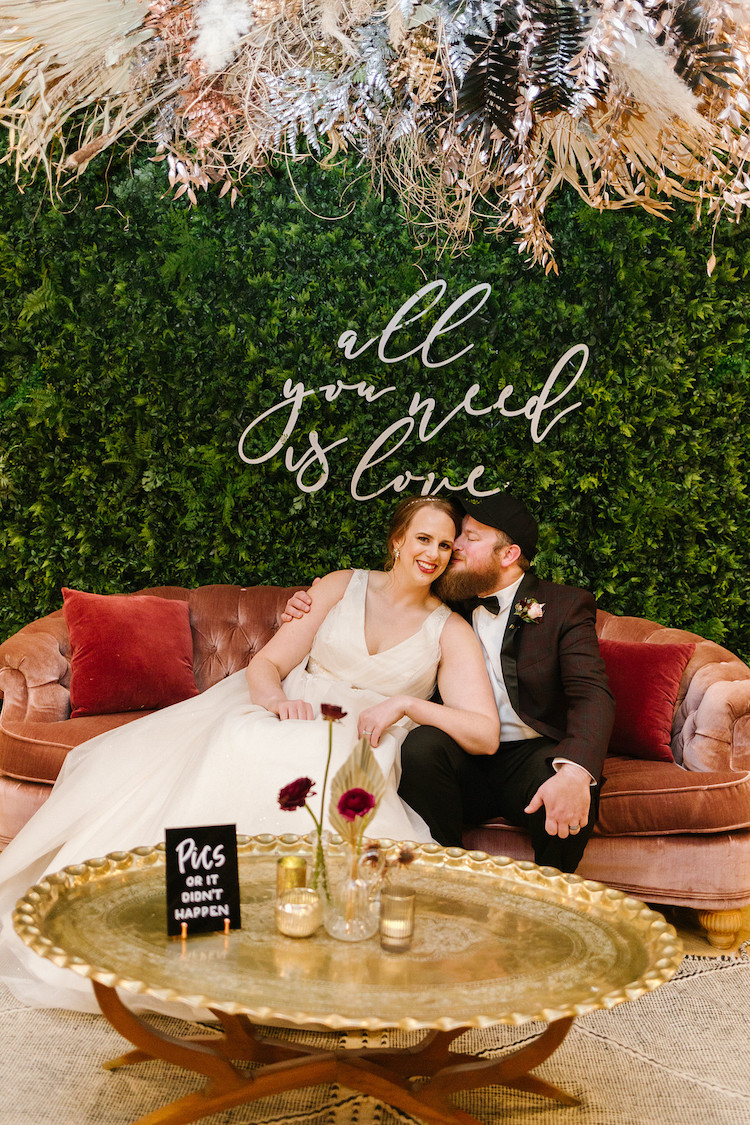 Wedding Planning Advice:
 I absolutely could not have done this without my wedding planner, The Otherside Creatives. It is SO important to select a planner who understands your vision and is ALL IN.
I also really appreciated the recommendations from my vendors. Not only were the other vendors fantastic, but the entire team worked so well together because they had previous relationships, which made it so much easier for me!
I focused on spending money on elements that would really create a unique experience for the guests, like the floral arrangements and some unique furniture pieces. In situations where I don't think it would change the experience for our guests, like using the round tables and chairs provided by the venue, I made the decision to take what was available to me and focus my time/money in other places. It really paid off as our wedding was very personalized and beautiful!
Wedding Vendors:  Photographer: URBAN ROW PHOTOGRAPHY// Event Planner: The Otherside Creatives// Floral Designer: Thurman & Fig// Dress Store:David's Bridal// Groomsman Attire:The Tie Bar// Transportation: Rite Way Valet//Invitation Designer:Minted//Signage: Lynn Cipollone// Lighting: Event Dynamics//  Caterer: Zeffert and Gold// Equipment Rentals: Something Vintage Rentals// Floral Designer: Thurman & Fig//Beauty: Pretty Weird Beauty//Band: Bachelor Boys Band// Reception Venue: Accelerator Space//
READ NEXT: