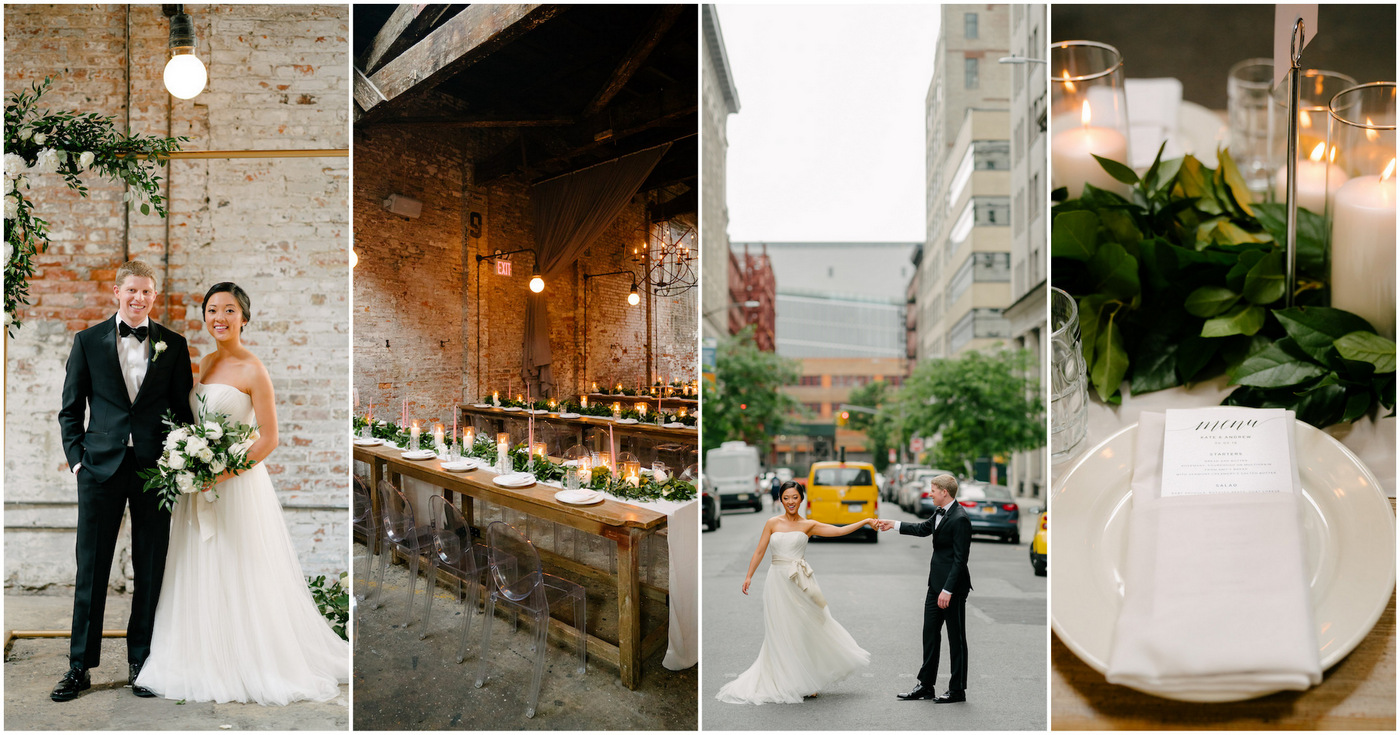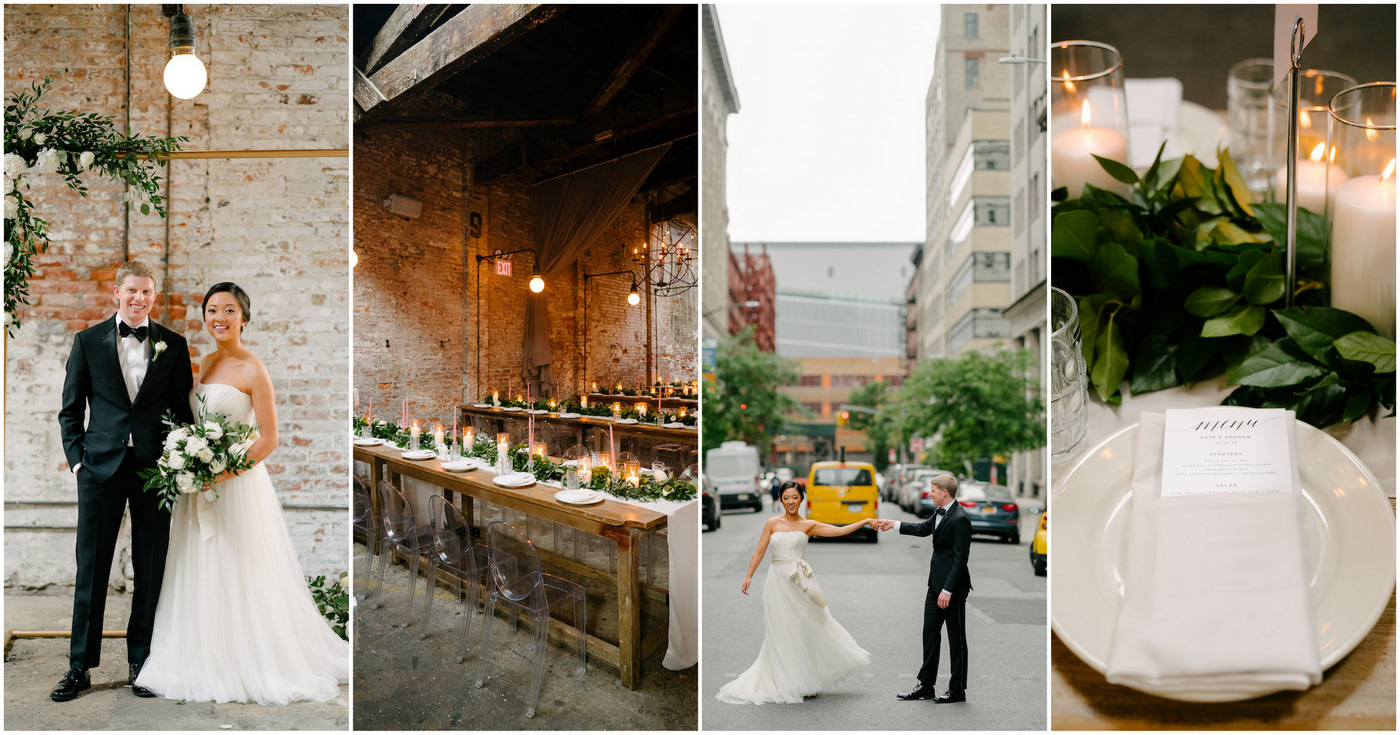 Kate and Andrew shared their first apartment together in New York City, eventually spending three years together in the city. Once they began planning their wedding, the couple envisioned an unforgettable New York wedding at an indoor venue with soaring ceilings. When they saw Houston Hall they knew that it was the perfect choice. With industrial wedding details including exposed bricks and a massive marble bar, the venue also comfortably fit all of their guests and offered the family-style dining that they were after for their NYC beer hall wedding experience.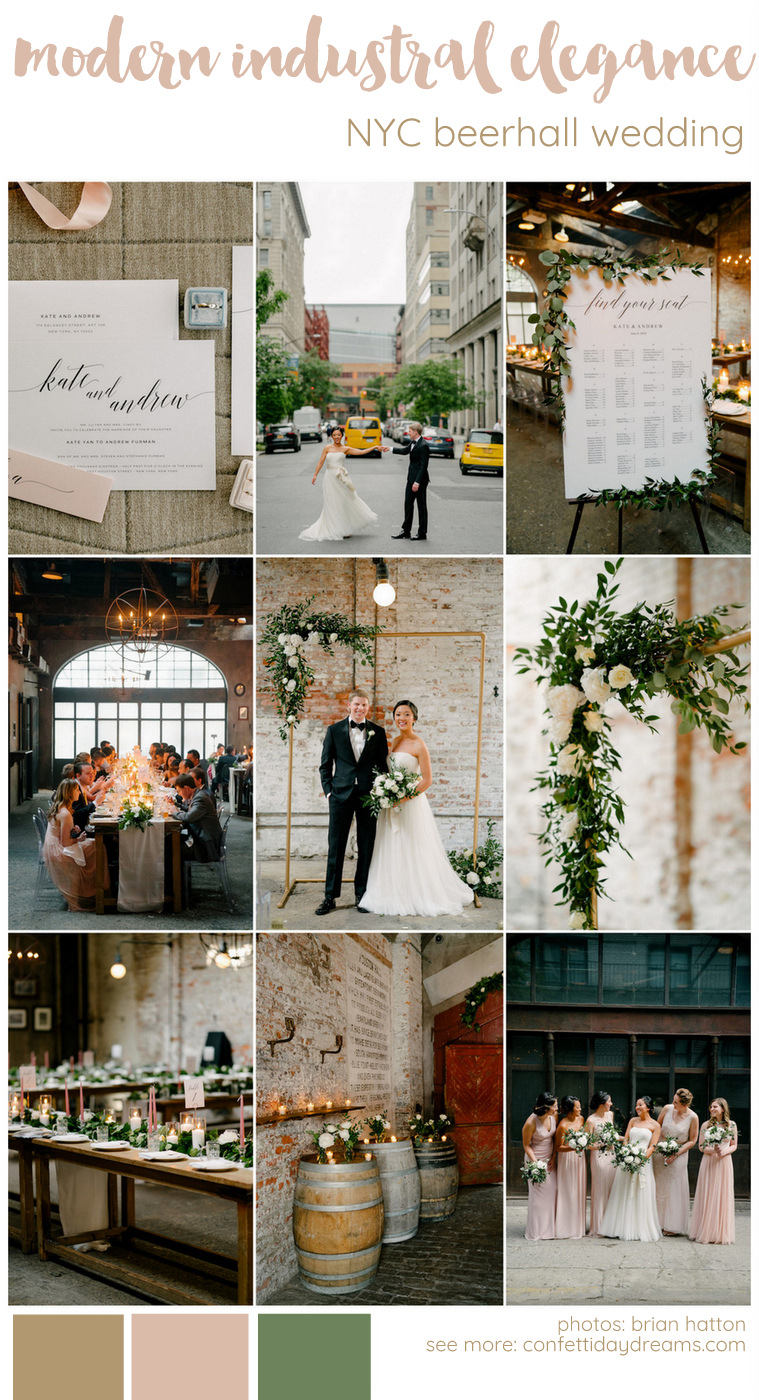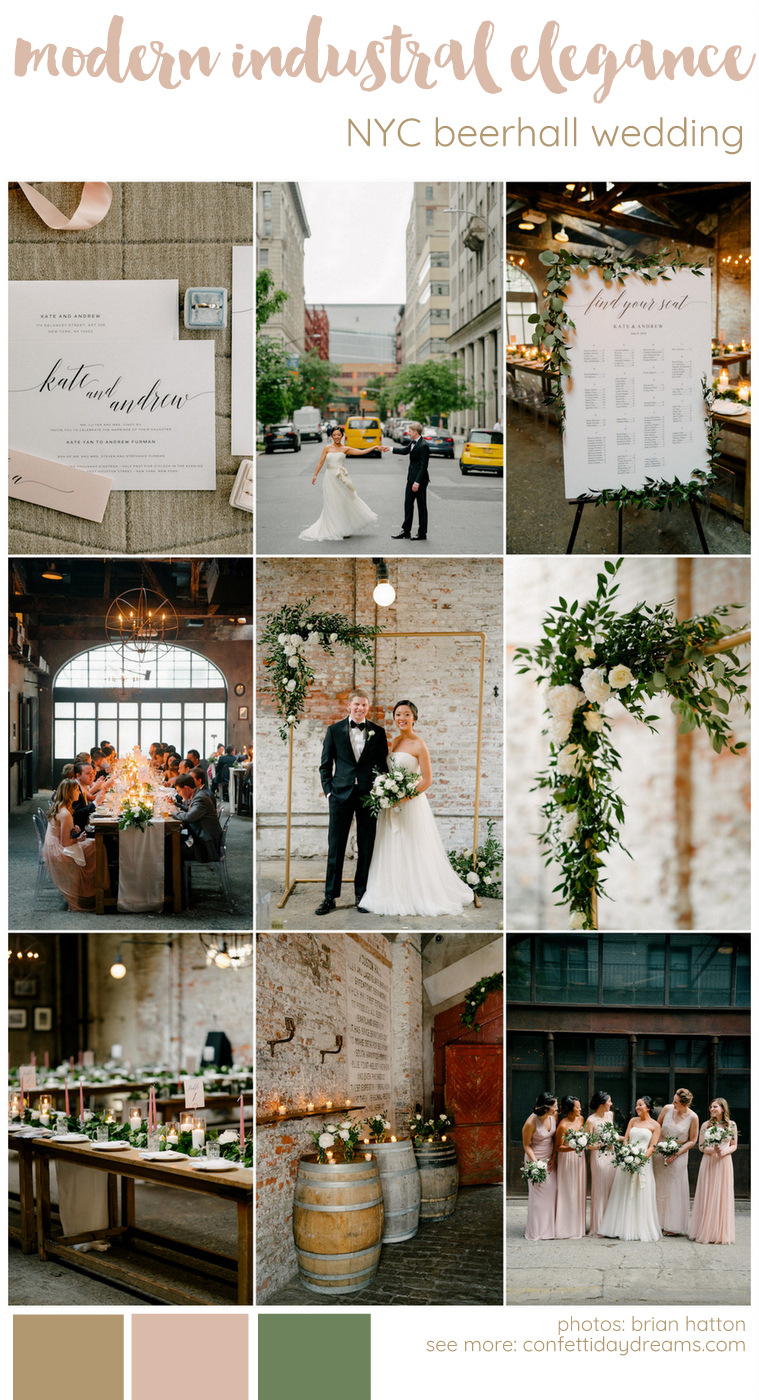 Planning a NYC Beer Hall Wedding
The couple worked with planners at Vision Event Co. who helped them choose entertainment, decor, and furniture, rental vendors for their NYC beer hall wedding. 
"Photography was my number one priority," explains Kate."I knew the style of photography that I was looking for, and after reviewing Brian Hatton's photography portfolio, I booked him immediately. Houston Hall made it really easy to choose other vendors. Catering was included, Universal Light and Sound had done many lighting design projects for Houston Hall before, and entertainment was booked through Vision Event Co, who was incredibly fun to work with."
Our Love Story: We both went to Carnegie Mellon, and for two years, lived only 75 feet from each other on the Greek quad. After graduation, we started our traveling consulting careers separately but happened to be staffed in the same city. We overlapped in Detroit for 12 months, and connected over our strong interest in travel, travel hacking, and on-the-road consulting work life balance. Kate planned a solo trip to Nashville one weekend, and I thought, why not, I'll come along too. We kept in touch after Kate left the Detroit project, and started dating after she moved to Boston 2 months after. We spent our free time traveling and eating our way through New England, Canada, and then expanded our adventures to Europe, Africa, Asia and South America. – Andrew
Our Proposal: Andrew and I are avid skiers, and we scheduled a trip Sun Valley Idaho for a weekend getaway. We both travel for work, and had plans to fly into Salt Lake City from our respective work destinations, then meeting up and continuing to Sun Valley. Andrew arrived an hour earlier than me, and told me he had to finish up some last minute work and will meet me in the airport lounge.
I arrived in the airport lounge, and the desk attendant told me that they were compiling profiles of their frequent flyers and wanted to take a photo of me next windows that faced the airplanes and mountain backdrop. She walked me over to the windows and then I see Andrew in his suit. At first I thought "Oh you dressed up for this photo shoot? I'm wearing sweats!" But then I saw the camera filming and red roses, and I knew it was it! He gave me handmade paper luggage tags of places we've visited, cities we've lived in, and the last card was marked "Salt Lake City", the airport where he asked me a very important question. – Kate
Modern Industrial Elegance: NYC Beer Hall Wedding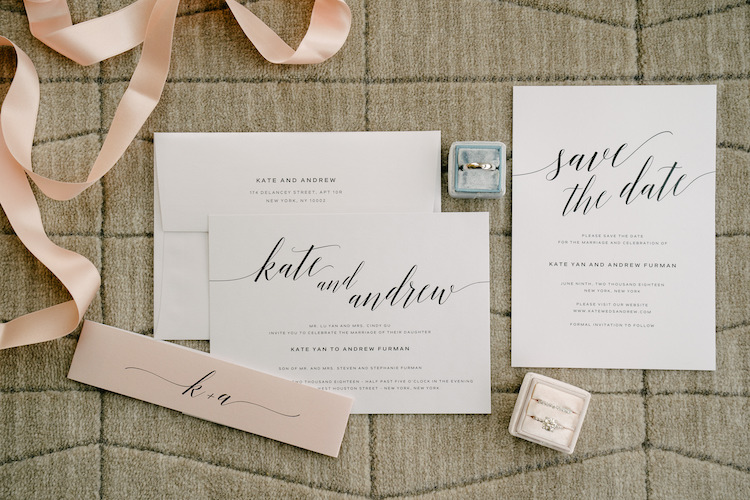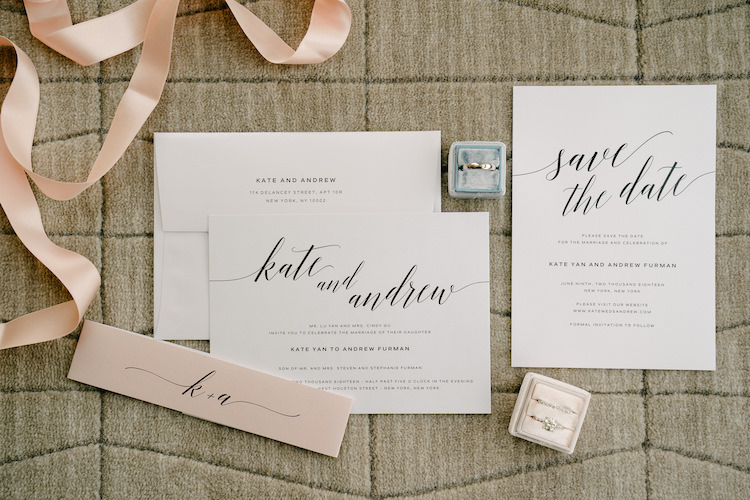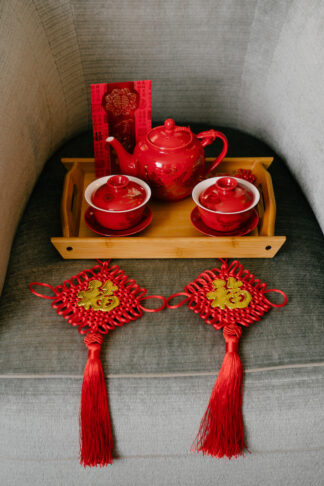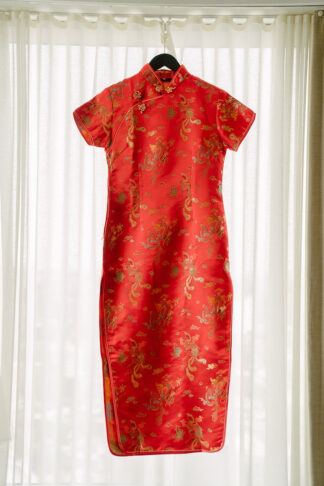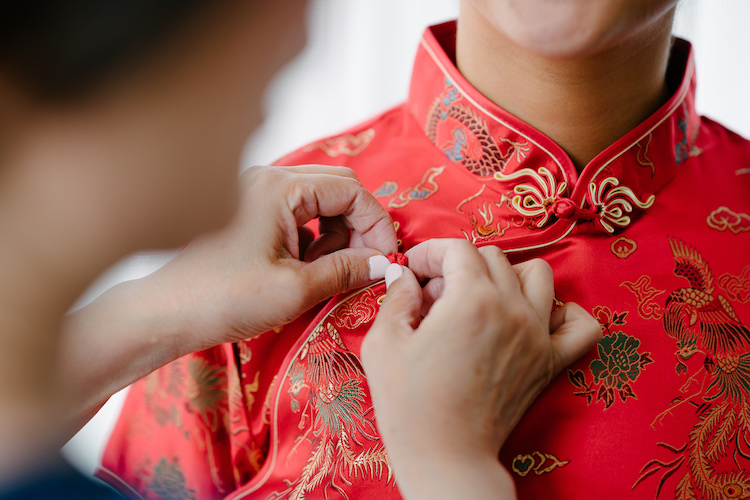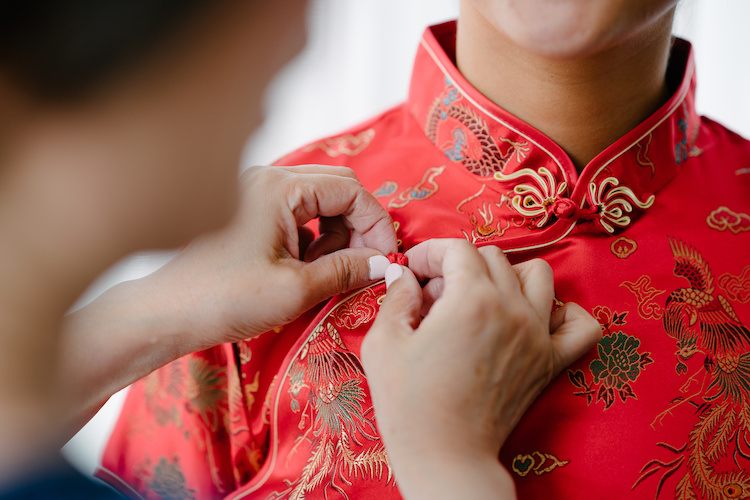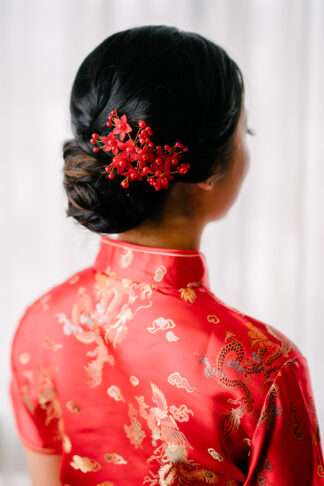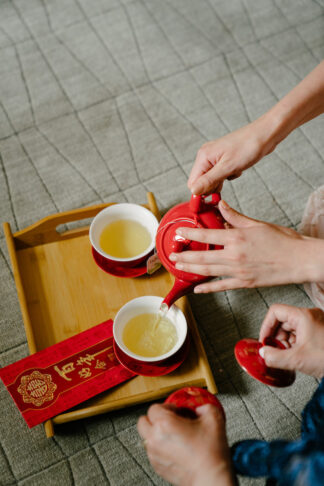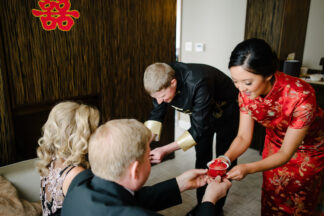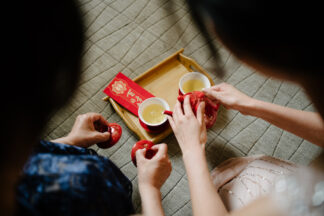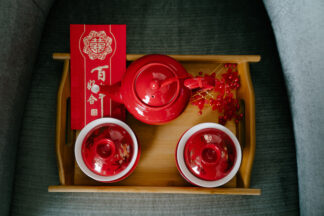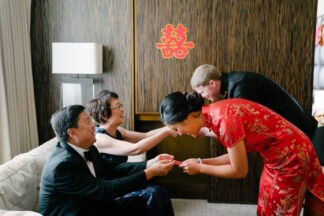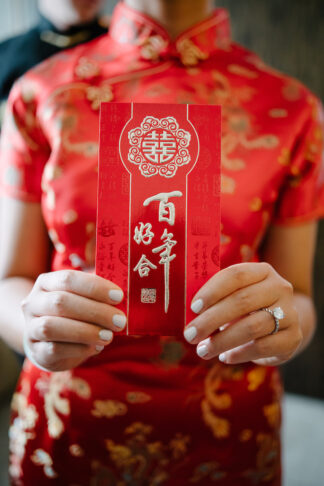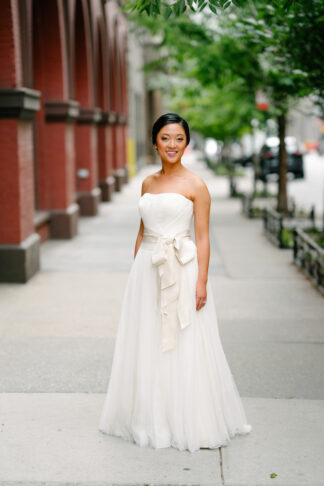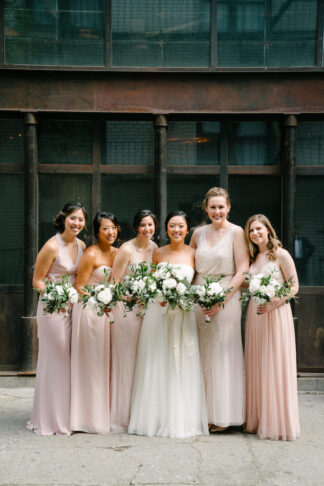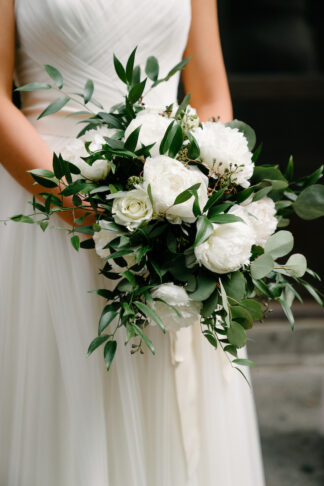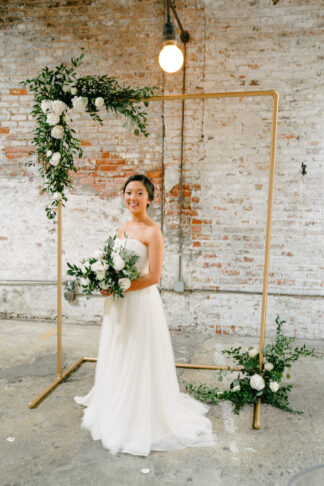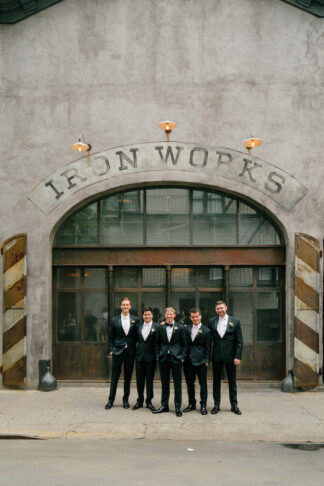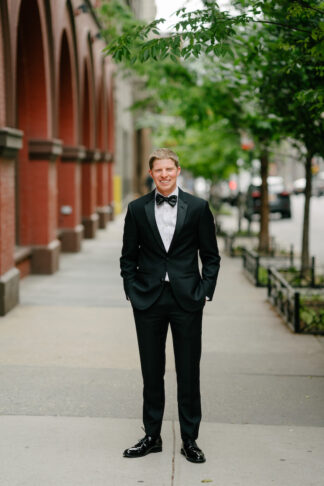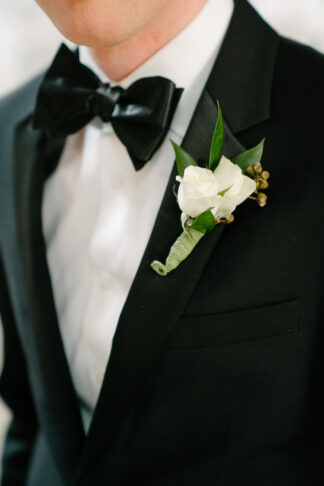 Industrial New York Beer Hall Wedding Ceremony: We wanted to keep our decor elegant and minimal, without taking away from the charm of existing space. We had gold accented frames and lanterns that brought a shimmer of accent color and light to the space, and a dark wood welcome sign that complemented perfectly in the vestibule.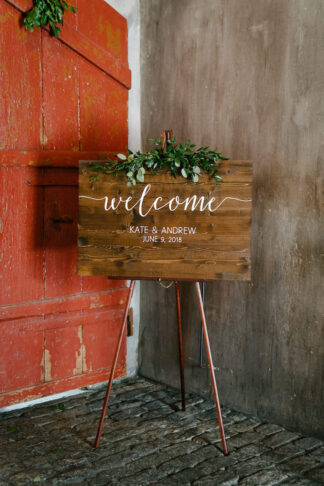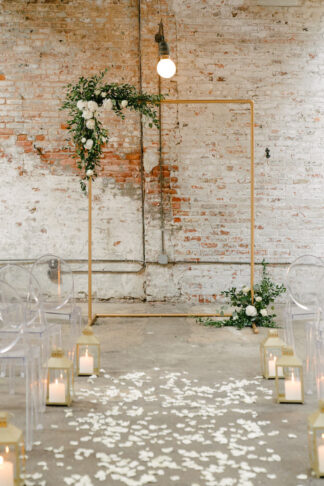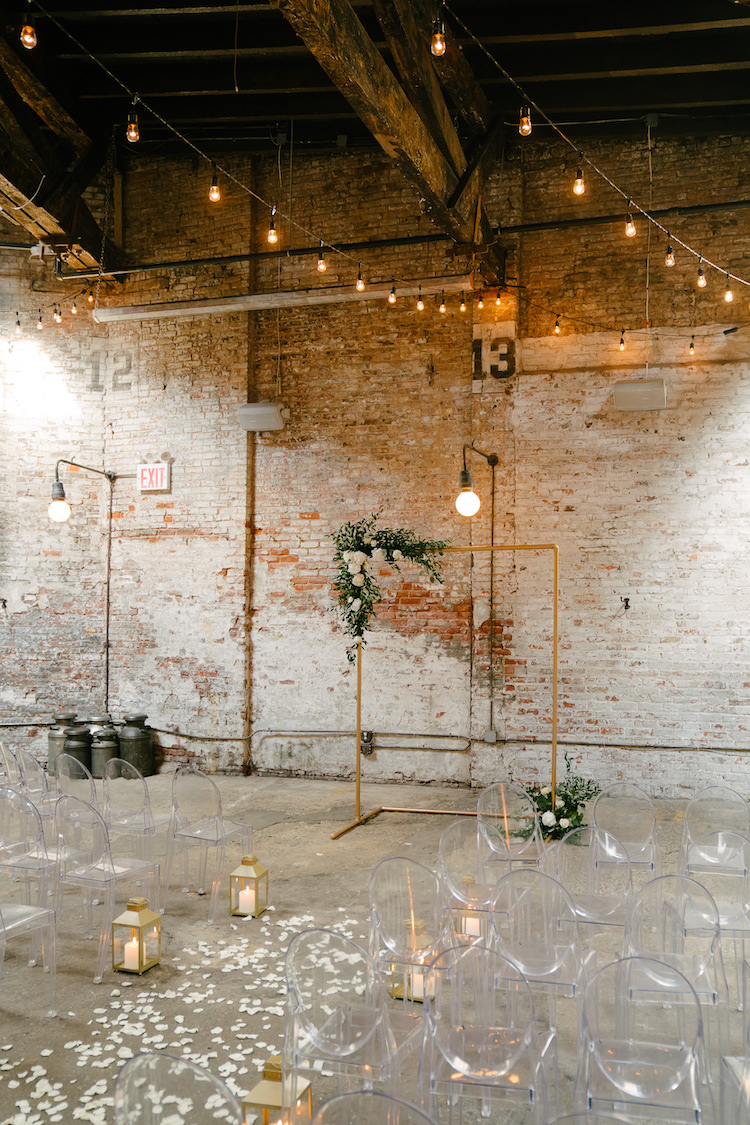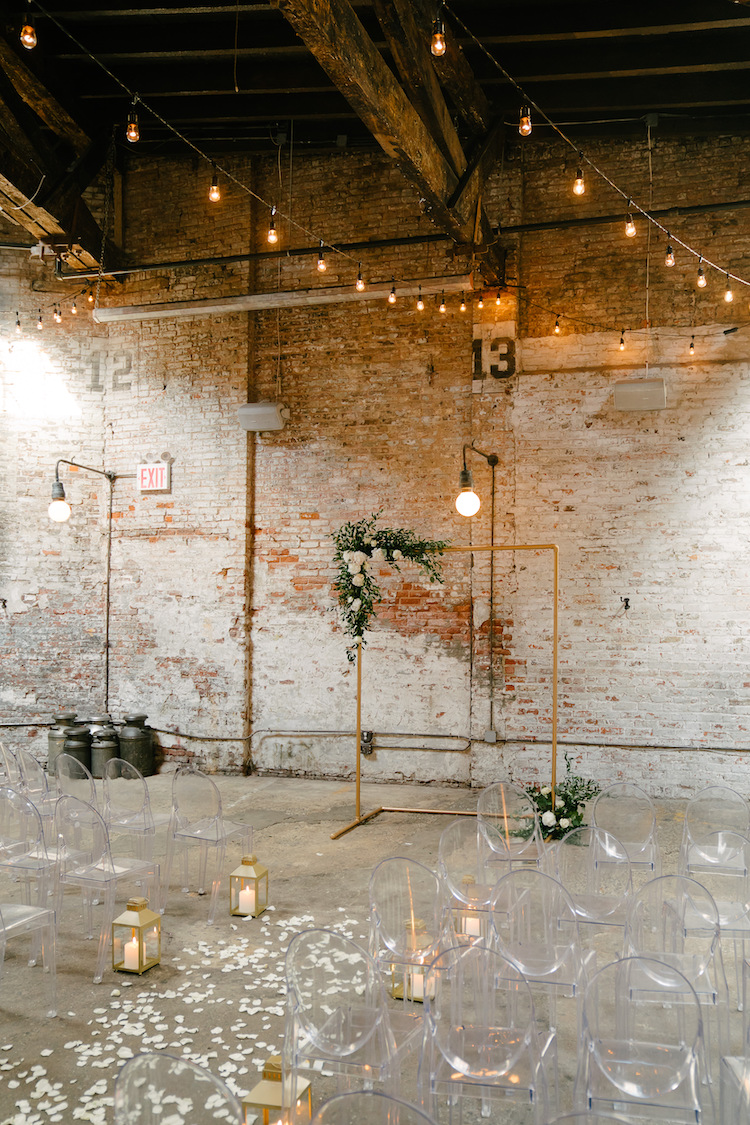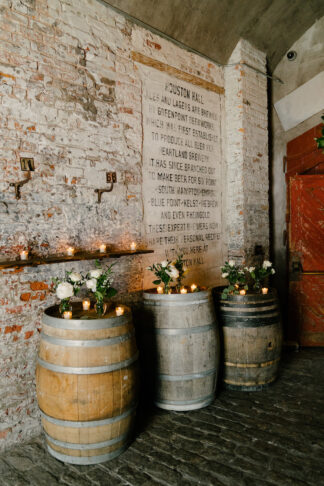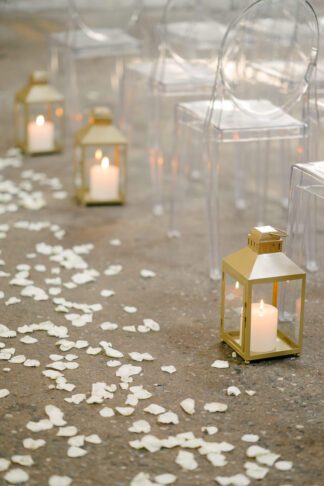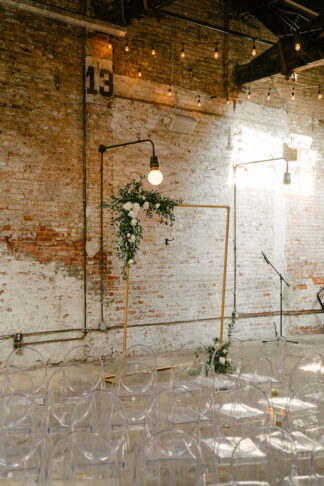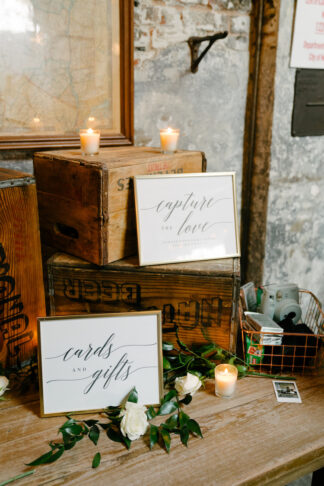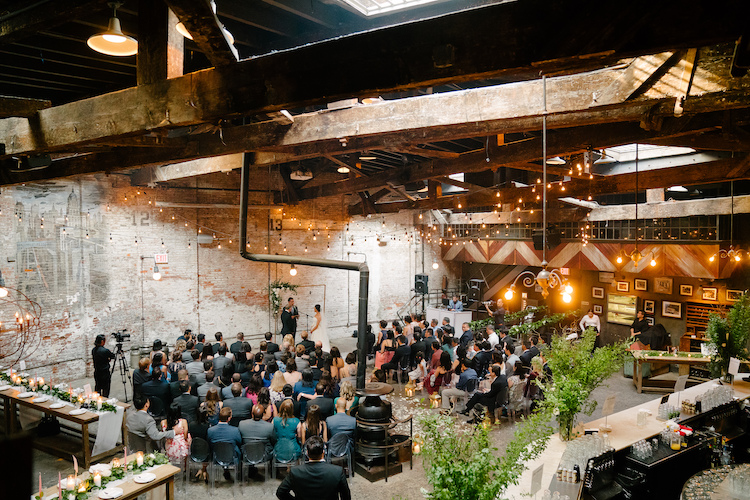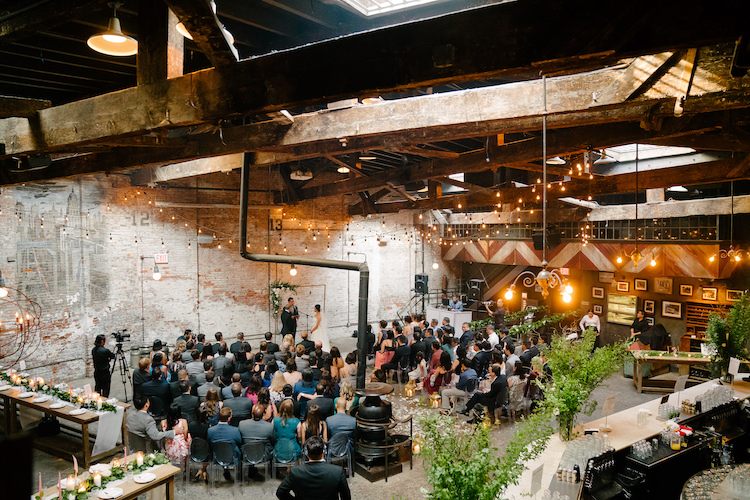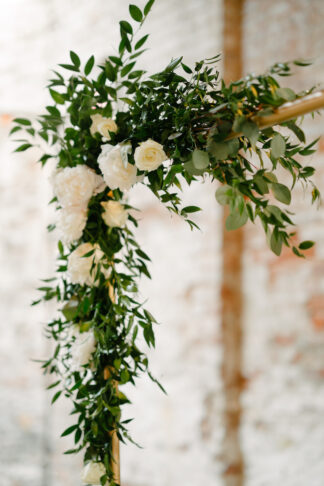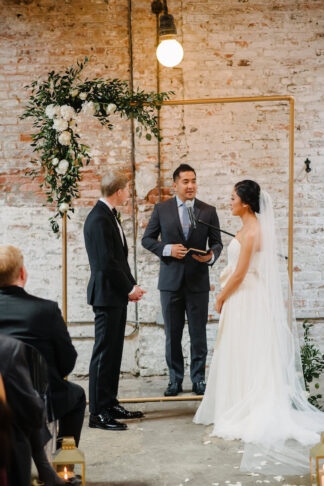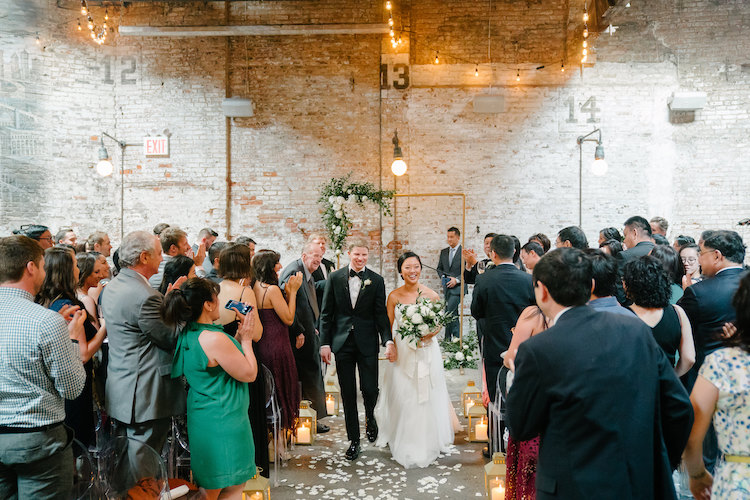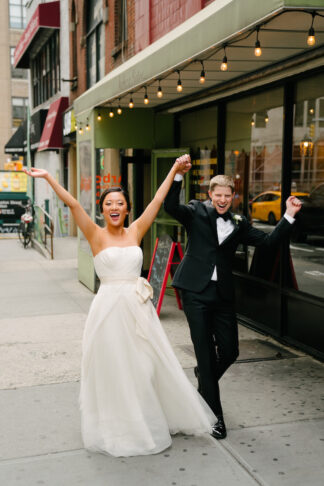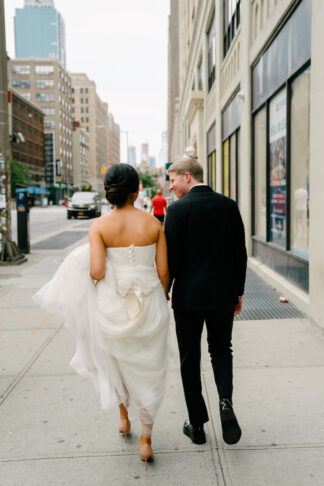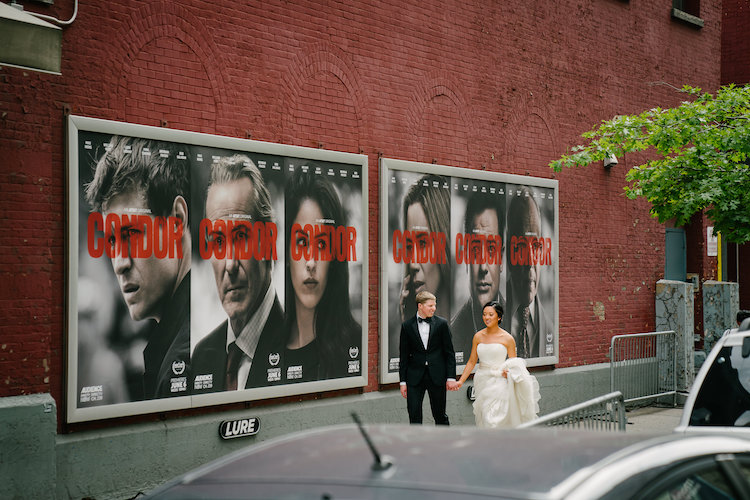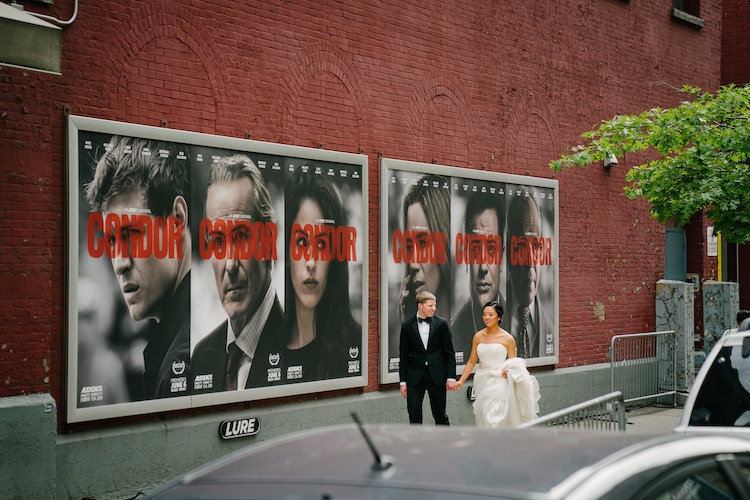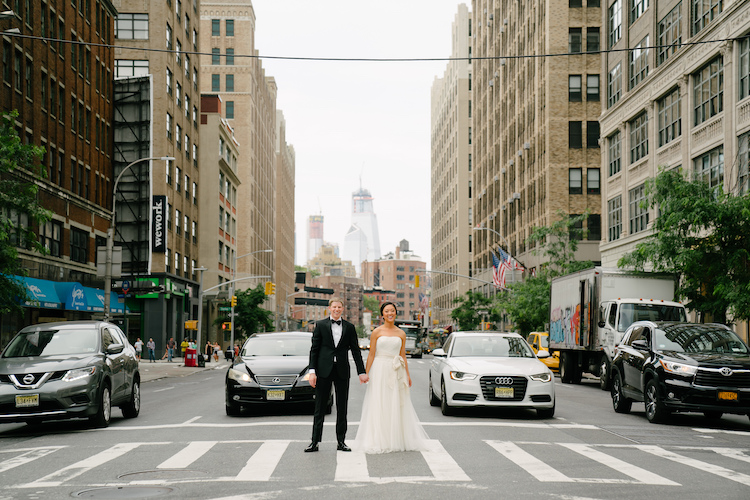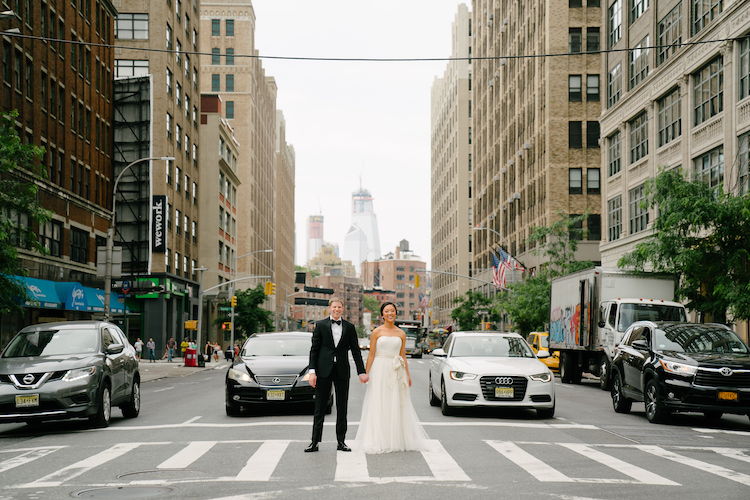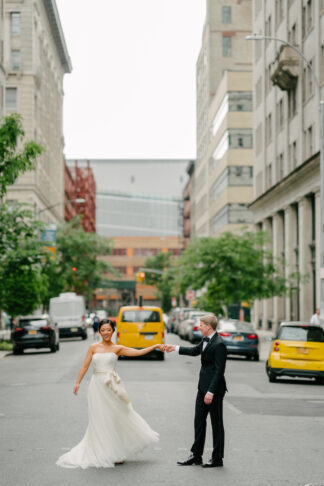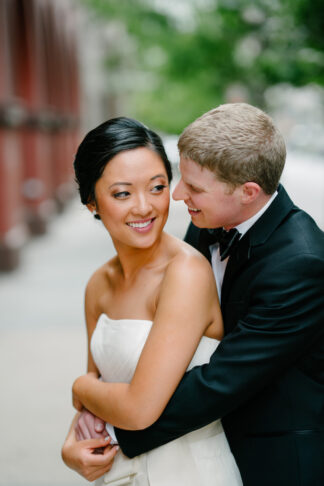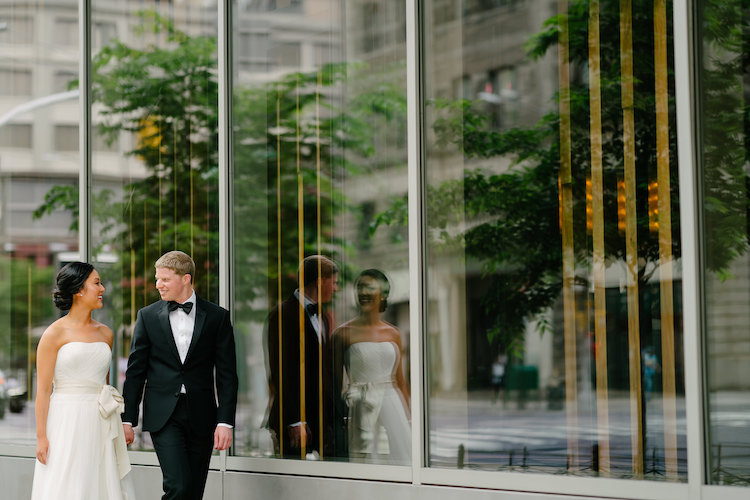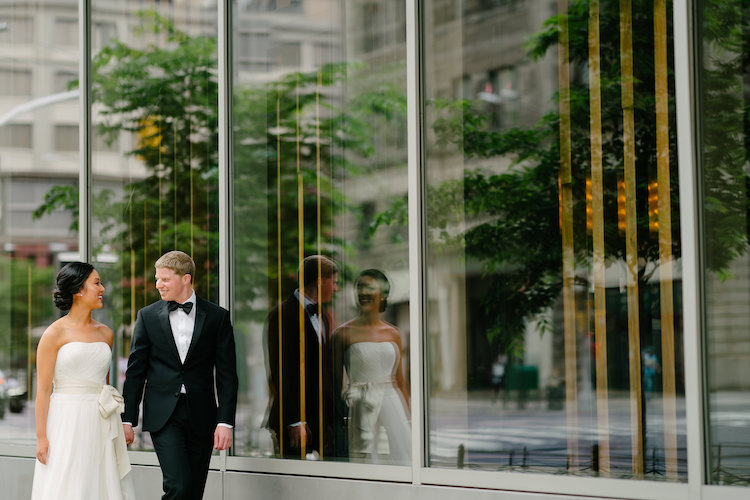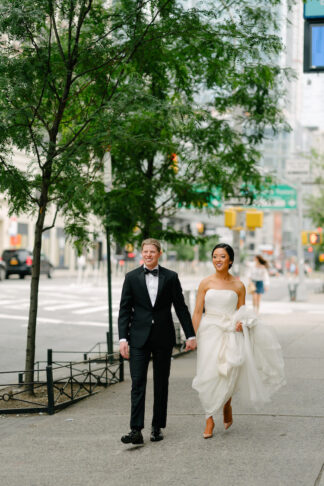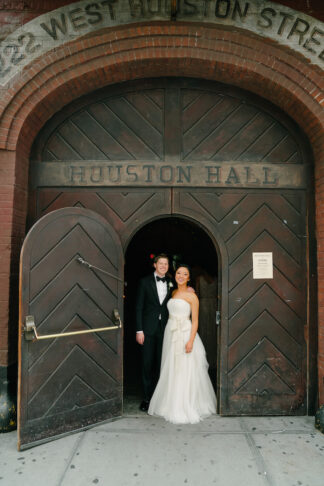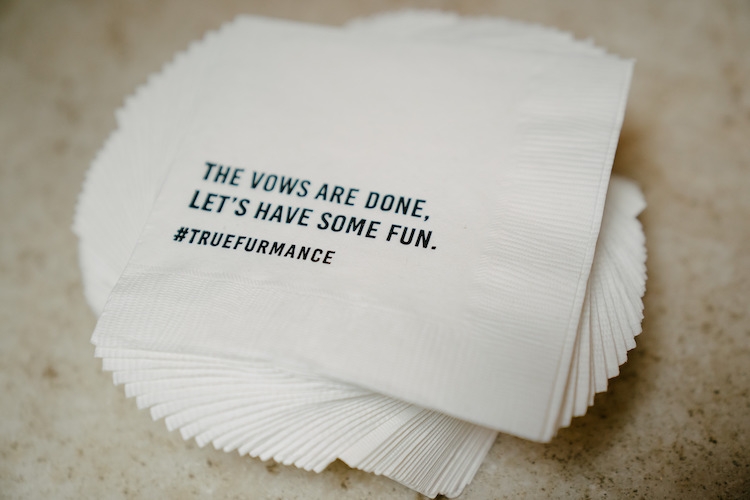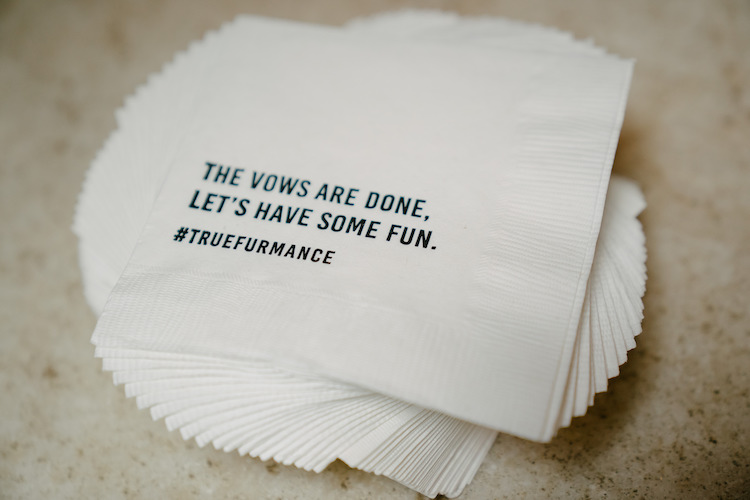 Industrial New York Beer Hall Wedding Reception: Family style dining tables were lined with lush dark green garlands of white peonies and roses, while large vases of greenery with white accent flowers lined the bar.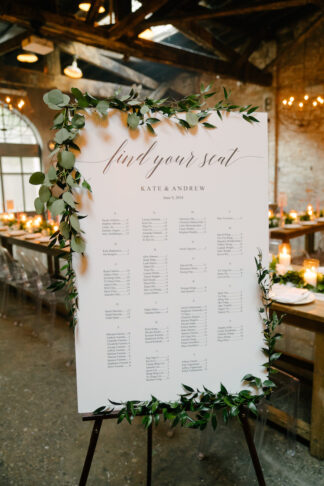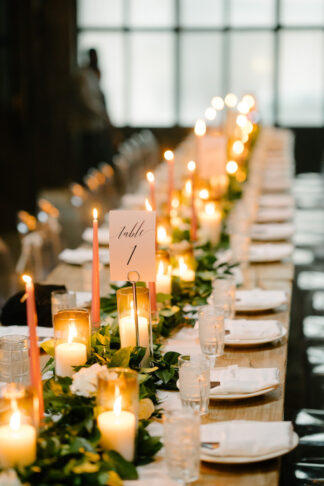 The ceiling lights of NYC beer hall twinkled over the dancefloor, while four large orbs glowed above the dining room area. Additional lighting from the pillar candles and candlesticks provided the romantic glow during dinner.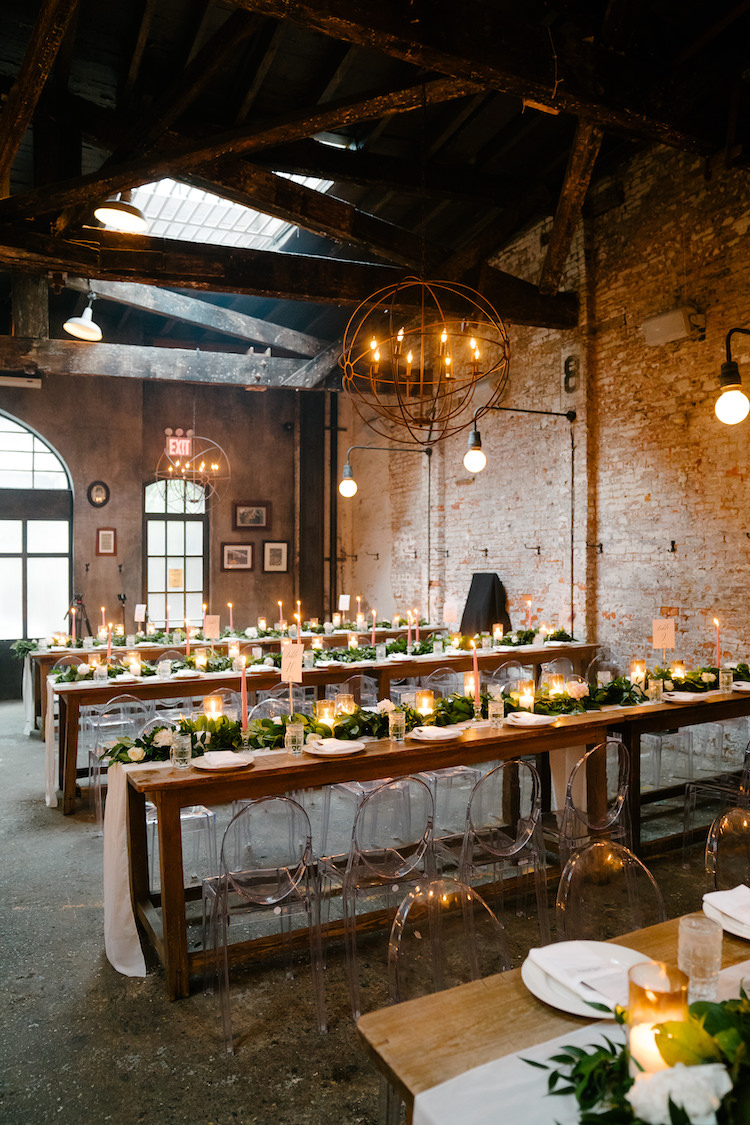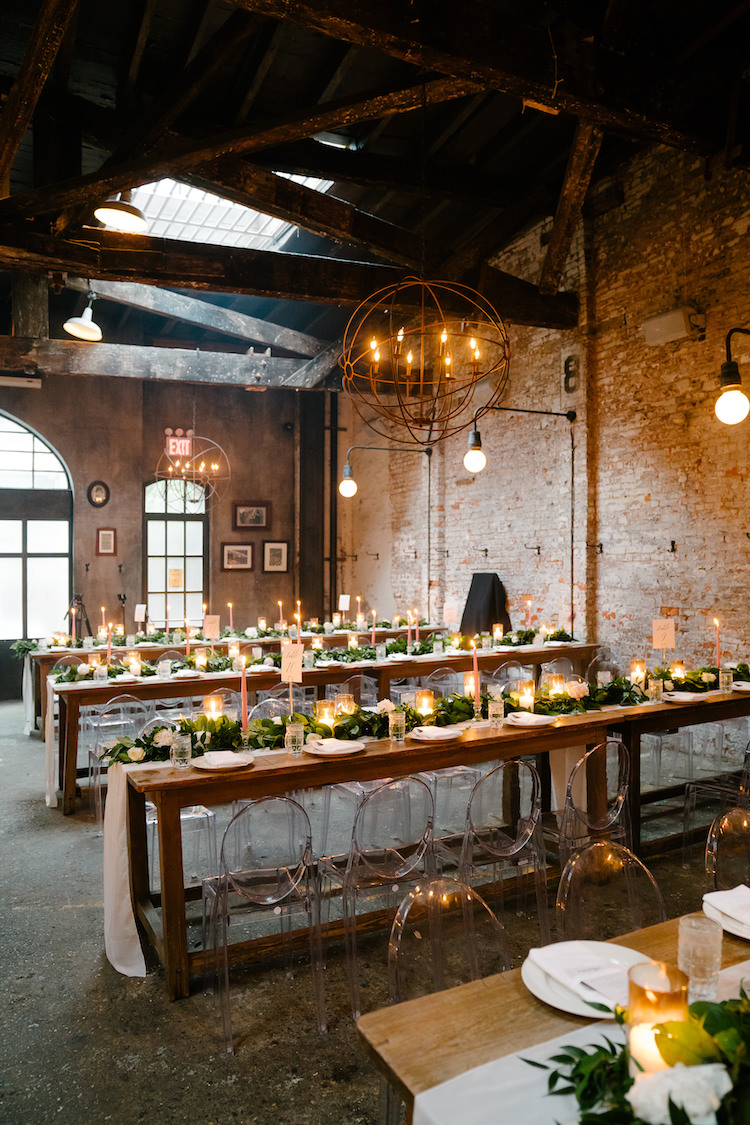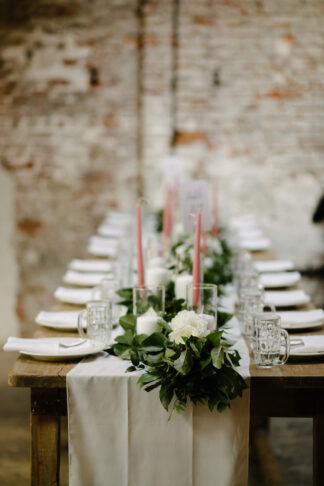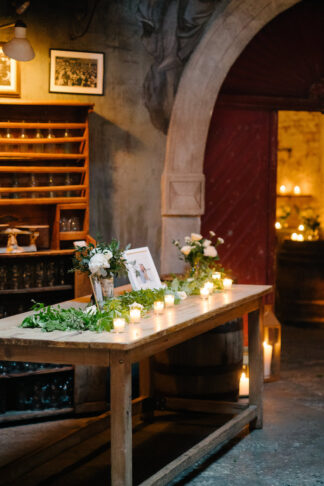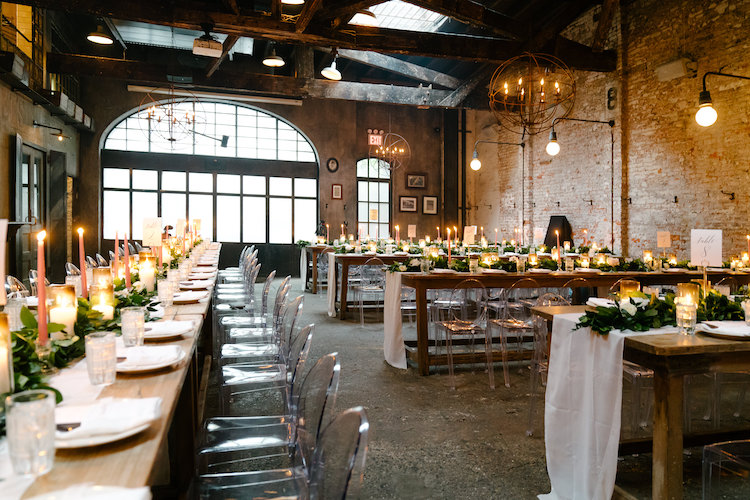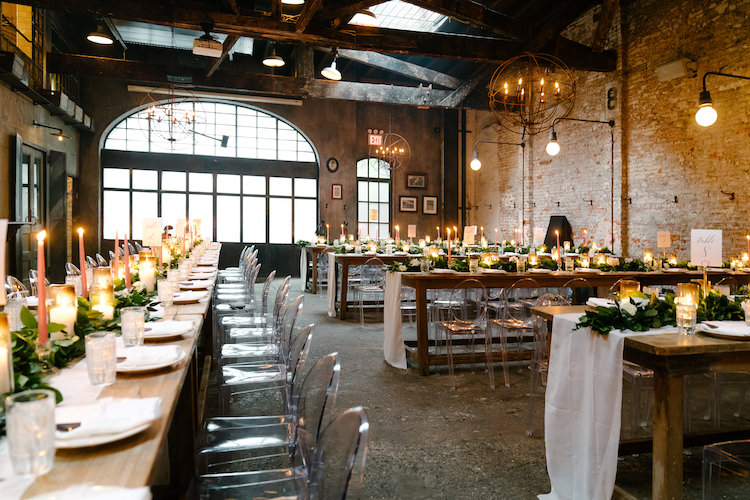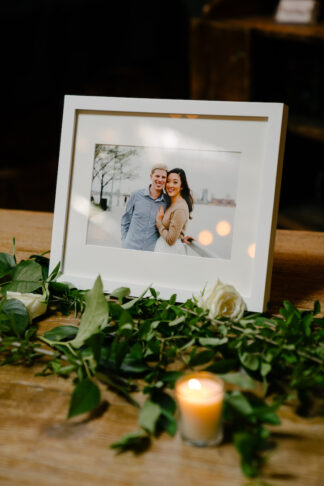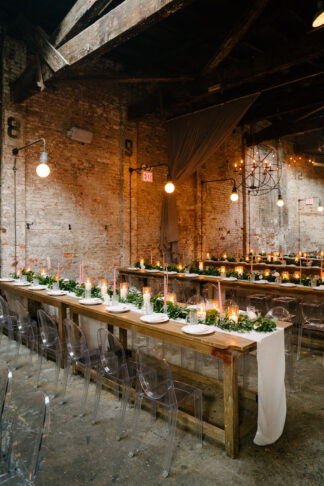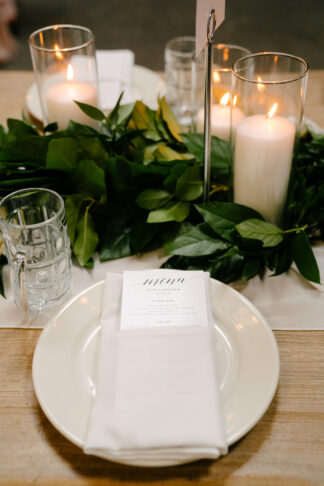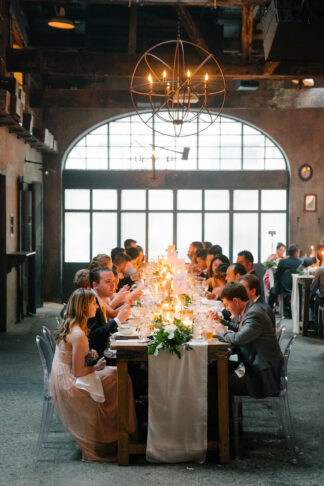 Walking into the reception together as a newly married couple was an unforgettable moment –  the music was blasting and the room was full of energy. All of our guests were standing in a circle around the dance floor awaiting our entrance. It was the most exhilarating feeling, being surrounded by your family and friends who are cheering for us.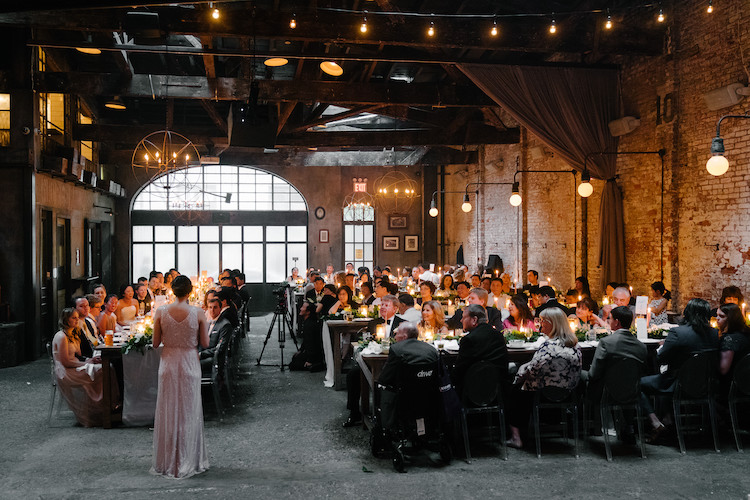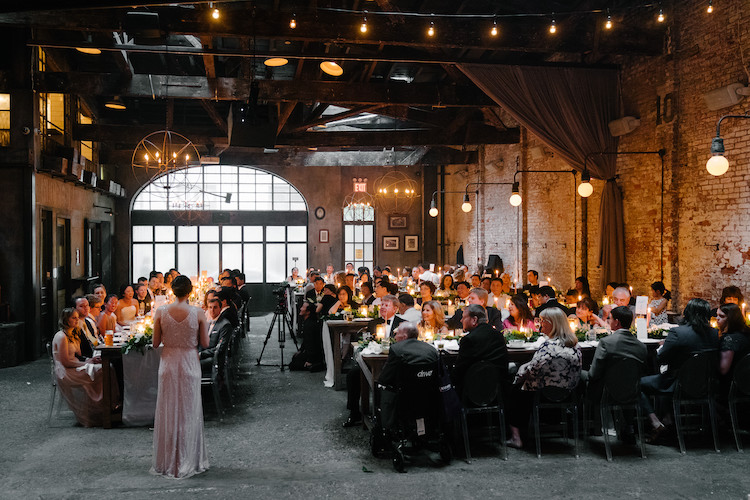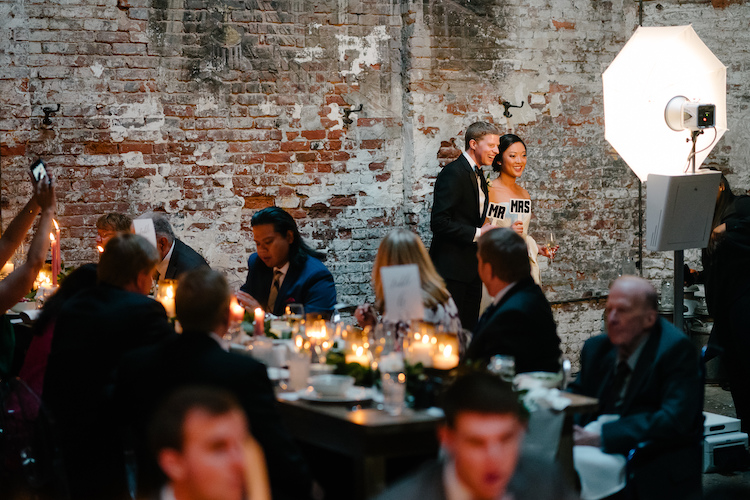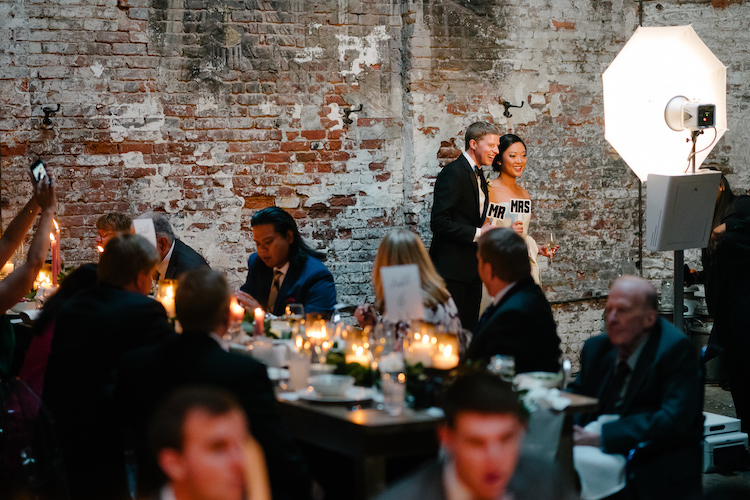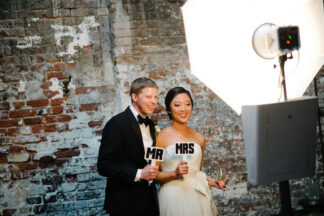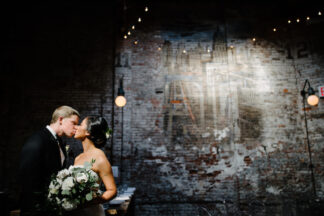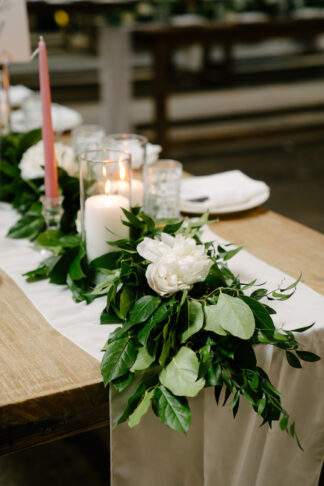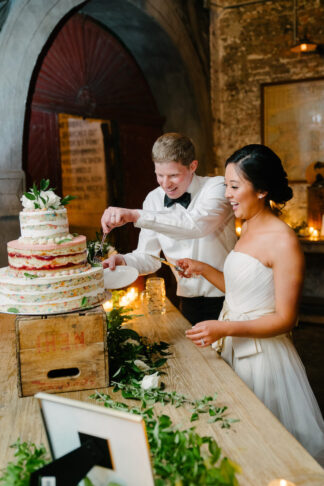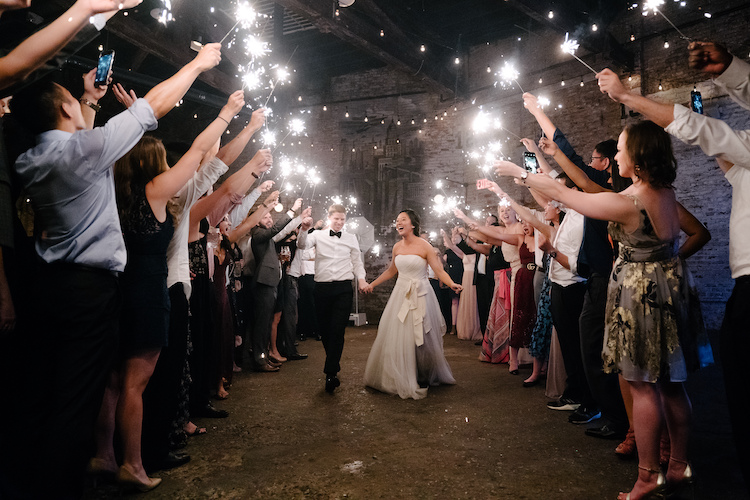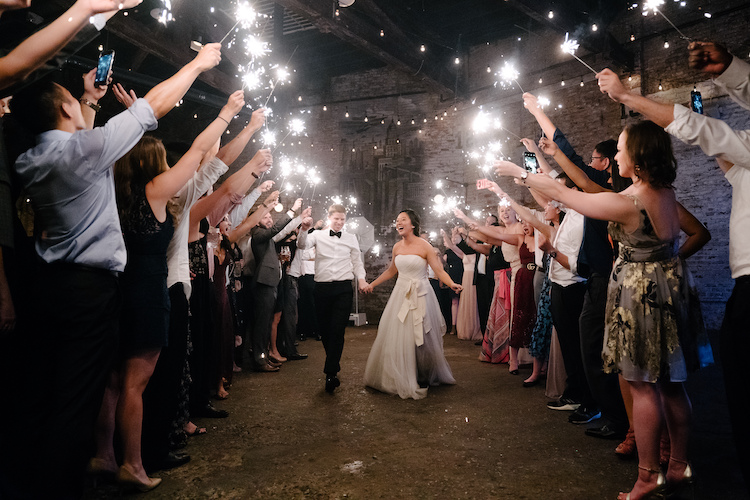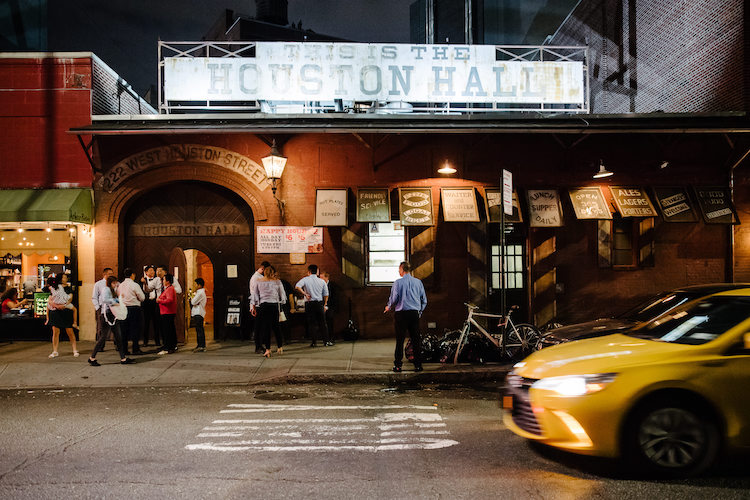 Wedding Planning Advice:
The moment you get engaged, text your close ones but stay off social media. Enjoy time with your new fiance(e), the new engagement feeling doesn't last forever.

For the months leading up to the wedding, I told people to stop asking "how's wedding planning going".

Do what is important for you, and not for others. Yes there are goals, timelines, or deadlines, but it's not always about chasing down the next milestone.
Spend time with your fiance(e) doing the same things you did before you got engaged.
New York City Wedding Service Providers: Partial Planning: Vision Event Co. @visioneventco // Photographer: Brian Hatton @brianhattonphoto // Ceremony + Reception Venue: Houston Hall @houstonhallnyc // DJ: Vision Event Co. @visioneventco // Videographer: NST Pictures @nstpictures // Florist: Flowers by Richard @flowersbyrichard // Hotel/Getting Ready Location: Dominick Hotel @thedominickhotel // Beauty: Sachiko Yanase  and Grace Weng @gracewengbeauty // Cake: Momofuku Cake @milkbarstore // Lighting: Universal Light and Sound @ulsnyc // Chair Rental: Big Dawg Party Rentals @bigdawgpartyrentals
READ NEXT: