♥  Magical Mint & Navy DIY Farm Wedding ♥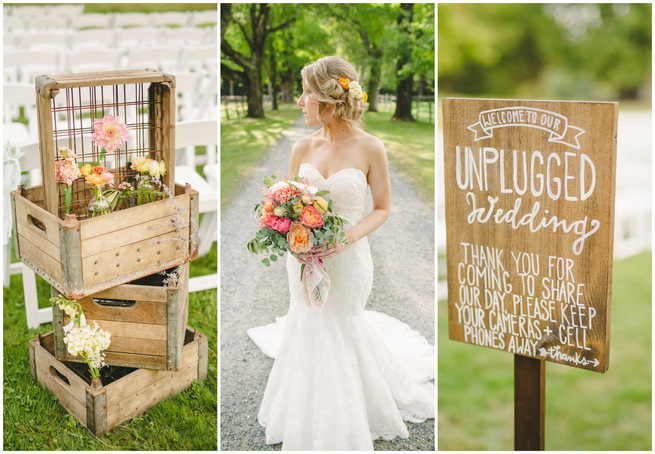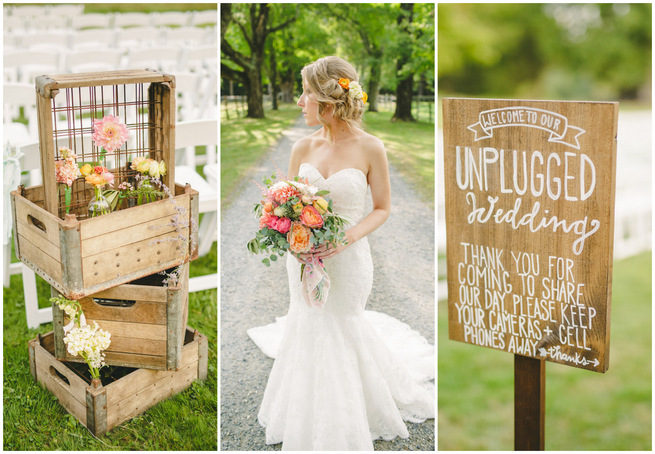 Lindsay and Ben grew up in neighboring rural, small towns in central Massachusetts. For their mint and navy DIY farm wedding they mixed rustic, utilitarian elements with handmade, whimsical and artsy details by incorporating a lot of personal touches including napkins cut and handsewn by the bride. They filled the day with shades of mint, navy, gold and wooden accents. The couple chose a farm wedding because Ben grew up on the farm where they  now live. They are such a perfect match that they wrote basically the same vows for each other separately and they didn't even know it!
Photographers, Daphne and Dean, who bring us today's absolutely beautiful photographs, told us that Lindsay and Ben had the most perfect wedding at Tyrone Farm: "If you've never been to Tyrone Farm then you're seriously missing out – the barn is adorable and the family that runs it is just lovely. We were all lucky to have such a beautiful day for a wedding (although it rained right before the ceremony so it wound up being under a tent, but the rained stopped almost immediately!) and we loved all of the personal touches that Lindsay and Ben added. "
"I'm pretty free spirited," shares Lindsay," while Ben is more logical so there were a lot of light, whimsical touches for me balanced by bold, rustic touches that are more Ben's taste. We used branding across the wedding using a monogram logo that Ben's cousin created for us. We hand picked a selection of craft beers and cider for the bar service and ask our catering company to skip traditional wedding food and served rustic, comfort foods & appetizers instead."
 Mint and Navy DIY Farm Wedding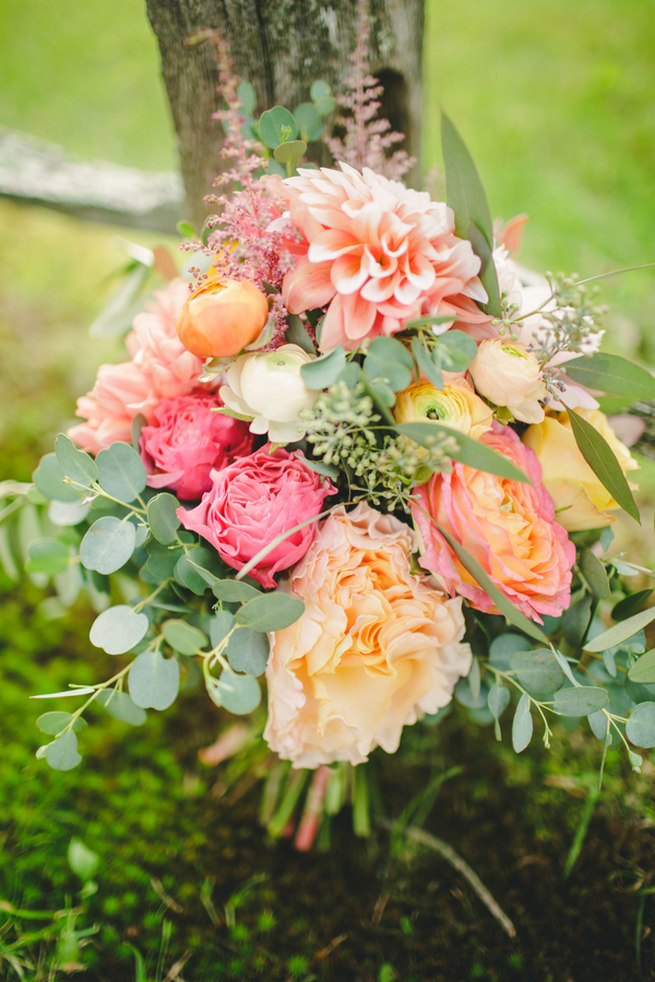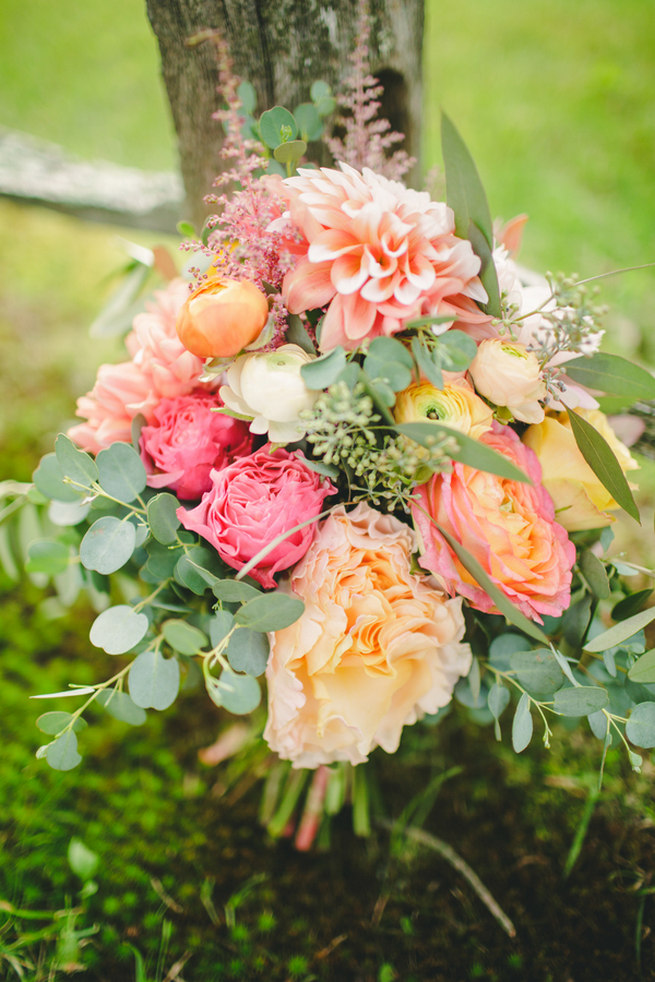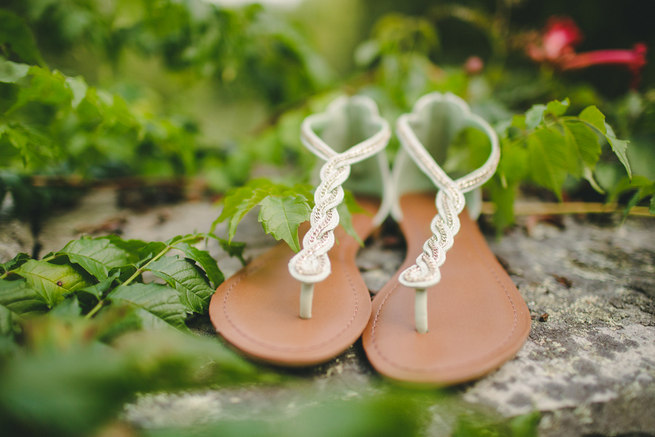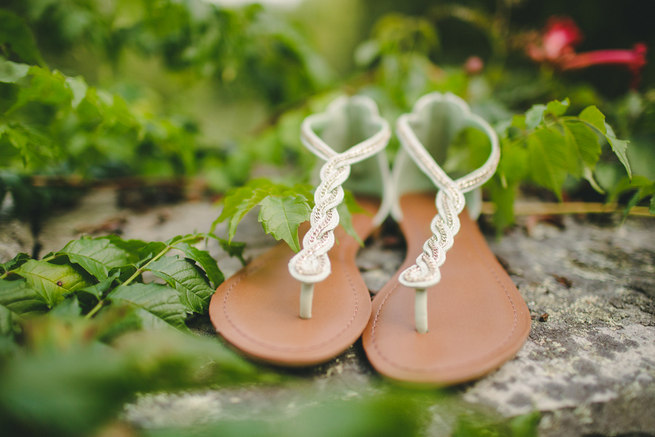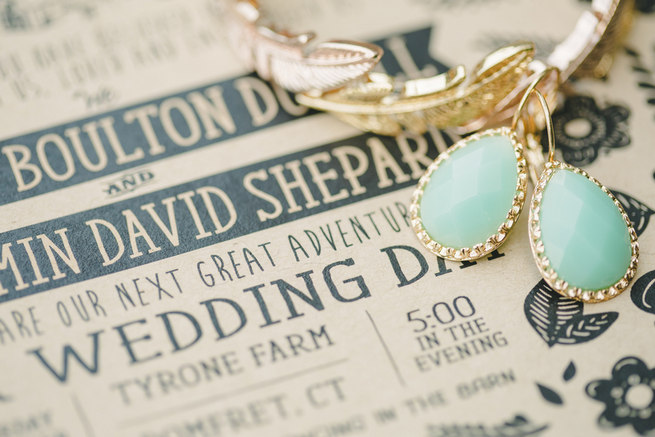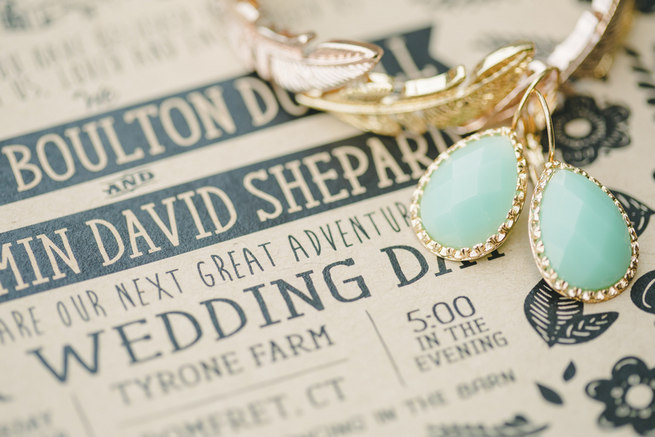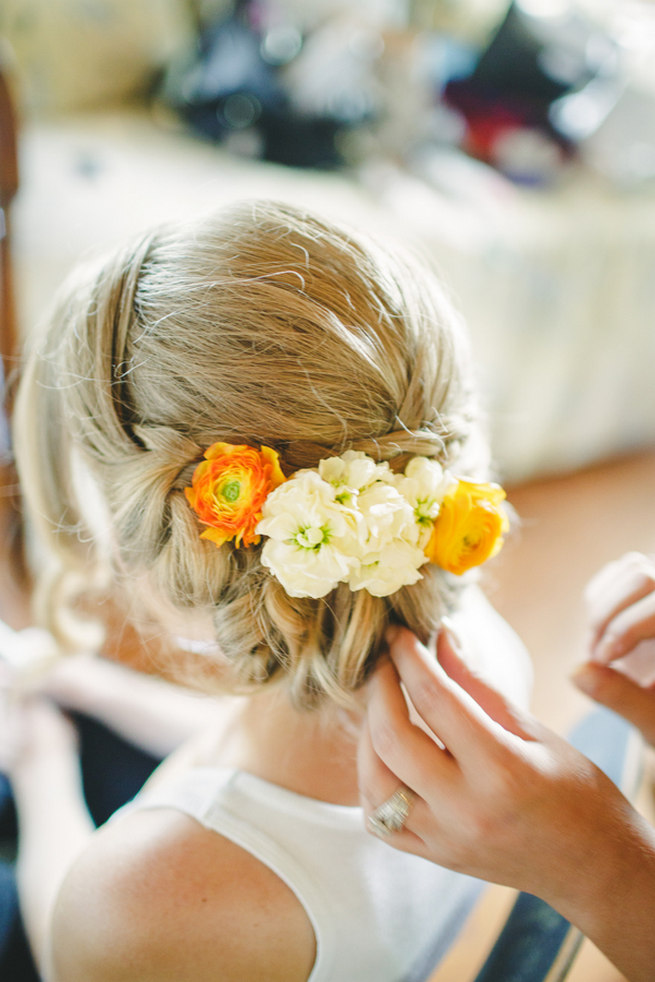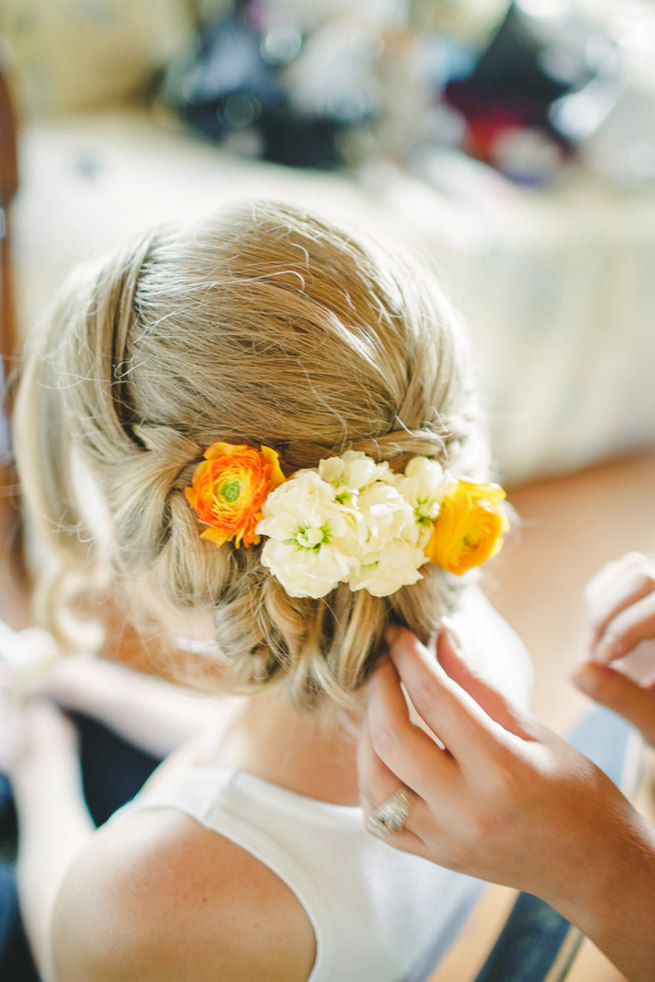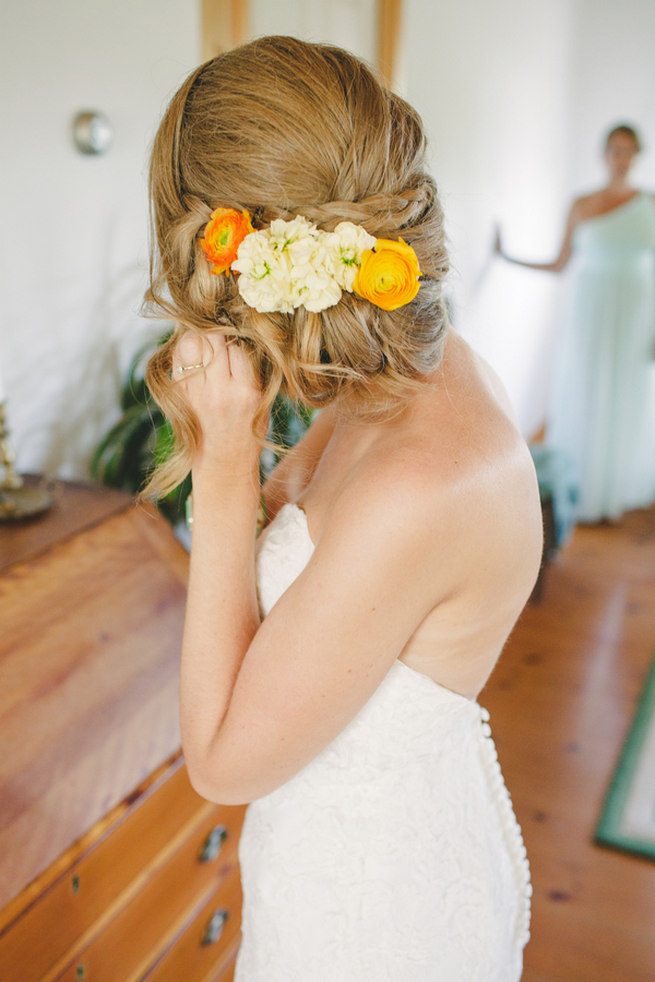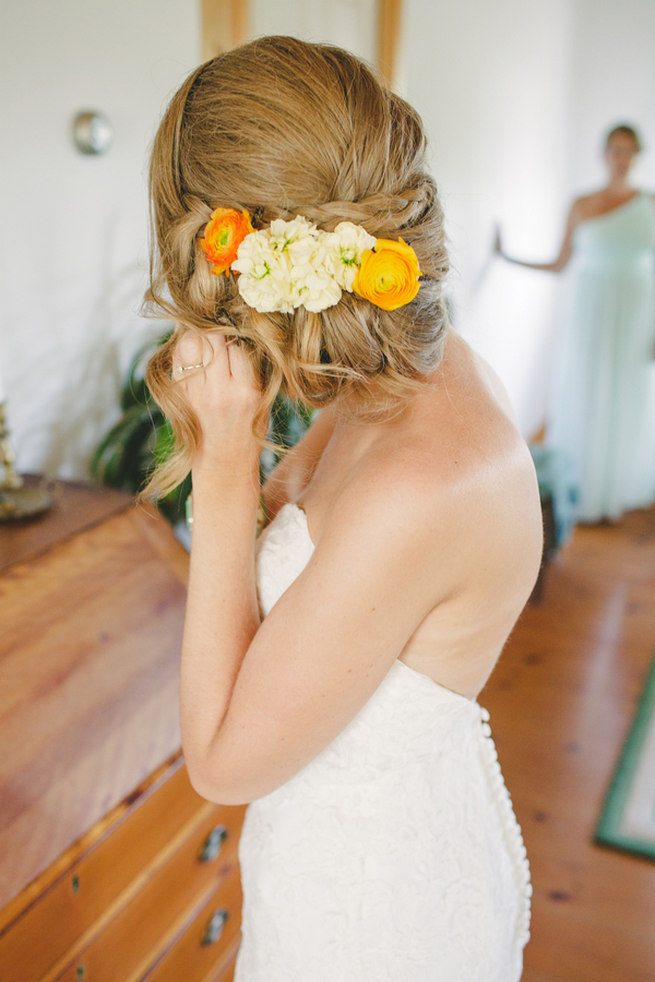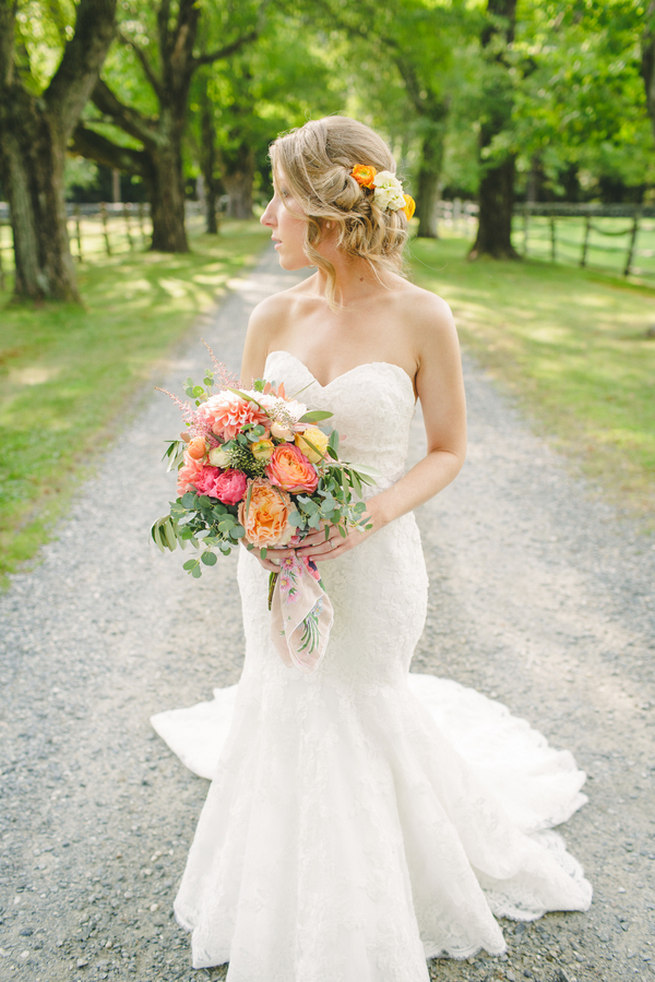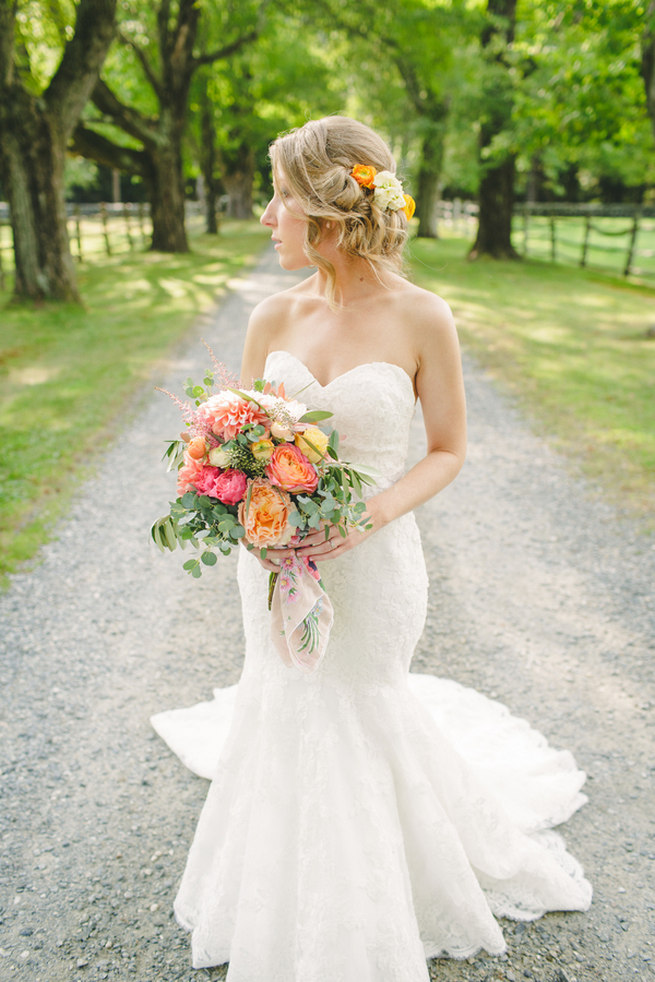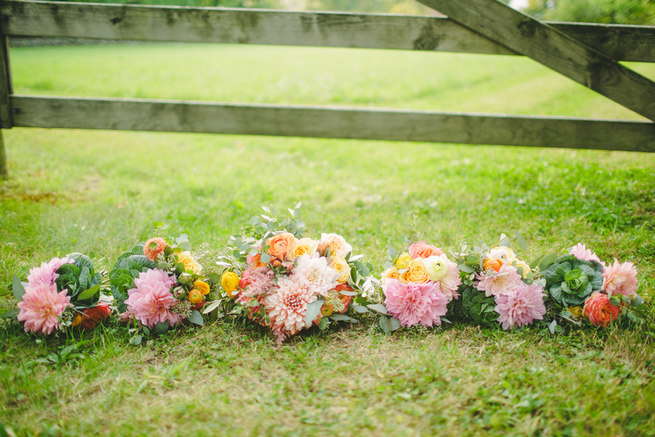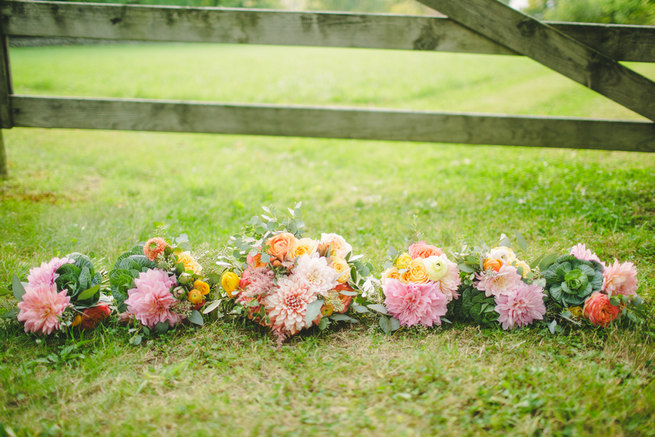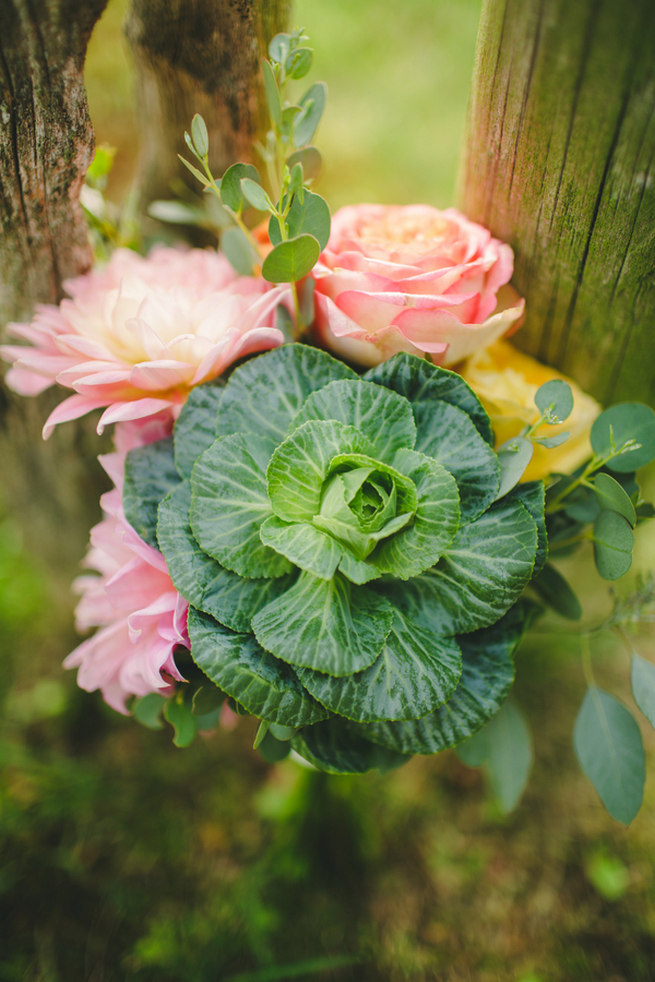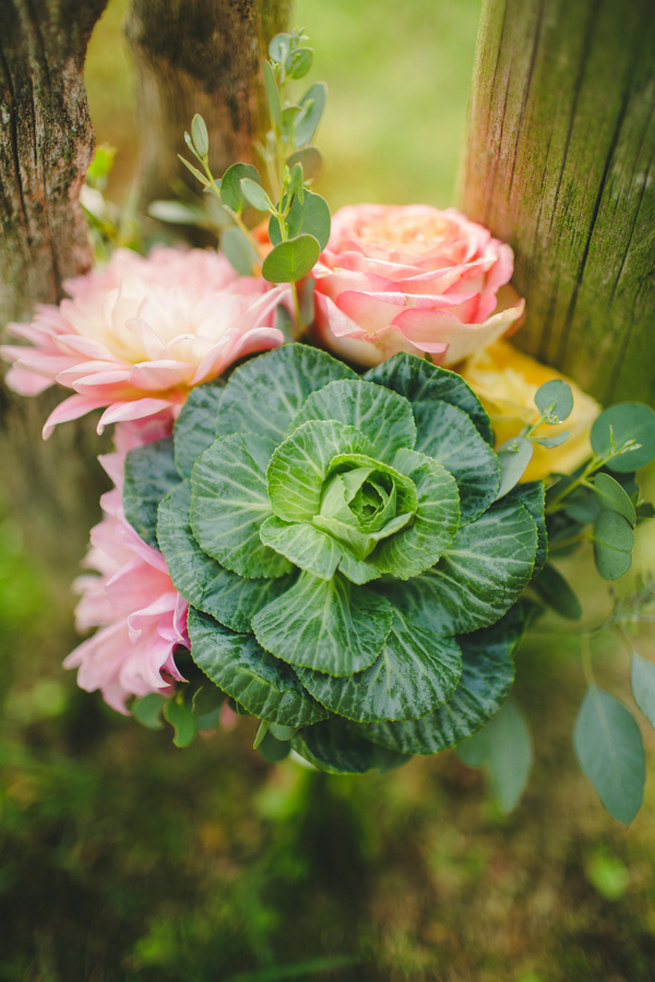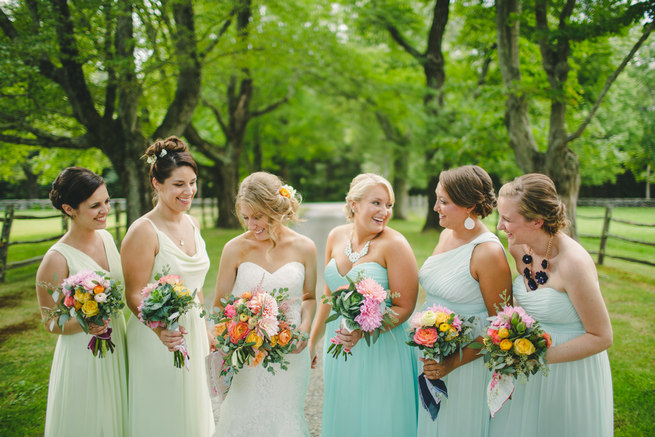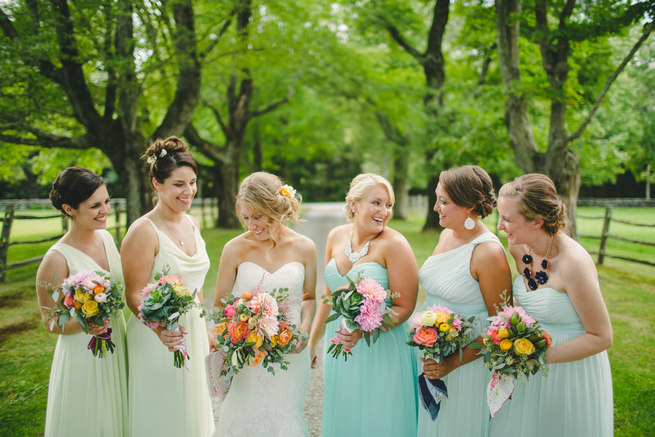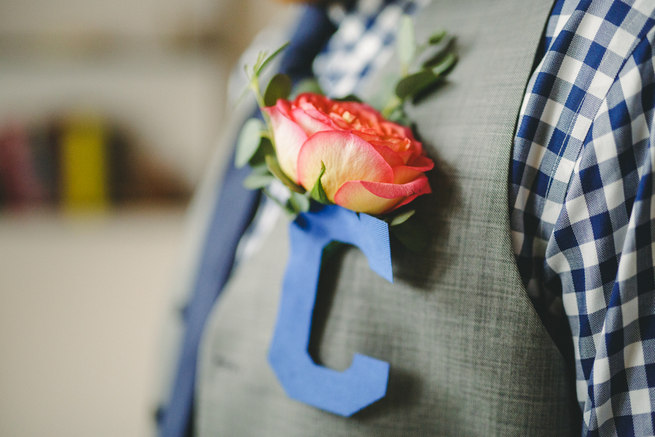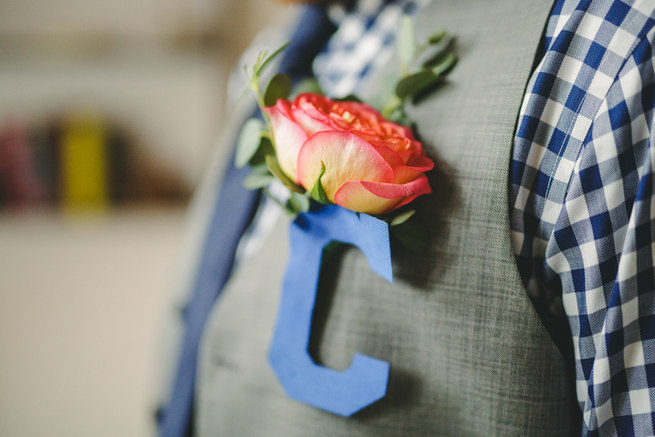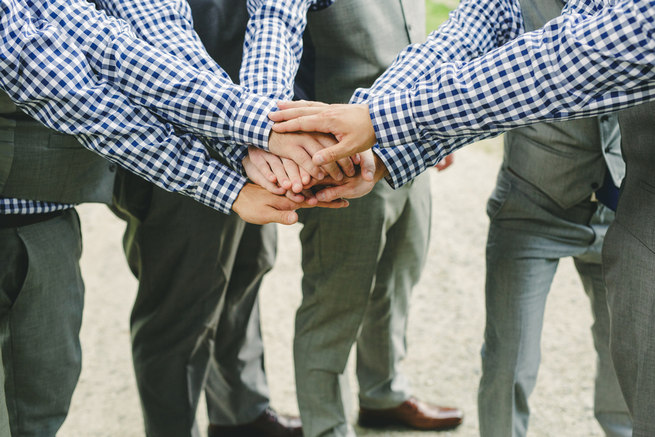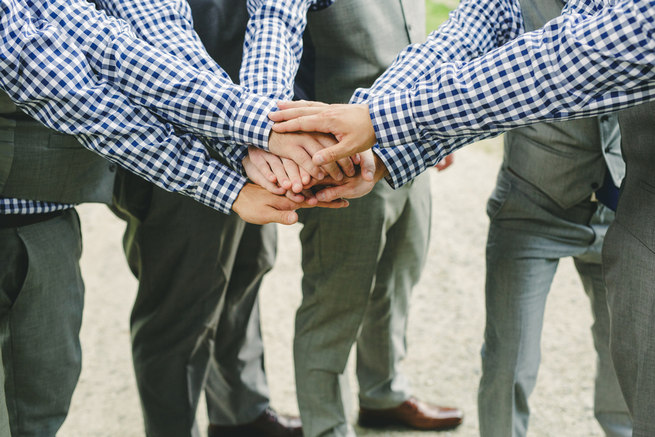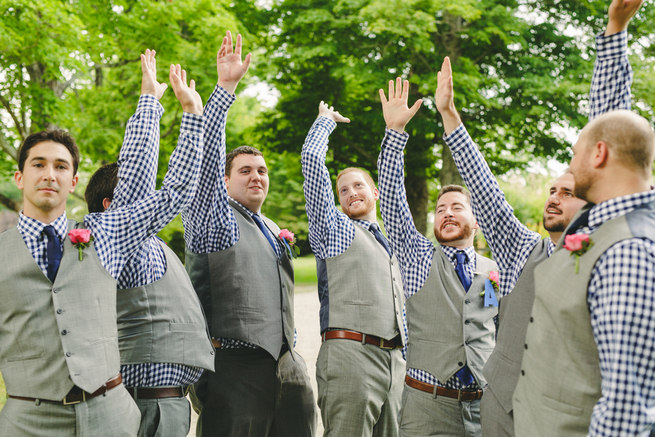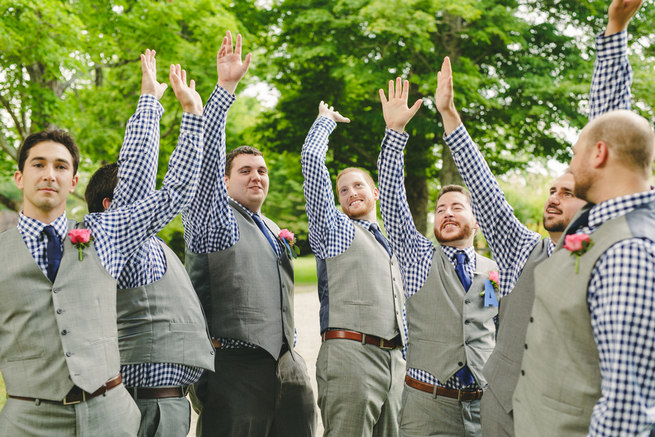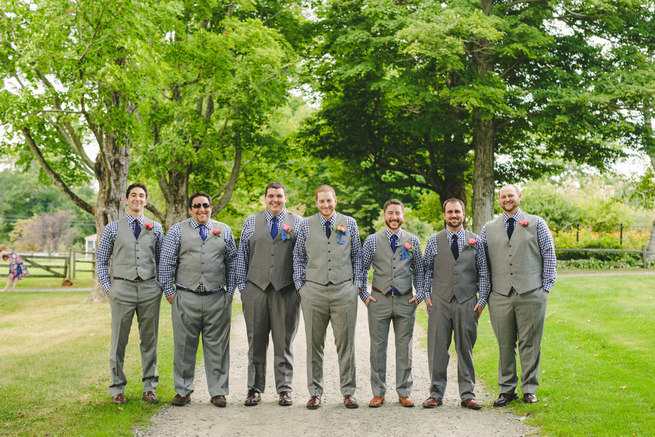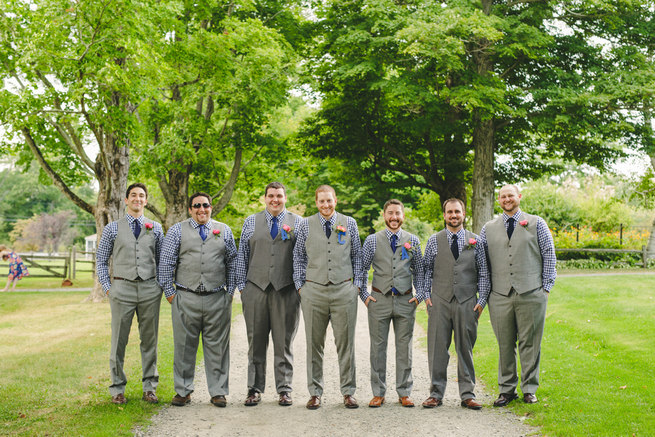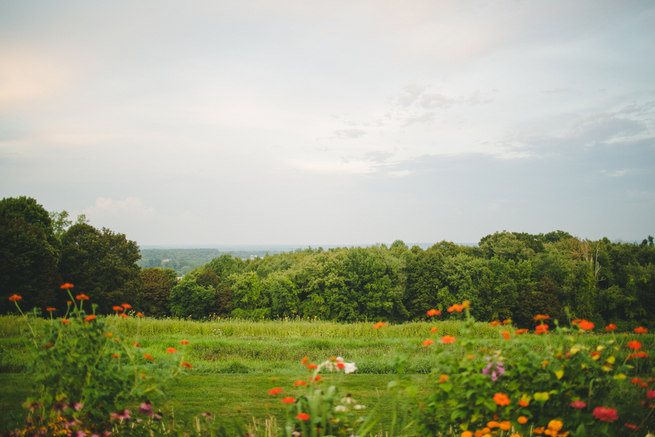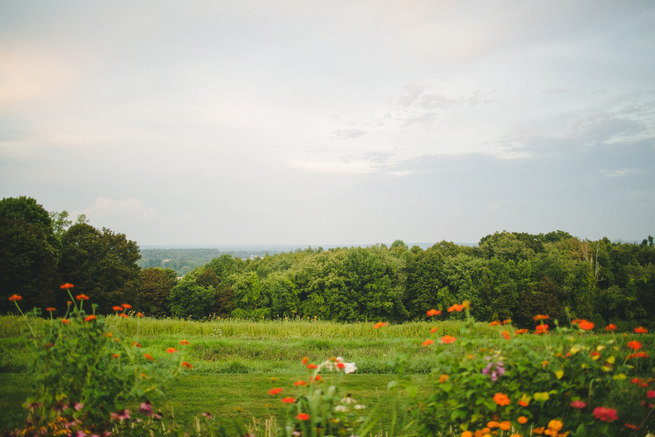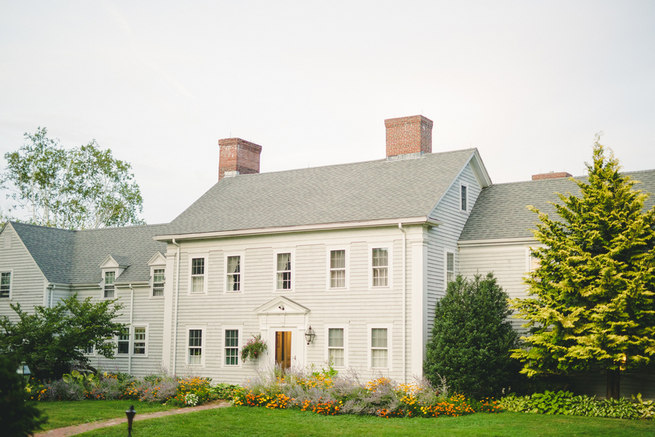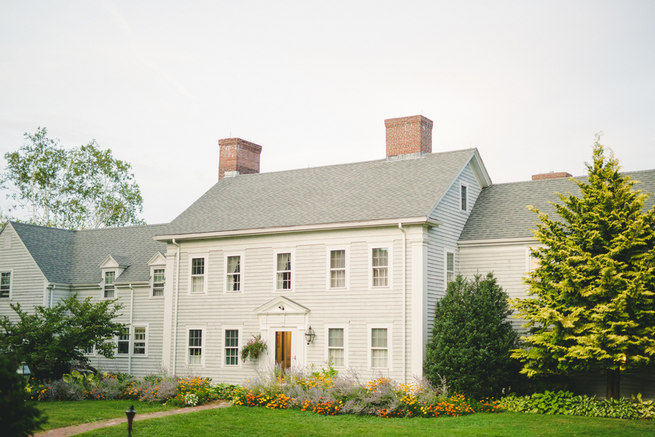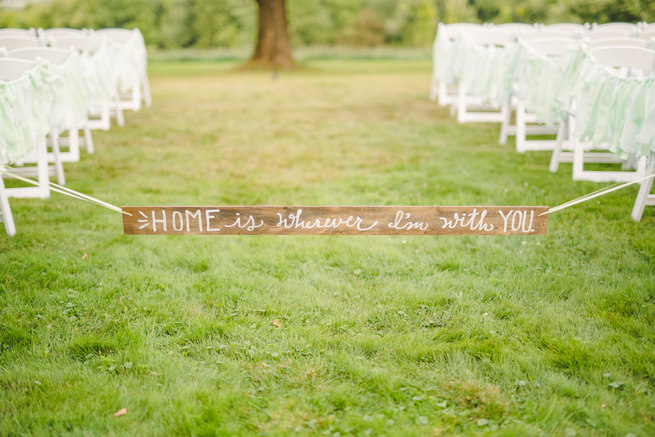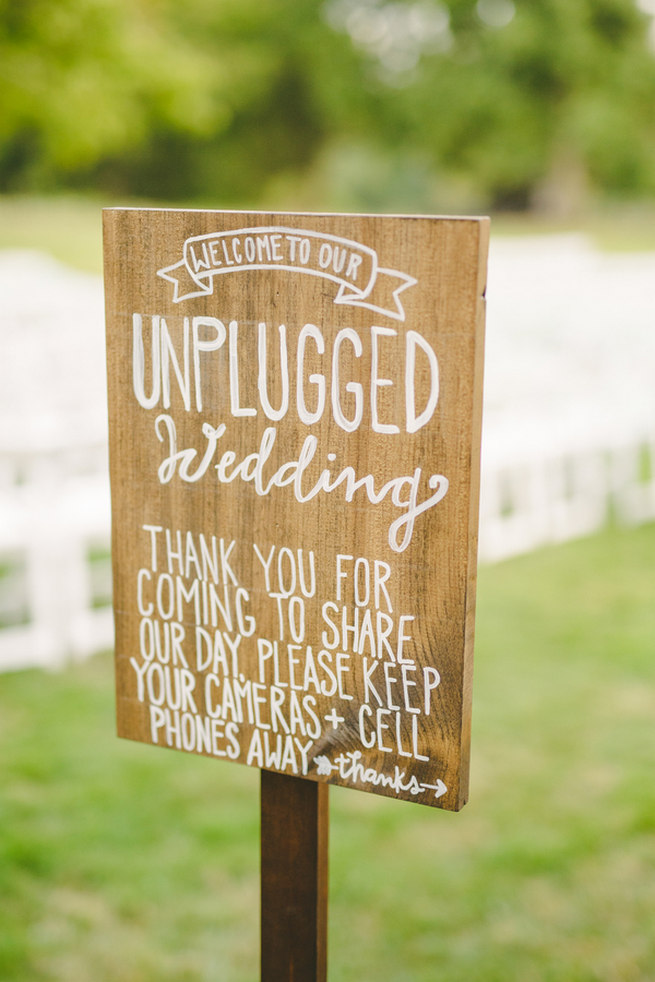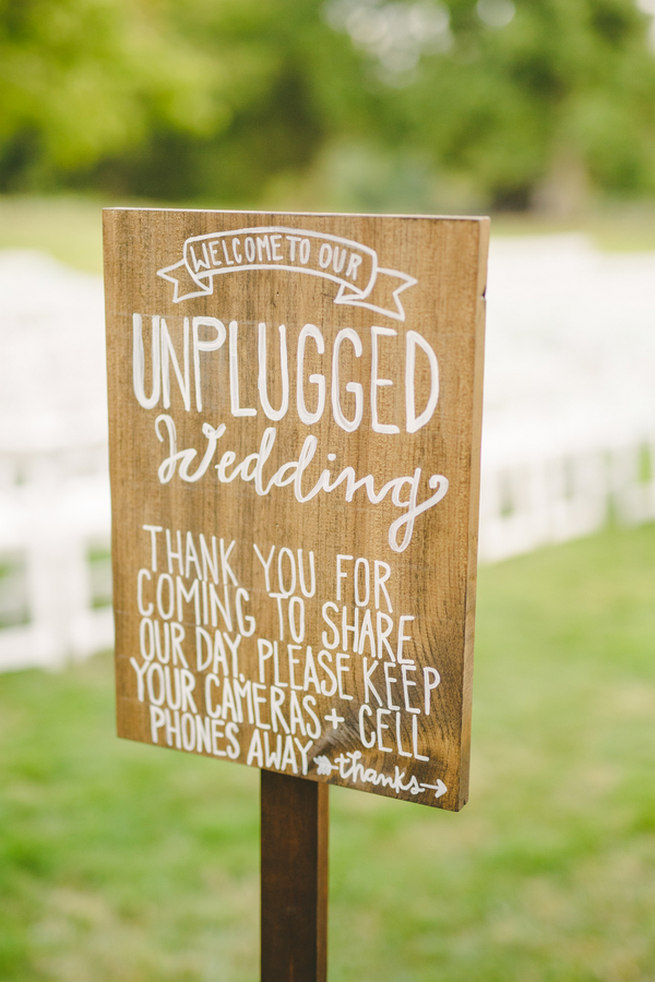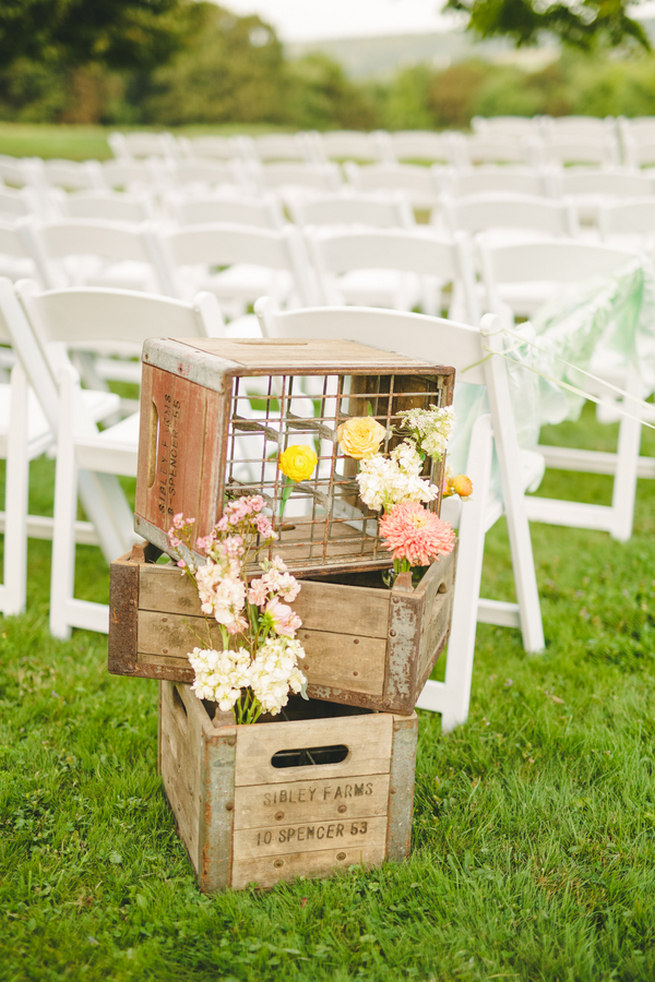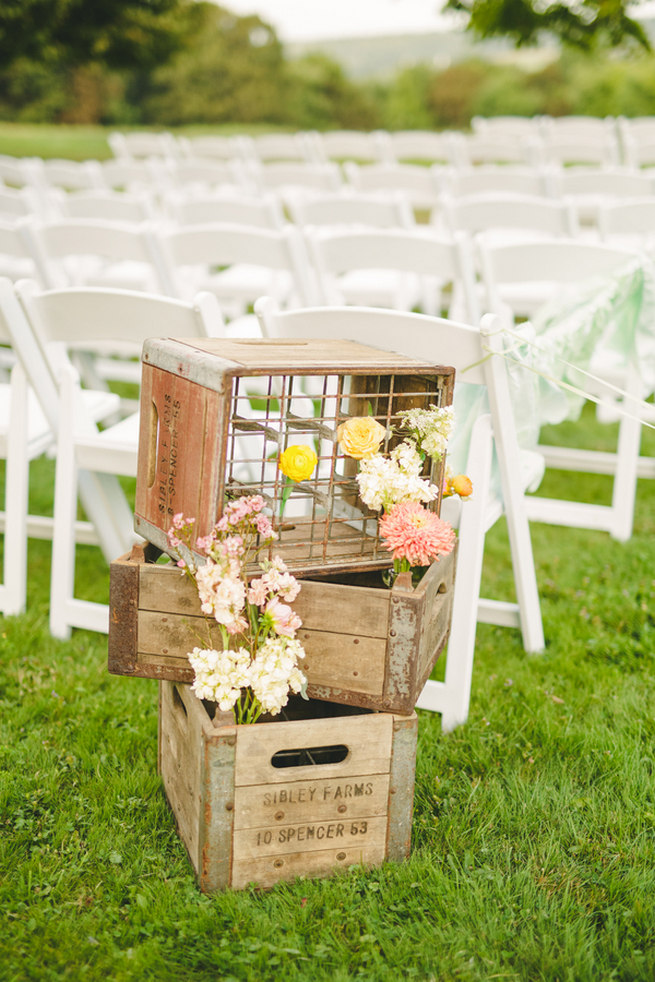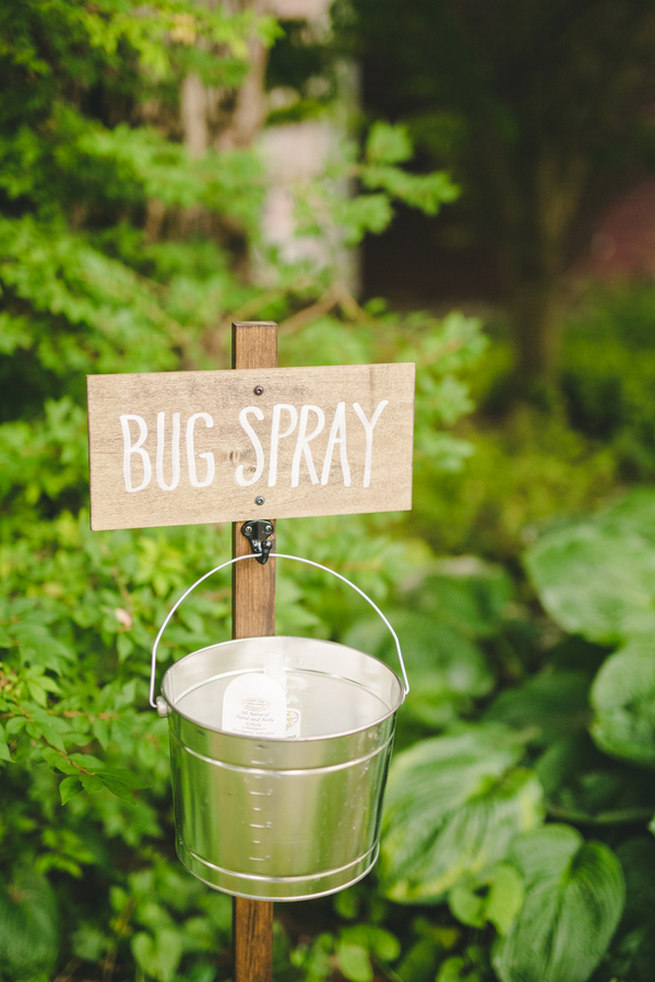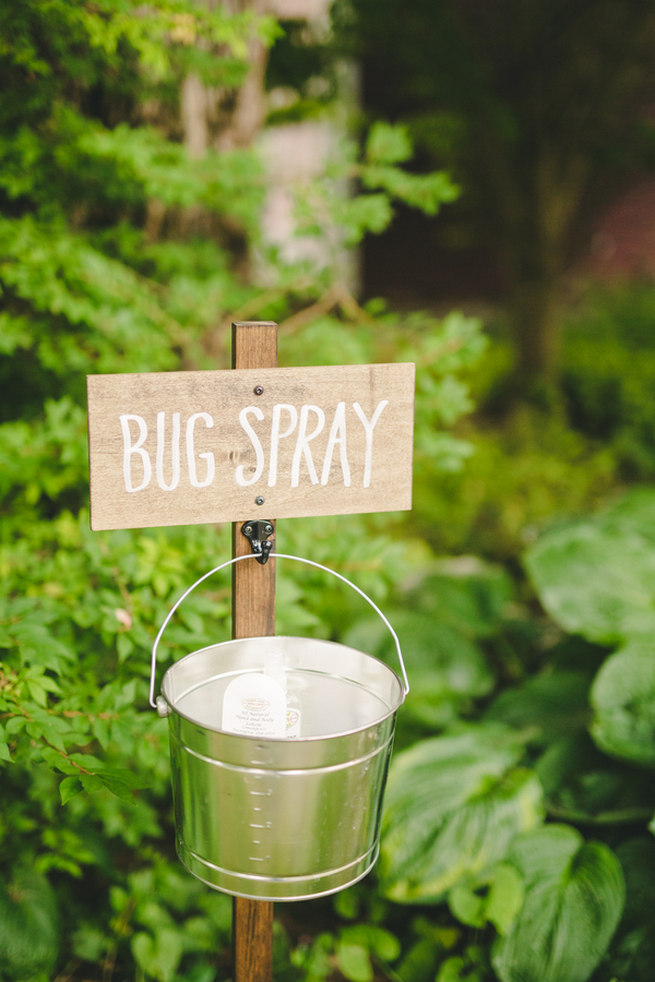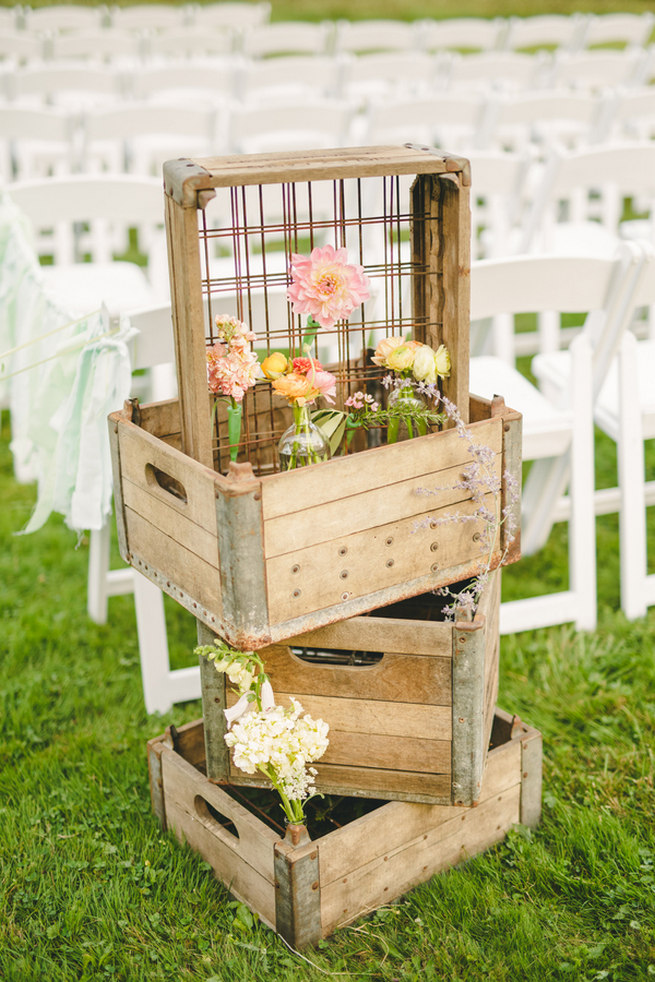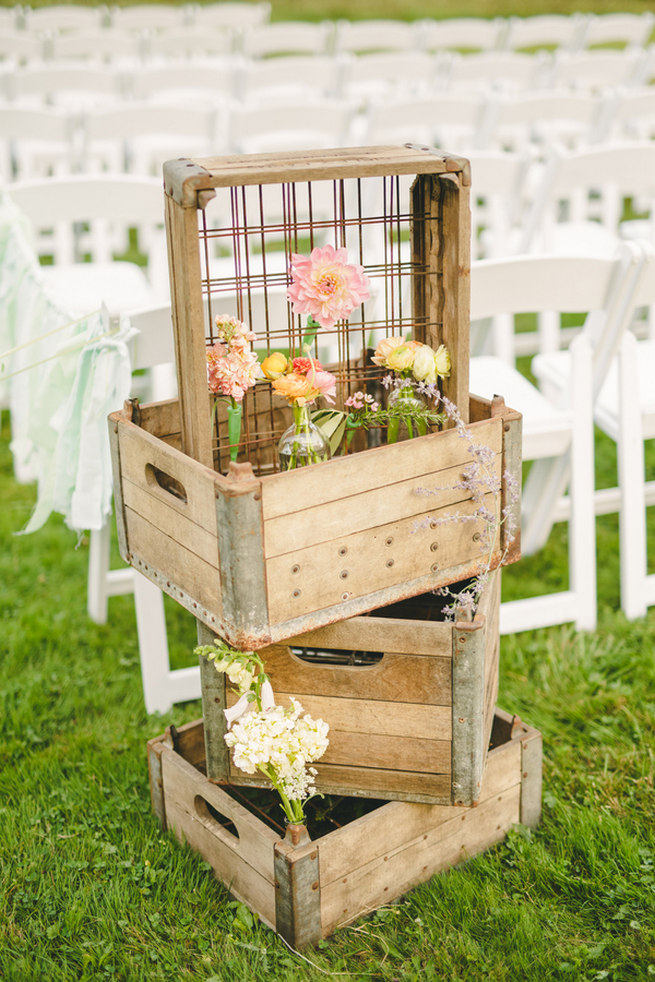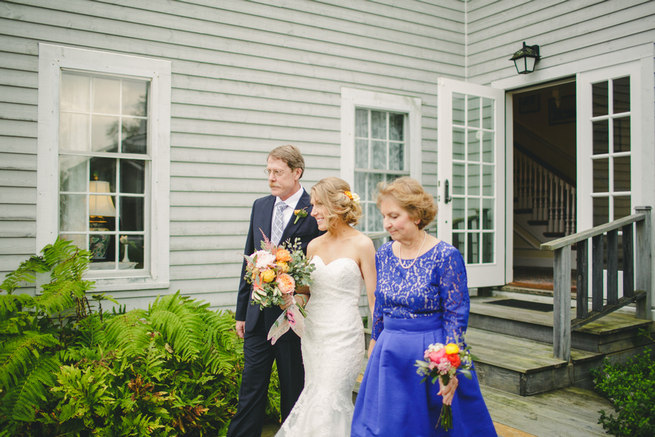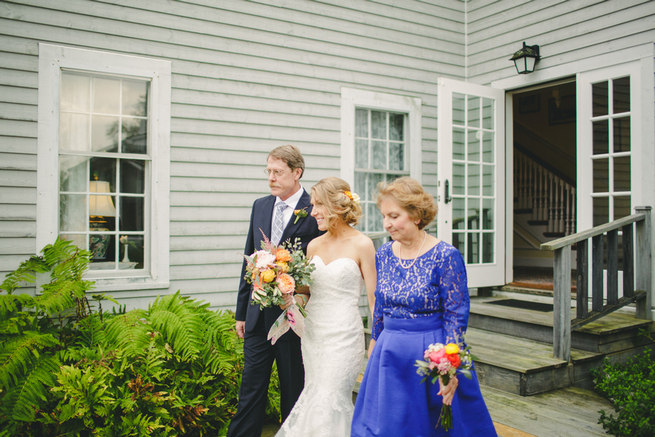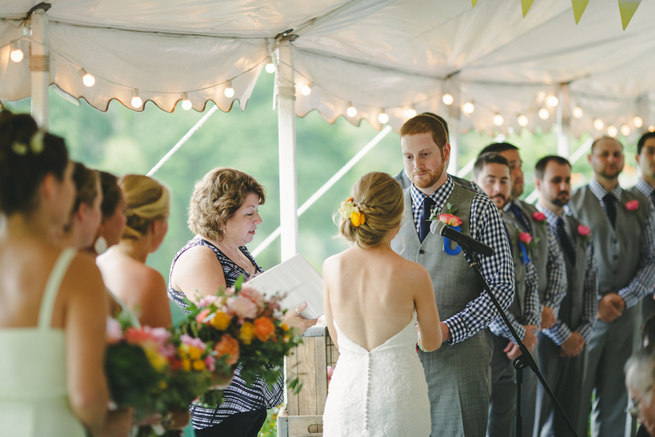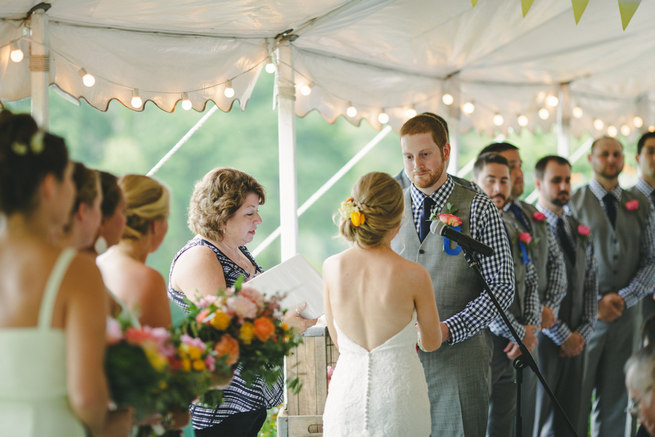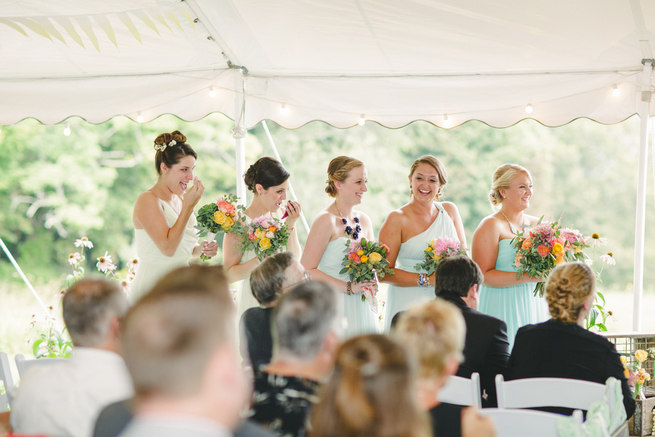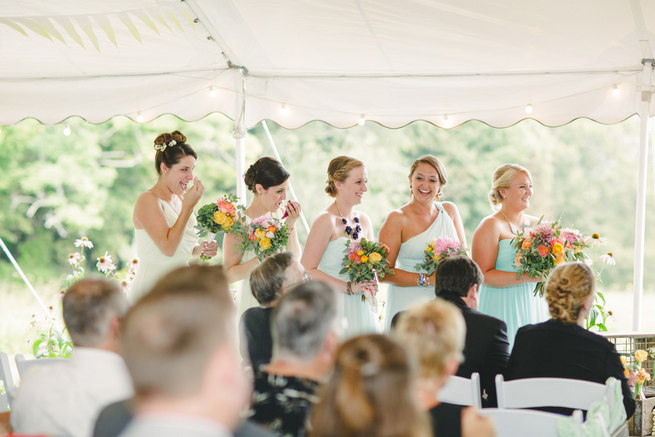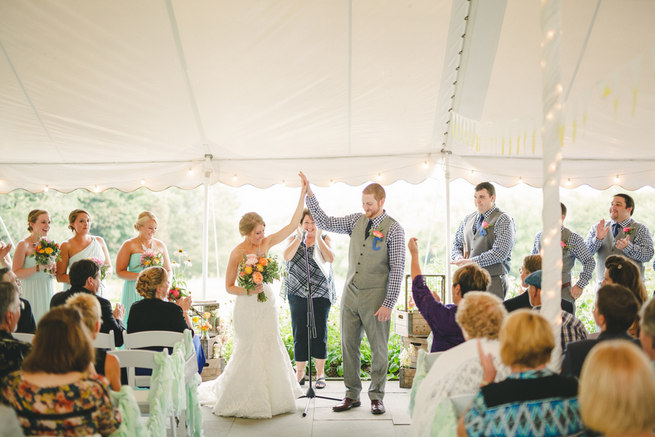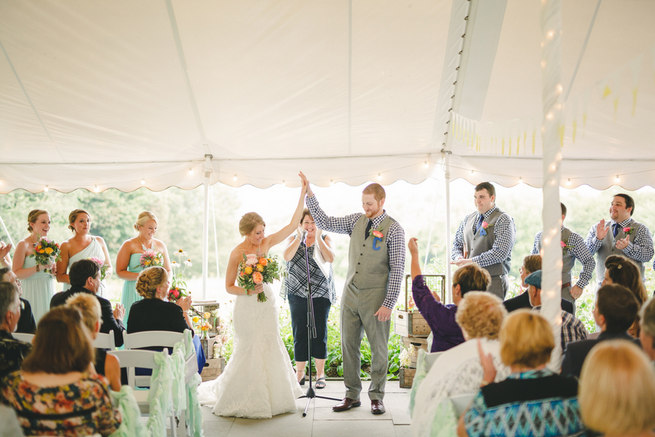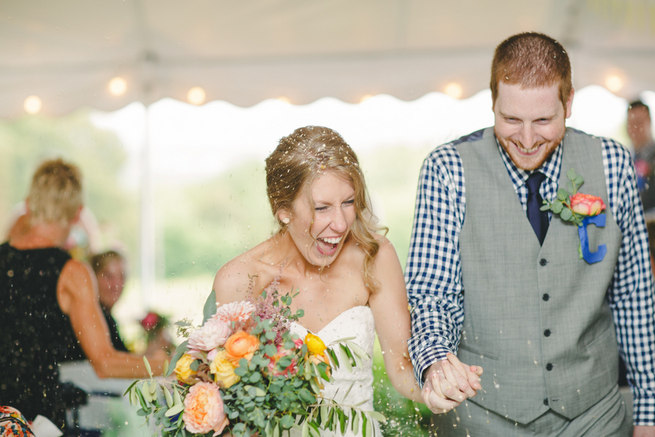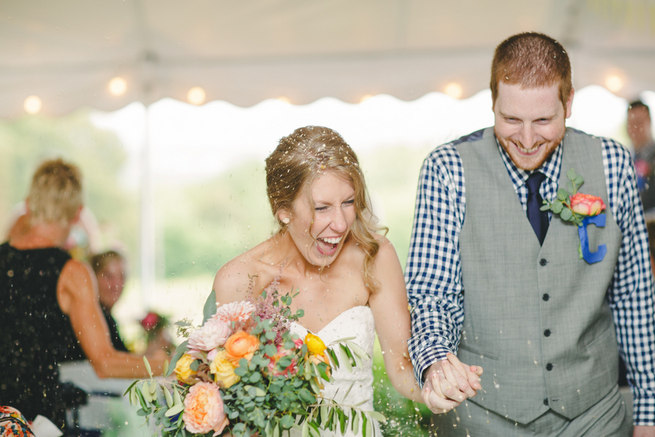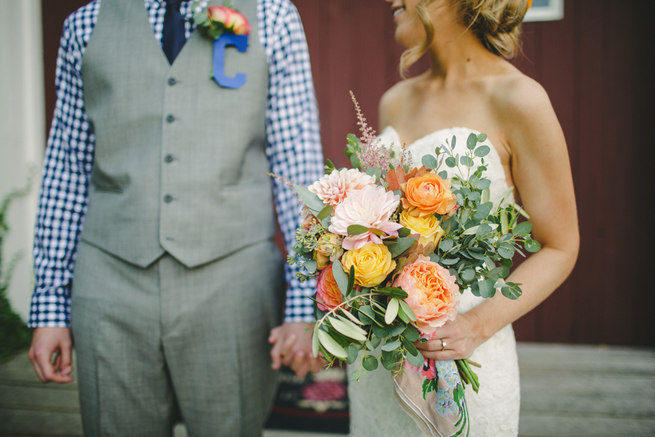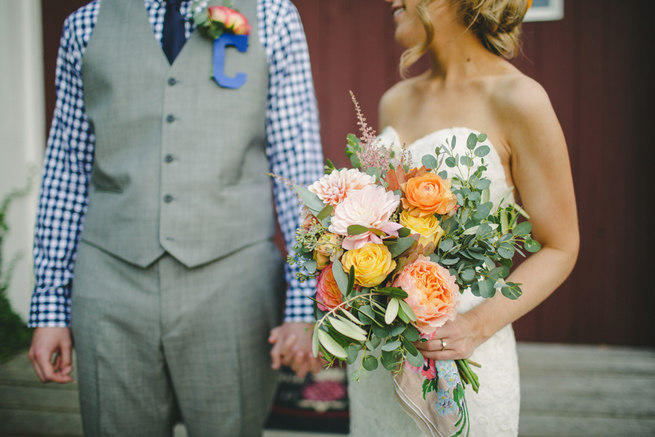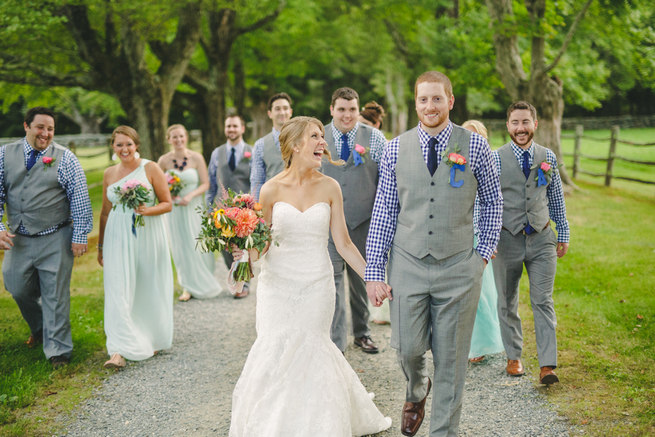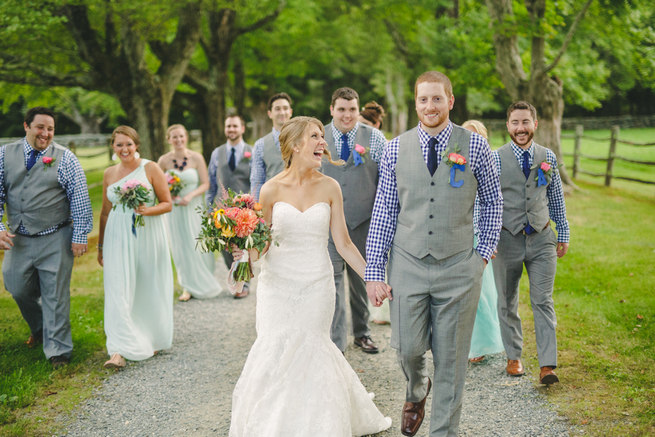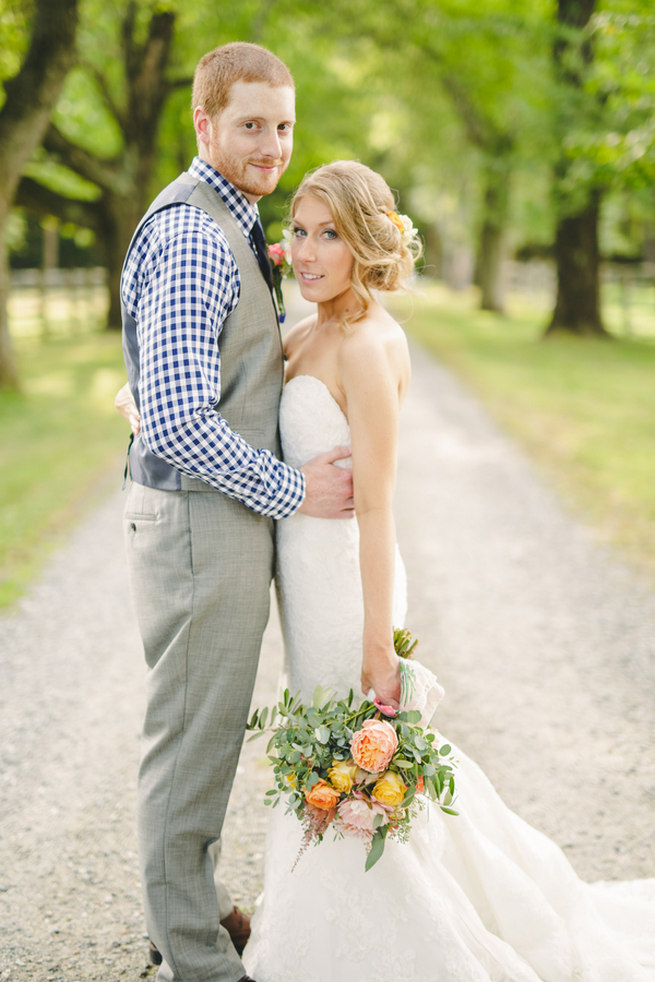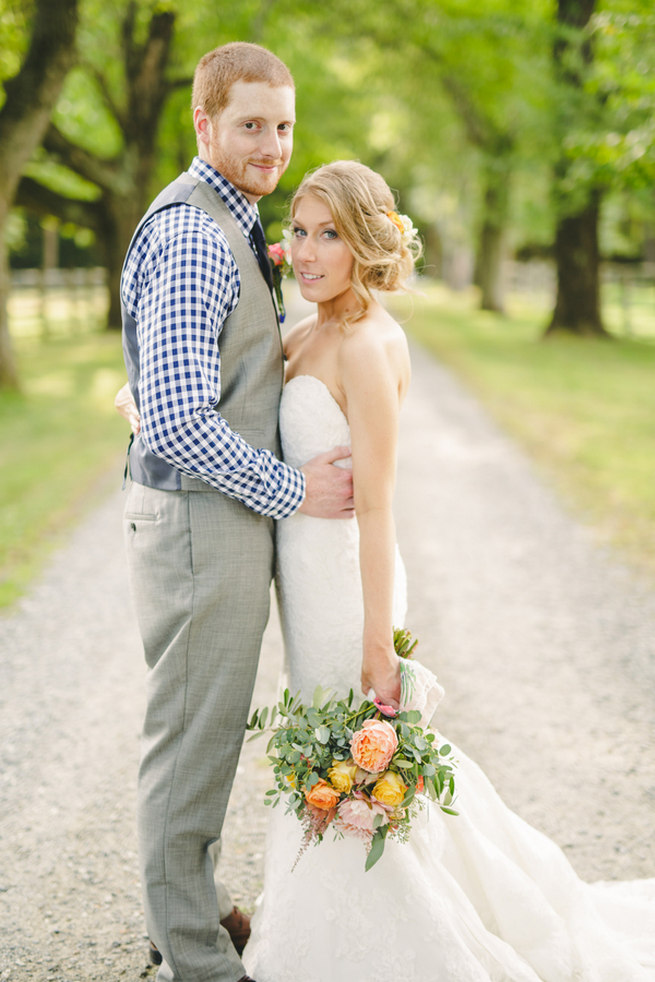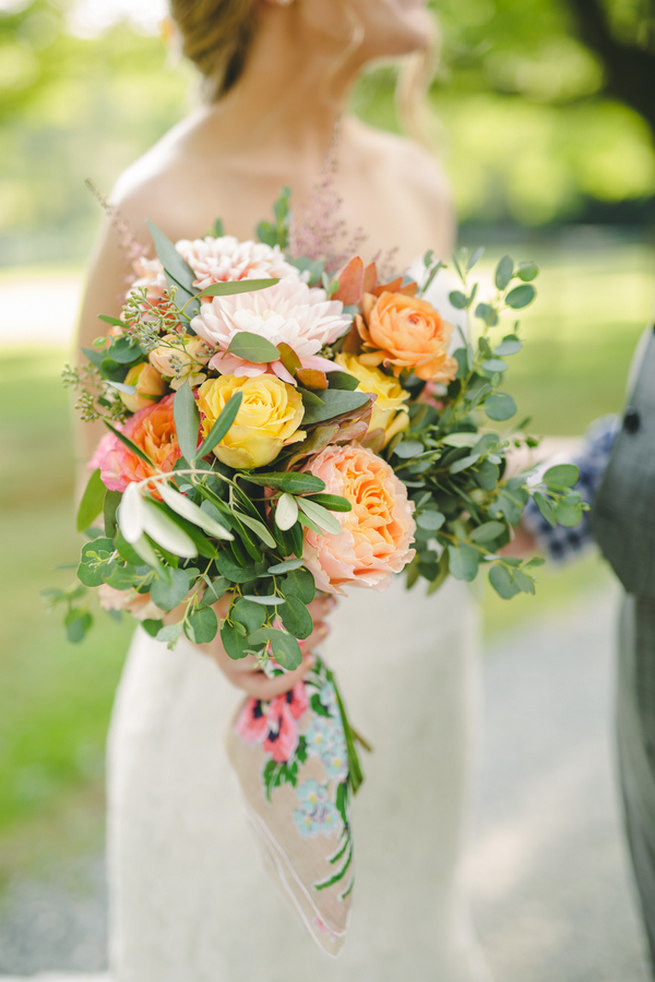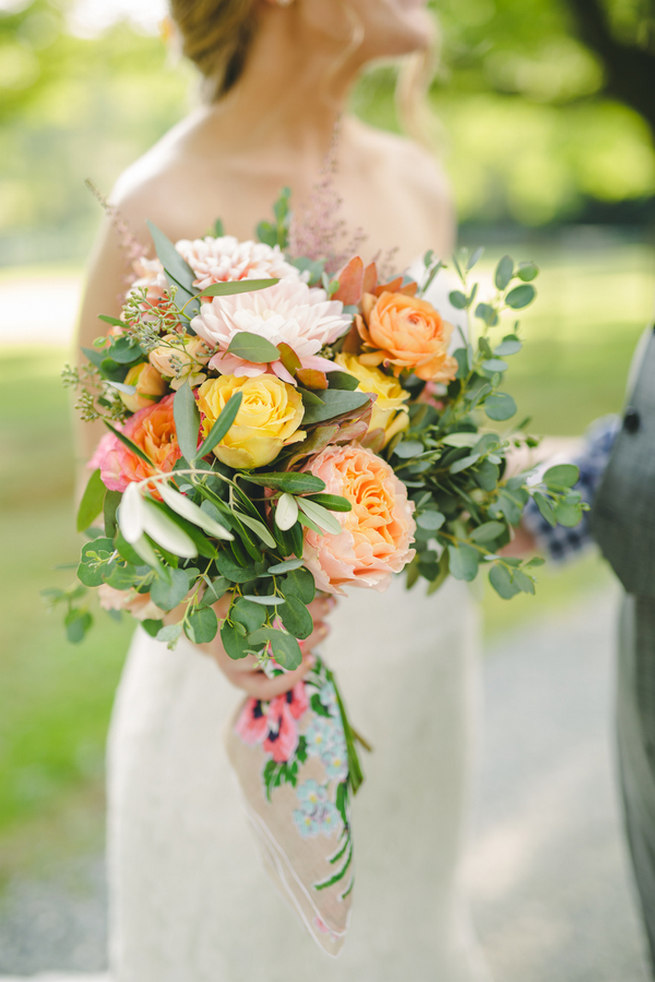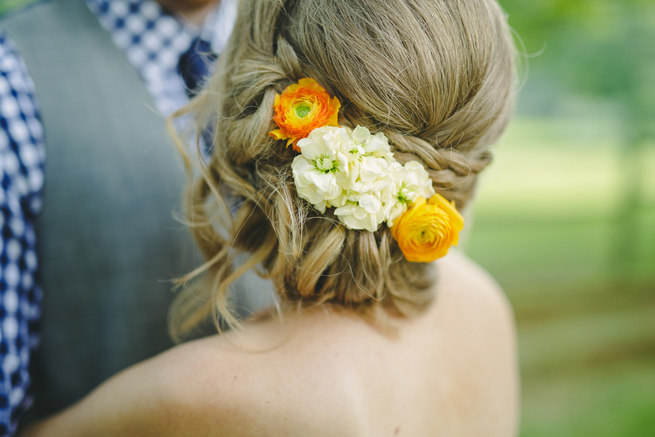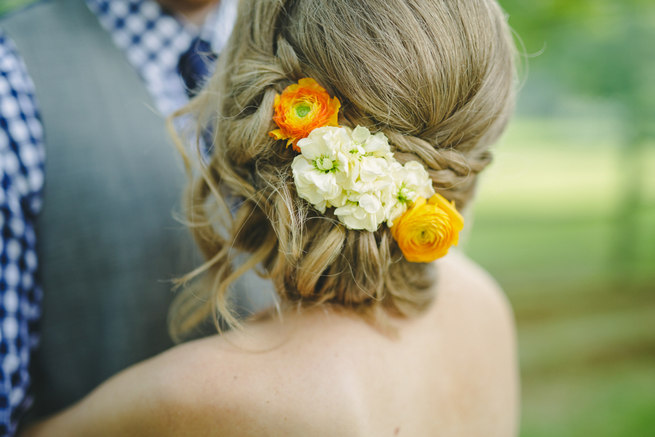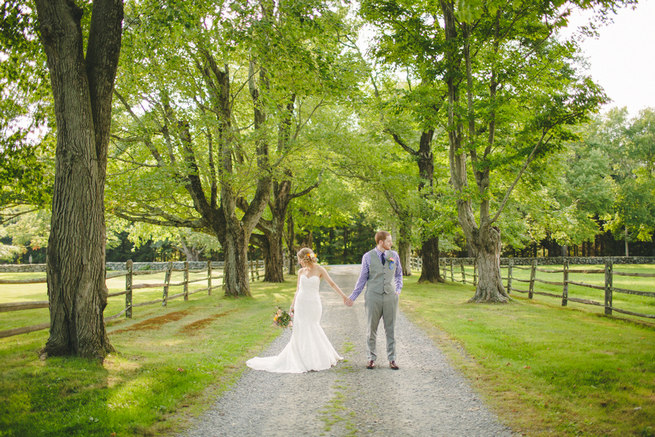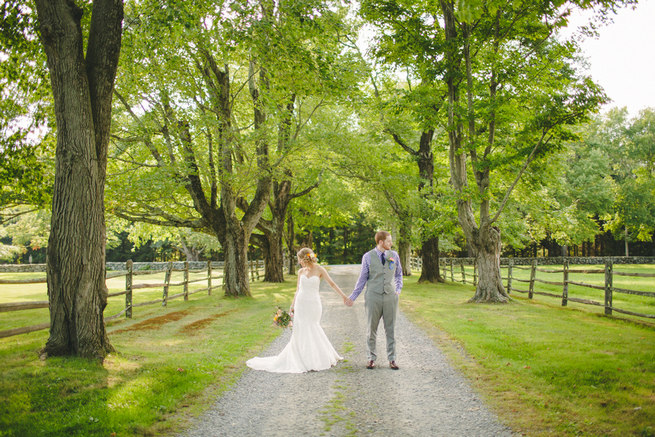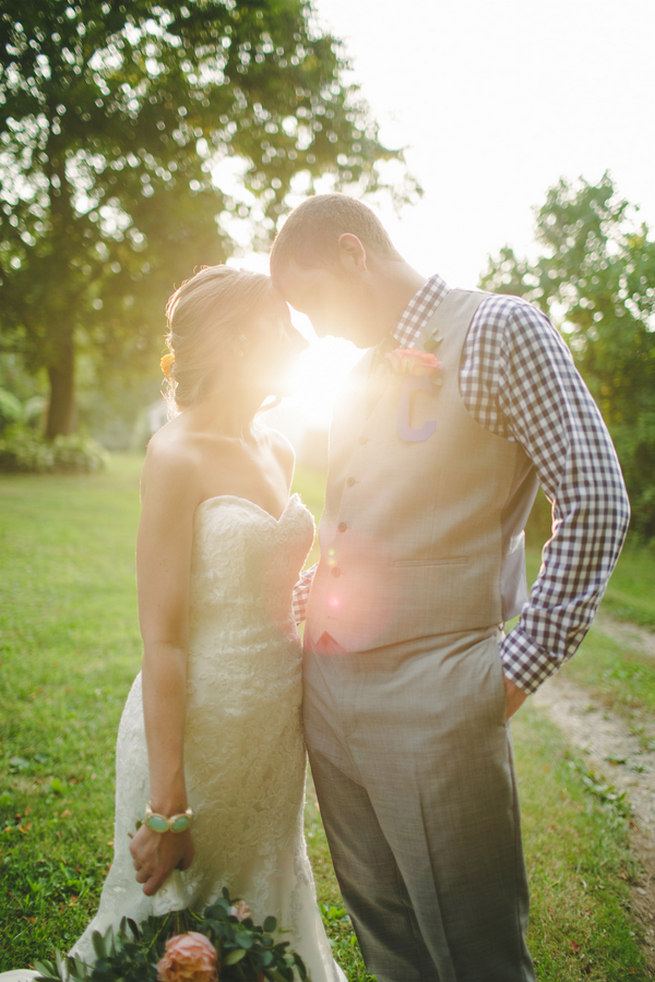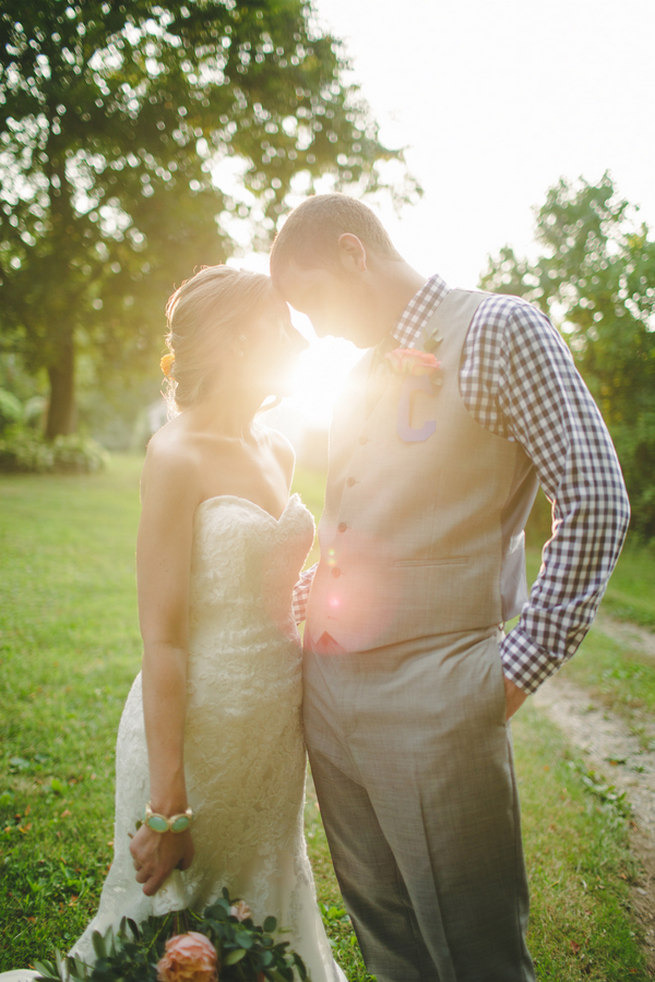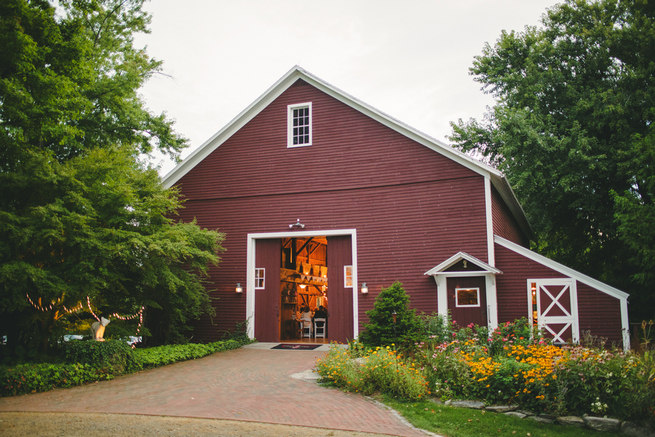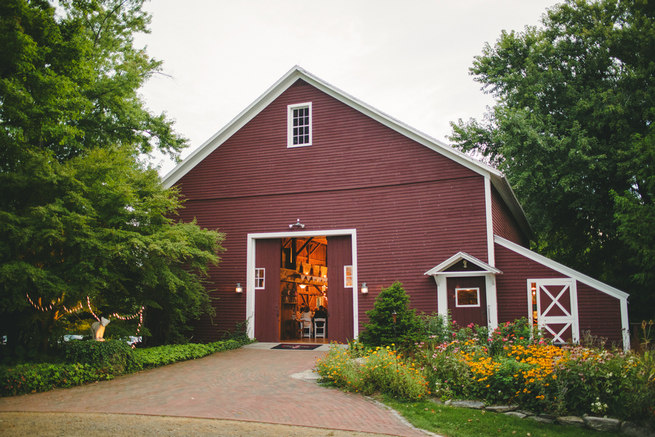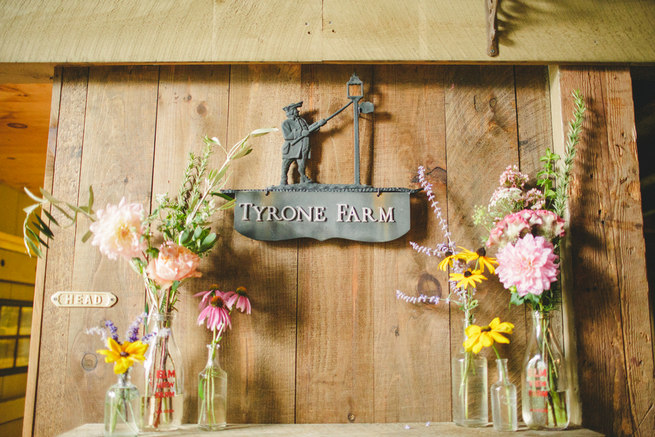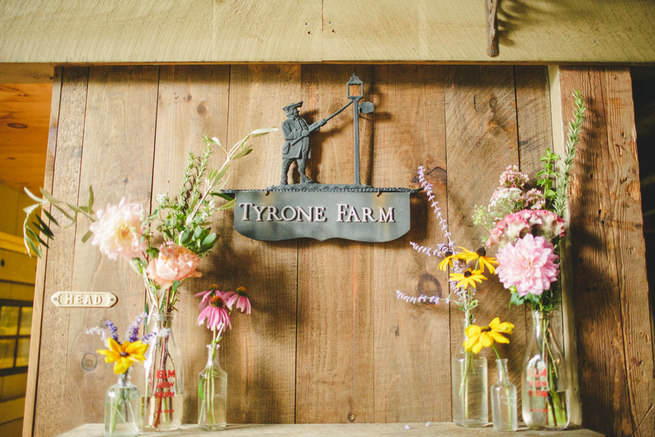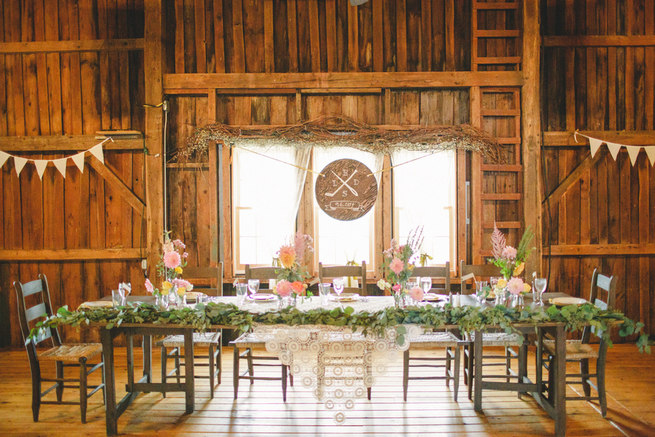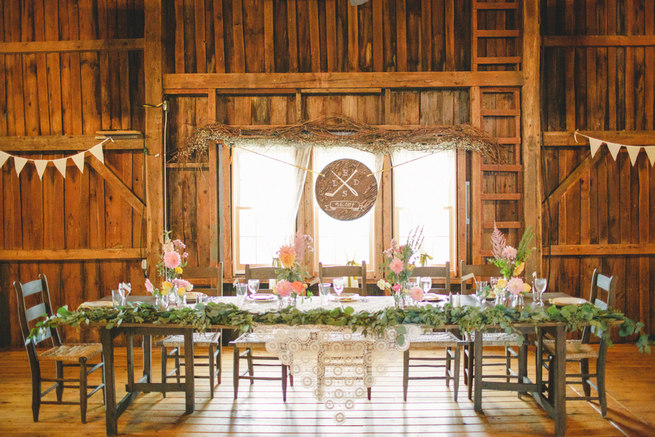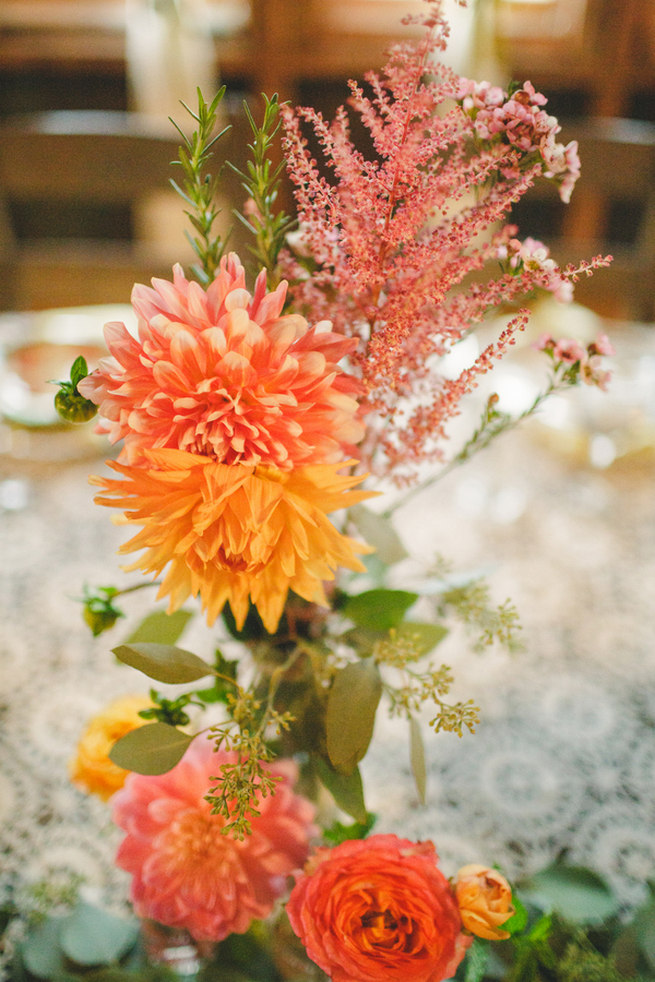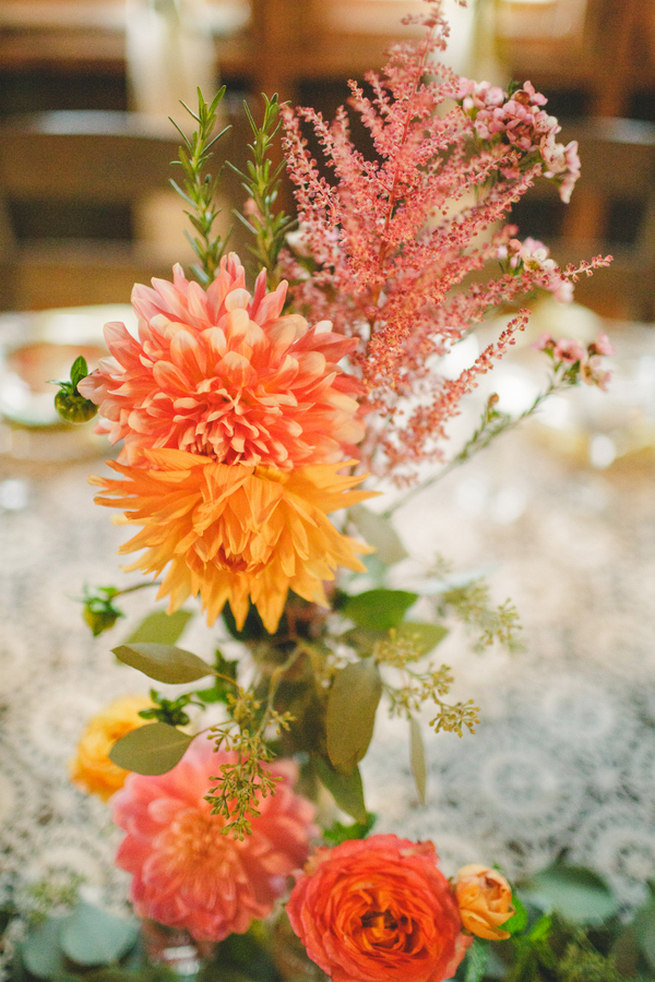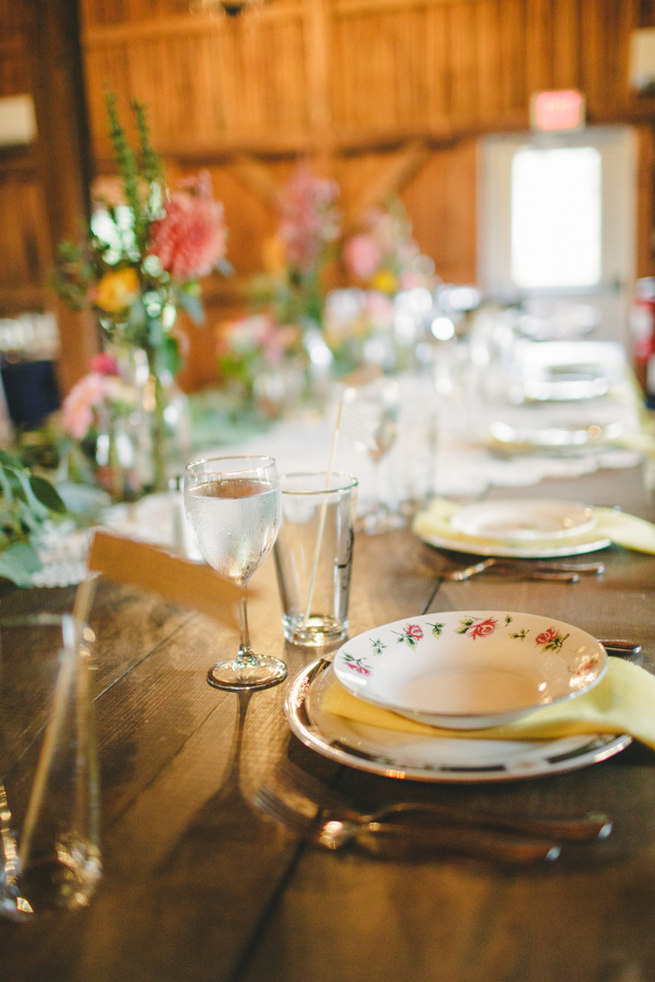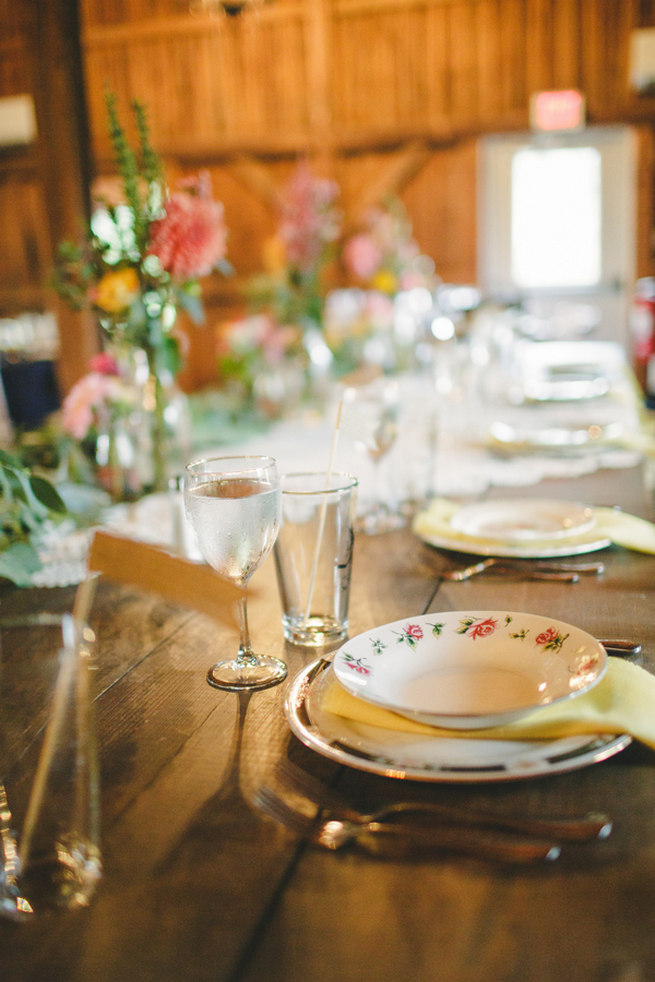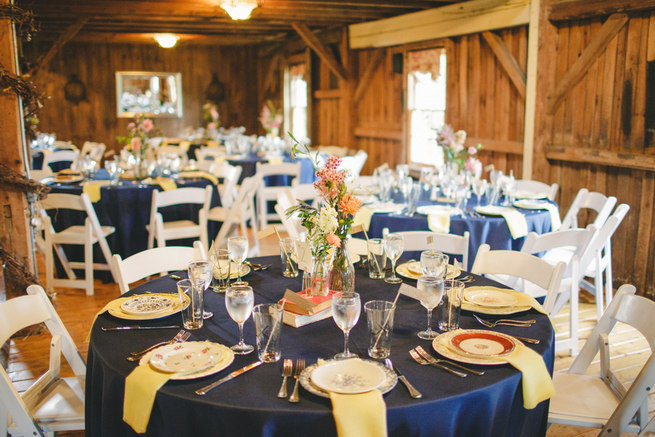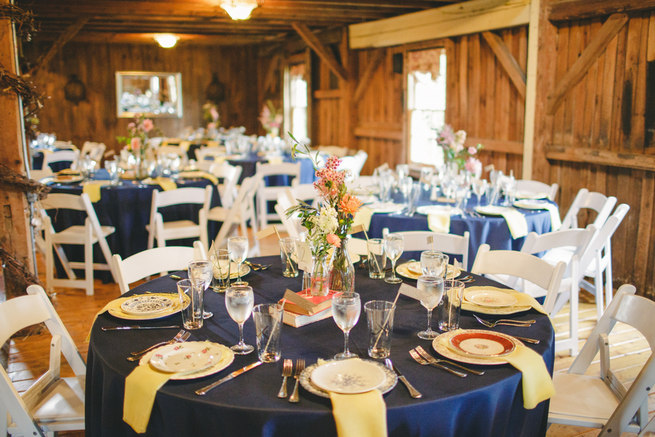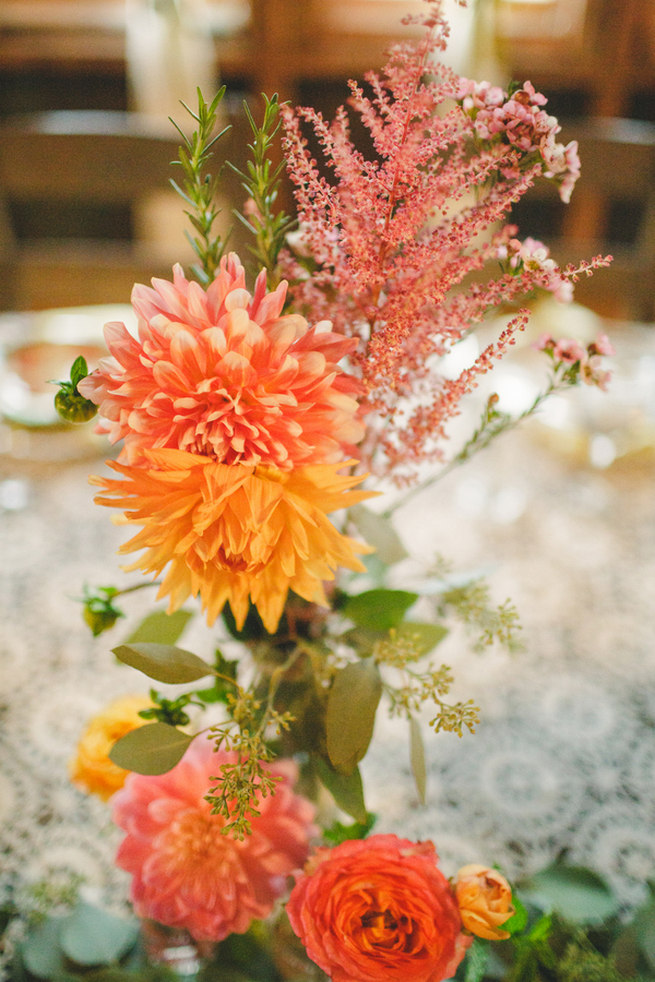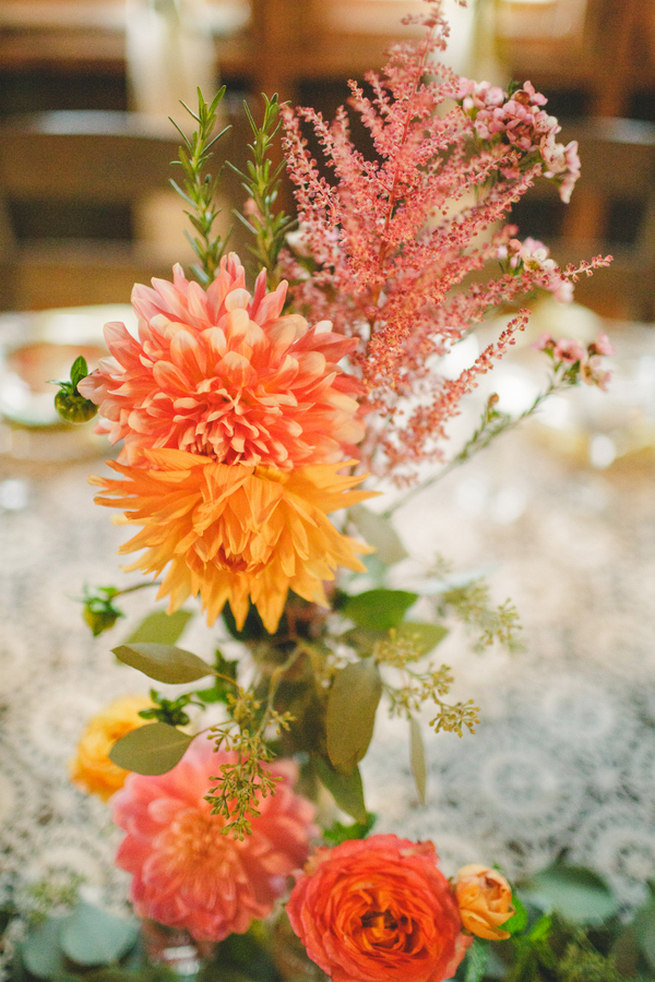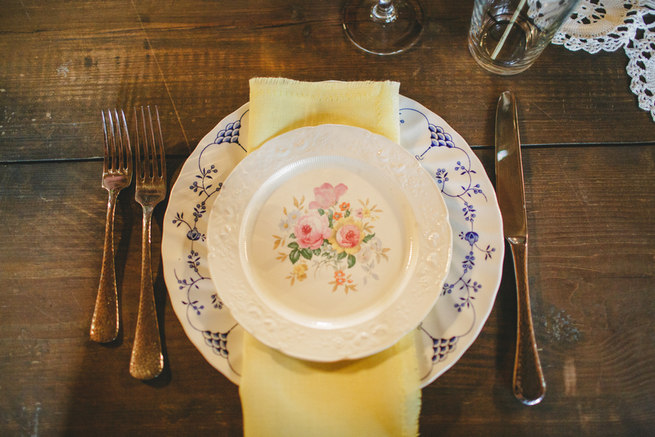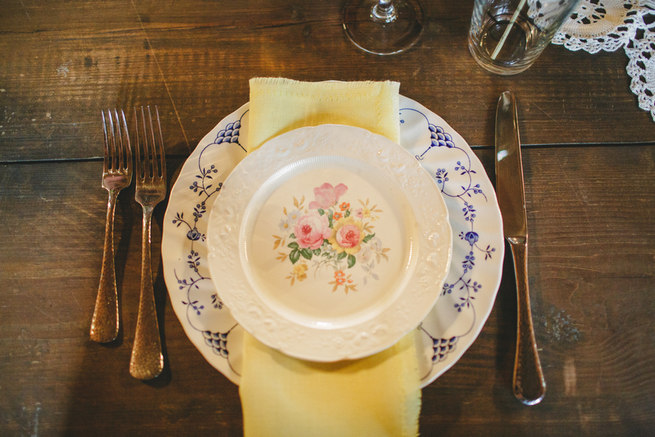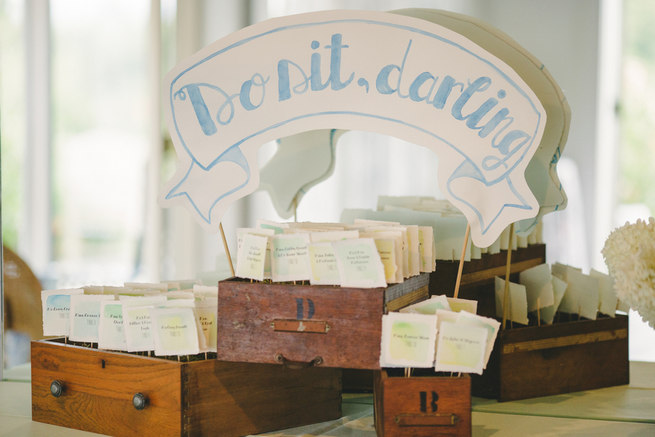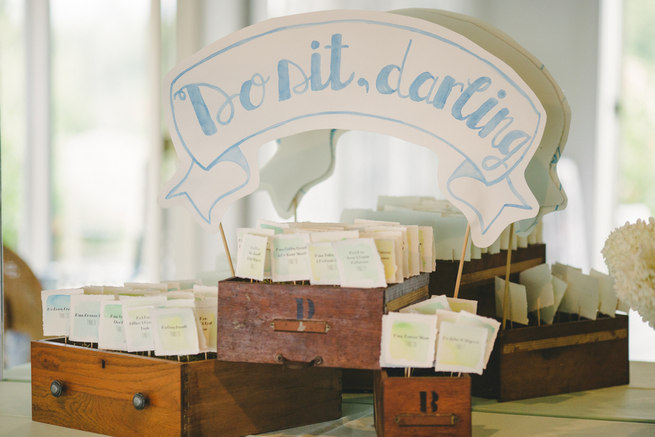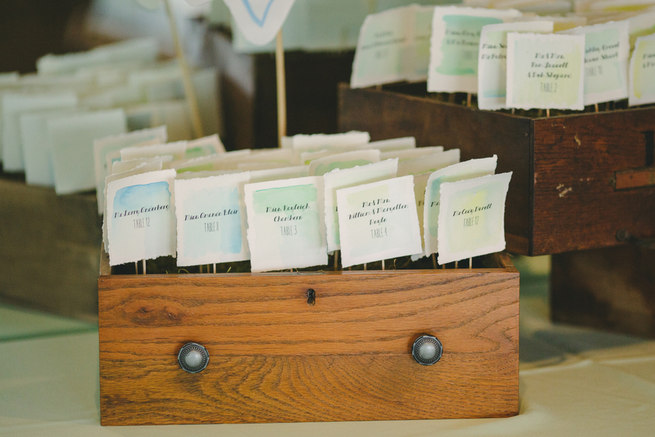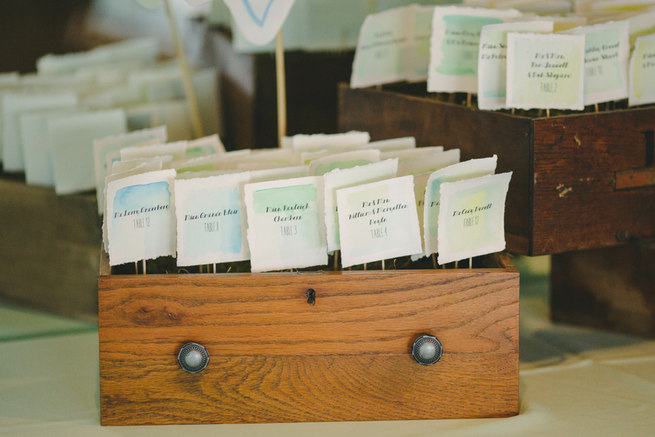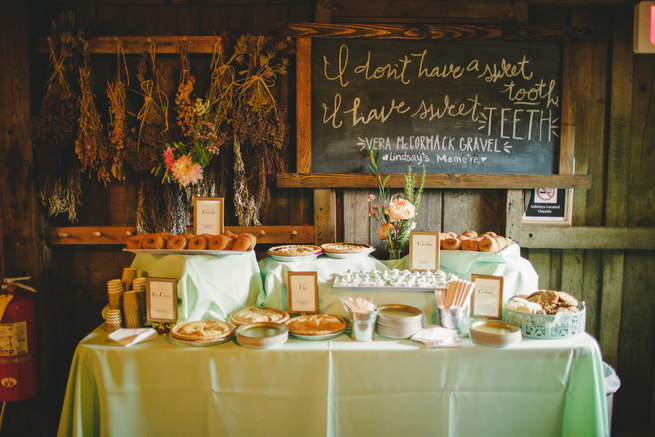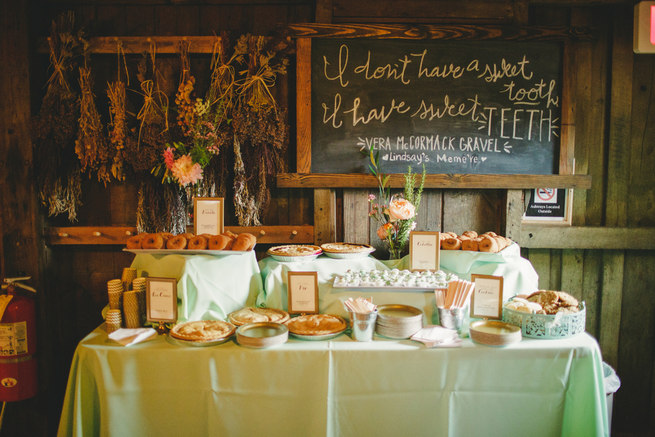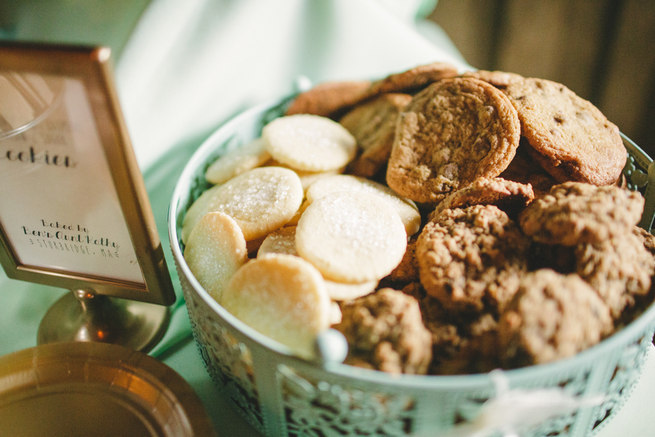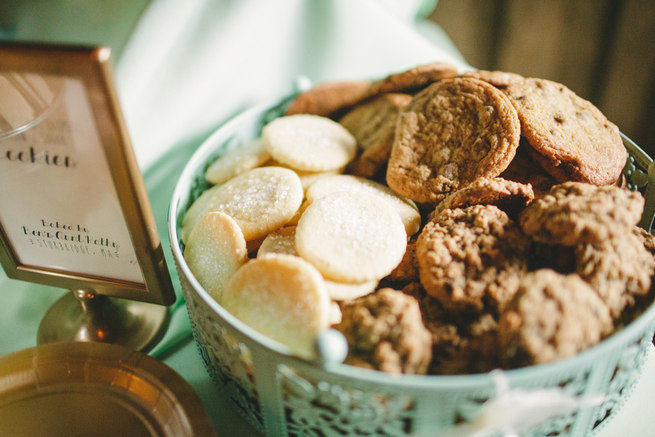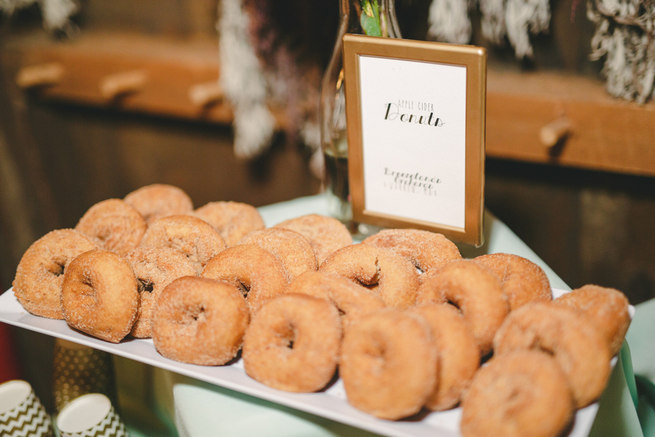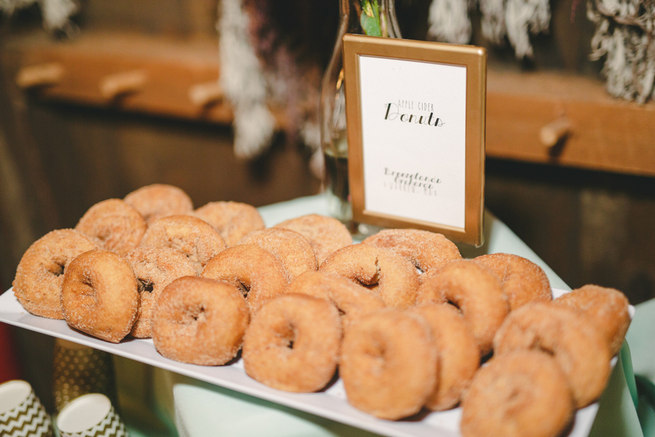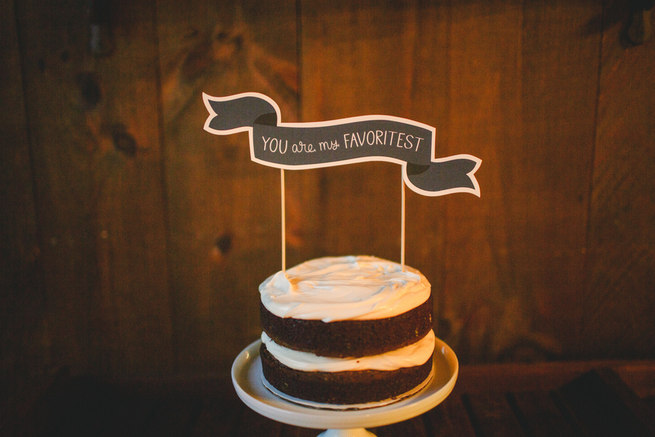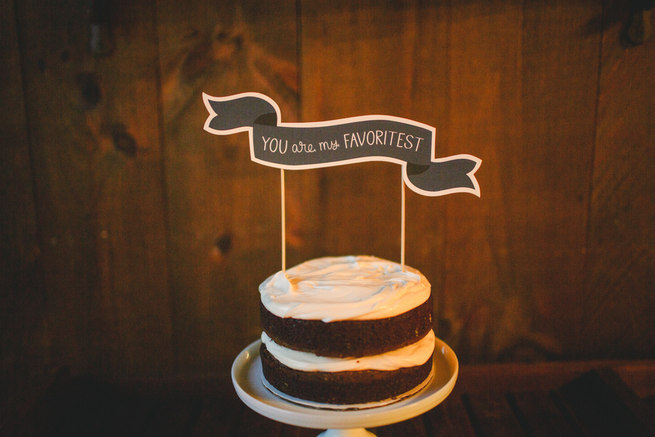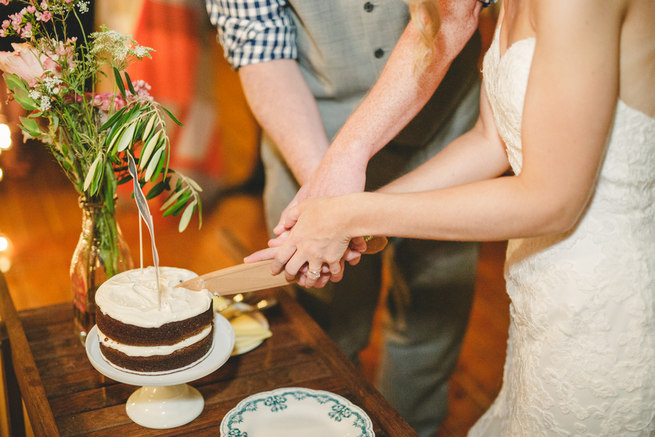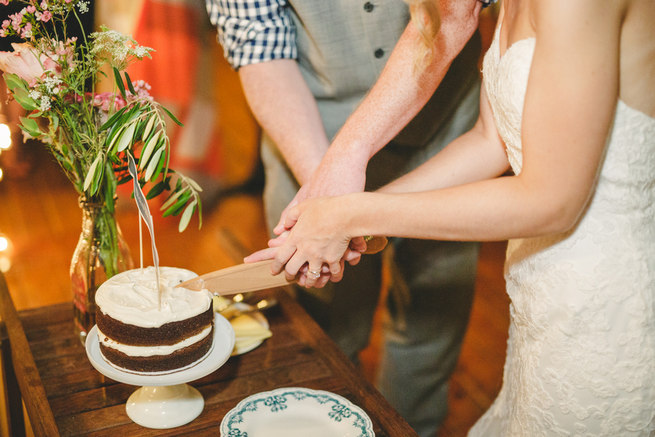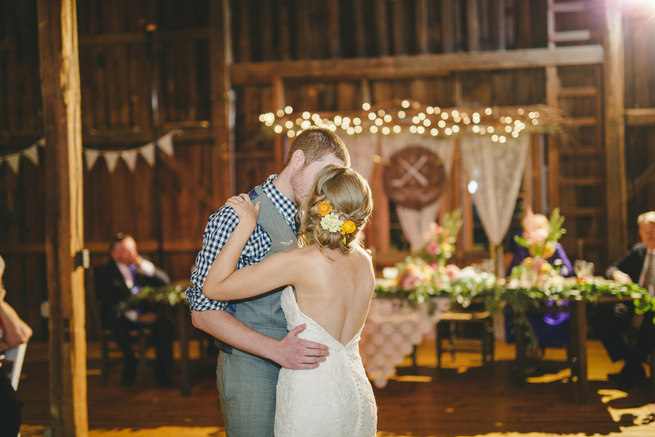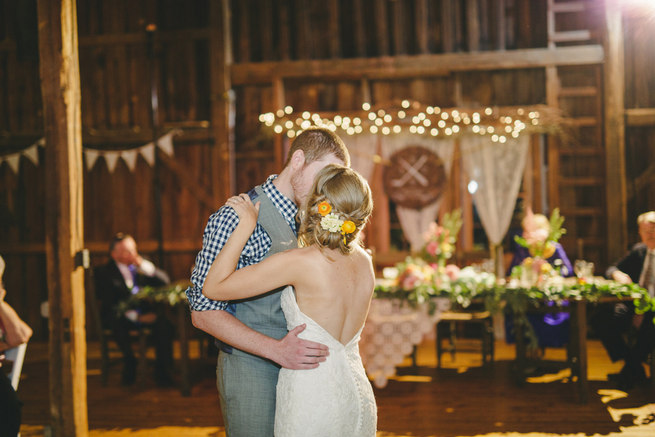 Mint and Navy DIY Farm Wedding
Love Story: Ben & I went to high school together but it was only after graduation that we just kind of clicked. Over the next 8 years we started appreciating the things about each other that made us seem so different, we supported each other through family losses, college and grad school, we moved in together and things just kept getting better and better. One weekend, we took a mini vacation to Portland, ME… it was lightly snowing one morning and Ben decided he wanted to go look out over Casco Bay. By the time we got out there, we were in the middle of full blown blizzard, but Ben still thought I should look through the view finder out toward the water. I guess I spent too long chattering about how little I could see, because Ben just said, "Linds, turn around." and there he was… one knee buried in the snow, being pelted with gail force winds, and he asked me to marry him.
Planning time: About a year
Bridal Style: I wanted a dress that would feel special and little unexpected, but still like me. I was looking for something fitted but with a soft and relaxed feeling, and something a little bit vintage. Mine was an ivory lace dress with a mermaid silhouette and a sweetheart neckline. It had a low back with fabric covered buttons. I wanted messy, braided, bohemian hair with flowers and I was really happy with the way it all came together.
Wedding Bouquet: I wanted bouquets that would give a pop of color and contrast with the cool tones in the bridesmaids' dresses but still feel sophisticated. I also wanted the form to feel whimsical, relaxed and collected, almost like gathered wildflowers. I asked for lots of fun greens & herbs mixed in as well and Whim totally delivered. We had eucalyptus, and olive branches, garden roses, ranunculus, and big, beautiful dahlias.
Bridesmaid Styling: The bridesmaids wore mix and match long chiffon dresses in 3 different shade of mint. We used 2 different companies (Donna Morgan & After Six) to get the colors we wanted and the girls chose whatever style they liked the best. They styled their own jewelry and shoes sticking with gold, white, mint, & navy to keep things cohesive. I loved their bouquets! Moira, from Whim did such a fantastic job… I had asked for smaller versions of my bouquet, but had shown her pictures of vegetables included in centerpieces that I thought were so fun and quirky and perfect for a farm wedding- she surprised me with a baby cabbage in each of the bridesmaids bouquets, it was one of my favorite things about the flowers.
Groomsmen Styling: The groomsen's outfits were also mix & matched… They wore grey suit paints & vests, with navy check shirts and navy ties. Ben made a special request for the boutonnieres. He and his two best men are huge hockey fans, so he ordered some navy hockey captains patches online and we asked Whim to include them into those three boutonnieres. Ben wore C for "captain", and the best men wore A for "alternate captains".
Groom Style: Ben wore suit pants and a vest from Men's Warehouse, a navy check shirt from Nordstrom, and a navy tie. He had hoped to wear the matching suit jacket for the ceremony, but it ended up being way too hot on the day. He skipped it and stuck with the vest – he looked so handsome.
Wedding Ceremony Details: We chose vintage books to write our vows in and Ben's grandfather carried those into the ceremony for us. Our parents and friends sent Mary Kay funny stories and memories of Ben & I dating which she read to our guests – those made for lots of laughter and some happy tears.
To incorporate my family we tied a sailor's knot because my dad grew up in a lake house that had been in my family for generations and we've all spent many summer days sailing and swimming there.
For ceremony decorations we kept things fairly simple… we stacked milk crates from Ben's family's farm and tucked in some flowers. My dad helped me make some signage for the space, arrows leading to the ceremony, a sign reminding guests that we were having an unplugged wedding, and I wrote "Home is wherever I'm with you" on a sign that was hung across the aisle as guests arrived.
We lined the aisle with swags made of torn fabric in shades of mint. Originally our ceremony space was supposed to be under a tree, but we got rained out at the last minute and had to move the ceremony under a tent. We hung bunting under the tent that was dip-dyed yellow ombre and there were cafe lights that made the tent feel really cozy and warm despite the grey skies outside. I ended up loving the ceremony space so much more under the tent – it was really intimate, we had a beautiful field of wildflowers behind us, and about half way through the ceremony there were dozens of dragonflies that went crazy flying around in the field – it was like magic, we couldn't have planned it any better.

Wedding Readings: I (Lindsay) am a Children's Librarian and have an art background, so I love picture books. Love Monster by Rachel Bright is the cutest story about unexpected love. The story reminded me of Ben & I's love story and we wanted our ceremony to be original and a little bit playful. We asked two of our close friends to do the reading for us, Amanda read the story and her husband, Zach, held the book and turned the pages so our guests could see the illustrations.
Guest book: We hired a photobooth for fun during the reception – it was never supposed to be used for our guestbook… but after going back and forth about a few other ideas we decided last minute to have guests add their photos to a scrapbook and write us little notes. Seriously, the night before the rehearsal I ran to the craft store & bought gel pens, washi tape, a scrapbook and kraft paper… and I'm so happy I did because that book is one of our favorite mementos from the night.
Seating Chart: We brought in the watercolor touches in the seating chart/escort cards. We displayed them in vintage drawers that were flea market treasures I'd been saving for years. I also painted a banner and wrote "do sit, darling" with watercolors as signage for the display… the saying was something I'd seen on Pinterest and it just made me giggle.
Reception Details: The flowers for our reception were DIY. Whim cleaned and prepped a bunch of gorgeous flowers, olive branches, rosemary, mint and other greens that coordinated with the bouquets and my friends and I spent some time the day before the wedding creating the centerpieces. The vessels for the flowers were milk bottles from Ben's farm – they were left overs that were in a barn on the property from back when they were bottling milk on site! They have the name of the farm and our last name printed on them, it was such a cool touch (this was one of the details that we knew we wanted to include from the beginning).
We hung signage and white bunting in the barn. For table decor we had navy table cloths, mix& matched china, vintage books in the centerpieces and watercolor table numbers. Because of budget and my love for fiber art I ended up making our napkins with the help of my bridesmaids… I bought a big bolt of fabric for $1.99/yard, cut it into squares, stitched the edges, and then spent a saturday with the girls and batch of sangria dip-dying them yellow ombre. We love craft beer & Ben spent a lot of time working with our bar service to pick out a great beer selection – so we had pint glasses custom made as favors with a logo designed by Ben's cousin Curtis (who also designed our wedding invitations http://www.curtwayne.com/). This logo was also featured on a sign that Ben painted and hung behind our table at the reception and the corn hole set he built.
Our cake topper was an etsy find that said "you are my favoritest"… it's what Ben & I used to say to each other early on in our relationship before either one of us was brave enough to say "I love you". For desert we had cider donuts & pies from our local orchard, cookies baked by Ben's aunt, ice cream from a family friend's creamery & dairy farm, and Cakettes, which is a local company making cake balls.
Hanging over the table was a chalkboard with that read "I don't have a sweet tooth, I have sweet teeth" – something my Meme're used to say all the time to remind us how much she loved desert. Tyrone Farm had a little fire pit outside the barn, so we made little kits for making s'mores and provided blankets to keep warm with.
Wedding Playlist:
Processional: Ben & the bridal party walked in to the Vitamin String Quartet version of "Don't Stop Believing" which created such a cool energy, it was such a pump-you-up, feel-good song.
Brides Entrance: I walked down the aisle to the Across the Universe version of "I Want to Hold Your Hand" which my cousin, Nick, played acoustically on his guitar. It was so special for so many reasons, my dad and I have forever loved the Beatles together and Nick & I have always been close, so for him to have a part in the ceremony meant a lot to me – he also worked really hard to figure out how to play it just right.
Recessional: "Home" by Edward Sharpe and the Magnetic Zeros was our recessional song, and we got pelted with confetti (dried flowers & oatmeal) on our way back down the aisle. 
Reception Entrance: Our bridal party walked into the reception to "Jackson" by Johnny Cash and we walked in to "Everlasting Light" by the Black Keyes because that song is so romantic, one of my favorites and I think describes our relationship better than anything.
First Dance: Our dances were also pretty sentimental – our first dance was "Hey There Delilah" by Plain White T's and is a throw back to driving around in my car the first summer we spent together.
Father Daughter Dance: I danced to "Surfer Girl" by the Beach Boys with my dad (we used to listen to that while spending endless hours driving to and from soccer games when I was a kid)
Mother  Son Dance: Ben & his mom danced to "Dream a Little Dream of Me" by Ella Fitzgerald and Louis Armstrong.
Advice for Brides:
Don't worry about things you can't change or control. Someone being a pain in the neck? Projects left unfinished? Weather? You can't do anything about it! So let it go, make a rain plan, put on a smile and remember that at the end of the day you're still going to marry your best friend.
Do your best to take it all in… because you blink and it's over. Give your family a hug, dance with your friends, give your spouse a kiss and enjoy it.
Sometimes it's cheaper to buy than to rent and for the rentals you do need… carefully look through the list before you give the go ahead to your catering company. We bought our tablecloths and vintage dishes, and axed unnecessary rentals (no need for a bread and butter plate, my bread can sit on my salad plate, thank you very much).
Also I looked through the rental options and made changes where I could. For example, I swapped out the recommended glass irish coffee mugs for white ceramic coffee cups. Aesthetically, they were so much better and about thirty cents cheaper a piece. It all sounds a bit nit picky, but because we took the time to price our options and source alternatives, we ended up saving hundreds of dollars.
♥ ♥ ♥ Vendor Credits ♥ ♥ ♥
Venue Tyrone Farm  // Photographer Daphne & Dean // Dress Party Dress Express  // Brides Hair & Make Up The Beauty Bar  // Flowers Whim Events // Cake Handmade by the Bride  //  Cake Topper Ready Go // Favors & Stationery Curt Wayne  // Suits Men's Wearhouse, Nat Falk in Ware, MA & Men's Mart in Springfield MA